* The governor has often bemoaned the number of people who are leaving Illinois. Well…
Last week paleoecologist Eric Grimm, the director of science at the Illinois State Museum in Springfield, rented an 8-meter-long truck, bought $500 worth of lumber, and built temporary shelves in the back. Then, with the help of his wife and former coworkers, he loaded his cargo: roughly 30 sediment cores drilled from lake bottoms.

The cores, which hold pollen grains, minerals, and other clues that help researchers reconstruct past environments, had been stored at the museum where Grimm has worked for 28 years. But the museum is scheduled to close on 1 October as the result of a tense budget standoff between the state's Democrat-led General Assembly and its Republican governor. So Grimm is moving his collection to the University of Minnesota's National Lacustrine Core Repository (LacCore) in Minneapolis. And he's retiring from his post at the museum—with a certain sense of dismay.

"It's a travesty," Grimm says of the political stalemate that has dominated Illinois for months, and the consequences for the museum. "I think it's political corruption and malevolent anti-intellectualism."

Grimm isn't the only one mourning the imminent closure of the 138-year-old Illinois State Museum and four related sites. Researchers know the museum as the home to the largest collection of mastodon fossils in the world, databases used by international scientists, and artifacts from native Midwestern tribes. Its collection includes some 13.5 million objects, including 8.5 million anthropological and archaeological artifacts. The museum also hosts a relatively small but active research program, run by a staff of 10 curators and scientists. […]

For now, Grimm and his colleagues are continuing to pack up their boxes. Soon, he'll be driving to Minnesota to sort his sediment cores and preparing to move from Illinois. "I can't even stand to look at it," Grimm says of the museum closure. "You watch the whole thing you helped build be brought down basically because of politics."
* Meanwhile…
"I am very disappointed they are moving forward with the closure," said Rep. Tim Butler, R-Springfield, who said he's had "ongoing discussions" with Rauner's office during the whole closure process.

"I'm going to continue talking to them," he said. "We need to have a plan to reopen the museum. I do believe there is a commitment from the governor's office to reopen the museum once we have a budget. It will be difficult. We're going to lose some very good employees."

Not everyone agrees. Sen. Bill Brady, R-Bloomington, defended the closure.

"The governor does have to do it," Brady said. "The Democrats have left him with a multiple billion dollar budget deficit that has to be dealt with. I blame the Democrats with this."
* Property taxes aren't based on an ability to pay, and folks have been attempting to make that tax more "progressive" for a very long time. Mayor Emanuel's proposed property tax hike is a big step in that direction. From Greg Hinz…
At a council committee hearing this week, the mayor's financial team released a revealing "fact sheet" on the pending tax/homestead plan that disclosed fascinating new details.

The most significant section, tucked into a paragraph in the middle of three charts on Page 2, says: "Homeowners living in homes valued at $250,000 or less will see little or no increase and most—nearly 290,000—will see a decrease in their overall bill."

An accompanying chart spells that out. For instance, in the first year of the tax hike (the levy would be phased in after four years) the owner of a home worth $200,000 would see their tax bill drop to $3,054 a year from $3,260. Three years later—after the full hike is levied, and with the mayor's proposed homestead break in effect—that owner still would be paying $65 a year less than now, assuming no other changes. […]

I can report that well over half of city taxpayers apparently would have their bill cut under the mayor's plan, which is pending in Springfield. According to Cook County Assessor Joe Berrios' office, 419,153 Chicago homeowners applied for the homestead exemption in the most recent tax year. Almost three-quarters of them—291,755 to be exact—had property worth less than $250,000.
Hinz is upset about this and I think he has a right to be. Everybody ought to have some skin in the game when solving this fiscal mess. That's not to say that those at the bottom should pay the full freight, but shouldn't they pay a little something something?
* From a press release…
Four finalists remain in the Illinois Legislative Audit Commission's search to replace retiring Auditor General William Holland. The Commission has been actively searching for candidates since Holland announced his intent to retire. An LAC Search Subcommittee reviewed a total of 14 applications, conducted background checks, and last week interviewed seven candidates before narrowing to four finalists. The four candidates include:

• Frank Mautino of Spring Valley, IL. State Representative Mautino serves as Deputy Majority Leader in the Illinois House and chief negotiator on major legislative issues.

• Mary Modelski, CIA, CISA, CGAP, of Walnut Creek, California. Ms. Modelski, a Hoffman Estates native, is a Division Chief for Internal Audit for Alameda County, California.

• Elaine Nekritz of Northbrook, IL. State Representative Nekritz is an Assistant Majority Leader in the Illinois House and an attorney.

• Attorney Larry Sanders of Marion, IL. Mr. Sanders is the General Counsel of the Rend Lake Conservancy District. He served as senior partner of Sanders & Sanders, where he represented many southern Illinois school districts.

"The Auditor General serves as our partner in our effort to ensure fairness, transparency, and accountability in State government," said LAC Co-Chair State Senator Jason Barickman (R-Bloomington). "This is why it's so important that we find the best candidates for the positon."

The Audit Commission will make its recommendation to the General Assembly from the remaining candidate pool. The Legislature has the final authority to choose the Auditor General and statute requires that the successful candidate be selected by a 3/5s majority vote in both the Illinois House of Representatives and the Illinois Senate.

The Auditor General is a constitutional officer charged with the audit of public funds of the State. In addition, the Auditor General performs investigations and efficiency, management, and program audits at the direction of the Legislature or the Legislative Audit Commission. State law requires that each State agency be audited every two years.

"Our next Auditor General will have a tough act to follow, as current Auditor General Bill Holland has built an impeccable reputation as a steward of taxpayer dollars," said LAC Co-Chair State Representative Bob Rita (D-Blue Island).

Bill Holland has served as Auditor General since 1992. In June he announced that he will retire on December 31, 2015. The Audit Commission announced the search for a replacement soon after via press release and also placed notices in several online publications to attract individuals with experience in auditing, accounting, administration, law, or state government. Ads ran in four daily newspapers and a total of 14 individuals applied for the position.
* The Question: Your pick for Auditor General? Take the poll and then explain your answer in comments, please.
feedback surveys
Oy
Wednesday, Sep 30, 2015 - Posted by Rich Miller
* Sun-Times…
[Chicago Police Supt. Garry McCarthy] pointed to curious behavior from Chicago criminals, who tend to hold on to their guns during police chases because "the sanction from the gang for losing a gun is greater than the sanction for getting caught by police and getting put through the criminal justice system."
I'm not sure the courts could order beatdowns of gun violators, but I see the superintendent's point.
* Um, OK, how about just taking out the lights and putting up stop signs?…
As part of the city's ongoing study into traffic-control devices, officials on Sept. 15 turned off the traditional red, yellow and green traffic light setup at two intersections: Spring and Monroe streets, and Second and Edwards streets.

Instead, drivers on Spring and Edwards streets saw a flashing red light, which meant they had to stop and then proceed when the intersection was clear, while drivers on Monroe and Second streets saw a flashing yellow light, which meant they could proceed through the intersection with caution but without stopping.

Some drivers didn't pick up on the change and would often wrongly stop at the flashing yellow light, causing confusion, said Lori Williams, the city's traffic engineer. In addition, pedestrians had trouble crossing the streets.

So last week, the city changed back the lights at both intersections to the traditional red, yellow and green configuration.
Oy.
Springfield has way too many traffic lights downtown. Most are only useful for about an hour in the morning and then another hour after work. And even then, stop signs would probably suffice.
* AP…
Guerry Suggs, chairman of the state museum board of directors, said the move [by the governor to close the museum] doesn't make much sense.

Researchers and scientists will continue their work, but it's unclear what staff such as tour guides and security officers will do, Suggs said. […]

"Closing the Illinois State Museum and Sparta Shooting Complex will save Illinois taxpayers millions of dollars," [Rauner spokeswoman Lyndsey Walters] said in an emailed statement.

Suggs estimated the savings from laying off a small number of nonunion museum employees would be less than $400,000 annually — minuscule compared with the state's multibillion-dollar deficit or the tax revenue generated by tourists, he said.
* From Facebook…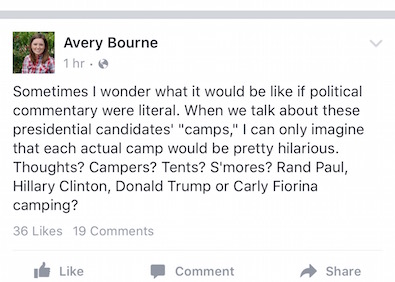 * Related…
* Dave Bakke: It helps to think of Illinois as 'Illinois,' the sitcom
* Erickson…
"As we move into fall, I think you'll see some rank-and-file members calling for increased levels of discussions," said state Rep. Dan Brady of Bloomington. "There are pressure points everywhere, from child care services to higher education."

Brady, the ranking Republican on the House committee overseeing the budget for higher education, said the lack of a spending plan for the state's universities is taking a toll.

Southern Illinois University, for example, recently announced a series of a program cuts designed to ensure the institution can continue operating into the new year.

Eastern Illinois University saved about $10 million through a series of cost-cutting measures enacted in the summer, including employee furloughs, attrition and reductions to athletic programs.

"We know that this cannot go on like this," Brady said.
I have long been convinced that the real key to solving this impasse will be moderate Republican legislators who have been endorsed by unions. Those folks, like Rep. Brady's ISU, often have government facilities in their districts. They don't see unions as inherently evil. They generally prefer compromises.
So, if those moderates make common cause with Democrats who aren't willing to bash unions, they could make a real difference.
* And then you have a handful of rich folks who don't care what the governor might do to them…
"The governor needs to show he has the votes," said [Barrington Republican state Rep. Dave McSweeney], adding, "And he can count me as a 'yes' vote."

But if Rauner's rabidly anti-union Turnaround Agenda fails to get the necessary 71 votes in the House?

"We still need a budget," declared McSweeney. "We need to get this over with."
* Even so, betting on a "mushroom revolt" is always a fool's wager. As much as I like Rep. McSweeney (and I do), he doesn't exactly have a huge following in his caucus. And what makes moderates like Rep. Brady so, um, moderate is their general aversion to fights to the death, particularly with their leaders, and particularly when their leaders have taken such a hard line…
Achieving a budget deal before 2016 looks to be a near impossibility. "Highly unlikely," Illinois House Republican Leader Jim Durkin tells POLITICO. The Illinois House only has two more session days scheduled for the remainder of 2015. Gov. Bruce Rauner and legislative leaders haven't met since May. "At what point do they realize if they want to get through this they have to be willing to negotiate?"
Could be a while.
* Things are not always as simple as they initially appear. For instance…
The lack of inertia to get a budget in place after three months of gridlock has some lawmakers itching to jump-start talks.

"I think we need an outcry from the rank-and-file lawmakers to the leaders to sit down and figure this out," state Rep. Sue Scherer, a Decatur Democrat, said Tuesday.
But…
At issue is the Republican governor's insistence that Democrats approve a number of pro-business, anti-union proposals before he signs off on a tax increase designed to balance the budget.

Democrats have balked at the changes sought by Rauner, saying they would hurt the middle class.

"We can't give that up," Scherer said.
The bottom line is that while all rank and file Democrats want a solution, the vast majority of them (pretty much all, really) aren't willing to decimate unions in the process (OK, maybe one guy is).
In other words, they're not being held back by their leaders. There is no yoke on them, no golden handcuffs. When you see assertions to the contrary, you should always check to see if they're being written by somebody who is regularly in Springfield…
Rise up, mushroom lawmakers in Springfield.

Leave the musty darkness of your cellars. Unshackle yourselves from your leaders. Stifle your re-election fears.

Grow a spine.

There are few in the General Assembly willing to do any of that.
Again, where is the evidence that large numbers of Democratic lawmakers are impatiently itching to vote to whack unions, if only their party bosses would let them?
This protracted war is not about the budget or even taxes. The governor has said repeatedly that he is willing to raise taxes, but only if his anti-union preconditions are met.
* From Rep. Jack Franks…
I can't fault Democrats for opposing severe cuts to services, and I stand alongside many of my Republican colleagues in opposing higher taxes; like the people I represent, I believe that with hard work and compromise, we can find a more balanced approach. What troubles me is that instead of seeking this middle ground, both sides have come to agree on a destructive shared delusion that it's OK for taxpayers to suffer as long as the other side of the aisle takes the blame.

It's clear that breaking the budget stalemate will require a new way forward.

The governor campaigned on closing corporate tax loopholes as a means of generating revenue and closing the state's budget deficit. This is a common-sense approach that Republicans and Democrats alike should agree on, but unfortunately the governor has yet to introduce legislation to make it happen. Illinois can't wait any longer. Last week I introduced a bill that will generate new revenue without raising taxes by closing billions of dollars in corporate loopholes and rewriting outmoded elements of our state tax code.
We've talked about the Franks proposal before. But, again, nothing matters if the governor continues to make impractical demands about his Turnaround Agenda. Democrats just ain't gonna go for it.
* From Instagram…
matthias1966 Well look who we found at #pilotlightchefs #chicago_gourmet #riseandshine #governorrauner #whowouldhavethought
* The pic…