* So, I saw this headline on Drudge while I was out of town over the weekend…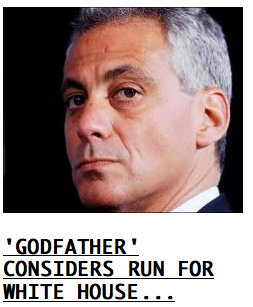 I smirked, then clicked on the link to what turned out to be a Daily Beast story. The lede…
Chicago Mayor Rahm Emanuel is said by well-connected Democrats to be considering the idea of running for president if Hillary Clinton opts out of the 2016 race.
Then I read way down into the story to see just who was saying such things…
"I heard there were some conversations with donors especially during the inauguration," a well-known Democratic politico told The Daily Beast, referring to the January 20-21 celebrations in Washington marking the launch of President Obama's second term. A second highly placed Democrat echoed that account.
Um, OK. Two guys say they heard some scuttlebutt at the inauguration.
* The Sun-Times took it seriously…
Mayor Rahm Emanuel is taking on chores for President Barack Obama's new political operation as the president hits Chicago on Friday to sell his second term agenda, and City Hall on Thursday night was scrambling to throw cold water on a report Emanuel is interested in a White House bid.
* Meanwhile, the Daily Beast also interviewed Roland Burris. The article's description of the man…
Burris, an understated and often overlooked Illinois pol
Understated?
What?
* Among other things, Burris told the Daily Beast about the downsides to his US Senate service…
The commute, for one (not like in Illinois, he noted, when he got to fly to Springfield on state aircraft) and the fact that "there was no per diem. Financially, it was not very rewarding for me at all. You are on your own for expenses. And getting out of O'Hare on commercial airlines."
* But he's ready to go back…
Still, he adds, "if there is another vacancy, I would love to go there for a short time again. If something happens to one of our senators, and the governor wants to appoint me, I would love to go back."
I'm sure he would.