* Letter to the House Majority Leader from the House Republican Leader…
Majority Leader Greg Harris,

It has become abundantly clear that the House Democratic Caucus and their campaign arm use the concept of "cleaning up Springfield and fighting corruption" as the highlight of their agenda. Actions speak louder than words. There has been decidedly no action taken to match the words of Democratic members even though your caucus controls the legislative docket.

In your role as not only Majority Leader of the House Democratic Caucus, but also Co-Chair of the Joint Committee on Ethics Reform and the designated leader for the Special Investigating Committee II, I implore you to utilize your power in moving critical ethics reforms forward for the state of Illinois.

Again and again, we see endless delays instead of action: canceled hearings, using the pandemic as an excuse to not schedule hearings, hiding behind another task force instead of taking action. We have seen those tricks and tactics used by Speaker Madigan for decades to delay taking action on an issue when the status quo is beneficial to himself. Don't follow that flawed model, Leader Harris.

The Special Investigating Committee II, charged with investigating Speaker Madigan's bribery scheme with ComEd, was created in August and has only met twice. This is totally unacceptable and a disgrace to the residents of Illinois who deserve transparency.

The Joint Committee on Ethics having not met since March has left all of us wondering if there is any sincerity in the House Democratic caucus on addressing reforms. Did we forget the arrest of Rep. Arroyo and how it caused such a shockwave and hand-wringing through the Chamber?

I urge you in your role as a leader to use your considerable ability restart the process. Avoiding the issue is unacceptable. I hope the House Democrats will join their Republican colleagues in a quest for transparency and meaningful results. Let's get this done.

Sincerely,

James Durkin
Illinois House Republican Leader
I've reached out to Leader Harris for comment.
*** UPDATE *** Leader Harris…
I thank Leader Durkin for his letter. It arrived while I was listening to Dr Ezike outline how many thousands more Illinoisans tested positive for COVID yesterday, and how many more thousands are hospitalized or in the ICU, and tragically how many more have died.

Also, listening to her warnings about the coming surge which could overwhelm our hospitals, and how we can all help reduce transmission. As I have said before I look forward to completing the work of the Commission when it is safe to gather in large groups again, and look forward to presenting legislation based on the Commission's work.
- Posted by Rich Miller 20 Comments


* October 30th…
A McHenry County judge denied a temporary restraining order Friday filed by 37 local bars and restaurants to remain open despite the governor's mitigation rules set to take effect Saturday.
* Last Wednesday…
McHenry County's top prosecutor announced Wednesday that his office will not enforce Gov. J.B. Pritzker's order to ban indoor dining at restaurants.

State's Attorney Patrick Kenneally issued a statement that the Illinois Emergency Management Act, which gives the governor authority to issue executive orders, does not require or empower the state's attorney to enforce the orders.

Kenneally also wrote that there is "the legitimate question" being litigated in court over whether the governor's repeated orders are authorized by law. So far, while two trial courts have ruled that the orders were not lawful, two McHenry County judges, as well as appellate and federal courts, have upheld the orders on at least a preliminary basis.

Kenneally said he would continue to enforce legitimate mask and distancing orders, but chided lawmakers for failing to clarify the law on "one of the most important issues this State has ever faced."
Um, if he had bothered to read the recent binding appellate decision, he'd know that the General Assembly passed three bills in May which reiterated the governor's right to issue successive executive orders. But, you know, that would get in the way of doing his job, so he chose to remain ignorant.
* And there is a local problem…
Through the Freedom of Information Act, CBS 2 obtained a list of dozens of McHenry County eateries that have violated rules.

Around the Clock allows indoor dining. At Niko's Red Mill Tavern in Woodstock inspectors saw indoor dining, no social distancing, and employees and patrons not wearing face coverings. At DC Cobb's in Woodstock some thing seen were patrons not wearing face masks, indoor dining and operation after 11 p.m.

These restaurants and eight more like them have been visited multiple times. Minimal improvements led to the cases being handed over to the McHenry County State's Attorney's Office.
* Meanwhile, Springfield Mayor Jim Langfelder has finally seen the light…
Springfield Mayor Jim Langfelder is urging surrounding counties to enforce COVID-19 mitigations similar to what is in place in Springfield.

The Sangamon County Department of Public Health oversees Menard County's public health department, as well, but they have announced Menard County will not enforce COVID-19 mitigations at this time.

Langfelder said the fight to slow down the spread of COVID-19 should be a community effort, and spikes in Menard County put stress on hospitals in Springfield. […]

Langfelder said he wants restrictions for all surrounding counties and admits this isn't easy or popular, but believes it's what is best for the local hospitals.
* Also…
Three more Sangamon County restaurants were cited for violating COVID-19 mitigations.

According to the Sangamon County Department of Public Health, the three restaurants include:

Route 66 Motorheads in Springfield
Sky Lounge in Springfield
IHOP on Sunrise Drive in Springfield
* Speaking of restaurants, this is from a Facebook post by the proprietors of Effingham's Firefly Grill…
Dear fireflies,

Here we are again, another crossroads, another terrible decision to face. Niall and I have had many sleepless nights these last few months as we try to find our way forward through this pandemic.

Bottom line is that firefly's current model cannot stay solvent running only curbside. If we believed that the safety restrictions would be in place long-term, we would figure out how to adapt and reluctantly change our model.

I say reluctantly because serving people in person on our beautiful farm is what we truly love to do. Firefly isn't a drive-through, it's an experience. Our passion is connection, to each other, to our visitors, to our land and our community. Cooking food in an empty restaurant is demoralizing for our family and team.

If we believed these restrictions would be longer than the winter, we would find a different path, yet we believe that as soon as it is warm enough to serve outside, we will be able to open our doors once again. Until that time, we are forced to hibernate, and we will be closed.

This is a painful decision and very personal decision; our family is going through a lot right now.

Thanksgiving night, we received word that my stepfather, who was diagnosed with COVID-19 seven days previously, had taken a turn for the worse. This call informed us that hospice had begun to execute end of life protocols. We lost Greg this morning peacefully while my mother was holding his hand.

Whatever people's personal beliefs are surrounding this disease, the pain and exhaustion our frontline workers and the families losing loved ones are experiencing cannot be denied. Right or wrong, out of respect for my mother, for all the families losing loved ones and for all of our heroes on the frontlines, we will continue to follow the protocols mandated to keep our communities safe.

We encourage everyone to do whatever they can to slow the spread of this disease.

Firefly and our team are grateful for the support of everyone buying gift cards online, we are using these funds to continue upgrades during our pause and literally CANNOT WAIT to serve you in person as soon as we can.

In support of the Huff, Campbell and Samuel Family dealing with the death of such a loving, kind and important member, in lieu of flowers, we have created a Greg Huff Memorial Scholarship for Buckeye Friends School. Donations can be made through the Buckeye website: http://buckeyefs.com/get-involved/donate/

We are grateful for your help, your patience, your understanding and support.

Kristie, Niall and Camden
* Contrast that with this one from the owner of the Fox Run restaurant in Springfield…
The Rest of The Story:

Our local officials overreach of power may be the cause of Fox Run closing, but rest assured, they will never silence me. This isn't just about Fox Run; this is about every Restaurant and Bar in our area. There are five individuals directly involved in the attack on Restaurants and Bars in Sangamon County. Sangamon County Board Chairman Andy Van Meter, Sangamon County Sheriff Jack Campbell, Mayor Jim Langfelder, Judge Raylene Grischow and Gail O'Neill of the Sangamon County Department of Public Health.

You ask why? What If the County Board Chairman were to have a pet project threatened by the Governor? The County Board Chairman controls the funds for the Sheriff's Dept. and the Health Dept., that's not hard to figure out, the Mayor acts like a puppet for the Governor and the Judge openly recognized that it was a valid argument that the Health Department was acting improperly, but she still let them get away with it.

Four of these five spineless individuals are elected by "We the People". They do not deserve to be re-elected after trying to destroy Sangamon County's economy. Let's remember this on their election cycle. I will help remind you. And for Gail O'Neill, I hope you sleep well at night knowing that you are directly the cause of dozens of small business's closing and hundreds of families going without a paycheck. But that's alright, I'm sure there is a chair reserved for you at the head of the table in HELL.
He put up a GoFundMe with the goal of raising $100,000. It raised $485. Sounds about right. You'll remember that he hosted Rep. Darren Bailey at his establishment in May.
* Tribune live blog headlines…
Indiana's COVID-19 deaths nearly double during November

Bipartisan group of lawmakers pitch $908 billion bill as Biden urges Congress to pass down payment on COVID-19 relief

Column: A parting love letter to City Lit, my favorite bookstore in Chicago, on its final day of business

Giving Tuesday and holiday donations can bring scammers; the pandemic makes it worse.

Esports arena for professional video game competitions planned for Chicago's Near South Side

Evanston students auction time and talents to save Gyros Planet, a struggling restaurant feeding thousands of hungry families

Chicago officials shut down a 300-person party in Wicker Park over the weekend.

Vandals struck outdoor dining tents in Chicago's West Loop.

Moderna to seek OK for emergency use of its coronavirus vaccine in US, Europe.

New Trier High School to consider expansion of in-person instruction, citing success of COVID-19 saliva screening program.

COVID-19 vaccines are coming. But first, a long and dark winter.
* Sun-Times live blog headlines…
City shuts down 300-person party in Wicker Park, other businesses for 'egregiously' violating COVID-19 restrictions

Fauci warns Pritzker of 'post-Thanksgiving surge' — says it's 'no time to pull back' from COVID-19 restrictions

Weekend drop in COVID-19 cases attributed to low number of tests reported over the holiday weekend.

Cook County Sheriff Tom Dart tests positive for coronavirus.

Chicago R&B artist Jeremih was reportedly transferred to a regular hospital room Saturday after spending at least a week in intensive care undergoing treatment for COVID-19.

The World Health Organization has recorded 65 cases of the coronavirus among staff based at its headquarters, including five people who worked on the premises and were in contact with one another.

Making the case for standardized school tests, even during a pandemic
* NBC Chicago live blog headlines…
Chicago to Update Emergency Coronavirus Travel Order

Chicago Officials Shut Down 300-Person Party in Wicker Park

No Illinois Regions Will End Tier 3 Mitigations in the Next Few Weeks, Pritzker Says

Post-Thanksgiving COVID-19 Surge Could Overwhelm Illinois' Health Care System

Investigations Underway After 28 Veterans Die in Coronavirus Outbreak at Illinois VA Home
- Posted by Rich Miller 35 Comments


* From the Institute of Government and Public Affairs…
The University of Illinois Flash Index was slowly recovering after it had dropped steeply at the beginning of the COVID-19 pandemic, but that progress stalled last month. The index remained at 95.6 in November — the same reading as October.

"November was a month of contrasts, with rising rates of COVID-19 infections accompanied by positive news about the likely early availability of a vaccine. It also appears the country has avoided a presidential election impasse," said University of Illinois economist J. Fred Giertz, who compiles the monthly index for the University of Illinois System's Institute of Government and Public Affairs. "This helps to explain the contrast between the equity markets experiencing the strongest month in over 30 years and the real economy showing little progress."

Equity markets are forward-looking and incorporate the likely future benefits from the vaccine, while the Flash Index is based on current results that do not reflect these expectations, Giertz said. See the full Flash Index Archive.

The Illinois unemployment rate in October (latest available) provided positive news, falling from 10.4% the previous month to 6.8%. The Illinois rate fell slightly below the national rate. The November numbers are not likely to be as strong.

After adjusting for inflation, sales and income tax receipts were down slightly from the same month last year. Corporate tax receipts were significantly lower because of one-time, extremely large collections in November 2019.

The Flash Index is normally a weighted average of Illinois growth rates in corporate earnings, consumer spending and personal income as estimated from receipts for corporate income, individual income, and retail sales taxes. These are adjusted for inflation before growth rates are calculated. The growth rate for each component is then calculated for the 12-month period using data through November 30, 2020. Ad hoc adjustments have been made to deal with the timing of the tax receipts resulting from state and Federal changes in payment dates beginning in March.
* The accompanying graph…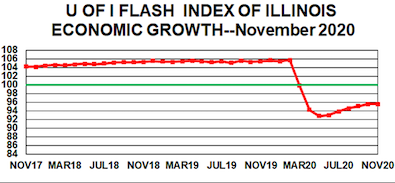 Oof.
- Posted by Rich Miller 8 Comments


* This is huge…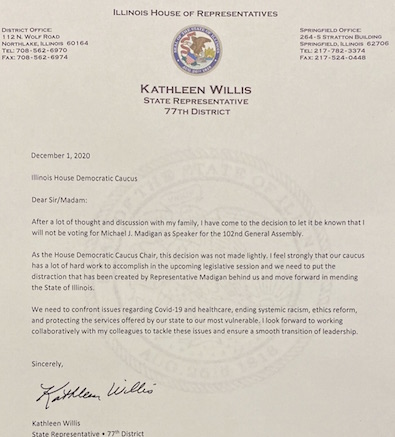 Yes, she represents the suburbs, including part of DuPage. But she's a member of leadership and has strong union ties. I'm pretty stunned by this development.
* The list…
Jonathan Carroll
Kelly Cassidy
Deb Conroy
Margaret Croke
Eva-Dina Delgado
Daniel Didech
Robyn Gabel
Jennifer Gong-Gershowitz
Will Guzzardi
Terra Costa Howard
Stephanie Kifowit
Lindsey LaPointe
Anna Moeller
Bob Morgan
Anne Stava-Murray
Maurice West
Ann M. Williams
Kathleen Willis
Sam Yingling
…Adding… From Rep. Deb Conroy…
The idea that because after many nights of losing sleep you came to the decision that you can not support the current Speaker means you are not a loyal union supporter is ludicrous. I am from a union family and I will always support union families. We are the strongest union state in the 50 and we will continue to be going forward. Thank you Representative Willis for your leadership and bravery.
- Posted by Rich Miller 80 Comments


* Press release…
The Illinois Department of Public Health (IDPH) today reported 12,542 new confirmed and probable cases of coronavirus disease (COVID-19) in Illinois, including 125 additional deaths.

Adams County: 1 male 70s, 1 female 80s
Bureau County: 1 female 70s
Carroll County: 1 male 80s
Champaign County: 1 male 60s, 1 female 80s, 1 female 90s
Clay County: 1 female 50s
Cook County: 1 female 50s, 1 male 50s, 2 females 60s, 3 males 60s, 1 female 70s, 3 males 70s, 2 females 80s, 2 males 80s, 3 females 90, 1 male 90s, 1 female over 100
DuPage County: 1 female 70s, 2 males 70s, 1 male 80s, 1 female 90s, 2 males 90s
Effingham County: 1 male 90s
Ford County: 1 female 60s
Franklin County: 1 female 80s
Fulton County: 1 male 80s
Grundy County: 1 female 70s, 2 females 80s
Hancock County: 1 female 90s
Iroquois County: 1 male 90s
Jo Daviess County: 1 female 70s
Kane County: 1 male 70s, 1 female 90s, 1 male 90s
Kankakee County: 1 female 80s
Kendall County: 2 male 80s
Knox County: 1 male 80s, 1 male 90s
Lake County: 1 male 50s, 1 male 70s, 1 female 80s, 2 males 80s, 1 female 90s
LaSalle County: 1 female 70s, 1 female 80s, 1 male 80s
Lee County: 1 female 80s
Livingston County: 1 male 90s
Macon County: 1 female 80s, 1 male 80s, 1 female 90s
Macoupin County: 1 female 80s, 1 female 90s
Madison County: 2 males 70s, 1 female 90s
Marion County: 1 female 80s, 2 males 80
McHenry County: 1 female 70s, 2 females 90s
McLean County: 1 female 80s, 1 male 80s, 2 males 90s
Mercer County: 1 female 90s
Monroe County: 1 male 90s
Morgan County: 1 female 60s, 2 females 90s
Ogle County: 1 male 60s, 1 male 70s, 1 female 80s
Peoria County: 1 male 60s
Perry County: 1 female 70s, 2 females 80s, 3 females 90s
Rock Island County: 1 male 60s, 2 females 90s
Saline County: 1 male 70s, 1 male 80s
Sangamon County: 1 female 50s, 1 male 80s, 2 females 90s
St. Clair County: 1 female 70s, 1 male 70s, 1 female 80s
Stark County: 1 female 80s
Stephenson County: 1 male 50s
Tazewell County: 1 male 70s
Vermilion County: 1 male 60s, 1 female 90s
Warren County: 1 male 70s, 1 female 90s
White County: 1 male 60s
Whiteside County: 1 male 70s, 1 female 90s, 1 male 90s
Will County: 1 male 50s, 1 female 70s
Winnebago County: 1 female 60s, 1 male 90s
Woodford County: 1 female 70s

Currently, IDPH is reporting a total of 738,846 cases, including 12,403 deaths, in 102 counties in Illinois. The age of cases ranges from younger than one to older than 100 years. Within the past 24 hours, laboratories have reported 116,081 specimens for a total 10,614,079. As of last night, 5,835 in Illinois were reported to be in the hospital with COVID-19. Of those, 1,195 patients were in the ICU and 721 patients with COVID-19 were on ventilators.

The preliminary seven-day statewide positivity for cases as a percent of total test from November 24 – November 30, 2020 is 10.4%. The preliminary seven-day statewide test positivity from November 24 – November 30, 2020 is 12.2%.

*All data are provisional and will change. In order to rapidly report COVID-19 information to the public, data are being reported in real-time. Information is constantly being entered into an electronic system and the number of cases and deaths can change as additional information is gathered. Information for a death previously reported has changed, therefore, today's numbers have been adjusted. For health questions about COVID-19, call the hotline at 1-800-889-3931 or email dph.sick@illinois.gov.
- Posted by Rich Miller 9 Comments


* Tribune editorial…
When the coronavirus pandemic hit hard in March, it prompted shutdowns of schools, businesses, sports venues, national parks and other sites. Legislatures across the country halted sessions, the Illinois General Assembly among them. The suspensions were a justified response to a grave public health emergency.

But a crisis of this severity is no time for lawmakers to stop doing the public's business altogether. More than two dozen legislatures across the country quickly moved to let members vote or participate in floor deliberations or committee meetings by virtual means. In Vermont, legislators have used Zoom for most of their business since March. New York's lawmakers approved a budget remotely. But the Illinois House voted down this approach.

In May, it met at a Springfield convention center to allow members to socially distance in the interests of safety. But it canceled its fall veto session rather than meet in person or figure out a way to meet virtually. Senate President Don Harmon and House Speaker Michael Madigan said face-to-face contact would be too hazardous at a moment when the pandemic is surging across the state.

Have they not heard of this thing called Zoom?
* Has the Tribune not looked at the remote legislating roll call?…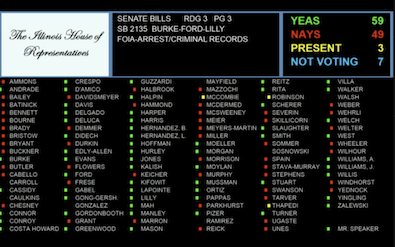 * Speaking of which…
It's HAPPENING!!! Time to #RescueIllinois☀️

🗓️December 5th
🕐1:00
🌆Daley Center Plaza, Chicago (Loop)

Speakers include @Paulvallas @AmyJacobson @DarrenBaileyIL @deannemazzochi @janthonyspeaks & others!

Residents of all states welcome!!! 🥳 pic.twitter.com/YHXl7p8LoP

— Emma Woodhouse (@EWoodhouse7) November 25, 2020
So, Mazzochi has gone full Darren Bailey. Interesting.
Reps. Mazzochi and Bailey both voted against the remote legislating bill, but I assume they believe it's safe to gather again, notwithstanding the coronavirus spike in the state and the likelihood of things worsening in the wake of Thanksgiving.
* Also, it's a bit surprising that Rep. Mazzochi is demanding the General Assembly get back to work considering she missed 285 floor votes in 2019, mostly during the crucial month of May.
- Posted by Rich Miller 35 Comments


* Dan Petrella and Ryan Ori at the Tribune…
Count the state of Illinois' plan to line up a buyer for the James R. Thompson Center by the end of 2020 as another casualty of the coronavirus pandemic.

A little-noticed provision in legislation the General Assembly passed during its abbreviated, pandemic-focused special session in late May and early June pushed back the timeline for the state to find a buyer for its controversial Loop headquarters by more than a year.

The state now has until April 5, 2022, to reach an agreement with a buyer for the 1.2 million-square-foot glass-and-steel structure, though the legislature could grant another extension. […]

The agency plans to ask for proposals from developers in the first quarter of the new year. […]

When Gov. J.B. Pritzker signed a bill in April 2019 to authorize the sale of the Helmut Jahn-designed building, Chicago was in the midst of a real estate boom. But COVID-19 has led to a significant slowdown in property sales, and the shaky U.S. economy is making developments difficult to finance.
It's always something with that albatross.
- Posted by Rich Miller 24 Comments


[The following is a paid advertisement.]
Clean energy is an essential part of Illinois' economic recovery. It protects public health and creates good-paying jobs, while ensuring that the people most in need of good jobs and clean air are at the front of the line. It will save Illinoisans money.
We can make our recovery an equitable, sustainable one, and position Illinois as a national leader on clean energy. We can stop our energy systems from sickening and excluding people of color. We can bring good-paying clean energy jobs to Illinois while preserving a livable planet.
Click here to learn more.
- Posted by Advertising Department Comments Off


* Rep. Mark Batinick (R-Plainfield) and I have been talking since the election about what happened to the two parties in the Chicago suburbs. He's made some very strong points during our discussions, so I asked him to put together his thoughts during the holiday and he sent me this last night…
Rich,

I hope you had a great Thanksgiving. While ours was small it was actually nice to have a little down time. I used some of it to reflect on my race and others. House Republicans have a LOT to be thankful for. I thought I'd share some of my findings with you.

A "Blue Wave" definitely hit the suburbs. Republicans lost the two contested Congressional races. There isn't a single Republican suburban Congressperson. The Illinois Senate [Republicans] lost a seat in their only contested suburban race.

But what's most instructive is what happened at the county level.

Lake County Republicans lost every countywide race. So did Will County Republicans. Only one Republican countywide prevailed in Kane county. In DuPage County, Republicans won only one contested countywide race and the County Board flipped from 11-7 Republican to 11-7 Democratic.

The only outlier in the suburbs was the House Democrats.

We did lose two incumbents in the suburbs: Allen Skillicorn and Grant Wehrli. Allen raised about 10K and by most appearances he didn't really run a campaign. It took $2.57M from Suzanne Ness to squeak out a 3-point win over Skilly.

While Wehrli lost, his fight was remarkably valiant. Janet Yang Rohr also spent over $2.5M to Wehrli's $400k. But here's the more amazing part. President Trump didn't win a single precinct in the 41st. ZERO. I can't think of a race where the fundamentals were so massively against a candidate and the candidate was still able to pull off a victory. Yet Grant nearly did. Forgive me for not being impressed by DPI's two pickups.

Now, let's look at our holds.

Remember all of the rumors of the House Dems picking up 5-8 seats? Well that's because Stephens, Mazzochi, Morrison, Ugaste, A. Grant and I were all supposed to lose. The amount we were outspent by in those races was sickening. Yet we all won.

We picked up two seats in the suburbs: Chris Bos and Seth Lewis. Both were running against likable woman incumbents. Both were massively outspent. Seth wasn't appointed to run until August, yet overcame roughly $2.6M in spending against him while spending about $400k.

It is clear that voters have had their fill of Madigan. The message worked well this election.

One of the best illustrations of this was in the 81st House, but it worked to our disadvantage. We had a terrific candidate running against Anne Stava-Murray — Laura Hois. She was one of our best walkers. This is the one race where we actually outspent the Dems. Yet we couldn't make headway. A quick look at precinct totals show AS-M outperforming the Democratic countywides in overlapping precincts. Voters are tired of corruption. If they knew one thing about Stava-Murray it was that she opposed Madigan. Apparently, her opposition to Madigan was worth more than $1M.

Obviously the campaign team did a lot with the resources we had. They all deserve a lot of credit. Other than raising more money, we need to stay the course on our anti-corruption messaging. The people of Illinois are finally recognizing it!
…Adding… From comments…
Lets not forget that pre election talk was of the House GOP getting swamped and MJM getting into the range of 80 seats. And Madigan was spending every dollar he could get his hands on to make it happen. We have NEVER seen Madigan spend like this in a prior cycle.

Why? Because the more members he had, the better chance he had to stave off an insurrection. But instead of riding the anti-Trump suburban wave, he got left behind and lost seats instead.

If Madigan had gotten to 80, the 18 opponents would still be 2 short of depriving Madigan the votes to be Speaker, and the entire conversation about his future is far different today.

It's the most impactful cycle the House GOP has had since 1994.
Agreed.
- Posted by Rich Miller 40 Comments


A 2011 state law created a "profit machine" for Commonwealth Edison and its corporate parent while saddling Illinoisans with higher electricity bills for the past decade, a new report by a top utility watchdog concludes.

The so-called smart-grid law that ComEd persuaded state lawmakers to enact is now a part of an ongoing federal bribery probe into the utility's statehouse lobbying efforts that were directed heavily at Democratic House Speaker Michael Madigan.

Illinois PIRG says that 2011 law, which it and other consumer groups opposed, has ComEd poised to reap annual profits of $1 billion by 2023 with far less oversight from state utility regulators and needs to be gutted.

"The narrative they've pushed for years that this law was great for consumers, and they continue to push even though it's tied up in this bribery scheme has to be questioned, and that's what we are trying to do with this report," said Abe Scarr, the group's director.

The law in question was one former Democratic Gov. Pat Quinn vetoed but was overridden on bipartisan legislative supermajorities.
The report is here.
'
* From an Illinois PIRG press release…
The report found that concerning customer rates and ComEd profits:

• In 2019, ComEd customers paid 37 percent more for delivery service than they did in 2011;
• Since 2012, ComEd customers have paid $4.7 billion more than they would have had the formula created by EIMA not increased delivery rates over the level in 2012;
• Over the past six years, ComEd has earned more than $1 billion more in profits than it earned over either of the previous six-year periods while it has been an Exelon subsidiary.

In 2011, then-ComEd President and COO Anne Pramaggiore promised "a smart meter in every home opening a world of consumer information and pricing options that provide opportunities for customers to save money." Regarding ComEd's failure to deliver customer benefits, the report notes that:

• Time-of-use rates, a critical customer benefit from smart meters, will not be broadly available to ComEd customers until at least 2024;
• Highly touted programs that were supposed to drive customer value from smart meters, such as the smart grid "Test Bed" and "Green Button Connect," have been outright failures;
• Even benefits that have arrived, including reliability improvements and increased operational efficiency, have not been properly evaluated or scrutinized, so that it is currently impossible to know whether those gains are worth the billions of dollars customers paid to achieve them.

"ComEd did not need formula rates to improve upon its chronically poor reliability performance, or to improve service through new smart grid technology," said Jeff Orcutt of Chapman Energy Strategies and report co-author. "Instead, ComEd used misleading promises of a customer-centered vision to win itself guaranteed profits and less accountability."

Over the course of 2020, Gov. JB Pritzker convened a series of stakeholder meetings geared towards crafting comprehensive energy legislation. The report makes a series of recommendations, some of which Gov. Pritzker put forward himself when he released his guiding energy principles in August. The Illinois PIRG report recommends:

• An immediate end to formula ratemaking
• A thorough and independent audit of ComEd's investments over the past decade and of the current status of ComEd's grid
• Integrated distribution planning, a public and transparent process for grid planning and investment decisions
• Forcing ComEd to immediately offer customer-friendly time-of-use rates
• Forcing Exelon to divest from ComEd, or, short of that, establishing better procedures to mitigate well-established risks posed by conflicts of interest inherent to Exelon's ownership of both expensive nuclear power plants and ComEd
• Establishing more effective checks on utility political power by limiting utility political giving, making permanent the ethics changes included in the deferred prosecution agreement, and ending utilities' ability to charge customers for charitable contributions, rather than making such contributions out of utility profits.
* Meanwhile, from Midwest Energy News…
A mysterious group has spent more than a quarter million dollars promoting a vague agenda that's critical of Illinois utilities' clean energy transitions.

Dramatic music plays as a mother wakes a child and a graduate throws their cap. "Illinois was promised a clean future, clean energy, clean jobs. But all ComEd and Exelon gave us was dirty politics."

So says a TV ad aired in Illinois last summer, the work of a group called the Clean Energy Transition Project that has spent more than a quarter million dollars on social media and TV advertising in Illinois in recent years, according to research by Capitol Fax and clean energy groups. […]

While the Clean Energy Transition Project claims to promote clean energy, it does not propose any specific policies, but rails against the scandal-plagued utility ComEd and its parent Exelon, owner of the state's nuclear plants. CEJA backers see the campaign as a direct attack on their legislation, which includes proposed capacity market reforms that would benefit Exelon.

"They are definitely co-opting the messages of climate and clean energy," said Illinois Environmental Council executive director Jen Walling. "They're putting out negative and false information about our legislation. That's terrible, and they're doing it in such a way that it's confusing and misleading the public. If the groups funding this want to get involved in the energy debate, this isn't the way to do it." […]

"If this is dark money from the fossil fuel industry, that seems the most likely scenario," said Jack Darin, director of the Sierra Club's Illinois chapter. "You have to assume they think their policies and values are not supported by Illinoisans; otherwise they would be a lot more forthright about who they are and what outcomes they want."
…Adding… Illinois Clean Jobs Coalition…
Today's report from Illinois Clean Jobs Coalition member Illinois PIRG demonstrates once again that utilities have run the game in Springfield for too long, and ratepayers got stuck with the tab. Gov. Pritzker and the Illinois General Assembly have an opportunity to hold utilities accountable by increasing oversight and transparency, providing restitution for ratepayers, and ending the rubber stamping of rate hikes. The Clean Energy Jobs Act is the only bill in Springfield to do just that.
- Posted by Rich Miller 17 Comments


* A press release handed to you in advance is not really a "scoop," but whatever…
SCOOP: Watch former Treasurer and U.S. Senate candidate Alexi Giannoulias make a run for the Illinois Secretary of State position that will open up with Jesse White's retirement in 2022.

"Secretary White is one of the finest public servants I have ever known. His shoes will be near impossible to fill, but if I run, I would work very hard to try and continue his legacy of caring and principled leadership," Giannoulias, a Democrat, said in a statement to Playbook. "If this [2020] election has shown us anything, it's that democracy is under siege and Secretaries of State across the country are on the front lines, ensuring that everyone can participate freely and fairly in elections." […]

Giannoulias hasn't formally announced but he's laying the groundwork by gathering support. A source close to him said he met with White recently to seek his endorsement. Giannoulias also has a head start in fundraising with $750,000 in his Citizens for Giannoulias account, and he's lining up Democratic donors to commit to what could be an $8 million to $10 million campaign.

Congresswoman Robin Kelly (2nd), who was Giannoulias' chief of staff in the Treasurer's office, is already nudging him to run. "I'm encouraged that he is thinking about running for statewide office," she said in a statement. "I witnessed his leadership and commitment to public office firsthand. He is progressive, ethical and reform minded."

Ariel Investments Co-CEO John Rogers Jr. and Tom Balanoff, the president of Service Employees International Union Illinois Council, are also supportive of Giannoulias, who was seen as a protege of Barack Obama. […]

Giannoulias left public office to work as a senior director at Bank of New York Mellon Corp. in Chicago. It was a nice landing spot given his family history. His late father founded Broadway Bank, a community bank that closed in 2010 in wake of the financial crisis.
It's of course not noted in the story, but Illinois has long given most responsibility for running elections to the State Board of Elections. The SoS has a limited role, like Motor Voter and mailing out the explanation of constitutional amendments and vote by mail applications.
Just before I hit "publish" on this piece, one of Giannoulias' people called to talk and said Alexi was referring to things like Motor Voter. Um, OK.
Also, I'm soooo looking forward to a reshash of all that Broadway Bank oppo.
…Adding… From comments…
Which Democratic constituency is pining for the return of the banking heir? Rep. Kelly and John Rogers notwithstanding, I think there are a lot of Democrats that would rather keep an African American on the statewide ticket.
- Posted by Rich Miller 68 Comments


* Polite Illinois-centric conversations only, please. Thanks.
- Posted by Rich Miller 32 Comments