* Press release…
Speaker Michael J. Madigan issued the following statement Thursday after a meeting with Gov. Bruce Rauner:

"I requested a meeting with Governor Rauner to ensure he understood my desire to pass a full-year budget and discuss the urgent need for a resolution to the state budget impasse. Throughout the governor's time in office, we have agreed to seven compromise budget bills when negotiations are allowed to focus on the budget. Schools, human service providers, rating agencies and thousands of others have asked us to do one thing – pass a budget. I ask the governor to turn his focus to the budget."
The only thing new there is the meeting itself.
- Posted by Rich Miller 11 Comments


* Crain's…
Chicagoland accounted for almost 87 percent of the nearly 426,000 private-sector jobs added since the Great Recession. This graphic shows the percentage change in private-sector employment by year in the Chicago area and the rest of the state compared to 2009.
* The graphic…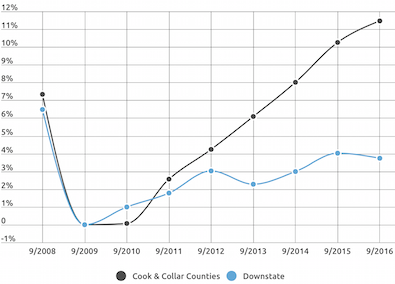 * Back to the Crain's piece…
Sixty-three percent of Indiana's counties have lost population since 2010. The percentage is 67 percent in Missouri and Michigan, 73 percent in Iowa and Ohio, 55 percent in Minnesota and 53 percent in Wisconsin. Illinois topped them all: 86 percent of the state's 102 counties lost population.

The magnet-like attraction of the Chicago region defies its highly-publicized problems. Data from the federal Bureau of Labor Statistics show Chicago and its surrounding metro counties are the engine for 9 out of 10 new jobs in Illinois. It is a trend vividly underscored in recent months when farm and construction equipment giant Caterpillar announced it was moving its headquarters from Downstate Peoria to north suburban Deerfield. […]

Despite talk of statewide economic development strategies, the lure of investment almost always benefits large metropolitan areas. Wage data bear that out. Just three of Missouri's 115 counties—in metro St. Louis and Kansas City—have an average weekly wage of $900 or more, while the average wage in 49 counties is under $600, according to the Bureau of Labor Statistics.

In Indiana, frequently pointed to by politicians and interest groups as a model for Illinois to follow, average weekly wages are below the national norm in 90 of 92 counties, statistics show. […]

"Moreover, because Chicago is less reliant on goods-producing employment, it has been better insulated than the rest of the state from the struggles affecting both the construction and manufacturing industries," the report said. "The difference between the Chicago-area economy and the economy in the rest of the state has had and will continue to have important implications for Illinois."
* Related…
* Dynegy to decide by year-end whether to exit southern Illinois: Representatives of MISO Energy, the grid operator for all or parts of 15 states in the central U.S. including downstate Illinois, in recent months have privately warned legislative leaders in Springfield and Gov. Bruce Rauner of potential power-supply shortages in the future if they don't assist some of the coal-fired plants downstate. Absent a court ruling halting the subsidies, which will take effect late this year, or additional state help to his fleet, Flexon said more plant closures are inevitable. Recent market signals are very negative. Under an auction conducted earlier this month by the regional grid operator for the Midwest, generators in downstate Illinois will be paid next to nothing for their promise to be available during peak-demand periods in the year beginning June 1, 2017.
- Posted by Rich Miller 33 Comments


* From a Statehouse reporter…
@ilhousegop says @GovRauner has rescinded layoffs of state-employed nurses in the Department of Corrections.#twill

— Tom Lisi (@tommylisi) April 27, 2017
* I asked the reporter if he had any more info since the governor's office wasn't replying…
@capitolfax @GovRauner Butler said he and other House GOP members want the Gov to go back to the bargaining table.

— Tom Lisi (@tommylisi) April 27, 2017
The House Republicans just confirmed this to me. Rauner rescinded the layoffs "while they negotiate on the issue of subcontracting," I was told.
* Background…
* 124 Illinois prison nurses get layoff notices

* Lawmakers to Fight Rauner on Prison Nurse Layoffs

* Rauner Says Using Contract Nurses Will Save $8M
*** UPDATE 1 ***  Sen. Andy Manar…
Prison nurses in communities around the state will get at least a temporary reprieve from Gov. Bruce Rauner's plan to privatize their jobs, thanks to attention brought to their plight by two central Illinois senators.

"This whiplash approach to governing is giving a lot of people a headache," said Senator Andy Manar (D-Bunker Hill). "It's never too late to do the right thing, but this entire situation, all the turmoil and stress for these workers and their families could have been – and should have been – avoided if the Rauner administration simply did a better job at running the state."

Manar, along with Republican Senator Sam McCann (R-Pleasant View), sponsored bipartisan legislation to halt Gov. Rauner's plan to lay off 124 unionized nurses currently employed by the state of Illinois in prisons around the state and privatize their jobs with an out-of-state corporation. According to the administration, the laid-off nurses would have an opportunity to reapply for their positions with the corporation, presumably at lower salaries.

The legislation that would have stopped the governor from pursuing his short-sighted plan passed in both houses of the Legislature and made it to the governor's desk.

The administration intends to reverse its plan to lay off the nurses and continue contract negotiations with them instead, it was announced this morning.
*** UPDATE 2 *** IDOC…
Hey Rich,

We remain committed to working with the INA to avoid the potential layoffs, and believe there is ability to reach common ground on compromise proposals that would allow DOC and INA to come to an agreement. Although we are disappointed that INA is not available until May 8, we are ready to meet whenever and hope they find availability sooner.
- Posted by Rich Miller 24 Comments


* AP…
Don't toss the grammar-school composition paper yet.

The Illinois House approved legislation 67-48 Wednesday requiring elementary and high schools to teach cursive writing.

The sponsor is Chicago Democratic Rep. Emanuel Chris Welch. He says it's important that tech-savvy children to retain cursive writing to read historical documents, write personal notes and sign documents.

Republican Rep. Steven Andersson of Geneva says cursive does not help develop young minds any better than printing. He says a legal document doesn't need a signature but only a "mark."
* Public Radio…
Members of the Illinois House passed legislation today that would require state agencies to buy American products, even if they're not the cheapest.

Democratic Representative Jay Hoffman of Swansea is sponsoring the proposal. He says it aligns with President Donald Trump's focus on American manufacturing.

"I could just reference your president's executive order regarding 'Buy American.' This is saying our state taxpayer dollars should put our people to work and we should use the buying power of our state to create jobs and economic opportunity."

Republicans voted against the measure. They say it doesn't make sense given the state's financial crisis.
* Press release…
A controversial plan before Congress that would permit companies to fine workers who refuse to share their genetic information through workplace wellness programs has prompted Illinois lawmakers to tighten up a state law protecting workers from such repercussions.

"We're seeing changes proposed at the federal level that are concerning to me and to others," said Senator Andy Manar, a Bunker Hill Democrat and sponsor of Senate Bill 318. "The goal here is only to protect the genetic information of individuals when that information might be used against them in the employee-employer relationship."

The legislation advanced out of the Senate Labor Committee Wednesday. It was prompted by news that Congresswoman Virginia Foxx, a Republican from North Carolina, in March proposed the Preserving Employee Wellness Programs Act (HR1313).

Supporters said the measure would enable employers to have the "legal certainty" to promote good health while lowering health care costs. However, critics said it would allow employers to pressure workers to share their private genetic information by rewarding them with lower health insurance costs, while penalizing those who choose not to disclose such details.

The Winston-Salem Journal, Foxx's hometown newspaper, called the measure an example of "big government run amok," in an editorial urging Congress to kill it.

Under Illinois' Genetic Information Privacy Act, employers must handle genetic testing consistent with the federal laws. It prevents employers from requiring genetic testing as a condition of employment, from changing terms of employment as a result of genetic information, or from classifying employees based on genetic testing. Further, it says testing done in the context of a workplace wellness program is available to employers only in aggregate form, not on an individual basis.

Manar's proposed update to the law would bar employers from penalizing workers who choose not to disclose their genetic information or do not participate in a program that requires disclosure of their genetic information.

"I think we have a strong law in Illinois, but I don't think it's very strong about barring employers from penalizing employees," he said.
…Adding… IL Public Radio…
With support from labor unions, Illinois House Democrats passed legislation Wednesday that would restore certain bargaining rights for Chicago Public Schools teachers — letting them negotiate with the city on things like class size, length of school day, and layoffs.

For the last 22 years, Chicago Public School Teachers have been constrained in collective bargaining — limits that don't apply to teachers in the rest of the state. The legislation would restore that parity — letting Chicago teachers have a say in private vendor contracts, class schedules and size, and the length of the school day.

Representative Silvana Tabares ,D-Chicago, the proposal's sponsor, tied the interests of teachers with students. "Teachers will have a voice to have a discussion about these items, and that will improve the quality of education."

Opponents take a different tack, that what's good for teachers is not always what's good for students. Representative Keith Wheeler, R-Oswego, says the bargaining limits were established after multiple harmful strikes from CPS teachers in the 1980s.
- Posted by Rich Miller 12 Comments


* Sen. Andy Manar asked the governor's chief of staff Richard Goldberg during a hearing this morning whether Gov. Rauner would sign a K-12 funding bill in absence of a full budget.
"I don't think that we should be considering hypotheticals," with several weeks to go before the end of the spring session, Goldberg said.
However, Goldberg went on to say that he believes "K-12 education, ensuring that schools open in the fall will absolutely be a top priority for him," as it has in the past.
Yet, the governor won't agree to fund other programs without a full budget, including the House's stopgap proposal which uses money from designated social service and higher education funds that is currently piling up in bank accounts collecting dust.
- Posted by Rich Miller 50 Comments


* Bernie…
Meanwhile, a 2014 Democratic primary candidate for governor, TIO HARDIMAN, now of Calumet City, talked with some of the candidates after the speeches, and Daiber told Hardiman he had voted for him. Former Gov. PAT QUINN defeated Hardiman in that primary, but Hardiman won 28 percent of the vote, and topped Quinn in more than a quarter of the state's counties.

Daiber told me it was a "protest vote" because he had been upset with Quinn for seeking to cut out pay for regional superintendents when Daiber was president of their organization.

"Pat Quinn was a good governor," Daiber said. "He did a lot of good things." He said he has campaigned with Quinn, backed him in the 2014 general election, and they are friends.
* Meanwhile, Sen. Daniel Biss was busy yesterday, speaking at a minimum wage hike rally…
Hundreds of minimum wage workers rallied at the state capitol to fight for $15.

The rally drew workers from all over the state and multiple organizations were represented, all fighting to make the minimum wage $15 an hour. Many speakers came out including State Senator Daniel Biss, D-Evanston.

"We're not going to stand for it, we are not going to accept it. We are going to fight, we are going to fight, and we are going to win." he said to the hyped up crowd.

Attendees were there pushing for House Bill 198, a bill pending in the House that would raise the minimum wage to $15 an hour by 2022.
* Biss also spoke to Alzheimer patient advocates…
"This lobby day is really crucial and having [others] join in this effort is enormously important" @danielbiss #ENDALZ #AlzIllinois pic.twitter.com/GTvme4Pgnj

— Alz Assoc Central IL (@ALZ_Central_IL) April 26, 2017
* Ameya Pawar continued his visits to Downstate communities…
As the campaign's volunteer director, I can tell you that Ameya Pawar doesn't just meet with voters. He'll even meet their Republican parents.

In rural communities - including areas that haven't voted for Democrats in years - Ameya is unafraid to articulate the same message of a New Deal for Illinois that he touts in Chicago. That's what he did on a recent trip to Prophetstown when one of our supporters invited him to travel there to meet her conservative parents.

These trips are part of our work to mobilize voters in every county. And Ameya is winning over voters, one skeptical dad at a time.
* And JB Pritzker is back in Springfield for another event today…
B Pritzker to Speak at Springfield IFT Rally in Support of Higher Education

WHAT
JB Pritzker to rally with the Illinois Federation of Teachers and speak about Bruce Rauner's harmful cuts to higher education.

WHEN
Thursday, April 27 at 1:15 PM

WHERE
Lincoln Statue
Illinois State Capitol
- Posted by Rich Miller 11 Comments


* Politico has published a 2,000-word piece about the possibility that Theo Epstein, the president of baseball operations for the Chicago Cubs, will run for office some day. The story includes a lengthy interview of David Axelrod. It's a bit on the silly side…
Politico: Let's imagine the messaging of a hypothetical Epstein campaign. Could he sell himself as the ultimate turnaround artist? First, the Red Sox, then the Cubs, next the state of Illinois, for example?

Axelrod: [laughs] It would work if he were running for alderman on the North Side of Chicago, but I suspect voters might resist the idea that turning around a baseball team is commensurate with turning around a city, a state or a country … A good example would be Bill Bradley (a former New York Knicks star who became a Democratic senator from New Jersey). When he ran he did very little referencing of basketball. He was actually even self-conscious about being a jock, so I think you have to separate yourself a little bit from sports … One thing that is transferable is the notion of building a team and getting people to work together. You could use that as a bridge to say what we need in this country is to regain the sense that we're all on the same team and that we're only going to prosper if we work together and find a way to build that bridge. That would be a winning message.
* Axelrod, however, firmly believes that Epstein will never run for office…
Politico: But you don't think he'll take the bait?

Axelrod: I think as soon as he gets that call, he's immediately changing his number … I think Theo would be frustrated in public office because of the situation he's in now. He basically has free rein to do what he needs to do for the success of the organization. That is not the case in politics—you're seeing that with the governor in Illinois (Bruce Rauner) right now. You have to deal with legislatures and all kinds of public stakeholders. And if you're used to making things happen, I'm not sure the Senate would be a particularly satisfying job for you. When I talked to him on my podcast … about what he might want to do next … he allowed that he might want to own a team sometime and use that team or use that platform to try to impact on a community. He clearly cares about the larger world and wants to make an impact … But there are many, many reasons I think Cubs fans can relax and enjoy the benefits of his leadership for many years to come.
Discuss.
- Posted by Rich Miller 15 Comments


* Tribune…
A day after advocates descended on the Capitol to push for women's rights, the Illinois House passed a bill that proponents say would help close the pay gap between men and women.

Sponsored by Democratic Rep. Anna Moeller of Elgin, the measure would bar employers from asking job applicants for prior wage or salary history unless it's already public information or the applicant is moving within the company. Moeller and other supporters say this would help curb wage discrimination against women by ensuring an employer's salary offer isn't based on an unequal wage. […]

But the bill did win support from some Republicans who said it was time for lawmakers to address inequalities in the workplace. It passed the House 91-24 and now heads to the Senate.

"I may be one of the few people in this assembly that spent 30 years working for a large corporation, in fact one of the largest corporations in the world. This was my life, and I have to vote for this bill," said Rep. Margo McDermed, R-Mokena, a former attorney for a major oil and gas company. "I think about with very great regret how much more I would have retired with if we'd had some of the protections that our representative is fighting for here today."
* Finke…
Rep. Mark Batinick, R-Plainfield, said the law will hamstring employers who hire sales representatives who work on commissions.

"I need to ask how much they made in the past (to evaluate them)," Batinick said.

Moeller said the information is not relevant.

"To say it is not relevant, I think is an absurdity," Batinick responded.

However, Rep. Steve Andersson, R-Geneva, said he's spent 25 years hiring people, and past salary history is not relevant.

"You know what's relevant? Recommendations, work experience, where your education came from," Andersson said. "We have to accept the reality that women are paid less than men."
* Michon Lindstrom at WAND TV…
"The very fact that women continue to make less demonstrates that we must do better in this state. Illinois can be a leader in assuring that women are paid for their work." said Representative Anna Moeller, D-Elgin, the sponsor of the bill.

Opponents of the measure say the new restrictions on employers would be bad for business in the state and could cause them to leave.

"This bill has nothing to do with pay equity. All it is doing is putting additional restrictions on people who want to create jobs in the state. That's the reason every single business group in the state is opposed. This is the stupidest bill we have considered this week." said Representative Peter Breen, R-Lombard.
The roll call is here. Lots of Republicans voted for that bill. Politically, it's conceivable that Gov. Rauner could undo some of the damage he's done to himself by flip-flopping on HB 40 by signing that legislation into law. We'll see.
- Posted by Rich Miller 12 Comments


* GateHouse…
Gov. Bruce Rauner and first lady Diana Rauner are not the only new residents at the Illinois State Fairgrounds in Springfield.

In response to questions at an Employer Action Day event on Wednesday, Rauner explained that a family of foxes has taken up residence beneath the stairs of the Director's House, where the Rauners are staying during a major historic restoration of the Illinois Executive Mansion.

"I learned my first morning, there's a den of foxes under the stairs, so a mom and six little pups," Rauner said during the event at Wyndham City Centre.

Rauner said precautions have been taken to protect the litter from the family dog, Stella, who he pointed out is a hunting dog. He joked that he also wanted to avoid a "social media event" involving Stella and the fox family.

"Stella's not with me, so we don't have an interaction that would be very unproductive," said Rauner. "I hope those puppies grow fast and then move on. That would be a great thing."
* Press release…
ILLINOIS STATE COMPTROLLER SUSANA A. MENDOZA RELAUNCHES COMPTROLLER'S CRITTERS PROGRAM

Who: Illinois State Comptroller Susana A. Mendoza
The Honorable Daniel Solis, Alderman – 25th Ward
The Honorable Nicholas Sposato, Alderman – 38th Ward
The Honorable James Cappleman, Alderman – 46th Ward
Susan J. Russell, Executive Director, Chicago's Commission on Animal Care & Control
Kristen Pearson, CEO, PAWS Chicago
Steve Dale, Syndicated Columnist, My Pet World

What: Comptroller Mendoza will relaunch the late Comptroller Judy Baar Topinka's animal rescue program, Comptroller's Critters. Immediately following the announcement will be a tour of the Chicago Animal Care and Control Facility.

Where: Chicago Commission on Animal Care & Control
2741 South Western Avenue Chicago, Illinois 60608

When: Thursday, April 27th, 2017 10:30am - 12:00pm

About Comptroller's Critters: Comptroller's Critters was designed to help people locate pet adoption shelters throughout Illinois and place shelter pets in loving forever homes. Our goal is to give people the resources they need to adopt a pet and ultimately reduce animal control costs at a state and local level. The Office has partnered with shelters throughout Illinois to help reduce the number of animals waiting to be adopted.
She also included a pic of herself with Ald. Sposato and the late Judy Baar Topinka at a pet adoption event they hosted together…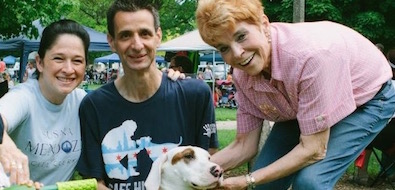 * And since we're talking about pets, Oscar and I were joined by our good friend Ken this past weekend on the ol' pontoon boat…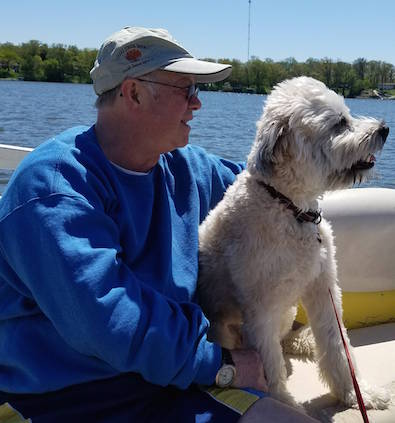 - Posted by Rich Miller 23 Comments


* As Mary Ann Ahern reported last night, JB Pritzker supported Hillary Clinton for president in 2008 and then said this in the spring of 2012 when he was asked if he was supporting President Obama's reelection…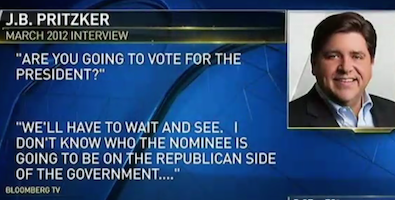 Ouch.
Ahern admitted during the press conference, by the way, that the quote was pointed out to her by one of Pritzker's primary opponents.
* Pritzker's response to Ahern yesterday…
My opponents will suggest a lot of things, I'm sure, that aren't true. Here's the thing, I'm a Democrat. You've heard what my progressive values are. I've stood for those things. I've fought harder than anybody that's running in this race against Donald Trump.
He also pointed out that he backed Obama after the 2008 primary and supported him in 2012.
Even so, those 2012 comments will make for a heck of a TV ad or ads on Chicago black radio stations.
* Meanwhile…
"He was down on the ground with us regular folks when we were out there knocking on doors for the democratic party," [Ald. Walter Burnett] said. "J.B. was there too and his wife was there also – who I met before he even married her. He knows how to feel people."

And Pritzker was expressing some of those feelings on the South Side. Pritzker announced his campaign kickoff in Alderman Michelle Harris' South Side ward, and Harris said the enthusiastic turnout was well earned.

"Out of every candidate, his concepts, his ideas and his vision for this state really connects with the African American community," Harris said.

Harris admits another major fact is the fact that Pritzker is worth billions and has the money to run against wealthy incumbent Republican Governor Bruce Rauner.
- Posted by Rich Miller 30 Comments