* Press release…
The Illinois Department of Public Health (IDPH) today announced 982 new cases of coronavirus disease (COVID-19) in Illinois, including 97 additional deaths.

Coles County: 1 male 70s
Cook County: 1 male 30s, 1 female 40s, 3 males 40s, 2 females 50s, 3 males 50s, 2 females 60s, 7 males 60s, 2 females 70s, 7 males 70s, 8 females 80s, 5 males 80s, 9 females 90s, 6 males 90s
DeKalb County: 1 female 90s
DuPage County: 2 males 60s, 1 female 90s
Kane County: 1 male 40s, 1 female 60s, 1 male 70s, 1 female 80s, 2 males 80s
Kankakee County: 1 male 60s
Lake County: 1 male 40s, 1 male 60s, 1 female 70s, 1 male 70s, 2 females 80s, 1 male 80s, 1 male 90s
Madison County: 1 male 60s, 1 male 70s, 1 female 90s, 1 male 90s
McHenry County: 1 male 60s, 2 males 70s, 1 male 90s
Peoria County: 1 male 80s, 1 male 90s
St. Clair County: 1 female 80s, 1 male 80s, 1 female 100+
Stephenson County: 1 female 70s, 1 male 70s, 1 male 80s
Union County: 1 female 70s, 1 male 70s,
Will County: 1 female 50s, 1 female 90s
Winnebago County: 1 male 70s

Currently, IDPH is reporting a total of 123,830 cases, including 5,621 deaths, in 101 counties in Illinois. The age of cases ranges from younger than one to older than 100 years. Within the past 24 hours, laboratories have reported 24,471 specimens for a total of 959,175. The preliminary seven-day statewide positivity for cases as a percent of total test from May 27–June 2 is 6%.

*All data are provisional and will change. In order to rapidly report COVID-19 information to the public, data are being reported in real-time. Information is constantly being entered into an electronic system and the number of cases and deaths can change as additional information is gathered. Information for a death previously reported has changed, therefore, today's numbers have been adjusted.
- Posted by Rich Miller 5 Comments


* Comcast supplies my internet. This national outage map is from DownDetector…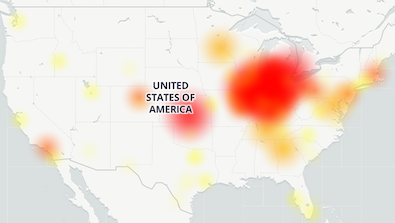 * AT&T is my phone provider. I use it as a backup wifi hotspot during Comcast outages. Also from DownDetector…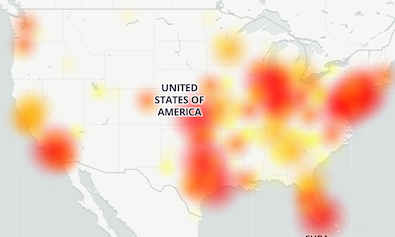 Luckily for me, I can piggy-back on a Verizon account. But my site went down for a bit and, man, if this isn't the most typical 2020 thing to happen I don't know what is.
…Adding… Comcast and AT&T are both working again for me. Whew. That was so weird.
- Posted by Rich Miller 39 Comments


* COGFA…
For the month of May, base general funds revenues fell $341 million. With few exceptions, the vast majority of revenue sources experienced declines, with sales tax receipts reflecting the largest falloff related to COVID-19, and the interruption of the economy. Two less receipting days likely contributed to the monthly decline.

Gross sales tax receipts fell $182 million in May, or $181 million on a net basis. As mentioned, two less receipting days partially contributed to the decline, but the bulk of the poor performance can be blamed on the consequence of economic slowdown related to COVID-19. Public utility taxes dropped $27 million, while corporate franchise taxes were off $14 million. Inheritance tax, interest earnings, and other miscellaneous sources each suffered a $13 million monthly decline.

After dropping over $2 billion on a net basis last month, total income taxes suffered only minor losses in May. Gross personal income tax receipts were only off $8 million [$3 million on a net basis], while gross corporate income taxes fell a modest $4 million [$2 million on a net basis]. Cigarette taxes were down $7 million and vehicle use taxes were down $2 million.

Insurance taxes were the only tax source that managed to post a monthly gain, as receipts grew $4 million.

Overall transfers fell $32 million for the month. Lottery transfers posted a $10 million gain, but was more than offset by a $29 million decline in other transfers and a comparable $13 million loss in riverboat transfers [as casino gaming has been temporarily halted]. Federal sources were very weak in May, as they were in the same month last year, but still fell $38 million in comparison.
* Year to date…
Excluding proceeds from the Treasurer's Investment program as well as interfund borrowing, after suffering April's dramatic $2.740 billion falloff, and May's lesser but still sizable drop, base general funds revenues stand $1.343 billion below last year's levels. As discussed in previous briefings, through the first three-fourths of the fiscal year, revenues had performed quite well. Unfortunately, economic carnage related to COVID-19, as well as tax day deadline changes have significantly derailed the fiscal year revenue picture.

With only one month remaining in the fiscal year, gross personal income taxes are down $1.119 billion, or $915 million net. Gross corporate income taxes are off $381 million, or $275 million net. Gross sales taxes have now turned negative for the year as receipts are down $121 million, or $79 million net. The performance of the remaining revenue sources continue somewhat mixed, but have now also taken on a somber tone, falling a combined $211 million.

Aided by gains associated to Refund Fund and Capital Projects Fund transfers, overall transfers to the general funds are still up $371 million. Federal sources, which have experienced wide monthly swings in performance this fiscal year, are now down $234 million.
- Posted by Rich Miller 1 Comment


* From the Join the Lawsuit against Illinois Gov. JB Pritzker Facebook page…

Click the pic to read the comments. Whew.
Needless to say, it's a completely goofy claim not supported by any facts, but whatever.
Waiting for a breathless post on Second City Cop in 3… 2…
…Adding… From Mayor Lightfoot's conference call with reporters today…
Mayor says it's not helpful for people who are "supremely uninformed spreading falsities." Talks about "concerted effort out there to misinform" when asked about 3K caravan coming from Indiana and accuses Ald. Ray Lopez (15th) of repeating that false rumor.

— Fran Spielman (@fspielman) June 3, 2020
As we've already discussed, that wild rumor about thousands coming from Indiana to protest was all over social media and Ald. Lopez took it seriously. To be clear, there probably were several Hoosiers in town. Chicago would be the closest big protest for anyone living in northwest Indiana. Plus, lots of Chicago-area folks have moved to Indiana and they still have friends and families here. So, that's to be expected. But an organized caravan of thousands of people from Indianapolis, or whatever, was just nonsense.
- Posted by Rich Miller 42 Comments


On Sunday afternoon, Little Village neighbors came together to protect 26th Street businesses after people looted shops. Ald. Michael Rodriguez (22nd) said as the night went on, a few Latino men became "antagonistic" and were indiscriminately targeting Black people driving through the neighborhood.

In a video posted to Facebook, four Black women and a child driving through Little Village near Kedzie Avenue and Cermak Road Sunday had their car hit three times with bat as men stood in the street. A car was burning in the background.

In another video posted to Twitter, Latino men stood at the corner of Kedzie and Cermak, some with baseball bats, throwing items at cars as the drove by. Those items included bricks, Rodriguez said. A car was burning and other drivers attempted to dodge items launched in their direction. […]

On Monday evening, Rodriguez said he witnessed a young Black couple driving on Kedzie go through a "gauntlet" with people throwing things at their car. The Black couple were in Little Village to patronize a local business, he said.

"It was terrible. They looked so frightened," he said.

According to leaders in the area, some of the Latino men guarding Little Village are members of the Latin Kings street gang.
* Sun-Times…
Michael A. Moreno Jr., owner of Moreno's Liquors in Little Village, said the racial tension he's witnessed the past two days is "scary." He was among those who tried to guard his business, and he tried talk to some gang members who were doing the same thing. But he believes the gang members ended up acting as provokers.

"The gangs took matters into their own hands," Moreno said inside his liquor store Tuesday. "I feel like a lot of people had well intentions at first. Unfortunately, when you start allowing the gangs to start protecting the neighborhood, you are not going to have the outcome that you would like."

Ald. Ray Lopez, whose 15th Ward is home to a mix of both Latino and African American residents in communities such as Back of the Yards, said a juvenile gang member shot an African American man near 45th Street and Hermitage Avenue on Tuesday morning after asking the man, "What are you doing in this neighborhood?" The 49-year-old, who was with his daughter and son-in-law, was shot in the wrist and taken to Stroger Hospital. He was in good condition Tuesday.
* On to Cicero…
Shapearl Wells, an African American resident of Cicero, said she and her family were targeted Monday afternoon on Cermak.

It happened first to her cousin, who was driving out from Chicago to visit her. She was at a red light on Cermak Road and Central Avenue when a group of men approached the cousin's car.

"They told her, 'You not from around here you n - - - - - bitch,'" Wells said.

She told Wells what happened when she arrived. Wells, who's lived in Cicero since 2003, was stunned. She went out for a drive to see for herself.

At some point, "about 20 to 25 Latin Kings" approached Wells' car. "I rolled down my window and they told me I would only be OK if I go in the house and stayed inside."

She said she called the police to tell them what happened, but nothing was done.
* Tribune…
After several social media posts were widely shared showing alleged gang members in Little Village and Cicero attacking black people in those neighborhoods, people began labeling the situation a race war. More posts advised black Chicagoans to avoid "Mexican neighborhoods" because Latinos were profiling and targeting them as looters. […]

In Pilsen, Ald. Byron Sigcho-Lopez said in a video that he was aware of attacks reported on social media and urged the community to look after its black neighbors.

On Tuesday, Chicago community leaders and elected officials denounced the reports of violence against black Chicagoans by Latinos, saying that it is a "distraction" to the systematic racial issue they intended to fight in Floyd's name. […]

More than 200 people, some from the suburbs, dispersed in groups throughout Southwest Side neighborhoods, including Gage Park, Back of the Yards, Brighton Park, Pilsen and Little Village on Monday evening with brooms and bags to pick up debris from the looting.
* Last night…
Chuy Garcia also plans to attend pic.twitter.com/AZLgwg7wCJ

— Rich Miller (@capitolfax) June 2, 2020
* Today…
Days after racial tension mounted between Little Village residents and African Americans protesting the death of George Floyd, protesters marched down 26th street and encouraged unity. […]

As the crowd grew, organizers told those gathered that Latinos won't get respect until black people do. "Our lives as brown people is connected to the lives of black people," one organizer said.

Stephanie Cerda-Ocampo said she joined the march because she thinks Latinos ignore anti-black problems in the community. "We need to stick together and fight against the real issue like white supremacy," she said.
* More…
Crowd chants "George Floyd" as they start marching along 26th Street in Little Village. pic.twitter.com/EZzvdGUCnw

— Elvia Malagón (@ElviaMalagon) June 3, 2020
They met at the anti-racist protests in Little Village and decided to march side by side. A young man had a speaker with a Bob Marley song playing. "It's gotta be love man, we love one another," he said: https://t.co/KxL9zHEDFo pic.twitter.com/phZeUDZyGU

— Laura N. Rodríguez Presa (@LAURA_N_ROD) June 3, 2020
The crowd is back at the arch in Little Village, kneeling and observing a moment of silence. "This fight is long and this is not going to end today," an organizer tells the crowd. pic.twitter.com/W6KJXDhdOQ

— Elvia Malagón (@ElviaMalagon) June 3, 2020
…Adding… CPD Superintendent this afternoon…
Supt. Brown: Last night was "one of our quietest nights." There were 274 arrests. Fewest number of looting calls and arrests — only six arrests for looting, and it was people coming back to already-looted places. No new cases of looting. 46 cases of disorderly conduct.

— Kelly Bauer (@BauerJournalism) June 3, 2020
- Posted by Rich Miller 9 Comments


* Sun-Times…
Seeking to address the systemic racism plaguing the nation and the painful looting that devastated the South and West sides, African American state legislators on Tuesday called for money to rebuild, criminal justice reforms to heal and an executive order from Gov. J.B. Pritzker to "to immediately respond to the crisis in our community." […]

With billions in federal funding from the federal stimulus bill at his disposal and a recent budget passed by the state Legislature that gives Pritzker some discretion in spending, [Rep. La Shawn Ford. D-Chicago] said an executive order will go a long way in rebuilding the state and give the governor the ability to "operate outside of the Legislature," that could free up spending from "lockboxes" to deal with the crisis.

The federal money is separated into funds for the Illinois Emergency Management Agency and for COVID-19 related response that Ford said should be spent on African-American communities around the state. Ford argues that federal grants as well as money allocated in the operating and capital budgets could be used to rebuild the state. […]

The General Assembly is not scheduled to return to Springfield until November for the fall veto session, but on Tuesday the caucus of black state senators and House members offered up proposed police reforms. State Rep. Justin Slaughter, D-Chicago, suggested the Legislature make it easier for people to access police misconduct files, work on "modernizing" the use of force statue and protect whistleblowers within police departments.
State Sen. Elgie Sims, a Chicago Democrat, said the Black Caucus has worked to make Illinois the first state to authorize body cameras, banned use of the chokehold, made efforts to combat racial profiling permanent, removed barriers to unemployment and obtaining various licenses, and made expungement more available for non-violent offenders.

"The fight continues. And we will continue to work to reform our state, criminal justice system, which has far too often criminalized poverty, mental illness and substance abuse, as opposed to addressing the underlying challenges of years of chronic disinvestment, and the byproduct of the policies of benign neglect."

The lawmakers said they fought this session to include funding for black communities in the state's appropriation of federal CARES Act funding, and that education programs and other initiatives important to minority communities did not lose needed financial aid.

Going forward, the lawmakers said they wanted to see government investment in the communities hardest hit by looters, many of which were African-American neighborhoods on Chicago's south and west sides, according to Chicago Democratic Rep. Lamont Robinson Jr.

"Our work is cut out for us," he said. "We do not accept burned out storefronts and looted shops will be the monument to George Floyd. To rebuild, we need lenders to make sure capital is available. We need the programs and services of our state and local governments laser-focused on returning these businesses to viability, for the sake of our communities."
- Posted by Rich Miller 14 Comments


* He has a valid point here. From a press release that was misidentified as a news story in another publication…
The Democrat majority pushed through mail-in ballot legislation under the guise of protecting citizens from a possible resurgence of COVID-19, but State Senator Jim Oberweis (R-Sugar Grove) and candidate for Congress in the 14th District, says the bill was nothing more than another example of partisan politics.

The legislation approved would require mail-in ballot applications to be sent to anyone who voted in the 2018, 2019 elections and in the 2020 Primary Election. Voters in the 2016 election were left out of the bill even though turnout in 2016 was much greater than the 2018 election. The total votes cast in the 2016 General Election was 5,536,424. The total votes cast in the 2018 General Election was 4,547,657 – a difference of nearly 1 million voters.

"The Democrat majority is intentionally limiting who gets the applications because they believe that by doing so, they can ensure Democrat victories," Oberweis said. "The 2018 election had a high turnout of Democrat voters, which is clearly why they are not including the 2016 election in their mail-in ballot application program. This legislation is about protecting their majority and not at all about trying to help citizens during this health crisis."

Oberweis said Republicans by contrast want to provide ballot applications to all voters by including the mail-in ballot applications in the required mailing of the wording of the Constitutional Amendment that has to be mailed to voters ahead of the Nov. 3rd election.

"The law requires the state to send out a mailing regarding Constitutional Amendments on the ballot and so it just makes sense to include the applications in these mailings," Oberweis said. "This would be the most economical and responsible way to handle the mail-in ballot applications, saving taxpayers millions of dollars. The Democrat majority was not interested in this approach because the goal here is not to be responsive to the needs of the electorate, but rather to make sure they keep their majority in the House and the Senate. Democrats accuse Republicans of trying to suppress voter turnout but clearly Republicans are trying to increase voter turnout by making ballot applications available to all registered voters. Republicans are also concerned about voter fraud because voter fraud lessens the value of every legitimate vote."

Oberweis said he has and will continue to encourage voters to vote by mail.

"Voting by mail is a safe and convenient way to vote," Oberweis said. "Republicans especially tend to vote in person but there are times when things happen preventing folks from voting on Election Day. If just 3 or 4% of Republicans intending to vote don't vote, that can easily change the result of many elections. Voting by mail is a viable option and one all voters should consider. We can't let Democrats continue to beat us by getting their voters to vote by mail."
Discuss.
- Posted by Rich Miller 32 Comments


* Rev. Martin Luther King, Jr. March 14, 1968…
Now I wanted to say something about the fact that we have lived over these last two or three summers with agony and we have seen our cities going up in flames. And I would be the first to say that I am still committed to militant, powerful, massive, non­-violence as the most potent weapon in grappling with the problem from a direct action point of view. I'm absolutely convinced that a riot merely intensifies the fears of the white community while relieving the guilt. And I feel that we must always work with an effective, powerful weapon and method that brings about tangible results. But it is not enough for me to stand before you tonight and condemn riots. It would be morally irresponsible for me to do that without, at the same time, condemning the contingent, intolerable conditions that exist in our society. These conditions are the things that cause individuals to feel that they have no other alternative than to engage in violent rebellions to get attention. And I must say tonight that a riot is the language of the unheard. And what is it America has failed to hear? It has failed to hear that the plight of the negro poor has worsened over the last twelve or fifteen years. It has failed to hear that the promises of freedom and justice have not been met. And it has failed to hear that large segments of white society are more concerned about tranquility and the status quo than about justice and humanity.

Now every year about this time, our newspapers and our televisions and people generally start talking about the long hot summer ahead. What always bothers me is that the long hot summer has always been preceded by a long cold winter. And the great problem is that the nation has not used its winters creatively enough to develop the program, to develop the kind of massive acts of concern that will bring about a solution to the problem. And so we must still face the fact that our nation's summers of riots are caused by our nations winters of delay. As long as justice is postponed we always stand on the verge of these darker nights of social disruption. The question now, is whether America is prepared to do something massively, affirmatively and forthrightly about the great problem we face in the area of race and the problem which can bring the curtain of doom down on American civilization if it is not solved. And I would like to talk for the next few minutes about some of the things that must be done if we are to solve this problem.

The first thing I would like to mention is that there must be a recognition on the part of everybody in this nation that America is still a racist country. Now however unpleasant that sounds, it is the truth. And we will never solve the problem of racism until there is a recognition of the fact that racism still stands at the center of so much of our nation and we must see racism for what it is. It is the nymph of an inferior people. It is the notion that one group has all of the knowledge, all of the insights, all of the purity, all of the work, all of the dignity. And another group is worthless, on a lower level of humanity, inferior. To put it in philosophical language, racism is not based on some empirical generalization which, after some studies, would come to conclusion that these people are behind because of environmental conditions. Racism is based on an ontological affirmation. It is the notion that the very being of a people is inferior. And their ultimate logic of racism is genocide. Hitler was a very sick man. He was one of the great tragedies of history. But he was very honest. He took his racism to its logical conclusion. The minute his racism caused him to sickly feel and go about saying that there was something innately inferior about the Jew he ended up killing six million Jews. The ultimate logic of racism is genocide, and if one says that one is not good enough to have a job that is a solid quality job, if one is not good enough to have access to public accommodations, if one is not good enough to have the right to vote, if one is not good enough to live next door to him, if one is not good enough to marry his daughter because of his race. Then at that moment that person is saying that that person who is not good to do all of this is not fit to exist or to live. And that is the ultimate logic of racism. And we've got to see that this still exists in American society. And until it is removed, there will be people walking the streets of live and living in their humble dwellings feeling that they are nobody, feeling that they have no dignity and feeling that they are not respected. The first thing that must be on the agenda of our nation is to get rid of racism.

Secondly, we've got to get rid of two or three myths that still pervade our nation. One is the myth of time. I'm sure you've heard this notion. It is the notion that only time can solve the problem of racial injustice. And I've heard it from many sincere people. They've said to the negro and/to his allies in the white community you should slow up, you're pushing things too fast, only time can solve the problem. And if you'll just be nice and patient and continue to pray, in a hundred or two hundred years the problem will work itself out. There is an answer to that myth. It is the time is neutral. It can be used either constructively or destructively. And I'm sad to say to you tonight I'm absolutely convinced that the forces of ill will in our nation, the forces on the wrong side in our nation, the extreme righteous of our nation have often used time much more effectively than the forces of good will and it may well be that we may have to repent in this generation not merely for the vitriolic words of the bad people who will say bad things in a meeting like this or who will bomb a church in Birmingham, Alabama, but for the appalling silence and indifference of the good people who sit around and say wait on time. Somewhere we must come to see that human progress never rolls in on the wheels of inevitability, it comes through the tireless efforts and the persistent work of dedicated individuals who are willing to be co-workers with God and without this hard work time itself becomes an ally of the primitive forces of social stagnation. And so we must always help time and realize that the time is always right to do right.

Now there is another myth and that is the notion that legislation can't solve the problem that you've got to change the heart and naturally I believe in changing the heart. I happen to be a Baptist preacher and that puts me in the heart changing business and Sunday after Sunday I'm preaching about conversion and the need for the new birth and re-generation. I believe that there's something wrong with human nature. I believe in original sin not in terms of the historical event but as the mythological category to explain the universality of evil, so I'm honest enough to see the gone-wrongness of human nature so naturally I'm not against changing the heart and I do feel that that is the half truth involved here, that there is some truth in the whole question of changing the heart. We are not going to have the kind of society that we should have until the white person treats the negro right - not because the law says it but because it's natural because it's right and because the black man is the white man's brother. I'll be the first to say that we will never have a truly integrated society, a truly colorless society until men and women are obedient to the unenforceable. But after saying that, let me point out the other side. It may be true that morality cannot be legislated, but behavior can be regulated. It may be true that the law cannot change the heart but it can restrain the heartless. It may be true that the law can't make a man love me, but it can restrain him from lynching me, and I think that's pretty important also.

And so while legislation may not change the hearts of men, it does change the habits of men when it's vigorously enforced and when you change the habits of people pretty soon attitudes begin to be changed and people begin to see that they can do things that fears caused them to feel that they could never do. And I say that there's a need still for strong civil rights legislation in various areas. There's legislation in Congress right now dealing with the whole question of housing and equal administration of justice and these things are very important for I submit to you tonight that there is no more dangerous development in our nation than the constant building up of predominantly negro central cities ringed by white suburbs. This will do nothing but invite social disaster. And this problem has to be dealt with - some through legislation, some through education, but it has to be dealt with in a very concrete and meaningful manner.

Now let me get back to my point. I'm going to finish my speech. I've been trying to think about what I'm going to preach about tomorrow down to Central Methodist Church in the Lenten series and I think 1′11 use as the text, "Father forgive them for they know not what they do."

I want to deal with another myth briefly which concerns me and I want to talk about it very honestly and that is over-reliance on the bootstrap philosophy. Now certainly it's very important for people to engage in self-help programs and do all they can to lift themselves by their own bootstraps. Now I'm not talking against that at all. I think there is a great deal that the black people of this country must do for themselves and that nobody else can do for them. And we must see the other side of this question. I remember the other day I was on a plane and a man starting talking with me and he said I'm sympathetic toward what you're trying to do, but I just feel that you people don't do enough for yourself and then he went on to say that my problem is, my concern is that I know of other ethnic groups, many of the ethnic groups that came to this country and they had problems just as negroes and yet they did the job for themselves, they lifted themselves by their own bootstraps. Why is it that negroes can't do that? And I looked at him and I tried to talk as understanding as possible but I said to him, it does not help the negro for unfeeling, sensitive white people to say that other ethnic groups that came to the country maybe a hundred or a hundred and fifty years voluntarily have gotten ahead of them and he was brought here in chains involuntarily almost three hundred and fifty years ago. I said it doesn't help him to be told that and then I went on to say to this gentlemen that he failed to recognize that no other ethnic group has been enslaved on American soil. Then I had to go on to say to him that you failed to realize that America made the black man's color a stigma. Something that he couldn't change. Not only was the color a stigma, but even linguistic then stigmatic conspired against the black man so that his color was thought of as something very evil. If you open Roget's Thesaurus and notice the synonym for black you'll find about a hundred and twenty and most of them represent something dirty, smut, degrading, low, and when you turn to the synonym for white, about one hundred and thirty, all of them represent something high, pure, chaste. You go right down that list. And so in the language a white life is a little better than a black life. Just follow. If somebody goes wrong in the family, we don't call him a white sheep we call him a black sheep. And then if you block some­body from getting somewhere you don't say they've been whiteballed, you say they've been blackballed. And just go down the line. It's not whitemail it's blackmail. I tell you this to seriously say that the nation made the black man's color a stigma and then I had to say to my friend on the plane another thing that is often forgotten in this country. That nobody, no ethnic group has completely lifted itself by it own bootstraps. I can never forget that the black man was free from the bondage of physical slavery in 1863. He wasn't given any land to make that freedom meaningful after being held in slavery 244 years. And it was like keeping a man in prison for many many years and then coming to see that he is not guilty of the crime for which he was convicted. Alright good night and God bless you.

And I was about to say that to free, to have freed the negro from slavery without doing anything to get him started in life on a sound economic footing, it was almost like freeing a man who had been in prison many years and you had discovered that he was unjustly convicted of, that he was innocent of the crime for which he was convicted and you go up to him and say now you're free, but you don't give him any bus fare to get to town or you don't give him any money to buy some clothes to put on his back or to get started in life again. Every code of jurisprudence would rise up against it. This is the very thing that happened to the black man in America. And then when we look at it even deeper than this, it becomes more ironic. We're reaping the harvest of this failure today. While America refused to do anything for the black man at that point, during that very period, the nation, through an act of Congress, was giving away millions of acres of land in the west and the mid-west, which meant that it was willing to under gird its white peasants from Europe with an economic floor. Not only did they give the land, they built land grant colleges for them to learn how to farm. Not only that it provided county agents to further their expertise in farming and went beyond this and came to the point of providing low interest rates for these persons so that they could mechanize their farms, and today many of these persons are being paid millions of dollars a year in federal subsidies not to farm and these are so often the very people saying to the black man that he must lift himself by his own bootstraps. I can never think … Senator Eastland, incidentally, who says this all the time gets a hundred and twenty-five thousand dollars a year, not to farm on various areas of his plantation down in Mississippi. And yet he feels that we must do everything for ourselves. Well that appears to me to be a kind of socialism for the rich and rugged hard individualistic capitalism for the poor.
- Posted by Rich Miller 21 Comments


* Marni Pyke with the Daily Herald…
Ten out of 11 state-run COVID-19 testing sites that closed Sunday when Illinois National Guard troops who assist at the facilities were deployed to keep the peace will reopen Wednesday.

Those include popular locations in Aurora and Rolling Meadows. An 11th testing site in Waukegan is being moved to 102 W. Water St. and will be in business Thursday.

The Illinois Emergency Management Agency took the state testing sites offline Monday and Tuesday amid increasing violence in Chicago and the suburbs, as looters took advantage of protests over the death of George Floyd in Minneapolis May 25. […]

The sites also included locations in Champaign, Chicago, East St. Louis, Harwood Heights, Peoria, Rockford and South Holland.

Some National Guard troops that had been helping at the testing facilities with crowd management were reassigned to help local police departments reduce violence and protect property.
…Adding… More info here.
- Posted by Rich Miller Comment


* Your thoughts?…
Specifically community police relations, law enforcement accountability and economic development. We are in a state of emergency and we can not wait until our November session to act. pic.twitter.com/SbEEpcu7lA

— Kam Buckner (@RepKamBuckner) June 3, 2020
*** UPDATE 1 *** From the governor's press secretary Jordan Abudayyeh…
The Governor will support the Leaders if they request a special session. Gov. Pritzker firmly believes real structural change comes from protest paired with policy. The Governor's office is in close contact with members of the black caucus to discuss their priorities for police reform with genuine investigations, transparency, and accountability. This administration knows we need sustained economic investment in Black and Brown communities and will work with the legislature to build on the progress we've made together. The Governor will do everything in his power to ensure equity is the foundation for the work in state agencies under his control. Over the weeks to come, the Governor believes it's his role to listen, convene activists and policy experts, and support lawmakers who represent communities that have been silenced for far too long to propose policies that move our state forward.
Still waiting on responses from the two legislative leaders.
*** UPDATE 2 *** From Senate President Don Harmon's spokesperson John Patterson…
President Harmon has been contacting caucus members and is eager to engage in building an agenda for action.
- Posted by Rich Miller 37 Comments


* Talk amongst yourselves, but be nice to each other.
- Posted by Rich Miller 26 Comments