By Hannah Meisel
* I saw on Twitter that today's episode of Jeopardy! served up a category called "Illinois at 200." So I fast-forwarded through the first half so you don't have to! (Spoiler: they were quite easy, so I was a little disappointed)…
$200 question:
Illinois has 63 miles of coastline along this great lake.
- What is Lake Michigan?

$400 question:
Completed in 1973, it was the world's tallest building until 1996.
- What is the Sears Tower?

$600 question (and the Daily Double):
This official slogan of Illinois honors a man who moved there at age 21.
- What is the "Land of Lincoln?"

$800 question:
Nauvoo briefly became Illinois' largest city after this Mormon leader and his followers began settling there in 1839.
- Who is "Joseph Smith?"

$1,000 question:
In 1942 at the University of Chicago, this Italian-American achieved the first controlled nuclear chain reaction.
- Who is Enrico Fermi?
* The Question: Your favorite Illinois trivia?
- Posted by Hannah Meisel 3 Comments


* Let's go back to Monique Garcia's Tribune story about Rep. Kelly Cassidy…
[Cara Smith at the Cook County Sheriff's office] said she also talked to [Rep. Bob Rita], who told her that Cassidy's opposition was a key hurdle to passing the bill. Smith said Rita commented that if he worked for a politician but didn't support their initiatives, "I probably wouldn't have a job." Smith said she viewed it as Rita "stating his experience."
I spoke to Smith today and she confirmed what she said to Monique.
* So, Monique asked Rep. Rita about it today…
Monique Garcia: When I talked to Cara Smith, she said that you had also raised the idea of, "I don't know how you could oppose your boss' bill."

Rep. Rita: With Cara Smith and her conversations with her and Kelly, I can't comment on that. We strictly were looking at how…

Monique: Well, Cara said you said that to her.

Rita: …How do we get through a committee to get the votes to get to the House floor? Kelly being the vice chair of the committee has a strong voice in that committee and her opposition and learning that she's working for the Sheriff and it being his top legislative priority really surprised me. Figuring, now how do we move froward, which I've explained to Cara, we need to get past this because we're not going to be able to get this out of committee. We're going to call it and it's not going to be a vote. We're not going to get an outcome.
* Rep. Rita was also asked about this…
Speaking to reporters on Tuesday, Rita denied raising Cassidy's employment during discussions [with Cassidy] about the bill.

"I never had those conversations, what she is saying. It was all limited to how do we get (the bill) through the criminal justice committee," Rita said.
The full exchange between reporters and Rita is here. The transcript on this particular topic is here. Many, many thanks to Hannah Meisel for doing these transcripts today.
* Meanwhile…
State @RepKellyCassidy responds to Madigan denying ordering any intimidation. Watch: pic.twitter.com/J4wrQNkc8A

— Bishop On Air (@BishopOnAir) May 22, 2018
* Transcript by Hannah Meisel…
I saw the letter [from Speaker Madigan denying any attempt at intimidation] and it really misses the forest through the trees.

You know, just as when Jack Hynes went after Alaina Hampton and was digging up dirt on her, the Speaker called me and there were several conversations during that period of time when it was event-reaction-event-reaction-event-reaction, and in that sequence he called me to warn me about the Jack Hynes story, and was really adamant that I understand that I hadn't done this, that he hadn't ordered this effort. And I stopped him and said, 'I one hundred percent believe you. You didn't order him to do it because you didn't have to.

'This is the way the operation works, and I know that you believe that the one-step removal is enough, but it isn't enough anymore and you own this.' And in that moment, he agreed that he did. In fact, his statements right after that used those exact words: 'And I own this.'

And he owns this, too.

The message is very clear: Speak out against the Speaker and people loyal to him will come after you."
* And, finally, from Sen. Sam McCann…
It is with a heavy heart I offer my sympathy to Rep. Cassidy. The reports of her retaliation from Speaker Madigan are disturbing. There are few legislators that I differ more with ideologically than Rep. Cassidy, but I cannot watch the retaliation of the political ruling class go unchecked. For too long men, like Speaker Madigan and Governor Rauner, won't take no for an answer when legislators have our own beliefs. Our beliefs should be respected and allowed to have their veracity assessed by the voters, not bullies. Furthermore, Pritzker's calls for an investigation without criticizing Madigan amount to cowardice and lend refuge to bullies like him and Rauner. I am the only candidate for Governor who will stand up against these travesties."
*** UPDATE 1 *** State account…
This kind of corruption is what I fight every day. Retaliation against Rep. Kelly Cassidy for standing with a victim of sexual harassment is unacceptable.

— Governor Rauner (@GovRauner) May 22, 2018
*** UPDATE 2 *** Ouch…
I'm so grateful that the IL House Women's Caucus and the IL Senate Women's Caucus are supporting @RepKellyCassidy the way they haven't supported me. Many thanks to Kelly for standing with me when no one else would - I'm standing with you too. https://t.co/ZBd3u0I4Zy

— Alaina Hampton (@alainaxhampton) May 22, 2018
- Posted by Rich Miller 8 Comments


* The governor's amendatory veto was basically just for show and yesterday's House hearing was still more Hollywood. But let's take a quick look…
Many were surprised by the governor's suggestions – especially when the governor's own public safety working group has been meeting regularly to discuss different solutions. Some members say they wonder why the governor did not discuss the capital punishment plan with them first.

State Rep. Kathleen Willis, an Addison Democrat, is part of the group and called Rauner's death penalty suggestion a "poison pill". She asked David Risley, director of criminal justice and public safety policy for the Governor's Office if Rauner intended to run the show himself after bypassing the group. "So in other words, he puts no value behind the public safety working group, that we have no input on the things that he wants to work on?"

Risley said the governor didn't want to interfere with the working group's own ideas. "What he wanted to do was lay these things on the table, instead of sitting back and being like a punching bag for critics. He wanted to lay on the table what he was for, affirmatively, instead of just playing defense."
* SJ-R…
Lawmakers pushed Risley to be more specific in the definition of "beyond all doubt" and to provide examples of where that standard would be met. He said those like Saddam Hussein, Timothy McVeigh or John Wayne Gacy would meet such a bar.
At the hearing, Illinois State Police Director Leo Schmitz said they support the death penalty for cop killers and mass murderers as a way to deter criminals from targeting police officers or committing mass murder.

"I believe that anything that we can do to help stop that, whether it's this bill or some other bills, it's something that we should work on and strive for," Schmitz said.

State Rep. Kathleen Willis, D-Addison, said everyone should support law enforcement, but she has a question of prioritizing one life over another.

"I certainly do say, 'yes we should have your back'," Willis said. "But what makes your life more valuable than my husband's life, or my daughter's life, or my mother's life?"
So, our state police director believes the death penalty is a deterrent. Even House GOP Leader Jim Durkin doesn't go that far.
And as I've pointed out before, when you start applying the death penalty to one or two crimes, people will always wonder why any number of other crimes weren't also included. Then-Sen. Kirk Dillard ran into those same problems when he tried a limited reinstatement of the death penalty.
* AP…
Rob Warden, who has spent years exposing wrongful convictions as a journalist and academic, noted that while Rauner might call his idea on capital punishment "limited," it's easy for lawmakers to expand.

When Illinois restored capital punishment in 1977, there were six "aggravating factors," or legal determinations that, if met, could warrant a death sentence, Warden said. When it was abolished, there were 20.
- Posted by Rich Miller 7 Comments


By Hannah Meisel
* Sen. Melinda Bush (D-Grayslake) and a coalition of female lawmakers plan to call for Legislative Inspector General Julie Porter to investigate Rep. Kelly Cassidy's allegations that Speaker Madigan interfered with her employment with Cook County Sheriff Tom Dart.
"I'm asking other members to call for an investigation, to call for our Legislative Inspector General to immediately investigate Representative Kelly Cassidy's allegations," Bush told me this afternoon. "We really believe that there should be an immediate investigation by our Legislative Inspector General. Part of our responsibility as Senators if we hear or or know of something that we believe is an ethics violation, we are also required to report."
I also showed Sen. Bush the letter that Speaker Madigan wrote to Cassidy this morning on my phone (read the letter here) and she said it's all the more reason for Porter to step in.
"If what the Speaker is saying is true, then that's what an investigation would find," Bush said.
Bush said she didn't yet know which of her fellow lawmakers would officially be in on the statement, but said it's currently being drafted.
* I had been looking to speak with Sen. Bush because she's one of the three women heading up the sexual harassment panel that's supposed to provide independent oversight for allegations of sexual harassment in the Democratic Party of Illinois.
Bush said the panel won't weigh in. I also spoke with Rep. Carol Ammons (D-Urbana) and Comptroller Mendoza's spokesman, who said the same. The panel, which hasn't been terribly active yet but has events planned this summer, is focused on campaign-related issues, not government.
This post will be updated when the letter is distributed.
*** UPDATE *** Here it is…
Members of the Illinois State Senate Women's Caucus stand in support of an immediate independent investigation by the Legislative Inspector General into the public allegations of retaliation leveled by Rep. Kelly Cassidy.

Rep. Cassidy had the courage to come forward and discuss her experiences. We stand in support of Cassidy. The Capitol must not be a place for retaliation, harassment or intimidation of any kind.

It is important that an independent investigation by the Legislative Inspector General be carried out in order to restore public confidence in the system. It's time to stand together to address any culture of fear and intimidation that may exist.
- Posted by Hannah Meisel 14 Comments


* From an e-mail to supporters…
I'm writing today to share that after several conversations with JB Pritzker's staff and Mr. Pritzker himself, I have decided to officially endorse JB in the race for governor of the state of Illinois. As many of you know, I've spent the last several years of my life fighting against an administration that seems hell-bent on destroying our government. Our government is needed by all of the citizens of our state but I have been especially vocal about the needs of our most vulnerable citizens.

I have worked alongside our veterans, our seniors, as well as the differently-abled and I have uplifted the voices of children. Within each of those populations and the Illinois citizenry at large, I have worked to make sure that racial and ethnic minorities as well as women have their voices heard.

Working to amplify the voices of those communities has been one of the most difficult tasks of my career but it is a task that I have been honored to be able to perform. Know that I am going to be with JB and Juliana as they continue to send the message to the current administration that it does not get to ignore or willfully hurt individuals, families, businesses and our great state.

I ran for Lt. Governor to echo the voices of the citizens who need their government the most and to stand with the working poor and middle class families trying to reach economic security. I've gone across the state listening to mothers trying to balance work and school while looking for affordable child care. I heard from fathers worried about being laid off work.

It is because of my personal commitment to Racial and Social justice, which are rooted in Economic Justice, that I am standing with JB Pritzker and Juliana Stratton as we move toward November. I know they will champion policies that lift everyone up and will help create a sound economy in our state. Moreover, we must work together to send the message that failed leadership will not be given a pass in our state. I hope that you will join me as I support JB and Juliana in their efforts to defeat Bruce Rauner.

Sincerely,
Litesa
Meanwhile, Dan Proft just dropped an f-bomb at the City Club and invited Pat Brady to take their argument outside.
- Posted by Rich Miller 7 Comments


* This I gotta see…
Former House Republican leader Tom Cross moderates a City Club of Chicago panel featuring former state GOP chairman Pat Brady and conservative radio host Dan Proft.
Those two guys really do not like each other.
…Adding… House Republican Leader Jim Durkin is listed as an event sponsor. You'll recall that Proft spent a fortune against Durkin in the March primary.
* The show starts around 12:20 this afternoon…
…Adding… The Pritzker campaign sent this out shortly before the program began…
Today, the JB Pritzker campaign released a new digital video, "Governor Without a Party," highlighting Bruce Rauner's fractured Republican party.

Months after barely winning the Republican primary, Rauner has stumbled from crisis to crisis, failing to unite his party behind his failed agenda. The new video features Rauner's primary challenger, Jeanne Ives, attacking the governor for his failed leadership and reporters discussing the ongoing party rift.

"Bruce Rauner's party is fractured beyond repair as he stumbles into a general election running on a record of crisis and damage," said Pritzker campaign spokeswoman Jordan Abudayyeh. "It is clear to Illinoisans of all political stripes that Bruce Rauner is a failure, and it will take a lot more than desperate attempts to dodge accountability and shallow gestures towards unity to bring his party back together."
The video is here.
- Posted by Rich Miller 50 Comments


* From Galia Slayen at JB Pritzker's campaign…
JB believes there should be zero tolerance for harassment and retaliation of any kind and he has built a campaign and will build an administration that reflects those values.

Rep. Kelly Cassidy bravely came forward with her story today, and JB believes she must be heard and that there should immediately be an independent investigation.

Women should never be forced to accept sexual harassment as the price of admission to a career in politics and JB stands with women like Rep. Kelly Cassidy who are leading the charge to change that culture.
* Rep. Cassidy was with Pritzker earlier today…
Your move, Mr. Speaker.
*** UPDATE *** From Will Allison at the Rauner campaign…
Once again, Pritzker will not criticize Mike Madigan despite clear cases of sexual harassment and retaliation. It's time for Pritzker to break his pattern of silence on Madigan and call him out for his corruption.
- Posted by Rich Miller 41 Comments


* A little background is here, and much more is here for subscribers. Bernie has some info on JB Pritzker's new "Blue Wave" initiative…
Galia Slayen, spokeswoman for Pritzker, said that this week, Pritzker will provide $1 million each to funds that help elect Senate Democrats and House Democrats; and another $1 million to the Rock Island County Democratic Party, which is chaired by Doug House. House is also president of the Illinois Democratic County Chairs' Association. Other Democratic candidates will also get funds, including $50,000 that will go to state Sen. Kwame Raoul, D-Chicago, who is the party's nominee for attorney general. […]

"Not only has Doug House worked on the county level as a chair, but he is someone that we have worked with in his capacity as president of the IDCCA and we are confident in his ability to build a statewide, grassroots infrastructure that invests in counties across the state so we can beat Bruce Rauner and win campaigns up and down the ticket," Slayen said. […]

Slayen also said Blue Wave Illinois will not take money from corporations or their political action committees.

"We're happy to have that support, and support from thousands of other people from all over the country," said Steve Brown, spokesman for Madigan, of the Blue Wave effort. He characterized Rauner and the GOP as "a well-financed negative message machine."
* Tribune…
Pritzker has long talked about using his campaign and personal wealth to help build up a Democratic political apparatus in the way the governor used his money to rebuild the Illinois Republican Party. For Democrats, the political system has normally been centered upon state party chairman Michael Madigan, the veteran House speaker.

On Twitter, Republican state Rep. Grant Wehrli of Naperville wasn't impressed, posting a video of blue-colored water swirling down a toilet.
* Rauner campaign…
Pritzker Bankrolling the Madigan Machine

JB Pritzker has once again made his alliance with Mike Madigan clear by stating that he'll be fundraising for the Speaker's candidates. Pritzker sent out an email touting his "Blue Wave" program that he hopes will keep Madigan in the majority and the corrupt machine humming right along.

"Pritzker refuses to be seen with Mike Madigan but he has no problem bankrolling his political machine. This is just another example of the Pritzker-Madigan ticket working hand-in-hand to keep Illinois corrupt." -Alex Browning, Rauner campaign spokesman
* The Pritzker campaign's Galia Slayen responds…
Glad to see the Rauner team can still find the copy and paste feature on their computer. Perhaps they should be more focused on passing a budget – it seems to be difficult for them.
- Posted by Rich Miller 13 Comments


* Mary Ann with the scoop…
JUST IN: Speaker Madigan hand delivers letter to @RepKellyCassidy and copies ALL House Dems denying retaliation #twill #sexharassment pic.twitter.com/AWU6uR0tgW

— Mary Ann Ahern (@MaryAnnAhernNBC) May 22, 2018
Thoughts?
…Adding… Sen. Biss…
The people of Illinois owe @RepKellyCassidy a huge debt of gratitude for having the guts and integrity to speak out. The only way things will change is if people start telling these stories. https://t.co/o7jc0ZkYA1

— Daniel Biss (@DanielBiss) May 22, 2018
Look at Madigan's "denial" letter and pay special attention to where he writes "I have never" and where he writes "no one in my office". That distinction explains much of what's going on here, and it matches Kelly's allegations perfectly.https://t.co/H0IQAQGBTI

— Daniel Biss (@DanielBiss) May 22, 2018
*** UPDATE *** Tina Sfondeles…
Cassidy called [Speaker Madigan's] denial the "discredit-the-target portion of the program."

She said the letter is "missing the forest for the trees."

"The point is not my opposition to the bill, which was no secret to them and certainly wasn't a problem for them until Bob Rita did this," Cassidy said ."He took the bill to come after me. He doesn't care about the sheriff or this bill. He doesn't work in that arena. He doesn't do criminal justice stuff. I think the more we focus on that, the more we miss the reality."

Cassidy said it doesn't matter whether the speaker directed actions, but it is representative of a culture within his organization.

In February, a lawyer for political consultant Alaina Hampton sent a "cease and desist" letter to a man whom the believed was trying to find "dirt" on Hampton — the woman whose sexual harassment allegations led Madigan to fire a longtime aide who is the brother of the ward's alderman. Jack Hynes, the man in question, called it a "casual conversation" and denied that he acted on behalf of anyone, especially the speaker or his staff.

But Cassidy said "this is how this works."
- Posted by Rich Miller 48 Comments


[The following is a paid advertisement.]
On May 10th, Midwest Members Credit Union presented the Tri-City Baseball/Softball League with a $5,000 donation to help subsidize youth athletic programs in the communities of East Alton, Roxana, Wood River, and Bethalto. The credit union has donated a total of $30,000 to the Tri-City Baseball/Softball League over the last three years, allowing the program to maintain the lowest registration fees in the area, make upgrades to uniforms and safety equipment, and make sure that anyone who wants to play baseball or softball in the summer has that chance. "We are proud of our sponsorship and relationship with the Tri-City organization and are happy to be able to make an impact with the families in the community. This is just another educational experience for them and gives them the chance to bond and create lasting relationships. Keeping active in a team-oriented environment, learning how to win and lose is something every child should have the chance to experience," said Greg Lyons, President Midwest Members Credit Union.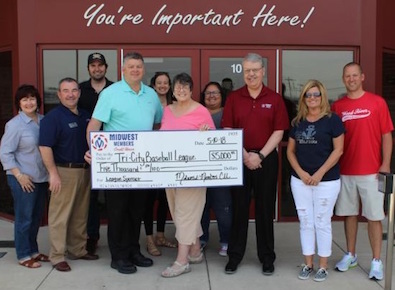 - Posted by Advertising Department Comments Off


* From the Tribune's story about Rep. Kelly Cassidy…
[Cara Smith, Cassidy's former supervisor in Cook County Sheriff Tom Dart's office] said she also talked to [Rep. Bob Rita], who told her that Cassidy's opposition was a key hurdle to passing the bill. Smith said Rita commented that if he worked for a politician but didn't support their initiatives, "I probably wouldn't have a job." Smith said she viewed it as Rita "stating his experience."

"I can't speak to what Kelly thinks," Smith said. "I can speak to the fact that she opposes the bill and her opposition was a problem. She has a philosophical difference to the sheriff's office and a chief sponsor, who was raising that as a significant problem."

Cassidy worked on social justice initiatives for the office, which were aimed at creating new policies for how detainees were treated. […]

"While I am certain that my role in the office is not the reason the bill is not being advanced, it is very clear that my role has created a handy excuse and weapon to use against both of us," Cassidy wrote [in her resignation letter]. "I can not bear the idea that my presence in the office might distract from that mission."
Um, wait. Rep. Cassidy's opposition was a "key hurdle" to passing the sheriff's bill? Really?
* The legislation in question would apply the state's "public indecency" laws to county jails. Sheriff Dart's jail has had a big problem with inmates exposing themselves in shockingly lewd ways to public defenders, particularly women. So, he turned to the General Assembly for help instead of just fixing the problem himself.
The bill flew out of the Senate, but it was then assigned to the House Judiciary - Criminal Committee.
* As just about everyone at the Statehouse knows, that particular House committee has been a no-fly zone for all penalty enhancement bills this year. Chairman Art Turner has blocked every such bill that's been assigned to his committee.
Now, think about this for a second. While Rep. Cassidy does oppose Sheriff Dart's bill, who actually assigned that piece of legislation to Rep. Turner's committee? Why, House Speaker Michael Madigan, of course. If Madigan wanted the bill to pass, he'd have put it in a different committee, like he did with Mayor Rahm Emanuel's carjacking bill.
And Rep. Turner is no ordinary committee chairman. He's Madigan's Deputy Majority Leader.
So, the House Speaker deliberately assigns a bill to a hostile committee where he knows it will die and yet Rep. Cassidy - one of eight Democrats on that panel (including JB Pritzker's running mate) - is somehow the "key hurdle" here?
Wrong.
If Rep. Cassidy completely flipped and took over sponsorship of that bill today it would still not have a chance in Hades of getting out of Rep. Turner's committee.
* The sheriff has a real problem at the county jail. He should fix the problem. Blaming others may help him sleep at night, but it doesn't solve anything - particularly when the blame is so misdirected. If he ever stands up and demands that Speaker Madigan reassign the bill to another committee, well, then maybe he'll have a point.
- Posted by Rich Miller 29 Comments


* Western Illinois University's admissions and budget directors had some very bad news for the institution yesterday…
Total enrollment on both campuses is projected to decline about 14% from fall of last year, down to 8,088 students from 9,441, according to total enrollment numbers on the WIU website. The totals include currently enrolled students and graduate students, plus incoming freshmen and transfer students, who make up the fresh inflow of students to the university. […]

The 815 projection [in freshman enrollment] is a decrease of 32.4 percent from the fall 2017 freshman class of 1,206 students. in addition to a decline in Freshmen students, there is an anticipated decline in transfer students of just below 12 percent, down to 725 students compared with 823 in 2017. […]

[State appropriations] went from a high of $64.3 million in FY02 to $46.3 million in 2018, a decline of 28 percent. During the budget impasse in FY16, the university only received $14.9 million of its appropriated funds. In FY17 WIU received stopgap and other funds totaling $59.8 million.

"Some may look at this and think that FY17 made up FY16, but it didn't. So that's where we had to use $30 million of our own money to get us through that. It ate through quite a bit of our reserve," [Budget Director Letisha K. Trepac] said. […]

"(For) FY19, $7.6 million in deficit spending is the current projection," [Trepac] said. "I also want to point out that this doesn't include any reinvestment in any areas." […]

"If we deficit spend at the current rate next year, we will not have a reserve at the end of next year."
- Posted by Rich Miller 68 Comments


* Some background is here. From the ACLU…
Illinois citizens seeking to utilize the State's Election Day Registration process to vote in the 2018 general election can do so without further interruption from an ideologically-driven group. The victory for access to the ballot comes after a court earlier this month closed Harlan v. Scholtz following an agreed dismissal. The challenge to Illinois' Election Day Registration (EDR) law was filed just two months before the November 2016 general election by the Illinois Policy Institute's legal affiliate, creating havoc and uncertainty about whether EDR would be available for that election.

"We are pleased that this attempt at voter disenfranchisement has been sent to the dustbin," said the ACLU of Illinois' Director of Communications and Public Policy Edwin C. Yohnka. "Election Day Registration is a critical tool for civic empowerment and access to the vote that benefits voters of every stripe. In these times we must all work to protect rather than abridge access to democracy."

Ami Gandhi of Chicago Lawyers' Committee for Civil Rights said: "It makes perfect sense to us that this case has been dropped, especially after it failed in its goal to limit voters' access to the ballot in the 2016 election. We are grateful for this dismissal and eager to turn our attention to other pressing challenges to voting rights in Illinois, such as the implementation of Automatic Voter Registration."

In August 2016, the Liberty Justice Center, the legal arm of the Illinois Policy Institute, filed suit against the state's EDR law, requesting that all precinct-level EDR systems be blocked because while large counties must provide EDR in every polling place, smaller counties are only required to provide it at a central location. Notably, the law doesn't forbid those counties from offering EDR at all precincts, and indeed election officials in small counties themselves lobbied for the exemption from in-precinct EDR.

In response to the lawsuit, the ACLU of IL and Chicago Lawyers' Committee together with Better Government Association, League of Women Voters of Illinois, and the Illinois Campaign for Political Reform filed an an amicus brief urging the court to preserve EDR and, if anything, extend it in smaller counties. Although U.S. District Court Judge Samuel Der-Yeghiayan granted the motion to block EDR just six weeks before the November general election, a three-judge panel from the Seventh Circuit Court of Appeals stayed and then vacated that decision. Illinois voters from every county used EDR during the 2016 general election.

Illinois rolled out Election Day Registration with a 2014 pilot program. Around 9,000 voters took advantage that year, and in 2015 lawmakers expanded it and made it permanent. Around 121,000 eligible persons registered and voted using EDR during the 2016 general election. Thousands of voters across the state have used EDR so far in 2018.
- Posted by Rich Miller 3 Comments


* ILGOP…
Democratic State Rep. Cassidy Retaliated Against For Speaking Out On Madigan's Mishandling Of Sexual Harassment Allegations
Madigan Chief of Staff and DPI Exec. Director Tim Mapes made "chilling" phone call concerning Rep. Cassidy's employment


"This is how Mike Madigan operates: he will use the levers of power to retaliate against those who oppose him. The 'chilling' phone call Madigan Chief of Staff and DPI Executive Director Tim Mapes made concerning Rep. Cassidy's employment in the Cook County Sheriff's Office was a shameless attempt to silence those speaking out against Madigan's corruption and stonewall any efforts to move an independent investigation against Madigan's DPI forward." - Illinois Republican Party Spokesman Aaron DeGroot

Democratic State Representative Kelly Cassidy is saying that she's faced retaliation for speaking out against House Speaker Mike Madigan's mishandling of sexual harassment allegations from within his political organization. Cassidy called for an independent investigation into the Democratic Party of Illinois and Friends of Michael J. Madigan to review harassment policies and responses to complaints.

Days after calling for that investigation, Speaker Madigan's Chief of Staff, Tim Mapes, who also serves as the Executive Director of the Democratic Party of Illinois, called the Cook County Sheriff's Office, where Cassidy held a part-time position, to confirm that Cassidy was still employed there. Cassidy said Mapes' phone call was "a little chilling" and "felt like a warning." DPI is a defendant in the sexual harassment lawsuit brought forward by Alaina Hampton.

Cassidy also said that she has attempted to communicate with Speaker Madigan concerning pending legislation, but her requests have been ignored thus far. Additionally, Democratic State Rep. Bob Rita confronted Cassidy on the House floor concerning legislation she opposes, but her former boss, Cook County Sheriff Tom Dart, supports. Rita told Cassidy that he would "expect to be fired" if he did what she did.

Cassidy eventually resigned her position in the Cook County Sheriff's Office because she believes she was facing "retribution" over the matter.

This is how Mike Madigan operates: he will use the levers of power to retaliate against those who oppose him.
Thoughts?
*** UPDATE *** Rauner campaign…
JB Pritzker says he will put 'people over politics,' but his past actions prove that he will put himself before everyone else.

Pritzker is outspoken in his campaign ads that victims of sexual harassment need to be believed: "[when] women everywhere need me to say 'we believe you,' you will find me standing right there next to you."

Now is his chance. Yesterday, Rep. Kelly Cassidy came forward to tell her story of being pushed out of her job with the Cook County Sheriff's office in retaliation for speaking out about harassment allegations in Madigan's political organization.

Pritzker has a history of being unable to criticize Madigan, particularly on this issue.

Chicago Tribune: "'I think people like J.B. Pritzker who can't criticize him (Madigan), that makes it very difficult to win the general election,' Kennedy said. 'It makes him almost unelectable in a general election. We need to have that freedom, the space to be critical of our own party. Unless we have that freedom, then the leadership is, in fact, toxic.'"
WMBD: "In four minutes and 25 seconds of discussing the sexual harassment scandal, Pritzker did not once say 'Madigan.' Madigan on Friday sent a letter to lawmakers saying it's time to 'rethink the culture of politics.'"
State Journal-Register: "'It took J.B. Pritzker a week to get permission from Mike Madigan to even name him in talking about the sexual harassment coverup,' Biss said. 'We need someone with independence…'"
WCIA: Biss continues calling Pritzker, "Madigan's candidate" after debate wraps up.
Chicago Tribune: "Pritzker, who has successfully coalesced support from the Democratic Party establishment, has repeatedly declined to say if he thought Madigan should step down as party chairman, House speaker, or both. He declined to say so again on Thursday."

So does Pritzker stand with Kelly Cassidy and Alaina Hampton or Mike Madigan?
- Posted by Rich Miller 12 Comments