* Before we go…
Bernard M. Judge, one of the most influential editors in the Chicago newspaper business in the last half century and one of the last links to a bygone era of Chicago journalism, died at his Chicago home early Friday of pancreatic cancer. He was 79.

Judge was editor and publisher of the Chicago Daily Law Bulletin and its sister magazine from 1988 to 2007.

He held wide influence in the industry as a top editor of the Chicago Tribune and later the Chicago Sun-Times. He was also editor and general manager of the City News Bureau of Chicago before he joined the Law Bulletin.

Judge hired and promoted dozens of reporters and editors in at each stop in his career, including some who went on to great fame.
He was a giant.
* Talk at you Monday…
So, hear us now, we ain't wastin' time no more
'Cause time rolls by like hurricanes
Runnin' after the subway train
Don't forget the pourin' rain
- Posted by Rich Miller Comments Off


* I forgot to do a question today. Oops. So have at it, but please keep it Illinois-centric. Thanks
- Posted by Rich Miller 12 Comments


* Greg Hinz…
In a story first reported by Springfield TV reporter Mark Maxwell that I've confirmed with multiple sources, the contract for American Federation of State County and Municipal Employees (commonly known as AFSCME) will run for eight years, replacing a deal that expired on July 1, 2015.

The wage hikes are relatively modest, with workers getting no hike at all for the four years that are already gone but having instead to settle for a bonus of up to $2,500 a worker that will not go into the salary base.

Raises will kick in starting July 1, with salaries to rise 11.5 percent across the board over four years. That's on top of the raises for experience, or "step" increases, which will continue to be paid. […]

(W)orkers over the next four years will end up putting in $624 to $864 a year more [for health insurance], depending on family size—and $420 on top of that if they make more than $125,000 a year
That's a really good point by Greg about how this contract covers eight years because the union hasn't had a contract for the past four.
* I used the BLS inflation calculator to see what a union member making $50,000 a year as of July 1, 2015 would be making now if her wages had kept pace with inflation: $53,653.41, which would've been a 7.3 percent increase.
So, the $2,500 bonus (only for employees who've worked four solid years) won't even cover inflation for that particular worker in one year, let alone four. And those who earn higher wages will lose out on even more.
Not to say this is a bad contract. At all. It's pretty good. By my calculations, it works out to be about a 10.9 percent increase after higher insurance costs, which should put them a few points above CPI by the time this contract ends. However, those calculations don't include step increases (which have been raised) and other contractual increases.
* And if you think union members should be paying more for insurance, keep this in mind…
It is the first increase in premiums or out of pocket health costs in four years. Insurance costs were not increased during the contract standoff with Rauner. AFSCME said Rauner was seeking premium increases of 120 percent and other changes that would have put Illinois state health insurance benefits near the bottom of those in any state.
As with almost everything else, Rauner demanded the moon and got nothing for four years. Such a great negotiator. All he did was defer costs to the future, like the step increases he unlawfully refused to pay. Cleaning up after this guy's hubris-fueled mess is gonna take a long while.
* Here's another fun contract item…
The Employer will establish email safeguards in an effort to prohibit outside organizations from using state email to spread anti-union messages.
That's obviously aimed at the Illinois Policy Institute, which is not happy with this contract, even though it's been trying to convince AFSCME members that the union is no good…
Reminder: Illinois state government workers are already the second-highest paid in the nation when adjusting for cost of living. https://t.co/dke4YNalov https://t.co/HRNyrzitb0

— Illinois Policy (@illinoispolicy) June 14, 2019
The union will also be allowed to conduct new employee orientations during workers' first two weeks on the job.
* More importantly for workers, perhaps, is increasing maternity/paternity leave from the current four to ten weeks. If both parents work for the state, they can take that leave together or consecutively. And all of Gov. Rauner's privatization demands were withdrawn by the Pritzker administration.
- Posted by Rich Miller 16 Comments


* Elyse Forkosh Cutler, president and founder of Sage Health Strategy…
In Illinois, children can obtain religious exemptions from mandated vaccines. In 2015, Illinois tightened the religious exemption requirement—parents claiming a religious exemption now must obtain certification from a physician that they have received education on vaccine safety. The logic at the time was that the number of religious exemptions in Illinois would fall.

Unfortunately, we were wrong. In 2013, before the law's passage, there were 13,000 Illinois children claiming a religious exemption. This past year, the number of religious exemptions was up 46 percent, to over 19,000. Today, more than 100,000 Illinois schoolchildren attend a school with a measles vaccine rate of less than 95 percent. This is the threshold for "herd immunity," meaning these schools are at increased risk of an outbreak. The large increase in religious exemptions also makes clear that parents opt-out of vaccination because of misinformation, not religious practice. The social media echo chamber has so frightened parents that some now don't even trust their pediatrician.

So now what? The General Assembly needs to take up legislation in the fall veto session eliminating the religious exemption. That is what California did after a 2014 outbreak that started in Disneyland infected nearly 150 people. At that time, the vaccination rate in California was 92 percent. It is now nearly 98 percent.

In the meantime, there are steps the state can take now. The Illinois State Board of Education should issue a public report listing schools with low vaccination rates. Parents deserve to know if they are putting their children at risk. Additionally, the IDPH religious exemption process must be redesigned to prevent fraud. At present, all someone wanting a religious exemption for their child must do is give a doctor a form to sign that says the parent received vaccine-safety education. It's all done on paper and there is no process to verify that a licensed clinician signed the form.

We all had hoped the law passed in 2014 would increase vaccination rates. We were wrong. The General Assembly must again step in and prevent Illinois from becoming the next ground zero for measles.
There are no constitutional protections that allow you to put the population at risk of deadly disease outbreaks. Look it up if you don't believe me.
The governor has taken some unilateral actions to step up vaccinations. But it's not gonna be enough as long as legions of clever dimwits and grifters are fooling more and more people into thinking they and their children don't need to be vaccinated.
- Posted by Rich Miller 26 Comments


* From the warden of the Thomson federal prison…
May 24, 2019

Dear Community Member,

The Thomson prison is not a new subject and to imply it has been a long journey is an understatement. State and federal governments have made large investments in this prison and I realize the local communities have matched these efforts.

The Administrative United States Penitentiary (AUSP) at Thomson currently employs nearly 400 staff, with a future full staffing complement of over 600. While a majority of our staff and their families are from the local area, a large number have transferred from other institutions and now reside in your communities. They are a diverse group with diverse needs and their presence has a compounding effect as salaries are redistributed throughout the local area, in housing, food, goods, services, and taxes.

As our staffing levels continue to grow, the demand for homes and other amenities also increase. Affordable and desirable housing along with good quality schools and day care centers determine where Bureau of Prisons' staff reside. They need apartments, rental houses, starter homes, and larger homes for their expanding families. Unfortunately, for some, commuting a long distance is necessary, with some staff traveling as far north as Dubuque and south beyond the Quad Cities.

AUSP Thomson is now offering new Correctional Officers a sign-on bonus of 10% of their salary and after successfully completing one year of service; new staff will receive a one-time bonus of over $4,000. However, this may not be enough to entice staff to reside in the local community. Therefore, I humbly request your assistance in advocating for more housing development. Please do what you can to create conversations among community leadership and residential developers. I fear that without noticeable development, the lack of housing may become a determining factor against relocating to this area.
Thomson is a northwestern Illinois tiny town of 590 people. It had been the site of a state prison, but the state decided it didn't need the facility and it was eventually unloaded on the feds.
* Chase Cavanaugh takes a look at the situation…
"It's hard to believe we have no retail in Thomson and we have limited housing," [Thomson Village President Vicky Trager] said. "The housing that we do have is mostly older, small, single family homes. We have some income-based multi-unit apartment buildings."

Michelle Horst is a Human Resource Specialist for the Bureau of Prisons. She says this lack of amenities means employees commute an average of 30 miles to work.

She says most employees reside in the Illinois cities of Thomson, Savanna, Mount Carroll, Fulton, Morrision and the Sterling/Rock Falls area, as well as Clinton, Iowa. "However, we do have some employees that commute as far as 50-70 miles or more, including a significant number in the Quad Cities area," she said. […]

Since the release of the warden's letter, [prison spokesperson Nicole McDowell] says several communities have responded with commitments to new development.

"Outside of Thomson, Mt Carroll let us know that they're doing a renovation that's going to provide lots and lots of housing, and Clinton let us know that they are about to do another housing area like the 'landing' that they have that will also house a lot of staff," she said. […]

For now, the Bureau of Prisons has designated Thomson a "hard to fill" institution, allowing staff to offer a variety of hiring and pension incentives. As for Thomson itself, Trager hopes the warden's recent letter can get the word out about new job hires and attract future developers.
- Posted by Rich Miller 7 Comments


* June 7th…
Cara Smith, a veteran policy adviser to Cook County Sheriff Tom Dart and a registered attorney, has been named to serve as a county judge.

The Illinois Supreme Court appointed Smith to fill a vacant judgeship in the county's seventh subcircuit, according to an order filed this week.

Smith will replace retiring Judge Marianne Jackson, who was appointed to the subcircuit post in 2014.

Illinois Supreme Court Justice Anne Burke, the spouse of indicted Chicago Ald. Edward Burke, nominated Smith for the position.
* June 11th…
Diversity concerns have prompted a battle over an appointment to a West Side judicial seat after Illinois Supreme Court Justice Anne Burke nominated a white attorney to fill a spot held by a retiring African American judge. […]

"We challenge Justice Anne Burke's decision to replace Justice Marianne Jackson with someone who is not from our community," said Rev. Marshall Hatch, New Mount Pilgrim Baptist Church, speaking to a group of community leaders from the west side gathered in the Austin community with concerns about judicial diversity. […]

"To find that she's been replaced by someone that's not from our community is a travesty, I think it's a slap in the face to the residents of the West Side of Chicago," said 28th Ward Alderman Jason Ervin. […]

"That basically says that there is no qualified African Americans on the West Side of Chicago that are able to take that seat, and I find that highly offensive," [Ervin] said.
* Also June 11th…
"We don't know who she is, never seen her at any events on the West Side of Chicago and for her to be representing us as a judicial appointment is a slap in the face to residents of the West Side," Ervin said. […]

"The subcircuit back in the 1990s was designed to bring more African-Americans and Latinos to the bench. And clearly, that person does not fit either one of those characteristics," Ervin said.

Smith's appointment runs through December 2020. Ald. Ervin is already vowing to challenge her with a candidate from the West Side who he supports in next year's elections.
* Justice Burke sent out a rare press release yesterday…
On Oct, 29, 2018, Ald. Jason Ervin came to my office and asked me to appoint Pamela Reaves- Harris to an upcoming 7th Subcircuit vacancy. I let Ald. Ervin know that Ms. Harris was welcome to apply and that she would need to be reviewed by my Judicial Selection Committee. […]

Pamela Reaves-Harris submitted an application which included an evaluation by The Chicago Bar Association Judicial Evaluation Committee. The evaluation, executed by then President Patricia Brown Holmes, found Ms. Harris to be "Not Recommended" for the office of Circuit Court Judge and stated, in part, that while Ms. Harris was "a dedicated, busy and hardworking public servant," her "limited practice and court experience would make it difficult for her to effectively serve as a Circuit Court Judge." My Judicial Selection Committee similarly concluded that Ms. Reaves-Harris was not a qualified candidate. Cara LeFevour Smith was found "Highly Qualified" by both the Chicago Bar Association and my Judicial Screening Committee. The Supreme Court unanimously voted to appointment Cara LeFevour Smith to the 7th Subcircuit vacancy.

Having qualified judges is in the best interests of public safety and promotes confidence in the justice system.
* Background on Reaves-Harris…
Derrick Smith was appointed to a vacancy in the Illinois House of Representatives in March 2011. In March 2012, just a week before the Democratic primary, Smith was arrested on federal charges. An informant caught Smith on tape accepting a $7,000 bribe to promote a grant to a day care center. On tape, Rep. Smith can be overheard telling the man passing the money to just 'leave it in the envelope.' […]

Well, Smith won the primary with Democratic Party support (he was running against a one-time Republican operative for the Democratic nomination), but got booted out of the House thereafter. Despite his expulsion, Smith stayed on the ballot, beating a "Unity Party" candidate who was recruited and endorsed by the Democratic Party in Smith's stead.

Smith could not be expelled from the House a second time for the same offense — and his case hadn't gone to trial by the time the 2014 primary rolled around. So the party put up Pamela Reaves-Harris to oppose him. She won. (Smith was convicted in June 2014.)

Reaves-Harris did not run for reelection. As a result, Melissa Conyears-Ervin, the wife of Ald. Jason Ervin, wound up unopposed in the Democratic Primary and won that seat, holding it until her recent election as City Treasurer.
Ald. Ervin raises some valid questions about diversity. But he should've backed a more qualified candidate so as not to give Justice Burke such an easy way out.
- Posted by Rich Miller 11 Comments


* On June 2nd, Sen. Jim Oberweis (R-Sugar Grove) rose to speak on Sen. Martin Sandoval's SB1939, the bill which raised several taxes and fees to fund the horizontal infrastructure bill…
First of all, I would like to thank my good friend Sen. Sandoval. The guy put in incredible amounts of time. I assume that most of you know that. Traveling all over the state to meet with people to discuss needs and lining up support for this, as did our Sen. DeWitte on this side of the aisle.

Having said that, I'm in a position where I believe I need to vote 'Present' because of a potential conflict. But, again, thank you to the two of you, especially Sen. Sandoval, for putting in the time and making that happen. Thanks.
* From Oberweis' congressional campaign Facebook page…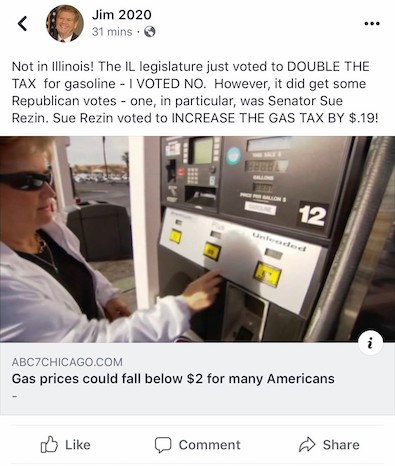 He deleted that post because he voted "Present." Oops.
* Oberweis then posted this…
Not in Illinois! The IL legislature just voted to DOUBLE THE TAX for gasoline which I did not vote for! However, it…

Posted by Jim 2020 on Thursday, June 13, 2019
Sen. Rezin did vote for the bill, as did most of Oberweis' GOP colleagues. And I dunno about you, but it sure sounded to me that night that he would've voted for it, too, had it not been for his unexplained conflict of interest.
Such is life on the campaign trail I guess.
- Posted by Rich Miller 12 Comments


* WIU's president has had a rough go of it…
On the heels of a resolution passed by the alumni council calling on Western Illinois University president Dr. Jack Thomas to resign by June 30 – or be kicked out by trustees – some school employees say he is performing well in the face of tough economic and geographic realities.

"It's not any one person's fault, but the leader gets blamed," said Dr. Rick Hardy, a political science professor and dean of WIU's Centennial Honors College. "I think our leadership should get credit for keeping this institution open and thriving."

Most of the alumni council's 15 members have a different view. By a vote of 15-2 in a special session June 6, the council adopted a resolution insisting that Thomas step down by the end of this month and that the university's board of trustees terminate his contract should he not do so.

The document, signed by council president John Sanders and made public Monday, demanded other measures, including ramping up efforts to increase enrollment, cutting least-popular academic programs and establishing "tangible metrics" to gauge the effectiveness of changes.
* Faculty have been up in arms…
In 2018 the faculty voted no confidence in the university's administration.
* Townies also wanted him gone…
As Western Illinois University prepares for its Summer Orientation and Registration events beginning June 4, a group of local business owners have initiated a sign campaign calling for the WIU Board of Trustees to fire President Jack Thomas.

Photos of signs outside area businesses began appearing on social media Wednesday. Perhaps the most visible was the sign on the marquee of The Forum, which reads, "Fire Jack" on the first line and "Support WIU" just below.

However, other signs have been appearing as well. One wooden sign at an unknown location reading, "Fire Jack Thomas Support WIU" in purple, spray painted stencil lettering was posted on Facebook by The Forum co-owner Roger Ward. Another, yellow sign outside of the old Farm King building on E. Jackson Street reads simply, "Fire Jack."
* The push to oust Thomas has also created racial tensions…
If you have not heard about the recent plot to remove the first African-American president at Western Illinois University, Dr. Jack Thomas, by the incumbent Board of Trustees, listen closely. Diverse: Issues In Higher Education recently covered how the disgruntled community blames President Thomas for the pending financial shortcoming due to low enrollment. In recent weeks, Macomb, Illinois, was showered with signs declaring, "Fire Jack!" and one prominent "Fire Jack Support WIU" on the marquee of a dilapidated theater. According to the 2018 United States Census data, Macomb has a total population of 17,559 with 86.9 percent of the community identifying as White alone. Only 7.5 percent of the population identifies as Black or African-American; whereas, at Western Illinois, as of 2018, Black or African-Americans, and the Hispanic populations make up 18.8 percent and 11.3 percent respectively.
* People were fired…
Reorganization of administrative leadership is underway at Western Illinois University following the termination of Brad Bainter, vice president for advancement and public services and executive officer of the WIU Foundation. […]

"This morning I was asked to retire effective at the end of the month. I refused. I was then terminated without cause effective today. I want to thank each and everyone of you for your service to Western. Your friendship has meant so much to me that I could never put it into words. Your service has been invaluable to Western. I am sure I will continue to see many of you throughout the coming years."
* Battle lines were drawn…
Former Western Illinois University Trustee Lyneir Cole is accusing several of the newly-appointed board members of a "plot to fire" WIU President Jack Thomas.

Cole's accusation is based on a series of email exchanges among trustees, retired faculty and others sent between April 25 and May 10. […]

Also in the email between Balsamo and Thompson are comments referencing concerns about perceived racism. Balsamo wrote on May 7, "I am picking up some disturbing () about the Jack situation and so is at least one other member of the group. My fear is that the Jack predicament cannot easily be separated from race. (My) guess is that right three members of the board, the two African Americans and Aguilar will be at least skeptical about any immediate move on Jack and they may be supported by some in the governor's office and certainly some in the legislature…. I know certainly that some of the opposition to Jack is racist, but even if he were purple he has been a near total failure here."

He later wrote on May 9, "Race hangs over this whole situation, but I have the feeling that if Jack were white or even Asian he would have been gone some time ago."
* Check out the enrollment numbers…
Undergraduate enrollment across the nine Illinois universities' twelve campuses fell by 11.9% from the fall of 2008 to 2018, based on a preliminary headcount. As shown in the chart, the enrollment trends vary significantly by institution: https://t.co/Yo2KCRbfbB pic.twitter.com/zZs3mOdoTj

— The Civic Federation (@CivicFederation) June 8, 2019
* And now…
President Jack Thomas has announced he will serve his last day on June 30, 2019. He said he believes the university will be "best served by new leadership."

President Thomas has requested to be moved to administrative leave for two years at current salary, with the option to return to his faculty position after two years, which has been approved by the Board of Trustees.
- Posted by Rich Miller 35 Comments


* Background is here if you need it. Rep. Steve Reick (R-Woodstock) has little patience for those in his caucus who are slamming legislators who stuck their necks out on the capital bill…
Unlike those who voted against the capital bill so as not to soil their political hands by going on record as being willing to pay for those projects, yet who no doubt will celebrate when it comes time to break ground on them, I voted for that [Motor Fuel Tax] increase.

That vote was made somewhat easier because in 2016, almost four out of every five voters approved the Transportation Lockbox Amendment to our state Constitution, mandating that gas taxes only be spent on infrastructure.

We've seen what decades of neglect have done to our roads. Illinois' infrastructure chickens have come home to roost, and anyone who tells you that all of this can be done by cutting spending elsewhere or waiting another 10 years for another capital bill is living in a dream world. I could not in good conscience expect $266 million to be spent in District 63 on such sorely needed projects and then ask everyone else in the state to pick up the tab.

Illinois stands at the center of the nation's transportation system. Our roads, rails, airports and rivers carry more traffic than any other state in the Union. Illinois' economy cannot grow without first-rate infrastructure. But it all comes at a price, and that bill needs to be paid.
* Meanwhile, you may recall this passage from the op-ed published by those eight House Republicans who denounced the infrastructure program…
As fiscally responsible Republicans, we should be talking about why the state needs such a higher percentage of our money to deal with infrastructure. Why does it cost so much more per mile to build roads and bridges in Illinois compared to many other states?

Like so often is the case, in Illinois we suffer under heavy mandates and an adversarial regulatory environment that drives costs upward. We have onerous prevailing wage rates and our taxpayers potentially pay up to five times what taxpayers in neighboring Indiana pay for workers' compensation.
Road construction workers do make a good living here - when they're working. Workers' comp is a real problem. And our regulations could always use a revamp.
* But there's a certain glass houses argument that can also be made. For instance, Rep. Darren Bailey (R-Xenia) received almost $1.9 million in federal farm subsidy payments between 1995 and 2017. Another household member received $1.2 million during the same time period.
And Rep. Chris Miller (R-Oakland) received about $794K in farm subsidies in that same timeframe.
I, for one, do not begrudge those folks one penny of their federal subsidies. Then again, I also don't have a real problem with road construction workers who can make enough money to send their kids to college.
* Related…
* Illinois to pay for long-sought MetroLink extension to MidAmerica Airport: The extension would link the existing Shiloh-Scott station to the airport, which is in Mascoutah. Now, shuttle buses run between the two. Construction could take 18 months, he said.
- Posted by Rich Miller 23 Comments


* Press release…
Moody's has issued a short, new report (attached) following the State of Illinois' (rated Baa3/stable outlook) recent flurry of legislation and signing of the FY 2020 budget. The bills, which the governor is expected to sign into law, are credit positive for the state's local governments because they will receive new funding for capital and potential new sources of operating revenue. The primary winners in the new budget are the state's school districts designated as Tier 1 or Tier 2, including Chicago Public Schools (CPS – B2/stable), as those districts received a $375 million bump in formula funding.

For the third straight year, Illinois' budget prioritizes K-12 education funding by exceeding the aggressive funding targets called for by the evidence-based school funding formula, which categorizes each school district into one of four tiers based on need. Tier 1 and Tier 2 districts, including CPS, receive the vast majority of any boost in state funding. For fiscal 2020, the state will increase formula funding by close to $375 million, including $50 million for property tax relief, following boosts of $350 million in fiscal years 2018 and 2019. Nearly 70% of districts are currently designated as Tier 1 or Tier 2 and will receive over 90% of the increased funding. Other districts will continue to benefit from the formula's "hold harmless" provision, which prevents reductions in state aid for any school district even if it currently is considered funded in excess of need or there is a drop in enrollment.

Local governments will receive a significant infusion of capital dollars under the Rebuild Illinois capital plan. The statewide motor fuel tax rate will double to 38 cents per gallon from 19 cents per gallon, increasing each year thereafter in line with inflation. The rate hike is projected to yield an additional $1.2 billion in revenue each year, approximately 32% of which will go to local governments. Certain counties will also be able to increase their local gas tax on top of the statewide bump.

The impact of legislation authorizing a massive expansion of gambling is less certain. The legislation will add six casinos, including in four cities that we rate: Chicago (Ba1/stable), Rockford (A2/negative), Waukegan (A2), and Danville (Baa3/stable). There will also be an expansion at the current ten existing casinos and of video gaming. The new casinos have the potential to generate significant revenues, but those revenues are difficult to project, particularly as the gambling landscape is becoming increasingly competitive. Furthermore, revenue-sharing provisions will dilute the impact for the individual cities receiving new casinos. Importantly, all of the cities chosen for casinos are grappling with rising pension costs. If the new casinos were to generate significant revenues, it could have a meaningful impact in comparison with pension contribution gaps using reported assumptions. However, the revenues produced by existing locations have steadily declined over the last five years, a trend that could be exacerbated by increased competition.

While credit positive, most Illinois local governments will receive minimal tax revenue from cannabis sales, if the state's experience mirrors other states with legalized recreational cannabis such as Colorado. For example, in fiscal 2016, Denver (Aaa/stable) collected $27.6 million in cannabis sales taxes on roughly $500 million in gross sales, which amounted to a minimal 2% of general fund revenue. However, as with gaming revenues, cannabis revenue has proven to be volatile.

Moody's declaration of "credit positive" or "credit negative" does not connote a rating or outlook change. It is indicative of the impact of a distinct event or development as one of many credit factors affecting the issuer.
* Hannah Meisel…
At a Capitol press conference on June 30, Pritzker told reporters that credit ratings agencies should look positively at the budget and capital bills, along with the revenues lawmakers approved to fund both.

"It took a lot of years for Illinois to get into the situation that we're in today where the rating agencies have put us," Pritzker said. "It's going to take years for us to get out of it. But this is an enormous step forward.

"Think about it: a truly balanced budget where we're actually going to pay off some of our debts," the governor continued. "We're beginning to address our pensions. We're doing things that I think move us in the right direction from a financial perspective, a fiscal perspective, and I think the rating agencies will recognize that."

Moody's on Thursday did seem to recognize that, saying in a report and accompanying press release that the new budget and capital bills, along with the revenue from expanding gaming and legalizing marijuana will have a positive effect on local governments.
- Posted by Rich Miller 12 Comments