* From Vicki Crawford's Facebook page…
Today, I am starting a new chapter in my life. I am leaving my job as the House Republican Spokesperson to take a position in communications with the Illinois Commerce Commission.

For 23 years I have been blessed to get to know and work alongside so many talented lawmakers, staff, journalists and lobbyist. I am most thankful for the lasting friendships that I have made along the way.

Life under the dome is not easy. The schedule is grueling and the level of stress generally remains high, but I always felt at home. I considered all who passed through the copper doors regularly a part of my extended family.

I am proud of the work I have done and will look back with no regrets. As a senior staff member, I worked for 3 House Republican Leaders and 8 Chiefs of Staff. I had a front row seat into the impeachment of Rod Blagojevich and the Ryan, Blagojevich and Quinn administrations. I saw a good friend (Mike Bost) have a tirade on the House floor that went viral and fielded media calls from all over the nation for weeks - he is now a U.S. Congressman. Following years of media stories regarding the abuses of the legislative scholarship program, as the Director of Communications, I helped convince many Republican legislators to quit handing out the scholarships – the program was eventually abolished. And as a volunteer, I was there to celebrate with many candidates after winning an election, and I have been there to cry with others when they lost. So many memories….so many stories to tell. To quote my good friend former State Rep. William Black of Danville, "You couldn't make this stuff up."

Earlier this year, I saw the last of the original lawmakers who were in the House when I started back in July of 1994 leave the House chamber….and I have seen hundreds of staff members and reporters come and go.

Now it is my turn.

I am particularly grateful to Leader Jim Durkin for the opportunities he has given me over these past four years. He is a true statesman and a man of great integrity. I am proud to call him my friend. He has a tough job. I wish him nothing but the best in the months and years ahead.

For me…I am looking forward to taking a little time off and a long-planned vacation with my family before starting my new adventure.I am looking most forward to getting through a meal with my family without having to take a phone call or answer an email.

Please wish me luck and I hope you will invite me to join you for a drink sometime.
* From a memo Leader Durkin sent to his members today…
Dear House Republican Member:

Today I am announcing that Vicki Crawford will be moving on to take a communications position at the Illinois Commerce Commission. I cannot thank Vicki enough for her service to me as my spokesperson since becoming Republican Leader nearly 4 years ago and for the more than 20 years of hard work and dedication that she has provided to the House Republican Caucus. It will be extremely difficult to replace her talents, experience, and institutional knowledge but we wish her the best moving forward.

I hope to identify and announce a new spokesperson in the coming weeks.

Sincerely,

Jim Durkin
She's not just a straight shooter and a professional in every regard. She's also a kind and decent human being and it has been a pleasure working with her over the decades.
Let's give her a great sendoff.
- Posted by Rich Miller 19 Comments


* For weeks, the Democrats have been saying they don't want to lift the parliamentary hold on SB 1 because they hoped to talk Gov. Rauner out of a veto. Well, those days are over. The governor intends to use his amendatory veto powers on the bill. I think it's clear that the governor doesn't actually know all the particulars about what he plans to do, but I also don't think that the Democrats could talk him out of vetoing it anyway. Chicago bad! Madigan bad! This thing is tailor-made for him.
But now that the governor has called yet another special session starting Wednesday, what would be the point of holding onto SB 1 now, except to prove they can't be bullied into doing something? I mean, are the Democrats just going to sit around in Springfield and… what? Do they think they can just sit on the bill until Labor Day?
Perhaps some of you can enlighten me.
- Posted by Rich Miller 50 Comments


The bill gives CPS the pension bailout Chicago officials have long demanded. SB 1 requires state taxpayers to give the district $215 million a year for CPS' "normal" pension and health care costs – the additional benefits Chicago teachers earn annually – every year going forward.By forcing state taxpayers to pay for CPS pensions, lawmakers are bailing out CPS from the 10-year pension holiday it took starting in the mid-1990s. For nearly a decade, CPS failed to put any money in its pension plan, instead using money that should have gone to pensions primarily for salary increases.

Under SB 1, CPS is partially exempt from the new "evidence-based" formula to which every other district is subject. It gets to keep the early childhood education portion of its special block grant, which no other district receives. That will provide CPS with millions more from the state than it would otherwise get.

Under the bill, the district is allowed to look "poorer" than it actually is when applying for education state aid. CPS will get to subtract the cost of its old retirement debt from its local revenues. That means the district will get more state aid than it otherwise would. No other district will get to do that.

Chicago will also benefit from SB 1's "hold harmless" provision. The "hold harmless" provision ensures that a district cannot receive less in state aid funds than it did the previous year. The provision protects a district's state funding even if it experiences changes in demographics (e.g., a drop in student attendance that would have otherwise led to less state funding).
It also appropriates about $300 million in new state dollars to Chicago Public Schools to help bail out its failing pension system. Rauner and Republicans have said suburban and downstate taxpayers should not be paying to bail out Chicago schools.
According to the governor's administration, CPS would get $145 million less under the amendatory veto.
The formula bill passed by Democrats in late May creates such an "evidence-based" system for distributing state aid, but Rauner opposes the bill because it includes $215 million in pension assistance for Chicago Public Schools and it allows the district to keep a special block grant worth $250 million.

Rauner indicated Monday that he plans to use his veto pen to zero out CPS' pension money so that it instead would go to classrooms in rural and suburban school districts, which aren't responsible for their own pension costs.
"If we're not going to pick up the pension, then the $250 (million) could stay," Rauner said. "We gotta do what's fair."

Rauner said his amendatory veto would shift close to $300 million from Chicago Public Schools to the rest of the state's school districts.
Under SB1 & SB6 (the budget bill) there is an additional $778M invested in K-12 Education. Under the amended SB 1, CPS would receive $495M of that $778M. That is 64% of all new money! Keep in mind that CPS has only 19% of the students in Illinois public schools. […]

The plan that I can support eliminates that extra $215 million payment to CPS pensions and allows that money to be redistributed through the new evidence based model formula.
It's a staggeringly complex subject—I still can't figure out where there's a $100 million-a-year difference in some key figures the two sides are giving me—and no one here gets a pass. But the more I learn, the more I tilt against Rauner. He's decided to demonize part of his electorate, Chicago, in a way I haven't seen in this state's politics for many decades. And he's cherry-picking numbers even more than the other side. […]

On balance, CPS would receive an extra almost $300 million in 2018, according to the Democrats. They say that figure still is less than it ought to be, based on student population, and represents only a quarter of next year's overall statewide increase in spending.

Republicans say the hike for Chicago is more like $400 million. I haven't been able to get them to explain why. But part of it is the roughly $200 million-a-year block grant CPS gets from an old budget deal, money the Republicans want to phase out in exchange for the pension money. […]

In this fray, I find fairly convincing the contention that, even assuming the Democrats get their way, Chicago by their count would receive 16 percent of the money while educating 19 percent of the state's public school kids. CPS is being shortchanged.

If Republicans have different figures, they're not disclosing them. Believe me, I've asked. Instead, they respond that Chicago wouldn't need as much if it hadn't mismanaged and undercontributed to the Chicago Teachers Pension Fund. In other words: Dig yourself out of your own mess. […]

But by the "own mess" standard, the state's Teachers' Retirement System, which will get $4.56 billion from taxpayers next year, was even more mismanaged. It has only 39.8 percent of the assets needed to pay expected liabilities compared to the city fund's 52.4 percent. So why can't downstate and the suburbs dig themselves out of their hole?
- Posted by Rich Miller 40 Comments


* Bloomberg…
S&P Global Ratings upgraded four Illinois universities and took three others off watch for a potential downgrade because the state ended a standoff over the budget that had left the schools reeling from the loss of aid.

The legislature's decision this month to override Gov. Bruce Rauner's veto to enact the first full budget in two years lifted a financial threat to the state's public colleges, which had been laying off employees, slashing spending and shuttering programs to cope with funding delays.

"These universities' immediate liquidity risks as a result of the state's failure to provide timely payment of operating appropriations are mitigated with the recent passage of the fiscal 2018 budget and retroactive payment anticipated for fiscal 2017," Ashley Ramchandani, an S&P analyst, said in a statement on Monday.

Southern Illinois University and Governors State University had their ratings lifted one level to BB+, one step below investment grade. Northeastern Illinois University and Eastern Illinois University were upgraded one step to B+, four levels below investment grade. All four were moved from negative to stable outlooks.
- Posted by Rich Miller 11 Comments


* Click here or on the pic for the full proclamation…

Here we go again.
*** UPDATE 1 ***  Pritzker campaign…
Bruce Rauner has made it clear he intends to pit schoolchildren and communities against each other by issuing a yet to be revealed amendatory veto to SB 1, a bill that lets school districts across the state open their doors on time. In response, JB Pritzker issued the following statement:

"The only person driving an 'artificial crisis' is Bruce Rauner. Rather than working cooperatively with lawmakers, advocates, families and school districts, Rauner has once again decided to approach school funding with his arrogant and dismissive 'my way or the highway' style," said JB Pritzker. "It's simply unconscionable that Bruce Rauner cares more about pushing a right-wing agenda than he does about making sure children get a quality education. Unfortunately for our children and families, it looks like Rauner still hasn't figured out that being governor means coming out from behind the desk in his office to work with other people. If he follows through on his threats to hold children and families hostage to his political agenda, Rauner will be responsible for preventing schools across Illinois from opening on time."
*** UPDATE 2 *** ILGOP…
ILGOP Supports Rauner Decision to Call Special Session
Mike Madigan's Attempt to Hold Schoolchildren Hostage Needs to Stop

"It is beyond inexcusable that Mike Madigan and his allies refuse to release education funding for all Illinois schools unless they get their $500 million Chicago bailout. It's just another attempt by Madigan to hold our state hostage for his disastrous Chicago agenda."

"Governor Rauner's decision to call lawmakers back to Springfield is necessary to protect students across Illinois from Mike Madigan's hostage-taking." – Illinois Republican Party Spokesman Steven Yaffe
*** UPDATE 3 *** Press release…
Daniel Biss released the following statement in response to Governor Rauner's calling of a special legislative session:

"We already knew Bruce Rauner as the proverbial kid on the playground who takes his ball and goes home when he doesn't get everything he wants. Today, he's proven that he'll also bulldoze the playground.

"After more than two years of manufactured crisis, and over Rauner's objections, Illinois has a budget, and a semblance of certainty. In retaliation, Rauner is now using divisive and evasive tactics to plunge us into crisis once again.

"Despite the pleas of families, students, educators, and legislators, Rauner has made it clear that he wants to create a crisis so that he can impose 100% of his ideological agenda on us."
*** UPDATE 4 *** The governor's official proclamation states that the "Illinois State Board of Education is required to begin making payments to school districts across the state on August 1, 2017."
But this is what the statute actually says…
In making this distribution, the State Board of Education shall present vouchers to the State Comptroller on the 10th and 20th days of each month beginning in August.
But this language is in SB 1…
Moneys distributed under this Section shall be calculated on a school year basis, but paid on a fiscal year basis, with payments beginning in August
So, maybe that's where the confusion is.
*** UPDATE 5 *** Kennedy campaign…
"This is the latest smokescreen Bruce Rauner has thrown up. He has no interest in fair funding for public schools in Illinois. He hasn't led and waited until the eleventh hour to threaten a veto. That's what happens in Springfield under Bruce Rauner. He creates a crisis instead of finding a solution. There's been plenty of time to debate the bill. It isn't perfect. It doesn't fix the broken property tax system tied to our school funding, but it's too late to let the perfect be the enemy of the good. It's time to show up, lead, and allow our schools to open this fall— not use our public schools, teachers and students as Bruce Rauner's latest political football."
*** UPDATE 6 *** Sen. Dave Koehler (D-Peoria)…
"Governor Rauner has demonstrated once again that he favors campaigning over governing. Rather than focusing on how he could work constructively with the General Assembly, he calls Blagojevich-style special sessions that only waste taxpayers' dollars.

"I am calling on the governor to sign a bill that his own administration says he supports 90% of. It is time to stop pitting one part of the state against the other for political purposes."
*** UPDATE 7 *** Ameya Pawar…
"It's painfully apparent that Bruce Rauner continues to play politics instead of governing. He says he agrees with 90 percent of the school funding bill lawmakers passed during the last session, yet he is threatening an amendatory veto without releasing any details. Now, he's calling lawmakers back to Springfield to rehash what was a common sense solution to our inequitable school funding system. Lawmakers did their jobs, while Bruce Rauner is failing at his.

"What Bruce Rauner is doing is pitting communities against each other and dividing our state by race, class and geography. He's telling downstate communities that their schools aren't getting funding because of 'those people' in Chicago - propping up a false narrative that Senate Bill 1 is a bailout for Chicago, despite the fact that it increases funding for every school district in the state. Meanwhile, school districts and families across the state are in panic mode as they try to plan for the start of the school year.

"We must reform our outdated school funding formula that relies on property taxes for funding and start making significant strides toward closing the 20 percent funding gap between upper income and lower income school districts. Instead of asking local communities to foot a majority of the bill for their schools, our government needs to make school funding a priority as our state constitution requires."
- Posted by Rich Miller 57 Comments


* Rick's tweet got me thinking about the similarities between our president and our governor…
Businessman elected to first public office, believes message isn't being communicated. Shakes up staff. Trump or Rauner?

— Rick Pearson (@rap30) July 23, 2017
* For instance…
He referred to his Republican allies in Congress as "they," while casting himself passively as "sitting in the Oval Office … pen in hand, waiting to sign something."
While here in Illinois…
At my desk, preparing for a balanced budget to arrive. Lawmakers need to come together & ​get this done for Illinois. Time is running out. pic.twitter.com/mnspNHImmf

— Bruce Rauner (@GovRauner) June 29, 2017
* And then there's stuff like this…
Former FBI Director James Comey said he documented his meetings with President Trump because he worried he'd have to defend himself and the FBI publicly over those conversations because Trump "might lie," a feeling he never had with previous presidents with whom he worked.

"I was honestly concerned he might lie about the nature of our meeting," Comey said.
And…
* WSIL TV sat down with Gov. Rauner yesterday…

When asked about his relationship with Madigan and whether the two of them could sit down and talk, Rauner said he had spent "hours and hours and hours" meeting with the speaker.

"When I first met him eight years ago, I asked him what his goal was for improving the quality of life for the people of Illinois. You know what he said to me? He laughed and said 'I don't have a goal like that.' He said 'I do two things: manage power and make money for managing power,'" said Rauner.

I asked the House Speaker's spokesman for comment. His e-mailed reply…

Sounds like another election night phone call to me.

You'll recall that Rauner said on election night that he had spoken with Madigan about the future, but actually hadn't.
* And then there's this national angle…
President Donald Trump predicted Tuesday that Republicans would wait for the federal insurance market to collapse and then work to broker a deal to rewrite the nation's landmark health-care law, while Senate leaders pressed ahead with a plan to repeal the Affordable Care Act with no immediate replacement.
"Crisis creates opportunity. Crisis creates leverage to change … and we've got to use that leverage of the crisis to force structural change," said Rauner, borrowing from a political philosophy famously coined by his friend Rahm Emanuel that "you never want a serious crisis to go to waste."
* Also, too…
Not only does Trump refuse to apologize, he blames others for his own actions.
Meanwhile, in Illinois…
Also, great move throwing the new staff under the bus on this topic. Same as it ever was. Nothing is ever this man's fault.
* Another one…
South Carolina Rep. Mark Sanford on Sunday said President Donald Trump threatened to back a Republican primary challenger against him if he voted against the American Health Care Act, the GOP's Obamacare replacement bill that failed last month.
The Illinois Republican Party heavily funded by Gov. Bruce Rauner has worked for years to tell voters that Democrats wanted to raise state taxes.

Then a bunch of the party's own lawmakers voted for a tax hike and bucked the governor's override. Shortly after, Rauner's hand-picked state GOP chairman released a statement sharply critical of them.

"After all we have accomplished together, it is astonishing that these legislators would now turn their backs on taxpayers across the state," the statement from party Chairman Tim Schneider read in part. "I am confident voters will hold those politicians accountable for choosing Mike Madigan over the people of Illinois."

Assuming Schneider isn't suggesting he wants Democrats to defeat those Republicans, the statement suggests those GOP lawmakers could face primary opponents next spring.
* Nationally…
Chuck Jones, who is President of United Steelworkers 1999, has done a terrible job representing workers. No wonder companies flee country!

— Donald J. Trump (@realDonaldTrump) December 8, 2016
Locally…
The personal attacks waged against supts over the last 24 hrs would suggest who is scared and who is standing up for ALL kids. #notscared

— Dan_Cox (@Dan_Cox) July 22, 2017
I'm not afraid either. While I've had members of the Govs staff berate my support of SB1, I've never heard a peep from Speaker Madigan. https://t.co/baaDtKxGbn

— Tony Sanders (@TonySandersU46) July 22, 2017
* National headline…
Embattled White House Lurches from Crisis to Crisis
Local headline…
Rauner lurches from crisis to crisis
* There's also this national trend in the political environment…
A black Texas congressman said Saturday that he's been threatened with lynching by callers infuriated over him seeking impeachment of President Trump.
And here…
The group's Facebook page generated hundreds of thousands of often profanity-laden, hate-filled and even some comments that appeared to advocate violent acts like lynching. It also succeeded in inundating legislators with calls and e-mails. At least one legislator, Rep. Steve Andersson (R-Geneva), reported receiving death threats. The group claims to have an "unblemished" record of "decency, civility, and candor," but that's not how some of those legislators see it.
* The Question: What major differences do you see separating President Trump from Gov. Rauner? Don't forget to explain. And, please, no snark. This is a serious question.
- Posted by Rich Miller 59 Comments


* Tribune…
One of the constants during Gov. Bruce Rauner's 2 1/2 years in office has been his belief in the power of messaging: If only people understood his agenda, the resulting groundswell of public support would be enough to pressure Democrats to get on board with his ideas.

It's a notion so central to the Republican governor's philosophy that it's common for him to ask supporters, onlookers and even journalists to "help get the message out."

"We just need to get our friends and our neighbors and our allies to stand up together and message on this issue," Rauner said last week during remarks at a gathering of road builders in Oak Brook. "Everything we're fighting for is a win for the people of Illinois, and we've got to message that together."

Since the start of the year, Rauner's focus on messaging intensified as a temporary budget expired and pressure built for the Republican governor to strike a budget deal with Democrats who control the General Assembly, according to people familiar with the operations of the governor's office who spoke to the Chicago Tribune on condition of anonymity.
OK, but what does he mean by "messaging"?
* If you scroll all the way down to the very end of WBEZ's story on the Illinois Policy Institute staffers hired by Gov. Rauner, I think you'll see what he's talking about…
[Rep. Tom Morrison (R-Palatine)], however, said Rauner's new chief of staff and communications team would focus more on how the governor delivers his message.

"One thing the Illinois Policy Institute does well is communicate the untold stories that maybe the media is unable or unwilling to tell," Morrison said.
* This is the same basic explanation given by Chicago Tribune editorial board member Kristen McQueary on Dan Proft's radio show a couple of weeks ago…
If you look at what [Gov. Rauner's new chief of staff Kristina Rasmussen] has done with the Illinois Policy Institute, regardless of what you think of the Policy Institute, until they started growing and putting pressure on different policy issues in Springfield, there was really no entity down there pushing that agenda, or refuting what the Left was always doing, or taking unions to task, or looking more critically at the state budget and all of these issues. They have become a force de jour under her leadership. So, I think that probably speaks to why she is a good choice.

I mean, you know the liberals will go nuts because the Illinois Policy Institute is seen as a real flash point down there. And this will be interpreted as he is now going to listen even more to his base and anti-union rhetoric and all that. That's what the push will be. But I just see this as more of a policy-driven, disciplined person who will be in his ear every day rather than some of these people who perhaps did not know Springfield as well as they should have. […]

She also has just a really good grasp of media, of story-telling. When I've been on this show at times, sometimes I've felt as an editorial writer that I was telling stories that his people should've been telling… It fuels the idea that maybe there isn't good messaging coming from his office when they're not good at explaining why, for example, a locally approved right to work zone, and I know these are considered off limits kind of off the bat, but they shouldn't be. Some of these issues that were on his initial Turnaround Agenda were not anti-union, union-bashing. They were small, locally approved issues to help places like the South Side of Chicago and the West Side that have not seen new development in 25 or 30 years.
- Posted by Rich Miller 31 Comments


* Gov. Rauner was asked by reporters several times today about the details of his threatened amendatory veto of SB 1. "We need it on my desk and you will see," he said to one reporter.
"We can't have any rational discussions until that bill's on my desk," he told another who asked about leaders meetings. "There's nothing really to discuss without that bill being on my desk."
"If they would actually deal with the reality and have the truth come, I could, you could read my amendatory veto and you'll see what I do. They don't want the truth. They don't want an open debate. They don't want this to be out in public. Because the truth is so bad for their position."
Um, SB 1 is out there for everyone to see. The governor's plan is the only secret here. There can be no public debate until we see his plan, and I don't see what the harm would be in making it public. Perhaps I'm wrong. What do you think?
*** UPDATE 1 ***  From the DGA…
In a bizarre press conference today, Governor Bruce Rauner repeatedly dodged direct questions about his plans for SB1. In addition, Rauner called for Democrats to send him SB1 so that he could amendatory veto the legislation, but refused to spell out what his changes will actually entail.

Perhaps Rauner's reluctance to talk to address the specifics of SB1 has to do with his general campaign of misinformation regarding the school funding formula. Greg Hinz of Chicago Crain's writes that Rauner has "decided to demonize part of his electorate, Chicago, in a way I haven't seen in this state's politics for many decades" and he's "cherry-picking" numbers to do it. Hinz continues:

"Rauner, for instance, while wailing about those fat-cat Chicago teachers and their big pensions, is promoting a website that shows how much other districts would get under his school funding plan. The trouble is in the fine print: The site purports to redistribute money that would come not from pension funding but from phased-out block grants. Apparently taking away money from impoverished kids in Chicago isn't as popular as whacking teacher pensions."

Worse, Friday Rauner admitted the state's school board of education was not even involved in the math behind Rauner's planned veto, and instead the work was done by unnamed administration people. Dusty Rhodes of NPR Illinois writes:

"He hasn't shown the work behind his calculations, and said he didn't know whether the Illinois State Board of Education had been involved in the creation of the spreadsheet. ISBE, which is headed by Rauner appointees, traditionally models funding proposals using their in-depth database. Full models of other proposals, including SB1, sponsored by Sen. Andy Manar (D-Bunker Hill) and SB1124, sponsored by Sen. Jason Barickman (R-Bloomington) are available at isbe.net."

It sure seems like Governor Rauner's concerned about the policy here.

"Bruce Rauner's actions these past two weeks showed a governor more concerned about his reelection than about making sure schools open on time," said DGA Illinois Communications Director Sam Salustro. "Rauner has pursued a campaign of misinformation designed to divide one state against the other, and today Rauner's cynical strategy was exposed when he refused to address direct questions about his plans for SB1. Illinois families have seen this failed style of leadership when Bruce Rauner dragged the state through a two-year budget impasse that drove jobs and people from the state."
*** UPDATE 2 *** ILGOP…
ILGOP Releases Digital Ads
Ads Highlight Mike Madigan's Chicago Bailout, Attempt to Hold Schoolchildren Hostage

Mike Madigan's attempt to hold schoolchildren hostage for a $500 million Chicago bailout is everything wrong with Illinois politics.

Madigan is willing to put politics ahead of the interests of Illinois children. He's willing to take money from children across the state to bailout his friends in Chicago with no promise of reform. It's just plain wrong.

That's why today, the Illinois Republican Party is releasing digital ads calling out Mike Madigan for his scheme to force through a taxpayer funded Chicago bailout.
The ads…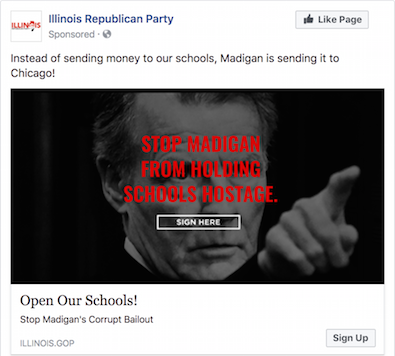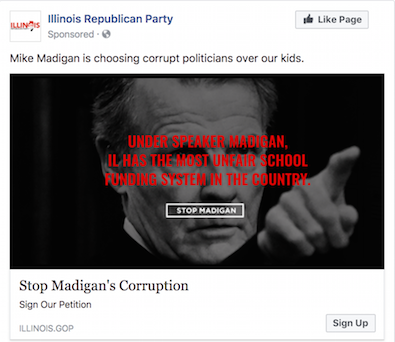 - Posted by Rich Miller 33 Comments


* Sneed…
Sneed hears rumbles the days might be numbered for Brittany Carl, one of Gov. Bruce Rauner's newly hired communications aides — who compared abortion to Nazi Germany's eugenics programs on a conservative blog before she was hired. […]

"Both the governor and Diana are irate over the comments," said a top source for the couple, who claims they are disappointed with the loss of some of their staff amid abrupt firings and resignations last week. […]

"It's true Rauner was hoping for a diversity of hiring, but Carl's hiring wasn't well thought out," said a Sneed source.
The governor was asked about this by reporters today and said he doesn't always agree with everything his staff believes. He gave no indication that she would be let go.
* And then…
Sneed is told the governor was not happy with the leadership of his communications department, felt relationships with the media could have been much better, and had tried to bring in new talent to offer new ideas — but felt his communications staff was not open to new ideas.

"So the plan was to bring in new talent who related better to the press and were better at messaging," the source said.
People who relate better to the press? Really? Here's the Illinois Policy Institute's publisher and general manager of its news network…
When people ask me how Madigan has managed to maintain his grip on the state, I tell them that it's two pieces. One, he owns his district. He's had it on lockdown for decades. Two, he owns the Springfield Bubble Press Corps, who seem only too willing to amplify whatever anyone blows into their recorders. Some of that reporting brings to mind the foreign press I observed in my world travels.
* Related…
* Statement of Rep. Peter Breen (R-Lombard): "Illinois Democrats and their left-wing allies will do anything to distract from their massive tax increase and Chicago bailout, including mischaracterizing a smart, competent woman for her strong support of the pro-life position. In her private capacity, well before taking a public political position with the Rauner administration, Brittany Carl wrote articles linking her strong feminist position with her equally strong pro-life position. She wrote with the passion and conviction you would expect from an advocate, not the carefully crafted words of a politician. While her past writings don't deserve to be judged by the standards of political press releases, folks should heed her core message: a belief in feminism is consistent with a belief in the dignity and worth of every life, no matter how small. The leaders of the Democratic Party recently declared that pro-life people cannot be Democrats. Thank God Governor Rauner, despite being pro-choice, doesn't discriminate against people based on their own personal abortion positions."
- Posted by Rich Miller 40 Comments


* Gov. Rauner told reporters today that if SB 1 isn't sent to his desk by noon, he'll start calling legislators back for a special session starting this Wednesday.
Before he does, however, he might want to sign HB 643, which keeps legislative salaries, mileage reimbursements and lodging allowances at last fiscal year's levels…
Amends the General Assembly Compensation Act. Establishes the fiscal year 2018 mileage reimbursement rate and allowance for lodging and meals. Amends the Compensation Review Act. Prohibits cost-of-living adjustments for or during the fiscal year beginning July 1, 2017 for State government legislative and executive elected officers and appointees in positions for which the Compensation Review Board previously recommended or determined compensation. Effective immediately.
* Meanwhile, this track is from the 2004 special session that was called by then-Gov. Rod Blagojevich. You'll hear what sounds like Rep. Jim Durkin say "I think it's really the arrogance of the Governor that's keeping us here." Another complains that it seems "ridiculous" to call a special session "where there's no agreement," among other gems…
- Posted by Rich Miller 9 Comments


* Press release…
Illinois Senate President John Cullerton renewed his request that Governor Rauner put down his veto pen and instead meet with the legislative leaders to make sure he understands what is in the historic school funding overhaul before it arrives on his desk. Here is the full statement from Senate President John Cullerton.

"Last week, the governor didn't know where he's getting the education numbers he's been using. He lashes out over what he calls a 'Chicago bailout,' but the same provision appears in his 'plan.' He calls Senate Bill 1 'historic' and then says he will veto it immediately.

I'd like to have a conversation with Governor Rauner in hopes of getting some clarity as to exactly what is going on. We slowed down the process in the Senate in order to let everyone blow off some steam, politically speaking.

Six weeks later, the governor's temper continues to flare. I don't want him making statewide classroom funding decisions out of a position of anger.

I'd like the opportunity to make sure he knows what is in the proposal from the people who wrote it so he can make a rational decision."
* The governor had an answer for Cullerton earlier today at the Daily Herald…
Rauner says Cullerton's calls for leaders meetings a "sham" a "diversion" an "excuse not to send me SB1."

— Kerry Lester (@kerrylester) July 24, 2017
- Posted by Rich Miller 31 Comments


* From Saturday's Democratic Women of the South Suburbs Candidates' Forum…
1st question of this morning's forum: "How do we deal with Mike Madigan?" I am the only Dem candidate who has stood up to the Speaker

— Scott Drury (@Drury4IL) July 22, 2017
* Moderator Craig Dellimore asked the question…
Gov. Rauner is not the only obstacle to improving Illinois. How do you think you will handle Illinois House Speaker Michael Madigan to get your agenda moving?
* JB Pritzker said he could get things done as governor just like he has in the private and public sectors and then said…
But I think we gotta stop throwing the leadership of the Democratic Party at each other. That is Bruce Rauner's game. It is his game to make us fight each other in this primary so that he's got an easier chance in the general elecction. That's why I have not said one cross word about anybody that's on this stage. I have been adamant about the fact that we need to focus every day on the failings of Bruce Rauner. That's the guy that has made the mistakes in this state. That's the guy that has stood up against working families. And I'm going to beat him in the general election.
Raw video is here.
*** UPDATE 1 ***  ILGOP…
This weekend, we got even more evidence that J.B. Pritzker is Mike Madigan's pick.

Asked at a Democratic forum how he would handle Illinois' corrupt Speaker, Pritzker defended Madigan.

Capitol Fax reports that Pritzker responded by saying that "we gotta stop throwing the leadership of the Democratic Party at each other."

It's been widely reported that J.B. Pritzker is Mike Madigan's handpicked candidate for Governor.

Just last month, Crain's Chicago Business reported that Madigan was "breaking legs behind the scenes to help Pritzker".

J.B. Pritzker has now made his position clear – he is unwilling to criticize Mike Madigan for anything.

He is unwilling to criticize Madigan for forcing through his 32% tax hike without reform. For refusing to bring term limits up for a vote. For using his personal attorney to kill the fair maps ballot initiative. For his decades of patronage hiring. For rigging the property tax system against hardworking taxpayers.

Nope, Pritzker is fine with all of it.

It's easy to see why Madigan likes Pritzker so much.

Watch Pritzker defend Madigan here.
*** UPDATE 2 ***  From Galia Slayen of the Pritzker campaign…
"Welcome back ILGOP. Good to know you still remember your tired talking points. In case you missed it while you were gone, your governor cleaned house, brought in a bunch of radical extremists, and is now holding funding for Illinois schoolchildren hostage. So hope you got some rest. You're going to need it."

Galia Slayen
- Posted by Rich Miller 37 Comments


Drawing parallels between the horrors his family has faced and the challenges facing Chicago, Democratic gubernatorial candidate Chris Kennedy laid out plans Saturday he said he would enact to help curb the rampant gun violence in the city.

Several times during a 40-minute speech detailing his plans, Kennedy spoke of the residual effect that gun violence can have.

Kennedy spoke of "a boy" whose father was killed and the troubles he faced and overcame growing up. […]

Kennedy laid out eight areas he said he believes would lead to a decrease in violence: boosting economic development, halting the flow of illegal guns into the state, doing more to mentor at-risk youth, putting a greater focus on using proven techniques to quell violence, acknowledging that violence will continue, making the police department better reflect the communities it serves; and reforming the criminal justice system.
Asked how much his plans would cost, particularly in shifting the burden off property taxes to state taxes, Kennedy said he was speaking about "solutions that drive our costs down."

Asked what his plan to add up to 2,000 police officers in Chicago with benefits and pensions would cost city taxpayers, Kennedy responded: "Tell that to the thousands of people who were shot last year. Tell that to the people of the families that lost a loved one. Tell that to the children who will be unproductive adults because they can't process the trauma. Tell that to the taxpayer who's going to have the burden of those families for their entire lives because we didn't pay for a few extra police officers today." […]

"We are using strategic gentrification as a weapon against the poor and people of color. We're underfunding the schools because we pay for them with property taxes," said Kennedy, who said education should be funded with "a basket of taxes" including a graduated income tax that levies a higher tax rate based on wealth.

"This is the root of fundamental unfairness, not just in Chicago but across the entire state as well," he said of the property tax system. "Not only does it cause our kids to be undereducated, it contributed clearly to the violence in our communities. People are dying. They're being killed because we are not providing them alternative economic opportunities simply because they are undereducated."
Kennedy said there's a lot of focus on Chicago, but other parts of Illinois have shootings, too.

"Violence which can touch our society anywhere will eventually touch our society everywhere. Just as it did to my family, just as it has done to too many of the people in this room. Just as it has done to too many families across the state of Illinois," he said.
During the speech, Kennedy criticized Governor Bruce Rauner for not doing enough to curb violence in Chicago, saying that the governor's belief in limited government intervention has been the wrong path forward.

"The Republican party in the state of Illinois was hijacked by a libertarian madman who believes that there is no role for government in people's lives nor the economy nor in state support for any anti-violence program," he said.
Chris Kennedy spent his childhood coping with his father death but also the murder of his uncle President John F. Kennedy.

"We would watch TV and watch the news every night it would just appear on screen on news broadcast or part of a movie screen," he says. "That was always very disturbing. It would rattle us."

From a wealthy family, Kennedy had resources to help him deal with the family tragedies, but he worries about all the children of Chicago's gun violence who do not.

"Today, it's different in Chicago and elsewhere where you have thousands of those events occurring every year and way too many people being injured physically and mentally and mostly emotionally. I'd say that the bullet that kills the father wounds the child. … We have entire communities deal with PTSD and other issues. … Now we know how to fix now we know how to heal, now we know how to help and yet we don't help, we don't heal. We don't fix because we don't spend the money to do so."
- Posted by Rich Miller 15 Comments


* Pritzker campaign…
As Bruce Rauner threatens to call a special session on education funding today, it is important to recognize that Rauner clearly doesn't understand what's in his own plan.

Rauner is committed to amendatory vetoing SB 1, even creating a web page with unverified numbers to spread his misinformation. But when pressed by reporters as to why he is doing this or where his numbers came from, Rauner had no answers. Rauner refused to provide a yes or no as to whether the Illinois State Board of Education even scored his plan, saying his numbers came from, "our administration in conjunction with, uh, our legislators and in conjunction with, uh, school officials." Really convincing.

"Bruce Rauner is ready to call a special session and potentially shut down Illinois schools to force an education funding plan he doesn't even understand," said Pritzker campaign spokeswoman Jordan Abudayyeh. "This shoot first ask questions later strategy is evidence of a failed governor and his new radical staff, desperate for a political victory no matter how many schools and children get hurt in the process."
* ILGOP…
Editorial Boards Call on Democrats to Release SB1
Madigan Democrats Should Stop Holding Schoolchildren Hostage

Mike Madigan and his allies in Springfield are holding schoolchildren hostage for a $500 billion Chicago bailout. They're refusing to release SB1, the education funding bill, to Governor Rauner's desk for an amendatory veto to release school funding and remove the bailout.

They are trying to use our children's education as a leverage for Madigan's Chicago bailout.

It's wrong, and editorial boards across Illinois are calling them out for it.

The Belleville News-Democrat editorial board is calling it "legislative extortion".

"Send the bill to the governor now. Let him use his amendatory veto, and put it to a vote now."

The Southern Illinoisan editorial board wrote this weekend that, "Some things need to be above politics. Educating our children should be at the top of the list."

"Take out the Chicago pension funding provision and get the bill to the governor's desk."

Mike Madigan – it's time to release education funding and drop your Chicago bailout.
* The Southern also wrote this, by the way…
In the meantime, it's time for the two sides to quit bickering and put a plan in place. […]

It is time for a pragmatic approach. Take out the Chicago pension funding provision and get the bill to the governor's desk. And, the governor has to keep the goalposts in place and affix his signature.
The governor is holding a Thompson Center press conference at 10:30 this morning with House GOP Leader Jim Durkin and Senate GOP Leader Bill Brady. I'll let you know what happens.
- Posted by Rich Miller 8 Comments


* Thankfully, Illinois has reporters like Dusty Rhodes, who laid out what's really at stake with SB 1…
[Gov. Rauner] has been traveling the state, saying will use his amendatory veto to send more money to downstate schools. But a third of the dollars he plans to give downstate districts come straight out of Chicago Public Schools' block grant, which he plans to cut by at least $200 million. ​That's not a point he's been emphasizing in his appearances, and when I asked him about it, he seemed fuzzy on the facts.

"Chicago has received a special block grant that no other school district gets," he said. "Auburn doesn't get any of that money. Springfield, Decatur doesn't get any of that money. And that was put in place more than 20 years ago because Chicago pays its own pensions. So we, all of us in Illinois, taxpayers, have been funding Chicago extra money — $250 million per year, in large part because Chicago pays its own teacher pension."

In reality, the CPS block grant has no formal relationship to pensions. All districts receive state reimbursement for seven "categoricals" above what they receive in General State Aid. Every district except Chicago has to submit vouchers to get reimbursed for these categoricals. But since 1995, Chicago has been reimbursed via a block grant, based, at least in part, on the reality that submitting claims for thousands of different students was burdensome. Over the years, as CPS enrollment has declined, the block grant resulted in the district receiving $250 million more than it would if it had to submit vouchers for reimbursement.

Rauner's education czar Beth Purvis has said those extra funds have been audited, and aren't being misspent. "There's no implication that CPS is misusing those funds in any way, shape or form," she told me in May. "We believe that they're using them for the educational costs of educating those children."

Nevertheless, all Republican plans would eliminate CPS block grant overages for at least three of those seven categoricals, resulting in a loss of $202 million, which would then be redistributed to other districts. That's one reason Rauner's online spreadsheet shows much more generous payouts to downstate schools.
There's more, so go read the rest before commenting, please. Thanks.
* Related..
* Hinz: Who's telling the truth about state school funding—Rauner or Dems?

* Crain's editorial: SB1 is flawed, but it's a necessary step for Illinois schools
- Posted by Rich Miller 5 Comments


* Way down deep in a recent Tribune story about the governor's staff changes was this little nugget…
Even before this month's staff changes, Rauner brought in two outside consultants to help distribute his message. In April, he hired Jon Morris, founder and CEO of Rise Interactive, a Chicago digital marketing agency, and Anne Kavanagh, a former TV reporter who now does media training, crisis management and publicity work.

Morris was hired to help Rauner's office with its digital media strategy, while Kavanagh was brought on to assist with the administration's "earned media" strategy — industry-speak for free publicity that usually comes in the form of coverage on television or in print.

According to "engagement letters" drawn up by Dennis Murashko, Rauner's general counsel, Morris and Kavanagh were both hired for an initial period of three months. The letters, obtained by the Tribune though a public records request, detail how Morris and Kavanagh are to interact with the governor's office. Both were required to report to Rauner's then-communications staff, but were not paid using taxpayer dollars.

Morris declined to comment. Kavanagh acknowledged she had been doing work for the governor, but said she wasn't part of the decision-making process regarding the recent shake-up in the governor's office.
That's an unusual arrangement, to say the least.
You can scroll through more info on Morris' firm by clicking here.
* Kavanagh's firm has (or, at least at one point had) some interesting clients…
As you can see, my clients are super smart and good looking… Hanging with Diana Rickert and Kathy Myalls at the Illinois Policy Christmas party!!

Posted by MediaPros24/7 on Sunday, December 21, 2014
The Illinois Policy Institute, Richard Uihlein, the Illinois Opportunity Project and CPD Officer Jason Van Dyke's defense attorney. Quite the cast of characters.
…Adding… Forgot about this one…
State Rep @Jeanneives gets grilled by @kavanagh_anne for Media Pros 24\7 media training. Firing line! pic.twitter.com/2AtzKCQaNw

— Lilia A. Chacon (@LiliaChacon) June 26, 2015
*** UPDATE ***  Interesting points here…
These privately-funded hires are unprecedented - traditional disclosure requirements for their roles, salaries, and activities may not apply

— ILCampaign (@ILCampaign) July 24, 2017
- Posted by Rich Miller 24 Comments


* My weekly syndicated newspaper column…
In the end, Mike "Z" Zolnierowicz had only one choice. Gov. Bruce Rauner's top political lieutenant, the man everyone calls "Z" who was most responsible for winning the 2014 Republican primary and the governor's former state chief of staff, simply had to resign late in the afternoon on Friday, July 14th.

The week began with the early Monday morning firing of Richard Goldberg, Z's hand-picked successor as Rauner's chief of staff and his close friend. Rumors had circulated for months that First Lady Diana Rauner had turned on Goldberg and wanted him out, and in the previous few weeks it was known among a select few that the governor had been calling around looking for a possible replacement, including calling a couple of people in Indiana who declined the offer.

But Z and others were totally caught off guard when Goldberg was abruptly fired and was not offered a position in the vast campaign apparatus that Z had constructed. Rauner had not only made a major decision without consulting Z, his supposedly number one guy, he had also needlessly kicked Goldberg to the curb.

Goldberg's secretary was told in short order to pack up her stuff and then summarily escorted out of the building without being offered another position somewhere else. Before working for Goldberg, she had also been Z's cherished secretary. She didn't ask for an extended maternity leave when she had her second child. Instead, she was so committed to her duties that she'd often bring her infant with her to the office. Her callous treatment was widely seen as an unnecessary abomination as well as a direct affront to Zolnierowicz.

The governor's top staff was mainly put together by two people: Z and Goldberg. And the loudest critics in Rauner's personal inner circle of those staffers included people at the top of the Illinois Policy Institute. When Rauner's staffers were replaced by Illinois Policy Institute executives, it was seen as yet another jab at Z.

Rauner and Z reportedly met a couple of days after Goldberg and others were fired and the governor asked Z to stay on. But by Friday, when several more staffers were given the boot or turned in their resignations, it was abundantly clear to everyone that Rauner was going in a totally new direction. Rauner's campaign side and his governing side should be on the same page, Z reportedly told the governor, so he tendered his resignation. In reality, I think Z probably would've been eventually moved out anyway by the coup plotters.

If Goldberg had been eased out in the "traditional" way, perhaps being sent to the campaign or to some other group after consultation with people like Zolnierowicz; if the rest of the staff hadn't been so shabbily treated; if the governor's office hadn't been so obviously outsourced to the Illinois Policy Institute, then Z likely wouldn't have felt the need to leave. But if the sky was green, grass might be blue.

So, what happens next? Z reportedly told the governor he was still willing to offer advice and help from the outside. He wouldn't talk at all about it to me either on or off the record except to say that he believes Rauner still has a real chance at reelection.

But Z's departure is a potential disaster for this governor. It shows great weakness, and weakness is the deadliest virus in politics. If someone as loyal as Z felt he had to leave, then what kind of person would ever work with Rauner now? Zolnierowicz is a lovable man with amazing skills, but who also has the ability to turn on and off the inner soul of a political killer - and that combination has served Rauner well. Z is the guy who built up the governmental and political apparatus to support Rauner. Without him, Rauner is just a limitless checkbook with a big mouth.

For the last year and a half, top Rauner administration insiders have muttered their belief that John Tillman, who runs the Illinois Policy Institute, wanted to gain control of the governor's state office, while conservative political activist Dan Proft wanted to control the governor's campaign operation.

To their minds, Tillman "succeeded" with Rauner's staff purge because several of Tillman's own staffers were brought on board. And the Monday after Z quit, one of Proft's people, Matthew Besler, was given the helm of the governor's political operation.

It's a whole new world, campers.
* Dan Proft was not pleased with that conclusion and sent me some text messages, including this…
For perspective, it would be less inane to suggest I'm angling to run House Dem races for Madigan.
- Posted by Rich Miller 46 Comments