* Press release…
The House and Senate Redistricting Committees today released an updated version of the proposed congressional map that accounts for public feedback while improving minority influence.

"These new proposed congressional boundaries are historic and reflect the great diversity present throughout the state," said Rep. Lisa Hernandez, Chair of the House Redistricting Committee. "The proposal ensures minorities, as well as the rest of Illinoisans, have an equitable voice in representation in Washington. I want to thank everyone who has participated in helping our bipartisan redistricting committee collect feedback, and I look forward to additional hearings next week."

"The changes made in this updated congressional map will help ensure the diversity of Illinois is reflected in Washington," said Sen. Omar Aquino, Chair of the Senate Redistricting Committee. "We appreciate the many advocacy groups and individuals that continue to guide our work with passion and dedication, as we remain focused on the creation of a fair map that will provide equal representation for all."

This amended version of the proposed congressional boundaries reflects changes based on testimony received in previous hearings. For example, the map keeps the Round Lakes area together in one Congressional District. This proposal also creates a new coalition district to enhance minority influence.

The proposal can be viewed at www.ilhousedems.com/redistricting and www.ilsenateredistricting.com. The public is encouraged to provide feedback during additional hearings next week.

Tentative Hearing Schedule:

· House Hearing: Tuesday, October 26 (Time/Location TBD)

· Senate Hearing: Wednesday, October 27 (Time/Location TBD)

Details on the hearing schedule will be forthcoming as times and locations are finalized. These will be hybrid hearings with the opportunity for in-person and virtual testimony. Those wishing to provide testimony, submit electronic testimony or submit electronic witness slips can do so in advance of the hearing via the General Assembly website www.ilga.gov or through email at redistrictingcommittee@hds.ilga.gov and redistrictingcommittee@senatedem.ilga.gov.

The House and Senate Redistricting Committees also encourage the public to utilize the map making portal. This tool allows residents to draw and submit proposed boundaries for lawmakers to consider. The portal can be accessed at www.ilhousedems.com/redistricting or www.ilsenatedems.com/redistricting. While the portal will remain open for the duration of these redistricting efforts, residents are encouraged to submit their proposals as soon as possible. Returning users that have previously used the portal do not need to create a new account.

The General Assembly is expected to vote on new congressional boundaries by the end of the scheduled fall veto session.
* The proposed map has a majority Latino voting age population district (currently represented by Chuy Garcia) and a Latino influenced VAP district (the 3rd District, which has no current incumbent). Click the chart for a larger view…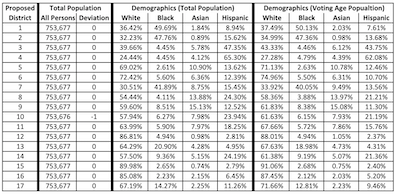 The first draft map had a solid Latino district and no significantly Latino influenced district.
* Democratic US Reps. Marie Newman and Sean Casten are mapped together in the 6th CD. Former US Rep. Dan Lipinski is also in the 6th.
*** UPDATE *** Republican US Reps. Darin LaHood and Adam Kinzinger are in the same district (16). And Republicans Mike Bost and Mary Miller are in the same district (12).
* Here are the maps…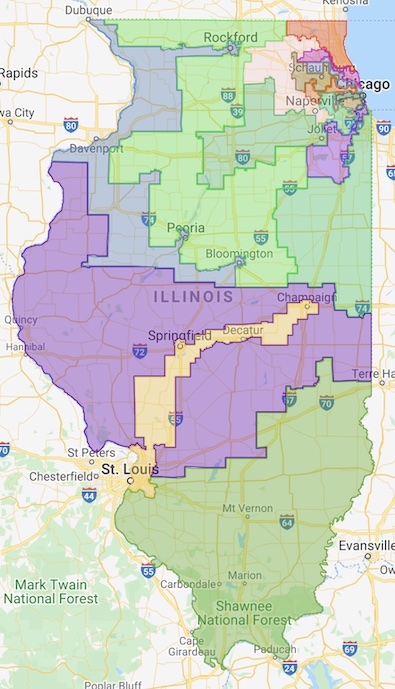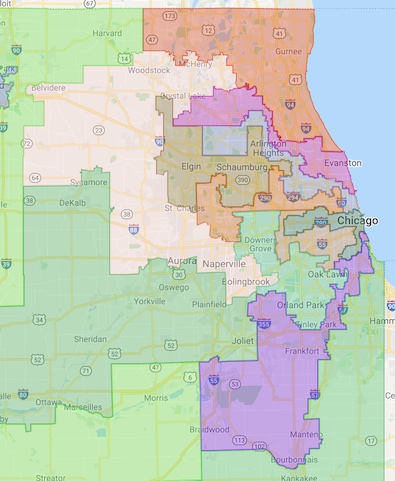 * Rodney Davis' district is the 15th, the purple one above which runs from western Illinois, over to eastern Illinois and then back down to near the Metro East.
* Lauren Underwood's 14th District runs from Joliet out to LaSalle County and up to DeKalb.
* Here are the incumbents and their respective districts…
Bobby Rush: 1
Robin Kelly: 2
VACANT (Latino influenced): 3
Chuy Garcia: 4
Mike Quigley: 5
Marie Newman: 6
Sean Casten: 6
Danny Davis: 7
Raja Krishnamoorthi: 8
Jan Schakowsky: 9
Brad Schneider: 10
Bill Foster: 11
Mike Bost: 12
Mary Miller: 12
VACANT (Nikki Budzinski): 13
Lauren Underwood: 14
Rodney Davis: 15
Darin LaHood: 16
Adam Kinzinger: 16
VACANT (Dem-leaning - Rockford, QC, Peoria, Bloomington): 17
…Adding… I should probably remind you that there is no guarantee that this is the final map. Do not automatically assume that there will be no further changes.
…Adding… Also, there's some misinformation out there from supposed map expert Dave Wasserman. This is really easy to check. Click here for the 2020 candidate list with home addresses. Then copy and paste those addresses into the search function on the map district page.
…Adding… Here you go…
Here is the past electoral performance for the 2nd newly proposed congressional districts released by the ILGA. If you'd like to compare them to the current map you can find that here:https://t.co/D8IGJjgQIh pic.twitter.com/6i74xMolYF

— IL Election Data (@ILElectionData) October 23, 2021
- Posted by Rich Miller Comments Off


* My Uncle Denny Miller lived the American dream. Back when I was a little kid he was one of my greatest heroes. Dude was just so cool. Denny and my dad were so close as brothers that Dad named his second son after him. Uncle Denny met Little Denny when he came home from the Navy.
Denny settled down with a woman who loved him fiercely and he stayed with her to the end. He enjoyed driving fast cars, owned his own auto shop and was big on the local stock car circuit. He raced car number 51, in honor of Bears great Dick Butkus. His daughter, his son and even some of their kids raced - and they always had that same number 51 on their cars. He truly stomped on the terra, but he also left the world better than he found it.
This is how I will always remember him…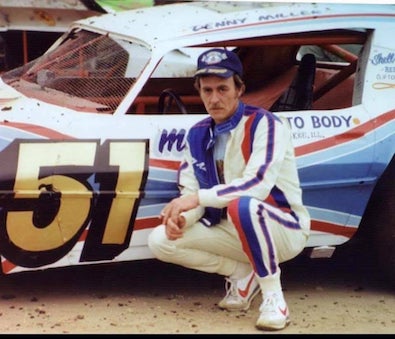 And, yeah, he truly was as bad*ss as that picture implies. Maybe more so.
Uncle Denny died this week after a bout with cancer. My heart goes out to his (our) family and his many, many friends. And a special big hug to my dad and my Aunt Lynne.
* Waylon will play us out…
So far I ain't found a rhyme or a reason to change
- Posted by Rich Miller Comments Off


* Sun-Times…
As part of his plan to boost the number of electric vehicles on the road, Gov. J.B. Pritzker on Thursday announced a training program for the manufacture and repair of those cars to "attract people to some of the best paying jobs in our economy."

The Electric Vehicle Energy Storage training program in downstate Bloomington is designed to lure jobs to Illinois and teach students the technical skills needed for the electric cars.

To further that goal, Pritzker is also hoping to provide incentives to lure manufacturers of electric vehicle charging stations and other related businesses in the industry.

"Illinois is at the center of the action for investment and growth during this economic recovery, and nowhere is that more true than when it comes to electric vehicle manufacturing," Pritzker said.
* The Question: Do you currently have an electric vehicle or do you have an interest in getting one in the future? Explain why or why not.
- Posted by Rich Miller 57 Comments


In September, the labor force participation rate was 61.6 percent, down from 63.3 percent in February 2020, pre-COVID-19, according to the U.S. Bureau of Labor Statistics.

"That's a dip of about 4 million people in the labor force," Johnson said.
Earlier this year, an insistent cry arose from business leaders and Republican governors: Cut off a $300-a-week federal supplement for unemployed Americans. Many people, they argued, would then come off the sidelines and take the millions of jobs that employers were desperate to fill.

Yet three months after half the states began ending that federal payment, there's been no significant influx of job seekers. […]

An analysis of state-by-state data by The Associated Press found that workforces in the 25 states that maintained the $300 payment actually grew slightly more from May through September, according to data released Friday, than they did in the 25 states that cut off the payment early, most of them in June. The $300-a-week federal check, on top of regular state jobless aid, meant that many of the unemployed received more in benefits than they earned at their old jobs. […]

Nationally, the proportion of women who were either working or looking for work in September fell for a second straight month, evidence that many parents — mostly mothers — are still unable to manage their childcare duties to return to work. Staffing at childcare centers has fallen, reducing the care that is available. And while schools have reopened for in-person learning, frequent closings because of COVID outbreaks have been disruptive for some working parents.
Conservatives have blamed generous unemployment benefits for keeping people at home, but evidence from states that ended the payments early suggests that any impact was small. Progressives say companies could find workers if they paid more, but the shortages aren't limited to low-wage industries.

Instead, economists point to a complex, overlapping web of factors, many of which could be slow to reverse.

The health crisis is still making it hard or dangerous for some people to work, while savings built up during the pandemic have made it easier for others to turn down jobs they do not want. Psychology may also play a role: Surveys suggest that the pandemic led many to rethink their priorities, while the glut of open jobs — more than 10 million in August — may be motivating some to hold out for a better offer.

The net result is that, arguably for the first time in decades, workers up and down the income ladder have leverage. And they are using it to demand not just higher pay but also flexible hours, more generous benefits and better working conditions. A record 4.3 million people quit their jobs in August, in some cases midshift to take a better-paying position down the street.
Economists say changing demographics like ageing and retiring workers are a factor behind the shortages, as well as border controls and immigration limits, and demands for better pay and flexible working arrangements. […]

"We believe there is a more permanent loss of workers driven by a large number of older workers taking early retirement. The thought of returning to the office and the daily commute may seem unpalatable for many people and with surging equity markets having boosted 401k pension plans, early retirement may seem a very attractive option," [ING economists Carsten Brzeski, James Knightley, Bert Colijn and James Smith] noted, adding that border closures will have curbed immigration and slower birth rates mean fewer young workers are now entering the workforce.
Joey Holz recalled first hearing complaints about a labor shortage last year when he called to donate convalescent plasma at a clinic near Fort Myers, Florida.

"The guy went on this rant about how he can't find help and he can't keep anybody in his medical facility because they all quit over the stimulus checks," Holz told Insider. "And I'm like, 'Your medical professionals quit over $1,200 checks? That's weird.'"

Over the next several months, the 37-year-old watched as a growing chorus of businesses said they couldn't find anyone to hire because of government stimulus money. It was so ubiquitous that he joined a "No one wants to work" Facebook group, where users made memes deriding frustrated employers. […]

Two weeks and 28 applications later, he had just nine email responses, one follow-up phone call, and one interview with a construction company that advertised a full-time job focused on site cleanup paying $10 an hour.

But Holz said the construction company instead tried to offer Florida's minimum wage of $8.65 to start, even though the wage was scheduled to increase to $10 an hour on September 30. He added that it wanted full-time availability, while scheduling only part time until Holz gained seniority.
- Posted by Rich Miller 11 Comments


* Press release…
To prevent further spread of COVID-19 and to protect the health and safety of Illinois' youngest residents, Governor JB Pritzker joined Illinois Department of Public Health (IDPH) Director Dr. Ngozi Ezike, Department of Human Services Secretary Grace Hou, and Department of Childhood and Family Services Director Marc Smith today to announce new vaccination or weekly testing requirements for individuals who work in licensed day care centers.

Over 55,000 daycare center staff statewide will now be required to receive the COVID-19 vaccine if they have not done so already. Employees in these settings who are unable or unwilling to receive the vaccine will be required to get tested for COVID-19 at least once per week. Increased testing frequency may be required in certain situations.

"Vaccinations offer life-saving protection for the people who receive them and make the community safer for the people who can't – including the babies, toddlers, and young children not yet eligible for the vaccine," said Governor JB Pritzker. "By extending vaccine-or-test requirements to those who work at licensed day care centers, we are adding another level of protection for our youngest residents and preventing outbreaks in daycare centers as more and more parents return to work."

To ensure Illinois youth who are not currently eligible for the COVID-19 vaccine are protected, all licensed daycare center staff in Illinois will be required to receive their first dose of a two-dose COVID-19 vaccine series or a single-dose COVID-19 vaccine by December 3, 2021, and the second dose of a two-dose COVID-19 vaccine series by January 3, 2022. Any daycare center staff members who are not fully vaccinated by December 3, 2021, will have to do, at a minimum, weekly COVID-19 testing until they are fully vaccinated.

Licensed daycare centers are child care facilities licensed by the Illinois Department of Children and Family Services (DCFS). The centers are operated outside an individual's home and regularly provide child care for groups of children ages 0-12. There are 2,872 licensed day care centers in Illinois.

"For continued, ongoing protection of our youth not yet eligible for a COVID-19 vaccine, this Executive Order is the best way to protect the lives of thousands of Illinoisans," said IDPH Director Dr. Ngozi Ezike. "Scientific and medical experts have reviewed the data and found the COVID-19 vaccine will avoid serious illness, hospitalization, and even death."

"Thanks to Governor Pritzker's leadership, the requirement for vaccination will help our daycare workers who are the woven fabrics of our communities across the state put their health first and best protect children," said Grace B. Hou, Secretary, Illinois Department of Human Services. "Our goals are simple. We want to keep our youth protected from COVID-19 in every way possible."

"Parents and families across Illinois trust daycare staff with the health and safety of their young children every day. Vaccinated daycare workers offer another level of protections and an increased level of comfort for parents and caregivers whose infants and toddlers are not yet eligible for the vaccine," said Marc D. Smith, Director, Illinois Department of Children and Family Services.

These requirements build on the Pritzker Administration's existing vaccination or regular testing requirements for all Pre-K-12 teachers and staff; all higher education personnel; all higher education students; and healthcare workers in a variety of settings, such as hospitals, nursing homes, urgent care facilities, and physician offices, which were announced on August 26th, 2021.

"The COVID-19 pandemic has impacted communities across the state, especially communities of color, over the last year and a half. I commend Governor Pritzker for his ongoing commitment to protecting the health and safety of all Illinois residents," said Senator Paciones-Zayas (D-Chicago). "This Executive Order will keep our youngest constituents safe while ensuring our critical daycare center staff are protected as well."

"The COVID- 19 pandemic has disproportionately affected vulnerable populations and communities of color. As such, Illinois Action for Children & many of our partner organizations who provide child care services have already mandated the vaccine for our staff. We welcome this mandate from the Governor as we do all we can to prevent the spread of the coronavirus and prioritize the health and safety of our staff and the families we serve," said April Janney, President and CEO of Illinois Action for Children.

"As child care providers and staff, we have to do what we can to protect families' children. Parents want to know their children are safe in our care. We also want to protect the financial security of our staff, and of our center, and the vaccine can help us do that to get to a healthier, more stable future," said Dr. Jill Andrews, Founder & Administrator, Kiddie Kollege of Fairfield.

"The COVID-19 vaccine helps protect our early childhood workforce," said Marcy Mendenhall, President & CEO, SAL Family and Community Services. "I applaud Governor Pritzker for his ongoing commitment to protecting the health and safety of all Illinois residents, especially our youngest Illinoisans."

"Child care teachers and providers aren't just protecting themselves with the vaccine, they're protecting others, including the children they care for. Many of us get flu shots every year, and we should do the same for the COVID-19 vaccine," said Brenda Crisp, Executive Director, Uni Pres Kindercottage. "Let's get vaccinated, or get tested, so that we can protect ourselves, the children we care for, and our futures."

"As leaders in the community, we have a responsibility to keep ourselves, the children we care for and our community safe," said Dara Munson, President & CEO of Family Focus. "We continue to fight COVID-19 – and vaccination is the best step to do just that. I am always inspired by our caregivers and this is a moment to demonstrate that the health and safety of everyone, especially our youth, comes first."

On August 4th, 2021, Governor Pritzker announced vaccinations would be required for all state employees who work in the state's congregate facilities, including individuals at the Illinois Departments of Human Services (IDHS), Corrections (IDOC), Veterans Affairs (IDVA) and Juvenile Justice (IDJJ).

A masking requirement for all Pre-K-12 schools and childcare facilities, including indoor P-12 recreation, has been in effect in Illinois since August 4, 2021.

To slow the spread of the highly transmissible COVID-19 Delta variant, all Illinois residents over the age of two have been required to wear a mask in all indoor settings since August 30, 2021 regardless of vaccination status.

Vaccination is the key to ending the COVID-19 pandemic. A new report from the Kaiser Family Foundation indicates that from June through September 2021, approximately 90,000 COVID-19 deaths among adults may have been prevented if they had received the vaccine. All Illinois residents 12 years old and older are eligible to receive the COVID-19 vaccine at no cost and proof of immigration status is not required to receive the vaccine. To find a vaccination center near you, go to vaccines.gov.
*** UPDATE *** Press release…
State Senator Terri Bryant (R-Murphysboro), State Senator Sue Rezin (R-Morris), State Senator Sally Turner (R-Beason) and State Senator Jil Tracy (R-Quincy) issued the following statement following the mandate:

"The COVID-19 pandemic has been devastating for families across the state, but women in the workforce have been especially impacted by this unprecedented health crisis. We witnessed countless parents struggling to find affordable and reliable child care for their children. And it was working mothers who were hit hardest, as they juggled their careers and child care during unpreceded circumstances.

"The reality is the most recent mandate is an attack on working mothers as they resume a more normal work schedule. Governor Pritzker's action has the potential to exacerbate an already growing child care crisis in our state. It's a shortsighted act that will diminish the already limited and sparse availability of child care to families in Illinois."
- Posted by Rich Miller 16 Comments


* Press release…
The Illinois Department of Public Health (IDPH) today reported 15,131 new confirmed and probable cases of coronavirus disease (COVID-19) in Illinois, including 183 additional deaths since reporting last Friday, October 15, 2021. Of Illinois' total population, more than 69% has received at least one COVID-19 vaccine dose and 54% of Illinois' total population is fully vaccinated.

Currently, IDPH is reporting a total of 1,680,908 cases, including 25,590 deaths, in 102 counties in Illinois. The age of cases ranges from younger than one to older than 100 years. Since reporting on Friday, October 15, 2021, laboratories have reported 773,791 specimens for a total of 34,492,598. As of last night, 1,277 individuals in Illinois were reported to be in the hospital with COVID-19. Of those, 323 patients were in the ICU and 152 patients with COVID-19 were on ventilators.

The preliminary seven-day statewide positivity for cases as a percent of total test from October 15-21, 2021 is 2.0%. The preliminary seven-day statewide test positivity from October 15-21, 2021 is 2.2%.

A total of 15,203,716 vaccines have been administered in Illinois as of last midnight. The seven-day rolling average of vaccines administered daily is 29,950 doses. Since reporting on Friday, October 15, 2021, 209,651 doses were reported administered in Illinois.

IDPH also aligns with the CDC Advisory Committee on Immunization Practices' (ACIP) recommendation for a booster shot of COVID-19 vaccines in certain populations. The Food and Drug Administration's (FDA) and CDC's recommendation for use are important steps forward as we work to stay ahead of the virus and keep Illinoisans safe.

For individuals who received a Pfizer-BioNTech or Moderna COVID-19 vaccine, the following groups are eligible for a booster shot at 6 months or more after their initial series:

• 65 years and older
• Age 18+ who live in long-term care settings
• Age 18+ who have underlying medical conditions
• Age 18+ who work or live in high-risk settings

For the nearly 15 million people who got the Johnson & Johnson COVID-19 vaccine, booster shots are also recommended for those who are 18 and older and who were vaccinated two or more months ago.

Vaccination is the key to ending this pandemic. To find a COVID-19 vaccination and booster location near you, go to www.vaccines.gov.

*All data are provisional and will change. Additional information and COVID-19 data can be found at http://www.dph.illinois.gov/covid19.
* Jake Griffin on the numbers…
That's the first time hospitalizations from the respiratory disease have dropped below 1,300 since Aug. 7, according to Illinois Department of Public Health records.
* Drop in the bucket…
But about 440 workers at Advocate Aurora Health in Illinois and Wisconsin "have parted ways" with the system because they weren't vaccinated by Advocate's Friday deadline and they didn't have approved medical or religious exemptions, spokesman Mike Riopell said. Many of those individuals were not full-time employees. Overall, about 99% of the system's 75,000 employees are vaccinated or have approved exemptions, or are in the process of doing so.

Nearly 100 of Rush University Medical Center workers stand to have their employment terminated because they didn't get vaccinated or get approved exemptions, said Courtney Kammer, chief human resources officer at Rush. Overall, about 98% of Rush's workers are vaccinated.

At Southern Illinois Healthcare, about 220 people are no longer employed because they refused to roll up their sleeves, said spokeswoman Rosslind Rice, though the vast majority of employees got vaccinated. The deadline to have started the vaccination process at Southern Illinois Healthcare was Sept. 24. […]

Southern Illinois Healthcare expects to be able to replace the departed workers with new ones quickly, Rice said. The system has been receiving a record number of job applications and has welcomed many new employees in recent weeks, she said. […]

Esperanza Health Centers is losing only two of its 311 employees because of its requirement that all of its workers get vaccinated by Oct. 13. Esperanza's mandate was even tougher than that of many Chicago-area hospitals because Esperanza didn't allow for religious exemptions, and is allowing medical exemptions only temporarily, such as while a person is undergoing medical treatment, said Dan Fulwiler, president and CEO of Esperanza.
* More…
- Posted by Rich Miller 11 Comments


* I-Team…
New data obtained by the ABC7 I-Team shows how far behind Illinois is in meeting its COVID vaccine reporting mandate for thousands of state government employees.

Prisons, juvenile facilities and veterans homes are among the residential facilities operated by Illinois government that are in a state of uncertainty based on employee vaccination records submitted so far. […]

Across all Illinois Department of Corrections facilities, less than half of staffers are confirmed as fully vaccinated. That's 6,300 hundred employees reporting out of a little more than 13,000.

The department's Peoria Adult Transition Center checking in with the lowest vaccine confirmation: just 13%. In Chicago, Crossroad's Adult Transition Center is at 94%.
They didn't post or link to the full list, so I asked for it.
* IDOC as of October 4…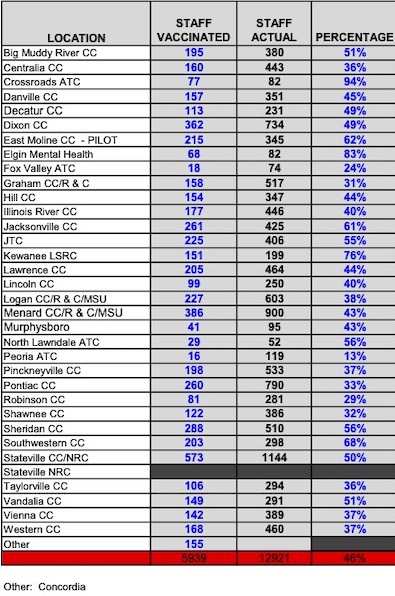 For context, IDOC's vax rate was 44 percent in late July.
Apparently, nothing is working so far.
* Click the IDVA pic if you have trouble seeing the numbers…

IDVA's vax rate was 64 percent in July, so that's a significant improvement.
* Meanwhile…
As a Chicago police officer, Jack DeHeer was shot in the head, seriously injured in a car chase, and revived from a near-fatal heart attack he suffered during a foot pursuit. After surviving all that over the course of 20 years, he cannot believe so many of the city's cops are more afraid of a needle than a bullet.

"Chicago police, go get fully vaccined, stop listening to all these frickin' mopes," says DeHeer, who is now retired and disabled. "Not getting fully vaccinated is the leading cause of death for police officers."

The mopes in question include all those who spread falsehoods and conspiracy theories about the COVID-19 vaccines.

"Can any Chicago police use their own mind, or do they all follow terrible information?" DeHeer asked during an interview with The Daily Beast. "Quicker you get fully vaccinated, the better."
- Posted by Rich Miller 49 Comments


* Jade Yan at the Tribune…
Nearly a week a later, Dixmoor is still without reliable running water as Cook County officials met Thursday with representatives of the south suburb and the town of Harvey.

Homes in Dixmoor are still experiencing "a spectrum" of problems ranging from no water to a trickle, Cook County Board President Toni Preckwinkle said at a news conference Thursday morning in Dixmoor. […]

Barnes said that officials are "still unsure" what the problem is, and that it's been difficult to diagnose because the pipes are underground and "the way you diagnose is through process of elimination."

The problem has been isolated to a stretch of water main that runs under Wood Street, he added. Dixmoor has experienced further issues with its turbines, also known as pumps, one of which still needs to be repaired.

Water may be cut off for residences near where work is being done, said John Yonan, an engineer and Cook County's bureau chief of asset management. Yonan was unable to provide a timeline for when the problems will be fixed.
* ABC 7…
More than 800 students in West Harvey-Dixmoor Public School District have been sitting home all week, impacted by the village's lack of water pressure. Laptops and hotspots were handed out to waiting parents at Dixmoor's MLK Elementary School Thursday, as one of three district schools prepares to teach remotely Monday. […]

Harvey Village officials have kept quiet throughout the week, even though they supply Dixmoor with its water.

Harvey is where it is believed the problem originally occurred SaturdAy morning after a water main broke. Several more pipe breaks have popped up since then.

"They need some technical kind of expertise to diagnose what they said is a clog in one of their feeder mains," said John Yonan, Cook County Bureau of Asset Management.
It's a cascading problem because their pipes are a century old. Something breaks and that causes other things to break down the line. It's a mess. Meanwhile, people are going without water.
…Adding… According to a Tribune study a few years ago, "Dixmoor's water bill is higher than 152 of the 162 towns [which use Lake Michigan water] that provided information."
- Posted by Rich Miller 25 Comments


* Sun-Times…
Former Illinois state Treasurer Alexi Giannoulias saw his political career derailed 11 years ago by the collapse of his family's Broadway Bank, whose failure cost the Federal Deposit Insurance Corp. more than $383 million.

Now, Giannoulias, who's trying to get back into politics with a run for Illinois secretary of state, has taken campaign money from four top officials of the Chicago bank.

Among them are his two brothers, who ran the bank, which federal regulators shut down over losses that included more than $100 million in bad loans made to 17 failed commercial projects from New York to Los Angeles.

Giannoulias has accepted $24,000 in campaign contributions from the four former Broadway Bank officials, campaign finance records show.

He got $6,000 contributions Jan. 20 from each of his brothers — Demetris Giannoulias, who was president and chief executive officer of Broadway Bank when it failed, and George Giannoulias, who was chairman of the bank's board of directors.
I dunno.
What do you think? Fair hit or not?
- Posted by Rich Miller 61 Comments


[The following is a paid advertisement.]
Many patients in Illinois rely on copay assistance to access and afford their prescription medications, often in instances when no generic option exists. Recognizing the important role copay assistance plays for patients, Illinois took legislative action to prohibit health plans from instituting "copay accumulator" policies that don't apply copay assistance towards patient out-of-pocket costs.
Illinois stood with patients then – and must do so again.
Illinois can show leadership by ensuring patients are protected from these policies and have the guarantee that their copay assistance will count. At a time when Illinoisans are struggling financially from COVID-19, the state should protect the broadest set of patients to help them access critical medications for conditions like cancer and HIV.
Patient advocates are calling for our leaders in Springfield to stand with patients. We hope they answer that call. Tell Congress to count all copays. Stand with patients and support HR 516.
- Posted by Advertising Department Comments Off


* I wasn't feeling well all day yesterday, but I toughed it out and that was probably a mistake and I went to bed last night convinced I'd be taking a sick day today. But I woke up feeling not half bad, so let's see how it goes.
- Posted by Rich Miller 21 Comments