* SEIU Healthcare Illinois…
The Rauner administration has commenced issuing warnings against hundreds, possibly THOUSANDS, of caregivers for people with disabilities who are facing termination under an unlawful "3-strikes-and-you're-out" system that went into effect Aug. 1st.

The administration began sending the so-called "occurrences" as early as Aug. 31st (see linked document) for personal assistants in the Home Services Program (HSP) who help people with disabilities stay in their homes. Recipients are alleged to have "violated" an arbitrary 45-hour cap on work hours that on Sept. 5th was found to be illegally imposed under the Illinois Public Labor Relations Act, by an administrative law judge.

Reports on the illegal penalty process have thus far been anecdotal to SEIU Healthcare Illinois through its Member Resources Center and to allies in the disability rights movement in Illinois.

The union for the 28,000 caregivers in HSP has submitted a Freedom of Information Act request to the Rauner administration to confirm the number of so-called "occurrences."

By purging thousands of workers from the program, people with disabilities will be unable to find care and could be forced into much-costlier nursing institutions. As of last month, almost 4,000 consumers in the program required more than 45 hours of care per week.

The caregivers being purged are the same workforce that earlier this month sued the Rauner administration in Cook County for illegally denying workers a 48-cent-raise that was mandated by the General Assembly in this summer's bipartisan budget agreement.

Following is the statement of SEIU Healthcare Illinois Vice President Terri Harkin:

"The news that the Rauner administration is going forward with its punitive purge of caregivers in the Home Services Program is a disaster for people with disabilities who use their care to live independently in their own homes instead of institutions.

"This is an unjust, illegal and totally destabilizing policy opposed by every single stakeholder in the program. It will permanently damage the workforce in Illinois and will reduce choice and independence for thousands of people with disabilities.

"We call on the Rauner administration to comply with the law, to IMMEDIATELY suspend his illegal "3-strikes-and-you're-out" program and to shift their process to true dialogue and partnership with stakeholders."
* Rauner spokesman Hud Englehart provided this response…
Pretty straightforward. The Department of Human Services is managing its overtime. The goal of the new policy is to lower expenses and reduce risks that might arise when overworked providers are delivering care. People with disabilities are getting the same number of hours of care as before. It's just that when a provider hits 45 hours, the Department objective is to sub in rested people to deliver care. It's like making sure tired pilots aren't in the cockpit. Taxpayers get a better deal. Disabled get higher quality care. As in any other profession, continual policy violations result in termination.
- Posted by Rich Miller 1 Comment


* From a pretty good Tribune story about the botched rollout of the Cook County pop tax…
Preckwinkle said she could not get commissioners to support a property tax increase, which she said might have been a "fairer" way to bring in the more than $200 million a year the pop tax is expected to raise.

"First and foremost, we needed revenue," she said. "I never pretended otherwise." […]

"I have said repeatedly that I'm going to try to run this government in a way that I don't leave it worse off than when I came, and that I'm not just passing obligations, and indebtedness and burden to my children and my grandchildren, who will hopefully continue to live in Chicago," said Preckwinkle, who lives in Hyde Park. "But that's not easy."

She pointed particularly at state government, which racked up $16 billion in bills during the record budget stalemate.

"It's an example of just hopelessly irresponsible leadership, and I'm getting the stuffing beat out of me for imposing a tax on sweetened beverages, which are terrible for people," Preckwinkle said. "It's a little annoying."
- Posted by Rich Miller 8 Comments


* We all know what President Trump said about the NFL protests, and we know what happened with the Steelers before Sunday's game in Chicago, but here's what Gov. Rauner says…
GUESS WHO HAS A FINANCIAL STAKE IN THE STEELERS? Gov. Bruce Rauner. And on Sunday, the governor called the NFL protests disrespectful to veterans, to the U.S. flag and to the anthem.

"I strongly disagree with those who disrespect our flag and our anthem," Rauner told POLITICO through a spokesman. "To me they are disrespecting the foundations of our country, the veterans who risked their lives for our democracy, and the men and women who fight every day and make the ultimate sacrifice to defend our liberties." […]

While Rauner's statement supports Trump's characterization that the demonstrations are a sign of disrespect, he didn't go as far as the president in urging a boycott of teams or the firing of players as retribution.

"I personally cannot and will not condone such behavior," Rauner's statement continued. "That said, our country is great because it guarantees freedom of expression, so people can choose to be disrespectful."
Keep your comments confined to what the governor said, please. Thanks.
- Posted by Rich Miller 28 Comments


* Subscribers were told about the probability of this happening on Friday. From the Tribune…
A Democratic state senator said he will lift his procedural hold on a bill that would expand taxpayer-subsidized abortions for women who have Medicaid or state employee health insurance coverage, sending the measure to a Republican governor who's offered mixed signals on the issue.

Sen. Don Harmon's move Monday means Gov. Bruce Rauner will have 60 days to decide what to do with House Bill 40. The legislation has become the focus of abortion rights groups that contend the re-election-seeking Rauner won his first term by saying he had no social agenda and noting his prior financial support of organizations that back women's reproductive health rights.

Harmon said he had not received any assurances that Rauner would sign the measure after the governor's prior veto pledge, but said he believed it was time to officially send the measure to Rauner's desk. […]

Abortion rights advocacy groups had said they did not want to see the measure go to Rauner's desk until the governor had committed to sign it as is. Harmon said he expected the groups would strengthen their current campaign pushing the governor to sign the bill after it reaches his desk.
I asked the governor's office for a response early this morning, but have yet to hear back.
* Related…
* Abortion Legislation Puts Gov. Rauner In Political Bind
- Posted by Rich Miller 9 Comments


[Comments are now open on this post.]
* I've already briefed subscribers on this HB40 topic and will likely have more on Monday morning. In the meantime, Personal PAC will soon be running full-page newspaper ads across the state slamming the governor and Mrs. Rauner and demanding Gov. Rauner sign HB40. Click here for a larger image…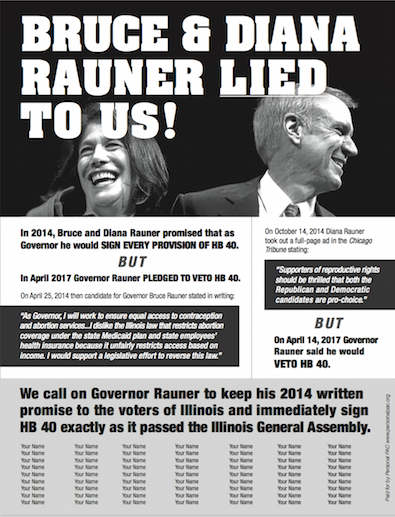 * The group is currently recruiting signers…
Dear Pro-Choice Supporter,

On April 25, 2014 and October 14, 2014, Diana and Bruce Rauner lied to their friends, colleagues and neighbors. The Rauners also lied to you and every voter in Illinois by stating that they supported HB 40. Now is the time to stand up and publicly call on the Rauners to keep their 2014 promise to protect reproductive rights for the women of Illinois.

We are placing a full-page ad in newspapers across the state, including the Chicago Tribune, Chicago Sun-Times, Daily Herald, North Shore town publications and others, signed by supporters LIKE YOU to urge Governor Rauner to immediately sign HB 40 as it was passed by the Illinois General Assembly. Please join people from every corner of Illinois by signing up now to have your name listed on the ad (see attached for the actual ad). We want to place the first ads on Monday October 2nd, so time is of the essence.

Full Page HB 40 Newspaper Ad Copy

Bruce and Diana Rauner Lied To Us!
(HIGH RESOLTION PHOTO OF THE RAUNERS HERE)

In 2014, Bruce and Diana Rauner promised that as Governor he would SIGN EVERY PROVISION OF HB 40

BUT In April 2017 Governor Rauner PLEDGED TO VETO HB 40.

On April 25, 2014 then candidate for Governor Bruce Rauner stated in writing:

"As Governor, I will work to ensure equal access to contraception and abortion services…I dislike the Illinois law that restricts abortion coverage under the state Medicaid plan and state employees' health insurance because it unfairly restricts access based on income. I would support a legislative effort to reverse this law."

On October 14, 2014 Diana Rauner took out a full-page ad in the Chicago Tribune stating:

"Supporters of reproductive rights should be thrilled that both the Republican and Democratic candidates are pro-choice."

BUT On April 14, 2017 Governor Rauner said he would VETO HB 40.

We call on Governor Rauner to keep his 2014 written promise to the voters of Illinois and immediately sign HB 40 exactly as it passed the Illinois General Assembly.

(full list of names here)

Add your name HERE!

Paid for by Personal PAC www.personalpac.org

P.S. A financial contribution is NOT REQUIRED to add your name to this ad. If you would like to assist with the enormous cost of placing the ad in newspapers across Illinois, you can do so by [etc.]

See Sunday 9/24/17 Chicago Sun-Times editorial here: "Governor, sign the bill" http://chicago.suntimes.com/opinion/editorial-quit-playing-politics-with-illinois-abortion-rights/
The target date to place the ads is a week from Monday.
* You'll recall that Mrs. Rauner paid for a full-page newspaper ad in the Tribune during the 2014 campaign to declare that her husband was pro-choice. It was signed by dozens of people. Click here for that ad. So, this new Personal PAC ad is apparently designed to remind people of that 2014 ad and impose a little political pain in the process.
And it'll be even more painful if anyone who signed Mrs. Rauner's ad back then ends up signing this new one.
- Posted by Rich Miller 3 Comments