* Press release…
Following legislation passed by the General Assembly to impose the nation's strongest controls on ethylene oxide emissions, the Illinois EPA has issued a construction permit to Sterigenics U.S., LLC. The permit is the first step in a lengthy process and allows the company to begin construction necessary to ensure the facility complies with a strict new state emissions law that requires demonstrating 100 percent capture of all ethylene oxide emissions.

"The Illinois EPA is committed to protecting the health and safety of Illinois communities to the strongest extent possible under state and federal laws," said Illinois EPA Director John Kim. "This construction permit is a direct result of legislation passed by the General Assembly and will allow Sterigenics to attempt to bring the facility in line with the nation's strongest emissions control law. This is the first step in a lengthy process, and only following strict testing and monitoring requirements would the facility be permitted to operate. As we move forward, the Illinois EPA will continue to provide technical guidance to legislators as they draft further legislation to strengthen their initial law."

The construction permit allows Sterigenics to make significant emissions control changes only to the Willowbrook I facility and ensures the company will not operate prior to installing these new controls and demonstrating the ability to meet the new limits established in the permit. Required improvements include installing a permanent total enclosure, capturing all ethylene oxide emissions from Willowbrook I, and installing additional air pollution controls to reduce emissions by 99.9 percent or to 0.2 parts per million. In addition, the permit goes beyond the requirements of the Matt Haller Act by limiting annual ethylene oxide emissions from the facility to just 85 pounds. In conjunction with the permit, Illinois EPA is also issuing, pursuant to the Act, a certification that the facility's emission control system uses technology that produces the greatest reduction in ethylene oxide emissions currently available.

This permit action by the Illinois EPA follows action by the Pritzker Administration to seal the Sterigenics facility. After passage of the Matt Haller Act by the General Assembly, the State of Illinois and DuPage County State's Attorney reached a consent order to ensure the toughest requirements of the new Act, as well as additional controls, would be applicable to Sterigenics' operations in Willowbrook.

Sterigenics is prohibited from using ethylene oxide at Willowbrook I until the facility complies with the new law, the consent order, and the construction permit. This means that before resuming operations, Sterigenics must:

• Submit a stack test protocol for emissions testing for Illinois EPA's review and approval including written notification of the expected date of the testing, description of the specific procedures to be utilized during stack testing (including how the entire batch sterilization process shall be tested, who will be performing the sampling and analysis, the specific conditions under which testing will be performed and why those conditions are representative, the specific determinations of emissions and operations intended to be made, the specific test methods to be used, and any changes from standard methodology to accommodate specific testing circumstances), a proposed schedule that provides for stack testing within 14 days after any restart of operations, and the submission of the results of such testing (including a summary of the results, a description of the test methods and conditions, and all relevant data and calculations);
• Submit an ambient air monitoring plan for Illinois EPA's review and approval. This plan must include a description of the process that will be used to collect and analyze air samples, the schedule for implementing the air monitoring plan, and details to demonstrate how the company will comply with the requirement that the results of such testing shall be provided to the Illinois EPA no later than 30 days after the samples have been collected;
• Submit a plan to continuously collect emissions information for the Illinois EPA's review and approval;
• Complete installation of permanent total enclosure system;
• Demonstrate that the permanent total enclosure system captures 100% of all ethylene oxide emissions;
• Perform stack testing and submit results for Illinois EPA review. These results must demonstrate to IEPA that the company has reduced the emission of ethylene oxide from the exhaust point by at least 99.9% or 0.2ppm;
• Complete installation of continuous emissions monitoring system;
• Submit a construction completion report for Illinois EPA's approval; and
• Be able to provide certification to the Illinois EPA by the supplier of a product to be sterilized that sterilization by ethylene oxide is the only available method.

Prior to permit approval, the Illinois EPA took written comments on the draft permit for 30 days and held a public meeting on August 1, 2019 to afford concerned citizens an opportunity to provide oral comments. After careful review and consideration of over 500 comments, the Illinois EPA made numerous changes to the draft permit. The Agency concurrently issued a responsiveness summary to lay out its responses to the many comments received – this extensive document may be found on the Illinois EPA's Ethylene Oxide webpage. A copy of the final construction permit, responsiveness summary, memorandum on technology certification and memorandum supporting modeling are available on the Illinois EPA's website at
https://www2.illinois.gov/epa/topics/community-relations/sites/ethylene-oxide/Pages/default.aspx.
That link is broken. Trying to get a better one. Link is now fixed.
Some heads are gonna explode in the Willowbrook area.
This post will likely be updated with responses.
*** UPDATE 1 *** Press release…
House Republican Leader Jim Durkin (R-Western Springs) released the following statement on the Illinois Environmental Protection Agency's decision to approve the Sterigenics construction permit application:

"The IEPA's approval of the Sterigenics construction permit is disappointing, discouraging and downright wrong. Our fight is not over – we will continue working to pass new legislation in veto session that will allow municipalities to ban the use of ethylene oxide within their boundaries."
*** UPDATE 2 *** Sen. John Curran (R-Downers Grove)…
The Illinois EPA's approval of Sterigenics' permit is disappointing, but not unexpected. Since the beginning of this public health crisis I have stood with the residents of Willowbrook and worked with them to ensure this facility never again reopens. Today's decision will not deter us from continuing the fight to close this facility and rid our communities of ethylene oxide. I look forward to working with all of those interested in the General Assembly dedicated to keeping our communities healthy and safe.
*** UPDATE 3 *** Governor's office…
Today, Illinois has the toughest regulations on ethylene oxide in the nation, but Governor Pritzker is calling on the General Assembly to pass even more stringent restrictions in the veto session to protect residents' health. Upon taking office, Governor Pritzker's administration shut down Sterigenics. During the shutdown, the Governor asked the General Assembly to pass the strictest possible law on ethylene oxide emissions. It's clear now that the legislation was insufficient, so during the upcoming veto session, the Governor expects that the General Assembly will strengthen the law they passed this spring. He is committed to signing the measure and the administration will strictly enforce it.
- Posted by Rich Miller Comments Off


The former state of Illinois employee who successfully challenged the payment of forced union dues by public workers was back in federal court Friday to ask a judge to force his former union to return about $3,000 in dues he paid while working for the state in a case that could have wider implications for public workers nationwide.

Last year, the U.S. Supreme Court ruled that requiring state employees to pay union dues was a violation of Mark Janus' First Amendment rights.

The former state child support specialist was in federal court Friday in Chicago seeking reimbursement for some of the union dues he previously paid.

"it's just a simple matter of, they took the money and I want it back. That's all there is to it." Janus said comments outside of a federal courtroom in Chicago.

In court, Janus' legal team argued that the dues were collected illegally and that he was entitled to receive about $3,000 back from the American Federation of State, County and Municipal Employees' Union.

Earlier this year, a federal judge ruled that Janus was not entitled to the dues collected while he was contesting paying them to AFSCME. On appeal, Janus' lawyer, Bill Messenger, attorney at the National Right to Work Legal Defense Foundation, argued that the money was collected illegally. […]

Diana Rickert, vice president of the Liberty Justice Center, said a favorable ruling could cost public employee unions about $100 million to $150 million dollars. She said the legal process could take years to play out.
*** UPDATE *** AFSCME Council 31…
Courts have repeatedly ruled in this and similar cases that in setting fees for representation provided to non-members, AFSCME acted in good faith based on a US Supreme Court ruling in place since 1977 and repeatedly affirmed in the ensuing decades. When the 2018 Supreme Court ruling overturned that previous decision, AFSCME immediately halted all fees. Consequently we have a very strong case, which we made to the appellate panel today.

Mark Janus received wage increases, health insurance coverage, vacation time and other benefits that the union negotiated during his tenure in state government. He never once failed to accept such improvements in his working conditions, nor did he ever object to paying the related fees—until he became the plaintiff in Bruce Rauner's court case against AFSCME. This prolonged litigation is nothing but another political attack on working people, and on Janus's part, a greedy grab for more.
- Posted by Rich Miller 18 Comments


* Staff memo from Abraham Lincoln Presidential Library and Museum Chief of Staff Melissa Coultas…
Please be aware that Alan Lowe is no longer in the service of the State of Illinois. I will remain in close contact with the Governor's Office until a new Executive Director is identified. In the interim, all issues that would normally go to Alan will be handled by Toby Trimmer, Dave Kelm and me.
I'm told he was walked out of the building by a deputy governor.
Lowe came to Illinois from the George W. Bush Presidential Library Museum a few years ago.
Trimmer and Coultas were both hired just last month, so there's not much institutional knowledge at the top. Kelm, the general counsel, was hired last year during the Rauner administration. He's worked for Jim Edgar and House GOP Leader Jim Durkin.
I've been promised a response from the governor's office.
…Adding… After checking around, the highlighted text below from this August Bruce Rushton story appears to be at least some of what's going on today…
The Abraham Lincoln Presidential Library and Museum again has gotten cozy with conservative talk show personality Glenn Beck.

Mercury One, a Texas nonprofit founded by Beck, boasts on its website that the ALPLM was a partner in a recent weeklong exhibit on slavery at the institution in Irving. Other partners included the African American Museum of Dallas, the Dallas Historical Society and Frontiers of Flight Museum.

It's not clear what artifacts, if any, the ALPLM might have loaned. Last year, the museum sent the Gettysburg Address and other artifacts to Mercury One for display with less planning and fewer safeguards than had been employed in past instances when the copy of Lincoln's famous speech, valued at $20 million, left the building.
*** UPDATE *** From the governor's office…
The administration terminated Mr. Lowe's employment today. We cannot comment further on personnel matters. We look forward to working with the team of museum professionals, historians and librarians at the ALPLM to ensure that the institution is meeting its high standards.
…Adding… From WBEZ earlier today…
A possible auction of Abraham Lincoln memorabilia displayed at Illinois' presidential museum in Springfield is being put off due to an apparent uptick in fundraising, according to the private foundation that owns the artifacts.
More content below this sponsor message

Last year's threatened fire sale by the Abraham Lincoln Presidential Library Foundation shocked the history world. Facing an October deadline, the group was about to sell off some coveted historical artifacts because it was having trouble paying off a $9.7 million loan balance left from the original purchase of the items.

A spokesman for the foundation, which purchases Lincoln artifacts for the presidential museum, attributed the change of heart to a less dour financial picture than what the group foresaw last year.

"I am pleased that our fundraising is going very well," Nick Kalm, a vice chairman of the foundation's board, told WBEZ in a statement.
- Posted by Rich Miller 14 Comments


* Joe Bustos at the BND…
In Illinois, when people have their firearms owners identification cards revoked, they're supposed to turn them in to law enforcement and surrender their guns. But that only happened less than half of the time in the metro-east and statewide during the last four years.

In St. Clair County, FOID cards were returned just under 36 percent of the time after they were revoked from 2015-18, according to Illinois State Police data obtained by the Belleville News-Democrat.

Madison County was a little better, at 41 percent, while statewide cards were turned in 37 percent of the time during the four-year period.
* Graph…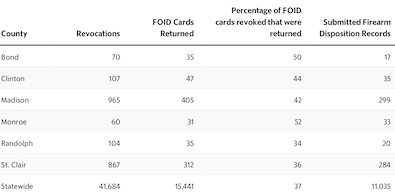 - Posted by Rich Miller 7 Comments


* Kankakee Daily Journal…
A Bourbonnais man was arrested by Bourbonnais Police for burglaries to six unlocked vehicles parked outside Wednesday. […]

Thefts to unlocked vehicles occur weekly, according to law enforcement officials.

Back in April, Bourbonnais officers arrested a man who took a total of $470 in cash from 10 unlocked vehicles.
* Tribune…
Police in suburbs that cut a wide swath from North Shore communities like Wilmette and Glencoe, to Oak Brook and Naperville out west, and Palos Heights and New Lenox farther south, have been warning residents for years about the importance of locking cars to prevent vehicular thefts and burglaries. Flyers have been distributed at Fourth of July fireworks displays, roadside electronic message boards erected and cautionary statements delivered to the press, but authorities express frustration at how some suburban residents remain undeterred.

"On any given night, I can head out to Oak Brook, Hinsdale or go up to Lake Forest, and drive off with an unlocked Jaguar, BMW, Mercedes or, if I'm lucky, a Maserati," said Steven Stelter, president of the Illinois Association of Chiefs of Police and the police chief in west suburban Westchester.

Stelter was for years a member of a state auto theft task force. The task force, which Stelter said was funded by grants from insurance companies, was eliminated during state budget cuts a few years ago.

"People just don't accept responsibility today," Stelter said. "They ask, 'Why are there not more police around?' When the real question is, 'Why didn't you take your keys with you and not leave them in an unlocked car?'"
* The Question: Do you lock your car at night? Explain.
- Posted by Rich Miller 44 Comments


* James Marter of Oswego has announced he's running for Congress against US Rep. Lauren Underwood. First, though, he has to win a Republican primary against a host of opponents [fixed reference]. Illinois Review posted his kickoff video, and I thought you might want to rate it…
Marter got thumped by US Rep. Adam Kinzinger in the 2018 GOP primary and scored less than 30 percent against Sen. Mark Kirk in the 2016 GOP primary.
Hey, it's Friday and it's a slow news day so far. Have at it.
- Posted by Rich Miller 22 Comments


* Vox…
One of the great environmental crises today — and there are many — is the loss of biodiversity on planet Earth. Human actions have lead to an extinction rate higher than anything seen on Earth in the last 10 million years, as a sweeping UN report recently explained. It's estimated the average vertebrate (bird, fish, mammal, amphibian) population has lost around 60 percent of its individual members since the 1970s.

Scientists keep telling us that something is going devastatingly wrong in the natural world. Today, a study in Science focuses on the birds of North America, and the results are again eye-opening and grim.

A team of scientists at the Cornell Laboratory of Ornithology, in collaboration with the US Geological Survey and several conservation groups, have estimated North America has lost nearly 3 billion birds since 1970. That's an estimated decline of 30 percent in the total bird population. In other words: More than one in four birds has disappeared from American skies in the last 50 years.
A 30 percent population decline since I was eight years old. Wow.
* The Illinois angle in the Tribune…
Jim Herkert, executive director of the Illinois Audubon Society, has been studying data for our state that further confirms the Cornell study's findings: "Over the past 10 years, my estimate is that Illinois is losing about 1.4 million birds per year," Herkert says. That's a decline, he points out, that is continuing. And though it's a small percentage of a large population of birds, "it's big. And it's certainly not a sustainable rate of decline." […]

[Doug Stotz, senior conservation ecologist at the Field Museum], who has spent years in the agricultural zones of Illinois documenting bird populations, says the shift to industrialized agricultural starting around the 1970s is a major habitat change for birds that has undoubtedly had an impact on the decline. "The intensification of agriculture doesn't leave a lot of room for anything else out there." […]

"Fifty years ago, if you went out into the agricultural fields in Illinois, a lot of the grassland birds were still in them," says Stotz. "Today, if you go out there, there's nothing." […]

Though it seems counterintuitive, "cities can be a refuge for wildlife," says Stotz. Chicago's backyards, lakefront and network of forest preserves have helped to nurture wildlife for decades and continue to provide habitat for species such as raptors, a group of birds that rebounded after use of the pesticide DDT was discontinued. "There's habitat in cities," Stotz says, "and there's potential for a whole lot more."
- Posted by Rich Miller 40 Comments


* Ladies and gentleman, the Chicago Tribune…
This week, Mayor Lori Lightfoot proposed that marijuana dispensaries be allocated throughout the city, except not in downtown.

In explaining her decision, Lightfoot said she wants to keep the center of Chicago "family friendly." The mayor also wants to assure that entrepreneurs from communities throughout the city, including the West and South sides, benefit financially. Lightfoot's deputy mayor for economic and neighborhood development, Samir Mayekar, told the Tribune, "From a public safety standpoint as the industry develops, it was best to exclude (downtown) from operations." […]

The family-friendly vibe Lightfoot seeks to protect won't be jeopardized by a small number of new legal businesses that aren't so different in principle from liquor stores and bars, some of which operate on sidewalks. The city is careful about permitting liquor stores downtown rather than banning them. It can apply similar prudence to marijuana dispensaries. As for the mayor's office's broadly stated concern about public safety, that's an issue across the city for different reasons in different neighborhoods. It's hard to see how highly regulated cannabis sales exacerbate the challenges. […]

Certainly the idea of newly opened purveyors of sativa buds and the like might be jarring at first. Recreational marijuana sales will mark a new chapter in the city's evolution. Chicago will need to find its comfort zone. Downtown should be part of the mix.
This is the same Tribune editorial board that complained constantly about how the cannabis legalization bill should be slowed down and saved for another time. Now they're all about putting weed shops downtown.
Hey, I'll take it. I ain't complaining.
We talked about the "family friendly" silliness yesterday, but the "public safety" angle also deserves a look.
* Remember this story?…
New research shows crime rates dropped substantially in areas with marijuana dispensaries, running counter to fears that pot shops drum up crime.
The mayor is either getting some very bad advice, or her gut is just wrong on this one.
* Related…
* Greg Hinz: Downtown is a Chicago neighborhood, too: Though Lightfoot may be tempted to forget it, downtown Chicago is home to 200,000 residents and the city's jobs engine. Shorting those folks is a bad way to help needier areas of the city.

* Joe Cahill: Lightfoot's no-toke zone makes no sense: The mayor wants to declare a potentially lucrative swath of Chicago off-limits to marijuana retailers. But why?
- Posted by Rich Miller 30 Comments


* Hannah Meisel at the Daily Line…
While the [Illinois] opioid death rate for white people dropped 6.5 percent between 2017 and 2018, opioid deaths increased among African Americans by 9.1 percent last year and by 4.3 percent among Hispanics according to IDPH data..

"In 2018, opioid deaths among Illinois residents decreased for the first time in five years with a 1.6 percent drop from 2,202 in 2017 to 2,167 in 2018," IDPH Director Ngozi Ezike wrote in a letter accompanying the report, released earlier this month. "However, this decrease was driven primarily by a decline in deaths among non-Hispanic whites. Deaths among non-Hispanic black and Hispanic residents continued to increase between 2017 and 2018, illustrating a persistent disparity."

The opioid death rate is highest among Black Illinoisans, where there are an average of 32.8 opioid deaths per 100,000 Illinois residents. Whites have the second-largest death rate — 16.8 deaths per 100,000 Illinoisans — and Hispanics have 9.9 opioid deaths per 100,000. […]

Regionally, opioid deaths are decreasing in Cook County and suburban collar counties, according to the IDPH data. Deaths are also on the decline in Illinois' rural counties. However, 2018 was the first year in which counties classified as "urban" surpassed Cook County in opioid overdose mortality rates per 100,000, according to IDPH.
That racial disparity tracks with national trends, Hannah reports. Turns out that whites are more likely to obtain prescriptions for buprenorphine, which decreases opioid cravings.
- Posted by Rich Miller 1 Comment


* Hannah Meisel at the Daily Line…
East St. Louis this week became the fourth Illinois city to have its public safety pension fund ask Comptroller Susana Mendoza to withhold state money from the city and instead send it to East St. Louis' chronically underfunded firefighter pension fund.

Officials from East St. Louis' firefighter pension fund pointed to the city's failure to pay an actuarily required $2.2 million into the fund in 2017 and 2018, and noted the fund is only 11 percent funded as of January 2018, according to documents obtained by The Daily Line.

Fund officials are attempting to trigger Illinois' pension intercept law, which allows Mendoza's office to seize money a municipality receives under the state's Local Government Distributive Fund, and direct it to the underfunded pension fund. […]

The East St. Louis firefighter pension fund has approximately 90 beneficiaries, according to a recent report on the funding condition of Illinois' 641 police and fire pension funds. As of 2016, the most recent year included in the COGFA report, The market value of assets within the fund was $7.5 million, versus its $59.8 million in total actuarial liabilities.
The unfunded liability for that one pension fund works out to be $1,962 per city resident.
- Posted by Rich Miller 59 Comments