* First e-mail attempt…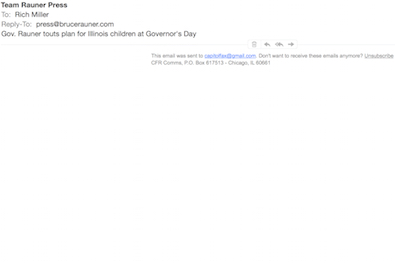 Oops!
The jokes write themselves.
* Second try…
Gov. Rauner touts plan for Illinois children at Governor's Day
Calls for support of his plan to fairly distribute school funding

Governor Bruce Rauner addressed hundreds of visitors today at the State Fair's Governor's Day, emphasizing his effort to ensure Illinois schoolchildren receive fair and equitable funding in their classrooms.

He stressed the importance of his plan for the future of Illinois schools. Under the Governor's plan, 98% of school districts receive more money than they would under the current plan pushed through the legislature by Mike Madigan.

Rauner is focused on putting the money where it belongs, in Illinois classrooms, instead of providing special deals for the broken financial structure in Chicago.

From Governor Rauner's remarks:

"Everyone in Illinois deserves a great education for their children, regardless of what their family income is, regardless of where they live, regardless of their neighborhood. Every neighborhood needs a great school. We as Republicans fight to make sure we have school fairness and school equity, and we've got the best K-12 system in America, and that's what we're going to get with this new education funding formula." …

… "we've had a broken education system in Illinois for decades." …

… "we're going to get more money from the state into our K-12 system and I want it equitably spread throughout the state, equally for the city and the suburbs and around the state of Illinois. " …

…"We had the beginnings of a good bill drafted up and I was excited about it, but you know what happened? Speaker Madigan and his cronies grabbed that bill and stuffed in a massive bailout, a massive special deal for the city of Chicago."
- Posted by Rich Miller Comment


* Perhaps the least surprising news of the day, but maybe the only actual news generated…
Secretary of State Jesse White will announce Thursday he intends to run for a sixth term, his team confirmed.

The announcement comes at Democrat Day at the Illinois State Fair where the eight candidates seeking the governor's post will be front and center.

White, 83, is a top vote-getter. He had said at Democrat Day in 2015 that he would not run again, but he has since rethought that decision.

Political insiders believe if White had decided to bow out, that would have shifted the focus and campaign funds from the governor's post to the highly sought-after job of secretary of state.
- Posted by Rich Miller 1 Comment


* From the ILGOP…
Governor Bruce Rauner and Republicans across Illinois rallied in support of the Governor's reform agenda and made clear they will hold Mike Madigan's machine politicians accountable for the damage they've inflicted upon taxpayers.

Check out some of the news coverage from the fair:

WCIA: Governor's day takes aim at Speaker
Hundreds of supporters showed up, but the overall theme was gearing up for the 2018 election and winning seats to flip the majority. Governor Rauner kicked off the event rallying the crowd with high hopes.
… The event was filled with Madigan shirts and buttons which negatively portrayed the Speaker.
"You know why we're going to pick up at least nine seats maybe a dozen because Democrats just as much as Republicans are angry. They know the system is broken, they know Mike Madigan has set up a machine that makes him rich."

WGN: Governor's Day, school funding at center stage in Springfield
It's Governor Day at the Illinois State Fair and Governor Bruce Rauner is rallying the troops ahead of next year's election.
"This is an exciting election. We're going to win on to victory in 2018. Let's restore Democracy in the State of Illinois," said Rauner.

NPR Illinois: Rauner Outlines 2018 Campaign Themes: Madigan, Madigan, Madigan
Illinois Republicans are gearing up for Gov. Bruce Rauner's re-election fight. At a state fair rally Wednesday, they made clear their campaign will focus on one man.
… "We cannot give into Madigan and his Chicago agenda any longer," said Tim Schneider, chairman of the Illinois Republican Party.
"Our goal is to win the House back, and make Leader Durkin Speaker Durkin in 2018," he said, referring to House Minority Leader Jim Durkin.

Chicago Sun-Times: Rauner releases two TV ads ahead of Illinois House school funding vote
Gov. Bruce Rauner on Governor's Day released two television ads, paid for by his campaign, in his push to try to squash a veto override in the Illinois House.
The two 30-second spots will be aired statewide, alongside digital ads and phone calls, according to Rauner's campaign committee Citizens for Rauner.
… "Tell Speaker Madigan we've had enough," one of the ads says.
* Not mentioned above was stories like this…
Gov. Bruce Rauner rallied fellow Republicans Wednesday to "ignite a political revolution against the broken political system in Illinois" that in the 2018 election could oust the "corrupt politicians" in power.

That was part of his speech at the Governor's Day rally at the Illinois State Fairgrounds. And while there was no mention from officials on that stage of Republican President Donald Trump, Rauner told reporters just before the speeches started that he strongly disagrees with Trump's blaming both sides for violence that resulted in a death at a recent rally of white nationalists in Charlottesville, Virginia.

"I vehemently disagree with the president's comments about Charlottesville," Rauner said. "We must stand together against hatred and bigotry and violence."

Asked if Trump's comments could hurt the Republican brand, Rauner said, "What I care about is the comments damage America. We are all Americans. It doesn't matter what party."
* And this…
After steering clear of discussing President Donald Trump or even uttering his name for many months, Republican Gov. Bruce Rauner on Wednesday issued a harsh denunciation of the president's take on the deadly Virginia protest.

"I vehemently disagree with the president's comments about the tragedy in Charlottesville," Rauner said. "We must stand together against hatred and racism and bigotry and violence and we must condemn those actions in Charlottesville in the strongest terms." […]

Rauner's pushback to Trump contrasted with a morning breakfast and an afternoon Republican rally where the governor didn't mention the president's much-criticized Tuesday remarks in which he equated neo-Nazi and white supremacist protesters with counterprotesters.

The traditional Republican rally featured no Trump signs, though a vendor was selling red Trump-themed "Make America Great Again" hats. Still, the controversies swirling around the president hung over the festivities much like the rain clouds over the fairgrounds.
- Posted by Rich Miller 2 Comments


* Public Radio…
Members of the Illinois House of Representatives twice expressed unanimous opposition Wednesday to expressions of racial animus.

In an official 105-0 vote, the House adopted a resolution — sponsored by Rep. Elgie Sims, D-Chicago, and Rep. David McSweeney, R-Barrington Hills — which vilifies white supremacists. The proclamation specifically "repudiates and condemns'' neo-Nazis, the Ku Klux Klan and others that "espouse hate.''

The vote was a response to incidents in Charlottesville, Va., last weekend, where a woman was killed and 19 injured when a man plowed his car into a group of counterdemonstrators at a rally of white supremacists protesting the removal of a statue of Robert E. Lee.
* More background is here. From the Sun-Times…
An emotional state Rep. Jaime Andrade brought lawmakers to their feet on Wednesday in denouncing an Illinois Policy Institute cartoon that depicted a young African-American boy from Chicago begging for money for school from a wealthy white man with half-empty pockets.

The North Side Democrat denounced the cartoon as "s—," prompting Democrats to rise to give him a standing ovation, with Republicans quickly joining in.

The conservative think tank defended the cartoon, arguing it was not racist, but late Wednesday took it down from the organization's website, saying the controversy was a distraction from the real issue, "the failure of political leaders to address the root cause of our struggling education system." […]

State Rep. Tom Demmer, R-Dixon, also joined in on the debate on Twitter: "Cartoons don't make racism any more palatable @illinoispolicy should delete their cartoon and apologize. That has no place in policy debate."
* Tribune…
Rep. Jaime Andrade, D-Chicago, raised the issue on the House floor Wednesday, asking his colleagues to stand in opposition, saying the representation in the cartoon was "unacceptable."

"People forget that I am a minority, maybe because I move my hands and think I'm Italian, I don't know. But this… this is just unacceptable," Andrade said. "This unbelievable that we, today, in 2017, are still dealing with this s—.. Because that's what it is." […]

The Chicago-based advocacy organization, which has counted Rauner among its donors, has been a key player in efforts to promote conservative ideology in Illinois. The group recently took on an even higher profile after Rauner replaced several of his top aides with policy institute staffers.

Democratic House Speaker Michael Madigan said he had not seen the cartoon, but noted Rauner's decision to formally bring the organization into his administration.
* John Tillman press release…
"The Illinois Policy Institute recently published a cartoon to address the sad reality that TIF districts rob Illinois children – including children of color – of the funds necessary for their education. The price our children pay for this misgovernance is steep.

"Some lawmakers are denouncing our cartoon. We respect these lawmakers, both as representatives of their constituencies and as bearers of their own experiences and perceptions, and we acknowledge their critique.

"But our cartoon told the truth: TIFs take away money from all students, and disproportionately harm students of color. We stand by that fact. And we have long fought to help all students get access to better educational opportunities. TIF prevents that.

"We have taken down the cartoon, not because we think it is racist, but because it is a distraction from another truth – the failure of political leaders to address the root cause of our struggling education system. We stand ready to work with all elected officials and advocates who would like to see TIF money properly refocused on students across the state.

"Finally, what we find sad, and frankly offensive, is that in a world where so much real, harmful racism exists, political leaders are using the false charge of racism in an attempt to smear policy opponents and distract the people of Illinois from politicians' failures.

"This is a distraction from the most important task at hand in the Statehouse: Ensuring equitable education funding for all Illinois students."
- Posted by Rich Miller 18 Comments


* WTTW…
A Republican legislator who was an instrumental leader of the uprising that gave Illinois its first budget in more than two years is leaving state politics, citing an increasingly political and partisan atmosphere in Springfield.

Rep. Steven Andersson, R-Geneva, says he will step down at the end of his term rather than run for re-election in 2018.

"The reality is that this place if very much leadership-driven, and leaders are driven to win. And that means that policy sometimes takes a second place to politics," Andersson said.

He corrected himself: not sometimes. "Often," he said. "Too often."

Andersson was one of a dozen Republicans who joined the General Assembly's majority Democrats to vote for a budget and income tax increase in July over the objections of Gov. Bruce Rauner.

Shortly thereafter, Andersson was deposed as House Republicans' floor leader.
* I can't say this surprises me. Press release…
When our state was on the brink of a financial cliff of such enormity that we would not recover for decades, I came to the same conclusion as many of my colleagues, that the cost of inaction outweighed the cost of compromise.

I, along with a 14 other Republicans, rose up and joined rank and file Democrats in an effort to end the impasse. Due to the partisan infighting, the clock had run out and time was up despite two and a half years of negotiations, there was no viable deal that could be passed in time to save our state from disaster. We could no longer watch while our state burned without a budget for the longest time of any state in U.S. history.

As a result of the vote, we brought the state back from the fiscal edge and passed a balanced budget - the first in decades, while continuing the fight to build on the many reforms we did achieve. These significant reforms include procurement reform, government consolidation initiatives and criminal justice reform. We lived to fight another day and saved the state from financial collapse.

I am proud of the work I have done during my tenure, such as passing legislation giving voters the right to dissolve local governments; being a staunch advocate from the beginning for the future energy jobs bill; insuring children get screened for social emotional learning issues at an early age, making local government and our courts run more efficiently and for honoring our Gold Star Families with their own day each year. Moving forward, I will continue to fight, and I will continue to lead, with the same Republican values I have held to for 40 years. Values entrenched in the notion of living within our means, honoring our commitments, building strong businesses, ensuring equality for all, valuing human life, and delivering a sustainable government. In addition, I will also fight for those who have the least voice: the mentally ill, the developmentally disabled, those afflicted with substance abuse and other issues.

That said, our politics are changing. Even within the time, I have served in Springfield, the temperament of my party has shifted, and the Republican Party values I grew up with seem to be increasingly absent or changing. At this point, I believe that my advocacy will be stronger outside the chamber than within. There are others who are better suited to the current partisan politics of this chamber. At the end of this term I'll be stepping aside to afford that opportunity to another individual.

I'd like to thank the incredible outpouring of support from both within the district and across the state for my work to bring an end to the budget impasse. It has been truly humbling. It has been an honor to serve the people of 65th district and the realization of a lifelong dream. Thank you.
- Posted by Rich Miller 23 Comments