* IDPH…
Potential Measles Exposure at Chicago Midway Airport and Northwestern Medicine Delnor Hospital

On February 22, 2019, an Illinois resident with a now confirmed diagnosis of measles was on a flight that arrived in Concourse B at Chicago Midway Airport. The passenger was unvaccinated and infectious on that day. IDPH, along with local health departments, is investigating this isolated case.

People may have been exposed to measles if they were at Midway Airport on February 22, 2019 between 9 pm and midnight. This individual also sought treatment in the emergency department at Northwestern Medicine Delnor Hospital on February 24, 2019. People who were in the emergency department between 11:45 am and 2:15 pm also may have been exposed, as well as individuals who were in Northwestern Medicine Delnor Hospital from 4:00-6:15 pm on February 24, 2019 and from 10:00 am - 1:00 pm on February 25, 2019. These are the only known public locations in Illinois where exposures occurred.

Most people are vaccinated routinely in childhood and are not at high risk. Of most concern are people who have not been vaccinated. Individuals who think they have been exposed should check with their health care provider about protection through prior vaccination or the need for vaccination.

If infected, you could develop symptoms as late as March 20, 2019. Symptoms of measles include rash, high fever, cough, runny nose and red, watery eyes. If you develop symptoms of measles, the Illinois Department of Public Health (IDPH) recommends you call or email a health care provider BEFORE going to a medical office or emergency department. Special arrangements can be made for your evaluation while also protecting other patients and medical staff from possible infection. Local health departments are working to notify Illinois residents who were identified as being potentially exposed on the affected person's flights.

"Measles is highly contagious. However, two doses of measles vaccine are about 97 percent effective in preventing measles," reminds IDPH Director Dr. Ngozi Ezike. "We urge everyone to make sure they and their family members are up-to-date on measles/mumps/rubella (MMR) vaccine and all other age-appropriate immunizations, especially if you are traveling to other countries where measles is regularly found. Getting vaccinated not only protects you, it protects others around you who are too young to get the vaccine or cannot receive it for medical reasons."

Measles can cause serious complications such as pneumonia and encephalitis (swelling of the brain). Measles is easily spread through the air when someone coughs or sneezes. People can also get sick when they come in contact with mucus or saliva from an infected person.

This most recent case is not related to the four cases reported in Champaign County earlier this month. This unvaccinated individual traveled overseas to countries where measles is regularly found.
* Press release…
Turning the page to a new era of transparency and accountability, Governor JB Pritzker signed SB 1298 and appointed a new board of highly talented and experienced professionals to lead the Illinois Toll Highway Authority into the future.

"It is a new day for the Illinois Tollway," said Governor JB Pritzker. "Our new leadership will uphold the highest ethical standards, deliver the value to taxpayers and serve Illinoisans in every corner of our state. I'm proud to usher in a new wave of transparency and accountability at this critical agency."

Will Evans will serve as Chairman of the Board of Directors of the Illinois Toll Highway Authority.* Evans has nearly 40 years of experience in strategic planning, operations, engineering, construction, large infrastructure projects and major IT system implementations and has been in senior leadership for over 20 years. He is the former President of Peoples Gas and North Shore Gas, regulated natural gas utilities now owned by WEC Energy Group. Since retirement from Peoples Gas, Evans has been an energy and engineering consultant, serves as president of the Northwestern University Black Alumni Association and chairs the Chicago Commons board of directors and Skokie Board of Fire and Police Commissioners. He received his Master of Business Administration and Bachelor of Science in electrical engineering from Northwestern University.

Jim Connolly will serve on the Board of Directors of the Illinois Toll Highway Authority.* Connolly has been a proud member of the Laborers' International Union of North America ("LiUNA") for over 48 years. He currently serves as the business manager of the Chicago & Vicinity Laborers' District Council and has held that position since he was first elected in March 2000. Connolly proudly serves and fights to improve the lives of the 20,000 men and women who comprise the membership of the District Council's 15 affiliated LiUNA Locals. He has worked with all levels of government, including serving on an advisory panel charged with overseeing the potential privatization of Midway International Airport. Connolly strives to bring Labor and Management together to promote the industries represented by the members of the Laborers' District Council and the signatory contractors who employ them.

Stephen L. Davis will serve on the Board of Directors of the Illinois Toll Highway Authority.* Davis is the Founder and Chairman of The Will Group, a firm overseeing several construction, manufacturing, technology, lighting, and energy industry companies. Since 2010, The Will Group has been recognized by Black Enterprise Magazine as one of the country's Top 100 Black businesses. Davis has a passion for economic development and has been an active member of Chicago's business community for several decades. He currently serves as the Commissioner of Aviation (Board Chair) of the DuPage Airport Authority and on the boards of the Trust Company of Illinois, PMI Energy Solutions, and Inland Real Estate Trust, specifically on Inland's Audit and Compensation committees. He is also a member of the Business Leadership Council's executive committee and the Chicago Regional Growth Corporation's board of directors. Davis is the founder of the Tuskegee Next Foundation, whose goal is to graduate 100 pilots from at-risk communities. As of August 2018, the program has successfully graduated 33 cadets and 27 licensed pilots. Stephen and his wife Tanya have raised 8 children. Davis received his bachelor's degree in Transportation and Materials from the University of Tennessee-Knoxville.

Alice Gallagher will serve on the Board of Directors of the Illinois Toll Highway Authority.* Gallagher has served as president of the Village of Western Springs since May 2017 after serving four years as a village trustee. Since becoming village president, she has served on the West Central Municipal Conference, as director of the executive committee, co-chair of the transportation committee and chair of the central council. Gallagher is an attorney by trade and served on the Western Springs School District 101 Board of Education. She received her Juris Doctor from the Seattle University School of Law and Bachelor of Arts from Miami University.

Karen McConnaughay will serve on the Board of Directors of the Illinois Toll Highway Authority.* McConnaughay served two terms as state senator of the 33rd District, where she was the Republican Minority Whip and the minority spokesperson for the Senate Transportation Committee. She also served on the National Conference of State Legislatures (NCSL) Executive Board and International Relations Task Force. Prior to her election to the state senate, McConnaughay served as the County Board Chairman of Kane County from 2004 to 2012 where she achieved remarkable fiscal success by lowering spending and reducing the size of government while bolstering accountability, efficiency and transparency, resulting in significant bond rating increases. Under her leadership, Kane County invested in major expansion and upgrades of county bridge and road systems, public transportation, 911 public safety and criminal justice facilities.

Scott Paddock will serve on the Board of Directors of the Illinois Toll Highway Authority.* Paddock has more than 20 years of industry experience in sales, marketing and general management. Since 2011, he has served as the president of the Chicagoland Speedway and Route 66 Raceway, the largest sports facility in the state of Illinois. In that role, he revamped their organizational structure, authoring strategic plan and cultural transformation to reposition enterprise for long-term success and year round relevance in the Chicago sports and entertainment landscape. Prior to joining Chicagoland Speedway, Paddock spent 12 years in marketing leadership positions at PepsiCo, including serving as the Director of Sports Marketing for Gatorade. He also currently serves on the board of the Illinois Special Olympics, Silver Cross Health Systems, Will County Center for Economic Development and Chicago Sports Commission. He received his Bachelor of Arts from the University of Notre Dame.

Gary Perinar will serve on the Board of Directors of the Illinois Toll Highway Authority.* Perinar currently serves as executive secretary-treasurer for the over 30,000 members of the Chicago Regional Council of Carpenters. Perinar is a third-generation business representative of the union and a 40-year member of Carpenters Local 174 where he served his apprenticeship. At age 32, he became a full-time business representative and later an assistant to the president/EST. Perinar was twice elected as the second vice president of the Regional Council and has served under four ESTs. He has also served as a delegate for 25 years and held the position of trustee on various committees and boards including health and welfare and pension funds during this period. Perinar was the 2018 recipient of the esteemed George Meany Award which is a National Recognition by the Boy Scouts of America Pathway to Adventure Council. The award is presented to an individual who has made a significant contribution to the youth of the community.

Cesar Santoy will serve on the Board of Directors of the Illinois Toll Highway Authority.* Santoy is the principal of Studio ARQ, LLC and ARQ Design Build, Inc., architecture and construction firms that serve public and private sector clients as well as individual home and business owners. He has over 20 years of progressively responsible experience in architectural design, construction management and civic engagement. Santoy also serves as 5th Ward Alderman for the City of Berwyn and is active in a variety of professional and community organizations. He received his Bachelor of Architecture from the Illinois Institute of Technology and is a registered Architect in several states.

Jim Sweeney will serve on the Board of Directors of the Illinois Toll Highway Authority.* Sweeney is the president-business manager of International Union of Operating Engineers Local 150. He joined the union in 1978 and worked for contractors on sewer, slag, paving and deep tunnel projects. Since Sweeney joined Local 150 in 1987, the union's membership doubled from less than 10,000 to more than 23,000. He has been president-business manager since 2008 and steered Local 150 through the recession while maintaining wage and benefit levels and implementing temporary healthcare subsidies and the Local 150 Food Bank to offer assistance to members in need. Sweeney served on the tollway board under Gov. Quinn from 2011 to 2015 where he advocated for the efficient modernization of the nation's most advanced network of toll roads.

All appointments are pending confirmation by the Illinois Senate.
Chairman Evans and Davis are African-Americans. But except for Santoy, the rest are Anglos. Also, two women, seven men.
Normally, I wouldn't do a count like that, and I don't have a problem with any of these members, but the governor is the one who made such a big deal about diversity. Also too, Local 150 wins again.
* Daily Herald…
The incoming directors include three union officials in construction trades, two civic leaders, business executives and people with expertise in engineering and architecture.

Thursday was the deadline for Pritzker to act on a bill enacted in January ending the terms of board members after reports of cronyism at the agency. […]

Tollway Executive Director Elizabeth Gorman is still at the agency, but usually an incoming governor will nudge the board to hire a successor. […]

Directors are paid about $31,426 a year and the chairman receives $36,077.
* This is just ridiculous…
Tens of thousands of downtown Chicago workers may need to find a new way home this evening because of an ongoing Amtrak signal problem.

Metra is advising people who leave out of Union Station to consider alternate commutes, since an Amtrak signal problem that disrupted morning travel was still not fixed as of early this afternoon.

Every rail line operating out of Union Station is affected, including Metra's BNSF, Milwaukee District West and Milwaukee District North, the Heritage Corridor, North Central and SouthWest. Amtrak trains out of Chicago have also been delayed. […]

Some passengers on trains this morning saw delays of more than two hours. […]

Thursday's delays come on top of multiple other Metra delays in recent months, including weather-related breakdowns during two days of unusually cold weather, equipment problems, overcrowding and air conditioning breakdowns on the BNSF during the summer, and issues with Positive Train Control, a new system designed to prevent crashes.
We need a federal/state/local summit on this problem. Stat.
* Oof…
Happy birthday, @RobertMartwick! Thanks for everything! 🎂 https://t.co/REROGI1EhN

— Lori Lightfoot (@LightfootForChi) February 28, 2019
* That encounter was a late spark for Lightfoot's campaign…
* And remember that progressive income tax hike Rep. Martwick introduced a couple of years ago?…
A progressive income tax proposal introduced by state Rep. Robert Martwick, D-Chicago, would constitute a tax hike for a vast majority of Illinois taxpayers, starting with individuals earning as little as $17,300 (for a single filer with no dependents).
* Well, the Illinois Policy Institute is still making hay out of it…
Congrats, you're rich!

Gov. Pritzker and Illinois politicians are selling a progressive income tax as a "tax on the rich."

But one proposal would hike income taxes on Illinoisans earning as little as $17,300 a year.

So congrats, you're rich!

Posted by Illinois Policy on Friday, February 22, 2019
As you can see, the video has received over a million views since Friday.
* The Question: Your birthday greeting to Rep. Martwick? Snark is heavily encouraged, of course.
* Interesting…
OK here's why I did all this nonsense: to make fun maps!

Check this one out — where both candidates won, and where they came in second.
https://t.co/g8ZejZWwum pic.twitter.com/yxCURrArpX

— Will Guzzardi (@WillGuzzardi) February 28, 2019
These two are instructive side by side: pic.twitter.com/XuNRRK9zxj

— Will Guzzardi (@WillGuzzardi) February 28, 2019
The "green" area on Guzzardi's map - where neither candidate did well - lines up pretty well with areas won by Susana Mendoza, Gary Chico and Jerry Joyce.
* Let's set aside Joyce's wins for now and focus on the two Latinx candidates. From the Center for Illinois Politics…
(E)ight wards in heavily Hispanic areas all voted overwhelmingly for Illinois Comptroller Susana Mendoza or former Illinois Board of Education Chairman Gery Chico in Tuesday's election, putting at least 49,000 of votes up for grabs in the April election. Historical data trends show that more of Chicago's 1.6 million registered voters tend to turn out in runoff mayoral elections, compared to general elections. […]

A new analysis by the Center for Illinois Politics finds the 10th ward on the city's Southeast Side, the 12th, 14th, 15th and 22nd wards on its Southwest Side and the 30th, 31st and 36th wards on the Northwest Side gave comparatively little support to Lightfoot and Preckwinkle on Tuesday. That makes them prime areas for both candidates to pick up much needed votes in April if they can find a way to resonate with those residents. […]

By the numbers, those heavily Hispanic wards averaged 30 percent turnout in the February 2015 regular municipal election, dropping to 27 percent this year. Across the city, turnout was 34 percent in both the 2015 and 2019 regular elections. In the 2015 runoff, turnout increased to 40 percent citywide and averaged 39 percent in those eight wards. […]

Former city clerk, state senator and 2011 mayoral contender Miguel del Valle, who lives in the 36th ward on the Northwest side, said he saw very little evidence of either Preckwinkle's or Lightfoot's campaign in his neighborhood in recent months.

At the same time, he said, votes for Mendoza and Chico were comparatively high due to high name recognition and regular interviews with Hispanic media outlets, such as Univision.
We can't be totally sure, but since Mendoza and Lightfoot teamed together to bash Preckwinkle right before the first round, the comptroller may wind up endorsing Lightfoot. I don't know about Chico, though.
Your thoughts?
* Within an otherwise interesting story on whether ranked choice voting would be a good thing for Chicago is this little nugget…
Robert Middlekauff, an influential organizer at the nonpartisan FairVote Illinois, recently endorsed ranked choice for the city on Chicago's NPR affiliate. A Florida native, Mr. Middlekauff said: "I've become more frustrated with politics. Moving to Illinois, I realized, I've lost a lot of political power." He went on, "You don't have a lot of choices. Things are decided by money."
Um, there were 14 candidates for mayor and a kabillion aldermanic candidates. The mayoral candidate who finished first, Lori Lightfoot, raised less money than everyone else in the top tier (except Willie Wilson, who reported raising just slightly less than her).
And then there's Ald. Proco "Joe" Moreno, who lost by 22 points, even though he out-raised his opponent by well over 10-1.
If you listen to some of these reformers, you'd never want to run for office because they believe you have zero chance of winning. That's just not true. I mean, for crying out loud, Ald. Pat O'Connor himself was forced into a runoff.
Does the machine always have gigantic built-in advantages? Of course it does. Should some laws that benefit the machine be changed? You bet they should.
But empty cynicism never changed a thing.
* Environmental Defense Fund's senior attorney Christie Hicks…
New legislation introduced today in Illinois would bring in billions of dollars in clean energy investments, while providing quality jobs and economic opportunities for communities throughout the state. An alliance of environmental, healthcare, consumer, business and faith leaders, known as the Illinois Clean Jobs Coalition, gathered today to introduce the bold clean energy legislation. The Clean Energy Jobs Act would move Illinois to 100 percent renewable energy by 2050, eliminate carbon pollution from the state's power sector by 2030 and create steps to electrify the transportation sector. The bill also includes provisions to advance equity, such as preferences for companies that implement actions to ensure equitable representation in Illinois' clean energy workforce.

"These ambitious clean energy initiatives will help Illinois drastically cut carbon pollution and improve air quality. Moreover, the Clean Energy Jobs Act places an unprecedented focus on equity. It will spur economic development and create solid jobs in the communities that are often left out of the conversation, especially those impacted by coal-plant closures."
The bill is here.
* Greg Bishop…
State lawmakers could continue to require law enforcement agencies to track data on the race of people they pull over and pedestrians they stop.

For the past 15 years, the state has been collecting data about police traffic and pedestrian stops. The ACLU of Illinois has compiled similar statistics in reports that show in some areas of the state, police stop a disproportionate number of minorities, raising questions of police bias and racial profiling.

Springfield resident Ken Page, who once served as president of the Springfield NAACP and now serves as the president of the Springfield ACLU, said he had been targeted because of the color of his skin.

"When I asked why I was being stopped, the officer commented on the fact that I had a nice car and he said that the light over my license plate was out," Page said. "I didn't even bother to look at the light. I knew from friends that this is just how it worked in Springfield."

State Rep. Justin Slaughter, D-Chicago, sponsored House Bill 1613 to remove a July 1, 2019, sunset of the traffic and pedestrian stop statistical study. He said collecting such data is important for police to fine-tune best practices.
* WBEZ…
The Oregon Legislature passed this week the first statewide rent control law in the country.

"It is phenomenal what is happening in Oregon. We're looking forward to having a similar celebration very, very soon," said Jawanza Malone, a rent control organizer in Chicago.

Chicago doesn't have rent control. No municipality in Illinois has it. Since 1997, Illinois law has forbidden rent control.

On Tuesday, voters in several Chicago precincts approved a nonbinding measure to lift a state ban on rent control. Voters gave overwhelming support to the ballot question in precincts from the 1st, 26th, 45th and 50th wards. A similar measure was on the ballot last year and received support.
[The following is a paid advertisement.]
In his Feb. 20 budget address, Gov. Pritzker pointed to Iowa and Wisconsin's progressive income tax rates as models for a progressive income tax hike in Illinois.
But what would the average Illinoisan's tax bill look like under those rates?
While Pritzker has said his progressive income tax would only hike taxes on the "rich," the median Illinois family making $79,168 would see a $516 income tax hike if Illinois adopted Wisconsin's rates and a $610 tax hike if Illinois adopted Iowa's rates – 15 percent and 17 percent increases, respectively.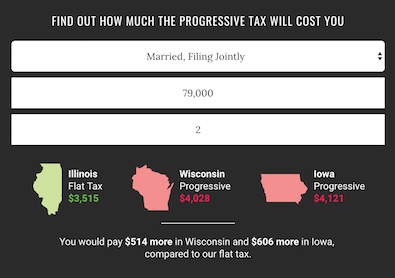 Pritzker specifically said in his budget address that Illinois "can accomplish" a progressive income tax with "a more competitive rate structure than Wisconsin and Iowa." But what he means by competition is entirely unclear. In fact, a recent Tax Foundation study on Wisconsin's tax code recommended exchanging its progressive income tax for a flat income tax as one way to make the state more competitive. Both North Carolina and Kentucky have swapped their progressive income taxes for a flat income tax in recent years.
The numbers simply don't add up for Illinois to pay down billions in debt, fund new programs and still cut taxes for the majority of Illinoisans with a progressive tax.
Whether or not Pritzker calls it "fair," Illinois families cannot afford another tax hike.
* CBS 2 earlier this month…
Last spring, inspectors found the Des Plaines River bridge on I-80 in Joliet in such bad shape, it may need to close.

Several months later, nothing has been done to repair the issues.

More than 42,000 drivers drive across Des Plaines River bridge everyday, and the most recent inspection reports reveal serious safety concerns. […]

An inspection in April confirmed their fears.

The westbound bridge was found structurally "intolerable" and the bridge's span was listed in "critical condition and may require closure." The bridge earned a sufficiency rating of 6 out of 100.

Anything below 80 is considered "deficient."
Sheesh. This state, man.
* Local 150 has erected signage by the bridge to advocate for a capital bill…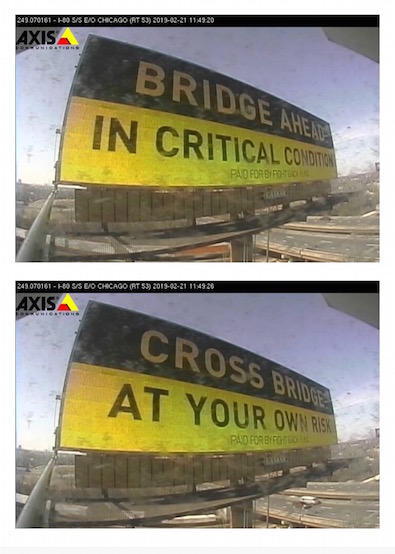 * CBS 2…
"We've let this go too long and now we're paying the price," said James Sweeney, president and business manager of the Operating Engineers Local 150. "But the price should not be lives."

The group took out two billboards that can be spotted by drivers as they approach from either direction.

The billboards read, "Bridge Ahead in Critical Condition" and "Cross Bridge at Your Own Risk." The intention is to highlight the fact that it has one of the lowest sufficiency ratings in the state.

"The reason we're making this and screaming as loudly as they are is because it is that dangerous," Sweeney said.

IDOT told CBS 2 they are working on some short term structural maintenance, and they have plans to rebuild this bridge eventually. But funding for the long term is an issue.
One of the other benefits of this story is that we now have Sweeney on record admitting that his union controls the dark money Fight Back Fund. /s
* Tina Sfondeles in the Sun-Times…
High on a combination of Norco and Fentanyl, prescribed by a pain clinic, my mother began to throw dishes onto the kitchen floor.

It was inexplicable. And the only way to stop the madness was to call 911.

My sister told the operator my mother was suicidal, which wasn't true. But it led to a stay for our mother in the psychiatric ward of a nearby hospital.

There, I watched as a doctor who had prescribed my mother opioids for more than 20 years looked at her with a combination of shame and disgust. I'll never forget that look.

The man who had persistently written prescriptions for Vicodin, Oxycodone and Norco somehow couldn't understand how such powerful drugs could take over my mother's life. Or he didn't want to understand.

That was in 2012. Twenty-nine years earlier — in 1983, the year I was born — my mother, Elizabeth, had been diagnosed with rheumatoid arthritis. The painful disease ate up the cartilage in her body. It forced her to get a replacement shoulder when she was in her 30s. It later led to a second shoulder surgery. To this day, my mother can't lift her left arm above her shoulder. […]

When we made our fourth effort to detox her off opioids, her doctors refused to go along, saying she would be in too much pain. When she applied for a state medical cannabis card two years ago, she was rejected because her doctor had failed to provide a letter in support.

We called the doctor about that, several times, but he never called back.
Tina's mom is now clean, so click here and read the rest about their difficult journey. Well worth your time.
* John Kass…
The national media and the national Democratic Party will feel pressure to support Lightfoot. How can feminists and liberal Beltway media not support her?

And how could liberal pundits not punish Chicago Democrats, particularly African-American Christian ministers, if any of them dare make Lightfoot's sexual orientation an issue?

African-American voters are socially conservative, particularly the churchgoers, a secret that most Democratic Party hierarchs and many in the national media are loath to mention.

Some black clergy will be compelled to speak out. And how local and national media respond will form another story arc.

And we will witness the Democrats, the party of identity politics, hoisted with its own petard.
Anybody care to explain this?
* Related…
* Dahleen Glanton: As an African-American woman, I am particularly proud that our city will finally have a black woman at its helm. Of the 14 candidates in the race, Lori Lightfoot, a former federal prosecutor, and Toni Preckwinkle, the longtime president of the Cook County Board of Commissioners, were the cream of the crop. Both women are smart, politically astute and undeniably competent. I voted for one of them but at this point, it doesn't matter which. Either would make an excellent mayor.

* Sun-Times editorial: Two good candidates, Lori Lightfoot and Toni Preckwinkle, will face off on April 2 to be the next mayor of Chicago. Both are qualified. Both are thinkers. Both have the ability, and now the opportunity, to engage in a substantive debate about the best solutions to the biggest problems facing our city.
[The following is a paid advertisement.]
The credit union movement focuses heavily on community service and charitable giving, but credit unions also give back to their members through generous financial benefits like low loan rates, high savings rates, and fewer fees than most other banking institutions. In 2017, Illinois credit unions gave an estimated $309,145,878 in direct financial benefits to the nearly 3.2 million credit union members in our state. Interested experiencing the credit union difference? Visit ASmarterChoice.org to learn how you can save by becoming a credit union member today.
* Sun-Times…
If their success on Tuesday carries over to the April runoff elections, there could be as many as five card-carrying democratic socialists on the City Council this Spring — which would be the most on the Chicago governing body in more than a century.

Members' victories in two aldermanic races and ballot success putting them in three runoff contests have already led to talk of an incoming socialist caucus. […]

[Ald. Carlos Ramirez-Rosa] is one of the members of the Chicago Democratic Socialists of America (DSA) who won outright on Tuesday: New member Daniel La Spata upset Ald. Proco "Joe" Moreno in the Near Northwest Side's 1st Ward. […]

Socialist Rosanna Rodríguez-Sánchez will head to April's runoff against incumbent Ald. Deb Mell in the 33rd Ward. Rodríguez-Sánchez broke into tears of joy several times at her watch party at Chief O'Neils in Avondale after hearing she'd earned the most votes in the three-way race. […]

Byron Sigcho-Lopez, who heads the Pilsen Alliance, credited the party for helping him in the race for the seat vacated by retiring Ald. Danny Solis (25th). Sigcho-Lopez will face Alex Acevado in April.
* Sigcho-Lopez faced allegations of shenanigans in the closing days. From Friday…
Byron Sigcho Lopez, a candidate for 25th Ward alderman, denounced allegations that his supporters engaged in ballot theft at a Chinatown senior center.

Earlier this week, candidate Hilario Dominguez, a former teacher and activist, along with State Rep. Theresa Mah, whose 2nd District seat includes Chinatown and Pilsen, leveled the allegations at Sigcho Lopez's supporters.

They alleged his supporters took incomplete vote-by-mail ballots from seniors at the Chinatown Elderly Apartments, 300 W. 23rd St. They were then told their ballots would be filled out for Sigcho Lopez because they had previously received a free meal at Phoenix Restaurant from Sigcho Lopez's campaign, the state representative and the aldermanic challenger alleged.
* Yesterday…
The Illinois Attorney General's office and the Cook County State's Attorney's office are investigating a complaint that alleges supporters of candidate Byron Sigcho Lopez were buying votes in the 25th Ward Tuesday.

A complaint was filed with the agencies after voters were seen requesting gift cards after casting ballots at Barbara Jean Wright Court Apartments, 1354 S. Morgan St., in the 25th Ward's 4th precinct.

Chicago Lawyers' Committee for Civil Rights, which staffs a hotline where voters can report electoral abuse, initially sent poll watchers to the site after receiving complaints that the precinct was refusing to let people register to vote, said Ami Gandhi, an attorney with Chicago Lawyers' Committee for Civil Rights.

During the visit, poll watchers observed what they described as "strange" behavior — voters entering one room, casting their ballot and then entering a separate room across the hall where they allegedly received $20 gift cards in exchange for a vote for Sigcho Lopez, said Matt Owens, an attorney and field captain for election protection with Chicago Lawyers' Committee for Civil Rights.
Results for that race are here.
…Adding… Related…
* Hours after historic election, Lori Lightfoot and Toni Preckwinkle each argue they're more progressive than the other: Preckwinkle attempted to take what has been a political weakness — her ties to party establishment amid strong calls for change at City Hall — and turn it on its head by noting that Mayor Rahm Emanuel and former Mayor Richard M. Daley had appointed Lightfoot to positions. "While my opponent was taking multiple appointments in the Daley and Emanuel administrations, I fought the power elite who have been trying to hold this city back," Preckwinkle said during her election night speech.
* Your one-word reaction to yesterday's mayoral election? One word only, please.
* Capitol News Illinois…
State Sen. Don Harmon, an Oak Park Democrat who is carrying the [progressive income tax] amendment in the Senate, said he expects the Legislature to begin its role in the process soon – and he expects a fight.

"I'm hoping to start talking about this in earnest when we're back in Springfield next week," Harmon said. "This is certainly going to require a full-fledged campaign to convince voters to ratify the amendment. I expect we'll be joined on both sides of the debate with vigor and resources."
* WEEK TV…
Illinois House Republicans are signing on to a resolution opposing a graduated income tax in Illinois.

Democratic Gov. J.B. Pritzker campaigned on implementing a graduated income tax in Illinois to replace the current flat income tax, and made getting the measure passed in 2020 a lynchpin of his wider fiscal plan for the state.

All 44 House Republicans are co-sponsoring House Resolution 153, which opposes any shift to a graduated income tax.

"If my colleagues on the other side of the aisle are serious about helping the middle class, we need to take a serious look at our regressive property tax system. Property taxes are rising year after year, making it more difficult for working families to make ends meet and further driving jobs and opportunity across the border," said state Rep. Tony McCombie (R-Savanna).
* From their resolution…
WHEREAS, A move by the General Assembly to amend the constitution to impose a graduated income tax would mean turning our backs on the residents of this State and the spirit of bipartisanship
Um, the General Assembly's vote is only the first step. Illinoisans of all stripes and political persuasions will have the final word at the ballot box. So, you could say that giving people the opportunity to vote on this isn't such a horrible idea.
But a retort could be: "OK, then why not let Illinoisans vote on changing the pension clause, or term limits, or redistricting reform?" Agreed, but you gotta pass that stuff through the General Assembly first. And the people who run that place aren't willing to put those ideas up for floor votes.
So, in the end, I can understand opposing a binding referendum on the income tax until some of those other issues are also put before the voters, even knowing that the other side will never, ever agree to those terms.
* Just have at it. Everybody take their best shots. If the constitutional amendment fails to get out of the General Assembly, such is life. If a referendum is eventually held, engage in a robust debate. See what the voters decide. That's America.
But try to stay at least a little truthful. This "turning our backs on the residents of this State" stuff is totally unsupported by the facts because Illinoisans will be the ultimate arbiters.
* From Politico's "losers" list…
—The Ricketts, who tried to boot Ald. Tom Tunney from the 44th Ward only to see him run away with 64 percent of the vote. He teared up during his victory speech.

— U.S. Rep. Jesus "Chuy" Garcia, whose aldermanic candidates lost in the 14th Ward (against Burke) and 25th (against the strident Byron Sigcho-Lopez). Garcia also backed Jessica Gutierrez, the daughter of former Congressman Luis Gutierrez, in the 30th Ward. She made it to a runoff against Ariel Reboyras.
The Ricketts spent a bunch of money on that race, bad-mouthed the alderman every chance they could and got their clocks cleaned on election day. Welcome to Chicago.
Chuy's organization got a very late start against Burke and while Tanya Patino raised about $150K she only received 30 percent of the vote to Burke's 54. Beating the alderman turned out to be a whole lot more difficult than beating the alderman's legislator brother.
* More losers…
In the 1st Ward, Daniel La Spata held a commanding early lead against Ald. Proco "Joe" Moreno. La Spata had 61 percent of the vote with 98 percent of precincts reporting.

Meanwhile, in the 45th Ward, Jim Gardiner led Ald. John Arena. Gardiner had 51.8 percent of the vote with 98 percent of precincts reporting.
Proco, you'll recall, had some, um, issues…
Chicago Ald. Proco "Joe" Moreno said his car was stolen. He filed a police report last month declaring the alleged theft. Now, Moreno says it was all just a big misunderstanding.

WGN's Meghan Dwyer spoke to the woman behind the wheel — a single mother who said she was shocked to be arrested after Moreno loaned her the car.
And Arena ginned up some furious backlash in his ward…
Arena is a member of the City Council's progressive caucus and has faced fierce opposition in his Northwest Side ward for promoting affordable housing, including his support of a planned affordable housing development at 5150 N. Northwest Highway.

The 45th Ward includes Jefferson Park, Gladstone Park, Old Irving Park and parts of Portage Park and Forest Glen on the city's Northwest Side.
The winner is a Chicago Fire Department EMT.
* And then there's Ald. Joe Moore…
In the Far North Side 49th Ward, Moore, the third-longest tenured council member, trailed Chicago Teachers Union-backed challenger Maria Hadden. With 85 percent of precincts in, Hadden had 64.5 percent of the vote to 35.5 percent for Moore.

Moore said he figured his long career as an alderman was coming to an end.

"I don't think we can overcome it," Moore said. "The handwriting is on the wall as the fat lady waits to take the stage."

Moore, who often opposed former Mayor Richard M. Daley, became a close ally of Emanuel, which lost him a good deal of support in his historically independent-minded ward.
Um.
* And…
In the 33rd Ward, Ald. Deb Mell was headed to a run-off, as she trailed Rossana Rodriguez-Sanchez by 66 votes. Rodriguez-Sanchez had 42 percent of the vote with all the precincts reporting Tuesday.
* Madigan haters lost big in the 13th Ward…
Ald. Marty Quinn appeared to be headed to an easy victory over David Krupa, election results indicated Tuesday night, poised to defeat the DePaul University freshman in a landslide in Chicago's 13th Ward.

Quinn won 85 percent of the vote with 75 percent of precincts reporting by 8 p.m., compared to Krupa's 15 percent of the vote, according to the Chicago Board of elections.

Krupa, a recent Fenwick High School grad and part-time FedEx forklift operator, cashed in savings bonds and used graduation gift money to open a campaign office. But he wasn't taking on just any alderman - setting his sights set on powerful House Speaker Mike Madigan's hand-picked alderman. Quinn is perhaps Madigan's most senior political operative and has represented the 13th Ward on the city's Southwest Side since 2011.
But, did they really "lose"? I've always just assumed this race wasn't ever about winning, but about making life difficult for Team Madigan with the potential for lawsuits, etc.
* On to the tune…
What have I done to deserve such a fate?
* From the twitters…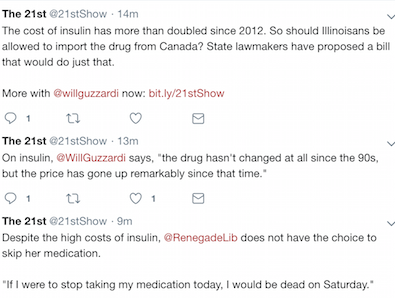 * More legislation on this topic…
As a legislative committee digs into the issue, Illinois House Democrats are pushing a package of bills this spring that aim to make prescription drugs more accessible, affordable and accountable.

Led by state Rep. Will Guzzardi, chairman of the new House Prescription Drug Affordability and Access Committee, several lawmakers discussed their proposals for prescription drug reform Wednesday at a Statehouse news conference.

Among the ideas being championed are:

* House Bill 1441, sponsored by Rep. Anna Moeller, to create a path for Illinois to be a licensed wholesaler of imported drugs from regulated Canadian suppliers
* HB 56 and HB 156, sponsored by Rep. Mary Flowers, to require drug manufacturers to notify health insurers, providers and lawmakers when they plan to increase prescription drug prices, and to require health insurers to disclose to the state where Illinois spends significant health care dollars on prescription drugs and which costs have increased over time
* Legislation from Rep. Guzzardi that would create a new tax on some prescription drugs on price increases beyond inflation that cannot be passed on to consumers (HB 2880); and create a Prescription Drug Affordability Board in state government to regulate prescription drugs similar to how the state now regulates electric utilities through the Illinois Commerce Commission (HB 3493)
* And…
State Representative Allen Skillicorn (R-East Dundee) has filed a workers' compensation reform package consisting of legislation to address this major area impeding job growth in Illinois.

"Workers' compensation costs in Illinois are among the highest in the country and it is driving job creators of all sizes out of the state," said Skillicorn. "A couple of weeks ago, I heard from a small business owner in my district who has been forced to move his business out of Illinois because all the costs from the state are too much. This is another 50 good paying jobs we are losing."

The workers' compensation reform package consists of House Bills 2634 and 2635. It focuses on reducing workers' compensation costs by reforming cost driving rates and fees. HB 2634 targets excessive attorney's fees by reducing them from 20% to 15%, while HB 2635 targets accident rates and medical fees by lowering them to levels similar to other states and those authorized by Medicare.

"Last week, Gov. Pritzker added more cost to the price of doing business in Illinois by signing Senate Bill 1 into law, but if he is serious about making our state more business friendly, then he seriously needs to take up workers' compensation reform," said Skillicorn. "If we don't reform workers' compensation and other cost drivers, the small business owner I heard from will only be one of many more to leave Illinois."
* Related…
* A plea for rent control
* If you've ever been to the 2nd Floor of the Stratton Building, you know that House members' names are painted on the glass doors of the main hallway outside their respective offices.
For whatever reason, the House clerk's office has been glacially slow to remove the names of former members and update them with new members. Elaine Nekritz resigned her House seat in October of 2017, but her name is still on her old door.
* These two names, however, are quite problematic. Former Rep. Jerry Long, you will recall, was abandoned by the House Republicans when he was accused of harassing a female staffer and lost his race last November. And former GOP Rep. Nick Sauer resigned in August of 2018 after being accused of using nude photos of a woman to catfish men on the Internet. He's since been indicted on 12 counts for alleged "nonconsensual dissemination of private sexual images." I took this photo yesterday…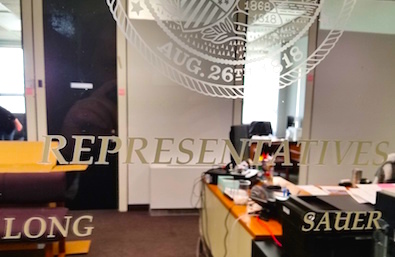 How difficult is it to tell somebody to scrape the names off the doors? It's embarrassing.
* Meanwhile…
A least one House committee hearing had to be relocated Wednesday morning after a leak in a first floor restroom in the Illinois Capitol spread water through parts of the west wing.

The House Executive Committee was moved from its normal hearing room in 118 because of water on the floor outside of the room. The hearing was moved to 114 in the Capitol's south wing.
Oy.
* AP…
Wisconsin National Guard officials said Tuesday they're looking into whether to punish an Illinois congressman who belongs to the Wisconsin detachment for criticizing Gov. Tony Evers' decision to withdraw troops from the U.S. southern border.

Republican Rep. Adam Kinzinger is a Wisconsin Air National Guard pilot with the rank of lieutenant colonel. He ripped Evers Monday on Twitter and on Fox News for ordering Wisconsin troops to pull out of Arizona.

Wisconsin statutes state that any commissioned officer who uses "contemptuous words against the president, the vice-president, members of congress, the secretary of defense, the secretary of a military department, the secretary of homeland security, or the governor or legislature of the state of Wisconsin shall be punished as a court-martial may direct."

Evers is a Democrat. His position as governor automatically makes him the commander-in-chief of the Wisconsin National Guard. Asked if Kinzinger might be disciplined for his remarks, Guard spokesman Capt. Joe Travato said the Guard and Evers' office are looking into the matter.
The statute is here.
* But…
A spokeswoman for Kinzinger said the Lieutenant Colonel was off duty when he made his remarks about Evers.

"The Congressman is off-duty and has the right to exercise his freedom of speech as he so chooses, just as he has done when critical of the current President and the President before him," spokeswoman Maura Gillespie said.
My first reaction to this story yesterday was that the National Guard is for citizen soldiers. Citizens have a fundamental right and duty to speak their minds. If Kinzinger had made his remarks while on duty, that's one thing. He did not do that. Gov. Evers, I believed, should grow some thicker skin.
* However, this is from the Military Times…
University of Wisconsin-Madison law and political science professor Donald Downs, who studies free speech issues, said he knows of no exceptions in state law that would allow off-duty National Guard personnel to criticize the government.

However, it's unclear whether the First Amendment's free speech guarantee would trump state statutes in such cases, Downs said. The First Amendment protects an employee's speech if he or she is speaking as a citizen, not as an employee, but the scales still likely would tilt toward the military if the soldier was criticizing a specific lawful order, he said.

"I doubt that the fact the guardsman was off duty would matter," Downs said.
Kinzinger did, indeed, criticize a lawful order from his commander in chief.
I do not want this post to devolve into a debate on the wall or whatever, so do your utmost to stick to the topic at hand or I'll delete you and maybe even ban you.
Never tweet
Wednesday, Feb 27, 2019 - Posted by Rich Miller
* How's that Latino outreach going, ILGOP?…
.@susanamendoza10 we bought some chips and guacamole for your concession party. Where do we send it? #chimayor19 #TeamSusana #twill

— IL Republican Party (@ILGOP) February 27, 2019
Oof. The ratio.
* They eventually offered up an explanation…
Background: "Dear Leslie, Enjoy the guacamole and tostada chips. Make sure not to double dip! Love, Susana A. Mendoza, Comptroller Elect."

The chip-and-dip was a dig at Munger for campaign commercials she ran that claimed Mendoza had double-dipped… https://t.co/K7YyKn1Zhe

— IL Republican Party (@ILGOP) February 27, 2019
…Adding… From comments…
"We doubled down on the thing we said was a jerk move"
Yep.
* From a recent Chicago Tribune editorial entitled "4 closing arguments: The case for Bill Daley"…
Daley is the only leading mayoral candidate who talks candidly about the city's and state's pension systems. The only way to keep high local and state taxes from skyrocketing and to save pensions for retirees is to amend the Illinois Constitution's rigid pension clause. That requires action in Springfield. It's a big lift, but Daley is the only candidate willing to try. "Our pension system is broke," Daley says. "We cannot tax our way out without making Chicago unaffordable. We can't cut our way out without compromising our quality of life."

Daley supports a mix of new taxes to prop up pensions — but he also understands that loosening the language of the Illinois Constitution is the only route to long-term stability. No gimmicks. Real change. We're hopeful Daley would persuade other leading Democrats, Gov. J.B. Pritzker included, to put pension reform on the ballot.
Daley was by far the best hope for Illinois proponents of an Arizona-style pension reform plan. He supported a similar constitutional amendment to Arizona's that would ostensibly allow this state to reduce all benefits moving forward. But the plan was never remotely feasible here, and Arizona's amendments have not yet been tested by the courts. Even so, Daley would've been the highest profile mouthpiece for the Tribune, the Illinois Policy Institute, the Civic Committee and others who have been banging the drum on this topic for years.
Now, with Daley's loss, they're gonna have to find somebody else.
And, by the way, the pundits can blame Jerry Joyce all they want for Daley's loss. But Daley got smoked in the wards best known for being populated with city workers and retirees. That was no coincidence.
…Adding… Greg Hinz…
Daley got clobbered in sections of Northwest and Southwest Side that are home to many police, firefighters and other city workers by attorney Jerry Joyce. Daley should have done well in such areas in the same way that his brother and father did when they ran for mayor, but the pension issue hurt. Ironically, all of those cops will have to live with a new mayor in Lightfoot or Preckwinkle, both of whom strongly back tough police reforms and increased accountability. But in Springfield, where pension reform already is a very tough sell, Tuesday's totals will make it even tougher. The message will be: don't fight the unions. You can't win.