* The blog is gonna stay open this weekend, including comments. Please, no drunk comments. Those are the worst. Try to make my life as easy as possible by staying good while I'm away from my 'puter.
I have a ton of stuff for a subscriber-only post, including lots of mail and a recording of a robocall, that I simply didn't have time to deal with today. Plus, the weekend is likely to be full of other campaign stories for non-subscribers, including things like this rather odd and, if true, disturbing e-mail from Democratic congressional hopeful Dan Seals, entitled "Tampered Mail"…
Last week, thousands of Seals supporters should have received our campaign's final direct mailing. Unfortunately, those letters were tampered with and never left the post office. Authorities are now investigating the situation, but we have already missed a critical opportunity to raise funds and keep Dan on the air in the final days of our campaign.

The campaign's final direct mail piece, which included a quote from Senator Barack Obama supporting Dan, was set to hit the mail boxes of thousands of supporters last week. The mail was received by the United States Post Office and then transferred that same day to a United States Post Office Distribution Center.

After realizing that supporters had not received the letter, we discovered that the mail had been set aside and out of sight at the post office. The letters were supposed to have been treated as first class mail. They were not.
…Adding for clarity… While I believe this is almost assuredly simple incompetence, it's still quite troubling that the USPS would screw up a First Class political mailer like this.
…Also… PI has a new radio ad for Seals featuring Obama.
* And here's a new TV ad from Republican Marty Ozinga that slams Democrat Debbie Halvorson for her ties to Rod Blagojevich…
* There's been so much crazy red-baiting on my teevee and in my e-mail lately that I've started thinking I must be in some kind of bizarre time warp, so here's your flashback moment of Zen…
So now I'm home investigatin' myself
Hope I don't find out too much



- Posted by Rich Miller 19 Comments


*** UPDATE 1 *** Important update! Must read! From the governor's office…
We were invited to the Obama party two days ago…
*** UPDATE 2 *** From regular blog commenter Vote Quimby…
Yeah, I got the same email saying if you want to join the Grant Park party to send in $25
[End of update. But I don't know which is funnier: Inviting him or not inviting him. Discuss.]
* CBS 2 reports [wrongly, it appears] that Gov. Blagojevich has not been invited to Barack Obama's big Grant Park election night party. Todd Stroger, however, did make it onto the VIP list.
Todd but not Rod??? Now, that's a snub, baby.
* Since he can't go to the big event, the governor might want to check out this long list of alternative election night parties, including…
An open bar awaits you at the Bipartisan Blowout Election Night Party at the McCormick Tribune Auditorium, along with the chance to win 2 air tickets to Washington D.C. so you can visit our nation's capitol either to revel in your candidate's glorious win or, camp on the Mall and PROTEST, of course.
See? The guv can go to DC gratis and protest the fact that he wasn't invited to the convention, the party and the inaugural ball. Perhaps he can even carry a sign that reads: "Pardon Me!!!"
* Meanwhile, Governor Bad Karma himself talks about bad karma…
Gov. Rod Blagojevich on Thursday cited the potential for bad "karma" and avoided discussing potential Senate successors to Barack Obama should the Democratic nominee win the White House, but acknowledged he has a process in mind for making the most important appointment of his career.

"I just don't want to jinx him and I don't like the karma of me thinking that far ahead," Blagojevich said of Obama's prospects in Tuesday's election.
His future is, indeed, a scary thing.
* Notice how the AP isn't a hundred percent sure what the governor will do…
In Illinois, Governor Rod Blagojevich will almost certainly pick a Democrat to succeed Barack Obama, because both are Democrats.
He may also pick the man in the moon.
Oh, look, a kitty.
* The Jacksonville Journal-Courier runs a somewhat flawed analysis (African-American support has been declining along with everyone else's) which concludes that the governor could win his party's 2010 nomination…
And who do the Republicans have to oppose him? The usual assortment of megalomaniac millionaires and suburban pols from the land of George Ryan. Most everything disagreeable about Gov. Blagojevich was well known when he ran for re-election in 2006, yet he won handily.

There is one clear path out of this nightmare: If Barack Obama becomes president, Gov. Blagojevich should appoint himself senator.
Heaven, help us.
* The AP is reporting that Barack Obama may be wanting to hire the hardballer's hardballer if he's elected president…
Barack Obama's campaign has approached Illinois Rep. Rahm Emanuel about possibly serving as White House chief of staff, officials said Thursday
Lynn Sweet has some follow-up…
On the tarmac after landing, Washington Times reporter Christina Bellantoni asked Obama about a possible Emanuel appointment.

"I'm trying to win an election…" Obama said.

Is that a no?

"Plouffe is my chief of staff," Obama said, a reference to his campaign chief of staff, David Plouffe.

I asked Obama chief strategist David Axelrod–who has also been Emanuel's media consultant–about the report.

"Don't believe everything you read. I don't," Axelrod said.
If Rahm does take the job, maybe Gov. Blagojevich can get his old House seat back. Hey, who knows?
* Speaking of the Chicago Way, Ald. Tom Allen exacts some revenge…
A Chicago alderman wants police Supt. Jody Weis to be disciplined for making a statement in a TV interview earlier this month that seemed to support Barack Obama's candidacy.

Earlier this year, the department reprimanded a detective who campaigned for Ald. Tom Allen (38th) in his failed race for Cook County state's attorney. The department found the detective had violated a rule barring officers from engaging in partisan activity while wearing the uniform or identifying themselves as officers.

"What's good for the goose is good for the gander," said Allen. "If they're going to play games with me politically and hurt good people I've known for 25 years, touche. He should face whatever the penalty is." […]

On Oct. 15, Weis was interviewed as part of a WLS-Channel 7 story on security at Obama's South Side home. "He's our senator and he's hopefully going to be our next president, so it's an honor to serve and protect his home," said Weis, who was wearing his dark blue police uniform.
* Eleanor Holmes-Norton talks about race and the presidential campaign in a way Illinoisans can certainly understand…
America tends to have a number of ethnic groups, so that when a Greek ran - Dukakis - Greeks were visibly for him. When Kennedy ran, the Irish were extraordinarily for him. We are a country of ethnic groups. That doesn't mean the Irish expected John F Kennedy to cater to the Irish or that Dukakis would do something for the Greeks.
That last part is just the opposite here. Ethnics in power always expect to be catered to.
* A young Republican intern for Congresscritter Judy Biggert tells of a chance encounter this past summer…
"I once saw Sens. McCain and Obama sharing a car on the Senate subway underneath the Capitol building, and they had their arms around each other and were laughing about something. I found it peculiar that something so simple would have such a profound affect on me, but it did. It made me realize that it's OK to disagree politically on an issue and to fight for what you personally believe in, but that the measure of a person's character isn't how strongly he or she fights for something, but how he or she is able to work together to find common ground and do what's right,"
* On an unrelated note, I just got a press release from Republican US Senate candidate Steve Sauerberg that calls the State Journal-Register an "ultra-liberal newspaper."'
Can "commie pinko rag" be far behind?
- Posted by Rich Miller 31 Comments


* Let's try to keep the comments clean, please. Also, despite the topic, even minor violent imagery is always deleted, so don't do it…
Gov. Rod Blagojevich shot back against recent polls have that have shown abysmal approval ratings, saying he's happy to get his "ass kicked" as a champion of the people.

At an event on Thursday, Blagojevich defended his record by saying he has pushed for programs that are meaningful to the people of Illinois, such as ensuring free rides for seniors on CTA buses and trains, and pushing for a ban on foreclosures.

"All of those things happened because we had to push and prod and fight through the system to get it done for people, and if I get bloodied up in the process, and there are some times when people are just not generally approving, I feel honored to get my ass kicked for the people," Blagojevich said.
Ugh.
- Posted by Rich Miller 83 Comments


* No offense intended, but I'm not sure that this new study applies to a huge number of Illinois races…
Seventy-three people — 35 men and 38 women — were asked to rate pictures of male and female congressional candidates on a seven-point scale for how competent, attractive, approachable and dominant they seemed to be. Then they were asked if they would vote for the candidates for president.

Both the male and female voters were more likely to say they would vote for women whom they considered attractive. The male candidates? Attractiveness was not an issue for either male or female voters.

Studies have shown that women with thin eyebrows, round faces and small chins are generally considered most attractive. Men considered good-looking tend to have thick eyebrows, square faces and large chins
* Despite outspending her Republican opponent on every level, Democratic congressional hopeful Debbie Halvorson is now complaining that Marty Ozinga is spending more money on himself. From a press release…
Yesterday, Marty Ozinga contributed another $100,000 to his campaign, bringing his total to $570,000 for the cycle to date (i ii iii). This is in direct opposition to his numerous declarations to the public that he would not self-fund his campaign. Legally, nothing prohibits Marty Ozinga from contributing to his own campaign, however, he has now violated the public's trust on numerous occasions, telling the public one thing on one hand, and doing something completely different on another. […]

"I won't be writing big checks for my own campaign, I just don't believe in it" [Ozinga told the Tribune].
She has a point, but things change when you're losing a race and it seems like the whole world is financing your opponent.
* In other congressional news, Republican Peter Roskam has a new mailer touting his ties to Barack Obama…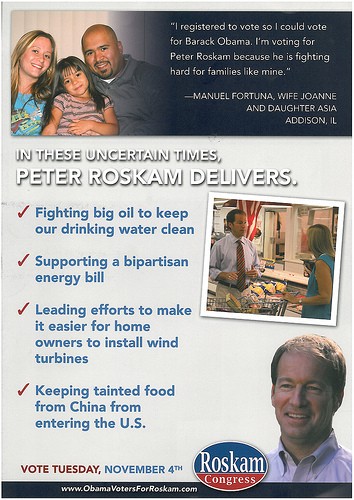 That's the same family and the same quote featured on Roskam's "I'm with that Obama guy" website.
You can find more Roskam mail and some harsh partisan diatribes at this link.
* Mark Kirk's new TV highlights his endorsements from every major area newspaper…
* Related…
- Posted by Rich Miller 16 Comments


* Thanks, governor!!! And I truly mean that….
Gov. Rod Blagojevich said [yesterday] that he doesn't support a convention to rewrite the state's 1970 constitution because he fears attempts to strip some of his executive powers. […]

"Thank God that the constitution gives the executive branch a lot of power to get around the legislative branch," Blagojevich said, adding that without his ability to issue executive orders or use his amendatory veto power there would be no free mass transit rides for seniors or free breast and cervical cancer exams for women.

"If the constitutional convention were to occur and there was an effort to erode the executive branch's ability to do those things, then I think less good things would happen for people," Blagojevich said.
The governor just gave us the best reason yet to vote "Yes." And he tied his horribly damaged reputation to the "No" campaign. What a break. Hopefully, this gets picked up by every major news outlet in Illinois.
If he was standing here right now I'd kiss him.
* Yet another goofy and false anti constitutional convention spam e-mail forwarded to me by one of my newspaper editors…
CON-CON is the Constitutional Convention vote that will take place on the Nov. 4th Ballot. One of the changes that the CON-CON will provide is the taxing of pensions in the State of Illinois.

Every public school teacher/administrator should get the word out to vote NO!!!!! Do not let the State tax our pensions.

Tell all your Illinois friends that on Nov. 4th vote NO to CON-CON.

Jeffry B. Nelson, Ed.D.

Peoria County Assistant Regional Superintendent of Schools
The confidence expressed by opponents that some radical thing WILL ABSOLUTELY HAPPEN if the convention is approved is simply absurd.
I attempted to contact Nelson yesterday without success.
* Meanwhile, Roland Burris has done an anti con-con radio ad. Listen here. It's got a funky beat, so I wonder if they put this on African-American stations.
* Here's another anti ad called "Waste." Also, "Respect."
* And I can't help but wonder whether the groups that helped pay for this Jim Edgar TV ad may be doing some harm to incumbent legislators they are otherwise supporting…
Thoughts?
*** UPDATE *** Oops. I forgot to post the "Yes" group's TV ad…
- Posted by Rich Miller 17 Comments


* Gee, you don't think this had anything to do with yesterday's indictment of Bill Cellini, do you?
Roughly a month after the advent of a law allowing the wrongfully convicted to circumvent the governor in seeking certificates of innocence, Gov. Rod Blagojevich pardoned four exonerated men convicted of crimes ranging from rape to murder.

Two weeks ago, the men filed for certificates of innocence with the circuit courts after waiting for a response from Blagojevich, who has been criticized for taking too much time to respond to clemency petitions. Blagojevich pardoned 26 people Thursday.
* Or this?
Gov. Rod Blagojevich wants state lawmakers to do something to help prevent home foreclosures.

Blagojevich says he's pushing for a new law that would establish 3-month moratoriums on foreclosures for homeowners who enter mortgage counseling. The proposal will be introduced during the General Assembly's veto session in November.
* Perhaps I'm just being too cynical. After all, those stories were completely buried by the big news of the day…
The U.S. attorney's office in Northern Illinois is advancing its way around Gov. Rod Blagojevich's inner circle, and Thursday's indictment of GOP political bigwig William Cellini could be just another attempt to recruit one more person to testify against the governor, says Kent Redfield, political scientist with the University of Illinois at Springfield. […]

Redfield says if the assumption is that the U.S. attorney's ultimate goal is to get all the way to Blagojevich, indicting Cellini makes sense. But there's no guarantee it'll work.
* There's nothing much new in the indictment, but this is ominous for the governor and Cellini…
The grand jury that indicted Cellini is the same one investigating renovations of Blagojevich's North Side home, according to court documents. […]

Sources said Rezko — who hasn't finalized a deal for his cooperation — provided information about the alleged extortion scheme.
* According to the Daily Herald, this is the only real new item, which seems to indicate some limited Rezko cooperation…
The document alleges that Rezko and Cellini discussed potentially moving TRS executive Jon Bauman to another state job in order to ensure that he would not cooperate with federal investigators.

Bauman is still the head of TRS…
* And this looks like a bit of payback…
The indictment also revived another allegation that surfaced at Rezko's trial — that there was a plan to have U.S. Attorney Patrick J. Fitzgerald removed from his post in an effort to block the investigation. One witness testified that Rezko told them White House political director Karl Rove would be involved in the removal.

Another simply said Rezko simply mentioned a plan to remove Fitzgerald.

Rove said through an attorney at the time that he had never heard of such a plan and Springfield lobbyist Bob Kjellander, who also was mentioned as a possible participant, said he had never known about or taken part in any such effort.

But the new indictment says in the summer and fall of 2004, Cellini, Rezko and others discussed the possibility of having Fitzgerald ousted from his post.
* Cellini background…
For 40 years, William F. Cellini has been a fixture in the Illinois governor's office. And Cellini — one of the most powerful Republicans in Illinois history — maintained his clout when a Democrat, Rod Blagojevich, ended 26 years of GOP rule.

Some Democrats were shocked to find Cellini sitting at Blagojevich's table during a party at Tony Rezko's house six years ago. But Cellini had a simple answer to explain how he and his business associates would thrive under a Democratic governor:

"When we're in, we're in. And when you're in, we're in. We're always in.''
* Cellni's possible motive?
…why would a successful, wealthy political insider at all levels of government work to secure funds on behalf of Blagojevich, a Democratic governor? Redfield says it's all about power. "I don't think it was so much about fighting for the governor as it was about power in the board and playing the game. He was as mover and shaker when [Jim] Thompson, [Jim] Edgar and [George] Ryan were governors. That's what he knows and what he does … Power is addictive." [said Kent Redfield]
* Some campaign fallout…
The indictment of political insider Bill Cellini leaves numerous politicians scrambling to explain campaign donations tied to the bipartisan power broker.

Cellini and his groups have donated nearly $1 million over the last decade to an array of candidates from both sides of the aisle and up and down the state.

Money from an organization the Springfield native directs, the Illinois Asphalt Pavement Association, is playing a role in hot races today.

The House Republican Organization, Senate Democrats, Senate Republicans and House Speaker Michael Madigan have all taken thousands of dollars from the asphalt pavers' "Good Government Council" political action wing in the last three years alone.

Plus, Gov. Rod Blagojevich has taken at least $17,500 since 2006 from the organization. A campaign spokesman didn't return a call seeking comment Friday.
…Adding… Thanks to a sharp-eyed commenter, here is a story about some financial ties to prominent Chicagoans…
Like many savvy businessmen, Cellini has friends in both parties.

Take House Democratic Leader Michael Madigan. Cellini has used the longtime House speaker's law firm, Madigan & Getzendanner, to handle real estate tax work for his apartment projects in the Chicago area.

Then there is Ald. Edward Burke, another powerful Chicago Democrat.

His law firm gets real estate tax work from another Cellini business, Commonwealth Realty Advisers, which advises the state teachers pension fund. Commonwealth hired Burke to get the real estate taxes reduced on Forest Park Mall, a troubled shopping center that Commonwealth manages for the fund.
* Related…
* Cellini trial could teach a lot

* Cellini accused of campaign fund extortion

* Indicting Illinois. Again
- Posted by Rich Miller 37 Comments


* Feds urge quick decision on EJ&E rail purchase
* More problems for ethanol plant investors
* State Releases School-by-School Test Scores
* Only 3% who barely pass math reach 20 on ACT
* Lack of IMAGE test hurts local districts
* CPS plans more 'turnaround' schools
Many suburban educators say that there should be an asterisk next to this year's No Child Left Behind results.

The state eliminated the Illinois Measure of Annual Growth in English from this year's tests, which forced students new to the English language to take the same standardized tests as everyone else.

As a result, suburban schools that serve many English-language learners saw their test scores take a hit, especially in reading.
* New students offer schools new challenges
* Group to introduce fund to assist low-income homeowners
* Gambling foes rally opposition to Southland casino
* New Illinois Tollway chief named
* Tollway authority picks new chief as former CEO fights to get new job
* Daley doesn't remember receiving Gutierrez's letter that lobbies for developer, aide says
* High rate of no-shows leads to garbage cuts
Mayor Daley is shrinking 80 more garbage crews from two laborers on a truck to one to solve a vexing absenteeism problem that sidelines nearly one-third of all laborers every day, a top mayoral aide disclosed Thursday.

"Thirty percent of my laborer work force doesn't come to work. It's either [on] duty-disability, restricted duty [or] absent no pay," Michael Picardi told aldermen during City Council budget hearings.
* Aldermen gripe louder about Daley budget cuts
The mayor's budgets often have passed with the support of all 50 aldermen, but this year nobody is happy with plans to lay off almost 1,000 city workers. Daley said the cuts are necessary to erase a $469 million budget shortfall.

"This budget is becoming to me more and more unacceptable," Ald. Sandi Jackson (7th) said as she questioned Picardi.

Added Ald. George Cardenas, among Daley's most loyal allies in the council: "I cannot support this budget as it stands. There is a lot of fat in that budget, there's no doubt."

Council members worried about the effect of budget cuts on garbage pick-up and other services provided by Streets and Sanitation, the largest City Hall department.
* Friday Beer Blogging: Halloween Edition
- Posted by Kevin Fanning 7 Comments


* 12:45 pm - From the US Attorney's office…
WILLIAM F. CELLINI, SR., INDICTED FOR ALLEGED ROLE IN DEFRAUDING TEACHERS RETIREMENT SYSTEM WITH REZKO, LEVINE AND OTHERS

CHICAGO –A longtime political insider in Springfield was indicted today on federal corruption charges for allegedly conspiring with two Chicago businessmen and others to obtain political contributions for a certain public official by shaking down an investment firm that was seeking a $220 million allocation from the state Teachers Retirement System (TRS.) The defendant, William F. Cellini, Sr., was charged in a four-count indictment returned by a federal grand jury, announced Patrick J. Fitzgerald, United States Attorney for the Northern District of Illinois.

Cellini, 73, of Springfield, had longstanding relationships and influence with TRS trustees and staff members and was associated with Commonwealth Realty Advisors, Inc., a real estate asset firm that managed hundreds of millions of dollars on behalf of TRS, according to the indictment. He also raised significant funds for Public Official A, among others. He was charged with one count each of conspiracy to commit mail fraud, extortion conspiracy, attempted extortion and soliciting a bribe. He will be arraigned at a later date in U.S. District Court.

Cellini's alleged crimes – essentially conspiring with others to force Capri Capital, also a real estate investment firm, and Thomas Rosenberg, a principal and part owner of Capri, to raise or donate substantial political contributions for Public Official A – were the subject of testimony earlier this year at the trial of alleged co-conspirator Antoin "Tony" Rezko. Cellini was charged with conspiring with Rezko, former TRS trustee Stuart Levine, the pension fund's outside lawyer Steven Loren and others between the spring of 2003 and the summer of 2005 to defraud TRS beneficiaries and the people of Illinois of Levine's honest services as a TRS trustee. TRS, a public pension plan for teachers and administrators in public schools statewide except in Chicago, serves hundreds of thousands of members and beneficiaries and has assets in excess of $30 billion.

Cellini is the 13th defendant charged as part of Operation Board Games, an ongoing federal public corruption investigation of insider-dealing, influence-peddling and kickbacks involving private interests and public duties related to various state boards and non-profit organizations.
* More…
According to the indictment, in the spring of 2003, Cellini and Levine agreed to oppose a proposal to consolidate TRS with two other state pension plans because they feared their control and influence at TRS, as well as the profits received by Commonwealth Realty Advisors, would be threatened. Cellini and Levine further agreed to seek help from Rezko and Co-Conspirator A in defeating the consolidation plan, with all four eventually agreeing that Cellini would use his influence at TRS and Levine would use his trustee position to hire investment firms that made contributions for the benefit of Public Official A. Cellini, Rezko, and Co-Conspirator A knew that Levine agreed to use his influence and position at TRS to help firms that had made contributions for the benefit of Public Official A, even though Levine understood that those firms were being chosen based on their political contributions and not on their merit.

Between February and April 2004 – at the same time Commonwealth Realty Advisors obtained allocations totaling $220 million from TRS – Cellini, Levine, Rezko, and Co-Conspirator A allegedly conspired to use their influence and Levine's position at TRS to prevent Capri Capital from receiving a planned $220 million allocation of TRS funds unless Rosenberg and Capri agreed to raise or donate a substantial amount of funds for the benefit of Public Official A. In early May 2004, after conversations with Levine, Cellini agreed to and did tell Rosenberg that Capri was not going to receive its $220 million allocation because Rosenberg had not made a significant political contribution for the benefit of Public Official A, the indictment alleges. Once Rosenberg understood the reason Capri was not receiving funds, Cellini and Levine agreed that Cellini would direct Rosenberg to talk with Levine to arrange making the necessary contributions, the charges state.

Cellini allegedly reported back to Levine that Rosenberg would not be extorted and threatened to expose their plan to law enforcement. Cellini, Levine, Rezko, and Co-Conspirator A allegedly agreed it was too risky to continue demanding money from Rosenberg and Capri or blocking the $220 million allocation. They further agreed that, although Capri would receive the pension funds for investment purposes, Capri and Rosenberg would not receive any further business from the State of Illinois, the charges allege. In late May 2004, just five days after Levine was confronted by federal agents, Levine and the TRS board voted to allocate $220 million to Capri.

As part of the conspiracy, Cellini, Rezko, and Co-Conspirator A also allegedly agreed to and did engage in secret communications with Levine, other TRS trustees and staff members, including TRS Staffer A, concerning official actions pending before TRS. Cellini was aware that Levine concealed from and failed to disclose to the TRS board the existence of these secret communications, the charges allege. In the summer of 2004, Cellini, Rezko, Co-Conspirator A, and others allegedly discussed moving TRS Staffer A from his position at TRS into another job with a different state entity in an effort to ensure that TRS Staffer A would not cooperate with the government. And, in or around the summer and fall of 2004, in an effort to conceal the conspiracy, Cellini, Rezko and others discussed the possibility of removing the U.S. Attorney for the Northern District of Illinois in an effort to stop any investigation into the co-conspirators and others, the indictment alleges.
*** READ THE FULL INDICTMENT BY CLICKING HERE ***
* 1:32 pm - From the Tribune…
Still, the connections between Blagojevich and Cellini run deeper than most people would think for the first Democratic governor in a quarter-century and a longtime GOP insider who is the treasurer of his county's Republican Party.

During Rezko's trial, the FBI identified the "Road Builders"–which Cellini has long been connected to as executive director of the Illinois Asphalt Pavement Association–as having bundled more than $400,000 for Blagojevich's campaign. According to testimony at the trial, the money came from a fundraiser in October 2002 — less than a month before Election Day — at the Wyndham Hotel in Wood Dale.

The Tribune reported earlier this month that federal investigators had subpoenaed the Illinois Road and Transportation Builders Association for records related to Cellini's involvement in the 2002 Blagojevich fundraiser.

After Blagojevich was elected, testimony at Rezko's trial showed Cellini carried influence with many of the governor's top advisers, including Rezko and Christopher G. Kelly. A few months after winning office, Blagojevich named Larry Trent as head of the Illinois State Police. A state police veteran, Trent worked seven years for Argosy Gaming Co., overseeing security and investigations. Argosy owned casinos in Joliet and Downstate Alton and was run by Cellini.
*** 3:06 pm *** Cellini's attorney responds…
CHICAGO, October 30, 2008 – Attorney Dan K. Webb stated that his client Bill Cellini "is completely innocent of these charges, and he will fight this case because he has done absolutely nothing wrong. Bill has lived an exemplary life as a successful businessman and devoted husband and father, and he will not allow his reputation to be damaged by these unfair and unjust charges. Bill is confident that a jury will find him not guilty.

"A stronger version of these same allegations was presented to the Rezko jury, and the jury sent a strong message to the government – a not guilty verdict. The Rezko jury returned a not guilty verdict because the allegations were not supported by any credible evidence.

"We know from the Rezko trial that the victim of the alleged extortion plan, Tom Rosenberg, testified that Bill Cellini never asked him for any money and that Rosenberg never paid any money to Cellini or anyone else. In fact, Rosenberg admitted that he was the one who reached out to Cellini, a long time friend, for help with a matter Capri Capital, Rosenberg's company, had pending before the Teachers' Retirement System. Rosenberg admitted that Cellini did not reach out to him. And, in fact, Cellini did help Rosenberg as Rosenberg had requested.

"We also know from the Rezko trial that Stuart Levine had participated in numerous schemes over several years to extort money from Tom Rosenberg, and that Levine intentionally concealed those extortion schemes from Bill Cellini. Cellini was completely unaware of any of Levine's schemes.

"When the Rezko indictment was returned, the government did not indict Bill Cellini on these allegations due to lack of evidence. The evidence the government subsequently presented at the Rezko trial demonstrated that Bill Cellini never asked Rosenberg for any money, for any political contribution, or for anything else. Further, the evidence demonstrated that Cellini never received any money or anything else from Rosenberg or from anyone.

"The evidence is the same today as it was then, and it is disappointing that this indictment has now been brought with no additional evidence."
- Posted by Rich Miller 130 Comments


* I've been thinking lately that Barack Obama's popularity in this state is just one reason that Illinois Republicans should be worried next Tuesday.
I've also been wondering whether the John McCain campaign's attacks on Obama - be it the recent stuff about "socialism" or "communism" or the claim that he "pals around with terrorists," or whatever - may be hurting the Republicans as well. Over 70 percent of Illinoisans voted for Obama in the US Senate race, after all, and most still have a very high opinion of him. And, yes, I know Obama was running against an out-of-state Martian. But voting for someone, regardless of his/her opponent, is a serious act of support.
* The Question: Do you think my latest thinking is accurate? Explain why or why not, please.
And, remember, DC talking points will be deleted. Use your brain, not someone else's.
- Posted by Rich Miller 46 Comments


* Nate Silver has a "big picture" analysis of Illinois that seems just about right…
If the suburban Chicago vote is split roughly evenly between the two parties, then two things are guaranteed to happen. One, it will be a hotbed for Congressional races, as it is again this year.

But two, it allows the Chicago city vote to swamp the downstate, rural vote. The city proper has no more people than downstate — actually, slightly fewer — but when it goes for the Democrat by 50 or 60 points, and downstate goes for the Republican by 15 or 25 points, that gives the Democrat an insurmountable advantage.
He also has our vital stats in a nifty graph, which you can find at this link.
* Now, onto some congressional races. The Sun-Times offers up an explanation for why Republican Congresscritter Peter Roskam has created a pro-Obama website…
Freshman Rep. Peter Roskam — who supports Republican John McCain over Obama — has launched ObamaVotersForRoskam.com. […]

Roskam's spokesman said the Web site was appropriate because 30 percent of Roskam supporters are voting for Obama.
* There's more to it than that…
Rep. Peter Roskam, R-Wheaton, is putting out an urgent appeal for last-minute contributions, noting Mr. Obama's 14-point lead in his west suburban district.
* Roll-Call…
Republicans still worry privately that the freshman star could be collateral damage to an Obama wave.
* The Obama campaign responds…
"While we're pleased that Barack Obama continues to attract support from across party lines … he believes Congressman Roskam would continue President Bush's failed policies and is supporting Jill Morgenthaler for Congress," said Obama spokesman Justin DeJong. […]

The Obama quote says, "First of all, I am a member of the mutual admiration society with Senator Roskam. He is always terrific." […]

After praising Roskam - typical form for Senate floor debate - Obama said, "Having said that, have I said that he's wrong? I love him, but he's wrong."
The Tribune has a Roskam story today, but reports nothing new.
* Meanwhile, the Peoria Journal Star allowed Aaron Schock to completely get away with saying that his back-dating of a notary stamp was a "clerical mistake" when his own father testified that it was a deliberate act. Today, the newspaper goes after Colleen Callahan on this…
Half of the six people touted by Democratic congressional candidate Colleen Callahan's campaign Monday as "Republican voters" who support her told the Journal Star they classify themselves more as independents.
Such a scandal.
* Wondering where to go to beat the early voting lines today? Here is a list of the least busy early voting wards in Chicago…
10, 11, 12, 13, 14, 16, 22, 25, 26, 27, 30, 31, and 32
And the Cook County suburbs…
Barrington, Norridge, Elmwood Park, Cicero, Stickney, Alsip, Blue Island and Lemont
Not much of a suprise, especially in the city. White wards with big Latino populations and strong Latino wards have historically experienced much lower (or quickly fallling) turnout.
* On the other hand, there are a whole lot of Latinos in Kane County, which experienced its 40,000th early voter yesterday…
That is more than 10,000 ahead of the number of voters Kane County Clerk John Cunningham estimated would vote early — and at the time Rogers cast his ballot, there still was a day and a half of early voting left.

Late Wednesday, Cunningham and Deputy County Clerk Jay Bennett estimated the numbers could go as high as 47,000 voters by the end of today, the last day to vote early in Illinois. […]

The surprising number means about 19 percent of Kane County's 214,000 registered voters already have voted.
A new report by the [\Illinois Coalition for Immigrant and Refugee Rights] says Illinois now has more than three-quarters of a million foreign-born citizens and that most live in Chicago's suburbs. Hoyt says nearly one of every eight registered voters in Kane County is now Latino. […]

Sonia Sánchez, 18, is leading a nonpartisan get-out-the-vote canvass in her hometown, Aurora. That's the largest city in Illinois's 14th Congressional District, where Oberweis is running. And it's grown more Latino over the years. The ICIRR is coordinating this canvass and others like it in battleground Congressional districts surrounding Chicago.[emphasis added]
* African-American early voting has been huge…
Fired up about Barack Obama and fearing long lines on Election Day, black voters are turning out in droves in the south suburbs to cast their ballots early this year.

As of Wednesday, well over 8,000 votes had been cast in both Matteson and South Holland - more than in places such as Oak Park, Schaumburg, Oak Lawn and Evanston.

Out of the 44 early voting sites in suburban Cook County, only Wheeling and Orland Park had seen more traffic.
* Related…
* Bean has cash advantage over Greenberg

* Greenberg makes final charge to unseat Bean

* Greenpeace trying to get 8th District's attention

* 10th District rematch a familiar affair

* Kirk, Seals square off in debate

* 11th Congressional race stays heated to the end

* GOP rookie Ozinga, Democratic veteran Halvorson in attack mode over 11th District seat

* Manzullo faces two challengers

* Green issues a focus in 6th District

* Obama flood may drown Illinois Republicans

* Bernard Schoenburg: Would-be Congressman Schock spreads cash around
- Posted by Rich Miller 8 Comments


* From Sneed…
The numbers game: Gov. Rod Blagojevich's favorability rating may be sinking, but a new poll shows it ain't as bad as the Chicago Tribune reported.

• • To wit: Although a recent Trib poll claims Blago's popularity has sunk to 13 percent, a new poll by the St. Louis Post-Dispatch pegs it at 32 percent.
I'm so happy that the governor's people got somebody to write about that poll. They've been bugging me for a couple of days.
* But here's the problem with the poll: It has consistently given Blagojevich higher job approval ratings than any other survey. The Tribune wasn't the only other poll that showed Blagojevich's numbers were low.
A recent poll commissioned by the Paul Simon Public Policy Institute had the governor's job approval rating at 9.4 percent, far below the Tribune's rating…

* Rasmussen's latest poll had Blagojevich with an "excellent" job rating of zero and a "good" rating of 4.
* The Glengariff Group's September poll had the governor's approval rating at 23 percent, with almost 63 percent disapproving.
* That disapproval number is the key here.
The Post-Dispatch poll had Blagojevich's disapproval rating at 66 percent, a number not mentioned by our friend at the Sun-Times. That's horrible no matter what the approval rating is. The Tribune had his disapproval at 71 percent. Rasmussen's disapproval rating was 65 percent. The PSI poll had a "poor" rating of 61 percent. And, as mentioned above, Glengariff's disapproval rating was 63 percent.
So, the disapproval numbers are all pretty much the same. And they are all bad for the governor.
* But, what's going on with the different approval ratings? The Post-Dispatch pollster offered an explanation…
The Research 2000 poll has historically ranked Blagojevich's favorability higher than most others. Pollster Del Ali speculated that may be in part because his poll asks respondents to choose among several categories of negative and positive approval, which may prompt more nuance in the answers.
Maybe so. One of other pollsters, Rasmussen, includes "fair" in the job approval rating. That option allows respondents to cop out. Blagojevich's disapproval or approval ratings could be higher than reported.
Still, when one pollster consistently shows widely different results on a question than other pollsters, you gotta figure he's an outllier.
* This is also important: The Post-Dispatch poll has, like other polling, showed a downward trend for Blagojevich during the past several months. He's down two points since Research 2000's September survey, and ten points from January. So, whatever the case with the approval/disapproval numbers, even that poll shows a tanking chief executive.
* One final point.
Both the Tribune and Rasmussen had lower ratings for Blagojevich than for President Bush. The Simon poll didn't test Bush's numbers. The Post-Dispatch's pollster tried to use those Bush numbers to undermine the other polling…
Ali also questioned the lowest rankings of some other polls. "I find it hard to believe a Democrat in a Democratic state would be less popular than (President) George Bush," he said.
Rhodes is right…
But Ali overlooks the fact that Bush surely still has some stalwart supporters among the state's Republicans, while folks in both parties seem to hate the governor. After all, the stalemate in Springfield is between Democrats.
And so is Larry…
[Del Ali's comment was] one of the most clueless statements about Illinois politics I've seen in some time
Yep.
Thoughts?
- Posted by Rich Miller 27 Comments


* This is more than a little strange. DuPage County Republican Party Chairman Sen. Dan Cronin boosted Democrat Paul Vallas for Cook County Board President this week…
"I think he is genuinely interested," Cronin said, noting he talks to him often enough to have his number in his cell phone.
Cronin backing a Democrat is one thing, but Cronin doesn't live in Cook and he has his own problems to deal with in DuPage.
But Sen. Cronin also said something else worthy of note…
Cronin said he intends to make some moves to strengthen the GOP in neighboring Cook County. When asked if [Tony] Peraica was part of those plans, he flatly said "no."
* Peraica, he of the now infamous midnight march on the County Building, doesn't appear to have much interest in the job he's currently seeking. Instead, just about everybody figures he's trying to keep his name in the mix for the 2010 county board president campaign, or maybe even a statewide bid.
Even if he is completely wiped out next week (and that looks like a very real possibility), good luck keeping Peraica quiet. He appears to relish all the attention, even though it's abundantly clear that he has a tin ear…
As Republican Tony Peraica and Green Party candidate Thomas O'Brien pleaded their cases inside the Chicago Urban League's headquarters to be state's attorney, a campaign van circled outside the building Wednesday night blasting a "Vote for Peraica" message.

"It's ridiculous; especially in this building, there's a lot of kids," said neighborhood resident Leigha Hooper about the van using a loud speaker to broadcast its message. "You're getting into people's bedtime." […]

Peraica, who had just participated in the candidate's forum inside the league's facility on the 4500 block of S. Michigan, said the van is usually silent during evenings and in residential neighborhoods.

But Mark Stevenson, Peraica van driver, dismissed neighborhood concerns.

"What's wrong with it?" Stevenson said, ending the two hour broadcast at about 8:20 p.m. "It's my right to do that."

"And we need votes."
Oh, yeah. That's a great way to get those votes, dude. Turn it up!!! Maybe mix in a little AC/DC while you're making your nighttime neighborhood cruises.
* And endorsements like this from the SouthtownStar will only encourage him…
Peraica, an Croatian immigrant orphaned at the age of 11, has consistently used his position as a county commissioner to rail against the status quo in Cook County. He promises to beef up the office's pursuit of corruption cases while maintaining its focus on reducing crime.

Simply put, Cook County cannot afford otherwise.

We endorse Peraica.
- Posted by Rich Miller 25 Comments


* NEW: Thomson needs costly work before replacing Pontiac
The prison that will replace the soon-to-close Pontiac Correctional Center isn't yet ready for inmates, according to a review of state purchasing orders.

Documents show that in the past 10 days, the Illinois Department of Corrections hired at least three companies to upgrade or repair the Thomson Correctional Center, which is set to replace Pontiac when the agency closes the 137-year-old facility Dec. 31.

In addition, the agency has hired a company to make upgrades to Lawrence Correctional Center in Sumner, which is being switched to a maximum-security facility as part of the closing of Pontiac.

In all, the last-minute construction work related to closing Pontiac and opening Thomson will cost taxpayers at least $424,000 — or more than 10 percent of what prison officials initially said would be saved by closing Pontiac.
* NEW: Cabdrivers threaten to strike over fares
Furious that Chicago taxicab fares are going down — not up — cabdrivers on Thursday gave Mayor Daley a two-week ultimatum: Support a 16 percent fare increase that takes effect Jan. 1 or risk a strike that could "paralyze" the city.
* Madigan Faces Pressure Again to Examine Alleged Torture Victim Cases
Attorney Flint Taylor has spent the last 20 years representing some of the alleged victims. Taylor says Attorney General Madigan and other government officials haven't adequately handled the cases of about two dozen men.

TAYLOR: We call on Lisa Madigan to agree to prompt hearings for all torture victims who remain in prison as a result of confessions allegedly tortured from them by Burge and his men.

In an email statement, Madigan says she is reviewing cases individually to determine the most appropriate next step.
* Illinois Atty. Gen. Lisa Madigan sues distributor of Simplicity-brand bassinets
* In Chicago, Trump hits headwinds
So far, Mr. Trump has lined up buyers for a bit less than $600 million of condo units and condo-hotel units in a residential market that has virtually seized up. Yet he owes lenders as much as $1 billion when the loans are due, according to public records and several people familiar with the project. He has closed around $200 million in sales so far, with roughly $380 million still in contract. The retail portion of the giant building is for sale, at a time of rising vacancies for retail space in Chicago and one of the worst eras for retailers in years.
* MillerCoors signs 15-year lease for headquarters
* Durbin vs. Sauerberg is drawing little interest
"It's a heck of a sleeper," said political scientist Brian Gaines of the Institute of Government and Public Affairs at the University of Illinois. He said he was involved in a recent Illinois poll in which respondents weren't even asked about the Senate race because "it wasn't interesting enough."
* Governor seeks to ease Pontiac's pain
Pontiac mayor says governor's task force nothing more than "political fluff"
* Blagojevich hopes task force can soften the blow of prison closure
* The Hidden costs of Collective bargaining
* Garbage collection cuts could be deep
Mayor Daley wants to shrink the size of 80 more garbage collection crews — to one laborer on a truck instead of two. But he might not stop there.

The Streets and Sanitation Department is conducting a field test this week with a $200,000 truck that requires no laborers. It has a mechanical arm that picks up carts and dumps the trash in the side of the truck.

"If the guy has to get out of his truck, move cans into position, then pick 'em up, time-wise it could be very ineffective," O'Connor said.

He added, "It's not new technology. It's just whether our geography is amenable to this type of pick-up. Part of the thing in the city is having sanitation workers be able to pull the cart out of its enclave and get it to where it can be put into the truck. I'm not sure this articulated arm gets into all of those places."
* Cell phone fines can now be settled out of court
Chicago motorists caught yakking on cell phones while driving — and committing no other violation — will soon be able to hang onto their driver's licenses and avoid the Traffic Court headache.

On Wednesday, a City Council committee traded the sledge hammer for a felt hammer, in hopes of increasing fines and reducing driver aggravation.
* Daley doesn't want to lose schools chief to Obama
* Daley not keen on Duncan going to D.C.
* O'Hare blames delays on N.Y.
* Help Save the World by donating to World Music Company
- Posted by Kevin Fanning 17 Comments