* From Carol Marin's Sun-Times column…
State Rep. Deborah Mell (D-Chicago) quietly made Illinois history last week.

She got married.

To a woman.

Mell, 43, is the first high-profile elected official in the state to publicly enter into a same-sex marriage.

But she had to go to Iowa to do it.

It's one of only six states plus the District of Columbia where same-sex marriage is legal. A judge in Davenport performed their civil ceremony last Wednesday. […]

A Gallup poll in May reported that for the first time, a majority of Americans — 53 percent — support the right of same sex couples to marry.
* The Question: Should Illinois amend its new civil union law to allow same-sex marriage? Take the poll and then explain your answer in comments.
* The Tribune has a new story about corporate sales tax havens…
Kankakee Mayor Nina Epstein said Wednesday morning that she hopes the Regional Transportation Authority and the city of Chicago will drop their legal challenges to her city's sales-tax incentive program, saying the public acrimony could kill what has been a golden goose for her city and for the state.

"I would certainly hope that cooler heads will prevail and that we can handle any issues they may have with the program in the legislative process," Epstein said at a press conference. "My fear is, as these drag on, regardless of the result, this program will go away because companies do not want to have their names dragged through the front pages of any newspaper."

The program generates more than $50 million annually for the state, she said. It also provides up to $4 million annually for Kankakee, a significant sum for a city with a general fund budget of $23 million, she said.
I'm not sure why, but nowhere in the article are the adamant claims by Kankakee that these are overwhelmingly out of state companies looking for an Illinois sales tax nexus, not Chicago-area companies looking to avoid high local taxation. From a press release…
Of the 48 companies participating in the program, two-thirds relocated to Illinois from out of state due to this opportunity generated $1,395,380 in Illinois sales tax receipts under the program. Those out-of-state companies produce more than 90% of the total revenue under the program, meaning most of the money brought in through the program comes from companies who wouldn't have any presence in Illinois — and wouldn't charge, collect and pay any sales taxes to the state — if not for this program.

An additional 14.5% of the participating companies have multiple locations in Illinois yet none in Chicago generated $87,681 in sales tax receipts. Some of these businesses may have locations within the RTA region.

Remaining Businesses in the Program
12.5% represent procurement companies generating $33,040 in sales tax receipts
6.2% represent brick-and-mortar locations in Kankakee generating $25,308 in sales tax receipts [Emphasis added.]
* This Springfield story also leaves out an important point…
Gov. Pat Quinn signed a bill this past week that would eliminate the type of skirmish that occurred between the Sangamon County Board and local school districts last year over what the board's role should be if voters approved a sales tax increase for school construction.

Quinn signed Senate Bill 2170, which eliminates the ability of county boards to block or reduce school construction sales tax levies. From now on, if county school districts put a referendum on the ballot, voters will have the final say, not county boards.

Sangamon County voters turned down a 1 percent sales tax increase for schools in November 2010. On the same ballot was an advisory referendum, put there by the Sangamon County Board, that asked voters if the sales tax had been approved, how involved the county board should have been in its implementation.

At the time, Sangamon County Board Chairman Andy Van Meter said the board wanted voters to tell it whether it should take into consideration other potential needs in imposing a tax, such as whether more money is needed for law enforcement or infrastructure.
This is the same bill I told you about last week…
A bill signed into law by Gov. Pat Quinn on Tuesday expands the duties of regional superintendents of schools. Yes, the same regional superintendents who haven't been paid since the end of June because Quinn vetoed their salaries out of the state budget.

I kid you not.

SB 2170 takes county boards out of the equation when voters approve a sales tax increase for school construction. Up until now, the law gave county boards the option of imposing the sales tax even if voters approved it, and gave county boards the right to reject putting the questions onto the ballot.

The bill also does this…

For all regular elections held on or after the effective date of this amendatory Act of the 97th General Assembly, the regional superintendent of schools for the county must, upon receipt of a resolution or resolutions of school district boards that represent more than 50% of the student enrollment within the county, certify the question to the proper election authority for submission to the electors of the county at the next regular election at which the question lawfully may be submitted to the electors, all in accordance with the Election Code. [Emphasis added.]
To date, nobody else has picked up this rather ironic angle.
* From the AP…
Gov. Pat Quinn's Liquor Control Commission has hired a Chicago alderman's daughter as a part-time secretary for $37,570, making her the latest in a line of politically linked appointees by the administration this year. […]

Quinn has been criticized for several recent appointments of connected Democrats.

He named former Rep. Mike Smith to the Illinois Educational Labor Relations Board in June, even though Smith isn't technically qualified for the $94,000 position. He made Jennifer Burke, daughter of Supreme Court Justice Anne Burke and Chicago Alderman Edward Burke, a $117,000 member of the Pollution Control Board last month. He also tabbed former Treasurer Alexi Giannoulias and ex-Senate President Emil Jones for high-profile though unpaid positions this summer.
Are we gonna see stories every time Quinn uses his legal prerogative on patronage jobs? I mean, if that was the case, newspapers would've been doing nothing but this under pretty much all of his predecessors. In the grand scheme of things, Quinn's patronage hires have not been all that egregious. A little perspective might be in order here.
*** UPDATE *** I just talked to Steve Schnorf, the chairman of the Liquor Control Commission.
This woman is not just a "secretary," she has an official state position requiring a gubernatorial appointment. She's the "board secretary" and her compensation is set by statute. Quinn sent over three names as a courtesy to the commission, which Schnorf said was "a first class" act on Quinn's part.
The amount left out of these stories is quite disturbing.
* Greg Hinz reports that a meeting yesterday between Sears CEO Lou D'Ambrosio and Senate President John Cullerton showed a bit of progress on attempts to keep the company's corporate headquarters in Illinois…
"We certainly want to encourage them to stay in Illinois," Mr. Cullerton said in a brief phone conversation afterward. "We discussed all of the factors determining where a company should locate."

Mr. Cullerton said Mr. D'Ambrosio specifically asked for help in passing a bill, which already has cleared the House, that would allow Hoffman Estates to extend the life of a special taxing district that subsidizes Sears' headquarters complex. Mr. Cullerton said he agreed "to facilitate a vote on that bill" when the Legislature meets for its veto session in October.

Mr. Cullerton said the company promised to give a somewhat longer request list later. He said he's inclined to help, "but it depends on the details."

Sears released a statement saying it has "begun to have conversations with elected officials in Illinois and elsewhere" and thanking Mr. Cullerton "and other Illinois lawmakers (who) have taken the time to visit our campus and talk about Sears Holdings' significance to the state."
* But there's a problem in Cullerton's caucus. Democratic state Sen. Mike Noland, who represents the area, is against that bill…
A tax-incentive district created for Sears expires in 2012, and Sears is rumored to be considering moving when that deal is up.

For the record, the Elgin Democrat says he's against extending that tax-incentive deal. The reason: Carpentersville District 300 wants the property tax money the company would have to pay should the deal lapse.

"That's $13 million a year the school district has been doing without," Noland said.

He said he's a "big fan" of Sears and could favor helping the company out through perhaps a different incentive in order to try to keep it in Hoffman Estates. But the school money, Noland says, is critical.
* Yet Rep. Fred Crespo remains optimistic…
State Rep. Fred Crespo, a Hoffman Estates Democrat, said legislation that could address Sears' tax concerns could be debated when lawmakers return to Springfield in late October and November.

"I hope this veto session, we can get close to closing a deal," Crespo said.
* Meanwhile, I'm not sure if this is a totally fair comparison, but The Atlantic has a story today about 25 corporate CEOs who were paid more than their company paid in taxes. Some bigtime Illinois CEOs are listed as well…
Aon
CEO: Gregory Case
Executive Compensation, 2010: $20,783,301
U.S. Corporate Income Taxes Paid, 2010: $16 million

Boeing
CEO: Jim McNerney
Executive Compensation, 2010: $13,768,019
U.S. Corporate Income Taxes Paid, 2010: $13 million

Motorola Mobility
CEO: Sanjay Jha
Executive Compensation, 2010: $13,016,126
U.S. Corporate Income Taxes Paid, 2010: $12 million

Motorola Systems
CEO: Gregory Q. Brown
Executive Compensation, 2010: $13,732,802
U.S. Corporate Income Taxes Paid, 2010: $7 million
Motorola Mobility received a ten-year, $100 million state subsidy this year. Boeing got some public incentives to move its headquarters to Chicago. Aon's Greg Case and Motorola Solutions' Greg Brown both sit on the Civic Committee of the Commercial Club of Chicago. The group has railed against the high cost of pensions for public employees.
* Related…
* ADDED: Buffett Widens Rift With Republicans by Faulting Tea Party: "I think Mr. Buffett needs a day job," Representative Joe Walsh, an Illinois Republican elected with Tea Party support, said today in an interview on Bloomberg Television's "Inside Track." "These millionaires and billionaires are the folks that try to create jobs and grow the economy. The last thing we want to do is increase taxes on them right now."

* Joe Walsh Attacks Buffett For Supporting Tax Hike On The Rich: The controversial politician went on to call Buffett "coddled" and "disingenuous", adding that he believes Buffett is "heating up his rhetoric because his support for the president is so desperate."

* VIDEO: Walsh: Buffett needs a day job

* Supt. Garry McCarthy to cut $190M from police budget

* Daley officials' unused vacation costs taxpayers $9.5M

* Family connections in Rosemont net $2 million in pay

* Illinois farmland prices reach $10,000 an acre for first time

* Investors pitch data center beneath Grant Park

* ComEd not on hot seat at Lincolnshire meeting

* More utility ratepayers sidestepping ComEd, buying in bulk - Growing number of Illinois communities are negotiating for cheaper, and sometimes greener, electricity

* Naperville show puts spotlight on green vehicles

* Zipcar brings its fleet to local colleges

* GoChicago, which helps users organize trips, wins app award

* Justice Department blocks AT&T-T-Mobile merger

* Daily Herald to charge for online subscriptions

* Chicago Tribune drops tabloid edition of paper
* Gov. Pat Quinn at the Farm Progress show…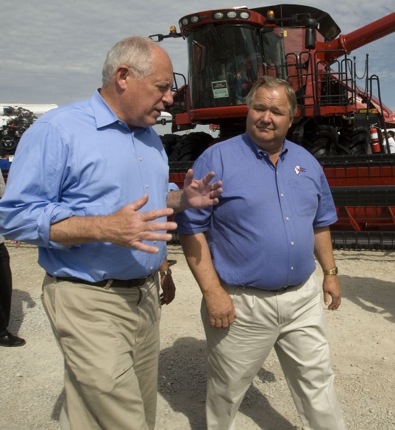 Winner can come to my house for some perfectly grilled sweet corn.
And I know I don't have to say this, but I will anyway: Keep it clean, people. Thanks. Nobody wants to get banned for life over a silly photo, right?