* Facebook…
The Tazewell County Republican Party in cooperation with the Peoria County Republican Party and the Woodford County Republican Party will host the Central Illinois Republican Governor Candidate Forum at Five Points Washington, 360 N. Wilmor Rd., Washington, IL from 7pm – 9pm, Monday, April 25th, 2022.

The candidates who will be attending this forum are Senator Darren Bailey, Gary Rabine, Paul Schimpf, Jesse Sullivan, and Max Solomon.
Seems like a certain Aurora somebody is missing. Hmm.
* Speaking of the governor's race…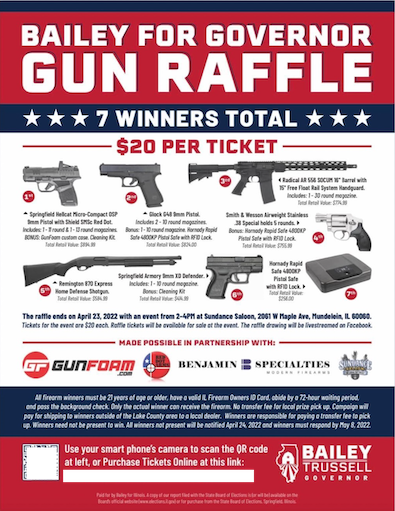 …Adding… Eliza Glezer at JB for Governor…
Any reasonable person, but especially a candidate for the highest office in the state, should not be raffling off guns while voting against common-sense gun legislation like background checks to protect Illinois families from senseless gun violence. This is just another example of how out of touch and extreme Darren Bailey's conservative views are, which will not bode well for his chances at winning this election.
* Dan Brady campaign…
Illinois Secretary of State candidate Dan Brady, a Bloomington Republican, has pledged to take specific actions as Secretary of State to stop the rash of gasoline thefts that are currently plaguing Illinois car dealerships.

"With gasoline at $4.50 a gallon and unattended cars sitting in dealership lots, the temptation to make a quick, illegal profit has proven to be too hard to resist for many criminals," Brady said. "I plan to use the resources of the Secretary of State's office to help keep fuel in the cars and put thieves behind bars."

Once elected, Brady will convene a special task force consisting of Secretary of State Police, local law enforcement officials and car dealer trade association representatives to come up with ways to help prevent these brazen parking lot thefts, which often result in expensive damage to the targeted vehicles. Since Secretary of State Police officers are frequently at car dealerships as part of their routine duties, Brady will also direct those officers to work with individual dealers to heighten security and to recommend additional anti-theft measures they may take.

"I realize this problem is occurring now and can't wait until after the election for a solution," Brady said. "So I encourage current Secretary of State Jesse White to take these ideas and run with them. Gasoline thieves don't care about your political party affiliation."

The Illinois Secretary of State Police Division helps to regulate the automotive industry in Illinois by tracking auto thieves, conducting surveillance on suspected "chop shops," infiltrating auto theft rings, investigating fraudulent state identification documents and conducting "sting" operations.
* Matt Sheehan…
The objection adjudication process began Tuesday, bringing forth multiple challenges against Central Illinois political candidates' petitions. […]

Political newcomer Travis Weaver is also being challenged. Weaver tells WMBD it's a "tactic being used by his opponent."

"I've had multiple legal professionals tell me this is one of the most frivolous challenges they've ever seen. It's a clear tactic by my opponent to distract from the fact that he has an anti-business, anti-farmer voting record and is incredibly conflicted as he is a State Rep while also being mayor."

"The challenge alleges that I don't live at the address I claim because it is listed as a wedding venue. There is a barn on the property that is becoming a wedding venue, but anybody can drive down War Memorial towards Kickapoo and see there is clearly a home. And if they drive by late at night or early in the morning they'll see my car parked in the driveway."

"The challenge also alleges I lived in Chicago until recently because that is where Caterpillar listed my office address. This is a shot in the dark. Everybody in Peoria knows that Cat was fully remote during the pandemic. I did hold a temporary residence there at one time, but my priories were always in Central Illinois and I fully transitioned home once remote work began over two years ago."

- Travis Weaver | IL-93 Candidate (R)
* Dan Proft roast teaser. Make sure to catch the Jeanne Ives bit…
The Roast of Dan Proft from AM 560 The Answer on Vimeo.
* More…
* Congressional campaign contributions flowing as Illinois primary races heating
* Yesterday…
It's official. I'm headed west. My last day at @WCIA3 will be Sunday, April 24th. I'm excited to cover Illinois and Missouri politics for @KSDKnews from the other side of the Mississippi River. https://t.co/T1XUFIGk5q

— Mark Maxwell (@MarkMaxwellTV) March 30, 2022
* SJ-R…
WCIA-TV reporter and anchor Mark Maxwell, who won a regional Emmy for his investigative piece on a methane leak in Livingston and LaSalle counties, is going to a St. Louis TV station as a political reporter.

Maxwell has been the Illinois Capitol bureau chief in Springfield since 2017. He hosts and moderates a statewide political talk show, Capitol Connection. […]

Former State Journal-Register political affairs reporter and columnist Bernie Schoenburg said he counted himself as a fan of Maxwell's work.

"Mark has done an amazing job in his time in Springfield," said Schoenburg, who retired from the SJ-R in 2020. "He has a great eye for stories that matter, and he gets deep into the details. He's also a very good interviewer and has used his weekend show to help let viewers know what people of various political stripes are thinking and doing.
* High praise from Hannah…
Springfield is losing one of the best damn reporters it's ever seen, certainly in the modern era. Best of luck and many 🥃🥃🥃 to Mark. https://t.co/l3AGdDJzee

— Hannah Meisel (@hannahmeisel) March 30, 2022
* Maxwell's latest…
Blue Cross and Blue Shield of Illinois (BCBSIL) President Steve Hamman is out, according to an internal memo Target 3 investigators obtained Thursday. Sources told reporters he was fired following our reporting that exposed the company is overcharging consumers while cutting down — sometimes cutting out — their provider options.

The screenshot of an email to Blue Cross staff says Hamman "left HCSC to pursue new endeavors." […]

Hamman was directly involved in negotiations with Springfield Clinic. When Blue Cross dropped all 650 of the clinic's providers out of its network in November, customers were left with a dead-end directory of providers, several of whom did not exist. Hamman drove to Springfield from his office in Chicago within the last month following our first report.

Hamman was named president in 2019. He joined Health Care Service Corporation (HCSC) — BCBSIL's parent company in 1991, according to the company's website.
* The Question: Any message for Mark as he prepares to move on?
* Press release…
Governor JB Pritzker and the Illinois Department of Central Management Services (CMS) announced today that the sale of the James R. Thompson Center at 100 West Randolph Street has reached another major milestone by executing the Purchase and Sale Agreement with JRTC Holdings, LLC.

"I'm pleased to announce that we have finalized a purchase sales agreement for the James R. Thompson Center, not only saving taxpayers $800 million but also adding vitality to Chicago's LaSalle Street corridor by honoring the original design through a modern lens," said Governor JB Pritzker.

In December 2021, the State announced the selection of JRTC Holdings, LLC as purchaser of the building, following the competitive Request for Proposal process. As part of this public-private partnership structure, the State will receive a $70 million up-front payment for the purchase of the property while retaining approximately 425,000 sq ft of newly renovated, Class-A office space. The Purchase and Sale Agreement, executed in advance of the legislative deadline outlined in SB 886 (Public Act 100-1184), establishes the terms and conditions for the transfer of the property. The financial closing and transfer of title on the property is anticipated to be completed in the summer of 2022. The State and the purchaser are working together to finalize the floor plans and interior design to be occupied by the State.

The execution of the Purchase and Sale Agreement is a significant milestone and represents our commitment to renovate and reposition this iconic building into one of the premier Class A office buildings in the city with the latest building systems and technologies to promote the health, wellness, and comfort of its occupants," said Michael W. Reschke, owner of JRTC Holdings LLC, the buyer, and Chairman & CEO of the Prime Group, Inc. "Our investment will anchor and support the Loop's continued economic revitalization and will boost the much-anticipated renaissance of the LaSalle Street corridor."

CMS continues to realign the State's real estate portfolio to maximize space utilization in state-owned and leased properties. The effort to identify efficiency improvements, space consolidation and the cost avoidance, including avoiding the backlog of required JRTC capital improvements, will result in over $800 million in taxpayer savings.

"The sale of the operationally and financially inefficient JRTC has been talked about for nearly two decades," said Director of CMS Janel L. Forde. "This project demonstrates how innovative approaches can attract private investment and result in partnerships that provide substantial financial benefit to the State and its taxpayers."

Two determining factors in the State's decision to sell the JRTC were the prolonged deferred maintenance backlog as well as high operating expenses. The estimated cost to bring the JRTC into a state of good repair currently exceeds $325 million, and is projected to increase to over $525 million, if not addressed by 2026. Additionally, the State is paying more than $17 million annually due to the building's operational inefficiencies. Under the Purchase and Sale Agreement, JRTC Holdings, LLC will replace the building envelope and mechanical systems and make the necessary interior repairs to transform the building to a multi-tenant, mixed-use Class A office building.

"The State of Illinois secured attractive office space while reducing its footprint by nearly 650,000 square feet and annual operating expenses by over $10 million through creative procurement strategies and negotiation," said Chief Operating Officer of CMS and JRTC Project Executive Ayse Kalaycioglu. "The State's effort to optimize its portfolio will result in more than $800 million savings as well as office space better suited for modern government."

According to JRTC Holdings, LLC, the JRTC renovation is expected to begin later this year following the financial closing and take approximately two years to complete. The scope of work will include replacement of the exterior curtain wall with new, energy-efficient glass, enclosure of the office floors from the atrium with a new glass partition, private lobby and a dedicated secure entrance for the State offices, replacement or upgrades to the building systems including the heating, ventilation, and air conditioning, and full renovation of the State's offices on floors 4 through 9.

A portion of the State workforce will remain in the JRTC and the State will also relocate operations there from the terminated Loop leases into temporary occupancy floors. JRTC Holdings, LLC and the State are developing plans to ensure continuity of State and retail operations during construction. The proposed renovations will not require any shutdown to Chicago Transit Authority operations. The developer has also committed to a minimum of 26% Minority and 6% Women Business Enterprise contract participation and developing an internship program with the general contractor.

About JRTC Holdings, LLC:
JRTC Holdings, LLC is owned and controlled by Michael W. Reschke. Since 1982, Mr. Reschke has served as Chairman, Chief Executive Officer or Managing Partner of various affiliated entities that developed over $12 billion of real estate projects across the United States. Under the leadership of Mr. Reschke, The Prime Group, Inc. became one of the pre-eminent real estate development companies in the country achieving repeated recognition for its dedication to world-class architecture, innovation, and state-of-the-art technology in its developments. Past projects including 77 W. Wacker, 180 N. LaSalle, Citadel Center, IBM Plaza, and 33 W. Monroe demonstrates their commitment to, and knowledge of, the Chicago real estate market including the Central Business District (CBD). The proposed team includes Jahn Architecture and Clark Construction to modernize and renovate the existing structure into a high-quality office building that places a premium on the JRTC's location and access to public transportation.
* Legislation is moving through the General Assembly called the Too Young to Test Act. The Tribune has a good story outlining the issues involved. It's pretty long and involved, and that makes it difficult to excerpt, but it's definitely worth your time. Click here.
* Press release…
To protect communities across Illinois from the deadly impact of lead, State Senator Mike Simmons (D-Chicago) is leading a measure to strengthen lead mitigation procedures.

"Virtually every community across the state is affected by lead in our water supply," said Simmons. "This bill provides a systemic response to a problem that is systemic in nature, is decades in the making, and often does the most injury to Black and Brown communities."

House Bill 4369 would require the Illinois Department of Public Health to follow up on lead mitigation notices by carrying out inspections to ensure the work has been completed. The current law merely permits an inspection, while this legislation will require and enforce lead mitigation efforts.

Lead is a heavy metal and suspected carcinogen that was frequently used in paint, plumbing materials, and many other items before the 1980s. Today, it is mostly found in aging water pipes, contaminated soil, and peeling paint found on windows, baseboards, trim, and doors. No amount of lead exposure is considered safe for children or adults.

"Removing lead from all housing and facilities is long overdue and is critical towards overall health equity and racial equity across Illinois," Simmons said. "I am hopeful we can continue to work together on this systemic solution that ensures the people of Illinois can have access to clean drinking water."

House Bill 4369 passed the Senate and awaits further consideration.
* Sun-Times…
A proposed state law to strengthen environmental protections for low-income communities appears to be dead for a second-straight legislative session as lawmakers fear the wrath of business groups in an election year.

Environmental groups say a law is needed to slow the addition of pollution sources in communities already overwhelmed with bad air and other hazards. The businesses say the proposal adds red tape and fees that will kill jobs.

The idea of an "environmental justice" law was supported by Gov. J.B. Pritzker last year but a bill was never debated in 2021. The same bill now lacks enough votes in the waning days of lawmakers' current session in Springfield, advocates say. […]

Part of the proposal would add a $200,000 state construction permit fee — a recommendation from Pritzker's administration — and additional government scrutiny to businesses defined as "major" pollution sources that want to operate in communities deemed already overburdened by environmental stresses. The industry groups believe the bill would dramatically expand the number of areas considered to be already overburdened. […]

The business groups say supporters of the proposal won't negotiate but community activists dispute that, saying it's the industry organizations — from the Illinois Chamber of Commerce to the Illinois Farm Bureau — who are not budging.
* Center Square…
A new measure aims to streamline Illinois Department of Transportation projects.

The Illinois House has approved the Innovations for Transportation Infrastructure Act, which authorizes IDOT to use the design-build method to allow for a single entity to both design and start construction on a project.

Currently, IDOT uses the design-bid-build project delivery method where the department designs a plan in-house, then reviews bids from contractors. Sponsors said design-build would expedite the process by allowing a single entity to both design and start construction on the project. […]

The Innovations for Transportation Infrastructure Act also authorizes IDOT and the Illinois Tollway Authority to use the construction manager-general contractor delivery method on up to two projects per year. Using the method, the department would contract with a single entity to serve as the construction manager for the design phase, then agree on a price to serve as general contractor for construction.
* Capitol News Illinois…
Graduates from Illinois colleges and universities may soon be able to access their transcripts even if they still owe money to the school they attended.

The Illinois House on Tuesday gave its approval to a bill that had already cleared the Senate prohibiting higher education institutions from refusing to provide copies of student transcripts either to the current or former student or that student's current or prospective employer.

The proposed change in Illinois comes as the Biden administration is considering limited changes to federal guidelines that have long encouraged colleges and universities to withhold transcripts from anyone who is delinquent on repaying certain student loans.

Senate Bill 3032, dubbed the Student Debt Assistance Act, would go further than the Biden administration's proposal by prohibiting the withholding of transcripts, or charging a higher fee for accessing those transcripts, on the grounds that the student owes the school any debt.
* Scott Holland column…
Consider the quote from state Sen. Bill Cunningham, D-Chicago, who spoke to the Chicago Sun-Times after opposing the appointment of Eleanor Kaye Wilson [to the Prisoner Review Board] due to her votes, as an acting board member awaiting full confirmation, to approve parole for Joseph Hurst and Johnny Veal, accused of killing Chicago police officers more than 50 years ago.

"No individual who commits such a heinous crime should be eligible for parole," Wilson said. "The Prisoner Review Board should ensure that the most severe crimes are met with the most severe sanction under the law."

If Cunningham sincerely believes his first sentence, his solution isn't in the second, it's in legislation to make a conviction for killing a law enforcement officer punishable by mandatory life in prison without possibility of parole under any circumstances.

On Jan. 21, state Sen. Darren Bailey, R-Xenia, filed Senate Bill 3899, which would reinstate the death penalty in Illinois as a possible punishment for killing a police officer. It has two GOP cosponsors and sits in the Assignments Committee.
* WGEM…
Employers may be required to provide more breaks for employees after a bill expanding workers rights passed both Houses.

The proposal sponsored by Rep. Lakesia Collins (D-Chicago), would require employers to provide a day of rest in seven days of consecutive work, as opposed to previous law that would only require a day of rest once a calendar week.

Additionally, employers must now provide an extra 20 minute break for every four and a half hours worked beyond an eight hour work day.

Collins said it updates outdated requirements for workers. However, the bill passed along partisan lines. Republicans expressed opposition due to an outstanding complaint from the Illinois Manufacturer's Association that employers wouldn't have enough time to accommodate the changes.
* Press release…
–State Senator Christopher Belt (D-Swansea) championed a measure that passed the Senate Wednesday that would further increase student safety by ensuring their local school board's threat assessment procedures are filed with the local law enforcement agencies.

"We have seen school shootings on the rise across the country," Belt said. "Ensuring our school's threat assessment procedures are up to date is essential to protecting our students in an emergency situation."

Currently, each public school district is required to implement a threat assessment procedure that includes the creation of a threat assessment team. The team must consist of an administrator, teacher, school counselor, psychologist, school social worker and at least one law enforcement official.

House Bill 4994 would require each local school board to file the threat assessment procedure and a list of the members on the school district's threat assessment team or regional behavior threat assessment and intervention team with a local law enforcement agency and the regional office of education at the start of each school year. Chicago Public Schools would file the threat assessment procedure and list of members with the Illinois State Board of Education.

"Each school district has their own procedure in place," Belt said. "We want to make sure all local school boards are on the same page so parents know that the school is prepared and has the resources to protect their children."

House Bill 4994 passed the Senate and now heads to the governor's desk.
* Press release…
When Bloomington resident Curt Richardson got his DNA test results back from Ancestry.com, his life – and those of his parents – changed forever when they learned they had been victims of fertility fraud.

Richardson's story is similar to hundreds of others across the state and nation who have lived most of their lives thinking the very people who raised them were their biological parents. State Senator Dave Koehler (D-Peoria) is working to bring awareness to fertility fraud and provide justice to the families who fall victim to the heinous act.

"Fertility fraud is an issue that we have been silent on for far too long," Koehler said. "It is my goal to end the silence surrounding the issue and outlaw the practice once and for all."

Fertility fraud occurs when a health care provider knowingly or intentionally uses their own human reproductive cells during an assisted reproductive treatment without the patient's informed written consent.

When Richardson received his at-home DNA test results in June of 2021, he knew he couldn't be silent. A former Peoria resident, he reached out to Koehler for help to ensure that if any other Illinoisans becomes victim of fertility fraud, they would be able to take legal action.

Senate Bill 4199 would create the Illinois Fertility Fraud Act, which would allow people to bring action against health care providers, embryologist or any other person who knowingly or intentionally use their own reproductive cells without the patient's informed written consent.

Under the measure, if a person knowingly or intentionally provides assisted reproductive treatment to a patient by using their own reproductive cells without written consent, that person would be considered to have committed criminal sexual assault.

Illinois would join states like Texas, California and Indiana in outlining penalties for fertility fraud. The Illinois Fertility Fraud Act, the staunchest legislation of its kind currently being considered, is most similar to the legislation passed in Indiana, brought about in 2019 after a woman's Ancestry.com DNA test revealed she had at least 50 biological half siblings due to a fertility doctor using his own sperm to impregnate his patients throughout the 70s and 80s.

"Today Illinois has taken an important step to become the ninth state to prohibit the deplorable act of fertility fraud," Richardson said. "This legislation will hold those accountable who have sexually assaulted their patients, violated the medical standard of care and sacred doctor-patient trust, and upended the lives of their patients, their spouses and children."

Richardson joined Senator Koehler at a press conference Wednesday morning to discuss fertility fraud and how it will be brought to an end in Illinois through the Illinois Fertility Fraud Act. The legislation awaits further deliberation.
* Press release…
State Senator Sara Feigenholtz (D-Chicago) spearheaded a measure through the Senate Wednesday that would add MRSA to the list of qualifying diseases that Chicago firefighters can receive a disability benefit for if they were to get the infection on duty.

"Firefighters are exposed to toxic substances on a daily basis when responding to emergencies," Feigenholtz said. "This measure aligns Chicago firefighters with the rest of the state's firefighters."

House Bill 4435 would align Chicago firefighters with downstate firefighters by extending an occupational disease disability benefit to any active Chicago firefighter who has completed seven or more years of service and can't perform their duties because of a contagious staph infection, including MRSA.

"If staph infections are not properly treated, the infection can spread throughout the body," Feigenholtz said. "This measure would ensure all our first responders are protected when injured on the job."

House Bill 4435 passed the Senate and heads to the governor's desk.
Open thread
Thursday, Mar 31, 2022 - Posted by Rich Miller
* Got busy this morning and forgot to post your open thread. Oops.
* From developmental disability consultant Ed McManus…
ABUSE SCANDAL AT CHOATE DEVELOPMENTAL CENTER

Criminal charges have been filed against the following employees:

1–Mark Allen, indicted March 2016 for 3 counts of aggravated battery of a resident (struck him on face and head with fists, pushed him to ground, kicked him in head) and 1 count of felony intimidation. Multiple failures to appear at hearings, arrest warrants issued. Charged Dec. 2021 with obstructing justice, pleaded guilty, sentenced to probation, other charges dismissed.

2–Cody Barger, indicted Jan. 2020 for 2 counts of official misconduct–failure to report that he witnessed another worker causing a resident to drink an entire cup of hot sauce, and failure to report an incident in which he and Jonathan Lingle grabbed a resident and the resident's arm was broken. Also indicted for 2 counts of obstructing justice–lying to police. Pleaded guilty March 2021 to obstructing justice, sentenced to probation, other charges dismissed.

3—Jonathan Lingle, indicted Jan. 2020 for official misconduct, failure to report an incident in which he and Cody Barger grabbed a resident and the resident's arm was broken, and for obstructing justice, lying to police. Failed to appear for court hearing April 2021, arrest warrant issued. Re-appeared Nov. 2021. Pleaded guilty to obstructing justice March 2022, sentenced to probation, misconduct charge dismissed.

4—Sheri Fish, security officer, indicted Jan. 2020 for official misconduct, illegally disclosing identity of a person who complained of acts against other employees. Charge dismissed.

5—Johnny Brimm, charged Oct. 2020 with aggravated battery, for striking a resident in the face, and obstructing justice, for lying to police. Trial scheduled for May 10.

6—Matthew Wiseman, charged Oct. 2020 with aggravated battery, for choking a resident, and obstructing justice, for lying to police. Trial scheduled for July 12.

7—Bobby Lee, charged Oct. 2020 with aggravated battery, for striking a resident in the face multiple times. Waived right to jury trial. Bench trial scheduled for June 2.

8—Dalton Anderson, charged Oct. 2020 with aggravated battery, for choking a resident with a shirt. Trial scheduled for July 12.
(Brimm, Wiseman, Lee and Anderson are accused of ganging up on one resident.)

9—Kevin Jackson, charged Oct. 2020 with aggravated battery, for striking a female resident multiple times with a belt. Trial scheduled for May 10.

10—Teresa Smith, assistant director of Choate, charged Oct. 2020 with official misconduct, for illegally reviewing the Inspector General investigative file on Kevin Jackson, and obstructing justice, for lying to police. Judge Tyler Edmonds on April 5, 2021, found probable cause and scheduled her for trial, but later that day he changed his finding to "no probable cause."

She was indicted in June 2021 on the same charges, but the state's attorney dropped the charges in September after it was discovered that the grand jury was not informed of what happened in court in April.

11—Bryant Davis, Choate facility director, indicted June 2021 for official misconduct, for illegally reviewing the Inspector General file on Kevin Jackson. No trial date yet.

12—Gary Goins, quality assurance administrator, indicted June 2021 for official misconduct for reviewing Jackson file and directing staff to contact Jackson's alleged victim. Goins' attorneys have filed a motion to dismiss.
(State's Atty. Tyler Tripp stated: "It is alleged that these violations started a chain of events that impeded an active investigation (of Jackson) by State Police.")

13—Charles Mills, charged on March 10, 2022 with aggravated criminal sexual assault, for "committing an act of (oral) sexual penetration with a female resident unable to give knowing consent." Preliminary hearing scheduled for April 4.

(Mills was also indicted Feb. 16, 2022 for 2 counts of predatory criminal sexual assault, criminal sexual assault of a child and aggravated criminal sexual abuse of a child. Arraignment scheduled for April 4.)

Sources: Judici.com, Union County Circuit Clerk.
Prepared March 30, 2022
* Excerpt from a secretary of state memo…
Effective April 1, 2022, tours, rallies and events will be permitted inside the Capitol Building. Masks are recommended, but not required to be worn by the public.
* So, now groups like this won't have to go across the street like they had to yesterday…
Rep. Camille Lilly and other IL State Legislators will join restaurant owner and worker advocates gathering for a press conference at the Lincoln Steps to rally support for the One Fair Wage Act (HB 5139), which would end the subminimum wage in Illinois.

The legislation was introduced in response to a wage shortage crisis across Illinois. One Fair Wage has issued multiple reports demonstrating that raising wages for restaurant workers who work for subminimum wages is critical to helping the industry recover. One Fair Wage has also tracked over 200 restaurant owners in Illinois who have voluntarily raised wages for tipped workers in order to recruit staff during the state's worst-ever staffing crisis; this bill would create a level playing field for these responsible restaurant owners and help them fully reopen by sending a signal to millions of workers that wage increases will be permanent.

WHERE: Across the street from the IL State Capitol Building at the Illinois State Library in the Atrium
WHEN: Wednesday, March 30, 3:00pm CT
WHO: Restaurant Owners, Restaurant Workers, Representatives from the Illinois Full and Fair Wage Coalition Including Speakers from One Fair Wage, Women Employed & Shriver Center on Poverty Law
* Meanwhile, some members of this group, which tried to hijack a recent Chicago event, gathered on the 3rd floor of the Statehouse yesterday. It didn't appear to be an organized rally, however…
A rally to draw attention to the deaths of two Black transgender Chicago women turned into a chaotic shouting match when another small group of anti-violence advocates crashed the event at Federal Plaza on Monday evening.

As transgender activist Zahara Bassett was pleading for justice for the two women, several members of Ex-Cons for Community and Social Change, including founder Tyrone Muhammad, interrupted the event with bullhorns.

"Our community is dying every day in these streets," Muhammad said into the bullhorn.

After a scuffle between members of the two sides, the transgender advocates said they'd reschedule their action.
Sheesh.
* ECCSC has some very sharp-looking automobiles with the group's logo and its activists have been down here this session looking for more state funding…
2/2 pic.twitter.com/MQeQ5as6i5

— ECCSC (@ECCSC_chicago) March 31, 2022
…Adding… I meant to also put this here. Tribune…
Maria Pike found her calling after her son Ricky was shot and killed in Chicago's Logan Square neighborhood in August 2012.

She became an advocate for a better support system for grieving families, which is why she and hundreds of other relatives of victims of violence came to the Illinois capital on Wednesday to push legislators to invest in community-based efforts to combat street violence that would serve as alternatives to traditional law-and-order methods.

"I want them to see us," said Maria Pike in a ballroom at a downtown Springfield hotel, where activists were joined by several state legislators. "Those survivors are in pain. They want answers and solved cases, right? But they also have other needs."

Those needs include better housing and employment options, as well as mental health support for families coping with the loss of loved ones.

Tuesday's event was hosted by the group Crime Survivors for Safety and Justice. Family members held up photos of relatives lost to violence and signs that included one saying, "Freedom from violence is a human right."
Photos and video…
"On the count of three, say the name of your lost loved one to bring them into this space of healing" @CSSJustice pic.twitter.com/tUs022TATy

— Maggie Strahan (@maggiestrahan) March 30, 2022
* NBC News…
Democrats are eyeing Chicago as a city of interest to host the party's 2024 convention and the mayor, the governor and a key U.S. senator are coordinating on a plan to make it happen, the firm helping with a potential bid confirmed to NBC News on Wednesday.

While the discussions are early and informal, some national Democrats already see the Midwestern city as an appealing contender, in part for its heartland geography — touching key swing states like Wisconsin and Michigan — but also because of the comfort that would come with holding a marquee political event in a tried-and-true blue state, a source who has taken part in early discussions with national Democrats said.

"As the DNC begins planning for the 2024 Democratic National Convention, Chicago is considering a bid to be host city," Tarrah Cooper Wright, CEO of Rise Strategy Group, who is helping assist with a potential Chicago bid, said in a statement to NBC News. The firm was hired by a nascent committee supporting a Chicago convention bid made up of elected officials, businesses, civic and labor leaders, she said.

Illinois Gov. J.B. Pritzker, Chicago Mayor Lori Lightfoot and Sen. Tammy Duckworth — who is also a DNC vice chair — have been coordinating on the possible bid along with the state's Democratic Party Chair, Rep. Robin Kelly, and Sen. Dick Durbin, Cooper Wright said.
* Sun-Times…
"As the DNC begins planning for the 2024 Democratic National Convention, Chicago is considering a bid to be host city, said Tarrah Cooper Wright, communications strategist and CEO of Rise Strategy Group, issuing a statement on behalf of a group whose members were not named but are trying to get the ball rolling on a bid.

"From previous Democratic Conventions to the NATO Summit and annual large-scale events like the Air & Water Show, Chicago has a track record of successfully hosting large-scale events, and has the leadership required to make a convention a success," Cooper Wright said.

"Our city and state — a vibrant and diverse metropolis, thriving suburbs and strong rural communities — offer proof that our party's policies deliver for American families, and a convention would provide a boost to the local economy. Given the potential for Chicago to be an ideal host, we have agreed to explore this possibility and will make a decision in the near future."

Cooper Wright, a former press secretary for ex-Mayor Rahm Emanuel,was confirmed by the Illinois Senate as a member of the Illinois Sports Facilities Authority on Wednesday. She was nominated by Pritzker for that post.

Under Emanuel, Cooper Wright helped to oversee messaging on large scale Chicago events, including the 2012 NATO Summit and the 2015 National Football League Draft.
* Tribune…
Democrats have given cities until October to express whether they will submit a bid to host their convention, with Las Vegas and Nashville also under consideration. Republicans, who have moved more quickly on the selection process, have reportedly settled on Milwaukee and Nashville as convention finalists.

Milwaukee was the host of the 2020 Democratic convention that was drastically scaled back due to the pandemic. Party officials are looking at the chance to return to a more traditional convention in 2024, though they may borrow elements from two years ago, such as satellite convention events in other cities, DNC Chairman Jaime Harrison has said.

Pritzker touted Chicago's potential as a host city to Harrison during a visit last fall. And a convention could provide major economic benefits to a host city, with Harrison noting in the past that economic activity of between $150 million and $200 million during non-pandemic times.

But as much as Democrats in Illinois want to showcase Chicago as an example of Democratic leadership, the city also will have to overcome national perceptions of crime and violence. Republicans locally and nationally have used the issue of outbreaks of violent crime to accuse Democrats of adopting a soft-on-crime posture.
* Here you go…
More later.
…Adding… This Richard Irvin press release was sent out before the new TV ad was available, but the Irvin campaign did appear to know last night the general topic of the new spot…
JB Pritzker is running scared.

After releasing child killers from prison and signing the worst crime bill in America that puts criminals into our communities, he's now hiding behind the Democratic Governors Association to meddle in the Illinois Republican Party Primary for Governor — airing a smear campaign against Richard Irvin and his strong record as a combat veteran, former prosecutor, and successful crime-fighting mayor of Illinois' second largest city.

"For months, I've told voters that Pritzker was desperate and would do anything to win," Irvin said. "Now, Pritzker is trying to hijack the Republican primary because he can't run from the facts: crime is out of control, tax hikes continue, and corruption lives on in state government under Pritzker's reign."

Pritzker and his allies know he's weak after he proudly and publicly turned his back on law enforcement and crime victims during his tenure as governor. He signed one of the most dangerous anti-police laws in our state's history - a law that prioritizes criminals over communities throughout Illinois. His own Prisoner Review Board allowed the early release of cop killers, child murderers, and other dangerous criminals.

Richard Irvin's record as a decorated combat veteran, a tough on crime prosecutor and a proven mayor has forced Democrats to intervene in the primary because Irvin is their worst nightmare.
* Politico has Irvin's career timeline mixed up (he became a defense attorney in private practice after, not before, he was a prosecutor), but here's some of the piece…
The goal is to rev up Republicans to vote for Darren Bailey, or maybe any of the other GOP candidates, over Irvin.

There's nothing Republicans hate more than a candidate who's not tough enough on crime, or conservative enough on social issues — at least that's what the DGA and Gov. JB Pritzker's campaign are hoping. […]

In the meantime, isn't it interesting that Pritzker donated $250,000 to the DGA in December? His campaign told Playbook not to read too much into that. The governor donates to Democratic caucus and candidates regularly, after all. "How the DGA uses their money is up to them," said a spokesperson.

This isn't the first time the DGA has meddled in an Illinois Republican primary. Four years ago, it launched ads calling former state Rep. Jeanne Ives "too conservative" for the state, which was a boost to her campaign during the primary contest against Republican Gov. Bruce Rauner.

The tactic didn't work. Rauner edged out Ives in the primary.
…Adding… Script…
Richard Irvin's real record on crime? For 15 years, Irvin has been a defense lawyer, profiting by defending some of the most violent and heinous criminals. Domestic abusers and sexual assaults. Kidnapper who molested a child. Reckless homicide. Even accused child pornographers. Irvin has been getting rich by putting violent criminals back on our streets. Tell Richard Irvin to stop pretending to be tough on crime and start supporting policies to keep people safe.
* It's more than this, I think, but here you go…
Democratic Governors Association (DGA) just placed their first broadcast buy for 2022. So far we've seen $360k placed for #ILGov. Ads are set to begin airing tomorrow.

'22 total spending so far:
RGA: $34M
DGA: $363K

— AdImpact Politics (@AdImpact_Pol) March 30, 2022
The cable buy is here.
…Adding… Christina Amestoy at the DGA…
Richard Irvin's real record shows he is anything but 'tough on crime'. For 15 years, Irvin made money by getting violent criminals off the hook and back on the street. Illinoisans deserve to know who the real Richard Irvin is. ​​Irvin needs to stop pretending to be tough on crime and actually support the policies that will keep people safe.