* I could not figure out why I was in a Stevie Ray Vaughan mood all week. But then I came home and realized we kicked off the weekend with all sorts of storm warnings. Perhaps this video is appropriate.
Rich will be back on Monday. Thanks for putting up with the interns today!
Like a train that stops at every station
We all deal with trials and tribulations
Fear hangs the fellow that ties up his years
- Posted by Barton Lorimor Comments Off


[Posted by Barton Lorimor. Video by Dan Weber]
* The latest Rasmussen poll puts Republican Sen. Bill Brady ahead of Gov. Pat Quinn by seven percentage points. Five percent of the respondents favor another candidate and 11 percent have yet to decide. From Rasmussen…
Brady posted a 47% to 37% lead over Quinn in early March just after the former was officially declared the GOP nominee by a 193-vote margin out of 750,000 cast.

The two are battling most notably these days over an income tax hike the governor has proposed as an alternative to a $1.3 billion cut in education funding.

Forty percent (40%) of voters in the state now approve of Quinn's handling of the governorship, down three points from the previous survey. Fifty-eight percent (58%) disapprove. This includes seven percent (7%) who Strongly Approve and 28% who Strongly Disapprove.
* Rasmussen also showed Republican Congressman Mark Kirk leading state Treasurer Alexi Giannoulias in the U.S. Senate race…
Kirk now attracts 46% support in Illinois' race for the U.S. Senate, up from 41% in early April. Support for Giannoulias is at 38%, virtually unchanged from the previous survey but down from March, when he earned 44% of the vote. Five percent (5%) currently support some other candidate, and 12% are undecided.

Kirk picked up 46% to Giannoulias' 40% in the first survey after the two won their party primaries in February. But the race was a virtual toss-up by March. Still, despite the Broadway Bank controversy, Kirk has been unable to push past his previous high. Giannoulias got a much-sought-after boost of support from President Obama after the survey was taken, so it's unclear at this point whether the bank issue has caused the candidate any long-term damage in a state that has trended Democratic in recent years.
* Meanwhile, homeowners believe their home is worth more than their mortgage….
Forty-seven percent said their house was worth more than they owe on the mortgage, but 44 percent believed they owed more than their house was worth.
And…
Other polls conducted by Rasmussen included a poll that questioned how the violence in some Illinois neighborhoods should or should not be handled.

It was determined that 37 percent were in favor of using the National Guard to fight crime in violent neighborhoods, while 48 percent were not. Sixteen percent were not sure.

Since the poll was conducted statewide, it was unclear whether those polled actually lived in the violent neighborhoods mentioned.
You may recall earlier this week state Reps. Fritchey and Ford suggested Gov. Quinn deploy the National Guard to Chicago to control violence. The governor said he would only send troops with Mayor Daley's approval.
*** UPDATE 2 p.m. *** A day after the redistricting plan introduced by Senate Democrats was defeated in the House by two votes, Sen. Kwame Raoul had some harsh words for Gov. Pat Quinn. Raoul, who became chairman of the Senate Redistricting Committee last fall, spoke against Quinn for not falling behind the plan. Here's Raoul speaking with CapFax intern Dan Weber on the Senate floor earlier today….
- Posted by Barton Lorimor 31 Comments


[Posted by Barton Lorimor]
* Ex-Gov. Rod Blagojevich's former chief of staff Alonzo Monk entered a new guilty plea in federal court this morning. The Sun-Times reports…
Monk, 51, admitted to attempting to extort a horse-racing businessman for a campaign contribution in exchange for getting a bill signed.

Monk is cooperating with investigators and pleaded guilty again after prosecutors filed new charges, crafted to deal with a possible future ruling from the U.S. Supreme Court that experts say could strike down of the federal "honest services" fraud statute.

Monk has agreed to serve 24 months in prison.
Monk is reportedly going to testify against his former employer. The Tribune has more…
Monk is expected to testify that Blagojevich and three of his closest friends - including Monk - schemed from the outset of his administration to enrich themselves by leveraging the powers of Blagojevich's office.

Monk is expected to tell the jury how the four — a group that also included key fundraisers Christopher Kelly and Antoin "Tony" Rezko — planned to bring in hundreds of thousands of dollars in campaign contributions they could split up when Blagojevich left office.
*** UPDATE *** 12:45 p.m. President Obama will not be served….
The judge overseeing the corruption case against former Gov. Rod Blagojevich has denied a defense motion to issue a subpoena for the testimony of President Barack Obama.

U.S. District Judge James Zagel said he does not believe Obama's testimony would be material to the charges.
Zagel said the defense motion fell "very short" of demonstrating a need to subpoena the president.
- Posted by Barton Lorimor 26 Comments


* STAR Bonds plan for Glen Carbon retail development is dead
"On Thursday, in a final attempt to reach consensus, we met with several mayors who told us there is nothing more we can do to secure their support for the project."
* Developer gives up on STAR bonds — for now
* Taxpayers come out ahead on public works projects
In Tinley Park, overall costs are down by 20 percent to 25 percent, said Public Works Director Dale Schepers. One bid was 48 percent below the town engineer's estimate.

A bid for landscaping in Naperville's Riverwalk reconstruction project came in at $702,000, 46 percent lower than the engineer's estimate, because of intense competition among eight bidders. Carey Plazak, purchasing manager for Schaumburg, recently accepted two roadwork bids considerably under budget.

In Chicago, Mayor Richard Daley recently challenged all city vendors to negotiate a 10 percent cut in spending on their contracts.
* Panel rejects $162 million rate hike for Ameren's Illinois customers
Instead, the commission on Thursday approved a rate increase of just $4.7 million, or about 97 percent less than what the utility giant had requested.

What this means for you: The rates that Ameren's 1.1 million Illinois customers pay for the delivery of electricity and gas will remain unchanged at least for another year.
* Ameren receives sliver of rate hike request from Illinois Commerce Commission
Almost a year ago, the company asked to increase what it charges for delivering electricity and natural gas by a total of $226 million. The utility had since changed that request to $162 million and was awarded only $5 million.
* Ameren upset by reduced rate increase
* Pace union seeks arbitration
* City gun turn-in program in need of cash
* Hinz: Cook commissioners move to curb Stroger spending
* County Board may limit Stroger's hiring, buying powers
* Mayor's brother calls Stroger aide contract scandal 'a disgrace'
* Huberman Unveils New School Closing Plan
Chicago Public Schools says it will now involve the community in figuring out what to do about its worst performing schools.

It's become an annual ritual: officials announce a list of schools they want to shut down for low performance. And parents, teachers and students protest to keep them open.

Ron Huberman says the district's new school closings plan hinges on parents being told EARLY their child's school needs help. Letters will go out soon to that effect.
* New Lenox police agree to wage freeze
* Homer Glen trustees mull giving up their salaries
* West Chicago may cut police civilian staff
* Aurora firm loses IDOC contract
The company housed ex-cons in two homes in Aurora, one at 14 S. Lancaster Ave. and the other at 838 N. View St., and the Department of Corrections paid TA Reentry to take parolees once they were released from prison.
* Officials said red-light cameras should be a go, but some in public not so sure
* Will County towns are raising taxes, fees
* State debt won't cause Rock Island County layoffs
* Central Illinois airport traffic up
Peoria shows 1.5 percent first-quarter increase; Bloomington up 2.8 percent
* Springfield mayor counting on free dinner
Time to pay up, Peoria.

Springfield Mayor Tim Davlin on Thursday morning announced the results of a friendly bet made with Peoria Mayor Jim Ardis over whose city would have a higher percentage of its residents mail in their 2010 U.S. Bureau of the Census forms.

Springfield won, with 77 percent of residents participating to Peoria's 75 percent.

According to the terms of their competition, Ardis will have to travel to Springfield and buy Davlin dinner. He also has to wear the city's lapel pin for a week and issue a proclamation acknowledging - in writing - that Springfield is better than Peoria. (Springfield doesn't have a city pin, so they're going to find something else for Ardis to wear.)
* Trustees approve raise for LLCC president
* IT restructuring could save university $10 million, report says
* Are police department staffing issues compromising safety in East St. Louis?
* Manhunt continues for suspect in slaying of Washington Park mayor
* News-Democrat: Why provide escape clause?
A few hours after Washington Park Mayor John Thornton was shot to death on April 1, police had his suspected killer in custody.

Then they had to let him go 48 hours later because the overly cautious St. Clair County State's Attorney's Office wasn't ready to file charges. The police couldn't legally hold him any longer without charges.

Now a few weeks later, prosecutors have concluded that yes indeed, the police arrested the right guy. On Wednesday, they filed first-degree murder charges against Aaron B. Jackson.

But surprise, Jackson is nowhere to be found. He apparently decided not to sit home and wait for the police to pull up and lead him away in handcuffs.
* Blagojevich case back in court today
- Posted by Barton Lorimor 3 Comments


* Have you, your family or your friends been impacted by the state budget crisis? Explain.
- Posted by Rich Miller 49 Comments


* Here is Sen. Bill Brady's reason for telling reporters that they had to travel to Springfield to view his tax returns last Friday afternoon…
"I think we've often criticized governors for not living in Springfield, not being in the state capital," Brady said, referring to complaints raised about disgraced former Gov. Rod Blagojevich's avoidance of Springfield. "We picked a location–the state of Illinois' capital."
That's not gonna endear him to Chicago reporters, who are accustomed to getting their way and who often bite back hard, as we've seen time and time again.
Frankly, I don't think the Springfield decision is a big deal. Just about every paper, TV and radio station in the Chicago area belongs to the AP. They could've set up something with the wire service in advance to make sure they got as much detail as they could ever want. The huffing from the TV stations is a bit strange, considering this isn't exactly a "visual" story.
But this is an easy story to write, so we keep getting it over and over again. The much tougher story is figuring out what to do with all the data we've collected. I'm still in the planning stages myself. It's time-consuming and will probably include lots of blind alleys, but there may be a nugget or two therein. The Peoria Journal Star editorial page hinted at one possibility…
Meanwhile, others have noted that the federal income taxes he did pay over the last five years were considerably less than the tax bracket he occupied would suggest.
* And our quote of the day goes to Judy Baar Topinka…
"I love Springfield," she said. "I could never understand how that Looney Tune Rod Blagojevich always felt, why he didn't want to live here — the greatest place in the world."
- Posted by Rich Miller 56 Comments


* A Republican refusal to vote for a budget they've been shut out of was expected, but GOP Rep. Mark Beaubien's statement is ominous for the Democrats, who will need three-fifths majorities in both chambers to borrow money to make billions in pension payments…
"They (Democrats) haven't come to us, they haven't asked us for anything, they haven't informed us of anything," Beaubien said. "Since we haven't been included, you're not going to see any Republican support."
That budget is gonna be ugly, man. Just ugly. Democratic Rep. Frank Mautino fills in a few blanks…
Democrats are being asked about a series of potential revenue generators, although Mautino said the budget being formulated does not include the income tax hike sought by Quinn. The options do include higher taxes on cigarettes and other tobacco products and eliminating some business tax breaks.
* Meanwhile, in the real world…
For 26 years, the Holy Angels Shelter in East St. Louis has been there to help homeless moms, women and families get off the streets and into their own homes.

But if the state doesn't come through with an $80,000 grant by the end June, the shelter will have to close.

"We run it bare bones," said Joe Hubbard, director of Catholic Urban Programs. "We've run it that way for 26 years. They can give us a grant, but if they don't pay us in a timely manner, we can't pay our bills, and if we can't pay our bills, we have to close. We need to come up with other funding."

If the shelter doesn't find enough money to fill the hole the state is expected to leave, the homeless shelter will be forced to close its doors.

"And that will be a disaster," said shelter director Pat Lewis. "They'll be under the bridge with the tent people, and pretty soon, there won't be room for them, either."
* Related and a roundup…
* Vouchers for CPS students advances to House floor: The action would give vouchers not only to the schools where students are poorest and lowest performing. But it also would extend vouchers to students from poor families in the most-overcrowded schools, a change from the bill when Meeks won Senate approval.

* Obama and Quinn Discuss Money for Illinois Education, No Promises: Quinn reportedly said he would ask President Barack Obama for federal money to help pay for education. When asked if the president had obliged, the governor changed the subject… QUINN: We talked about that in general, but I can't say that he had a pot of gold.

* U46 one step away from $22 million

* Evanston leaders press city's needs in Springfield

* Illinois House pushed to boost tobacco tax

* Bill would cut tuition on extra college years

* Evaluation shield bill goes to governor

* State mulls show-floor rules at McCormick Place

* Latest slot machines at horse tracks pitch faces uphill climb

* Local video gambling bans could clear way for slots at Arlington Park

* Lawmakers push slots for horse tracks

* SouthtownStar: Tracks a good place for slot machines

* Harristown fourth-graders hold press conference with Quinn

* House panel OKs bill to save DuPage Water Commission

* New law requires stopping for pedestrians, not yielding

* Law seeks to monitor red-light cameras

* Tollway chief sets new course for challenged agency
- Posted by Rich Miller 4 Comments


* Back in 2008, the Illinois League of Women Voters decided to oppose a state constitutional convention. This was one of the big reasons…
The serious problems suggested as a reason for a Con-Con can actually be addressed by legislation or constitutional amendment. Kaszak noted that there have been ten successful amendments since the 1970 Constitution, and the current Lt. Governor has successfully amended the Constitution (the Cutback Amendment of 1980 which reduced the number of members of the House of Representative by 59 and abolished cumulative voting) and could guide individuals through the process;
This year, the League has joined with Republicans and others to support a constitutional amendment on redistricting. They've discovered it ain't as easy to amend our constitution as they thought two years ago. Their proposal went nowhere in the General Assembly and they announced yesterday they were abandoning their petition drive…
In a letter sent Thursday evening to The State Journal-Register's editorial staff, however, the Illinois League of Women Voters — which coordinated the Fair Map effort — said that coalition had fallen short of the nearly 300,000 signatures needed to get on the ballot.

"We simply did not have enough time to finish the kind of statewide campaign necessary to meet the constitutional requirements of a citizen initiative," League executive director Jan Czarnik wrote.
Well, look on the bright side. Maybe the League will favor a con-con the next time it comes around on the ballot, in 2028.
Sheesh.
* We have some video of yesterday's redistricting debate. Rep. Jim Watson gave a passionate speech opposed to the Democratic plan, which fell two votes short of the required three-fifths majority (Democratic Rep. Jack Franks voted with the Republicans). It's a must-view…
* Rep. Eddie Washington accused the Republicans of excluding minorities in his controversial speech…
* House GOP Leader Cross' comments, Part 1…
* Lou…
* Majority Leader Barbara Currie took questions afterwards…
* Related…
* Remap fails in the House: "It gives an edge to the majority party. That's not the way redistricting should be. It should be a level playing field … and it should not be about us taking care of our own districts. These are not 'our' districts," House Minority Leader Tom Cross said after the vote.

* Illinois House votes down redistricting reform

* Redistricting Reform Dead in Illinois Legislature

* Twin Defeats On Plans For Drawing Ill. Districts

* Illinois district remap plan defeated

* Dem Redistricting Plan Fails, Citizens Initiative Falls Short

* Ill. Democrats' redistricting proposal fails in the House
- Posted by Rich Miller 16 Comments


* We've talked about the subject of my Sun-Times column most of the week. The silliness of the media as they engage in a feeding frenzy on the Giannoulias campaign. But you might want to read it anyway…
Political reporters, columnists and pundits don't always band together as one, but when they do, watch out, especially when they've decided somebody is a bad guy and they're going to "do something" about it.

Sometimes, it's justified. The alleged hooker-knifing, wife-abusing Scott Lee Cohen is a case in point. Once we figured out that we had really goofed by not looking into the Democratic lieutenant governor nominee's background more carefully, we pounced and tore him to shreds. But it was the right thing to do. Our mistake was not doing it earlier.

But it's almost as if Cohen's political blood tasted so good that members of the media wolf pack have decided that they just gotta have another kill. The bloodlust is leading some of them to resort to distortions and outright fabrications to achieve their goal.

The Cohen story practically wrote itself. It had just about all the elements of the perfect political scandal: sex, lies, drugs, lawsuits and violence. There was no need to embellish it.

But far too many of the stories being written about U.S. Senate nominee Alexi Giannoulias are taking embellishment to a whole new level.

The Chicago Tribune published a story earlier this month revealing that Giannoulias' family bank had loaned two apparently mob-connected criminals $20 million. A banking consultant from Texas handed the Trib this ready-made quote: "Banks are not supposed to be doing business with criminals."

But I searched Cook County Chancery Court records and found no less than 27 lawsuits, foreclosures, etc. filed by banks, financial service companies and a couple others against the two men over the years. Of those 27, just five were filed by Broadway Bank, which was owned by Giannoulias' family before it was shut down a week ago by the Federal Deposit Insurance Corporation.

Deutsche Bank, First American Bank, CitiMortgage, Austin Bank and more have all filed legal actions. Some were dismissed, some are still pending. The point is those two fellows did business with a bunch of different banks and had trouble with quite a few. But you'll never read about that in the Tribune. The paper's story was designed to look like Broadway was the exclusive go-to haven for mobsters. Turns out, there was nothing exclusive about it.

Seemingly seconds after the announcement that President Obama had planned a visit to Downstate Quincy, the chattering class speculated whether Obama would invite Giannoulias or throw his old friend and protege under the bus.

When asked last week if he had been invited, Giannoulias said he hadn't, so the commentariat instantly leapt to the conclusion that "death by Trailways" was in Giannoulias' immediate future.

Trouble is, no reporters bothered to see if any other Illinois VIPs had been invited. Nobody had been. The official invites didn't go out until Monday.

That didn't deter the feeding frenzy. The subject even came up at a White House press conference. Hours before the visit, Giannoulias was taunted by a Chicago reporter who wanted to know whether Giannoulias' campaign needed "a presidential hug."

All of the breathless anticipation was for nothing. Obama gave Giannoulias a shout-out from the podium and hugged him after the speech, and his top political adviser, David Axelrod, brought Giannoulias backstage for a friendly meeting.

I recently obtained a letter written by a Chicago reporter begging one of those two above-mentioned alleged mob guys to spill his guts about his dealings with Broadway Bank. He was lured with the promise that he could "change history."

Instead of trying to "change history," how about just focusing on telling a full and accurate story once in a while?
* Lynn Sweet helps shoot down this whole "Obama will push Giannoulias out of the race" stuff…
Admitting he had no evidence, Sen. John Cornyn, who runs the Senate GOP political operation, suggested Thursday that the White House may try to force Democratic U.S. Senate nominee Alexi Giannoulias out of the race — speculation that was flatly denied by the White House.

When I asked Cornyn, who's from Texas, why he thought the White House would do that, he said: "I don't know. Giannoulias is a flawed candidate and they are realizing it and I think they are worried. . . . I hope they respect the choices of Democratic primary voters and don't engage in some sort of back-room shenanigans."

A Giannoulias campaign spokeswoman said Cornyn's comments were "ridiculous."

Cornyn's comment came a day after President Obama, in Downstate Quincy, gave a shout-out to Giannoulias, calling him the "soon-to-be senator" in a remark I think was calculated to quiet talk about distancing himself from Giannoulias.

"No one here is trying to 'muscle' him from the race. That should have been clear from the president's comment yesterday," White House senior adviser David Axelrod said Thursday. "Kind of ironic that on the day that Gov. [Charlie] Crist was forced out of the Florida Republican primary that Sen. Cornyn would be suggesting we would muscle someone out of a Senate race."
* And, man, is this headline ever silly: "Rahm for Senate? He may be one of the Democrats' most viable candidates in Illinois." Yeah. Emanuel would do so well statewide here…
One intriguing idea being considered: Force Mr. Giannoulias out of the race and replace him with . . . Rahm Emanuel. Mr. Emanuel is still popular in Illinois and there was a big push to get him handpicked as the Obama successor back in late 2008. Democrats have used the shaft-and-shift strategy before, as in New Jersey in 2002 when they dumped a walking wounded Bob Torricelli as their Senate candidate a few weeks before Election Day.
The first person to publicly suggest this was Rod Blagojevich, so that gives you an idea of how wonderful it is.
* Related…
* Chris Kennedy to Don & Roma: "Lexi got in and I didn't, and he deserves credit"
- Posted by Rich Miller 35 Comments


* Sen. Bill Brady threw in a plug for his home-building company and a home-buyer tax credit today. He was then asked about it afterwards. Have a look…
* Brady took several questions from reporters afterwards. He was asked about his refusal to release hard copies of his tax returns, WalMart, the unionization of traditionally non-union state jobs like legislative liaisons, and the so-called (by those kinda unclear on the concept) "six month budget." Watch…
…Adding… From the Tribune…
Speaking to reporters after an appearance at a Sangamon County Republican luncheon, Brady was asked why he made the decision to choose Springfield for viewing his tax information instead of the much larger media center of Chicago.

"I think we've often criticized governors for not living in Springfield, not being in the state capital," Brady said, referring to complaints raised about disgraced former Gov. Rod Blagojevich's avoidance of Springfield. "We picked a location–the state of Illinois' capital."

Brady said no reporters who viewed his tax returns said they needed more than the three hour time period he allotted. But he said those calling for him to release copies of his tax returns, as many politicians do, don't "understand the competitive nature of my business."
* As I told subscribers this morning, the Civic Action Network held an unusual Springfield protest yesterday. Instead of heading to the Statehouse, like everybody else does, they descended upon an office of two lobbyists for the nursing home industry. They brought mock coffins and shouted slogans, including ""Terry Sullivan, what do you say! How many seniors have to die today?" referring to one of the lobbyists." Here's part one…
Part 2, the cops show up…
Part 3, a confrontation between the protesters and the nursing home folks…
By the way, I bought the interns some new video cameras. They're still learning how to use them, but sound and video quality is improving.
- Posted by Rich Miller 9 Comments


* 1:52 pm - The House is debating the Democrats' redistricting proposal at the moment. You can listen or watch here.
Gov. Quinn said today that he's "not excited" about the Democratic plan, which is opposed by Republicans and reformers…
"I'm not excited about that. It's awfully complicated. I'm not sure it's a reform or not, to be honest."
More…
"I just think the best way to have redistricting is to set up competitive districts that are not gerrymandered to make sure the people have the best representatives," said Quinn after a groundbreaking ceremony in Glenview for a pharmaceutical company building its headquarters there with $4 million in tax credits. "Too often this is an exercise of protecting incumbents of both parties. I don't think that's healthy." […]

"I've always felt that redistricting has been way too political in our state, by both parties. So if I'm governor I'm going to try and be the person who makes sure we do it right for the people and not for the politicians."
The sponsor of the Democratic plan today bristled when hearing about the governor's comments. Chicago State Sen. Kwame Raoul says Quinn has never told him he opposed the plan.

Raoul says the governor's decision to talk to the media first would be "highly disappointing."
* 3:49 pm - The redistricting bill failed to achieve a three-fifths majority, as expected. We'll post some videos later.
- Posted by Rich Miller 27 Comments


* State Rep. Jack Franks (D-Marengo) wins our award…
I offer a simple alternative, in return for my support of more borrowing. I call on Governor Quinn to make $2 in cuts for every $1 borrowed.
I'll let you know when Franks comes up with $10 billion in cuts. Simple. Right.
* The governor has been using his "cuts" to education spending as a way to win support for a tax hike. This has often backfired, with people blaming him for the cuts and trashing him for the tax hike. Senate President John Cullerton has now proposed a partial solution to Quinn's school cuts through a cigarette tax hike. He also got in some digs at the governor's school funding cuts. From a press release…
"On March 10, 2010, Governor Pat Quinn proposed a series of cuts to education that includes spending reductions of $613 million in General State Aid payments and $400 million in mandated categorical spending for critical programs such as special education and school transportation.

After serious assessment and discussion with members of the Senate Democratic caucus, it is evident that there remains little if any support for these cuts to schools. So, to be clear, Senate Democrats support a budget plan that holds General State Aid payments to schools at current levels.

To avoid a reduction in mandated categorical spending, a bi-partisan coalition of members of the Illinois House of Representatives must pass the cigarette tax (SB 44). Through this measure, Illinois will realize approximately $200 million that will be matched with $120 million in federal funds, relieving pressure from Medicaid costs in the budget.

Our caucus continues to maintain a serious commitment to developing a short-term and long-term approach to stabilizing the state budget. We support significant spending cuts and recognize that Illinois' outdated revenue system is in serious need for reform. However, draconian cuts to education would drop Illinois to worst-in-the-nation status when it comes to state support for schools and will kick an estimated 20,000 teaching professionals into the unemployment line."
They're going to try a piecemeal approach to closing this school budget hole. The cig tax is just one of the tools. Quinn is sticking to his tax hike guns, however.
…Adding… Oy…
A Carterville mom says she was denied medical care for her children because the state isn't paying its bills. […]

"On one point, I want to be mad at the doctors because I feel like they have a moral obligation to hang in there and not bail on us when times get rough," says [Ashley Wright of Carterville].

During a recent check-up, Ashley's four month old son Noah was denied immunizations by his pediatrician.

The doctor said Ashley's insurance provider wasn't paying its bills. Ashley doesn't know how to fight back.

"We can't go after the doctors, they're not being paid. We can't go after the insurance company, they're not being paid. But how do we fight the state?" she asks.
* Related…
* Gov. Quinn talks tax amnesty, adjournment (Part 1)

* Gov. Quinn talks tax amnesty, adjournment (Part 2)

* Live Blog: Evanston goes to Springfield

* Lawmakers Mull Budget with No Tax Hike

* Quinn angling for more education money as Obama visits Illinois

* Lawmakers Fear Deja Vu with Budget

* Herald & Review: Crisis has no bearing on senators' decisions

* Pantagraph: Moving deadline for paying bills ignores problem
- Posted by Rich Miller 30 Comments


* The problems of bullying at schools has attracted much attention over the past several years, and the General Assembly has just sent an anti-bullying bill to the governor. Schools will have to adopt anti-bullying policies. It was watered down from its original format, which also required education and record-keeping.
This clause was also included…
Provides that nothing in the bullying prevention provisions is intended to infringe upon any right to exercise free expression or the free exercise of religion or religiously based views protected under the First Amendment to the United States Constitution or under Section 3 or 4 of Article 1 of the Illinois Constitution.
That was probably added via an amendment because gay rights groups were helping push the bill. The definition of bullying includes the usual race, national origin, etc., but also includes sexual orientation….
"At long last, schools across the state will be uniformly required to take steps to protect vulnerable kids from bullying and violence," said Bernard Cherkasov, CEO of Equality Illinois, the state's largest gay rights advocate.

"Students who are perceived to be lesbian, gay, bisexual or transgender are particularly vulnerable to bullying. And the attempted suicide rate rate among LGBT students, which is as much as three times higher than the general average, presents alarming evidence for just how urgently we need this law."
Some on the religious Right were wary of the legislation, but it eventually passed the House unanimously and only two Senators voted against it.
Even so, Focus on the Family is not pleased…
Well, it's happened again. Another state legislature has marched lock-step to the tune of the homosexual activist agenda—and once again, it will have a direct impact on local schools.
More…
Why are the advocacy groups so excited? As we have previously explained, the problem with these laws—enumerating special protections for homosexual categories–is that activist groups are using them as the leverage they need to get things like homosexuality teaching into public school classrooms. For detailed examples, click here.

Focus on the Family believes that every student—no matter who they are or what they believe—should be protected from harm. But at the same time, laws should not be passed that can used as tools to sexualize and politicize the entire school environment. There are good alternatives that provide protection to kids, but avoid entrapment in identity politics—such as the fair and objective model anti-bullying policy language drafted by the Alliance Defense Fund.
Here's that "model bill" language…
"Bullying" means systematic, repeated, or recurrent conduct committed by a
student or group of students against another student that causes measurable physical harm or
emotional distress. Verbal expression, whether oral, written, or electronic, is included within the definition of "bullying" only to the extent that (1) such expression is lewd, indecent, obscene, advocating for illegal conduct, intended to incite an immediate breach of peace, or the severe and pervasive use of threatening words that inflict injury; or (2) District administrators or officials reasonably believe that such expression will cause an actual, material disruption of school work.
The Illinois bill which just past is far more specific on what actually constitutes bullying…
"Bullying" means any severe or pervasive physical or verbal act or conduct, including communications made in writing or electronically, directed toward a student or students that has or can be reasonably predicted to have the effect of one or more of the following:
(1) placing the student or students in reasonable fear of harm to the student's or students' person or property;
(2) causing a substantially detrimental effect on the student's or students' physical or mental health;
(3) substantially interfering with the student's or students' academic performance; or
(4) substantially interfering with the student's or students' ability to participate in or benefit from the services, activities, or privileges provided by a school.

Bullying, as defined in this subsection (b), may take various forms, including without limitation one or more of the following: harassment, threats, intimidation, stalking, physical violence, sexual harassment, sexual violence, theft, public humiliation, destruction of property, or retaliation for asserting or alleging an act of bullying. This list is meant to be illustrative and non-exhaustive.
It also specifies who the proposal covers…
…actual or perceived race, color, religion, sex, national origin, ancestry, age, marital status, physical or mental disability, military status, sexual orientation, gender-related identity or expression,unfavorable discharge from military service, association witha person or group with one or more of the aforementioned actual or perceived characteristics, or any other distinguishing characteristic is prohibited in all school districts and non-public, non-sectarian elementary and secondary schools.
I can see Focus on the Family's point about their more neutral measure, but I just don't get how this Illinois bill will inject "homosexuality teaching into public school classrooms." The only education component already exists in our state's original anti-bullying statute…
[Schools] must communicate its policy on bullying to its students and their parent or guardian on an annual basis
* As we all know too well, some things just make people go off, and "homosexual rights" is one of them. Tom Roeser's latest post is about his outrage over WTTW's airing of a Carol Marin interview with Rep. Deb Mell and her partner about their pending marriage in Iowa. Roeser is a longtime conservative activist with a weekly radio show on WLS and didn't much care for the WTTW program…
So just remember this. Get a coalition started to be in readiness when the next `TTW fund-raiser comes `round. That's when the solicitation airwaves will be filled with the total traditional…replays of the late Lawrence Welk where traditional family life was glorified…or re-do's of Peter, Paul & Mary where the trio's goal was peace toward all.

That's when your campaign should get going. Stressing to all that just when they feel soft, tender-hearted and magnanimous, that `TTW has become an articulate instrument of the Left and the culture—for which the enthusiast Marin has become its leading advocate.

Give `em a buck and you'll be rewarded by more Marin-gay marriage promo'd telecasts along with other exotic formulae of the Left… all sponsored by "viewers like you."
The Tribune was far more tame…
The laws of individual states are starting to reflect this evolving sensibility. Only five states allow same-sex marriage. Nine others have laws recognizing civil unions or domestic partnerships that convey most or all of the rights of marriage, and six have laws that go part of the way.

With so many people conflicted over the definition of marriage, it makes sense to claim the common ground — and secure the benefits — that come with recognizing civil unions.
* Related and a roundup…
* Sun-Times: Gay couples deserve same marriage rights

* Mell unlikely to get blessing of gay marriage opponents in Illinois

* Lesbian state rep makes plea for same-sex marriage: Gov. Quinn, though called out by Mell, said he would like to see Illinois recognize civil unions. "I think that's an issue that we can pass in Illinois, and I hope soon. I've known Debbie Mell since she was knee high to a duck," Quinn said. "I honor her decisions." However, Mell indicated civil unions were not enough.

* Mell Engaged, Lobbies for Same Sex Marriage

* Ill. state rep announces she will marry partner in Iowa

* Lawmaker's engagement spotlights gay marriage (AP)

* Lawmaker's engagement spotlights gay marriage "This is an issue that the [Republican] party ought to get off of," Beaubien said of the GOP's traditional opposition to gay marriage. "It's a whole different mindset than when I was young." Beaubien said he understands the polarization of issues like abortion, which inevitably moves people in one of two directions. "But what do you care what two grown adults do?" Beaubien said. "It just makes us look more strident than we probably should."

* Schoenburg: Many — but not all — applaud Mell's announcement

* Gay Activists Claim Victory with Illinois School Bill

* Latino leaders call for greater state presence

* Chicago aldermen lobby for state funding

* Legislature backs Daley's effort to crack down on gun violence

* Lawmakers approve gun measure Daley pushed

* State Senate Approves Tough New Gun Measure

* Tribune: Flush with money

* Illinois House Passes Wage Theft Bill

* Measure to extend tuition freezes gets House OK

* Ill. Republicans make final effort to force vote on redistricting plan

* Cavaletto Infrastructure Development Bill Passes Senate

* The STAR bonds debate: Where does it stand?

* Tax increase for Collinsville's Fairmount Park track goes to Quinn

* Daily Herald: Village should have final say on slots

* Our View: It's time to help severely ill; approve medical marijuana

* Ill. lawmakers offer break to wrongly imprisoned
- Posted by Rich Miller 31 Comments


* The Tribune weighs in on the issue of Sen. Bill Brady not paying income taxes for two years…
As far as we can tell, Brady did nothing illegal or unethical. He took advantage of legitimate tax deductions, credits and exemptions, including the provision designed to help businesses ride out the economic storm. As far as we can tell.

But questions are going to linger as long as everyone has to rely on that three-hour peek at his tax returns. He needs to release the returns. No time limits. No conditions. Get them out there and level with voters. Answer all the questions they raise.

There will be questions. Brady is the Republican nominee for governor. He's going to be in a robust debate with Gov. Pat Quinn about state taxes. He's going to be hampered in this debate if folks are left wondering why he didn't pay taxes.
And Phil Kadner tosses in his two cents…
My idea of fair is that if I'm making $50,000 a year and another guy is making $119,000 a year, he should be paying more than I am in income tax.
What I'm hearing out there is that Brady should've paid taxes on his legislative income, regardless of his business losses. He obviously still had money in the bank because he could afford to loan his campaign tons of money over the years.
* But let's move on from Brady for a bit. Do you remember this story from January about how Gov. Pat Quinn had kept his US Senate campaign account active since 1996?
Quinn has kept the fund alive by pumping in a series of personal loans and then soliciting political donations so he can pay himself back, at interest rates approaching 10 percent.

The end result is that Quinn has made at least $24,000 in interest from the campaign fund he controls, according to documents filed with the Federal Election Commission.
Now, that's not a lot of money in interest when stretched out over the years, as I pointed out at the time. And Quinn claims he paid taxes on that interest.
Last April, months before anyone knew about this campaign interest money story, Quinn allowed reporters to take a peek at his 2008 tax returns…
Getting a peek at Gov. Pat Quinn's taxes isn't as easy as you might think.

Quinn didn't make copies of them available today when he released the returns, instead requiring people to make appointments to see them at his Chicago or Springfield offices… Quinn spokesman Bob Reed said in an e-mail that Quinn prefers viewers take notes from his original documents.
Again, since we didn't know about the interest on his campaign account, it would be tough to see if he paid taxes on that interest.
So, since Quinn has loudly demanded that Brady distribute copies of his tax returns, I'd like to suggest that the governor ought to release all of his own tax returns dating back to the first time he took an interest payment from his campaign account. It's only fair.
- Posted by Rich Miller 35 Comments


* Sometimes, bad things happen when pundits follow the mindless herd…
[President Obama is] not coming home to show his love for Alexi Giannoulias…

The Quincy visit comes less than a week after Broadway Bank closed, giving the impression that Obama is wiping the flailing Senate candidate off his shoe.

He'd better give his old friend another hug for all the viewers in Iowa, Missouri — and Illinois.
Just more silliness from people who've been reading too much into the crackpot DC tea leaves. White House reporters even demanded to know earlier yesterday whether Obama would mention Giannoulias in his speech.
The Chicago press corps was all atwitter…
Just hours earlier, Giannoulias had been facing questions in Chicago about whether Giannoulias' late invitation to the event constituted a "snub" after months of bad press about the collapse of Giannoulias' family's Broadway Bank.

"There's a lot of rumors and innuendo, but the White House is supportive of this campaign because they know we'll stand up for Wall Street reform, move this country forward," Giannoulias said.
They even mocked Giannoulias…
Reporter: "Do you need a hug from Obama today?"
* Well, as it turns out, Giannoulias did get a hug from Obama…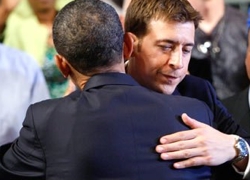 And a shout-out…
When Obama was introducing the Quincy mayor and Illinois officials, he gave a shout-out, referring to Giannoulias as the "soon to be senator." Right before the speech, Giannoulias met briefly with Axelrod, Reggie Love, Obama's body man, and Marv Nicholson, chief of advance (the latter two are part of the basketball bunch).
And then commenced a noisy round of gear-shifting…
Yet there was no mistaking the political implications for Giannoulias and his relationship with the White House as Obama closed out a two-day three-state campaign-style Midwest tour with a town hall event at the Oakley Lindsay Civic Center.

Obama mentioned Giannoulias' name during his remarks. Later, the president gave a departing good-luck hug to Giannoulias, his former basketball playing buddy. Obama has been close with Giannoulias, providing a vital endorsement in getting Giannoulias elected state treasurer four years ago.

Prior to Obama taking the stage, White House Senior Adviser David Axelrod summoned Giannoulias out of his seat in the audience for a private backstage meeting. Axelrod said it involved "catching up" with the candidate.

A White House background sheet on the day's activities, noting the elected officials from Illinois planning to attend the event, listed Giannoulias at the top, even though in ranking and seniority the state treasurer is last among the statewide offices.
Forget the man hug. Forget the announcement that Alexi Giannoulias is Illinois' "next Senator."

President Obama's greatest gift to Giannoulias during his speech in Quincy was the speech itself. Obama ripped into Wall Street, using many of same anti-investment banking tropes Giannoulias has been employing in his campaign against Mark Kirk.
The national press corps is already in place, I noticed they had a grand buffet set up for them. Nothing for local regional press.
Instead of going off the rails, the pampered Heathers should've been listening to this guy all along…
"Giannoulias and Obama are friends and he's friendly with people around him," Paul Green said. "It's a no-brainer. He will support him when it counts."
And this was a presidential understatement…
"Now, part of the problem is, is that when I travel now it kind of causes a ruckus."
Oh, and one more thing. I never wrote this…
Rich Miller of Capitol Fax points out that he called the election even earlier: nearly a year ago, when Lisa Madigan refused to run for the Senate.
What I wrote was: "I've personally had this race in the 'lean Republican' column…" That's not a prediction of a Mark Kirk win. I gotta wonder why that part of the piece wasn't quoted.
- Posted by Rich Miller 57 Comments


* News-Democrat: STAR bonds legislation: It's alive, but why
* Report: State's road are among worst
The Illinois Public Interest Research Group argues that potholes and cracks at highways and bridges across the state are costing motorists at car repair shops. The state ranks 10th in the nation in terms of highest number of roads in poor or mediocre condition, the study states.
* Wal-Mart OKs talks with labor in effort to push expansion: sources
The world's largest retailer has repeatedly insisted that it would not negotiate wages and that it would only agree to pay a "living wage" if the mandate applied to all Chicago retailers….But the company just might sign a "community benefits agreement" that guarantees that as many as five new Chicago stores would be 100 percent built by organized labor and that neighborhood residents would be hired to work in those stores.
* State cancels security deal
The Illinois State Police will take over the work now being performed by V.I.P. Security & Detective Services of Matteson — a switch that Illinois Attorney General Lisa Madigan has said will save money and "provide greater protection for nursing home residents."

The company's contract wasn't scheduled to expire until June 30, but the state health department sent the company a letter on Friday terminating the deal as of May 7.
* Illinois' chief justice: Judges will assess mental health courts
* Wellcare Health to repay state $1 million
* Chicago Lags Behind National Census Participation Goal
So far 63 percent of Chicago households have mailed back the 2010 census forms. That number falls well below Illinois' participation rate of 75 percent and the national goal of 72 percent.
* 77% of Springfield households return Census forms
* Census officials pleased with early returns; Decatur area improves over 2000
* Feds could penalize CN for underreported crossing blockages
CN reported 14 cases in November and December but the auditors found 1,457. Railroad executives apologized and explained they thought the board wanted only crossing delays caused by stopped trains not slow trains.
* Feds grill CN on rail crossing blockages
[STB Commissioner Charles] Nottingham suggested that the STB extend its five-year oversight of the sale to six years, saying CN's failure to report these figures has cost the agency a year of working together.
* Feds chastise CN for undercounting rail crossing delays
* Metra might launch inquiry into exec's alleged 'bonus'
Phil Pagano, Metra's gruff boss of commuter rail operations for the last 20 years, is under scrutiny for possible financial irregularities involving an alleged "bonus" of $56,000, officials said today.

Metra Chairwoman Carole Doris called the agency's directors into emergency session Friday to hire an outside legal counsel who would conduct an inquiry into extra compensation reportedly being paid to Pagano, apparently without the knowledge of the directors.

Metra officials would not comment on details regarding the inquiry. If approved by the Metra directors, the inquiry will be conducted by Itasca attorney James Sotos.
* Stroger employee gets paid for county contract
Cook County Board President Todd Stroger paid $24,975 to a private company owned by new Deputy Chief of Staff Carla Oglesby just days before she started her county job, a county commissioner said.

The fee falls just $25 under the $25,000 benchmark at which contracts require approval by the Cook County Board, said Bartlett Republican Commissioner Timothy Schneider.
* Top Stroger aide's firm got payment for Cook County contract while on payroll
Stroger's office refused to answer questions about when the contract was awarded. The office said in a statement that the county Department of Homeland Security hired CGC to help inform 2.5 million suburban residents that the state could provide disaster relief funds to them following flooding in 2008.
* [Cook] County employee charged with workers' comp fraud
* Classes of 35 may violate fire code
The municipal code calls for "20 square feet per person" in a classroom, which means CPS would need a 720-square-foot classroom to accommodate 35 kids and a teacher, a Fire Department spokesman said Wednesday. An additional aid or parent volunteer could require even more space.

More than 90 percent of CPS classrooms are at least 700 square feet, CPS spokeswoman Monique Bond said, with new buildings typically holding 900-square foot classrooms.
* Kane officials voice support for red-light cameras
* Kane committee questions circuit clerk hirings
If the current trend continues, the office will be over its salary budget by $350,000 when the fiscal year ends, said Cheryl Pattelli, executive director of the finance department.
* Woodridge cuts $6 million from 2010-11 budget
* Bolingbrook trustees get heat from employees and residents for approving 23 layoffs
Union representatives for village employees noted many of them have been working without a contract since 2008. They also argued village officials never made an attempt to negotiate or offer up alternative solutions — such as furlough days or pay cuts — to avoid layoffs.
* Village staffer promoted to administrator in Matteson
* N. Aurora looks at joining pension group
* Oswego village president lobbies in Washington
This week, for the second time since being elected in 2007, LeClercq went to Washington, D.C., to speak with legislators, namely U.S. Sen. Dick Durbin, U.S. Rep. Bill Foster and staff of Transportation Secretary Ray LaHood. Although he had the same wish for a Metra station when he lobbied back in 2008, it was a different trip this time around.
* Mattoon appoints Gover mayor
City commissioners Randy Ervin, Rick Hall and Chris Rankin approved Gover's ap­pointment Wednesday afternoon to replace Dave Cline, who resigned Monday.

Gover, a commissioner who abstained during the roll call, will serve as acting mayor until a special election in April 2011 because there were more than two years remaining on Cline's mayoral term….Cline resigned Monday because he is moving into a new residence built outside city limits, disqualifying him from holding elected office for the city.
* Obama campaign still owes Springfield $55,457
* Charges brought in mayor's killing; police seek suspect who has long history of arrests
St. Clair County prosecutors issued a first-degree murder charge Wednesday against a suspect in the slaying of Washington Park Mayor John Thornton.

A warrant was issued for the arrest of Aaron B. Jackson, 34. Illinois State Police ask that anyone with information about his whereabouts call 911 or Crimestoppers at 866-371-8477.

Circuit Judge Jan Fiss ordered that Jackson, when arrested, be held on $1 million bail.
* Metro-east's only underground state park closes to save bats
- Posted by Barton Lorimor 10 Comments