* Ed Sullivan at the Illinois State Rifle Association tries to clear up a massive disinformation/misinformation campaign on social media which has worked its way into actual news stories ahead of tomorrow's cannabis legalization…
The following information is an attempt to dispel any myths or bad information that we have seen shared on various social media platforms as it relates to the cannabis law in Illinois. Our job at ISRA is to help you navigate laws that could have an adverse effect on your 2nd amendment rights. This information should not be used as legal advice. We at ISRA do not take an opinion for or against this new cannabis law. If you want to smoke cannabis recreationally (marijuana, weed, reefer) come January 1, 2020 that is your right. If you don't want to smoke cannabis, that is your right as well. We live in the United States of America which gives you a 1st amendment right to your opinion either way. Our mission here at ISRA is to protect your 2nd Amendment Rights.

Let's start at the beginning. When you purchase a firearm, the Bureau of Alcohol, Tobacco, Firearms & Explosives (ATF) requires you to fill out an ATF E-Form 4473, the Firearm Transactions Record. Specifically, you must attest to the following:

e. Are you an unlawful user of, or addicted to, marijuana or any depressant, stimulant, narcotic drug, or any other controlled substance? Warning: The use or possession of marijuana remains unlawful under Federal law regardless of whether it has been legalized or decriminalized for medicinal or recreational purposes in the state where you reside.

Ok, so this seems pretty straight forward. According to Federal Law if you smoke cannabis you are an "unlawful user" of a controlled substance. Is this the end of the conversation? No. The new Cannabis Regulation and Tax Act in Illinois specifically states in law that a person who uses recreational cannabis is NOT an "unlawful user" of a controlled substance. From Public Act 101-0593 (Trailer to Cannabis Act):

(410 ILCS 705/1-7 new) Sec. 1-7. Lawful user and lawful products. For the purposes of this Act and to clarify the legislative findings on the lawful use of cannabis, a person shall not be considered an unlawful user or addicted to narcotics solely as a result of his or her possession or use of cannabis or cannabis paraphernalia in accordance with this Act.

If you believe in State's rights, then according to Illinois law, you are not considered an unlawful user if you use or possess cannabis. As we all know in Illinois, we have a real special hoop to jump through to exercise the right to own and possess a firearm called the Firearm Owners Identification Card (FOID).

The FOID Card is administered by the Illinois State Police (ISP). We at ISRA have confirmed that the Illinois State Police will "not revoke Firearm Owners' Identification cards based solely on a person's legal use of adult-use cannabis."

Another tidbit we have seen on certain social media platforms is that cannabis dispensaries will capture your personal information when you purchase their product and in turn that information will be made available to ISP. The fear that once this information is available to ISP then it can be used by the Federal Government to deny you the purchase of a firearm. From PA 101-0027, the Cannabis Regulation and Tax Act:

Section 10-20. Identification; false identification; penalty. (a) To protect personal privacy, the Department of Financial and Professional Regulation shall not require a purchaser to provide a dispensing organization with personal information other than government-issued identification to determine the purchaser's age, and a dispensing organization shall not obtain and record personal information about a purchaser without the purchaser's consent. A dispensing organization shall use an electronic reader or electronic scanning device to scan a purchaser's government-issued identification, if applicable, to determine the purchaser's age and the validity of the identification. Any identifying or personal information of a purchaser obtained or received in accordance with this Section shall not be retained, used, shared or disclosed for any purpose except as authorized by this Act.

Clearly under Illinois law, no cannabis dispensary can share your personal information, unless you authorize them, to anyone or any entity. This includes the Illinois State Police (ISP) and the Bureau of Alcohol, Tobacco, Firearms & Explosives (ATF).

Lastly, we should make you aware of the differences between the purchase/use of recreational cannabis versus the purchase/use of medical cannabis as it relates to your 2nd Amendment rights. To use medical cannabis there are procedures and forms that must be filled out to get a Medical Cannabis Card that authorizes you to be in the program. While Illinois treats cannabis as a prescribed drug, the Federal Government considers cannabis to be a Schedule I narcotic. As such, the Federal Government could gain access to your records as a Medical Cannabis User and therefore jeopardize your right to purchase a firearm from a Federal Firearm License (FFL). If you intend to use cannabis and own a firearm taking the recreational cannabis route has less potential, detrimental effects on your 2nd Amendment rights than the medical cannabis route.
The statute in question is here.
* State Rep. Darren Bailey (R-Xenia), an Eastern Bloc member, posted this on Facebook the other day…
Please be aware of the consequences of recreational marijuana, one of which will be the surrender of your FOID card.
That is just flat-out false, but it was shared over 400 times.
Bailey also posted a "story" from an undisclosed source and highlighted this passage…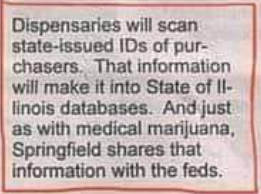 Wrong. The law is clear. This will not happen.
* But that did not stop WICS TV from running a story today with this false claim…
Here's the deal, if you choose to purchase cannabis, whether recreational or medicinal you will be put in a database of people who are not allowed to purchase a weapon.
Again, that's false. If you buy cannabis when it's legalized tomorrow, you will not be put into a database because no such database can be created by state law.
As Charlie Wheeler always says to young reporters: Read the bill.
/rant
…Adding… WICS has retracted its story.