* Oy…
At an all-staff meeting today, News-Gazette Media CEO John Reed announced to employees that an agreement has been signed to sell substantially all of its assets to the family-owned Champaign Multimedia Group LLC, an affiliate company of Community Media Group. The sale is expected to close in early November.

CMG, headquartered in downstate West Frankfort, owns and operates community newspapers with websites in several Midwestern states, including Illinois, Indiana and Iowa, as well as newspapers in Michigan, Pennsylvania and New York.

The acquisition of News-Gazette Media will include three radio stations: WDWS, WHMS and WKIO, serving the Champaign-Urbana, Danville and East Central Illinois areas, Reed said. The acquisition will also include weekly newspapers, free distribution shoppers and websites serving Mahomet, Rantoul, Ford County, Piatt County and Vermilion County. […]

As part of the sale process, News-Gazette Media has filed voluntary petitions for relief under Chapter 11 of the U.S. bankruptcy code. Additionally, and in accordance with the state and federal regulations under the Worker Adjustment and Retraining Notice Act (WARN), employees were provided with formal notice of a potential layoff planned to occur in the 14-day period beginning on Oct. 31.

However, CMG has indicated that it is developing plans for the rehire of numerous News-Gazette Media employees following the sale to Champaign Multimedia Group.
* Meanwhile, a reporter pal of mine was let go today because of this sale…
Shaw Media has agreed to acquire the NewsTribune and the Illinois and Indiana AgriNews weekly publications from Catherine Miller and Miller Group Media, company leaders announced Monday.

The sale is expected to close Sunday. Terms were not disclosed.

The acquisition of the publications adds to Crystal Lake-based Shaw's network of daily and weekly newspapers and specialty publications, which cover 15 counties across northern Illinois, as well as part of Iowa.

The company's daily newspaper holdings include LaSalle County's other five-day-a-week newspaper, The Times of Ottawa, as well as the Northwest Herald in Crystal Lake, The Herald-News in Joliet, the Daily Chronicle in DeKalb, the Telegraph in Dixon and the Daily Gazette in Sterling.
- Posted by Rich Miller Comments Off


* KMOX with the exclusive…
Illinois GOP Rep. John Shimkus announced Friday on the Mark Reardon Show that he will not run for reelection in 2020.

In his 12th term right now, Shimkus was reelected in 2018 with more than 70% of the vote. He has represented Illinois' 15th Congressional District since 2013, before that he was represented Illinois' 19th Congressional District, since 2003.
Well, he finally term-limited himself. /s
Any idea who might run for that seat now?
…Adding… Scott Kennedy fills us in…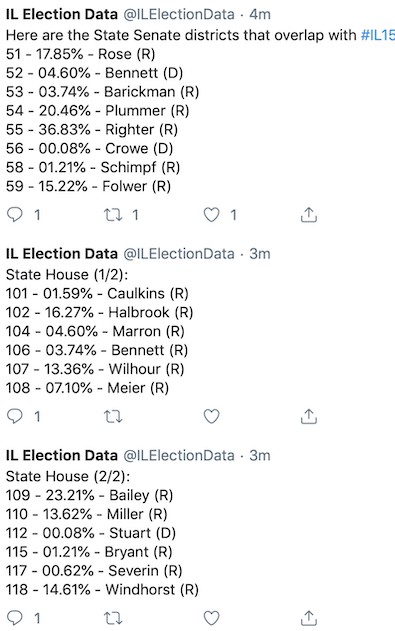 Sen. Jason Plummer has wanted that seat for a very long time.
…Adding… Keep an eye on retiring Sen. Dale Righter. Yes, he voted for the 2017 income tax hike, but he voted against the tax hikes to fund the capital bill this year. Why would he do that if he wasn't running again and needed help for his district? Food for thought.
…Adding… From his Facebook page…
As Illinois candidates begin to circulate petitions next week, now is the time for me to announce that I will not be seeking re-election.

It has been the honor of my lifetime to be asked by the people of Illinois to represent them in our nation's capitol. Each day I have tried to do this as best as I possibly could, and my success lies squarely at the feet of my incredible staff in Illinois and Washington, DC.

I will leave the political field knowing that I have served honorably and, with the help of many, accomplished a lot for my constituents, our state, and our nation.

Serving in Congress has been a blessing, but it has also been a sacrifice for my wife Karen, and our boys. Now young men, David, Joshua and Daniel continue to make me proud. I regret the times I have been away from the four of them and thank them for their constant love and support.

My family and I thank you for allowing us the honor to serve. Our dedication to our country, our state, our church, and our community will not waiver as we embark on the next chapter of life. God bless you, and God bless America.
*** UPDATE *** Not sure what to make of this…
Businessman Willie Wilson, who finished fourth in this year's historically crowded race for Chicago mayor, said Friday he's planning to run for the U.S. Senate next year.

Wilson, who's been known for tapping into his personal wealth to help people pay their property taxes, said he's going to run as an independent in hopes of unseating Illinois' incumbent Democratic U.S. Sen. Dick Durbin in 2020.

"I'm still a Democrat and when I ran for president I still supported the Democratic Party, but this is the way to go," Wilson told The Spin.

The 71-year-old Wilson has run for high-profile political offices before without success. He ran for Chicago mayor in 2015 and 2019, and got on the ballot in a handful of states when he ran for president in 2016.
Durbin received 53.5 percent of the vote in 2014.
…Adding… Press release…
Wilson will officially launch his campaign for United States Senator for the people of Illinois. Wilson is committed to making things better for ALL Illinoisans, but in particular minorities who feel lost and forgotten. "I am sick and I am tired of the same ol' politicians like Senator Dick Durbin taking advantage of minorities, having not been fair and his record reflecting that… the same ol' guard propping themselves up on the backs of minorities and selling them down the river. I MUST stand up for those who feel they do not matter or do not have a voice… for those who can't seem to get a fair shake. His record shows he has taken the minority vote for granted and hasn't put anything back of significance in the 20+ years he's been a U.S. Senator. He hasn't done nearly enough for prison reform and economic development in minority communities, but Durbin has supported sanctuary cities. Why hasn't he given the same attention to the areas of prison reform and economic development as well as to Reparations for those of African American Descendants of Slaves? He has totally been unfair. The time has come that we all have equal access and be treated fairly, once and for all. And that is why I am running for United States Senator – to represent ALL people regardless of race, creed or color," says a committed Willie Wilson.
- Posted by Rich Miller 14 Comments


* Two of my brothers on Labor Day, 1971 at my family's rural Iroquois County house…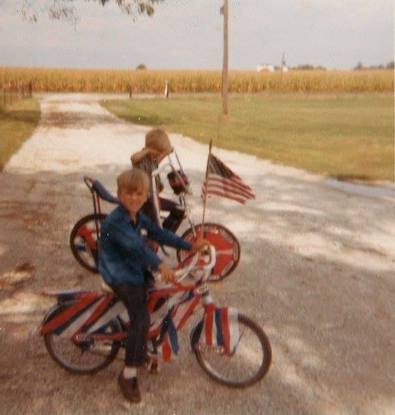 We weren't farmers, but my mom grew up on a farm and my parents had five sons and thought they could better keep an eye on all of us if we were living in the country. So, they rented a house a few miles from my maternal grandparents, who were farmers.
Every Labor Day, we'd decorate our bicycles and ride them in the Herscher parade. It was all great fun, from the decorating (my mom did most of the work, as I recall) to the riding. Herscher will host its 99th Labor Day parade on Monday.
* The Question: Your favorite Labor Day memories?
- Posted by Rich Miller 12 Comments


* Daily Herald…
From 2002 to 2016, assault rates against men 60 and older are up 60% [according to the Centers for Disease Control and Prevention]; for women, 35%. From 2010 to 2016, the murder rate of men in that age group rose 7.1%. For women, it decreased slightly. […]

According to the state's Adult Protective Services agency, there were 13,536 reports of abuse against seniors in 2017.

Financial exploitation (8,604) made up the most cases, followed by passive neglect (6,679), emotional abuse (6,476), physical abuse (3,782), willful deprivation (2,268), confinement (1,381), and sexual abuse (765).

Victims generally experience more than one type of abuse, according to the agency. For example, financial exploitation is highly associated with emotional abuse. About 67% of victims were women, as were 51% of abusers.
- Posted by Rich Miller 3 Comments


* At one point in her Sun-Times editorial board interview yesterday, Mayor Lori Lightfoot had this to say about her idea to create a progressive rate on the real estate transfer tax, for which she'll need Statehouse approval…
Everybody pays the same amount regardless of the value of their home. We think that's regressive and unfair. What we'd like to see is a progressive ramp that gives relief to homeowners at the lower end of the housing market value and make people upstream pay more of their fair share.
* But Lightfoot was also asked if she thought it was politically tough to get Downstaters on board for pension help for the city at the same time that the Democrats are trying to pass a progressive income tax…
We have to look at the entire eco-system of what's happening. If we don't get help from Springfield, we have limited options. And you know that one of those options is property taxes - a huge property tax given the size of the deficit for next year.

So we have to think about the timing of that. Right? We go first. Twice. This year, next year before the voters go to the polls to approve the Fair Tax. So we have to take the long view of what that's going to mean. And I'm also mindful of the fact that in this state the vast majority of high net worth earners live in the city of Chicago.

We can't keep taxing the hell out of all of our people who make substantial income. That's not right. That's not fair. It's not gonna work.
What I think she's trying to say here is that if upper-income folks get hit with two big property tax hikes between now and next November, they're gonna rebel at the polls against the progressive income tax. OK, but they're still a minority, including in the city, and Lightfoot herself is trying to impose her own progressive tax.
And that last little bit about the poor put-upon rich people was a big political mistake. You can probably bet a lot of money that this quote is gonna wind up in a TV ad against the Pritzker graduated income tax. And you can also bet that the legislators who voted to put that tax proposal on the ballot are not going to be pleased with the mayor.
[Hat tip: Rachel Hinton
*** UPDATE 1 *** Good questions by Tina…
A source close to the mayor worked quickly to walk back that statement, reasserting that Lightfoot supports a graduated income tax structure for the state. But is this Lightfoot's power play? Get in the way of a plan the governor is spending millions on, so the city can get its needed casino and pension help?

The state-city power struggle came into full view during Lightfoot's address, in which she tied the city's woes to getting help from Springfield.
* Meanwhile, over at Crain's Chicago Business…
Mayor Lori Lightfoot today declared "unsustainable" the 3 percent annual compound pension COLA many city workers and retirees have been promised—and hinted she would not object if further conversations occurred about amending the pension clause in the Illinois Constitution to allow change. […]

Not only labor unions but Gov. J.B. Pritzker oppose doing that, and Lightfoot—who in other settings has said workers should not have their benefits reduced—said today that "I'm not advocating for a constitutional amendment." […]

But a few minutes later, Lightfoot said that even if such efforts succeed, the current COLA is "unsustainable." Asked if she'd like the constitution to be amended, Lightfoot replied that, "I'd like to put as many options as possible on the table."

In response to another question, Lightfoot said she did not mean to imply that other pension efforts short of amending the constitution were useless, but that in today's economy, "3 percent compounded is a tough climb."
Pick a lane, please.
*** UPDATE 2 *** Michael Crowley at the mayor's office…
As the Mayor has repeatedly made clear, she believes that our pension obligations are not optional. This administration is committed to finding ways to shore up the sustainability of our pension funds – including the COLA. We must secure the retirement of our working people by partnering with our allies from the State to identify progressive revenue streams. Mayor Lightfoot remains opposed to a constitutional amendment on pensions.
- Posted by Rich Miller 53 Comments


Republican state Rep. Steven Reick will still be able to drive after he pleaded guilty Friday to DUI in Sangamon County Circuit Court. Democratic state Rep. Kam Buckner's DUI case has yet to be resolved. Buckner has pleaded not guilty.

Illinois State Police arrested Reick for DUI in Springfield on May 2. He took a breath test that showed his breath-alcohol concentration was 0.146 percent, nearly twice the legal limit. Dashcam video showed the Republican from Woodstock stumbling and admitting that he had too much to drink.

After Friday's hearing in Springfield, he referred questions to the initial statement he made after he was arrested.

"I made a stupid and regrettable decision last night and accept full responsibility for my actions," Reick said at the time.

Reick's attorney, Scott Sabin, said Friday that his client pleaded guilty.

"He's, I don't want to say pleased, but 'relieved' is a better word, that this matter is put behind him in the court process," Sabin said. "He's been placed under court supervision, so long as he abides by the law and stays out of trouble, this won't appear on his record and be happy to put this behind him."

The year-long supervision comes with more than $1,600 in fines. Reick was also ordered to complete ten hours of counseling.
- Posted by Rich Miller 6 Comments


* Tribune…
Gov. J.B. Pritzker's administration is open to the creation of a public-private partnership as part of its plan to sell the Thompson Center in the Loop and relocate the state's Chicago workforce to new office space.

That's one takeaway from a request for proposals the state Department of Central Management Services issued Thursday as it seeks to unload the controversial Helmut Jahn-designed state headquarters. The state is seeking a project manager to oversee the sale of the 17-story, 1.2 million-square-foot building, assess the state's Chicago real estate holdings, and plan for where state workers will move following the sale, among other services.

The document says the state is looking for a buyer that will help relocate the state's workforce to an alternate site, which "may mean new construction on one or more sites of vacant land (owned or purchased) or renovation of a property in a Chicago neighborhood with adequate public transportation options (owned or purchased)." The Pritzker administration also wants its project manager to help negotiate an ownership stake for the state in the new site or sites, according to the 56-page document.
* From the RFP…
CMS will use this expertise and assess its current asset(s) to develop and execute a strategy for an alternate delivery of project, including but not limited to Public-Private-Partnership ("P3") and Design-Build ("DB") delivery methods. It is the intent of the State to package the sale of JRTC and relocations of its State occupants as one project delivery method. As part of the Offer, Respondents are encouraged to provide unique ideas around project delivery methods and include relevant and past project examples.
* One Illinois…
But prominent preservationist groups urged the state to include plans for retaining and repurposing the building even in the early steps toward selling it.

"Corporations continue to migrate to Chicago from suburbs and beyond, and we believe the Thompson Center presents itself as a desirable reuse option for corporate offices and many other uses," said Bonnie McDonald, president of Landmarks Illinois, in a statement released Wednesday. "We urge the Pritzker administration to include our re-envisioning study … to ensure that the Thompson Center may shine as the one-of-a-kind postmodern marvel that it is."

Landmarks Illinois placed the Thompson Center on its annual list of the Most Endangered Historic Places in the state in May for the third straight year. That built on a "Thompson Center Reimagined" study the group released last year, which included a proposed "new tower, with a footprint of approximately 13,000 square feet, … developed on the southwest corner with hotel uses on the lower floors and residential on the upper floors."

Landmarks Illinois is requesting that the state at least include that study in its request for proposals to find a consultant to aid the sale, and it was backed by the National Trust for Historic Preservation, which included the Thompson Center earlier this year in its list of America's 11 Most Endangered Historic Places.

"Millions of people visit Chicago every year to experience its diverse architectural landscape, a testament to the city's longstanding commitment to preservation and innovative design," said Jennifer Sandy, associate field director for the trust. "Now that many modern and postmodern buildings like the Thompson Center are at risk, Chicago can again demonstrate its leadership on a new generation of buildings worthy of preservation and reuse. Breathing new life into the Thompson Center — not throwing it away — is the right thing to do economically, environmentally, and architecturally."
As long as it's turned into the coolest water park in the world, I'm good.
- Posted by Rich Miller 7 Comments


* Sun-Times editorial about the decision by Churchill Downs to shutter the Arlington track and not apply for a racino license…
But nobody should be surprised. This is exactly the sort of thing that can happen when the state Legislature moves awfully darn fast on a big bill that has many moving parts. […]

For years, Arlington had sought a racino to shore up the racetrack's bottom line, so its ownership's announcement that it is no longer interested in one surprised pretty much everybody, beginning with Gov. J.B. Pritzker. […]

Churchill Downs says the gambling bill's high taxes on Arlington and massive expansion of new gambling competition mean a new racino at Arlington would be "untenable" financially, rather than a lifeline. CEO Bill Carstanjen blames the requirement that part of casino earnings go to racing purses — something Arlington has, in fact, been clamoring to do for years.
Churchill Downs didn't work against the bill. It was also at the table the whole time. As the editorial alludes to, it's been clamoring for a racino ever since the Elgin casino opened 25 years ago so that it could share some of the gaming money with racehorse owners. Without that cut for the horse owners, the whole shebang falls apart and everyone knows it. Tracks don't just get a racino handed to them without a requirement to use some of the money to build up the horse racing part of the equation.
So, how can the GA be blamed for giving Churchill Downs what it always said it wanted and didn't appear to oppose?
- Posted by Rich Miller 16 Comments


* Mark Maxwell…
Governor J.B. Pritzker suffered a hairline fracture to his left leg, his office confirmed on Thursday afternoon. The injury will not require surgery, but doctors orders will keep the state's top executive from making a trip to Japan.

The island country represents one of the state's biggest international trade partners. Governors and state leaders from the Midwest travel to Tokyo every other year, and host Japanese officials in alternating years. Pritzker had planned to attend the meetings next month, according to sources familiar with his travel plans. It remains unclear if Illinois will send another representative in his place.
* Maxwell, by the way, walked the state fairgrounds for half an hour with Pritzker earlier this month and his injury was not apparent at all and the governor never mentioned it…
* But watch this video from Tuesday…
Just learned that @GovPritzker was limping on Tuesday because he has a stress fracture in his left femur. Yet, he still stood in the Blue Room for almost an hour to sign the corporate board diversity bill! He is the people's champ! Praying for a speedy recovery for our Governor! pic.twitter.com/MbOlT8ulmi

— Emanuel Chris Welch (@RepChrisWelch) August 30, 2019
- Posted by Rich Miller 15 Comments


* Mark Brown wasn't impressed with Mayor Lori Lightfoot's speech last night…
"Yes, some of our solutions will be hard.
Yes, they may involve putting ourselves at risk. And if it means that I sacrifice myself politically, so be it in pursuit of the right thing," Lightfoot said.

Chicago could use a politician who says that and means it. So could the whole state of Illinois.

And when she shows she's willing to make that sacrifice, I would like to be in her corner.

But for now, it was just a speech.
* Tribune editorial…
It's Chicago's curse that Lightfoot had to give this speech. Decade after decade, Chicago and Springfield politicians raised taxes and fees yet raised spending even more. Mayors, aldermen, governors, legislators — the people who caused the public finance debacles in Chicago and Illinois — weren't at the microphone Thursday night. Just a newcomer who says the downward spiral stops now.

Sensibly, she said she wouldn't follow the old playbook of "historically large tax increases," or "a massive borrowing scheme," or shortchanging payments into the city's pension system.

Our immediate takeaway from her address: What's significant here is a matter of degree — that looming deficit ― and a new mayor who's willing to speak hard truths and own a big share of this mess. She's decided she has no choice but to ask all of us to help her clean it up.
So, the Trib is for making the full pension payments now?
- Posted by Rich Miller 67 Comments


* Rebecca Anzel…
The state's attorney general says two former lawmakers should not receive back pay for frozen cost-of-living increases and forced furlough days because they previously voted to approve the two laws and waited "for so long" to file a lawsuit challenging their constitutionality.

Those laws, a Cook County judge ruled last month, violated an article of the state's governing document that dictates legislators' wages cannot be changed during the terms for which they were elected.

Judge Franklin Valderrama's ruling was a partial win for two former senators — Democrats Michael Noland, from Elgin, and James Clayborne Jr., from Belleville — who sued for lost wages. […]

The two voted "fourteen separate times over the course of nine years" in support of the statutes which their lawsuit claims are unconstitutional, the document states. It adds that Noland filed the case six months after he left office, and Clayborne joined the suit seven months after he announced his retirement from the General Assembly.
- Posted by Rich Miller 16 Comments


* Jamie Munks at the Tribune has written a couple of good stories about the Du Quoin State Fair. Here's one…
Each year when the parade kicking off Illinois' second state fair winds down, fairgoers stream by the hundreds to Wanda Rednour's lawn, which sits in the middle of the state fairgrounds.

The longtime Du Quoin resident opens her home for a lawn party to kick off the fair. If the Du Quoin State Fair, located on a sprawling piece of lush southern Illinois land, is a "park with a party in the middle of it," as fair manager Josh Gross describes it, then Rednour's annual bash is the party within the party in the park.

It's the sort of thing that engenders a more intimate experience than the much larger Illinois State Fair in Springfield about 150 miles north — so much so that some regulars say it reminds them more of a county fair than a state fair.

The Du Quoin State Fair, which the state has owned and operated since 1986, was previously run by private owners. In its heyday, when it was home to the Hambletonian, the "Kentucky Derby of harness racing," the fair would draw hundreds of thousands of people from all over the region during its annual summer run.

The fairgrounds lost that race in 1980 but soon drew the prestigious World Trotting Derby, which held court in the summer in Du Quoin for decades. It was cut in 2010, when the state Department of Agriculture's budget was slashed, part of widespread cutbacks aimed at closing a major deficit in the state budget that year. There were some concerns locally at the time that the fair itself would cease to exist because of the state's budget woes.
* Here's the other…
Illinois first lady M.K. Pritzker is leading a restoration effort at the governor's official Downstate residence in Du Quoin, marking what some locals see as more attentiveness to the region than they've seen in years.

The Pritzkers are privately funding the work on the state-owned Hayes House and so far have spent nearly $100,000, according to the governor's office. […]

The home sits on the Du Quoin State Fairgrounds and has served as the Downstate executive residence for Illinois governors and their families since the state bought the sprawling property from a private owner in the lost ts. […]

"It's important, because that house needed some renovation," [Du Quoin Mayor Guy Alongi] said. "Other governors have just came and gone and not done anything to that mansion. At least they're doing something to it."
* Related…
* Du Quoin State Fair food: For something different, try the wings
- Posted by Rich Miller 13 Comments


* The full speech is here. Press release…
Mayor Lori E. Lightfoot today addressed residents on the state of the City, the City's finances and the projected 2020 budget deficit during a live primetime speech delivered at Harold Washington Library. In an unprecedented act of transparency before the official City budget address in October, the Mayor appeared before residents to provide an overview of the city's current financial state, including: a historic $838 million gap projected for 2020, measures taken to date to address the City's long-term and short-term financial obligations, and the work remaining to put Chicago on track for a balanced and sustainable financial future.

During the speech, Mayor Lightfoot outlined her vision for strengthening the City by building stronger and safer communities, expanding access to education and vital services, and creating opportunities for working families – starting first by working to create structural reforms within City government that will contribute to Chicago's long-term financial stability. Importantly, her reforms strive to make Chicago work for working-class families and create a model of good governance. These reforms include: fines and fees reforms, passing the Fair Workweek and an Ethics ordinance, and ensuring that Chicago remains a welcoming City.

"Today I am shining a light on Chicago's current financial conditions. I want residents to know the full extent of the City's finances and the path we plan to take to address our long-standing fiscal challenges," said Mayor Lightfoot. "The 2020 Corporate Fund budget shortfall will be $838 million. And while I recognize this is a steep hill to climb, I am committing to residents that, together, we will do the hard work of finding sustainable solutions that will lead our city to long-term financial stability."

In the address, the Mayor outlined her administration's efforts to identify over $100 million in savings and efficiencies over the first 100 days and the work that remains to balance next year's budget. These efficiencies include the elimination of $1.4 billion in short term borrowing, a review of departmental use of overtime and absenteeism, and implementation of a citywide hiring freeze allowing the city to work with departments to identify additional efficiencies in the coming weeks.

The City has begun to make progress in addressing its costs for 2020 and beyond by implementing structural reforms that drive down costs and improve financial stability, including: a complete overhaul of the $100 million workers' compensation program, which is expected to reduce claims costs and improve services for workers; release of a new healthcare RFP to revisit competitive costs for the $471 million-a-year program; changes to refinance old debt for better rates; and the creation of the first citywide enterprise risk management system, led by Chief Risk Officer Tamika Puckett, which will seek to cut down on the high cost of legal settlements.

And within weeks of taking office, Mayor Lightfoot secured legislative approvals to authorize a casino in Chicago, which would generate a dedicated revenue source to finance underfunded police and fire pensions. The administration is now committed to working with State legislators on the taxation structure to ensure a Chicago casino will represent a structural solution for long-term sustainability.

The 2020 budget forecast reveals that The Corporate Fund, or the City's operating fund, represented more than $3.8 billion, or more than 34 percent of the City's $10.67 billion budget in 2019. This forecast reveals that in 2020, the pension, personnel and healthcare costs that make up a significant part of the Corporate Fund expenses will comprise 70 percent of the budget shortfall, while debt and legal settlement costs make up an additional 22 percent of the structural deficit.

As part of the annual budgeting process, the City is utilizing a zero-based budgeting method, where departments formulate 2020 budget proposals to request funding for programs and services in support of their core mission. New investments will be balanced with department savings, reforms and operational efficiencies in an effort to streamline existing processes and uphold a high quality of services for residents across all neighborhoods.
* More…
Two principals will guide decision making on revenue options: not hurting people who can least afford it, and not driving business out of Chicago

— Paris Schutz (@paschutz) August 29, 2019
"We are committed to a graduated real estate transfer tax" @chicagosmayor says #CHISOTC

— Paris Schutz (@paschutz) August 29, 2019
Lightfoot gets a round when she recommits to meeting pension requirements. "Our obligations are not optional," she says, but adds that "All of Illinois is looking for solutions… we have to be partners in reform… our fates are intertwined." pic.twitter.com/tVoOaiZDBq

— A.D. Quig (@ad_quig) August 29, 2019
…Adding… From her speech…
We are exploring revenue options to address rampant congestion that solves the problems of traffic, pollution and other issues, while simultaneously bringing in a fair source of funding.
And…
Not quite how I read that. I read that as better regulating ride-share and changing the city tax structure for those services…

— Brendan Reilly (@AldReilly) August 29, 2019
*** UPDATE *** Emily Bittner in the governor's office…
The governor is committed to creating an environment in the state where all cities can thrive, because Illinois succeeds when its cities succeed. In the weeks ahead, as Chicago pursues assistance from the legislature, it will be important for the mayor to reach out to leaders and lawmakers across the state and across the aisle to build a coalition for her ideas. The governor looks forward to working with these stakeholders as the General Assembly weighs all these ideas carefully.
- Posted by Rich Miller 26 Comments


* Press release…
Today, the Seventh U.S. Circuit Court of Appeals announced its decision in the case Wilson v. Cook County, et al. handing the Cook County State's Attorney's Office (CCSAO) a big win in their ongoing fight to protect residents from gun violence. The Illinois State Rifle Association backed a challenge to a long-standing Cook County ordinance banning the possession, use, or sale of assault weapons and large capacity magazines, claiming the regulation violated the Second Amendment. The CCSAO's Civil Actions Bureau beat back the challenge, arguing that the ordinance furthered a substantial government interest in protecting Cook County residents from the threat of mass casualty posed by semi-automatic assault weapons and related accessories.

After learning of the court's decision, Cook County State's Attorney Kimberly Foxx reaffirmed her commitment to public safety in Cook County.

"Assault weapons and large capacity magazines are designed to kill in mass and have no business on our streets," said State's Attorney Kimberly Foxx. "Public safety is our top priority, and we were proud to defeat the gun lobby's challenge in court. While we are pleased with today's decision, we anticipate that this will be appealed to the Supreme Court. If it is, we will be ready."
Two Cook County residents appeal the dismissal of their complaint, which raises a Second Amendment challenge to Cook County's ban on assault rifles and large-capacity magazines. Less than five years ago, we upheld a materially indistinguishable ordinance against a Second Amendment challenge. See Friedman v. City of Highland Park, 784 F.3d 406 (7th Cir. 2015). The district court dismissed the plaintiffs' complaint on the basis of Friedman. We agree with the district court that Friedman is controlling. Because the plaintiffs have not come forward with a compelling reason to revisit our previous decision, we affirm the judgment of the district court.
- Posted by Rich Miller 18 Comments


* Breaking news from the Bond Buyer's Illinois reporter…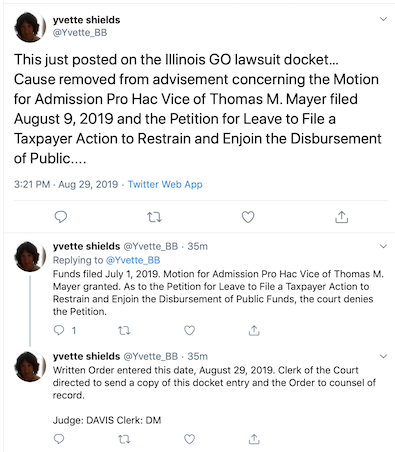 Order pic.twitter.com/l5VRca9wtc

— yvette shields (@Yvette_BB) August 29, 2019
Judge notes hedge fund Warlander's financial interest in the litigation -identified at hearing as credit default swaps hedging IL bonds - but doesn't reference it otherwise in his order despite having heavily questioned plaintiff attorney about fund's position during hearing

— Caitlin Devitt (@Caitlindevitt) August 29, 2019
Tillman/Warlander had argued that 2003 and 2017 bond deals violated specific purposes clause of constitution bc used to shore up general fund, but judge says in order that enabling statutes outlined specific purposes clearly. +

— Caitlin Devitt (@Caitlindevitt) August 29, 2019
Background on the legal action is here, here, here and here.
This post will be updated.
*** UPDATE 1 *** Emily Bittner in the governor's office…
The administration is pleased that the judge repudiated this sham lawsuit brought on by the same far-right actors whose pathological desire to bankrupt the state brought us four years of devastation under Bruce Rauner.
*** UPDATE 2 *** Comptroller Susana A. Mendoza…
We're very pleased that Judge Jack Davis did the right thing and threw out this completely frivolous 'political stump speech' of a lawsuit. Now that it is clear that Illinois Policy Institute CEO John Tillman and the Warlander hedge fund filed this phony lawsuit just to try to sabotage Illinois' credit rating for personal financial gain and headlines, anyone who has supported the IPI in the past should rethink their support. Under the new leadership of Governor Pritzker and the steady resolve and financial stewardship of the Comptroller's Office, the state of Illinois is fixing its finances and the bond rating agencies are recognizing this.
*** UPDATE 3 *** Annie Thompson at the attorney general's office…
As we stated in our written submissions and oral argument, the plaintiffs waited nearly two decades after the first bonds were issued and billions of dollars were paid into the pension funds, and then waited several years after the second bonds were issued and payments were made on the backlog of bills owed to the state's service providers and other vendors. The delay alone demonstrates that the petition was always without merit. We are pleased with the court's decision to deny the plaintiffs leave to file a taxpayer action that, according to the court, "resembles far more of a political stump speech than it does a legal pleading" that "would result in an unjustified interference with the application of public funds."
*** UPDATE 4 *** The full order is here.
*** UPDATE 5 *** John Tillman…
"I strongly disagree with the Court's decision, will appeal and am confident that I will prevail. It was premature for the Court to decide the case on the merits at the petition stage. Moreover, I disagree with the court's conclusion that whether general obligation bonds have a specific purpose is a purely political question. The Illinois Supreme Court has ruled that the judiciary is in fact required to determine whether a challenged purpose is specific or not, and has done so on other occasions."

John Tillman took on the lawsuit as an independent individual and concerned citizen. It is not an organizational initiative of the Illinois Policy Institiute.
*** UPDATE 6 *** Ted Hampton, Vice President and Senior Credit Officer of Moody's…
The judge's ruling today denying a lawsuit that sought to invalidate some of Illinois' general obligation debt is positive for the state and in line with our view that the plaintiffs' argument lacked merit. However, an appeal by the plaintiffs could still complicate the state's near-term debt issuance plans.
- Posted by Rich Miller 35 Comments


* As we discussed earlier, the state has approved the first round of adult use cannabis licenses, including one in Effingham, the heart of Eastern Bloc country.
* The Question: Assuming that zoning is approved by the local government, what should be the motto of the new Effingham adult use dispensary?
- Posted by Rich Miller 55 Comments


* While I was on vacation, Center Square published a story about my questions to the governor's office about the Confederate Railroad stuff. For whatever reason, they decided to FOIA my text conversations. Not all of their requests were granted.
So now Center Square is asking the Illinois Attorney General's Public Access Counselor to force disclosure of an off the record exchange between myself and the governor's Deputy Chief of Staff for Communications Emily Bittner.
For a self-described news organization to FOIA a reporter's off the record remarks and then appeal the denial to the attorney general is downright reprehensible.
But in the interest of avoiding any legal fight which could set a precedent, I asked Bittner yesterday if she would lift her off the record restriction so I could publish the exchange here. She consented.
* The great mystery is now solved…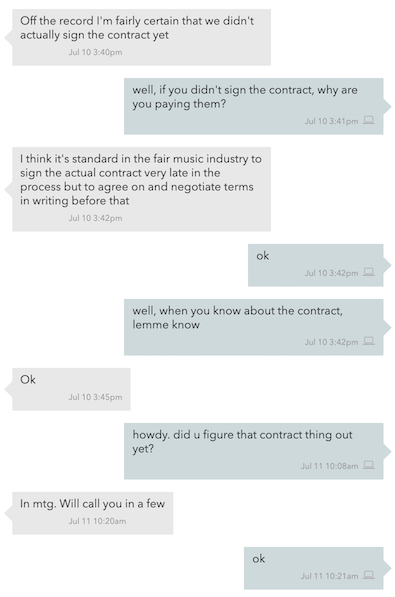 Oh my gosh that's so fascinating!!! Congratulations, Center Square! I'm totally busted!
* Some other stuff was redacted for whatever reason. I had called Bittner about something else and she didn't pick up, so I texted her…

Scintillating!
* The Hill mangled both my name and the name of my publication in an article about the controversy…
The removal comes after blogger Rich Hill last month asked readers on his site, Capital Fax, whether they thought the band was an appropriate choice to feature in the fair's lineup.
Bittner sent me the link, which the governor's office redacted from the FOIA…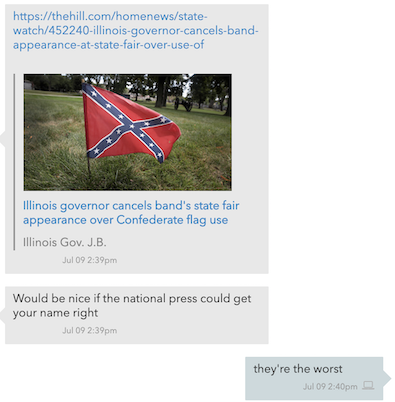 Heh.
* And here's a bit of needling from me about a surprising editorial…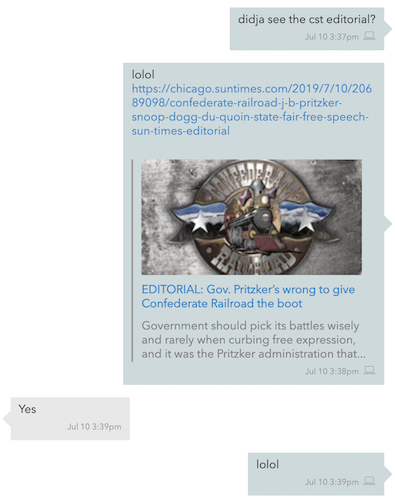 So there you have it. I think that's everything.
Sheesh.
- Posted by Rich Miller 67 Comments


* Sun-Times…
Sneed has learned Gov. J.B. Pritzker has a hairline fracture to his left femur.

The upshot: He is under doctor's orders to rest and recover for the next four to six weeks.

Sneed is also told the governor, who does not know how the fracture occurred, is in "good spirits" and will find it difficult to take it easy. […]

His recovery will require some bedrest, but he plans to go into his office in Chicago. He won't be going to Springfield anytime soon. The fall veto session is not until later this fall.
I've been hearing that he's complained about a sore knee. It's one reason he decided to ride and not walk in the Du Quoin State Fair parade. But he walked the entire length of the Illinois State Fair parade and walked all over the fairgrounds and did a bunch of public appearances which required him to stand. He must've been miserable.
Anyway, best of luck for a quick recovery. And, dude, obey your doctors.
…Adding… From the governor's office…
* Governor Pritzker has a hairline fracture to his left femur, so under doctors' orders, he will be resting and recovering for the next four to six weeks. Governor Pritzker is in good spirits and will be receiving frequent daily updates from his staff and agency heads, and he will be fully engaged in conducting the business of the state.

* Governor Pritzker received this injury some time ago, but it became significantly worse in recent weeks as he attended numerous public events where he stood or walked significant distances. This includes attending and walking around both state fairs.

* This won't require surgery.

* The Governor is not certain what caused the injury, but he has been experiencing knee pain for several weeks.

* Aside from this injury, the Governor is in good physical health.
- Posted by Rich Miller 27 Comments


* Axios…
Experts estimate that well over $1 billion will be spent on digital ads this campaign cycle, with the majority going to Facebook and Google. For context, that's about as much as analysts expect to be spent on local cable television ads this cycle.
* AP…
Facebook is tightening its rules around political advertising ahead of the 2020 U.S. presidential election, acknowledging previous misuse. But it's not clear if it will be enough to stop bad actors from abusing its system.

The changes include a tightened verification process that will require anyone wanting to run ads pertaining to elections, politics or big social issues like guns and immigration to confirm their identity and prove they are in the U.S. Beginning in mid-September, such advertisers confirm their group's identity using their organization's tax identification number or other government ID.

The verified group name will be listed on the "paid for by" disclaimers that disclose the backers of ads. Facebook says it will verify this information against government records and will note in the disclaimer for confirmed ads that they're placed by a "confirmed organization." […]

Advertisers who don't have tax ID numbers, government websites or registrations with the Federal Election Commission will still be able to post ads by providing an address, verifiable phone number, business email and website. These advertisers won't get a "confirmed" designation. Previously, only a U.S. address was required. But it's not inconceivable that bad actors will find a way to spoof phone numbers and email addresses.
* Barron's…
Ads that advocate for or against legislation or ballot initiatives will have the same vetting process as campaign ads.

The company also intends to bar ads that expressly discourage people from voting.
* CNN…
Last year, Vice News reported that it was able to take out [Facebook] ads in the name of Vice President Mike Pence, all 100 US senators and the Islamic State. In another high-profile instance from 2018, an attack ad targeting Virginia Democratic candidate for Congress Jennifer Wexton was shown by Facebook to have been paid for by a "freedom loving American Citizen exercising my natural law right, protected by the 1st Amendment and protected by the 2nd Amendment." […]

But it's not clear whether the new rules would prevent a group or person from simply registering as a company, getting a tax identification number and going forward with their advertisements without ever having to really tell Facebook users who they truly are and what their motivation is. In response to questions about the potential loopholes, Facebook told CNN Business the additional information will be vetted by a mix of automated and human reviewers and that it is working with governments and watchdogs to bolster election security. […]

The new rules will be put into effect in mid-September, and if an advertiser doesn't provide the new information by mid-October, Facebook said, it will pause an organization's ads.
* NY Times…
Disinformation experts said the social network was still far from fixing the damage caused by the false news and ad campaigns that had run on the platform.

"This is all much too little, much too late," said Dipayan Ghosh, a fellow at the Shorenstein Center at Harvard and a former privacy and public policy adviser at Facebook. "We've seen incredible impacts coming from illegitimate political ads, including from seemingly legitimate actors. And companies, particularly Facebook, are not doing enough to protect the public and our democracy."

He added that Facebook's new verification policy amounted to "incremental baby steps forward." That would "not particularly position us well in the lead-up to elections," he said.
The corporate ownership disclosure laws are not as strong in the US, and in some states, it's possible to create anonymous LLC's without providing identity or much ownership information at all.

That's not something Facebook can necessarily fix - but it is still a way for sketchy operations to run political advertisements on Facebook and provide little information about who they actually are.

"At a certain point, Facebook won't be able to do any more verifications because the US allows secret LLCs," Carroll told Business Insider. "At that point it's up to Congress to require corporate ownership disclosures like we see in UK on Companies House."
* Tech Crunch…
It will turn its attention to Pages, too, by requiring national candidates or elected officials to go through Page Publishing Authorization, to verify their Pages are using real accounts and are based the U.S. Facebook will then begin exposing more information about the Page, including the business or organization behind it.
* Related…
* Facebook Ad Prices Surge Due to Barrage by Democratic Presidential Hopefuls
- Posted by Rich Miller 7 Comments


* Sun-Times…
Michael Cornicelli, executive vice president of the Building Owners and Managers Association of Chicago, said he assumes any such tax [on high-end city properties at their sale] will cover commercial buildings and not just homes. "It's a tax on business and employment in the city" that, coupled with a slowing economy and spikes in property tax assessments, "has alarm bells going off everywhere."

Lightfoot will need to bargain to get anything through the legislature, Cornicelli said.

"My gut is that in order to get something like that, she'll have to give something," he said. His suggestion: allowing a referendum on a state constitutional amendment to let governments reduce employee pensions.
If she is bargaining with people like Cornicelli, then yes. But she has to get that through the Illinois General Assembly. And the odds of Democrats and the governor approving that tax hike in exchange for cutting pension benefits are not exactly high.
- Posted by Rich Miller 47 Comments


* Press release…
The Illinois Department of Financial and Professional Regulation announced Thursday the first "Same Site" adult use cannabis licenses, which will allow an existing medical cannabis dispensary to obtain an adult use dispensing license. This license will permit the dispensary to begin adult use cannabis sales at that location starting January 1, 2020, provided the dispensary complies with local zoning rules or other local laws.

In addition to opening adult use dispensaries at the same site of their medical cannabis dispensaries, existing medical cannabis dispensaries are permitted under the law to open a second site for adult use sales at a different location.

The medical dispensaries who have applied for and received early approval adult use licenses to date are:

The Clinic Mundelein
1325 Armour Boulevard
Mundelein, IL 60060

3C Compassionate Care Center – Joliet
1627 Rock Creek Boulevard
Joliet, IL 60431

3C Compassionate Care Center – Naperville
1700 Quincy Ave. #103
Naperville, IL 60540

Salveo Health & Wellness Dispensary
3104 N. Main Street
Canton, IL 61520

The Clinic Effingham
1101 Ford Ave. Ste. C
Effingham, IL 62401

The Department anticipates receiving additional applications for early approval adult use licenses as municipalities adopt relevant zoning ordinances regarding adult use cannabis.

Starting January 1, 2020, the law permits Illinois residents to legally possess up to 30 grams of cannabis flower and up to 5 grams of cannabis concentrate. Registered patients in the medical cannabis pilot program may possess more than 30 grams of cannabis if it is grown and secured in their residence under certain conditions.
Naperville is still going back and forth about what to do about allowing adult use cannabis sales. Mundelein's police chief has expressed some support.
But Effingham? In the heart of the Eastern Bloc? From May…
Effingham County Sheriff Dave Mahon and Effingham Police Chief Jason McFarland voiced concerns over a recently proposed Illinois bill calling for the legalization of recreational marijuana. […]

"I know the legislators are looking into this pretty hard, and it's kind of on the fast track, which really scares me," Mahon said. "I think that we kind of need to step back and look at what's happened in other states before we just jump right in. Illinois has already decriminalized marijuana, and this proposal is meant to commercialize the industry and product with proven health and safety concerns."
That'll be interesting. Commerce or dogma?
* Related…
* Cannabis dispensary to locate in former Aldi in Galesburg: Ken Springer, KCAPED's president, said that currently existing medical dispensary license holders are the only entities who can seek a recreational cannabis business license. The two closest medical dispensaries are in Milan and Canton.
- Posted by Rich Miller 12 Comments


* Center Square…
Lawmakers said a recently enacted state law designed to limit severance packages for outgoing public university officials needs more teeth after questioning university officials this week.

The high-profile instance of former Western Illinois University President Jack Thomas getting two years of salary worth $570,000 to take a sabbatical and then come back to teach at the university for $200,000 a year drew ire from state Sen. Laura Murphy, D-Des Plaines, during a hearing Tuesday. […]

Murphy said she was upset Thomas was getting the equivalent of CEO pay to come back as a teacher despite a new law meant to limit severance pay to 20 weeks. […]

University officials said Thomas' exit was a transition agreement, not a severance agreement. […]

"I believe that Dr. Thomas' contract is grandfathered in," [WIU General Counsel Elizabeth Duvall] said. "It was still an active contract when it was signed (in 2011) prior to some of the laws that you're speaking to."
* Public Radio…
In recent years, the Illinois General Assembly passed two laws to limit that practice. Senate Bills 3064 and 2159 both were intended to curb a public employee's ability to receive an unduly large severance package.

State Sen. Bill Cunningham (D, Chicago) helped negotiate both bills. He reiterated their intent during Tuesday's hearing.

"That intent is, if for whatever reason — and the reason really isn't all that important — a university decides they want to change their president, that they not offer him or her a golden parachute," he said. […]

"I think [it] seems pretty clear to anybody who's paid any attention to this that the Board of Trustees at Western Illinois University sought a way around that law," he told a panel that included WIU. "If we can't rely on the board of universities to follow the spirit of the law, maybe we need to figure out a different governing structure."
The board did indeed get around prohibitions in the current law. So perhaps the law should be revised, but it won't be easy to tie their hands like that.
- Posted by Rich Miller 27 Comments


* Comptroller Susana Mendoza's office…
The Comprehensive Annual Financial Report (CAFR) released today shows Illinois cut its general funds deficit by $6.849 billion — from a deficit of $14.612 billion in fiscal year 2017 to a deficit of $7.763 billion in fiscal year 2018. That is largely because of a refinancing of state debt from high-interest to low-interest repayment.

The state's total assets were approximately $53.9 billion on June 30, 2018, a decrease of $400 million from June 30, 2017. The state's total liabilities were approximately $248.1 billion on June 30, 2018, an increase of $33.3 billion from June 30, 2017. The state's largest liability balances are the net pension liability of $133.6 billion and the other post-employment benefits liability of $55.2 billion.

Health and social services expenditures of $29.2 billion comprised the largest expenditure function for fiscal year 2018, decreasing by $1 billion from fiscal year 2017. The second-largest expenditures, education expenditures, including spending for elementary and secondary education as well as higher education, totaled $25.4 billion, an increase of $3 billion, or 14%, from fiscal year 2017.

The Illinois Office of Comptroller compiles the CAFR from reports submitted by individual state agencies that are required to be audited by the Auditor General's Office. If any of those audits is not complete, the Office of Comptroller cannot publish the CAFR. Since December, the Office of Comptroller has been ready to publish the CAFR as soon as the remaining audits were completed.

A primary reason for delay in the release of the fiscal year 2018 CAFR was the need for the new administration to try to piece together data lost by an IT vendor working for the previous administration's departments of Healthcare and Family Services and Human Services.

As the Illinois Office of Comptroller noted in a June 28, 2018, report, four months' worth of long-term care eligibility findings in 2017 were missing. (see attached report)

Comptroller Susana Mendoza said the prior administration relied too heavily on third-party non-government contractors to perform sensitive data conversions without adequate monitoring controls from state agency officials.

"We should not expect outside consultants to perform critical government functions, especially regarding data involving eligibility determinations under the state's Medicaid program serving the state's most vulnerable citizens, without adequate controls to protect the state's program and ultimately state taxpayers," Comptroller Mendoza said.

In April, Comptroller Mendoza announced her office would institute new contract reporting requirements for IT vendor agreements of more than $5 million. The new Information Technology Milestone Report rules require state agencies to publish progress and performance updates on ongoing IT initiatives, precisely to avoid data losses like this.

In addition to the missing data the Auditor General's Office encountered at the departments of Healthcare and Family Services and Human Services, late adjustments relating to receivables were required as a result of the audit of the Department of Employment Security.

Comptroller Mendoza agrees with a repeated finding by the Auditor General's office that the state needs a coordinated financial reporting system. However, it is important to note that was not a primary reason for this year's delay.
- Posted by Rich Miller 19 Comments


Illinois' 852 school districts spend almost twice the national average on "administrative costs," according to U.S. Census Bureau data. School districts in Illinois spend $581 per pupil on school district administration on average, according to the Illinois Policy Institute. That's more than double the national average of $230 per student.

"We're spending more and getting less for our investment in our kids because too much of the money is siphoned away by these six-figure administrators," Illinois Policy Institute Director of Budget and Tax Research Adam Schuster said. "If we spent the national average [on district-level administration costs] we would have saved $708 million last year."

District-level administration refers to positions such superintendents, not principals.

This spending comes amid a decline in the number of public school students. From the 2017-2018 school year, total students had decreased by more than 2 percent since 2014, according to Illinois' Report Card figures.

An April report from the Metropolitan Planning Council found that Illinois was the only state in America that spent more than $1 billion in total administrative costs in 2016. Metropolitan Planning Council Associate Adam Slade said one issue common to Illinois is that many school districts have only one school, meaning a district and school administrator essentially duplicate their work.
- Posted by Rich Miller 86 Comments


* WBEZ…
Initial offers by Illinois' attorney general to settle a dozen lawsuits linked to the state's mishandling of fatal Legionnaires' disease outbreaks at the Quincy veterans' home have been so sparse, some families are calling them "insulting."

During Kwame Raoul's campaign to become the state's top law enforcement official, the Democrat called the state's mishandling of the outbreaks "unconscionable." Fourteen people died after getting Legionnaires' at the largest state-run veterans' home.

Following a WBEZ investigation into the outbreaks, then-state Sen. Raoul voted last fall to raise damage caps on lawsuits against the state to $2 million, and to make that increase retroactive to apply to a dozen families who lost loved ones at the Illinois Veterans Home and had pending negligence cases against the state. […]

To date, however, the attorney general has only made settlement offers that range between $200,000 and $500,000, WBEZ has learned.
The plaintiffs, at least one of whom appeared in a JB Pritzker campaign ad, are hopping mad. Go read the rest for their react.
- Posted by Rich Miller 20 Comments


* I had one issue after another this morning. I'm working to resolve everything and finish up the subscriber edition. In the meantime, follow along with ScribbleLive…
- Posted by Rich Miller Comments Off