* It's always somebody else's fault. Always…
Republican Gov. Bruce Rauner has consistently maintained through his first term that he has the correct prescription for Illinois but hasn't been able to deliver his message to voters.

On Monday, he continued that theme. Appearing on the Steve Cochran Show on WGN AM-720, Rauner said he needs to communicate better to voters if he wins a second term.

"I have two things that I would do differently. One is to focus very much on lots of baby-step improvements and announcing 'em, playing 'em up more than we've done. That would be No. 1," Rauner said in response to a question about his biggest first-term mistakes. "No. 2, I would have been much more focused with my time on communications. I spent my time doing, not communicating. I would do far more communicating."
"I spent my time doing, not communicating."
Sigh.
…Adding… React from the governor's former chief of staff…
LOL

— Richard Goldberg (@rich_goldberg) October 15, 2018
That about sums it up.
* The Question: Can you help Gov. Rauner answer Cochran's question about his biggest first-term mistakes?
- Posted by Rich Miller 85 Comments


Oops!
Monday, Oct 15, 2018
* I accidentally broke an embargo. My fault. Sorry! We'll discuss this topic tomorrow. How about an NFL open thread in its place?
- Posted by Rich Miller 25 Comments


* Gov. Rauner said this during last week's debate about the deaths at the Quincy veterans' home…
"It's heartbreaking and I've cried about it," said Rauner.
* And then…
After the debate, Rauner told reporters he's cried over the deaths at the Illinois Veterans Home and he does not believe he's trailing by 20 points as a recent poll suggests.
While not wanting to make light of the people who lost their lives at Quincy, I have heard the governor talk about weeping several times, so I took a quick look at the history and asked around for some help.
* The earliest instance I could find on Google is from 2010, long before Rauner ran for governor…
"Waiting for Superman" — a documentary billed as the "Inconvenient Truth" of public education — will debut in New York and Los Angeles. But a select group of Chicagoans has already seen the film by Davis Guggenheim, who also directed "An Inconvenient Truth." […]

"I've seen it twice, and I've cried both times," Bruce Rauner said. "I think it's very powerful."
* April, 2015…
One of the most emotional times here in Springfield, two teachers came up to me at an event after I became governor. One of them started to cry. I gave her a hug and I said, 'What's wrong?' and she said, 'You are healing a wound in this community that you don't fully appreciate.' I said, 'Really? Well, God bless you.' We hugged and I was tearing up. I said, 'Don't make me cry. I've got to go give a talk here.'
* December, 2015, after watching the Laquan McDonald video…
"I watched the video when it came out last week. I cried," Rauner said. "That video is shocking, terrifying. I cried for the young man who was brutally shot. I cried for the thousands of police officers who are honest and hardworking, who put themselves in harm's way to serve and protect us and whose reputation gets damaged by the behavior of a few bad people. I cried for the violence that is tearing apart so many of our communities."
* February 26, 2016 on Dan Proft's radio show…
I took my Swedish grandfather back for his 90th birthday. I had never been to Sweden. He had been writing to his relatives his whole life from Wisconsin and he'd never been, or at least not since he was like two years old and I took him over and we spent a week. I cried every day.
* June 7, 2016…
And the governor defended his highly controversial description of some CPS schools as "crumbling prisons."

"In too many of them, I cry. Tears come into my eyes."
They came to my office in the Capitol a number of months back and we sat, a large group of youth and myself and Director Sheldon. And we just had a talk about their lives, what's going on, what their issues are. And it was one of the most emotional but uplifting and inspirational discussions I've ever had in my life. Many of us cried.
Illinois Gov. Bruce Rauner visited two area communities left devastated from Tuesday night's storms. […]

"It's really hard. I mean I cried yesterday. I was crying this morning. It's very emotional," said Rauner.
I travel the state, seven days a week, and everywhere I go, people come up to me and say, 'Governor, stay strong. You're on the right track. Don't give in, stay persistent.' One woman came up to me with tears in her eyes, and I started to cry, too. She said, 'You're our last hope. Don't give up.' I said, 'I'm not gonna give up. I'm the most persistent son of a gun on the planet. I'm very competitive.'
One of the most special times for me every year is going to Honor Flights to welcome our heroes home here in Springfield, and in Peoria, and in Chicago. I have to tell you, it brings tears of joy to my eyes when our heroes come through that airport door to be reunited with their children and their grandchildren and their great-grandchildren.
* September 18, 2018 at Crain's Chicago Business…
Most emotional moment was last year, an elderly woman saw me shopping in Schnucks, the grocery store. She came up to me, grabbed me by both hands, looked up at me and she started to cry. I said, 'What's wrong?' She said, 'Governor, you're our last hope. Please don't give up.' I kind of lost it. I started crying, I gave her a hug and I say, 'I will never give up, I can't. I'm doing this, this is a labor of love.'
…Adding… A sharp commenter reminded me of this during the October 9, 2018 Sun-Times editorial board meeting...
Back before being governor, I would love the classics, like for example I would always like to see "The Dick Van Dyke Show" or some other classic, family shows the 60s. I love that stuff, it's kinda teary-eyed to me, and it's a great way to relax.
- Posted by Rich Miller 43 Comments


* Gov. Rauner and his allies showered more than $40 million on legislative races two years ago. This year? So far, not so much…
The roughly $14 million Rauner's put up for the state party or legislative candidates for 2018 is not only a fraction of his 2016 largesse, it's offset by Pritzker's $7.5 million for Democratic legislative candidates.

That doesn't mean the GOP is tossing in the towel. The party is on the offensive in southern Illinois, where Trump coattails still have pull, and its candidates are running strongly, if defensively, in traditionally GOP-influenced suburban Chicago districts. […]

That's the case in the other southern Illinois races on which Republicans are pinning their House hopes. In three key races, Redfield's numbers suggest spending of $4.7 million — $3.5 million of it by the Democratic incumbents.

In 10 closely watched Senate races, spending could top $14 million, according to Redfield's figures. But even though six of those races feature Republican incumbents, Democrats control $11 million of the funding.

"Last time it was like they (GOP) had unlimited money but now, he (Rauner) is focused on the governor's race," Redfield said. "It seems he thinks Republicans are not going to do well and it becomes a self-fulfilling prophecy. If he doesn't give them as much, they won't do as well."
Speaking of which, Republican treasurer candidate Jim Dodge filed his quarterly reported today. He ended the quarter with… get this… $4,333.99 cash on hand.
Republican comptroller candidate Darlene Senger did a bit better. She closed out the quarter with $48,134.28 on hand.
Republican secretary of state candidate Jason Helland did the "best" of the three, ending the quarter with $60,746.85 in cash. Helland was even endorsed by the Daily Herald.
* Meanwhile…
The Democratic Party of Illinois has announced a statewide "voter protection initiative" hotline as part of its get out the vote effort.

"Voting is every American's fundamental right, one that was fought for in countless battles. Even today, there are countless examples of voter suppression and barriers to voting, and we will work diligently to dismantle those efforts," the party's executive director, state Rep. Christian Mitchell, said in a statement.

Voters can call 1-833-VOTER18 to access the hotline about complaints over alleged voter suppression. The hotline follows the party's efforts with governor candidate J.B. Pritzker's campaign spending $1 million on voter registration and early voting advocacy.
This initiative goes way beyond a hotline. More details soon.
- Posted by Rich Miller 21 Comments


* From Sister Jean Dolores Schmidt's induction ceremony into the Illinois Senior Hall of Fame on Friday…
And speaking of her experiences during March Madness, she said she was once told she had more reporters in the room than Tom Brady.

"So I guess that's a real compliment," she said. "And you know, I always say to the press — don't let anybody put you down. You know you have special work to do. So just keep doing it. It's very important."

"That's true," Rauner interjected.
That's true? Coulda fooled me.
* Just a tiny sampling of the governor's whining about media coverage…
* June 27, 2016: "Crains is supposed to be a business publication but they're a little bit more collectivist than your standard business publication."

* December 15, 2017: "It's such spin baloney… What's frustrating to me and many people around the state is how biased a lot of the media is around Chicago, around the state. Biased for the status quo. Biased for, you know, against the changes that we're recommending. The bias is, is hard to overcome."

* December 20, 2017: Rauner accused WBEZ, the public radio station, of dropping its monthly "Ask the Governor" feature, in which he took questions from callers, because WBEZ is "really more of a Democrat station."

* May 11, 2018: "Don't get me started on the bias in the media."

* August 17, 2018: "You know [laughs] one of my biggest frustrations is there's a lot of left-leaning press, especially up around Chicago, and they're plenty biased."
- Posted by Rich Miller 7 Comments


* From Vice President Mike Pence's appearance on Friday for Congressman Rodney Davis…
"The American people know the truth of the matter is this economy isn't growing because of the Obama administration," Pence said. "This economy is growing again because under President Trump's leadership, and this Congress, we've been repealing the failed policies of the Obama administration and the American economy is roaring back."

"After years of a war on coal," Pence said, and what seemed like efforts to stifle American energy, the Trump administration, with support of Congress, has approved pipeline projects and got the United Stats "out of the disastrous Paris climate accord – and we're exporting energy as never before."

He said the historic tax cut passed by Congress will yield $2,600 a year to "the average working family here in Illinois."

In addition, he said, "We cut taxes for Illinois job creators so that businesses large and small here in Springfield can create jobs in Illinois and not see them created around the world. And we also cut the heart out of Obamacare" he said, with the removal of the individual mandate, requiring a penalty for those tho don't purchase insurance.
Pence did promise to preserve coverage of pre-existing conditions, which I think more people would consider the real "heart" of Obamacare. Every Republican congresscritter in the country is now running away from their vote on that repeal bill, including Davis. And that's mainly because of the way it undermined pre-existing coverage.
* Ergo…
The Vice President spoke at a Davis campaign event at the Panther Creek Country Club Friday afternoon.

"Illinois 13 may be the district that decides whether we have a Republican majority or whether Nancy Pelosi is speaker of the House in the next Congress," Pence told the crowd. […]

"While we were trying to repeal and replace Obamacare … Rodney Davis was in there every step of the way … but every step of the way, Congressman Rodney Davis made it clear that, as we repeal and replace Obamacare … we will always protect Americans with pre-existing conditions."
* WICS TV…
The campaign is one of the most competitive in central Illinois and Davis said he expected this coming into the election year.

"Campaigns are campaigns, districts are drawn to be competitive. I don't want the voters of this district to stay at home," said Davis.

Davis first spoke to the Vice President about a week and a half ago regarding his campaign for re-election.

Pence asked if there was anything he could do to help Davis, to which he told Pence that he would love for him to come and visit his district.
But, wait. I thought Davis had a "new" poll showing him up by 13 points?
- Posted by Rich Miller 29 Comments


* Saturday…
Susana Mendoza for Mayor petitions in full force at #WomensMarchChi … even though Mendoza has not entered and is in the midst of a battle for IL Comptroller pic.twitter.com/8RBizMa8pt

— Paris Schutz (@paschutz) October 13, 2018
* I also received a photo of this person's clipboard. The photo I have came from the Daley campaign, but it didn't include the 1060 W. Addison address (Wrigley Field), so it apparently was from slightly earlier in the day…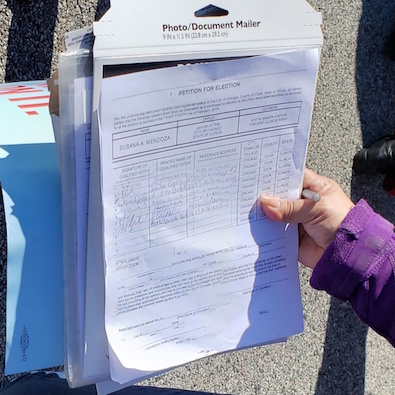 * Sun-Times…
Supporters of Susana Mendoza have begun circulating nominating petitions to get her on the ballot in the crowded race for Chicago mayor — but the Illinois comptroller still insists she's only focused on the reelection campaign to keep her current job.

The petitions were passed around Saturday at the downtown "Women's March to the Polls" by volunteers from a committee formed last month to "draft" Mendoza to run for mayor, an effort led by former U.S. Civil Rights Commission chairman Marty Castro.

A Mendoza spokesman declined to comment on Saturday. Mendoza has said she's "flattered" by calls for her to jump in the race, but is "entirely focused on her reelection campaign as comptroller."
* ILGOP…
When asked on October 3rd if she would run for Mayor, Susana Mendoza responded, "I'm not lying to you when I tell you I'm not even close to making a decision on that." Just 10 days later, reports surfaced of petitions being circulated for Mendoza's Chicago mayoral run. Illinois Republican Party Executive Director Travis Sterling issued the following in response:

"Just 10 days ago Mendoza told journalists that she wasn't even close to making a decision on running for mayor, but today her campaign is circulating petitions to run for Mayor next year. One principle has held true during Mendoza's 17 years in public office - she has always put her own advancement first. Mendoza's current deceptions and lies are obvious proof points to her continuation of putting her own self-service ahead of public service." - Illinois Republican Party Executive Director Travis Sterling
* Related…
* Republican comptroller candidate says she would 'commit to Illinois': "She should be fair with people and commit to Illinois, and right now what's happening, the firm commitment is not to Illinois," Senger said. "Her commitment has always been … to her ambition and the city of Chicago. She's from Chicago. She's been a state representative under (Speaker of the House Michael Madigan) for 10 years, she was the city clerk of Chicago and now comptroller, so I'm looking at this as a situation where we're really not rolling up our sleeves and getting the work we need to get done in the state of Illinois."

* Republican Candidate for Illinois Comptroller visits Quincy: Senger said Mendoza seems to be more interested in running for Mayor of Chicago instead of running for re-election, commenting on a recent ad from her. "Really a different kind of ad at this phase in the campaign, it's all about 'I'm hard as nails', she wears a shirt that looks like the flag of Chicago, so in appearance it looks like she's trying to get her name out there running for mayor already," said Senger.

* Illinois comptroller candidate: Susana Mendoza: Mendoza said she has not decided if she will run for mayor of Chicago. Current Mayor Rahm Emanuel recently annouced he would not run for re-election. Mendoza could win comptroller and still have time to file papers to run for mayor by the Nov. 26 deadline. The Chicago municipal election is Feb. 26.
- Posted by Rich Miller 40 Comments


* From June…
Two men exonerated after 23 years in custody claim Cook County Circuit Judge Matthew Coghlan took part in framing them for murder, standing by as disgraced former Chicago police Detective Reynaldo Guevara convinced an informant to falsely accuse them, according to a pending federal lawsuit.

The informant eventually recanted, saying prosecutors and police had worked together to prepare a story they knew to be false. And one of the key players involved was Coghlan, who in a previous job as a gang prosecutor had worked with Guevara, whose misconduct has led to 18 exonerations of falsely convicted people.
* September…
The Cook County Democratic Party took the rare step Friday of refusing to endorse a sitting Cook County judge, deciding not to recommend Circuit Judge Matthew Coghlan for reelection in November. […]

The party normally urges voters to reelect all judges, listing their names on sample ballots and recommending them in automated calls to voters.
The party doesn't want people to get into the habit of voting "No" on retention elections, so they encourage everyone to vote "Yes." It's a rarity, indeed, when the party goes against a judge.
* Friday…
Embattled Cook County Circuit Judge Matthew Coghlan's hopes of keeping his job have suffered another blow.

The committee that provides funding for circuit judges' retention campaigns is turning over much of its money to the Cook County Democratic Party. And the party is campaigning to defeat Coghlan in November's election, according to Jacob Kaplan, the party's executive director.

Cook County's circuit judges formed the committee years ago so they wouldn't have to directly raise money when they face election to remain in office.

The move to shift the money was the result of a secret vote by the retention judges. They decided to fund the party's efforts despite the Democrats' opposition to Coghlan, one of 59 Cook County judges who will be on the November ballot seeking new six-year terms.
No Cook County just has lost a retention battle since 1990, according to the article.
The Judicial Accountability PAC is also involved, paying for some mail and palm cards opposing Coghlan.
- Posted by Rich Miller 16 Comments


* This is what happens when you spend $670,000 on brass doors instead of on making the Statehouse more functional…
(O)ne of the three elevators that people can use from the Capitol rotunda remains closed.

It was shut down in mid-April while the session was still going last spring. It's not a big deal this time of year, but when the legislature is in session and the place is packed, the elevator gets a lot of use, especially from the public which may not be aware of other elevators in the building. (And we're talking about people who need to use them because they can't negotiate stairs).

The thing was shut down for maintenance last spring, then returned to service for a couple of days before it was shut down again. It's been that way ever since.

The secretary of state's office said the elevator needed a part to ensure safe operation. However, the elevator is so old, parts to fix it are no longer available. As of several months ago, the elevator maintenance company was trying to find a company that could custom make the part. Illinois companies were contacted, but no luck. The search was expanded nationwide. Still nothing.

So now the plan is to do a "modernization repair" that basically involves replacing all of the equipment that makes the elevator go up and down. That means an extensive bidding process, not to mention the work itself.
No cost estimate yet.
The Statehouse looks better than I've ever seen it, but looks can obviously be deceiving.
- Posted by Rich Miller 23 Comments


* AP…
The handgun used to kill a Chicago police commander had once been bought and sold by an unlicensed gun dealer who federal authorities say described peddling guns "like an addiction."

The Chicago Tribune investigated the various sales of the gun that was used to kill Cmdr. Paul Bauer in February. The accused shooter, Shomari Legghette, has pleaded not guilty to first-degree murder.

It's unclear how Legghette allegedly got the weapon. But federal investigators traced the gun to a 68-year-old Wisconsin man, Thomas Caldwell, who has pleaded guilty to a federal charge of selling firearms without a license. A man Caldwell said he sold the gun to last year has pleaded not guilty to a similar charge; investigators say federal agents found 40 guns at that man's home.

Experts say the case illustrates the ease with which people can illegally buy and sell guns either online or hand-to-hand. Chicago police say that's a big factor in the hundreds of shooting deaths each year in the city.
The full Tribune story is here.
* Tribune editorial…
Anyone who makes a regular business of selling guns is supposed to obtain a federal firearms dealer license. Anyone buying from a licensed dealer has to submit to a background check that screens out those who are legally barred from gun ownership, such as felons. Caldwell, however, bought and sold dozens of guns a year without a license, and peddled them through a website that doesn't require users to prove identity and undergo background checks.

That activity brought him to the attention of the Bureau of Alcohol, Tobacco, Firearms and Explosives, the Tribune's Jeremy Gorner and Annie Sweeney reported. In 2015, the ATF sent him a letter warning him not to sell more guns until he got a license. He agreed but didn't stop. In 2017, the agency traced another gun to Caldwell and found he was still posting hundreds of firearms for sale online. Undercover ATF agents arranged to go to his home, where they bought a pistol.

He wasn't charged with a crime, though, until later — after Bauer was shot. In the aftermath of that death, the ATF visited Caldwell's home and found he was still plying his trade without a license, telling agents "that selling firearms was like an addiction," as an assistant U.S. attorney said. Even then, he kept selling, finally earning his date in federal court.

Why didn't the ATF move sooner to get prosecutors to put this chronic, dangerous scofflaw behind bars? The agency "declined to comment," the Tribune reported.

This case shows the need for stricter enforcement of federal firearms licensing laws — which are meant to prevent people from operating as gun dealers without following sensible rules. The laws are also meant to block sales to prohibited buyers. The largely unregulated private gun market makes it much too easy for shady sellers and criminal buyers to find each other. That's a good reason for Congress to pass legislation requiring federal background checks for all firearm purchases, rather than let private sellers continue to operate on the honor system.
It's also a reason why the state might want to step in where the feds are failing to do so.
- Posted by Rich Miller 26 Comments


* Press release…
Today, Democratic candidate for attorney general Kwame Raoul released a new digital ad - "Survivor" - about his personal connection to prostate cancer and the healthcare that saved his life.

Kwame lost his father and both grandfathers to prostate cancer. An old-fashioned doctor who made house calls, Kwame's father often came home with a block of cheese or home-cooked meal, because he would never turn away a patient who couldn't afford care.

In the Illinois Senate, Kwame led the effort to give hundreds of thousands of low-income Illinoisans access to medical assistance under the Affordable Care Act. Last year, he helped pass a law prohibiting health insurance plans from denying coverage due to pre-existing conditions.

As attorney general, Kwame Raoul will continue Illinois' participation in a lawsuit to block the Trump administration's dismantling of Obamacare.
* The ad…
* Script…
"I lost my father to prostate cancer. My day came three years ago. As a cancer survivor and son of a community physician, I know how important access to healthcare is. That's why when I replaced Barack Obama in the state senate, I fought to expand Obamacare. Healthcare should not be a privilege; it should be a human right. I'm Kwame Raoul. This is the work of my life, and I'm just getting started."
* Erika Harold, meanwhile, will speak to the City Club on Thursday, October 25.
- Posted by Rich Miller 5 Comments


* Press release…
Today, the Chicago Tribune reported that JB Pritzker used non-union workers during the renovation of his mansion. This is just the latest in a long line of hypocritical actions from Pritzker following union busting at Seadog Cruises and turning on the heat lamps on striking union workers.

In response, Governor Bruce Rauner issued the following statement:

"This is not surprising. Pritzker's support of union workers is all talk – he's a hypocrite. Pritzker has made it seem like he's looking out for working people, but between this and his scheme to defraud hardworking taxpayers of $330,000, it's clear he's only looking out for himself."
* Trib…
Billionaire Democratic governor candidate J.B. Pritzker has portrayed himself as a champion of working families and received substantial support from organized labor, but he used nonunion workers to remodel his Gold Coast mansion.

Nonunion labor from three trades was hired to work on the yearslong, $25 million renovation of Pritzker's 20,000-square-foot residence, according to a June 2007 email filed as part of a court dispute that arose between Pritzker and the general contractor.

"A note of caution," wrote construction consultant Douglas Kaulas to Pritzker's brother-in-law Thomas Muenster, who oversaw the renovation. "Now that the front yard is screened off and scaffold is going up, the jobsite has a much higher visibility. We're perfectly legal with our permits, but we do have a non-union mason, demo contractor and roofer working. We are a little concerned that the union (business agents) may come to visit." […]

"It's important to finish the exterior work in the three months allotted by the scaffold contract so we can resume our lower profile," wrote Kaulas, who also told Pritzker's brother-in-law that "we're putting a priority" on finishing the exterior work to both hold down scaffold rental costs and "to limit our visibility."

As part of that renovation project, Kaulas occasionally met with Muenster and J.B. Pritzker to give updates.
…Adding… The governor is holding a press conference on this topic at 10:30 this morning. Stay tuned.
…Adding… "Hypocrisy" rarely works in campaigns, but you go with what you got I suppose…
SMN reporting from Chicago where Gov. Rauner called a presser to condemn his competitior Pritzker for using non union workers to renovate his mansion…then says he used non union workers to renovate his own mansion.

Huh? I asked: "It's his hypocrisy." 🤔🤔🤔

— Sarah Maslin Nir (@SarahMaslinNir) October 15, 2018
*** UPDATE *** Greg Hinz says today's press conference is a metaphor…
Rauner exposed himself to new attention on his own union record—and the fact that not one major labor group in the state is backing him for re-election.

He conceded under questioning that he, too, has used nonunion labor in construction jobs on his own property. And he suggested, with a straight face, that he is the real pro-labor candidate in the race for governor.

Yes, he really did that: charge straight ahead without consulting with advisers and associates who might have urged him to be a little less risky. While attention on this issue won't help Pritzker any, Rauner's handling of it isn't likely to help him much, either. In fact, it might hurt.

Call it a metaphor for much of Rauner's tenure.
- Posted by Rich Miller 69 Comments


* "Focus, Amanda, Focus" makes yet another appearance…
Those Illinois Economic Freedom Alliance ads attacking McCann for his "$3 billion tax hike" that he voted against were all over my teevee yesterday during football games.
- Posted by Rich Miller 17 Comments


* My weekly syndicated newspaper column…
Dear J.B. Pritzker,

I totally understand the campaign politics of not wanting to say what you think the income tax rates should be under a graduated tax structure. I also get why you won't say what ought to be the income level at which people will begin paying a higher income tax rate than they do now.

Actually, nearly everyone understands your political calculation. It's elementary. You don't want to give the other side any ammunition to attack you.

I greatly dislike your reticence, but I understand it. And as we all know, Gov. Bruce Rauner has a particular fondness for twisting words, particularly when it comes to stuff like this.

Back in December of 2015, House Speaker Michael Madigan was asked what the income tax rate should be. It had automatically rolled back almost a year earlier and the state was in the throes of what would become a two-year standoff over what that rate should be and what anti-union measures Rauner could extract in exchange.

Madigan said a "good place to start," would be where it was before the last tax hike had partially expired. "And starting there," he said, "you can go in whatever direction you want to go."

Rauner immediately pounced on Madigan for wanting to increase taxes and he's repeated that line ever since, even though Madigan didn't really say that. It's still to this day one of the governor's favorite attacks.

I also get why you wouldn't answer Mary Ann Ahern's question last week: "What does someone make who is middle class?"

If you laid out an estimate, Rauner would immediately twist it into making some point about how the middle class is gonna get whacked under your idea. Again, I don't like what you're doing, but I get it.

But, my dude, you need to come up with some sort of answer other than the evasive stuff you've been spouting whenever anyone approaches you on this general topic. It's just painful to watch you dodge and weave and bob and duck, for sometimes minutes at a time.

You're a smart guy and you do your homework, so you probably know all the statistics by heart about the relatively fragile economic realities of many middle-class folks, or the barriers to reaching middle-class status from the lower rungs of the income ladder.

Let's face it, though, you were raised with money. You've never had to borrow money from your brother to take a bus to work. You've never had to worry about not being able to pay for health insurance. You've never had to decide which household bills to hold off paying because of an unexpected expense. You've never had to figure out how you're going to pay off your student loans, while trying to save to pay for your kids' college bills, or debate whether to beg your boss to let you leave work because your child is sick, or even whether you can afford to buy a car.

Instead of constantly and blatantly dodging the kabillion questions about your tax idea and the middle class, how about using the question as an opportunity to show you can at least empathize with people who are working hard to stay in the middle class or struggling mightily to get there, and/or perhaps pivot against a wealthy governor who made huge promises to middle-class taxpayers and hasn't come through?

Or, at least just say something like this: "The dollar amount can range and depends on where you live, but if you're working and worried about paying your mortgage and bills, good schools for your kids, affordable healthcare and safe streets, you're middle class."

Short and sweet. By the way, I stole that line from my blog commenter who goes by the name "Wordslinger." He's got an annual award named after him for a reason.

You kinda/sorta almost got there a couple of weeks ago when you unveiled your higher education plan, but it was so long and meandering. You've yet to succinctly state that you understand what the middle class is and what those folks deal with.

The last five polls have given you an average lead of 18.2 percentage points. Barring utter catastrophe (and these things do happen), you're probably going to be our next governor. But if your non-answers on this general topic are any indication of how you intend to govern, I guarantee you're gonna have a rough time.
- Posted by Rich Miller 27 Comments


* Ouch…
Most people: "honoring a universally beloved, 99-year-old nun is a nice, risk-free photo op." @GovRauner: "Hold my beer." #twill pic.twitter.com/D8IPgIJj4x

— Radical Candor (@RadicalCandorIL) October 13, 2018
* From Tina's story…
It was designed to be a feel-good event with the Loyola Ramblers' beloved Sister Jean.

But it ended with Gov. Bruce Rauner yet again explaining his position on illegal immigration.

That's because the 99-year-old Loyola University-Chicago basketball team chaplain was being honored in part for helping the university's undocumented students receive financial aid. That caught the governor off guard on Friday, even though the state's Senior Hall of Fame award was being bestowed by Rauner's own Illinois Department on Aging, and the governor was helping present the honor. […]

Speaking to reporters after the induction, Rauner was asked whether he supports financial aid programs for undocumented students, in light of Sister Jean's work with the program. The university was the first to accept undocumented medical students, and also has a "safe space" program for undocumented students.

"I'm not familiar with the [Magis] program," Rauner said. "I'd have to learn more about it before I could comment on that program." […]

Earlier this week, Rauner came under fire for linking illegal immigration to crime.
* Other reporters ignored the flap, however, so it wasn't a total wash…
* ABC 7: Loyola's Sister Jean receives Senior Illinoisans Hall of Fame Award: "The world knows her as the chaplain for the Loyola Men's Basketball team but here in Chicago, and on the Loyola campus - we know her as a teacher, counselor, adviser, coach, and civil rights activist," Rauner said. "She sets a world-class example for all of us to follow."

* Tribune: Loyola's Sister Jean, 99, is inducted into state's Senior Hall of Fame: "Sister Jean represents all that is wonderful in life: faith, love of community, love of God, giving back to those most vulnerable among us," Gov. Bruce Rauner said.
- Posted by Rich Miller 9 Comments