* We've discussed this topic before, but here's a new story from Illinois Public Radio…
A website that popped up this month asks a question as its URL: arethereanywomenrunningforilgovernor.com. It then very simply answers it with a bright red "NO." A group of professional women in the state are behind the effort to draw attention to the issue.

Kady McFadden is the deputy director of the Illinois Sierra Club. She's one of the people behind the site. She says the idea came up over dinner with several other women who also hold powerful positions. "It sort of felt like the elephant in the room that we needed to address - and the first thing we wanted to talk about before we could dive into the race itself. As colleagues - as female colleagues that work in politics, that care about issues in our state, it was one of the first things on our minds," says McFadden.
* And here's Katelynd Duncan writing in Crain's…
For the past 10 years, I have worked with candidates across the state of Illinois running for local and statewide office. Over and over again, I have seen donors who are reluctant to give money and campaign resources to female candidates. Research has shown us that, when women decide to run, they are elected and re-elected at the same rate as their male counterparts. However, with the epic spending no longer limited to the "sexy" top-tier offices such as president, Senate or gubernatorial races, down-ballot races cost more than ever.

The Chicago Sun-Times recently reported that the governor's race here in Illinois is averaging about $120,000 spent per day. There are still 18 months until the election—a race for a single office that, according to Politico, is on track to become the most expensive statewide contest in U.S. history, possibly topping a record $300 million.

So what does this all mean? It means that consultants, candidates and donors need to adapt and evolve. Fast. Gender aside, the traditional donor pool cannot keep up with this level of campaign spending and raise enough money to win. The bar of fundraising expectations has been raised to a level that renders potentially viable candidates—not just women, but especially women—irrelevant if they don't have the resources to run.

That's where we step in. Not only do we need to build a pipeline of talent at the local level—we need to give them checks. Change starts at home, and we need more women to run for local school boards, public libraries and boards of commissioners. We need to donate to them, too.

While bipartisan campaign finance reform is a pipe dream, donating to women candidates can be a reality. There are currently dozens of women running for office in Illinois right now, each one an opportunity to invest in the future of our state.

And until we start making that investment, we surely will have the same male candidates over and over again.
- Posted by Rich Miller 6 Comments


* You'll recall this from yesterday…
Illinois House Speaker Michael J. Madigan deliberately advances policies that promote high property taxes out of a "stunning conflict of interest" that has made him wealthy, Gov. Bruce Rauner charged Monday.

In a harsh broadside that likely previews a re-election campaign strategy to target the house speaker, Rauner said, "Madigan for his own reasons is a fan of high property taxes." […]

Asked to clarify, the governor did not offer specifics but pointed to the legal work on property tax appeals conducted by Madigan & Getzendanner, the Chicago law firm Madigan co-founded in 1972.
* Bernie Schoenburg pointed out to the governor today that he had vetoed an income tax increase that would've personally cost him "millions of dollars." Wasn't that also a conflict of interest? The governor's response…
Bernie, when a person who sets tax policy and has controlled it for 35 years, also controls a property tax appeal law firm that fundamentally makes money from the property tax policy in a way that systematically disadvantages the families of Illinois. That is wrong. Our system is broken. It's fundamentally unfair.
Bernie tried to follow up to get him to answer the actual question, but Rauner moved on and the other reporters let him.
- Posted by Rich Miller 32 Comments


* A look at the influence of labor unions in the governor's race by ICPR…
Democratic candidate JB Pritzker is currently leading the field of gubernatorial candidates as measured by union endorsements. The self-funded Democrat has secured endorsements ranging from small local councils to large, statewide unions, including the 900,000-member Illinois AFL-CIO. All told, Pritzker has received 17 endorsements from unions collectively representing over 1.1 million members.

As endorsements have come out over the last few months, some argued that unions backed Pritzker early because of his personal wealth and promise to self-fund his campaign, which would allow unions to spend more money supporting labor-friendly candidates in General Assembly races across the state.

Kent Redfield, Professor Emeritus at the University of Illinois - Springfield, agrees with this assessment, ascribing many of these early endorsements to financial priorities. Redfield said that instead of focusing on policy differences between candidates, "union money is going to be much more concerned about whether they have to spend on the governor's race, and on keeping a Democratic majority" in the General Assembly. Redfield noted that unions spent over $30 million on Governor Pat Quinn's campaign in 2014, and would prefer to spend that money on down-ballot races in 2018.

Notably, some large labor groups have refrained from endorsing a candidate this early into the race. Such organizations include AFSCME Council 31, SEIU, and the Illinois Federation of Teachers. […]

[Wayne Steger, Professor of Political Science at DePaul University] believes that state employee and teacher's unions, like SEIU, IFT, and AFSCME, "are withholding their endorsement because they are trying to get stronger commitments from JB [Pritzker]." Steger points out, "it's a risk, because if they wait and Pritzker takes a big lead in the polls, they are coming late to the game." However, if the polls are looking close for Pritzker, key endorsements before the Primary could give Pritzker the edge he needs to win, elevating the clout of the unions.
There's more, including the Sen. Sam McCann angle, so go read the rest.
* But I wanted to give a couple of those public employee unions a chance to respond. Here's Anders Lindall from AFSCME Council 31…
AFSCME endorsements are the culmination of a grassroots process in which union members throughout the state examine the records, priorities and viability of the candidates in any given race. With respect to the 2018 primaries, that process is now in its early stages and will conclude at a statewide conference in January. If ICPR or the professor had contacted us before publishing this piece, we would've been happy to share that our actions to date reflect our process, not our judgment about any candidate.
* And here's Aviva Bowen from the Illinois Federation of Teachers…
We're not withholding anything. Our members drive the endorsement process, and they have only just started learning about the candidates and their visions for the future of Illinois. All we know for certain right now is that Bruce Rauner is committed to crisis, and we will do everything we can to stop him from hurting working people any further.
- Posted by Rich Miller 19 Comments


* Gov. Rauner spoke to reporters today about SB 1…
Let me be crystal clear. The Senators have been clear with our team that they are under specific orders from Speaker Madigan to hold the bill… You guys are all smart. You've been around Illinois politics for a while. You know how this goes. Speaker Madigan has directed the Senators to hold the bill.
* He also said this…
President Cullerton called me about an hour ago. I called him back. His specific request was, he said 'Governor, you know, um, I'd like to meet with 'ya on Monday in Chicago to talk about school funding.'

Really? Are you kidding me? Monday? In Chicago? When we've called a special session, when it's the duty of the legislature to pass a funding bill and get it done so our schools can open on time? You've got to be kidding me.
The governor then claimed: "Our children are being held hostage by these politicians." And he repeatedly refused yet again to provide any details of his own plan.
I've asked the Senate President's office for a response. I'll post it if and/or when I get it.
*** UPDATE ***  Hmm…
#BREAKING Senate President Cullerton says he told the governor he would send him the bill Monday if he won't meet with him.

— Rachel DrozeTV (@RachelDrozeTV) July 26, 2017
President Cullerton: "If you don't want to meet before Monday, I promise I'll send the bill. The Governor said absolutely not."

— BlueRoomStream (@BlueRoomStream) July 26, 2017
President Cullerton says he will send #SB1 to @GovRauner on Monday whether he meets with him or not.

— Michon Lindstrom (@MichonLindstrom) July 26, 2017
Gov calls a leaders' meeting (as Cullerton asked for) a sham, but he calls special session with no legislation to take up.

— IL Senate Democrats (@ILSenDems) July 26, 2017
- Posted by Rich Miller 44 Comments


* BGA…
Mayor Rahm Emanuel's administration signed off on an elaborate financial shell game that obscured payment of $55 million for renovations at Navy Pier with tax dollars reserved to fight urban blight, records show.

The bookkeeping jiujitsu appears to violate the spirit, if not the letter, of the controversial tax-increment financing program, which critics say has been widely abused and not used for its intended purpose of spurring development in or near economically disadvantaged neighborhoods.

A joint investigation by the Better Government Association and Crain's Chicago Business finds that the administration began filtering the money in 2014 through a hotel project at McCormick Place, capitalizing on its Near South Side location as a rationale for tapping funds reserved for struggling communities.

Emails and internal documents obtained through the Freedom of Information Act show that officials at the city as well as the governing body of the lakefront convention complex knew the planned 1,205-room Marriott didn't need the financing. But they also knew that Navy Pier, 3 miles away and a vast distance from any urban blight, did.
* It's a long and involved story, but Ben Joravsky breaks it down…
In the case of South Loop TIF deals, the mayor swore up and down he was spending $55 million in TIF dollars on the arena/hotel project at 22nd and Michigan. But thanks to Crain's and the BGA, we now know the money was diverted to pay for Navy Pier renovations. So it's a diversion of a diversion. Impressive! I'm not sure Mayor Daley the Younger even tried that—and he pioneered this scam. […]

Surprisingly, state and city officials were up front about the apparent switcheroo—at least in the e-mails they wrote to each other. James Reilly, the former CEO of MPEA—its board is appointed in equal parts by the mayor and the governor—acknowledged the unorthodox transaction in a July 12, 2013, e-mail, one of many Chase and Ecker secured via Freedom of Information Act request: "There is a somewhat complicated series of cash flow issues that we need to get a handle on between the City, MPEA and [Navy Pier] with regard to the Tiff [sic] funds that will come from the City to MPEA to reimburse MPEA for the purchase of the land for the [hotel and basketball arena] which in turn will enable MPEA to grant $55M to [Navy Pier] for its reconstruction project." […]

Wait, there's more. In October 2014, Richard Oldshue, MPEA's chief financial officer, sent the following message in an e-mail to Mark Jarmer, an aide to Illinois house speaker Michael Madigan: "None of this TIF money comes to MPEA as incentive or otherwise. The City is aggregating balances from various existing [TIF] districts as they become available to transfer funds to MPEA which we transfer in full to [Navy Pier]. We don't keep any." […]

Dowell says she'll insist the City Council hold hearings on the deal. That would be helpful—as the council never actually held a hearing on whether to spend the $55 million in the first place. In July 2013, two weeks after Reilly wrote the aforementioned e-mail, Emanuel hammered the deal through on a voice vote—most aldermen didn't know about it until after the vote was taken. We now know why the mayor wanted to keep it a secret.
* David Reifman, a commissioner of the Chicago Department of Planning & Development, and Lori Healey, chief executive officer of the Metropolitan Pier & Exposition Authority, respond…
By failing to understand the typical approach to how the city expends TIF funds, the authors of this article have created unnecessary confusion and overshadowed the significant public benefits that the Elevate Chicago initiative has achieved. We are writing to set the record straight.

In short, no TIF funds were diverted to Navy Pier.

First and foremost, it's important to understand the city contributed $55 million toward the $498 million overall hotel project cost as a reimbursement to the Metropolitan Pier & Exposition Authority, not as an upfront payment. This approach protected the public's interest by only allowing the expenditure of TIF funds after eligible expenses were complete. MPEA advanced the funds for these reimbursable costs through its own sources. Only after MPEA made these upfront payments did the city reimburse it, and the city's payments were applied only to certified TIF eligible costs related to the hotel and for no other purpose.

It is also important to remember that all of the projects mentioned in the article were announced together in May 2013 as Elevate Chicago, a unified and targeted $1.1 billion investment in Chicago's tourism and convention infrastructure. Elevate Chicago included Wintrust Arena, the Marriott Marquis Chicago, a privately funded smaller hotel, streetscape work and the first phase of Navy Pier renovations. This was widely reported in 2013.

In sum, MPEA advanced all of the funds for the hotel project, some of which were later reimbursed by the city. Only once MPEA received reimbursement from the city did it have sufficient funds to support other Elevate Chicago projects, including a capital investment in the improvement of Navy Pier, which it owns.
- Posted by Rich Miller 22 Comments


* Press release…
Today, the Illinois Republican Party released robocalls statewide highlighting Mike Madigan's hostage-taking.

Mike Madigan and his political allies are trying to hold schoolchildren hostage in order to force through a $500 million Chicago bailout without reform.

This comes after Madigan held state government hostage for years in order to force through his 32% permanent income tax hike.

Now, the Chicago Machine is refusing to release education funding for all Illinois schools unless they get their taxpayer funded bailout.

And while Madigan and his allies work the legislative side, Madigan's candidates for Governor – J.B. Pritzker, Chris Kennedy and Daniel Biss – support the bailout too.

The Illinois Republican Party is committed to exposing Madigan's hostage-taking scheme.
I'm told this is a "targeted statewide call."
* The audio…
* The script…
That's a school bell ringing, but your kids may not hear it this fall if Illinois House Speaker Mike Madigan gets his way.

Mike Madigan and his enablers in the state house are threatening to shut down schools unless they get a special $500 million bailout for Chicago public schools.

First, Madigan held the budget hostage to force through a 32% permanent income tax hike with no reforms.

Now, Madigan is holding our school children hostage to get a $500 million bailout for Chicago.

And Madigan's candidates for Governor - J.B. Pritzker, Chris Kennedy and Daniel Biss - support the bailout too.

Now is the time to fight back and stop the Chicago politicians before it's too late.

Call your state representative and state senator. Tell them your higher taxes shouldn't pay for a Chicago bailout.

Paid for by the Illinois Republican Party.
So, it's a $500 million bailout now?
- Posted by Rich Miller 27 Comments


* The big question this morning is how many legislators show up…
"I'm not sure if we'll have a quorum, we'll probably have a quorum," Deputy Majority Leader Lou Lang told me this am of session headcount

— Kerry Lester (@kerrylester) July 26, 2017
* Follow along with ScribbleLive…
- Posted by Rich Miller 2 Comments


* Frankly, I'm surprised he lasted this long…
Labor union leader James Sweeney, who accused Gov. Bruce Rauner of trying to "destroy the labor movement" in Illinois and once parked an inflatable rat on the tollway lawn, won't be reappointed to the tollway board.

Rauner chose not to keep Sweeney, president of International Union of Operating Engineers Local 150. His term expired in May.

A Local 150 spokesman confirmed an official told Sweeney last week that his term wouldn't be renewed. […]

"They're losing a lot of expertise … there's no longer any directors with firsthand knowledge (of road construction) during one of the largest capital expansions in the tollway's history," Local 150 Communications Director Ed Maher said.
I mean, the guy did everything he could to deny Rauner a 2014 GOP primary win, funded a Libertarian Party candidate against Rauner in the general, helped engineer the early AFL-CIO endorsement of JB Pritzker and is now actively looking around for a Republican to run against Rauner in the 2018 primary.
- Posted by Rich Miller 18 Comments


* NBC 5…
At issue is the way the bill factors CPS' finances into what would become the new statewide funding formula. Chicago Mayor Rahm Emanuel met with both Madigan and Senate President John Cullerton Monday as he continued his calls for Rauner to sign the legislation.

"My view is do what's right," Emanuel said Tuesday. "I know for a fact the old Bruce Rauner – before there was this coup in his office – supported, by saying he agrees with 90 percent of the funding in education, 90 percent of what's in this bill," he added.
First, his education czar, not the governor, said that. Second, she also said the governor would veto the bill anyway. This has nothing to do with his new staff.
- Posted by Rich Miller 10 Comments


* Perhaps you can help explain this campaign logo to me?…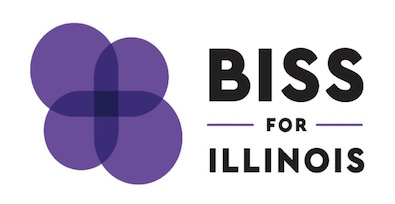 …Adding… We may have a winner…
It might be a B that was rotated around the center. If you look at the right half the top part is slightly smaller than the bottom, and if you look at the B in Biss it follows the same style. Kinda weak but best I have.
Kinda makes sense.
…Adding More… Hmm…
Agree with Perrid but a little more…notice you can see the bold I and the proportional S curves…so the logo actually can spell his whole name…
- Posted by Rich Miller 77 Comments


* Pritzker campaign…
Yesterday, Bruce Rauner released a new ad featuring his wife Diana, highlighting the couple's "passion for education." But lately Rauner's only passion is causing crises and distorting his own record. The reality is that Bruce Rauner continues to intentionally cut programs that help children and families build better lives.

Let's take a look at Bruce Rauner's real record on education:

Due to Rauner's 736-day budget crisis, Illinois is over $1 billion behind in paying school districts money they were promised.

Hundreds of public university employees were laid off and dozens of programs were cut after Rauner failed to pass a budget for two years.

Rauner proposed a 20% cut to higher education and a 31.5% cut to universities in his 2015 budget proposal.

The ad claims Rauner "increased early childhood education to its highest level ever," but in reality he proposed a $338.5 million cut to the Childcare Assistance Program in 2016 and decimated the program with his 2015 Emergency Rule, cutting off 90% of previously eligible families.

This month, Bruce Rauner vetoed the entire FY18 Illinois State Board of Education budget worth $11.9 billion, including:

$443.7 million for the Early Childhood Block grant.
$29 million in additional funding for bilingual education.
$387.6 million for disabled student transportation.
$135.2 million for disabled student tuition.
$262.9 million in transportation reimbursement.
$15 million for afterschool programs.
$1.4 million for the parent mentoring program.
$2.4 million in technology for success.
$846,000 for blind and dyslexic services.
$3.1 million for district consolidation costs and supplemental payments for school districts.
$100,000 for autism training and technical assistance.
$9 million in reimbursement for free breakfast and lunch programs.
$1.4 million for the visually impaired and educational materials coordinating unit.
$38 million for career and technical education.
$11.5 million for truant alternative and optional education program.
$6.3 million for alternative education and regional safe schools.
$5 million for agriculture education program.
$2.4 million for Afterschool Matters.
$500,000 for advanced placement classes.
$1 million for the lowest performing schools.

"Fresh off vetoing the entire education budget, this governor is ready to allow schools not to open next month. There is nothing 'right' about what Bruce Rauner is doing to Illinois schoolchildren," said Pritzker campaign spokeswoman Jordan Abudayyeh. "No amount of messaging, distortion, and validation is going to change the fact that this governor is failing in his basic obligation to ensure Illinois children receive a quality education."
The childcare program and early childhood education are separate beings, but wrapping that veto around him isn't a bad play.
* Related…
* Mark Brown: Downstate knows more about its schools than first lady does

* Diana Rauner appears in new ad praising governor's support for education
- Posted by Rich Miller 18 Comments


* From the governor's public schedule…
What: Gov. Rauner signs HB 643, freezing legislative per diems
Where: Governor's Office – Illinois State Capitol
Date: Wednesday, July 26, 2017
Time: 11:30 a.m.

What: Gov. Rauner addresses media
Who: Senate Republican Leader Bill Brady, House Republican Leader Jim Durkin
Where: Governor's Office – Illinois State Capitol
Date: Wednesday, July 26, 2017
Time: 15 minutes after adjournment of General Assembly
We discussed HB 643 on Monday. From the synopsis…
Amends the General Assembly Compensation Act. Establishes the fiscal year 2018 mileage reimbursement rate and allowance for lodging and meals. Amends the Compensation Review Act. Prohibits cost-of-living adjustments for or during the fiscal year beginning July 1, 2017 for State government legislative and executive elected officers and appointees in positions for which the Compensation Review Board previously recommended or determined compensation. Effective immediately.
So, by signing that bill today, he will prevent the cost of the special session from rising. Notice, however, that the two top legislative sponsors (both Democrats) aren't on the schedule.
- Posted by Rich Miller 3 Comments


* From the Illinois Policy Institute's news service…
Rauner's Education Secretary Beth Purvis said the Democrats' bill is an evidence-based plan, but it also provides hundreds of millions of dollars to Chicago Public Schools pensions above and beyond the funding formula.

Purvis said that in 1995, an agreement was made that, because the state didn't pay for the cost of Chicago Public Schools pensions, it instead would send a block grant, which is about $250 million a year "that is over and above what they would otherwise get within the school funding formula."

"And the idea was, 'Chicago Public Schools, we're going to give you that money and pay down your pensions'," Purvis said. "Now CPS didn't use that $250 million to pay down their pensions. In 11 of 25 years, they only made partial payment or no pension [payments]."

Purvis said by ignoring that pension debt, the health of CPS pension funds deteriorated rapidly.

"Our argument is … it's as if your parents gave you money to pay for your college tuition," Purvis said. "You didn't pay for your college tuition, instead you bought a car. That car got you to and from school so it's important but now you're going back to your parents and saying, 'Hey, can I have some of my brother and sister's college money to pay down my college debt?' I just don't think that's fair."
* Dusty Rhodes at WUIS earlier this week…
In reality, the CPS block grant has no formal relationship to pensions. All districts receive state reimbursement for seven "categoricals" above what they receive in General State Aid. Every district except Chicago has to submit vouchers to get reimbursed for these categoricals. But since 1995, Chicago has been reimbursed via a block grant, based, at least in part, on the reality that submitting claims for thousands of different students was burdensome. Over the years, as CPS enrollment has declined, the block grant resulted in the district receiving $250 million more than it would if it had to submit vouchers for reimbursement.

Rauner's education czar Beth Purvis has said those extra funds have been audited, and aren't being misspent. "There's no implication that CPS is misusing those funds in any way, shape or form," she told me in May. "We believe that they're using them for the educational costs of educating those children."
- Posted by Rich Miller 18 Comments