* As I've told you before, I grew up on a farm in rural Iroquois County. Every year, we'd take our animals to the county fair to show them and auction them off. The Iroquois County Fair has never really changed over the years. Going there is like stepping back in time, and I mean that in a good way. It's wholesome, affordable and safe. Kids run around the grounds like they did back when I was young.
Marvin Perzee became a board member of the Iroquois County Fair in 1967 and was elected its chairman in 1972. He served in that role until January, when he stepped down for health reasons. You'd think after all those decades the fair would deteriorate or become an ego-driven fiefdom, but it didn't. Mr. Perzee was one of the nicest people you'll ever meet…
A fixture of the Iroquois County Fair for more than 50 years, Marvin Perzee passed away at Carle Foundation Hospital in Urbana Wednesday morning.

Ironically, this year's edition of the fair opened the same day Perzee passed. […]

A moment of silent prayer was held prior to Wednesday's Queen Pageant, fair Board President Paul Ahlden said.

"It's a great loss for the fair and the community as well," Ahlden said.

The mood at the fairgrounds located north of Crescent City was somber, he said.

"He and [his wife] Sharon spent more than 50 years at this place," Ahlden said. "As we move forward, we will honor his legacy and hard work."

Ahlden last talked to Perzee a week ago. He already was in the hospital.

"There was every indication he was going to be part of this year's fair," Ahlden said. "Sharon was driving him around, and he was still doing stuff.

"We're really going to miss him."
I will, too. Everyone will miss him in that part of the world.
Mr. Perzee also chaired the Illinois Association of Agricultural Fairs for 40 years, so he knew the movers and shakers in this state and was perhaps the strongest advocate for county fairs anywhere.
* Watseka Times-Republic…
"Our loss is Iroquois County's loss," said current fair board president Paul Ahlden.

Ahlden stepped into the fair board president in January when Perzee stepped down due to health reasons, but Perzee was still around helping in a role he had since 1972.

He said everyone at the fair wants to see the fair continue to prosper as Perzee has spent a lot of time and attention to not just Iroquois County's fair, but he's also worked at the state level. […]

"We lost a lifelong friend of the Iroquois County Fair, and we want to move forward in a manner to honor his accomplishments," Ahlden said. "He's done a fantastic job, and we want to make the Iroquois County Fair an even better place."
* From Mr. Perzee's obituary…
Marvin was a member of many professional organizations and received several awards and honors including: In 1963, American Farmer Degree – FFA; 1963-1969, U.S. Army Reserves; 1963-1992, Iroquois County Republican Precinct Committeeman and Chairman for 14 years; 1965 to present, leader of the Ashkum Chargers 4-H Club; 1965 to present, served on the board of directors of the Iroquois County Agricultural and 4-H Fairs Association and was elected president in 1973 and then assumed the role of vice president in 2019; 1968 to present, member of Elks Club, Moose Club, American Hampshire Sheep Association and Farm Bureau; 1971-1981, member of Iroquois County Extension Youth Council; 1971, vice chairman of the American National Red Cross Fund Campaign; 1973, Outstanding Young Farmer Award recipient – Illinois Jaycees; 1974, appeared in Awards Volume of Outstanding Young Men of America; 1979 to present, member of Legislative Committee for the Illinois Association of Agricultural Fairs and chairman for 40 years; 1979-present, vice president of Illinois Association of Agricultural Fairs Association – Northern District; 1979-1984, member of Department of Agriculture Advisory Board; 1980, recipient of the Iroquois County Extension Council Alumni award for distinguished service; 1982-1983, president of Illinois Association of Agricultural Fairs Association- Northern District; 1983-1984, member of Advisory Board for Division of Fairs and Horse Racing; 1984-1989, Director of Illinois Association of Agricultural Fairs; 1984, recipient of Department of Agriculture, Fairman of the Year Award; 1990-1998, appointed to the State Fair Advisory Board; 1990-1991, President of Illinois Association of Agricultural Fairs; 1992-1996, Director at Large of Illinois Association of Agricultural Fairs; 1999, Prairie Farmer – Master Farmer Award; 1999-2003, appointed to Attorney General Jim Ryan's Advisory Board; 2005, Watseka Times Republic – Lifetime Achievement Award; 2006, Kankakee Daily Journal – Farm Family of the Year Award winner; 2007, inducted into the University of Illinois 4-H Hall of Fame; 2014, certificate of appreciation – OPTIONS Center for Independent Living; 2014 to present, State of Illinois Advisory Board Carnival Safety Board; and 2019, Recognition of Service to Fair Industry From Illinois House and Senate.

Visitation will be from 2 p.m. Thursday, July 25, until the 5 p.m. funeral service at the Iroquois County Fairgrounds 4-H Building, north of Crescent City. Visitation will also resume after the funeral service. The Rev. Don Gillespie will officiate. Burial will be on Friday, July 26, in Danforth Reformed Cemetery.

Memorials may be made to the Iroquois County Fair.
Rest in peace, Mr. Perzee. You earned it.
- Posted by Rich Miller 7 Comments


* From the Illinois House Democrats' Twitter page on late Friday afternoon…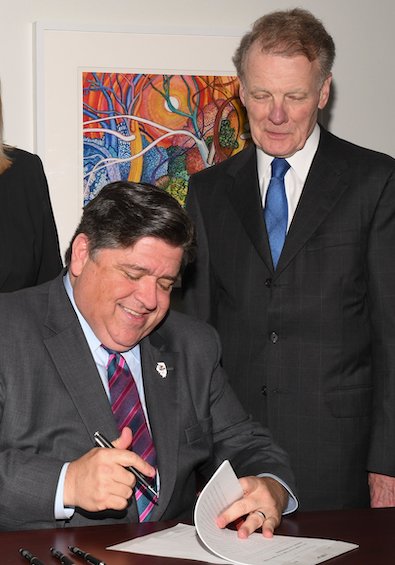 * The Question: Caption?
* Related…
* Kass: Illinois after Boss Mike Madigan? Like Yugoslavia after Tito: I called Dan Proft, conservative activist and morning talk show host on WIND-AM 560. I wanted to know how the Republican Party might react to the idea of a wounded Madigan. "What Republican Party?" Proft asked. "I'm not familiar with this 'Republican Party' of which you speak. Oh, you mean the party of GOP leaders who want to have the Madigan/big government gravy train stop at their houses? That's not a party that can take advantage of anything." Proft is angry, and rightly so, at the GOP sellouts who've accommodated Madigan's power for years so they might stuff themselves on crumbs. He sees Republican leadership as corrupt, and unable to take advantage of Madigan's difficulties.
- Posted by Rich Miller 66 Comments


* Tom Kacich…
What a difference two years makes for Betsy Dirksen Londrigan, the likely Democratic opponent next year to Rep. Rodney Davis in Illinois' 13th Congressional District, which includes Champaign-Urbana.

Two years ago at this time, Londrigan had recently announced her candidacy, barely had any campaign money and was one of six candidates (eventually five) who had either jumped into the Democratic primary election or was considering it.

This time she's the only announced challenger to Davis, she already has more than $450,000 on hand, she has lined up support from a number of Democratic members of Congress including Speaker Nancy Pelosi, and she's got the name identification from a 2018 campaign in which she came within about 2,000 votes or less than a percentage point of upending a man who has been a member of Congress since 2013.

In the fundraising quarter that ended June 30, Springfield native Londrigan reported raising an impressive $504,627 — far more than the $382,350 brought in by Davis. The Taylorville Republican still has more cash on hand than Londrigan — $532,913 versus $453,326 — but the trend favors her.
Rep. Rodney Davis (R-Ill.) is facing a rematch with Democrat Betsy Dirksen Londrigan, whom he beat last year by about 2,000 votes. Londrigan raised $521,887 for the quarter vs. Davis's $422,070, though Davis has more cash on hand.

"You've got to hand it to the Dems and give them some credit for being able to go out and get donors from throughout the nation to support candidates, but . . . when you have cities like New York and San Francisco and Los Angeles supporting candidates in central Illinois, their values may not be the values of the constituents that I serve," Davis said.
* Londrigan op-ed…
Why do politicians like Congressman Rodney Davis vote against lowering the cost of prescription drugs? Why does he vote to raise health care prices? Why does he vote against protecting people with pre-existing conditions? Why does he vote — time after time — against ensuring that people in the 13th district can get affordable access to quality health care?

I think the question should be: If he isn't voting for us, who is he voting for?

Follow the money. During his time in Washington, Congressman Davis has taken more than $600,000 from pharmaceutical and insurance companies. Even worse, over 75% of the money in Congressman Davis' campaign coffers comes from special interest donors and PACs, instead of the people he has pledged to serve.
* Public Radio…
Betsy Dirksen Londrigan pledged to not take any money from corporate political action committees, or PACs, in her second run for Illinois' 13th Congressional District.

In an email Wednesday, incumbent Rep. Rodney Davis' campaign said that's not true, since Londrigan accepts money from the Democratic Congressional Campaign Committee, which does take money from PACs. […]

"The part that I'm responsible for is what I'm going to do, and I'm not accepting a dime of corporate PAC money," she said. "Because I refuse to be beholden to these corporations and special interests." […]

"Davis is honest with voters about his support from job creators. Corporations cannot directly donate to congressional candidates. Their PACs are made up of donations from hardworking employees," the Davis campaign email stated. "He's proud to be supported by companies like ADM, State Farm, and many others who have deep ties to our communities and create jobs."
* Bernie…
While the DCCC takes corporate PAC money, much of the group's spending is through independent expenditures — not coordinated with candidates even as it backs those candidates. Republicans and Democrats both are helped these days by independent expenditures of various groups.

"Londrigan also personally profits off of corporations with her husband being a lobbyist at McGuireWoods for multiple corporations, including Horizon Pharmaceuticals," Phelps said. "It's disingenuous and voters see through it."
* More Bernie…
Londrigan reiterated that she thinks Davis is "bought and paid for with corporate PAC and special interest money."

Phelps said that because Londrigan gets help from the Democratic Congressional Campaign Committee, which takes corporate political action committee money, she is "participating in a corporate PAC money laundering scheme."

"Meanwhile, Davis is honest with voters about his support from job creators," Phelps said.

Londrigan told reporters that while "Democratic leadership wants to elect Democrats to Congress" and helps via the DCCC, she is "not accepting a dime of corporate PAC money" directly through the campaign committee she controls.
Gonna be a long campaign season.
- Posted by Rich Miller 10 Comments


* Politifact…
[Illinois Comptroller Susana Mendoza] said [on a podcast] Indiana has a higher gas tax than Illinois does, even after a recent hike.

By every government measure we checked, and by acknowledgement from Mendoza's office itself, the claim is wrong.

Illinois residents pay 8 cents more in state excise taxes for each gallon of gasoline than residents of Indiana, according to revenue officials in both states. We rate Mendoza's claim False.
* She owned it and said she wouldn't do it again…
I take pride in getting it right. This time I got it wrong. I trusted faulty info. Next time I won't just double check - I'll triple quadruple check. Sorry for the confusion. Good fact check.

— Susana A. Mendoza (@susanamendoza10) July 22, 2019
Even so, if you're driving any significant length of time to save 8 cents a gallon, you're doing it wrong.
- Posted by Rich Miller 21 Comments


Both of Illinois' Democratic senators on Wednesday joined the list of lawmakers calling on U.S. Sen. Al Franken to quit.

In a tweet Wednesday, U.S. Sen. Dick Durbin, the No. 2 Democrat in the chamber, said, "Senator Franken's behavior was wrong. He has admitted to what he did. He should resign from the Senate."

U.S. Sen. Tammy Duckworth, in a statement Wednesday afternoon, said she was "deeply disappointed" by the Minnesota senator's behavior.

"I am deeply disappointed by Sen. Franken's behavior. He must step aside," she said. "To all those across America who have come forward to share their stories over the past few months: thank you. Your courage and strength in driving this long-overdue national conversation is awe-inspiring."
* Jane Mayer at the New Yorker…
It is extremely rare for a senator to resign under pressure. No senator has been expelled since the Civil War, and in modern times only three have resigned under the threat of expulsion: Harrison Williams, in 1982, Bob Packwood, in 1995, and John Ensign, in 2011. Williams resigned after he was convicted of bribery and conspiracy; Packwood faced numerous sexual-assault accusations; Ensign was accused of making illegal payoffs to hide an affair. […]

A remarkable number of Franken's Senate colleagues have regrets about their own roles in his fall. Seven current and former U.S. senators who demanded Franken's resignation in 2017 told me that they'd been wrong to do so. Such admissions are unusual in an institution whose members rarely concede mistakes. Patrick Leahy, the veteran Democrat from Vermont, said that his decision to seek Franken's resignation without first getting all the facts was "one of the biggest mistakes I've made" in forty-five years in the Senate. Heidi Heitkamp, the former senator from North Dakota, told me, "If there's one decision I've made that I would take back, it's the decision to call for his resignation. It was made in the heat of the moment, without concern for exactly what this was." Tammy Duckworth, the junior Democratic senator from Illinois, told me that the Senate Ethics Committee "should have been allowed to move forward." She said it was important to acknowledge the trauma that Franken's accusers had gone through, but added, "We needed more facts. That due process didn't happen is not good for our democracy." A
I've asked Sen. Durbin's office if he also has any regrets.
* Back to the story…
For some activists in the women's movement, Franken's resignation was a welcome milestone. Linda Hirshman, the author of the recent book "Reckoning: The Epic Battle Against Sexual Abuse and Harassment," told me, "Franken clearly intended to touch these women, and in doing so he violated their right to bodily integrity." She argues that the Democratic Party has belatedly made up for having excused Bill Clinton's treatment of women, adding that it's "finally starting to be the party that protects women from having their asses grabbed."

Other feminists see the episode as a necessary corrective. [Rebecca Traister, a writer-at-large for New York], who thinks that the behavior described in the media qualifies as sexual harassment, told me, "One of the troubling things about this is that there aren't easy answers. When you change rules, you end up penalizing people who were caught behaving according to the old rules. But if you don't change the rules they will never change."

The lawyer Debra Katz, who has represented Christine Blasey Ford and other sexual-harassment victims, remains troubled by Franken's case. She contends, "The allegations levelled against Senator Franken did not warrant his forced expulsion from the Senate, particularly given the context in which most of the behavior occurred, which was in his capacity as a comedian." She adds, "All offensive behavior should be addressed, but not all offensive behavior warrants the most severe sanction." Katz sees Franken as a cautionary tale for the #MeToo movement. "To treat all allegations the same is not only inappropriate," she warns. "It feeds into a backlash narrative that men are vulnerable to even frivolous allegations by women."
…Adding… Possible 2022 GOP opponent…
.@SenDuckworth Al Franken admitted that he was "embarrassed and ashamed" about his inappropriate behavior. Let me repeat - he apologized for his outrageous behavior and there is a picture of him groping a sleeping woman. #twill https://t.co/iOeprAyre3 https://t.co/qs2GKKfNJL

— Rep. David McSweeney (@1980reagan) July 22, 2019
- Posted by Rich Miller 24 Comments


* Public Citizen on federal and state revolving door laws…
More importantly, a dozen states have taken measures to close the "strategic consulting" loophole that runs rampant at the federal level. Under federal revolving door restrictions, former officials are only required to avoid making "lobbying contacts" during the cooling-off period. Federal officials remain free to advise, design and run lobbying campaigns on behalf of paying clients or lobbying firms immediately after leaving public office as long as they do not personally contact government officials – a loophole that is heavily exploited by many officials and staff. Furthermore, these same former officials may often lobby officials at agencies of a branch of government in which they did not serve. Several states address these problems by banning "lobbying activity" as well as "lobbying contacts."

Finally, most states that regulate the revolving door do so for both the legislative and executive branches of government as well as for senior staff in a decision-making capacity. Just as importantly, some states have closed the loophole at the federal level that allows former lawmakers to lobby the other branch of government immediately after leaving office. These states prohibit former officials from lobbying any agency of the executive branch or legislative body for a period of time after leaving office.

Overall, Iowa has the "best" revolving door policy, with a two-year cooling off period that applies to both legislative and executive officials and staff, and broadly prohibits both "lobbying activity" as well as "lobbying contacts" during the cooling off period. Maryland is a close runner-up, except that its revolving door restriction only applies to legislators and has a short one-year cooling off period. Nevertheless, in Maryland former legislators may not seek to influence the official actions of anyone in government for compensation for one year after leaving public office. […]

The "worst" states in terms of revolving door policies are easier to identify: Idaho, Illinois, Michigan, Nebraska, New Hampshire, North Dakota, Oklahoma and Wyoming have no restrictions whatsoever on lobbying and influence peddling by former public officials and staff.
Extending all cooling-off periods to a minimum of two years – at least a full congressional cycle – and preferably even longer, so as to allow the inside connections to sitting government officials and staff to fade.

Banning compensation for "lobbying activity," such as of conducting research, preparation, planning and supervision of a lobbying campaign, as well as banning "lobbying contacts" during the cooling-off period.

Applying the ban on lobbying by former elected officials and very senior staff across the board to all agencies and both the legislative and executive branches of government during the cooling-off period.
Thoughts?
- Posted by Rich Miller 14 Comments


* These stories are becoming common…
* The New Yorker: How Illinois Became an Abortion-Rights Haven

* Vice: Blue States Are Finally Worried About Abortion — And They're Doing Something About It

* Chicago Magazine: In a Changing Midwest, Illinois Doubles Down on Roe
* But Stephanie Goldberg throws some cold water on the hype at Crain's…
Despite a new law enshrining reproductive health care as a "fundamental right" in Illinois, hospital industry trends are restricting the availability of contraception, sterilization and abortion.

Gov. J.B. Pritzker last month signed the Reproductive Health Act, eliminating virtually all state restrictions on these procedures. At the same time, consolidation is bringing more Illinois hospitals under the control of expanding Catholic organizations that don't provide the full range of reproductive care.

With hospitals under pressure to gain market share, control health care costs and increase profitability, many financially strong Catholic chains have bulked up—acquiring both faith-based and secular facilities along the way. Catholic hospitals follow a set of rules that prohibit or sharply restrict contraception, fertility treatments, sterilization procedures and abortions.

As they impose those strictures on acquired hospitals, some women have to travel farther to find facilities that provide such services. That's especially true for women covered by most Medicaid managed care insurance plans in Cook County, which rely heavily on Catholic hospitals. […]

Some 38 percent of Cook County hospitals with labor and delivery departments are Catholic, according to the report. Meanwhile, Catholic hospitals represented more than 38 percent of in-network hospitals for five of the seven available Medicaid managed care plans in 2018, limiting patients' options for family planning services, Stulberg says.

Women of color in the county have even fewer options: 85 percent of black and Hispanic women were enrolled in one of the five plans with a heavily Catholic network, compared with 75 percent of white women, the study finds. Meridian Health Plan and NextLevel Health had the lowest percentages of in-network Catholic hospitals, with 37 and 36 percent, respectively.
- Posted by Rich Miller 20 Comments


* Keith Hernandez at the DeKalb Daily Chronicle…
The rising cost of insulin was not on Stacey Roman's mind when her son Conner almost slipped into a diabetic coma last year, but now that she has learned the condition is treatable, the cost of treatment itself is her biggest concern.

"I understand you have a product and you need to make some sort of money out of it," Roman said about the cost of insulin. "But it only costs a fraction of what they're charging."

The price of insulin between 2002 and 2013 about tripled for the 7.4 million Americans dependent on the hormone, according to the American Diabetes Association – a trend Roman said makes her worry for the financial future of her family.
* From Lee Enterprises Central Illinois…
"Daily, I'm hearing (from patients) that the cost of managing their diabetes is increasing and not affordable," said Paige Beal, certified diabetes educator (CDE) and registered dietitian (RD) with Advocate BroMenn Medical Center in Normal.

"Last week, I saw a client who stopped taking his insulin because he couldn't afford it after there was a change in his insurance plan," Beal said. "The out-of-pocket cost was too great for him. He ended up in the emergency room because he wasn't taking his insulin."

He was treated and his fortunes improved because he now has different insurance and can afford to take his insulin again, Beal said. But not all patient stories take a positive turn.

Paula Enstrom, a CDE and RN with Sarah Bush Lincoln Health Center in Mattoon, had a type 1 diabetes patient last year who could no longer afford insulin medicine, stopped taking it and ended up in the emergency room where he received an emergency supply.
* Pharmacy benefit managers are apparently at least partly to blame here…
In order to secure market share in crowded treatment areas, drugmakers offer discounts to pharmacy benefit managers — middlemen who negotiate drug prices for health plans. Bigger rebates make the benefit managers happier, so firms have an incentive to boost prices. The result is an inflated list price for medicines such as Humalog that's far higher than what's actually paid in practice. The problem is, people who lack coverage, have high deductibles or pay co-insurance don't benefit from those discounts. They're exposed to the list price and face bruising costs at the pharmacy counter.
* Sen. Andy Manar has been especially critical of PBMs. From late May…
A bill moving through Springfield would cap co-payments for insulin at $100 per month, regardless of the supply someone needs.

State Sen. Andy Manar (D-Bunker Hill) is sponsoring Senate Bill 667. If passed, Illinois would become the second state to cap insulin payments.

Studies show the price of insulin tripled between 2002 and 2013.

"In the last 20 years or so we've seen the price of insulin rise to outlandish levels," said Manar in a statement. "We have a responsibility as lawmakers to help get these prices under control and make this life-saving medication more available to those who need it."
Manar's legislation got stuck in the Senate during the spring session. Opponents included the Illinois Retail Merchants Association, insulin maker Novo Nordisk, the Illinois Manufacturers' Association, BlueCross BlueShield of Illinois, Eli Lilly, the Illinois Biotechnology Innovation Organization, the Illinois Insurance Association, the Illinois Life Insurance Council and the Pharmaceutical Research and Manufacturers of America.
* Related…
* Walmart's $25 insulin can't fix the diabetes drug price crisis: Doctors and diabetes advocates point out that while ReliOn may help patients in a pinch, especially those without health insurance, it's also a formulation (known as "human" insulin) that came on the market in the 1980s, more than a decade before more refined insulins started to emerge. The newer insulins, known as analogs, appear to be more effective at preventing dangerous blood sugar swings in people with Type 1 diabetes or those at a higher risk for severe low blood sugar. … There's one more problem: Because it's available without a prescription, patients can get the drug without the supervision of a doctor, and they sometimes get into trouble as a result. So stories have surfaced about patients who required emergency care because of severe blood sugar highs and lows after self-dosing with Walmart insulin, or even dying as a result.

* The cost of insulin drives diabetics and their families to Canada
- Posted by Rich Miller 11 Comments


* The New York Times editorial board takes a look at what will happen to state and local tax burdens by income level if the governor's graduated income tax is approved by voters…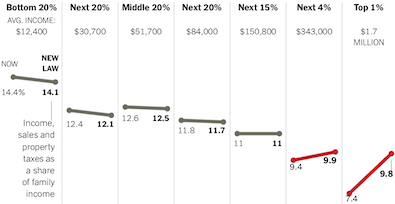 * From the editorial…
Economic inequality in the United States has reached the highest levels since the 1920s, and there is mounting evidence that the unequal distribution of income and wealth is contributing to the nation's economic and political problems. Reducing inequality ought to be a focus of public policy. Rewriting state tax laws to place the greater burden on those with greater means is an effective and sensible response.

Taxation in the United States remains progressive because the federal income tax remains the largest source of government revenue. But the distribution of the total burden has become much less progressive. In 1961, Americans with the highest incomes paid an average of 51.5 percent of that income in federal, state and local taxes. Half a century later, in 2011, Americans with the highest incomes paid just 33.2 percent of their income in taxes, according to a study by Thomas Piketty, Emmanuel Saez and Gabriel Zucman published last year. Over that same period, the bottom 90 percent of Americans, ranked by income, saw their tax burden increase from 22.3 percent of income to 26 percent of income. […]

The Illinois plan is a step in the right direction rather than a complete corrective. Under current law, households in the bottom quintile of the income distribution pay 14.4 percent of their income in taxes on average, while those in the top 1 percent pay 7.4 percent of their income in taxes — a difference of 7 percentage points. The proposed changes in the income tax would cut that gap to 4.3 percentage points, according to the Institute on Taxation and Economic Policy.

Illinois is seeking to address longstanding fiscal problems, notably an underfunded pension system, so it is raising taxes on the rich without significantly reducing taxes for everyone else. Other states, however, could do better by raising taxes on the rich and using the money to reduce the taxation of low-income families.
It also dispenses with the notion that legions of high-income people will leave the state…
Indeed, the Stanford sociologist Cristobal Young has calculated that people with million-dollar incomes move across state lines less often than other Americans. They are more likely to be married, more likely to have children, more likely to be involved in civic and social groups — and, in many cases, their wealth stems from their communities. A successful Springfield dentist cannot relocate her patients to Missouri. A man who owns a chain of gas stations around Peoria is likely to remain in Peoria. A company that relies on Chicago's highly educated work force may not be focused on finding the place with the lowest tax rates.
* The Tribune looks at who will pay more here…
In fact, a quarter of all taxpayers statewide who would be hit by the higher rates — those earning more than $250,000 a year — reside in just 15 of the state's more than 1,500 ZIP codes, covering places like Lincoln Park, Wilmette, Barrington and Elmhurst, according to a Tribune analysis of Illinois Department of Revenue income tax data from 2016, the most recent year available.

In Lincoln Park, for example, 14% of taxpayers — 4,757 filers, the most in any ZIP code — earned more than $250,000. That includes 1,010 who earned enough to qualify for the top rates under Pritzker's plan, which would tax individuals earning more than $750,000 and couples earning more than $1 million at 7.99% of their total income. The current rate is 4.95% for all taxpayers.

In some tony suburbs, the concentration of high earners is even greater. In both north suburban Winnetka and west suburban Hinsdale, more than 29% of taxpayers — 2,740 of filers in Winnetka and 2,288 in Hinsdale — would be affected by the higher rates that kick in at $250,000.

Overall, roughly 85% of those who would see higher tax rates under Pritzker's plan live in Cook County and the five collar counties, which are home to about 66% of the state's population. That means a disproportionate amount of the new revenue generated by the tax hikes would come from the Chicago area.
Aside from partisanship, one of the reasons Downstate legislators opposed taxing the rich is because they have so few high-income people and they worry what will happen when that handful of rich folks has to pay more. Some could, indeed, move their factories to other states. Others, like farm implement dealers, would have to stay.
- Posted by Rich Miller 43 Comments


* Jeanne Ives last year…
* Jeanne Ives over the weekend…
* From the script…
Everyone I served with and those I worked with knew I operated in good faith. It's an approach by which I've turned honest disagreements with other legislators into reasonable compromises for the benefit of the families I represented.

This is precisely what's lacking in Congress today. Demonization of disagreement is crippling our politics and dividing our country. It leaves people vulnerable to the most extreme ideas and false choices.
1) I'd really like to see the list of "reasonable compromises" she brokered at the Statehouse. It wouldn't be very long if there was one.
2) She's right about how the "demonization of disagreement" is hurting this country. But, I mean, she's been a principal advocate of that sort of thing her entire career. A small sampling of her comments on gay marriage…
Essentially what they're trying to do is not just redefine marriage, they're trying to redefine society. They're trying to weasel their way into acceptability so that they can then start to push their agenda down into the schools, because this gives them some sort of legitimacy. And we can't allow that to happen. […]

To not have a mother and a father is really a disordered state for a child to grow up in and it really makes that child an object of desire rather than the result of a matrimony.
* Ives' statement announcing her congressional campaign…
Jeanne Ives is taking on the false prophets in Washington and the false choices they present, starting with Rep. Sean Casten.

Ives is tired of Ruling Class politicians like Casten who tell you what he deserves–like the pay raise he voted himself - and what you don't deserve the ability to keep your private health insurance.

Ives is tired of race-baiters like Casten who decry racism while complaining white people in his district.

Ives is tired of hateful demagogues like Casten who calls a man who wishes "all f–king Republicans were dead" someone he "embraces" and "will stand with."

Sean Casten and his House Democrat Socialist colleagues like Reps. Alexandria Ocasio-Cortez and Ilhan Omar want to rewrite America's history into something it never was in order to transform America into something it should never be.

Jeanne Ives is running to transmit our American values which are under assault by Casten & Company.

Jeanne Ives will stand for the rule of law and equal protection before it and the freedom to choose your professional pursuits and how you pursue them.

Sean Casten wants to make America bitter. Jeanne Ives will make America better.
So, she's not gone totally soft.
*** UPDATE *** I totally missed this in her announcement press release…
Ives also announced that she has the full support and endorsement of Peter and Elizabeth Roskam. Peter Roskam served as U.S. Representative for Illinois's sixth congressional district from 2007 to 2019.
* Related…
* Republican Jeanne Ives jumps in Congress race for Democratic Rep. Casten seat: The Democratic Congressional Campaign Committee said in a statement that the Illinois 6 primary with Ives' entry has turned "into a full-blown Civil War." Casten's campaign manager Chloe Hunt said in a statement, "Jeanne Ives and Evelyn Sanguinetti both embrace an extreme partisan ideology that would deny a woman's right to choose and raise our health care costs, they both strongly support President Trump, and they both are wildly out of touch with the concerns of the 6th Congressional District.

* Former GOP candidate for governor Jeanne Ives now seeking party nod to take on Democratic U.S. Rep. Sean Casten: Sanguinetti announced her candidacy on April 22 but showed some vulnerability to a challenge when she reported raising just more than $103,000 through June 30. Casten raised $738,000 from April through June and had nearly $900,000 in cash on hand for his reelection.
- Posted by Rich Miller 25 Comments


* From the Illinois Republican County Chairmen's Association's Facebook page..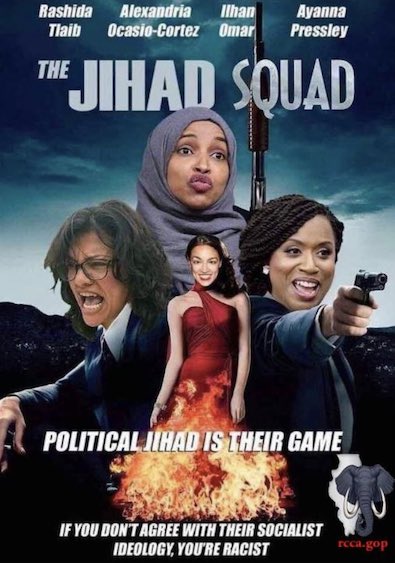 How some people can be racists and claim to be victims at the same time never ceases to disgust me.
* We live in a diverse state. You can't win statewide by being stubbornly monocultural. And suburbia, as a whole, no longer rewards those who sow racial division and discord. So the intra-party condemnations were swift…
I've reached out to several @ILGOP members for reaction. First one to respond was @SenBillBrady: "This type of post has no place in our political discourse. I am pleased it's been taken down, and remain hopeful we can debate our political differences in a respectful manner." https://t.co/QM9UEA17ku

— Mark Maxwell (@MarkMaxwellTV) July 21, 2019
New from House Minority Leader Jim Durkin: "The post was irresponsible, disrespectful, and wrong. The imagery and rhetoric that was used hurts our democracy and does nothing to move our state or our nation forward. Those responsible have no place in the Republican Party."

— Mark Maxwell (@MarkMaxwellTV) July 21, 2019
New from Rep Tony @McCombieforIlli:
"The post is horrendous and I totally reject this behavior! As soon I became aware of the post, I reached out to several people asking that it be removed. This post was not drafted by like minded people I align myself with…" (1/2) more

— Mark Maxwell (@MarkMaxwellTV) July 21, 2019
In his nomination speech at the '84 RNC he said, "In the party of Lincoln, there is no room for intolerance and not even a small corner for anti-Semitism or bigotry of any kind." That year, President Reagan was re-elected in a landslide and won 49 of 50 states.

— Tom Demmer (@tomdemmer) July 21, 2019
* I'm told Shaw was out of town the other day when the item was posted to Facebook. Four or five people in the group had administrative permission to post stuff on the page, but there was supposed to be a process in place and it wasn't followed. That, anyway, is their story and they're sticking to it in these times of strife…
Mark Shaw, the Lake County GOP chairman who heads the state county chairmen's group, said the posting was "not authorized by me" and said he was "sorry if anyone who saw the image was offended by the contents."

Shaw said the post had been deleted, and he called it an "unfortunate distraction" from the ideological issues involving the four progressive congresswoman.

On Facebook, Shaw called the posting "unauthorized." Then he explained how the group has a "multistage, approval process for all social media posts on any of its social media properties." That process, he said, is being "reevaluated."
* But not everyone was on board with the condemnations and apologies…
Skillicorn's response to @CljMitchell calling for Republicans to speak out: "I find it ironic that quite a few people in Democratic Party hurl the term racist at ideological opponents when they lose an argument. This devalues real racism and further tears our nation apart."

— Mark Maxwell (@MarkMaxwellTV) July 21, 2019
New from @JeanneIves: "That organization has nothing to do with the Ives Campaign. Contact Mark Shaw who I believe is the Chairman of that organization for a response."

I have, and he hasn't responded. Ives helped install Shaw, and I've asked her again if it's racist or bigoted.

— Mark Maxwell (@MarkMaxwellTV) July 21, 2019
The GOP congressional delegation, all Downstaters and exurbians, remained silent.
…Adding… Greg Hinz…
Schneider hasn't returned my phone and email messages. Nor has Shaw, who said in a Facebook post that the "Jihad squad" poster was unauthorized by him. But party sources I talk to seem to have a pretty good idea of what really happened here, and it's worth noting that the same poster appears to have been retweeted by the Lake County GOP, where Shaw is the chairman.

Either way, instead of talking about how to win as a minority party in this state, or about how Democrats have messed up, Illinois Republicans today are having to explain why they're not as bad as they look. Above and beyond the moral considerations, that's not helpful politically.
Nope.
* Related…
* NBC Nightly News: Illinois GOP group deletes post depicting Democratic congresswomen as 'The Jihad Squad'

* Illinois GOP group removes post calling congresswomen 'Jihad Squad'

* Illinois Republican leaders denounce 'jihad squad' post on GOP Facebook page

* Republican group's 'Jihad Squad' Facebook post draws condemnation

* Dems Blast Republican Group's Facebook Post Targeting Ocasio Cortez, Omar

* The 'love it or leave it' nonsense: Chicago Daily News columnist's argument still rings true 50 years later: Nobody should be faced with the mean choice of accepting conditions as they are or abandoning the place he has grown up in. We not only have a right, we have a responsibility, to make our environment as just and as flourishing as our Founding Fathers declared it must be if it were to live up to its aspiration as "the standard of the world."

* Voice of The Southern: There are some things more important than politics: Aside from the thinly veiled bigotry, the mean-spirited nature of the president's remarks, the undeniable element of bullying are nearly impossible to overlook — unless you are a congressional Republican. The House of Representatives voted Tuesday to condemn the president's remarks. The vast majority of Republicans, including local representatives Mike Bost and John Shimkus, chose to not condemn the president's remarks. In today's hyper-partisan atmosphere, that's not surprising, but it is still disappointing.
- Posted by Rich Miller 73 Comments


* My weekly syndicated newspaper column…
"Sterigenics should be completely shut down until we determine it can operate safely," gubernatorial candidate J.B. Pritzker tweeted last October.

A month after taking office, Gov. Pritzker made good on the first part of that campaign promise. The Illinois Environmental Protection Agency issued a "seal order" to close the company's doors.

Sterigenics sterilizes medical instruments at its plant in suburban Willowbrook, using the cancer-causing gas ethylene oxide. About 19,000 people live within a mile of the plant. Four schools are also close by, as are shopping areas and office buildings. People claim, with no small amount of evidence, that the plant has caused an unusual number of cancer cases.

That part of the world is home to lots of upper-income folks. It is represented in Springfield by House Republican Leader Jim Durkin, who has repeatedly demanded the company either leave Willowbrook or be forced out.

That's not exactly a Republican thing to do, but the company is seen as so toxic (literally and figuratively) that Durkin's sentiment is most certainly overwhelmingly popular. Environmental testing after the plant was closed showed a significant drop in ethylene oxide presence in the local environment. People started to breathe easier (literally and figuratively).

Durkin eventually passed a bill that he believed would keep the plant closed by setting the regulatory bar extremely high to reopen the facility, although the governor's office claims it warned Durkin that the bill offered no guarantees of permanent closure.

To the surprise of many, the company decided to spend the money to try and bring its plant into compliance with what has been touted as the absolute toughest ethylene oxide emission regulations anywhere.

Last week, Sterigenics, the Illinois attorney general, the DuPage County state's attorney and the governor (in that order) announced an agreement had been reached in the various court cases over the plant's closure, subject to judicial approval.

Durkin and other legislators were briefed on the deal earlier in the day and were shocked at the decision. They asked for a delay until at least after an August public meeting. The request was denied.

Sterigenics quickly issued a press release trumpeting the new agreement, which also stunned Durkin and the others. Some area mayors were being briefed on the agreement when somebody at the meeting announced that the company's press release had been posted on CapitolFax.com. "Everyone on the state side lost color in their face," claimed one participant.

It took the attorney general and state's attorney more than two hours to issue their own press release announcing the agreement to settle the court cases. The governor's office didn't issue its own response until almost half an hour later. By then, all heck had broken loose.

Leader Durkin and other legislators issued statements denouncing the agreement. Sterigenics is seen by many locals as an untrustworthy bad actor. Doing deals with companies like that is never going to be an easy sell, and it's even more difficult when a company jumps the public relations gun. People felt like chumps.

The back and forth escalated in the news media and on social media until the governor's office eventually issued a press release which called on Leader Durkin to draft a new bill "that will fix the perceived shortcomings of the legislation that he sponsored." Pritzker said he would call a special legislative session to allow for an immediate vote.

Durkin, in turn, claimed Pritzker was trying to "fast track" the plant's reopening and demanded the governor write his own bill and call a special session.

So, are we really heading for a special legislative session this summer?

Right now, this looks like show business. Just some political posturing for member and constituent management purposes while both sides attempt to pick their way through the news cycles and social media furor.

I think the key here is DuPage County State's Attorney Robert Berlin. The prosecutor took a strong public stance against Sterigenics when he and the attorney general filed suit last year. Berlin joined Illinois Attorney General Kwame Raoul in the consent order, saying it goes "above and beyond the most restrictive regulations in the country." Berlin could be the local voice of reason, although he's up for reelection next year, so we'll see how far ahead of this he wants to get.

I don't think anyone wants to interrupt their summer with a special session to deal with this mess, but people need to start talking with each other instead of past each other.
…Adding… Expectations are high…
There'd better be a special session! Who will step up and fix this mess? @JBPritzker ? @jimdurkin82 @DuPageSAO Bob Berlin? @KwameRaoul ? Everyone needs to work together here. Who will start the ball rolling? Voters are watching and waiting. #illinois #twill https://t.co/DgpWAUCnBg

— Andrea Thome (@AndreaThome) July 22, 2019
- Posted by Rich Miller 29 Comments