* Have at it…
* Tribune | Arson. Vandalism. Threats. Abortion clinics, abortion opponents face violence after the fall of Roe.: Since the U.S. Supreme Court overturned Roe v. Wade in June, reproductive rights organizations and anti-abortion groups alike are reporting unprecedented levels of threats, vandalism and acts of destruction. For 12 years, Carol Tobias has served as the president of the Washington -based National Right to Life. While she said groups opposing abortion have always faced threats and risked reprisal, Tobias said "the assault, the violence against pro-life facilities has greatly escalated" since the fall of Roe.

* Daily Herald | Murphy appointed assistant majority leader of Illinois Senate: "I am honored to take on the role of assistant majority leader," Murphy said in an announcement Monday. "It's a privilege to be entrusted to represent my colleagues in this capacity, and I look forward to working with them to advance legislation that brings positive change to our great state."

* Sun-Times | Lemont Mayor John Egofske chosen to replace Republican Jim Durkin in state House: Lemont Mayor John Egofske was chosen Sunday to fill the 82nd District Illinois House seat left vacant by last month's resignation of former House Republican Leader Jim Durkin. Egofske, who will continue to serve as mayor, said he intends to use his experience as a municipal leader and certified public accountant to address economic and quality-of-life issues while in the state Legislature.

* Chicago Reader | How Chicago fell for crypto: Via Freedom of Information Act requests, the Reader obtained more than 2,100 such complaints that Illinois residents filed with the FTC and other regulatory agencies between January 2017 and June 2022. Complainants alleged that they lost more than $45 million to cryptocurrency scams. In 2022, multiple major cryptocurrency entities toppled, including Voyager, Celsius, BlockFi, and FTX, the latter of which had an office in the West Loop.

* WAND | Illinois State Police expands crisis intervention training: The Illinois State Police is rolling out 40-hour Crisis Intervention Team training for all ISP officers starting this month. ISP said CIT programs create connections between law enforcement professionals, mental health providers, families, and consumer advocates.

* Crain's | Vallas speaks at FOP event amid criticism from mayoral opponents: Paul Vallas was speaking at a luncheon Monday for retired police officers alongside the controversial head of Chicago's largest police union as other candidates for mayor continue to attack him as too conservative for Chicago. Vallas was to speak at an 11 a.m. lunch at La Villa restaurant and banquet hall on the city's Northwest Side.

* WBEZ | Paul Vallas gets help in Chicago mayoral bid from ex-officer in Laquan McDonald scandal: The Vallas For Mayor political fund reported getting a contribution of $5,000 from former cop Richard E. Hagen on June 30, according to campaign finance disclosure reports. Hagen has also publicly supported Vallas on Twitter.

* Daily Herald | What suburban school districts are paying to attract substitute teachers: Dozens of suburban school district administrators acknowledged they are paying more for substitute teachers than they were a year ago, yet still often struggle to find enough subs to fill holes left by teacher absences.

* Sun-Times | Chicago investment advisor charged with stealing $683,000 from clients, including 2 elderly men with dementia: David S. Wells, 32, is accused of falsely telling the clients he would invest their money in publicly traded companies. Instead, he allegedly spent some of the money on personal use and lost the rest on risky trades.

* Streets Blog Chicago | The dogs used for CTA's $31M K-9 unit contract are basically very expensive decoys: Last August 22, the CTA announced it had inked a $31 million contract with a private security firm to provide up to 50 K-9 teams, consisting of two unarmed guards and a dog, to patrol the 'L' system. Ever since then, I've been trying to find out exactly what the purpose of the dogs is, and the transit agency has been stonewalling me.

* The Triibe | Is Chuy out of step with the progressive movement? Black and brown leaders weigh in: The People's Unity Platform is a multi-racial coalition of neighborhood community organizations and labor unions that have worked on issues such as violence prevention, public health and safety, housing, public education, environmental quality, community safety and worker's rights. Some groups under the platform's umbrella are GoodKids MadCity, Chicago Torture Justice Center, Defund CPD, the Chicago Teachers Union (CTU), the Jewish Council on Urban Affairs, Treatment Not Trauma and Grassroots Collaborative, to name a few.

* WAND | Budzinski announces Decatur resident as first State of the Union guest: Congresswoman Nikki Budzinski announced her guest for President Joe Biden's State of the Union Address will be Andrea Kelly of Decatur. Kelly is a graduate of the International Brotherhood of Electrical Workers (IBEW) pre-apprenticeship program currently working as a Construction Wireman.

* Press Release | Faraci responds to resignation of two University of Illinois Board of Trustees: "My hope is that the governor will put forth candidates for the appointments who not only reflect the diversity of our community, but understand the needs and priorities of the University of Illinois and our region," Faraci said. "The University of Illinois provides students with an excellent education and serves as an economic driver for the state. We need to ensure our board is made up of trustees that will make decisions to protect the rights of our students, faculty and staff."

* Crain's | 50 aldermen may be 40 too many. Here's why.: "One City, 50 Wards: Does the City That Works Actually Work?", a joint series from Crain's Chicago Business and the University of Chicago Center for Effective Government, explores the connections between how Chicago's city government is designed, how it functions, and how it performs.

* AP | ChatGPT bot channels history to pen State of Union speech: If you've heard it once in a president's State of the Union speech, you've heard it 100 times: There is nothing the American people can't do when they pull together. But you haven't heard that thought in a State of Union address from William Shakespeare: "Lo," said the bard. "With kindness, love, and understanding clear, we shall conquer all, and have naught to fear."

* Eater | A Chicago Hotel Hopes Augmented Reality Doesn't Bite: Le Petit Chef at Fairmont Chicago utilizes augmented reality (AR) to digitally project animated characters, settings, and foods right onto tables and plates. Diners experience a five-course dinner while an eponymous 2 ½-inch-tall chef (yes, like in Ratatouille) appears in 3D to prepare the meals while whisking them away across time and space to tell the story of the meal's history and ingredients.

* NBC Chicago | Art Institute Announces New Salvador Dalí Exhibit Coming This Month: Salvador Dalí: The Image Disappears is scheduled to run from Feb. 18 to June 2. Art Institute members will be able to preview the show on Feb. 17. The collection features 25 paintings, drawings, and surrealist objects created by Dalí at the height of his career.

* Vox | Is CBD in trouble?: The limited research into the medical benefits and risks of CBD doesn't support most of these cure-all assertions. But CBD's rise in popularity — which began exploding in 2019 due to a confluence of consumer trends, including a boom in herbal supplements and the spread of marijuana legalization — was bolstered by the coronavirus pandemic as people sought out ways to alleviate the unique stresses of recent years. US sales reached $4.17 billion in 2022, and forecasts predicted that the market could quadruple by 2026.

* Nun who 'made the disabled visible' retires from the Archdiocese of Chicago: A native of Montana, Harrington's father was injured as a mine worker. She said her first memory at 4 years old was holding up orange juice for her father. "From then on, you know, you knew if somebody couldn't do stuff, you had to step up," she said. Harrington continued to step up to help those who needed it, and when a priest needed assistance in bringing disabled parishioners to Mass, Harrington jumped on that opportunity.

* WGN | Indiana Senate passes bill to legalize throwing stars: Senate Bill 77 "actually came from a constituent who owns a putt-putt golf course called Ninja Golf," explained Rogers. "Nearly everyone that I spoke with said, 'Hey, look, if we can throw axes, we can certainly throw throwing stars.'"
* Kinda old (January 27 to Feb 2) IZQ Strategies poll…
Paul Vallas - 25%
Brandon Johnson - 15%
Lori Lightfoot - 12%
Chuy Garcia - 12%
Willie Wilson - 11%
Kam Buckner - 5%
Sophia King - 2%
Ja'Mal Green - 2%
Roderick T. Sawyer - 1%

Undecided - 16%
Crosstabs show Vallas was getting 37% of White voters, 21% of Latino voters and 10% of Black voters. Brandon Johnson was backed by 18% of White voters, 5% of Latino voters and 16% of Black voters. Garcia got 14% of White voters, 25% of Latino voters and just 5% of Black voters. Lightfoot had 7% of White voters, 6% of Latino voters and 22% of Black voters. Memo here.
* But rather than focus on the somewhat dated horse race numbers, let's look at some other toplines…
Do you have a favorable or unfavorable view of these public figures?

JB Pritzker 65% Favorable, 33% Unfavorable
Lori Lightfoot 26% Favorable, 72% Unfavorable
Jesús "Chuy" García 44% Favorable, 41% Unfavorable
Brandon Johnson 35% Favorable, 20% Unfavorable
Paul Vallas 46% Favorable, 31% Unfavorable

Chicago Teachers Union 57% Favorable, 40% Unfavorable
Chicago Fraternal Order of Police 35% Favorable, 55% Unfavorable
Chicago Police Department 56% Favorable, 44% Unfavorable
From the crosstabs, CTU's unfavorables with Black voters were 29% (66% favorable), FOP's Black unfavorables were 69% (20% favorable) and CPD's were 49%.
Whites also had favorable views of CTU (57-42) and had negative views of FOP7 (35-55). Latino voters were split evenly on CTU while the majority had a favorable view of FOP7 (55-29).
Black voters were evenly split on CPD, while White (54-45) and Latino (62-37) voters had favorable views.
* Also…
Shall the City of Chicago reopen all of the closed Chicago Department of Public Health mental health centers in support of a city-wide crisis response program that dispatches mental health professionals and an EMT to mental health emergency calls instead of police officers?

Some policymakers in Chicago are proposing reforms that would reassign certain duties currently handled by the police department to another agency. These include reassigning traffic enforcement and certain 911 calls — related to homelessness, mental health, minor crime, and substance abuse — to unarmed civil officers, social workers, and EMTs. Police would still respond to situations that involve serious felonies or significant acts of violence.

Support - 74%
Oppose - 19%
The crosstabs show that both questions were backed by wide margins in every demographic tested.
The "crime" issue is just not as simple as it may appear to some.
1,040 likely Chicago voters using SMS responses, poll conducted in both English and Spanish, MoE was ±3 percentage points.
* Green Market Report…
[Curaleaf Executive Chairman Boris Jordan] asserted that it's not the idea of social justice that irritates him; it's the execution of the programs in several states.

"We're all for social justice and recognize that this industry has been built on some pretty horrific stories from the past," he admitted, but said the programs in more liberal states – he lists California, Illinois, New Jersey, New York, and Pennsylvania in this category – have gone off the rails to hide financial problems in the programs.

"They went off on these programs, and we're going to give these assets to felons and people that have two heads and all this kind of stuff," he lamented.

But, he warns, sooner or later, these states will need more tax revenue from cannabis operators, and to get that, the programs will have to change.
60-30-1, and those numbers ain't there for you, bub.
Oil refineries are discharging toxic pollutants into our waterways and the Great Lakes with little oversight from regulators.

Three of the very worst polluters are refineries right here in the Chicago area — BP's Whiting Refinery in Indiana, Exxon Mobil's Joliet refinery, and Citgo's refinery in Lemont.

That's the finding of a new report from the Environmental Integrity Project, a nonpartisan nonprofit group that advocates for enforcement of environmental law that analyzed toxic discharge data from the U.S. Environmental Protection Agency.

"Most of the pollution from refineries isn't subject to any federal standards at all under the Clean Water Act, which is pretty alarming since the Clean Water Act is more than 50 years old," said Eric Schaeffer, co-founder and executive director at the Environmental Integrity Project. "The few federal standards that we have apply only to a subset of pollutants. They don't cover some of the more dangerous toxins that refineries discharge. They don't cover nitrogen, they don't cover sulfates and chlorides. … And so, not surprisingly, there's a lot of that pollution coming out of refineries and Illinois has some of the worst in terms of the pollutants we looked at." […]

Democratic state Rep. Ann Williams, who currently chairs the Energy and Environment Committee in the Illinois General Assembly, described the report as "concerning."

"I thought the report was really well done and it does seem to me like everything kind of falls into two categories," said Williams. "First of all, do we need — and it certainly seems like the answer is 'yes' — to update our emissions standards for waterways on a federal level, number one? And number two, are we adequately enforcing the regulations that we do have? And that applies at both the state and federal level."
The report is here.
* Courthouse News Service…
The report found that together these refineries injected over 1.8 million pounds of dissolved metals into Illinois waterways in 2021 alone, with the Phillips 66 plant also discharging close to 69 million pounds of dissolved sulfates and chlorides. But despite the high levels of wastewater contamination, it's unlikely that any of the refineries' corporate owners will face consequences for their polluting any time soon, much less change how they operate.

How can they, when multiple state, county and municipal authorities say they have no power over how the refineries' environmental impact?

"There's no real environmental regulations at the county level," said Mike Theodore, Director of Communications for the Will County Executive. "The county doesn't have any regulatory power there." […]

Theodore and Juday's claim was echoed by multiple other authorities Courthouse News reached out to, including mayors, representatives from state and county public health departments, and local public administrators. All said that authority over the offending refineries rested with the Illinois Environmental Protection Agency.

Problem is, the Illinois EPA isn't going to do anything about it either.

"With respect to Exxon Mobil's Joliet refinery, Illinois EPA reviewed the… data carefully and further discussed with USEPA the nature and significance of the data," an IEPA spokesperson said in a prepared statement. "That review and follow up discussion… did not indicate enforcement since the data did not show exceedances of monthly averages."

The statement did not specify what "monthly averages" meant in terms of wastewater pollutant discharge. The IEPA did not respond to requests for clarification on this point. However, the same statement did make it clear that the agency is not overly concerned with selenium in the Chicagoland area's drinking water either.
* Washington Post…
Illinois Gov. J.B. Pritzker has seized on DeSantis's latest culture-warring — Florida's decision to ban an Advanced Placement course in African American studies — to articulate a contrasting vision for what topics should be permitted in classrooms. […]

In coming months, Pritzker will grow more vocal on this front, a source familiar with his thinking tells me. He will amplify the case that restricting classroom topics works against kids' interests and risks stunting intellectual growth, and that a more open approach sharpens their arguments and thinking, making them more competitive in the quest for higher education.

Pritzker will also argue that Illinois prides itself on refraining from the kind of directives that seem designed to encourage school libraries to remove books to avoid running afoul of the law.

As the source told me, the message will be: "Illinois doesn't ban books."
* The governor was asked today at a business-related event: "How does [the above article] square with the focus on your next four years as governor here in Illinois versus these national controversies?"…
Well, I think broadcasting our values here in Illinois is good for the state of Illinois. That we are opposed to banning books in the state of Illinois is something that people ought to know about us. That we are not interfering with the education system in the state and the way that a teacher presents, you know, their information to their classroom, their kids, you know, that we are, we're lifting up education, we're not tearing it down. And other states are doing that. And I think that, whether we're talking about businesses that are thinking about moving here, or people that are thinking about moving here, people are choosing not to go to those states where they're restricting freedoms, and instead coming to Illinois where we're protecting.
Please pardon all transcription errors.
* Asked if he was concerned about restrictions in Illinois…
I am. I think you see it in some of the school board candidates and library board candidates that are running, that, you know, there are organizations that are anti-LGBTQ, that are racist, they're anti Muslim, that are supporting candidates for these local boards. And they're trying to take over at a local level, and build up candidates at the local level that they can run, then run for the state legislature and for other offices. And we've seen some of them actually elevated to running for governor. So it's important without naming names. And it is important, I think, for people to pay attention to it, for us to elevate it to you in the media and for us to talk about it. Because number one, it's good for the state when people outside of Illinois hear about, and number two, when people in Illinois you know when they go to the voting booth, they may not be prepared to vote for candidates for school board or library board. And they need to be. They need to know that these people, some of the people who are running are actually part of these organizations trying to restrict freedoms.
* Told the Republicans are pushing candidates and asked whether the Democrats have a plan and are putting resources into the races…
We are supporting candidates that are standing up for freedom.
I've seen lots of Pritzker aldermanic endorsements, but not any in school board races. No money, either. And I don't recall receiving anything from the state party on that specific topic.
Your thoughts on this?
…Adding… Meanwhile, the Illinois Policy Institute has a "Parents Union" group that is focusing on elections and has some real winners posting there…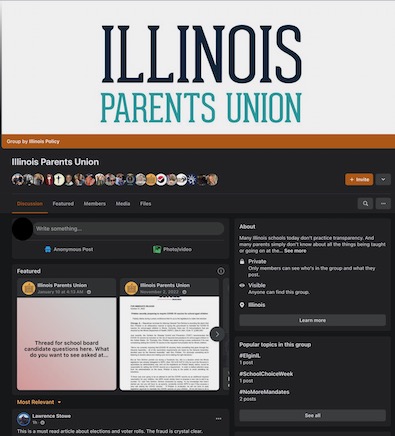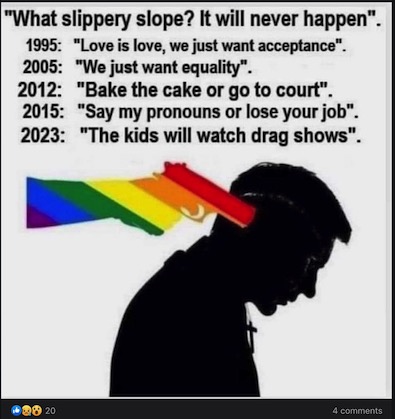 * Equality Illinois CEO Brian Johnson gave the audience a history lesson at the group's annual gala Saturday night. From Johnson's remarks as prepared for delivery…
I want to start this evening by telling you the story of Albert Cashier, who served in Illinois' 95th Regiment during the Civil War. […]

Cashier fought in the heart of the deep South – in the Battles of Atlanta, Vicksburg, and Natchez – where thousands of soldiers died. His lieutenant remarked about his "bravery, courage and patriotism" during these terrible battles.

After the war – he spent decades working odd jobs, even working for a state Senator, and collecting a veteran's pension.

In 1911, when he was 66 years old, he suffered a workplace injury and was sent to the Illinois veterans home in Quincy.

While living here, more of his identity was discovered. Albert Cashier had been assigned female at birth. He was moved to an asylum where he was forced to wear women's clothing.

But months before he died in 1915, a hospital physician took Cashier to a parade for Union veterans where the physician dressed him in his old Union uniform and he walked proudly through the streets of Moline as his true self.

You see, LGBTQ+ people have always been a part of the fabric of Illinois.

Ours is the story of soldiers like Albert Cashier and the estimated 1,000 other trans men who fought in the Civil War.

Ours is the story of Chicagoan Jane Addams – the first American woman to win the Nobel Peace Prize who lived with her love Mary Rozet Smith.

Ours is the story of Henry Gerber who 99 years ago founded the nation's first queer rights organization – the Society for Human Rights –here in Chicago.

Ours is the story of Alfred Finnie who hosted the famous Finnie Halloween Balls in Bronzeville from the 1930s through the 1950s. At these balls – which were feted in national magazines like Ebony & Jet – drag was celebrated.

Why do I share this with you? You see, anti-family; anti-equality hate is on the rise; fueled by local groups like the Proud Boys and Awake Illinois and emboldened by national political leaders like Ron DeSantis. They peddle the lie that we LGBTQ+ people are a recent abomination whose stories must be purged from the public square. They want to rewrite our nation's history. They try to shout us down at School Board meetings, they show up with guns at our Pride festivals, and they call us groomers for merely wanting to see our families represented and our kids honored.

Let me be clear. We are not new. Our demands for justice are not new. We have been here since before the founding of Illinois and our aspirations that our dignity will be recognized have been here as long as we have.

So to Awake Illinois, Ron DeSantis, and all the other hatemongers, I say buckle up; because we're not going anywhere!
More here. There's also a musical about Cashier's life.
* Background is here if you need it. From the back and forth late last week over Paul Vallas' record…
Vallas has tied his personal opposition to abortion to his Greek Orthodox faith.

But he has emphatically insisted he is firmly committed to upholding a woman's right to choose while maintaining Chicago's role as a safe haven for women who have been descending on the city since the U.S. Supreme Court overturned Roe v. Wade.

As evidence, Vallas pointed to statements he made and the endorsements he received from Planned Parenthood and Personal PAC while running for governor in 2002 and lieutenant governor in 2014 as a Democrat.

Garcia doesn't buy it.

"His words and his likeness speak clearer than anything else about where he stands on issues. He said he 'fundamentally opposes abortion.' Not sometimes opposes abortion. Not in certain circumstances. He said 'fundamentally' he opposes abortion. Chicagoans deserve to know that," Garcia said.
* More importantly, Garcia has not yet put his ad up on broadcast TV and Vallas is out with a "pre-response"…
The video was recorded with a mobile phone, so apologies for the quality.
* Script…
Chicago has a choice. Paul Vallas, a lifelong Democrat who will bring accountability to City Hall. Protecting our values. Ensuring Chicago is a safe haven for women whose abortion rights are denied in other states. Putting your safety first. Enforcing the governor's assault weapons ban. And confronting the violence that threatens our neighborhoods. Paul Vallas will hold our police department and everyone at city hall, including himself, accountable. Paul Vallas, accountability. Protecting our values. Putting crime and your safety first.
Man, that ad really clicks a lot of the right boxes for that race.
* When the Sun-Times asked candidates: "Would you earmark annual funding to support Chicagoans or visitors seeking abortion and other reproductive health care?" Vallas was one of two candidates who said "No," but clarified…
"I would provide funding through the general appropriation process. The money can be decided through regular budget processes."
* My weekly syndicated newspaper column…
State records show that Dan Proft's People Who Play by the Rules PAC spent almost $36 million during the second half of 2022, mostly on advertising boosting Sen. Darren Bailey's gubernatorial bid and opposing Gov. J.B. Pritzker.

Of that, $2.4 million was spent on consulting. Former ABC-7 political reporter Charles Thomas was paid $100,000 in two $50,000 installments. Thomas appeared in some of Proft's ads praising Bailey.

Tyrone Muhammed, the controversial founder of Ex-Cons for Community and Social Change, which bills itself as a violence interruption group, was paid $250,000 for consulting work.

Proft's Starfish Consulting was also a recipient of almost $535,000.

But the highest-paid consultant for Proft's PAC during the last six months of 2022 was a Chicago company called Salvo Page LLC, which got $800,000, plus another $111,000 for website services.

Salvo Page is not registered as a company with the state of Illinois. The only campaign payments to the company disclosed to the state were made by Proft's People Who Play by the Rules PAC. Google searches turn up nothing. Proft did not respond to repeated requests for comment over several days.

A search of Salvo Page's Chicago address on the State Board of Election's website turned up a clue.

Salvo Page shares a Chicago street address with Pipeline Media. The Columbia Journalism Review's Tow Center has done extensive reporting on Pipeline and similar companies. According to that reporting, the company is run by Brian Timpone, a longtime Proft associate. I wasn't able to reach Timpone.

Richard Uihlein, who was the principal funder of Bailey's campaign via Proft's PAC as well as some direct contributions, controls a committee called Restoration PAC, which paid Pipeline and an affiliate company well over $1 million last year for various services, CJR's Tow Center reported last October.

And that brings us to Republican Illinois attorney general candidate Tom DeVore.

When DeVore busted the campaign contribution caps in his race last August with a $250,00 personal loan to his campaign committee, some thought he might be opening the door to large contributions, perhaps from the billionaire Uihlein.

Instead, all DeVore really did was allow Democratic incumbent Kwame Raoul to take a $1 million contribution from Gov. J.B. Pritzker's campaign fund — $940,100 more than Pritzker could've contributed had the contribution caps been in place. A few labor organizations also contributed sums slightly above the previous cap limit of $59,900, but it wasn't much.

DeVore received a $10,000 contribution from James Hoeg in late October, which was $4,000 more than he would've been able to receive had it not been for the caps being lifted (Hoeg, by the way, recently contributed $50,000 to Paul Vallas' Chicago mayoral campaign).

DeVore also received a $50,000 contribution in late September from the Anthony Marano Company, which sells produce to Chicago-area restaurants. The contribution was $38,000 above the by-then-negated limit.

And that's it. $42,000 is all DeVore appears to have netted from his cap-busting loan.

There's often an expectation when candidates loan money to their campaigns that they'll spend most of it. Instead, DeVore reimbursed himself almost all of that cash, including a $200,000 payment on Oct. 14, even though the campaign was entering its final few weeks, and then another $15,000 the day after election day.

DeVore reported $226,072 in contributions starting the day after he loaned himself that money, which was just about $11,000 more than what DeVore reimbursed himself.

Outside of the loan repayment, DeVore reported spending less than $142,000 in the fourth quarter, which ended Dec. 31. By contrast, Raoul reported spending almost $1.9 million in the same quarter.

DeVore spent just $8,642.98 on advertising during the fourth quarter. Raoul reported spending almost $1.7 million.

In other words, DeVore did not run a campaign designed to win. But we pretty much knew that during the campaign itself. He got thumped by Raoul.

DeVore did manage to elevate and give voice to some folks on the far right. Shannon Adcock was a significant DeVore contributor, kicking in $2,500 during September. Adcock is one of the founders of Awake Illinois, a far-right group that opposed pandemic mandates in schools that has since morphed into firing up moral panic over gay and trans people in schools, libraries and coffee shops. Vallas spoke at one of her events.

DeVore is now busily lining up clients to fund a third lawsuit against the state's assault weapons ban at $200 a person. He raised more than half a million dollars with that same flat fee to fund his first two suits.
Maybe we need a law that prohibits campaigns from paying businesses that aren't registered with any state.
* This is a massive failure on every level. The unions who chose to set up this committee instead of contributing directly to what turned out to be some pretty well-run Supreme Court races failed. Harmon's operation failed. The State Board of Elections failed. The Republicans failed for not noticing the lack of reporting. And, more importantly, those of us in the news media failed to see it and call it out in real time. Here's Ray Long and Rick Pearson…
A political committee, funded in part by Senate President Don Harmon's campaign that helped expand the Democratic majority on the Illinois Supreme Court, failed to file timely campaign reports as required by state law and didn't disclose the bulk of its $7.3 million in spending until after the election.

The committee — All for Justice — spent heavily on television ads in support of winning Democratic Justices Elizabeth Rochford and Mary Kay O'Brien. The commercials painted Republican opponents as virulent anti-abortion candidates, politically potent attacks given the U.S. Supreme Court decision that sent the issue of abortion rights to the states only months earlier.

The failure of All for Justice to follow the disclosure guidelines mandated by state election law obscured its pro-Democratic spending in the critical months preceding the November races in which the partisan balance of the Illinois Supreme Court was up for grabs.

"It's amazing," said Kent Redfield, an Illinois campaign finance expert and professor emeritus of political science at the University of Illinois at Springfield. "It denied the public, the news media and the people who participated in the campaigns full knowledge of what's going on."
Unreal.
Also, as subscribers know, All for Justice was forced off Chicago broadcast TV near the end of the campaign because they messed up their ad buys.
I hope we all learned something here.
Open thread
Monday, Feb 6, 2023 - Posted by Isabel Miller
* Hope you all had a relaxing weekend. What's going on in your part of Illinois?
* Here you go…
* Bond Buyer | Illinois reverses decade-long fiscal tide in interim 2022 audit: The state's net position of governmental activities, which covers government services and tax collections and provides a deeper view of the state's assets measured against debts and other obligations remained deep in the red at a negative $185.4 billion but it was improved from fiscal 2021's $199.2 billion deficit.

* Sun-Times | Pritzker sets aside $40 million for industrial growth:A spokesman for Pritzker was asked if the Chicago Bears could apply for their proposed stadium and associated development in Arlington Heights. He said the Megasites program is limited to industrial development.

* SJ-R | From repealing the weapons ban to no smoking here are five new bills lawmakers introduced: Through House Bill 1564, Republicans seek to repeal several provisions of the Protect Illinois Communities Act — signed into law as Public Act 102-1116 by Pritzker during the lame-duck session. Specifically, the bill from state Rep. Dave Severin, R-Benton, would remove the act's language that prevents an individual's ability to "knowingly possess an assault weapon, assault weapon attachment, .50 caliber rifle, or .50 caliber cartridge," as of Jan. 1, 2024.

* The Reporter | Porfirio resigns township post to take Senate seat: He replaces Steve Landek who retired from the legislature but remains mayor of Bridgeview. Township Supervisor Christopher Getty read Porfirio's letter of resignation to the board.

* SJ-R | Ameren Illinois cites clean energy act, COVID-19, war for electric, gas rate hike request: The Illinois Commerce Commission will review the requests for a $160.4 million gas rate hike over a year and a four-year $435.6 million electric increase. The reasons for the requests are multi-fold, Ameren communications director Tucker Kennedy said Thursday. It partially stems from a requirement in the Climate and Equitable Jobs Act, a green energy package that puts the state on track to be 100% carbon-free with its energy sources by 2050.

* NPR | At least 30 minutes of recess is now required at Illinois elementary schools: The 30-minute recess law passed in 2021. Surprisingly, the recess requirement was somewhat divisive. It only passed 60-52 in the Illinois House of Representatives. Most of the "nays" were from Republican lawmakers, but a handful of Democrats voted "no" too. That's mostly because they were concerned about two things. One, will schools be able to staff that much recess time? And two: will schools be able to fit that extra time into an already very-structured school day without sacrificing academics?

* Laura Washington | Behind Wilson's 'rabbits' comment is an uncomfortable truth about crime in Chicago: As a Tribune editorial noted last week, Wilson's "rabbit" comments deserve condemnation. Criminal suspects cannot be hunted down like animals. Police must use their training and skills to properly apprehend and hand over suspects for prosecution.

* Sun-Times | Showing their work: Mayoral hopefuls offer plans to handle shrinking CPS enrollment, less control, union friction: Voters face a long list of candidates for Chicago mayor, some with vastly different views on public schools, and longstanding history, for better or worse, with the district.

* CNN | Customs officials confiscate 120 cockfighting spurs sent to Illinois: The package was sent from Mexico City to Rantoul, Illinois, according to the news release. The spurs were labeled as "handcrafted Mexican artisan rattles."

* Daily Beast | The Democratic Party's Tortured Relationship With Corporate PAC Money: Republicans, meanwhile, aren't sweating this question. Of the more than 70 politicians who ran for Congress last year with a "no corporate PAC money" pledge, all but a few were Democrats. Sens. Ted Cruz (R-TX), Josh Hawley (R-MO), and Rep. Matt Gaetz (R-FL) have all sworn off corporate PAC donations. But for Senators Cruz and Hawley, that's because corporate PACs have sworn them off, after their support for overturning the 2020 election.

* News-Gazette | Strapped city officials look to state for pension bailout: No one has ever accused Chicago Mayor Lori Lightfoot of being a shrinking violet. She seems to court trouble going out of her way to attack those she perceives as her political opponents. But Lightfoot recently topped her previous political performances by taking the statewide stage and urging the financially struggling state of Illinois to bail out underfunded municipal pension funds, including those in Chicago.

* Tribune | Civic Federation chief Laurence Msall dies at 61: Msall, whose gentlemanly demeanor and thoughtful speaking were coupled with an intense passion for budgeting and tax policy, died Saturday. He was 61. News of his death spurred a wave of reactions from many in Illinois government as well as the financial community in Chicago.

* Daily Northwestern | City hosts reception for State Rep. Robyn Gabel following her appointment as Illinois House majority leader: Gabel has represented Illinois' 18th House District since 2010. As the House's new second-in-command, Gabel will be responsible for rallying the body's 78 Democrats, scheduling legislation and crafting legislative strategy.

* Shaw Local | Livingston County board member chosen as Illinois state rep for 106th District : Bunting will succeed Tom Bennett, who was recently appointed to the Illinois State Senate to replace Jason Barickman. "I am honored to serve as the state representative for the 106th District," Bunting said. "As farmers and small business owners, my family has seen firsthand how bad policies from Springfield have hurt the business climate in Illinois and have driven families and job creators away. I promise to work tirelessly to bring the conservative values of the residents of this district to Springfield."

* Vandalia Radio | Rep Wilhour talks about widening divide between Northern & Downstate Illinois: There has always been a big divide in Illinois—with a large metropolitan area in the northern part of the state holding the majority of the state's population. And, then the vast amount of the state being one of the leading agriculture producers in the country. But, over the past few years that divide has gotten bigger. And, the political divide has also gotten larger-with downstate being mostly Republican, but Democrats holding a super-majority in both the House and Senate. State Representative Blaine Wilhour says it is apparent there are issues.

* NPR | How the chip shortage is affecting the credit card business: It used to take seven to 10 business days to get a new credit card. Because of an ongoing chip shortage, deliveries can take almost two months, and that could be the case through the end of the year.

* Center for Illinois Politics | Three Black Justices, Five Women, Two Men: Breadth of Experience Marks Diverse Illinois Supreme Court: The depth of the state's highest bench is far deeper than the above broad-brush descriptions convey. The court's new chief justice is a former public defender and longtime law school professor passionate about the law's methodical approach to solving complicated problems. One of the state's first female Black justices worked as a nurse as she was studying to become a lawyer. Others taught English, and served multiple terms in the Illinois House of Representatives. One remains a Church of Christ Deacon.

* USA Today | A corrupt Chicago cop destroyed hundreds of lives. Now victims want justice.: Nile was among nearly 200 people who have been cleared of charges tied to former Sgt. Ronald Watts and his Chicago Police Department team. It's the largest series of exonerations in the city's history, said Joshua Tepfer, a lawyer with the University of Chicago Law School's Exoneration Project, which has represented most of the victims.

* Crain's | Illinois weed sales picked up in January: Illinois marijuana sales started off the new year with their strongest growth in seven months. Recreational cannabis sales rose 9% in January from a year earlier to $127.9 million, according to the Illinois Department of Financial & Professional Regulation. That's the strongest year-over-year growth since June, when marijuana sales increased 10%.

* Fox Chicago | PAWS Chicago expecting 33 puppies and dogs from Texas tornado zone on Monday: The transfer of pets is being coordinated by Rescued Pets Movement of Houston. The dogs are coming from shelters in Houston, Livingston and Pasadena Texas.

* Southern | SIU stops Missouri State with 73-53 win: SIU rejoined a four-way tie for first place atop the Missouri Valley Conference Sunday, pulling away in the last 10 minutes to stop Missouri State 73-53.

* AP | Beyoncé emerges as Grammys queen; Styles wins album honor: The Grammys spread its top awards among other artists, leaving Beyoncé off stage at the end of the night. But the superstar was a constant presence throughout the night, even when she wasn't in the room, especially once she won her 32nd award and surpassed late composer Georg Solti in all-time wins.

* Block Club | Holy Plow! Here Are The Winning Names For Seven Chicago Snowplows: More than 7,000 possible plow names were then melted down to 50 finalists, with Chicagoans welcome to vote on winners through Jan. 31. More than 80,000 votes have been counted, according to a Friday city news release. A near-tie for sixth place means the city will dedicate a seventh plow to the people, according to the city.

* Sun-Times | Shame on Illinois' 'Orange Krush' for foiled Iowa scheme? Only if they don't try it again: Illinois' "Orange Krush," a student spirit group with a delightfully maniacal presence at home basketball games, has an annual tradition of traveling in large numbers to a Big Ten road game and, often, taking the opposing school by complete surprise. At Iowa in 2015, for example, a mobile Krush unit — stealthily clad in black and gold — climbed to their seats at Carver-Hawkeye Arena, waited for the action on the court to begin and then, all at once, tore off their outermost garments to reveal their orange jerseys and go absolutely bananas for the Illini. The Hawkeyes won anyway, but still — come on — the takeover of a section of the stands was great stuff.
* Civic Federation…
The members and staff of the Civic Federation are heartbroken to share the news of the death of our president, Laurence Msall. He passed away surrounded by family on Saturday, February 4, following complications from surgery. Our members and staff are supporting each other through this unexpected loss and taking comfort in the memories of our extraordinary leader and dear friend, who served as president of the Civic Federation for 21 years.

Laurence's contributions to the Civic Federation were immeasurable and his sudden passing comes as a devastating blow to members of the Civic Federation family. While Laurence was the Civic Federation to so many in the community, his real legacy was in helping to make the Civic Federation the indispensable voice for fiscal responsibility throughout the state of Illinois and that mission will go on through the outstanding staff that Laurence developed.

Visitation will be held from 4 to 8 p.m. on Tuesday, February 7 at Salerno's Galewood Chapel, 1857 North Harlem Ave., Chicago. Mass will be held at 10 a.m. on Wednesday, February 8 at St. Giles Church, 1045 Columbian Ave., Oak Park. In lieu of flowers, the family requests donations be made in Laurence's memory to L'Arche Chicago, an organization that provides services for people with intellectual and developmental disabilities.

For more about Laurence's remarkable life, click here.
* Crain's…
News of his unexpected death numbed business and civic leaders he dealt with during a career that straddled public and private sectors.

Mayor Lori Lightfoot called Msall "a fierce defender of good policy for both the city and the rest of our state" who "loved Chicago dearly."

"Because of his several decades of experience in government, politics and civic groups, he became one of Chicago's great civic leaders," the mayor said in a statement released on Twitter. "Above all else, he was a kind, generous and empathetic man who was always willing to roll up his sleeves to help. Laurence's contributions to the betterment of our city cannot be measured. He always asked how he could help and provided me with his unvarnished and helpful counsel." […]

Paula Wolff, director of policy and planning in Gov. Jim Thompson's administration, credits Msall as a deciding factor in adoption of the two-tier pension system for state employees, allowing some relief from burdensome pension costs otherwise protected by the state constitution. "I don't think we would have had the kind of reforms, although they're not perfect, over the last 8-to-10 years without him," she said.
* Sun-Times…
Msall joined the Civic Federation in 2002 after serving as an adviser on economic development for former Gov. George Ryan, where he was responsible for the oversight of 11 state agencies, including the departments of Commerce and Community Affairs, Revenue and Transportation, according to his biography on the Civic Federation's website.

He also previously served as an assistant to the director of the Illinois Department of Commerce and Community Affairs, where he helped develop policy.

Msall also worked with the nonprofit Commercial Club of Chicago in various roles, including as vice president, working alongside Chicago's business and political leaders on a range of financial issues facing the city.

He was frequently quoted by reporters at Chicago's major publications for his keen analysis of government finances.
Most of the following statements were posted on Twitter. Notice how the condolences come from such varied sources.
* Gov JB Pritzker…
MK and I are saddened to learn of the sudden passing of Laurence Msall. As President of the Civic Federation, Laurence played a key role advancing the fiscal discourse in Illinois. He served our state proudly under Governors Ryan and Thompson and will be remembered for his advocacy in confronting complex policy challenges.

MK and I send our deepest condolences to Laurence's family and friends during this difficult time, and we want to recognize his many years of dedication and service to the best interests of the people of Illinois.
* Senate President Don Harmon…
Laurence Msall was an intellectual giant of steadfast character and consistency. Someone who dedicated his life to improving the city and the state he cared so much about. I've known Laurence since grade school.

He was a friend, mentor and sounding board for many issues and decisions. I will always remember his voice, vision and unparalleled integrity. My heart goes out to his family and friends.
* House Speaker Chris Welch…
Our state has lost a giant. Laurence Msall was a truth teller who only wanted to help make things better for us all in the State of Illinois. I always enjoyed his guidance and counsel. May his memory be a blessing.
* Attorney General Kwame Raoul…
Just as important as the details of Laurence Msall's fiscal policy proposals was the way in which he offered them. He was a gentleman and a model for how to approach public discourse with civility. We should learn from how he lived his professional life.
* Comptroller Susana Mendoza…
I am heartbroken to hear of the sudden passing of Laurence Msall, a crucial voice advocating for honest budgeting. Laurence was such an important bridge between the business community and government, holding the city, state, county and other units of government accountable by analyzing their budgets. I was honored whenever he asked me to address the board of the Civic Federation about state finance. He knew it was important for the state's business leaders to hear the government perspective too. Even if I disagreed with some of his or his board's policy positions, he was so professional in debating the pros and cons of budget options. Most importantly, I considered him a friend. His passing leaves a void that will not easily be filled. Laurence was a giant in Illinois for his knowledge of finances. My thoughts and prayers are with his wife and children. He leaves behind a family he adored and a state that is forever grateful for his indelible contributions. May he rest in God's peace and eternal glory.
* Rep. Kam Buckner…
Devastated to hear about the passing of Laurence Msall. Laurence was my friend as he was to so many Chicagoans. He was a treasure and a principled, dedicated fighter for what's right. I'll miss being able to call him to help me wade through tough fiscal issues…
* Illinois Manufacturers' Association's Mark Denzler…
Illinois lost a true advocate & champion today with the passing of noted budget and fiscal expert Laurence Msall. In addition to leading the @CivicFederation , Laurence was a great partner of the @IMA_Today and more importantly a good friend.
* Chicago Teachers Union President Stacy Davis Gates…
Sending my deepest sympathies to the Msall family. May his memory be a blessing to all that loved him.
* Paul Vallas…
Deeply saddened by the passing of Laurence Msall, President of the Civic Federation. He was dedicated to Chicago and a tireless advocate of good public policy and finances for our City and State. His expertise & wisdom will be deeply missed. RIP
* Ald. Daniel La Spata…
Integrity and intelligence are rare in public policy: Laurence possessed both. Saddened by his tragic loss and my thoughts and prayers are with all who grieve him.
* Chicago GOP…
We are deeply saddened to learn of the passing of Laurence Msall, President of Chicago's Civic Federation. Msall was a tireless reformer & watchdog for the public interest in often dry areas of govt spending & public finance. He made it his life to serve public interest. RIP
* Illinois Environmental Council's Jen Walling…
We've lost a giant in Laurence Msall of the @CivicFederation 's passing. It was a blessing to share thoughts on government with him before the inauguration earlier this month. Rest in peace.
* The Bond Buyer's Yvette Shields…
Still digesting news that began spreading this morning that we've lost our civic north compass Laurence Msall … before all the well-deserved accolades pour in and ruminating on his legacy and all he meant to holding city & state in check financially and my reporting…

ALWAYS took the time to return a call… ALWAYS had something insightful to share…ALWAYS giving credit to his staff's hard work….fair and never personal in criticism & praise came when deserved….he made the Civic Federation into a behemoth of a resource it is today…cheers
* Lt. Gov. Juliana Stratton…
I am saddened to learn of Laurence Msall's passing. He loved Illinois and wanted nothing but the best for our state and its fiscal health.

I was honored to know him and always appreciated his thoughtfulness and guidance. May his family and loved ones be comforted as they grieve.
* Sen. Elgie Sims…
I am saddened to learn of the passing of my friend Laurence Msall, President of the @CivicFederation. He was someone I respected and enjoyed talking with about various matters. His knowledge, talent and skill will be sorely missed.
* And…
He loved his kids, his family, our city and our state. But let's not forget how Laurence Msall loved The Boss.
I am going to miss this guy. pic.twitter.com/KECCM7Ckkt

— Senator Sara Feigenholtz (@SenatorSara6) February 5, 2023
I'll open comments on Monday.
…Adding… Comments are now open.
…Adding… Jack Lavin, President and CEO, Chicagoland Chamber of Commerce
"On behalf of the Chamber and its members, we are deeply saddened by the loss of our colleague and partner Laurence Msall. An extraordinary business and civic leader, Laurence was a true advocate and champion for our great city. He dedicated his life's work to Chicago and Illinois, and we are all the better for his leadership. The city has lost a pillar of the civic community, and we have all lost a dear friend. Our thoughts and prayers go out to his family."
* Senate GOP Leader John Curran…
I first met Laurence Msall while I was serving on the DuPage County Board when he presented the Civic Federation's review of the county's annual budget. I have long-since admired his non-partisan approach and dedication to transparent, responsible and future-focused budgeting for all levels of government. His sense of duty to Illinois was unmatched and he performed his difficult work with grace, wisdom, and integrity. I will be remembering Laurence and his gifts to our state today and sending prayers to his family, colleagues and many friends