* Filed by the attorney general in Clay County late yesterday…
It has been more than a month since Plaintiff Darren Bailey received precisely what his pleadings sought—a declaration by this Court that the Governor's authority to respond to the Covid-19 pandemic under the Illinois Emergency Management Agency Act, 20 ILCS 3305 et seq. ("Emergency Management Act") ceased to exist as of April 8. Order ¶ 3 (July 2, 2020) ("July 2 Order"). But even as Bailey championed this lawsuit as "freeing business and the people of Illinois" from "one-person rule" and a "tyrannical government," in the real world nothing changed. The Court's nonfinal, interlocutory order granting Bailey's request for declaratory relief does not prevent the Governor from continuing to exercise his powers under the Emergency Management Act to protect the people of this State from the Covid-19 pandemic.

Public rhetoric notwithstanding, Bailey has made every effort to prevent this Court from issuing either an injunction that would bar the Governor from exercising Emergency Management Act powers, July 2 Order ¶ 5 (granting motion to withdraw request for injunction), or a final judgment that would resolve the parties' dispute in this Court once and for all, Response to Defendants [sic] Motion to Dismiss ¶¶ 3–11 (July 22, 2020) ("July 22 Response"). The July 2 Order is neither final nor enforceable because it involves fewer than all issues and does not include "a finding that there is no just reason for delaying enforcement or appeal." Reed v. City of Belleville, 13 Ill. App. 3d 1093, 1094 (5th Dist. 1973).

For his latest effort to keep this case in this Court and abuse the judicial process for political gain, Bailey now moves to add an additional count disputing whether a disaster currently exists in Clay County within the meaning of the Emergency Management Act. There is no reason why the Court should entertain the matter. This Court already determined that the Governor's authority under the Emergency Management Act is limited to 30 days per disaster— regardless of whether a Covid-19 disaster continues to exist in Clay County (or anywhere else in the State). Bailey's current motion to add a new count is just another maneuver to thwart appellate review of the Court's ruling. The proposed additional count is also defective as a matter of law and fails to plead sufficient facts to state a cause of action. The motion to add it should be denied.
* More…
The Court should deny Bailey's motion to add an additional count for four independent reasons:

First, Bailey's proposed additional count fails to state a cause of action because the Emergency Management Act does not require the Governor to make disaster determinations on a county-by-county basis.

Second, Bailey's proposed additional count fails to state a cause of action because he does not plead facts sufficient to show that there is currently no "public health emergency" in Clay County.

Third, Bailey lacks standing to pursue his proposed additional count because a decision in his favor will not redress his claimed injury. This is because Bailey fails to challenge an independent basis for the Governor's authority to exercise emergency powers—the existence of an "epidemic" in Clay County.

Fourth, Bailey's proposed additional count is untimely and, in the context of his many other gambits designed to delay the conclusion of these proceedings, reflects an ongoing bad-faith effort to abuse the judicial process for political gain.
* Brutal…
According to Bailey, the fact that no one has yet to die in Clay County from Covid-19, and only 9 people to date have contracted it, means there is, in his opinion, no "high probability" that "a large number of deaths" will occur—and likewise no "high probability" of "widespread exposure" to a virus "that poses a significant risk of future harm to a large number of people."

Bailey's argument reduces to the proposition that an event has no probability of occurring until it has occurred. Or to put it another way, a highly contagious and deadly virus has no probability of causing widespread harm until it does. This reasoning is stunningly illogical, and the Court should not accept it. […]

Ordinarily, a litigant who had convinced a court to rule in his favor on the merits of his case would take immediate action to effectuate that result. Here, Bailey did the opposite. He resisted every effort to dismiss his one outstanding count and transform the Court's interlocutory order into a final judgment. July 22 Response ¶¶ 3–11. To this day, the July 2 Order binds no one and has no legal effect because Bailey apparently prefers it to remain a meaningless piece of paper—in stark distinction to the far-reaching consequences he ascribes to it in the public eye.

Bailey's proposed additional count is designed to further his strategy to drag out this case without an appealable order. Bailey intends for this Court not to resolve his dispute but rather to amplify it. This is an abuse of the judicial process.
- Posted by Rich Miller 2 Comments


* From YouTube…
Representative Jim Durkin and Senator John Curran host a two-part virtual reptile show with the Traveling World of Reptiles called, 'Reptiles Go Virtual!'
Leader Durkin made a brief appearance at the start of the first video, but it's all Sen. Curran after that. I asked Durkin's spokesperson why he wasn't around. Her text…
Yeah unfortunately something came up on the filming day so he barely got to be there.
"Sorry, John, but something has definitely come up and I really gotta split. I feel so bad for leaving you like this. Toodles!"
* Screen cap…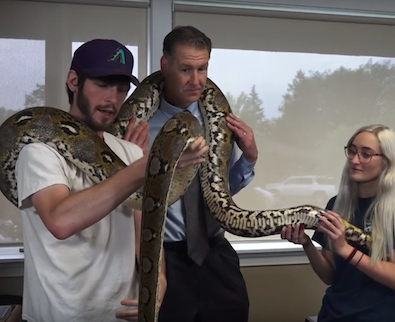 - Posted by Rich Miller 9 Comments


* I've been telling subscribers about this for a few days now…
Building on efforts to protect Illinois' workers and communities in response to the ongoing COVID-19 pandemic, Governor JB Pritzker announced that the Illinois Department of Public Health (IDPH) will file emergency rules for businesses, schools, and child care establishments regarding the use of face coverings and the size of gatherings. The governor also signed SB471 to help protect workers who continue to serve on the frontlines of the fight against COVID-19.

"As I've visited with and listened to mayors and health departments all across our state, it's clear there is still an even greater need to get people to wear masks – especially to protect frontline workers, whether they're at the front of a store asking you to put on your mask or whether they're responding to 911 calls to save those in distress," said Governor JB Pritzker. "These rules, which provide multiple opportunities for compliance before any penalty is issued, are a commonsense way to enforce public health guidelines. Illinois has made substantial progress in our fight against COVID-19 because the vast majority of communities and business owners have done the right thing. These rules will help ensure that the minority of people who refuse to act responsibly won't take our state backward."

"We know that face coverings are key to helping prevent the spread of COVID-19, but it only works if everyone wears them," said IDPH Director Dr. Ngozi Ezike. "We are seeing cases increasing each day and hearing about people not complying with the masking mandate. This rule is an effort to help keep all of us healthy and decrease the risk of contracting COVID-19."

NEW IDPH COVID-19 EMERGENCY RULES

In an effort to maintain the progress we have made in Illinois' COVID-19 pandemic response, the Pritzker administration is filing emergency rules for businesses, schools, and child care establishments regarding the use of face coverings and the size of gatherings.

These rules provide multiple opportunities for compliance before any penalty is issued, giving local health departments and local law enforcement more leeway to support community public health in a productive manner. While existing, pre-pandemic enforcement laws, like revoking a license, are stringent and severe, these rules provide flexibility for local communities and a measured process to help keep people safe.

That process is as follows:

• First, businesses will be given a warning in the form of written notice and encouraged to voluntarily comply with public health guidance.
• Second, businesses that do not voluntarily comply will be given an order to have some or all of their patrons leave the premises as needed to comply with public health guidance and reduce risks.
• Third, if the business continues to refuse to comply, the business can receive a class A misdemeanor and be subject to a fine ranging from $75-$2,500.

These rules do not apply to individuals and penalties will not exceed a misdemeanor and a $75-$2,500 fine.

The emergency rules also reinforce the authority of IDPH and local health departments to investigate COVID-19 cases and reaffirm that businesses have a responsibility to cooperate with those investigations.
The proposal now goes before JCAR, which is scheduled to meet next week. Again, subscribers know more.
* SB471…
As Illinois' essential workers continue to serve on the frontlines of the fight against COVID-19, Governor Pritzker signed SB 471 to expand workplace protections. To directly protect workers in retail, the law adds a penalty for assaulting or battering a retail worker who is conveying public health guidance, such as requiring patrons to wear face-coverings or promoting social distancing. This provision sends the message that it's vitally important for workers to be both respected and protected while serving on the front lines.

"As we continue to adapt to the changes forced on us by the current pandemic, we have to also create a response that addresses the long-time issues it has exacerbated," said Senate Majority Leader Kimberly A. Lightford. "Our essential workers put their lives at risk for us to stay safe, and it is clear that we have to continue to do better to protect working class people with a renewed commitment to providing basic rights for everyone."

"As our state faces the challenges created by the ongoing global pandemic, we are doing all we can to support and protect our front line and essential workers," said State Representative Jay Hoffman. "This legislation allows front line workers that have been impacted by COVID-19 to focus on recovering while sending a clear message to all our essential workers that we are behind them and will do all we can to protect their safety and well-being."

The law also increases paid disability leave for any injury that occurs after March 9, 2020 by 60 days for firefighters, law enforcement and paramedics whose recovery was hindered by COVID-19.

More specifically, eligible employees include:

• Any part-time or full-time State correctional officer or any other full or part-time employee of the Department of Corrections
• Any full or part-time employee of the Prisoner Review Board
• Any full or part-time employee of the Department of Human Services working within a penal institution or a State mental health or developmental disabilities facility operated by the Department of Human Services
• Any full-time law enforcement officer or full-time firefighter

These measure build upon the Pritzker administration's efforts to protect the safety and livelihood of Illinois residents by continuing to enforce all labor laws during the pandemic.

SB 471 takes effect immediately.
- Posted by Rich Miller 13 Comments


* Whoa…
WGN Investigates found between March 1 and July 1, there were about 78.5 million calls to IDES. Of those, 393,000 were answered. That doesn't even reach 1% of the calls coming in.
It's actually about one-half of one percent.
- Posted by Rich Miller 24 Comments


* Some background is here and here. From the Wall St. Journal…
An appeals court in Illinois has reinstated litigation seeking to block payments on $14.3 billion in municipal debt, saying the attempt to restrain borrowing in the country's worst-rated state isn't frivolous or malicious.

The appellate court said John Tillman, chief executive of the right-leaning Illinois Policy Institute, had put forth a legitimate claim in support of his theory that past bond sales by the state were impermissible.
* Law360…
An Illinois appellate court on Thursday resurrected a challenge to $14.3 billion in state bonds that a conservative think tank CEO claims were issued unconstitutionally, ruling that his complaint wasn't frivolous or malicious and that a trial court shouldn't have denied his petition to file it.

According to his petition for leave to file a taxpayers' suit, Illinois Policy Institute CEO John Tillman claimed that bonds issued in 2003 and 2017 to purportedly help address massive pension and bill backlog obligations were not put toward a "specific purpose" for which the Illinois constitution allows it to enter into new long-term debt.
* From the opinion…
We repeat that we express no opinion on the merits of Tillman's claims. We merely conclude for the purpose of this proceeding that Tillman should be permitted to file the complaint.
* From the governor's office…
As has been noted previously, the bond issuance process under Illinois law includes several layers of review and sign off by bond counsel and Attorney General Lisa Madigan. The result is bonds that meet stringent legal standards, and these offerings met those standards. This lawsuit continues to be a tired tactic of the extreme right who continue to push their ideology over sound fiscal policy. This administration will continue to focus on the important work of acting responsibly to keep the state on stable fiscal footing.
Background…
Unlike other lawsuits, there is an extra step to file a taxpayer suit.

A plaintiff seeking to file a taxpayer suit must first file a Petition for Leave to File the lawsuit. Normally, that is a non-event and most suits are allowed to be filed.

Here the lower court ruled against Tillman and refused to allow the suit to even be filed. The Appellate Court disagreed. What that means is the suit can be filed — and will start at the first first step.
* Comptroller Susana Mendoza…
I strongly disagree with the ruling of the appellate court that reinstated former Governor Bruce Rauner's #1 advisor and the Illinois Policy Institute CEO John Tillman's irresponsible lawsuit, aimed at tanking Illinois' finances - for the profit of named or unnamed hedge funds.

Bond counsel and the state Attorney General signed off on all these bonds. They were constitutional and we are confident Tillman will ultimately lose. While the fiscally responsible 2017 bond offering I championed saved taxpayers $4-$6 billion and served as a lifeline to businesses across Illinois, it hurt the profit margins of those who chose to bet against Illinois. Never bet against Illinois. Shame on them then, and shame on them today. This lawsuit is nothing more than garbage.
- Posted by Rich Miller 8 Comments


* Sinclair…
It might not be happening the way activists imagined, but calls to defund the police are becoming a reality as law enforcement agencies face the dual pressures of coronavirus-related budget shortfalls and nationwide protests.

According to a new survey by the Police Executive Research Forum (PERF), police agencies across the country could be facing some of the deepest cuts in a decade, even worse than during the Great Recession.

Roughly half of the 258 police agencies surveyed reported their funding has been cut or they expect it to be cut this year. Most said they are seeing reductions of 5-10% of their budgets. Others reported cuts exceeding 15%. […]

According to PERF respondents, the resources to implement those reforms are evaporating. Police agencies reported the deepest cuts in spending on equipment, personnel and training. That will make it more difficult to attract and hire new officers, purchase equipment like body cameras and train officers in de-escalation and implicit bias.
* USA Today…
Chuck Wexler, executive director of the D.C.-based think tank that authored the report, said police operations have not confronted such a threat since the financial crisis of 2008, when operations and force numbers were cut dramatically to account for the steep decline in available public funds. […]

Even smaller cities facing less pressure from the social justice movement have not been able to escape an unfolding financial crisis driven by the COVID-19 pandemic.

In Steamboat Springs, a ski-resort town in northwest Colorado largely supported by tourism-driven sales tax dollars, the police department is cutting its budget by 28% or nearly $1.5 million. It means that vacant positions will go unfilled and civilian employees are taking a 10% pay cut, Police Chief Cory Christensen said.

The police department's training and recruiting budgets already have been zeroed out.
If Congress doesn't act, these cuts are only going to get worse. The earlier package does not allow the federal money to replace lost revenues. It can only be spent on unanticipated COVID-related expenses.
- Posted by Rich Miller 13 Comments