* From the Secretary of State's Index Division…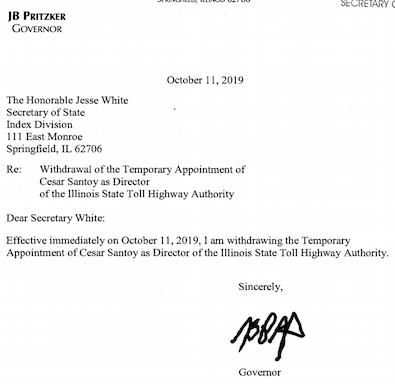 Santoy's name and company are listed in the federal search warrant of Sen. Martin Sandoval's Statehouse office. Santoy's attorney claimed his client is not a target. The governor called on Santoy to step aside earlier today.
*** UPDATE 1 *** From the Pritzker administration…
Cesar Santoy has agreed to step down. His appointment has not been confirmed by the Senate, so our administration has withdrawn the appointment.
*** UPDATE 2 *** Hmm. Well, this is interesting. Santoy's campaign committee has received $4,250 in two contributions from Sen. Martin Sandoval.
Also, there's this…
Six intersections will be studied and additional red-light cameras are on the way for Berwyn after the City Council approved the contract with SafeSpeed, LLC Tuesday.

The discussion became heated at times as Third Ward Alderman Marge Paul initiated the conversation, discussing the tie of Michael Del Galdo to SafeSpeed. Del Galdo, a Berwyn attorney, had done work for the city earlier this year. […]

Fifth Ward Alderman Cesar Santoy voted to approve the contract after reading the submission from Deputy Police Chief Joseph Drury earlier this month.

"I was impressed he did some research and was able to find an alternative to save the city some money and increase the revenue, and at the end of the day improve public safety," Santoy said.
- Posted by Rich Miller 15 Comments


* From Evelyn Sanguinetti via a campaign spokesperson…
It is with deep regret that I must announce that I have officially decided to end my campaign for the Republican nomination for the U.S. Congress for the 6th Congressional District of Illinois. I want to thank everyone that supported me through volunteering, financial contributions, and words of encouragement and support. I am sorry if this announcement lets you down.

Although I firmly believe that I can and will win the nomination if I stayed in the race, the question in my mind is at what cost. There has been enough destruction in the Republican Party from past election cycles, and I choose not to contribute further to it by engaging in a costly and negative campaign against my opponents. I wish the remaining candidates all the best, and I encourage all Republicans to unite behind the eventual nominee for the good of the Party and more importantly the Nation as we continue the fight to stop socialism and to protect the American Dream for future generations.
That pretty much clears the deck for Jeanne Ives, who reported raising $340,298.13 during her first quarter in the race.
*** UPDATE 1 *** Greg Hinz…
A source who would know tells me she raised only about $50,000 in the third quarter—a paltry figure by any measure, and certainly well under the $340,000 Ives garnered.
Yeesh.
*** UPDATE 1 *** DCCC…
DCCC spokesperson Andy Orellana released the following statement after NRCC touted recruit Evelyn Sanguinetti announced she was dropping out of the Republican primary in Illinois 6th Congressional District:

"Today's announcement that Evelyn Sanguinetti will be dropping out of the Republican primary in Illinois's 6th Congressional District underscores just how toxic the Trump agenda is in communities across the country. While firebrand conservative Jeanne Ives campaigns on her promise to be a rubber stamp for the Trump agenda of sowing division between neighbors, higher taxes for homeowners, and skyrocketing health care costs for families, Sean Casten is focused on delivering for Illinois families."
- Posted by Rich Miller 60 Comments


* You'll recall that the original release of the federal search warrant served on Sen. Martin Sandoval's (D-Chicago) Statehouse office was heavily redacted. This version isn't.
A lawsuit was filed by WBEZ to force the release of an unredacted search warrant. I'm told the Senate Democrats have been in contact with the feds since names and locations in the warrant have appeared in public about ongoing investigations, including some folks who were raided a couple of days after Sandoval and Exelon's disclosure this week that it had received a federal grand jury subpoena related to Sandoval.
* Anyway, click here to read it…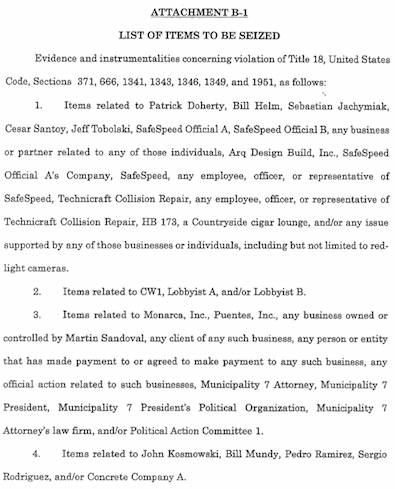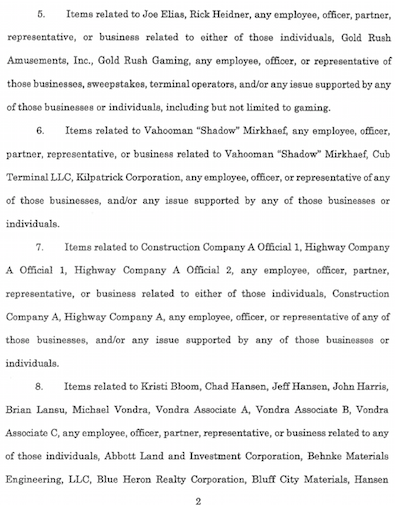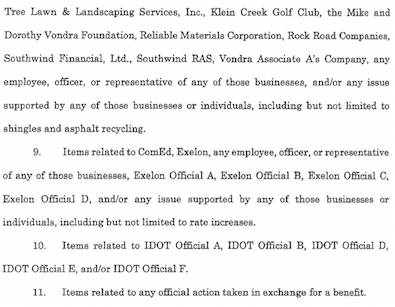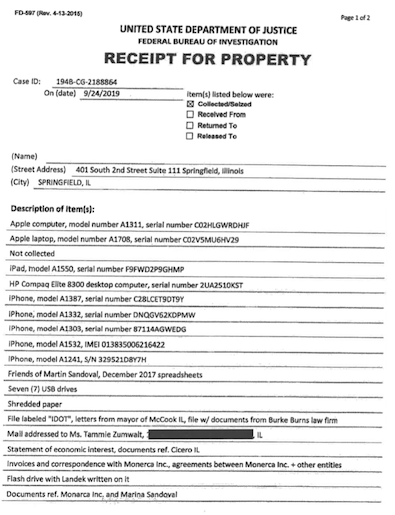 Yikes.
*** UPDATE 1 *** So, apparently, this dragnet includes a video gaming company. From Gold Rush Gaming's website…
For over 40 years, Rick and Alisa Heidner have served the Chicago-land area as experienced and proven business owners. Their first endeavor together was Heidner Properties, a commercial real estate development group that owns and self-manages over 200 properties across the country. After the successful launch of the real estate firm, they began focusing on their new dream involving slots and video poker. In 2012 Gold Rush Gaming was founded and quickly became the Gold Standard in the Illinois video gaming industry. Gold Rush believes in the values of honesty and integrity, both of which are embodied by Rick and Alisa.
*** UPDATE 2 *** You may recognize John Harris' name. He is Rod Blagojevich's former chief of staff who now works for Mike Vondra. Tammie Zumwalt is Sen. Sandoval's legislative assistant in Springfield and is also Sandoval's campaign treasurer.
Also, four Exelon officials? Woof.
*** UPDATE 3 *** I think the reference above to HB 173 is actually a bill from the 99th General Assembly sponsored by Rep. David McSweeney to ban red light cameras. The measure passed the House but stalled out in the Senate.
*** UPDATE 4 *** Rick Heidner isn't just involved in video gaming, he's trying to own a new racino…
A new horse racing track and casino proposed for Tinley Park has made it out of the starting gate. […]

The southwest suburban harness racing venture is headed by Hawthorne Race Course general manager Tim Carey and real estate developer Rick Heidner, who also runs one of the state's largest video gambling machine companies.
Also, if it's the same Cesar Santoy, he's a Berwyn alderman and an architect.
Sebastian Jachymiak owns a towing company and the Technicraft Collision Repair listed in the warrant. Technicraft has contributed over $100,000 to various candidates, many of whom have been raided or otherwise connected to this.
Sergio Rodriguez is the mayor of Summit.
*** UPDATE 5 *** Cesar Santoy was appointed by Gov. Pritzker to the Illinois Toll Highway Authority in February.
The governor's people say they'll be issuing a statement about this.
*** UPDATE 6 *** Sebastian Jachymiak appears to be very politically connected, and at one time, at least, had ties to Speaker Madigan. Click here for some 2010 background.
*** UPDATE 7 *** Under the bus he goes…
Mentioned in the search warrant is Cesar Santoy, a Berwyn alderman & @GovPritzker appointee to the Illinois Tollway board. Pritzker just now called for Santoy to step down from that position. https://t.co/3pCl0OQeGz

— Jamie Munks (@by_jamiemunks) October 11, 2019
*** UPDATE 8 *** John Kosmowski is the Summit police chief. Safespeed operates Summit's red light cams.
Vahooman "Shadow" Mirkhaef owns Cub Terminal LLC. His companies, including Cub Terminal, have contributed hundreds of thousands of dollars to political campaigns, with Sandoval being a beneficiary.
And here's some info on Bill Helm…
Their federal lawsuit charges Deputy Airport Commissioner Bill Helm is the enforcer, pushing employees to do political work, often on city time, with backup from Airport Manager Kevin Martin.
*** UPDATE 9 *** If you notice on the "receipt" page, you'll see documents were seized from the Burke Burns law firm. Sen. Don Harmon (D-Oak Park) is a partner at that firm. I've asked Harmon for comment and will let you know what he says.
Kristi Bloom is listed on LinkedIn as the Executive Admin., Operations for one of Vondra's companies, Bluff City Materials. I'm told she also helps run Sandoval's annual golf outing.
*** UPDATE 10 *** The feds also seized documents referencing Marina Sandoval. Marina is Sen. Sandoval's spouse.
*** UPDATE 11 *** From Sen. Don Harmon…
I have absolutely no idea to what that refers, and I'd be happy to talk to you again if something comes to light.
This is a bit weird because Sandoval is an avowed Harmon enemy.
*** UPDATE 12 *** More on Burke Burns…
The suit seeks documents from Burke Burns and Pinelli, where State Sen. Don Harmon is a partner. Lyons hired BBP to handle all of our FOIA requests, and the firm charged the village $24,000. They denied our request for the Lyons warrant and redacted the McCook warrant. pic.twitter.com/tVGKJAOR6b

— Casey Toner (@ctoner) October 11, 2019
*** UPDATE 13 *** I probably should've mentioned earlier that I wrote a column on Mike Vondra and his companies. Click here to refresh your memory.
*** UPDATE 14 *** Brian Lansu is an attorney for a Mike Vondra company named Reliable Materials and is also in-house counsel for Buona Beef. His law license was suspended for five months in 2009.
*** UPDATE 15 *** Tribune…
[Illinois Toll Highway Commissioner Cesar] Santoy's attorney, Brendan Shiller, said in a statement to the Tribune that he's "been informed that neither Cesar nor Studio Arq is a target" of the probe.

"The government wanted some records and they were provided," Shiller said.
*** UPDATE 16 *** Sun-Times…
When reached by phone by the Chicago Sun-Times, [Rick Heidner] said he had not yet learned his name appeared on the document. He said no one had contacted him about it, and he said he had "zero clue" why his name would be there.

"Maybe it's because, you know, I donate money politically and charitably," Heidner said. "But I have no clue why my name would be on it at all."
*** UPDATE 17 *** Good info from WBEZ…
Records obtained by WBEZ show Sandoval's private company, Puentes, Inc., is paid $4,200 a month by the Town of Cicero and $2,000 a month by the North Berwyn Park District, both of which lie in Sandoval's legislative district that straddles Chicago and southwest suburbs.

The FBI reported taking "invoices and correspondence with [Monarca], agreements between [Monarca] + other entities" in addition to "documents ref. Monarca Inc. and Marina Sandoval." […]

The feds sought information about a litany of Vondra-related business ventures and a foundation set up by Vondra and his wife, Dorothy. Also included was a request for records related to a west suburban golf course, Klein Creek Golf Club, where Sandoval has hosted numerous campaign fundraising events. […]

Also named in the search warrant was Jeff Tobolski, the Democratic Cook County commissioner and mayor of McCook. Tobolski's office at the McCook village hall was the target of another FBI raid, two days after the search warrants were served at Sandoval's offices.
*** UPDATE 18 *** You'll notice that on the receipt list of item seized is this: "Flash drive with Landek written on it."
There is a theory developing that Sandoval was creating opposition research files on both Sen. Don Harmon and Sen. Steve Landek. As mentioned above, Sandoval despises Harmon and he may have been plotting to back a certain someone against Landek in a Democratic primary. Again, it's just a theory so far, but it would fit the Sandoval profile. Stay tuned.
*** UPDATE 19 *** ILGOP Chairman Tim Schneider…
The unredacted warrant provides another glimpse into the vast network of background players involved in the corrupt Chicago Democrat machine that runs this state. From another close Madigan ally to Pritzker's Tollway appointee, there is virtually no level of state and local government in Cook County that is not teeming with self dealing Democrats looking to screw over taxpayers. The Illinois Democratic Party is a crime ring masquerading as a political party.
- Posted by Rich Miller 78 Comments


* The full study is here, but this is the executive summary…
Of the financial challenges facing the State of Illinois, perhaps the most critical to state and local governments' overall long-term financial health is the long-standing challenge of our unfunded pension liabilities and the ever-increasing burdens that places on local property taxes. Illinois has more than 660 funds, the second-highest number of pension plans of any state in the country.

Within the constellation of pensions in Illinois, roughly 650 of them are suburban and downstate police and fire plans, most of which face headwinds in large part caused by the relatively small size of each plan. Because many are so small, they are unable to gain access to investment opportunities that provide the highest returns and competitive investment fees. Collectively these pension plans today earn significantly lower investment returns than larger pension plans. For example, suburban and downstate police and fire plans generated on average 2 percentage points less annually over the past 10 years than the statewide municipal employees' fund. In addition, these numerous small funds pay substantially higher expenses to manage their assets and administer benefits. The sheer number of plans and the extraordinarily modest asset levels relative to other plans exacerbate both of these challenges.

Not only does this negatively impact the funding level of police and fire pension plans, but local taxpayers are left with the burden of paying taxes to make up for these lower investment returns, forcing most municipalities to rely on a never-ending cycle of increasing local property taxes or cutting services to meet their pension obligations.

To help solve the police and fire pension funding problem and relieve the burden on taxpayers, Governor Pritzker announced the creation of the Pension Consolidation Feasibility Task Force on February 11, 2019, to explore and make recommendations for consolidation of pension funds in order to achieve the greatest value for employees, retirees, and taxpayers. Members of the task force include municipalities, labor unions, former elected officials and financial experts.

After eight months of data collection, analysis, and many meetings, the Task Force recommends the State take the following actions:

STEP 1: Consolidate suburban & downstate police & fire pension plan assets.

The single most impactful step that the State can take to address the underfunding of downstate and suburban police and fire pension funds is to consolidate the plans' investment assets. This step is immediately actionable and beneficial to the health of the plans, retirees, and taxpayers. Analysis by the Department of Insurance estimates that if the more than $14 billion of suburban and downstate police and fire plans were to achieve investment returns similar to the other larger Illinois plans over the next five years, they would collectively generate an additional $820 million to $2.5 billion in investment returns alone. If they were to achieve comparable returns over the remaining 20 years on their statutory ramp to 90% funded status, they would create an additional $3.6 to $12.7 billion in investment returns alone.

To achieve this consolidation, the Task Force recommends that the State create two new funds, one for municipal police beneficiaries and one for municipal fire beneficiaries, to pool the assets of the roughly 650 downstate and suburban police and fire funds and manage those assets. Each fund would be governed by a board with equal representation of employees and employers. Each local pension plan would maintain an individual and separate account within the new consolidated funds, such that no assets or liabilities are shifted from one plan to another. Each of the two consolidated funds will be held in independent trusts, separate from the State Treasury, with sole governance provided by their respective boards.

With up to $1 million a day in lost investment returns to the pension plans, the Task Force recommends there be legislation passed by the General Assembly in the fall of 2019 that will achieve this consolidation.

In addition, the Task Force recommends other statutory changes to ensure the State is compliant with the safe harbor standard of the Social Security Administration and Internal Revenue Code, thereby avoiding substantial and sudden future costs to municipalities resulting from non-compliance.

STEP 2: Review consolidation of suburban/downstate police & fire pension plan benefit administration; review of other state and local plans to determine advantages of consolidation

Downstate and suburban police and fire funds face further financial challenges beyond just the underperformance of investment returns and high cost of administering assets of these systems that consolidation will address. Therefore, the Task Force recognizes there may be additional advantages to consolidating the benefit administration of these plans. However, because such action requires further discussion with those who would be affected by such a change, it is the recommendation of the Task Force that it should continue to review the advantages and challenges of consolidating benefit administration, and to make potential recommendations to the Governor on this issue.

Additionally, there are 15 other pension systems in Illinois outside of suburban and downstate police and fire that bear significant financial burdens. Unlike suburban and downstate police and fire plans these funds are larger funds, and consolidation would not achieve material improvement of their investment returns. Because the current financial pressures on these systems are so significant, especially for the City of Chicago, it is recommended that the Task Force to continue to review the potential advantages of consolidation of these larger systems and to make recommendations to the Governor on this issue.
Remember, the end game here is 60-30-1. The firefighters in particular have a huge amount of Statehouse clout, but so do other players. One step at a time.
I'll post react if it comes in.
…Adding… From the governor's office…
"Under the current arrangement, Illinois' suburban and downstate police and firefighter pension funds are underperforming by nearly one million dollars per day. That's not just a missed opportunity – that's a hole these funds are digging deeper every year – and then municipalities have to ask taxpayers to fill the hole," said Governor JB Pritzker. "We'll be proposing legislation this fall to consolidate the assets of the 649 suburban and downstate pension funds into two statewide funds. This consolidation will improve the financial health of the plans and help secure the future for the retired workers who rely on them – and it will alleviate some of the property tax burden plaguing homeowners and renters across our state."
*** UPDATE 1 *** ILFOP…
The Illinois Fraternal Order of Police (FOP) today expressed strong concerns about the recommendations contained within the Governor's Committee on Pension Consolidation Report. FOP members had initially been optimistic that the committee would propose a process that would reduce fees, increase investment returns and better guarantee retirement security for law enforcement officers, their widows and orphans. However, the committee's recommendations fail to accomplish these critical things.

"Law enforcement officers were not allowed to participate, provide feedback or be shown that this was anything other than an attempt to grab officers' money," said FOP Labor Council Executive Director Shawn Roselieb,who noted that the committee's meetings were not open to the public. "Officers have paid their own money into these police pension funds every working day of their lives."

The report recommends that the consolidated police pension fund be governed by a board where only 50 percent of the trustees are law enforcement officers. Illinois' 16 current public employee retirement funds, including the Illinois Municipal Retirement Fund, are constituted of governing boards with a majority of members of the fund.

"No one is more concerned with the proper administration of public safety pensions than our 36,000 members," Roselieb said. "But this committee thinks downstate police officers are the only public employees who are just not smart or sophisticated enough to manage their own money."

The State of Illinois' "worst in the nation" track record of managing public pensions is also cause for concern among working and retired law enforcement officers.

"Illinois police officers are not inclined to believe the state when it says it's going to responsibly manage their money," said FOP State Lodge President Chris Southwood. "This problem is at the heart of the FOP's concern. Any consolidation must contain a firewall between police officers' money and the people responsible for the pension system debacle in this state."

Roselieb and Southwood urged members of the Illinois General Assembly to actively seek input from law enforcement officers and the general public on any pension consolidation proposal, something that the Committee on Pension Consolidation did not do when formulating its report.

"We applaud Governor Pritzker for taking on this tough subject," Southwood said. "But the committee's secret deliberations and their attempt to diminish future public input on the pension fund's governance are not the right way to reach a good solution."
*** UPDATE 2 *** Gov. Pritzker was asked today about opposition from the Illinois Public Pension Fund Association, which represents the 600+ local pension fund administrators and conducts training sessions. His response…
These are the folks who run the junkets. The recent one cost about $8 million to the taxpayers to send people to Lake Geneva on a retreat.

I realize that this is going to disrupt their business model, but frankly we have to do better for the taxpayers of this state.
*** UPDATE 3 *** From Associated Fire Fighters of Illinois President Pat Devaney…
We support the recommendations of the task force.
Oh, man, that's huge. That does more for the prospects of passing this thing than just about anything else.
- Posted by Rich Miller 44 Comments


* I always say one of the reasons I love covering politics is because things can change very fast. Here's what could turn out to be a prime example from an NRCC press release dated October 3rd entitled "RIP Betsy's campaign"…
Hi there –

Socialist loser* Betsy Dirksen Londrigan hopped back on board the impeachment train!

The only thing worse for Illinois families than a socialist is a socialist so consumed by their hatred of President Trump that they cannot get anything else done.

NOTE: New polling shows nearly two-thirds (63 percent) of voters in Republican-held battleground seats think Democrats are too focused on impeaching President Trump.

NRCC Comment: "Betsy Londrigan's hatred of President Trump and obsession with impeachment has already marked the beginning of the end of her campaign." -NRCC Spokeswoman Carly Atchison

*According to The New York Times, Betsy Dirksen is a socialist loser. (U.S. House Election Results 2018, The New York Times, January 28, 2019).
* From that NRCC poll referenced above, which was conducted September 28-30…
In NRCC target seats, voters oppose impeachment: 44% support –47% oppose. In Republican-held battleground seats voters oppose impeachment:46%-49%.
That's an awfully darned narrow margin to be confidently predicting the death of a campaign. But, like I say, things can always change. And that could be happening right now.
* From a Fox News poll conducted October 6-8…
A new high of 51 percent wants Trump impeached and removed from office, another 4 percent want him impeached but not removed, and 40 percent oppose impeachment altogether. In July, 42 percent favored impeachment and removal, while 5 percent said impeach but don't remove him, and 45 percent opposed impeachment.

Since July, support for impeachment increased among voters of all stripes: up 11 points among Democrats, 5 points among Republicans and 3 among independents. Support also went up among some of Trump's key constituencies, including white evangelical Christians (+5 points), white men without a college degree (+8), and rural whites (+10).

Among voters in swing counties (where Hillary Clinton and Trump were within 10 points in 2016), support for impeachment increased to 52 percent, up from 42 percent in July. [Emphasis added.]
* Public sentiment is moving historically fast…
I'll go ahead and post this @pewresearch piece for the 100th time.https://t.co/0jCxDs83YY pic.twitter.com/VHMZCNEeu1

— Kevin M. Kruse (@KevinMKruse) October 9, 2019
* Unlike Downstater Rodney Davis, who hopped all the way on board the Trump train and has been actively fundraising off Londrigan's support for an impeachment inquiry, former state Rep. Jeanne Ives' suburban congressional campaign has taken a more focused approach…
"If [Democrats] really want to move forward with an impeachment inquiry, let's have a vote, Nancy Pelosi. Give Republicans a chance to subpoena testimony, as well…"
…Adding… Rodney Davis is a former Shimkus staffer…
Just hours after the decision to leave Syrian Kurds to fend for themselves against Turkey, Illinois Congressman John Shimkus calls the President's decision "terrible and despicable."

Shimkus goes on to tell KMOX's Mark Reardon that he told staff "to take my name off the I support Donald Trump list" and that he is "saddened for the Kurdish people."
- Posted by Rich Miller 66 Comments


* I've asked the attorney general's office for a response. I'll let you know if they say anything. From an Illinois Families for Public Schools press release…
Ahead of next week's administration of the PSAT exam in schools around the state, nine Illinois state legislators are asking Illinois Attorney General Kwame Raoul to investigate the business practices of a major state vendor, the College Board, the standardized test maker that sells the SAT, PSAT and Advanced Placement exams.

The lawmakers sent a letter to AG Raoul Thursday, October 10th signed by: Senators Cristina Castro, Robert Martwick, Laura Murphy and Robert Peters and Representatives Robyn Gabel, Will Guzzardi, Lindsey LaPointe, Aarón Ortíz and Ann Williams.

The letter explains that the College Board has been selling data collected from Illinois public school students who take the College Board's exams and that such sales are illegal under Illinois law.

Since 2017, Illinois has prohibited vendors from selling or renting the personal information of students collected in schools under the Student Online Privacy Protection Act (SOPPA), an Illinois state law. In addition to violating SOPPA, in many cases the data sales may also be violating Illinois' Children's Privacy Protection and Parental Empowerment Act, which bars the sale of data of a child under 16 without parental consent.

The College Board's data sales were reported on last year by the New York Times, and the US Department of Education has warned school districts and state education agencies about the issues surrounding these sales. At an IL Senate Judiciary Committee hearing this spring, a representative of the College Board, Todd Iverson, confirmed that the College Board is selling Illinois' student data—at the time for $.45 per student record.

This summer, Illinois Families for Public Schools, a public school parent advocacy group, began assisting parents with submitting consumer fraud complaints to the Attorney General's office. Parents and students are not informed of the College Board's data sales, and in some cases are explicitly told that the College Board does not sell data. Parents are asking for the AG to bar the College Board from future sales of Illinois student data and to prevent the College Board from collecting or redisclosing student data without written, informed consent from a parent for any student under 18.

"My child was told that participating in the College Board's Student Search Service survey was for his benefit. Neither of us knew the answers he provided were for sale. As a parent, I have the responsibility and the right to control what happens to my child's personal data. And as a taxpayer, I don't understand why the College Board needs to make money off this data. Aren't they already being paid for the tests themselves?," asked Chicago parent Gina Silva, who filed a complaint about the data sales with the IL AG.

The College Board does millions of dollars of business every year in Illinois with state and local governments. They currently have a $29 million contract with the IL State Board of Education for the SAT and PSAT tests. Last year the state paid more than $2 million to cover the fees for the AP tests for low-income students. The state's largest school district, Chicago Public Schools, has an $8.35 million contract with the College Board. In addition, Illinois public institutions of higher education are some of the buyers of the data from the College Board.

Since spring of 2018, the IL State Board of Education has mandated the administration of the SAT to all high school juniors to fulfill requirements of federal school accountability law, the Every Student Succeeds Act. The SAT is now a requirement to receive a diploma from a public high school in Illinois. This year the state will begin mandating the PSAT in 9th and 10th grade. Many schools administer the PSAT/NMSQT in the fall of 11th grade as well. The College Board's Advanced Placement tests also now play a role in Illinois' school rating system.
* I followed up with a question about how many kids are taking these tests in Illinois…
Hi Rich,

In 2018, about 140K students took the SAT in public schools. (The numbers from 2019 will be released at the end of the month but enrollment should be similar.)

In spring 2020, there will be a similar number taking SAT plus another ~300K because the state is now requiring schools to administer a PSAT to 9th and 10th grade as well.

In addition, about 110K students took at least one AP test in 2018. (But, presumably almost all of them are already being counted in the above stats.)

In terms of how much the College Board is making from data sales though, the $.47 per record is, I think, only for the data from high school juniors. For younger children, they charge more—up to $5 per record. (This is according to representatives from some of the state's public universities and colleges who said this at a College and Career Interest Task Force meeting last November.)
…Adding… From the Illinois Families for Public Schools…
Correction, looking back at my notes from that meeting—colleges/universities are paying up to $5/record for this data, but it's not clear from what was said whether that was from College Board in particular or from another data broker. Here's the College Board's current price list.
*** UPDATE *** From the AG's office…
We are aware of these concerns and are looking into this.
- Posted by Rich Miller 7 Comments


* Tina Sfondeles…
The two top Democrats in the state Senate see no reason to remove Sen. Martin Sandoval from his leadership position on a key committee despite a federal raid of his home and offices, putting them at odds with Gov. J.B. Pritzker and others in the Illinois Senate.

Majority Leader Kimberly Lightford, D-Maywood, on Wednesday joined Senate President John Cullerton in taking a wait-and-see attitude on Sandoval, whose Chicago home and Senate offices in Cicero and Springfield have been searched by federal agents. […]

But signaling a sign of dissension, Assistant Majority Leader Don Harmon, D-Oak Park, told the newspaper that it's time for Sandoval to step down from the committee.

"It would be wise for Marty Sandoval to step down as chair of the Transportation Committee while this investigation unfolds," Harmon said.
Subscribers know more about this topic. Some Senators are going a lot further than Harmon.
* Meanwhile…
Given the seriousness of this matter, and in order to protect the interests of Illinois residents, I believe he should be removed from serving as Chairman of the Transportation committee, or any committee. https://t.co/oRXDkc1NIr

— Bill Brady (@SenBillBrady) October 10, 2019
*** UPDATE 1 *** I missed this one from Brian Mackey…
Illinois Comptroller Susana Mendoza is joining calls for state Sen. Martin Sandoval to step down from his role as chairman of the Senate Transportation Committee. […]

"I think everybody that serves in this dome, and outside looking in, should be very concerned about these allegations," Mendoza said. "And he should do the right thing and step aside."

Asked whether she's begun reviewing Sandoval's spending requests, Mendoza said she has not. But she added she'll be watching infrastructure spending.

"As the office that will be paying the checks for the $45 billion capital plan, we want to make sure we're doing everything within our power to vet every single one of those, and make sure that they are 100 percent on the up and up and legitimate," she said.
*** UPDATE 2 *** Subscribers already knew this…
"If he doesn't do it on his own, the Senate president should remove him from the Transportation Committee and from leadership as long as he's under investigation," said state Sen. Melinda Bush, a Grayslake Democrat. Bush has communicated her stance to Cullerton and to Pritkzer, she said. "When these kinds of behaviors are called into question, it reflects on all of us. It's incumbent on us to make sure these individuals are removed from decision-making power positions until they're cleared." […]

Assistant Democratic leader Don Harmon said it would be "wise" for Sandoval to step down "while the investigation unfolds." […]

"I would hope that after many years of service in the Senate, out of respect for the institution of the Senate and the people he represents, that (Sandoval) would voluntarily step down," said [Sen. Julie Morrison], a Deerfield Democrat. "And if he chooses not to do so, I think the responsibility to remove him falls on the president of the Senate."
But not this…
Sen. Iris Martinez, a Transportation Committee member and assistant Democratic leader, said if she were in Sandoval's position she would step down from the committee chair position as a "courtesy" to the other committee members while the investigation runs its course. But whether Sandoval steps down or is removed is ultimately something for Sandoval and Cullerton to decide, Martinez said.
Tribune reporters also talked to some Republicans.
- Posted by Rich Miller 29 Comments


* Steve Daniels with the scoop…
Commonwealth Edison is again enmeshed in a federal investigation of corruption in Illinois politics.

The utility, along with parent Exelon, received a grand jury subpoena Oct. 4 requiring "production of records of any communications with certain individuals and entities, including Illinois State Senator Martin Sandoval," the companies disclosed last night in a Securities & Exchange Commission filing. […]

For ComEd and Exelon, it's the second federal subpoena they've received in the past three months. Earlier, they acknowledged requests for information surrounding "lobbying activities" from the U.S. attorney's office in Chicago. That investigation focused at least in part on former Southwest Side Ald. Michael Zalewski's efforts to get lobbying work for ComEd, according to reports at the time. Zalewski has been a close ally of House Speaker Michael Madigan for years.
* From the company's SEC filing…
As previously disclosed, Exelon Corporation and Commonwealth Edison Company (the "Companies") received a grand jury subpoena from the U.S. Attorney's Office for the Northern District of Illinois, which required production of information concerning lobbying activities in the State of Illinois. On October 4, 2019, the Companies received a second grand jury subpoena from the U.S. Attorney's Office for the Northern District of Illinois that requires production of records of any communications with certain individuals and entities, including Illinois State Senator Martin Sandoval.

The Companies have cooperated fully with the U.S. Attorney and intend to continue to cooperate fully and expeditiously with any government requests or inquiries. On June 21, 2019, the Exelon Corporation Board formed a Special Oversight Committee, consisting solely of independent directors, to oversee the Companies' cooperation and compliance with the subpoena, any further action taken by the U.S. Attorney and any resulting actions that may be required or recommended. The Special Oversight Committee has engaged independent outside counsel to advise and assist the Committee.
You know it's serious when a company creates an oversight committee like that with outside counsel.
Whew.
…Adding… I should've added this for context, although it's difficult to know for certain right now if this is, um, related…
Sandoval's daughter, Angie, works for ComEd as a senior account representative.
- Posted by Rich Miller 20 Comments