* I discussed this with subscribers today, so we'll just stick with what's already been posted. Tribune…
Helene Miller Walsh, the wife of conservative radio host and former GOP U.S. Rep. Joe Walsh, has been picked to fill the state House vacancy of a former Republican lawmaker who stepped down after being accused of sending an ex-girlfriend's nude photos to other men online.

Nick Sauer, of Lake Barrington, resigned from his Illinois House seat this month after the accusations surfaced in a Politico report. Local Republican officials on Saturday chose Walsh to replace Sauer both in the General Assembly and on the November ballot.

Now, Walsh faces the potentially difficult task of building a campaign in the short few months before the election. She will run against Mary Edly-Allen, a teacher from Libertyville, in the race to represent a central and southern Lake County district in the state legislature.
* Daily Herald…
"I'm really angry about what's going on in this state," Miller Walsh said. "People are leaving and have already left. I'm tired of what's going on."

She also said that, as a legislator, she wants to help the black community. Miller Walsh is a five-year advisory board member at Project H.O.O.D., an inner city nonprofit organization started by Pastor Corey Brooks in 2012 to help people become peacemakers, problem solvers, leaders and entrepreneurs in their communities.

"We all want the same thing, ultimately," said Miller Walsh, a lifelong Chicago-area resident. "We all want to be able to live our lives with a lot less government interference. And we are responsible for ourselves. We're no different up here in Mundelein than they are on the South Side (of Chicago)." […]

"When people came to her, she said to me, 'You know what, I've got a chance to do my part to fight for Illinois,'" [Joe Walsh] said. "I think she'll make a great candidate because she's the epitome of a citizen legislator. She ain't a professional politician, that is for sure."
* I tweeted about this over the weekend…
Local GOP announcement https://t.co/630kULm7iT pic.twitter.com/8B07HlNKD2

— Rich Miller (@capitolfax) August 19, 2018
Democrat Adam Didech slams appointment of Helene Walsh to the Illinois House. Ouch pic.twitter.com/QCjFzr0b2P

— Rich Miller (@capitolfax) August 18, 2018
— Rich Miller (@capitolfax) August 18, 2018
— Rich Miller (@capitolfax) August 18, 2018
*** UPDATE *** It's noted above that she is an advisory board member to Pastor Corey Brooks' Project H.O.O.D. But check out this Facebook post…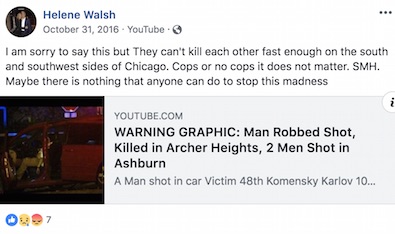 - Posted by Rich Miller 59 Comments


* Press release…
Today, the Pritzker campaign released a new digital video featuring President Barack Obama on why he's backing JB Pritzker for governor. In the video, President Obama commends JB's leadership in creating thousands of jobs at 1871 and expanding the school breakfast program to over 200,000 kids.

"Juliana and I are incredibly honored to have the support of President Barack Obama as we fight for the values that defined his presidency," said JB Pritzker. "President Obama has done so much to move our country forward: expanding healthcare for millions, leading our country out of the Great Recession, and standing up as a model of leadership and integrity for millions across our great state and nation. I was proud to play a role in his historic presidency when I led the White House Summit on Early Childhood Education, and I'm proud to have his endorsement in this election. I look forward to fighting to preserve and build on his legacy as Illinois' next governor by putting Springfield back on the side of working families."

"I am proud to endorse JB Pritzker to be the next governor of my home state of Illinois, and let me tell you why," said President Barack Obama in the video. "It's simple. JB gets things done. When folks said Illinois couldn't be a leader in creating high tech jobs, JB thought we could, and he started a tech incubator that's helped entrepreneurs create hundreds of new companies and more than 7,000 good jobs. When JB saw that too many of our school kids were going hungry, he made it a personal mission to change that, and working with Illinois non-profits, he helped expand a program we started to make sure more than 200,000 low-income Illinois kids have access to school breakfast.

"I know JB. I trust JB, and that's who he is — someone who is always thinking about how he can make difference. Someone who identifies the right problems and brings the right people together to solve them. And that's something we can use in Illinois. JB will be a governor who looks out for all of us — from downstate towns to northern suburbs to the neighborhoods of Chicago. He'll work as hard as he can to strengthen opportunity for every Illinoisan, today and into the future. So, I'm asking you to join me in supporting and voting for JB Pritzker for the next governor of Illinois."
* The video…
* But a helpful little birdie in an opposing camp sent this over the transom as a reminder…
* Accompanying National Journal story from 2012…
Chicago billionaire J.B. Pritzker isn't sure whether he'll back President Obama in 2012, Bloomberg TV reported on Friday. "We'll have to wait and see. We have to see who the nominee will be on the Republican side," Pritzker said. "I'm a Democrat, and I tend to lean towards voting for the president."

"As in every election, it's going to be a choice between two people and two parties that you're not 100 percent behind," Pritzker said. "You just have to pick the best of a mediocre set of choices.
…Adding… I should've put this here…
Billionaire J.B. Pritzker has pumped another $20 million into his Democratic campaign for governor, bringing his record self-funding total to $126.5 million with 2½ months to go before the Nov. 6 general election.

Campaign finance reports filed late Saturday night showed Pritzker made his latest out-of-pocket contribution Tuesday, two days before he was a featured speaker at Democrat Day at the Illinois State Fair.

At the fair's Republican day, Gov. Bruce Rauner asked the gathered crowd for financial help, warning that he would be outspent by Pritzker by a 3-1 ratio, though he offered no specifics. […]

Still, the Republican governor has put $95.3 million of his own money into his campaign fund since March 2013, when he announced his first candidacy for governor. In December 2016, Rauner made a record one-time contribution of $50 million to his re-election fund.
- Posted by Rich Miller 32 Comments