* Click here or on the pic for the full proclamation…

Here we go again.
*** UPDATE 1 ***  Pritzker campaign…
Bruce Rauner has made it clear he intends to pit schoolchildren and communities against each other by issuing a yet to be revealed amendatory veto to SB 1, a bill that lets school districts across the state open their doors on time. In response, JB Pritzker issued the following statement:

"The only person driving an 'artificial crisis' is Bruce Rauner. Rather than working cooperatively with lawmakers, advocates, families and school districts, Rauner has once again decided to approach school funding with his arrogant and dismissive 'my way or the highway' style," said JB Pritzker. "It's simply unconscionable that Bruce Rauner cares more about pushing a right-wing agenda than he does about making sure children get a quality education. Unfortunately for our children and families, it looks like Rauner still hasn't figured out that being governor means coming out from behind the desk in his office to work with other people. If he follows through on his threats to hold children and families hostage to his political agenda, Rauner will be responsible for preventing schools across Illinois from opening on time."
*** UPDATE 2 *** ILGOP…
ILGOP Supports Rauner Decision to Call Special Session
Mike Madigan's Attempt to Hold Schoolchildren Hostage Needs to Stop

"It is beyond inexcusable that Mike Madigan and his allies refuse to release education funding for all Illinois schools unless they get their $500 million Chicago bailout. It's just another attempt by Madigan to hold our state hostage for his disastrous Chicago agenda."

"Governor Rauner's decision to call lawmakers back to Springfield is necessary to protect students across Illinois from Mike Madigan's hostage-taking." – Illinois Republican Party Spokesman Steven Yaffe
*** UPDATE 3 *** Press release…
Daniel Biss released the following statement in response to Governor Rauner's calling of a special legislative session:

"We already knew Bruce Rauner as the proverbial kid on the playground who takes his ball and goes home when he doesn't get everything he wants. Today, he's proven that he'll also bulldoze the playground.

"After more than two years of manufactured crisis, and over Rauner's objections, Illinois has a budget, and a semblance of certainty. In retaliation, Rauner is now using divisive and evasive tactics to plunge us into crisis once again.

"Despite the pleas of families, students, educators, and legislators, Rauner has made it clear that he wants to create a crisis so that he can impose 100% of his ideological agenda on us."
*** UPDATE 4 *** The governor's official proclamation states that the "Illinois State Board of Education is required to begin making payments to school districts across the state on August 1, 2017."
But this is what the statute actually says…
In making this distribution, the State Board of Education shall present vouchers to the State Comptroller on the 10th and 20th days of each month beginning in August.
But this language is in SB 1…
Moneys distributed under this Section shall be calculated on a school year basis, but paid on a fiscal year basis, with payments beginning in August
So, maybe that's where the confusion is.
*** UPDATE 5 *** Kennedy campaign…
"This is the latest smokescreen Bruce Rauner has thrown up. He has no interest in fair funding for public schools in Illinois. He hasn't led and waited until the eleventh hour to threaten a veto. That's what happens in Springfield under Bruce Rauner. He creates a crisis instead of finding a solution. There's been plenty of time to debate the bill. It isn't perfect. It doesn't fix the broken property tax system tied to our school funding, but it's too late to let the perfect be the enemy of the good. It's time to show up, lead, and allow our schools to open this fall— not use our public schools, teachers and students as Bruce Rauner's latest political football."
*** UPDATE 6 *** Sen. Dave Koehler (D-Peoria)…
"Governor Rauner has demonstrated once again that he favors campaigning over governing. Rather than focusing on how he could work constructively with the General Assembly, he calls Blagojevich-style special sessions that only waste taxpayers' dollars.

"I am calling on the governor to sign a bill that his own administration says he supports 90% of. It is time to stop pitting one part of the state against the other for political purposes."
*** UPDATE 7 *** Ameya Pawar…
"It's painfully apparent that Bruce Rauner continues to play politics instead of governing. He says he agrees with 90 percent of the school funding bill lawmakers passed during the last session, yet he is threatening an amendatory veto without releasing any details. Now, he's calling lawmakers back to Springfield to rehash what was a common sense solution to our inequitable school funding system. Lawmakers did their jobs, while Bruce Rauner is failing at his.

"What Bruce Rauner is doing is pitting communities against each other and dividing our state by race, class and geography. He's telling downstate communities that their schools aren't getting funding because of 'those people' in Chicago - propping up a false narrative that Senate Bill 1 is a bailout for Chicago, despite the fact that it increases funding for every school district in the state. Meanwhile, school districts and families across the state are in panic mode as they try to plan for the start of the school year.

"We must reform our outdated school funding formula that relies on property taxes for funding and start making significant strides toward closing the 20 percent funding gap between upper income and lower income school districts. Instead of asking local communities to foot a majority of the bill for their schools, our government needs to make school funding a priority as our state constitution requires."
- Posted by Rich Miller 57 Comments


* Gov. Rauner was asked by reporters several times today about the details of his threatened amendatory veto of SB 1. "We need it on my desk and you will see," he said to one reporter.
"We can't have any rational discussions until that bill's on my desk," he told another who asked about leaders meetings. "There's nothing really to discuss without that bill being on my desk."
"If they would actually deal with the reality and have the truth come, I could, you could read my amendatory veto and you'll see what I do. They don't want the truth. They don't want an open debate. They don't want this to be out in public. Because the truth is so bad for their position."
Um, SB 1 is out there for everyone to see. The governor's plan is the only secret here. There can be no public debate until we see his plan, and I don't see what the harm would be in making it public. Perhaps I'm wrong. What do you think?
*** UPDATE 1 ***  From the DGA…
In a bizarre press conference today, Governor Bruce Rauner repeatedly dodged direct questions about his plans for SB1. In addition, Rauner called for Democrats to send him SB1 so that he could amendatory veto the legislation, but refused to spell out what his changes will actually entail.

Perhaps Rauner's reluctance to talk to address the specifics of SB1 has to do with his general campaign of misinformation regarding the school funding formula. Greg Hinz of Chicago Crain's writes that Rauner has "decided to demonize part of his electorate, Chicago, in a way I haven't seen in this state's politics for many decades" and he's "cherry-picking" numbers to do it. Hinz continues:

"Rauner, for instance, while wailing about those fat-cat Chicago teachers and their big pensions, is promoting a website that shows how much other districts would get under his school funding plan. The trouble is in the fine print: The site purports to redistribute money that would come not from pension funding but from phased-out block grants. Apparently taking away money from impoverished kids in Chicago isn't as popular as whacking teacher pensions."

Worse, Friday Rauner admitted the state's school board of education was not even involved in the math behind Rauner's planned veto, and instead the work was done by unnamed administration people. Dusty Rhodes of NPR Illinois writes:

"He hasn't shown the work behind his calculations, and said he didn't know whether the Illinois State Board of Education had been involved in the creation of the spreadsheet. ISBE, which is headed by Rauner appointees, traditionally models funding proposals using their in-depth database. Full models of other proposals, including SB1, sponsored by Sen. Andy Manar (D-Bunker Hill) and SB1124, sponsored by Sen. Jason Barickman (R-Bloomington) are available at isbe.net."

It sure seems like Governor Rauner's concerned about the policy here.

"Bruce Rauner's actions these past two weeks showed a governor more concerned about his reelection than about making sure schools open on time," said DGA Illinois Communications Director Sam Salustro. "Rauner has pursued a campaign of misinformation designed to divide one state against the other, and today Rauner's cynical strategy was exposed when he refused to address direct questions about his plans for SB1. Illinois families have seen this failed style of leadership when Bruce Rauner dragged the state through a two-year budget impasse that drove jobs and people from the state."
*** UPDATE 2 *** ILGOP…
ILGOP Releases Digital Ads
Ads Highlight Mike Madigan's Chicago Bailout, Attempt to Hold Schoolchildren Hostage

Mike Madigan's attempt to hold schoolchildren hostage for a $500 million Chicago bailout is everything wrong with Illinois politics.

Madigan is willing to put politics ahead of the interests of Illinois children. He's willing to take money from children across the state to bailout his friends in Chicago with no promise of reform. It's just plain wrong.

That's why today, the Illinois Republican Party is releasing digital ads calling out Mike Madigan for his scheme to force through a taxpayer funded Chicago bailout.
The ads…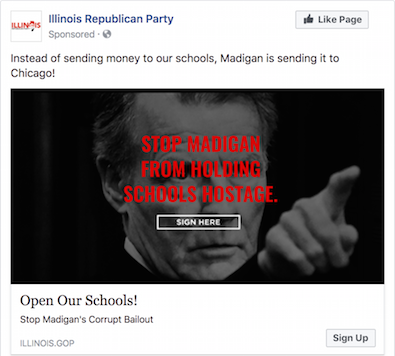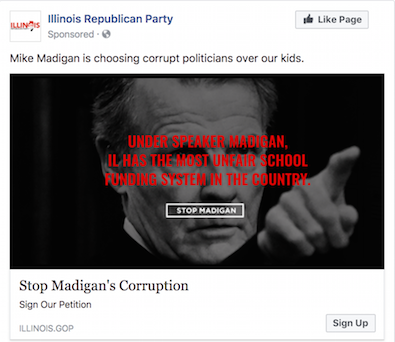 - Posted by Rich Miller 33 Comments


* From Saturday's Democratic Women of the South Suburbs Candidates' Forum…
1st question of this morning's forum: "How do we deal with Mike Madigan?" I am the only Dem candidate who has stood up to the Speaker

— Scott Drury (@Drury4IL) July 22, 2017
* Moderator Craig Dellimore asked the question…
Gov. Rauner is not the only obstacle to improving Illinois. How do you think you will handle Illinois House Speaker Michael Madigan to get your agenda moving?
* JB Pritzker said he could get things done as governor just like he has in the private and public sectors and then said…
But I think we gotta stop throwing the leadership of the Democratic Party at each other. That is Bruce Rauner's game. It is his game to make us fight each other in this primary so that he's got an easier chance in the general elecction. That's why I have not said one cross word about anybody that's on this stage. I have been adamant about the fact that we need to focus every day on the failings of Bruce Rauner. That's the guy that has made the mistakes in this state. That's the guy that has stood up against working families. And I'm going to beat him in the general election.
Raw video is here.
*** UPDATE 1 ***  ILGOP…
This weekend, we got even more evidence that J.B. Pritzker is Mike Madigan's pick.

Asked at a Democratic forum how he would handle Illinois' corrupt Speaker, Pritzker defended Madigan.

Capitol Fax reports that Pritzker responded by saying that "we gotta stop throwing the leadership of the Democratic Party at each other."

It's been widely reported that J.B. Pritzker is Mike Madigan's handpicked candidate for Governor.

Just last month, Crain's Chicago Business reported that Madigan was "breaking legs behind the scenes to help Pritzker".

J.B. Pritzker has now made his position clear – he is unwilling to criticize Mike Madigan for anything.

He is unwilling to criticize Madigan for forcing through his 32% tax hike without reform. For refusing to bring term limits up for a vote. For using his personal attorney to kill the fair maps ballot initiative. For his decades of patronage hiring. For rigging the property tax system against hardworking taxpayers.

Nope, Pritzker is fine with all of it.

It's easy to see why Madigan likes Pritzker so much.

Watch Pritzker defend Madigan here.
*** UPDATE 2 ***  From Galia Slayen of the Pritzker campaign…
"Welcome back ILGOP. Good to know you still remember your tired talking points. In case you missed it while you were gone, your governor cleaned house, brought in a bunch of radical extremists, and is now holding funding for Illinois schoolchildren hostage. So hope you got some rest. You're going to need it."

Galia Slayen
- Posted by Rich Miller 37 Comments


* Way down deep in a recent Tribune story about the governor's staff changes was this little nugget…
Even before this month's staff changes, Rauner brought in two outside consultants to help distribute his message. In April, he hired Jon Morris, founder and CEO of Rise Interactive, a Chicago digital marketing agency, and Anne Kavanagh, a former TV reporter who now does media training, crisis management and publicity work.

Morris was hired to help Rauner's office with its digital media strategy, while Kavanagh was brought on to assist with the administration's "earned media" strategy — industry-speak for free publicity that usually comes in the form of coverage on television or in print.

According to "engagement letters" drawn up by Dennis Murashko, Rauner's general counsel, Morris and Kavanagh were both hired for an initial period of three months. The letters, obtained by the Tribune though a public records request, detail how Morris and Kavanagh are to interact with the governor's office. Both were required to report to Rauner's then-communications staff, but were not paid using taxpayer dollars.

Morris declined to comment. Kavanagh acknowledged she had been doing work for the governor, but said she wasn't part of the decision-making process regarding the recent shake-up in the governor's office.
That's an unusual arrangement, to say the least.
You can scroll through more info on Morris' firm by clicking here.
* Kavanagh's firm has (or, at least at one point had) some interesting clients…
As you can see, my clients are super smart and good looking… Hanging with Diana Rickert and Kathy Myalls at the Illinois Policy Christmas party!!

Posted by MediaPros24/7 on Sunday, December 21, 2014
The Illinois Policy Institute, Richard Uihlein, the Illinois Opportunity Project and CPD Officer Jason Van Dyke's defense attorney. Quite the cast of characters.
…Adding… Forgot about this one…
State Rep @Jeanneives gets grilled by @kavanagh_anne for Media Pros 24\7 media training. Firing line! pic.twitter.com/2AtzKCQaNw

— Lilia A. Chacon (@LiliaChacon) June 26, 2015
*** UPDATE ***  Interesting points here…
These privately-funded hires are unprecedented - traditional disclosure requirements for their roles, salaries, and activities may not apply

— ILCampaign (@ILCampaign) July 24, 2017
- Posted by Rich Miller 24 Comments