* These numbers come from two graphics on display at the governor's press conference…
* ICU beds: 1,525 in use and another 1,053 are still available. Of those 1,525 ICU beds in use, 889 are occupied by COVID-19 patients.

* Ventilators: 785 in use and another 1,675 are still available.
Of those 785 ventilators in use, 589 are being used by COVID-19 patients.
* On to extending the stay at home order…
With each step, we have been forced to take by this pandemic has made things more challenging for our residents. The cascading consequences of these steps weigh on me, every minute of every day.

But as I've said since the beginning. My priority through each and every one of these decisions has been, and continues to be saving as many people's lives as possible.

That's the one goal that I will put above all others, every time, most critically I have let the science guide our decisions. I've relied upon the top medical experts scientists, public health researchers epidemiologists mathematicians and modelers from the greatest institutions in the world, like the University of Illinois Northwestern University, University of Chicago SEIU, and others whose guidance on infection rates and potential mortalities and protective measures is frankly second to none.

It is based upon that advice that tomorrow I will be signing an executive order to extend Illinois disaster proclamation our stay at home order and our suspension of on site learning at schools, through the end of the month of April.

If we can end these orders earlier, I'll be the first one to tell you when we can start to make strides toward normalcy again. But that time is not today.
* Bed and ventilator availability…
As of March 30th, our preliminary reports from hospitals statewide show just 41% of our adult ICU beds are empty staffed and ready for immediate patient use - a two percentage point decrease from the moment in time numbers that I ran you through last week. And 68% of our ventilators are available statewide - a 4% point drop in a week.

That doesn't mean that every hospital has that availability, but collectively, that's what we have across the state. […]

From all the modeling that we've seen our greatest risk of hitting capacity isn't right now, but weeks from now. The virus is spreading, it is growing. So are its risks. We must not let up now.
Again, pardon the typos.
- Posted by Rich Miller Comment


* Daily Herald…
The general election ballot is set, but there's much still to be known in the race to represent the 6th District in the U.S. House of Representatives.

Republican primary winner Jeanne Ives will challenge Democratic incumbent Sean Casten in the November contest to claim the House seat representing an area from Hinsdale and Naperville through Elgin to just beyond Long Grove.

But the spread of the coronavirus is keeping people in their homes, making early campaigning an unusual challenge. And changes in economic and social behavior caused by the virus mean typically safe bets about elections are off, political scientists say.

"Forecasts of the 2020 election are harder than ever given the unpredictable fallout from the pandemic," said Brian Gaines, a professor at the University of Illinois at Urbana-Champaign in the Department of Political Science and at the Institute of Government and Public Affairs. "With ordinary life on hold for who knows how long, it is hard to guess whether turnout will be nothing like usual, e.g. the usually reliable elderly staying home, and whether incumbents will be enjoying an approval rally or a backlash of frustration that normal life isn't back."
It's far too soon to be speculating about fall turnout. We are literally in uncharted modern waters and we have no idea what the future will bring. As for canvasses, not that many general election candidates are out in full force in March and April anyway. Fundraising is an issue, however.
* The 1918 influenza pandemic dissipated over the summer, but then came back with a vengeance in the fall…
The election took place during the Spanish flu pandemic. Campaigning was disrupted around the country. In Nebraska, for instance, authorities lifted a ban on public gatherings in early November 1918 and permitted politicians to campaign five days prior to polls opening. The turnout was 40%, which was unusually low for a midterm election (turnout was at 52% and 50% in the 1910 and 1914 midterm elections). The low turnout was possibly due to the disruption caused by the pandemic.
* The virus slammed our collective consciousness shortly before the primary, so some folks didn't take advantage of the mail-in ballot option. But the numbers in Chicago were pretty high…
Despite fears that the coronavirus would keep Chicagoans from voting, mail-in ballots trickling in are inching the city's primary turnout to nearly 35%.

That's down sharply from the 53.52% city turnout in the 2016 presidential primary and the 52.70% in 2008, but above or comparable to the city's showing in the remaining three presidential primaries this century — including 2012 when only 24.46% of voters cast ballots. […]

On Monday, the city's turnout rose by nearly three percentage points, going from 32.62% a few days after the primary to nearly 35% as the city counted additional vote-by-mail ballots that were postmarked in time. […]

Of the city's 117,119 mail-in ballot applications, 91,706 ballots have been returned as of Monday morning, according to city records. Of that number, 8,437 were rejected for reasons like not being postmarked on or before March 17.
A big problem with mail-in ballots is that some election officials nitpick them to death. Maybe the signatures don't exactly match, or some little bit of info is wrong or left off.
Also, remember how the city's elections board screamed about "extremely" low turnout on primary day? That obviously wasn't the case. That board either needs a total revamp or should be folded into Cook County's system.
…Adding… With a hat tip to a commenter, the city's turnout is now up to 37.18 percent.
- Posted by Rich Miller 10 Comments


* I've been able to confirm this ABC7 report…
Illinois Governor JB Pritzker is expected to announce Tuesday that the state's stay -at-home order will be extended beyond April 7, sources tell ABC7.

The order went into effect on March 20. It is not known for how long Governor Pritzker will extent the order.
It's not like this was unexpected. No way was he going to allow that order to expire without renewing it. The only question was when he would do it.
* NBC5…
Illinois' stay-at-home order will likely be extended until April 30, multiple sources familiar with the matter tell NBC 5.

The announcement is set to be made during Gov. J.B. Pritzker's daily coronavirus press briefing at 2:30 p.m. (Watch it live here).

The news comes one week before the initial order was set to end and just days after the state saw its biggest rise in cases of the coronavirus pandemic so far.
* CBS2…
With the confirmed number of coronavirus cases in Illinois continuing to climb by the hundreds each day, Gov. JB Pritzker will extend his statewide "stay at home" order through the end of April, sources tell CBS 2.

Pritzker's "stay at home" order has been in effect since the evening of March 21, requiring everyone in Illinois to stay indoors, except for essential trips to get groceries, medical supplies, to see a doctor, or for brief exercise outdoors. Those who do exercise outside have been told to stay six feet away from others, and avoid groups of 10 or more people. The order does not prohibit essential workers from going to their jobs.

The governor's order originally was set to continue through April 7. Sources tell CBS 2's Dana Kozlov the governor will announce he's extending that order through the end of April during his daily COVID-19 briefing Tuesday afternoon.
*** UPDATE *** From Jordan Abudayyeh…
The Governor will update the public at 2:30pm, as he has done everyday because he values transparency and direct communication with the people of this state. Trying to get a scoop by reporting information from sources in a piecemeal fashion is irresponsible at a time when the public deserves to get the full picture from their leaders directly.
- Posted by Rich Miller 26 Comments


* Herald-News…
An inmate at Stateville Correctional Center has died from coronavirus, and the total number of cases in Will County doubled over the weekend.

The Illinois Department of Public Health (IDPH) reported Monday that one inmate at Stateville has died and 100 others at the prison have been hospitalized or isolated because they show symptoms.

The Stateville cases are not included in the coronavirus counts in Will County, where two more people died and the total number of cases reached 224.

Stateville is located in Crest Hill, but the coronavirus cases and deaths that occur there are reported separately from the Will County numbers, said Steve Brandy, spokesman for the Will County Health Department.
* ABC 7's I-Team reached out to the person in charge at the closest hospital, Saint Joseph Medical Center in Joliet and his outlook is quite grim…
The hospital's medical director, Dr. John Walsh, said they have been "overwhelmed" by inmates suffering from the effects of coronavirus.

"This is a disaster," he said. "What I most fear, is that without some resolution, the number of patents coming in from Stateville will be excessive." […]

There are nine prisoners currently on ventilators in the intensive care unit at Saint Joseph, with the other prisoners and patients in need of care. Dr. Walsh said the hospital is "maxed out on staff." […]

Walsh said his concern is that there are at least 100 prisoners still inside Stateville who have fevers. […]

According to Walsh, Saint Joseph Hospital has only a few more ventilators available. He fears that the prison death toll could be in excess of 100.
* On to the Tribune…
To date, Gov. J.B. Pritzker has offered little in the way of specifics on what review process is in place, and IDOC has confirmed a mere six inmates have been released early so far, slowed partly by a rule that released inmates have secure housing. The first death of an inmate was announced Monday, a man who was being housed at Stateville Correctional Center. […]

IDOC, meanwhile, has continued to say little about any specific planned process or an anticipated number of releases, though advocates said they have heard some 100 prisoners could be on a pathway to leaving state custody.

The Tribune on Friday first reported the release of six women housed on a special wing of the Decatur Correctional Center that houses inmates who have given birth while in custody.
Your thoughts?
*** UPDATE *** This is not good…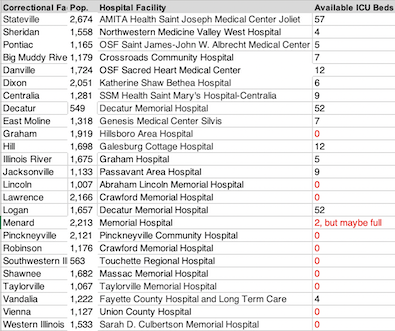 Data was derived from this site.
* Related…
- Posted by Rich Miller 25 Comments