* Daily Herald…
Casey Urlacher, the mayor of North suburban Mettawa and brother of Chicago Bears icon Brian Urlacher, is charged along with nine others in connection with an illegal offshore sports gambling ring, federal prosecutors announced Thursday.

In an indictment alleging one count of participating in the gambling conspiracy and one count of conducting an illegal gambling business, prosecutors say Casey Urlacher worked as an agent for the "illegal gambling business" and recruited gamblers and other sub-agents to the operation.

Prosecutors allege those involved placed bets through a Costa Rican-based gambling platform identified only as "Company A." The operation began sometime in 2016, according to prosecutors.

Prosecutors said Urlacher was in contact with the group's ringleader, 54-year-old Vincent Delgiudice of Orland Park, also known as "Uncle Mick," in December 2018 about setting up an account for a new gambler with a maximum bet of $500 and maximum weekly limit of $3,000.
The indictment is here.
* Sun-Times…
Casey Urlacher denied any knowledge of the gambling investigation when reached Thursday by the Chicago Sun-Times, and he said he didn't know any bookie named DelGiudice. "I don't know nothing about it," Urlacher said. "I don't know who you're talking about."

But the indictment alleges otherwise. It says Urlacher asked Vincent DelGiudice to create a log-in and password for a new gambler on the website on Dec. 16, 2018. DelGiudice allegedly did so, setting a $500 maximum bet, a $3,000 maximum wager for the week and a $1,000 settle-up figure.

On Dec. 21, 2018, Urlacher allegedly gave an envelope filled with gambling debts owed to DelGiudice to Prassas. That same day, Prassas allegedly passed an envelope filled with Urlacher's gambling debts on to DelGiudice with the remark, "This is Casey's."

Urlacher also allegedly asked DelGiudice by phone on Dec. 26, 2018, to shut down a gambler's account until the gambler paid a debt. That same day, after the gambler wired $3,000 to Urlacher, Urlacher allegedly texted DelGiudice and told him to turn the gambler's account back on.
Urlacher lost a Republican primary for the Illinois Senate to Dan McConchie in 2016. I'm guessing this upcoming fundraiser will be at least slightly altered…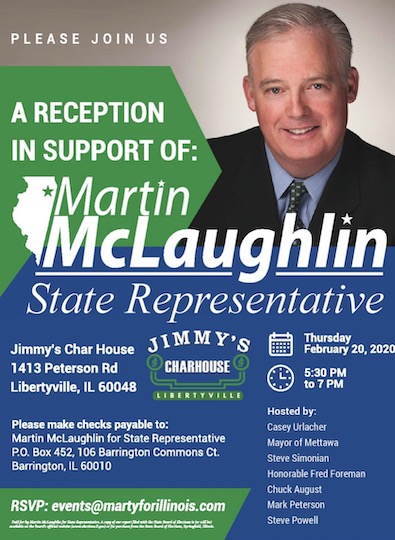 McLaughlin is running unopposed for retiring GOP Rep. Dave McSweeney's seat.
…Adding… Urlacher was appointed to the Illinois Civil Service Commission by Gov. Pat Quinn and is still an active member. Oops.
*** UPDATE *** The governor's office says Urlacher resigned from the commission this morning.
[ *** End Of Update *** ]
* In other news…
When an FBI raid targeted his company's county commissioner last year, southwest suburban factory owner Zach Mottl was "ecstatic."

"I felt like the house fell on the wicked witch," Mottl said. "That's what I felt like. And we were free. The munchkins were free."

Mottl said he felt a target of the raid — Democratic Cook County Commissioner and village of McCook Mayor Jeff Tobolski — had pressured him into making a campaign contribution at the same time his company was seeking Tobolski's backing for a critical property tax break.

And Mottl provided the Better Government Association and WBEZ with an exchange of emails that detail his story.
* And…
A son-in-law of former Cook County Assessor Joseph Berrios is being sued by the Chicago Public Schools, which says he failed to pay "no less than" $366,000 under deals that allowed his company to park cars at 10 elementary schools, mostly for baseball fans going to Cubs games last year.

According to the lawsuit filed in Cook County circuit court, James T. Weiss and his parking business stopped paying CPS last April for the right to park cars at three schools closest to Wrigley Field — but kept charging customers to park there anyway. […]

On Nov. 19, Weiss told CPS his company would no longer be parking cars on school property. That was in a phone call shortly after the Chicago Tribune reported his offices were raided as part of the federal investigation of now-former state Rep Luis Arroyo. Arroyo has since been charged in a federal bribery case involving unregulated video gambling machines.

Weiss — who also owns Collage LLC, which operates unregulated video terminals known as sweepstakes machines — has been lobbying state and city officials to legalize the machines.
- Posted by Rich Miller 10 Comments


* From the SoS…
Dear Mr. Miller:

The attached list has been compiled in response to your recent FOIA request for a list of people who are currently banned from entering the Illinois Statehouse and/or Statehouse complex. Please note that the individuals on this list were not banned from the capitol complex. However, they would only be allowed access to the complex if they were escorted by or under surveillance of law enforcement officers. Access to the capitol complex may be restricted for a number of reasons, including: threatening comments or behavior directed at state officials or employees; inappropriate communications with a state official; inappropriate or suspicious behavior on the capitol complex; as required by an order of protection; conduct related to discharge from State employment; found in a restricted area of the capitol complex; threats of damage to property located on the complex; release from a secure State psychiatric hospital to which the individual had be committed pursuant to a finding of not guilty by reason of insanity for a crime of violence on the capitol complex.

Nathan Maddox
Senior Legal Adviser
Office of the Secretary of State
Click here for the full list. Former Rep. Jack Franks is on the list as is a person named William J. Kelly.
…Adding… You may have noticed the name "Captain Cautious America (formerly Anderson, Mark A.)" on the list. Here's some background…
Of course, he can't become president until he turns 35. But he has other ideas to work on until then.

A nursing student, he says he has been studying several sexually transmitted diseases. He believes he has conjured a cure for several of them.

"It was just simple mathematics and an understanding of antibiotics," he says.

He hasn't shared his secret with any public-health officials — "just people in my own circle," he says — but he would gladly relay his calculations and formulas to the U.S. government. Then government-backed researchers and scientists could mass produce the cure, which not only could help Americans but be sold overseas.
…Adding… As some commenters have noted, Derek Potts is also on the list…
A 39-year-old man found not guilty by reason of insanity in the 2004 fatal shooting of a Capitol security guard soon will be released from a locked state psychiatric hospital and transferred for at least five years to an outpatient, residential treatment center in Chicago, a Sangamon County judge ruled Tuesday.

The decision from Associate Judge Jack Davis II came after a 3½-hour hearing and over the objection of State's Attorney Dan Wright, who said he wasn't convinced of Derek Potts' remorse and remained concerned Potts could hurt others again.

Davis acknowledged what he called the tragic loss of William "Bill" Wozniak to the rural Petersburg man's widow, several other relatives and Capitol-based police, all seated in the courtroom audience. Davis said Wozniak was a "five-star family man" and a "dedicated public servant."
…Adding… William Kelly just sent me an e-mail…
That's news to me
- Posted by Rich Miller 38 Comments