* NY Times article on the Chicago mayor's race quoting Chicago FOP President John Catanzara…
Mr. Catanzara is not lying low. He predicted that 800 to 1,000 Chicago police officers would leave the force if Mr. Johnson wins, adding to hundreds of vacancies already awaiting the next mayor.

"If this guy gets in we're going to see an exodus like we've never seen before," he said, predicting "blood in the streets."
Are we at the "Before it's too late" stage now?
…Adding… Par for the course…
Paul Vallas says he "condemns" these comments from John Catanzara and calls them "absolutely irresponsible." https://t.co/Jqfs3A5pzr

— Gregory Pratt (@royalpratt) March 28, 2023
…Adding… Saw this referenced on Twitter. It's a Trib story from October of 2021 when Catanzara was fighting the vax mandate and predicted half the force would stay away from the job. Didn't happen…
Two days earlier, he posted a video urging about 10,000 active officers to defy Lightfoot's vaccination reporting requirement and brace for being sent home without pay. He also said he will sue the city to fight Lightfoot's mandate.

Catanzara advised his members to report to work Friday with the assumption they would be sent home and said he would also forgo pay.

It is unclear how many officers will follow Catanzara's directive, but he suggested the department could be operating at 50% capacity this weekend — a prediction Chicago police brass swatted away Thursday.

"Whatever happens because of that manpower issue, that falls at the mayor's doorstep," Catanzara said in his Tuesday video.
* Yesterday, we talked about Paul Vallas' coziness with homophobic activists. Here's Block Club Chicago on Brandon Johnson's issues…
Bishop Larry Trotter, a South Side pastor at Sweet Holy Spirit Church, endorsed Johnson March 12, telling his congregation the candidate's plan was "fresh" and "new," according to the Sun-Times.

But Trotter was a vocal opponent of same-sex marriage in the years leading up to its legalization in Illinois in 2013. Trotter was among a coalition of faith leaders who rallied in Springfield against same-sex marriage, according to a 2013 Tribune report.

Johnson responded to concerns about this endorsement Wednesday during a virtual forum on LGBTQ issues hosted by people-of-color-led organizations serving LGBTQ people.

Johnson said he was raised by two pastors in one of the largest Black denominations in the country, but he can "recognize that within all of our faith communities, that there are elements of our faith community that they don't get it right."

"There will be times when people who are close to me, we will have disagreements, and there will be times when we will agree," Johnson said. "This is an opportunity to educate people and make people stronger and better, and we get to do that as a collective group."
Vallas has either just avoided the question or appeared indignant that anyone would question his beliefs.
* On to Politico…
Vallas is a product of the fabled Daley "machine," having worked for former Mayor Richard M. Daley's administration. A key Vallas campaign aide is former Daley Chief of Staff Gery Chico.
Yeah. There's a whole lot more than that one guy. Crain's…
Locked in a tight race for Chicago mayor, Paul Vallas is looking for help mobilizing voters from a vestige of the old Chicago machine that once helped defeat the former Chicago Public Schools CEO when he ran for governor in 2002.

Vallas' campaign committee, Vallas for Mayor, paid $22,500 last week to another committee, Coalition For Better Government, ran by Ronald Calicchio and Dominic Longo, a political street fighter whose 1984 conviction for voter fraud didn't prevent him from a career on the government payroll while working as a precinct captain to get out the vote for former Mayor Richard M. Daley, former Ald. Dick Mell and former Cook County Assessor Joe Berrios. […]

"Our campaign has had no contact with Dominic Longo, and we were unaware of any connection between him and Coalition For Better Government. We made a contribution to this organization to support voter outreach efforts being conducted by its Chair Ronald Calicchio," the statement said.
Unaware? From their State Board of Elections page…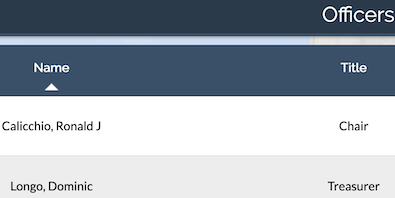 I was thinking last night that while John Kass may finally get a fellow conservative Greek-American in the mayor's office, that fellow will be surrounded by all of Kass' surviving enemies from the Daley era.
* Also, too, Vallas appears to be moving even further to the left as election day nears. From Block Club Chicago…
Vallas endorsed a series of other stances Monday, like establishing ranked choice voting ahead of the next mayoral election and providing reparations for Chicago's descendants of enslaved people.

Vallas also said he supports the concept of universal basic income but called the city's pilot program "ineffective."

"I support … universal income level in principle, I just think that the program needs to be reimagined, and because again, there's very little participation in the program, it has been designed as a one-off program," he said.
He's right about the current mayor's universal income lottery program. But do you believe he'll actually go through with a new and improved version?
* But that late leftward lurch may be having an impact…
At this point in Chicago's mayoral runoff, there are few endorsements left that could really sway the race, but outgoing 4th Ward Ald. Sophia King, who finished eighth in February's first round of voting for mayor, is endorsing Paul Vallas. […]

Unsurprisingly, the Vallas campaign notes high up in its announcement that King is currently the chair of the City Council's Progressive Caucus in an effort to undermine Brandon Johnson's standing as the more progressive mayoral candidate.
…Adding… Progressive Caucus members…
The following is a statement from a majority of returning Progressive Caucus members:

There's nothing progressive about mayoral candidate Paul Vallas. His track record is one of harming communities, particularly the most vulnerable. As CEO of the Chicago Public Schools, Vallas canceled an LGBTQ inclusivity training and cut deals with Wall Street that shifted $1 billion from schools to financial firms and investors. Now Paul Vallas is proudly endorsed by MAGA Republican and Fraternal Order of Police president John Catanzara. Vallas' campaign is bankrolled by the same wealthy Republicans who backed Donald Trump. MAGA Republicans are backing Paul Vallas because Paul Vallas is on the record sharing and espousing their far-right positions.

The Chicago Progressive Reform Caucus was formed in 2013 as a coalition of alderpersons that stood against machine politics and championed progressive policies rooted in the needs of everyday Chicagoans. As the majority of re-elected Progressive Caucus members, we have endorsed Brandon Johnson for mayor because we know Brandon will prioritize working families and invest in Chicago neighborhoods, jobs, and schools. Brandon is the candidate who stands for the progressive policies and values that will improve the lives of all Chicagoans.

This statement is from the following caucus members:

Ald. Daniel LaSpata (1)
Ald. Jeanette Taylor (20)
Ald. Michael Rodriguez (22)
Ald. Byron Sigcho-Lopez (25)
Ald. Rossana Rodriguez (33)
Ald. Carlos Ramirez-Rosa (35)
Ald. Andre Vasquez (40)
Ald. Matt Martin (47)
Ald. Maria Hadden (49)
…Adding… OK, now I'm just laughing…
Paul Vallas tells City Club luncheon one of his favorite movies is Blackkklansman by Spike Lee

— Gregory Pratt (@royalpratt) March 28, 2023
* Press release…
The Vallas for Mayor campaign is releasing a new television ad that sharply criticizes Brandon Johnson's disastrous $800 million tax increase plan, especially in light of recent bank failures, persistent inflation and other economic turbulence affecting Chicagoans. The ad contrasts Johnson's extreme tax increases with Vallas' plan to boost the city's economy by reclaiming vacant properties on the South and West sides and turning them into affordable housing, providing low-interest loans for small businesses, encouraging more community involvement in the budgeting process and much more.

The ad is available here: https://www.youtube.com/watch?v=TLTVOx7j_Ac

"Business groups, union leaders, small businesses owners, elected officials and residents all agree that Brandon Johnson's $800 Million tax increase plan would devastate Chicago's economy at the worst possible time," said Vallas. "We need to make sure that no one gets left behind by City Hall, now more than ever. As Mayor, I'll reclaim vacant properties to revitalize the South and West sides, establish a Fair Share Investment Trust that gives homeowners and entrepreneurs low-interest-rate loans, and create an Independent Community Development Authority that brings every community into the budget process. We need to help homeowners and small businesses thrive, not squeeze them with more taxes, fees, or fines."
Good spot.
* Press release…
Ahead of the 2023 Mayoral Runoff Election, Chicago Public School (CPS) custodians are sharing their experience with Mayoral Candidate and former CPS CEO Paul Vallas and the harmful impact it had on them and their families. When Paul Vallas was CEO of CPS from 1995 to 2001, he failed Chicago's working parents and children. He took thousands of public custodial jobs and privatized them in order to balance the CPS budget on the backs of the very people who are supposed to keep our kids schools clean and safe– in doing so, essential workers had their wages slashed by $3-$5, lost their healthcare and their pensions leaving families with almost no safety net.
Click here to watch the video.
* Isabel's roundup…
* WTTW | Political Fund Backed by Charter School Network Ramps Up Spending to Defeat Johnson, Boost City Council Picks: The independent expenditure by the INCS Action Independent Committee, funded by the Illinois Network of Charter Schools, paid for $258,000 in cable television advertisements on March 16 and $359,000 in digital advertising on March 15, records show. Election Day is April 4, and early voting is underway.

* WGN | Vallas leading Johnson in Chicago Mayoral runoff election: With eight days left before Chicago voters choose a new mayor, new WGN-TV/Emerson College/The Hill poll shows Paul Vallas holding a five-point lead over Brandon Johnson, 46% to 41%. The exclusive poll also found that 13% of likely voters are still undecided.

* Block Club | Paul Vallas Vows To Fire CTA Boss, Doubles Down On Plan To Bring Back Retired Cops In Block Club Interview: Vallas has said he's heard from retired officers through his work as a consultant for the Fraternal Order of Police during recent contract negotiations to back up his claim. The police union has endorsed Vallas in the mayoral race. "We know, because we've put together a list of retirees, and there's a list of officers who would like to return," he said. … Asked to confirm Vallas "has a list" of officers who would return under the conditions he mentioned, Vallas said he was referring to a list kept by the Fraternal Order of Police of retired officers.

* WBEZ | Rehiring retirees as a quick fix for Chicago Police could undermine reform, experts say: Vallas has said the rehired cops would analyze records for detectives, run witness protection efforts, and even respond to domestic violence complaints. He has not said what he would do about a municipal code that requires cops to retire from sworn ranks at age 63 or whether he'd offer terms competitive with what many CPD retirees have: a police pension and a non-city job.

* CBS Chicago | 4th Ward chief of staff Prentice Butler faces Illinois State Rep. Lamont Robinson: Butler said he would like to improve collaboration between people who live in the ward and the officers who patrol the streets. But he also said the city needs more mental health first responders to respond to mental health calls rather than police; and more social workers, violence interrupters, and other programming to address the causes of crime. Robinson, who has served in the Illinois House since 2019, touted his efforts to bring in resources for anti-violence initiatives, a local senior center, and a community center; and said he believes the City Council needs new leadership.

* Sun-Times | Lightfoot put Knudsen in 43rd Ward seat — and into runoff against challenger Comer: Five months after Lightfoot appointed him to replace retiring former Ald. Michele Smith, Knudsen came out on top in the Feb. 28 election. But he did so with just about a quarter of the vote across Lincoln Park, Old Town and the Gold Coast — and by less than three percentage points over the upstart, runner-up challenge from consultant Brian Comer.

* Sun-Times | 6th, 21st Ward candidates discuss future of South Side ahead of runoff: Time to 'resurrect dreams of residents': After more than a decade as 6th Ward alderperson, Roderick Sawyer stepped down from the council to run an ultimately unsuccessful campaign for mayor. […] Hall, 38, lead pastor at St. James Community Church in Chatham and a field director for the Rainbow PUSH social justice organization, narrowly came in first place with 23.82% of the vote during the Feb. 28 election — about 70 votes ahead of Wooten, an Army veteran and retired police officer.

* Sun-Times | Contractor now accused of bribing worker in Cook County assessor's office: Alex Nitchoff is charged with conspiring to bribe a key employee handling commercial properties with home improvement goods and services, jewelry, meals and sports tickets.

* Block Club | 'I Don't Want To Be A Statistic To You': Chicago's Latino Communities Are Focused On Gun Violence: The most striking differences between Vallas and Johnson are their approaches toward public safety. Some Latino voters are leaning toward Vallas because of his promise to hire more police officers and his statements on taking a "more aggressive" approach to prosecuting those who break the law. Others favor Johnson because of his pledge to reallocate police funding toward issues like housing, mental health, and job creation. Both candidates face the tall task of convincing Latino voters that they are sincere in their promises to urgently address the gun violence crisis.

* Sun-Times | City backs 3 subsidized housing plans for La Salle Street corridor: The proposals deemed eligible for city subsidies together call for more than 1,000 housing units, a third of them affordable, and more than $550 million in investment to address downtown vacancies.

* Axios | New report says Chicago police training is fundamentally flawed: The new report, authored by the city's community member-led working group on use of force, documents fundamental flaws in the way Chicago officers are trained on new use-of-force policies.

* Flint Taylor | The racist history of Chicago's FOP: On Dec. 4, 1969, Fred Hampton, the charismatic chairman of the Illinois Black Panther Party, was slain in his bed by Chicago police in what has been documented and widely accepted as a politically motivated assassination. But the fledgling FOP nonetheless staunchly defended the police raiders.

* CBS Chicago | A Chicago woman rented out her car on a sharing service. Someone stole and totaled it: Barron had listed her white Nissan Rouge for rent through Getaround, the car sharing service. Someone reserved and picked up the car in the middle of the night last fall. "I called Getaround multiple times," she said. "And they kept telling me everything was fine. This person had checked out. Give them the benefit of the doubt."

* Chicago Mag | Revisiting What Has Disappeared: During a tour of his old neighborhood, Pete Kastanes idles his Toyota Corolla in front of Frank's Upholstery, a two-story beige brick storefront on 79th Street. An upholstery shop seems like an odd stop for a youthful reminiscence, but this building was not always dedicated to re-covering sofas. It once contained a music store, right across the street from Bogan High School, from which Kastanes graduated in 1981. "That used to be Kroozin' Music II," Kastanes recalled. "They sold cassette tapes, eight-track tapes. They sold bongs, black lights, posters. I used to hang out when I was in high school. Sometimes, I wanted to be alone and browse. I bought my first eight-track there — Styx, Renegade."