* Senate President John Cullerton just told reporters that the four legislative leaders were supposed to meet today without the governor. Cullerton claimed all of them agreed to show up.
"The governor pulled the plug on that," Cullerton said. "He told the Republicans not to go."
Cullerton said he would "urge the governor to get serious about a compromise, and at minimum don't prevent your Republican leaders from joining the negotiations."
You can listen to his entire press conference by clicking here.
* Moments later, Speaker Madigan issued this statement…
"President Cullerton and I met earlier this morning to discuss a way to end the Rauner budget crisis. We were scheduled to meet together with Leaders Radogno and Durkin. We were deeply disappointed that both Republican leaders chose to cancel their participation in our meeting, rather than sit down with us and work to advance a balanced budget. It is difficult to move forward on a bipartisan budget when both Republican leaders refuse to meet."
* But Senate Republican Leader Christine Radogno's office issued this statement…
"In deference to Leader Durkin, he needs the opportunity to negotiate with Speaker Madigan in the House chamber, just as Leader Radogno and the Senate President do in the Senate. We continue to focus on making progress toward a comprehensive solution. We hope we see progress in the House. Leader Radogno has always believed engagement from the House Speaker is what's been missing all along."
* And this is from House Republican Leader Jim Durkin…
"The focus on the budget is rightfully before the House. I believe the model initiated by the Senate leaders was positive and where we need to be. A four leaders meeting is premature in light of progress being made in the House."
That's fine and all, but the question I asked was "did the governor ask/tell the GOP leaders not to attend a meeting with Cullerton and Madigan?"
*** UPDATE 1 ***  In a follow up chat, Durkin's spokesperson made it clear that Durkin chose to opt out of the meeting on his own.
Also, notice in Radogno's release that she said she deferred to Durkin.
[ *** End Of Update *** ]
* Statement provided on background from "a top GOP official"…
This is an absolute fabrication, an obvious attempt to create an alternative universe to deflect from doing nothing with seven days left to get a budget to the governor's desk. Leader Durkin is meeting with Speaker Madigan now to negotiate on his compromise — perhaps the Democratic leaders are afraid that the Speaker is finally in the hot seat to do a deal or let the state collapse.
Let's hope this isn't the start of a March 1 repeat.
*** UPDATE 2 *** Press release…
Illinois will never lift itself out of the state budget crisis if the governor and legislative leaders can't get in a room and talk to each other about their differences, Senator Andy Manar (D-Bunker Hill) said Friday.

"Gov. Rauner has made it clear that he is the only one with the authority to convene meetings of the governor and the four legislative leaders. He has not called one since Dec. 6," Manar said. "These five leaders who control the budget negotiations have not been in a room together in nearly 200 days. It's no wonder we haven't resolved the budget crisis."

Manar called on Gov. Rauner to meet with the four leaders every day for the remaining days of the legislative session until a budget deal is complete. He added that the best place to start discussions is with the balanced budget and reform package the Senate already passed. Those bills all are in the House awaiting action.

Rauner called a 10-day special session of the General Assembly, which costs taxpayers roughly $48,000 per day. The special session began Wednesday and ends June 30, the final day of the current fiscal year.

"Gov. Rauner used his power to get lawmakers back to Springfield to work on a budget. With seven days left until June 30, the best way to finalize a budget now is to work with the balanced budget and reform package that the Senate passed and sent to the House in May," Manar said. "I'm urging the governor convene leaders' meetings – every day for as long as it takes for the next week – so that they can begin negotiations and together steer our state out of this mess."
*** UPDATE 3 *** AP…
Cullerton told reporters Friday that special sessions are a "political stunt" to offer the governor political cover. Cullerton says the budget the Democrat-controlled Senate approved draws on Rauner's ideas.
*** UPDATE 4 *** Gov. Rauner was asked by reporters about Cullerton's claim that he pulled Republicans out of the scheduled leaders' meeting. "That's not true," Rauner said.
Leader Durkin then chimed in and said it was his idea not to attend the meeting, claiming he and Speaker Madigan have achieved a "break-through" on workers' comp reform.
- Posted by Rich Miller 39 Comments


* One of the easiest gotcha stories to do during high-profile legislative sessions is to cruise around town looking for legislative license plates outside of taverns, golf courses, etc…
Badge of Honor: "I just heard the Sen Dem chief of staff sent out blast email warning sens to avoid golf courses becuz Chic media looking"

— Mary Ann Ahern (@MaryAnnAhernNBC) June 23, 2017
…Adding… The person who sent out that e-mail was not the chief of staff, but John Patterson.
- Posted by Rich Miller 31 Comments


* The Sun-Times' Tina Sfondeles is reporting this morning that Gov. Rauner will sign the Chicago-backed gun crimes bill today at 3 o'clock. Police Superintendent Eddie Johnson will attend the signing ceremony in Springfield.
The bill got caught in the middle of the ongoing war between Mayor Rahm Emanuel and Rauner, which spiked up yesterday over the sale of the Thompson Center in exchange for the governor signing some city-backed pension bills. From Crain's yesterday…
Rauner aides are now actively pushing the argument that Emanuel ought to lean on Democrats to send to him a bill boosting penalties for certain repeat gun offenders if he wants a Thompson Center deal. But the measure was one of Emanuel's top priorities, and Springfield sources say it's a case of needed paperwork still being done and that no one has a hold on the bill.
* Tribune…
"The mayor doesn't want the gun crimes bill sent to the governor because it would disprove his argument that the governor can't get bipartisan deals done," Rauner spokesman Lance Trover said.

The Senate tends to wait the full 30 days it has after approval before sending the bill. Sponsoring Sen. Kwame Raoul, D-Chicago, said he wasn't asked by the governor's office to make an exception, but he'll speed up the process now.
* Sun-Times today…
Rauner aides had argued Thursday evening that Emanuel didn't want the gun bill sent to the governor because it would disprove the mayor's argument that the governor can't get bipartisan deals done.

State Sen. Kwame Raoul, D-Chicago, sent the bill to the governor's office Thursday, saying he wasn't interested in having it caught up in a political game.

"I want it done not for politics sake, not for anybody claiming a win, not even for me," Raoul said. "Because, as far as the crime is concerned, this is only a piece of the puzzle. And so I don't even claim it as a win. We have a lot more work to do on that front."
…Adding… Media advisory…
What: Governor Rauner Signs Compromise Legislation to Increase Penalties for Repeat Gun Offenders

Who: Chicago Police Superintendent Eddie Johnson, House Republican Leader Jim Durkin and State Sen. Kwame Raoul

Where: State Capitol – Governor's Office

Date: Friday, June 23, 2017

Time: 3:00 p.m.
- Posted by Rich Miller 13 Comments


* Tribune…
Is there room for another heel in the Illinois governor's race?

Former pro wrestler Jon "The Illustrious One" Stewart says yes — and he's looking to put his rivals for the Libertarian Party nomination in a half nelson, then body-slam Bruce Rauner and whoever the Democrats select in the general election.

"Politics is wrestling with suits and ties on," Stewart, 50, told Chicago Inc. "I'm comfortable on a mic, and I'm not afraid to tell the truth."

It isn't The Illustrious One's first run for elected office. Back in 1997, he unsuccessfully ran as a Republican for the state House on the North Shore — with a little help from President Donald Trump's counselor Kellyanne Conway.

"I was her first political client," said Stewart, who lives in Deerfield and now runs his family's used-car dealership. "She's probably one of the smartest people I've ever met so I'm not surprised she has got to where she is.
* Let's welcome him to the race with a caption contest, shall we?…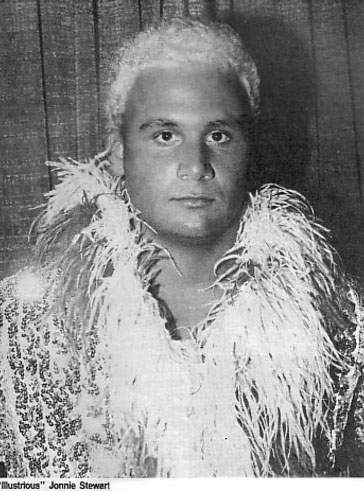 Also, click here for a wrestling promo video where he describes himself as a "son of a millionaire."
*** UPDATE ***  Many thanks to a commenter for posting a link to this video…
Stewart is pro-Trump. The governor has spent the better part of two years running as far away from Trump as he possibly can. So, it's possible that Stewart could give him some troubles with the base. Remember how some trade unions (particularly Local 150) backed the 2014 Libertarian Party candidate? Hmm.
- Posted by Rich Miller 57 Comments