* Cal Skinner…
Watching State Rep. Allen Skillicorn's disengagement from the Illinois political stage over the last couple of months puzzled me.

His tweets are most likely to be able national politics than that of Illinois.

He did not show up at the Algonquin-Grafton Township fundraiser on Monday.

The two townships contain a majority of Republican primary voters.

Now comes a report that Skillicorn is leaving Illinois after his term expires in January, that he tried to withdraw his name from the ballot last Friday.
Subscribers know more, but lots of people have been trying to reach Skillicorn lately to find out what he intends to do and when he intends to do it. I mean, there's only like 82 days until the election is over.
* This may explain some things…
— Rep. Allen Skillicorn (@allenskillicorn) August 14, 2020
* The Question: Caption?
*** UPDATE *** Sigh…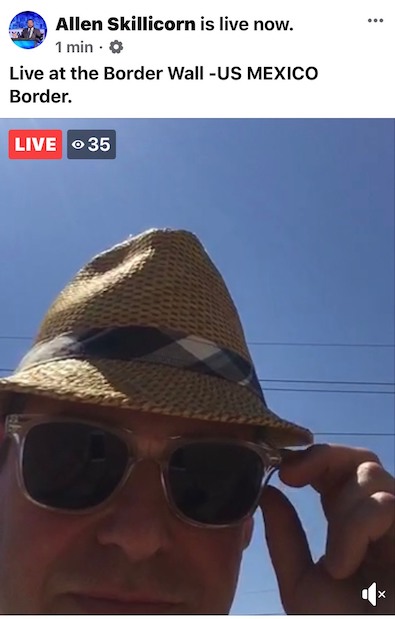 - Posted by Rich Miller 42 Comments


* Background is here if you need it. WTWO…
A local school district named in a lawsuit by Illinois Gov. J.B. Pritzker for not mandating masks alters their return plan pending an upcoming court date. […]

During a Thursday meeting of the Hutsonville school board, by a vote of 4-3, the board decided to comply with guidelines from the state.

"We had a lot of discussion and have gotten advice from our attorneys that if we don't exactly follow the guidelines then our tort immunity disappears and that's what the major concern was," Kraemer said.

Kraemer said the school district does have a court date next Tuesday, and their battle over who should make decisions for schools is not over yet.

"We encourage our community to show up at that court date," she said. "We will continue to try to fight. We're not just giving up. We're just going to go ahead and follow those guidelines until we can get there and present our plan." [Emphasis added.]
* Meanwhile…
Herrin High School sent home about two dozen students Thursday morning after one tested positive for COVID-19.

District Superintendent Terry Ryker said that as soon as the school was notified that the student had tested positive, officials reviewed class assignments and seating charts and quickly moved to quarantine the other students while contacting their parents to notify them and arrange for transportation.
…Adding… With thanks to a commenter…
The Springfield District 186 school board voted 5-2 Thursday to adopt remote learning for most students when classes begin Aug. 31.

Thursday's special meeting was called after the board first voted 4-3 for a hybrid/blended model at its Aug. 3 meeting. A surge in coronavirus infections across Sangamon County forced the board to reconsider starting the school year with remote learning.

The vote included an amendment that the hybrid/blended model cannot begin until at least Oct. 26.
- Posted by Rich Miller 17 Comments


* From a July 17th Tribune profile of a Canadian company called Red, White and Bloom that operates a huge hemp growing facility in Illinois and wants to get into the cannabis growing business here…
In addition, one full-scale growing license remains from the original 21 medical marijuana licenses that Illinois awarded in 2015. One license was given for each of the state police districts in the state, but the last license was for the district that patrols the tollways. State regulators said they would not give it out because it lies on tollway land, and would be impossible to use. Red White and Bloom pushed for legislation to force the state to award that license, but the measure was never voted on and is seen as a long shot.

At the same time, the company has applied for new craft grower licenses in Illinois. But those licenses are limited to 10,000 square feet. Competition is fierce, with 455 applications for only 40 available. The Illinois Department of Agriculture has indefinitely delayed awarding those licenses, citing the coronavirus.

State regulators may also create licenses for new full-scale recreational pot growers after July 1, 2021, based on supply and demand.
That tollway land bill was originally sponsored last year by Sen. Patricia Van Pelt (D-Chicago), but she eventually handed sponsorship over to Sen. Mattie Hunter (D-Chicago). You'll recall that Van Pelt was running a "marijuana millionaires" company which attracted some unwanted attention. The bill, which would've allowed the state to open a grow facility outside the tollway area, never moved out of the Assignments Committee and never picked up another co-sponsor.
According to the governor's office, the tollway land was on federal property, making it impossible to use as a grow center. And because of the pandemic, only very limited cannabis legislation advanced out of the GA in May. Even a tiebreaker provision wasn't dealt with, which resulted in a new rule that finally took effect this week to allow licensing of 75 new dispensaries.
* Anyway, that brings us to this somewhat bizarre Sun-Times story today…
A former celebrity publicist for R. Kelly and confidante of Kanye West has jumped into Illinois politics, lobbying for a major Canadian cannabis firm that wants to start growing weed here.

But Trevian Kutti has already ruffled feathers in just a short time in the fray, lodging a series of incendiary and profanity-laden attacks against Toi Hutchinson, Gov. J.B. Pritzker's top adviser on cannabis issues. While both women are Black, Kutti has vowed to "keep my knee on Toi W. Hutchinson's neck" and has referred to her as a "slave."

Kutti says she is furious over the state's delays in awarding the next round of licenses prioritized for so-called social equity applicants, saying "those in greatest need are being screwed with again."
* OK, one thing at a time. First, here's Kutti's full statement on Hutchinson…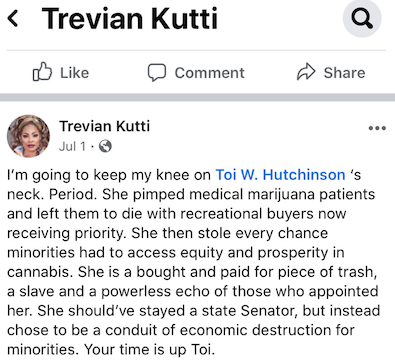 Charity Greene with the Pritzker administration handled the response…
As the nation continues to reckon with the tragic murder of George Floyd and countless other black lives lost to police violence, comments regarding kneeling on someone's neck are especially insensitive and abhorrent. Invoking violence and hurling insults and profanities at a State of Illinois employee is the antithesis of everything this administration stands for. Governor Pritzker remains committed to ensuring the cannabis industry in Illinois is equitable and will continue working towards that goal in spite of these misinformed, callous remarks.
* Red, White and Bloom is a publicly traded company with an all-white board of directors.
The angle here, supposedly, is that Red, White and Bloom wants to sell reasonably priced product to social equity retailers. But it can't do that without a grow license.
* Ms. Kutti has a truly different concept of lobbying than most. Back to the Sun-Times…
"I'm sure that like most lobbyists, I have my share of allies and my share of disparagers," she said in an interview. "Those who fall in the latter camp quiver hearing my unapologetic truths."
That's… a novel approach. I don't think I've ever seen that.
* The Sun-Times story veers all over the place, even touching on Kutti's support for President Trump. Meh. It's a free country.
But the bottom line here is a person with no apparent lobbying experience is setting off rhetorical bombs after failing to move her bill forward an inch and, according to the story, her employer believes the approach can actually work. Again, it's a free country, but that lack of experience may show in her state disclosure reports. Note the dollar amounts reported on these filings…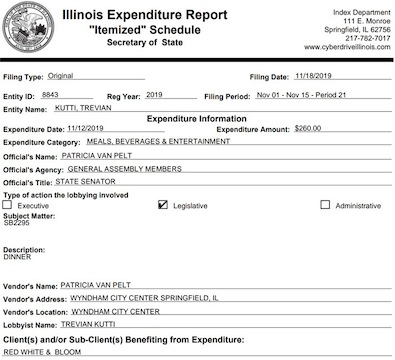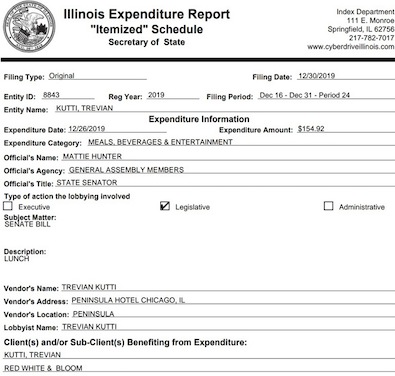 The Illinois Gift Ban Act bars lobbyists from spending more than $75 on food or refreshments on a legislator during a single calendar day.
She probably submitted the entire amount for everyone at the table. I mean, spending $260 at Springfield's Wyndham hotel restaurant on only one person would be really tough. Still…
*** UPDATE 1 *** From the Secretary of State's website…
All lobbyists must refrain from harassment, sexual harassment and unlawful discrimination of any person. "Harassment" means, as set out in the Illinois Human Rights Act, any unwelcome conduct on the basis of an individual's actual or perceived race, color, religion, national origin, ancestry, age, sex, marital status, order of protection status, disability, military status, sexual orientation, pregnancy, unfavorable discharge from military service, or citizenship status that has the purpose or effect of substantially interfering with the individual's work performance or creating an intimidating, a hostile, or an offensive working environment.
A working environment "Does not require an 'employment' relationship between the alleged harasser and victim."
After an investigation, the offenses can be referred to a circuit court by the Illinois Executive Ethics Commission. Violations are treated as a business offense "and subject to fines of up to $10,000 for each violation."
*** UPDATE 2 *** A spokesman for Secretary of State Jesse White told me that this matter has been referred to the inspector general.
- Posted by Rich Miller 38 Comments