* The crowd for today's Women's March appears to be a lot smaller than many expected, including myself. Rep. Welch was more impressed, but his photos reveal more than his words….
Great turn out in support of the #ilwomenmarch pic.twitter.com/Usa5eVnzML

— Emanuel Chris Welch (@RepChrisWelch) April 25, 2017
But maybe more will arrive in time for the second rally at 2:30. We'll see.
* While we wait, we can have a little fun with the fact that Senate President John Cullerton was misidentified on Twitter today as Speaker Madigan…
Speaker Madigan said #HB40 will be called for a vote TODAY! #twill pic.twitter.com/AZihRLmaiR

— Planned Parenthood (@PPIAction) April 25, 2017
Oops.
…Adding… They took down the tweet, but here's the pic…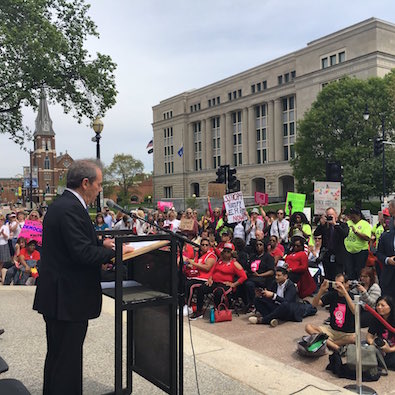 - Posted by Rich Miller 19 Comments


* Press release…
Rep. Carol Ammons announced the formation of an exploratory committee at the Women's March on Springfield to formally decide whether she will challenge Congressman Rodney Davis in 2018. This decision followed weeks of encouragement from constituents and conversations with her family.

Ammons said: ​"I'll be listening to voters throughout this district, not just Democrats. I'm heading to small towns, university communities, and manufacturing cities. I'll be listening to everyone: coal miners, students, manufacturing workers, service workers, professors, farmers, and more."

"During this exploratory phase, I'll learn about our district and its community member, as well as their expectations for their next Representative. I'll learn about their jobs and their schools, their struggles and their successes,"​ Ammons added.

"Following weeks of listening, I'll decide if it is in the best interest of the 13th District for me to run for Congress," ​Ammons said.
* If she tries to step up to a federal office, this 2013 interview might come back on her…
SP: Would it be appropriate for any state of the union to fly the confederate flag?

Ammons: That's an interesting question. I have an older son who's 18 and who is attending Jackson State University right now. We often go to the South, which I enjoy. It's a very different space. When we're down there, we often see the confederate flag alongside the U.S. flag. And when it comes to African-American culture and history, neither flag has been very good for African-American people. For me, in my 40s, I don't think the confederate flag conjures as much negative feeling as it conjured for me in my 20s. It doesn't give me as much angst as seeing the U.S. flag flying coupled with lies and assaults against other nations.
Your thoughts?
*** UPDATE ***  From the ILGOP…
"The battle lines have been drawn as Bernie-backed Carol Ammons announces her long shot bid for IL-13 in an attempt to bring her socialist views to Washington. Ammons will be facing off against Pelosi-backed David Gill in what is sure to be a race to the radical left. With candidates like these, Democrats are once again proving they are out of touch with Central Illinois values." - Illinois Republican Party Spokesman Aaron DeGroot

Today, State Representative Carol Ammons announced her long shot bid for Illinois' 13th Congressional District.

Bernie-backed Ammons makes no bones about her socialist sympathies. In Springfield, Ammons voted for Speaker Mike Madigan's out-of-balance spending plans while supporting an extension of the 67% Quinn-Madigan tax hike with no reforms of state government. Even worse, Ammons gushed about her Communist hero who praised Vladimir Lenin and his violent Marxist tactics. Now she wants to bring her radical views to Washington.

Ammons' announcement follows her unsuccessful attempt last year to help socialist Bernie Sanders win Illinois' Democratic Primary in the race for President.

In exchange for Ammons' support, Bernie Sanders fundraised for Carol Ammons shortly after Illinois' 2016 March Primary. Now, Carol Ammons is running as Bernie's candidate for Congress.

Ammons joins Pelosi-backed, five-time failed Congressional candidate David Gill in the race for IL-13. In 2012, Nancy Pelosi poured in over $3 million to unsuccessfully elect Gill. Last year, Gill was wooed by Bernie's campaign to endorse his candidacy for president, but Gill said "no". After taking Pelosi's campaign cash and rejecting Bernie, it's clear that David Gill is running as the establishment Democrat for IL-13.

The battle lines for the democratic nomination in IL-13 are becoming clear as Carol Ammons is running as Bernie's candidate and David Gill is running as Pelosi's candidate.
- Posted by Rich Miller 26 Comments


* Illinois Healthcare and Family Services Director and former Planned Parenthood Vice Chair Felicia Norwood cut a video to defend Gov. Rauner's decision to veto HB 40…
* One of the claims Director Norwood makes in the video was something I told subscribers about yesterday and the Tribune had today…
The legislation, sponsored by Rep. Sara Feigenholtz, D-Chicago, would allow women to use Medicaid coverage and state employee health insurance for abortions. Supporters say the bill also would help ensure abortion remains legal in Illinois if Roe v. Wade is overturned by the Supreme Court by removing a so-called trigger provision in current law.

Republican Gov. Bruce Rauner has vowed to veto the bill, despite pledging in 2014 to work for legislation that would lift restrictions on Medicaid- and state employee insurance-covered abortions. The governor's office told Feigenholtz he could support the bill if she removes that portion, but she declined.
* I called Rep. Feigenholtz this morning and asked her about Norwood's claim. Feigenholtz said she'd received a "confidential" call from the governor's staff telling her that Gov. Rauner would sign HB 40 without the Medicaid and state employee health insurance coverage expansions. Rauner, at the time, was under huge pressure from his right flank to veto the bill.
"I would never separate those bills," Rep. Feigenholtz said. "They are very very important to women," she said, adding that the General Assembly "has to undo" what she called an "injustice."
Rauner, she correctly noted, had submitted a questionnaire to Personal PAC which "not only checked the right box," but also included a long addendum that extrapolated on his strong belief that Medicaid and state employee insurance should cover abortions.
The governor "filled out a questionnaire for the highest state office in government," and then "lied to voters in this state. And that to me is a betrayal," Feigenholtz said.
"They're using this to try to change the subject, but they are the ones who lied," she said.
…Adding… From a GOP operative…
Pritzker said last night that Sara Feigenholtz is supporting his campaign. It's worth putting today's march, and the refusal of Democrats to remove taxpayer funded abortions from the bill, in the political context of this Gov's race.
- Posted by Rich Miller 38 Comments


* Politico…
In advance of today's Women's March in Springfield, Personal PAC posted a video skewering Gov. Bruce Rauner on abortion. It had 3,000 views in three hours. In it, Rauner's voice is heard from a 2014 debate in which he says abortion is an issue between a woman and her doctor. As he's talking, the video shows state Rep. Sara Feigenholtz, HB40 chief sponsor, walking into a store. It continues, music building up. It cuts to Diana Rauner from those 2014 TV ads saying "Bruce doesn't have a social agenda" and turning to Rauner's latest spot referring to "duct tape solutions." What's Feigenholtz buying at the store? Duct tape. Enter state Rep. Kelly Cassidy: "We're taking duct tape to Springfield to help Bruce Rauner stick to his promises to defend women's health." The video ends by slapping duct tape across Rauner's mouth.
Um, remember when Comptroller Mendoza held a press conference to slam WGN Radio host Steve Cochran for joking with Gov. Rauner on-air about taping her mouth shut with duct tape?
Yeah. In that light, maybe it wasn't the best image to use. Watch the video…
*** UPDATE 1 ***  I just spoke with Terry Cosgrove, who said the duct tape image "was intentional."
"This was intentional to highlight what was said about Susana Mendoza and the duct tape. And this veto of HB 40 is an extension of that sexism," he said.
"He's being sensitive about duct tape? Please!"
*** UPDATE 2 *** A formal written response from Cosgrove…
Gov. Rauner keeps saying he wants real solutions to real problems and not duct tape solutions. The ad points out he is using duct tape to cover up his lies about abandoning his support for HB 40. Governor Rauner should use the duct tape to stop telling lies to voters.
[ *** End Of Updates *** ]
* The governor's people put out their own video highlighting his commitment to women. It begins with his former comptroller, Leslie Munger…
Kind of a yawner.
* More on today's proceedings…
A Democratic lawmaker pushing legislation to remove prohibitions on publicly funded abortions in Illinois hopes to call it for a vote as thousands of women converge on Springfield to lobby for a "progressive agenda." […]

A vote Tuesday would coincide with the Illinois Women March on Springfield. It's patterned on worldwide women's marches Jan. 21. It will include a rally for measures including Feigenholtz's bill and the long-stalled ratification of the Equal Rights Amendment.

The event will include a noon rally at the Lincoln statue on the east side of the Statehouse grounds, and a rally in the Statehouse rotunda at 2:30. Lobbying and a march around the Capitol complex comes between those events.

To make way for the marchers, Second Street will be closed between Monroe and Jackson streets, and Capitol Avenue will be closed from Second to Third streets, city public works officials said. The closures begin at 10 a.m. and last until 1:30 p.m.
A full list of speakers and event details are here. There won't be a public live video feed, but you can follow the march by monitoring our live coverage post.
- Posted by Rich Miller 69 Comments