* Sun-Times reporter…
Sara Feigenholtz officially selected to take John Cullerton's state Senate seat #twill

— Neal Earley (@neal_earley) January 21, 2020
Rep. Feigenholtz (D-Chicago) was first elected in 1994. She officially loses all that seniority when she moves to the Senate.
…Adding… Press release…
44th Ward Alderman and Committeeman Tom Tunney tonight announced that the Democratic Committee from the Sixth State Senatorial District selected Sara Feigenholtz to fill the vacancy of Senate President John Cullerton. Feigenholtz received significant support at the meeting with committee persons from the 2nd, 27th, 43rd, 44th, 46th and 47th wards voting unanimously to select her as State Senator.

"Sara Feigenholtz has a remarkable track record as an advocate for our community which is why she received overwhelming support from the Committee to become our next State Senator," said Alderman Tunney. "Senator Cullerton leaves big shoes to fill, but Sara has a proven track record as a veteran of the Illinois General Assembly. She has always served her constituents with distinction, and her authenticity and responsiveness to her district is emblematic of what all public servants strive to be. We were hard pressed to think of anyone else who could do a better job than Sara and are eager to see what she accomplishes in the State Senate."

Following the Committee's decision, Feigenholtz was sworn in as State Senator by judicial candidate and notary, Jill Rose Quinn, at a reception at Ann Sather restaurant on Belmont Ave. Feigenholtz will appear on the ballot in the November 3, 2020 election as the Democratic candidate for the 6th State Senate district.

"I am honored to represent the people of this district and thankful for the encouragement from the community," said the newly appointed State Senator Feigenholtz. "I accept the challenge of learning the unique needs of the district and will continue to fight for issues that keep our neighborhoods safe, vibrant and diverse."

Tunney served as Chair of the Committee voting to appoint a replacement. The Committee members voted by weighted vote, according to the number of voters in each ward's 2018 General Election.

"Last night, members of the 47th Ward Democrats unanimously and enthusiastically voted to support Sara Feigenholtz to follow John Cullerton in the State Senate," said Paul Rosenfeld, 47th Ward Committeeman. "Much like John, Sara instinctively understands the core values that our community wants represented. She is ready and able to effectively and emphatically represent the people in this district."
…Adding… Former Senate President John Cullerton, new Senate President Don Harmon and Sen. Sara Feigenholtz…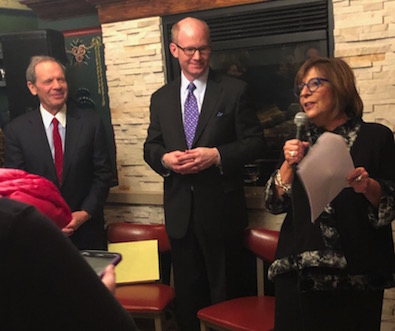 - Posted by Rich Miller 13 Comments


* Cole Lauterbach at the Center Square…
Illinois' automatic voter registration program, though not fully-implemented, appears to have allowed more than 500 non-citizens onto various county's election registries.

In letters first obtained by Bloomington-based political blogger Diane Benjamin, the Illinois Secretary of State's office notified the State Board of Elections that a keypad glitch in the non-REAL ID license and identification card process allowed a number of non-citizens to have their information forwarded to ISBE from July 2, 2018, to Dec. 13, 2019. Those non-citizens were then sent voter cards.

"We caught the error and we've identified everybody," Secretary of State spokesman Dave Drucker said Friday. "We've sent them a letter and the State Board of Elections acknowledging that it was our error."

The non-eligible DMV customers made their way onto the state's voter rolls when the keypads they used to enter information incorrectly added their information to bundles of correctly registered customers.

"Since these applicants have indicated "No" to an attestation regarding citizenship, there is a strong possibility these individuals were not citizens at the time of their application, however, that does not necessarily mean they are not currently citizens," according to letter from an elections official sent on Dec. 30.

The errors, as admittedly serious by authorities, represent less than one percent of the more than 740,000 new voters registered through Illinois DMV facilities since the automatic voter registration program began in July [2018].
It's actually 0.078 percent.
The SoS letter to the Board of Elections is here. The ISBE letter to local officials is here.
* But there's more to it than that…
The Illinois State Board of Elections acknowledged that out of 574 non-U.S. citizens who were inadvertently registered to vote in Illinois, an unknown number of them may have voted illegally in the 2018 election.

"We do know that some of them voted" in the 2018 election, spokesman Matt Dietrich said in a phone call on Monday afternoon, though his office was not immediately able to determine how many of them may have voted, or how many may have been legal citizens who simply filled out their state form incorrectly. Dietrich expects the elections agency will have more specific answers when state workers return to their desks after a government holiday. […]

It remains unclear how many of the 574 people impacted may have actually cast a ballot in 2018, in part, because state employees at the elections board couldn't be reached on a state holiday. A spokesman for the agency expects to have a more specific answer on Tuesday. Non-citizens who vote in American elections can face swift consequences, including immediate deportation.
* Kyle has a point…
This is not ok. The SOS failure here - even regarding just 547 people, puts the integrity of Illinois elections in question by every right wing conspiracy follower, it diminishes a valuable program like AVR, and frankly is a administrative failure that just should never happen. https://t.co/KGbAKqebDy

— Kyle Hillman (@kylehillman) January 21, 2020
* More…
Secretary of State spokesman Dave Druker said the list did not include undocumented immigrants. The glitch affected Illinois residents who had green cards, but were not eligible to vote. […]

"Potentially 574 self-identified non-citizens, these are that were people that were doing the right thing when they went into the Driver Services facilities and they were doing the right thing saying they were non-citizens, but they were still forwarded to register to vote," state Rep. Tim Butler, R-Springfield said. "This is an egregious break of state law.

"This is exactly what we were talking about when automatic voter registration was debated – that these are the potential problems that could exist," Butler said. […]

In a letter to House Speaker Michael Madigan, D-Chicago, Butler asked for an immediate hearing either this week or next week when lawmakers return for the start of the spring legislative session. He said the Secretary of State Office must be held accountable and elections must be secure.
Heads should roll and we also need a complete accounting of this mess. Like now.
*** UPDATE 1 *** Matt Dietrich at the Illinois State Board of Elections…
We know that 19 votes were cast from the 545 who were registered. However, it's possible that some of those who checked the "no" box on the citizenship question did so in error. Because of that possibility, it's up to the local election authorities to determine the voting status of the voters in their jurisdiction whose AVR applications were errantly forwarded.
*** UPDATE 2 *** Well, at least we know that the one-vote margin in the Macon County sheriff's race last year likely wasn't impacted…
The Macon County voter has voted in U.S. elections dating back to 1988. That person may in fact be a citizen, and incorrectly filled out the citizenship question on a DMV keypad.

— Mark Maxwell (@MarkMaxwellTV) January 21, 2020
Clarification: 16 actual voters, two of them cast multiple ballots in different elections.

— Mark Maxwell (@MarkMaxwellTV) January 21, 2020
*** UPDATE 3 *** Sen. Andy Manar (D-Bunker Hill)…
There is absolutely no room for administrative error when it comes to properly conducting our election system. Democrats and Republicans came together and unanimously approved automatic voter registration, and we expect it to be done correctly. We need a gaugeable plan of action from the Secretary of State's office to make sure such errors never happen again. If it takes a Senate committee hearing to get those answers, that's the course I'll pursue.
*** UPDATE 4 *** Letter signed by all 19 Senate Republicans…
The rule of the law is the bedrock of our nation, and while the Illinois State Board of Elections, charged with safeguarding our election process, did the right thing by notifying the public of the error, we have questions regarding this program that the Secretary of State should answer, such as:

* Will the SOS disclose which DMV locations erroneously registered these individuals to vote?
* Will an investigation be conducted to identify those responsible, and what actions will be taken to rectify the issue?
* What assurances can the SOS provide to ensure this never happens again?

It is imperative the residents of Illinois know their elections are being managed and conducted in a lawful manner, and ensuring our laws are being implemented correctly is a practical matter, not a partisan one.
*** UPDATE 5 *** The governor…
Moments ago, @GovPritzker reacted to news that non-citizens were automatically registered to vote: "We want to fully investigate. Securing our elections, making sure that we are, that everybody knows that our democracy is working properly is a priority of mine." pic.twitter.com/VvjjQTHQdS

— Mark Maxwell (@MarkMaxwellTV) January 21, 2020
- Posted by Rich Miller 52 Comments


* Senate President Don Harmon…
After representing the people of Oak Park and the state of Illinois for more than 17 years, Senator Don Harmon (D-Oak Park) looks forward to serving as the 39th Senate president, and thanks his colleagues for recognizing his legislative accomplishments and for believing in his ability to lead the chamber.

"The Senate is a collection of diverse views and diverse experiences but consistent purpose—to best represent the citizens who send us to the Capitol, to collaborate, to compromise, and to create better opportunities, better outcomes, and greater faith in the honor and integrity of our state," President Harmon said.

Senate President Harmon was first elected to the Senate in the fall of 2002, and has since promoted a progressive agenda based on his commitment to social justice and public service. In 2011, former-Senate President John Cullerton appointed him president pro tempore, offering Harmon a key role in shaping policy and moving legislation through the Senate.

Notable legislation spearheaded by Senate President Harmon include the Preschool for All Program to expand access to preschool opportunities for thousands of Illinois families, a law to make same-day voter registration a permanent option, and the Fair Tax constitutional amendment to allow Illinois to vote to replace the current flat income tax with a fairer, more equitable and efficient approach to lower tax rates for lower income levels.

"The work now begins in earnest," President Harmon said. "I look forward to joining together with Governor Pritzker and leaders in both chambers as we work to change the trajectory of our state and set a better course for our future."
* Gov. Pritzker…
On behalf of the people of Illinois, I congratulate Senator Don Harmon on being elected to serve as the next President of the Illinois State Senate. With 17 years of experience in the upper chamber, I am confident that Don will ably serve and lead the Senate with a steady hand and hold integrity above all else. A staunch advocate for working families, Don was instrumental in shepherding the most sweeping and consequential legislative agenda through the state senate this past year. Because of Senator Harmon's leadership, we advanced the historic Fair Tax amendment which will change the trajectory of our state's finances forever, and I was proud to sign his legislation requiring gun dealers to be state-licensed and creating a new parole system for youth facing long sentences. I look forward to working with Senate President Harmon to build on the progress we made last year and continue to move our state in the right direction.

I commend Majority Leader Kimberly Lightford on a historic run and am proud of her work tackling big challenges for working families. Without Kim's leadership we could not have raised the minimum wage, lifting more than a million Illinoisans out of poverty and I know she has more important work to do as Majority Leader.

Now is the time to come together and continue working on our shared goal of moving Illinois forward.
* Senate GOP Leader Bill Brady…
I want to congratulate Sen. Don Harmon on becoming the new Illinois Senate President. I look forward to meeting with him to discuss the important issues facing our state, such as the need for fair maps, policies that attract businesses and grow jobs, and real property tax relief.
* House Republican Leader Jim Durkin…
Congratulations to Senate President Don Harmon. I look forward to working with him to accomplish great things for the state of Illinois this coming session.
* ILGOP Chairman Tim Schneider…
I congratulate Senator Harmon on becoming the next Illinois Senate President. I hope he brings in a new era of reform that changes course away from the decades of inaction and corruption that have plagued the capitol. The new Senate President can get a great start on that front by strongly supporting substantive ethics reform and a fair maps constitutional amendment.
* llinois Democratic County Chairs' Association President Kristina Zahorik…
I am very proud and excited for our friend Don Harmon. He has done an amazing job representing the 39th District and Chairing the Democratic Party of Oak Park. His support for Democratic values has extended well beyond the confines of western suburbs and he will do a fantastic job of not only holding our supermajority in the State Senate but expanding on it.

When the IDCCA formed our advisory Leadership Circle two years ago, we knew that we needed Senator Harmon as part of our organization. We were honored with his support then and his continued support now. Senate President Harmon has shown us that he is committed to building the Democratic Party. We are looking forward to continuing to partner with him as we build our Party throughout Illinois.
…Adding… Secretary of State Jesse White…
Congratulations to our new Senate President, Don Harmon.

I've known Senator Harmon for many years and he has the skills and character necessary to be a strong and effective Senate President. I look forward to working with him on issues important to the Secretary of State's office.

I also applaud John Cullerton for his years of leadership as Senate President and as an advocate for road safety. I wish him all the best in his future endeavors.
*** UPDATE *** Senate Majority Leader Kimberly Lightford…
This has been an incredible journey for me over the past several weeks and one that I would never trade. While it's not the outcome I had hoped for, I know that the Senate Democratic caucus will emerge stronger and more unified than ever. I want to thank my colleagues who put their trust in me with their vote. To those who did not, I look forward to the many battles ahead that we will fight together to make this state the very best it can be for every resident and family.

I have known Senator Harmon for many years and know that our caucus will be in very good hands with him as our President. With our state being at such a critical juncture, we have no time to waste in getting to work. I look forward to standing alongside President Harmon and our caucus to ensure that we do everything we can to lift people up throughout Illinois and build a road map for residents, families and businesses to thrive and have hope for a great future.
- Posted by Rich Miller 10 Comments


*** UPDATE *** I am told that Assistant Majority Leader Don Harmon has accepted the terms from Senate Majority Leader Kim Lightford. Barring some unforeseen blow-up, Harmon will be the new Senate President. Lightford, I'm told, will keep her leadership spot and so will most other leaders who backed her.
[ *** End Of Update *** ]
* Supporters of Sen. Kimberly Lightford and Sen. Don Harmon are claiming they have a very real shot at winning the Senate President's race as we head into the voting today. But I've been hearing lots of stories about double-dealing over the past several days, so their roll calls can't be verified and may not be correct. As I recall, the last time Kirk Dillard ran for Senate Republican Leader he went in thinking he'd win it by one vote. Instead, he lost it by one. These things happen.
From the beginning, Sen. Harmon has been quite adept at projecting the image of a frontrunner and of competence and that has most certainly helped his effort. Majority Leader Lightford, however, has proved time and again that she cannot be underestimated. She worked hard, raised gobs of money and ran a smart campaign. I think both candidates have grown during the past couple of exhausting months.
The expected secret ballot on at least the first round of voting has allowed a few members to tell both sides that they're with them. It has also allowed some members who have made up their own minds to just stay mum about their pick and vote without fear of retribution. A few are going in without knowing which way they'll vote. The second round could be a voice vote, and then they'll know who is with whom (although a couple of folks have intimated that they won't vote unless it's a secret ballot).
Rumors are flying everywhere and many of them are just flat-out false. A Harmon supporter, for instance, recently told a Lightford supporter that one of Lightford's top backers had flipped to Harmon. She called that top supporter in a fury and was told in no uncertain terms that the rumor was completely false. Someone begged me last night to tweet that Speaker Madigan was getting involved for Harmon. But when I asked who MJM had contacted and was given a name, that Senator told me Madigan had called him about something else.
The Democrats will meet in a private caucus starting at 11 o'clock. Members have been told public access will be closed to the SDem's Statehouse wing. They'll caucus in what is still Senate President John Cullerton's office. That's where they always meet. The candidates will have access to other rooms in that wing to talk with supporters and potential supporters.
The full Senate is officially scheduled to convene at noon, and Gov. Pritzker's official daily schedule has him presiding over the chamber at that time, but it could very well take much longer than an hour to get this done. Pritzker will be hanging out at the mansion [turns out, he chose to hang out in his Statehouse office] until he's needed. It's his birthday today and he joked last week that his birthday present will be a new Senate President. That's assuming it gets done today, of course.
* I'm going to use our standard ScribbleLive feed, but I'll be adding commentary to it and posting other stuff along the way. Have fun…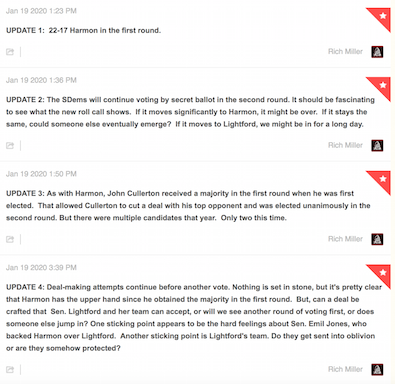 - Posted by Rich Miller 24 Comments