* From WAND TV's coverage of the planned Danville abortion clinic…
The Sanctuary Cities For the Unborn initiative is also trying to help residents draft an ordinance to block the clinic from opening. Pastor and anti-abortion advocate Mark Lee Dickson of Texas said there are 65 cities and two counties across the country that have passed ordinances prohibiting abortion within their jurisdiction.

"Ladonna Prince in Indianapolis, Indiana wants to set up here in this city," Dickson said. "Well, the voice of this city is loud and they're saying, 'Not on our watch.'"
The state's Reproductive Health Act preempts more restrictive local ordinances, but there's always the zoning process. Expect a legal fight if either happens…
Under the RHA, a person can sue the State of Illinois or local governments like cities and counties if they improperly deny, interfere with, or discriminate against the person's fundamental rights to make their own reproductive health decisions.
* DPI…
Infamous grifter and Florida resident Dan Proft recently released a list of candidates to support in the April 4 Illinois municipal elections. Proft, known for distributing right-wing propaganda designed to mislead voters, once again thinks he can prop up his own radical agenda through deceit. Proft's "newspapers," distributed throughout Illinois, routinely spewed racist, homophobic rhetoric that his endorsed candidates will no doubt bring to local school boards if elected. 

At a January training hosted by Awake Illinois and the Leadership Institute, candidates were offered access to Proft's pink-slime papers by Brian Timpone. Timpone, who helps Proft operate his pay-to-play network, "told those in attendance his publications 'can punch back for you,' and added, 'If somebody is giving you a hard time, we can fix that.'"

While the extreme views of candidates on the ballot in April are sometimes harder to spot than those of Proft's once preferred gubernatorial nominee, Darren Bailey, the same network of external power players has banded together to impart regressive policies that will hurt Illinois' students. Since voters already rejected their extreme vision for Illinois last November, Proft and his allies are now using a different strategy to effect the same backwards agenda.

Top donor to Proft's People Who Play by the Rules PAC, Dick Uihlein, is also getting involved in municipal races via the New York-based 1776 Project PAC, which endorsed several candidates in Illinois who fit their definition of "un-woke school board members." 

Uihlein has thrown his money at races across the country for years, notoriously backing extreme conservative candidates; his donations commonly support "firebrand anti-establishment candidates who typically defend broad access to assault weapons and assail transgender rights."

Uihlein's Restoration PAC also contributed $13,000 to Awake Illinois in 2022, a group known for espousing anti-LGBTQ+ views who have actively recruited, trained, and supported fringe candidates in the upcoming election.

"Candidates who would align themselves with proven far-right zealots like Dan Proft and Dick Uihlein are unsuited to represent the interests of students, parents, and teachers in Illinois. Having tried and failed to influence the outcome of statewide elections in 2022, these bad faith actors have returned to seize power through supposedly nonpartisan candidates," DPI Executive Director Ben Hardin said. "Now, they cower behind buzzwords like 'parental rights' and 'pro-family,' but they're working from the same playbook, and voters deserve to know who's really on their ballots."

In response to organized efforts by these extreme organizations, the Democratic Party of Illinois has launched an unprecedented program to identify and prevent fringe candidates from being elected to local boards. DPI is opposing candidates backed by known far-right organizations as well as those who have embraced values and policies that contradict those of the Party including banning books, blocking full spectrum sex education, teaching revisionist history and ignoring public health. To identify candidates that DPI is recommending or opposing, voters can visit DefendOurSchoolsIL.com.
* Milwaukee Journal-Sentinel…
With a week before the election for the [Wisconsin] Supreme Court, liberal candidate Janet Protasiewicz continues to eclipse her conservative opponent Dan Kelly in fundraising — this time with the help of three billionaires who have each given $1 million to the state Democratic Party. […]

Billionaire financier George Soros donated $1 million the state Democrats on Feb. 22, Illinois Gov. J.B. Pritzker gave $1 million on March 14 and Tulsa philanthropists Stacy and Lynn Schusterman made four donations in March totaling $1 million. […]

"George Soros and J.B. Pritzker's million-dollar contributions underscore that Protasiewicz will simply be a progressive rubber stamp," said Rachel Reisner, spokeswoman for the state Republican Party. "They'll drop whatever cash needed to buy her a Wisconsin Supreme Court seat because her pro-criminal record aligns with their agenda."

GOP megadonor Liz Uihlein, an Illinois resident who co-founded the Pleasant Prairie-based shipping supply giant Uline, donated $500,000 to the state Republican Party on March 10 — the most of any individual. Her husband, Dick Uihlein, is supporting Fair Courts America, a super PAC that has spent nearly $5 million in 2023 on ads to boost Kelly. Dick Uihlein has donated $4 million of that total.
* Press release…
Seizing the opportunity to capture the billions of dollars of federal and private investment in science, technology and climate initiatives, Governor JB Pritzker, in partnership with P33,the Civic Committee, University of Illinois Urbana-Champaign, the University of Chicago and Northwestern University, is launching Innovate Illinois, a diverse coalition of business leaders, higher education institutions, and elected officials to coordinate the state's efforts to secure funding through the CHIPS and Science Act, the Inflation Reduction Act, and the Infrastructure Investment and Jobs Act.

"With the formation of Innovate Illinois, we are launching a first of its kind effort to bring federal dollars to Illinois and strengthen the state's long-term economic vitality for generations to come," said Governor JB Pritzker. "We are uniquely positioned to leverage our innovation hubs, public and private universities, and national laboratories to provide 21st century opportunities for our state's workers, scientists, and businesses. With this effort, Illinois will accelerate an innovation-driven economic development plan and usher in a new era of scientific and technological progress."

"Given the enormous capability and innovative nature of the companies and institutions within our state, this powerful coalition positions us to compete aggressively for Federal and private resources that will help us make critical technology advances and inclusively grow our economy," said Jennifer F. Scanlon, President and CEO of UL Solutions Inc., board member of P33 and Chair of the Civic Committee of the Commercial Club of Chicago. […]

The coalition will be chaired by Governor Pritzker, and vice-chaired by Jenny Scanlon, Chief Executive Officer of UL Solutions and Civic Committee Chair, and Robert Jones, Chancellor at the University of Illinois Urbana-Champaign. US Senators Dick Durbin and Tammy Duckworth will serve in advisory roles. In addition, Innovate Illinois will include a broad coalition of members representing state and local economic development partners, including the Department of Commerce & Economic Opportunity, World Business Chicago, and Intersect Illinois; higher education institutions including the University of Illinois system, the University of Chicago, Northwestern University, and our state's Community Colleges; as well as private sector representation through business CEOs, the Civic Committee, and P33. This collective effort will bring together the relevant expertise and capacity to pursue specific grant opportunities in a coordinated way with rigor and focus on priority areas, including science, transportation, innovation and technology where Illinois has a competitive advantage and is well positioned to win. The initiative will serve as the "front door" for businesses who would like to partner with the state and education system for research, technology, and workforce development for innovation-related federal grant opportunities.
* AG Raoul…
Attorney General Kwame Raoul, along with 12 attorneys general, today called for nationwide restrictions on the use of sulfoxaflor, a chemical pesticide that is extremely toxic to bees and other pollinators. The coalition, comprised of some of the nation's leading agricultural producers, depend on pollinators to sustain their crops and natural ecosystems.

In a letter to the United States Environmental Protection Agency (EPA), Raoul and the coalition warned that the unrestricted use of sulfoxaflor could have devastating effects on pollinators, ultimately harming the economy and endangering the nation's food security. Raoul urged the EPA to adopt reasonable restrictions on sulfoxaflor's use and support further research into the pesticide's potential impacts on human health and the environment.

"We must do what we can to protect pollinators, which are critical to Illinois agriculture," Raoul said. "I am urging the EPA to ensure restrictions on the use of sulfoxaflor are in place to keep Illinois crops and natural ecosystems healthy."

The EPA previously faced lawsuits challenging its attempts to lift needed restrictions on sulfoxaflor and allow the pesticide's use in controversial ways — without consulting the public or considering the pesticide's effects on endangered species. In December 2022, the lawsuits were successful, and the U.S. Court of Appeals for the 9th Circuit ordered the EPA to immediately correct various legal violations. As a result, in February 2023, the EPA published a notice seeking public comment on the use of sulfoxaflor.

Raoul and the coalition's letter provides important state input in response to that notice. It asserts that the represented states together produce 37% of the nation's crops and play a key role in American food security and resilience. Illinois and the coalition states are the leading national producers of a wide variety of crops, such as pumpkins, apples, almonds, lettuce, hops, beets, tomatoes, coffee and oranges. The states also have extraordinary natural resources and ecosystems, and are home to a variety of threatened and endangered species and critical habitats. All of this relies on pollination by insects such as bees.

To prevent harm to these necessary pollinators, Raoul urges the EPA to:

• Restrict the use of sulfoxaflor when crops are blooming and pollinators are present.
• Reimpose a required buffer zone between sprayed sulfoxaflor and blooming
vegetation.
• Encourage field owner collaboration to ensure sulfoxaflor is not applied before or during a period when managed pollinators are nearby.
• Support further research into sulfoxaflor's impacts on the environment and on humans; remain vigilant about its potential harms.

In issuing the letter to the EPA, Attorney General Raoul joined the attorneys general of Arizona, California, Hawaii, Maryland, Massachusetts, Minnesota, New Jersey, New Mexico, New York, Oregon, Vermont and Washington.
* Happy spring!…
@OzzieGuillen and @ChuckGarfien share their bold predictions for the 2023 #WhiteSox Pedro Grifol manager of the Year 2023. Let's put action on it @BlackOutShowCHI https://t.co/i2blStYine

— Guillens Baseball (@GuillensWorld) March 28, 2023
* Isabel's roundup…
* Sun-Times | Highland Park shooting survivor — in Nashville when another massacre unfolded — rips lack of action on guns: Ashbey Beasley, who was at the Highland Park July 4th parade shooting, went viral after addressing the media in the wake of a shooting that killed three students and three adults at a Nashville elementary school.

* Daily Herald | 'A positive sign': Community colleges see continued enrollment growth: For the first time since 2010, community colleges saw an average 7.2% increase in spring enrollments, according to a recent report from the Illinois Community College Board. In the fall, the ICCB reported an average year-over-year increase of 1.5% in student enrollment.

* Chicago Tribune | Evanston Police Department looks to restrict abortion investigations: The Evanston Police Department is looking to provide enhanced reproductive health protections by vowing to restrict outside agencies from investigating reproductive health issues within EPD's jurisdiction, Commander Ryan Glew told City Council on March 27.

* SJ-R | Senate Democrats push bill calling for $35 monthly cap for insulin: While nearly identical to the House version, Murphy said her bill differs from Guzzardi's since it creates a prescription insurance program administered by the Illinois Department of Public Health. This program, already administered in Utah, would permit individuals to purchase insulin at a discounted rate.

* Capitol News Illinois | Advocates urge regulators to reject natural gas rate increases: "I need the ICC to say no. Don't raise these prices. Our paychecks are not going up, but our bills are," Carroll said. "We can't afford it. The reality of it is we can't afford it. I have my granddaughters at home and when they go to bed, they have to put on their onesies with socks just so I can manage. Is that fair to them? No. But I can't do anything about it. I can't afford it."

* Daily Herald | Why tax expert, former state rep says Arlington grandstand's days could be numbered: Ed Sullivan, a former Republican state representative from Mundelein and former Fremont Township assessor, said it only makes financial sense that the Bears would tear down the six-story grandstand, as the NFL franchise seeks a massive property tax break from state legislators.

* Insha Rahman | Bail reform is the solution we need to bring about safety and justice: Why does support for bail reform remain high despite the relentless attacks? It's not because people do not care about safety. Crime is a top concern for many Illinoisans. That's true across the country, as both fear of crime and fearmongering about crime have increased in recent years, the Pew Research Center reported in October. Support remains strong because people know that we urgently need change. And they know that the Pretrial Fairness Act and other bail reform measures across the country align with common sense on what makes communities safe and brings more justice to a system that has for too long failed to deliver on it.

* Press release | Lawyers and Legal Workers for Brandon Johnson: We, the undersigned members of Chicago's civil rights, labor, employment, and progressive legal community are proud to endorse Brandon Johnson for Mayor of Chicago. We have dedicated our lives to making Chicago a more just and equitable City. Brandon Johnson is the only candidate in this race with both the experience and the platforms that will move this entire city and particularly its Black, brown, and under-resourced communities, closer to the promise of justice for all.

* Crain's | What the candidates told us about the real estate transfer tax: Vallas said he believes the solution lies in "streamlining the system" to facilitate development of large numbers of housing units not only for homeless people, but also for victims of domestic violence who often get returned to the homes where their abuse took place, and for people returning from incarceration.

* Daily Herald | Most — but not all — District 64 candidates supported COVID-19 orders for masking and more: Some parents and community members implored board members to end masking rules and other policies aimed to stop the spread of the disease in schools. In September 2021, two parents who were forced to pull their three children from school because the kids hadn't quarantined after a trip abroad sued the district.

* Crain's | NASCAR Chicago adds Blue Cross & Blue Shield of Illinois as founding partner: Like McDonald's, Blue Cross & Blue Shield of Illinois will have "official presenting, marketing and promotional rights" as well as branding all over the race's footprint, according to a press release.

* Sun-Times | CTA worker accused of beating, tossing man down stairs of subway station who later died: Emmett Richardson, 39, is facing felony charges of aggravated battery in Saturday's attack. The 54-year-old male victim has not been identified.

* Bloomberg | U.S. risks another baby formula crisis, ex-FDA official tells Congress: The industry has been under scrutiny since Abbott Laboratories, the biggest maker of infant formula for the US market, withdrew products including bestselling Similac last year after reports of illness and deaths among a few babies who had consumed it. The recall left parents across the country scrambling to find supplies and forced the US to expand its sources of the products.

* Daily Herald | Amazon truck strikes Long Grove bridge, marking 45th crash since 2020: The cover of the 116-year-old bridge was reinforced with a steel structure in 2020 so it can take a beating without requiring expensive repairs. The last time it was struck was about a month ago.

* Crain's | Chicago home price growth tops national rate for the first time in years: The region's new, better-than-average status is partly the result of West Coast real estate markets turning negative and pulling down the national figure. Nevertheless, it's clear evidence the Chicago-area housing market remained more resilient than those in many other big cities, if only because it didn't fizz into bubble territory along with them during the housing boom of the early 2020s.

* Tribune | Lollapalooza has daily lineup, with tickets on sale Wednesday: Billie Eilish headlines opening night Thursday, with Karol G. Then Kendrick Lamar and The 1975 are the big acts for Friday. ODESZA and the return of Tomorrow X Together are Saturday, and Red Hot Chili Peppers and Lana Del Ray close out the festival Sunday.

* WIFR | Illinois unclaimed property to be auctioned online: More than 500 unclaimed property items will be available to the highest bidder Monday, April 3 through Friday, April 7 through the Illinois State Treasurer's office. Items considered for auction are surrendered to the office after remaining untouched and unclaimed for several years.
* This is such a much-needed addition…
Secretary Giannoulias Announces Coffee Station Opening at Capitol Building
Elm City Roastery will serve coffee
Pastries from Three Twigs and Co.

Who: Illinois Secretary of State Alexi Giannoulias
Elm City Roastery staff

What: Secretary Giannoulias will join employees from Elm City Roastery at their grand opening at the Illinois State Capitol Building. The coffee station will be located on the second floor, south hallway, of the Illinois State Capitol.

Where: Illinois State Capitol Building
Second Floor South Hallway
Springfield

When: Wednesday, March 29 at 10:00 a.m.

Why: Secretary Giannoulias' office, which maintains the Illinois Capitol Complex, issued a solicitation requesting bids to open the first-ever independently and locally owned and operated coffee station in the Illinois Capitol Building. Elm City Roastery was the winning bidder.

"This is a great opportunity to promote local businesses while also serving top-notch coffee and pastries to Capitol Building visitors, legislators, staff, media and lobbyists," said Secretary Giannoulias. "I encourage everyone working or visiting the Capitol to stop by the second-floor coffee station and support this local business."
Yeah, the old Rathskeller was dingy. But it was also handy. We've needed something in the Statehouse for a very long time.
* These numbers from BSP Research are not only old, but the poll was taken over an unusually long period, March 15-23. It sure took them long enough to release the results…
With one week remaining until Chicago's mayoral runoff election on April 4, Northwestern University's Center for the Study of Diversity and Democracy (CSDD) and a coalition of Black and Latino nonprofits released the results of a second nonpartisan poll showing candidates Brandon Johnson and Paul Vallas in a neck-and-neck race to the finish line.

Overall, the choice among voters is evenly split between Vallas and Johnson, with each candidate earning 44% of the overall vote, with 12% undecided.

When broken down by race/ethnicity, Black registered voters favor Johnson by a wide margin. Fifty-five percent have decided to vote for or lean toward Johnson, versus 28% favoring Vallas. Among Latino registered voters, 46% favor Vallas, while 35% prefer Johnson. Registered white voters are the most split between candidates with 51% voting for or leaning toward Vallas and 42% for Johnson. One interesting finding is that one-third of Latinos think Vallas also may be Latino.
It was 40-40 without including leaners.
Methodology is here.
* Because the horserace numbers are relatively old, let's look beyond them to some issues…
The poll found that reducing crime is far and away the most important issue, with 50% of registered voters saying it is an important issue. Likewise, across race/ethnicity, 49% of Latino, 53% of Black and 50% of white voters cited crime as the most important issue. There were substantial differences across age, with 80% of registered voters over 65 years of age saying reducing crime is an important issue and 31% of 18- to 29-year-old voters saying it is an important issue.

Despite the concern over crime, 30% of Black voters said police reform was the second most important issue. Among Latinos and whites, 35% of Latinos and 31% of whites said the rising cost of living was the second most important issue.
* Vallas voters and leaners were asked: "Here is a list of reasons why people may vote for Paul Vallas. For each, tell us whether this factor was VERY important, somewhat important, or not important at all in your decision to support him"…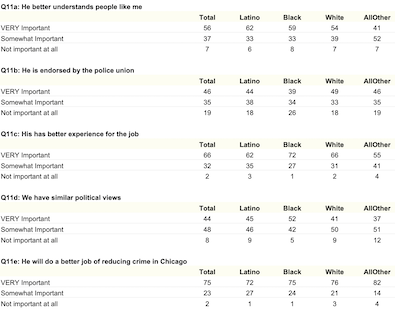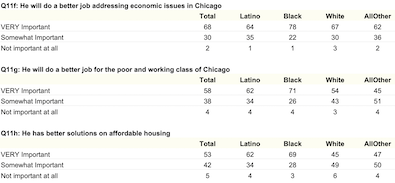 * Same question for Johnson voters and leaners…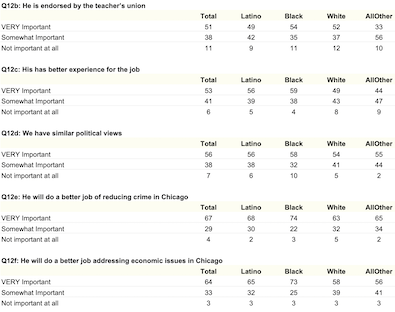 * Never underestimate the voters' desire to want two seemingly opposite things at once…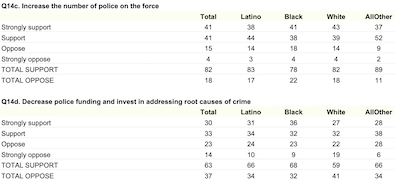 Still very odd, though. And if that second result is even close to accurate, it upends everything we're supposed to believe about this contest.
* Back to the press release…
Preferred characteristics: The survey also asked about important characteristics in supporting a candidate for mayor. For voters overall, the top two characteristics were being progressive and fighting for progressive issues (37%) and experience as an elected official (36%). Another strong preference among Latinos is that "the candidate truly understands their community (35%)."

Lastly, the poll shows high levels of perceived commonality by Black and Latino voters. When asked how much they think Latino and Black voters have in common, 75% of Latino registered voters said they had a great deal or a fair amount in common. Among Black registered voters, 73% said they have a great deal or a fair amount in common.
* Center for Tax and Budget Accountability…
After adjusting for inflation, state funding for Illinois colleges and universities has fallen by nearly 50% since 2000, while tuition has more than doubled, making it increasingly difficult for students from low- and middle-income families generally, and Black and Latinx students specifically, to afford getting a higher education degree.

Despite growing evidence that a college degree is more important than ever for success in the labor market and in spite of recent funding increases, the report finds that, after inflation, Illinois' General Fund support for Higher Education has declined significantly over the last two decades, and is 46 percent less now in real terms than in 2000.

To help make up for that loss of General Fund support, the average annual student tuition and fee cost of attending a public four-year university in Illinois increased by 115 percent—after inflation—between 2000 and 2021.
The full report is here.
As I've said many times before, 2001 was Illinois' budgetary high-water mark. Then came the 9/11 crash, followed by the 2008 crash and three governors in a row who weren't serious about doing things like properly funding higher ed.
We're only now digging our way out.
* Illinois Senate Democratic Caucus…
To ensure that Illinoisans in need of insulin have affordable access to the life-saving medicine, the Illinois Senate Democratic Caucus is leading a measure to cap its price at $35.

"It's vital we make insulin more accessible to the people who need it," said State Senator Laura Murphy (D-Des Plaines). "It's past time to put people's health ahead of financial gain."

Building off their 2019 efforts to cap the price for a 30-day supply of insulin at $100, the Senate Democrats are spearheading a measure to cap the price at $35. Recently, drugmakers announced their new $35 threshold, leading Murphy – the chief sponsor of the bill – and her colleagues to enshrine the price into law in case the companies choose to raise the price in the future.

"This has the opportunity to provide much needed relief to many people in our state who rely on insulin to survive," said State Senator Christopher Belt (D-Swansea). "It is time for Illinois to lead the way in making healthcare more affordable and accessible for all."

In addition to capping out-of-pocket insulin costs, the measure would also outline a plan to ensure that residents in urgent need of insulin are able to receive it in a timely manner. […]

Senator Murphy expects to call Senate Bill 1559 this week.
* Crain's…
A bill to authorize a pilot wind farm in Lake Michigan just off of the south shore has resurfaced in Springfield and has picked up major political momentum, even though it could cost electric ratepayers $680 million in subsidies over the next 20 years.

Approved on a bipartisan 85-21 House vote, the measure would authorize creation of a 10- to 20-windmill facility several miles from Chicago's lakefront and entitle the developer to $34 million in annual subsidies via a mandatory purchase deal with the Illinois Power Agency. […]

One major green group, the Environmental Law & Policy Center, remains opposed to the legislation, suggesting it would end up being an unwarranted boondoggle for some lucky developer.

The group's legislative director, David McEllis, testified to a House committee that the proposal "could lead to future private developments in Lake Michigan," that lake-based offshore wind "is unproven and expensive" and that the subsidy could result in "a significant utility rate increase to pay for a single unproven project."
* AG Raoul…
Attorney General Kwame Raoul announced the Illinois House of Representatives on Friday passed his legislation to increase oversight of health care transactions, namely mergers and acquisitions that include health care facilities and large provider organizations, which can lead to higher prices for health care services while quality of care worsens or remains stagnant. […]

Specifically, House Bill 2222 would:

- Require health care facilities to notify the Attorney General within 30 days of a proposed merger or acquisition.

- Establish a premerger notification program at the state level for health care facility mergers.

- Better equip the Attorney General's office with information necessary to determine whether a proposed transaction warrants an investigation and, when necessary, a challenge for anticompetitive conduct that could substantially lessen competition or harm the public or employees.
* HB2280 has not yet left the House and is in Rules, SB2427 has been re-referred to Assignments in the Senate. CBS Chicago did a story anyway…
[Neelam Dhadankar of Access Living] joined a diverse coalition of organizations to deliver 2,000 petitions to the Illinois State Medical Society - urging them to support HB 2280 and SB 2427.

The two pieces of state legislation require "consistent cultural competency training" for all healthcare professionals.

"When you don't make the effort to understand your patient, you are missing the whole point," said Kristen Perez of the Illinois Nurses Association. […]

The Illinois State Medical Association declined our request for an interview.

But online, they listed the cultural competency bill as "one hundreds of onerous mandates on how physicians should practice medicine in Illinois" that they push back against every year.
* Press release…
Returning service members would be united with shelter pets under a new bill recently passed by state Rep. Harry Benton, D-Plainfield. […]

Benton's House Bill 2500 would provide that animal control facilities and shelters shall not charge anyone who can prove they are an Illinois veteran an adoption fee for a dog or cat. Individuals would be allowed to adopt one animal this way every two years. The bill is modeled on a law that took effect in California in 2020. The bill now advances to the state Senate.

"Helping veterans adopt loving pets isn't just a great way of helping them heal, it's also a small way of giving back to them after everything they did for us," Benton said. "Having a pet can be one of the most rewarding experiences everyday life has to offer, and don't our veterans deserve that? Why should they pay a fee when they've already sacrificed so much for our country? For me, that's really what it boils down to."
* Patrick Keck…
On Friday, the Senate unanimously approved Senate Bill 2243. The bill sponsored by Sen. Kimberly Lightford, D-Westchester would require the Illinois State Board of Education to develop a "comprehensive literacy plan." […]

Deborah MacPhee, a researcher and professor at Illinois State University, said early literacy education has become politicized with debates taking place between competing systems of reading instruction.

MacPhee said she liked that the bill requires the plan to involve "education stakeholders." She said this will contribute to the ongoing conversation around what sorts of educational programs. […]

The House passed a literacy bill later that Friday in a 68-35 vote. House Bill 3147 creates the Literacy and Justice for All Act which permits the state Board of Education to form a rubric for use of the school districts regarding evidence-based, culturally inclusive reading instruction and literacy plans.
* SB909 was referred to Assignments. Madeline Wood of United High School in Monmouth…
Racist incidents have happened and continue to occur across our state. In southern Illinois, protests erupted after a Marion track coach used racially motivated language against one of her student athletes. In Chicago at Jones College Prep, a principal was fired after defending a student's Nazi imitation during the school's Halloween event. A student in suburban Will County was racially harassed for five years, until students chased him with baseball bats and he transferred to a different school to seek safety.

When it comes to addressing racial harassment, words are not enough. A 2021 federal report found that hate crimes in schools increased 81%, with roughly half of those incidents related to race. A concrete and meaningful policy response is needed to change behavior in our schools.

That's why a group of Illinois Teachers of the Year proposed the Racism-Free Schools Act. In simple terms, this bill provides the same kinds of protections to victims of racial harassment that have been extended to victims of sexual harassment for more than 40 years. The act provides clear language and policies to protect everyone involved, resolve incidents quickly, and repair the harm that occurred. By promoting clearer understanding, training for teachers, and age-appropriate communication to students, the bill promotes greater awareness of what racial harassment looks like. Preventing racist incidents will reduce racial trauma, all while improving students' mental, social-emotional, and academic well-being. Additionally, racism-free schools will help combat the teacher shortage by making schools safer, more welcoming places for students and teachers of color.

These policies aren't just for schools with diverse student bodies. They are just as important in a mostly white community like where I teach, because white students need to know how to interact appropriately with classmates, community members, and future colleagues who look different than they do.
* NY Times article on the Chicago mayor's race quoting Chicago FOP President John Catanzara…
Mr. Catanzara is not lying low. He predicted that 800 to 1,000 Chicago police officers would leave the force if Mr. Johnson wins, adding to hundreds of vacancies already awaiting the next mayor.

"If this guy gets in we're going to see an exodus like we've never seen before," he said, predicting "blood in the streets."
Are we at the "Before it's too late" stage now?
…Adding… Par for the course…
Paul Vallas says he "condemns" these comments from John Catanzara and calls them "absolutely irresponsible." https://t.co/Jqfs3A5pzr

— Gregory Pratt (@royalpratt) March 28, 2023
…Adding… Saw this referenced on Twitter. It's a Trib story from October of 2021 when Catanzara was fighting the vax mandate and predicted half the force would stay away from the job. Didn't happen…
Two days earlier, he posted a video urging about 10,000 active officers to defy Lightfoot's vaccination reporting requirement and brace for being sent home without pay. He also said he will sue the city to fight Lightfoot's mandate.

Catanzara advised his members to report to work Friday with the assumption they would be sent home and said he would also forgo pay.

It is unclear how many officers will follow Catanzara's directive, but he suggested the department could be operating at 50% capacity this weekend — a prediction Chicago police brass swatted away Thursday.

"Whatever happens because of that manpower issue, that falls at the mayor's doorstep," Catanzara said in his Tuesday video.
* Press release…
A task force appointed to study the decline of local journalism in Illinois and recommend ways to revive the industry meets for the first time Monday, March 27.

The task force is being led by State Senator Steve Stadelman, who passed legislation to establish the panel of frontline journalists and academics and who worked 25 years as an award-winning television reporter and news anchor before his election to the Illinois General Assembly in 2012.

"Newsrooms across the nation are shrinking, especially in smaller and more rural areas, and an alarming number have closed in the last decade," Stadelman said. "When people don't know what's happening on their town councils and school boards, they can't make educated decisions or hold public officials accountable."

Stadelman's legislation charges the 23-member task force with studying Illinois communities underserved by the news media, proposing public policy to strengthen local journalism and recommending ways to support private-sector or non-profit operating models. Members of the task force represent higher education including the Medill School of Journalism at Northwestern University and the University of Illinois at Champaign-Urbana, news media including the Illinois Public Broadcasting Council and Illinois Press Association and government including the Illinois Municipal League.

"There needs to be a candid conversation about the future of local news and how its future will affect the lives of families across our state," Stadelman said. "Although the outcome could be that state government has no role, I'm optimistic about Illinois coming up with creative solutions to keep journalism alive and keep our citizens informed regardless of their zip codes."
* Members of the task force who participated yesterday…
1. Sam (Sammy) Fisher, Illinois Press Association
2. Tim Franklin, Northwestern Medill School of Journalism
3. Jesús Del Toro, Chicago Independent Media Alliance
4. Tim Myers, Illinois Broadcasters Association
5. Jenna Dooley, Illinois News Broadcasters Association
6. Jason Piscia, Public Affairs Reporting Program @ UofI S
7. Mark Jacob, Chicago News Guild
8. Dong Han, Appointee, Representative of the School of Journalism at Southern Illinois University Carbondale
9. Sen. Don DeWitte, Appointee, Senate Minority Leader
10. Rep. Dave Vella, Appointee, Speaker
11. Jordan Abudayyeh, Appointee, Governor
12. Sen. Steve Stadleman, Appointee, Senate Majority Leader
13. Christopher Willadsen, Chicago Chapter of the National Association of Broadcast Employees and Technicians (CWA)
14. Josh McGee, National Alliance of Black Journalists
15. Julie Moore Wolfe, Illinois Municipal League
16. Adam Rhodes, Association of LGBTQ Journalists
17. Randy Eccles, Illinois Public Broadcasting Council
* The Question: Your ideas for reviving local journalism in Illinois? Make sure to explain. Thanks.
* Click here for our live coverage…
* Sun-Times | ComEd CEO 'wanted to make sure that we did everything possible' to earn Madigan's favor, feds' key witness testifies: Former ComEd executive turned government informant Fidel Marquez called his ex-boss a "close" and "personal friend," then detailed how she funneled hundreds of thousands of dollars to associates of former House Speaker Michael Madigan to stay on his winning side. The government's star witness took the stand at the ComEd bribery trial on Monday as prosecutors presented FBI recordings and internal ComEd documents showing the money went to people who allegedly did no work for the utility company.

* Tribune | Feds' star witness takes stand in 'ComEd Four' trial, testifying utility worked to gain leverage with Michael Madigan: The roster of "subcontractors" was curated by Madigan's longtime confidant, Michael McClain, and read like a who's who of Madigan's vaunted political operation, including two legendary precinct captains, a former assistant majority leader in the House and two former Chicago alderman at the center of Madigan's Southwest Side base of power, according to Marquez. Over the course of eight years, ComEd paid them hundreds of thousands of dollars, even though they had no particular expertise and ultimately did virtually no work for the utility. Some seemed to be downright incompetent, Marquez said.

* Amanda Vinicky | Star Witness Takes the Stand in ComEd Trial, Testifies About Efforts to Influence Michael Madigan: Marquez took the stand and uncoded an email about the legislation for a federal jury tasked with deciding the fate of four of Marquez's former colleagues. ComEd wanted to kill the rate-reduction plan, but was "concerned" because it was a signature effort of the speaker's daughter, Attorney General Lisa Madigan, Marquez said.

* NBC Chicago | Prosecution's Star Witness Takes the Stand in Trial of 'ComEd Four': Assistant U.S. Attorney Amarjeet S. Bhachu wasted no time in asking Marquez, "Did you break the law during your employment Com Ed?" "Yes sir," he said. "What crime was that?" Bhachu asked. "Conspiracy to commit bribery of Michael Madigan," Marquez responded.

* Crain's | Star witness, government mole Fidel Marquez takes stand in 'ComEd Four' trial: When Zalewski was added to Doherty's payroll at $5,000 per month — Marquez asked McClain what he was thinking "numbers-wise" for Zalewski, and McClain responded with "5″ — Pramaggiore had to update Doherty's contract to add $5,000. That came out of her budget, and she signed the contract. Played for the jury was the recording of one of the most quoted exchanges Pramaggiore had with McClain in an intercepted call — one that had been highlighted in pre-trial filings. "The only question Fidel had," she went on with McClain, "is there anybody we could sort of take off the roster? … We got a lot of people hanging out there," she said.

* ABC Chicago | Former ComEd executive and prosecution's star witness Fidel Marquez testifies: Those conversations, many of which are expected to be played for the jury over the next couple of days, are expected to reveal the hiring of several Madigan associates as subcontractors for ComEd for little to no-work jobs. Those associates include: former 13th Ward Alderman Frank Olivo. former 23rd Ward Alderman Mike Zalewski, former 13th Ward Precinct Captains Ray Nice and Ed Moody, and former State Representative Eddie Acevedo.

* Center Square | Ex-ComEd executive says utility shifted money to friends of powerful politician: Marquez detailed how payments were made through contract lobbyists and how those arrangements changed over time. For example, Moody was paid as a subcontractor through Shaw Decremer, but when Decremer got in trouble for harassment, Moody's payments were shifted to a contract with former state Rep. John Bradley, Marquez said. […] Marquez is expected to return to the witness stand on Tuesday. He has yet to face cross-examination.

* Jim Dey | Reclusive Madigan pulled strings from behind the scenes: "I know you've got a law degree, but you're more of a street fighter than anybody knows, except maybe for guys like me. And if you want to put the squeeze on the guy, you could hurt him pretty badly." That's a snippet of a conversation between Michael McClain, one of four defendants in the Commonwealth Edison bribery conspiracy trial, and former Illinois House Speaker Michael Madigan, who won't go to trial until next year.

* Telephone conversation between Michael McClain and Anne Pramaggiore | ComEd Exhibit 18-T: Michael McClain and Anne Pramaggiore have a conversation, Pramaggiore tells McClain "This never would've happened without you and John."

* Telephone conversation between Michael McClain and Fidel Marquez | ComEd Exhibit 23-T: Michael McClain and Fidel Marquez have a conversation, McClain says "Let me just tell you about each guy."
* Yesterday, we talked about Paul Vallas' coziness with homophobic activists. Here's Block Club Chicago on Brandon Johnson's issues…
Bishop Larry Trotter, a South Side pastor at Sweet Holy Spirit Church, endorsed Johnson March 12, telling his congregation the candidate's plan was "fresh" and "new," according to the Sun-Times.

But Trotter was a vocal opponent of same-sex marriage in the years leading up to its legalization in Illinois in 2013. Trotter was among a coalition of faith leaders who rallied in Springfield against same-sex marriage, according to a 2013 Tribune report.

Johnson responded to concerns about this endorsement Wednesday during a virtual forum on LGBTQ issues hosted by people-of-color-led organizations serving LGBTQ people.

Johnson said he was raised by two pastors in one of the largest Black denominations in the country, but he can "recognize that within all of our faith communities, that there are elements of our faith community that they don't get it right."

"There will be times when people who are close to me, we will have disagreements, and there will be times when we will agree," Johnson said. "This is an opportunity to educate people and make people stronger and better, and we get to do that as a collective group."
Vallas has either just avoided the question or appeared indignant that anyone would question his beliefs.
* On to Politico…
Vallas is a product of the fabled Daley "machine," having worked for former Mayor Richard M. Daley's administration. A key Vallas campaign aide is former Daley Chief of Staff Gery Chico.
Yeah. There's a whole lot more than that one guy. Crain's…
Locked in a tight race for Chicago mayor, Paul Vallas is looking for help mobilizing voters from a vestige of the old Chicago machine that once helped defeat the former Chicago Public Schools CEO when he ran for governor in 2002.

Vallas' campaign committee, Vallas for Mayor, paid $22,500 last week to another committee, Coalition For Better Government, ran by Ronald Calicchio and Dominic Longo, a political street fighter whose 1984 conviction for voter fraud didn't prevent him from a career on the government payroll while working as a precinct captain to get out the vote for former Mayor Richard M. Daley, former Ald. Dick Mell and former Cook County Assessor Joe Berrios. […]

"Our campaign has had no contact with Dominic Longo, and we were unaware of any connection between him and Coalition For Better Government. We made a contribution to this organization to support voter outreach efforts being conducted by its Chair Ronald Calicchio," the statement said.
Unaware? From their State Board of Elections page…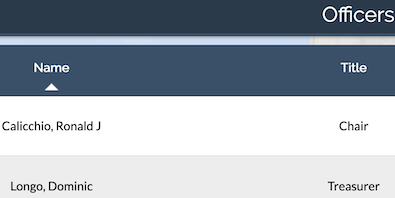 I was thinking last night that while John Kass may finally get a fellow conservative Greek-American in the mayor's office, that fellow will be surrounded by all of Kass' surviving enemies from the Daley era.
* Also, too, Vallas appears to be moving even further to the left as election day nears. From Block Club Chicago…
Vallas endorsed a series of other stances Monday, like establishing ranked choice voting ahead of the next mayoral election and providing reparations for Chicago's descendants of enslaved people.

Vallas also said he supports the concept of universal basic income but called the city's pilot program "ineffective."

"I support … universal income level in principle, I just think that the program needs to be reimagined, and because again, there's very little participation in the program, it has been designed as a one-off program," he said.
He's right about the current mayor's universal income lottery program. But do you believe he'll actually go through with a new and improved version?
* But that late leftward lurch may be having an impact…
At this point in Chicago's mayoral runoff, there are few endorsements left that could really sway the race, but outgoing 4th Ward Ald. Sophia King, who finished eighth in February's first round of voting for mayor, is endorsing Paul Vallas. […]

Unsurprisingly, the Vallas campaign notes high up in its announcement that King is currently the chair of the City Council's Progressive Caucus in an effort to undermine Brandon Johnson's standing as the more progressive mayoral candidate.
…Adding… Progressive Caucus members…
The following is a statement from a majority of returning Progressive Caucus members:

There's nothing progressive about mayoral candidate Paul Vallas. His track record is one of harming communities, particularly the most vulnerable. As CEO of the Chicago Public Schools, Vallas canceled an LGBTQ inclusivity training and cut deals with Wall Street that shifted $1 billion from schools to financial firms and investors. Now Paul Vallas is proudly endorsed by MAGA Republican and Fraternal Order of Police president John Catanzara. Vallas' campaign is bankrolled by the same wealthy Republicans who backed Donald Trump. MAGA Republicans are backing Paul Vallas because Paul Vallas is on the record sharing and espousing their far-right positions.

The Chicago Progressive Reform Caucus was formed in 2013 as a coalition of alderpersons that stood against machine politics and championed progressive policies rooted in the needs of everyday Chicagoans. As the majority of re-elected Progressive Caucus members, we have endorsed Brandon Johnson for mayor because we know Brandon will prioritize working families and invest in Chicago neighborhoods, jobs, and schools. Brandon is the candidate who stands for the progressive policies and values that will improve the lives of all Chicagoans.

This statement is from the following caucus members:

Ald. Daniel LaSpata (1)
Ald. Jeanette Taylor (20)
Ald. Michael Rodriguez (22)
Ald. Byron Sigcho-Lopez (25)
Ald. Rossana Rodriguez (33)
Ald. Carlos Ramirez-Rosa (35)
Ald. Andre Vasquez (40)
Ald. Matt Martin (47)
Ald. Maria Hadden (49)
…Adding… OK, now I'm just laughing…
Paul Vallas tells City Club luncheon one of his favorite movies is Blackkklansman by Spike Lee

— Gregory Pratt (@royalpratt) March 28, 2023
* Press release…
The Vallas for Mayor campaign is releasing a new television ad that sharply criticizes Brandon Johnson's disastrous $800 million tax increase plan, especially in light of recent bank failures, persistent inflation and other economic turbulence affecting Chicagoans. The ad contrasts Johnson's extreme tax increases with Vallas' plan to boost the city's economy by reclaiming vacant properties on the South and West sides and turning them into affordable housing, providing low-interest loans for small businesses, encouraging more community involvement in the budgeting process and much more.

The ad is available here: https://www.youtube.com/watch?v=TLTVOx7j_Ac

"Business groups, union leaders, small businesses owners, elected officials and residents all agree that Brandon Johnson's $800 Million tax increase plan would devastate Chicago's economy at the worst possible time," said Vallas. "We need to make sure that no one gets left behind by City Hall, now more than ever. As Mayor, I'll reclaim vacant properties to revitalize the South and West sides, establish a Fair Share Investment Trust that gives homeowners and entrepreneurs low-interest-rate loans, and create an Independent Community Development Authority that brings every community into the budget process. We need to help homeowners and small businesses thrive, not squeeze them with more taxes, fees, or fines."
Good spot.
* Press release…
Ahead of the 2023 Mayoral Runoff Election, Chicago Public School (CPS) custodians are sharing their experience with Mayoral Candidate and former CPS CEO Paul Vallas and the harmful impact it had on them and their families. When Paul Vallas was CEO of CPS from 1995 to 2001, he failed Chicago's working parents and children. He took thousands of public custodial jobs and privatized them in order to balance the CPS budget on the backs of the very people who are supposed to keep our kids schools clean and safe– in doing so, essential workers had their wages slashed by $3-$5, lost their healthcare and their pensions leaving families with almost no safety net.
Click here to watch the video.
* Isabel's roundup…
* WTTW | Political Fund Backed by Charter School Network Ramps Up Spending to Defeat Johnson, Boost City Council Picks: The independent expenditure by the INCS Action Independent Committee, funded by the Illinois Network of Charter Schools, paid for $258,000 in cable television advertisements on March 16 and $359,000 in digital advertising on March 15, records show. Election Day is April 4, and early voting is underway.

* WGN | Vallas leading Johnson in Chicago Mayoral runoff election: With eight days left before Chicago voters choose a new mayor, new WGN-TV/Emerson College/The Hill poll shows Paul Vallas holding a five-point lead over Brandon Johnson, 46% to 41%. The exclusive poll also found that 13% of likely voters are still undecided.

* Block Club | Paul Vallas Vows To Fire CTA Boss, Doubles Down On Plan To Bring Back Retired Cops In Block Club Interview: Vallas has said he's heard from retired officers through his work as a consultant for the Fraternal Order of Police during recent contract negotiations to back up his claim. The police union has endorsed Vallas in the mayoral race. "We know, because we've put together a list of retirees, and there's a list of officers who would like to return," he said. … Asked to confirm Vallas "has a list" of officers who would return under the conditions he mentioned, Vallas said he was referring to a list kept by the Fraternal Order of Police of retired officers.

* WBEZ | Rehiring retirees as a quick fix for Chicago Police could undermine reform, experts say: Vallas has said the rehired cops would analyze records for detectives, run witness protection efforts, and even respond to domestic violence complaints. He has not said what he would do about a municipal code that requires cops to retire from sworn ranks at age 63 or whether he'd offer terms competitive with what many CPD retirees have: a police pension and a non-city job.

* CBS Chicago | 4th Ward chief of staff Prentice Butler faces Illinois State Rep. Lamont Robinson: Butler said he would like to improve collaboration between people who live in the ward and the officers who patrol the streets. But he also said the city needs more mental health first responders to respond to mental health calls rather than police; and more social workers, violence interrupters, and other programming to address the causes of crime. Robinson, who has served in the Illinois House since 2019, touted his efforts to bring in resources for anti-violence initiatives, a local senior center, and a community center; and said he believes the City Council needs new leadership.

* Sun-Times | Lightfoot put Knudsen in 43rd Ward seat — and into runoff against challenger Comer: Five months after Lightfoot appointed him to replace retiring former Ald. Michele Smith, Knudsen came out on top in the Feb. 28 election. But he did so with just about a quarter of the vote across Lincoln Park, Old Town and the Gold Coast — and by less than three percentage points over the upstart, runner-up challenge from consultant Brian Comer.

* Sun-Times | 6th, 21st Ward candidates discuss future of South Side ahead of runoff: Time to 'resurrect dreams of residents': After more than a decade as 6th Ward alderperson, Roderick Sawyer stepped down from the council to run an ultimately unsuccessful campaign for mayor. […] Hall, 38, lead pastor at St. James Community Church in Chatham and a field director for the Rainbow PUSH social justice organization, narrowly came in first place with 23.82% of the vote during the Feb. 28 election — about 70 votes ahead of Wooten, an Army veteran and retired police officer.

* Sun-Times | Contractor now accused of bribing worker in Cook County assessor's office: Alex Nitchoff is charged with conspiring to bribe a key employee handling commercial properties with home improvement goods and services, jewelry, meals and sports tickets.

* Block Club | 'I Don't Want To Be A Statistic To You': Chicago's Latino Communities Are Focused On Gun Violence: The most striking differences between Vallas and Johnson are their approaches toward public safety. Some Latino voters are leaning toward Vallas because of his promise to hire more police officers and his statements on taking a "more aggressive" approach to prosecuting those who break the law. Others favor Johnson because of his pledge to reallocate police funding toward issues like housing, mental health, and job creation. Both candidates face the tall task of convincing Latino voters that they are sincere in their promises to urgently address the gun violence crisis.

* Sun-Times | City backs 3 subsidized housing plans for La Salle Street corridor: The proposals deemed eligible for city subsidies together call for more than 1,000 housing units, a third of them affordable, and more than $550 million in investment to address downtown vacancies.

* Axios | New report says Chicago police training is fundamentally flawed: The new report, authored by the city's community member-led working group on use of force, documents fundamental flaws in the way Chicago officers are trained on new use-of-force policies.

* Flint Taylor | The racist history of Chicago's FOP: On Dec. 4, 1969, Fred Hampton, the charismatic chairman of the Illinois Black Panther Party, was slain in his bed by Chicago police in what has been documented and widely accepted as a politically motivated assassination. But the fledgling FOP nonetheless staunchly defended the police raiders.

* CBS Chicago | A Chicago woman rented out her car on a sharing service. Someone stole and totaled it: Barron had listed her white Nissan Rouge for rent through Getaround, the car sharing service. Someone reserved and picked up the car in the middle of the night last fall. "I called Getaround multiple times," she said. "And they kept telling me everything was fine. This person had checked out. Give them the benefit of the doubt."

* Chicago Mag | Revisiting What Has Disappeared: During a tour of his old neighborhood, Pete Kastanes idles his Toyota Corolla in front of Frank's Upholstery, a two-story beige brick storefront on 79th Street. An upholstery shop seems like an odd stop for a youthful reminiscence, but this building was not always dedicated to re-covering sofas. It once contained a music store, right across the street from Bogan High School, from which Kastanes graduated in 1981. "That used to be Kroozin' Music II," Kastanes recalled. "They sold cassette tapes, eight-track tapes. They sold bongs, black lights, posters. I used to hang out when I was in high school. Sometimes, I wanted to be alone and browse. I bought my first eight-track there — Styx, Renegade."
* From Springfield Bishop Thomas Paprocki's speech to last week's Illinois March for Life…
We have gathered here from all across the Land of Lincoln because the lives of unborn babies in our state of Illinois are threatened as never before. Since the United States Supreme Court decision last year in Dobbs v. Jackson overturned the 1973 decision of Roe v. Wade and rightfully returned the question of the legality of abortion back to the states, Gov. J.B. Pritzker, Lt. Gov. Juliana Stratton, Attorney General Kwame Raoul, Speaker of the House Emanuel "Chris" Welch, and Senate President Don Harmon, along with many others in Illinois state government, have unequivocally expressed their unabashed desire to expand abortion rights and make Illinois an abortion-friendly haven. Every year, over 10,000 out-of-state residents come to Illinois for abortions, often at taxpayer expense, and that number has been increasing dramatically since June of 2022. In states such as ours, we cannot relax our pro-life efforts now that Roe v. Wade has been overturned. On the contrary, we must step up our struggles to counter the evil forces of death.

Our nation is divided today over the question of abortion as it was in the 19th century over the question of slavery. On June 16, 1858, Abraham Lincoln, before whose statue we gather, gave his famous "House Divided" speech in the Hall of Representatives of the Old State Capitol here in Springfield, Illinois. He started by quoting our Lord Jesus from the Gospel of Matthew, Chapter 12, verse 25: "A house divided against itself cannot stand." Mr. Lincoln explained, "I believe this government cannot endure, permanently half slave and half free. I do not expect the Union to be dissolved — I do not expect the house to fall — but I do expect it will cease to be divided. It will become all one thing or all the other."

Similarly, echoing Mr. Lincoln, we should all say, "I believe this government cannot endure, permanently half pro-abortion and half pro-life. I do not expect the Union to be dissolved — I do not expect the house to fall — but I do expect it will cease to be divided. It will become all one thing or all the other."

As people of faith, we come here in peace, prayerful asking the members of the executive, legislative and judicial branches of our Illinois state government to "harden not your hearts," as we read in Psalm 95:8. May you find compassion for the lives of the most vulnerable among us, the sacred human lives of unborn babies.
* WBEZ…
Former longtime Los Angeles police chief Charlie Beck, who headed CPD on an interim basis in 2019 and 2020, said Chicago could get much more out of the cops it already employs.

"Los Angeles has a million more people and probably twice as much square mileage as Chicago and operates with fewer cops and better results," he said.

Beck said Chicago could use a bigger police department, but what it really needs is a more effective department.
* Los Angeles' population is 3.93 million and the city covers 469 square miles and experienced 382 murders last year. Chicago's population is 2.76 million and covers 227.7 square miles of land and experienced 695 murders last year.
From Wikipedia…
With 9,974 officers and 3,000 civilian staff, it is the third-largest municipal police department in the United States, after the New York City Police Department and the Chicago Police Department.
Also Wikipedia…
CPD currently has 11,710 sworn officers on duty, and over 1,925 other employees.
* More from WBEZ's interview of Beck…
Q: I want to talk specifically about guns. The main method of seizing illegal firearms in recent years in Chicago has been traffic stops, pulling over cars for minor violations and then some of those vehicles end up getting searched and a lot of guns are brought in that way. 12,000 guns last year, a lot of them through traffic steps. What do you think of that strategy?

Beck: You should not count success by how many guns are taken off the street. You should count success by how many shootings occur in a neighborhood. If your strategy is strictly how many cars can I stop and search, just increase your odds. And you may get more guns that way, but you may alienate the community, to the point that they don't talk to you, to the point that you don't solve the crimes that do occur with guns. And you don't get people off the street for committing those crimes. And in doing that, you've got to change your goal, because your real goal is reduce shootings, not to get guns.

Q: We have a mayoral race here in Chicago. Crime is a hot issue. Politicians tend to want to look tough on crime. As a police leader, what do you make of that campaign rhetoric?

Beck: Well, I think it's natural that crime is a topic of conversation in Chicago. Crime is too high in Chicago. The number of murders are far too high. But I also think it shouldn't just be the rhetoric of taking handcuffs off the police. It should be the discussion of how to make police more effective. The solution is about these relationships with police and the community they serve. Shootings can be reduced in some ways, but the only permanent way I know is to, first of all increase the belief of capture after a shooting occurs. And second, especially with gang shootings, be able to clear the crime through community …

Q: Clear the crime. You're talking about solving the crime based on information from the community.

Beck: That's exactly what I'm talking about. The most effective gang homicide detectives I ever saw knew everybody in the neighborhood. And they would get calls on cases that weren't even their own. Because, A, the community knew that they weren't going to be outed by them; Two, that the community had enough contacts with them and knew the detectives' real interest was solving the case and solving it in the right way. And that made all the difference. And so, to end my story, I don't want people thinking that the solution for crime is that more aggressive, you know, more arrests, but not understanding how you affect the outcomes.
Please pardon all transcription errors.
I would add that Chicago needs to get much more serious about removing lead pipes in the city.
Open thread
Tuesday, Mar 28, 2023 - Posted by Isabel Miller
* What's goin' on in your part of the world?
* Here you go!
* Crain's | With billions in funding on the line, Illinois looks for coordinated pitches from universities, politicians and business groups: Illinois plans to get its universities, politicians and private-sector groups to work together more closely to chase billions in federal research and economic-development funding that's about to be unleashed. A new coalition called Innovate Illinois includes the state's Dept. of Commerce & Economic Opportunity and Intersect Illinois, as well as the city's economic-development arm, World Business Chicago; the University of Illinois, University of Chicago, Northwestern University, as well as community colleges; along with private-sector groups the Civic Committee and P33.

* Tribune | Tornadoes touching down in new areas; season is starting sooner and lasting longer, experts say: Victor Gensini, an associate professor in the Earth, Atmosphere and Environment Department at Northern Illinois University, said the biggest impact of climate change is on the location of tornadoes throughout the United States. He said the number of tornadoes in Plains states is trending down while the Midwest and mid-South are seeing an increase.

* SJ-R | Education legislation takes center stage in General Assembly: Following a lobby day at the Capitol during last year's veto session, state Native American organizations are one-step closer to seeing one of its highest priorities enacted. House Bill 1633 passed 75-32 on Thursday to require all public elementary and high schools to craft a course teaching Native American history beginning in the 2024-2025 school year.

* Center Square | Illinois lawmaker proposes tax credits to incentivize more affordable housing: The so-called "Build Illinois Homes Tax Credit" legislation included in House Bill 2044 and Senate Bill 1737 would be similar to a federal program now overseen by the Illinois Housing Development Authority and Chicago Department of Housing that currently helps foot the bill for affordable housing across the state.

* Center Square | $175 million in ARPA grants available to certain businesses hurt by pandemic: The Department of Commerce and Economic Opportunity (DCEO) officially launched the latest $175 million in available resources for restaurants, hotels and creative arts businesses and organizations, all of it coming from the American Rescue Plan Act with allotments for each business being based on revenue declines and tax returns. With applications being accepted from April 5 to May 10, all applicants will receive a grant as long as they meet eligibility requirements, submit proper documentation and attestations outlined by the program.

* WCIA | Illinois Lt. Gov Julianna Stratton joins Reproductive Freedom Coalition: "This coalition is needed now more than ever, and I'm proud to be a part of it," Lt. Governor Juliana Stratton said. "There is a destructive movement in full swing in this country, hammering away at the rights that give people independence and a sense of wellbeing."

* WICS | Illinois has $50 million for artists, arts organizations sidelined by COVID-19: It is called the Illinois Creative Recovery Grant Program (ICR) or Back to Business Arts (B2B Arts). Funding comes from federal sources through the Illinois Department of Commerce and Economic Opportunity and is administered by the National Community Reinvestment Coalition.

* NPR Illinois | Strikes loom on three Illinois college campuses: The latest action involves Governors State University in University Park. According to the union, 97% of members voting agreed to strike if a deal can't be reached. A 10 day strike authorization has also been filed, meaning the earliest a walk out could occur is April 7.

* NBC Chicago | New Chicago Mayoral Poll Shows Vallas With Lead on Johnson as Voters Over 50 Favor His Campaign: That poll, conducted by WGN-TV in partnership with Emerson College and The Hill, showed Vallas with a 46-41% lead over his rival, with 13% of voters saying that they are undecided in the race.

* CNN | Evanston City Council votes in favor of expanding its reparations program to repair housing discrimination: Initially, the grants of up to $25,000 were restricted to mortgage assistance, renovations or a down payment on a home. Earlier this month, the Reparations Committee unanimously recommended the inclusion of a fourth option for beneficiaries receiving payment through the housing program: a direct cash payment to beneficiaries.

* USA Today | In win for unions, Whitmer repeals Michigan's 'right-to-work' law, brings back prevailing wage: In repealing right-to-work, Whitmer reneged on a promise she made at the outset of her first term as governor to veto legislation containing appropriations. Because voters cannot subject bills that include spending provisions to a referendum, Whitmer signed an executive directive vowing to reject bills that included appropriations to circumvent the public's right to a referendum.

* AP | Greenland to stay in daylight saving time forever: "The shift of time zone marks an exciting new beginning, an equal connection to North America and Europe, and an opportunity to slow down in a fast-paced world," Visit Greenland, the local government's tourism office said in a statement.