* A little too Rutherfordesque, perhaps?…
No need for our usual @DairyQueen stop: folks at Decatur Fence Company served up delicious deer sausage at our town hall event earlier today

— Bruce Rauner (@BruceRauner) July 31, 2013
I didn't realize that deer sausage was a substitute for ice cream.
* Twitters…
No immediate action likely on Madigan/Cullerton's pay lawsuit. Judge handling the case is out this week, and 1st scheduled hearing is 11/27.

— Dave McKinney (@davemckinney123) July 31, 2013
* Let's look at some stuff in the major media reporting that we didn't have here yesterday. The Tribune writes about something that was first suggested here by a commenter on the day of the veto…
Beyond the legal rhetoric, Madigan and Cullerton allege that while Quinn vetoed out specific budget lines for the base salary of each lawmaker, he left intact in the budget bill the lump sum of $11.7 million for individual salaries. They also contend that while Quinn vetoed out individual budget lines for additional pay for party leaders and ranking committee members, he left untouched another line for the lump sum of $2.1 million in spending for those titles.

Because budget items that Quinn did not reduce or veto automatically become law, Madigan and Cullerton argue the $13.8 million in lump sums provide the spending authority for the court to order Republican Comptroller Topinka to issue legislative paychecks. Last week, Topinka said Attorney General Lisa Madigan's office advised her not to process lawmakers' pay.
I doubt that'll work. There's a long history and an attorney general opinion on how the "total" lines don't mean anything substantive. But one never knows.
* Sun-Times…
Attorney General Lisa Madigan's office is reviewing the newly-filed lawsuit and has not yet determined whether she personally will represent the governor and comptroller in the case brought by her father and Cullerton, an aide to the three-term attorney general told the Chicago Sun-Times.

"Obviously, it's just been filed. We're reviewing it right now, and we'll work out the legal representation between the governor and comptroller's office," Madigan spokeswoman Natalie Bauer said.

In an interview with the Chicago Sun-Times, Cross said any involvement by the attorney general could pose a conflict of interest given that her father is a plaintiff in the case.

"You can't continue to have issues where there's a conflict, and this could be – and I'm not saying it is – one of those where she's not able to handle this because of the alleged conflict. And that's not good," said Cross, who at one point was mulling a 2014 run for attorney general but no longer is interested.
Another manufactured controversy. She'll do what she'll do, and it won't be because of her father. Move on already.
* ABC7…
"When you get into the weeds about the law and constitution you lose people. Voters are going to remember that they went into court to sue to get their money when they weren't getting anything done in Springfield," said Laura Washington, ABC7 political analyst.
That's quite true. But it doesn't mean the media has to abdicate its responsibility and settle for those sorts of explanations.
* State Sen. Mike Frerichs is busily campaigning for Illinois treasurer. And he's having quite a bit of success on the ground…
Excited to announce that I have 63 #Democratic County Chairman standing with me as co-hosts for my 8/13 event. #twill pic.twitter.com/BODytSPBwE

— Mike Frerichs (@MikeforIllinois) July 30, 2013
* He's obviously traveling to Cook County a lot…
1 of my favorite pics from last week. Rarely do I get to practice #Mandrin on the campaign trail. #Chinatown #twill pic.twitter.com/ebg4USdGFL

— Mike Frerichs (@MikeforIllinois) July 30, 2013
* But in a rather unusual move to generate publicity, Frerichs has lately taken up the banner of climate change…
From the #Bloomington presser where I called on #Congress to #ActOnClimate NOW. #climatechange #globalwarming #twill pic.twitter.com/dWxSa0Z0Db

— Mike Frerichs (@MikeforIllinois) July 30, 2013
* More…
Champaign State Senator Mike Frerichs says central Illinois and McLean County in particular, should be extra mindful of how climate change impacts two key business sectors, agriculture and insurance.

"A lot of people in the insurance industry or agriculture, who might traditionally be Republicans, are going to see that if we don't do something to affect this, it's going to have adverse effects on their livelihood and our economy."

Frerichs says recent wild swings in weather patterns have made it hard for farmers, and insurance companies wind up paying high claim amounts. The only farmer in attendance at the news conference was U of I research engineer Eric Thorsland, a Democrat who chairs the Champaign County Zoning Board. Renner says there is now broad support among conservatives to do something about climate change and cites remarks made by United Kingdom Conservative Party Foreign Secretary William Hague. Illinois' State Climatologist Jim Angel, who also attended, says it's likely the last two extreme weather patterns–last year's drought and this year's wet spring–were both due to human causes and natural variables.
Alexi Giannoulias campaigned on abortion rights in his primary bid for treasurer, warning that his pro-life Democratic opponent might somehow hold up state checks to Planned Parenthood, etc. At least that had a tangential connection.
But, whatever. It's early. All positive publicity is good publicity, I suppose.
* Our regular commenter OneMan is at Sheila Simon's big campaign announcement today. He just sent me an e-mail with the subject line: "Well the mystery is answered." Attached was a photo of Simon's backdrop…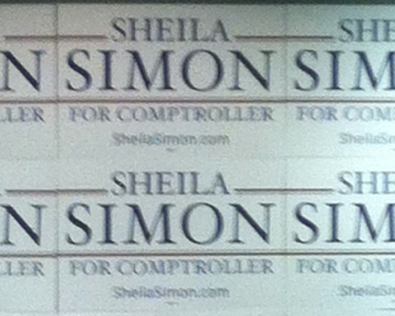 And this info…
I may be the only member of the public here.
* He followed up by saying there were only ten chairs set up at the event. I asked for a crowd pic. From the back of the room…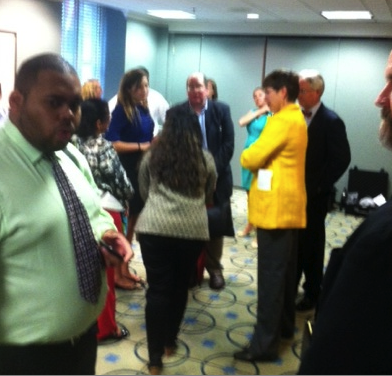 From the front of the room…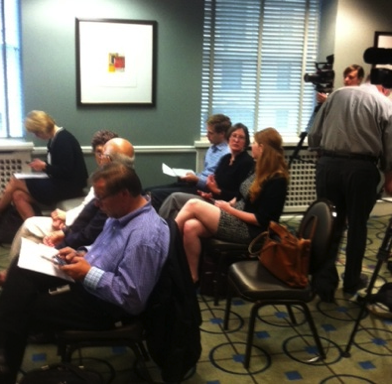 Discuss.
*** UPDATE 1 *** From the Twitters…
Comptroller Candidate Sheila Simon won't say if she endorses #ILGov2014 Pat Quinn

— Mary Ann Ahern (@MaryAnnAhernNBC) July 31, 2013
Comptroller candidate Sheila Simon is asked "have u ever taken Acctg 101?" Answer:no, defends her legal bkgd #IL2014

— Mary Ann Ahern (@MaryAnnAhernNBC) July 31, 2013
Not going well.
*** UPDATE 2 *** Also via OneMan, some not-so-stirring opening remarks…
*** UPDATE 3 *** Simon's announcement e-mail seems to address the "Accounting 101″ question…
We need a comptroller that brings accountability to Illinois - not just accounting.
* On March 8th, 2007, the Chicago Tribune editorial board compared Gov. Rod Blagojevich to a Venezuelan dictator…
This constant quest for new hills to climb conveys the governor's eagerness to solve problems and be noticed. Unfortunately, at a moment when he wanted to sell his state on some controversial concepts, he delivered a divisive populist rant ("middle-class families," good–"corporations," bad, bad, bad) that only confirms the perception of him in some quarters as a lightweight. Illinois citizens might have been swayed Wednesday by the bring-us-together touch of Barack Obama.

Instead they got Hugo Chavez.
That was a way over the top comparison, even for the Tribune. But what the paper was attempting to do was ratchet down the governor's rhetoric, so it was at least somewhat understandable in hindsight.
* On October 28, 2007, the Chicago Tribune editorial board suggested that Blagojevich be removed from office…
Should Rod Blagojevich remain as governor of Illinois?

He shows no inclination to resign from office. And while the state constitution does allow for his impeachment by the Illinois House and trial by the Senate, it's doubtful legislators could bring themselves to such drastic action. So the realistic question becomes this: Given the multiple ineptitudes of Rod Blagojevich — his reckless financial stewardship, his dictatorial antics, his penchant for creating political enemies — should citizens create a new way to terminate a chief executive who won't, or can't, do his job? [Emphasis added.]
* But the Tribune has long forgotten its diatribes against Blagojevich. The proof is today's editorial, which reads like it could've been drafted by Rod himself…
Turns out, to get lawmakers to sense an emergency, you have to suspend … their … pay. Quinn pulled out his red veto pen and suddenly Madigan and Cullerton sprang to action, demanding an injunction to force the state to pay the 177 members of the General Assembly. Payday is Thursday. Pony up!

Madigan's and Cullerton's lawsuit against Quinn and Comptroller Judy Baar Topinka claims Quinn violated the separation of powers in the Illinois Constitution by stripping lawmakers of their salaries. Quinn, remember, made his move to compel action on pension reform, the single biggest issue strangling this state's finances.

Oh, how the Constitution becomes the beacon of justice for our state's Democratic leaders when it serves their interests. On other matters outlined in the Constitution — fair redistricting (Article 4, Section 3), bill introductions, passage and single subject (Article 4, Sections 7 and 8), special legislation (Article 4, Section 13), state finances (Article 8, Sections 1 and 2) and primary funding of education (Article 10, Section 1) — the General Assembly often takes a more relaxed approach toward constitutional obligations. Yes, when it comes to the document's language on balanced budgets, education funding, compact and contiguous districts — well, they try their best.
How dishonest can they possibly get? They skirt the real constitutional question of the Quinn veto by insinuating that other legislative actions are unconstitutional, even though every single one of those actions have been upheld by the courts, some of them repeatedly.
The editorial board appears to desire a banana republic. So, who's Hugo Chavez now?
…Adding… From a commenter…
I love the line "Oh, how the Constitution becomes a beacon of justice…when it serves their interests."

But notably absent in the Trib's listing of items in the Illinois Constitution is the pension protection clause. Probably just an oversight.
Like I said, they appear to desire a banana republic.
* The DCCC sent out a press release yesterday morning with this subject line…
Meltdown Mike Bost Botches His Rollout
* From the e-mail…
Meltdown Mike Bost's rollout went so badly that Bost is probably yelling right now – but this time he's got no one to yell at but himself. The headlines tell the tale of the Springfield lifer's botched rollout:

"Paper-flinging Illinois state Rep. Bost running for Congress"

"Congress may get quite a bit rant-ier in 2015″

"Congress Could Get Angrier"

"Mike Bost's Greatest Hits"
Actually, there wasn't much to the stories. Just cute headlines. No serious botching there.
* What was really botched, however, was the "greatest hits" video that was distributed by southern Illinois Democrats and pushed by the DCCC which ostensibly bashed the Republican legislator who has tossed his hat in the ring for Congress.
I told you about the video on Monday. What you may not know is that since then, it was removed from YouTube due to an alleged copyright violation…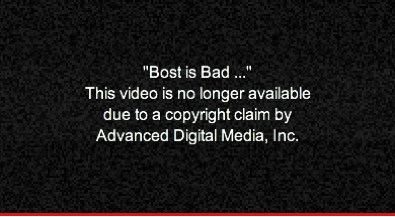 Oops.
* Advanced Digital Media runs BlueRoomStream.com, which broadcasts legislative debate over the Internet.
From Tony Yuscius at Advanced Digital Media…
Our HD Mike Bost footage that was part of the "Bost is Bad" compilation cannot be used for campaign commercials as part of our licensing. The additional ILGA session footage is not ours and is subject to ILGA rules. The objection was only for our footage that was not licensed by the campaign using it.
Oops.
* Missed in all the hoopla over the lawsuit filed to stop Gov. Pat Quinn's legislative salary veto was this report from WUIS' Brian Mackey…
The 10-members of the bipartisan conference committee have been meeting for more than a month. A good chunk of that time has been waiting for actuaries to analyze the various proposals — seeing how much of Illinois' nearly $100 billion in unfunded pension liabilities might be eliminated.

"We sent a — hopefully — a final round of scoring back to the actuaries to come up with some solution," says Sen. Bill Brady, R-Bloomington.

He says there's been "a great deal of compromise" among his fellow pension committee members.

"I'm hopeful that our work and effort will bring the conference committee to a consensus resolution, and then we can employ the legislative leaders to help us pass a bill," he says.
So, they've been compromising and they may be on their final draft.
* And maybe the governor ought to be asked about this salient point at the Chicago presser he's holding today to cut yet another ribbon…
Like other members of the committee, Brady says he hasn't heard from Gov. Pat Quinn — or anyone on the governor's staff — since Quinn vetoed lawmakers' salaries as punishment for not passing pension legislation.
Quinn has not changed a single legislative mind on pension reform. They're making progress despite his grandstanding, not because of him.