* You may recall this announcement back in May…
Today, the JB Pritzker for Governor campaign released its second TV ad, "Incubate."

"Incubate" highlights JB's visionary work to grow Illinois into one of the top technology hubs in the world. Five years ago, JB brought tech leaders and entrepreneurs together to found 1871, a non-profit technology incubator.
That ad is no longer online.
* The deleted ad featured several entrepreneurs praising Pritzker, including Outcome Health President Shradha Agarwal, who said this…
JB Pritzker really saw the potential of being able to grow tech jobs right here… One thing I love about JB is that he's a visionary but he gets it done.
Click here to watch the old ad, which was helpfully downloaded by a campaign that doesn't want its name used.
The Pritzker campaign replaced the old ad on November 6th with a new version of the "Incubate" ad, which you can see by clicking here. Outcome Health's Shradha Agarwal is not in that new replacement ad.
Why might that be?
* Well, here's today's Tribune…
Investors in Outcome Health are not giving up on their effort to freeze $225 million set to be distributed to two founders of the Chicago startup after a New York judge denied their initial request.

The investors — including units of Goldman Sachs and Google and a fund co-founded by Illinois gubernatorial candidate J.B. Pritzker — last week sued Outcome Health, CEO Rishi Shah and President Shradha Agarwal, alleging fraud as the company secured $487.5 million in funding and rose to a valuation of $5.5 billion. […]

Sanford Michelman, an attorney for Outcome Health, said in a statement that the investors are "continuing to create an inappropriate distraction after New York's courts declined their baseless arguments multiple times."

"This irresponsible abuse of the legal process is seeking to prevent the founders from using their own money to reinvest in the company," Michelman said. [Emphasis added]
Ouch.
* The campaign had this explanation…
She was in the original 60 second version of the ad that aired earlier this year, but she is not in the 30 second version of an ad about JB's work to build 1871 that could air later in the race.
Yeah. OK.
- Posted by Rich Miller 9 Comments


* Laura Washington moderated a candidates forum last night. She asked them whether they would support Mayor Rahm Emanuel's reelection today…
Chris Kennedy: I think he's destroying our communities, he's destroying the economic future of our state. Everything is driven by Chicago, and you can't have an educational system where something like 75 percent of the kids who graduate CPS are so undereducated that they need remedial education. And then he allows an institution like this that provides that remedial education to practically be destroyed. He doesn't believe what I believe in.

Laura Washington: Mr. Pritzker?

JB Pritzker: So many challenges that Rahm Emanuel has brought to the City of Chicago, it's important for us to recognize that the chronic underfunding of schools in neighborhoods that most need that funding is something that we need to stand up against. The chronic challenge of violence in our communities, something that I believe Rahm Emanuel has not done a good job of. We need to make sure that we're standing up against those basic principles. Now, what Bob Daiber said is right, which is let's see who the candidates are in 2019. Who's going to emerge here? Because we need to make sure that we've got someone that will stand up for a better education system, who's going to stand up for our communities of color all across the City of Chicago. I always believe you always have to ask the question who are the candidates and then answer it.

LW: But you're unhappy with his leadership?

JB: I am.
OK, Pritzker did criticize Emanuel, but that "let's see who the candidates are" kinda reminds me of when he was asked if he planned to vote for President Barack Obama in 2012: "We'll have to wait and see. I don't know who the nominee's gonna be on the Republican side."
* Video…
* Kennedy, meanwhile, threw out an idea during the forum…
Chris Kennedy: The leadership of this state needs to look like the state itself. There needs to be a Rooney Rule. For every executive, every appointment, everybody that gets hired by the State of Illinois, the last pool of candidates there needs to be a woman. That's how it has to change. I've seen what government can do. I remember my older sisters not being able to play sports, and my younger sister required to play sports on the very fields that my older sister was not allowed to play on because she was a woman. And then Title IX is passed and we see the incredible advancement. My own kids, four of them, they played on a collective 25 sports teams in college – I mean in High School. None of that would have been possible, those girls would not have played had their middle school and grade schools not been required to teach them sports. The government can do great things, but the government that we have today looks the other way. Once again bills come close to being passed and they fail, the Democratic Party doesn't get the job done. And they say to us, 'we'll just elect a few more Democrats, we'll get it done in the next election.' Quit falling for that trap.

Laura Washington: Mr. Kennedy could I just quickly follow up on that. Can you explain how you would implement the Rooney Rule?

CK: - So the Rooney Rule…

LW: - As governor. And what you would actually do…

CK: How that works? The Rooney Rule was a – is a rule that's been in place in the National Football League and it's named after the owner of the Pittsburgh Steelers who's since passed away. And they recognized that there was a lack of African-American leadership within the team organizations, outside of the players themselves. And they wrestled with that and they really didn't do enough to change the culture. And he came up with this notion that in the final candidate pool of 3, for any job in management, in any team anywhere in the NFL – not the corporate part of the NFL, but in every team, at the Bears, at the Steelers, at the Giants, anywhere, that there had to be an African-American candidate in that pool. And that forced the teams, the recruiting professions, others to bring in and start sourcing talented African-Americans and it changed the face of the NFL as far as management goes. That notion can be applied to any targeted audience.

LW: So how would you do it? Are you suggesting that you would make sure that every candidate in your administration for every position?

CK: Yeah, every candidate in the administration… Every position would be required that there would be at least one woman in the final candidate pool.
Video is here.
- Posted by Rich Miller 19 Comments


* NBC 5's Mary Ann Ahern aired some footage yesterday of her interview with Gov. Rauner last month. She asked him back then about "allegations of sexual misconduct by a former member of his inner circle." His response…
Ahern: Did you do everything you should've done?

Rauner: I don't, Mary Ann, I'm not even sure what you're referring to. I don't, that's a, I don't, I don't agree with that question whatsoever. M… M… Mary Ann, you're…

Ahern: Staffers are aware, but are you not aware of it?

Rauner: Mary Ann, you're making some claims that I think you should be, you know, go check out. I'm not sure what you're referring to.
That was not easy to transcribe. But while I had the video on pause during that stuttering burst (you really should click here to watch it), I made this screen capture…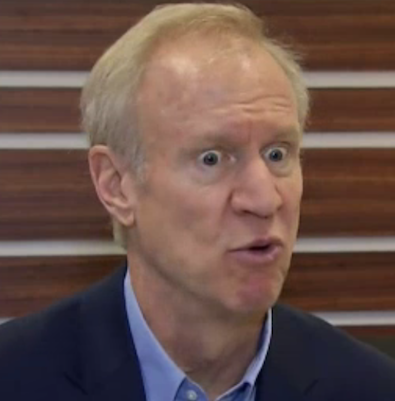 She really knows how to make politicians uncomfortable.
* As we discussed yesterday, Rauner's answer these days is more polished…
Any specific requests or questions you have about anything pending really needs to go to the inspector general. I am not authorized to comment about it.
* Last night, I hunted down an old video of Mary Ann grilling Gov. Rod Blagojevich. She obviously hasn't lost her touch…
Heh.
- Posted by Rich Miller 33 Comments