* From 2015…
Remember the old joke about going to a boxing match and having a hockey game break out? Well, something like that happened last weekend in Springfield.

Marcus Lucas invited people to his house for a cookout. I know, stop the presses, right? But …

A couple of hours into the party, Marcus disappeared. He came back wearing a white suit. His girlfriend, Jackie Price, had changed from her Dallas Cowboy jersey into a white dress.

Oh, yeah, something was up. People went to a barbecue and a wedding broke out.

"It was the first 'pop-up wedding' I've ever seen," Rich Miller, the Capitol Fax guru who was there, wrote via e-mail, "and so incredibly romantic. People have been wondering for years when the two would get married. But instead of eloping to Vegas or having an elaborate ceremony, they kept it low-key and so very personal by just throwing a little party and treating everyone to an incredibly happy surprise. Unlike a lot of weddings I've attended, I'll never forget this one." […]

"We usually have a big cookout every year," says Marcus. "Jackie was joking, saying, 'I'm sure for the next one we'll have a packed house.' They'll be waiting for something to happen."
It was so much fun and the food was outstanding. I never will forget it, and neither will anyone else who was privileged to be there…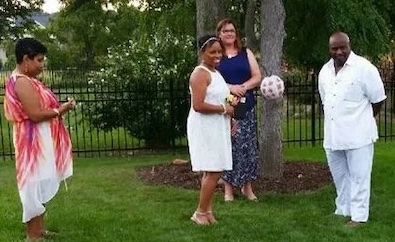 Sadly, Marcus passed away this week. I'd like to extend my deepest condolences to his family and friends. He was such a good man.
* The late, great Harry Belafonte will play us out…
All hungry children are going to eat
* Wirepoints…
New IRS Migration data: #California suffered the worst outflow of money of any state in 2020.

It lost a net $29.1 B in AGI, or 2.0%, while a net of 332K residents moved out. NY and IL were #2 and #3. Via @Wirepointshttps://t.co/C7q7gLyn2x #twill #muniland #illinois #NewYork… pic.twitter.com/BQPwCV2JKq

— Wirepoints (@Wirepoints) April 28, 2023
* From the governor's office…
This is not migration data – it's data for where people file taxes compared to prior filing periods – its scope is limited and there are a lot of caveats. The census report is the standard for determining domestic migration.
The IRS calls it "migration data." But the governor's office referred me to these points in the IRS data user guide…
The address shown on the tax return is a mailing address that may not reflect the taxpayer's actual residence. […]

Data do not represent the full U.S. population because many individuals are not required to file an individual income tax return.
* Meanwhile, budget pressures keep increasing…
Lead poisoning from consuming contaminated water can cause irreversible brain damage in children. But too many Illinois childcare facilities have old lead pipes carrying water into their buildings.

Ask Governor Pritzker and the General Assembly to dedicate $104.3 million in the FY2024 budget to eliminate lead water pipes from licensed childcare facilities.
* Press release…
Supportive Housing Providers Association (SHPA) Executive Director David Esposito testified before the Senate Health & Human Services Appropriations Hearing Wednesday night. SHPA and its partner organizations are requesting a funding Increase for Supportive Housing Program Services Supports to be included as part of the FY24 budget. SHPA continues to be grateful for the commitment to funding for supportive housing services by the Illinois General Assembly in the FY23 budget, however, the need to respond to the social and economic fallout from the COVID-19 pandemic continues. "Everyone needs and deserves safe, decent, stable housing. For some of the most vulnerable people in Illinois — people with mental illness, chronic health conditions, histories of trauma, and other struggles — a home helps them to get adequate treatment and start on the path toward self-sufficiency. But some conditions make it difficult for people to maintain a stable home without additional help. Supportive housing, a highly effective and proven strategy that combines affordable housing with intensive coordinated services, can provide that needed assistance.," said Mr. Esposito, he went on to say, "The issues of affordable housing and homelessness have been made even more urgent by the economic impacts of the COVID-19 pandemic. Specifically, when it comes to homelessness, this is a challenge not just happening in Illinois, but across the nation, and it has deep and immediate impacts on the lives of all it touches,"

Supportive housing providers are experiencing the largest workforce crisis in decades, program cost increases and are struggling to meet increased demand for services from individuals who, but for the support of providers such as the those that are SHPA members, would be homeless or institutionalized, and facing steep barriers to housing, health and behavioral healthcare, and human services. Instead, they'd rely on hospital emergency rooms, jails, and prisons to meet their immediate needs.

· 10,431 Illinoisians are Homeless Tonight- 47.5% have a disabling condition- 20% are experiencing chronic homelessness.
· Illinois had the 5th highest increase in the rate of chronic homelessness in the nation.
· 17,684 Supportive Housing beds are currently dedicated to Illinoisians who have experienced homelessness or unnecessary institutionalization
· 40,749 Additional Illinoisians need Supportive Housing now-
· 8 times higher for Black/African Americans households to experience homelessness in Illinois.

SHPA is requesting the General Assembly to appropriate a total $57,095,130 (increase $14.5 million) to supportive housing services in the FY24 state budget (breakdown as follows): General Revenue:

· $ 28,060,180 Supportive housing MI Housing (IDHS-Division of Mental Health)
o $ 2,271,380 increase for 10% cost of living increase for all current homeless and supportive housing grantees to offset increased program related costs.
o $ 3,075,000 increase to support services to 308 new unit development between 2022 & 2023.
· $ 25,314,200 to Supportive Housing Services (IDHS-Bureau of Homeless Services)
o $ 1,649,010 increase a 10% cost of living increase for all current homeless and supportive housing grantees to offset increased program related costs.
o $ 7,175,000 increase to support services to 718 new unit development between 2022 & 2023.

State Grants:

· $ 3,720,750 to Supportive Housing Mental Health Services and a $ 338,250 increase to for a 10% cost of living increase for all current supportive housing grantees to offset increase program related costs.
* And…
Dear Leaders Harmon, Welch, McCombie, and Curran:

Thank you for your continued support and recognition of Illinois' Community Health Centers (FQHCs) as a longstanding bipartisan solution to the primary care access problems facing our state. As you proceed with the Fiscal Year (FY) 2024 appropriations process, we respectfully request that you include $100 million ($50 million GRF + $50 million federal match) within the Department of Healthcare and Family Services' budget to increase reimbursement rates for Illinois' Community Health Centers (FQHCs).
* I'm assuming this will be immediately appealed since ten days ago the 7th Circuit US Court of Appeals denied an injunction pending appeal of a case that went the opposite way up north. From Southern District Court Judge Stephen McGlynn…
(C)an [the Illinois Protect Illinois Communities Act] be harmonized with the Second Amendment of the United States Constitution and with Bruen? That is the issue before this Court. The simple answer at this stage in the proceedings is "likely no." The Supreme Court in Bruen and Heller held that citizens have a constitutional right to own and possess firearms and may use them for self-defense. PICA seems to be written in spite of the clear directives in Bruen and Heller, not in conformity with them. Whether well-intentioned, brilliant, or arrogant, no state may enact a law that denies its citizens rights that the Constitution guarantees them. Even legislation that may enjoy the support of a majority of its citizens must fail if it violates the constitutional rights of fellow citizens. For the reasons fully set out below, the overly broad reach of PICA commands that the injunctive relief requested by Plaintiffs be granted. […]

Assuming arguendo that there is no presumption of harm for an alleged violation of the Second Amendment, Plaintiffs still satisfy this element. For example, Barnett and Norman are no longer able to purchase any firearm, attachment, device, magazine, or other item banned by PICA, while Hoods and Pro Gun are now prohibited from selling said any item banned by PICA. These harms are irreparable and in direct violation of the Second Amendment right to bear arms in self-defense. There is no question that the right to armed self-defense is limited by PICA, and in some cases, may be prohibited altogether. It is true that not all items are banned under PICA; however, if a lawful citizen only possesses items that are banned under PICA, he or she would have to purchase a non-banned firearm in order to legally defend oneself under the Second Amendment. […]

Although Defendants challenged the veracity of Plaintiffs' evidence, they were unable to produce evidence showing that modern sporting rifles are both dangerous and unusual. Consequently, Defendants failed to meet their burden to demonstrate that the "arms" banned by PICA are "dangerous and unusual" and thus not protected by the Second Amendment. See Bruen, 142 S. Ct. at 2128 (emphasis added). […]

Plaintiffs have satisfied their burden for a preliminary injunction. They have shown irreparable harm with no adequate remedy at law, a reasonable likelihood of success on the merits, that the public interest is in favor of the relief, and the balance of harm weighs in their favor. Therefore, the Plaintiffs' motions for preliminary injunction are GRANTED. Defendants are ENJOINED from enforcing Illinois statutes 720 ILCS 5/24-1.9(b) and (c), and 720 ILCS 5/24-1.10, along with the PICA amended provisions set forth in 735 ILCS 5/24-1(a), including subparagraphs (11), (14), (15), and (16), statewide during the pendency of this litigation until the Court can address the merits.

The Court recognizes that the issues with which it is confronted are highly contentious and provoke strong emotions. Again, the Court's ruling today is not a final resolution of the merits of the cases. Nothing in this order prevents the State from confronting firearm-related violence. There is a wide array of civil and criminal laws that permit the commitment and prosecution of those who use or may use firearms to commit crimes. Law enforcement and prosecutors should take their obligations to enforce these laws seriously. Families and the public at large should report concerning behavior. Judges should exercise their prudent judgment in committing individuals that pose a threat to the public and imposing sentences that punish, not just lightly inconvenience, those guilty of firearm-related crimes.
Stay tuned for react.
…Adding… Speaking of the Bevis case…
A Naperville gun shop owner is asking the U.S. Supreme Court to block Illinois' assault weapon ban while he fights the law in federal court.

Robert Bevis is seeking an emergency junction, one week after a federal appeals court in Chicago turned down his request.

"This is an exceedingly simple case," Bevis argues in his appeal, filed on Wednesday. "The Second Amendment protects arms that are commonly possessed by law-abiding citizens for lawful purposes, especially self-defense in the home."
…Adding… Press release…
State Rep. Bob Morgan (D-Deerfield), the chief sponsor of the Protect Illinois Communities Act ("HB5471"), responded to the decision from U.S. District Judge Stephen McGlynn of the Southern District of Illinois in East St. Louis, after McGlynn issued an injunction against the Illinois assault weapons ban that was signed into law on January 10, 2023. The decision comes after U.S. District Judge Lindsay Jenkins, and U.S. District Judge Virginia M. Kendall, both out of the Northern District of Illinois, separately rejected similar requests for an injunction.

"This news is disappointing, but we remain encouraged as we've already had two federal judges in Illinois refuse to block the law," said Rep. Morgan. "Since its enactment, this law has already prevented the sales of thousands of assault weapons and high capacity magazines in Illinois, making Illinois communities safer for families. This is necessary and life-saving legislation, and we feel confident we will ultimately prevail in a higher court."

This conflict in rulings will now move the issue to the 7th Circuit U.S. Court of Appeals. This injunction does not impact the prohibition on rapid-fire devices, the interstate firearm trafficking strike force, or extension of the duration of a firearm restraining order established under HB5471.

Rep. Morgan serves as Chair of the Illinois House Firearm Safety Reform Working Group. He has seen firsthand the devastating effects that gun violence can have on a community. Highland Park, IL is a part of his 58th District, and he was present at the tragic Fourth of July mass shooting in 2022 during which 83 rounds were fired in less than 60 seconds, killing seven and injuring 48 people.
* G-PAC…
Today, the Gun Violence Prevention PAC (G-PAC) released the following statement from John Schmidt, a former U.S. Associate Attorney General and member of the Executive Board of G-PAC, in response to Southern District Court Judge Stephen McGlynn's decision to enjoin the state from enforcing the Illinois' assault weapons ban.

"Given comments he made from the bench at the hearing in East St. Louis on April 12, Judge McGlynn's decision to rule against the Illinois ban on assault weapons and high capacity magazines is not surprising. But it is still disappointing. It is directly contrary to the prior decisions of two Chicago federal judges, Judge Virginia Kendall and Judge Lindsay Jenkins, both of whom found the new statute "constitutionally sound" and declined relief. We believe Judges Kendall and Judge Jenkins are right, and Judge McGlynn is wrong.

"Judge Kendall's decision is already on appeal to the Seventh Circuit Court of Appeals, and that Court also declined to grant any immediate relief. We have confidence that the Attorney General representing the State of Illinois will take all possible actions to try to assure that the statute continues to remain in effect while litigation proceeds."
*** UPDATE *** Attorney General Raoul has filed a motion with the Southern District to stay the preliminary injunction pending appeal…
The Court's Preliminary Injunction Order is inconsistent with two prior rulings from two different judges in the Northern District of Illinois rejecting requests to preliminarily enjoin the Act on materially indistinguishable Second Amendment claims. See Bevis v. Naperville, No. 22- cv-4775, Dkt. 63, 2023 WL 2077392 (N.D. Ill. Feb. 17, 2023); Herrera v. Raoul, No. 23-cv-532, Dkt. 75, 2023 WL 3074799 (N.D. Ill. April 26, 2023). The Court's Preliminary Injunction Order neither mentions nor analyzes why those two rulings on the same Act and the same type of Second Amendment claims were erroneous. They were not. The Seventh Circuit has also had the opportunity to enjoin the Act while considering the Bevis appeal, and it denied that request on April 18, 2023. Bevis v. Naperville, No. 23-1353, Dkt. 51 (7th Cir.) (denying motion for injunction pending appeal).

In order to avoid inconsistency and confusion—particularly given that refusing to stay the Preliminary Injunction Order would have the practical effect of overriding the Seventh Circuit's contrary order in Bevis—this Court should stay its Preliminary Injunction Order while the Seventh Circuit considers the merits of the State Defendants' interlocutory appeal. Furthermore, the Court should stay its Preliminary Injunction Order because: the Act does not violate the Second Amendment and Plaintiffs' Second Amendment claims will ultimately fail on the merits; enjoining the Act inflicts irreparable harm on the public by allowing the weapons preferred by mass murderers to continue to proliferate; and the public interest favors allowing the Act's restrictions on assault weapons and large capacity magazines to remain in effect.
I doubt it'll work, but there you go.
* Here's a factoid I hadn't yet seen or forgot seeing it if I did: Lori Lightfoot received fewer votes in the first round this year than she received in the first round four years earlier.
In the first round of the 2019 Chicago mayoral race, candidate Lori Lightfoot received 97,667 votes. She went on to win the runoff with 386,039 votes, or 73.7 percent, against Toni Preckwinkle.
Four years later during 2023's first round, Mayor Lightfoot received 94,890 votes. That's 2,777 fewer votes than four years prior and 291,149 less votes than she got in the 2019 runoff.
Whew.
* Shaw Local…
A Republican businessman and philanthropist from Galesburg will challenge the 17th District's freshman congressman in November 2024.

Rafael "Ray" Estrada, 56, said he plans to tackle U.S. Rep. Eric Sorensen, D-Moline, a former TV weatherman who took over the seat formerly held by fellow Democrat Cheri Bustos after beating GOP challenger Esther Joy King in 2022.

Earlier this month, the National Republican Campaign Committee announced its plans to put a bullseye on Sorensen and 36 other "vulnerable" Democrats […]

Estrada, whose family fled civil war Nicaragua 44 years ago when he was 12, is president of the nonprofit Estrada Global Foundation, "which provides aid to refugees and displaced citizens through direct assistance that helps provide for their basic needs and safety." according to the release.
* The Strategy group won several Pollies…
Direct Mail - Candidate Division
For Governor - Democrat [Wisconsin Governor Tony Evers]
Gold: Don't Run. We Are Tracking You
Silver: Alleged "Miscarriage"

For U.S. Senate - Democrat [US Sen. Tammy Duckworth]
Silver: Relentless

Best Use of Targeting
Bronze: Don't Run. We Are Tracking you [Wisconsin Governor Tony Evers]

Collateral
Most Original/Innovative Collateral Material - Democrat [Long Beach Mayor Rex Richardson]
Bronze: Mayor Rex

Regional - Overall Division
Direct Mail - For Local/Municipal/Mayoral - AAPC West [Los Angeles Mayor Karen Bass]
First place: Way Out of No Way
They also won some Reed Awards.
* Uber press release…
Yesterday, the City of Chicago released an independent study commissioned on behalf of the Department of Business Affairs and Consumer Protection (BACP) that revealed Transportation Network Providers (TNP) chauffeurs, also known as rideshare drivers, are making over $1,000 weekly on average. Additionally, 25% of drivers earn between $28.90 - $37.90 per hour after expenses, while 65% of drivers make $18.90 - $27.90 per hour after expenses. The study, conducted by Crowe LLP, evaluated drivers who complete more than 30 hours of driving per week.

The study found that including all time online on an app, <24% of drivers work >30 hours per week and 25% of all rideshare drivers worked on multiple apps. Based on the findings, no full-time Uber or Lyft drivers earned < $21 a hour over the study period (all the way back to 2017) and only 0.4% of part time drivers did after expenses. Even including all online time (including duplicated time), >80% of full-time rideshare drivers and >55% of part-time rideshare drivers earned more than $20 an hour after expenses, dating back to 2017.
The study is here.
* From the City of Chicago…
• The City is currently housing 2,702 migrants
• 3,936 clients have arrived on buses from the border and have been taken to shelters since September of 2022
• An additional 3,144 clients have been placed into shelters through the 311 system since September of 2022
• Catholic Charities has provided Outmigration Services for over 705 clients […]

Country of Origin
Venezuela - 3589
Colombia – 336
Nicaragua – 186
Ecuador – 84
Peru – 37
Honduras – 16
Mexico – 11
Cuba – 10
* Isabel's roundup…
* Crain's | Illinois delegation asks Congress for $75M to pay for 2024 DNC: In a letter to the chairs and ranking members of the Senate and House appropriations subcommittees on commerce, the Illinoisans are asking that a total of $150 million be appropriated, half to Chicago and half to Milwaukee, where the Republicans are due to meet.

* Crain's | Report allegedly reveals how Dan Proft's news sausage gets made: What makes the Post's story notable — beyond exposing the process and that operatives for Donald Trump are interested in the platform — is the ongoing investigation by the Illinois State Board of Elections into alleged illegal coordination between Proft's People Who Play By The Rules PAC and Bailey's campaign during last year's election. As an independent expenditure group, the PAC is forbidden from collaborating, either directly or indirectly, with a candidate for office.

* Crain's | A 'ComEd Four' prosecutor finally explains why some executives weren't charged: As part of his final address to jurors, lead prosecutor Amarjeet Bhachu provided an answer: No one at the utility or its parent, except Pramaggiore, had the full view of the pile of favors being done for Madigan. … In a slide shown to jurors as Bhachu discussed the issue, the names of the three were shown with this comment: "1. 'The question is whether the defendants had corrupt intent — not someone else.'" "None of those folks had the full picture," Bhachu said.

* Fox Chicago | Family of Illinois man fatally struck by ambulance hopes measure will save lives: The measure would require ambulance drivers to slow down and use both lights and sirens before proceeding through red lights or stop signs, and would expand training on situations warranting the use of lights and sirens.

* Daily Herald | 'We're the envy of what most cities want to be': Outgoing Naperville mayor reflects on his two terms: During his tenure, Chirico, 63, guided the city through an era of strong economic development and financial stability. He also dealt with unexpected setbacks caused by the pandemic, civil unrest and a devastating tornado.

* Herald-Whig | Eyler kicks off campaign for Adams County state's attorney: A Republican, Eyler has served as first assistant state's attorney in Adams County since December 2016 when State's Attorney Gary Farha took office. Eyler said no matter what changes lawmakers in Springfield make to criminal law in Illinois, the state's attorney's office will continue to prosecute crime.

* Casino | Circa Sports Approved for Illinois Betting License, Eyes August Launch: Circa applied for an Illinois sports wagering license nearly a year ago. From here, the operator must make a written request to the IGB to start accepting bets in the state. Upon approval, Circa will be the eighth gaming company to offer mobile sports betting in the sixth-largest state.

* Tribune | A decade into the work, Chicago is finally taking out toxic lead pipes when it replaces water mains: On every one of the 792 miles dug up, crews hired by the Department of Water Management connected new cast-iron water mains to old lead pipes known as service lines that bring water into single-family homes and two-flats.

* Sun-Times | Noose found on tree at Naperville middle school: Naperville police are investigating after a noose was found on the grounds of an Indian Prairie Unit District 204 middle school. The noose was found Thursday in a tree at Scullen Middle School, according to Lisa Barry, the district's spokesman.

* SJ-R | Springfield, Logan County receive grant money for Route 66 projects: The state announced Thursday that Springfield would be receiving $623,000 from the Department of Commerce and Economic Opportunity's Route 66 Grant Program to help in the construction of 12 murals connecting the city and other cities and villages in central Illinois to other murals in the Illinois & Michigan Canal National Heritage Corridor – located in the Chicago area – and the Great Rivers & Routes area in the Metro East suburbs of St. Louis.

* AP | Iowa flooding: Cities work to keep out Mississippi River floodwaters: The Upper Mississippi River will rise to near record-high levels as it flows through Wisconsin and Iowa, but officials said they expected to hold back floodwaters with a combination of flood walls, temporary barriers and wetlands, especially if dry weather continues.

* Sun-Times | 4-year-old, 2 adults hospitalized after SUV crashes into day care center in Chatham. 'My heart dropped instantly.': A man, 34, was driving with his 4-year-old to the center when he accidentally accelerated and drove through the front window, according to the day care center's owner, Raekwon Neighbors, and Chicago police.

* Fox News Poll | Voters favor gun limits over arming citizens to reduce gun violence: After a series of mass shootings this spring, including the killing of several students at a private Christian school in Tennessee, voters would prefer focusing on specific gun control measures rather than arming citizens to reduce gun violence.

* Tribune | 'Put it on me,' White Sox GM says of team's worst start since 1986: "Put it on me," Hahn continued. "I'll tell you this, let's make this real clear, it sure as heck isn't on (manager) Pedro (Grifol) and his coaching staff. They are doing everything in their power to prepare, focus on what's controllable, what's fixable, addressing the problems as they arise. And are really doing everything in their power to get this thing right. It's absolutely not on the manager and the coaches.

* STLPD | Elvis is in the building during Illinois Elvis Festival in Collinsville: Elvis tribute artists take to the stage to the delight of Elvis fans during the Illinois Elvis Festival at the Gateway Convention Center in Collinsville. The festival continues on Friday and Saturday with two shows each day. ETA Festivals, the organizers of the event, said they expect 6-8,000 people to attend the shows over the weekend. The event features 12 different Elvis tribute artists, including Bill Cherry and 14-year-old Finley Watkins from Bernie, Mo.

* CNN | Twitter's former CEO has a new app that looks a lot like Twitter: But under the hood, Bluesky, developed by Twitter co-founder and former CEO Jack Dorsey, is vastly different. The app, which launched in a closed beta on iOS in February and on Android this month, runs on a decentralized network which provides users with more control over how the service is run, data is stored, and content is moderated.
* Amanda Zurawski is one of five women suing the state of Texas for denying abortions after medical complications…
Listen to Amanda Zurawski testify about the physical and psychological trauma that Texas' abortion bans inflicted on her after her pregnancy failed. It's a horrific story that has played out again and again since the Supreme Court abolished the right to abortion. pic.twitter.com/DJhGo4HCgO

— Mark Joseph Stern (@mjs_DC) April 26, 2023
* Alabama..
People often ask Dr. Leah Torres why she stays in Alabama.

The 43-year-old OB-GYN — who strides into her clinic most mornings wearing a clitoris pendant and T-shirts with slogans that declare "ABORT THE PATRIARCHY" — does not consider this conservative Deep South state her home. […]

The center was one of the busiest abortion clinics in the state, until the Supreme Court struck down Roe vs. Wade last year. Abortion became illegal in Alabama, one of over a dozen states with full bans. Now that doctors who perform the procedure in Alabama risk up to 99 years in prison, Torres finds herself, once again, unable to offer the full spectrum of reproductive medical care she was trained for.

But Torres has no intention of backing down.

"You don't want me here? That's why I'm gonna stay," she said, sitting at a desk strewn with laboratory invoices and a tiny fetus replica handed out by antiabortion campaigners. "I'm not leaving, just out of spite!"
* Missouri…
When Hollis Moore was looking for their next teaching position four years ago, they read news articles and tried to look for signs that a school district would be supportive of their identity. […]

Expectations for how Moore could describe themself changed again in February of this year. Moore said an administrator read them a new directive.

"I was not to say that I was nonbinary, I was not to say that I was not a boy or a girl, I was not to talk about 'genderless lifestyles,' because these things would be considered sex education, and sex education was something governed by Missouri laws," Moore recalled.

Also in February, a second openly trans employee heard about the same policy. Delilah Wylde said she was told she could not discuss her identity two days into her new job as a guidance counseling substitute.

"They read some very offensive policy on how they considered my gender identity to be sexual education, which I obviously was not happy about, because they have essentially sexualized my identity," Wylde said. "And that's a very dangerous place to be in as an educator because you're working with kids."
* The Lieutenant Governor of Texas…

Allowing the Ten Commandments and prayer back into our public schools is one step we can take to make sure that all Texans have the right to freely express their sincerely held religious beliefs.

I will never stop fighting for religious liberty in Texas. https://t.co/b3tCbrqfbf

— Dan Patrick (@DanPatrick) April 27, 2023
* Moving to Wisconsin…
Last summer, administrators at Bradford High School in Kenosha, Wisconsin, met as they do every year to plan for the incoming class of ninth graders. From a roster of hundreds of middle schoolers, Assistant Principal Matt Brown and his staff made a list of 30 to 40 students who they suspected might struggle the most to graduate. […]

But in most cases, the students on Bradford's list for summer visits land there because of a label — "high risk"— assigned to them by a racially inequitable algorithm built by the state of Wisconsin, one that frequently raises false alarms.

Since 2012, Wisconsin school administrators like Brown have received their first impression of new students from the Dropout Early Warning System, an ensemble of machine learning algorithms that use historical data — such as students' test scores, disciplinary records, free or reduced-price lunch status, and race — to predict how likely each sixth through ninth grader in the state is to graduate from high school on time. […]

An internal Department of Public Instruction equity analysis conducted in 2021 found that DEWS generated false alarms about Black and Hispanic students not graduating on time at a significantly greater rate than it did for their white classmates. The algorithm's false alarm rate — how frequently a student it predicted wouldn't graduate on time actually did graduate on time — was 42 percentage points higher for Black students than white students, according to a DPI presentation summarizing the analysis, which The Markup obtained through a public records request. The false alarm rate was 18 percentage points higher for Hispanic students than white students.
* Kansas via the AP…
Republican legislators in Kansas enacted what may be the most sweeping transgender bathroom law in the U.S. on Thursday, overriding the Democratic governor's veto of the measure without having a clear idea of how their new law will be enforced.

The vote in the House was 84-40, giving supporters exactly the two-thirds majority they needed to override Gov. Laura Kelly's action. The vote in the Senate on Wednesday was 28-12, and the new law will take effect July 1. […]

"When I go out in public, like I'm at a restaurant or up on campus or whatever, and I need to go to the bathroom, there's definitely going to be a voice in my head that says, '"Am I going to get harassed for that?'" said Jenna Bellemere, a 20-year-old transgender University of Kansas student. "It just makes it so much more complicated and risky and unnecessarily difficult."

Republican legislators argued that they're responding to people's concerns about transgender women sharing bathrooms, locker rooms and other spaces with cisgender women and girls. They repeatedly promised that the bill would prevent that.
* Kansas…
Under new law, Uber drivers for undocumented people could potentially be guilty of human smuggling, one of many concerns raised about a broad bill enacted by the Legislature.

Lawmakers in the House and Senate overrode Gov. Laura Kelly's veto of House Bill 2350 Thursday, despite objections from Latino and Black Democrats who fear the legislation could punish anyone who helps an immigrant. The bill is one of several vetoed bills successfully passed into law by the Legislature.

Supporters of the bill say it will crack down on human smuggling, but several lawmakers have said the law's wording is too ambiguous. It defines human smuggling as intentionally transporting, harboring or concealing someone known to be in the U.S. illegally while benefiting from the transaction and knowing the individual is likely to be exploited for financial gain.

In these cases, Kansas courts would have to decide whether the person being smuggled is in the country illegally, a decision usually left to federal immigration courts and one that the Kansas justice system may not be equipped to handle.
* What would this post be without Florida?…
Florida Republicans are on the verge of passing new restrictions on groups that register voters, a move voting rights groups and experts say will make it harder for non-white Floridians to get on the rolls.

The restrictions are part of a sweeping 96-page election bill the legislature is likely to send to Governor Ron DeSantis's desk soon. The measure increases fines for third-party voter registration groups. It also shortens the amount of time the groups have to turn in any voter registration applications they collect from 14 days to 10. The bill makes it illegal for non-citizens and people convicted of certain felonies to "collect or handle" voter registration applications on behalf of third-party groups. Groups would also have to give each voter they register a receipt and be required to register themselves with the state ahead of each general election cycle. Under current law, they only have to register once and their registration remains effective indefinitely.

Groups can now be fined $50,000 for each ineligible person they hire to do voter canvassing. They can also be fined $50 a day, up to $2,500, for each day late they turn in a voter registration form.

Those restrictions are more likely to affect non-white Floridians. About one in 10 Black and Hispanic Floridians registered to vote using a third-party group, according to Daniel Smith, a political science professor at the University of Florida who closely studies voting rights. Non-white voters are five times more likely to register with a third-party group in the state than their white counterparts, "a fact likely not lost on those pushing the legislation", Smith said.
* Florida…
Florida officials are threatening to revoke the teaching license of a school superintendent who criticized Gov. Ron DeSantis, accusing the educator of violating several statutes and DeSantis directives and allowing his "personal political views" to guide his leadership.

Such a revocation by the state Department of Education could allow DeSantis to remove Leon County Superintendent Rocky Hanna from his elected office. The Republican governor did that last year to an elected Democratic prosecutor in the Tampa Bay area who disagreed with his positions limiting abortion and medical care for transgender teens and indicated he might not enforce new laws in those areas. […]

Hanna has publicly opposed that law, once defied the governor's order that barred any mandate that students wear masks during the COVID-19 pandemic, and criticized a DeSantis-backed bill that recently passed that will pay for students to attend private school. The Leon County district, with about 30,000 students, covers Tallahassee, the state capital, and its suburbs.

"It's a sad day for democracy in Florida, and the First Amendment right to freedom of speech, when a state agency with unlimited power and resources, can target a local elected official in such a biased fashion," Hanna said in a statement sent to The Associated Press and other media Thursday. A Democrat then running as an independent, Hanna was elected to a second four-year term in 2020 with 60% of the vote. He plans to run for reelection next year and does not need a teacher's license to hold the job.
* DeSantis vs public record laws…
One bill advancing through the Republican-controlled state legislature would conceal information about DeSantis' travel and who he has met with at the governor's mansion. Another would allow state political committees – like the one where DeSantis has stashed $85 million for his future political ambitions – to report their fundraising activity less frequently.

Separately, DeSantis in court cases has lately claimed "executive privilege" to block the release of records and to keep staff from testifying – a power typically reserved for presidents and which none of his predecessors had previously asserted is entrusted to the state's governor. If realized, it would give DeSantis tremendous new discretion to keep information about his administration from the public.

Democrats contend Republicans here are trying to protect DeSantis from news stories and opposition research that could reflect negatively on the governor as he nears a run for president in 2024. First Amendment advocates in the state warn these efforts will have a far-reaching effect on Floridians' access to their leaders long after DeSantis' turn in the national limelight. […]

News organizations have sued his administration to obtain records that past governors regularly released upon request. Last year, a judge found DeSantis violated the state's open records laws by failing to turn over documents related to the flights his administration arranged for migrants to fly from San Antonio to Martha's Vineyard.
* Press release…
The Illinois Department of Financial and Professional Regulation ("IDFPR") announced today it received 2,693 applications for the upcoming Social Equity Criteria Lottery ("SECL"). This lottery will distribute the next round of 55 conditional adult use cannabis dispensary licenses across the 17 Bureau of Labor Statistics (BLS) Regions. The list of applicants participating in the SECL may be found on IDFPR's website here. Applicants are encouraged to review the list and confirm that they have been properly listed for any BLS Region in which they applied. The SECL will be conducted by IDFPR with the Illinois Lottery in early- to mid-May. The date will be announced by IDFPR as soon as possible.

"Our simplified online application process increased the accessibility for individuals of all backgrounds and from all over Illinois to have the opportunity to write the next chapter of the most equitable cannabis industry in the country," said IDFPR Secretary Mario Treto, Jr. "As part of the Pritzker Administration, we are committed to ensuring Illinois' cannabis industry continues to set the gold standard for social equity and that it continues to flourish to create additional resources for communities and individuals across the state." […]

Following the lottery, each applicant selected will have 45 calendar days to prove certain social equity eligibility criteria in order to receive a conditional license. […]

IDFPR will have at least 60 calendar days after the lottery to ensure the 55 applicants selected in the lottery meet the criteria detailed above. Applicants selected in the lottery will be provided an opportunity to provide supplemental information to satisfy these criteria if needed. If an applicant selected in the lottery does not provide the supplemental information, the conditional license will be offered to the next applicant drawn in that BLS Region, who must then meet the social equity eligibility criteria.
* More from Green Market Report…
That's almost three times the number of applicants that competed for the 185 licenses that were up for grabs in lotteries held two years ago. […]

Under the new rules, gone are the lengthy applications that required extensive business plans, covering everything from security to operations, which ran thousands of pages and cost many applicants thousands of dollars to complete. The cost to submit an application also dropped from $2,500 to $250.

Perhaps the biggest change is allowing only one application per applicant, leveling the playing field and increasing the number of people or groups who would receive licenses. In the previous lotteries, 937 applicants who submitted 4,000 applications competed for 185 licenses. Under the new criteria, about 2,700 applicants will compete for 55 licenses. […]

Only applicants who win a lottery pick to receive a license will then have to prove they meet the criteria. One of the complaints about the prior process was that applicants spent thousands of dollars to apply and meet the standards for ownership only to lose out on the luck of the draw.
* WBEZ has a story on higher education and the cannabis industry…
Ascend Wellness Holdings, a multi-state operator with a large grow facility in Barry, Ill., works with Western Illinois University in Macomb. […]

People have a lot of class choices in the Western program. Horticulture 357, Cannabis Production, is one of three core classes students have to take. But they can also choose from electives such as hydroponic plant production and crop biotechnology.

The production minor also requires a three-hour practicum, where students volunteer at facilities like those at Ascend or Nature's Grace. Hennings said the idea is to integrate students into an actual operation as they're getting ready to graduate with the skills the cannabis industry wants.
* Scabby the Rat also made a picket-line appearance…
As workers at three local marijuana dispensaries, including two in Joliet, continue to strike, the employees have gotten support from an Illinois state senator who says the workers deserve a share of the more than $ 1 billion in pot profits they are helping to produce.

Sen. Rachel Ventura (D-Joliet) said that pot sales in Illinois generated $1.5 billion in 2022 and that employees at RISE dispensaries who went on strike last week over the lack of a fair contract should benefit from those profits.

In Fiscal Year 2022, Ventura said that Illinois cannabis sales generated $466.8 million in state taxes on the $1.5 billion in sales. Illinois total dispensary sales reached over three billion in total over the last three years, she said.

Workers at the dispensaries in Joliet and Niles went on strike last week after months of negotiating for a fair contract and are seeking better wages and retirement benefits, representatives from Local Teamsters 777 said. The last straw came, union officials said, when employees were forced to remove pins they were wearing calling for a fair contract by officials from Green Thumb Industries, which runs the dispensaries.
More…
"This is the first cannabis strike in the country," James Glimco, president of Lyons-based Teamsters Local 777, said Wednesday as he joined striking workers at the Rise dispensary near the Louis Joliet Mall.

Workers are seeking a contract agreement with higher wages, improved retirement benefits, and better access to health insurance.

Starting hourly wage at the dispensaries is $16.50, and the union wants to raise it to $19. […]

But there have been no contract negotiations since the strike started, he said.

"They're playing hardball," Glimco said. "I hear they're advertising trying to hire people."
Here's Scabby…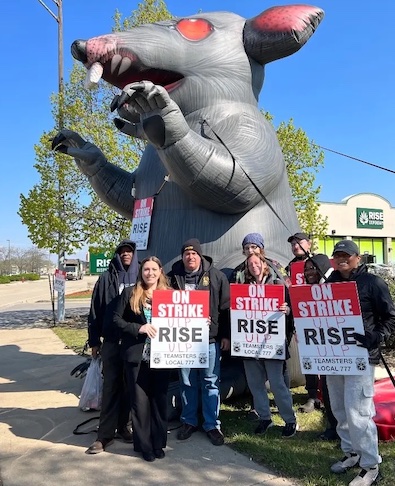 …Adding… Excerpt from Rep. Larry Walsh's statement…
The owners and operators of the RISE Dispensaries last year reported more than $1 Billion in revenue last year and a 14% growth in profits. Those profits were made due to the efforts of these workers. I fully support and stand in solidarity with their incredibly brave decision to fight for better wages and benefits. […]

It doesn't matter if you are a machinist, carpenter, teacher, plumber, or a dispensary employee. If you work here in Illinois you deserve a fair day's wage for a fair day's work. That is what this country was built on and union organization, negotiation, and, as a last resort, strikes are what will continue to support and revitalize the middle class in these difficult post-pandemic times.
* And the latest episode in the series "Growing Belushi" has a Shelbyville angle…
Chris sells Jim on buying a "turnkey facility" in Illinois, but the operation turns out to be growing bunk weed and will need a complete overhaul.
From from Redditt…
The episode went into great detail about the tons of improvements they put into the center, including a radiation remediation machine that costs a cool $400k! They also upgraded lights, HVAC, Vertification and better waste water management.
LA Weekly…
We asked Belushi what going national meant to him. Was it licensing intellectual property? Setting up gardens in other states?

"Lot of it is licensing. But vetting out the growers and the companies," Belushi explained. "We got a great opportunity and Shelbyville, Illinois, taking over indoor grow that was a charity grow, all the profits go to charity. And we are taking that over and actually kind of doing like a Bar Rescue of like going into this girl upgrading everything and it becomes a Belushi Farms in Illinois. So we're going to be growing in Illinois. We're growing in Oregon and we're licensing other places, other states, and possibly growing in Albania."
From the show…
If ONE thing goes wrong with this test, @JimBelushi has to say his goodbyes to thousands of dollars 🥲

Watch #GrowingBelushi tonight at 9p ET! pic.twitter.com/CuiD32NZkb

— Discovery (@Discovery) April 26, 2023
…Adding… I'm told by an expert in the field that Belushi was exaggerating about Illinois law. "Some failures are immediate destruction, other test failures can be remediated. The testing rules outline the options."
* Northwestern University political scientist Wesley G. Skogan's new book Stop & Frisk and the Politics of Crime in Chicago is the subject of his WBEZ interview…
Q: These traffic stops became the Police Department's main way of seizing illegal guns. Block Club Chicago and Injustice Watch have found that, since 2015, CPD has carried out 4.5 million traffic stops. In 2021, the most successful year for seizing weapons during those stops, the police made 156 traffic stops for every gun arrest. What are the effects of making so many stops for one gun arrest?

Skogan: One of the consequences of this enormous number of unwarranted stops — stops of innocent people — is that they come away with a very sour taste in their mouth. What they discover is that police officers don't want to listen to what they have to say and the officers push them around and shout at them, even though they find nothing. What the people walk away with is a very bad experience, which undermines their trust in police and undermines the legitimacy of the police in Chicago.

And that has consequences. The Chicago Police Department's real problem, starting in the early 2010s, was the collapse of its ability to solve shootings and homicides. The number of those crimes for which they recover a gun, find a suspect, make an arrest, make what's called a crime clearance — it began to plummet. It's now extraordinarily low. And that limits the capacity of investigators — the detectives — to do much about crime. And because no one has been arrested, that leads many community members to conclude that the police aren't trying hard, that they're not paying attention to the lives of people like them, that they are not being protected.
* Skogan's advice to the incoming mayor…
The arrival of a new mayor and police superintendent is an opportunity for some new thinking about policy. We know a lot about things that will reduce crime in the streets. Chicago has already started to mount a pretty effective campaign using violence interrupters and related community organizations that provide services and support for young men who are in trouble. More of that is always welcome.

We also know that a focused deterrence strategy — which drops the idea of stopping hundreds of people to deter one little crime and focuses instead on a very small network of high-risk, high-offending people — is a much more effective way to get more bang for your stops and more bang for your investigations. So, the incoming mayor should focus on this detective-oriented police work.

Efforts to rebuild Chicago's Black community are also really important. That community has been getting poorer and more isolated over time. Some dramatic action to try to bring Black Chicago back into the mainstream of city economic life is absolutely important.
The Center Square, meanwhile, posted an opposing view written by a communications intern at The Heartland Institute. So helpful.
* Speaking of the police…
As a newly formed commission launches a nationwide search for the Chicago's next top cop, campaigns endorsing current and former Chicago police officials for the job are already impacting the process and raising some alarms.

The first-of-its-kind search by the Community Commission for Public Safety and Accountability has so far centered on three public meetings that have elicited seemingly coordinated efforts to raise the profile of certain police supervisors, including at least two who are also being pushed in online campaigns.

Anthony Driver Jr., the commission's interim president, said those efforts are complicating the search, which relies on getting independent input from residents. […]

"We're looking for the person to do the job, so community members' voices are very important and their voice will be at the forefront," he added. "But if somebody has 5,000 supporters and another person has 20 [and] the person with 20 seems way more qualified, then that'll create an issue."
One of the candidates even appeared in a campaign-style video. But, is it really all that unhealthy when members of the public speak up for their local commanders? We've seen plenty of mediocre (and worse) people chosen by "experts." Then again, I can most definitely see where this could really get out of hand. Your thoughts?
…Adding… From David Axelrod's interview of Brandon Johnson on what he's looking for at
CPD…
Right now, we have supervisors who supervise the supervisors, you have police officers that will have a different supervisor, sometimes three to four in one week. Now granted, they all might be part of a cadre of law enforcement but you know, every supervisor brings a different element. Right? And so having some consistency around supervision is really important, and having a superintendent who understands what it means to be compassionate, collaborative, and someone who was competent. That's what what I'm going to look for, and that's what we're going to find to serve as superintendent in the city of Chicago. I'm very confident that we're going to find someone that gives confidence to the rank and file but also understands constitutional policing.
…Adding… Final results map…
With final results by ward, Brandon Johnson @Brandon4Chicago defeated Paul Vallas by 26,448 votes & 4.3% in the Chicago mayor election. Johnson won every Black majority ward & he won northside liberal wards. Johnson won 6 Latino majority wards #chimayor23 #electiontwitter #twill pic.twitter.com/IdFSbevWdY

— Frank Calabrese (@FrankCalabrese) April 28, 2023
* Isabel has some Chicago-related stories in her morning briefing, but she rounded up some more for this post…
* Tribune | What to know as Brandon Johnson prepares to become Chicago's next mayor: Since winning election this month, Johnson has been assembling a transition team, traveling to Springfield to meet with lawmakers in the Illinois General Assembly to lay out his hopes and goals for his first term and picked his chief of staff.

* NBC Chicago | Brandon Johnson Reveals the Advice He Received From Former President Obama: "We spent a lot of time talking about our families," Johnson said. "Here's someone that was president of the United States, was an organizer and worked as a legislator, (but) he raised his family too."

* Sun-Times | Frank Annunzio, who represented Chicago in Congress, was linked to the mob, his FBI file shows: The records — released in response to a public records request and now part of the Sun-Times' "The FBI Files" online database — also reveal there was a years-long federal investigation into a "proposed bribery scheme" described as having focused in part on Annunzio. That investigation was closed in the mid-1980s without any criminal charges, the files show.

* Tribune | California launches legal battle with railroads that could lead to reduced train emissions in Chicago: The California Air Resources Board voted unanimously to require railroads to cut diesel soot emissions from passenger, freight and industrial locomotives by 91% by 2050 and to slash smog-forming nitrogen oxides, or NOx, by 86%.

* Sun-Times | First night meeting of the Chicago Fishing Advisory Committee draws new voices: Illinois' assistant fisheries chief Kevin Irons said they are in the process of hiring two people to replace Brenda McKinney, who retired last year, with plans to expand the Urban Fishing program; hybrid bluegills will be stocked in the Chicago lagoons but not channel catfish; and he reminded about the fishing equipment loaner program that about 150 libraries are doing statewide.

* WBEZ | After death of Emmett Till's accuser, Chicago-area cousin says, 'No one now will be' held accountable: "Our hearts go out to the family of Carolyn Bryant Donham," Parker, of Summit, Illinois, said in a statement. "As a person of faith for more than 60 years, I recognize that any loss of life is tragic and don't have any ill will or animosity toward her. "Even though no one now will be held to account for the death of my cousin and best friend, it is up to all of us to be accountable to the challenges we still face in overcoming racial injustice."

* Block Club | These Humboldt Park 5th-Graders Are Spreading Awareness About The Need To Protect Rainforests: A group of 10- and 11-year-old students at Casals School of Excellence, 3501 W. Potomac Ave., studied rainforests around the world for an expeditionary learning project this school year. The students then launched a multi-faceted campaign around safeguarding rainforests, urging the school community to do its part.

* Crain's | Meet the photographer capturing iconic images of the Chicago skyline: Some of the most iconic images of the Chicago skyline would not exist if Barry Butler hadn't broken his collarbone during a hockey game some 25 years ago.
* Tribune…
A federal jury deliberated for a third day Thursday without reaching a verdict in the "ComEd Four" trial alleging a group of executives and lobbyists conspired to bribe then-House Speaker Michael Madigan to win his influence over the utility's legislative agenda in Springfield.

So far, the panel of seven women and five men has deliberated for about 15 hours over three days. They will take Friday off, as has been the schedule throughout the seven-week trial, and resume discussions Monday morning.

The only communication from the jury Thursday came in the form of three notes asking for transcripts of the recorded phone calls and meetings at the center of the case. The jurors also sent a note asking how much Juan Ochoa was paid while on the ComEd board.

Ochoa testified it was about $80,000, but U.S. District Judge Harry Leinenweber responded that they should rely on their collective memories.
* One of the transcripts jurors requested…
The rest: pic.twitter.com/sFfPZ0ilB7

— Jon Seidel (@SeidelContent) April 27, 2023
That was the much-anticipated meeting when ComEd CEO Joe Dominguez was finally briefed about the Madigan subcontractors by Mike McCain and Fidel Marquez. McCain and other defendants were worried that Dominguez, a former Assistant US Attorney, wouldn't approve of the scheme. But Dominguez said he was "fine" with it, although he was under the impression that the subcontractors could be deployed by the company in a pinch. Dominguez was never charged, but things did get a little rough for him on the stand…
Dominguez grew annoyed with Bhachu's line of questioning and accused the prosecutor of taking his words out of context.

"As you full well know, I went on to tell Mr. Marquez that 'Everything we do here needs to be on the up and up,'" Dominguez said.

Dominguez then attempted to tell the court what Bhachu allegedly told him during that September 2019 proffer meeting, but Bhachu quickly cut him off.

"If you're going to start talking about what I said, you might want to not do that because it might not work out well for you," Bhachu said before telling Judge Leinenweber that Dominguez was out of line in bringing up their conversation. "What I said is inadmissible."

The dust-up elicited accusations from the defense attorneys that Bhachu was threatening a witness.
* But was the jurors' request significant? Maybe not…
The jurors said that transcript would "not pull up on our technology."

— Jon Seidel (@SeidelContent) April 27, 2023
The jurors also asked for "at least two transcript binders." As the Tribune's Jason Meisner quipped, "It's fairly clear from this question that we should not be on the edge of our seats for a verdict today."
Jurors return Monday.
*** UPDATE *** Crain's…
What about other executives at ComEd and parent Exelon who not only knew of parts of the alleged scheme and did nothing to stop it, but also signed off on key elements?

As part of his final address to jurors, lead prosecutor Amarjeet Bhachu provided an answer: No one at the utility or its parent, except Pramaggiore, had the full view of the pile of favors being done for Madigan. […]

In a slide shown to jurors as Bhachu discussed the issue, the names of the three were shown with this comment: "1. 'The question is whether the defendants had corrupt intent — not someone else.' "

"None of those folks had the full picture," Bhachu said.
Open thread
Friday, Apr 28, 2023 - Posted by Isabel Miller
* Not sure if Oscar loved the hammock, anyways what's going on in your part of Illinois?…

* Here you go…
* Illinois Times | "Pervasive" deficiencies at Illinois State Police: The latest biennial audit report released by Illinois Auditor General Frank Mautino found that the Illinois State Police did not properly manage equipment inventory, could not reconcile their accounting records, and may have lost confidential information contained on missing computers. The audit concluded that misstatements in ISP's accounts were "both material and pervasive."

* Chicago Tribune | Illinois Democrats denounce as 'deceitful' a pipeline used in last year's elections to right-wing local news sites: The Washington Post reported Thursday that Brian Timpone, an ally and business partner of right-wing radio talk show host Dan Proft, used a password-protected portal that allowed Republicans to pitch stories, provide questions for interviews, place campaign announcements and run "verbatim" op-eds on websites and mailings that are published by the Local Government Information Services organization.

* Sun-Times | Illinois Gaming Board slammed video gambling company for alleged ties to bookmaker, but it's still reaping millions: Marcus Fruchter, the gaming board's administrator, says the "law requires" his agency to "adhere to a specific administrative hearing process when it comes to disciplinary actions" and that it "will continue to follow the law while upholding the integrity of gaming operations and maintaining public confidence in Illinois."

* ABC Chicago | Chicago mayoral candidate Paul Vallas' campaign workers say they haven't been paid: The workers said the former candidate's campaign hired them to knock on doors and get out the vote, but three weeks after Election Day they say they're still owed hundreds of dollars.

* Sun-Times | Search for Chicago's top cop complicated by lobbying campaigns for candidates. 'It's not a popularity contest.': The first-of-its-kind search by the Community Commission for Public Safety and Accountability has so far centered on three public meetings that have elicited seemingly coordinated efforts to raise the profile of certain police supervisors, including at least two who are also being pushed in online campaigns. Anthony Driver Jr., the commission's interim president, said those efforts are complicating the search, which relies on getting independent input from residents.

* ABC Chicago | City Council committee to discuss migrant influx Friday as some sleep in Chicago police stations: A Council committee hearing on budget and immigrant and refugee rights is planned for Friday. The group is set to break down the status and costs associated with asylum-seekers coming to Chicago.

* WTTW | Former Chicago Police Chief of Detectives, Fired Reform Boss Join Johnson's Transition Team: Two members of the Chicago Police Department who left during Mayor Lori Lightfoot's administration have joined Mayor-elect Brandon Johnson's transition team to advise him on issues of public safety.

* Sun-Times | Brandon Johnson not ready to clean house at City Hall, adviser says: Don't expect "wholesale, universal changes" in city departments, said Jason Lee, a senior adviser to Johnson's mayoral campaign and transition team, citing a need for "at least some initial continuity so that we can make sure that government maintains its core functions."

* WBEZ | Chicago families plead for a second chance for their closing school: Hope Institute Learning Academy opened in 2009, promising to create a unique community where students with autism and other disabilities would be catered to in an environment with students without special needs. It is run by Hope Institute, a nonprofit headquartered in Springfield, which provides programs for developmentally disabled people, including a residential academy and a vocational school. Hope Institute has a contract with Chicago Public Schools to run the West Loop school.

* Daily Herald | Elgin's first Pride Parade and Festival hopes to make everyone feel 'safe and welcome in our space': "There are younger LGBTQ folks in their late teens or 20s, or even in their 30s, around here who've never known other queer people. They've never had that community," Bates said. "People were really finding their place and finding their community. It was a really beautiful thing to see."

* Tribune | Mom of Olympian Cathy Boswell gets hearing implant just in time for daughter's induction into Women's Basketball Hall of Fame: Cathy Boswell, a former basketball star at Illinois State University and an Olympic gold medalist, is due to be inducted into the Women's Basketball Hall of Fame Saturday. Clarice wanted to hear her daughter's acceptance speech. "That was my prayer, that my hearing would be restored," she said, "that I could hear her receive her Hall of Fame recognition. It's very important because it's been a long journey. And one that's very deserving."

* NYT | New York's Transit Agency Quits Sharing Updates on Twitter: The Metropolitan Transportation Authority said it would no longer provide service information on Twitter because the "reliability of the platform can no longer be guaranteed."

* WGN | Cow located in Niles after 'senior prank'; students cited: Authorities in Niles located a cow after it was on the loose for several hours due to a "senior prank" and the students involved have been cited. Just before 3 a.m. Thursday, police responded to the 8300 block of Ballard on the report of suspicious people in the area.