* From the Illinois Federation of Teachers' website…
Rumor Mill: Lame Duck Lawmakers Could Vote to Remove Workers from Union Rolls in January

For the past couple of years, Governor Quinn has pushed for the legislature to pass legislation ending the hard-fought rights of many state employees to join a union. Quinn's battle with public employee unions has boiled over in the past few weeks with the governor announcing an end to extensions to collective bargaining agreements during a drawn-out contract negotiations process. But, it seems the governor is rekindling his effort to pass SB1556, which removes potentially thousands of workers from their unions.

The measure impacts hundreds of the IFT public employees who work throughout state government – including the Secretary of State's office, the Attorney General's office and other executive-level agencies.

It is rumored that Illinois Senate leaders will put SB1556 up for a vote during the lame duck session in January, before new lawmakers are sworn into office. The IFT is joining our union allies to fight against this anti-worker power grab. Be watchful for more to come on this issue.
* From AFSCME's website…
IEA president Cinda Klickna "called for Gov. Quinn to end his assault on the 40,000 state employees represented by AFSCME":

Governor Quinn's decision to terminate the state's contract with its largest employee union, AFSCME, is an attack on both the collective bargaining process and on all unionized public employees in Illinois.

The AFSCME employees provide health services to the sick, the elderly and to children. These hard-working men and women help ensure public safety and enhance the quality of life for all Illinoisans and deserve better than this assault from the state's chief executive.

On behalf of the 133,000 IEA members, we urge Governor Quinn to return to the bargaining table and negotiate a fair contract with AFSCME.

IFT president Dan Montgomery also "urged Quinn to return to the bargaining table":

Governor Quinn's actions to terminate Illinois' contract with tens of thousands of unionized state employees is not only offensive to those of us in organized labor, it is also a sign of disrespect for middle class, working families throughout the state.

The fact is, public service professionals – whether they be teachers, police officers, social workers or correctional officers – dutifully perform their jobs to ensure that government works for the citizens. Discarding the collective bargaining process, especially in the manner that the governor has, is offensive and unnecessary.

During the Thanksgiving holiday, I urge Governor Quinn to reconsider his decision – a decision that inflicts unnecessary harm to thousands of Illinois workers and their families. Furthermore, I encourage the governor to quickly return to the collective bargaining table with a reasoned set of ideas to finish one of the tasks his job requires – a fair contract for AFSCME and the citizens of Illinois.

The Chicago Teachers Union has issued the following statement in support of AFSCME members in state government:

The Chicago Teachers Union stands in solidarity with AFSCME Council 31 in its effort to bargain a fair contract. Although Governor Quinn has recently supported Chicago teachers in opposing the overemphasis on standardized tests in our classrooms and the proliferation of non-union charter schools, we cannot abide his treatment of our brothers and sisters in AFSCME.

The Governor's unprecedented action to terminate its contract with AFSCME was unnecessary and damaging to the bargaining process. We encourage Governor Quinn to avoid the potential disruption that termination might bring, reinstitute the current agreement, get back to the table and come to a fair settlement.
* Sun-Times…
Two of organized labor's biggest guns in Illinois took aim at Gov. Pat Quinn Thursday, calling on him to rescind his decision to terminate the contract that applies to about 40,000 state employees.

"We cannot understand why our governor, who has stood with organized labor in the past, would be so eager to undermine our brothers and sisters," said Jorge Ramirez, president of the Chicago Federation of Labor.

Ramirez was joined in calling out Quinn by Illinois AFL-CIO President Michael Carrigan.

"State employees are on the frontlines every day preserving public safety, safeguarding children and assisting families, caring for aging veterans, responding to disasters, and protecting our environment," Carrigan said in a prepared statement.

"Gov. Quinn's effort to undermine their collective bargaining rights is unwarranted and virtually unprecedented in Illinois government," Carrigan said.
* And the Sun-Times editorialized on the matter…
AFSCME argues that state workers aren't to blame for the state's fiscal woes, that long-term answers lie in a more fair and progressive tax structure. We don't disagree. But there is a budget crisis that must be dealt with today.

We agree with AFSCME that Quinn's office should lay off portraying state workers as overpaid compared to those in other states. If the comparison bears out, it's something to be proud of — that Illinois historically has treated its public workers well.

The real question is whether Illinois can continue that tradition. Sadly, the answer today is no.
* Other stuff…
* CTU rips charters: 'privatization schemes masquerading as education policy'

* Hinz: Teachers union charges CPS with 'educational apartheid'

* Emanuel's Birthday Gift: A Protest Outside His Home - O'Hare employees say new contractor doesn't pay a living wage

* Owner of firm with O'Hare deal has links to reputed mob figure

* Ken Griffin buyer of Chicago's most expensive condo
* Zorn posted some results from "The Best & Worst of Mobile Connectivity" survey by the Pew Research Center's Internet & American Life Project…
44% of cell owners have slept with their phone next to their bed because they wanted to make sure they didn't miss any calls, text messages, or other updates during the night. …

12% of cell owners say that people they know tell them that they are spending too much time using their phone…

9% of cell owners say that their phone makes it "a lot" harder to disconnect from work life. This concern is particularly acute among cell owners in high-income households. 7% of cell owners say that their phone makes it "a lot" harder to give people their undivided attention. 7% of cell owners say that their phone makes it "a lot" harder to focus on a single task without being distracted….

Two groups consistently stand out when it comes to their usage patterns and attitudes relating to their mobile phones — the 45% of American adults who own a smartphone and the 17% of cell owners who do most of their online browsing within the context of their mobile phone (referred to throughout this report as "cell-mostly internet users"). Compared with other cell owners, these individuals are more likely to sleep next to their phones; to check their phone frequently for messages or alerts even though they didn't hear a notification; and to engage in a wide range of mobile activities such as accessing social networking sites or doing online banking.
* The Question: How often do you access Capitol Fax.com on your mobile phone or device? Take the poll and then explain your answer in comments, please.
* Just in case you're wondering, here is the weighted vote for the 2nd Congressional District. Refer to this whenever you see a news story about an endorsement…
* 5th Ward - Leslie Hairston - 2,981

* 7th Ward - Sandi Jackson - 6,298

* 8th Ward - Michele Harris - 2,372

* 9th Ward - Anthony Beale - 5,478

* 10th Ward - John Pope - 1,430

* 34th Ward - Carrie Austin - 1,625

* Bloom Township - Terry Matthews - 8,929

* Bremen Township - Maggie Crotty - 4,140

* Calumet Township - Bob Rita - 161

* Rich Township - Tim Bradford - 11,393

* Thornton Township - Frank Zuccarelli - 20,158

* TOTAL WEIGHTED VOTE: 64,966

* TOTAL NEEDED TO SLATE: 32,484
By my count, state Sen. Donne Trotter is currently at 29,651 (5, 8, Bremen, Thornton).
* Meanwhile, none of these announcements are a surprise, but the race sure is getting crowded…
Three more Chicago politicians have jumped into an increasingly crowded race to replace Jesse Jackson Jr. in the 2nd Congressional District: Illinois State Sen. Toi Hutchinson (D-Olympia Fields), Chicago Ald. Anthony Beale (9th), and Robin Kelly — a top aide to Cook County Board President Toni Preckwinkle.

Hutchinson formally announced in an email Thursday that she would run for the seat Jackson vacated last week.

"Families in the South Suburbs and the [South Side] deserve a representative who understands their concerns and who will work alongside President Obama to create new jobs, rebuild our roads and schools, and protect the gains we've made on equal pay, health care and civil rights," Hutchinson said.

Beale also announced Thursday he's joining the race for Jackson's seat. He told the Chicago Sun-Times he's the only candidate in the field who's created thousands of jobs, referring to his successful work to bring a Wal-Mart store to Pullman Park, at 111th and Doty Avenue. That store, set to open next spring, will be the third Wal-Mart supercenter in Chicago.

Meantime, CBS 2 Political Producer Ed Marshall has confirmed Kelly also is joining the race and will formally announce her candidacy on Sunday at an event in south suburban Matteson.
* More…
Already in the contest are former U.S. Rep. Debbie Halvorson of Crete, who lost a primary challenge to Jackson in March, and state Sen.-elect Napoleon Harris, a former Northwestern and NFL player who won his first office this month.

Also announced as a candidate is disgraced former U.S. Rep. Mel Reynolds, who gave up the 2nd District seat in 1995 after his conviction on sex-related charges, including having sex with an underage campaign worker.
* Harris can self fund and is a former football star with lots of charisma and a great life story. That makes him particularly dangerous…
"I'm running," Harris told the Sun-Times. "The primary reason I chose to run for the state Senate is the heartbeat and the pulse of my constituents. But over the last few months, we've gotten overwhelming support to put my name in the ring for the congressional seat."

A native of Dixmoor, Harris starred at Thornton Township High School then at Northwestern University. A first-round pick of the Oakland Raiders in 2002, he played seven NFL seasons, most notably starting in Super Bowl XXXVII. The owner of two Beggars Pizza franchises in the area, Harris wanted to return to his community, where many of his relatives still live.

Harris' field director James Jones said the inquiries about his interest in the congressional seat started coming since Thanksgiving and ramped up Monday, when he estimated that there were 500 phone calls to their office. Late Monday, just before 5 p.m., retired real estate agent Erick Hawthorne called to volunteer to help Harris.
* Halvorson is one of the only white people who will run, which could be advantageous, but many of the district's whites tend to be Republicans. Sen. Hutchinson replaced Halvorson in the Senate, so the two will likely fight over the same regional vote and the women vote. Still, Hutchinson is a rising star and can't be underestimated.
Kelly ran statewide, so she has a legit shot. Not mentioned above is former Rep. David Miller, who may get into the race and is from the same region as Kelly.
* Beale might be backed by Ald. Sandi Jackson. He's already supported by Carrie Austin…
Asked how he plans to raise the $500,000 it's likely to take to win the abbreviated campaign, Beale said, "The old-fashioned way. We're gonna make phone calls and get people to buy into my vision."

Ald. Carrie Austin (34th), powerful chairman of the City Council's Budget Committee, said she pledged her support to Beale two years ago and plans to keep her word to him.

"He understands the hardships of the 2nd Congressional District because he has lived in it and worked in it. Those hardships that we have that we have not been able to see addressed by the former congressman, he has more of the ground part of what needs to be done," Austin said.
As you can see above, however, Austin has only a relative handful of weighted votes in the district.
* I'm not sure what this means…
Sneed hears former U.S. Rep. Jesse Jackson Jr. is now singing with the voice of an anxious canary. Sneed also hears rumbles the feds are very interested in a powerful dem femme, who is not an alderman. Stay tuned.

The Jackson File…

All in the family: Although former U.S. Rep. Jesse Jackson Jr.'s brother, Jonathan, has confided to pals he wants a political career — a future mayoral bid on his supposed wish list — it is another Jackson brother, Yusef, a lawyer, who is described by political watchers as "smart as whip" and "the real deal" who could be the next to enter the political fray.
Yusef is the Budweiser distributor…
Twice last year, Chicago businessman Yusef Jackson — a son of the Rev. Jesse L. Jackson and brother-in-law of Ald. Sandi Jackson (7th) — went to City Hall seeking taxpayer money for a new home for his Budweiser beer distributorship west of downtown, records obtained by the Chicago Sun-Times and interviews show.

At first, Jackson asked for a $4.2 million city subsidy in the form of tax-increment financing. That's according to the application he submitted to City Hall in March 2011, shortly before Mayor Richard M. Daley left office.

On his second application, filed in August 2011, three months after Mayor Rahm Emanuel was sworn in, Jackson slashed the amount of taxpayer money he wanted. This time, he said he needed only $1 million from City Hall to help pay for the $5.1 million renovation of a vacant, two-story building he owns at 401 N. Ogden.
* And check out this story about Mel Reynolds…
"I live at 221…my address is 221…I'm renting. South 138th Street. In Dolton," Reynolds stammered.

That address doesn't exist, but there is a 221 East 138th Street. When FOX 32's Dane Placko showed Reynolds' picture to neighbors, they didn't seem to recognize him. […]

His driver's license is registered to a UPS store in Bronzeville and he says he drives two cars: an SUV with retired congressional plates and a Jaguar.

But, the Secretary of State's office says that could be a problem.

"The driver's license, Dane, has been canceled," Dave Druker of the Secretary of State's office explains. "He had written a check to the Secretary of State's office that bounced."

Druker says Reynolds should not be driving at all.

That bad check is just the start of Reynolds' financial problems. Cook County records show he's been sued by several creditors and was kicked out of this property on King Drive.

The lawyer who represented him on that case then turned around and sued Reynolds for non-payment. He won a judgment for more than $12,000, which Reynolds still hasn't paid.
Oy.
* Related…
* House Passes Filing Deadline Extension

* James Taylor Sr. running for Jackson's seat as Republican
*** UPDATE *** Beavers can talk about his repayment if he testifies…
A federal judge today ruled that Cook County Commissioner William Beavers can tell a jury that he amended his taxes and repaid a campaign fund after he learned of a federal investigation against him. […]

But U.S. District Court James Zagel said Beavers has a right to explain his reasons for amending the taxes to jurors so they can decide why he did it.

"The state of mind is crucial to the (jurors)," Zagel said.

But the judge gave careful instructions to Beavers attorney, Sheldon Sorosky, saying that the only way the jury can hear specifics about the repaid money and amended taxes is directly from Beavers if he takes the witness stand.
[ *** End Of Update *** ]
* When the feds go after you, they tend to go all out. Even if you pay the money back before you're indicted, it won't matter. For instance…
In the months after learning from federal agents that he was the focus of a tax evasion probe, Cook County Commissioner William Beavers amended his income taxes and repaid a sizable amount of money he had taken from his campaign fund, according to prosecutors.

After his indictment in February, Beavers released bank records showing the repayment and contended the records showed he had done nothing wrong.

But on Tuesday, days before the start of Beavers' trial, federal prosecutors asked a judge to bar his legal team from presenting any of that evidence — a strike seemingly at the heart of the defense case.

In the court filing, the government outlined how Beavers paid thousands of dollars in additional taxes on the amended returns and repaid his campaign only after he learned of the investigation when federal agents approached him in April 2009.
Judge Zagel hasn't yet ruled on that prosecutorial motion.
* And even if the feds admit they tried to get you to flip on powerful people and you refuse, that evidence can't be used by your defense team…
Cook County Commissioner William Beavers is alleging that a letter sent to his attorneys from federal prosecutors corroborates what he has said from the day he was charged – that the government wanted him to cooperate against other high-ranking elected officials and then indicted him when he refused .

Beavers, who faces trial Monday on income tax charges, accused the U.S. Attorney's office of a "vindictive prosecution" for filing the tax charges after his refusal to cooperate, according to a filing late Wednesday by Beavers' legal team. […]

According to the defense filing, federal agents told Beavers about their criminal probe of him on April 21, 2009, and sought his cooperation. The filing suggested that the names of then-County Board President Todd Stroger and Commissioner John Daley were mentioned during the interview.

"I am not a stool pigeon," one agent recalled Beavers declaring during the meeting.

Beavers' attorneys also criticized the government for not revealing the contents of the interview until the eve of trial and accused them of withholding the information.

"Government agents approached him and asked him to cooperate against other public officials," the filing reads. "When Beavers refused, in retribution, the government empanelled a grand jury and indicted him. The message from the government is clear: had Beavers cooperated, the charges would not have been brought. … The impropriety of the government is exacerbated by the late disclosure of the cooperation request via letter to the defense four days prior to trial."
Judge Zagel ruled that Beavers might be able to talk about how he was approached if he takes the stand. Other than that, no way.
* From the AP earlier this week…
Illinois State Rep. Lou Lang has decided not to call his medical marijuana legislation until next week.

The Skokie Democrat told The Associated Press Wednesday he's still not certain he has the 60 votes he needs for passage.

He says he has most of the necessary votes but there are "a whole bunch of people who are wavering." He will continue talking to them over the weekend and try again in the Legislature's second week of its fall session.
* I did a bit more checking and found something quite unusual had happened. Fox Chicago then followed up…
Supporters of medical marijuana are blaming their latest setback in the State Capitol on two North Suburban businessmen. The pair plans to become Illinois' largest suppliers of medical marijuana and some claim their quiet backroom maneuvering has blocked passage of a bill to legalize it. […]

Libertyville businessman Jim Merlo told FOX 32 News that his company, "Medponics," has hired powerful lobbyists in Springfield only because he wants to ensure that when it's legalized here, medical marijuana is grown and delivered safely to those who need it. Others fear Medponics wants to corner the market. […]

House Republican Leader Tom Cross is a supporter of medical marijuana. He wants to rewrite the current bill after hearing from two top lobbyists about the Medponic system.

"If somebody got stopped by the police, and said, 'Oh, I'm using — this is medical marijuana,' you could actually test it and find out whether it was true medical marijuana grown here at one of the facilities, or whether it was not in fact medical marijuana," explains Cross.

The current legislation sponsored by Skokie Democrat Lou Lang would grant licenses to as many as 59 marijuana growers across the state. Supporters claim that having dozens of small growers, instead of one or a handful of very large pot producers, would avoid the clashes with federal agents that have occurred in other states.

"Every time that somebody has tried to do one of these large growing operations, the federal government has come in and has threatened either the landlords and the property owners with not only arrest but also asset forfeiture," says Dann Linn, the Executive Director for Illinois NORML.
One of those two top lobbyists used to be Cross' chief of staff. And I have no idea what Cross is talking about when he says you could "actually test" the weed to see if it was grown at one of Medponic's facilities.
And considering that US Attorneys throughout the nation have been busting far smaller growing operations, I can't see how the heck Medponics thinks it can get away with doing this. And if it's shut down, the entire medical marijuana infrastructure in the state would go down with it.
Life in Springfield.
* The reporting on yesterday's PPP poll has been somewhat breathless…
Reports are coming out that Pat Quinn is the least popular governor in the country.

according to a survey that came out Thursday, only one in four Illinois voters approves of Quinn's job performance.

The liberal-leaning Public Policy Polling firm found that 64 percent of voters disapprove of the work Quinn is doing, making him "the most unpopular governor [it] has polled on anywhere in the country this year."

The firm reports that, if the general election were held today, Quinn would lose to state Sen. Kirk Dillard (R) by a margin of 44 to 37 percent, and to state Treasurer Dan Rutherford (R) by 43 to 39 percent.
* More…
"Quinn's unpopularity puts the Republicans in a position where they could win despite the fact that none of them are very well-known," said Tom Jensen, director of Public Policy Polling.

An aide to Quinn defended his tenure and acknowledged that his efforts to deal with difficult subjects, such as Medicaid reform, facility closures and tax increases, have not been popular — but are in the best interests of state government.
* OK, here's Real Clear Politics' poll tracker for the 2010 general. As you can see, the average had him losing to Bill Brady by almost five points…
In October, the Tribune had Quinn trailing by four points and Rasmussen and PPP had him down by five.
On October 12th, 2010 - just a few weeks before the election - Quinn's job approval was measured at 26 percent by the Tribune's pollster. That's just a point higher than PPP's latest poll.
In other words, we've seen this movie before.
[The following is a paid advertisement.]
Although all energy development comes with risks, Americaís natural gas producers are committed to protecting America's air, land, and water. Across the country, advance in technology:
* Protect air, by reducing emissions and monitoring air quality near drilling sites;

* Protect land, by reducing our production footprint and helping to create thousands of acres of wildlife preserves; and

* Protect water, through conservation and recycling technologies, and the use of reinforced cement and steel-encased drilling systems that go thousands of feet below fresh-water tables.
That's smarter power today. Go to ANGA.US to learn more about our safe and responsible development practices.
* Whatever you may think of the charges, these town hall meetings are a pretty gutsy move by indicted state Rep. LaShawn Ford (D-Chicago). From an e-mail sent to his constituents yesterday afternoon…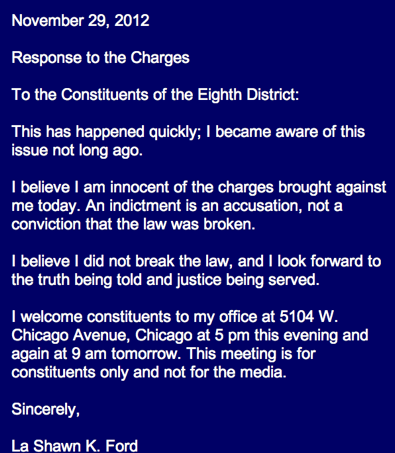 * ABC7…
Indicted State Representative LaShawn Ford met with constituents to defend himself in his West Side office Thursday night and offered his side of the story.

He said he has yet to read the federal indictment, but he fully intends to fight it.

The feds say he defrauded Shore Bank by misusing more than half a million dollars in loans. Ford says he did nothing wrong.

"What we have is a failed bank and there were problems with that bank and the federal justice department, they're doing their job. They want to make sure that everything was done right," he said.

The allegations date back to 2006, before Ford was elected to the state house. And they concern his real estate business, not his work as a state representative, which supporters say has been stellar.

"Me personally, I don't believe he did anything wrong," said Roy Flowers.

"LaShawn has been a pillar of the community for years, from his real estate company all the way to as a state rep," said Marlon Ryals.
* Ford also talked to several reporters yesterday, and attempted to refute the charges one by one…
He vehemently denied the charges and insisted he had committed no bank fraud in the years before he was elected to office and while he was actively buying and rehabbing homes on the West Side.

"An indictment is an accusation and a theory of what those people believed happened as far as the life I live," Ford said, adding that he plans to continue to serve as state representative while he fights the charges. […]

Speaking by phone to Austin Weekly News shortly after the news of the indictment broke, Ford responded nearly point-by-point to the lengthy indictment.

As for the charge that he needed the money to support a lavish lifestyle, Ford insisted that he has been successful in real estate through legitimate means and didn't need to commit any crimes.

"This is a case of the feds not knowing how real estate is done in the community," Ford said. "I respect their job, but I also have a job to do and that's to defend myself."
* And…
The lawmaker said his business failed when the real estate market collapsed, falling particularly hard on the city's underdeveloped West Side.

"My business failed. ShoreBank failed. The problem is the owners of the bank, they're gone. And little ol' me is right here, being indicted."

Ford also dismissed the federal allegations about using money for gambling payments, saying he was making enough money to "do what I wanted to do."

"I gamble when I can," he said. "If I can afford to gamble, I gamble." Asked if he had a gambling problem, Ford said "no" and said he had no gambling debts. Ford said he did not divert any of the bank money to gamble.

"The jury will decide on my guilt or innocence," he said. "I know me. I know I didn't lie to the bank."
* More…
In August, the legislative chamber voted to oust state Rep. Derrick Smith (D-Chicago) for allegedly accepting a $7,000 bribe from an undercover FBI informant who was acting on behalf of a purported daycare center operator seeking Smith's assistance in obtaining a $50,000 state grant. Smith went on to win election in November despite being under federal indictment and will be seated in the House in January.

Ford voted present on the resolution to expel Smith, one of only three lawmakers to do so. Six voted no.

"It's up to the speaker of the House and the members," Ford said, when asked whether he thinks he too could face possible expulsion.

"I want to serve in the House of Representatives. I want a place where people understand this is America and in America, we believe in justice. We say the Pledge of Allegiance every day when we convene [in Springfield].

"An indictment is no more than an accusation, no more than a hypothesis, their theory of what they believe happened back in 2006 of 2007. This is 2012," Ford continued. "There's no damn way."
As I told subscribers earlier this morning about my own interview with the man, Ford is either the most brazen liar I've ever seen or there's something really lacking in that indictment.
[The following is a paid advertisement.]
Credit unions were first exempted from federal income tax in 1917 because of their unique structure as not-for-profit financial cooperatives. Contrary to what some banks may suggest, credit unions pay property, payroll, and sales taxes. Yet while banks decry the credit union tax exemption, almost one out of three banks elect Subchapter S status under the Internal Revenue Code to avoid federal income taxation. In Illinois, that's $38 million in diverted tax dollars. These for-profit Sub-S banks also pay dividends and fees — not to customers, but to directors/investors/stockholders who may or may not be depositors — to the tune of $1 billion. This is far in excess of the estimated federal income tax credit unions would pay. In contrast, credit unions return net revenue to their members. The banker argument against the credit union tax exemption is simply disingenuous. If banks really believed that credit unions operate with an unfair competitive advantage, they would restructure their institutions to credit union charters. None would, however, because doing so would expose them to becoming democratically controlled, locally-owned financial cooperatives governed by their very own volunteer members that put people before profits — all the virtues that define the credit union difference.