* From the Illinois Federation of Teachers' website…
Rumor Mill: Lame Duck Lawmakers Could Vote to Remove Workers from Union Rolls in January

For the past couple of years, Governor Quinn has pushed for the legislature to pass legislation ending the hard-fought rights of many state employees to join a union. Quinn's battle with public employee unions has boiled over in the past few weeks with the governor announcing an end to extensions to collective bargaining agreements during a drawn-out contract negotiations process. But, it seems the governor is rekindling his effort to pass SB1556, which removes potentially thousands of workers from their unions.

The measure impacts hundreds of the IFT public employees who work throughout state government – including the Secretary of State's office, the Attorney General's office and other executive-level agencies.

It is rumored that Illinois Senate leaders will put SB1556 up for a vote during the lame duck session in January, before new lawmakers are sworn into office. The IFT is joining our union allies to fight against this anti-worker power grab. Be watchful for more to come on this issue.
* From AFSCME's website…
IEA president Cinda Klickna "called for Gov. Quinn to end his assault on the 40,000 state employees represented by AFSCME":

Governor Quinn's decision to terminate the state's contract with its largest employee union, AFSCME, is an attack on both the collective bargaining process and on all unionized public employees in Illinois.

The AFSCME employees provide health services to the sick, the elderly and to children. These hard-working men and women help ensure public safety and enhance the quality of life for all Illinoisans and deserve better than this assault from the state's chief executive.

On behalf of the 133,000 IEA members, we urge Governor Quinn to return to the bargaining table and negotiate a fair contract with AFSCME.

IFT president Dan Montgomery also "urged Quinn to return to the bargaining table":

Governor Quinn's actions to terminate Illinois' contract with tens of thousands of unionized state employees is not only offensive to those of us in organized labor, it is also a sign of disrespect for middle class, working families throughout the state.

The fact is, public service professionals – whether they be teachers, police officers, social workers or correctional officers – dutifully perform their jobs to ensure that government works for the citizens. Discarding the collective bargaining process, especially in the manner that the governor has, is offensive and unnecessary.

During the Thanksgiving holiday, I urge Governor Quinn to reconsider his decision – a decision that inflicts unnecessary harm to thousands of Illinois workers and their families. Furthermore, I encourage the governor to quickly return to the collective bargaining table with a reasoned set of ideas to finish one of the tasks his job requires – a fair contract for AFSCME and the citizens of Illinois.

The Chicago Teachers Union has issued the following statement in support of AFSCME members in state government:

The Chicago Teachers Union stands in solidarity with AFSCME Council 31 in its effort to bargain a fair contract. Although Governor Quinn has recently supported Chicago teachers in opposing the overemphasis on standardized tests in our classrooms and the proliferation of non-union charter schools, we cannot abide his treatment of our brothers and sisters in AFSCME.

The Governor's unprecedented action to terminate its contract with AFSCME was unnecessary and damaging to the bargaining process. We encourage Governor Quinn to avoid the potential disruption that termination might bring, reinstitute the current agreement, get back to the table and come to a fair settlement.
* Sun-Times…
Two of organized labor's biggest guns in Illinois took aim at Gov. Pat Quinn Thursday, calling on him to rescind his decision to terminate the contract that applies to about 40,000 state employees.

"We cannot understand why our governor, who has stood with organized labor in the past, would be so eager to undermine our brothers and sisters," said Jorge Ramirez, president of the Chicago Federation of Labor.

Ramirez was joined in calling out Quinn by Illinois AFL-CIO President Michael Carrigan.

"State employees are on the frontlines every day preserving public safety, safeguarding children and assisting families, caring for aging veterans, responding to disasters, and protecting our environment," Carrigan said in a prepared statement.

"Gov. Quinn's effort to undermine their collective bargaining rights is unwarranted and virtually unprecedented in Illinois government," Carrigan said.
* And the Sun-Times editorialized on the matter…
AFSCME argues that state workers aren't to blame for the state's fiscal woes, that long-term answers lie in a more fair and progressive tax structure. We don't disagree. But there is a budget crisis that must be dealt with today.

We agree with AFSCME that Quinn's office should lay off portraying state workers as overpaid compared to those in other states. If the comparison bears out, it's something to be proud of — that Illinois historically has treated its public workers well.

The real question is whether Illinois can continue that tradition. Sadly, the answer today is no.
* Other stuff…
* CTU rips charters: 'privatization schemes masquerading as education policy'

* Hinz: Teachers union charges CPS with 'educational apartheid'

* Emanuel's Birthday Gift: A Protest Outside His Home - O'Hare employees say new contractor doesn't pay a living wage

* Owner of firm with O'Hare deal has links to reputed mob figure

* Ken Griffin buyer of Chicago's most expensive condo
- Posted by Rich Miller 39 Comments


* Zorn posted some results from "The Best & Worst of Mobile Connectivity" survey by the Pew Research Center's Internet & American Life Project…
44% of cell owners have slept with their phone next to their bed because they wanted to make sure they didn't miss any calls, text messages, or other updates during the night. …

12% of cell owners say that people they know tell them that they are spending too much time using their phone…

9% of cell owners say that their phone makes it "a lot" harder to disconnect from work life. This concern is particularly acute among cell owners in high-income households. 7% of cell owners say that their phone makes it "a lot" harder to give people their undivided attention. 7% of cell owners say that their phone makes it "a lot" harder to focus on a single task without being distracted….

Two groups consistently stand out when it comes to their usage patterns and attitudes relating to their mobile phones — the 45% of American adults who own a smartphone and the 17% of cell owners who do most of their online browsing within the context of their mobile phone (referred to throughout this report as "cell-mostly internet users"). Compared with other cell owners, these individuals are more likely to sleep next to their phones; to check their phone frequently for messages or alerts even though they didn't hear a notification; and to engage in a wide range of mobile activities such as accessing social networking sites or doing online banking.
* The Question: How often do you access Capitol Fax.com on your mobile phone or device? Take the poll and then explain your answer in comments, please.
- Posted by Rich Miller 51 Comments


* Just in case you're wondering, here is the weighted vote for the 2nd Congressional District. Refer to this whenever you see a news story about an endorsement…
* 5th Ward - Leslie Hairston - 2,981

* 7th Ward - Sandi Jackson - 6,298

* 8th Ward - Michele Harris - 2,372

* 9th Ward - Anthony Beale - 5,478

* 10th Ward - John Pope - 1,430

* 34th Ward - Carrie Austin - 1,625

* Bloom Township - Terry Matthews - 8,929

* Bremen Township - Maggie Crotty - 4,140

* Calumet Township - Bob Rita - 161

* Rich Township - Tim Bradford - 11,393

* Thornton Township - Frank Zuccarelli - 20,158

* TOTAL WEIGHTED VOTE: 64,966

* TOTAL NEEDED TO SLATE: 32,484
By my count, state Sen. Donne Trotter is currently at 29,651 (5, 8, Bremen, Thornton).
* Meanwhile, none of these announcements are a surprise, but the race sure is getting crowded…
Three more Chicago politicians have jumped into an increasingly crowded race to replace Jesse Jackson Jr. in the 2nd Congressional District: Illinois State Sen. Toi Hutchinson (D-Olympia Fields), Chicago Ald. Anthony Beale (9th), and Robin Kelly — a top aide to Cook County Board President Toni Preckwinkle.

Hutchinson formally announced in an email Thursday that she would run for the seat Jackson vacated last week.

"Families in the South Suburbs and the [South Side] deserve a representative who understands their concerns and who will work alongside President Obama to create new jobs, rebuild our roads and schools, and protect the gains we've made on equal pay, health care and civil rights," Hutchinson said.

Beale also announced Thursday he's joining the race for Jackson's seat. He told the Chicago Sun-Times he's the only candidate in the field who's created thousands of jobs, referring to his successful work to bring a Wal-Mart store to Pullman Park, at 111th and Doty Avenue. That store, set to open next spring, will be the third Wal-Mart supercenter in Chicago.

Meantime, CBS 2 Political Producer Ed Marshall has confirmed Kelly also is joining the race and will formally announce her candidacy on Sunday at an event in south suburban Matteson.
* More…
Already in the contest are former U.S. Rep. Debbie Halvorson of Crete, who lost a primary challenge to Jackson in March, and state Sen.-elect Napoleon Harris, a former Northwestern and NFL player who won his first office this month.

Also announced as a candidate is disgraced former U.S. Rep. Mel Reynolds, who gave up the 2nd District seat in 1995 after his conviction on sex-related charges, including having sex with an underage campaign worker.
* Harris can self fund and is a former football star with lots of charisma and a great life story. That makes him particularly dangerous…
"I'm running," Harris told the Sun-Times. "The primary reason I chose to run for the state Senate is the heartbeat and the pulse of my constituents. But over the last few months, we've gotten overwhelming support to put my name in the ring for the congressional seat."

A native of Dixmoor, Harris starred at Thornton Township High School then at Northwestern University. A first-round pick of the Oakland Raiders in 2002, he played seven NFL seasons, most notably starting in Super Bowl XXXVII. The owner of two Beggars Pizza franchises in the area, Harris wanted to return to his community, where many of his relatives still live.

Harris' field director James Jones said the inquiries about his interest in the congressional seat started coming since Thanksgiving and ramped up Monday, when he estimated that there were 500 phone calls to their office. Late Monday, just before 5 p.m., retired real estate agent Erick Hawthorne called to volunteer to help Harris.
* Halvorson is one of the only white people who will run, which could be advantageous, but many of the district's whites tend to be Republicans. Sen. Hutchinson replaced Halvorson in the Senate, so the two will likely fight over the same regional vote and the women vote. Still, Hutchinson is a rising star and can't be underestimated.
Kelly ran statewide, so she has a legit shot. Not mentioned above is former Rep. David Miller, who may get into the race and is from the same region as Kelly.
* Beale might be backed by Ald. Sandi Jackson. He's already supported by Carrie Austin…
Asked how he plans to raise the $500,000 it's likely to take to win the abbreviated campaign, Beale said, "The old-fashioned way. We're gonna make phone calls and get people to buy into my vision."

Ald. Carrie Austin (34th), powerful chairman of the City Council's Budget Committee, said she pledged her support to Beale two years ago and plans to keep her word to him.

"He understands the hardships of the 2nd Congressional District because he has lived in it and worked in it. Those hardships that we have that we have not been able to see addressed by the former congressman, he has more of the ground part of what needs to be done," Austin said.
As you can see above, however, Austin has only a relative handful of weighted votes in the district.
* I'm not sure what this means…
Sneed hears former U.S. Rep. Jesse Jackson Jr. is now singing with the voice of an anxious canary. Sneed also hears rumbles the feds are very interested in a powerful dem femme, who is not an alderman. Stay tuned.

The Jackson File…

All in the family: Although former U.S. Rep. Jesse Jackson Jr.'s brother, Jonathan, has confided to pals he wants a political career — a future mayoral bid on his supposed wish list — it is another Jackson brother, Yusef, a lawyer, who is described by political watchers as "smart as whip" and "the real deal" who could be the next to enter the political fray.
Yusef is the Budweiser distributor…
Twice last year, Chicago businessman Yusef Jackson — a son of the Rev. Jesse L. Jackson and brother-in-law of Ald. Sandi Jackson (7th) — went to City Hall seeking taxpayer money for a new home for his Budweiser beer distributorship west of downtown, records obtained by the Chicago Sun-Times and interviews show.

At first, Jackson asked for a $4.2 million city subsidy in the form of tax-increment financing. That's according to the application he submitted to City Hall in March 2011, shortly before Mayor Richard M. Daley left office.

On his second application, filed in August 2011, three months after Mayor Rahm Emanuel was sworn in, Jackson slashed the amount of taxpayer money he wanted. This time, he said he needed only $1 million from City Hall to help pay for the $5.1 million renovation of a vacant, two-story building he owns at 401 N. Ogden.
* And check out this story about Mel Reynolds…
"I live at 221…my address is 221…I'm renting. South 138th Street. In Dolton," Reynolds stammered.

That address doesn't exist, but there is a 221 East 138th Street. When FOX 32's Dane Placko showed Reynolds' picture to neighbors, they didn't seem to recognize him. […]

His driver's license is registered to a UPS store in Bronzeville and he says he drives two cars: an SUV with retired congressional plates and a Jaguar.

But, the Secretary of State's office says that could be a problem.

"The driver's license, Dane, has been canceled," Dave Druker of the Secretary of State's office explains. "He had written a check to the Secretary of State's office that bounced."

Druker says Reynolds should not be driving at all.

That bad check is just the start of Reynolds' financial problems. Cook County records show he's been sued by several creditors and was kicked out of this property on King Drive.

The lawyer who represented him on that case then turned around and sued Reynolds for non-payment. He won a judgment for more than $12,000, which Reynolds still hasn't paid.
Oy.
* Related…
* House Passes Filing Deadline Extension

* James Taylor Sr. running for Jackson's seat as Republican
- Posted by Rich Miller 27 Comments


*** UPDATE *** Beavers can talk about his repayment if he testifies…
A federal judge today ruled that Cook County Commissioner William Beavers can tell a jury that he amended his taxes and repaid a campaign fund after he learned of a federal investigation against him. […]

But U.S. District Court James Zagel said Beavers has a right to explain his reasons for amending the taxes to jurors so they can decide why he did it.

"The state of mind is crucial to the (jurors)," Zagel said.

But the judge gave careful instructions to Beavers attorney, Sheldon Sorosky, saying that the only way the jury can hear specifics about the repaid money and amended taxes is directly from Beavers if he takes the witness stand.
[ *** End Of Update *** ]
* When the feds go after you, they tend to go all out. Even if you pay the money back before you're indicted, it won't matter. For instance…
In the months after learning from federal agents that he was the focus of a tax evasion probe, Cook County Commissioner William Beavers amended his income taxes and repaid a sizable amount of money he had taken from his campaign fund, according to prosecutors.

After his indictment in February, Beavers released bank records showing the repayment and contended the records showed he had done nothing wrong.

But on Tuesday, days before the start of Beavers' trial, federal prosecutors asked a judge to bar his legal team from presenting any of that evidence — a strike seemingly at the heart of the defense case.

In the court filing, the government outlined how Beavers paid thousands of dollars in additional taxes on the amended returns and repaid his campaign only after he learned of the investigation when federal agents approached him in April 2009.
Judge Zagel hasn't yet ruled on that prosecutorial motion.
* And even if the feds admit they tried to get you to flip on powerful people and you refuse, that evidence can't be used by your defense team…
Cook County Commissioner William Beavers is alleging that a letter sent to his attorneys from federal prosecutors corroborates what he has said from the day he was charged – that the government wanted him to cooperate against other high-ranking elected officials and then indicted him when he refused .

Beavers, who faces trial Monday on income tax charges, accused the U.S. Attorney's office of a "vindictive prosecution" for filing the tax charges after his refusal to cooperate, according to a filing late Wednesday by Beavers' legal team. […]

According to the defense filing, federal agents told Beavers about their criminal probe of him on April 21, 2009, and sought his cooperation. The filing suggested that the names of then-County Board President Todd Stroger and Commissioner John Daley were mentioned during the interview.

"I am not a stool pigeon," one agent recalled Beavers declaring during the meeting.

Beavers' attorneys also criticized the government for not revealing the contents of the interview until the eve of trial and accused them of withholding the information.

"Government agents approached him and asked him to cooperate against other public officials," the filing reads. "When Beavers refused, in retribution, the government empanelled a grand jury and indicted him. The message from the government is clear: had Beavers cooperated, the charges would not have been brought. … The impropriety of the government is exacerbated by the late disclosure of the cooperation request via letter to the defense four days prior to trial."
Judge Zagel ruled that Beavers might be able to talk about how he was approached if he takes the stand. Other than that, no way.
- Posted by Rich Miller 19 Comments


* From the AP earlier this week…
Illinois State Rep. Lou Lang has decided not to call his medical marijuana legislation until next week.

The Skokie Democrat told The Associated Press Wednesday he's still not certain he has the 60 votes he needs for passage.

He says he has most of the necessary votes but there are "a whole bunch of people who are wavering." He will continue talking to them over the weekend and try again in the Legislature's second week of its fall session.
* I did a bit more checking and found something quite unusual had happened. Fox Chicago then followed up…
Supporters of medical marijuana are blaming their latest setback in the State Capitol on two North Suburban businessmen. The pair plans to become Illinois' largest suppliers of medical marijuana and some claim their quiet backroom maneuvering has blocked passage of a bill to legalize it. […]

Libertyville businessman Jim Merlo told FOX 32 News that his company, "Medponics," has hired powerful lobbyists in Springfield only because he wants to ensure that when it's legalized here, medical marijuana is grown and delivered safely to those who need it. Others fear Medponics wants to corner the market. […]

House Republican Leader Tom Cross is a supporter of medical marijuana. He wants to rewrite the current bill after hearing from two top lobbyists about the Medponic system.

"If somebody got stopped by the police, and said, 'Oh, I'm using — this is medical marijuana,' you could actually test it and find out whether it was true medical marijuana grown here at one of the facilities, or whether it was not in fact medical marijuana," explains Cross.

The current legislation sponsored by Skokie Democrat Lou Lang would grant licenses to as many as 59 marijuana growers across the state. Supporters claim that having dozens of small growers, instead of one or a handful of very large pot producers, would avoid the clashes with federal agents that have occurred in other states.

"Every time that somebody has tried to do one of these large growing operations, the federal government has come in and has threatened either the landlords and the property owners with not only arrest but also asset forfeiture," says Dann Linn, the Executive Director for Illinois NORML.
One of those two top lobbyists used to be Cross' chief of staff. And I have no idea what Cross is talking about when he says you could "actually test" the weed to see if it was grown at one of Medponic's facilities.
And considering that US Attorneys throughout the nation have been busting far smaller growing operations, I can't see how the heck Medponics thinks it can get away with doing this. And if it's shut down, the entire medical marijuana infrastructure in the state would go down with it.
Life in Springfield.
- Posted by Rich Miller 38 Comments


* The reporting on yesterday's PPP poll has been somewhat breathless…
Reports are coming out that Pat Quinn is the least popular governor in the country.

according to a survey that came out Thursday, only one in four Illinois voters approves of Quinn's job performance.

The liberal-leaning Public Policy Polling firm found that 64 percent of voters disapprove of the work Quinn is doing, making him "the most unpopular governor [it] has polled on anywhere in the country this year."

The firm reports that, if the general election were held today, Quinn would lose to state Sen. Kirk Dillard (R) by a margin of 44 to 37 percent, and to state Treasurer Dan Rutherford (R) by 43 to 39 percent.
* More…
"Quinn's unpopularity puts the Republicans in a position where they could win despite the fact that none of them are very well-known," said Tom Jensen, director of Public Policy Polling.

An aide to Quinn defended his tenure and acknowledged that his efforts to deal with difficult subjects, such as Medicaid reform, facility closures and tax increases, have not been popular — but are in the best interests of state government.
* OK, here's Real Clear Politics' poll tracker for the 2010 general. As you can see, the average had him losing to Bill Brady by almost five points…
In October, the Tribune had Quinn trailing by four points and Rasmussen and PPP had him down by five.
On October 12th, 2010 - just a few weeks before the election - Quinn's job approval was measured at 26 percent by the Tribune's pollster. That's just a point higher than PPP's latest poll.
In other words, we've seen this movie before.
- Posted by Rich Miller 41 Comments


[The following is a paid advertisement.]
Although all energy development comes with risks, Americaís natural gas producers are committed to protecting America's air, land, and water. Across the country, advance in technology:
* Protect air, by reducing emissions and monitoring air quality near drilling sites;

* Protect land, by reducing our production footprint and helping to create thousands of acres of wildlife preserves; and

* Protect water, through conservation and recycling technologies, and the use of reinforced cement and steel-encased drilling systems that go thousands of feet below fresh-water tables.
That's smarter power today. Go to ANGA.US to learn more about our safe and responsible development practices.
- Posted by Advertising Department Comments Off


* Whatever you may think of the charges, these town hall meetings are a pretty gutsy move by indicted state Rep. LaShawn Ford (D-Chicago). From an e-mail sent to his constituents yesterday afternoon…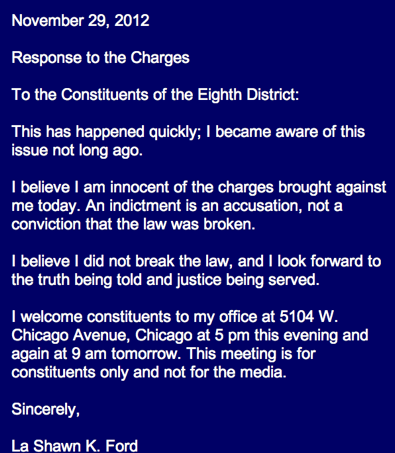 * ABC7…
Indicted State Representative LaShawn Ford met with constituents to defend himself in his West Side office Thursday night and offered his side of the story.

He said he has yet to read the federal indictment, but he fully intends to fight it.

The feds say he defrauded Shore Bank by misusing more than half a million dollars in loans. Ford says he did nothing wrong.

"What we have is a failed bank and there were problems with that bank and the federal justice department, they're doing their job. They want to make sure that everything was done right," he said.

The allegations date back to 2006, before Ford was elected to the state house. And they concern his real estate business, not his work as a state representative, which supporters say has been stellar.

"Me personally, I don't believe he did anything wrong," said Roy Flowers.

"LaShawn has been a pillar of the community for years, from his real estate company all the way to as a state rep," said Marlon Ryals.
* Ford also talked to several reporters yesterday, and attempted to refute the charges one by one…
He vehemently denied the charges and insisted he had committed no bank fraud in the years before he was elected to office and while he was actively buying and rehabbing homes on the West Side.

"An indictment is an accusation and a theory of what those people believed happened as far as the life I live," Ford said, adding that he plans to continue to serve as state representative while he fights the charges. […]

Speaking by phone to Austin Weekly News shortly after the news of the indictment broke, Ford responded nearly point-by-point to the lengthy indictment.

As for the charge that he needed the money to support a lavish lifestyle, Ford insisted that he has been successful in real estate through legitimate means and didn't need to commit any crimes.

"This is a case of the feds not knowing how real estate is done in the community," Ford said. "I respect their job, but I also have a job to do and that's to defend myself."
* And…
The lawmaker said his business failed when the real estate market collapsed, falling particularly hard on the city's underdeveloped West Side.

"My business failed. ShoreBank failed. The problem is the owners of the bank, they're gone. And little ol' me is right here, being indicted."

Ford also dismissed the federal allegations about using money for gambling payments, saying he was making enough money to "do what I wanted to do."

"I gamble when I can," he said. "If I can afford to gamble, I gamble." Asked if he had a gambling problem, Ford said "no" and said he had no gambling debts. Ford said he did not divert any of the bank money to gamble.

"The jury will decide on my guilt or innocence," he said. "I know me. I know I didn't lie to the bank."
* More…
In August, the legislative chamber voted to oust state Rep. Derrick Smith (D-Chicago) for allegedly accepting a $7,000 bribe from an undercover FBI informant who was acting on behalf of a purported daycare center operator seeking Smith's assistance in obtaining a $50,000 state grant. Smith went on to win election in November despite being under federal indictment and will be seated in the House in January.

Ford voted present on the resolution to expel Smith, one of only three lawmakers to do so. Six voted no.

"It's up to the speaker of the House and the members," Ford said, when asked whether he thinks he too could face possible expulsion.

"I want to serve in the House of Representatives. I want a place where people understand this is America and in America, we believe in justice. We say the Pledge of Allegiance every day when we convene [in Springfield].

"An indictment is no more than an accusation, no more than a hypothesis, their theory of what they believe happened back in 2006 of 2007. This is 2012," Ford continued. "There's no damn way."
As I told subscribers earlier this morning about my own interview with the man, Ford is either the most brazen liar I've ever seen or there's something really lacking in that indictment.
- Posted by Rich Miller 24 Comments


[The following is a paid advertisement.]
Credit unions were first exempted from federal income tax in 1917 because of their unique structure as not-for-profit financial cooperatives. Contrary to what some banks may suggest, credit unions pay property, payroll, and sales taxes. Yet while banks decry the credit union tax exemption, almost one out of three banks elect Subchapter S status under the Internal Revenue Code to avoid federal income taxation. In Illinois, that's $38 million in diverted tax dollars. These for-profit Sub-S banks also pay dividends and fees — not to customers, but to directors/investors/stockholders who may or may not be depositors — to the tune of $1 billion. This is far in excess of the estimated federal income tax credit unions would pay. In contrast, credit unions return net revenue to their members. The banker argument against the credit union tax exemption is simply disingenuous. If banks really believed that credit unions operate with an unfair competitive advantage, they would restructure their institutions to credit union charters. None would, however, because doing so would expose them to becoming democratically controlled, locally-owned financial cooperatives governed by their very own volunteer members that put people before profits — all the virtues that define the credit union difference.
- Posted by Advertising Department Comments Off


* 2:22 pm - From the US Attorney's office…
LaShawn K. Ford, an Illinois State Representative who also invested in real estate in Chicago, was indicted today on federal bank fraud and related charges for allegedly fraudulently obtaining a $500,000 increase and a two-year extension on a line of credit from the failed ShoreBank and obtaining multiple advances by making false statements about his intended use of the funds.

Ford, 40, of Chicago, who operated Ford Desired Real Estate, Inc., and also invested personally in real estate, purportedly obtained bank funds to rehabilitate specific investment properties in the city, but instead used the funds to pay unrelated expenses, including, car loans, credit cards, other mortgages held at ShoreBank, payments to a casino in Hammond, Ind., and for his 2006 campaign for Illinois State Representative, the indictment alleges. The charges do not involve Ford's position as a state legislator after he was first elected in 2006. Ford represents Illinois' 8th House District, which includes portions of Chicago's west side and several western suburbs in Cook County.

Ford was charged with eight counts of bank fraud and nine counts of submitting false information to the bank in a 17-count indictment returned today by a federal grand jury. Chicago-based ShoreBank failed in August 2010 and now operates as Urban Partnership Bank.

Ford will be arraigned on a later date to be determined in U.S. District Court in Chicago.

The indictment was announced by Gary S. Shapiro, Acting United States Attorney for the Northern District of Illinois, and William C. Monroe, Acting Special Agent-in-Charge of the Chicago Office of the Federal Bureau of Investigation.

According to the indictment, Ford had multiple loans with ShoreBank, including a $1 million line of credit, which he was permitted to use solely to purchase and rehabilitate investment properties. On May 22, 2006, he obtained a $500,000 increase — to $1.5 million, and a two-year extension of the credit line, allegedly by submitting false tax return documents that inflated his personal and business income.

On seven different occasions between April 2006 and March 2007, Ford applied for and obtained a total of $373,500 in advances from the credit line, allegedly by making false statements that he intended to use the funds to rehabilitate six different investment properties on the city's west side. In each instance, however, Ford allegedly knew that he intended to use the funds, in part, for expenses unrelated to the specific rehabilitation projects.

The indictment seeks forfeiture of approximately $832,000.

Each count of bank fraud and making false statements to a financial institution carries a maximum penalty of 30 years in prison and a $1 million fine, and restitution is mandatory. If convicted, the Court must impose a reasonable sentence under federal sentencing statutes and the advisory United States Sentencing Guidelines.

The government is being represented by Assistant U.S. Attorneys Greg Deis and William Ridgway.

The investigation falls under the umbrella of the Financial Fraud Enforcement Task Force, which includes representatives from a broad range of federal agencies, regulatory authorities, inspectors general, and state and local law enforcement who, working together, bring to bear a powerful array of criminal and civil enforcement resources. The task force is working to improve efforts across the federal executive branch, and with state and local partners, to investigate and prosecute significant financial crimes, ensure just and effective punishment for those who perpetrate financial crimes, combat discrimination in the lending and financial markets, and recover proceeds for victims of financial crimes. For more information on the task force, visit: www.StopFraud.gov.

An indictment contains only charges and is not evidence of guilt. The defendant is presumed innocent and is entitled to a fair trial at which the government has the burden of proving guilt beyond a reasonable doubt.
* 2:27 pm - The indictment is here.
- Posted by Rich Miller 57 Comments


* We successfully "freeped" Public Policy Polling's website a couple weeks ago and convinced them to do an Illinois poll. I'm not sure how valuable the numbers are because it's so very early in the gubernatorial process, but let's get to it.
The poll was taken November 26-28 of 500 Illinois voters.
* Gov. Pat Quinn's job approval rating continues to be super dismal…

Quinn disagrees with voters, however…
"I think I'm doing a good job under the circumstances and want to continue."
* Except for Lisa Madigan, most people really don't know much about the other candidates tested here…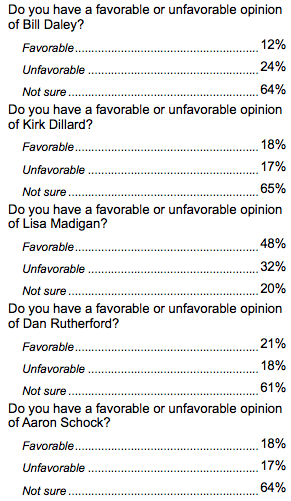 * Quinn only does well against Aaron Schock, who is a Downstate congressman and not yet very well known statewide…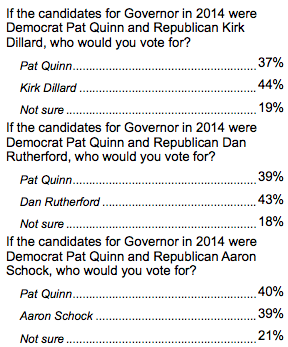 Keep in mind that Quinn was trailing Bill Brady for months before he finally won. Party love generally kicks in late.
* Same goes for Bill Daley…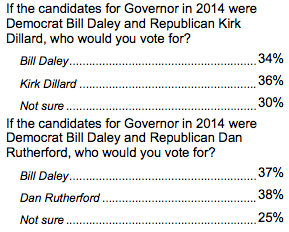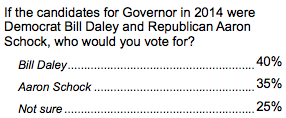 * Lisa Madigan is a different story, but she's not killing it like I thought she would…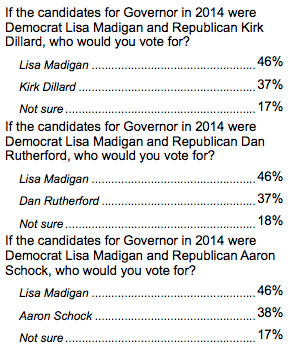 Madigan is barely outperforming the generic party ID test…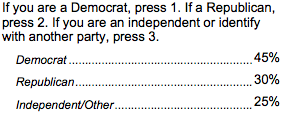 I've been saying for a while that I didn't think Attorney General Madigan would run for governor in 2014. But I had a long off the record talk with her on election night (she attended my Google party), and let's just say I'm no longer 100 percent sure about anything. She probably won't, but I can't say that for sure right now.
* PPP also polled for the primaries, but the sample sizes were so small that they have to be taken with a grain of salt. Of just 303 GOP primary voters…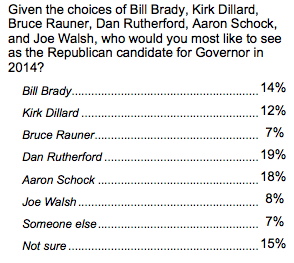 And…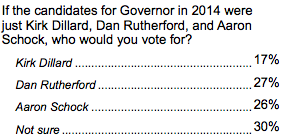 * But check out the Democratic poll of 319 primary voters. Quinn is in a world of trouble…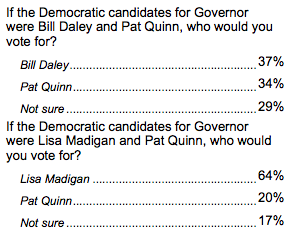 If Lisa runs, she could crush Quinn. But we already knew that.
* Links…
- Posted by Rich Miller 63 Comments


* State Rep.-elect Sue Scherer (D-Decatur) told Bernie that freshman orientation included a section on "things that you need to know but nobody will tell you"…
"I remember the first one — you're going to gain 60 pounds, and so take the stairs," she said. "And your heels don't have any give on marble floors."

"So I have not even ridden the elevator, and maybe never will," she said. "Because when there's food out, it's not like apples and bananas. It's always like brownies."
There was some serious advice as well, I'm sure.
* The Question: Your advice for incoming freshmen?
- Posted by Rich Miller 140 Comments


*** UPDATE *** This will happen tomorrow, not today, but it's happening…
The huge field of candidates running for Jesse Jackson Jr.'s former seat in Congress is about to get slightly less huge.

A source who would know says that Ald. Will Burns, 4th, will announce this afternoon that he's changed his mind and won't be running. Mr. Burns didn't do very well in a poll recently commissioned by Cook County Board President Toni Preckwinkle and, given the short nature of the special-election campaign, decided to hold his fire for now. But don't be surprised to see the former staffer for then-state Sen. Barack Obama pitch himself for statewide office down the road, perhaps comptroller or treasurer.
[ *** End Of Update *** ]
* As subscribers already know, Cook County Democrats will meet in December to see if they can slate a candidate for resigned Congressman Jesse Jackson Jr.'s old seat. Thornton Township Supervisor and Democratic Committeeman Frank Zuccarelli will be chairing the slatemaking committee and he already has a preferred candidate…
While Zuccarelli is encouraging candidates to contact him to be part of the December slating session so they can make their pitch, he's not exactly walking in to this with an open mind. He said he already knows that if state Sen. Donne Trotter (D-Chicago), who has expressed interest in the job, is running, that's who he's backing. Trotter's legislative district, which stretches from the South Side to the suburbs, covers some of the same territory as the 2nd Congressional District, helping him understand the issues facing residents there, Zuccarelli said.

"Even though some people who've been mentioned (as candidates) might do a decent job — nobody comes close" to Trotter, Zuccarelli said. "I'm going to conduct inteviews and I'll listen to what people say — but the only way my mind would change is if Donne dropped out."
Sen. Trotter appears to be in the race to stay, and that endorsement by Zuccarelli is huge. He's already lined up other wards and townships, but Zuccarelli has just about the best organization in all of Cook County, and an absolute ton of the weighted vote.
* Ted McClelland interviewed Trotter back when Trotter ran for Congress against Bobby Rush and Barack Obama...
Trotter, who has thrown his hat into the ring for Jesse Jackson Jr.'s congressional seat, is a member of one of the biggest, oldest clans on the South Side, a family that beat everyone else to Chicago by a generation or two. Trotter's roots in this town go all the way back to 1900, when his great-grandfather, a Choctaw Indian named Granville Trotter, arrived here from Oklahoma. The senator says Granville and his wife had "13 kids who begat another 13 kids who begat another 13 kids."

Trotter's grandfather, Walter Trotter, was a prominent minister in Hyde Park, and his cousin Larry was a bishop at Sweet Holy Spirit Full Gospel Baptist Church. Combing through the voter rolls, the senator's staff decided to invite all the Trotters they found to a fund-raiser. (Another time, he held a "Trottin' with Trotter" event at the harness races at Hawthorne Race Course.)

Trotter lives in South Shore, at 84th and Yates, but he grew up in Grand Crossing, around the corner from Ralph Metcalfe, the Olympic sprinter who represented the First District for many years. He was a Boy Scout with Metcalfe's son, Ralph Jr., who later ran for alderman. He remembers when the Palm Tavern was the hangout for "Billy Eckstine and all the jazz greats," and when the Rosenwald Building, now a flophouse, was home to the black middle class. His campaign was "Chicago's Native Son" — as opposed to Rush, who'd grown up in Georgia, and Obama, who was from Hawaii.

Trotter, who was and still is the best-dressed man in Illinois, embodied South Side urbanity, with tailored suits, bow ties, soul food lunches, and smooth jazz oozing from the speakers of his Jeep. He held his campaign kick-off luncheon at Army and Lou's. When we sat down for an interview, he took me to a vegetarian soul food restaurant on 87th Street.
If he can raise the money, Trotter could very well be the one to beat.
- Posted by Rich Miller 51 Comments


* If you're watching our live veto session coverage, you already know that the Senate Executive Committee approved a Republican-backed amendment that helps ensure passage of a bill to allow undocumented immigrants to obtain special drivers licenses. From the amendment…
A temporary visitor's driver's license is invalid if the holder is unable to provide proof of liability insurance as required by Section 7-601 of this Code upon the request of a law enforcement officer, in which case the holder commits a violation of Section 6-101 of this Code.
* From the Senate Republicans' Twitter feed…
Radogno on SB 957: This is a tough issue but not a new issue. We are placed in this situation because of inaction from Fed Gov.

Radogno: We have taken steps to ensure there is as little fraud as possible. Important to monitor this & see how we can make better if abuse
* Yesterday afternoon, conservative Republican state Sen. Bill Brady announced he was supporting the legislation. From a press release…
Senator Bill Brady said today he will support legislation to improve traffic safety and lower insurance costs for Illinois motorists by permitting undocumented immigrants to obtain temporary visitors drivers licenses already allowed for many other foreign-born individuals.

At Brady's urging, language is included in the bill to stipulate that the temporary visitors driver's licenses cannot be used for purposes of identification, such as registering to vote, boarding an airplane or purchasing a firearm.

"I am pleased that the sponsors of the legislation and the Illinois Coalition for Immigrant and Refugee Rights addressed my concerns and agreed that the temporary visitors licenses should include notification in bold type that they cannot be used for identification purposes," said Brady, an Assistant Senate Republican Leader from Bloomington.

Brady said he decided to support and co-sponsor the legislation because of valid economic arguments for licensing an estimated 250,000 undocumented immigrants in Illinois. Other states which have implemented similar provisions, such as Utah, have seen dramatic numbers of their undocumented immigrants become licensed and purchase the required auto insurance.

"Without licenses, our law enforcement officers cannot check their driving records, and without licenses, Illinois motorists are footing the bill for their uninsured motor vehicle accidents," Brady said.

"This isn't just an issue in the City of Chicago. It's also an issue in the suburbs and Downstate areas where the Latino population is growing."
Brady is no stranger to the illegal immigration issue. He strongly supported in-state tuition for the children of undocumented immigrants.
- Posted by Rich Miller 12 Comments


* House Speaker Michael Madigan's proposal to limit state employee contractual wage increases to zero passed the House yesterday 84-29. Several Republicans voted with the union, including Springfield's Raymond Poe and Rich Brauer…
"There should be a contract negotiated," Poe said. "If Quinn wants to tell them there's zero (money for raises) in the negotiation, that's the way it should be done, rather than forcing it on them."

Brauer said the state needs to cut entitlement programs before it eliminates pay raises.

"They've made promises to workers, and now they're taking it away to keep entitlements," he said.
In all, 14 HGOPs sided with AFSCME: Bost, Brauer, Brown, Cavaletto, Hammond, Mathias, Bill Mitchell, Jerry Mitchell, Moffitt, Poe, Reis, Rosenthal, Saviano and Watson.
* The Speaker's statement…
"We're telling the negotiators, 'Don't be sending us a bill for (wage) increases when we are in the process of reducing every other area of state government,'" Madigan said.
* Background…
AFSCME and Quinn's office are still negotiating a contract, with the next meeting set for December. AFSCME officials have said they are willing to consider a one-year freeze on wages, but Quinn wants the union to OK a freeze for the duration of their next contact.

Last weekend, Quinn ruffled feathers by ending the union's contract with the state, which expired this past June, but was extended during the ongoing negotiations.
* Meanwhile, in another development, check out the new proposal introduced by Sen. John O. Jones (R-Mt. Vernon)…
Authorizes the Senate Appropriations Committees to jointly: (1) review the misconduct and mismanagement in the Illinois Department of Corrections; (2) review the physical condition, the size and composition of the inmate population, and any specific and immediate needs of each correctional facility managed or operated by the State; (3) hold public hearings, take testimony, and request detailed and specific information relating to the inmate population and staff of any individual correctional facility managed or operated by the State, as well as the State's prison system at large; and (4) issue their findings and recommendations in a final report outlining a long-term objective plan for the State's correctional facilities, the populations they hold, and the workforce needed to best protect the citizens of Illinois, by September 1, 2013.

Urges the Governor to seek the immediate resignations of the Director, Executive Chief, Deputy Chief of Operations and Southern Illinois Deputy Director, then begin an immediate internal investigation into the negligence and corruption within the Illinois Department of Corrections.

Urges the Governor not to close any prison facilities proposed to be closed.
- Posted by Rich Miller 21 Comments


* This sort of talk is freaking out business lobbyists in a major way and is a big reason why so many of them are paranoid and up in arms about Senate President John Cullerton's proposal to force publicly traded corporations to disclose their Illinois income tax payments. House Majority Leader Barbara Flynn Currie is also sponsoring the measure and had this to say earlier in the week…
"Maybe if we were to find out that there are some very profitable corporations operating in the state of Illinois, we might want to say that maybe they should pay a little more."
Um, maybe if we find out that there are some very profitable corporations in Illinois, we might look to see how we can make other businesses just as profitable.
I mean, I know what she's probably getting at here, but, seriously, c'mon. That's no way to calm the waters.
* In light of Currie's comments, the Taxpayers Federation's warnings should be listened to…
An equally scathing review came from the Taxpayers Federation of Illinois, which is known more as a watchdog than an ideological group.

If lawmakers need more information, they can get it from the Revenue Department instead of demanding specific figures on each company, which will "undermine" taxpayer privacy, the federation said in a statement. Passage would make Illinois "an even less attractive state to invest and create jobs" in, and give other states a leg up by pointing to Illinois' "taxpayer climate."
* Despite Cullerton's sponsorship, the bill just barely passed yesterday…
The Senate voted 30-27 Wednesday to OK a proposal Cullerton says would help lawmakers plan tax policy.

The Chicago Democrat says legislators don't know whether their tax incentives and credits are working. He says two-thirds of businesses doing work in Illinois pay no corporate income tax.

Republicans criticized the measure as "anti-business (and) anti-employment." Others questioned whether it would be legal to post the information. Cullerton amended the bill to prevent posting of federally prohibited tax information.
There are those who believe that Cullerton's bill is somehow politically motivated. It wouldn't surprise me. He has grumbled about Caterpillar's constant complaints about high state taxes. Cat is suspected of paying little to no income taxes. But Cat's CEO was mostly complaining early on about the increased personal income tax rate and its potential impact on its executives and future recruitment.
* Other stuff…
* Quinn Expected to Hike License Sticker Fees

* Editorial: Pension problem is no cartoon

* Editorial: Pensions more than python problem - Action, not gimmicks, please
- Posted by Rich Miller 24 Comments


[The following is a paid advertisement.]
The cable industry is asking lawmakers to place a NEW 5% tax on satellite TV service. HB 5440 is not about fairness, equity or parity – it's a tax increase on the 1.3 million Illinois families and businesses who subscribe to satellite TV. They cannot afford another NEW tax – not now and not in this economy!
HB 5440 Will Hurt Illinois Families and Small Businesses
• Satellite TV subscribers will see their monthly bills go up 5%.
• This tax will impact every bar, restaurant and hotel that subscribes to satellite TV service, which will translate into higher prices, decreased revenues, and fewer jobs.
• Rural Illinois has no choice: In many parts of Illinois, cable refuses to provide TV service to rural communities. Satellite TV is their only option.
HB 5440 Is Not About Parity or Fairness
• Cable's claim that this discriminatory tax is justified because satellite TV doesn't pay local franchise fees could not be further from the truth. Cable pays those fees to local towns and cities in exchange for the right to bury cables in the public rights of way—a right that Comcast and Charter value in the tens of billions of dollars in their SEC filings.
• Satellite companies don't pay franchise fees for one simple reason: We use satellites—unlike cable, we don't need to dig up streets and sidewalks to deliver our TV service.
• Making satellite subscribers pay franchise fees—or, in this case, an equivalent amount in taxes—would be like taxing the air It's no different than making airline passengers pay a fee for laying railroad tracks.
Tell Your Lawmakers to Stop The Satellite TV Tax

Vote NO on HB 5440
- Posted by Advertising Department Comments Off


* This was as much about gun rights as about legislative rights. Gov. Quinn drastically rewrote a bill to turn it into an assault weapons ban, but the Senate buried him yesterday…
An aide says Illinois Gov. Pat Quinn will "vigorously pursue" a ban on assault weapons even though the Senate rebuffed his attempt on Wednesday.

The Senate voted 49-4 Wednesday to override Quinn's rewritten legislation to prohibit the sale or possession of semi-automatic rifles, high-capacity magazines and .50-caliber guns.

Spokeswoman Brooke Anderson says the Democratic governor will continue seeking a statewide assault-weapons ban to enhance public safety. She would not elaborate on his strategy.
Maybe they can use Squeezy in the new "strategy" to pass an assault weapons bill.
"No" votes were Clayborne, Jackie Collins, Maloney and Silverstein, all Democrats. A whole lot of other liberals voted for the override.
- Posted by Rich Miller 14 Comments


* From a press release…
Governor Pat Quinn today announced that the remaining residents at the Jacksonville Developmental Center (JDC) have transitioned to community care. The moves are part of the governor's rebalancing initiative to increase community care options for people with developmental disabilities and mental health challenges while reducing the number of outdated institutions in Illinois.

"Today is a historic step forward in our effort to improve the quality of life for citizens with developmental disabilities and mental health challenges in Illinois," Governor Quinn said. "I thank all of the family members and committed advocates who worked together to make this transition safe and responsible. I am committed to strengthening community care in Illinois and helping to ensure that all people have an opportunity to reach their full potential."
I'll post AFSCME's response as soon as it arrives, but the union has bitterly fought this facility closure, saying that private community care homes are ill-equipped to deal with many of JDC's residents.
- Posted by Rich Miller 21 Comments


* David E. Smith, executive director of the Illinois Family Institute, speaking about the push for gay marriage…
Smith, of the Illinois Family Institute, alleged that the real motive for some activists is "more sinister" and that "the goal, for some, is the eradication of marriage altogether."
Um, huh?
- Posted by Rich Miller 33 Comments


[The following is a paid advertisement.]
ComEd is pushing Senate Resolution 821 in an attempt to reverse the ICC's $133 million rate reduction decision – which will mean more rate hikes for struggling Illinois consumers and businesses.
ComEd says: We expected higher rates when it wrote the law (PA97-0616).
FACT: ICC applied the law (PA97-0616) as it was written.
ComEd says: The law "meant" that the ICC should throw accounting to the wind, charge consumers for unreasonably high costs, and impose the highest possible financing charges on consumers.
FACT: The law has the ICC set rates based on ComEd's actual costs and standard accounting principles, and that is what the ICC did.
FACT: If the General Assembly adopts Senate Resolution 821 and attempts to rewrite the law to suit ComEd, consumer rates will rise not just this year, but in every year over the 10 years the formula rates will be in effect.
Haven't we had enough of ComEd's games? Vote NO on SR 821!
- Posted by Advertising Department Comments Off


* Sun-Times…
Senate Minority Leader Christine Radogno (R-Lemont) fended off a challenge to her leadership slot Wednesday, winning re-election as the top Senate Republican by a convincing margin.

The closed-door vote of 19 incoming Senate Republicans swung 12-6 in favor of Radogno, with one member voting present, according to a source.
* Tribune…
A lone vote went to Sen. Kirk Dillard of Hinsdale, but Dillard was not a candidate for the leadership post. The senators then voted for Radogno by acclamation, several lawmakers said.

Radogno emerged from the closed-door meeting, saying "it was a challenging process, but it was a good one."

"We need to pull together after that process," Radogno said.
Dillard says he didn't vote for himself, by the way. But that was certainly a weird ballot choice.
* And despite the vote of acclamation, there were some sour grapes by the loser. From Sen. Kyle McCarter's Twitter page…
Stepped up to lead & stood by my principles but not enough Rep senators had the courage to break from the Radogno failing status quo.

— Kyle McCarter (@SenatorMcCarter) November 29, 2012
Ouch. I'll be curious to see what Radogno does to McCarter now. Any suggestions?
- Posted by Rich Miller 48 Comments


[The following is a paid advertisement.]
ComEd's grid modernization work directly related to the Energy Infrastructure Modernization Act (EIMA) enacted last year created more than 700 jobs from January through September 2012, with more than 100 jobs created in the third quarter alone. These include jobs at ComEd and contractor and supplier positions involving a broad range of functions required to build a 21st century electric grid.
With passage of EIMA, ComEd embarked on a 10-year, $2.6 billion program to modernize the power system in northern Illinois. The EIMA investments also have provided an important boost to local manufacturers with the expertise needed to support the electrical system upgrade. Through October 2012, ComEd has awarded $80 million in contracts to companies providing services and products ranging from engineering to cable to smart switches.
While grid modernization work continues, the pace is slowing from earlier this year as the first rate case under EIMA has jeopardized funding available for the program. ComEd has appealed the decision in court. In the meantime, it is proceeding with about 75 percent of the core grid modernization programs as planned. ComEd is postponing the deployment of additional smart meters until 2015. ComEd hopes to reach a positive outcome soon so that it can deliver the promised reliability improvements, cost-savings and customer service benefits while creating the 2,000 jobs as required by the legislation and further boost the Illinois economy.
- Posted by Advertising Department Comments Off


* The governor's people were predicting earlier in the week that this would be a close vote. It wasn't…
Illinois Gov. Pat Quinn is going to the House of Representatives with a simple message: Spend money on children, not outdated prisons.

The Democratic governor's office said Wednesday it will continue to fight to divert money from prisons to child-protection services after the Senate rebuffed the attempt there.

The Senate voted 35-16 to reject Quinn's cuts of $57 million that lawmakers want to restore to keep open the Tamms high-security prison, the Dwight women's lockup and juvenile detention centers.
A simple majority was required to override Quinn's reductions. But the vote was mainly symbolic. Even if the House concurs, it won't stop Quinn from closing state facilities.
* Quite a few Democrats voted to override the governor, but Republicans have been clamoring for budget cuts for years now, yet most of them voted to override. Here are a few quotes from memory lane…
* "Everything that can be cut should be cut."

- Senate President Christine Radogno, New York Times March 19, 2009

* "We can't spend more money than we did last year. We need to see cuts in the budget. The families of Illinois have made sacrifices and the state of Illinois needs to do the same with their budget."

- Sen. Bill Brady,, Bloomington Pantagraph Feb. 13, 2011

* "No one wants to be cut. Everyone points the finger and says: 'Cut them, not me.'"

- Sen. Kirk Dillard, Daily Herald, April 27, 2012

* "It is time that we stop this abuse of tax dollars and make the real spending cuts needed to balance the budget."

Sen. Kirk Dillard, campaign release, March 16, 2012

* "Yeah, we're on course, but we're on a collision course if we don't get our spending under control."

- Sen. Sam McCann, State Journal-Register, Feb. 1, 2012

* "I think it's time to have the governor realize that we're going to have to do with less state government, and it's time to make some cuts."

- Sen. Shane Cultra, Quad City Times Feb. 13, 2011
Food for thought.
- Posted by Rich Miller 12 Comments


[The following is a paid advertisement.]
The State of Illinois faces another budget crisis and severe cuts are on their way. The currently proposed budget would leave a $200 million shortfall for Illinois students and educations. Outside experts agree that Illinois is falling behind. Illinois already ranks dead last in the nation in the amount of school funding provided by state revenues according to a recent NEA study. 
The Center for Tax and Budget Accountability finds that states provide an average of 51% of the funds for education. Illinois provides only 30%.
In these harsh economic times for the state, we cannot afford to lose a dime. Still, satellite companies are currently exploiting a corporate tax loophole and taking their profits out of Illinois. House Bill 5440 will close this loophole and ensure everybody pays a fair share to support our students and communities. Twelve other states have successfully closed similar tax loopholes on satellite providers and in turn have worked towards more balanced government budgets.
HB 5440 would generate up to $75 million in additional revenue for Illinois' education system.
The status quo isn't working. Close the loophole and support our students. Vote YES on HB 5440!

- Posted by Advertising Department Comments Off