* My most sincere condolences to Leader Durkin. From the Tribune…
Thomas J. Durkin, age 84 of Westchester. US Army Veteran Korean War. Beloved husband of the late Colette A. Durkin, nee McHugh. Loving father of the Honorable Thomas (Gail Fundakowski) Durkin, Kevin (Kathy), Terry (Patricia), Michael (Julie), Patrick (Mary), The Honorable James (Celeste), Robert (Laura) and William (Erin) Durkin. Proud grandfather of Chris (Christine), Colin (Meagan Bridges), Connor (Lindsay), Jess, Katie, Mike, Kristy, Mackenzie, Tommy, Billy, Michelle, Matthew, Kimberly, Kelly, Sean, Brian, Colleen, Adrienne, Madeline, Emma, Caroline, Jane, Patrick, Maggie, Jack, Molly and Joey Durkin. Dear brother of the late John "Jack" (Dorothy) Durkin and the late Catherine (late Philip) Raleigh. Fond uncle to many. Life Trustee of John Marshall Law School and Fenwick High School.

Funeral Wednesday, December 3, 2014 at 9am from Russo's Hillside Chapels, 4500 Roosevelt Road, Hillside, IL 60162 (between Mannheim and Wolf Roads) to Divine Infant Church for 10am Mass.

Interment Queen of Heaven Cemetery.

Visitation Tuesday, December 2, 2014 from 3 to 9pm.

In lieu of flowers memorials to Mercy Home (www.mercyhome.org), Misericordia (www.misericordia.com) or Catholic Charities Chicago (www.catholiccharities.net) appreciated. For additional info (708) 449-5300. Please visit Thomas' personal tribute website at www.russohillsidechapels.com and sign the guestbook.

[Comments now open.]
- Posted by Rich Miller 4 Comments


[The following is a paid advertisement.]
I checked in today with the crew over at TrackBill, and they told me they're getting some new Illinois subscribers through our referral arrangement. For this, I thank you.
Now, you know I wouldn't endorse a product if I didn't believe in it, and I can tell you this TrackBill is the real deal. Once you subscribe to the service, your legislative tracking life will definitely get easier. Among the many features, they send immediate updates to your email or phone when legislation you're tracking moves. Oh, and need to attend a hearing? TrackBill will let you know as soon as the time or location changes.
You can also set it up to alert you when a bill you should know about is introduced or amended. They call this feature "keyword alerts," others call it "job security."
So, if you want to take a closer look, click here to sign up for a demo or click the banner ad to the right. If you like what you see and buy a subscription, then yours truly gets a small taste. Thanks!
- Posted by Advertising Department Comments Off


* Man, there's hardly any news at all today. I'll be shutting the blog down early today, so comment early because you won't wanna miss your chance to say "Happy 65th birthday, Rep. Lou Lang!" via our caption contest. From Lou's Facebook page…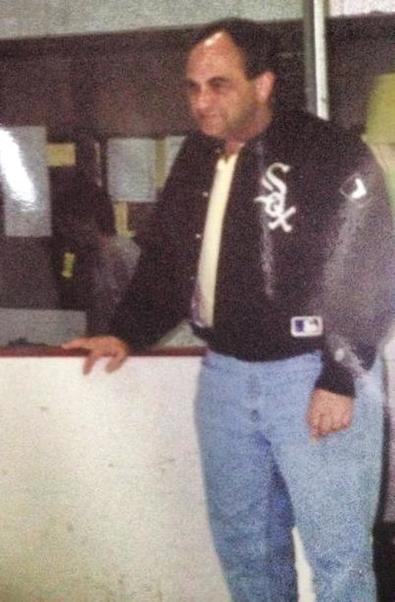 - Posted by Rich Miller 38 Comments


* Sneed writes about the Executive Mansion and curator Dave Bourland…
Back in 2010, Bourland complained that the mansion was "duct tape and bailing wire. There's been no major fixes since 1970, and it really started to fall apart in 1999.

"Any time something breaks, I have to request money from the Capital Development Board, which has to authorize an emergency repair. Anything that runs — if it does run — needs to be replaced. Plumbing, heating, air conditioning . . . anything mechanical," Bourland said back then.

◆ Translation: It was also never politic to spend money on the executive residence when the state had bills to pay.

"Transition is always difficult and the mansion still needs a new roof and the elevator is not working, so the new first family will have to climb the tall, winding mansion staircase to get to their private enclave," Bourland added.
Oy.
- Posted by Rich Miller 56 Comments


* Math is, indeed, simple…
It's simple math.

With more money going to pensions, less will be available for wages and other benefits.

Of course, the Illinois Supreme Court could rule that the crisis is so extreme that the state's emergency powers allow it to reshape pensions on their own.

Just how severe is the crisis? If all of state government were to shut down and its entire operating budget were diverted to fund pensions, Illinois pensions still be would in the hole three years from now.

Now, that's a crisis.
The $110 billion in unfunded liability is long-term debt. It can be paid off over time because everybody isn't gonna retire all at once.
* So, to put it in simpler terms, if you think of that liability as a 30-year home mortgage, you can see that it's not an existential crisis with current revenues in place. Most people who have mortgages couldn't pay them off in three years if they diverted all their income to just their homes. It's why they take out loans in the first place.
And nobody has a mortgage which reinvests what's being paid every month to help pay off the balance. That gives the state an advantage.
We're just about at the top of the Edgar ramp. Payments will rise another $800 million or so next fiscal year and then essentially even out as a percentage of revenues. It can be managed, but the budget will be very tight for a very, very long time.
* The bigger problem is with our revenues, which start to collapse at the end of this year. If you buy the nicest house you can afford while earning $100,000 a year and your income suddenly drops by $25K, then that mortgage becomes far less affordable.
So, that's really what this debate is about. People are trying to find a way to cut pension payments so they can cut the income tax rate. If they can't do that, then other programs will have to be slashed or other taxes raised so the income tax rate can be lowered. There are no easy solutions.
A homeowner in the same situation could go out and find another part-time job, cut way back on expenses, or even sell the house. That last option probably isn't available to the state.
- Posted by Rich Miller 58 Comments


* Tribune…
Speaking to the nation Monday night, Obama sounded more hopeful than convinced about the lessons to be drawn from Ferguson's pain.

"We have made enormous progress in race relations over the course of the past several decades. I've witnessed that in my own life. And to deny that progress I think is to deny America's capacity for change," he said.

"But what is also true is that there are still problems, and communities of color aren't just making these problems up."

We believe that too.
As do I.
- Posted by Rich Miller 84 Comments