* Sen. John Mulroe (D-Chicago) has been talking about this for a while now…
.@SenMulroe's twitter handle will soon be out of date. #Illinois Supreme Court announces that, per the recommendation of Justice Mary Jane Theis, it's appointing Mulroe, a Democrat, to be a Cook County Circuit Court Judge (10th subcircuit).
Appointment runs June 21 - Dec '20.

— Amanda Vinicky (@AmandaVinicky) June 13, 2019
Mulroe chairs the Senate Judiciary Committee. He's served since 2010.
- Posted by Rich Miller 12 Comments


* Mark Maxwell…
Governor J.B. Pritzker plans to offer pay raises, more time off work, enhanced family leave and a cash stipend to offset "financial hardship" state workers endured under the administration of his Republican predecessor, according to a copy of the Pritzker administration's contract offer.

The one-time stipend of $2,500 will "be paid upon ratification of the agreement." Union members will qualify for a quarter of the stipend so long as they worked one calendar day in any of the prior four years.

The new contract assures newer members they will continue to receive "step increases," or automatic pay raises.

All members will see a pay raise of 1.5% on January 1, 2020, another pay raise of 2.1% on July 1, 2020, on July 1, 2021, a pay raise of 3.95%, and on July 1, 2022, a pay raise of 3.95%.

By 2022, the average state employee would see his or her annual salary jump from $59,679 up to $66,827 for an average net increase of more than $7,000.

Each worker's increased contribution to the state's health insurance program would cost roughly $624 to $864 extra each year.
I also just obtained the full document handed out to AFSCME members this week. Click here.
- Posted by Rich Miller 74 Comments


* Hannah Meisel…
When State Rep. Nathan Reitz (D-Steeleville) was sworn into the Illinois House last month, negotiations for an omnibus gaming expansion bill were well on their way in Springfield — a bill that would ultimately include six new licenses for areas in the state that have long clamored for their own casinos.

Helping make the pipedream for a casino in Southern Illinois a reality this spring session was Dan Reitz, a former legislator, current lobbyist and the state representative's father.

The younger Reitz voted for the bill. […]

The elder Reitz told The Daily Line that he'd been lobbying for Walker's Bluff LLC in its efforts to attract a casino for "probably six or seven years." Dan Reitz said he didn't see a conflict of interest in his son voting for SB 690 as the House wrapped up its business on June 1.

"I don't see a conflict," Dan Reitz said. "Obviously he voted for the bill as a whole. I don't think there's a conflict just because I happened to lobby for [Walker's Bluff]. He voted for the totality of the bill, not because of Walker's Bluff."

Dan Reitz said he told his son to "talk to staff" to make sure there was no ethical conundrum in voting for the gaming expansion bill given his father's lobbying interest.

Rep. Reitz said he did just that.
The new legislator cannot control what his father does for a living, and those two aren't the only ones with potential conflicts under the dome and the gaming bill passed overwhelmingly. Still…
* The Question: What, if anything, should be done about this situation? Make sure to explain your answer.
- Posted by Rich Miller 18 Comments


* Then-Rep. Steve Andersson was one of the Republican leaders of the 2017 split with Bruce Rauner which resulted in the first state budget in two years and partial restoration of the 2011 tax hike. Another leader, former Rep. David Harris, is the director of the Illinois Department of Revenue…
@GovPritzker has asked me to serve the people of the State of Illinois as a Human Rights Commissioner. This appointment will give me a great opportunity to continue to serve the public, I am very honored to take on this role and challenge. Thank you Governor Pritzker! pic.twitter.com/tcuckcCU2s

— Steven A. Andersson (@Illinois_Steve) June 13, 2019
Members receive $119,000 per year, plus expenses. [Updated thanks to a commenter. I thought they got a pay raise, along with tighter restrictions on who could be a commissioner, but I couldn't find it.]
…Adding… Andersson opted out of the legislative pension plan, so this will have no impact on GARS because he's not in it.
* Bio from the governor's press release…
Andersson has been a licensed attorney for more almost three decades. He is a partner at the law firms of Mickey, Wilson, Weiler, Renzi and Andersson, P.C. and the Elder Law Center, P.C. He is admitted to practice law at all Illinois courts, the United States Supreme Court, the United States Court of Appeals for the Seventh Circuit, and United States District Court for the Northern District of Illinois. Andersson was also the state representative for Illinois' 65th legislative district from 2015 to 2019 where he served as Republican floor leader in 2018. During the 99th General Assembly, Andersson was a leader of the Republican coalition that joined with the Democratic caucus to end the longest state budget impasse in U.S. history. He has also been a strident defender of the rights of all people, including being the chief co-sponsor for the ERA, a two-time sponsor of the Equal Pay Act and chief co-sponsor of the LGBTQ curriculum bill. Prior to joining the Illinois House of Representatives, Andersson served his community as a trustee and treasurer on the Geneva Library District Board for approximately 5 years, including serving 2 years as treasurer. Andersson is a past president of the Kane County Bar Association. He is also a member of the Kane County Bar Foundation; Illinois Bar Association; American Bar Association; National Academy of Elder Law Attorneys; and served on the governing board of the Aurora Family Counseling Service and Big Brothers Big Sisters.
…Adding… CBA presidents don't give up their day jobs…
An Illinois Deputy Governor and longtime Chicago attorney and education advocate will take the reins of leadership at the Chicago Bar Association as the CBA welcomes and installs its most diverse group of officers at the association's 146th Annual Meeting June 18.

Illinois Governor J.B. Pritzker will offer remarks at the meeting to welcome Jesse Ruiz, who will be installed as the 146th President of the Chicago Bar Association. Outgoing President Steven M. Elrod will pass the gavel of leadership to Ruiz.

Ruiz will be joined by the new slate of CBA Officers including First Vice President Maryam Ahmad, Chief of the Cook County State's Attorney's Juvenile Justice Bureau; Second Vice President E. Lynn Grayson, of Nijman Franzetti LLP; Secretary Ray J. Koenig III, Managing Partner of Clark Hill, and Treasurer Timothy S. Tomasik of Tomasik Kotin Kasserman LLC.

The CBA's 2019-2020 Officers represent the most diverse group to lead the association in its long history, including Ruiz, a Hispanic male, Ahmad, an African American female, and Koenig, a gay man.
- Posted by Rich Miller 8 Comments


* "Dude, be cool. The cops are listening. Do you know how many former governors are in jail?"…
The vest really makes it.
* Related…
* Enforcement of marijuana remains status quo until legalization: Donnelly said she receives a number of cases from Conservation Police on people cited for possession of small amounts of marijuana at state parks.

* Kadner: He was 30 years ahead of his time on legalizing marijuana - In 1989, former Cook County assistant state's attorney, Jim Gierach, publicly advocated the legalization of marijuana.

* Legalized Cannabis in Illinois: What Employers Need to Know

* Still, low pay and poor working conditions are also hurdles to industry recruitment, according to a union leader.

* Researchers sprout hemp plants, plan new class for cannabis science initiative: More than 500 industrial hemp plants aimed at producing CBD oil and destined for the fields of a local start-up company are rising from containers under the watchful eye of Karla Gage, assistant professor of plant, soil and agricultural systems at SIU. Gage, along with Aldwin Anterola, associate professor of plant biology, are working under a Department of Agriculture research permit to look into the science of growing, harvesting and finding industrial and medicinal uses for the plant.

* Former Seyfarth Shaw lawyer and Groupon GC Joins Illinois Cannabis Company as GC

* Illinois Weed Legalization Guide

* Colorado passes $1 billion in marijuana state revenue
- Posted by Rich Miller 16 Comments


* From state Reps. Blaine Wilhour (R-Effingham), Brad Halbrook (R-Shelbyville), David McSweeney (R-Barrington Hills), Darren Bailey (R-Xenia), Chris Miller (R-Oakland), Allen Skillicorn (R-Crystal Lake), Dan Caulkins (R-Decatur) and John Cabello (R-Machesney Park)…
Transportation is a vital part of the Illinois economy.

When it comes to Interstate highways, Illinois has the third most Interstates in the nation. New York has 31 Interstates, while California and Texas both have 25. Illinois comes in third with 24 Interstates. There is no question that Illinois, with its location in the center of the country, is a transportation hub in the Midwest.

Funding our roads and infrastructure is important not just to the Illinois economy, but in the national economy as well. Funding transportation needs, though, should be handled responsibly. Unfortunately, Illinois' track record on responsible spending is abysmal.

Does anyone really trust Springfield politicians to put real priorities over political priorities? We certainly do not.

The Capital plan the House and the Senate approved at the end of the legislative session has very little specifics on where the money is going, while simultaneously doubling the gas tax on poor and middle-class families and raising the license plate renewal by $50 on Illinois drivers. Illinois Taxpayers deserve to know how their money is being spent, and legislators who voted for these tax hikes without specifically knowing how the money would be allocated have done a disservice to these taxpayers.

It is especially discouraging to see many Republican leaders not only vote for these tax increases, but then promote false narratives that are constantly perpetuated by the tax and spend Democrats in order to excuse their votes.

To hear some Republican leaders talk about how we have to raise taxes because Illinois taxpayers don't currently pay enough to cover our spending programs is shocking. These are Democrat talking points and they are embarrassing. We hear them say, "we haven't raised the gas tax since 1990." What they fail to mention is that Illinois taxpayers are already burdened with a gas tax that is top 10 in the nation.

We are willing to work alongside the Republican leaders as we tackle tough issues in the future, but these kinds of policies were exactly what our voters sent us to Springfield to oppose. Illinois taxpayers deserve political leadership that is willing to find solutions that deal with the real underlying issues. Watching as our party blindly accepts that raising taxes is the only way forward is an injustice to the taxpayers and constituents that sent us here, and we won't be any part of it.

As fiscally responsible Republicans, we should be talking about why the state needs such a higher percentage of our money to deal with infrastructure. Why does it cost so much more per mile to build roads and bridges in Illinois compared to many other states?

Like so often is the case, in Illinois we suffer under heavy mandates and an adversarial regulatory environment that drives costs upward. We have onerous prevailing wage rates and our taxpayers potentially pay up to five times what taxpayers in neighboring Indiana pay for workers' compensation.

We should be talking about how Illinois taxpayers are getting robbed by Springfield politicians on behalf of the powerful special interests. Why should more taxpayer dollars be spent to prop up special interests? We should be demanding that Springfield prove they can be trusted to deal with the big cost drivers in government. That is the only way to ensure that we are maximizing taxpayer investments. Middle Class taxpayers are being forced to pay more because Springfield politicians will not deal with the tough issues.

The Republican Party is supposed to be the party of fiscal responsibility. If infrastructure is indeed the priority everyone says that it is – then why are we not budgeting for it every year instead of coming around every decade with a massive spending proposal that is funded by borrowing and tax increases?

The truth is we can't budget for this every year because the state is saddled with debt from unpaid bills, excessive mandates, job-killing regulations, crushing pension and Medicaid burdens, and record setting numbers of government taxing bodies. Once we deal with these issues, then we will be able to properly get our funding priorities in line.

Instead, we hear career politicians opining about how courageous they are to take more of our hard-earned money to pay for their mismanagement and out of control spending. We are told that raising taxes is, "a tough but necessary vote."

Raising taxes in Illinois is not courageous. It is just business as usual in Illinois.

Select Republicans may have curried temporary favor with the Springfield Special Interests with this vote, but it has come at the high cost of losing credibility with the middle-class taxpayers.

Speaker Madigan, Governor Pritzker and the special interests can chalk up a big win by getting some Republican leaders to recite their talking points and vote for another tax increase without specific and measurable reforms.

Once again, Democrats feast like Kings while "Republicans" are happy begging for the crumbs and the persecuted Illinois taxpayers take yet another uppercut to the gut.
We probably shouldn't get all too worked up about this. It's one of the oldest plays in the book. Scream about the taxes to appease the folks back home, then gleefully spend the money… to appease the folks back home.
I remember hearing Gov. George Ryan pitch a fit after he passed his Illinois FIRST plan about how then Rep. Jack Franks loudly spoke against the taxes to fund the $12 billion program but, he said, was the first guy in his office with his hand out for projects.
And the "We need to take care of all of our problems before we do infrastructure" argument is also as old as the hills. But if we waited to do that, our infrastructure would be in far worse shape than it is now. It's been ten years since the last capital bill and every day we wait is another day the tab grows ever larger - exactly like the pension problem.
* But this letter is different than past blow-ups because the signatories are obviously targeting House GOP Leader Jim Durkin. They're basically calling Durkin and the 19 other HGOPs who voted for the tax hikes sell-outs. We haven't really seen that before.
I asked Rep. Wilhour whether they were calling for Durkin to step down. "Speaking for myself at the moment, the Leader Durkin issue is a 2020 deal," he said.
Stay tuned.
…Adding… From the guy who spent hundreds of thousands of dollars to defeat Durkin in the 2018 GOP primary…
Are there any legislative Republicans in IL willing to take on the Bipartisan Combine (H/T @John_Kass)? Yes. There at least 8, but that's not going to be enough. https://t.co/wV0Mfxo7gi

— Dan Proft (@DanProft) June 13, 2019
*** UPDATE *** This almost seems like a direct response to the missive above…
On Friday, June 14 at 7:30 AM, State Representative Avery Bourne (R- Raymond) and other Illinois lawmakers will do a site visit to inspect infrastructure improvement work being done at the intersection of IL Route 4 and Divernon Road south of Auburn. The legislators will review the progress of the $4.68 million project and discuss the importance of Illinois' renewed commitment to improving Illinois' roads. The project site is part of a 6.3-mile section of road that is being improved on IL Route 4 from just south of IL 104 in Auburn to the Macoupin County line, and from the Sangamon County line to north of George Street in Virden.
Bourne supported the final deal.
- Posted by Rich Miller 51 Comments


* WCIA TV…
State Senator Sue Rezin, a pro-life Republican from Morris, could soon decide if she plans to run to challenge House Democrat Lauren Underwood, a freshman incumbent, in the state's 14th Congressional District.

Illinois Republican Party officials tried to recruit Rezin to run against 22-year veteran Senator Dick Durbin, the second ranking Democrat in the U.S. Senate, but Rezin said Wednesday she remains "fully committed to exploring a run for the 14th Congressional District."

Other possible candidates showing interest in the seat include state senator Jim Oberwhttps://capitolfax.com/wp-admin/post.php?action=edit&post=42412eis and state representative Allen Skillicorn. Rezin said she is not surprised the primary race is "very crowded because it's a seat we shouldn't have lost."

Rezin painted Underwood as out of step with a district that has been represented by a Republican for 76 of the last 80 years.

"She's with the AOC group in Washington, D.C.," Rezin said, referring to Underwood's fellow freshman member of Congress and progressive firebrand Alexandria Ocasio-Cortez, a democratic socialist from New York. "They have a very progressive agenda that doesn't match with the Midwest or the 14th District," she said.
Finding a "real" Republican opponent for Sen. Durbin won't be easy in this climate.
Freshman Rep. Anne Stava-Murray (D-Naperville), recently removed references to a potential Democratic US Senate primary against Durbin from her campaign Facebook page. Her ActBlue page only references the Illinois House. I've asked her about this a few times, but have yet to receive a response. I'll let you know if she does get back to me.
* But the Republicans do have someone to take the fall in Lipinski's district…
Will County GOP Board Member Mike Fricilone announced a congressional bid Tuesday, a move that could prevent a repeat of 2018, when an admitted Holocaust denier, anti-Semite and white supremacist was the Republican 3rd District nominee.

Fricilone, 64, who lives in Homer Glen, is in his third term on the board, where he is the minority leader.

While four Democrats are running in the March 2020 Illinois primary in the Democratic-tilting district now represented by Rep. Dan Lipinski, D-Ill., Fricilone is the first Republican to launch a bid. […]

Fricilone, a furniture salesman at Midwest Office Interiors in Woodridge, said he was not recruited to run by GOP officials. "It was my idea." […]

"He's got a pretty big fight on his hands," Fricilone said. "And I see Dan starting to move toward that liberal side of the Democratic Party in some of the messages I'm hearing out of him for fear of losing to the Democratic Socialist Progressive person," who he did not name.
JB Pritzker won that district by 18 points last year. Hillary Clinton won it by 16.
* Related…
* Daiber takes aim at Madison County Board chairman seat

* ADDED: As she governs, Lightfoot kicks her political operation into high gear: In a series of little-noticed actions, the mayor has hired a continuing political team that will have a downtown office, begun exploring financial ways to pursue her agenda and raised well over $1 million since her election, with more fundraising yet to come.
- Posted by Rich Miller 25 Comments


* Illinois Policy Institute…
Illinois Gov. J.B. Pritzker on June 6 signed a 2020 state budget that will cost $40.6 billion in general revenues, as much as $1.3 billion more than the state will bring in for the fiscal year that starts July 1.

The Illinois House and Senate passed the budget, Senate Bill 262, on bipartisan votes of 83-35 and 40-19. Despite public claims from both Republicans and Democrats, the 1,581-page spending plan is out of balance by between $574 million and $1.3 billion, depending on the optimism used in the revenue estimate.
* Here's their chart…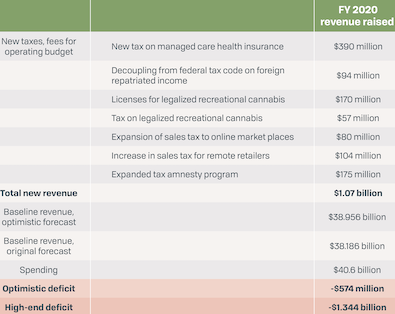 Their MCO tax estimate is about $100 million too low.
Their "optimistic" baseline revenue forecast for Fiscal Year 2020 of $38.956 billion is only $120 million above the projected revenues for Fiscal Year 2019, after factoring in the new revenue enhancements. Seems to be a stretch.
The official revenue projection is $40.187 billion, which is $1.342 billion above the current fiscal year's income. That FY20 projection includes $850 million in natural revenue growth, which is not specifically included in the Institute's chart. [Actually, it is included.]
And their spending estimate of $40.6 billion is about $500 million higher than the official projection.
- Posted by Rich Miller 26 Comments


* Finke…
Gov. J.B. Pritzker signed into law Wednesday the Reproductive Health Act, which supporters said will guarantee abortion rights in Illinois should the U.S. Supreme Court overturn Roe v. Wade.

Surrounded by dozens of lawmakers and abortion rights advocates, Pritzker signed the controversial legislation that he said will ensure that Illinois is "going to be there for women if they have to be refugees from other states." […]

Pritzker said the law simply codifies what was already case law in the state through a series of court decisions over the years.

However, pro-life groups that oppose the law said it goes far beyond that and have labeled the law "the nation's most extreme abortion expansion." The Susan B. Anthony List said the bill "is so radical (lawmakers) even went out of their way to repeal the state's ban on barbaric partial-birth abortions. Americans of every political persuasion are appalled by these attempts to expand abortion on demand through the moment of birth and even infanticide …"
Illinois' partial birth abortion ban was put on hold by a US Supreme Court justice in 1999. The full US Supreme Court, however, upheld the federal partial birth abortion law in 2007. So, it's still banned in Illinois regardless of the RHA.
* One Illinois…
The signing ceremony took place in the Grand Army of the Republic Hall at the Chicago Cultural Center, with walls bearing lists of Civil War battles. Pritzker and lead sponsor state Rep. Kelly Cassidy of Chicago both emphasized how this too was a pivotal battle on women's rights.

Citing how Illinois just this week celebrated its centennial in ratifying the 19th Amendment granting women the right to vote, Pritzker said, "Today, Illinois is making history again.

"When I became governor," he added, "I promised Illinois would become a national leader in protecting reproductive rights. And with the signing of the Reproductive Health Act, I'm keeping that promise." […]

Pritzker pointed to Georgia, Alabama, Ohio, Louisiana, Missouri, Mississippi, and Indiana, all of which have recently passed "near-complete bans on access to abortion," he said, adding, "Abortion bans don't ban abortion. They just endanger women — and none more than rural women, poor women, young women, and women of color. It's wrong, and here in Illinois we reject it."
* Kass…
Under the legislation, gone is a provision for spousal consent or waiting periods. And soon, the next target will be to end parental notifications to parents of minor children, all but assuring an increase in abortions.
Spousal notification was ruled unconstitutional back in 1992.
Parental notification's future is still somewhat up in the air…
State Rep. Chris Welch (D-Hillside), who sponsored the House version of the repeal bill, HB 2467, also told The Daily Line that focusing on the RHA this year was about the time crunch lawmakers faced.

"As you know we ran into problems; [the two bills] got buried in committee," Welch said. "As we were running out of time, we wanted to focus on the RHA because of everything that was going around across the country."

But Welch said he'll continue to push for the repeal of the parental notice law, possibly as soon as the Fall Veto Session, which begins during the last week of October.
* Fox St. Louis…
This comes less than three weeks after Missouri Governor Mike Parson signed a law banning abortions after eight weeks of pregnancy and the state health department is looking at taking away a license to perform abortions from Planned Parenthood of St. Louis, citing medical deficiencies at the clinic.

New pro-life bills are being introduced, sponsored, and co-sponsored at the federal level by members of Congress, including US Senator Josh Hawley of Missouri.

"I support trying to protect life," Hawley said. "I've always been 100 percent pro-life. That's why in the Senate I've tried to do my part to introduce legislation already that would protect life, like the Infant Born Alive Act, which actually says that every baby born in the country should get the same medical care, even if that baby was the target…of an abortion."
* Capital News Illinois…
"There is a war against women, a war against bodily autonomy, and our opponents are using hateful, untrue and outright misogynistic rhetoric, which escalates daily and endangers women everywhere," Cassidy said. "At our very doorstep, in 11 days, the people of Missouri will find out if they will lose the only clinic in their state and today, with the signing of this bill, we are building a firewall around Illinois to protect access to reproductive health care for everyone."

Cassidy and Bush had another message — "elections matter."

"When you elect women that are here to make a difference, that's what they do and that's what they did and I want to be clear. The freshmen women of the House, they really did move this bill," Bush said. "Without their help, without their commitment, without their saying 'Not on our watch;' We ran when a president ran and told us it was OK to grab our body parts, and we're saying 'no more.'" […]

The Thomas More Society, Breen added, will mount a legal challenge to the new law.

He said he was most concerned about the removal of licensing requirements for abortion clinics, but pointed out the law also requires insurance companies that cover pregnancy-related benefits to cover abortion procedures and includes language specifying fetuses have no legal rights in the state.
Alabama's governor is a woman. Just sayin…
Employers, like Catholic hospitals, can opt out of paying for abortion insurance coverage for employees under the state's Health Care Right of Conscience Act.
* WBEZ…
An abortion rights package signed by Democratic Illinois Gov. JB Pritzker is causing political ripples nationally as anti-abortion Republicans showcase it in dozens of congressional districts that are expected to determine control of the U.S. House next year. […]

The national Republican party is describing the Illinois legislation as the handiwork of the "socialist Democrat death cult," focusing particularly on the bill's repeal of a dormant statutory ban on a late-term abortion procedure critics call "partial birth abortions." […]

In Illinois, the U.S. House GOP's political arm has targeted freshman U.S. Rep. Lauren Underwood, D-Ill., who last fall upset long-serving former GOP Rep. Randy Hultgren in her far west and northwest suburban congressional district. Also on the party's hit list is U.S. Rep. Cheri Bustos, D-Ill., who is Emmer's political counterpart as head of the Democratic Congressional Campaign Committee. […]

In graphic terms, Emmer specifically singled out Bustos and her silence on the Illinois legislation.

"If she's running the campaigns for Democrat House members across the country, what's her message? Is she embracing this far left, extremist position that basically you can suck the brains out of a child that is viable right up until the time of natural birth and even after natural birth under certain circumstances, you can take the life of that child or you can choose not to support the life of that child?" he asked. "I think you do have to ask those questions because it is important to voters, and voters can make a choice."
* Illinois Public Radio…
Meanwhile, the Thomas More Society, a Roman Catholic legal group, says it'll be challenging the new law in court.

"We have now gone way beyond Roe v. Wade in terms of post-viability abortions," said attorney and former Republican legislator Peter Breen. "It'll now be A-B-C: abortion, bankruptcy and corruption in the state of Illinois."
* Sun-Times…
There have been 53 abortion restrictions enacted in the United States this year, according to the Guttmacher Institute, a research organization in support of abortion rights.

In Tennessee, Gov. Bill Lee in May signed a bill that would ban abortions in the state should the U.S. Constitution be changed or if Roe v. Wade is overturned. Louisiana, Mississippi, North Dakota and South Dakota have passed similar laws. […]

In Kentucky, lawmakers passed a "heartbeat" bill in March — banning abortions between six and eight weeks — but a temporary restraining order was issued by a federal judge.
- Posted by Rich Miller 36 Comments