* Some of us figured that since Monday is the last day to file 2016 income tax returns we'd have something out of the governor's office by now. And maybe the Democratic candidates aside from Daniel Biss who haven't yet disclosed their returns might do so as well. It's Friday afternoon, after all. Maybe it'll come later. Or not. I've got some stuff to do now, so if they do send out press releases and/or copies of their returns I'll post them when I can.
Have a good one and I'll see you on the flip side…
They bought and sold you

- Posted by Rich Miller Comments Off


* Veto message…
Today I veto Senate Bill 1446 from the 100th General Assembly, which amends the Illinois Procurement Code to force the Department of Healthcare and Family Services to repeat its request for proposals ("RFP") for purchase of care contracts with managed care organizations. Enactment of this legislation would needlessly cost taxpayers millions of dollars.

The Department conducted the RFP for statewide managed care contracts over a five-month period in a competitive, transparent process. The RFP was consistent with State procurement law and historical practice. Forcing re-procurement of the RFP under this legislation would prevent nearly one billion dollars in savings and block stronger accountability and performance management in the Illinois Medicaid Program.

The transformation of health and human services to help our most vulnerable citizens has been one of the primary goals of this Administration. In the beginning of this year, the Department began a process to help make the goals of the transformation a reality by improving health outcomes for Medicaid clients while slowing the growth of health care costs and putting the State of Illinois on a more sustainable financial trajectory. The result – after months of rigorous work and evaluation by experienced staff from several different State agencies – is a solution that serves all the people of Illinois.

The Department took steps to ensure the integrity of the procurement throughout the entire process. The process of evaluating managed care providers mirrored traditional procurements, including key components such as soundness of evaluations, transparent communications, and the use of objective measures. In addition, plans were chosen through competitive statewide bidding for the first time, using strict rules to ensure impartiality.

The Department has acted in accordance with the law to deliver improved health care to our most vulnerable citizens and provide value for our taxpayers. We should be commending the Department for its work in service of all Illinoisans. Instead, this bill would needlessly force the Department to repeat a task that has already been successfully completed, to the detriment of our vulnerable citizens and the State's taxpayers.
* Some background from an August article in Crain's…
The bill—which would essentially scuttle what could be the state's largest procurement ever—is now making its way to the governor, whose approval is a long shot. […]

(C)ritics contend the selection process wasn't transparent enough. Lawmakers still want to know, for example, who reviewed the bids and selected the winners. […]

Koehler's bill would amend the Illinois Procurement Code, a roadmap of regulations for state contracting. The current code does not include contracts with MCOs. Currently, those are exempt from the state's traditional route of securing business (as are collective bargaining agreements and contracts between state agencies). Instead, the Illinois Department of Healthcare and Family Services, which implements Medicaid, a health insurance program for the poor and disabled, oversaw the bidding process in-house. […]

The contracts, with initial four-year terms, are significant. Managed care now costs Illinois about $10.5 billion, but the tab is expected to increase to between $12.8 billion and $13.5 billion a year under Rauner's revamp because enrollment will increase, and health plans are paid a fixed amount of money per enrollee. But the state expects to save around $1 billion over four years partly because the MCOs have agreed to be paid less money. […]

The bill was resurrected quickly—and passed the Illinois Senate with a 38-18 vote two days later—amid fresh concerns that no minority-owned companies won a bid, said Harris, a Chicago Democrat.
Rauner had repeatedly pledged that a minority-owned company would win the bid, but his administration and DHFS both subsequently said he played no hands-on role in the bidding process.
This will be an interesting bill to watch in the veto session.
*** UPDATE ***  Press release…
State Senator Dave Koehler (D-Peoria) sponsored the legislation and issued the following statement after the governor's veto:

"The governor's veto truly is a defeat for transparency and accountability in state government. We are talking about billions of dollars of taxpayer money that is being contracted out by the state without any hearings or a framework of procurement rules.

"It is my intention to override this veto in the upcoming veto session. The largest contract in state history deserves the same amount of scrutiny as every other contract."
- Posted by Rich Miller 10 Comments


* E-mail from the Rauner campaign…
ICYMI: Fighting Opioid Epidemic on Many Fronts

With a national spotlight being shone on the issue, Governor Rauner's team is working to curb addiction

The nationwide opioid epidemic has attracted attention in states across the U.S., but here in Illinois, Governor Rauner's task force is already working to curtail its spread. The Opioid Overdose Prevention and Intervention Task Force has already made it easier to get life-saving medications to prevent overdose, and now they are travelling the state, collecting information to help prevent the spread of addiction.
* The campaign e-mail linked to this editorial in the Daily Herald…
On Wednesday, Gov. Bruce Rauner's Opioid Prevention and Intervention Task Force began a state tour in search of information and partners to help implement the state's Opioid Action Plan to curtail the growing opioid overdose epidemic in Illinois.

The Task Force met in Chicago Wednesday and will be in Champaign and Mount Vernon in downstate Illinois this week.

"The opioid epidemic knows no neighborhood, no color, and no class. It is not confined to alleys in urban settings, nor isolated in rural communities," said Lt. Gov. Evelyn Sanguinetti of Wheaton, the task force chair. "We are traveling the state to collect research and hear stories of those impacted by this growing opioid overdose epidemic so we can take action to save lives."
* Rep. Lou Lang (D-Skokie) wrote an essay today about the "history of the Rauner Administration's attempts since taking office to undermine a 2015 bi-partisan law, The Heroin Crisis Act, that serves as a national model to address the heroin crisis"…
Going back to March 2014, House Speaker Michael Madigan had already established a 39-member bi-partisan Heroin Crisis Task Force, which I chaired, and that month the full House had approved unanimously a resolution, HR 883, declaring a "Heroin State of Emergency in Illinois" and calling on the legislature to "develop a comprehensive, bold, and durable package of legislative proposals to combat the heroin crisis" – which, after multiple statewide hearings, the legislature set out to do.

After 14 months of work and hearing from more than 300 witnesses, the legislature put on the new governor's desk the comprehensive, bi-partisan bill, House Bill 1, which I sponsored, and estimated to invest $25 to $75 million annually to fight the epidemic. The legislation included, among many other provisions, requirements that insurance providers offer coverage for medically necessary acute treatment and clinical stabilization services and that Medicaid provide all medication assisted drug treatment (injectable naltrexone, methadone, suboxone, Vivitrol, etc.) without utilization controls or prior authorization. Those provisions were opposed by Rauner's Departments of Insurance and Healthcare and Family Services.

Despite House and Senate approval, 114-0 and 46-4, respectively, Rauner vetoed the bi-partisan bill while the heroin epidemic raged statewide. That veto sparked the first revolt by Republican lawmakers who joined with Democrats in the House and Senate to override the governor, 105-5 and 44-11, respectively.

The Rauner Administration retaliated to the bi-partisan repudiation by slow-walking the implementation of multiple provisions and failure to implement others. For example, the governor has failed to fully enforce mental health parity laws. That sabotage pushed me to introduce this year fresh, clean up legislation, HB 68, on which I consulted with the Kennedy Forum and other mental health experts, to force the governor to adhere to the current law.

Not satisfied with undermining the implementation of HB 1, the Rauner's Administration also this year pushed legislation, HB 2908, sponsored by a top gubernatorial House ally, State Rep. Patti Bellock (R-Hinsdale), that sought to gut the Medicaid financing of medically assisted heroin treatment by re-imposing drug utilization requirements and requiring prior authorization, choking off medications for low-income individuals seeking treatment. I stifled that cynical move. Dead. The effort to weaken Medicaid funding came on top of Rauner's move in Fiscal Year 2016 to slash state funding for drug treatment providers by 25%. And in the new state budget, Rauner killed a $1.2 million grant to the Rockford-based Rosecrance's drug treatment triage center.

Thus, Rauner's opioid advisory council and phantom strategy – two-and-half years after entering office – are nothing but disgraceful and cynical exercises to advance his wobbly reelection hopes. If the Illinois' opioid crisis has worsened, it's because Governor Rauner and his administration's willful neglect and sabotage.
Ouch.
- Posted by Rich Miller 11 Comments


* Press release…
With the State of Illinois ranking in the top 10 states with the highest tax burden on it's residents, state Rep. La Shawn K. Ford, D-Chicago, has introduced a measure to remove burdensome taxes on senior citizens when they are purchasing items they need to survive.

"We must do everything that we can to protect seniors on fixed incomes here in Illinois," said Ford. "With the rising cost of living in addition to increased county, city, state, and federal taxes, it is becoming increasingly more difficult for vulnerable senior citizens to make ends meet."

On Tuesday, Ford introduced House Bill 4111, a measure that makes senior citizens in the state exempt from being taxed on bare household health necessities. Among the items eligible for the tax exemption are fresh groceries, medicine, medical devices and items used for wellness in diabetic patients.

"People living on fixed incomes are trapped between a rock and a hard place," said Ford. "This exemption from certain sales taxes for qualified senior citizens will provide real relief for the men and women who have worked hard and paved the way for future generations in Illinois."
Wait. Aren't those items already exempted from Illinois' sales tax? From a spokesperson…
Currently, the goods that would be effected under HB 4111 are taxed at the local level at a rate of 1%.
So, it's the local tax that he's exempting. Some mayors will be pleased, I'm sure. He's already picked up a few co-sponsors, including Rep. Theresa Mah…
"Senior citizens in our community have worked hard their entire lives to build up our neighborhoods and to bring their families up in our communities," said Mah. "We must take preventative steps that protect elderly citizens who often live on a strict fixed income."
I get the political angle here, but this would do to local governments what the state has been doing to itself for decades: Narrow the revenue base. Combine that with expanding the spending base (including by deferring pension payments) and we've wound up in a with a fiscal mess.
* And speaking of taxes…
At the state level, state Rep. Marty Moylan, D-Des Plaines, is a chief cosponsor of House Bill 4083. The measure would prohibit counties from imposing soda taxes in the future. He said people see right through such money grabs.

"Because none of the money is being used to offset the risks of diabetes or obesity," Moylan said. "It's all going to pay other things." […]

HB 4083, which has a broad swath of support in the House with 37 sponsors, is stuck in Rules Committee.
C'mon. Rules hasn't met since the last time they were in session. I'm betting this will get popped to the floor (so to speak) before election day.
- Posted by Rich Miller 13 Comments


* Daily Herald…
A four-time Illinois Legislator of the Year is free on $1,500 bail following a recent shoplifting arrest, authorities said.

Former Republican representative Sandra Pihos, of the 500 block of Williamsburgh Road in Glen Ellyn, is charged with retail theft. […]

According to court documents, Pihos, 71, stole three female clothing items from Von Maur in Lombard's Yorktown Shopping Center at 2:05 p.m. on Sept. 26. […]

But authorities said Pihos returned to the store around 9:18 p.m. that same day and attempted to return the stolen items for cash or store credit.
* The Question: Do you have any experience with this problem in your family or circle of friends? Tell us about it.
- Posted by Rich Miller 35 Comments


* Biss…
Trump's decision will lead to higher premiums for Illinoisans. We'll fight this, and keep fighting until we achieve Medicare for All. https://t.co/19SFKUMFeu

— Daniel Biss (@danielbiss) October 13, 2017
* DGA…
Over the past two days, President Donald Trump announced he would end ACA subsidies for people buying insurance on the individual healthcare marketplace and issued an executive order expected to further destabilize the market. Rates are expected to rise 20% or more.

For months, Governor Bruce Rauner sat quietly on the sideline as President Trump worked to end the Affordable Care Act, despite the consequences in store for Illinois families. Recently, Rauner even deflected blame for President Trump by trying to tie recent instability in the marketplace back to President Obama. When asked what he's doing to protect Illinoisans, Rauner claims, without evidence, that he's talking to leaders in Washington.

Well, now Governor Rauner has an old friend to call. Earlier this week his old health care advisor, Eric Hargan, was named acting Secretary of President Trump's HHS. Hargan served as the "Co-Chair and Convener of the Healthcare and Human Services Transition Committee for Illinois Governor Bruce Rauner." Will Rauner call acting HHS Secretary Hargan and prevail on him to protect the 350,000 Illinoisans in the marketplace? Or will he continue to stand by as Illinois families see their rates rise?

"Premiums are set to skyrocket for Illinois families and Governor Rauner has not lifted a finger to stop it," said DGA Illinois Communications Director Sam Salustro. "For months, Rauner sat idly by as Trump worked to strip needed health protections and destroy the state budget. Now Trump's reckless actions will hit voters in their pocketbook and Bruce Rauner's silence is only making things worse for families. It's time for Bruce Rauner to stop shielding President Trump and start standing up for Illinois."
* Chris Kennedy…
"Attempts to rollback Obamacare were successfully thwarted because of outcry from across the country, including from a bi-partisan group of governors, despite the glaring absence of Bruce Rauner. Trump, along with rank-and-file GOP, failed in those attacks so now they're taking a new approach. They're dismantling Obamacare piece by piece, starting with subsidies to cover costs for the poor because they don't think we care about the poor. Well, we do, and it's on us to prove him wrong. We know health care is a right, not a privilege. No one in America should choose between bankruptcy and staying healthy. We know that when we risk health care access for the few among us, we risk it for all of us. Nearly 10 years ago, my uncle Ted Kennedy proclaimed words that still ring true today: 'The work goes on, the cause endures, the hope still lives, and the dream shall never die.'"
* Pritzker…
As Donald Trump sabotages the Affordable Care Act by halting subsidies, the JB Pritzker campaign released a new digital ad, "Fight Back."

The ad highlights the intentional destruction of our healthcare system by Donald Trump and Republicans in Washington and the urgent need for a leader in Illinois to fight back. Bruce Rauner has remained silent as Donald Trump systematically dismantles our healthcare system and puts millions of Illinoisans' coverage at risk.

"Donald Trump is intentionally destroying our healthcare system, but Bruce Rauner doesn't seem to care that millions of Illinoisans' healthcare could be jeopardized," said JB Pritzker. "Trump is an immoral leader, and Rauner is his clear partner in Illinois. We need a governor who will protect Illinoisans from Trump's attacks and work to protect healthcare in our state."
The ad…
My own opinion of that ad is the editing may inadvertently pair Pritzker with Trump if you're not paying close attention, and most people aren't. I took my eyes away from it for a second and was a little surprised at what visuals were hitting my brain.
- Posted by Rich Miller 22 Comments


* Some context is below…
Steve Sandvoss
Executive Director, Illinois State Board of Elections 2329 S. MacArthur Blvd.
Springfield, IL, 62704

Executive Director Sandvoss,

We write to you today to express our deep concern about how Illinois voter registration data is used, shared, and protected outside of the State of Illinois. We urge the Board to end the state's participation in the Interstate Voter Registration Crosscheck System ("Crosscheck") and to refuse to comply with the Presidential Advisory Commission on Election Integrity's second request for voter registration data.

Continued participation in Crosscheck poses several risks. The data shared with Crosscheck includes personal identifying information beyond what is normally shared with political parties, such as the last four digits of social security numbers. Crosscheck creates a central repository for voter data from over two dozen states. Portions of this data are then shared with the participating states. Both of these scenarios expose over 8 million Illinoisans to the risk of identity theft if hacked.

More concerning is the fact that Crosscheck is administered by Kansas Secretary of State Kris Kobach who has a documented history of authoring anti-immigration legislation and advocating for laws that disproportionately disenfranchise people of color, the young, and those with low incomes. Since taking over administration of Crosscheck, Kobach has transformed what was once a legitimate tool for voter roll maintenance into a propaganda machine for voter suppression efforts.

When Crosscheck returned 400,000 potential voter registration matches to Illinois, based on nothing other than first name, last name, and date of birth, Kobach labeled these "potential duplicate voters" despite the fact that he is well aware most records were not matches on the same people, let alone actual duplicate voters. The data analysis may be free, but at what cost to voters? As the saying goes, "if you're not paying, you're the product". Ultimately states are being used to provide the data necessary to manufacture statistics to justify new voter identification laws and to make it harder for some people to vote.

Kobach now serves as Vice Chair of the Presidential Commission which has the same objective as Crosscheck: use intentionally poor data analysis techniques to create misleading statistics which help to perpetuate the myth of widespread voter fraud and to further an agenda of voter suppression.

Voting is one of the most fundamental rights and exercises of power available to the American people. We trust that the Board will do everything in its power to protect Illinoisans' personal information and the integrity of our elections. While Illinois has same day voter registration, many states using Crosscheck data do not. Every year Crosscheck puts millions of registered voters across the country on Kobach's target list of "potential duplicate voters". Simply by being on the list, people face an increased risk of having their registration wrongly inactivated or cancelled — Illinois must stop supplying over 8 million records that are used to disenfranchise our fellow Americans.

There are currently more secure and reliable systems available to maintain voter registration rolls, such as ERIC, which the Illinois legislature has already mandated the state to join. We again urge the Board to consider the societal impact of Crosscheck both within and outside of Illinois when weighing continued participation in this program and to refuse to legitimize the Presidential Commission by providing data that will be used to manufacture fraudulent statistics.

Sincerely,
State Representative Will Guzzardi
State Representative Linda Chapa Lavia
State Representative Mary E. Flowers
State Representative Elizabeth Hernandez
State Representative Carol Ammons
State Representative John D'Amico
State Representative Robyn Gabel
State Representative Jay Hoffman
State Representative Kelly Burke
State Representative Laura Fine
State Representative Greg Harris
State Representative Camille Lilly
State Representative Theresa Mah
State Representative Anna Moeller
State Representative Michelle Mussman
State Representative Carol Sente
State Representative Juliana Stratton
State Representative Arthur Turner
State Representative Emanuel Chris Welch
In theory, the program is supposed to detect possible cases of people voting in multiple locations. But academics and states that use the program have found that its results are overrun with false positives, creating a high risk of disenfranchising legal voters. A statistical analysis of the program published earlier this year by researchers at Stanford, Harvard, University of Pennsylvania and Microsoft, for instance, found that Crosscheck "would eliminate about 200 registrations used to cast legitimate votes for every one registration used to cast a double vote." […]

Along with 18 other states plus D.C., Minnesota has instead opted to join the Electronic Registration Information Center (ERIC), a separate voter data program started in 2012. ERIC draws on a much wider array of data sources than Crosscheck, including motor vehicle registration data, Social Security death records, and Postal Service data.

"Look at what ERIC's doing. That's the way you clean up the voting rolls," Simon said. "It's anonymized data, and you don't have nearly the problem with false positives."
Illinois is an ERIC member.
- Posted by Rich Miller 16 Comments


* Click on both pics for a better view…
Despite critics of Illinois' economy, data shows it surpasses neighbors in business creation. Enter Rochelle, IL. https://t.co/A7pkwIDgos pic.twitter.com/U9wcvUf4DF

— BGA (@BetterGov) October 13, 2017
* From the linked story…
The sheer number of businesses calling Illinois home is up 28 percent since 2001, according to data from the Bureau of Labor Statistics. That compares to 17 percent for Wisconsin, 8 percent for Indiana and 4 percent for Ohio. Michigan is down 9 percent.

Most of the growth in Illinois is in small businesses, yet the data also show that Illinois has done better than neighboring states in retaining its roster of very large businesses.
* But…
Gummy bear maker @HARIBOUSA announced today that they will double their HQ workforce in Rosemont, creating 55 new jobs for Illinoisans! pic.twitter.com/512hhHJBTc

— Bruce Rauner (@GovRauner) October 13, 2017
Illinois lost nearly 4,000 jobs last month according to the BLS, but Rauner Admin is trumpeting 55 new jobs

Cool. https://t.co/DXvxVbkLYf

— IL Working Together (@IllinoisWorking) October 13, 2017
For all those reading @GovRauner's GOMB report, remember - job growth has dropped *significantly* since Rauner took office pic.twitter.com/SHlGnmHoaW

— IL Working Together (@IllinoisWorking) October 13, 2017
The better way to measure job growth is by growth *rate*, not net jobs gained. IL's job growth is quite poor since Rauner took office pic.twitter.com/vxGqkWoKrG

— IL Working Together (@IllinoisWorking) October 13, 2017
But the biggest problem with IL job growth has since 2016, when IL was mired in the budget impasse pic.twitter.com/GSDskphDsp

— IL Working Together (@IllinoisWorking) October 13, 2017
- Posted by Rich Miller 49 Comments


* Hmm…
The Rauner Campaign is running four different sponsored versions of its education ad on Twitter pic.twitter.com/XE5TK4NS9u

— IL Working Together (@IllinoisWorking) October 12, 2017
* We've already discussed a couple of them, but if you click here you can refresh your memory. Here's a very short one apparently designed for social media…
We're delivering for our kids because I believe Illinois' future is worth fighting for. pic.twitter.com/rjxLjX0cr3

— Bruce Rauner (@BruceRauner) October 6, 2017
Gov. Rauner doesn't appear or talk in any of his ads, and his photo isn't shown, either. They're all very soft and super-positive.
* Will Caskey offers an explanation…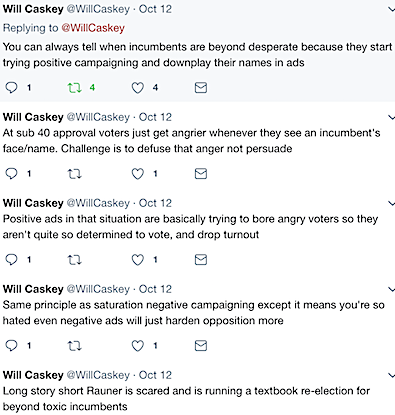 Back in 2006, Republican polling found that whenever Gov. Rod Blagojevich appeared in one of his ads his numbers would sag. Despite winning by 10 points (in a huge Democratic wave), he had lousy job approval ratings.
- Posted by Rich Miller 18 Comments


* From the Springfield Archdiocese newspaper Catholic Times story entitled "Gov. Rauner Breaks Promise, Signs HB40″…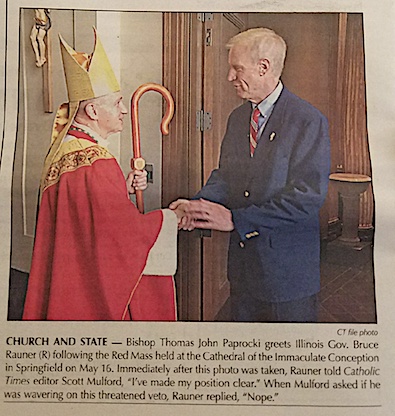 - Posted by Rich Miller 82 Comments


* Note that this is a projected increase and not yet an actual increase…
The union representing corrections officers says inmate attacks on state employees have increased 51 percent since 2015.
 
Members of the American Federation of State, County and Municipal Employees Council 31 said Thursday that assaults increased from 541 in the 2015 calendar year to a projected 819.
 
AFSCME says the Illinois Department of Corrections is reclassifying violent inmates to lower security levels to save money. Those inmates are transferred to medium-security prisons which are less costly to run.
* The department counts the numbers differently…
Corrections acknowledged an increase in staff assaults from 2015 to 2017, but put the number at a 34 percent increase, not a 51 percent increase. The department counts assaults by fiscal year which runs from July 1 to June 30. AFSCME based its numbers on calendar year figures. For 2017, the union compiled the number of assaults reported so far this year and extended it to the end of the year.

Corrections also said that more than half of the staff assaults at state prisons involved inmates throwing a "liquid substance" at staff. It said that since 2000, the department has averaged about 1,282 staff injuries per year. That number dropped to 907 in the 2017 fiscal year that ended in June.

[AFSCME executive director Roberta Lynch] also said inmates are being reclassified for their security threat which has resulted in inmates convicted of violent crimes being moved from maximum security prisons to medium and minimum facilities. She said the reclassifications are being made by Corrections' management without consulting staff who actually deal with the inmates. […]

Lower security prisons have lower staffing requirements and cost less to operate, she said.
However you count it, even a 34 percent increase is still a lot. And "liquid substance" can include, um, bodily excretions.
* The explanation…
"Is it because … prisons with lower security levels have lower staffing levels and cost less to operate and that far too little attention is paid to the human cost of increasing violence against staff?" Lynch asked […]

Illinois Department of Corrections Director John Baldwin, meeting later with reporters, rejected AFSCME declarations that management "doesn't care" and dismissed the AFSCME's claims of "budget-driven security re-classification."

He said the department is changing its classification system for inmates to replace a 30-year-old model, acknowledging that "we have a lot of population in the wrong place." […]

Seven in 10 assaults are perpetrated by mentally ill inmates, Baldwin said. Key to reducing those, he said, is training approved by the National Alliance on Mental Illness, which all department employees have had, in dealing with sometimes uncertain responses and reactions associated with mental illness.
We have a mental health crisis in this country and we're making prisons and jails deal with it.
* More…
Baldwin says the department's staffing level has grown by 11 percent over the past three fiscal years.

He also says some increase in assaults is expected as Illinois changes the way it deals with inmates who have mental illness, but that based on the experience in other states, the trend will improve over time. The state has agreed to improve treatment of inmates with mental health disorders in order to settle a lawsuit.
- Posted by Rich Miller 16 Comments


* Dan Mihalopoulos on a controversy involving political consultant Hanah Jubeh…
Her role as chief fundraiser for Chris Kennedy's campaign is putting Jubeh in direct conflict with longtime colleagues in the labor movement who want J.B. Pritzker to get the Democratic nomination in the March primary.

The tensions between Jubeh and her one-time friends and allies erupted into public view this week. In its newsletter published Tuesday, the Illinois AFL-CIO — which has endorsed Pritzker — took a highly unusual cheap shot at Jubeh.

"Kennedy's campaign has been plagued with poor fundraising and no-show appearances, which has stalled the campaign," according to an unsigned, lead article in the Illinois AFL-CIO newsletter. "Hanah Jubeh of P2 Consulting is senior advisor and fundraiser for the Kennedy campaign. Based on past political campaigns, combined with this campaign, many people, especially within the Illinois labor movement, are seriously questioning her abilities to manage statewide campaigns."

Jubeh told me Thursday that the personal attack on her in the newsletter was "unprecedented," but it echoed pressure she has faced privately since joining the Kennedy campaign. […]

Jubeh says she believes sexism is behind this criticism.

Other Kennedy campaign consultants who are men have worked with labor unions before this race, including Kennedy's pollster and the guy producing his campaign ads. Unlike Jubeh, the men on the Kennedy campaign have not faced the same sort of attacks from labor.

"Why did [IL AFL-CIO President Michael Carrigan] single me out, a female in leadership?" Jubeh says. "He knows he can only bully a female. If I was a guy, this would be a non-issue.
* OK, as I've been saying for months and as I told subscribers again this morning (I also worked on this story), the Kennedy campaign's most fundamental problem is its fundraising. His pollster and his media consultant are not the problem over there. The real issue is money, meaning the lack of it.
Heck, even Kennedy's own campaign finance chairman admitted that the second quarter fundraising results were "lousy"…
"It was a bad quarter, no question about it," Daley told me.
Kennedy raised $704,000 during that quarter. During the next quarter, he raised about $800,000 from others. Something simply has to change over there. And since she's his chief fundraiser, that's her turf, even though I would blame the candidate more because it's his job to burn up the phones. And she has had success raising money for others, including Sen. Kwame Raoul.
* But, words do matter. Here's the full passage from the AFL-CIO newsletter…
While Pritzker builds momentum, his rivals for the Democratic Party nomination are struggling to gain any traction. Chris Kennedy has had two straight quarters of subpar fundraising, including injecting $250,000 of his own money in to boost the totals.

Kennedy's campaign has been plagued with poor fundraising and no-show appearances which has stalled the campaign. Hanah Jubeh of P2 Consulting is Senior Advisor and fundraiser for the Kennedy Campaign. Based on past political campaigns combined with this campaign many people, especially within the Illinois labor movement, are seriously questioning her abilities to manage statewide campaigns.
The organization should've focused its attack on Kennedy without naming staff because it's now opened itself up to public criticism. Bad move and understandably seen as sexist. Frankly, I was shocked to see it in the newsletter late Wednesday night when somebody sent it to me. They should apologize, or at the very least knock it off. When just five members of your 35-member executive board are women, you need to tread much more carefully.
* You can go back to the Sun-Times story for other responses, but something important was left out of this react…
[Chicago Federation of Labor Ramirez President Jorge Ramirez] didn't want to comment on the remarks in the AFL-CIO newsletter. Although the CFL is supporting Pritzker for governor, Ramirez vouches for Jubeh.

"Hanah has done good work for us over the past 10 years," Ramirez says. "I'd be dishonest to tell you otherwise."
* From her Twitter account…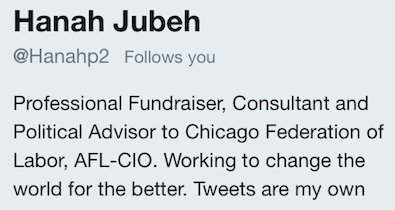 * The full statement from the CFL, with emphasis added by me…
Hanah Jubeh has worked for the CFL in various capacities for nearly a decade. While Hanah no longer directs the political work for the CFL, she continues to provide logistical support and planning for non-political events. I'd be less than honest if I didn't acknowledge Hanah's contributions to our organizational and public policy successes.
- Posted by Rich Miller 44 Comments


* Lots and lots of words, but Chris Kennedy seems to be learning a little as the campaign moves ahead…
AUDIENCE MEMBER: My question is, would you legalize marijuana so this state would not go down the drain like all the others? Like [inaudible]

KENNEDY: I would do this. I would follow the advice of scientists and doctors. If the scientists and doctors and the recovery community said, 'you should not do that because you'll create a public health hazard,' I wouldn't legalize marijuana simply to get us out of a budget mess, I would tax the rich people who can do that. We don't need to do that. But I would defer to science, I don't think it should be a politician that makes that decision.

And we should, within six months of the next governor's term, we should charge the University of Illinois with reviewing all of the studies that have been done and decide whether it should be legalized or not and how to legalize it. I talked to the governor of Colorado last Friday. So, he said, 'Look we legalized it, but we didn't know it would come as gummy bears.' So, a bunch of kids ate gummy bears and ended up at the children's hospital in Denver. Because we didn't know that they should come in a medical container with a screw top lid that only an adult should open. So, they had to go back and re-regulate.' Then he said the THC, which is the chemical in there, the THC is much stronger than it was when – I was familiar with the topic back in the 80's, so it's like 10 times stronger. There's no regulation in Colorado, at least the way he said it, that regulates how much THC can be administered in one dose. Which means that for the first time in history, like in 10,000 years of human history, people can overdose from marijuana. You're saying no you can't –

AUDIENCE MEMBER: – Well, alcohol. You can overdose with alcohol.

KENNEDY: We should defer to science, and what we should say is, OK what do the rules look like? What would be good? Is it OK? Is it like liquor? If it's like booze, they say it's not a public health hazard, let's do it. But let's make sure we've got the right container, let's make sure that we don't have a dose that's too high. Let's learn from what other states have done. That's what I say.

The thing is in America, this is interesting, the Republicans in the Senate and in the House, have stopped the Centers for Disease Control and the National Institutes of Health from studying this question. There's no study. The federal government is prevented from studying whether or not we should legalize marijuana. That's like crazy, because politicians got involved where they should have differed to the scientists. In the state of Illinois we regulated medical marijuana. The doctors said, 'oh no we should use it for many diseases.' And they said 'No, no, no, just a few,' because the politicians substituted their own judgement for doctors and scientists. That's ridiculous, we should defer to doctors, you should defer to science, there is truth and we should respect it. Let them decide and then we'll do whatever they decide.

AUDIENCE MEMBER: I feel that God gave us this beautiful plant. Why does there have to be so much regulation?

KENNEDY: And I think I would just ask a doctor or a scientist that's all I'm saying. I can't argue with your point.
* Video…
- Posted by Rich Miller 58 Comments


* Press release…
Democratic candidate for Governor, Bob Daiber, announced that Jonathan W. Todd, a Chicago Social Worker, will join him on the ticket for his bid for the 2018 nomination. Daiber said. "Jonathan is a person who knows the issues of Chicago because he works to solve them every day in his job." The Daiber campaign has interviewed a long list of possible running mates. "Jonathan Todd is a good choice because of his working knowledge" stated Daiber.

Todd is 49 years old and is married to his wife, Stacy. The couple lives on the west side of the city in the Austin community and are parents of their four-year old daughter. Todd has worked for the Association House of Chicago for thirteen years. Todd has been politically active in Democratic politics as a community organizer, campaign volunteer, and strategist for numerous candidates. While Todd has never held public office, Daiber indicated that he is comfortable with him in the Lieutenant Governor's spot because of his knowledge of social services and his understanding of government to help solve social problems. Daiber also welcomes the volunteer base that Todd will bring to his campaign.

Daiber stated, "Jonathan has a background to help lead the charge to end violence in Chicago and around the state. I feel very good that Jonathan has worked with the Department of Children and Family Services (DCFS) and the Department of Human Services (DHS)."

Todd holds a Bachelor of Science Degree in Sociology from Roosevelt University. He has over twenty years of experience in social work.

Todd stated, "I am excited to join Bob Daiber in this gubernatorial race because Bob has an extensive background in public service and education. I began to follow Bob in his campaign last spring and have been impressed with his knowledge and detailed answers. We will be a good team because we will work to move the state forward and unite Illinois."
*** UPDATE 1 ***  Another running mate problem…
I was excited to read your recent post that a Governor candidate selected a social worker to be his running mate, one problem – Johnathan Todd is NOT a social worker in Illinois. Social work is a title protected profession in Illinois that requires either a Bachelor's degree in Social Work (not sociology), supervision hours and passing the ASWB test for the Licensed Social Worker, or a Master's degree in Social Work, supervision hours and passing the ASWB test for Licensed Clinical Social Worker. Mr. Todd has none of those qualifications.

In Illinois you must be licensed as a social workers to call yourself a social worker, it is violation of state law to represent yourself as a social worker without those qualifications. I am asking that you please correct this inaccuracy.

Kyle Hillman
Director of Legislative Affairs
National Association of Social Workers, Illinois Chapter
*** UPDATE 2 *** From Bob Daiber…
On behalf of the Daiber Campaign for Governor, it was not the intent of our announcement today to misrepresent the qualifications of Jonathan Todd our running mate or to misuse the title of social worker. As a candidate for Governor, I apologize to any one who was offended by the misuse of this title. As a licensed professional myself, I uphold the greatest respect for all who have earned licenses to practice their professions. Mr. Todd does hold a Bachelor's Degree in Sociology and has worked for the Association House of Chicago for thirteen years.
- Posted by Rich Miller 38 Comments


* Press release…
Gov. Bruce Rauner announced today that Patty Schuh will become his deputy chief of staff for communications.

Schuh will join the governor's office next week, bringing with her more than 30 years of experience working with the Illinois General Assembly. Schuh started her career on the Senate Republican staff as a communications officer and advanced to the role of press secretary and Assistant to the Senate Republican Leader.

"Patty may be the most well established and politically astute communicator in Illinois government," Rauner said. "As the leader of our team, she will add unparalleled experience in Illinois politics and media to our communication. I have known her for many years and I am excited that she has decided to join our effort."

Schuh has the unusual distinction of having served as spokesman and press secretary for four Republican leaders – Senate President James "Pate" Philip and Senate Republican Leaders Frank Watson, Christine Radogno and Bill Brady.

"I'm honored to put my experience to work in the Office of the Governor. I'm grateful to Gov. Rauner for the opportunity and look forward to working with his administration to make the changes Illinois needs to move forward," Schuh said.

Schuh teams with Communications Strategy Director Hud Englehart in Chicago.

Schuh and her husband live in Springfield.
I love me some Patty. She's a pro through and through. I sure hope this works out for her. We'll see.
- Posted by Rich Miller 56 Comments