Kimberly Lightford's vote for a white candidate for Illinois Senate president over a fellow African American politician — 11 years ago — may have helped cost her this year's Senate president's job on Sunday. […]

Lightford, D-Maywood, blamed former Illinois Senate President Emil Jones Jr., and his son, Emil Jones III, who is currently in the Senate, for her loss. She would have been the first female black Senate president. She thinks their opposition may stem from an 11-year old grudge.

In 2009, Lightford voted for Cullerton, the white candidate, for Senate president, over Sen. James Clayborne Jr., who is black.

Lightford claims Jones III, D-Chicago, acted as a double agent, calling what he did a personal betrayal. Lightford claimed the elder Jones, 84, also helped to steer votes away from her, a claim he denied to the Sun-Times on Sunday. […]

"I don't know how you can come back and say I want the black support when you had that opportunity to support the black and you didn't," the elder Jones said.
And so now, the former African-American Senate President helps tube a female African-American candidate for Senate President for voting for the white guy years ago by helping elect another white Senate President.
This is going well.
There's lots more, so go read the whole thing.
- Posted by Rich Miller Comments Off


* News coverage so far…
* Sun-Times: Don Harmon selected as Illinois Senate president: After hours of behind-the-scenes negotiations — and some internal strife — west suburban senator Don Harmon on Sunday was unanimously selected to serve as the next Illinois Senate president. Tensions were high and emotions were strong as Senate Democrats on Sunday weighed the historic nature of the vote for Senate president over who had the most support. In the end, the caucus came together to support Harmon, D-Oak Park, who had previously served as Assistant Majority Leader — with a deal to ensure that state Sen. Kimberly Lightford, D-Maywood, would maintain her post as Majority Leader.

* Tribune: Democrats elect Don Harmon of Oak Park to succeed John Cullerton as Illinois Senate President: In addition to dealing with any further fallout from the federal probe, the new Senate leader will have to navigate headwinds on a number of issues in the spring legislative session and beyond, from property tax relief to Illinois' massive pension debt, and the monumental task of redrawing legislative district boundaries after the 2020 census.

* Tribune: Who is Don Harmon? Meet the new Illinois Senate president: Harmon counts among his top accomplishments legislation putting "meaningful constraints" on campaign contributions and juvenile justice reforms, including a measure ending juvenile life sentences without the possibility of parole.

* AP: Dems elect Harmon to serve as president of Illinois Senate: "I can't think of anyone else who would do a wonderful job leading our caucus," Lightford said Sunday as she rose to nominate Harmon for Senate president, following a closed-door caucus prior to the final vote.

* Capitol News Illinois: Harmon elected Senate president

* WGN: Oak Park Democrat Don Harmon selected as new Illinois Senate president: But only days ago, Harmon got a big boost from Senator Emil Jones, whose father served as Senate President. Jones then began trying to bring members into the Harmon camp. It was an hugely important endorsement. A member of the Black Caucus with Lightford, Jones provided cover for members who were waffling.

* ABC 7: Sen. Don Harmon elected president of Illinois State Senate, beating out Sen. Kimberly Lightford

* WBBM Radio: Illinois Senate Elects Don Harmon As Next President

* NBC 5: Don Harmon Elected President of Illinois State Senate

* CBS 2: Don Harmon Elected New Illinois State Senate President: Harmon also sponsored 2019 legislation requiring gun dealers to obtain licenses in Illinois, a law 16 years in the making.

* WCIA: Dems elect Harmon to serve as president of Illinois Senate

* Center Square: Don Harmon elected Illinois Senate President, succeeding John Cullerton: Being in the Senate minority state Sen. Jason Plummer, R-Edwardsville, said he wanted to see the new Senate President show some independence and support a fair legislative map-making process and ethics reforms to curb corruption. "You go to the average voter in the street right now they laugh at their state government," Plummer said. "It's embarrassing. It's frankly appalling the regard in which we're held to the average voter. It's something that needs to be addressed and I hope people take that seriously."
- Posted by Rich Miller Comments Off


* Senate President Don Harmon…
After representing the people of Oak Park and the state of Illinois for more than 17 years, Senator Don Harmon (D-Oak Park) looks forward to serving as the 39th Senate president, and thanks his colleagues for recognizing his legislative accomplishments and for believing in his ability to lead the chamber.

"The Senate is a collection of diverse views and diverse experiences but consistent purpose—to best represent the citizens who send us to the Capitol, to collaborate, to compromise, and to create better opportunities, better outcomes, and greater faith in the honor and integrity of our state," President Harmon said.

Senate President Harmon was first elected to the Senate in the fall of 2002, and has since promoted a progressive agenda based on his commitment to social justice and public service. In 2011, former-Senate President John Cullerton appointed him president pro tempore, offering Harmon a key role in shaping policy and moving legislation through the Senate.

Notable legislation spearheaded by Senate President Harmon include the Preschool for All Program to expand access to preschool opportunities for thousands of Illinois families, a law to make same-day voter registration a permanent option, and the Fair Tax constitutional amendment to allow Illinois to vote to replace the current flat income tax with a fairer, more equitable and efficient approach to lower tax rates for lower income levels.

"The work now begins in earnest," President Harmon said. "I look forward to joining together with Governor Pritzker and leaders in both chambers as we work to change the trajectory of our state and set a better course for our future."
* Gov. Pritzker…
On behalf of the people of Illinois, I congratulate Senator Don Harmon on being elected to serve as the next President of the Illinois State Senate. With 17 years of experience in the upper chamber, I am confident that Don will ably serve and lead the Senate with a steady hand and hold integrity above all else. A staunch advocate for working families, Don was instrumental in shepherding the most sweeping and consequential legislative agenda through the state senate this past year. Because of Senator Harmon's leadership, we advanced the historic Fair Tax amendment which will change the trajectory of our state's finances forever, and I was proud to sign his legislation requiring gun dealers to be state-licensed and creating a new parole system for youth facing long sentences. I look forward to working with Senate President Harmon to build on the progress we made last year and continue to move our state in the right direction.

I commend Majority Leader Kimberly Lightford on a historic run and am proud of her work tackling big challenges for working families. Without Kim's leadership we could not have raised the minimum wage, lifting more than a million Illinoisans out of poverty and I know she has more important work to do as Majority Leader.

Now is the time to come together and continue working on our shared goal of moving Illinois forward.
* Senate GOP Leader Bill Brady…
I want to congratulate Sen. Don Harmon on becoming the new Illinois Senate President. I look forward to meeting with him to discuss the important issues facing our state, such as the need for fair maps, policies that attract businesses and grow jobs, and real property tax relief.
* House Republican Leader Jim Durkin…
Congratulations to Senate President Don Harmon. I look forward to working with him to accomplish great things for the state of Illinois this coming session.
* ILGOP Chairman Tim Schneider…
I congratulate Senator Harmon on becoming the next Illinois Senate President. I hope he brings in a new era of reform that changes course away from the decades of inaction and corruption that have plagued the capitol. The new Senate President can get a great start on that front by strongly supporting substantive ethics reform and a fair maps constitutional amendment.
* llinois Democratic County Chairs' Association President Kristina Zahorik…
I am very proud and excited for our friend Don Harmon. He has done an amazing job representing the 39th District and Chairing the Democratic Party of Oak Park. His support for Democratic values has extended well beyond the confines of western suburbs and he will do a fantastic job of not only holding our supermajority in the State Senate but expanding on it.

When the IDCCA formed our advisory Leadership Circle two years ago, we knew that we needed Senator Harmon as part of our organization. We were honored with his support then and his continued support now. Senate President Harmon has shown us that he is committed to building the Democratic Party. We are looking forward to continuing to partner with him as we build our Party throughout Illinois.
…Adding… Secretary of State Jesse White…
Congratulations to our new Senate President, Don Harmon.

I've known Senator Harmon for many years and he has the skills and character necessary to be a strong and effective Senate President. I look forward to working with him on issues important to the Secretary of State's office.

I also applaud John Cullerton for his years of leadership as Senate President and as an advocate for road safety. I wish him all the best in his future endeavors.
*** UPDATE *** Senate Majority Leader Kimberly Lightford…
This has been an incredible journey for me over the past several weeks and one that I would never trade. While it's not the outcome I had hoped for, I know that the Senate Democratic caucus will emerge stronger and more unified than ever. I want to thank my colleagues who put their trust in me with their vote. To those who did not, I look forward to the many battles ahead that we will fight together to make this state the very best it can be for every resident and family.

I have known Senator Harmon for many years and know that our caucus will be in very good hands with him as our President. With our state being at such a critical juncture, we have no time to waste in getting to work. I look forward to standing alongside President Harmon and our caucus to ensure that we do everything we can to lift people up throughout Illinois and build a road map for residents, families and businesses to thrive and have hope for a great future.
- Posted by Rich Miller 10 Comments


*** UPDATE *** I am told that Assistant Majority Leader Don Harmon has accepted the terms from Senate Majority Leader Kim Lightford. Barring some unforeseen blow-up, Harmon will be the new Senate President. Lightford, I'm told, will keep her leadership spot and so will most other leaders who backed her.
[ *** End Of Update *** ]
* Supporters of Sen. Kimberly Lightford and Sen. Don Harmon are claiming they have a very real shot at winning the Senate President's race as we head into the voting today. But I've been hearing lots of stories about double-dealing over the past several days, so their roll calls can't be verified and may not be correct. As I recall, the last time Kirk Dillard ran for Senate Republican Leader he went in thinking he'd win it by one vote. Instead, he lost it by one. These things happen.
From the beginning, Sen. Harmon has been quite adept at projecting the image of a frontrunner and of competence and that has most certainly helped his effort. Majority Leader Lightford, however, has proved time and again that she cannot be underestimated. She worked hard, raised gobs of money and ran a smart campaign. I think both candidates have grown during the past couple of exhausting months.
The expected secret ballot on at least the first round of voting has allowed a few members to tell both sides that they're with them. It has also allowed some members who have made up their own minds to just stay mum about their pick and vote without fear of retribution. A few are going in without knowing which way they'll vote. The second round could be a voice vote, and then they'll know who is with whom (although a couple of folks have intimated that they won't vote unless it's a secret ballot).
Rumors are flying everywhere and many of them are just flat-out false. A Harmon supporter, for instance, recently told a Lightford supporter that one of Lightford's top backers had flipped to Harmon. She called that top supporter in a fury and was told in no uncertain terms that the rumor was completely false. Someone begged me last night to tweet that Speaker Madigan was getting involved for Harmon. But when I asked who MJM had contacted and was given a name, that Senator told me Madigan had called him about something else.
The Democrats will meet in a private caucus starting at 11 o'clock. Members have been told public access will be closed to the SDem's Statehouse wing. They'll caucus in what is still Senate President John Cullerton's office. That's where they always meet. The candidates will have access to other rooms in that wing to talk with supporters and potential supporters.
The full Senate is officially scheduled to convene at noon, and Gov. Pritzker's official daily schedule has him presiding over the chamber at that time, but it could very well take much longer than an hour to get this done. Pritzker will be hanging out at the mansion [turns out, he chose to hang out in his Statehouse office] until he's needed. It's his birthday today and he joked last week that his birthday present will be a new Senate President. That's assuming it gets done today, of course.
* I'm going to use our standard ScribbleLive feed, but I'll be adding commentary to it and posting other stuff along the way. Have fun…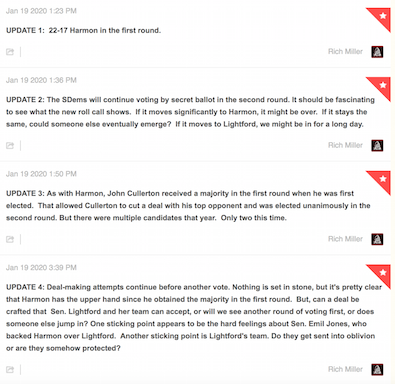 - Posted by Rich Miller 24 Comments


* Press release…
Seven members of the Illinois Senate announced their support for Senator Don Harmon (D - Oak Park) to be their next president. These members include senators representing the City and suburbs of Chicago as well as downstate. The seven senators include: Emil Jones, III (D - Chicago), Laura Murphy (D - Des Plaines), Omar Aquino (D - Chicago), Scott Bennett (D - Champaign), Bill Cunningham (D - Chicago), Linda Holmes (D - Aurora) and Julie Morrison (D - Lake Forest).

"We are proud to endorse our friend and colleague, Don Harmon. I've always admired Don's ability to listen to disparate voices and bring people together. It's a critical skill that will be needed to unite our caucus and lead the Senate through the challenging days ahead," said Senator Murphy.

Discussing the contest to replace outgoing Senate President John Cullerton, Senator Aquino added, "Heading into Sunday's vote, Don has the support of a solid majority of caucus members with even more ready to vote for him should a second ballot be required."

Senator Harmon added words of thanks for their support. "I am honored and flattered to have received an outpouring of trust from such a diverse array of my colleagues, especially from the talented new additions to our caucus. Should more than 30 of my Senate colleagues honor me with their votes, I look forward to working collaboratively with Governor Pritzker and leaders in Springfield to help restore the public's confidence in their government."

The vote for the next Senate President will be conducted this Sunday, January 19 at the State Capitol in Springfield.
The only surprise on this list is Sen. Emil Jones. He had been reluctant to make up his mind. He also said at a private caucus meeting a couple of weeks ago that he wanted to make sure he was backing the winner this time since he supported the losing candidate against John Cullerton in his first race for Senate President.
That said, seven is a very long way from 30. But, as Hannah Meisel rightly noted last night, it's been a contentious race and not a lot of people have wanted to publicly announce their intentions.
* From the Tribune's preview story…
Many Democrats contacted by the Tribune said they were undecided or declined to comment. Harmon declined this week to say how many votes he's counting on.

"I'm feeling very confident about where I am, I believe I have critical mass to win on Sunday, but I'm not going to publicly share my roll call," he said.

Likewise, Lightford declined to say how many votes she has lined up but said she was still working to round up the necessary support. At midweek, one Lightford supporter, who asked not to be named to discuss the count, said she was nearing 20 votes.

"Thirty is a hard number," Lightford said. "It's a really difficult number."
* Gov. Pritzker was asked yesterday whether he or his staff were supporting either candidate and he said this…
I've told everybody where I stand. Nobody is representing me, if they have said anything like that. Look, I have known both of these people for some time.

Sen. Harmon I've known for more than a quarter century and I worked with him on the Fair Tax resolution that passed and that will be on the ballot in November and was a very important priority for me.

I worked with Sen. Lightford on the minimum wage bill, which was the first bill that we passed and that I signed as governor, also a very important priority to me.

So, these are two terrific leaders in the state Senate and I'll work with either one of them when they get elected.
- Posted by Rich Miller Comments Off