* Bloomberg…
U.S. factory production plummeted in April by the most in records back to 1919 as coronavirus-related shutdowns exacted a bigger toll on the economy.

Output slumped 13.7% from the prior month after a revised 5.5% decrease in March, Federal Reserve data showed Friday. The median forecast in a Bloomberg survey of economists called for a 14.6% decline. Overall industrial production — which also includes output at mines and utilities — dropped 11.2% in April. […]

The Fed's report also showed capacity utilization, which measures the amount of a plant in use, slid to 64.9%, the lowest in records back to 1967. At manufacturers alone, utilization dropped to 61.1%, an all-time low in data to 1948.

Motor vehicle production slumped to a 70,000-unit annualized rate, compared with 11 million two months earlier, the Fed said.
Check out the chart. Whew…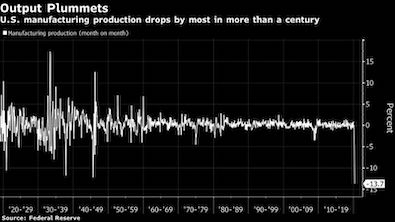 * WaPo…
Retail sales plunged 16.4 percent in April, a record drop and another reflection of how severely the coronavirus pandemic continues to stifle the U.S. economy.

Data released Friday from the Census Bureau blew past analyst expectations, smashing March's revised decline of 8.3 percent. Shoppers may continue to hunt for cleaning supplies and other basic pantry items, but consumer spending, which typically drives 70 percent of the nation's economy, remains largely hollowed out. U.S. stock futures fell off the retail news Friday morning.

The April figure reflects the weeks in which most states were still shut down. Last month, 20.5 million people abruptly lost their jobs and the national unemployment rate jumped to 14.7 percent, the highest level since the Great Depression.
* Meanwhile…
Across the country, worries about having enough to eat are adding to the anxiety of millions of people, according to a survey that found 37% of unemployed Americans ran out of food in the past month and 46% said they worried about running out.

Even those who are working often struggle. Two in 10 working adults said that in the past 30 days, they ran out of food before they could earn enough money to buy more. One-quarter worried that would happen.

Those results come from the second wave of the COVID Impact Survey, conducted by NORC at the University of Chicago for the Data Foundation. The survey aims to provide an ongoing assessment of the nation's mental, physical and financial health during the pandemic. […]

Overall, those who are still working are highly confident they will have a job in one month and in three months, with more than 8 in 10 saying it's very likely. But among those who aren't working because they are temporarily laid off, providing care during the pandemic or looking for work, just 28% say it is highly likely that they will be employed in 30 days and 46% say it's highly likely they'll be working in three months. Roughly another quarter say it's somewhat likely in 30 days and 90 days.
* And…
A Washington Post-Ipsos poll of more than 8,000 adults in late April and early May found that nearly 6 in 10 Americans who are working outside their homes were concerned that they could be exposed to the virus at work and infect other members of their household. Those concerns were even higher for some: Roughly 7 in 10 black and Hispanic workers said they were worried about getting a household member sick if they are exposed at work.
- Posted by Rich Miller 13 Comments


* This is an Ogden & Fry poll. I don't always run its polls, but it seems to be in line with other polls and I'm told the mobile to landline split was 50/50. Also, the small business response was too interesting to pass up…
Q1: Do you approve or disapprove of the job Donald Trump is doing handling the Coronavirus outbreak in the United States?

STRONGLY APPROVE 38.7%
SOMEWHAT APPROVE 7.8% [46.6%]
SOMEWHAT DISAPPROVE 6.5%
STRONGLY DISAPPROVE 42.3% [48.8%]
DON'T KNOW 4.7%

Q2: Do you approve or disapprove of the job JB Pritzker is doing handling the Coronavirus outbreak here in Illinois?

STRONGLY APPROVE 39.4%
SOMEWHAT APPROVE 21.5% [60.9%]
SOMEWHAT DISAPPROVE 9.9%
STRONGLY DISAPPROVE 25.0% [ 34.9%]
DON'T KNOW 4.1%

Q3: Do you support or oppose the current stay at home order in place here in Illinois?

STRONGLY SUPPORT 49.4%
SOMEWHAT SUPPORT 21.0% [70.4%]
SOMEWHAT OPPOSE 10.3%
STRONGLY OPPOSE 15.5% [25.8%]
DON'T KNOW 3.8%

Q4: Are you concerned that states might lift their stay at home orders too quickly, or too slowly?

TOO QUICKLY 54.9%
TOO SLOWLY 29.6%
DON'T KNOW 15.5%

Q5: Do you believe that small retail businesses should be allowed to open immediately, as long as they follow the same social distancing requirements that big box stores have to follow?

YES 75.3%
NO 12.2%
DON'T KNOW 12.6%

Q6: Do you believe that religious institutions should be allowed to open immediately, as long as they follow the same social distancing requirements that big box stores have to follow?

YES 54.2%
NO 34.5%
DON'T KNOW 11.3%

Q7: Thinking about the race for State Representative in November, if the election were held today, would you be more likely to vote for the Republican candidate or the Democratic candidate?

Republican Candidate 40.3%
Democratic Candidate 46.2%
Undecided 13.6%
* Methodology…
Ogden & Fry conducted a seven-question poll for Get Illinois Right on Thursday May 7th, statewide regarding favorability of candidates and approval of executive handling of the Coronavirus Pandemic with 537 respondents. Respondents were selected by random sampling of likely 2020 General Election voters. The margin of error for this poll is +/- 4.32% at the 95% confidence interval.
Get Illinois Right is a political action committee run by GOP Rep. Keith Wheeler. Reps. Mark Batinick and Ryan Spain are proposing legislation to allow small businesses to reopen under social distancing guidelines.
*** UPDATE *** An April 27-May 4 Washington Post-Ipsos poll found that 71 percent of Illinoisans approve of Gov. Pritzker's handling of the crisis. Just 27 percent disapproved.
The poll also had bad news for Georgia's governor. 39 percent approved and 61 percent disapproved of his handling of the pandemic. That governor is trying to open faster than most others…
Abbott, DeSantis and Kemp face blowback for reopening their states on a faster schedule. Nationally, 56 percent of Americans say their state government has handled restrictions on businesses "about right," with 28 percent saying restrictions have been lifted "too quickly" and 16 percent saying they have not been lifted quickly enough. But nearly half of Floridians (48 percent) and majorities in both Texas (59 percent) and Georgia (65 percent) say their state government is "lifting restrictions too quickly."
The Georgia sample size was quite small, however, at just 219.
- Posted by Rich Miller 29 Comments