The party never ends.

Gov. Rod Blagojevich's administration, seeking a contractor to oversee the establishment of a major Southern Illinois recreational facility in late 2003, bypassed the downstate firm that had already done the master plan for the project.

Instead, the administration handpicked a Chicago company that had contributed almost $30,000 in charter plane flights to Blagojevich's 2002 campaign.

Since then, the Sparta World Shooting & Recreational Facility, heralded by Blagojevich as a boon for Southern Illinois' economy, has also been a boon for that contributor, Knight E/A Inc. The Chicago engineering firm has received more than $2.5 million so far from its no-bid contract as construction manager of the Sparta project. […]

Knight Infrastructure, meanwhile, had already become a major political supporter of Blagojevich. During the 2002 campaign, records show, Knight donated charter plane services to Blagojevich on six occasions, at a value of more than $29,726. Wolfe, the Knight company president, gave Blagojevich a personal $10,000 contribution in September 2002, and another $5,000 in June 2003 - right around the time the administration was deciding how to proceed on the Sparta project.
Yet another unintentional coinkidink, according to the Blagojevich administration. Those contributions may look carefully timed and influential, but they weren't. Nope. That would be wrong.
Peruse more stories on the relationship between Knight and the governor here and here.
The major punditry sites usually update their election prognostications on Friday. So, this will be a regular feature through election day. You can comment all you want, but comments won't be visible until Monday morning, when I waive my magic wand.
ILLINOIS GOVERNOR
15 ILLINOIS Rod Blagojevich (D) Last Ranking: 16

Say this for Blagojevich: The press delivers him ethics lemons and he turns around and bashes Topinka for knowing George Ryan. That's the power of money. Is Gov. Rod this year's Gray Davis?
* CQPolitics:

Leans Democratic Ill. — Blagojevich
* Charlie Cook:

Leans Dem - Blagojevich - IL
* The Washington Post's The Fix "prognosticator" used the Sun-Times/NBC5 outlier poll as its sole basis for analysis, so, once again, there's no reason to put any stock into what Chris Cillizza writes about any races, gubernatorial or congressional.
ILLINOIS 6TH CONGRESSIONAL
23 ILLINOIS-06 Open Seat (R) Last Ranking: 23
Immigration has emerged as a contentious issue in this campaign. Besides the Southwest, the Midwest has been one of the few areas of the country still responding to the immigration issue.
* CQPolitics:
No Clear Favorite - Ill. 6
* Charlie Cook has not updated his rankings since Sept. 20.
ILLINOIS 8TH CONGRESSIONAL
[Moved race out of "top 30." Race is now at 31.]
* CQPolitics:

Leans Democratic - Ill. 8 — Bean
ILLINOIS 17TH CONGRESSIONAL
48 ILLINOIS-17 Open Seat (D) Last Ranking: 48
* CQPolitics:

Leans Democratic - Ill. 17 — Evans (open seat)
In the meantime, peruse the videos posted at our new YouTube site…

And make extra sure to keep tabs on Illinoize this weekend. We have a couple of new contributors who will likely shake things up a little bit, plus Fritchey seems to have finally emerged from his hiatus.
Rep. Jack Franks has just sent out a press release that makes a very valid point about how Gov. Blagojevich's administration could be in big, big trouble over allegedly illegal state hiring.
Franks (D-Woodstock) has filed a Freedom of Information Act request with the guv's office for all exemptions granted by Blagojevich to his own Executive Order 1, which froze state hiring in 2003. The only way anyone can get a state job (or a promotion) to this day is to obtain an exemption to the order from the governor.
The point here is that it will be difficult to make the case that a couple of mid-level personnel chiefs who were taking orders from above were responsible for any alleged lawbreaking.
Why? Because not only did the personnel people fill the jobs with political hacks on alleged orders from the governor's patronage office (and, in Beverly Asciridis' case, by the governor himself), but the governor's office itself then had to approve all the new hires.
Franks' press release is below, along with his letter to Gov. Blagojevich and a copy of the governor's Executive Order 1. Click the pics for a larger version.
At 1:10 pm, the Tribune posted a story entitled "Stroger ducks questions on suspended county aide."

Under pressure to explain the role of his father's patronage chief in his campaign for Cook County Board president, Ald. Todd Stroger (8th) refused to answer questions Friday after making a brief statement about the matter.
Then, three paragraphs later…

Stroger went a step farther Friday, saying that if he beats Republican Tony Peraica on Nov. 7, [Gerald] Nichols will not work for Cook County.
At about the same time, the Daily Herald posted a story entitled "Todd Stroger says he'd fire dad's patronage chief."

With his father's former county administration under federal investigation, Cook County Board president candidate Todd Stroger said today that if elected, he will fire a close friend allegedly tied to rigged hiring.

Chicago Ald. Todd Stroger refused to answer questions after making a brief statement Friday morning, but his spokesman said the decision "was difficult for him."

At the center of the controversy is Gerald Nichols, patronage chief under Stroger's father, former Cook County Board President John Stroger. Board president Bobbie Steele, who took over after the elder Stroger suffered a stroke earlier this summer, removed Nichols from his $114,000-a-year position last month following reports he forced the hiring of unqualified clout-backed applicants.
The lesson we can take from this is the Tribune reporter was far angrier at Stroger for not answering questions than was the Daily Herald scribe. and it showed.
I've added some new videos to my YouTube "video log." It takes about a second to put those vids on my YT home page, so there are several.
* The Daily Show did a recent "explanatory report" on pre-election polling.
* I've posted some new TV ads that both defend Tammy Duckworth and attack her.
* There's also an interview with Cook County Board Commissioner and Statehouse lobbyist Larry Suffredin.
* Todd Stroger's appearance on Chicago Tonight is up.
* An interview with Secretary of State Jesse White is also on the "vlog," as is an interview with Sen. Ira Silverstein.
* And as I told you yesterday, some new ads by the governor's campaign have been posted.

You can subscribe to videos that I upload to YouTube myself by clicking here. But, be advised that when I see a video I like that was uploaded by someone else I add it to my "video log" - and those vids won't show up in your subscriber alerts. The vlog is on the home page.
The NRCC is never one to hold anything back. But, as I point out in my Sun-Times column today, claiming or implying that an opponent supports terrorists is the "DC Way" - and I'm pretty sick of it.
Click on the pics for larger images.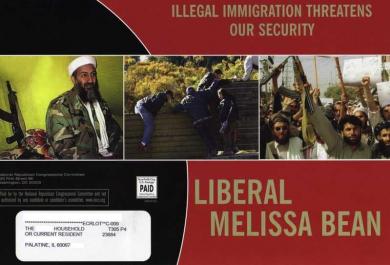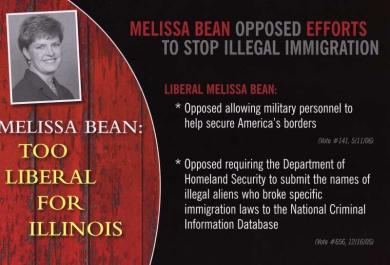 [Hat tip: SoapBlox]
A bill to ban horse slaughtering passed the Illinois Senate but not the House. The SJ-R ran an editorial about the issue today.

One need not be a tree-hugging vegetarian to have qualms about the slaughter of horses for human consumption. […]

We suspect the crash of a livestock trailer in Missouri this week will put even more pressure on the [US] Senate to back this ban. The crash early Wednesday on Interstate 44 near Sullivan, Mo., killed 16 of the 42 horses crammed into the double-decker trailers. Veterinarians and animal humane groups are caring for the remainder of the horses.

The horses were on their way to the Cavel International Inc. horse slaughter plant in DeKalb. Illinois has the dubious distinction of having one of only three such slaughter plants in the United States. The other two are located in Texas. All three are owned by foreign companies.

One witness to the carnage after the truck crash said that one of the 42 horses was only 7 months old; another was a mare ready to give birth. And, of course, all were horses. Americans have decided they do not eat horses.
The Post-Dispatch updates on the accident at this link.
QUESTION: Should the slaughter of horses for meat be banned in Illinois? In the US? Explain.
Not much in the way of print media on yesterday's Chris Radogno press conference but Chicago TV did cover it pretty well. Let's start with ABC7:

New questions were raised Thursday about a political candidate's alleged connections to organized crime. Alexi Giannoulias is a Democrat running for Illinois state treasurer. His Republican opponent, Christine Radogno, is asking these questions. But she isn't the only one.

Political newcomer Alexi Giannoulias is not only facing Republican Christine Ragogno in the state treasurer's race, he is also battling with the chairman of his own Democratic party, House Speaker Michael Madigan, who agrees with Radogno that Giannoulias hasn't provided the right answers to questions abut loans from his family bank to unsavory characters.

The Democratic candidate for state treasurer, Chicago banker Alexi Giannoulias, is still facing the same questions he has been answering for months about multi-million dollar loans from his family-owned Broadway Bank to convicted felons with mob ties. Some of the questions are coming from his Republican opponent, state senator Christine Radogno of southwest suburban LaGrange.

"Clearly, he is the banker for people with mob associations, and, yeah, I don't think there's any question about that," said Christine Radogno, (R)-nominee for state treasurer.
Meanwhile CBS2 checked in with Sen. Rockstar.

We caught up with Giannoulias when he was shooting new political commercials Thursday. He wouldn't say if Obama will appear in one. But a spokesman for Obama said Giannoulias has the senator's full support.
Emphasis added.
And NBC5 got this gem of a quote from Giannoulias:

"I would love to sit down with the speaker and see if we could sit down and talk about how we could uh, you know work together," he said.
I'm told that Gov. Blagojevich skipped the opening of this open-road tolling link. He has been to all the others, even bringing in a famous Indy car racer to zoom through one of them. Some reporters were not pleased with the short notice of his pending absence, particularly since the campaign promised last week that they'd be more forthcoming about his schedule. A call and an e-mail to the governor's press office asking for an explanation were not returned. What up, RR?
With the opening Thursday of a new Open Road Tolling plaza on the Reagan Memorial Tollway, drivers are entering the last lap of a two-year toll collection overhaul that has often caused significant delays.

The resulting free-flow will be well worth the past backups, transportation experts and tollway officials said.

"This is great news for long-suffering motorists," said Joe Schwieterman, director of DePaul's Chaddick Institute for Metropolitan Development. "Too many traffic tie-ups have been attributed to the inefficient toll booth design."
The "crux" of the comptroller's race isn't really delinquent Medicaid payments, but whether Carole Pankau can even make voters notice that she's on the ballot. But, this is still an informative piece.

Illinois owes $1.4 billion in delinquent Medicaid payments — and just who should take the blame for it may be the crux of the state comptroller's race.

State Sen. Carole Pankau of Itasca, the Republican candidate, points the finger at Democratic incumbent Dan Hynes. She says as keeper of the state's checkbook, Hynes has failed to make prompt payments a priority during his two terms in office.

In contrast, Hynes' campaign maintains the unpaid bills fall squarely on the shoulders of fiscally irresponsible legislators like Pankau. For years, Hynes' camp says, she and other members of the General Assembly allowed the state to delay payment of its debts until the next fiscal calendar as a superficial means of balancing the budget.

Both sides agree, though, the delinquent payments threaten the state's health-care system.
Hynes' campaign fired back that Pankau has been silent about the issue for years, so it's nice to see the two finally engaging on something. Pankau started off this race essentially endorsing Hynes.
I'm most curious to see if this campaign can generate more than a handful of comments on an otherwise slow Friday.
* Miller: 'Cut and run' remark undercuts Roskam, despite being misquoted
* "The national spotlight on the campaign for retiring U.S. Rep. Henry Hyde's 6th District congressional seat heated up Thursday as Democrats picked Tammy Duckworth to respond to President Bush's weekly radio address and as former U.S. Sen. Bob Dole spoke out to clarify a Duckworth mailer."
* SJ-R: The Illinois State Police are looking at moving their operations out of the crumbling State Armory in Springfield even as an $800,000 repair project is undertaken on the building.
* Tribune: "Cook County Board President Bobbie Steele said Thursday the county's budget deficit going into 2007 exceeds $400 million, and she asked all department heads and elected officials to cut their spending by 10 percent."
* Trib Editorial: [Steele] didn't mention privatizing county services. Or layoffs. Or closing redundant institutions. She didn't mention the need for a strong inspector general to slash the surtax that corruption extracts from taxpayers. She didn't mention the need to consolidate county fiefdoms by the dozens. She didn't mention the need to overhaul an antiquated system of salary increases that allows many employees' compensation to grow by leaps and bounds.
* Daily Herald: Some call forecast for deficit a scare tactic
* I run this ward, alderman's friend allegedly said - Claimed she had 'total control over the 16th Ward'
* AP: Republican candidate for governor Judy Baar Topinka said Thursday she's confident lawmakers would approve the Chicago casino that's a key component of her proposed budget plan. Topinka, who first proposed her plan last month, said she has talked to lawmakers who were interested in the idea before and "will be interested again."
* Post-Dispatch: In the governor's race, neither incumbent Rod Blagojevich nor challenger Judy Baar Topinka has an official profile on MySpace.com. Blagojevich has a bare-bones profile on Facebook.com; Topinka, the state treasurer, has nothing. While Rep. John Shimkus, R-Collinsville, has profiles on Facebook and MySpace, Rep. Jerry Costello, D-Belleville, has very little on Facebook and nothing on MySpace.
* Tribune: The first name of Cook County Circuit Judge Victoria A. Stewart has been misspelled on 1.5 million ballots. Reprinting them would cost $450,000.
* State fund could help pay funeral costs for slain woman, three children
* Tribune: Chicago merchants would be barred from selling air guns that resemble real weapons and possession of the imitations would be banned under a measure advanced Thursday by the City Council's Police and Fire Committee.
* Daley , in DC, pushes Chicago as Olympic site
* Guv candidates respond to Associated Press questionnaire
* We had this days ago here on the blog. The AP finally catches up: year after state agencies were caught throwing sensitive documents into the trash, two Illinois agencies admit they recently mishandled personal information about their employees. The Corrections Department said its information breach involved "virtually all" of its 13,500 employees but would provide no details.
* Huntley: Are you willing to pay politicians to campaign?