* The setup…
The Chicago Housing Authority wants to require all adults who currently live in, or apply in the future for housing in any of its developments, to be tested for drugs — including senior citizens.

The blanket policy proposal for anyone 18 years or older has residents and housing advocates crying foul.

The American Civil Liberties Union charges the public agency seeks to place a double standard on the poor. […]

Agency officials argue they need more tools to fight crime, particularly the drug scourge, in CHA developments.
* The Sun-Times editorialized in favor of the plan…
On this thorny issue, which raises the hackles of civil libertarians and public housing advocates, we are siding with what we believe is the silent majority of CHA residents.

We think they want drug testing.

Not to punish poor people for living in public housing. And not to stigmatize anyone, though we appreciate that is a real risk.

We're tentatively backing drug testing because it can potentially make newly revamped CHA developments safer and set a tone that illegal activity is simply not tolerated.

Because God knows that wasn't the case with the old public housing projects. Over the last decade, the CHA has torn down its projects, displaced thousands of residents and begun to rebuild. The last thing it wants is to recreate the high-rise ghettos it once had.

Mandatory drug testing could be one small part of a larger effort to make sure that doesn't happen.
* The Question: Do you support mandatory drug tests for everyone 18 years and older as a prerequisite for admittance to public housing? Take the poll and then explain your answer in comments.
* As we learned yesterday, the pension reform bill has been shelved until the fall veto session…
Claims of strong-arm political tactics, numerous legislators with state facilities and public employees in their districts, and concerns about fairness sunk a bill that would have increased the amount current public employees would have to pay for their pensions. […]

Rep. Jim Watson, R-Jacksonville, a member of the House Republican leadership, said some GOP members were told by leaders in the Civic Committee, a group of chief executives from Chicago's largest corporations, that they would face primary challenges for re-election, if they didn't vote for the bill.

"Hopefully they learned something from this, that if you do want help implement change, top down may not be the best model," Watson said. "Calling caucus members and threatening them — that doesn't play well. Yes, they may have lots of money, but some of these members down here who just won have good relationships with people. They know what they need to do to service their districts." […]

Another factor that contributed to the bill's collapse was the strong opposition legislators heard at home from teachers and employees of state facilities in their districts.
* The Tribune editorial board's anger was, surprisingly, somewhat subdued…
The point, though, is that we've seen this before. In the House, 65 votes for casinopalooza. But not enough votes for pension discipline.

We don't fault Madigan and Cross. Their joint statement, issued with Civic Committee President Tyrone Fahner, indicates they will keep pressing for pension reform. It has been good to see Madigan and Cross work together this year to establish a spending level for the fiscal 2012 budget that's more disciplined than what Senate Democrats and Quinn want.

But even with their combined efforts, Madigan and Cross couldn't persuade a majority of their members to support pension reform, the most significant legislation in Springfield this year.

Lawmakers head into their final scheduled day of the spring session on Tuesday. Some of them think they dodged a bullet on pensions. They haven't. Illinois has $85 billion in unfunded pension liabilities. Every family in Illinois is already on the hook for $42,000 in combined debt. That's $42,000 and counting.
* But the pension bill wasn't the only retirement-related proposal to bite the dust yesterday…
Retired state employees will not be required to pay premiums for their state health insurance for the foreseeable future.

Sen. Jeff Schoenberg, D-Evanston, the principal architect of the legislation, said he does not plan to call the health insurance premium bill, Senate Bill 175, during the closing hours of the spring session. […]

Schoenberg said his intent was to target people who retired from upper-income state jobs before they reached 65, the age when they would be eligible for Medicare. Those employees would also likely be receiving larger pensions and able to afford paying premiums for their health care, according to Schoenberg.

The plan under consideration, though, would have charged premiums to retirees with pensions less than $15,000 per year. Even retirees with pensions between $35,000 a year and $50,000 a year could have paid from $5,882 to $1,476 annually for state health insurance.
* Related…
* Push to cut government worker pensions fizzles at Capitol

* State pension push stalls

* Some Illinois public school teachers earning six-figure salaries

* More unpaid furlough days for Cook County workers
* The House tweaked the congressional map yesterday…
In an amendment filed Monday afternoon and voted on roughly two hours later, [Republican Congressman John Shimkus'] home was moved from the proposed 13th Congressional District — which includes most of Springfield, all of Decatur and most of Champaign-Urbana — into the 15th Congressional District, which takes in southern Illinois.

The home of U.S. Rep. Tim Johnson, R-Urbana, is now in the 13th Congressional District.

The move is a break for Shimkus because it gives him back most of the territory that is in his current district. Johnson will now face an electorate that is more Democratic-leaning.
Johnson will now have to decide whether to run against Shimkus or face a strong push by Democrats next year. He says he'll run in the 13th…
Johnson spokesman Phil Bloomer said the congressman expects to run in the reconfigured 13th district in the 2012 election. But, he decried the process that led to the new boundaries.

"It's not only unfortunate, it's crazy, that they didn't include any members of the delegation on the Republican side when they created the map. That's not only a disservice to the congressman, but a disservice to the people he represents," Bloomer said.
Thoughts?
* You can find the newly revised maps by clicking here. And here are the voting age population breakdowns by district…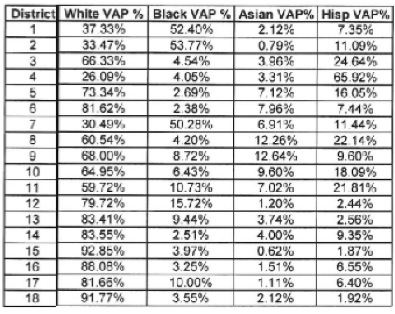 Notice that African-American congressmen had to give up super-majority black districts in order to maintain the current level of representation.
* Related…
* Illinois House give OK to congressional redistricting map

* Sunday Remapalooza: Republicans and Democrats begin to cannibalize

* Saturday Remapalooza: An intensely partisan work of art

* Latino division over legislative maps
* From the Tribune…
…the governor's involvement in crafting a new state budget has proved so minimal that Democratic Senate President John Cullerton told colleagues Monday that Quinn is "irrelevant" on the issue. […]

Quinn's higher spending demands were ignored when the Senate sent him the final pieces of a $33.2 billion spending plan Monday. It's more than $2 billion less than what Quinn requested. Senators, however, added an additional $431 million in spending on education and social services to a public works bill, daring House members to give up funding on projects in exchange for cutting the money.

Cullerton's "irrelevant" comment came in a closed-door meeting with Senate Democrats.

"Yes, yes, yes, he used the word 'irrelevant,'" said Sen. Mike Jacobs, D-East Moline. The comment was confirmed by three other Senate Democrats, who said Cullerton was characterizing the spending plan Quinn introduced as too far from what lawmakers could pass.

Later, Cullerton and his aides denied that Quinn was irrelevant to the budget process, noting that the governor fulfilled his duty to introduce a spending plan to lawmakers even though it "exceeded our revenues."
* And then there was this…
Gov. Pat Quinn has said that he is not in favor of gambling at the state fairground. While he hasn't said he would veto it, the governor has said he opposes top-heavy expansions of gambling. He added that, each time a bill was introduced, it seemed to get bigger.

Lang noted during floor debate that the governor was careful not to use the word "veto."

"Those of us down here are state representatives — we pass laws, and when we pass them, he gets to review them," Lang said.

"If a bill was on his desk that paid off a billion and a half dollars of bills, and he had no other way to pay it off, I think he'd want to take a strong look at that bill."
* And this…
The House advanced the ComEd bill to the Senate on a 67-47 vote, despite an outright veto threat from Quinn
* And this…
An attempt to overturn controversial new health insurance contracts for state workers and retirees was approved by the Illinois House on Monday.

The measure flew through the House on a 98-15 vote, but could be vetoed by Gov. Pat Quinn, whose deputies OK'd the contracts for Blue Cross Blue Shield in the first place.

The governor's office wouldn't comment on a possible veto of the plan, but instead recommended workers and retirees review their benefits options in order to make a decision before a June 17 sign-up deadline.
* Coincidentally, this topic was the subject of my most recent statewide syndicated newspaper column…
Shortly after Gov. Pat Quinn introduced a budget this year which was way out of balance, called for even higher taxes and increased state spending, the General Assembly decided to ignore him.

That was back in February. Things haven't changed much since then.

The governor's original budget proposal was just so out of sync with political and fiscal reality that pretty everybody knew pretty quickly that something different would have to be done. It wasn't long before House Speaker Michael Madigan and Senate President John Cullerton decided that the best way to pass a reasonable, realistic budget was to cut the governor out of the process and hand the budget-making responsibilities over to the legislative appropriations committees, with strict spending limits.

When I asked Speaker Madigan earlier this spring if Quinn had become irrelevant to the process, Madigan said that the governor had not. Quinn had introduced a budget, Madigan said. That was the governor's role, he added, politely ignoring the fact that for decades governors have had infinitely larger roles in the state's budget process.

Senate President John Cullerton was asked last week why the governor has seemed so invisible.

"He kind of put himself in this position," Cullerton said. "He proposed an unbalanced budget, and we're cutting it."

In order to make sure that legislators remembered he still had a big weapon at his disposal, the governor has repeatedly run right up to the edge of threatening to veto the legislature's budget if he didn't get what he wanted.

"I'm going to make it crystal clear to our legislators of both parties of both houses, we're not going to jeopardize our economic recovery and our jobs for policies that are very, very harmful to our schools," Quinn said in early May. "We're not going to have severe, radical cuts in our education and our schools. We're not going to have severe, radical cuts in our healthcare. We're not going to put the healthcare of our Illinois workers in jeopardy. We're not going to have severe, radical cuts in our public safety… We're not going to let them do that."

"My job," Quinn said, "is to be the goalie to protect the people of Illinois from radical, severe cuts in their fundamental way of life."

It's true that Illinois governors have extraordinarily strong constitutional powers when it comes to vetoes. But governors cannot increase spending in budget bills. They can only reduce or eliminate spending. If Quinn did eliminate any spending, those programs would not be funded until the General Assembly returned to act on his vetoes.

If, for example, Quinn decided to veto the State Police's appropriations bill because it didn't meet his standards of protecting public safety, the coppers wouldn't have any operating cash until legislators acted on his veto.

And since the General Assembly won't return to Springfield until October or November, Quinn would have to call a special session during the summer and risk upsetting legislators so much that they might very well override him. And then there would go his remaining relevancy right out the window.

The governor also hasn't seemed to learn any lessons. After being snubbed in February for introducing an out of whack budget, then complaining that legislators were cutting programs too much, Quinn actually had the gall to ask the legislative leaders last week to give him $300 million to spend any way he wished.

That's simply inane. At a time when legislators were looking for even the tiniest cuts to preserve the same much-needed state programs that the governor said he wanted to protect, Quinn decided he'd ask for a gigantic discretionary fund.

Adding insult to injury, the governor didn't even bother to identify a way to pay for his slush fund.

More than almost anything else I can think of, that request demonstrated just how far out of touch the governor has become this spring. All Quinn got out of it were rolled eyes, deep sighs and slowly shaking heads from people who had taken on the very painful task of trying to balance a budget that hasn't been balanced in years.

If you want to be relevant, you can't be counterproductive.
* Related and a Statehouse roundup…
* Senate panel OKs ending workers' compensation

* State House passes Illinois version of DREAM Act for children of immigrants

* Lawmakers send Illinois Dream Act bill to Quinn

* Legislation would create private scholarship fund for illegal immigrant students

* Taylorville clean-coal plant gets go-ahead from House committee

* Bill toughening nursing home rules passes House

* Bike rider's straight on red measure heads to governor

* Flurry of activity as lawmakers try to finish

* Senate adds $431M to Illinois budget

* State budget sent to Quinn

* Senate passes budget, sends it to Quinn's desk:

* Legislative budget battle heading to final day

* Parties jockey for position on state budget

* House OKs Chicago casino, slots at O'Hare, Midway

* Illinois House OKs more casinos in gambling bill

* House OKs expanded gambling, including at fairgrounds

* House OKs massive gambling expansion

* House votes to add 5 casinos

* House OKs Arlington slots, Lake County casino

* House OKs ComEd rate plan, veto possible

* Quinn gets bill giving COGFA veto power on state health contracts
* I should've started this earlier. Better late than never, I suppose…
*** UPDATE 1 *** Pension reform is being delayed until the fall veto session at the earliest. From a press release…
May 30, 2011

STATEMENT REGARDING PENSION REFORM

We are absolutely committed to reforming Illinois' public pension system for current employees. It must be done to stabilize our systems and address long term financial issues for both the public employee pension systems and state government.

We believe passage of legislation addressing this issue is essential to the state's well being.

It was made very clear during the May 26th hearing in the Personnel and Pensions Committee that both those who support pension reform and those who are opposed to Senate Bill 512 acknowledge we have a problem and something must be done.

Our goal is to enact reforms to our pension systems that provide a long term solution for both those who are members of the pension systems and those who fund them.

We will convene meetings over the summer to address the issues and concerns that have been raised and work toward a solution in this year's Fall Veto Session. [Emphasis added]

-Illinois House Speaker Michael J. Madigan
-Illinois House Republican Leader Tom Cross
-Tyrone Fahner, President, Civic Committee of the Commercial Club of Chicago
*** UPDATE 2 *** As mentioned in the live-blog above, the Senate Democrats passed an amendment through committee today that contains over $400 million in extra funding for state budgets. They attached the extra funding to a capital projects bill, so if the House doesn't approve the extra funding the projects are held up. Click here to read their analysis…
Attached is a Senate budget overview associated with HB 2189.

Explanation of columns:
"FY 11" is the current year's budget.
"FY 12 Intro" is the Governor's proposed budget.
"FY 12 Senate" is the Senate budget proposal.
"FY 12 House" is the House budget proposal.
"Restorations" are Senate additions to the House budget lines.

The House budget amounts are being used as the base for proposed funding restorations in select categories.

The Senate is proposing restorations totaling $431 million.
* The Tribune has a story today about the big money raised by House Speaker Michael Madigan and Senate President John Cullerton this month…
All told, more than $600,000 in amounts of $1,000 or more has flowed into political funds controlled by Madigan and Cullerton this month. That campaign cash is changing hands during a month when lawmakers traditionally face the most controversial legislation — an agenda dictated by the two Democratic leaders. […]

"Our only criteria in the Democratic caucus in the House is whether legislation represents a common-sense solution to a problem or making sure a program operates in a common-sense fashion," [Madigan spokesman Steve Brown] said. He said it is "critical" to raise money "every month of the year" to defend incumbents because of the recent effect of groups that accept unregulated and anonymous sources of money "to put slop on the heads of candidates."

By contrast, Republicans who have spent the past decade out of power in the House and Senate saw their leadership funds raise only $38,500 in donations of $1,000 or more in May, state records show. […]

"Six hundred thousand dollars at the close of session when all the very controversial legislation is attempting to move forward?" asked Sen. John Millner, R-Carol Stream. "It doesn't look good and it might create more cynicism on the part of our constituents. I think we really have to seriously re-evaluate how we're doing business."

Democratic Sen. Don Harmon of Oak Park, the sponsor of the current campaign finance law, said he's concerned that Illinois is increasingly seeing "unregulated political interest groups, who don't disclose where they get their money, launching campaigns to influence public policy." Harmon, a member of a bipartisan commission looking at the law, said he remains open to suggestions and recommendations.
Fundraising is banned on most session days, however Monday events before session begins on Tuesday is a regular occurrence around these parts.
* The Question: Should all legislative fundraising be banned during session months? Take the poll and then explain your answer in comments. Thanks.
* You may have seen this story last week about the Rockford Diocese dropping adoption and foster care services because of the new civil unions law…
The Rockford Diocese announced Thursday that it would end those services rather than be forced to serve same-sex or unmarried opposite-sex couples. The agency served children and families for more than 100 years.

"It's the moral teaching of our faith that we believe in the natural order of marriage. In order to serve our children best, we believe that they be in that kind of a family," said Ellen Lynch, general counsel for the diocese. "This is not a judgment on whether or not they are loving or capable. We are strictly following the teachings passed down by our faith." […]

The agency was forced to opt out of its contract with the state for adoption and foster services because legislators failed to enact an amendment to the Illinois Religious Freedom Protection and Civil Unions Act that would have allowed Catholic Charities to continue its practice to refer unmarried couples, whether same or opposite sex, to other agencies.
* But the conservative Thomas More Society strongly disagrees with the legal reasoning behind the decision…
"Catholic adoption agencies have no need to stop serving foster and adoption families," said attorney Peter Breen of Chicago-based Thomas More Society. "In our view, Illinois law does not require sectarian agencies to abide by the same non-discrimination standard as non-sectarian agencies. We're encouraging Catholic Charities adoption agencies to continue their work just as they have before." […]

Thomas More Society attorneys argue the Illinois Human Rights Act currently does not force Illinois non-discrimination public accommodation laws on sectarian organizations, only non-sectarian groups. The Illinois Human Rights Act defines specifically where the non-discrimination laws apply, and sectarian adoption agencies are not listed. […]

Because "non-sectarian adoption agencies" are listed and sectarian are not, Breen argues that Catholic Charities may continue to operate without referring for fostering or adoption same sex or opposite sex couples whose partnerships are not considered marriage by the church's definition.
* Whatever happens, the kids will apparently be cared for…
Transitions like this have happened in the past, and other agencies are expected to step up to support the children and families served by Catholic Charities, officials with Children's Home + Aid Society and Lutheran Social Services of Illinois said. Each agency serves families that are married or unmarried, including gay and lesbian partners.

"We're sad to lose the partnership with Catholic Charities in this community," said Kathy Reese, program director for Children's Community Services of LSSI. "The foster care community here is very collaborative … if we're called upon to be of help with this situation, we'll stand ready to work with Department of Children and Family Services in any way that it's deemed appropriate."
Thoughts?
* The borrowing bill got 19 votes in the Senate last night. The Democrats have 35 seats. So it wasn't just the Republicans who defeated the proposal…
Senate Republicans defeated a Democratic bid to borrow nearly $1.5 billion over seven years to pay down part of the state's crushing backlog of unpaid bills. The measure failed by a 19-23 vote with 36 votes needed for Senate passage.

"It's always a bad idea to borrow money when you don't know how to repay it," said Sen. Dale Righter (R-Charleston), who voted against the measure.

The one-sided loss involving the first piece of a four-bill, $6.1 billion borrowing proposal represented another significant defeat for Quinn: It effectively killed his hopes of righting the state's bleak budget situation and persuading lawmakers this spring to authorize borrowing to pay unpaid state bills.

In February, the governor called for $8.75 billion in borrowing to deal with unpaid bills but had swung his support to the $6.1 billion borrowing plan pushed by Sen. John Sullivan (D-Rushville).
* The hope among Democrats is the governor will finally move away from this idea. He actually seems to be taking the hint…
Stretching out the payment cycle to Medicaid providers into next year will allow Gov. Pat Quinn's office to "manage" hundreds of millions of dollars, said state Rep. Sara Feigenholtz, D-Chicago, adding that the state pays $28 million a day for Medicaid services. […]

An Illinois Senate panel on Sunday approved a measure that would extend the amount of time the state has to pay its bills from three months to six months. That period, know as lapse-period spending, covers bills that arrive in Springfield after the end of the budget year, which ends in June. Illinois traditionally would pay those bills by September, but lawmakers want to give the governor until December to send the checks. […]

Senate President John Cullerton, D-Chicago, said if lawmakers do not give the governor more time, they have to either give him more money or tell businesses and hospitals to sue the state.

"This is not new spending," said Cullerton. "This is giving (the governor) more time to pay the bills."

Quinn's budget spokeswoman, Kelly Kraft, said the governor would prefer that lawmakers "restructure" the state's backlog of bills by borrowing $6 billion, but the Quinn administration will take what it can get.

"An extension is something we need to manage the state's cash flow" said Kraft.
* Here's another plan being floated…
One idea that's been tossed around is to limit local governments to the same share of revenue that they received this year. That would mean no additional money if the economy rebounds and the state collects more than expected from income and sales taxes.
* And, as I told you yesterday, this bill may not be going anywhere…
State government retirees – many of whom don't pay premiums for health insurance – would have to pick up roughly half the cost under a bill approved by the Senate Executive Committee Sunday.

The prospects for the bill, Senate Bill 175, are uncertain, however. Two senators on the committee said they voted for it only in order to give the full Senate a chance to consider the measure. They did not pledge to vote for it when it is debated by the full chamber.

The bill would affect thousands of retired state employees, most of whom pay no premiums for their state health insurance, according to a consultant hired by the state. Mercer Health and Benefits said that is a rarity both among state governments and large private employers.

Illinois reduces health insurance premiums by 5 percent for each year a retiree worked for the state, so a retiree with 20 years on the job pays nothing in premiums.
* Related…
* VIDEO: Rep. Feigenholtz on state spending plan

* Plan to borrow for old bills fails

* Senate Republicans block $6 billion in Illinois borrowing
* After last night's House defeat of the workers' compensation bill, Caterpillar, Inc. sent out this statement…
As previously stated, Caterpillar did not oppose the workers' compensation bill passed by the Illinois Senate, but the company was concerned that it did not go far enough to position the state to attract additional jobs and investment. While the bill failed in the House, we are hopeful that a compromise can yet be reached, that would provide for meaningful reform. We remain committed toward supporting changes that support our goal of making Illinois one of the best states in the union for attracting investment and jobs.
* Gov. Pat Quinn's office had a much different take…
"Tonight House Republicans have walked away from a chance to bring meaningful reform to Illinois' workers' compensation system—the best opportunity our state has seen in decades. This is a bill that saw bipartisan support in the Senate. This proposal had broad-based support in Illinois' business community, from large companies including United and American Airlines, Hyatt, Ford Motor Company and Navistar, as well as business advocacy groups including the Illinois Manufacturers' Association, the Illinois Retail Merchants' Association and the Chicagoland Chamber of Commerce - groups that represent thousands of businesses across our state.

"Most importantly, this proposal would have resulted in more than $500 million in savings to Illinois businesses, while still protecting the rights of workers.

"House Republicans had a choice between enacting landmark reforms, or voting to support their own partisan agenda, and maintaining the status quo. Their political decision was made at the expense of workers and business owners in their districts. When they return home, House Republicans will need to explain to their constituents why they chose the interests of their political leadership over significant financial savings for their constituents."
Notice he didn't mention any of the Democrats who voted against the bill or cast a "Present" vote.
* Sen. Kwame Raoul, the bill's Senate sponsor, pointed out the obvious: The House Republicans voted in lockstep to protect their favorite interest group, the Illinois State Medical Society…
"The Republican leader and his caucus are largely financed by the medical society," Raoul said. "I'm sure that Rep. Bradley could not donate as much to their campaigns as the medical society, so I don't see them changing their position."
* Raoul video…
Give the docs credit for pulling off a huge win. They're good. Very good.
* Not all House Republicans were happy with the way this went down…
Freshman Republican Rep. Dwight Kay, who voted present, expressed frustration about the political nature of the vote.

"Today, I found out a lot of things that I really don't know about politics," said Kay, of Glen Carbon. "But I have learned a couple things. The first is that there is no such thing as perfection. Well, you learn that in life, but we try to attain it. Then you learn when you get here about politics, and you think you know what that's about until you get here. And then when you kind of (get) disenchanted with the political part, you say to yourself, 'What's possible?' Well, because we don't have perfect and because there is an awful lot of politics in Springfield, we aren't doing what's possible. And I'm sorry, I can't apologize for my feelings. Because we need reform."
* Greg Baise, president of the Illinois Manufacturers' Association, expressed his disappointment…
"Illinois employers will not get an opportunity to realize $700 million in savings. No bill is perfect in Springfield, but this one was certainly better than the system we live under today."
* Ditto for Dave Vite…
"[Opponents say] we've never gone far enough, but we've never gone anywhere," said David Vite, president and chief operating officer of the Illinois Retail Merchants Association. "Every election, candidates from both parties talk about the jobs climate, talk about helping Illinois business, and when it comes right down to it, they didn't step up to the plate today."
* The House has already passed the "nuclear option" bill to eliminate the workers' comp system altogether. The Senate has advanced the bill to the floor. Will they call it or try to work out an agreement? Unclear at the moment…
State Sen. Kwame Raoul, D-Chicago, was the Senate sponsor of the failed measure, and said late Sunday that he would be moving Bradley's "nuclear option" in the Senate as soon as Monday.

"We need some type of workers' compensation reform, and that may be our only option at this point," Raoul said.
Business hates the bill, however…
"For something that produces upwards of 20,000 cases a year or more, how's the Illinois court system going to handle that?" Baise told the Chicago Sun-Times. "I guess it's a lawyer's delight."
More on that topic…
The sponsor, Democratic Representative John Bradley of Marion drew a line in the sand before the vote.

"46 votes in the Senate, most of your Senators voted for it. This is the vote." He said.

Yet the House Republican Leader said talks could continue toward reaching a compromise.