* The 2018 Wordslinger Golden Horseshoe Award for Best CapitolFax.com Commenter goes to RNUG…
RNUG gets my nomination for the best commenter for his in depth knowledge on a variety of topics, but especially his pension expertise, and pension topics continue to dominate this blog. He is also timely and even when others may throw a barb or two his way, he is the model of respectful discourse in this medium of communication that can bring out the worst in the best of us.

RNUG, is the most deserving recipient.
He is an absolute treasure.
* Runner-up is MisterJayEm…
As for commentator, we are all here fools, but MrJM is the one who, when we disagree, I check my own reasoning, not his. And what takes most of us 100 words, he gets across in 10.
MrJM received several nominations as did many others. But that one was by far the best because it's so true. He also received nominations for best Twitter account. It's really good.
* Honorable mention goes to Sue because of this nomination from her regular sparring partner Honeybear…
I'm going to nominate someone who has really stepped up their game this year. Someone whom I disagree with 100% of the time. But in a democracy that's what I have realized I need probably the most in order to derive the temporary better. I nominate Sue.

She has moved from being annoying to enraging me, which tells me she's improving and adapting. But the biggest compliment that I can give her is I've never wanted to call her a bot. She is consistent in her positions but not so much that she doggedly sticks to the same tired talking points. I hope you get what I'm trying to write. She is a competent and formidable adversary. I am made better for her and I have learned the most from her.

I wrote some pretty fierce stuff at her this year. I don't regret the content or the tone. What I regret is not seeing a new way forward until just now. I will still wrestle with you but with the pledge and intent to make Illinois and her people a better state. That's the way forward

But with respect.

My nomination of you, Sue is my pledge of respect to you.
If a single comment could sum up what I want this little website to be, it's that one.
* The 2018 Golden Horseshoe Award for Best Illinois-Centric Twitter Account goes to Illinois Working Together (@IllinoisWorking)…
There was silly content that was funny, but plenty of serious content that he came up with on his own, fact checked, and put out there. For me and for many of the folks who follow this stuff, it made an impact and best Twitter account shouldn't be just funny memes, but something impactful to people's thinking. People not only followed him, but learned, and reacted to the races a bit differently. As a guy who hangs on Twitter a bunch, I think that's rare and Jake deserves the nod.
It wasn't even close.
* Runner-up goes to Amanda Kass…
@Amanda_Kass is not the hero we deserve, but the hero we need. If you want to talk about fact checking before you Tweet it, Amanda is the standard. Statute, administrative rule, procedures, reporting styles - she has them down. She is not throwing stuff out there HOPING it is right. She knows it is, and if she does not she is transparent about it. That is how we solve the pension crisis.
She is indispensable.
* Honorable mention goes to the hero of 2017 Radical Candor….
Created to highlight the deficiencies of the Best Team In America ™ who took over state government following the infamous Purge, RC quickly grabbed the attention of Illinois political circles.

From the day it came online with its insight and wit, RC drove media attention, drove people to truly laugh out loud, and, most importantly, drove Bruce and Diana Rauner crazy.

Rarely does the creation of a twitter account with 2,000 followers push a politician to start a manhunt in order to find out who could possibly be behind it. Of course, not all politicians are Bruce Rauner.

RC did all of that.
Restaurant quality, as Oswego Willy would say.
* And now, per tradition, I will sign off for the holidays with three videos. Suzy Snowflake…
* And Frosty the Snowman…
That's it. I'm outta here. Happy holidays to everyone and I'll see you in a bit!
* Background is here if you need it. While there's some NSFW language in here, Albert Burneko at a DeadSpin publication has a brutal take on Elon Musk's "loop" idea that Chicago wants to run between downtown and O'Hare…
Okay so wait, I think I'm explaining it wrong. Picture this! It's, it's, you see, it's a subway, only instead of trains filled with many dozens or hundreds of people at a time, riding through a grid of large tunnels, in a grand choreographed underground ballet capable of moving tens or hundreds of thousands of riders per hour, it's … Tesla-brand cars … with their owners and maybe a couple other people … driving at moderate speed … through narrow, bumpy tunnels with no emergency exits. […]

People invented subway trains like 150 years ago, man, you're saying now. This guy just invented a comically slow-moving conveyor belt for his other company's cars. Literally the only innovation here is that it's a worse version of both driving and riding the subway, and only available to people who've bought one brand of car. Yes. True. Wait. No. It's innovative! It's a solution to the problem of traffic, because now, merely by purchasing a Tesla-brand autonomous electric vehicle and outfitting it with special retractable side-wheels, Tesla owners can bypass gridlock and choose instead to spend their time sitting in the insanely slow-moving line outside of this dumb tunnel, waiting for their turn to go through it, one car at a time.

This isn't even a good idea for Tesla drivers, you're saying now. Why would anyone want to make use of this dumb tunnel. We haven't even really gotten into how even in the press demonstration, it was such an uncomfortable ride that the Washington Post reporter described, in an otherwise not particularly hostile article, as not "an experience you'd tolerate from a public subway service" and which the Los Angeles Times likened to "driving on a dirt road." Or the danger the stupid aftermarket retractable sideways wheels could pose to other drivers and their ordinary cars if they malfunction. Or the fact that Tesla cars are infamously prone to bursting into flames, which makes them uniquely unsuited to being driven through narrow bumpy tunnels with no room for fire trucks or emergency exits. Or how the planned tunnels are so narrow that even opening a car door inside one looks like a dodgy proposition. Or how even just at the highest conceptual level this is an obviously dumb and pointless idea that even in the absolute best case—which it isn't presently aiming for—would be redundant to and/or worse than existing rapid-transit rail systems that do not require their riders to own Tesla cars. You're being a little bit of a jerk right now, to be honest. Why can't you just get on board with innovation?
* Slate's Henry Grabar…
As hard as it is to imagine such a system in operation, it's even harder to imagine the network of light-speed elevator shafts that would be required to lift and let down a vehicle every second. Or the ramps required to allow those vehicles to accelerate to join the flow of traffic … or the means of egress in case of an accident … or, or, or. Why are we still talking about this?

There is one arena in which to hold out hope, however: that Musk has made a substantial advance in tunnel technology. He has not fulfilled his promise to tunnel faster—the 6,000-foot tunnel took 18 months to dig, a distance that a state-of-the-art tunnel-boring machine could clear in eight.

But he may have done so at a bargain price: a measly $10 million, he says. But that doesn't include research, development, or equipment, according to the Los Angeles Times, and it's not clear if it includes land acquisition or labor. (Musk has been using SpaceX to fund the Boring Company, to the consternation of some of the former company's investors, according to the Wall Street Journal.)
* My favorite tweet on this topic…
Live shot of drivers waiting to take the car elevator down to the new @elonmusk tunnels. pic.twitter.com/4HcJJQI0c7

— Doug Gordon (@BrooklynSpoke) December 19, 2018
* From the Toni Preckwinkle campaign…
Our poll finds Toni Preckwinkle currently runs first among the field of mayoral candidates, attracting support from 22 percent of voters. Susana Mendoza (12 percent), Bill Daley (10 percent), and Paul Vallas (10 percent) are locked in a close contest for second place while all other candidates are currently attracting only single-digit support and 19 percent of voters remain undecided. […]

Our poll additionally finds Preckwinkle well positioned in a runoff election and leads both Bill Daley and Susana Mendoza in hypothetical head-to-head match-ups. Preckwinkle leads Daley by an 18-point margin, attracting 49 percent of the vote while Daley attracts 31 percent and 20 percent of voters are undecided. A race against Mendoza proves more competitive but Preckwinkle leads with 42 percent of the vote while 39 percent are [for Mendoza].
Click here for the full memo and methodology.
The big takeaway for me is that yesterday's poll and today's show the most competitive runoff race is between Preckwinkle and Mendoza. There's still plenty of time for someone to catch fire from below or someone to flame out from above. Bill Daley's millions in campaign cash may very well help him make a run of it. John Kass, however, thinks Preckwinkle, Mendoza and Daley should all get out of the race because reasons.
Monica Trevino from the Preckwinkle campaign…
The campaign is encouraged by the early polling results that demonstrate the broad base of support for Toni Preckwinkle. Chicagoans clearly recognize Toni's strong record of standing up to the Good Old Boys Club and fighting for change. We are working to carry our momentum forward and bring the change that Chicago voters want.
* Meanwhile, from a Preckwinkle fundraising e-mail…
I'll cut right to the chase. We have a chance, right now, to help a sex-trafficking victim avoid a life sentence in prison. Her name is Cyntoia Brown. In 2004, as a 16 year old, Cyntoia killed her would-be rapist in self defense. She was a child. And instead of seeing her as a survivor of sex-trafficking, she was criminalized and convicted of first-degree murder, sentenced to life, now is being forced to serve 51 more years before there could be any possibility of release.
And then Preckwinkle goes on to ask for a $3 contribution to her own campaign fund. There's no action requested on Cyntoia Brown.
* Unsolicited advice: Don't make slam-dunk predictions. From December 3rd…
Burton Odelson, a lawyer for former Chicago schools CEO Paul Vallas, said he didn't bother to challenge Mendoza's petitions because "that's a done deal. She's going to be way below" the 12,500 minimum.

Former state Sen. Rickey Hendon, the campaign manager for businessman Willie Wilson, agreed.

"They're going to get her," he said.
And then there was this doozy.
* The Sun-Times took a look at who circulated petitions for Ald. Ed Burke…
Burke's volunteers included 23 who, in addition to helping to get him on the ballot, collected 1,351 signatures for Gery Chico, a longtime Burke ally who is among the 21 candidates vying to succeed Mayor Rahm Emanuel. […]

Another Burke volunteer, Michael J. Synowiecki, gathered 121 signatures for mayoral candidate Susana Mendoza, who was recently won re-election as Illinois' state comptroller. In a ceremony performed by Burke's wife, Illinois Supreme Court Justice Anne Burke, Mendoza and her husband were married at the Burkes' home in December 2011, a week before they were married by a priest in Joliet.
* And Paul Vallas held a press conference today to go after Bill Daley…
Vallas served as Richard M. Daley's revenue director and budget director before being dispatched to the Chicago Public Schools as CEO in 1995 as part of a dream-team pairing with then school board President Gery Chico.

At one point during that period, Vallas recalled a retreat was held for the mayor's cabinet.

"The mayor didn't attend that retreat. Bill Daley ran that whole retreat. He was there. He was like chairman of the board. He's been his brother's closest adviser for decades so, who are we trying to kid?" Vallas said.

"I don't think there has been any major decisions that have been made in this city that Bill hasn't had some influence on."
* Related…
* Daley starts the ball rolling on a series of televised mayoral debates

* Most volunteers who got signatures for embattled Ald. Burke can't vote for him

* All seven candidates challenging incumbent Ald. Jason Ervin were bounced from the 28th Ward ballot in 2015. This time, four candidates face challenges — could it happen again?
* Press release…
Today, Governor-elect JB Pritzker and Lieutenant Governor-elect Juliana Stratton made the following personnel announcements for their incoming administration:

Dan Hynes will serve as Deputy Governor. Hynes currently serves as a senior adviser to the transition committee and as a senior executive at UBS Asset Management in Chicago, following a distinguished 12-year career in public service as the Comptroller for the State of Illinois. Hynes was elected Comptroller in 1998 as the youngest state constitutional officer since World War II. He was re-elected in 2002 and 2006 by wide margins. In 2011, President Barack Obama named Hynes as the United States Observer to the International Fund for Ireland, which makes investments in Northern Ireland for the purpose of promoting peace and stability in the region. Hynes also serves as a member of the Democratic National Committee. He received his Juris Doctor from the Loyola University School of Law and Bachelor of Arts in Economics from the University of Notre Dame.

Christian Mitchell will serve as Deputy Governor. Mitchell currently serves as a senior adviser to the transition committee, state representative of the 26th District, and executive director of the Democratic Party of Illinois. Mitchell began his career as a community organizer on the south side of Chicago before entering politics. He served as a deputy field director on Attorney General Lisa Madigan's re-election campaign and was Midwest Paid Media and Polling Director for President Obama's re-election campaign in 2012. He has consulted for state assembly, city council, and congressional races across the country and was a senior adviser to U.S. Senator Tammy Duckworth's successful 2016 race. Before being elected to office, Mitchell also served on the senior staff for Cook County Board President Toni Preckwinkle. He received his Bachelor of Arts in Public Policy Analysis from the University of Chicago and is pursuing a Juris Doctor from the Loyola University School of Law.

Jesse Ruiz will serve as Deputy Governor. Ruiz currently serves as counsel to the transition committee and is a partner in the Corporate & Securities Group of Drinker Biddle & Reath LLP and a Lecturer in Law at the University of Chicago Law School. Throughout his career, Jesse has also dedicated time to public service. He currently serves as the President of the Chicago Park District Board of Commissioners and as a Commissioner on the Public Building Commission. He has also served as Vice President of the Chicago Board of Education, Interim CEO of Chicago Public Schools, Chairman of the Illinois State Board of Education, Commissioner on the U.S. Department of Education Equity and Excellence Commission, Commissioner on the Illinois Supreme Court Character and Fitness Committee, and Commissioner on the Chicago Public Schools Desegregation Monitoring Commission. Jesse received his Juris Doctor from the University of Chicago Law School, where he served as an editor of the University of Chicago Law School Roundtable. He received his Bachelor of Arts in Economics from the University of Illinois at Urbana-Champaign.

Nikki Budzinski will serve as Senior Adviser. Budzinski currently serves as transition director and previously served as senior adviser to the JB Pritzker for Governor campaign. Budzinski led JB Pritzker's exploratory effort for Governor and advised the campaign on political strategy, messaging, and outreach. From 2015 to 2016, she served as the labor campaign director on Hillary Clinton's 2016 presidential campaign. Previously, Budzinski worked in the labor movement for ten years in Washington, D.C., working for the Laborers International Union of North America, International Association of Fire Fighters, and United Food and Commercial Workers Unions. From 1999 to 2004, Budzinski served numerous roles in the Office of the Comptroller in Springfield. Budzinski is a Peoria native and received her Bachelor of Arts from the University of Illinois at Urbana-Champaign.

Alexis Sturm will serve as Director of the Governor's Office of Management and Budget (GOMB). Sturm has over 20 years of experience in Springfield working on state fiscal policy, debt management, and administration. She currently serves as the director of cash management and bond reporting for Comptroller Susana A. Mendoza. Sturm previously served in the administrations of three Republican governors and Comptroller Judy Baar Topinka. From 2015 to 2017, she served as chief of staff and deputy director for debt, capital, and revenue in Gov. Rauner's GOMB. From 2004 to 2015, Sturm served as director of research and fiscal reporting and senior fiscal advisor for Comptrollers Hynes, Topinka and Munger. Under three governors' administrations from 1997 to 2004, she worked in senior roles in debt management, revenue and economic analysis after beginning her state government career as a Dunn Fellow in 1997. She grew up in Carbondale, received her Bachelor of Arts in Economics from Miami University and a Master of Arts in Economics from Washington University in St. Louis.

Erin Guthrie will serve as Director of the Illinois Department of Commerce & Economic Opportunity (DCEO). Guthrie currently serves as the regional general manager for Uber Midwest in Chicago where she partners with cities and regulators to create safe, positive experiences for customers and residents. From 2013 to 2017, she was a client engagement manager and partnership portfolio manager at McKinsey and Company in Chicago. Previously, Guthrie worked as a product manager (MBA intern) at Amazon's Seattle headquarters, as an account executive at 4INFO and as a business development manager at Nokia in San Francisco. She received her MBA from the University of Michigan Stephen M. Ross School of Business and Bachelor of Arts in Public Policy from Stanford University. Erin lives in Wicker Park with her husband and son.

Additional personnel announcements will be made on a rolling basis.
Budzinski is tops in my book and she's doing a good job on the transition. Sturm's experience should serve her well at GOMB. I don't know much about Guthrie.
Your thoughts?
*** UPDATE *** From Tim Nuding, who ran the Senate Republican appropriations staff, was chief of staff to the Senate Republican Leader and then was director of the Governor's Office of Management and Budget…
Rich,

Just wanted to weigh in on Alexis Sturm since I worked with her. She's fantastic. One of the best and brightest people I've ever worked with. Great pick by JB.
…Adding… I think they did good…
Alexis Sturm as GOMB director, what an excellent, excellent, excellent choice

— Amanda Kass (@Amanda_Kass) December 20, 2018
I'm told she was also one of Steve Schnorf's favorites.
* A new report by the Commission on Government Forecasting and Accountability takes a look at where we stand nationally on various metrics. I'm going to skip things like state taxation and most state spending because the income tax rates have risen since the numbers were compiled and a lot of state spending was curtailed during the impasse, so state support for things like higher education crashed.
So, let's start with local government revenue…
In 2016 (the most recent year of compiled [US Census] data available), Illinois ranked 5th in the nation in the category of local government tax revenue collected with an amount of $73.3 billion. California was ranked 1st with an amount of $305 billion. On a per-capita basis, Illinois ranked 9th at $5,709 per capita and was the highest ranked state in the Midwest Region. New York was first at $9,849 per capita. A major reason for Illinois' high rankings in this area is because
The per capita number is the one to focus on here and that's why I'm highlighting it.
* Now, let's look at just local property tax collections…
(I)n 2016, Illinois ranked 5th in the nation in the amount of property tax revenue collected. It was also the highest ranked state in the Midwest in terms of total dollars. On a per-capita basis, Illinois ranked 7th and was the highest ranked state in this category in the Midwest Region. Illinois' per-capita rate was $2,115, which was well above the national average of $1,507.
We keep being told that we have the highest or second highest property taxes in the country, but the COGFA report says otherwise. Still, 7th is nothing to be joyful about.
* K-12 was always funded during the impasse…
Illinois ranked 7th in the nation in the amount spent on elementary and secondary education in 2016 with an amount of $26.5 billion from state and local governments (property tax revenues). California was the highest ranked state with a total expenditure amount of $76.7 billion. On a per-capita basis, Illinois ranked 15th at $2,067 per capita, which was above the national average of $1,933. Wyoming was the highest ranked state on a per-capita basis at $3,445. Illinois has the second highest per capita ranking in the Midwest, just behind Iowa (ranked 14th)
* Local K-12 funding share…
55.3% of Illinois' portion of education funding in the [2015-2016 school year] came from local sources, 37.5% came from state sources, and 7.2% came from federal sources… Illinois' local government portion of elementary and secondary education is among the highest in the nation. In the year shown, Illinois ranked 8th in the nation, but has been ranked 1st in this category as recent as the 2007- 2008 school year. Illinois has consistently been ranked above other states in the Midwest region for this category over the last several years.
The report includes this Census Bureau note: "Payments made by the state government into the state's public school retirement systems on behalf of Illinois school districts are included in the tables that display state totals of elementary- secondary education finances."
* Police protection…
In 2016, Illinois ranked 5th in the nation in the amount of state and local government expenditures for police protection with a total of $5.2 billion. California ranked 1st with a total of $17.6 billion. On a per-capita basis, Illinois ranked 6th in the nation with a value of $406 per capita, above the national average of $338. Illinois was the highest ranked state in the Midwest Region in total dollars and on a per-capita basis. The highest ranked states on a per-capita basis were New York and Alaska, tied at a per- capita value of $500.
* Corrections…
Illinois is ranked 12th in the nation in the amount of state and local government expenditures for corrections in 2016, spending $1.9 billion. California ranked 1st spending $15.5 billion. On a per-capita basis, Illinois ranked 49th with a value of $144 per capita, which was well below the national per-capita rate of $241. The highest ranked state on a per-capita basis was Alaska with a per-capita value of $456.

Illinois' ranking on a per-capita basis has steadily declined over the past two decades. Illinois was ranked 29th in 1997, 38th in 2004, 43rd in 2006, and 46th in 2010, before settling to its current position of 49th. Similar to Illinois' low ranking, several other states in the Midwest also had relatively low rankings in this category (Indiana: 39th; Ohio: 41st, Missouri: 44th; Iowa: 50th).
* Public welfare programs…
In 2016, in the category of state and local government expenditures for public welfare programs, Illinois ranked 7th in the nation in total dollars with a value of $20.2 billion. California was ranked 1st with spending totaling $98.5 billion. Illinois, on a per-capita basis, ranked 34th with a per-capita value of $1,572, which was below the national average of $1,972 per capita. Kentucky (10th) was the highest ranked Midwest Region state with a per-capita value of $2,527. Only Missouri (38th) had a lower ranking than Illinois in the Midwest Region. New York had the highest per-capita ranking overall with a value of $3,307.
* Highways…
In 2016, Illinois ranked 6th in the nation in the category of state and local government expenditures for highways with an amount of $9.6 billion. California had the highest total at $17.1 billion. On a per-capita basis, Illinois ranked 13th with a value of $745, which was above the national average of $541. Illinois' per-capita ranking has increased in recent years from 25th in 2012 to as high as 10th in 2015.

Illinois was the second highest ranked state in the Midwest Region on a per-capita basis behind Iowa (ranked 9th) at $825 per capita.
* State and local debt outstanding…
In 2016, Illinois ranked 4th in the nation with a total debt of $151.7 billion. In this category, state and local government debt outstanding includes short-term, long-term, full faith and credit, non-guaranteed and public debt for private purposes. California had the highest level of debt outstanding with $433.8 billion. On a per-capita basis, Illinois ranked 5th with a value of $11,816. This amount was well above the national average of $9,285. Illinois has consistently been the highest ranked state in the Midwest Region in both total dollars and on a per-capita basis
Also, our unemployment rate was 32nd lowest in the country as of September. We were tied at 4.1 percent with 5 other states.
* The 2018 Golden Horseshoe Award for Best "Do-Gooder" Lobbyist goes to Polly Poskin at the Illinois Coalition Against Sexual Assault…
She started with an organization that practically had no money, and has grown them into a very important, state wide advocacy network. She will retire at the end of the year, and it will be sad not seeing her around the rail. Her quiet demeanor should not fool anyone, as she has a wealth of knowledge and is great at forging relationships that come in very handy when she needs them.
Polly has been so helpful to me over the decades. We both grew up in Iroquois County and there aren't that many of us at the Statehouse. I'm gonna miss her.
* The 2018 Golden Horseshoe Award for Best Legislative Liaison goes to John Webb at IDFPR…
He was with the Treasurer's office going back to Topinka and moved over to DFPR with the Rauner administration. He worked nonstop in a thankless agency with far from glamorous subject matter and still got results.
Congrats to both of our winners!
* OK, on to our final categories of the year. I'm skipping the best insider award this year because we ran out of time, our nominations in the past have been sporadic and I wanted to add a new category…
* Best Illinois-Centric Twitter Account

* The Wordslinger Golden Horseshoe Award for Best CapitolFax.com Commenter
The Twitter award can go to either an individual or an entity. Make sure to explain your nominations or they won't count. And please try to do your best to nominate in both categories.
[The following is a paid advertisement.]
Illinois continues to reel from the fatal outbreak of legionella at the Quincy Veterans' Home. School and park districts are scrambling to address troubling levels of lead in water lines and drinking fountains. Now the House is considering a radical measure that would eliminate longstanding protections that ensure the proper installation of drinking water systems and would, in so doing, endanger safe drinking water in Illinois.
SB 1226 would put the health of all Illinoisans, especially seniors and children, at risk by effectively deregulating the practice of plumbing for public works projects, commercial construction, and residential buildings over four stories. In addition, it:
* Would be a regulatory nightmare. Representatives of the Illinois Department of Public Health and Capital Development Board strongly oppose the bill and believe it conflicts with multiple statutes.

* Would compromise existing energy efficiency standards. The Illinois Environmental Council opposed the bill in committee.

* Is also opposed by: the Illinois Plumbing, Heating, Cooling Contractors Association; Illinois Mechanical & Specialty Contractors Association; South Suburban Building Officials Association; Central Illinois Chapter of the Illinois Plumbing Education Association; and organizations representing licensed plumbers, registered plumbing contractors, and plumbing inspectors across our state.
At a time of heightened awareness about threats to safe drinking water, the last thing Illinois needs is the creation of a legislative loophole that enables unqualified individuals to work on water supply systems.
Learn more here.
* Press release from yesterday…
U.S. Rep. Rodney Davis (R-Ill.) today sent a letter to Illinois Governor Bruce Rauner requesting further information about a waiver the State of Illinois submitted in November to exempt every county except for one from work requirements within the Supplemental Nutrition and Assistance Program (SNAP).

"The biggest concern I hear right now from employers is the inability to hire for the jobs they have available," said Davis. "These are good paying jobs that we need taken to keep our economy growing and they're jobs that help people get out of poverty. I want to make sure our state is doing everything they can to pair those who can work with these jobs. The Able-Bodied Adults Without Dependents work requirement was a bipartisan initiative put in place during the Clinton Administration, but it seems states continue to exploit loopholes. Just because the rules allow it, doesn't mean it's necessarily what's best for our our state so I'm hoping to get a little more clarification from Governor Rauner on the need for a waiver."

Under current law, Able-Bodied Adults Without Dependents (ABAWDs) who are are enrolled in the SNAP program have been subject to a work requirement since 1996, under President Clinton. This requirement is 80 hours per month of either working or workforce development activities such as SNAP Employment and Training. If that individual does not comply with the work requirement, they are limited to receiving SNAP benefits for 3 months in a 3 year period.

States can apply for a waiver from the time limit for ABAWDs if there are areas within the state that have an unemployment rate of over 10% or if there is a lack of sufficient jobs. In 2001, the United States Department of Agriculture (USDA) promulgated a final rule establishing that areas could qualify where the unemployment rate was 20% higher than the national average for 24 months. Additionally, the Obama Administration released further guidance in 2016 outlining how states could establish the need for waiver.

Davis fought for stricter work requirements and a nearly $1 billion a year investment in SNAP Employment and Training programs in the most recent farm bill. Unfortunately, these reforms were not included in the final bill.
* I asked the Shriver Center for a response and here's Dan Lesser…
The Republican Congress just passed a Farm Bill that rejects the harsh work requirement penalties Cong. Davis advocates for. It did so in recognition that starving people is not an effective job creation program.

Gov. Rauner is to be commended for taking action through a waiver request to protect SNAP benefits for 200,000-300,000 Illinoisans, almost of whom face major and sometimes multiple major barriers to working 20 hours per week, including functional illiteracy, undiagnosed mental illness, and a criminal record. The meager SNAP benefits that these single adults receive — $192/month with no other assistance — is hardly enough to function as a work disincentive, as some would have you believe..

Empirical research has shown that the vast majority of men and women who would be cut off SNAP because they are not working at least 20 hours per week want to work. They either aren't able to work, can't find a job, can't maintain 20 hours per week of employment in our unstable, low-wage work market, or are actually meeting the 20 hour requirement but are being cut off through bureaucratic errors.
* But…
The Trump administration is setting out to do what this year's farm bill didn't: tighten work requirements for millions of Americans who receive federal food assistance. […]

The USDA's proposed rule would strip states' ability to issue waivers unless a city or county has an unemployment rate of 7 percent or higher. The waivers would be good for one year and would require the governor to support the request. States would no longer be able to bank their 15 percent exemptions. The new rule also would forbid states from granting waivers for geographic areas larger than a specific jurisdiction. […]

A Brookings Institute study published this summer said more stringent work requirements are likely to hurt those who are already part of the workforce but whose employment is sporadic. […]

"I expect the rule will face significant opposition and legal challenges." [said the top Democrat on the Senate Agriculture Committee, Debbie Stabenow, of Michigan]
…Adding… Congressman Davis responded to the proposed federal rule…
"Our safety-net is catching people when they fall, but it's doing little to help them get back on their feet," said Davis. "We have employers who can't fill jobs, yet 74 percent of able-bodied adults without dependents on SNAP are not working. The proposed rule restores the intent of the 1996 law, which was passed in a divided government to help more individuals find a good-paying job and become less reliant on government assistance. I still believe greater investment is needed in our employment and training programs like we had in the House-passed farm bill and I want to work with our state to ensure they have what they need to help place people in open jobs."
* Shia Kapos…
Richard Porter was the fourth person Gov. Bruce Rauner approached to run for governor. The Chicago attorney who also serves as an Illinois RNC National Committeeman told POLITICO it wasn't so gauche as to be an outright ask.

"I would have described it as more of an aside in a strategy conversation focused more on how he could win (rather) than an offer," Porter said of their telephone call. Rauner also approached state Sen. Karen McConnaughay, Cubs owner Todd Ricketts and then-GOP attorney general candidate Erika Harold.

Rauner "was in to win," Porter said. "He was never a quitter. To the contrary. He was always focused on finding the best path to winning. And if that meant he should fall on his sword, then he was willing to do that — and give millions of his money away to boot. I think Rauner's comments on this have been misunderstood."

Porter's referring to political watchers who say Rauner's courting of others was a desperate act by a candidate who thought he'd lose. But Porter says Rauner just wanted to be assured of a win.
Thoughts?
* NBC…
The man accused of killing four people in a Nashville Waffle House used to send his father text messages in which he punctuated everyday chitchat with delusional rants.

Police say 29-year-old Travis Reinking was nearly naked, only wearing a green jacket, when he opened fire outside the restaurant on April 22 and then stormed inside. Police have said there would have been far more casualties if it weren't for a quick-thinking restaurant patron who wrestled the AR-15 rifle away from the gunman.

By the time of the shooting, Reinking's erratic behavior had already come to the attention of law enforcement, including the Tazewell County Sheriff's Office in Illinois, where he lived part-time.

According to several incident reports, Reinking believed the singer Taylor Swift was stalking and harassing him, including hacking into his computer and phone. He believed the police and his family were part of the conspiracy, and his delusions went back to at least August 2014.
* Text message from May 21, 2017…
"These people are still listening and reading stuff on my phone over the internet," he wrote. Then, "I don't want to be told gay things inadvertently when I'm trying to learn about something else, and they have been saying stupid stuff like I'm a transsexual, and things like that."
* May 23, 2017…
"These people told me that you guys signed a non disclosure agreement, to hide it from me. If your helping them, please stop no matter what it cost you. I don't think you fully realize what these people have been doing to me. … These people tried to kill me." […]

A few weeks later, his father texted him about a job and he texted back, "You're going to hell for what you are doing. Don't say nobody warned you. You are the same type of people who nailed Jesus to the cross. They acted out of fear because of what they didn't understand."
He was arrested in July by the Secret Service at the White House while trying to get a meeting with the president. The state police subsequently revoked Reinking's FOID card and his father took possession of his guns from the local police.
[Reinking] sent a long, profanity-laced rant calling his father a "psychopath" and writing, "You are actively assaulting me, with organized crime, and then being dishonest about doing it."
"Dad, I got a place out of town now, I'm going to need to get my firearms back from you somehow."
The shooting took place on April 22, 2018.
* Press release from yesterday…
Attorney General Lisa Madigan today released preliminary findings of her ongoing investigation into the Catholic Church. While the six dioceses in Illinois have now publicly identified 185 clergy members as having been "credibly" accused of child sexual abuse, Madigan's investigation has found that the dioceses have received allegations of sexual abuse of at least 500 additional priests and clergy members in Illinois.

"Because I know that the Church has too often ignored survivors of clergy sexual assault, I want to share the initial findings from our work," Madigan said. "While the findings are preliminary, they demonstrate the need for and importance of continuing this investigation."

Madigan began her investigation in August following the release of the Pennsylvania grand jury report describing the scope of clergy child sexual abuse in that state. Since then, Madigan and her office have spoken or met with bishops, lawyers and diocesan representatives from all six dioceses in Illinois: the Archdiocese of Chicago, and the dioceses of Belleville, Joliet, Peoria, Rockford and Springfield. Madigan's office also has reviewed thousands of pages of documents and files from each diocese, including diocesan procedures for receiving and investigating allegations of abuse.

At the outset of the investigation, only two of the dioceses had published a list of clergy whom the diocese had determined were "credibly" accused of sexually abusing children. As a result of the investigation, the four other Illinois dioceses have compiled and published similar lists. Also as a result of Madigan's office reviewing diocese files, over the past four months, the dioceses have added 45 clergy to the lists of those who have been "credibly" accused, resulting in a total of 185 clergy members who have been publicly identified by the dioceses. Madigan anticipates additional names will be disclosed as her office's investigation continues.

Based on the preliminary review of the dioceses' files, Madigan's office has found that there are at least another 500 clergy that the Illinois dioceses have received allegations about. The investigation has revealed that allegations frequently have not been adequately investigated by the dioceses or not investigated at all. In many cases, the Church failed to notify law enforcement authorities or Department of Children and Family Services (DCFS) of allegations of child sexual abuse. Among the common reasons the dioceses have provided for not investigating an allegation is that the priest or clergy member was deceased or had already resigned at the time the allegation of child sexual abuse was first reported to the diocese.

"By choosing not to thoroughly investigate allegations, the Catholic Church has failed in its moral obligation to provide survivors, parishioners and the public a complete and accurate accounting of all sexually inappropriate behavior involving priests in Illinois," Madigan said. "The failure to investigate also means that the Catholic Church has never made an effort to determine whether the conduct of the accused priests was ignored or covered up by superiors."
The full report is here.
* Sun-Times…
Madigan acknowledged it's not clear whether all of the newly unearthed allegations are credible.

But she noted that in many instances the church did very little to try to determine their validity.

"If they had an excuse not to investigate" a sex abuse claim internally, "they took it," Madigan said.

"The Catholic church, they should have never been in a position to police themselves."
* Tribune…
In a prepared statement, Chicago Cardinal Blase Cupich acknowledged that victims of sexual abuse by Catholic priests continue to live with the pain. He said the archdiocese has been looking into the issue of sexual abuse since at least 1991, when then-Cardinal Joseph Bernardin formed a special commission. He also cited the archdiocese's Office for the Protection of Children and Youth as a way it has tried to help survivors.

"I want to express again the profound regret of the whole church for our failures to address the scourge of clerical sexual abuse," Cupich said in the statement. "It is the courage of the victim-survivors that has shed purifying light on this dark chapter in church history." […]

William Kunkel, the general counsel for the Archdiocese of Chicago, said he doesn't anticipate the public list of Chicago-area priests with credible allegations of abuse to grow. The archdiocese has no immediate plans to review past allegations — some of which go back decades — because it has already reported past allegations to prosecutors in Cook and Lake counties, Kunkel said. In cases involving a priest who has died, children are no longer at risk, Kunkel said.

"We expect to add no further names at this point. We think the list is a complete list of all priests, of all clergy who have worked in the archdiocese who have substantiated claims," Kunkel said.
* WaPo…
Some state Catholic leaders, under siege during a year of global scandal over bishops' handling of abuse cases, pushed back. The crux of Madigan's announcement was unfair and "false," said William Kunkel, counsel for the Chicago archdiocese.

"The idea that clergy sexual abuse of minors is more extensive than [we] reported is just false," he said.

"We don't see lawyers, doctors, schools publishing lists like this," he said of allegations not found to be reasonably credible. "It's not fair to put out a list of people accused, any more than it would be fair to put out a list of accused reporters."
The full archdiocese response, along with others, is here.
* AP…
The Survivors Network for those Abused by Priests is criticizing the Illinois Catholic church for its handling of allegations of clergy sexual abuse.

Illinois Attorney General Lisa Madigan reported Wednesday that her investigation has found as many as 690 allegations of abuse by Catholic clergy. Illinois six dioceses have reported they found 185.

Zach Hiner is executive director of SNAP. He says Madigan's finding is why SNAP wants independent investigations by outside groups of priest abuse. He says only when Madigan began her investigation did the Illinois dioceses disclose that they were aware of 45 additional undisclosed clergy who had credible allegations against them.

Hiner says he wants every state to conduct similar investigations and wants the Justice Department to make inquiries as well.
* ABC 7…
[13th Ward candidate David Krupa] said he got a surprise call from an FBI agent today.

"An FBI investigator did reach out to me asked me, kinda what happened and allowed me to explain what we believe to be going on," Krupa said.

What Krupa believes is going on is a case of election fraud by the campaign of incumbent alderman Marty Quinn. 2,600 people signed petitions to revoke nominating signatures for Krupa that they never gave him in the first place.

"I am encouraged, I think that, knowing that the FBI reached out to me means that somebody is listening and somebody is taking this matter seriously, which it needs to be taken seriously," Krupa said.
* ALG Research poll for Chicago Federation of Labor of 600 likely Chicago voters conducted Dec. 4 to 9…
Asked whom they would vote for if the election were held today, Preckwinkle came out on top with 21 percent of the vote. Mendoza was second with 16 percent.

That was followed by: Bill Daley (9 percent); Willie Wilson (8 percent); Garry McCarthy (7 percent); Dorothy Brown and Paul Vallas (both at 6 percent); Amara Enyia (5 percent); and Gery Chico (3 percent). […]

Although Preckwinkle comes out on top in the crowded field, Mendoza beats the County Board president one-on-one with 45 percent to Preckwinkle's 39 percent.

Preckwinkle crushed Daley by a 51-to-32 percent margin. Mendoza did the same with 56 percent to Daley's 29 percent. Mendoza also creamed Chico by a 58-to-23 percent margin.
Much more at the link.
[The following is a paid advertisement.]
Illinois continues to reel from the fatal outbreak of legionella at the Quincy Veterans' Home. School and park districts are scrambling to address troubling levels of lead in water lines and drinking fountains. Now the House is considering a radical measure that would eliminate longstanding protections that ensure the proper installation of drinking water systems and would, in so doing, endanger safe drinking water in Illinois.
SB 1226 would put the health of all Illinoisans, especially seniors and children, at risk by effectively deregulating the practice of plumbing for public works projects, commercial construction, and residential buildings over four stories. In addition, it:
* Would be a regulatory nightmare. Representatives of the Illinois Department of Public Health and Capital Development Board strongly oppose the bill and believe it conflicts with multiple statutes.

* Would compromise existing energy efficiency standards. The Illinois Environmental Council opposed the bill in committee.

* Is also opposed by: the Illinois Plumbing, Heating, Cooling Contractors Association; Illinois Mechanical & Specialty Contractors Association; South Suburban Building Officials Association; Central Illinois Chapter of the Illinois Plumbing Education Association; and organizations representing licensed plumbers, registered plumbing contractors, and plumbing inspectors across our state.
At a time of heightened awareness about threats to safe drinking water, the last thing Illinois needs is the creation of a legislative loophole that enables unqualified individuals to work on water supply systems.
Learn more here.
* Earlier today…
Today, Susana Mendoza's campaign announced that, based on the current status of the records exam, their count shows more than 13,000 valid ballot petition signatures, with almost half of the challenged signatures still left to review. The number puts Mendoza far above the 12,500 required signatures to appear on the February ballot.

The announced numbers highlight the political motivations of Toni Preckwinkle's desperate attempt to knock Mendoza and four other women of color off the ballot while draining taxpayer money.

"As we've said from the start, Susana Mendoza will be on the ballot," said Susana Mendoza for Mayor Campaign Manager Nicole DeMont. "Preckwinkle's petition challenge is nothing more than a desperate political attack made by a party boss willing to waste taxpayer dollars to maintain her grip on power."
* A bit later…
Susana Mendoza campaign says their count reveals they have crossed the 12,500 signature threshold to appear on the ballot. Campaign is calling on @toniforchicago to halt its challenge. Preckwinkle camp says the petition review is only a little more than halfway through pic.twitter.com/wjIM7OIzWf

— Paris Schutz (@paschutz) December 19, 2018
* And now…
"Being Mayor of Chicago is a tough job. That's why there are high standards for getting on the ballot. While the campaign is dropping its challenge to Susana Mendoza's petitions, Chicago voters should know that she just barely met the bar to be included on the ballot. This fits a pattern of Mendoza being unprepared to tackle the critical duties of the office. Since getting into this race, Mendoza has repeatedly dodged questions and failed to bring any new ideas," said campaign spokesperson Monica Trevino.

"Toni Preckwinkle is a tough, proven progressive leader who has taken strong stands on critical issues, including criminal justice reform, police accountability and demanding a fair, equal and representative public school system. In this campaign, Toni is going to fight for this City and that includes holding every candidate accountable who fails to bring the bold leadership and vision needed to be Chicago's mayor."
In the end, much ado about very little.
*** UPDATE *** CFL endorsements have been released. Staying neutral in the mayor's race, so now it'll be on candidates to roll out individual union nods…
Hmm, Chicago Federation of Labor just out with endorsements, with 14th Ward conspicuously absent from the list. That, of course, is where Ald. Ed Burke, now under federal probe, has long reigned.

— Hal Dardick (@ReporterHal) December 19, 2018
For those asking . . . P. 1: pic.twitter.com/an8GcQmurT

— Hal Dardick (@ReporterHal) December 19, 2018
And P. 2: pic.twitter.com/qpF0eb3oTc

— Hal Dardick (@ReporterHal) December 19, 2018
Ald. Brendan Reilly also isn't on the list, but he said it was no big deal. He's unopposed.
…Adding… Mendoza campaign…
"Today Susana's opponent decided to drop her bogus petition challenge that she knew was nothing more than an attempt at a self-coronation and a complete waste of nearly $1 million in taxpayer dollars. The boss of the party bosses desperately tried to keep Susana out of the race and she failed. Despite what boss Preckwinkle hoped, there will be an election and voters will hold her accountable for her record of raising taxes first and providing transparency last. Her political games are exactly why Chicago needs a mayor focused on the next generation, instead of just the next four years."
I was appalled to learn that Illinois Secretary of State Jesse White, who manages the operations of the State Capitol, approved a satanic statute for display in the Capitol Rotunda during this holiday season. This absurdity is right next to displays that celebrate Christmas and Hanukkah.

The response given by Secretary White is that the First Amendment requires its display.

As one of the fiercest defenders of the First Amendment, I respectfully point out to Secretary White that his reasoning is terribly wrong.

The First Amendment's "free exercise clause" specifically guarantees all religions the right to freely exercise their beliefs and practices. In this instance, the Christian and Jewish faiths are engaged in their Constitutional right to "free exercise." The satanic cult, by its own admission (not to mention the law of common sense), is not a religion – therefore, there is no claim to "free exercise" by such a group.

Indeed, its forced inclusion is robbing the Christian and Jewish believers of their own "free exercise." Nowhere in the Constitution does it say that government, in this case Secretary White, must force Jewish and Christian believers to include the satanic temple in their holiday celebrations – indeed, such an interpretation can only be made through gross negligence or intentional misapplication.

Yes, the First Amendment allows for free speech, but it also allows for time and place restrictions. For example, if you reserve the public square for a certain time and place for your free speech demonstration – that is your right. However, nothing requires anyone to "double book" the same time and place for another organization – as Secretary White claims.

This is flat-out wrong, disrespectful, and hateful.

Secretary White should have declined this request to "poke people in the eye" – especially during a holiday season of hope, love, and peace.
"My understanding of the law was that the government can create a forum for public comment, but there can be limitations to it … it really depends on the nature of the displays, where they're allowing the speech to take place, so I felt like the notice that was in the rotunda was not 100 percent legally correct," he said.

Schimpf said the purpose of his letter was to ask the Secretary of State to "take a look at the issue again and remove the satanic monument because unlike the other two monuments that were there, it did not celebrate any type of religious holiday. It's meant to present an opposing viewpoint to the Christian and Jewish displays that are in there … just saying that your display must celebrate a religious holiday, I think that's viewpoint neutral. I don't think you're censoring anybody with that."
Festivus is a secular holiday celebrated on December 23 as an alternative to the pressures and commercialism of the Christmas season. Originally created by author Daniel O'Keefe, Festivus entered popular culture after it was made the focus of the 1997 Seinfeld episode "The Strike," which O'Keefe's son, Dan O'Keefe, co-wrote.
"The display is an affirmation of our own beliefs, not an attack on anyone else's beliefs," [Lex Manticore, Satanic Temple-Chicago spokesperson] said. "I think misrepresenting us as attacking or this being a stunt is a misrepresentation of our intentions."

[Lux Armiger, chairperson and co-chapter head] said The Satanic Temple is "a non-theistic religious organization determined to halt the dangerous encroachment of theocracy into American government." […]

"The winter solstice is the catalyst for the other holidays of this wintertime," Manticore said.

"The secular American tradition of x-mas … is something that is for everyone because it is a national holiday," he said.
A group of about 40 Catholics assembled in front of the Capitol on Sunday afternoon, praying a "rosary of reparation" and asking the Illinois Secretary of State's Office to remove a display by the Satanic Temple-Chicago from the Capitol rotunda. […]

The American Society for the Defense of Tradition, Family and Property, a Catholic group headquartered in Pennsylvania, organized the Sunday prayer and has a petition on its website for the Snaketivity's removal.

"No government entity should promote the father of lies, as this is contrary to the good they are called to uphold in society," Preston Noell, with the society's Chicago chapter, said Sunday. "These public Satanic offenses are a direct mockery of Christ's nativity and these attacks must be met with opposition, which we are adhering to with prayer."

Noell said the Satanic display was one of several attempts to "shut down" Christians and "attack Christian civilization."
Because the Capitol rotunda is a public place and the display wasn't funded by taxpayer dollars, Illinois Secretary of State spokesman Dave Druker said the group has the same rights as other religious organizations to put a display there.
* Bloomberg…
One way to measure the economic fortunes of a place is by the concentration of households earning $200,000 or more, the highest threshold in the Census Bureau's American Community Survey. […]

Nationally, 6.9 percent of American households bring in that much. What follows are the areas (known to the Census Bureau as tracts) that have shown the biggest increases in concentration of $200,000-and-up households since 2000, according to calculations by consulting firm Webster Pacific. It used data released Dec. 6 and adjusted for inflation. (The ranking excludes recently created tracts, those defined as tracts of significant change and any tract with fewer than 100 households in either 2000 or 2017.)

Cook County, which includes the county seat of Chicago, is home to the No. 1 and No. 7 fastest-growing concentrations of $200,000-plus households. No. 1 is, ironically, the area around where the Cabrini-Green public housing projects once stood. Cabrini-Green was notorious for violent crime, poverty and de facto racial segregation until its demolition beginning in the 1990s at the behest of the Chicago Housing Authority. […]

The census tract in question includes the still-standing, albeit largely vacant row houses where Palmer grew up. But now there are luxury condominiums and apartments, too. They sport rooftop terraces and sparkling views of the city's affluent Gold Coast and Lake Michigan beyond. A three-bedroom penthouse can cost around $2 million.

About 20 miles to the north, Cook County has another top 10 neighborhood: the Glen, in the suburb of Glenview. Converted from what used to be Naval Air Station Glenview, the planned community has hundreds of families living in condos, town houses and single-family homes that go for as much as $2.5 million each, according to realtor Margaret Ludemann.
* Press release…
Attorneys from the Thomas More Society are appealing to the Illinois Supreme Court to stop a state law requiring taxpayer funding of abortions for Medicaid recipients. According to the December 17, 2018, filing on behalf of hundreds of thousands of Illinois taxpayers, the funding for the law violates the state constitution's balanced budget requirement. In September 2018, an appellate court upheld the dismissal of a lawsuit against the funding for the law, previously known as "House Bill 40."

Peter Breen, Thomas More Society Special Counsel, stated, "The decisions of the lower courts effectively write our balanced budget requirement out of the Illinois Constitution. We're asking the Illinois Supreme Court to interpret and enforce the constitution and protect taxpayers against future unbalanced budget spending, including the unfunded spending for elective abortions required by House Bill 40."

Breen said that, while House Bill 40 was validly enacted, funding was not validly provided, and its effective date was improperly determined. The petition alleges several issues with the new law, including that House Bill 40:

· Has not been legally funded, because the General Assembly has not made the estimate of available revenues to pay for the abortions, as required by the Illinois Constitution.
· Does not implicate the political question doctrine, a limited doctrine where courts decline to hear issues because of their politically character.
· Was passed after the deadline set for an early effective date by the Illinois Constitution and Effective Date of Laws Act.
* Brian Mackey…
"The lower court decisions read that requirement out of the Constitution altogether," Breen says. "That is the only protection taxpayers have that they would get a balanced budget."

Indeed those judges basically said the anti-abortion groups are over-reading the balanced budget language in the Illinois Constitution. They also said the dispute is a political question, and thus should be settled in the legislature.
* From the appellate opinion…
While the language of the constitution certainly seems to anticipate some estimate, absent is language imposing an obligation on the General Assembly to develop a revenue estimate. Plaintiffs argue that reading the language of the COGFA Act in conjunction with the constitution imposes such a duty. In reading the language of the COGFA Act into the constitution, plaintiffs skip an important step. Without a constitutional requirement of an estimate, there can be no legitimate probe into whether the General Assembly complied with that nonexistent requirement. […]

Under the constitution, the General Assembly must simply refrain from appropriating beyond funds estimated by the General Assembly to be available during the year. There exists no requirement that the General Assembly itemize appropriations for specific services. In this circumstance, the circuit court had no way to determine if the General Assembly properly appropriated funds specifically to cover services under HB 40. […]

Therefore, because the COGFA Act does not state that legislative appropriations are invalid if there is a failure to comply with section 4(a) or that legislative appropriations are valid only if the General Assembly follows section 4(a), we conclude the statutory provision is directory. […]

We agree with the circuit court that the filing of a motion to reconsider and withdrawal of that motion did not constitute a final legislative act changing the passage date of the bill.
I wouldn't bet too much money on the likelihood of this new move's success. That petition is here.
Abortion rights group Personal PAC CEO Terry Cosgrove said he was confident that the law would be upheld.

"This is a desperate attempt from right-wingers to put the lives of Illinois women at risk by trying to make abortion illegal and unsafe," he said.

The law allowed for women who meet certain income requirements to qualify for an abortion assisted by Medicaid funds. It also allowed state health care plans to cover the procedures.

Illinois taxpayers paid for nearly four times more abortions in the first six months of 2018 than the year before. There were 84 abortion reimbursement requests in the first six months of 2017. During the same six-month period this year, there were 314 abortion reimbursement requests, a 247-percent increase, according to records from the Illinois Department of Health and Family Services.

The case was appealed directly to the Illinois Supreme Court, but the court didn't take it up at that time.
* Gizmodo…
Elon Musk's Boring Company unveiled its latest transportation experiment in Los Angeles last night. The Loop, not to be confused with the Hyperloop, was supposed to be a high-speed urban transportation system of the future. And the first reviews are in, but they're pretty disappointing, to say the least.

Back when the concept was first announced, Musk promised that the Loop would utilize fully autonomous 16-passenger vehicles gliding along at speeds of 150 miles per hour. But the system that was demonstrated last night featured just regular Tesla cars driven manually on an underground one-mile track. And at an underwhelming speed of just 35-50 miles per hour. […]

Musk was reportedly making excuses throughout the night about why his system looked nothing like what he promised. And his concept now relies on every person having their own car.

"It's much more like an underground highway than it is a subway," Musk said, according to the Associated Press.
* Some Chicago aldermen were in LA for the unveiling…
Ald. Gilbert Villegas, 36th, chairman of the City Council's Latino Caucus, was one of a group of aldermen and Chicago city officials who were in Los Angeles this week to take a ride through the tunnel, which runs just over a mile.

Villegas described the ride on Tuesday night as "a little bumpy" since Musk's team had not yet smoothed out the surface of the tunnel. The top speed reached was about 34 mph, Villegas said, much slower than Musk's promised future speed of 150 mph. Villegas said he believed the ride would have been twice as fast if the tunnel had been smooth. […]

In June, Mayor Rahm Emanuel and Musk announced plans for an express, high-speed, underground connection between downtown and O'Hare International Airport.
* AP…
On Tuesday, he explained for the first time in detail how the system, which he simply calls "loop," could work on a larger scale beneath cities across the globe. Autonomous, electric vehicles could be lowered into the system on wall-less elevators, which could be placed almost anywhere cars can go. The cars would have to be fitted with specially designed side wheels that pop out perpendicular to the car's regular tires and run along the tunnel's track. The cost for such wheels would be about $200 or $300 a car, Musk said.

A number of autonomous cars would remain inside the tunnel system just for pedestrians and bicyclists. Once on the main arteries of the system, every car could run at top speed except when entering and exiting.

"It's much more like an underground highway than it is a subway," Musk said. […]

Tuesday's reveal comes almost two years to the day since Musk announced on Twitter that "traffic is driving me nuts" and he was "going to build a tunnel boring machine and just start digging."
So, lemme get this straight. You're gonna have to wait in line inside your specially fitted autonomous vehicle (which doesn't actually exist) along with hundreds of other people in their own personal autonomous vehicles (which don't actually exist) and that's not traffic?
Coulda fooled me.
* And the tunnel will have just one destination at each end?…
It does seem strange, though, that we're taking this ride in a Model X — because until this evening, there were going to be "autonomous electric skates" that zip passengers around at 120 to 150 miles per hour. These skates were supposed to carry eight to 16 people in a pod or a single car. Unlike with a more conventional subway, these skates don't stop between where a person gets on and where they might get off; every skate runs express to one's final destination.

Anyway, the skates have been canceled. "The car is the skate," Musk says.
* Imagine the traffic jams at O'Hare Airport to get into and out of this thing and the similar jams downtown. Also, they'd better be able to get into and out of those tunnels in a hurry or the whole tunnel system will be one gigantic traffic jam. Anyone who has ever tried to exit a completely full parking garage after a ballgame knows what I'm talking about here…
The lift slowly lowered our car into O'Leary Station, a circular hole Musk's Boring Company had dug in the parking lot in Hawthorne, California.
And…
The car emerged from the tunnel on an elevator erected inside a round shaft lined with corrugated metal.
So, entrance and egress won't be fast at all. Just the opposite. Great!
* Yep…
Personal rapid transit is subject to the same problems as every other kind. If the system is underused, it'll take you immediately where you need to go, says Juan Matute, the deputy director of UCLA's Institute of Transportation Studies. But if people find it truly useful, bottlenecks will be created: long lines of cars waiting to get on, just like on the interstate. "It could choke on its success or just not be successful," Matute says. "Either way it's unlikely there will be significant changes to existing traffic congestion."
*** UPDATE *** Crain's…
Robert Rivkin flew to L.A. to see a hole in the ground and came away impressed. […]

Rivkin, the city's deputy mayor, was among 13 people from Chicago, mostly aldermen, who visited a Tuesday night demonstration by Musk's Boring Co. staged at a test site in Hawthorne, Calif. The vision for the Chicago project is grand: autonomous pods whisking along at 150 miles per hour to O'Hare at a cost of $20 to $25. […]

The big issue for Rivkin and others has more to do with the digging than anything else. "The question is whether you can tunnel cheaper and faster than previously has been done," he said.
So, after all that, the biggest hurdle is just digging the tunnel and not the autonomous vehicles that don't exist or the other stuff we talked about above?
This is not gonna end well.
* From a letter sent to state workers by Mailee Smith, who is the Illinois Policy Institute's policy staff attorney. Click the pic for a larger version and the form to fill out…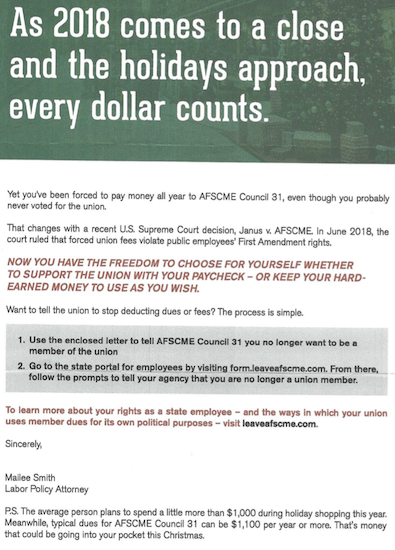 The ol' self-interest angle.
* From AFSCME…
The mailer (pictured) tries to trick AFSCME members into quitting their union as a way to put "money into your pocket this Christmas". Of course, what the IPI and Rauner really want is to dupe workers into leaving the union as a way to drain AFSCME's resources and prevent us from standing together against Rauner and the IPI's destructive anti-worker agenda.

This is just the latest in a series of ploys by IPI and their ilk who brought the anti-union Janus case, sent other phony mailers and even stole the identity of AFSCME local union presidents, activists and retirees in a desperate bid for legitimacy.

The tricks aren't working on union members here or elsewhere. In Illinois and across the country, AFSCME members are seeing through the IPI lies — and union ranks are actually growing in the wake of the Janus case as former fee-payers sign up and become dues-paying members.

So what to do with the IPI's junk mail? Trash it, recycle it, or use it to kindle your fireplace this Christmas season.
* Patch…
Donning yellow jackets, Representatives Allen Skillicorn and Jeanne Ives spoke out Tuesday against the idea of Illinois becoming the state with the largest tax on motor fuel at a press conference in Chicago.

"The worst kept secret in Springfield is a rumored massive gasoline and diesel tax hike," Skillicorn said. "Just when gas prices are finally lower right before the holidays, greedy politicians, like the Grinches they are, seem all too willing to take more of our hard-earned money. Nothing like greedy politicians to ruin the holidays for middle class families." […]

"There seems to be strong support for a major infrastructure funding bill at the federal level," Skillicorn said. "We need to wait and see what is happening with transportation funding at the federal level and how Illinois will benefit from it. Let's think strategically here for a change. Rushing in to approve a massive gas tax hike just because fuel prices are low is reprehensible. We need to be strategic about funding roads, not predatory."
Ives hinted there are other options, if only state lawmakers would be more responsible.

"Illinois doesn't prioritize its spending," she said. "Look at the $200 million spent on the Obama Center. That money should be used for infrastructure, not a political center for the former president."
That money is actually being used for infrastructure spending around the center. And $200 million is a one-time drop in the bucket of what the state needs. If she can come up with a couple billion or so in permanent, perennial, do-able cuts, then she may be on to something.
* WBBM Radio…
Ives said the participants of Tuesday's news conference were emulating the Parisian protesters because they were fighting fuel taxes, too.
If they were "emulating the Parisian protesters" they wouldn't bother with a press conference.
* Photo that you may or may not wish to caption yourself…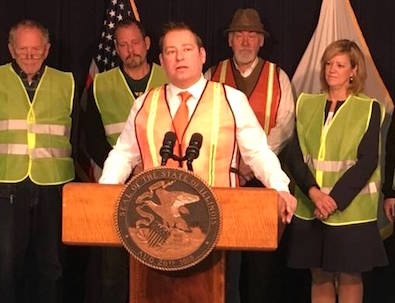 * Crain's…
The state's pension funding is improving but not as fast as in other states, according to Moody's Investors Service, which warns that favorable economic tailwinds may subside.

Illinois' adjusted net pension liability dropped by an estimated 2 percent to 5 percent because of rising interest rates and better investment returns, the rating agency said in a report today. But "weak contributions and rising payouts" mean that Illinois continues to have the largest unfunded pension liabilities of any state, the report said.

"Like other U.S. public pension systems, Illinois' pensions remain vulnerable to stock-market volatility," Moody's wrote. "Illinois also cannot rely on continually rising interest rates to keep reducing the adjusted value of its reported pension liabilities." […]

Moody's said that among U.S. state plans that have issued figures this year, all saw more funding gains than Illinois' biggest, the $51.8 billion-asset Illinois Teachers' Retirement System, which covers 417,292 members. The adjusted net pension liability for the plan dropped by less than 3 percent, compared with a 14 percent average decline for Indiana's two teacher pension systems. TRS' unfunded liabilities actually increased by 2.1 percent, to $75 billion.
* And now the bad news…
Moody's has issued its adjusted net pension liabilities (ANPL) for the 50 largest local government (ranked by debt outstanding) for fiscal 2017, and most saw their unfunded liabilities rise due to poor investment returns and low market interest rates. Since most local governments report pension funding with up to a one-year lag, favorable investment returns in fiscal 2017 and 2018 will lead to a decline in ANPLs through many of those governments' 2019 reporting. Nonetheless, pensions continue to drive historically high leverage and elevated annual costs for some governments, and risks from potential pension investment losses are significant.

The report's highlights are:

ANPLs reached an aggregate $481 billion in fiscal 2017 for the 50 largest local governments, up 9% from fiscal 2016. Most individual governments' ANPL increases were more significant, while several governments that report more current pension data had ANPL declines. San Francisco's (rated Aaa/stable outlook) ANPL increased 82% due in part to recognition of certain benefit restorations from a judicial decision. New York City (Aa2/stable) saw the largest absolute decline (-$13.8 billion). ANPLs continue to far exceed bonded debt and unfunded other post-employment benefit (OPEB) liabilities.

Favorable investment returns and revenue growth will drive lower ANPLs and leverage ratios through many governments' fiscal 2019 reporting. Liabilities are also falling in cities such as Dallas (A1/stable) and Houston (Aa3/stable) due to benefit reforms.

Risks from pension investment volatility vary widely across governments. As of fiscal 2017, nine of the 50 largest had a greater than 10% one-year probability of pension investment losses amounting to at least 25% of revenues. Negative non-investment cash flow (NICF), which occurs when a pension system's benefit payments exceed its contributions, also constrains the ability of many funds to grow assets.

The combination of debt service, pension and retiree healthcare (OPEB) payments consumed more than 30% of some governments' revenues, but less than 15% for others. Highlighting the general weakness of government pension contributions, only 10 of the largest 50 exceeded our "tread water" indicator in fiscal 2017.

Unfunded OPEBs are becoming material for some of the largest local governments. Using new disclosures based on updated accounting rules for OPEBs, adjusted net OPEB liabilities are very large for Suffolk County, New York (Baa1/stable) but relatively insignificant for Texas schools and Clark County School District, Nevada (A1/negative).

This year we broke down the top 50 local governments into cities, counties, school districts, and special districts. After determining the dollar amount of the municipality's unfunded pension liabilities, we translate that number into a percentage of the municipality's revenue. The higher the percentage, the higher the unfunded pension liability for that municipality. Here are the top five in each category except special districts:
* Whew…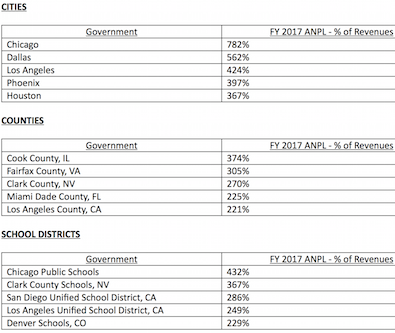 * Related…
* Hedge fund rebel to leave Illinois pension board - Marc Levine led a charge against hedge fund investing on two Illinois pension fund boards. Now he plans to step away as a new administration arrives in Springfield.
* The 2018 Golden Horseshoe Award for Best In-House Lobbyist goes to Adrienne Alexander with AFSCME Council 31…
Adrienne is smart and strategic and has great relationships. She understands politics and policy, from numerous angles. She's been extremely effective as a lobbyist for years at both the state and city level. I wish I could steal her from AFSCME.
So do I.
Honorable mention goes to the entire team at the Associated Fire Fighters of Illinois…
Those guys are tough. They are there for the win. They will have your back. They are your friends. We are fortunate to have them at our Capitol.
* The 2018 Golden Horseshoe Award for Best Contract Lobbyist goes to Marc Poulos…
He is never unprepared, and, like Dave Sullivan, has an ability to work with people on both sides of the aisle. He spent four years under a vehemently anti-Labor Rauner administration working with Rs and Ds, and although much of it was defense, he was able navigate some key wins for Labor in a very hostile environment (see the years long fight over prevailing wage rates with Rauners IDOL that ended in a deal with the Rauner administration).
Dude has had quite the year.
Honorable mention goes to Tom Cullen…
Knows everyone and knows the process. Works hard for all his clients.

Tom has remained a good friend and unofficial mentor to many that have worked for him at some point through the years. This is very much appreciated. If you stood by him he will stand by you no matter how much time may have gone by.
That is very true. He could easily win this one every year.
Congrats to all!
…Adding… Today's winners…
Marc & I got a break from the CFL voting, only to find out we got Golden Horseshoe Awards. Labor Day on @capitolfax! https://t.co/97Fh5hyTtU Thanks to Rich & the very kind commenters! pic.twitter.com/bge2QR61q8

— dri (@DriXander) December 19, 2018
* I'm shutting down the blog tomorrow for the holidays (I have a bunch of stuff I have to do Friday), which means we're running out of time. Here are today's categories…
* Best "Do-Gooder" Lobbyist

* Best Legislative Liaison
As always, explain your nominations or they will not count. And do your best to nominate in both categories if you can. Thanks.
* My old pal Dave Manning was elected Speaker of the Third House last week at the group's annual holiday party. This pic was obviously not taken at the event…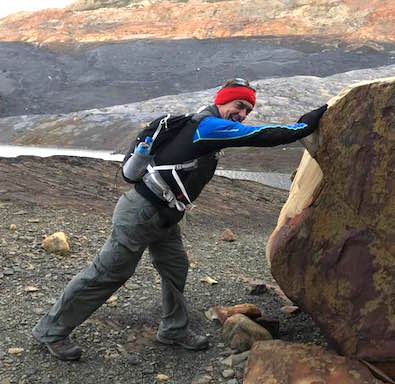 * Ugh…
Minnesota (+6,769) also had the largest population growth from domestic migration in the region

— Illinois Working Together (@IllinoisWorking) December 19, 2018
That's like losing the equivalent of Elmhurst. Minnesota gained the equivalent of DeKalb and Indiana gained the equivalent of Danville.
* From the Census Bureau…
Population declines were also common, with losses occurring in nine states and Puerto Rico. The nine states that lost population last year were New York (down 48,510), Illinois (45,116), West Virginia (11,216), Louisiana (10,840), Hawaii (3,712), Mississippi (3,133), Alaska (2,348), Connecticut (1,215) and Wyoming (1,197). […]

Texas had the largest numeric growth over the last year, with an increase of 379,128 people. Texas grew both from having more births than deaths and from net gains in movers from within and outside the United States.

Florida had the highest level of net domestic migration in the last year, at 132,602. Since 2010, Florida has gained a total of 1,160,387 people from net domestic migration.

The voting age population, those 18 years and over, increased by 0.9 percent to 253,768,092 people in 2018.

The estimates are as of July 1, 2018, and therefore do not reflect the effects of Hurricane Florence in September 2018, Hurricane Michael in October 2018, and the California Wildfires.
*** UPDATE *** Births are slightly down, deaths are slightly up, international migration is relatively flat, but check out how domestic out-migration has nearly doubled…
Losses of residents to other states (1 every 4.6 minutes on net) and concerning decline in births are driving Illinois' population decline. pic.twitter.com/GSjyNCIRZu

— austin berg (@A_R_BERG) December 19, 2018
* Deadspin…
In the few years after the Ricketts Family Trust purchased the Cubs, they repeatedly sought to use taxpayer money and subsidies to fund the development of Wrigley and its surrounding areas: They proposed using $200 million of public funds to develop the Triangle Building near Wrigley Field, sought the use of local amusement tax funds that might otherwise be spent on public services, and attempted to use a hefty federal subsidy to pay for renovations of the field. Though the negotiations, Chicago mayor Rahm Emanuel remained unimpressed: "I will not put my money in their field so they can take their money, and invest around the field, and get a greater economic value," the mayor told ABC towards the end of negotiations, in 2012. "If it's important, they should invest there."

The angst over Emanuel's public position apparently lasted even after the Ricketts family offered to put $300 million of their own money into the field, as well as an additional $200 million into surrounding businesses. Having received a final proposal for the Ricketts investment in the Cubs, Emanuel told the Chicago Tribune:

When I first started this discussion, the Cubs wanted $200 million in taxpayer dollars. I said no. Then they said we'd like $150 million, and I said no. Then they asked whether they could have $100 million in taxpayer subsidies, and I said no. Then they asked about $55 million in taxpayer subsidies. I said no. The good news is, after 15 months they heard the word 'No.'"
* Todd Ricketts then sent two e-mails…
From: Todd Ricketts

To: Joe Ricketts, Tom Ricketts, Peter Ricketts, Laura Ricketts

Date: January 23, 2013

Subject: mayor emmanuel

Mr Mayor, would you like for the Cubs to stay in the city of Chicago… "No"

"When I first started this discussion, the Cubs wanted 200 million in taxpayer dollars. I said, `No.' Then, they said we'd like 150 million taxpayer dollars and I said, `No.' Then, they asked if they could have 100 million dollars in taxpayer subsidies, and I said 'No.' Then, they asked about 55 million dollars in taxpayer subsidies. I said 'No'. The good news is after 15 months, they've heard the word, `No,' " Emanuel said.

I think we should contemplate moving, or at least recognize that we are maybe not the right organization to own the Cubs.
And…
From: Todd Ricketts

To: Joe Ricketts, Tom Ricketts, Peter Ricketts, Laura Ricketts

Date: January 23, 2013

Subject: RE: mayor emmanuel

I just hate the thought of Tom having to grovel to this guy to put money into a building we already own.
A response…
From: Joe Ricketts

To: Tom Ricketts, Peter Ricketts, Laura Ricketts

Yes Todd, it makes me sad, it hurts my feelings to see Tom treated this way. He is way superior to the Mayor in every way.

I have been brought up to deplore the type of value system adopted by the Mayor of Chicago. This is stating it mildly.
So, Todd resents his brother having to grovel to get taxpayer money and the father deplores the mayor's value system.
…Adding… From comments…
This excerpt omits that there was far more than saying no to the Cubs request (to be treated like every other pro sports team in Chicago - heck, Rahm even built a new arena for DePaul). The City put up repeated roadblocks to the Cubs using their own money. That is a reference to having to grovel to put money "into a building we already own." He is referencing having to grovel to put *his own* money into renovations.
* The conclusion of Ralph Martire's latest op-ed…
The bottom line: inadequate capacity on the front-end results in inadequate outcomes on the back-end. Period.

Want proof? Start with higher education, for which state funding has declined by over 51 percent in real, inflation-adjusted terms since fiscal year 2000. In response, tuition at public colleges and universities in Illinois over that sequence has increased at a rate that's 62.6 percent greater than the national average. So it should come as no surprise that over the last decade enrollment in public institutions of higher learning has declined by 8.1 percent in Illinois, despite growing by 7.7 percent nationally.

Then there's K-12 education — which is underfunded in Illinois by some $7 billion from what the evidence indicates is needed for every child to receive the type of educational experience that translates to academic success. That shortfall in education funding means the vast majority of Illinois school districts — 83 percent, according to the State Board of Education — lack adequate fiscal capacity to educate the children they serve. Given this significant lack of capacity on the front-end, one would expect inadequate student achievement outcomes on the back-end, which there are. For instance, just 37 percent of Illinois students met or exceeded the state's standard for achievement on the most recent PARCC exams covering English Language Arts, meaning 63 percent didn't.

I could go on, but there really aren't any counter factuals. No matter how you slice it, the lack of an appropriate level of public sector investment in services on the front-end consistently generates less than desirable outcomes on the back-end. Which brings us to the biggest challenge facing Governor-elect Pritzker: the political process itself. In fact, the primary reason Illinois state finances are so shaky today is that designing sound fiscal policy requires long-term thinking — something political processes are poorly equipped to support.

That's because political processes focus on short-term objectives, be it winning an upcoming election or getting through a current year's budget negotiation. Rewards that are realized in the long-term, particularly if associated with imposition of short-term costs, are anathema to a process designed for generating an immediate advantage. Governor Rauner never found a way to overcome the myopic focus of the political process. Let's hope Governor-elect Pritzker does.