* Chicago's Deputy Mayor for Immigrant, Migrant and Refugee Rights Beatriz Ponce De León was at the City Club of Chicago yesterday…
Q: What is the ETA on the base camps? It's clearly really cold out today, for example.

BPDL: Yeah, well, we have several locations that we're interested in, they need to be assessed, we need to work with the aldermanic offices of those wards. And, you know, things are taking a little longer than we expected in terms of doing the land assessments and also engaging with community about about those sites.

Q: I mean, are you thinking a couple of weeks, a month? Because I'm wondering if they aren't set up, what's the backup plan?

BPDL: Ideally, it would be in the next month. And the backup plan has been that we will continue to look for larger spaces where we can open shelters more quickly.
"Ideally." In other words, that's the best case scenario.
* The city rolled out this plan way back on September 7, which is coming up on two months ago…
Nearly 1,600 asylum-seekers would be moved out of Chicago police stations "before the weather begins to shift and change" and into "winterized base camps" equipped with massive tents, under a plan unveiled Thursday by Mayor Brandon Johnson.
Um, the weather has already shifted.
* Also remember that the city signed a contract on September 12…
Chicago has taken the first concrete step to deliver on Mayor Brandon Johnson's controversial plan to get more than 2,000 migrants off the floors of police stations and O'Hare and Midway airports and into giant tent cities he prefers to call "winterized base camps" before temperatures plummet.

Piggybacking onto an existing state procurement, the city has signed a $29.3 million contract with GardaWorld Federal Services LLC for "migrant temporary housing."

"The purpose of this Purchase Order is to allow the City to purchase from the State Contract temporary housing solutions and related services … to provide critical services to asylum seekers," according to the contract, signed Sept. 12.
Kafkaesque farce.
* Crain's…
As Chicago's downtown business district struggles under a post-pandemic malaise, President Joe Biden announced a slate of federal resources this week for developers and cities to speed up commercial-to-residential conversions.

The White House initiative will open up funding from the Department of Transportation to finance residential development near public transit and facilitate transit agencies' ability to transfer their properties to local governments or developers of affordable housing, according to a release. The administration's guidance also encourages cities, states and developers to tap into billions of dollars of existing federal grants from the Transportation Department and the Department of Housing & Urban Development.

The president's push to save ailing downtown business districts comes at a crucial time for Chicago. The city's office vacancy rate hit another all-time high in early October, climbing up to 23.7%, according to data from brokerage CBRE. Public transit is feeling the pain, too. While Chicago Transit Authority ridership increased this year, the rates are nowhere near 2019 numbers since workers aren't returning to the office five days a week, CTA spokesman Brian Steele said this month. Whether Mayor Brandon Johnson will prioritize transforming downtown districts is still unclear. With the fate of former Mayor Lori Lightfoot's LaSalle Street initiative up in the air, federal help could fill in funding gaps left by the city.
* Good point. Be careful…
Happy Halloween!

Remember the biggest threat to kids this day isn't razor blades in candy, weed edibles or clowns in sewers. It's cars pic.twitter.com/BosBsIwyqu

— Fenit Nirappil (@FenitN) October 31, 2023
* ISP…
The Illinois State Police (ISP) today provided an update on the condition of Trooper Dakotah Chapman-Green and the investigation into his shooting. On Tuesday, October 24, 2023, at 10:47 p.m., ISP Trooper Chapman-Green stopped 37-year-old Cristobal Santana from Chicago in the 1600 block of Toronto Road in Springfield. During the traffic stop, the suspect fired at least 10 gunshots hitting Trooper Chapman-Green several times, and struck him repeatedly causing facial fractures, a skull fracture, and a brain bleed. The suspect fled the scene, but was taken into custody at 1:58 a.m. on October 25, 2023. Trooper Chapman-Green remains hospitalized. The suspect was taken to the hospital for injuries sustained during the apprehension and remains in the hospital.

"By the Grace of God, Trooper Chapman-Green survived this brutal attack," said ISP Director Brendan F. Kelly. "Police officers across the state take an oath to protect the lives of Illinois citizens and too often that means facing diabolical, hateful, vicious evil that no innocent human being should ever have to face. We live in a free country, but there is no freedom without the law, there is no law without law enforcement, and there is no law enforcement without brave souls like Trooper Chapman-Green and those standing here with me today willing to do this noble, but dangerous work."

On Friday, the Sangamon County State's Attorney's Office filed two counts of Attempted First Degree Murder, one count of Aggravated Battery with a Firearm to a Police Officer, one count of Aggravated Battery to a Police Officer, and one count Aggravated Unlawful Use of a Weapon against Santana.

ISP continues to investigate this shooting and will work with the Sangamon County State's Attorney's Office to provide more information as it becomes available.

Video of the traffic stop can be found here: https://youtu.be/LSvCYf0_WkM. Video of the news conference will be available on the Illinois State Police Facebook page. https://www.facebook.com/ILStatePolice
* Illinois House Women's Caucus…
"We are shocked and deeply saddened by the recent gun violence that has again struck our state and our nation. How many people must die before addressing the deadly intersection between domestic violence and firearms? This fatal combination was again painfully evident in the recent murder of Adrianna Lopez, who was shot and killed allegedly by an abusive ex-boyfriend who also shot an Illinois State Trooper. These incidents are grim reminders that the ripple effects of trauma echo far beyond the intimate relationship - affecting children who live with and witness it, and the family members, and law enforcement who respond to it.

"The tragic events that unfolded in Maine are all too common, and we cannot relent in our mission to get weapons of war off our streets and out of our communities. Though details are still emerging, early news reports have suggested the suspect, Robert Card may have a history of domestic violence. A recent study showed that in more than two-thirds of mass shootings, the perpetrator either killed family or intimate partners or the shooter had a history of domestic violence.

"While we have made progress in recent years to combat the gun violence epidemic, our work is far from over. We have one more week of the veto session upcoming, and collectively, we urge the General Assembly to pass additional legislation like Karina's Bill to combat gun violence and get guns out of the hands of domestic abusers."
* From yesterday…
Today, Representative Jennifer Gong-Gershowitz, D-Glenview, and Senator Mary Edly-Allen, D-Libertyville, joined President Biden at the White House for an event on Safe, Secure and Trustworthy Artificial Intelligence following the President's Executive Order regarding AI.

This marks the second time that Rep. Gong-Gershowitz and Senator Edly-Allen have attended events at the White House to discuss their work protecting constituents from emerging digital threats stemming from applications of artificial intelligence.

Last session, Rep. Gong-Gershowitz and Sen. Edly-Allen worked together to pass groundbreaking legislation to combat deepfake pornography, which falsely depicts individuals in sexually-explicit acts without their consent. They are now taking steps in Illinois to mirror President Biden's federal strategy to address the risks that AI poses to individual safety and security as well as its potential as a tool for malicious disinformation.

"I applaud the sense of urgency displayed by President Biden regarding artificial intelligence and thank him for his much-needed leadership on this critical issue," said Gong-Gershowitz. "AI is a rapidly-developing tool that fundamentally impacts every sector of our society, including individual safety and civil rights. We must ensure that appropriate legal protections and standards are in place to properly address the complex set of dangers and opportunities that AI introduces in order to effectively safeguard individual consumers and the public against the inherent risks to safety, security and truth it can pose."

President Biden's Executive Order can be found at https://www.whitehouse.gov/briefing-room/statements-releases/2023/10/30/fact-sheet-president-biden-issues-executive-order-on-safe-secure-and-trustworthy-artificial-intelligence/

"We need to balance rapidly progressing technology that maximizes artificial intelligence possibilities, while also protecting against the potential harms it can cause," Edly-Allen said. "We are starting to see how unrestricted technology can do harm without practical safeguards in place. I applaud the Biden administration for taking urgent action to work toward ending the exploitation, humiliation and harassment that AI has caused."
Also attending…
State Rep. Abdelnasser Rashid, a Democrat from Bridgeview, visited the White House on Monday for President Joe Biden's signing ceremony of an executive order on Safe, Secure, and Trustworthy Artificial Intelligence. Rashid is a member of a multi-state legislative working group on AI and the co-chair of Illinois' AI task force.
I asked Rep. Rashid's spokesperson if that Illinois task force has ever met, but he hasn't responded.
* Isabel's roundup…
* WICS | New SAFE-T-Act enhances protection for domestic violence victims in Illinois: Christine Raffaele with Illinois Coalition Against Domestic Violence (ILCADV) said suspects being able to bail their way out of jail under the old cash system — didn't help protect the victims of domestic violence. "Someone would appear, they make their plea, the judge sets their bond then the case is over," Raffaele said. "And very rarely was any consideration given to the safety and security for the victim."

* Sun-Times | Gov. Pritzker, Illinois universities make aggressive bid for federal semiconductor hub: With Chicago in the running for the $11 billion National Semiconductor Technology Center, a multi-university network of researchers and scientists are optimistic Illinois' advances in engineering and manufacturing — and especially quantum research — will help them seal the deal. So is Gov. J.B. Pritzker.

* Rockford Register Star | Stellantis, UAW agreement pledges new life for Belvidere plant. Here's what's next: United Auto Workers Local 1268 President Matt Frantzen is trying not to get overly excited about a tentative agreement reached with Stellantis that could mean thousands of jobs, a new battery plant, parts distribution center and a vehicle to produce at the Belvidere Assembly Plant. Frantzen said he got the call from national union officials on Saturday about the tentative deal during a local membership meeting with about 100 workers filling the Belvidere UAW hall. A raucous cheer erupted when he shared the news.

* WGN | 'Skip the Line' service issues draw ire of Illinois seniors: 'Very frustrating': Until this year, she could drive to her hometown of Naperville Secretary of State facility and take the test. But now, an appointment is required. McQuaid said she tried unsuccessfully for weeks to get an appointment to no avail. Locations that still accept walk-in services, in Bridgeview and Evanston, are simply too far, she added. The next best option is Aurora but as McQuaid explained, the drive is out of her comfort zone. "Very frustrating," McQuaid said. On the WGN Midday news Monday, Giannoulias said they've come a long way but hearing of Helen's plight, more is needed.

* WCIA | Family of State Trooper shot in Springfield shares update on recovery: Chapman-Green's mother, Kris, said that her son is going through occupational therapy and physical therapy. He is also able to hold conversations while staying awake. Chapman-Green was shot in both legs while performing a traffic stop on Toronto Road in Springfield Tuesday night. He was also beaten with the gun, suffering a brain bleed and skull fracture.

* Tribune | A first Chicago snow for many of the migrants sleeping outside: 'The cold passes through everything': Anticipating colder temperatures Monday night, the city released a statement Sunday: "To protect new arrivals and unhoused Chicagoans from falling temperatures, the City is collaborating with external partners, volunteers and mutual aid groups to provide blankets, coats and other much-needed items. Warming buses will be provided by the CTA at the landing location and 16 police district locations." But Annie Gomberg, who leads volunteer efforts at the police station in Austin,said she didn't know about any effort by the city to provide blankets, jackets or outerwear. She said 16 buses was not enough. And many migrants who she interacts with tell her they are hesitant to get on another bus, after riding a bus for hours to get to Chicago.

* Tribune | Chicago police officer under investigation for striking 8th grader while off duty: The Cook County state's attorney's office began looking into Officer Craig Lancaster's off-duty conduct after a surveillance recording emerged showing him hitting a 14-year-old student near his throat as the boy walked into school. The video does not show the teen interacting with Lancaster before the physical contact or doing anything obvious to provoke it.

* Shaw Local | Police training facility in Cary to open next week: The McHenry County Regional Training Center will have three training areas: two classrooms and a tactical training room. One classroom will fit 100 students, and a second 40-person classroom will be in the lower level, which used to be the Village Board room. The MAT room will be for defensive tactics and scenario-based training. Tactical training usually covers handcuffing and handling people resisting arrest or being violent.

* Sun-Times | Evanston teen Natalie Raanan back in Chicago after being held hostage by Hamas: The north suburban mother and daughter were the first hostages released from among at least 200 people Israeli military leaders have said were held by Hamas. The two were in Israel to visit Judith Raanan's mother and Natalie's grandmother to celebrate her 85th birthday and Simchat Torah, the Jewish holiday marking the conclusion of the annual cycle of Torah readings. They were staying in Nahal Oz, a kibbutz near the Gaza border.

* Tribune | 'Priscilla' review: The starry road to Lonely Street — and the Presley movie we needed: Coppola, who has known more first- and second-hand celebrity than the average contemporary filmmaker, seems especially well-attuned to Priscilla's experiences, and to slowly (sometimes suddenly) dawning realizations of what her life has become. Now and then "Priscilla" settles for standard-issue biopic shorthand, as when Elvis shuts down his woman's desire to work with: "It's either me or career, baby." But in this context, without the usual emphasis or underlining, the line feels honest, and authentic, even in the midst of the dream of desire, love and eventual departure we're watching.

* The Street | Tesla hits 5-month low, down 20% from Q3 earnings, amid fading EV demand: Tesla's key supply chain partner, Panasonic Holdings, warned yesterday that its battery production facilities are running well below capacity amid a glut in global supplies and a pullback in demand. Panasonic Holdings posted a third quarter loss, and lowered its full-year profit outlook, citing muted sales of Tesla's high-end Model S and Model X cars even amid the multi-level price cuts put in place in order to stoke demand and maintain market share.

* Semafor | An up to $1 billion fine may end the scandal that has captivated Wall Street: Authorities have spent more than four years investigating whether Morgan Stanley improperly tipped off favored hedge-fund clients to big blocks of stock coming on the market. The bank fired several employees and pulled back from the block trading business, losing market share to rivals.

* WTTW | McCormick Place Says It Will Do Better by Birds After 1,000 Killed in Mass Casualty Event. Conservationists Want Proof: Prince was joined by Judy Pollock and Edward Warden, presidents of Chicago Bird Alliance and Chicago Ornithological Society, respectively, who urged the board to take action in the wake of a mass casualty event that occurred at the beginning of October, in which 1,000 birds fatally collided with McCormick's lakefront Lakeside Center during a wave of migration activity.

* 21st Show | Halloween legends at the University of Illinois: Today is Halloween… a holiday with a lot of history, going back centuries, even millenia. Nowadays, of course, it's basically a celebration of all things scary and spooky. We talked about some of the spooky stories, myths and legends that make the rounds at the University of Illinois Urbana-Champaign.

* First and Pen | Justin Fields Deserves Better: To suggest that Fields needs to learn from Bagent, who is the Bears' version of Brock Purdy, is ridiculous. It's something Score midday host Dan Bernstein called a "back-stabbing whisper campaign" by the Bears. "The story is this stuff, the whispers, the, 'Hey, it'd be nice if Justin could do that.' They're telling you who they would prefer to coach," said Bernstein. "They would much rather have somebody (Bagent) who could run their stuff, get the ball out, make their reads rather than have to figure out how to best use the talents of a unicorn (in Fields)."
* Happy Halloween! Here are some more snaps from the Capitol's Trick-or-Treat event this past Friday…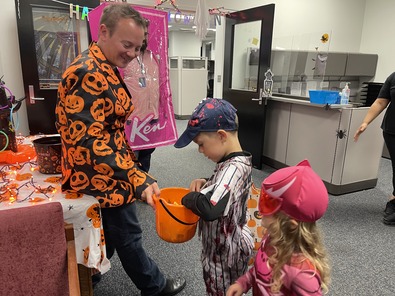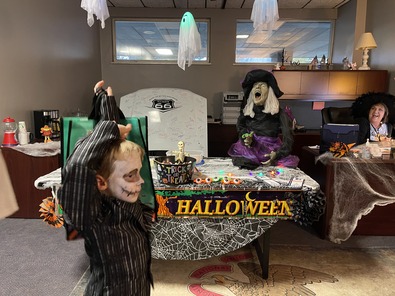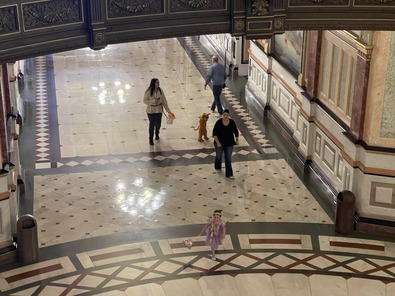 * I was really blown away with some of the transformations…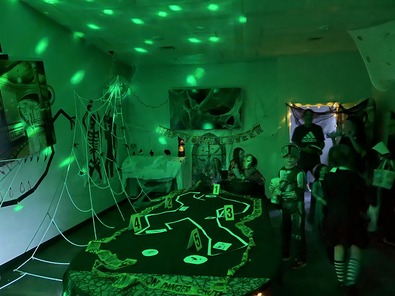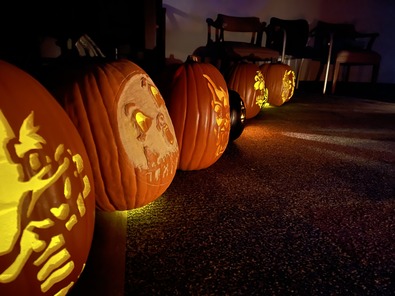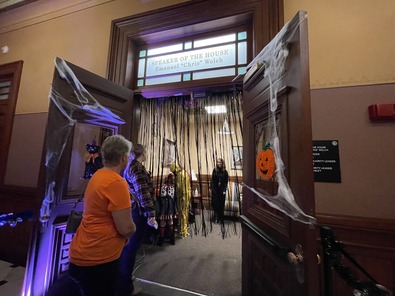 * It's not every day I have an excuse to visit Stratton's 6th floor…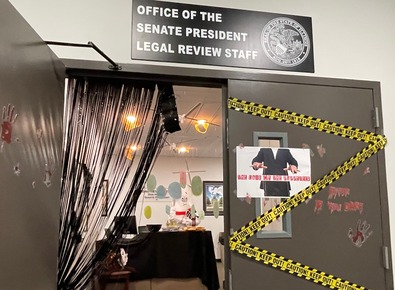 I was really impressed by all the hard work that people put into the event. I'm looking forward to next year!
* Tribune reporter…
Migrant mom and son walking to the Greyhound station from the 12th District.

After two weeks in Chicago they decided to return to Texas.

"There's nothing here for us," she said. pic.twitter.com/mcLjAT21l7

— Laura N. Rodríguez Presa (@LAURA_N_ROD) October 31, 2023
* From her story…
Thousands of migrants sleeping at police stations woke up to freezing cold conditions this Halloween morning as city officials, volunteers and faith-based organizations scrambled to find warmth for a population, mostly from Venezuela, that has never experienced cold before.

Temperatures plummeted overnight to a low of 30 degrees at O'Hare International Airport, said the National Weather Service, and safety networks stepped in to react to emergencies brought on by the cold. Temperatures were expected to range between 36 and 37 degrees with light snow flurries for the next 24 hours, weather officials said. […]

Dr. Scott Dresden, an associate professor of emergency medicine at Northwestern University Feinberg School of Medicine and a Northwestern Medicine physician, said he wasn't sure how the thousands of migrants that have arrived since last August would influence the numbers of people he treats in emergency departments over the next months.

"This is certainly a unique winter with a larger population who are without housing than we are used to," he said.
* Fox Chicago…
On Monday, Chicagoans – who know what to expect – bundled up amid chilly temperatures, but many new arrivals will be experiencing the cold for the very first time.

The CTA is now providing warming buses during certain hours at the migrant bus landing zone near Clinton and Vernon Park Place and 16 police districts across the city, but long-term solutions are desperately needed.

"We have minors in police stations and in the streets, this is an emergency response," said Ald. Byron Sigcho-Lopez who represents the 25th Ward.

Monday morning, the Committee on Housing and Real Estate, which Ald. Sigcho-Lopez chairs, signed off on the city's plan to purchase land at the corner of 115th and Halsted.

The former Jewel parking lot could become a migrant base camp built by GardaWorld Federal Services, but South Side community members are pushing back.
* ABC 7…
Also on Monday, downtown Alderman Brendan Reilly sent a letter to constituents, claiming the city was looking to convert the Hotel Chicago in River North into a migrant shelter, something the mayor's office denies, and the hotel said it had no information about.
Ald. Reilly also complained that the mayor was acting without legal authority, despite a gubernatorial disaster declaration that sets aside provisions of the procurement and joint purchasing codes…
To aid with emergency purchases necessary for response and other emergency powers as authorized by the Illinois Emergency Management Agency Act, the provisions of the Illinois Procurement Code and the Illinois Governmental Joint Purchasing Act that would in any way prevent, hinder, or delay necessary action in coping with the disaster are suspended to the extent they are not required by federal law.
We saw that same sort of rhetoric during the COVID emergency.
* I checked out this encampment near the 17th District police station in the Albany Park neighborhood not long ago. Tents are set up on both sides of an adjacent street, with some, like these, right next to houses…
A 6-year-old migrant boy was hit by a car outside of a police station tent camp.

"They need a place inside." https://t.co/m6B9sMboFc pic.twitter.com/Ap5bLKsRjM

— Block Club Chicago (@BlockClubCHI) October 31, 2023
* At the end of a Sun-Times story about how the city says it can't risk using reserve funds to pay for migrants is this tidbit…
Once the Council approves the mayor's budget, attention will turn to the urgent search for additional revenue — a task Johnson has punted to a subcommittee led by freshman Ald. William Hall (6th).

[Chicago Budget Director Annette Guzman] expects the options presented by that subcommittee to include broadening the sales tax umbrella to cover a host of professional services favored by the wealthy and business interests.

The idea has been talked about for decades, only to hit a dead-end in Springfield.

But, Guzman said: "We're in a place now where people are more open to this idea. We've seen the dramatic shift in how people purchase things. It's shifted more now toward services over goods. … Sometimes, it's all about timing. … I look at it as a way of sharing the burden more equitably."
A tax on high-end services might feel good, but I seriously doubt it'll make much of a dent. Looks like the city is again passing the buck. Then again, maybe proponents have other numbers. I'd love to see them.
…Adding… All very valid points…
This City Hall plan is legit more bonkers than any Lightfoot proposal. You're going to pass a BRAND NEW sales tax in Illinois House during election year AND Illinois Dept of Revenue is going to stand up new tax in time for City to get $ in 2024?
No way. https://t.co/kqXT943I7C pic.twitter.com/xERS1Dnt2K

— Chicago Bars (@chicagobars) October 31, 2023
* The Telegraph…
Community colleges in Illinois are seeing their largest year-over-year enrollment growth in nearly 15 years this spring.  

Figures released this week by the Illinois Community College Board (ICCB) showed Spring 2023 enrollment increased by 7.2 percent from the previous spring. according to the board's Spring 2023 Enrollment Report.   

The enrollment, however, was 11.8 percent below the statewide figures in 2019. Illinois community colleges in 2019 listed 283,146 students. The Spring 2022 figure was 233,041; this year the enrollment is 249,836.

The report lists 3,992 Spring 2023 students at Lewis and Clark Community College, up 9.2 percent from 3,656 last spring but down 36.6 percent from the 6,301 students enrolled in Spring 2019.
* From the ICCB report…
Significant findings from the ICCB Fall 2023 Community College Opening Enrollment Report include:

• Fall 2023 headcount enrollments (+5.7 percent) and Full-time Equivalents (FTE) enrollments (+5.2 percent) both increased significantly from the previous year.

• Thirty-six community colleges experienced an increase in headcount enrollment from Fall 2022 to Fall 2023, while twelve community colleges had a decrease.

• Instructional areas often dependent on in-person instruction increased headcount enrollments in Career and Technical Education (+10.4 percent) and Vocational Skills Training (+6.3%) in Fall 2023 compared to the previous year. Student enrollment in Transfer programs also had an uptick compared to the previous year with an increase of 1.8 percent.

• Adult Education, which is also mostly dependent on in-person instruction, increased headcount by 20.8 percent from Fall 2022 to Fall 2023. Adult Education serves a significant number of at-risk students, and the pandemic exacerbated issues for that population.

• For Dual Credit, which allows academically prepared high school students to simultaneously earn credits that count toward a high school diploma and a college degree, headcount enrollments increased 8.4 percent in Fall 2023 compared to Fall 2022.

• While the number of distance education students decreased in Fall 2023 as compared to the previous year, it remains a prevalent and flexible form of course delivery with 42.3 percent of students enrolling in at least one online course in the current Fall as compared to Fall 2019 (pre-pandemic) at 24.3 percent.
* WRSP…
Richland Community College is reporting an almost 7% increase in Fall 2023 enrollment as the Illinois Community College Board sees the second largest fall-to-fall enrollment increase in 30 years.

This fall, Illinois community colleges saw a 5.7% increase in headcount between Fall 2022 and Fall 2023 enrollment – which is the second largest fall-to-fall enrollment growth in the last 30 years. Only the Fall 2008 to Fall 2009 increase of 7.4 percent during the Great Recession was higher.

The increase in enrollment is reflected at Richland – where the fall-to-fall growth from 2022 to 2023 is 6.7%.

This growth can be credited to a number of initiatives with community/government partners in the past year – including the Illinois Works' Pre-Apprenticeship Program, the Earn While You Learn EMT program (a partnership with Abbott EMS), the Early Childhood Access Consortium for Equity (ECACE) Scholarship Program, and many others.
* WAND…
The fiscal year 2024 budget includes a seven percent increase in operating funds or $19.4 million more for community colleges than the previous year—the highest increase in two decades. It also includes a $100 million increase in the Monetary Award Program (MAP) that when combined with the federal Pell grant, provides working class families with an opportunity for a free community college education. […]

Statewide enrollment data shows 36 community colleges experienced an increase in headcount enrollment from Fall 2022 to Fall 2023, while just 12 community colleges had a decrease.
* WSIU looks at more…
But, it was a different story across the institutions serving southern Illinois.

Kaskaskia and Southeastern Illinois Colleges saw modest increases in enrollment, but John A. Logan, Rend Lake and Shawnee Colleges all reported fewer students from Fall 2022.

It was also a mixed bag for the Illinois Eastern Community College system with a major increase at Frontier Community College and a small one at Olney Central, but there were enrollment declines at Lincoln Trail and Wabash Valley.
* Background on the Local Journalism Task Force…
The Local Journalism Task Force is established to: (1) conduct a comprehensive, nonbinding study relative to communities underserved by local journalism in Illinois; and (2) review all aspects of local journalism including, but not limited to, the adequacy of press coverage of communities, the ratio of residents to media outlets, the history of local news in Illinois, print and digital business models for media outlets, the impact of social media on local news, strategies to improve local news access, and public policy solutions to improve the sustainability of local press business models and private and nonprofit solutions.
* The Illinois Legislative Correspondents' Association recently updated its members about ideas emerging from the task force…
Tax credits, for example, could be used a few different ways: for small businesses to advertise with local media, residents who subscribe to local media or media companies that hire and retain local journalists. (A tax exemption could also serve a similar purpose for the latter.) Another idea: advertising set-asides, in which governments could be required to spend a percentage of advertising dollars in local news/media outlets.
One problem I see right off the bat is that a whole lot of local news media outlets are owned by gigantic, debt-heavy corporations like Gannett. They suck money out of local communities to pay off debt and pad executive pay.
But, yes, local news is most definitely dying. There are exceptions, but a quick look at just about any local news website, particularly outside the Chicago area, confirms that obvious fact.
* The Question: What role, if any, should the state of Illinois play in preventing the collapse of local news media outlets? Explain.
* NBC Chicago…
The Illinois State Board of Education on Monday released the 2023 Illinois Report Card, offering a new look at how schools and districts across the state are performing. […]

This year's report noted schools across the state showed "strong progress in students' recovery from the pandemic – with increased proficiency rates and the highest graduation rate in 13 years."

"Gains for Black students, who were disproportionately impacted by the pandemic, led the significant improvement in many indicators," the board wrote in a release. […]

One of the largest success stories comes as the state saw record-breaking high school graduation rates, with 87.6% of students graduating, a number the report says was driven largely by gains for Black and Hispanic students.

The report also found teacher retention levels had reached "an all-time high," exceeding 90% for the 2022-23 school year, though it highlights "severe teacher shortages still exist."
* WBEZ…
A continued area of concern is chronic absenteeism — students who missed 10 days of school or more last year. State officials say this is an important figure because studies show a high correlation between performance and time in school.

Chronic absenteeism has shot up dramatically since before the pandemic in 2019. It affects 28.3% of students, up from 17.5% in 2019. State officials say this is "alarmingly high" and that "more work must be done to ensure full academic and social-emotional recovery from the pandemic." […]

The state superintendent stressed that gaps in proficiency are because Black students historically attend schools with fewer resources.

"We educate Black students disproportionately in underfunded school districts with more teacher vacancies, higher teacher and principal turnover, higher chronic absenteeism," he said.
* Tribune…
Statewide, both English and math proficiency rates increased but are still less than what they were before the COVID-19 pandemic.

Proficiency rates can show the percentage of students who have hit the given target, according to the ISBE, but growth is the way to show "progress toward and even past the target." On average, students grew more in the last school year than before the pandemic, according to the report card.

Black students had the greatest accelerated rate of growth in both English and math compared to the 2018-2019 school year, but their growth and proficiency rates overall are still behind other students. […]

There were more English language learners and Hispanic, Asian and multiracial students enrolled in the 2022-2023 school year than the school year before, suggesting more diversity in Illinois schools, according to the report card.
* Daily Herald…
The annual measure of academic performance shows a second straight year of gains after two years of slippage due to COVID-19 pandemic disruptions. But while student proficiency levels inched up, they remain below pre-pandemic levels. […]

This year's results show a 16% change statewide year-over-year in English language arts from 29.9% to 34.6%, meaning an additional 39,000 students have mastered grade-level standards. Black students posted the largest gain with a 33% change in proficiency rates, according to report card data. […]

Schools across the suburbs attributed academic gains to a variety of measures, such as increased instructional coaching, reading or math interventionists, school improvement plans and an increased focus on social-emotional supports. In Round Lake Community Unit District 116, post-pandemic daily tutoring has continued with an evening session available for students. The district also launched a summer activity bus program offering art, science, math and Project Lead the Way learning opportunities for students during the summer months.
* More…
* Capitol News Illinois | Latest state school report card shows proficiency gains, persistent gaps on racial lines: Robin Steans, president of the education advocacy group Advance Illinois, agreed that the report was positive overall, but said it also contains some cautionary information, especially regarding racial achievement gaps and attendance rates. "I think there is some legitimately encouraging news in the new state report card," she said in a separate interview. "I think there's also a lot of information that reminds us we've a lot of work to do still."

* Chalkbeat | Illinois student test scores closer to pre-pandemic proficiency levels, but absenteeism remains high: The latest report card offers some good news for Illinois districts that are still working to help students recover from pandemic-related disruptions. To address learning gaps, they have focused on hiring more staff, creating after-school programs, and hosting summer learning opportunities. Some of those efforts were funded with the $7 billion in federal COVID relief funding the state received. However, the state's public schools will have to figure out how to continue these programs as federal relief funding will expire at the end of September 2024.

* Journal Courier | Jacksonville's school report card sees mixed results: Jacksonville High School was listed as a targeted school, which means one or more student groups is performing at or below the level of the "all students" group in the lowest performing 5% of schools. Achievement is lacking in the areas of children with disabilities and low income, the report card said.

* WAND | Decatur Public Schools breaks down 2023 Illinois Report Card results: Attendance rate hits a 3-year high = 86.1%, up from 83.4% last year and 76.5% in 2021. Chronic absenteeism rate hits a 3-year low = 50.5%, down from 56.0% last year and 58.9% in 2021.

* Shaw Local | State report cards give central Kane schools good grades: All central Kane County districts – St. Charles, Batavia, Geneva and Kaneland – were listed as either exemplary, which means they performed in the top 10% of schools statewide, or commendable, which means they are not in the top 10%, but none of those schools have underperforming student groups.

* WTVO | Illinois Report Card: Rockford schools show improvements, but have work to do: The 2023 snapshot of academic progress shows the Rockford Public School District with a 69% graduation rate, versus the state average of 87.6%. Students showed a 32% proficiency in science (state average: 51%), 24% passing 8th-grade Algebra, and 75% of 9th-grade students "on track."[…] The state's results also showed nearly 50% chronic absenteeism across the 44 Rockford schools, below the state average of 28.3%. But, that's lower than the 60.8% reported during the 2022 Covid recovery era.

* Shaw Local | Local schools get mixed grades on Illinois School Report Card: Rock Falls boasts an Exemplary school, Sterling's all Commendable, two Dixon schools' ratings point to need for improvement support.
* Perhaps the most Halloween press release ever. Click here to see the map…
The Cook County Department of Animal and Rabies Control (ARC) has released an interactive map of locations where bats who tested positive for rabies were found in Cook County. So far this year, nine rabid bats have been found. The Halloween-themed map is designed to raise awareness about rabies prevention.

"Rabies is a completely preventable disease and is always fatal to unvaccinated pets," said ARC Administrator Dr. Mamadou Diakhate, DVM. "Ensuring your dogs and cats are current on rabies and other vaccinations is critical to their health and yours."

According to Dr. Diakhate, a significant number of these bats were found inside people's homes, and pets who primarily stay indoors still have the potential to be exposed to rabies. According to the Centers for Disease Control and Prevention (CDC), around 60 to 70 dogs and 250 cats contract rabies each year.
* Neil Steinberg reminded us today of a column he wrote a few years ago about how candy corn is made in Chicago…
For years the Internet has echoed with derision of candy corn. And not mild criticism. Full-throated condemnation.

BuzzFeed's 2013 list of "19 Things That Taste Better Than Candy Corn," included chalk, urinal cakes and earwax.

"Deodorant-flavored earwax nuggets," Deadspin raged in 2014. "Wee little warhead-shaped misery pellets."

Then things really heated up. CandyStore.com crunched a decade's worth of sales figures and announced that candy corn is the most popular Halloween candy in six states, including Michigan, inspiring one Detroit columnist to lash out at his readers.

"You're all gross," sneered the Detroit Free Press' Brian Manzullo.
People just gotta hate something, I suppose.
* And the first candy corn was made in Belleville…
Illinois is a "corn" state but most people don't know that candy corn started in Belleville! Today, @IMA_Today member @FerraraCandyJar owns @BrachsCandy which makes 88 percent of the candy corn market producing enough to circle the earth 5x each year! Happy #NationalCandyCornDay! pic.twitter.com/4tpqprXLkA

— Mark Denzler (@IllinoisMfgAssc) October 31, 2023
* I did not know this…
Did you know Jerry created music for the 1985 revival of The Twilight Zone TV series with Merl Saunders and other members of the @GratefulDead?

Listen to it here and get ready for Halloween 🎃https://t.co/TTGMR8rsR9

— Jerry Garcia (@jerrygarcia) October 31, 2023
Spooky.
* Something else I did not know…
If you're out trick-or-treating this Halloween, you might notice some homes displaying a teal pumpkin outside their front door — and it's more than just a decoration.

According to FARE — Food Allergy and Research Education — teal-colored pumpkins are part of a national effort called the "Teal Pumpkin Project" to make Halloween more safe for children with food allergies.

"Placing a teal pumpkin on your doorstep signals that, in addition to candy, you offer non-food trinkets and treats that are safe for all trick or treaters," FARE's website states.

According to FARE, one in 13 children has a potentially life-threatening food allergy, and many others are impacted by food intolerances or other digestive conditions.
* Things weren't always so enlightened. Here's Tom Emery…
Today, Halloween is a mixture of revelry, as both trick-or-treaters and adults are in costume with happy pumpkins and ghoulish skeletons for décor. A century ago, the holiday was more sinister – and violent.

Halloweens of the late 1800s and early 1900s were dominated by "pranks" that were closer to felonies and misdemeanors. Vandalism ruled the night as property was damaged and people were beaten. […]

A 1908 notice in Alton, Illinois, advised that "all persons caught or known to have committed any depredations will be prosecuted … special officers [will] be sworn in … to watch boys and others disposed to injure private property." […]

In the Macoupin County town of Gillespie, Illinois, in 1926, the local paper reported that four boys were arrested and taken to the police magistrate "for shooting Halloween stunts out of season."
Then again…
A Beach Park man was arrested over the weekend for allegedly bringing an AR-15 loaded with "penetrator rounds" to a Halloween party in Antioch.

Around 10 p.m., Antioch police responded to a loud noise complaint about a party in the 200 block of Ida Avenue. When officers arrived at the scene, they obsevered a crowd of more than 300 people.

Antioch police called in some backup and began dispersing the crowd, which took more than four hours to completely clear the area.
* The first time I remember hating my parents was when they forced me to wear a heavy winter coat over my costume…
It's a spooky Halloween weather forecast: snow. This will be the 9th time in 139 years that Chicago has seen snow on Halloween. https://t.co/AVT8D4Z7Dm

— WBBM Newsradio (@WBBMNewsradio) October 31, 2023
I eventually got over it.
* It's really difficult to say "Support local media" when local media continues falling for this nonsense…
It can't be a "new threat" when local news has been breathlessly reporting it every Halloween for at least twenty years.

No one is handing out edibles to your kids for trick-or-treating because they're all out of Starburst. https://t.co/JO1CRXWYg2

— Mike Pries (@MikePTraffic) October 30, 2023
NPR interviewed Joel Best, a professor of sociology and criminal justice at the University of Delaware, about the persistent myths of tainted candy…
Best has been dispelling this myth for years and telling people they shouldn't worry about people tampering with treats. But even with no evidence of this happening, the urban legend still persists every Halloween.

"We've stopped believing in ghosts and goblins, but we believe in criminals," said Best. "Ghosts and goblins are just kind of silly. But having a criminal, having Michael Myers running around your town, that's a scary possibility."
* So cute…
"Hello? 911? Hello? Yes, I'm calling to report a burglary in progress….yes….in progress…stealing Halloween decorations off porches next door…yes the suspect is still on scene." pic.twitter.com/PA215WKFdu

— Chicago Bars (@chicagobars) October 31, 2023
* Transitioning…
Santa's work never stops!
Elves are busy today putting together Christkindlmarket on this snowy Halloween in Chicago pic.twitter.com/4o9WwYEAt4

— Leigh Giangreco (@LeighGiangreco) October 31, 2023
Do you have evening plans?
* Related…
* Block Club Chicago: Your Ultimate Chicago Guide To Halloween Events Including Performance, Fests and Family Fun

* Tribune: After winning $50,000 prize for its Halloween display, West Chicago family sets sights on even bigger haunt
Open thread
Tuesday, Oct 31, 2023 - Posted by Isabel Miller
* Happy Halloween! What's going on in your part of Illinois today?…
* ICYMI: Ford reaches a deal with the UAW. Tribune…
* Related stories…
* Isabel's top picks…
* Happy Halloween!…

"When we are together, darling, every night is Halloween." Gomez Addams

We are wishing everyone a fun and safe Halloween weekend. pic.twitter.com/NJCT3J6QOi

— Speaker Emanuel "Chris" Welch (@SpeakerWelchIL) October 29, 2023
* Here's the rest of your morning roundup…