Almanac
Tuesday, Feb 28, 2006 - Posted by Rich Miller

I use the Almanac of Illinois Politics all the time. It's an indispensable tool of the trade.
The new edition is now out and the publishers asked that I let you know where you can get your own copy. That way, the next time your local paper tries to make you believe that an area legislative race is hot, hot, hot, you can see for yourself that the incumbent's party won the last statewide race there by 40 points.
From a press release:
Since its first edition in 1990, the Almanac of Illinois Politics has been a leading source for information on the key players in Illinois government. This widely popular publication is considered an invaluable resource by legislators, governmental staff, lobbyists, reporters, teachers, students, and citizens.

The Almanac of Illinois Politics — 2006 is available for $45 plus $3 postage and handling. Contact Center Publications/Illinois Issues, One University Plaza, Mail Stop HRB 10, University of Illinois at Springfield, Springfield, IL 62703-5407. For information, call 217/206-6502. Or visit our Web site.
Let's make this an afternoon open thread. Illinois politics only, please.
Also, don't forget about Illinoize. A great place to visit.
(The following is a paid advertisement)
ComEd talks a lot about California but it wants us to forget what actually happened in that state. The California energy crisis was caused by Enron and other shady energy companies manipulating an uncompetitive market that lacked appropriate state oversight.
Don't take our word for it. Listen to the Enron tapes available at http://www.enrontapes.com/files.html.
Here are two of the more revealing quotes from these tapes:
(1) "He just f—s California," "He steals money from California to the tune of about a million."

"Will you rephrase that?"

"OK, he, um, he arbitrages the California market to the tune of a million bucks or two a day,"

(2) "They're f——g taking all the money back from you guys?". "All the money you guys stole from those poor grandmothers in California?"

"Yeah, grandma Millie, man"

"Yeah, now she wants her f——g money back for all the power you've charged right up, jammed right up her a—— for f——g $250 a megawatt hour."
Now ComEd wants to eliminate state oversight here in Illinois and import a risky auction scheme that has caused massive rate increases in New Jersey. Let's stay the course and extend the rate freeze like we did in 2003. The only thing that's changed since then is that both Exelon-ComEd and Ameren are billions of dollars richer. Vote Yes on HB 5766.
Should the General Assembly impose a statewide ban on all cigarette smoking in public places? Why or why not?
What goes around, comes around.
Black lawmakers urged Gov. Rod Blagojevich to take back his no-tax-increase pledge because of its impact on schools, warning Monday that the position could cost him votes.

"The governor cannot take the African-American vote for granted in the general election," said Sen. James Meeks, chairman of the Illinois Legislative Black Caucus. "There is no guarantee that that vote is going to be there, especially since those individuals who are African-American, their priority is educational funding." […]

Caucus members haven't discussed their concerns with Blagojevich, who announced his pledge last week when he launched his re-election campaign.

"Since we had to find out about it in the press, then he'll find out about how we feel in the press," Meeks said.
Ouch.
I thought the governor's response was interesting.
Blagojevich declined to comment, issuing a conciliatory written statement:

"We…share many of the concerns expressed today."
And here's that quote from Meeks that I had in this morning's Capitol Fax:
"If the governor does not take back his pledge, and if the governor is not willing to work with the Illinois Legislative Black Caucus, it's a third candidate that I'm hoping will step forward," Meeks said.
After staying relatively quiet for the past week or so, Jim Oberweis emerged yesterday to demand answers from the gubernatorial frontrunner.
Republican governor candidate Jim Oberweis called on foe Judy Baar Topinka to release a 2003 inspector general probe into whether political work was being done on state time at her treasurer's office.

"Her internal investigation is over. Let's see what it found," said Obeweis at a Monday news conference in Chicago.

The probe began about three years ago after U.S. Attorney Patrick Fitzgerald's office subpoenaed documents following an ex-employee's complaint that treasurer's employees did campaign work on state time.

Topinka's deputy treasurer, Martin Noven, dismissed Oberweis' request as "disingenuous at best."

"Legally, we're not allowed to release that information," said Noven, citing a state law that bars inspector general reports from being released unless misconduct is found.

Noven said there was no misconduct. If such a finding had been made, it would have been forwarded to the state's office of executive inspector general. That office would have had to release a summary of the misconduct and any punishment.
While Topinka's office makes a valid point, anything that keeps that old investigation in the public's eye can't be great for JBT. Your thoughts?
There were three of us present when Senate President Emil Jones said yesterday that the assault weapons ban wouldn't fly. Kurt Erickson was one of them. Here's his take.
Gov. Rod Blagojevich's renewed push for a statewide ban on assault weapons may not be called for a vote this spring.

On Monday, one of his top allies in the General Assembly said the issue might be just too contentious to move forward before lawmakers are scheduled to adjourn for the spring on April 7.

"I don't think anything will happen with that," said Senate President Emil Jones, D-Chicago, who is co-chairman of the governor's re-election effort. "It would be very difficult to pass that over here."

That assessment comes just five weeks after Blagojevich made the assault weapons ban a cornerstone of his State of the State speech.

A federal ban on the weapons expired in September 2004 and Blagojevich wants Illinois lawmakers to approve legislation to ban the manufacture, possession and delivery of semiautomatic assault weapons, assault weapons attachments, large capacity ammunition feeding devices and the .50 caliber rifle.
Discuss
Senate President Emil Jones just said that he didn't bekieve the assault weapons ban would pass the Senate this year. More in the Fax tomorrow
We're three weeks and a day away from election day. Handicap the big races. Governor, lt. governor, treasurer, Congress (6th Dem and 8th GOP).
UPDATE: New Rasmussen poll shows Topinka every Republican dropping.
The governor has nonetheless gained ground since our last poll, when he did not reach even 40% support in a match-up with the strongest Republican candidate, State Treasurer Judy Baar Topinka.

Blagojevich now leads Topinka 42% to 36%. He leads businessman Jim Oberweis 49% to 37%, leads businessman Ron Gidwitz 47% to 33%, and leads State Senator Bill Brady 47% to 29%.

Though the governor is faring better, too many voters are leery of him for political comfort. Only 37% view him favorably, while an outsized 53% view him unfavorably. As for the job Blagojevich is doing, only 38% approve; 59% disapprove. […]

Topinka, currently seen as the frontrunner for the GOP nomination, is viewed favorably by only 37%. Forty-one percent (41%) view her unfavorably–an 11-point jump since our last survey. That may be the result of sniping from the other Republicans.

About the same percentage, 36%, view Oberweis favorably, with 37% viewing him unfavorably and 28% not sure. Gidwitz and Brady are thus far known by even fewer voters.
Thanks to a commenter for the link.
UPDATE: It appears that Oberweis and Gidwitz also dropped. This is from last month's poll [this month's results in brackets]:

Blagojevich is tied with Ron Gidwitz at 40% [47-33]. The Governor holds a very slight lead over Jim Oberweis, 43% to 39%. [49-37]
They didn't poll Brady last month.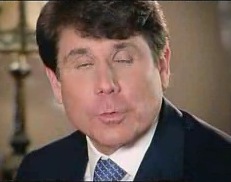 Sorry, couldn't help myself.
A telling moment in the Trib interview:
On one hand, the governor said he doesn't believe voters perceive his administration as suffering from ethical lapses. On the other hand, Blagojevich acknowledged a need to avoid negative perceptions of favoritism when he instructed his budget director in 2003 to not give any of the state's $10 billion pension bond business to a firm that had retained a close friend.

He said he knew John Wyma, a close adviser and his former congressional chief of staff, was representing Lehman Bros. in the sale.

"The last thing I wanted was anybody close to me even remotely near something like that. And so, the only thing I told [John] Filan, our budget director … was, `Pick the best company, but if it's Wyma's firm or anybody close to me, we don't want them,'" Blagojevich said.

"I think I acted beyond what I'm supposed to do because I just knew that that was a situation [in which] I didn't want the folks close to me to be involved in that," the governor said.

Asked why he didn't require that the same hands-off policy apply to all aspects of his administration, Blagojevich said it was "a free country."
Wyma wasn't the only person banned from that bond work. It was so high profile that the governor was rightly scared to death that something like involvement by his pals would truly hurt his administration. Everyone was made happy with subsequent deals, however. Very, very happy.
A company whose owners donated heavily to Gov. Blagojevich has seen a $150,000 state contract to package and deliver tollway I-Passes to Jewel-Osco stores balloon into a $7 million deal despite not being the lowest bidder.

Originally hired in 2003 for a six-month job involving just 25,000 I-Pass transponders, IGOR the Watchdog Corp. has since helped place the wallet-sized devices in more than 1.1 million cars and trucks through sales at Jewel.

The tollway twice extended IGOR's contract without rebidding it and significantly upped its dollar value on five separate occasions. All this was perfectly legal and absolutely necessary, tollway officials say.

"The changes in the IGOR contract are directly tied to the unprecedented growth of the I-Pass program," said Joelle McGinnis, spokeswoman for the Illinois State Toll Highway Authority. "Since retail sales and the addition of more I-Pass-only lanes were unprecedented efforts, the tollway had no way to gauge how much the demand for transponders would increase."
Republican gubernatorial hopeful Judy Baar Topinka on Sunday alleged that politics and campaign donations to Gov. Rod Blagojevich played a role in the state's decision to use bricks to build expressway sound walls.

State Treasurer Topinka said the Illinois Toll Highway Authority's decision to switch from concrete to brick sound barriers came after the local bricklayers union donated $20,000 to Blagojevich's campaign.

"How can the governor continue to sell Illinois … in exchange for campaign contributions and not expect to get caught?" Topinka said in a written statement.

But a Blagojevich campaign spokesman said the contributions have nothing to do with the decisions made about the materials used in the tollway system.
The state's top Republicans are calling for an investigation into a recent tollway decision to start making sound walls with brick instead of cheaper precast concrete.

Several state lawmakers Thursday asked Attorney General Lisa Madigan to see if the change in tollway policy has anything to do with a $20,000 contribution from the bricklayers union to the campaign fund of Gov. Rod Blagojevich.

"They believe there is a process here that should have been done," said Patty Schuh, spokeswoman for Senate Minority Leader Frank Watson.
So the bricklayers win.

Two years ago, a tollway reform bill stalled in the General Assembly, due in part to a requirement that sound barriers along the tollway be made of brick instead of cheaper, precast concrete.

"Graft!" tollway reformers shouted.

"Wasteful!" penny-pinchers cried.

"Sham!" watchdog groups clamored.

But in 2006, everyone apparently came to their senses. Brick is good.

According to tollway officials, brick won't cost that much more than concrete, and more people will be put to work — mostly bricklayers — which is good for the state. Besides, brick is prettier.

Long live brick!

"It's favors for insiders, and this time it's the bricklayers," said lieutenant governor candidate Joe Birkett who dubbed it "pay to lay."

Meanwhile, the tollway is requiring towns along the planned Interstate 355 extension from Bolingbrook to New Lenox to contribute at least $20 million of local taxpayer money toward interchanges near their towns.
First, the editorial:
Many Democrats yearned for a choice in the March 21 primary for governor. They deserved a credible alternative to Blagojevich–at least they deserved to hear the governor have to explain himself.

So when Edwin Eisendrath announced his candidacy Dec. 18, he engendered great hope. He seemed to have the smarts, the gumption and the public resume to provide a worthy, if long-shot, challenge.

So what's Eisendrath been doing for the last 10 weeks? Not much.

Blagojevich's $15.5 million campaign juggernaut has been rumbling down the road, and so far Eisendrath has served no greater purpose than that of a speed bump.

He and the governor met Friday with the Tribune editorial board. Eisendrath was asked where, precisely, to find his campaign. He replied: "Certainly a lot of it is [on the] Internet, which is kind of hard to see and feel. But that's it. It's not a big, traditional parade, rah-rah campaign."

No kidding. Not only are the parade floats missing, so is the waving candidate.
Now, the translation:
"We really don't want to endorse Rod, but EE is giving us no choice because he's such a mope. And we're flippin' angry about this. Edwin, get in the game or get out!"