* As I write this at 8:25 pm, the House has adjourned until later in June, or the call of the Speaker, whichever comes first. The Senate just reconvened has some concurrence motions it has to deal with…
* SB 1 - School funding reform. This bill passed the House with the bare minimum of 60 votes and just one Republican, Rep. Michael McAuliffe. Background is here. UPDATE: The Senate concurred, 35-22.

* SB 3 - Local government consolidation. Gov. Rauner pulled HGOP votes off this bill, but then put them back on after an amendment was filed. It passed the House with 75 votes. UPDATE: The Senate concurred, 49-3.

* SB 81 - $15 per hour minimum wage. The motion to reconsider the vote has been withdrawn in the House, freeing up the Senate to vote on it tonight if it has the votes. Background is here. UPDATE: The motion to concur passes 30-23-2.

* SB 886 - Sale of the Thompson Center. The House passed the legislation 64-49 today. Background is here UPDATE: The Senate concurred with 35 votes.

* SB 1839 - AT&T bill, 911 tax hike. Despite the governor's opposition, the bill passed with 81 votes, including 34 House Republicans. Background is here. UPDATE: The motion passed 53-3. Wow.
Other bills awaiting Senate concurrence are here. And you can click here to see all the bills which cleared both chambers today.
* Meanwhile, the Senate Democrats amended the House's Chicago school board election bill (HB 1774), but apparently put off any floor action until the House left town. Its fate, as they say, is uncertain.
And the Senate approved an online fantasy sports bill, but the House didn't take any action.
* I'll update this post as we go along tonight.
- Posted by Rich Miller 33 Comments


* Press release…
The state's premier business groups have labeled the spring legislative session as "one of the worst for employers" citing lawmakers' apparent "race to the bottom" and litany of anti-employer, anti-job growth measures considered this year.

At a press conference on the final day of session, the Illinois Manufacturers' Association, Illinois Retail Merchants Association, Chicagoland Chamber of Commerce, Illinois Chamber of Commerce and NFIB joined together lamenting the continuous effort to tax, over-regulate, mandate and constrict employers at every turn by lawmakers in both chambers which has created one of the most crushing business climates in the nation. While this is not a new phenomenon in Springfield, the massive uptick in these anti-employer measures coupled with the accompanying rhetoric has exasperated an already hostile business climate.

Ironically, many of these measures – in theory – are aimed at increasing pay, hiring more employees or giving workers more certainty, yet they achieve quite the opposite. While the intention of our business community is to provide jobs with competitive pay and generate revenue to fix the state's problems, the anti-employer narrative is having a chilling effect.

"My Democrat friends like to say we are in a race to the bottom. Unfortunately, I'm here to tell you we are winning but that means Illinois businesses and families are losing. The high cost of workers' compensation is one of the biggest issues facing manufacturers but lawmakers fail to act because they continually side with wealthy trial lawyers. Their failure to act and create an attractive economic climate means that Illinois will continue to bleed jobs and remain a laughingstock of the nation," said Greg Baise, president and CEO, Illinois Manufacturers' Association.

"Every day seems to bring another report of another round of retail store closings. Instead of talking restraint and recovery for the retail community, the narrative out of Springfield, like the actual actions in Chicago and Cook County, is higher taxes, labor and regulatory burdens, and, in the case of Cook County, incentivizing theft. This 'campaign against Main Street retailers' will only hasten the continued job loss and store closings that have become all too familiar. Retailers have limited responses; reduce employee hours, lay people off, increase automation, or close. Passing legislation to mandate artificially higher wages when the jobs don't exist doesn't help anyone," said Rob Karr, president and CEO, Illinois Retail Merchants Association.

"The ping pong of anti-employer policies coming from both Chicago and Springfield is unsustainable. At every corner, Chicagoland businesses are being asked to pay higher property taxes, soda taxes, and sales taxes while also being forced to implement countless mandates that do not grow the economy. Chicago has so much to offer but this economic death by 1,000 paper cuts does not create the jobs, quality of life and revenue Springfield should be seeking," said Michael Reever, vice president of government affairs, Chicagoland Chamber of Commerce.

"Time and again lawmakers have suggested policies that shift greater financial burdens to employers statewide. Whether it is during the budget impasse or after it is resolved, standing up against job-crushing legislation is crucial for our economy. Increasing minimum wage, passing "fake" workers' compensation reform and proposing a significant arbitrary tax increase is far from the progress Illinois deserves. We need pro-growth economic policies to prevent the steady decline of Illinois' economic competitiveness. And we need them now, that is, if we want to continue to attract the best and the brightest individuals to Illinois," said Todd Maisch, president and CEO, Illinois Chamber of Commerce.

"Our members aren't surprised by the legislature's anti-business antics this session, but they are disappointed and fed up. Illinois is broke and we haven't had a budget in two years. We need leaders who are less focused on scoring easy political points and more on enacting good policies that benefit all Illinoisans. We need legislators who will act like adults, set aside their political differences, and make the difficult decisions that would make things better for working families and allow businesses to grow and create jobs," said Mark Grant, Illinois State Director, NFIB.

Springfield's Dirty Dozen

SB 81: Legislation that raises the minimum wage to $15
HB 2771: A costly government mandate forcing employers regardless of size to provide paid leave to every employee regardless of hours worked.
HB 160: A $5,000 fee on every employer for the "privilege" of doing business in Illinois
HB 156: Massive property tax shift onto commercial and industrial taxpayers
SB 1502: Trial lawyer supported legislation that burdens every e-commerce business, and every company with a credit card, loyalty program app or website, without providing any consumer protections
HB 3449: Trial lawyer supported legislation that unfairly targets companies that share or store location data and requires ecommerce businesses to ask for permission before collecting location data from your device
HB 3538: Penalizes business that move even one job out of state while discouraging future investment
HB 2802: Government mandate forcing businesses to pay the transportation costs of their workers
HB 2525: This bill codifies "a cause" workers' compensation standard that mandates insurance rate review without providing any meaningful reform
HB 2622: Legislation that would disrupt the private workers' compensation insurance market without having a strong reason to exist
HB 3337: A bill that allows someone to steal $2,000 of merchandise from a retailer
SB 9: Imposes $5.4 billion in new taxes on Illinois businesses and families - *revenue without

reforms

Ignored Reforms of the 2017 Legislative Session

· Pension reform
· Workers' compensation reform
· Tax reform
· Restraint of local government
· Property tax relief
· Education and workforce development
- Posted by Rich Miller 37 Comments


* Press release…
Media Advisory: Governor, Senate & House Republicans to Address Media

What: Governor Bruce Rauner, Senate Republican Leader Christine Radogno and House Republican Leader Jim Durkin Discuss the Majority Party's Refusal to Pass a Balanced Budget

Where: Governor's Office – Illinois State Capitol

Date: Wednesday, May 31, 2017

Time: 4:45 PM

Note: The press conference will also be streamed on Governor Rauner's Facebook.
Click here to watch and then comment below. If you can't watch the video, you can always check out the live coverage post.
- Posted by Rich Miller 38 Comments


* Your one-word summation of this spring legislative session? One word only, please.
- Posted by Rich Miller 136 Comments


* WSIL…
Southern Illinois University in Carbondale is laying off at least 51 civil service employees.

The layoffs are a direct result of the Illinois budget impasse, which is nearing two years.

The layoff notice was announced Wednesday morning in a memo by Interim Chancellor Brad Colwell.

In March, Colwell said the university would need to permanently cut $19 million from its FY18 budget, which starts on July 1st.
- Posted by Rich Miller 19 Comments


* As I told subscribers a while ago, Speaker Madigan has been carefully creating a paper trail so that he can justify ending the spring session with a splat. And here it is all in one spot…
Speaker Madigan: House Democrats to Continue Working to Find Common Ground with Rauner and toward State Budget

SPRINGFIELD, Ill. – House Speaker Michael J. Madigan issued the following statement:

"There is no more urgent matter facing the state than the passage of a comprehensive, balanced budget, and House Democrats will continue our efforts to address this challenge, end this destructive impasse and close the Rauner budget deficit. The House Democratic Budget Working Group led by Representative Greg Harris will hold public hearings and continue working in June to prepare a budget for the coming fiscal year. The first hearing will be held on June 8 in Chicago.

"The governor's reckless strategy of holding the budget hostage to create leverage for his corporate agenda that pads the profits of large corporations and insurance companies has for the third year left Illinois without a budget at the end of the May legislative session. He has put our schools at risk of being unable to open, denied care to victims of domestic violence, kept tens of thousands of seniors from receiving Meals on Wheels, and tripled Illinois' backlog of unpaid bills. This cannot continue.

"Where we can compromise with the governor without hurting middle-class families, House Democrats have consistently advanced measures that address the governor's requests so we can get down to the work of passing a balanced budget. House Democrats have:

· Voted to provide property tax relief to homeowners;
· Put forward reforms to the workers' compensation system that will ensure employers see the savings from reform;
· Introduced an agenda of economic reforms that make Illinois a better place to do business while also lifting up middle-class families, not tearing them down;
· Voted at the governor's request to streamline the state procurement process;
· Voted to sell the Thompson Center.

"I have directed members of the House Democratic leadership team to meet with the governor and seek common ground on his other proposals. To date, the governor has refused to meet.

"We remain ready to work with the governor and find common ground whenever he is ready to return to the table and work in good faith."
*** UPDATE 1 *** Another one…
Speaker Michael J. Madigan issued the following statement Wednesday after the House voted to pass House Bill 2525, a package of workers' compensation reforms addressing a key element of Gov. Bruce Rauner's agenda:

"House Democrats have consistently stated that we will work with the governor to reach compromise, but we will not hurt middle-class families. Throughout his tenure, Governor Rauner has made it clear that changes to the workers' compensation system are a pre-condition to his cooperation on a state budget. While the governor's plan does not have the support of majorities in the Legislature, we can still find common ground on this issue.

"The bill passed today will help ensure Illinois businesses see the benefits of reform by requiring insurance companies to pass savings on to local employers. It takes steps to crack down on fraud and abuse, and includes additional measures to reduce costs without jeopardizing the health or economic security of workers. We believe this compromise meets the governor's stated goal of reducing workers' compensation costs for businesses, and Democrats' goal of protecting working people and their families.

"As House Democrats work to address the governor's pre-conditions to a budget, we remain steadfast in our belief that the budget is the most important issue facing families, seniors, children, and businesses. We ask the governor to stop holding the state budget hostage and join us in working in good faith to end this destructive impasse."
*** UPDATE 2***  And another one…
– Speaker Michael J. Madigan issued the following statement Wednesday after the House voted to pass Senate Bill 3, allowing taxpayers to consolidate duplicative and unnecessary units of local government and addressing another element of Gov. Bruce Rauner's agenda:

"With today's passage of a local government consolidation package negotiated by Governor Rauner, House Democrats have again advanced legislation directly addressing the governor's pre-conditions to negotiating a budget.

"As a new fiscal year quickly approaches with no budget yet in place, the governor's approach of refusing to negotiate a budget is setting our state on a course for a third straight year of impasse and destruction. It's not too late for the governor to change course and come back to the table. If and when he does, he will find House Democrats waiting to negotiate and compromise."
- Posted by Rich Miller 16 Comments


* Sun-Times…
As his agency faces another crisis, George Sheldon on Wednesday resigned as head of the Illinois Department of Children and Family Services.

The exit comes as DCFS remains under fire over the Semaj Crosby tragedy. Sheldon has accepted a job at a nonprofit in his home state of Florida. Sheldon tendered his resignation on Wednesday morning, according to Gov. Bruce Rauner's administration. Rauner will appoint DCFS general counsel Lise Spacapan as interim director and begin a national search for a full-time replacement.

Earlier this month, Sheldon had revealed that he was considering the offer he eventually accepted – to be CEO of Our Kids of Miami-Dade/Monroe, Inc., in Florida.

No one answered the phone early Wednesday afternoon at OurKids. A message left for Sheldon seeking comment was not immediately returned.
* Tribune…
Rauner plans to appoint DCFS General Counsel Lise Spacapan as interim director while a national search takes place for a full-time replacement.
The Trib also has the resignation letter. Click here.
* From the interim director's official bio…
Lise T. Spacapan is the general counsel for the Illinois Department of Children and Family Services. She oversees a law department with nearly 100 members throughout the state. Over the past 30 years, she has been a litigation partner in the Chicago offices of three major law firms: Husch Blackwell, Jenner & Block and Kirkland & Ellis. She handled cases throughout the country focused on Complex Commercial Litigation and Products Liability. Ms. Spacapan received her L.L.M. in Health Law in 2014 and serves on the DePaul College of Law Health law Institute. She served as a national director on the Board of DRI, chair of the DRI Publications Board and chair of DRI's Toxic Tort and Environmental Law Committee. She has authored numerous articles and book chapters on litigation issues. Ms. Spacapan is AV Peer Review Rated, Martindale-Hubbell's highest peer recognition for ethical standards and legal ability.
- Posted by Rich Miller 17 Comments


*** UPDATE ***  SB1 as amended passed the House with 60 votes, including one Republican, McAuliffe.
[ *** End Of Update *** ]
* I'm told this info is being shared by the governor's office with legislators on the new House Democratic amendment to SB 1, the education funding reform bill. The Democrats are saying 250 school districts come out better than Chicago, based on per pupil money. The Rauner administration disagrees…
The "runs" being shared by House Democrats do not accurately reflect the real cost of this bill over and above FY17. Overall, this bill would require AT LEAST $650 million more than FY17 funding levels in order for schools to see increases. Here is what is missing from the "runs":

An additional $313 million must be added to the base funding minimum. The runs being shared are based on the FY2016 budget. It does not include the stop loss grant.

· An additional $216 million to $250 million to fully fund the mandated categoricals. Although CPS will get its appropriate share of "claims," it will also get its block grant in its base funding minimum. That means those funds are not available for other legitimate claims. To rectify that, the GA will either have to continue to prorate mandated categoricals or increase the education budget by an additional $250 million

· The runs do not include $50 million increase for early childhood education

With so many unknowns and without allowing time for real runs to be evaluated, members are forced to vote on this proposal without knowing the answer to at least four vital questions:

1. Which school districts would suffer the most if the General Assembly fails to appropriate the extra $650 million required to hide this CPS bailout?

2. Under this proposal, exactly how much money is being diverted from every school district to Chicago instead of being equitably distributed across all school districts?

3. If this level of additional funding was provided to other proposals in the General Assembly, what would the runs look like? How would school districts statewide fare if $650 million in new money was put through the model in Sen. Barickman's latest proposal?

4. Similarly, how would school districts fare if $650 million were added to the current funding formula?
The Rauner folks are also issuing behind the scenes warnings that the Illinois State Board of Education's eventual analysis will not show the same sort of winners that the Democratic analysis does because of the assumptions the Democrats are using. So, a lot of Democratic targets, they warn, could be voting for something that might not help their own schools.
- Posted by Rich Miller 22 Comments


* Back when then state Treasurer Alexi Giannoulias was in the running for a job in President-elect Barack Obama's administration, none other than JB Pritzker told Gov. Rod Blagojevich that he was interested in being appointed to fill out the remainder of Giannoulias' term.
"That's the one I would want," Pritzker said, according to federal surveillance recordings obtained by the Tribune.
Uh-oh.
* There's lots of tantalizing sizzle in the first few paragraphs of this story entitled "J.B. Pritzker sought political office from Blagojevich, 2008 FBI wiretaps show," but scroll way down…
Pritzker already had raised the idea of being named state treasurer if an opening occurred, and he followed up during a Nov. 14, 2008, call with the governor.

"I've got a lot of reasons why it makes sense. The problem for you would be the same problem with the Senate really," Pritzker said. "I've given you contributions."

"Total nonissue," Blagojevich replied. "First of all, you give money to everybody, like (Attorney General) Lisa Madigan, OK?"

"Yeah, yeah, yeah, no question," Pritzker said.

"Which, incidentally, if you can do for me what you did for her, before the end of the year. Can you think about that?" Blagojevich asked, aware that Pritzker had donated $50,000 to Madigan during the previous year.

"I can't, I mean, not while everything's up in the air, but I hear ya," Pritzker said. "I hear ya and, and and … But anyway …"

"If we go in that direction, though, if that does happen, I mean there's some other people who can help us that you know," Blagojevich said.

"Sure," Pritzker said.

"If you feel skittish about that, which I believe you shouldn't, but go ahead," Blagojevich said.

"Yeah," Pritzker replied, "I don't think we should even talk about it but I understand what you're saying."
Blagojevich was a true sleazeball.
There's lots more, so click here and read the whole thing.
* The Pritzker campaign sent me this response…
There was nothing untoward about JB Pritzker's conversations and throughout his career he has considered different ways he could serve the people of Illinois. The record is clear that Rod Blagojevich was having dozens of conversations with both elected officials and private citizens, including members of President Obama's transition team, which is why he is currently in prison. JB has been a proud supporter of hundreds of progressive and Democratic leaders and organizations in Illinois and across the country, especially those who have been supporters of early childhood education.
Also, as the campaign is pointing out, the last contribution Pritzker gave to Blagojevich was during the 2006 race, two years before those contributions.
*** UPDATE ***  A new Pritzker campaign statement…
"If one listens to the actual calls released in the story there was nothing untoward about JB's conversations with the Governor," said Pritzker campaign spokeswoman Galia Slayen. "Throughout JB's life he's had an interest in serving the people of Illinois and that's exactly what he expressed when discussing a potential opening in the Treasurer's office. In fact, when the Governor brings up whether JB would be interested in being appointed to the Senate, on multiple occasions JB expresses he is not and moves away from the type of conversation that landed Rod Blagojevich in prison.

"This is just a continuation of attacks made by Bruce Rauner and Republicans and it's no coincidence that it was published by the Chicago Tribune on the last day of another session where Governor Rauner has failed to pass a budget."
The jab at the Trib is unusual, to say the least.
- Posted by Rich Miller 118 Comments


* Man, did I ever get tired of hearing Speaker Madigan say "The House is meeting in continuous session" these past two years. Here we go again…
Illinois House Democrats resolved to keep meeting in a "continuous session" this summer, signaling they're unlikely to agree on a budget plan to send to Republican Gov. Bruce Rauner on what was previously their last scheduled day to be in Springfield on Wednesday.

Earlier, Democrats in the Senate had approved a comprehensive budget plan that relies on a series of tax increases, but House Speaker Michael Madigan's members have been reluctant to embrace it amid a veto threat from Rauner. While negotiations among House Democrats were continuing, doubts remained if they would be able to unite behind a measure that could reach Rauner's desk before they are scheduled to head home Wednesday.

"I think there would be very little support for just throwing it up on the board to see what happens. I think people want to make sure that it has the requisite number of votes to pass," said state Rep. Greg Harris, a Chicago Democrat.
I was told yesterday that the plan was to come to town every Wednesday through June. We'll see if that holds up.
- Posted by Rich Miller 37 Comments


An Office of Executive Inspector General investigation into Northern Illinois University's hiring and spending practices has found that President Doug Baker routinely circumvented state laws and regulations to reward friends and associates.

The report, commissioned after watchdog groups and whistleblowers questioned Baker's use of the so-called "affiliate employee" classification for hires in key university positions, shows what investigators call a pattern of dodging procurement code requirements.

"As a result of (Baker's) actions, since 2013 NIU has paid over $1 million in public funds to consultants who were not selected through a competitive procurement process," the report released Wednesday said. […]

In addition, the school, facing millions of dollars in cuts due to a $35 million funding gap, has paid nearly $200,000 in legal fees to outside counsel for Baker during the course of the OEIG investigation. […]

The report also found numerous support staff to Baker had assisted in the practices, and some had further used their positions to gain extra payments over and above their salaries. […]

Another Baker hire, Ron Walters, received $463,125 in compensation as an affiliate employee from June 2013 to Dec. 2014. According to the report, Baker described Walters as a friend and explained to then NIU Dir. of Human Resources Steve Cunningham that Walters was a "turnaround consultant."

The OEIG report says that when Cunningham informed Baker that the school could not pay Walters more than $20,000 for his services, "Baker showed a 'high degree' of dissatisfaction with the Procurement Code," and that Baker instructed Cunningham to "find a way" to onboard Walters.
Go read the rest of the story. The full report is here.
The report identified five employees: Ron Walters, who was paid $463,125; Nancy Suttenfield, who was paid $425,041; Ken Wilson, who was paid $135,963; Magaly Rodriguez, who was paid $85,031; and William Pfeiffer, who was paid $23,516. […]

Although Baker agreed with the report's findings that there were no violations of the state's Ethics Act, he disagreed with any implications that there was intent to circumvent NIU's guidelines or state regulations.
- Posted by Rich Miller 31 Comments


*** UPDATE ***  The bill passed with 81 votes, so a whole lot of House Republicans broke with Gov. Rauner.
[ *** End Of Update *** ]
* Fox St. Louis from May 26th…
Over 200,000 911 calls come into St. Clair County dispatch centers every year, according to Herb Simmons, the executive director of the Emergency Telephone System Board of St. Clair County.

Simmons said the legislation that currently funds the 911 systems is set to expire on June 30, meaning on July 1 people in Illinois could be without a 911 system.

Simmons said if the bill expires, call centers would be left without money for basic operations like electricity and the phone bill.

Although the 911 bill doesn't expire until the end of June, the legislative session ends May 31, so lawmakers have to come up with something before they leave Springfield on Wednesday.

"I just hope somebody can come to their senses and say the state of Illinois has to have a 911 system up and operating at its full capacity because when people need it they deserve it," Simmons said.
* Instead of just simply extending the sunset date, the House Democrats combined it with increased mobile phone taxes and AT&T's bill to get out of the state mandate to provide old-style copper wire service. The tax in Chicago would rise from $3.90 to $5 per phone. Everyone else's bills would rise increase to $1.50 from 87 cents.
The governor was not amused…
Emergency dispatchers, phone companies, and lawmakers from both parties were in agreement. The fee on cell phone bills needed to increase — to keep 911 services going and to add new technology mandated by Illinois.

Rep. Chad Hays, R-Catlin, says he was not part of the talks, but he was ready to lend his support when talks broke down.

"My understanding of where it bogged down was this notion that there were perhaps disagreement between the City of Chicago and others," Hays said.

Rep. Brandon Phelps, D-Harrisburg, says the "others" was the governor's office — and industry members in the negotiations say that was indeed the reason the agreement disappeared.

The nixed deal involved letting Chicago increase its fee per phone from $3.90 to $5. All other cell phone bills in the state would see an increase of $1.50 from 87 cents.

"Evidently the way I'm understanding is that the governor pretty much pulled the Republicans and said 'We don't want to give Mayor Emanuel any more money,'" Phelps said.
Phelps is right. That's what happened.
But by yesterday afternoon the Democrats decided to go ahead anyway and moved an amendment out of the Executive Committee with the AT&T language, the 911 sunset date extension and the tax hikes. Two Republicans voted with the Democrats, Hays and Rep. Reis.
Stay tuned.
- Posted by Rich Miller 11 Comments


* Tribune…
All three bills under consideration would legalize fantasy sports, tax it and set up oversight by the Illinois Gaming Board, which also oversees casinos and video machines at bars and restaurants. Two of the bills also would legalize internet gaming, like playing poker online, but only for websites operated by companies that own Illinois casinos.

Including internet games was a move designed to bring on board casino operators, who view fantasy sports as competition but have long wanted to break into the online gambling space.

"There was controversy last year as to why are we regulating daily fantasy sports activity, which is ongoing in the state, and not regulating internet gaming, which is also occurring," said Sen. Kwame Raoul, a Chicago Democrat who is sponsoring one of the bills. "So what this bill attempts to do is also regulate and bring licensure and supervision of internet gaming under the jurisdiction of the Gaming Board. And it would limit the operation of internet gaming to existing casinos."

The internet gaming provision has been pushed hard by Rush Street Interactive, an online gaming business affiliated with the Rivers Casino in Des Plaines, whose owner is Neil Bluhm, a Chicago real estate and gambling executive. Bluhm has given more than $500,000 in campaign contributions to lawmakers from both parties over the past 20 years, records show.

But as the final hours of the spring legislative session ticked away, the rushed nature of the effort was on display in the Senate on Tuesday morning when more than a dozen representatives of the horse racing industry packed into a hearing room to object to the legislation.

Before they had a chance, Raoul announced plans to amend the bill to give racetrack owners the right to obtain an internet gambling license as well. Those from the horse racing industry said they'd be satisfied with the accommodation, which hadn't been put down on paper before the hearing. Looking to advance the legislation to the Senate floor in time for votes before Wednesday's adjournment, senators pushed the measure through the committee.
The House Executive Committee hearing room was so crowded with lobbyists and industry representatives last night that it was difficult to move.
- Posted by Rich Miller 6 Comments


* Mark Brown…
Kennedy declined to characterize his [property tax] proposal as a tax swap, saying he would leave it to individual communities to decide whether or how much to lower property taxes.
So he's not going the full Netsch/Edgar/Meeks route. Hmm.
* WBEZ…
If elected governor, Kennedy said he would implement "radical" reforms, like banning the Cook County assessor from leading political parties and stopping elected officials from being property tax lawyers.

These reforms were clearly veiled swipes at Cook County Assessor Joe Berrios, who is the chairman of the Cook County Democratic party, and House Speaker Michael Madigan, whose law firm files appeals to property tax assessments.

But when questioned by reporters, Kennedy insisted his campaign wasn't about them.
* His quote…
Asked afterward by reporters if he was contending that Madigan, Berrios and Burke were part of a corrupt system, Kennedy repeatedly declined to directly answer.

"This isn't about individuals by any stretch of the imagination. This is about an entire system and it really begins with kids," said Kennedy, who noted the bulk of public school financing is through local property taxes. "This is about them, not about any elected official."
* CBS 2…
Kennedy was later asked if Berrios, Madigan and Burke are corrupt.

He replied: "The people who are in the system feel like they're playing by the rules and, as such, they feel like they're not breaking the rules. I think we need to change the rules so if this conduct continues, it's against the law."
* Back to Brown…
No current elected officials attended Kennedy's speech, the first major policy rollout of his campaign.

But former White House Chief of Staff William Daley, former county Assessor James Houlihan, former Board of Review Commissioner Robert Shaw and former Senate President Emil Jones were on hand to lend support.
That's a weird combination.
* Tribune…
Former Democratic state Senate President Emil Jones Jr., a Kennedy backer who attended the speech, was asked if he believed the property tax system was corrupt.

"Yes, it is," said Jones, served with Madigan. "The system has always been there as far as the (property) taxes are concerned. So those who have access, be it through contributions or wealthy lawyers, the city assessor or his organization — so that, in a sense, is not immediately wrong, but it's not right, see?"

Madigan spokesman Steve Brown said the veteran House speaker's outside legal work does not include examples of "anything improper or special treatment."

"I don't know what he's referring to, and I believe others have used that idea as a campaign plank (in the past) and it hasn't proven successful," Brown said of Kennedy.
Jones also backed a tax swap of sorts back in the day. He's also a noted Madigan hater. Houlihan had his own falling out with Madigan.
* Related…
* Chicago Dem Chris Kennedy Touts 'Radical Change' Agenda

* Kennedy Talks Business with McDonough County Democrats: He told the crowd of more than 200 people at the V.F.W in Macomb that while president of merchandise mart, he worked to bring businesses to Illinois and help them grow and not one business ever asked about the issues deemed priorities by Governor Rauner's turnaround agenda.

* Steve Cochran Show 05.31.2017: Chris Kennedy
- Posted by Rich Miller 23 Comments


* Politico…
THE BUZZ — This is what day 700 without a state budget looks like in Springfield: dozens of protesters are arrested; demonstrators block the entrance to Gov. Bruce Rauner's office, protesters are physically dragged out of the Illinois House in front of TV cameras.

34 ARRESTED — Kristi Sanford, with the People's Lobby, said 34 leaders with Fair Economy Illinois' March to Springfield "were arrested outside of Gov. Rauner's office. Activists were released within the hour on the west side of the capitol building. They will be charged with criminal trespass and are awaiting a court date." Secretary of State Capitol Police warned protesters they would be arrested if they didn't leave. Brian Mackey's photo here

'WE GOT YOUR BACK' — Lawmakers, including state Sen. Daniel Biss and Rep. Kelly Cassidy, both Dems, chant for the last protester as he's arrested: Video

PROTESTERS DRAGGED OUT OF HOUSE — Not the best images for anyone in state government right now. Earlier on Tuesday, Capitol Police could be seen dragging protesters by the arms through the Illinois House gallery, as members were in session. According to a report by NBC5's Mary Ann Ahern, among those who demonstrated on Tuesday were representatives from social service agencies who had not been paid by the state. Watch

GOVERNOR'S OFFICE DOORS BLOCKED — Photo gallery
I never realized there were so many Capitol police on staff until yesterday.
And while it may have not been the "best image," if you loudly interrupt the House's proceedings and you refuse to walk out on your own, you're gonna get dragged. Pretty sure the protesters knew that. It's part of the game and everyone has their role.
* The thing that bothered me the most was when the cops wouldn't let the protesters outside the governor's office eat sandwiches sent by supporters…
Capitol police are refusing to let food in to #MarchToSpringfield sit-in @GovRauner's office. Blocking food like they're blocking #PPFbudget pic.twitter.com/krnQG0L8dc

— March to Springfield (@march2spfld) May 30, 2017
But, they eventually worked it out.
* ABC 7…
Earlier in the day, dozens of protesters from a coalition of Chicago area social services agencies demanded to get inside the Illinois capitol.

"So they are acting like this is actually a complicated thing, but in reality if they had the courage to close corporate tax loopholes and make the every wealthy pay their fair share of taxes we could raise the revenue we need for our state," said Kristi Sanford, Fair Economy Illinois.
* What did they want?…
But they don't want just any budget – they're calling for one that spends $23 billion more. That's 61 percent of the Senate's $37.3 billion proposed spending plan.
* More…
Dr. Alfred Klinger, another member of the inaugural group and a retired physician, celebrated his 91st birthday during the march. A WWII veteran, he said government support via the G.I. Bill made medical school possible. Klinger and his fellow marchers say their budget plan would offer young people opportunity and give the elderly a sense of security.

Marchers contend their proposal would raise $23 billion to finance universal health care and free college tuition and fully fund public schools, social services and infrastructure needs by closing so-called corporate tax loopholes and taxing the wealthy at higher rates.

"This would give us all a step up," Klinger said.

The throng shouted chants about the governor and House Speaker Michael Madigan such as, "Rauner, Madigan, can't you see, human needs beat corporate greed!" and carried a banner outlining their vision for Illinois as it wended its way toward the Capitol.
- Posted by Rich Miller 42 Comments


* AP…
The Illinois House has approved a proposal that would raise the state's minimum wage to $15 an hour over five years.

House lawmakers voted 61 to 53 Tuesday.
* But…
Lawmakers approved the bill with a 61-53 vote largely along party lines, but Rep. Jay Hoffman, D-Swansea, filed a motion to keep it from moving to the Senate. Democratic Rep. Will Guzzardi said supporters were working to make sure the measure had enough support in the other chamber.
* SJ-R…
After the legislation passed, Rep. Jay Hoffman, D-Swansea, put the bill on hold in the House. Guzzardi said the move was to ensure "all their ducks were in a row" before sending the bill to the Senate.

"It's just some procedural work that we're trying to do on our side to make sure everything is in order," he said. "I'm still optimistic that we're going to get this thing passed to the Senate and onto the governor by the end of the day tomorrow night."
The Senate has passed several minimum wage bills in the past only to see them die in the House.
So, the bill's passage took just about everyone by surprise yesterday, both in the House and in the Senate, which hadn't yet met in caucus to talk about the bill. They even had to change the Senate's chief sponsor yesterday to the person who normally handles this issue.
There's a lot of suspicion and finger-pointing, with some senators believing that Speaker Madigan is playing his usual games with the issue and may not send it to the Senate until it's too late, and some House members worried that the Senate can't pass the bill. We'll see.
* Meanwhile…
Rep. Scott Drury, a Highwood Democrat who has often split with Madigan, took the opportunity to bash the leaders of his party for failing to call the wage hike for a vote when they had veto-proof control of the General Assembly or when there was a Democratic governor. Drury suggested that the Democratic leaders had called it for a vote in order to put the Republican governor on the spot.

"I am truly, truly concerned that what is going on here is that Maria, that one of our colleagues spoke about, is being used as a pawn to embarrass our Republican governor," Drury said, referring to a minimum wage worker whose struggles to make a living were pointed to by Democratic lawmakers during debate on the floor. "It's all about the left embarrassing the right and the right embarrassing the left."
Drury is right.
*** UPDATE 1 ***  As of 4:42 this afternoon, the motion to reconsider has still not been removed.
*** UPDATE 2 *** The motion to reconsider has been withdrawn.
- Posted by Rich Miller 73 Comments


* Yesterday it was robocalls, today's it's digital ads. From the ILGOP…
ILGOP Releases Digital Ads Ahead of House Tax Hike Vote
Will House Democrats end session by voting for a tax hike while rejecting true property tax relief?

Days ago, NBC Chicago reported that 46 members of Mike Madigan's House Democrats planned to vote for a 32% income tax hike with no reforms, protecting Madigan's broken status quo.

Illinois homeowners cannot afford another tax hike without true and lasting property tax relief.

Today, the Illinois Republican Party launched digital ads heavily targeting 19 House Democrats. Will they side with taxpayers and pass a balanced budget with real property tax relief or will they side with Madigan and pass a massive tax hike with no reforms to fix Illinois' broken system?

Or will they end session in complete failure and refuse to pass any budget and reform plan whatsoever?
* The ad…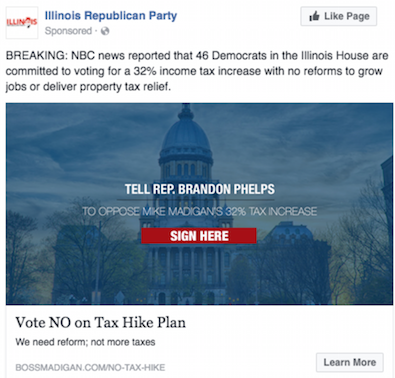 * Targeted districts…
HD 15 – John D'Amico
HD 17 – Laura Fine
HD 18 – Robyn Gabel
HD 43 – Anna Moeller
HD 44 – Fred Crespo
HD46 – Deb Conroy
HD 55 – Marty Moylan
HD 56 – Michelle Mussman
HD 57 – Elaine Nekritz
HD 59 – Carol Sente
HD 62 – Sam Yingling
HD 72 – Mike Halpin
HD 84 – Stephanie Kifowit
HD 98 – Natalie Manley
HD 96 – Sue Scherer
HD 111 – Dan Beiser
HD 112 – Katie Stuart
HD 116 – Jerry Costello
HD 118 – Brandon Phelps
- Posted by Rich Miller 4 Comments


Splat!
Wednesday, May 31, 2017
The Illinois General Assembly that launched the careers of such political giants as Abraham Lincoln, Stephen A. Douglas and Barack Obama and the governor's office once occupied by Adlai Stevenson II have set a record in futility in failing to agree on an annual spending plan for more than two years, the longest fiscal drought of any state since at least the Great Depression.

The Democratic-led Legislature and first-term Republican Gov. Bruce Rauner have stared each other down since 2015. They have until 12:01 a.m. Thursday before striking out again and facing the possibility of entering a third consecutive year with no spending blueprint.
House Democrats said they're in communication with Senate Democrats on a revenue bill that includes an income tax hike. They are reviewing "minor changes," including potential changes to the service taxes that were included in the initial bill. House Democrats must still be briefed on those changes to gauge support.
Even if a last-minute agreement among Democrats could be reached, the Republican governor is unlikely to sign off on a tax hike. Those conflicts set the stage for Illinois' historic budget stalemate to continue into the summer, leaving schools, universities and social service providers that depend on state money without many answers, just like last year.

"I do believe that we will be back at some point in the month of June," said House Republican leader Jim Durkin of Western Springs. "If we can reach a fair, balanced budget, I will do everything I can to provide votes from my caucus … one that's negotiated on both sides, not just negotiated between the Democrats in the Senate and Democrats in the House."

After May 31, the threshold to pass most budget legislation jumps. It would take 71 votes to approve a spending plan in the House, but there are just 67 Democrats, meaning any agreement would need some Republicans. That could have the dual effect of insulating Democrats from taking the blame alone for any potential tax hikes, while spreading the responsibility for continued dysfunction across both parties. The next pressure point for an agreement would be July 1, the start of the new budget year. And school districts likely will amplify their concerns as a new school year approaches.

But Durkin said he doesn't believe Democrats will be as willing to find common ground this time around, saying he believes the goal is about muddying Rauner as he seeks re-election.
Rep. Will Davis, from Homewood, is sponsoring the House version of a tax plan approved last week in the Senate. He says he doesn't think his fellow Democrats should vote on taxes that don't have enough support to pass.

"I think that walks us backwards, and possibly gives the governor a lot of rhetoric to say about Democrats not being able to pass their own revenue package," he says.

Some Democrats say it'll be better to wait until June, when the constitution requires more votes to pass a spending plan. That, they say, could force both parties to come to terms.

State Representative Lou Lang, from Skokie, says even if Democrats do not pass a spending plan in May, it doesn't mean they're abdicating their responsibility.

"We have worked tirelessly for the last two-and-a-half years under Gov. Bruce Rauner to get a budget," Lang says. "And we can't do it on our own."
- Posted by Rich Miller 11 Comments


* Tina Sfondeles…
In another sign of the political war between Rauner and Illinois House Speaker Michael Madigan, a bill to let the governor move closer to selling the Thompson Center was met by resistance by state House Republican Leader Jim Durkin, who called it "another attempted money grab by the City of Chicago and a bad deal for the taxpayers of Illinois."

Rauner has been pushing for the sale since 2015 but Republicans weren't happy with the Democratic-sponsored measure, arguing the governor should control future zoning changes and development costs. Republicans argued the bill would limit the state's ability to get the most profit over the sale. The governor has said the state could get $300 million from the sale.
* From House Republican Leader Jim Durkin…
"The Democratic bill to sell the James R. Thompson Center is another attempted money grab by the City of Chicago and a bad deal for the taxpayers of Illinois. The James R. Thompson Center was built with state taxpayer money and is owned by the State of Illinois – not the City of Chicago. Our first obligation should be to negotiate a deal that maximizes proceeds to benefit the State of Illinois. The bill that passed the House tonight takes care of Chicago at the expense of all other Illinois taxpayers.
* I asked Durkin's office what that "money grab" was about and they sent me this passage from the Democrats' proposal…
Any contract to dispose of the property is subject to the following conditions:

(1) A commitment from the purchaser to make any applicable payments to the City of Chicago with respect to additional zoning density;
* The Democrats forwarded me this language which was favored by the governor…
Any contract to dispose of the property is subject to the following conditions:

(1) commitment from the purchaser to make any applicable payments to the City of Chicago with respect to additional zoning density, as agreed to between the administrator and the City of Chicago in a memorandum of understanding or other agreement;
The "administrator" in this instance is the Rauner administration.
Chicago has a zoning density program that allocates money from major downtown property developments to neighborhoods.
The governor wants to be a part of that negotiating process. Mayor Emanuel, who's been battling the governor tooth and nail, doesn't want him involved.
There's no money grab here. This is about who controls the process.
* Tribune…
Rauner's office insisted their proposal would not give his office zoning supervision over the city, but would just protect the state's interests and help ensure it can sell the property at the highest value. But the governor could reach a deal with the city on zoning before selling the land without it being required in the legislation. Rauner aides couldn't explain how their proposal would offer taxpayers extra protection.

Whatever zoning Emanuel's administration applies to the Thompson Center moving forward is key, because it could have a significant impact on whether Rauner gets anywhere close to the $300 million he's claimed the property is worth.

The bill's sponsor, Rep. Al Riley, D-Olympia Fields, said the legislation served as "framework" for a sale and said it wouldn't be appropriate to include specifics of negotiations between the city and the state on zoning in the legislation.

"We know there are going to be very tough negotiations between the (Rauner) administration and the city of Chicago with regard to the fees and the zoning of that land," Riley said. "… We're not in that. It's going to be up to them to decide what they're going to do."
- Posted by Rich Miller 16 Comments


* One of my goals in life is to never get on the wrong side of Neil Steinberg. The dude can write…
It is disingenuous for the Sun-Times, my beloved mother ship, to post a daily front page count of how long it has been since Illinois has had a budget. The idea is that doing so will somehow shame our leaders into coming to an agreement and getting on with the business of trying to right the capsized and foundering vessel that is Illinois.

But really, if embarrassment were a possibility with the speaker of the house and the governor, this would have resolved itself long ago. I've met crackheads living in a nest of blankets on Lower Wacker Drive who had a more highly developed sense of shame than these two jokers.

I do not want to fall into the easy "a plague on both their houses" trap. Yes, they are equally unpleasant men.

Bruce Rauner is a callous, sneering billionaire who comes across in person like the human model of C. Montgomery Burns on "The Simpsons." Rauner expressed no interest whatsoever in public life beyond enriching himself until, perhaps bored, he took some of his bottomless lake of money and began fire hosing it at Illinois — a kind of political waterboarding. Eventually the state, sputtering and gasping, cried uncle, and elected him governor over Pat Quinn. Good old Pat, standing at the mound in his zigzag T-shirt, lowered his head as if weighed down by the brim of his enormous baseball cap, uttered a sigh and padded home.

And Mike Madigan is a grim slip of a man: think of a last year's jack-o'-lantern mounted on a broomstick, the whole thing marinated in vinegar then hung out to dry. […]

If rich old white men like Madigan and Rauner were being hurt by this impasse, it would have been resolved yesterday. But it damages the poor, the struggling young — who rely on public universities and colleges that are dropping staff, injecting furlough days into their academic calendars, and, in general, suffering on starvation rations. Plus those with disabilities, victims of crime, and all the unfortunates who must fall back onto a safety net that both men are pawning to the rope merchant.
- Posted by Rich Miller 57 Comments


* The state's bill backlog as of yesterday was $14.5 billion.
That backlog is "headed in the direction of being a factor that just by itself really threatens the sort of financial foundations of the state," Ted Hampton, Moody's lead analyst on Illinois, said in an interview, citing litigation from those demanding payment. "There is kind of an uncertain but very real legal and political limit to the state's ability to keep deferring payments."
* More…
"We are probably approaching that point of impaired ability to function at basic level," said John Humphrey, the Chicago-based head of credit research for Gurtin Municipal Bond Management, which oversees about $10.1 billion of state and local debt and has steered clear of Illinois. "We've already probably passed that point. We haven't seen this in a modern state before." […]

Bond-rating companies have warned of further ratings cuts, signaling that Illinois could be the first state since at least 1970 to lose investment-grade status. […]

Despite the gridlock, Illinois hasn't missed any bond payments and state law requires it to continue making monthly deposits to its debt-service funds. Still, the fighting has impeded any progress on bolstering a state retirement system that has more than $129 billion of unfunded liabilities — a source of stress that has helped drive its rating down.
- Posted by Rich Miller 19 Comments


* Click here for the background if you missed it earlier. From JB Pritzker's comms director Galia Slayen…
Today candidate Chris Kennedy held a political event trying to anoint himself as an 'outsider' and fighter against a broken property tax assessment system. But for years as a businessman and private citizen, Chris Kennedy personally hired what he now calls a 'well connected law firm' to lower his own home's property taxes and used that same firm to lower the value on two business projects by nearly $9 million dollars. It's laughable that millionaire Chris Kennedy is now railing against the exact same system he used to try and save millions.

Illinois' property tax system needs to change, which is why months ago JB made it clear that he favors a progressive income tax to help the state provide more support to local schools, and bring down local property taxes.
Not to nitpick or anything, but Kennedy didn't remove any toilets from his house or the Merchandise Mart to lower his property taxes by making them uninhabitable. Kind of a difference there.
* From Sen. Daniel Biss…
"We have to do right by our children and allow local communities the flexibility to meet the needs of their schools. The best way to do that is to be less reliant on property taxes to meet those needs in the first place. We must instead fix the school funding formula and ensure the state meets its obligations to local communities so they can replace property tax dollars directed at schools with much-needed state resources.

"At the same time, Illinois families need property tax relief. The best way to provide Illinois families with the property tax relief they need is to end the shell game between assessors, property tax lawyers and county boards of review. The self-dealing racket they've created enriches their bank accounts and campaign coffers, and the rest of us pay the price. We were reminded of how broken the system is by the news that my two ultra-rich opponents in this primary each got six figure tax breaks by using politically connected law firms. It's not hard to see who this system benefits."
* And from Cook County Assessor Joe Berrios' office…
The Cook County Assessor's Office assesses property and processes appeals with integrity and fairness, based on analysis of sale prices and real estate market conditions.

It is ludicrous to suggest that the Assessor's Office led by Joseph Berrios treats properties in lower-market areas differently than those in other areas.

No elected official in Cook County has championed equality for minorities more than Assessor Berrios, who is the first Hispanic-American to serve as Assessor and was the first Hispanic-American to serve in the Illinois General Assembly. This Office assesses property, not people. It does so accurately and equally.
*** UPDATE ***  Mic drop…
@KennedyforIL Yes Chris—IL property taxes help the rich and hurt the rest of us, so will you return the $130K prop tax break Madigan's law firm got you?

— Daniel Biss (@danielbiss) May 30, 2017
- Posted by Rich Miller 26 Comments


* CBS 2…
Democrat J.B. Pritzker said he believes the only way to resolve the budget standoff in Springfield is to get Governor Bruce Rauner out of office. He said the Republican incumbent does not seem to really want a budget.

"Of course, to break the stalemate we need to defeat Governor Rauner," Pritzker said. "Right now, he seems to be holding up this right wing agenda and saying I won't give you a budget, unless you give me my right wing agenda, which has nothing to do with that budget. So, at the moment, it is hard to tell what it is that this Governor will do next."

Pritzker said the Governor apparently does not really want a budget since he opposes even legislation that includes things he favors.

Would Pritzker support the democratic budget passed by the Senate? He said it has some challenges and he wants to see what the House does with it. Asked about rival democrat Chris Kennedy outlining his vision for Illinois, Pritzker sidestepped a comparison.

"While the important thing I think for both of us is to focus on the failures of Bruce Rauner and how we might improve the state over what Bruce Rauner is doing. Personally, I think Bruce Rauner in every action has failed this state."
* Meanwhile…
On the topic of Chicago violence, Pritzker draws the problem straight back to Rauner and the state's budget standoff.

"People who lose hope are people who become desperate, and it's desperate people who become violent so we need to help people," Pritzker said. That means with support for social service organizations and mental health agencies. "When we close down all those facilities or take away all those services for people whose lives are not yet stable, who don't have a place to live or don't have clothing or food and certainly don't have a job, then we are leaving them with nothing and they are hopeless," Pritzker said.

The first step in reducing the city's violence, then, is solving the economic crisis. Pritzker said the next step is getting illegal guns off the streets through new protections and penalties.
- Posted by Rich Miller 40 Comments


* The last scheduled day of spring session is tomorrow. The end of the fiscal year is June 30th. On what date do you think the General Assembly will vote on a budget (complete or partial) that can then be sent to Gov. Rauner?
Don't forget to explain your answer.
- Posted by Rich Miller 32 Comments


* Press release…
At a speech today on the South Side of Chicago, Chris Kennedy, Democratic candidate for Governor unveiled his agenda for the state of Illinois, declaring that it is time for "radical change" in Illinois.

"We need change—not just incremental change, but radical change. That radical change must start with changing out the governor," said Kennedy. "But changing the governor is not enough. If we are going to keep the promise of the American Dream and restore the potential of our state."

Kennedy said that our state needs to go much further and change the way we fund schools, tax our citizens and restore confidence in our Government. Kennedy's plan includes:

· Radically altering the regressive property tax system where the wealthy and insiders benefit and the poor and middle class pay more.

· Enacting a progressive tax to end the unfair way we have a single flat tax rate for all citizens, where the middle class and even the poor are taxed at the same rate as the wealthy.

· Passing comprehensive ethics reforms to restore faith in state government and politics, including a ban on property tax lawyers making contributions to local assessors or to the assessors' political organizations or political parties; a ban on the revolving door that allows employees of the assessor's office to go into private practice and lobby that same office; ban having family members act as lobbyists and agents before the assessor; and, end the practice of elected officials acting as property tax lawyers and, in effect, taking on a role that is adverse to the state's interests.

"I contend that, for millions of families, the system is broken. Governor Rauner says he wants to freeze property taxes; I want to lower them. He wants to preserve the system; I want to abandon it," Kennedy added. "The political establishment in Springfield will oppose me with everything they've got because they know I'm not afraid to tell the truth, to take on the status quo, and to change the system."

"If we don't stop politicians and parties from making money off the property tax system, they won't ever let us change the system. If we don't move away from property taxes, we won't embrace a progressive income tax. If we don't embrace a progressive income tax, we will never fund schools properly or restore community safety or rid our cities of the scourge of gun violence.

"If we don't fund schools properly, we will never educate our kids to be economically self-sufficient. If the next generation is not self-sufficient, then we cannot restore the American Dream. If we don't restore the American Dream, we put the very future of our state and of our country at risk," Kennedy said.

Kennedy concluded with a call for accountability pledging that if he didn't balance the budget in his first term he wouldn't seek re-election.

"We need integrity in our institutions and we need accountability from our elected politicians. As a candidate, I can tell you that if I am successful in becoming our governor, and if I don't balance the budget, I won't run for re-election, nor should I. That's a level of accountability and honesty that's sorely missing in Springfield." [Emphasis added.]
* It was, by far, the best speech I've ever heard Chris Kennedy deliver. Click here to watch it for yourself.
I've been arguing strenuously for weeks that Kennedy needs to forcefully take up the property tax issue. It is at the very heart of why so many people believe this state is messed up. The taxes are too high and aren't based on the ability to pay, so they hurt the poor and working class the most; the assessment system is rigged to favor the rich and politically powerful; and the taxes pervert the school funding system by funding much better public schools for the upper classes while poor districts struggle just to get by.
Not to mention that the issue comes handily gift-wrapped with a Speaker Madigan bow. And while Gov. Rauner's poll numbers are lousy, Madigan's are much worse. So that bit about preventing elected officials from doing property tax law is pretty big stuff.
* Kennedy also had a heck of an attack on JB Pritzker…
"Our ability to legitimize government as an agent of change is being crippled because so many people see the system as evidence of political insider abuse - where a billionaire can have a million-dollar mansion reclassified as dilapidated on the most expensive block, on the most expensive street, in the most expensive neighborhood in one of the most expensive cities in the world and all he needed was the right lawyers to avoid paying his fair share."
* Greg Hinz…
Kennedy would make it illegal for state lawmakers or other elected officials to work as property tax lawyers, and to prevent local property-tax assessors from collecting campaign donations from property-tax lawyers or allowing their former staffers to practice before them as paid lobbyists.

The proposal seems aimed directly at Illinois House Speaker and state Democratic Party Chairman Mike Madigan, who is a property-tax lawyer, and Cook County Assessor Joe Berrios, who chairs the Cook County Democratic Party and has accepted millions of dollars from property-tax lawyers. While officially neutral, both are actively trying to help Pritzker, the Kennedy camp believes and some insiders confirm. Even without their help, Pritzker's personal wealth and heavy spending has helped give him early momentum in the Democratic race. […]

One bit of truth, as Kennedy sees it, are signs that Berrios' office assesses properties in minority areas at higher rates than in white areas, putting a heavier burden on minority taxpayers. I've seen some of Kennedy's research on the subject and I'd call it interesting, though preliminary.
* The two things missing from the speech were any mention of how he hoped to rid the state of the property tax system and what that could mean for schools and local governments. He did mention some incremental steps like using existing studies and "acquisition-based assessments."
But, if you judge this speech based on defining a huge problem, Kennedy did very well.
Not to mention the numerous Kennedyesque lines like this one…
"Everyone, everywhere should be able to wake up on a hot, sunny summer day and look forward to it, rather than see that gift of nature instead as a dark omen of the violent night to come."
* Related…
* Senate approves property tax freeze: Illinois senators Tuesday approved a two-year property tax freeze that applies to school districts and local governments. The Senate approved the freeze for school districts on a 37-11 vote with nine lawmakers voting "present." The bill that freezes taxes for other units of local government was approved on a 38-11 vote, again with nine senators voting "present."
- Posted by Rich Miller 42 Comments


* Press release…
Following is the statement of SEIU Healthcare Illinois President Greg Kelley following passage today in the Illinois House of Representatives of Senate Bill 81, to raise the minimum wage to $15 by 2022:

"While corporations are enjoying record profits, workers in Illinois are suffering. Today, the House of Representatives took a historic step to reversing this course and building our economy from the bottom-up, instead of placing our faith in the misguided hope that prosperity will trickle down.

"Senate Bill 81 represents a major advance for Illinois and is the answer to so many of the pressing questions facing our state. Growing inequality. Revenue problems and the related cuts to services. Population loss. The manufactured budget crisis. On behalf of our workers, I congratulate the representatives who chose to act boldly for our future.

"Opponents of raising the wage during today's debate used the same old stale and discredited scare claims about automation and job loss. But we know, as our allies do, that nonpartisan, peer-reviewed research shows that raising the wage does NOT lead to significant relocation or unemployment. Its MAIN effect is giving workers a living wage.

"Now, as the legislative session comes to a close, we ask our allies in the Senate to pass this legislation that will help 2.3 million workers, grow our economy and give Illinois a much-needed raise."
* Press release…
Statement attributable to Illinois Chamber of Commerce President & CEO Todd Maisch on increasing the minimum wage:

"Raising the minimum wage would be a devastating blow to job creators throughout Illinois. This proposal would raise the Illinois minimum wage to $15.00 per hour. Meanwhile, neighboring states including Missouri and Iowa have a minimum wage of nearly half that amount.

This is unacceptable.

If anyone wonders why jobs, economic opportunity and population keep leaving Illinois for other states, look no further than those state lawmakers who are legislating Illinois into a second-tier state for competitiveness.

The Illinois Chamber of Commerce has faith in Illinois' economic outlook, but state polices cannot continue to make the climate ever tougher on our job creators."
* Press release…
Members of Business for a Fair Minimum Wage representing a range of industries across Illinois commented in support of raising the minimum wage to $15 by 2022.

Dan Sherry, Owner, Kennedy's Creative Awards, Waukegan: "Gradually raising Illinois' minimum wage to $15 is the smart thing to do for our state, our businesses and our people. We start our employees now at $12 an hour and treat them well in order to retain quality staff. And it works. Our staff turnover is low, which results in fantastic customer service and repeat customers. That's what it takes to have a strong business. When more businesses pay higher wages and workers have more money to spend, it will create a stronger Illinois business climate."

Robert Olson, Owner, Olson & Associates in Springfield, Washington and Lombard: "Every day I see hardworking men and women who want to protect their families with insurance, but are struggling just to get by on low wages. Raising the minimum wage is a kind of insurance for both businesses and workers. It will enable workers to make ends meet and it will boost the consumer spending that drives business and strengthens the economy."

David Borris, Owner, Hel's Kitchen Catering, Northbrook: "Raising the minimum wage is pro-business. Local small businesses have a deeply personal interest in the financial health of the communities we do business in. The wellbeing of our customer base and our workforce shows in our bottom line. A healthy economy needs money circulating widely in a virtuous cycle of rising wages, consumer demand and job creation. That's a recipe for success."

Kelly Vlahakis-Hanks, CEO of Earth Friendly Products, which just celebrated 50 years of manufacturing in Addison: "Having manufactured in Illinois for 50 years, we know that raising the minimum wage to $15 will help businesses and employees thrive. Paying a living wage has improved our bottom line. We start employees at $17 and provide great benefits while selling our products at competitive prices. Our voluntary turnover rate is extremely low, our productivity has increased, and our profits continue to grow. Our ECOS brand is sold in 60 countries. And our employees are our greatest brand ambassadors."

Tim Frick, Owner, Mightybytes, Chicago: "Raising our state's minimum wage to $15 is smart business and smart policy to jump-start our economy now and strengthen it over the long term. Illinois businesses need customers with more money to buy our products and services. Workers at one business are customers at another. We can't grow the economy by paying wages that workers can't live on and then bemoaning weak consumer demand. It's why I strongly support legislation that would raise Illinois' minimum wage to $15 by 2022."

Michelle Knox, Owner, WindSolarUSA, Springfield: "No one working full-time should have to live in poverty, but Illinois' current minimum wage isn't enough for people to afford even the basics. That needs to change. We know from experience with our own current entry wage of about $13, that a higher minimum wage results in more productive and loyal employees. And when the minimum wage goes up across the state, workers turn around and spend their hard-earned dollars at local businesses, which boosts revenues. A higher wage floor is a win-win for workers and businesses."

Scott Pfeiffer, Partner, Threshold Acoustics, Chicago: "The current state minimum wage doesn't allow working people to meet their basic needs, which is bad for business and our economy. When employees earn more, they spend it on goods and services they couldn't afford before. This boost in consumer spending helps businesses grow and create more jobs – including the businesses that form our client base. A gradual increase in Illinois' minimum wage to $15 by 2022 will strengthen our communities, boost businesses' bottom lines and help reduce the strain on our social safety net – all of which will bolster our economy."
* Press release…
The Illinois Retail Merchants Association (IRMA) issued the following statement regarding the passing of the minimum wage bill out of the Illinois House that seeks to increase the minimum wage in Illinois to $15.00 per hour by 2022:

"The political campaign to raise the minimum wage to $15 per hour has already resulted in reduced hours and eliminated positions in major cities where this has been enacted, including the City of Chicago. In fact, we have seen automation and self-service alternatives replace jobs due to continued efforts to artificially increase wages through government actions instead of working with employers. Quite simply, the state cannot bear another proposal that eliminates what little opportunity exists in Illinois. We urge lawmakers to show more restraint when making decisions that significantly and negatively impacts a business' bottom line."

Facts about the minimum wage:

Illinois' minimum wage is already the highest in the Midwest. Illinois is poised to add another anti-competitive burden to retailers' ability to compete with retailers in border states.

Raising the minimum wage will continue to keep people, especially teens, out of jobs. According to a January 2016 report from the University of Illinois at Chicago's Great Cities Institute, only 12.4 percent of African Americans, 15 percent of Hispanic or Latinos and 24.4 percent of Whites (non-Hispanic or Latinos), ages 16 to 19 years old, are employed in Chicago. This destroys what little opportunity exists.

Minimum wage salaries are a floor, not a ceiling. Workers are not locked into minimum wage jobs, they have the ability to garner the necessary skills to advance and earn higher wages. Retail ranks are filled with those who started in minimum wage jobs.

Penalizes brick-and-mortar retailers over internet retailers. The minimum wage hike will not impact internet retailers, but penalize those retailers that invest in a physical property, workforce, pay property and sales taxes, etc.
…Adding… Ameya Pawar…
Ameya Pawar, 47th Ward alderman and Democratic candidate for Illinois governor, issued the following statement today following passage of Senate Bill 81 in the Illinois House of Representatives, to raise the minimum wage to $15 an hour:

"A New Deal for Illinois means a $15 minimum wage. This will help more than 40 percent of all workers from across a wide range of industries and in every corner of the state. It will benefit almost half of all African-American and female workers, and more than 60 percent of Latino workers. I applaud the members of the Illinois House of Representatives for taking this historic step today by passing Senate Bill 81. Now, I urge the members of the Illinois Senate to pass, and Gov. Bruce Rauner to sign, this common-sense bill into law.

"Low wages drive income inequality and stifle economic growth. I've seen it first-hand, as co-chair of the Working Families Task Force, which helped raise the minimum wage in Chicago. But the problem persists across Illinois. As I've toured the state in my campaign for governor, I've witnessed how low wages affect the lives of everyone.

"Over 2.3 million full-time workers earn so little they qualify for public assistance in the form of food stamps, housing subsidies for example. It's immoral, and it shifts the costs of social responsibility from wealthy corporations to the taxpayer. Low pay costs Illinois taxpayers more than $5 billion a year in public assistance support. If families don't have to scrape by each month, they can spend money in small businesses across the state, with rippling effects across every supply chain. Fairly-paid employees become good customers.

"I will remain committed to a $15 minimum wage for the Illinois. It will help generate revenue, end the subsidization of corporations who fail to pay a living wage and, more importantly, help the working families of Illinois who suffer in this rigged economy."
…Adding… Another one…
The Chicagoland Chamber of Commerce issued the following statement following the passing of SB 81 out of the Illinois House, which would raise the minimum wage to $15 per hour by 2022:

"Over the last several years Chicagoland businesses have seen taxes, fees and mandates that have totaled over $2 billion. The business community cannot withstand further costs from a $15 an hour minimum wage, which places undue burden on our state's employers and further inhibits business development and job growth in Chicago. We need to do the hard work of investing in our citizens' workforce development, including vocational training, community college, and the trades. Not a politically expedient raise in the starting wage that does nothing to ensure that people are uplifted out of poverty over the long term. Should the Senate concur, we strongly urge the Governor to stand up for the business community by vetoing SB 81," said Theresa E. Mintle, president & CEO, Chicagoland Chamber of Commerce.

…Adding… More…
Democrat lawmakers in Springfield continue to impose new and costly mandates on Illinois employers.

Minutes ago, the Illinois House of Representatives narrowly passed a $15 per hour minimum wage that would apply to every business regardless of size. SB 81 passed on a vote of 61-53-2 and now heads to the Senate for consideration where Senate President John Cullerton has pledged a vote today or tomorrow before the spring session concludes. This represents a whopping 82 percent spike in the state's minimum wage and would make it the highest in the nation when fully phased in after five years.

Additionally, the Senate voted 31-17-0 this afternoon to impose a new paid leave mandate on all Illinois businesses. HB 2771 mandates that every employer provide up to 5 paid days of leave to every employee annually and it now moves back to the House of Representatives for concurrence in the next two days.

These bills are politically-motivated measures designed to create a wedge issue in the coming 2018 gubernatorial election because they anticipate that Governor Bruce Rauner will veto these bills. Between 2013-2016, Democrats occupied the Governor's mansion and held veto-proof majorities in the General Assembly but did not pass this type of legislation. Rather than voting on a minimum wage bill, Speaker Michael J. Madigan put a minimum wage referendum on the statewide ballot in an unsuccessful effort to drive voter turnout.

Illinois continues to lose manufacturing jobs while our neighboring states are recovering from the recession and adding tens of thousands of new jobs. For three years in a row, Illinois has had the dubious distinction of losing the largest number of residents who are fleeing Illinois for other locales.

The IMA strongly opposes both SB 81 and HB 2771 and will request a veto if they land on the Governor's desk. In the meantime, IMA members are requested to contact their lawmakers immediately to request NO votes on these bills.
* And…
Today, JB Pritzker released the following statement in response to the Illinois House passing a $15 minimum wage bill:

"I'm thrilled to see the House pass a $15 minimum wage and will continue to stand with working families across our state to see this bill signed into law," said JB Pritzker. "The fact is, working families and our most vulnerable communities continue to get left behind and raising the minimum wage to $15 moves our state in the right direction. This bill will help ensure that Illinois workers have the resources they need to support themselves and their families. While Bruce Rauner stands with special interests to oppose a minimum wage, I will always stand with Illinois' working families in the fight to make this a reality for our state."
…Adding… Senate President Cullerton…
"The Senate has been waiting a long time for this. I hope that my assurances that this will get a vote in the Senate helped give the House members the courage to do the right thing. The Senate is ready to take this up if the House can get the paperwork over to us."
I've asked for clarification about that last bit on whether the House can submit its paperwork in a timely manner.
And subscribers will get the snark about "courage."
- Posted by Rich Miller 30 Comments


* WTTW…
The House on Monday did advance two other "reforms" desired by Rauner. A House committee advanced a plan (Senate Bill 886) to allow Rauner to begin the process of selling the James R. Thompson Center in downtown Chicago, and the full House passed changes to the state's procurement code (Senate Bill 8).

However, the Rauner spokesperson says House Speaker Michael Madigan "hijacked" the Thompson Center measure "to steer $50 million to the city of Chicago while putting the interests of a close friend and lobbyist ahead of Illinois taxpayers."
One of the building's retail tenants is represented by Madigan ally, attorney Mike Kasper.

The governor has predicted the Thompson Center will sell for $300 million dollars. The sale would take a zoning change from the Chicago City Council and Mayor Rahm Emanuel has expressed concern about the cost of relocating the CTA Lake Street station located inside the Thompson.

A spokesperson for Madigan said the comments from the governor's office "make no sense," noting the bill was approved in a House committee Monday night.

"There were extensive negotiations," Steve Brown said in a statement. "And there were some of the 'blank check' ideas from the governor that are not part of the legislation. The state will get their loophole in the Surplus Property Act so they can proceed with the sale."
The guy cannot ever seem to take a win.
*** UPDATE 1 ***  Press release…
Speaker Michael J. Madigan issued the following statement Tuesday after the House voted to pass Senate Bill 886, which would advance Gov. Bruce Rauner's requested sale of the Thompson Center:

"Governor Rauner has prioritized the sale of the Thompson Center and today's action moves us toward that sale. House Democrats have again demonstrated our willingness to work with the governor to achieve his goals, while ensuring—as is our duty—that these goals are achieved in the best interest of the people we represent. No negotiation can be one sided, and I urge the governor to now join House Democrats in resolving the most important issue facing our state, which is passing a state budget."
*** UPDATE 2 *** House Republican Leader Jim Durkin…
"The Democratic bill to sell the James R. Thompson Center is another attempted money grab by the City of Chicago and a bad deal for the taxpayers of Illinois. The James R. Thompson Center was built with state taxpayer money and is owned by the State of Illinois – not the City of Chicago. Our first obligation should be to negotiate a deal that maximizes proceeds to benefit the State of Illinois. The bill that passed the House tonight takes care of Chicago at the expense of all other Illinois taxpayers."
- Posted by Rich Miller 28 Comments


* From CPS…
Chicago Public Schools CEO Forrest Claypool today called on Governor Rauner and leaders in Springfield to fund Chicago students equally, saying the State's racially discriminatory funding is a cancer on the school system that jeopardizes years of academic gains and the future of hundreds of thousands of school children.

Chicago's children are 20 percent of the state's enrollment but they receive only 15 percent of the state's spending on education.



"This racially discriminatory state funding is a cancer upon CPS. In the past two years, our cuts, management reforms, and enhanced revenues have been mere radiation treatments, slowing down and postponing the cancer's advance. But no homegrown remedies will ultimately stop its deadly reach. Only the removal of the cancer – by either Springfield or by the courts – will cure the patient…. All our efforts will be in vain if the State is allowed to continue to discriminate on the basis of race in distributing education dollars. Whether our victory comes in the courts or in the political arena, it must come, if we are to protect what we most cherish – the quality of the futures of our children, and everything that means for the future of this great City."

Claypool pointed to the Board of Education's continuing lawsuit against the State of Illinois.

"As noted by lawyers representing CPS and five parent plaintiffs in the ongoing civil rights lawsuit against Gov. Bruce Rauner and the State: "Although the State has not installed signs on schoolhouse doors that say 'Whites Only' and 'Colored,' the State has used its checkbook to accomplish exactly that.'"

Even more frustrating, these budget challenges come at a time of unparalleled academic success for Chicago children.

"These are inspiring stories, tributes to the American ideal that, armed with a quality education, you can rise above adversity and accomplish anything. That is a dream that should be available to all children, regardless of where they live, what their parents earn, or the color of their skin. It's a dream worth fighting for. To do anything else would be surrendering to the most inconvenient truth of all: our indifference in the face of injustice."
The full speech is here. I've asked the governor's office for a response.
*** UPDATE ***  From Eleni Demertzis in the governor's office…
A Cook County judge already debunked all of Forrest Claypool's propaganda. This is just another stunt.
- Posted by Rich Miller 16 Comments


* Matt Dietrich…
Bruce Rauner ran for governor pledging to "shake up Springfield," but with more than two years of leadership under his belt Illinois government is more shaky than shaken up and the rookie governor appears moving to downsize expectations ahead of his reelection bid next year.

With Springfield mired in an epic budget gridlock, the mantra from Rauner has turned minimalist. "On things that we can control, I would give us an A," Rauner declared in a recent public television interview.

Unstated, of course, is that Rauner has found that there is an awful lot about steering Illinois government he has been unable to control as his pro-business, anti-union agenda hit a wall of defiance from Democrats who run the Legislature. And that has left him with a less than blazing record of accomplishment to campaign on.

To Kent Redfield, a veteran political scientist at the University of Illinois-Springfield, Rauner's downscaled revisionism smacks of a cop-out.

"It's like the baseball coach with the losing record," Redfield said. "'I'm making really good decisions but people keep getting hurt and my relievers keep throwing gopher balls in the bottom of the ninth."
It's an interesting piece, so go read the whole thing.
- Posted by Rich Miller 15 Comments


* Forwarded by two different readers…
TO: Faculty and Staff

FROM: Richard J. Helldobler, Interim President

DATE: May 30, 2017

RE: Northeastern to cut 180 positions; Town Hall at 3 p.m. today

I writing to inform Northeastern's faculty and staff that the University will begin the implementation of layoffs as a result of a two-year state budget impasse that has deprived us of both an FY16 and FY17 appropriation.

The University has a $10.8 million projected cash flow shortfall through September 30. To address this and the lack of a state appropriation, Northeastern will be eliminating at least 50 Administrative and Professional (A&P) positions and approximately 130 Civil Service positions, which account for about 25 percent of each of these employee groups. In total, that is about 180 positions. Layoff notification and the Civil Service bumping process begin immediately and will take place during the next several weeks.

This is difficult news to share and also difficult to communicate completely through one email. You can get more information in an FAQ document that our Office of Human Resources has posted in the new "Furloughs and Layoffs" channel of NEIUport.

I invite all employees to join me at a Town Hall meeting that I will host in Alumni Hall today at 3 p.m. This event will not be livestreamed. During the meeting, there will be an opportunity to ask questions.
Emphasis added.
*** UPDATE ***  DGA…
"Today more Illinois residents lost their jobs and the state's university system took another hit thanks to Bruce Rauner," said DGA Illinois Communications Director Sam Salustro. "Thriving state universities and colleges have the potential to lift a state's economy and secure a family's future, but under Bruce Rauner these institutions are on life support and families are struggling to send their children to school. NEIU's announcement should be a wakeup call for Governor Rauner to show real leadership and pass a budget."
- Posted by Rich Miller 44 Comments


* Kerry Lester compares two noted House independents, Democrat Scott Drury of Highwood and Republican Dave McSweeney of Barrington Hills.
Rep. Drury is characterized as a "sullen and withdrawn" loner, "ostracized" by his colleagues.
* Rep. McSweeney, on the other hand, comes off as a happy warrior…
McSweeney rarely attends [House Republican] caucus meetings at all.

"The governor doesn't need to tell me what to do. And that's what the Republican caucus is, getting marching orders from the governor's office," said McSweeney, an investment specialist.

Instead, McSweeney spends his time trying to drum up votes for the bills he hopes to pass and dining with Democratic lawmakers and close confidants of Madigan. He's made a habit of inviting members of the black caucus, including Democratic state Rep. Christian Mitchell of Chicago, to town hall meetings in his Northwest suburban district.

Unlike Drury's experience, where many of his bills have died in committee, McSweeney said he hasn't been retaliated upon by the GOP, and his bills — which also depend on Democratic leaders calling them for a vote — have tended to pass by wide, bipartisan margins. They include legislation that prohibits local government officials from using taxpayer money for entertainment expenses and limits their travel and meal allowances. A push for a constitutional amendment to eliminate the office of lieutenant governor passed the House in 2013 and 2016, but it hasn't moved further.

McSweeney says he admired the relationship between Republican President Ronald Reagan and Democratic House Speaker Tip O'Neill during the 1980s.

"My mindset down here is to build relationships," McSweeney said. "This political war between the governor and the Democrats, that is not what my constituents want."
Rep. McSweeney recognized early on that even though he was against all tax hikes and was very socially conservative, he had to make friends on the other side of the aisle. That very real effort and his independence from his chamber's party leader and the governor have prompted the Democrats to help/allow him succeed. His bills fly partly as a ding to the Republican Party. But, the dude also really knows how to work a roll call. You can't help but like the man, although he does come in for lots of criticism from his own side of the aisle.
* Related…
* News-Gazette editorial: Downsizing government?: The General Assembly remains awash in acrimony, Democrats and Republicans disagreeing on virtually every issue. Even when they say they agree, they disagree. So give state Rep. David McSweeney, a Republican from Barrington Hills, some credit for hanging in as he continues to push legislation that, at least from the outside, doesn't look like it has much chance of passage.

* EDGE Tax Credit Expires: Critics of the incentives, such as state Rep. David McSweeney, R-Barrington Hills, have said EDGE has the government pick winners and losers and instead, taxes should be decreased across the board for everyone.

* News-Gazette editorial: Let's look under the rock: Illinois taxpayers recently took another unnecessary financial beating in a questionable leasing deal for which they paid far too much in exchange for far too little. The questions surrounding the deal are these: Is this government corruption as usual? Or is it government incompetence as usual? With any luck, answers will be forthcoming. Two legislators — Democratic state Sen. Tom Cullerton and Republican state Rep. David McSweeney — have asked the Legislative Audit Commission to look into the deal and report back.
- Posted by Rich Miller 18 Comments


* I sent this question to all of the active Democratic gubernatorial candidates the other day…
How would you best sum up your campaign's major theme at this moment in time? Please limit your answer to one or two sentences.
* The responses in the order they were received. From Ameya Pawar's campaign…
Unity - Bringing together black, brown, and white communities around a new deal that is fair, just, and equal. Rejecting wealth worship and a plutocracy that pits the rest of us against each other to fight over scraps.
* Bob Daiber's campaign…
The Daiber campaign focuses on supporting the rights of working men and women in All of Illinois. For this reason, we have signed a pledge to say No to right-to-work in Illinois.
* JB Prizker's campaign…
Bruce Rauner is a complete failure as Governor. JB Pritzker has been guided by his progressive values throughout his career in business and work in the community. His record of bringing people together and ability to get things done make JB the right leader to get Illinois back on track.
* Chris Kennedy campaign…
Radical change. Chris Kennedy knows that electing a new governor is only a first step to getting Illinois on the right track. Our state needs to go much further - change the way we fund schools, tax our citizens, and restore confidence in our government.
* Sen. Daniel Biss…
Springfield has looked out for the rich and well-connected, and the rest of us are paying the price. As a former math professor, not a millionaire, I'm going to solve our problems the right way — by making sure that millionaires and billionaires finally pay their fair share to support an economy that creates opportunity in all communities across the state.
Rate 'em.
* Related…
* Question 1: Marijuana legalization

* Question 2: Where would they cut?

* Question 3: Municipal bankruptcy
- Posted by Rich Miller 32 Comments


- Posted by Rich Miller 20 Comments


* From a Tribune editorial entitled "Gerrymandering heads to the U.S. Supreme Court. Will Madigan map-making survive?"…
The justices have agreed to consider whether Wisconsin's State Assembly map violates the 14th amendment's equal protection clause because it was drawn to neutralize the votes of Democrats, depriving them of representation.

The standard proffered by a bipartisan group of voting advocates is a straightforward mathematical calculation. It tallies the number of votes that are "wasted," or assigned to a district in which they could not affect the outcome of an election. A handful of Democrats carved into a Republican stronghold, for example, or the redundant Republicans crowded into a district where half as many would have constituted a majority.

A map drawn without bias would "waste" about the same number of Republican and Democratic votes. The difference, or the "efficiency gap," is a measure of partisan imbalance. The larger the gap, the harder it would be for mapmakers to convince a court that the lines weren't drawn to disenfranchise the opposing party.

That makes sense to us. It made sense to the panel of federal judges whose decision is now before the Supreme Court. We hope the justices are impressed as well.
The editorial implies that Illinois' map-making process is so political that it would be struck down if the Supreme Court whacks Wisconsin's law.
* But the folks who are behind the Wisconsin case say Illinois law wouldn't be in danger…
(A)ccording to Nick Stephanopolous, a law professor and lawyer for Wisconsin Democrats, it would leave Madigan's partisan cartography undisturbed.

"At this point, no, (the Wisconsin case would not affect Illinois), simply because the 'efficiency gap' isn't big enough for Illinois," he said.

Efficiency gap?

That's a measure the Wisconsin judges embraced as a means of determining the political unfairness of the Wisconsin districts.

The judges considered total votes cast statewide in legislative races and used those totals to determine how many individual districts each party would have won if the elections were held on a statewide basis.
If you click here and scroll down, you'll find an explanation of the "efficiency gap." And if you click here, you'll see a list of the 15 state legislative maps which the researches say show significant partisan bias one way or another. Illinois isn't one of them.
* Others disagree…
In 2012, [Illinois] Democratic House candidates got 52 percent of the vote statewide but captured 60 percent of the seats, report political scientist Kent Redfield of the University of Illinois at Springfield and policy consultant Cynthia Canary. In 2014, Democrats got 50.5 percent of the vote and 60 percent of the seats. This year, Madigan's party again won 60 percent of the races.

That's why Illinois Republicans may side with Wisconsin Democrats on one issue: partisan gerrymandering. On Nov. 21, a federal district court struck down Wisconsin's legislative map on the ground that it unfairly favors Republicans, who dominate the Legislature. It had been more than three decades since a federal court invalidated a reapportionment plan for partisan bias.

The Supreme Court ultimately overruled that decision, upholding an Indiana redistricting plan. But the justices affirmed that a gerrymander could be so biased toward one party as to violate the Constitution. The district court said the Wisconsin plan fits the bill.
A few months ago, I attempted to referee this topic between Redfield and the Wisconsin folks. I never really did get to the bottom of it, however. Long story short, they're looking at the same problem in slightly different ways. So, we'll just have to wait and see what happens next.
- Posted by Rich Miller 23 Comments


* Press release…
ILGOP Releases Robocalls Ahead of House Tax Hike Decision
Will House Democrats Back the Madigan Tax Hike Plan?

Over the weekend, NBC Chicago reported that 46 of Mike Madigan's House Democrats plan to vote for a 32 percent income tax hike without reform.

That's a massive pay cut for working families without any property tax relief.

Today, the Illinois Republican Party released robocalls into 19 House districts, highlighting that Madigan's members have a critical choice to make in the coming days. Will they stand up for taxpayers, or do Mike Madigan's bidding and pass a tax hike without reform?
Subscribers know what may happen here, but the one thing you can probably bet on is they won't move that House-crafted tax hike plan to the floor if only 46 Dems support it.
* The robocall…
* Targeted districts…
HD 15 – John D'Amico
HD 17 – Laura Fine
HD 18 – Robyn Gabel
HD 43 – Anna Moeller
HD 44 – Fred Crespo
HD46 – Deb Conroy
HD 55 – Marty Moylan
HD 56 – Michelle Mussman
HD 57 – Elaine Nekritz
HD 59 – Carol Sente
HD 62 – Sam Yingling
HD 72 – Mike Halpin
HD 84 – Stephanie Kifowit
HD 98 – Natalie Manley
HD 96 – Sue Scherer
HD 111 – Dan Beiser
HD 112 – Katie Stuart
HD 116 – Jerry Costello
HD 118 – Brandon Phelps
* Script…
Hi, this is Rachel with a Tax Alert update.

Over the weekend, NBC news reported that 46 Democrats in the Illinois House are committed to voting for a 32 percent income tax increase with no reforms to grow jobs or deliver property tax relief.

House Speaker Mike Madigan's plan to force higher taxes without reforms will be one of the largest tax hikes in state history.

Call Representative Marty Moylan and tell him to oppose the Madigan tax-and-spend plan without reforms.

Tell Representative Moylan, we deserve a balanced budget with a property tax freeze - not another Madigan spending spree aimed at forcing taxes higher without reform.

Paid for by the Illinois Republican Party.
- Posted by Rich Miller 32 Comments


* Sun-Times…
Illinois House Democrats still don't have enough support to pass a Senate revenue bill that includes an income tax hike, or their own tax proposals — and a June 30 budget deadline appears to be a new goal line for a budget plan with just two days left in the regular session calendar.

While adjournment is scheduled for Wednesday at midnight, the new fiscal year begins on July 1. The state hasn't had a full budget since July 1, 2015, amid a political war between Gov. Bruce Rauner and Illinois House Speaker Michael Madigan. And a partial budget expired on Jan. 1, leaving public universities and social service agencies struggling to survive.

"The first of July is the real deadline for having a budget in place so the state can continue to operate," said State Rep. Greg Harris, D-Chicago, who is serving as Madigan's chief budget negotiator.

It becomes more difficult to pass legislation on June 1 when a three-fifths majority is needed. The governor has criticized the Senate revenue plan, and there aren't enough Democrats to override him if he vetoed it.
When the House Dems start talking about June 30th, pay attention. It could be a long summer.
* AP…
Illinois, which hasn't had an annual budget since summer 2015 - the longest of any state in modern history - is running a deficit of as much as $6 billion and sitting on a $14.5 billion pile of overdue bills.
We're so unique!
* Tribune…
As negotiations continued late into the evening Monday, questions remain about whether the House will choose to take up an annual budget at all, or if there will be a repeat of last year when the chambers couldn't agree on a plan to send to Rauner. Negotiations continued throughout June, resulting in a temporary budget that ensured schools opened on time and universities and social services were funded for six months.

"What good is it to pass a budget that doesn't go anywhere?" said Rep. Fred Crespo, D-Hoffman Estates, who serves as an appropriations chairman. "Really the endgame should be, 'How do we keep government running to help the people we are supposed to help?' Whether it's at 100 percent, it's at 80 percent, it's at 50 percent. To me, that's the fundamental question that we are losing sight of. We are spending a lot of time on a budget that might not happen."

Crespo noted that even if Democrats did pass a budget, they would not be able to override a possible Rauner veto. That would take 71 votes, but there are just 67 Democratic members. He said if lawmakers blow past the Wednesday deadline, it'd put pressure on Republicans to cut a deal.

Rep. Greg Harris, who serves as a budget point man for House Speaker Michael Madigan, said Democrats will "cross that bridge as we come to it."

"The governor, as he has shown, has no concern about just vetoing any budget and driving the state further into ruin. That's what he's done in the past, but we can't fail to do our jobs and send him a responsible budget," Harris said.
Keep in mind that Gov. Rauner has repeatedly said he will veto a stopgap unless he gets a permanent property tax freeze. Maybe they'll just wind up calling it something else. As noted above, it could be a while before we know.
Keep a close eye on our live coverage post for constant updates.
- Posted by Rich Miller 21 Comments


* Tribune…
Democrats and Republicans did find a few areas of agreement Monday. They teamed up to overwhelmingly approve legislation that would bring automatic voter registration to Illinois, and members of both parties voted in favor of a measure that would allow judges to give repeat gun offenders longer sentences.

The measure is backed by Mayor Rahm Emanuel and Chicago police Superintendent Eddie Johnson, and was negotiated with the help of House Republican leader Jim Durkin and Democratic Sen. Kwame Raoul. Instead of a range of three to 14 years, judges would hand out sentences in the range of seven to 14 years. If they wanted to depart from that guideline, they would have to explain why.

Opponents, including members of the Black Caucus, argued there is no proof tougher sentences do anything to drive down crime, saying the proposal would lead to a spike in arrests of African-American and Latino men. Durkin sought to address the concerns of some lawmakers by offering changes that establish a trial program for first-time, nonviolent offenders charged with certain weapons crimes that is focused on rehabilitation and keeping them out of the prison system. He also changed the bill so it would expire in five years, at which point lawmakers would have to review its effectiveness.

While the legislation passed on a vote of 70-41, Rep. Thaddeus Jones, D-Calumet City, used a procedural maneuver to keep the legislation from going back to the Senate for final approval. Durkin said he hopes to overturn that motion Tuesday.
* Here's the relevant rule…
Chicago's gun penalty bill passed the House, but an opponent used a "motion to reconsider" to block it. Here's the relevant House Rule: pic.twitter.com/0dOjLq12KI

— Brian Mackey (@BrianMackey) May 29, 2017
Usually when you sponsor a controversial bill, you line up someone to file a "friendly" motion to reconsider before the opposition can do so. That obviously didn't happen and I'm not sure why.
* Sun-Times…
According to State Rep. LaShawn Ford, D-Chicago, the motion was filed to allow for further negotiation on the bill. Ford, who voted yes for the bill, said Jones wants a trailer bill attached, with additional criminal justice reforms that were discussed in negotiations. […]

Durkin said additional requests aren't a condition of the bill as passed.

"The bill has already been vetted, super vetted in committee and also on the floor, and this is a priority right now for the city of Chicago, the mayor and the superintendent," Durkin said. "But this is the kind of stuff we expect, unfortunately, in the weaning hours of the Legislature. It's just gamesmanship."
* WTTW…
"We believe this bill is incomplete in its current formation. We are seeking to work on a holistic solution that includes revenue to impacted communities that will fully fund violence prevention programs, enhance public educational opportunities, job programs while also allowing police officers the tools needed to properly identify gun offenders," Rep. Thaddeus Jones, D-Calumet City, said in a statement. "We believe gun violence should be declared a public health crisis and we will review the timetable on the hold and will work for a better solution. This bill does not provide that solution." […]

In a bid to make the measure more palatable to critics who say that it will drive up the state's prison population at a time the state can ill-afford it (and as Gov. Bruce Rauner is seeking to reduce the inmate population by 25 percent by 2025), the plan reduces the felony charge for non-violent vehicle burglary, and – at prosecutors' discretion – allows first-time, non-violent offenders under the age of 20 to enter a diversion program instead of prison.

Black Caucus members fought stridently against the plan during the lengthy, and sometimes contentious, debate on Senate Bill 1722: Rep. LaShawn Ford, D-Chicago, said that it's the wrong time given a federal investigation that showed a pattern of excessive force by CPD, Rep. Rita Mayfield, D-Waukegan, challenged why the measure applies statewide if it's aimed at Chicago crime and Rep. Litesa Wallace, D-Rockford, said that the focus should instead be on resources to hire more police who can catch shooters as "if people are certain they are not going to be caught … they will run amok."

"It just goes to show you how racist all of this is," said Rep. Mary Flowers, D-Chicago, as she argued that Chicago's violence stems from systemic racism that has kept African-Americans in a cycle of poverty.
Chicago Police Superintendent Eddie Johnson did himself no favors by over-promising during recent House committee testimony. Johnson pledged that the legislation would cut violent crime in half. Black Caucus members noted that six gun crime penalty enhancements passed in recent years haven't stemmed the tide.
*** UPDATE ***  The hold has been removed.
- Posted by Rich Miller 8 Comments


* Press release…
Despite more than 1,000 cases pending with an average wait time of four years to hear a discrimination case, the Illinois House voted [yesterday] to block the consolidation of the Illinois Human Rights Commission (HRC) into the Illinois Department of Human Rights (DHR).

"Madigan's legislators have once again put politics ahead of policy blocking this consolidation," Rauner spokeswoman Eleni Demertzis said. "Justice delayed is justice denied, and Madigan's legislators want to maintain the current broken system that can delay justice for years."

Governor Rauner issued Executive Order 17-02 to expedite anti-discrimination cases brought to the HRC. The commission currently has a backlog of more than 1,000 cases. Due to the current structure, the average case takes more than four years from the initial filing to case resolution, with some languishing for more than seven years.

"The Illinois Human Rights Commission has a pending caseload of 1,000 Requests for Review with some serious cases lasting as long as 7 years within our system," said HRC Chair Rose Mary Bombela-Tobias. "By blocking the Executive Order, the General Assembly has blocked a plan that would have allowed us to effectively utilize our shared resources by eliminating administrative redundancies between the Department and Commission, focusing resources on the backlog while keeping the independence and integrity of the system."​

The two agencies will be able to both investigate and address legal proceedings more quickly through consolidation. The consolidation would also preserve the independent appellate process set by the current statute by maintaining the functions of the Senate-confirmed HRC Commissioners. The City of Chicago, New York City, New Jersey, Massachusetts, Indiana, Michigan, Ohio and Minnesota all use a similar structure. Additionally, this consolidation will save taxpayers half a million dollars in the first year alone.

"Blocking the Governor's consolidation of DHR and HRC will continue to delay the independent investigative and adjudicatory process under the Illinois Human Rights Act and fails to offer any solutions to reduce the unacceptable backlog at the Commission," said IDHR Acting Director Janice Glenn. "Maintaining the status quo of backlog and inefficiencies is a disservice to those who are seeking timely justice from unlawful discrimination."

The Rauner Administration shared its intent to consolidate HRC into DHR with all four legislative caucuses, including the House Democrat Caucus, for feedback before issuing the Executive Order. House Democrats never addressed any concerns the caucus has now raised.
- Posted by Rich Miller 17 Comments