* Statement from Mayor Lori Lightfoot…
I strongly support a gaming bill that directs a new casino and dollars to the city of Chicago. However, I oppose the inclusion of a provision that would open up sports wagering in venues like Soldier Field. Such a proposal has the potential to undermine the viability of any Chicago-based casino through the diversion of customers and revenue from a casino. Because the impact of sports wagering in stadiums has not been fully vetted or analyzed, I cannot support the bill in its current form and urge the deletion of this stadium-betting provision.
Essentially what's she's saying here is that Soldier Field and United Center sports betting could eat into Chicago casino profits.
I'm hearing that the sports betting provision could be stripped out of the gaming bill this weekend. Stay tuned.
* A source very close to the talks says the House will vote on a budget tonight and the vote will be bipartisan. So, it appears there's been some movement.
The governor has been convening talks for hours this evening. His people were adamant about trying to break the logjam that has been developing for several days.
*** UPDATE 1 *** Hmm…
New: Source close to budget negotiations expects bipartisan votes in House on the budget tonight. Everything else (sports betting, capital infrastructure plan, gambling expansion) will wait until tomorrow.

Senate could vote on abortion tonight. FOID bill isn't happening.

— Mark Maxwell (@WCIA3Mark) June 1, 2019
The Senate has been wanting to wait until after the budget vote to do the RHA so as not to enflame passions. I told subscribers earlier about the Fix the FOID bill being stuck.
Also, Mayor Lightfoot appears to have a problem with the gaming bill, but I've been having trouble getting an answer out of her people.
And if the House does wait until tomorrow to do the capital bill taxes, that's going to mean 71 votes. And those aren't easy votes by any stretch of the imagination.
*** UPDATE 2 *** 9:33 pm The Illinois Manufacturers Association says it is now supporting the state operating budget and the capital budget. The governor and the House Republican Leader were able to come to an agreement with the other leaders on concessions.
Meanwhile, Gov. Pritzker was invited to attend the Senate Republican caucus meeting tonight. He walked in at about 9:20 or so.
The House is now debating the budget.
*** UPDATE 3 *** 9:33 pm The House passed the budget (SB262) 83-35.
*** UPDATE 4 *** 9:57 pm Kind of a matter of fact statement from Speaker Madigan…
Tonight, the House approved a bipartisan budget bill in coordination with Leader Durkin. The work of this House is not done. We have adjourned for tonight and will return tomorrow to continue working in a bipartisan manner to finish the remaining work of the General Assembly
* I've been telling subscribers about these meetings for a few hours…
Lots of motion between top leaders at this late hour. @GovPritzker is trying to land the, uh… land the tuna. He's meeting House Republican Leader Jim Durkin to try and resolve some differences. Still possible we see some late action on sports betting, budget bills tonight.

— Mark Maxwell (@WCIA3Mark) June 1, 2019
"I can't predict whether tonight is going to be the end of it, but we're going to work hard to try to find a resolution on budget, and also capital."

Me: Have you extended your hotel?

Durkin chuckles. Pauses. As he walks off: "I'll be sleeping in Washington Park."

— Brian Mackey (@BrianMackey) June 1, 2019
There have been non-stop meetings among the leaders for several hours now.

— Tahman Bradley (@tahmanbradley) June 1, 2019
President John Cullerton in the governor's office now… https://t.co/X8axmlH8Kj

— Amanda Vinicky (@AmandaVinicky) June 1, 2019
Cullerton has been bouncing around all over the place.
*** UPDATE *** He's been pushing these ideas for at least a week now…
House Republican Leader Jim Durkin expresses optimism after leaving @GovPritzker's office, says he finally feels the Democrats are willing to take action on these business reforms. pic.twitter.com/FdfRO552Wb

— Mark Maxwell (@WCIA3Mark) June 1, 2019
House GOP Leader Jim Durkin, exiting the governor's office, says he thinks Pritzker and Democrats finally are taking Republicans' demands for pro-business reforms seriously, if they want GOP votes on taxes/revenue. pic.twitter.com/HWaLKHiIWm

— Amanda Vinicky (@AmandaVinicky) June 1, 2019
* Greg Hinz…
The state of Illinois potentially will be on the hook for more than $5 billion in equity and financing costs if a provision to speed construction of a megaproject near Soldier Field is approved by the General Assembly in this weekend's extended spring session.

Elements of the deal for the huge One Central project have been in the discussion stage for weeks, with Bob Dunn of Landmark Development meeting with House Speaker Mike Madigan, Deputy Gov. Dan Hynes and other officials.

But actual language didn't surface until Friday afternoon, when it was included in a must-pass budget implementation bill.

(If you want to read it for yourself, click here and go to pages 876, 904, 922, 941 and 978.)

The provisions would create a new Civic Transit and Infrastructure Fund. It would collect and disburse tax funds owed to a private developer "pursuant to the public private partnership entered into by the public agency on behalf of the state of Illinois to the Public-Private Partnership for Civic and Transit Infrastructure Project Act enacted in this amendatory act." […]

Under the bill, the state would begin to pay $200 million a year to the private developer starting in 2023—presuming a contract is negotiated, and the big transit station that Dunn promises is operational then. The state would give him $200 million that year, with annual payments rising to $445 million in 2045.
*** UPDATE *** Pritzker administration…
There is no cost to the state in the BIMP. The Governor has not committed to developing this project. This allows Landmark to explore whether it's viable for them to get federal backing. If they can, then we could consider whether or not we would like to do an agreement.

None of these provisions go into effect unless and until a separate agreement is reached. The BIMP allows GOMB to negotiate a P3 with Landmark and gives Landmark time to apply for federal RIFF funding in the event a deal can be reached in the future.
* Except where otherwise noted, none of these bills have yet to clear either chamber as of 3:26 this afternoon. List adapted from a Senate Democratic e-mail…
SB690 — Revenue for vertical (universities, etc) construction

HB3096 — Revenue bill for roads, bridges, transit (horizontal) construction

SB689 — FY20 operating revenue

HB142 — Bond authorization

SB1814 — Budget Implementation Act (BIMP)

HB62 — Construction appropriations/spending

SB262 — FY20 operating appropriations/spending

SB690 — Gaming/sports betting

SB75 — Comprehensive anti-sexual harassment proposal

SB25 — Reproductive Health Act (passed House, pending in Senate)

Added: SB1966 — Fix the FOID (passed House, pending in Senate)
* Ugh…
Session Saturday and Sunday pic.twitter.com/Hcd4saGSv2

— Hannah Meisel (@hannahmeisel) May 31, 2019
…Adding… I asked the Senate President's spokesperson if the Senate will be in session this weekend and his response was: "Let's see how today goes."
*** UPDATE 1 *** The end of session party is proceeding as planned.
*** UPDATE 2 *** Sun-Times…
Capitol insiders speculated whether the overtime demand is a Madigan power play. If Pritzker had attained all his legislative priorities by the end of Friday, the rookie governor would be largely credited with the wins.

Legislators have complained that there was little time to digest comprehensive capital and budget bills — and negotiations were vastly done behind-the-scenes. House Republicans on Friday blasted out a statement accusing Democrats of increasing spending and neglecting any of their preferred job reforms. Republicans said the reforms were taken out on Friday morning, prompting the statement.

It appears Madigan, too, is trying to force some Republicans to vote on the budget and capital plan, to show that it is "bipartisan." Republicans had asked for a real estate tax and the $1 tax on cigarettes to be removed from the capital plan. On Friday they learned the taxes were still on the table, and their requested reforms were stripped out.

Asked about the budget negotiation process during a House Executive Committee, House Majority Leader Greg Harris, D-Chicago, noted there was "less agreement than there was in the past."

"Some things we agreed upon, some things we did not," Harris said of negotiations with Republicans.
* Democrats voting "No" included Reps. Crespo, Deluca, Edly-Allen, Flowers, Moylan, Reitz and Scherer. Rep. Lilly voted "Present." Rep. Ammons did not vote. Republicans voting "Yes" included Reps. Parkhurst, Skillicorn and Welter…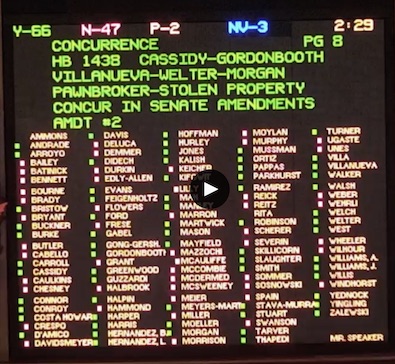 …Adding… GOP Rep. Parkhurst…
Today the House voted 66-47 with 2 Present to legalize and regulate the adult use of cannabis. Below is a statement from State Representative Lindsay Parkhurst (R-Kankakee):

"The 79th District is split on the issue of the legalization of recreational use of cannabis for adults. For months, I've been meeting with advocates in support and opposition and studied the issue at length. Both sides of the argument have merit.

However, I concluded prohibition is not working and with the current Governor and legislature, it is clear our state is already on a path for legalizing adult use cannabis.

So, I was one of a few Republicans to take a seat at the table to push for and obtain important changes to improve the bill and protect our state through stronger public safety measures, more taxpayer and workplace protections, local control and revenue, and commitment to mental health and substance abuse services.

Will there be problems? Absolutely. But, we face many of those same problems now and we are facing them without appropriate regulation, resources, or revenue.

Cannabis prohibition is simply no longer working. The illicit market is too large to successfully repress. The choice is not whether to make cannabis available, but whether its production and use should be legal and regulated or illegal and unregulated.

To be sure, Cannabis is not harmless - Cannabis Use Disorder and use by minors are real and existing problems - this is why we need legislation to protect public health and to protect our communities through regulation.

This is why I voted yes."
* Think Big…
Think Big Illinois Executive Director Quentin Fulks released the following statement today after the House passed marijuana legalization, sending it to Governor Pritzker to be signed into law:

"Today's passage of marijuana legalization in the Illinois House of Representatives represents critical progress toward making Illinois a more just, more safe, and more equitable place for everyone who calls it home. Think Big Illinois applauds the legislators in both chambers who voted to support this legislation that will help end the era of mass incarceration, bring economic opportunity to our communities, and generate desperately needed revenue for our state.

"We look forward to Governor Pritzker signing this bill into law, and seeing how marijuana legalization will help our state and its communities in the years to come."
All other releases will be posted on our live coverage post.
State Rep. Tony McCombie, R-Savanna, has signed on as co-sponsor of a bill that intends to kick Chicago out of Illinois and make it the 51st state. […]

McCombie is a chairperson of the House Republican Organization's political action committee, which raises money for House campaigns.

According to the Illinois State Board of Elections, HRO has accepted millions in donations from donors and corporations in the city of Chicago.

"Those dollars were before my time as HRO chairman," McCombie said. "The majority of HRO are downstate members. We as a state, should be collectively working together. I hope that's why (Chicago) donors are investing in HRO."
Illinoisans should collectively work together, but she is a co-sponsor of a proposal to kick Chicago out of Illinois and she wants Chicago donors to give money to the campaign fund she chairs so they can spend it on Downstaters, some of whom want to kick Chicago out of Illinois.
Am I reading that right?
* BND…
Since the start of 2019, 22 Illinois State Police troopers have had their patrol vehicles struck by drivers who've disobeyed Scott's Law. With Senate Bill 1862 passing both chambers, violators will now receive steeper fines.

The piece cleared the Senate Thursday evening, and in a news release on Friday Gov. J.B. Pritzker commended the bipartisan effort behind the bill and said he looks forward to signing the legislation.

"Our state troopers and emergency responders risk their lives to protect us, and I applaud the General Assembly for taking action to help keep them safe." Pritzker said in the statement.

Drivers who fail to reduce their speed or move over when approaching stationary vehicles on the side of the road could be fined at least $500 for a first offense. The fine and fee increases to at least $1,000 for repeat offenses. The maximum fine for any offense is $10,000.
* Squaring the Center, or something…
Illinois lawmakers are now one vote away from sending legislation to Gov. J.B. Pritzker's desk that would mandate a minimum $40,000 annual salary for the state's teachers. Opponents say it will result in property tax hikes, particularly in downstate school districts.

Sen. Andy Manar, D-Bunker Hill, ushered Senate Bill 10 out of the Senate last month. House Bill 2078 was amended to match Manar's earlier bill that would require the $40,000 minimum salary by 2023.

The legislation passed along partisan lines Wednesday.

"It would establish a minimum teacher salary in the state beginning in the 2020 school year of just over $32,000 and phase that up over the next four years," Manar said.

Sen. Jason Barickman, R-Bloomington, says the law would likely mean rural districts would have to raise property taxes to pay for the salary increases.
* Press release…
Both chambers of the Illinois legislature have now approved legislation filed by State Sen. John Curran (R-Downers Grove) that will create stringent rules for ethylene oxide use and emissions, and shut down failing facilities.

"This bill strengthens the Illinois EPA seal order that sealed Sterigenics' ethylene oxide chambers, and it creates the strongest ethylene oxide sterilization regulations in the nation," said Sen. Curran. "I would like to thank Leader Durkin for his help in evolving this bill and passing it through the House."

Senate Bill 1852 requires ethylene oxide sterilization facilities to capture 100% of the ethylene oxide emissions. Faculties would be required to limit emissions to the atmosphere by 99.9% or to 0.2 parts per million. The legislation also requires any company under a seal order to get certification from every customer and/or supplier that ethylene oxide is the only method to sterilize their product.

The legislation was filed in response to the ongoing Sterigenics crisis in Willowbrook. This legislation, along with several others Curran has passed through the General Assembly, are designed to protect the public from the hidden dangers of the deadly gas.

"These new standards will make sure that facilities are operating in a safe manner, or they will be shut down, and it also furthers our efforts to keep Sterigenics shut down," said Senator Curran.

The legislation passed the Senate unanimously on May 30th and is now headed to the Governor for his signature.
* Related…
* Bill with changes spurred by Chicago Public Schools student sexual abuse scandal headed to Gov. Pritzker: The measure, which emerged after nearly a year of negotiations, dials back more robust proposals. For example, lawmakers dropped a provision that would make it a crime for school employees to have sexual contact with a student regardless of the student's age.
* The House Republicans have been privately and publicly grumbling for days about being shut out of talks…
House Republican Deputy Minority Leader Tom Demmer released the following statement on the status of end of session negotiations:

"Our caucus is the only caucus that has been clear about our priorities for weeks. We asked for a balanced budget that addresses our unpaid bills and pension liability, and we advocated for meaningful pro-jobs reforms that our state so desperately needs. Earlier this week, there was an agreement on a path forward to address all of the issues before us. Unfortunately, Democrats withheld information, added additional taxes and rejected any attempts to grow our economy. With less than 12 hours to go, the Democrats are expecting the General Assembly to pass seven never-before-seen bills that spend more than $80 billion dollars. Illinois taxpayers deserve better."
I've asked the other three caucuses for a response.
* Pastor Corey Musgrave of the New Beginnings church in Fairfield led the House in its daily prayer today at the invite of Rep. Darren Bailey (R-Xenia), an Eastern Bloc member. Musgrave began by thanking his maker for the "abundance of natural resources you have entrusted us with in the south," and the "industrial capacity in the north."
And then he pivoted to the House's passage of the Reproductive Health Act this week, saying Illinois "has decided to go its own way apart from You."
* His conclusion…
So, God, we have made our appeals to the leaders of Illinois this week on behalf of those innocent babies who do not yet have a voice. We have been a voice for those who cannot speak for themselves as You have commanded us. Those appeals were denied, but we have one final appeal left and that is to the courts of Heaven.

God Almighty, I make an appeal to Heaven today, to You the perfect judge, the One who presides over Heaven's court.

I ask you to rise up, oh God, and judge Illinois for the sanctioned destruction of the innocent unborn. For when Your judgements are in this state, the inhabitants of Illinois learn righteousness. In this House I pray for justice to roll down like water and righteousness like a mighty river. In Your judgement I pray that You would remember mercy for we know that You, oh God, do not want anyone to be destroyed.

I ask this in the name of Your son, the one who died for a sinner like me, the one who was appointed to judge the living and the dead. In the name of Jesus Christ I pray. Amen.
* Video…
* Daily Herald…
Before the vote [on the graduated income tax constitutional amendment], "the governor personally reached out and said 'it's a priority of mine … I want to understand why you are in opposition to this,'" [Jonathan Carroll, D-Northbrook] recounted, adding he told Pritzker, "If we're going to fix how we tax, it has to start with local property taxes."

Likewise, [Rep. Sam Yingling, D-Grayslake], who said he'd vote against the graduated tax, also received Pritzker time.

"The governor was very proactive and engaging in a number of conversations," said Yingling, who also pushed property tax relief. "The governor realizes this is a problem that hurts middle-class families and has to be addressed head-on."

The result? Unenthused Democrats, including Carroll, Yingling, Rep. Daniel Didech of Buffalo Grove — who initially told the Daily Herald he opposed a graduated tax — and Rep. Stephanie Kifowit of Oswego, who took no position, voted for the constitutional amendment Monday, helping to pass it in a 73-44 vote. Pritzker created a Property Tax Relief Task Force that is required to report back by Dec. 31 on how to reduce taxes. Members will include legislators and Pritzker staffers.
Rep. Carroll sponsored the legislation creating that task force, but it stalled yesterday when Republicans complained that it didn't guarantee bipartisan membership. An amendment was filed this morning which allows all four legislative leaders to appoint task force members.
Yingling is a co-sponsor as are Reps. Stephanie Kifowit and Bob Morgan, who voted against the income tax rates bill yesterday.
* But is another task force really gonna solve anything? Here's that Third Center Square from the Sun site…
"We had a task force that was created last General Assembly that had a couple of subject matter hearings, but that was the extent of it," said state Rep. Joe Sosnowski, R-Rockford. "I'm just curious what this means by having teeth in it because I don't see anything within the wording of the task force that dictates or mandates any particular thing to happen."

State Rep. Margo McDermed said she wasn't impressed.

"I have no confidence whatsoever that anything will change other than the folks that like the status quo the way it is will destroy your hopes," she told Carroll.

Carroll said the governor had reassured him that changing the way the state taxes residents must change.

Illinois has created task forces or commissions of one form or another to address property taxes in 1975, 1982, 1998, 2009, and 2018, according to an Illinois Department of Revenue report and comments from Sosnowski.
* Related…
* House OK, sends to Senate rates for graduated income tax: But House Republican Leader Jim Durkin, of Western Springs, said he was proud to be the "party of no" on some of the state's previously passed unbalanced budgets. He said "history will not look kindly" on the General Assembly for the changes to the tax code and the "anti-business agenda" he said Democrats were pushing in the past four months.

* Springfield scramble: Crunch time for legislators on pot, gaming, budget, other issues: During debate, State Rep. C.D. Davidsmeyer, R-Jacksonville, likened taxing the wealthy to the wild: "That's what hyenas do to animals in the wild." "They divide them, they sanction them up and they after after the small group because they're easier to attack," Davidsmeyer said. But bill sponsor State Rep. Mike Zalewski, D-Riverside, championed it as a way for voters to have a say in a historic way: "I would suggest stability is better than what we have right now."

* With a Full Slate, Time is Running Out for Illinois Lawmakers: Democrats say passing the new rate table this early will help to assure voters as they decide whether to back the constitutional change. … But Republicans say these are merely "teaser" rates during what's sure to be a hard-fought campaign on the amendment, which are sure to spike in the future. "This is just a poorly structured package. It gives no guarantees to the taxpayers. It's a huge tax increase across the board," said Rep. David McSweeney, R-Barrington Hills.

* Illinois House OKs graduated tax rate schedule: Rep. Steven Reick, R-Woodstock, said a tax hike focused on the wealthy could lead to problems if there is a downturn in the economy that affects wealthy earners. "When their income goes down the drop is going to be precipitous," he said. Democrats, though, said the flat tax system is unfair to lower and middle incomes. Rep. Michael Halpin, D-Rock Island, said incomes for the wealthy have grown under the flat tax while others have stagnated. "Who's done better under the flat tax? The top 1 percent," he said. "So ask yourself who is being protected by the flat tax system."
*** UPDATE 1 *** The operating budget bill has surfaced. Click here.
The operating budget will begin in the House and the capital budget will start in the Senate.
*** UPDATE 2 *** The gaming/sports betting bill has been filed. Click here to read it. Click here to read a summary. It'll be heard today at 1:30 in House Exec.
*** UPDATE 3 *** The horizontal capital bill is here.
*** UPDATE 4 *** From the Journey to the Center of the Square outfit…
A source with knowledge of the spending plan in SB262 said it increases funding for K-12 education to $375 million, which is $25 million more than is required by the evidence-based funding formula lawmakers implemented several years ago.

Early childhood education will get a $50 million increase, the source said. For higher education, including community colleges, there are increases ranging from 3 to 9 percent above the current fiscal year.

The spending plan includes a 9 percent increase for the Department on Aging, a 10 percent increase for the Department of Children and Family Services, a 10 percent increase for public health programs that focus on breast cancer screening, vaccines and immunizations, lead screening and safety net hospitals.

The Illinois Department of Corrections would get 7.4 percent more to help comply with various consent decrees.

The Illinois Department of Transportation would get a 20 percent increase from the current fiscal year to increase its headcount and administer capital projects.
*** UPDATE 5 *** The vertical capital bill is here.
[ *** End Of Updates *** ]
* Mark Brown…
Chicago would get a new mega-casino with the proceeds earmarked to pay for police and fire pensions under a mammoth gambling expansion deal in the final stages of negotiation, a key legislator said Thursday.

State Sen. Terry Link, D-Vernon Hills, the Senate sponsor of the bill, said the Chicago casino would allow for 4,000 gaming positions, making it more than three times larger than any casino currently operating in Illinois.

Link said it would be part of a broader deal creating six new casinos across the state and bringing slot machines to three horse racing tracks, essentially turning them into casinos as well.

In addition, the nearly 7,000 businesses that offer video gambling would be allowed to add one machine per establishment — in itself the equivalent of almost six more casinos.

The Chicago casino would not be city-owned, the oft-stated preference of previous mayors, but the city would get a better deal than other municipalities that host casinos, receiving 33 percent of the adjusted gross receipts, Link said. Other communities only get 5 percent.
* From that Journey to the Center of the Square site…
Big items left unresolved late Thursday included how to pay for a proposed $41 billion, six-year infrastructure plan. State Sen. Martin Sandoval, D-Chicago, said he wasn't ready to reveal details about how it would be funded. However, he said that motorists can expect to see the state's gas tax double.

"There's full agreement the 19 cent gas tax indexed is part of the revenue stream that is needed," Sandoval said. […]

State Sen. Jim Oberweis, R-Sugar Grove, said he was told a proposed $1 surcharge on ride-sharing services was nixed. Oberweis also said one plan to fund the state budget may have been dropped.

"No bag tax at this point, so a few of these things are supposed, but you know the problem is by [Friday] these things could change," Oberweis said.
I kid that company and its constantly changing name, but they do have some good reporters and they put out a lot of content.
* WTTW…
Key budget negotiators say the fiscal year 2020 spending plan, which will take effect July 1, is not banking on the passage of gambling; revenues would instead be key to a large capital program.

Nor, they say, does the budget depend on Illinois legalizing marijuana, though that is close to passage: Late Thursday night a House committee advanced a broad package that would allow Illinois residents ages 21 and older to purchase and possess up to 30 grams of marijuana come January.
* The working group meetings that have been tackling these issues have become secret committee hearings and it's getting to be a bit much…
Gov. J.B. Pritzker is counting on a host of new revenue streams to fund the budget he proposed to the General Assembly. Those include higher taxes on cigarettes and other tobacco products, higher taxes on video gambling machines, a new plastic shopping bag tax, and a new assessment on managed care organizations that manage the state's Medicaid program.

But as lawmakers head into the final scheduled day of the 2019 spring session today, none of those bills has been passed. In fact, no one outside the General Assembly has even seen a final draft of them.

Nor, in fact, have they seen a final version of a budget bill, the multi-year capital improvements plan or a gaming bill that would include the legalized sports betting that Pritzker has proposed.

"Stay tuned tomorrow," Rep. Mike Zalewski, D-Riverside, chairman of the House Revenue and Finance Committee, said in an interview late Thursday evening.
Private negotiations are essential to legislating. The working groups go way beyond that, however.
* Several sources confirmed this morning that AFSCME and state negotiators reached an agreement in the wee hours of the night. I'll update this post with press releases, etc. in a bit. Until then, here's Council 31 Executive Director Roberta Lynch shaking hands with CMS chief negotiator Robb Craddock…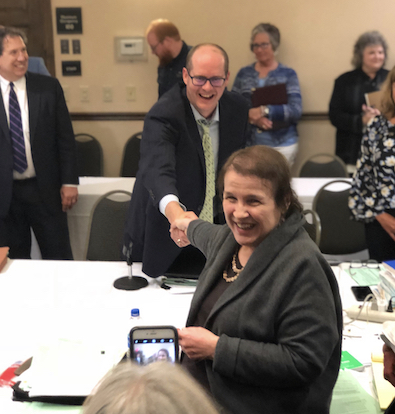 *** UPDATE *** Press release…
Early this morning, Governor JB Pritzker's administration and AFSCME Council 31—the largest union of Illinois state employees—reached a tentative agreement on a new contract.

As always, terms will be released after union members have the opportunity to review and vote on the tentative agreement at worksite ratification meetings to be scheduled in the coming days.

"With this tentative agreement, Illinois has turned another important page from years of brutal ideological warfare," said Governor JB Pritzker. "Instead, this agreement respects the valuable contributions our workers make to the state and treats all our taxpayers fairly, thanks to months of negotiations that were constructive and frank. This agreement will be accommodated in the budget that the General Assembly will vote on today, and even more importantly, it is consistent with my long-term plans to stabilize Illinois' finances."

"This agreement reflects a fresh start for public service workers in state government," AFSCME Council 31 Executive Director Roberta Lynch said. "For four years, union members did their jobs and served their communities despite Bruce Rauner's chaos, hostility and constant attacks. In the Pritzker administration, AFSCME members have an employer who understands the importance of their work, respects their rights and is a constructive partner in the collective bargaining process."

AFSCME represents nearly 40,000 state employees who protect kids from abuse and neglect, care for veterans and people with disabilities, keep prisons safe, maintain state parks, help struggling families and provide countless other vital public services in communities across the state.
* Sun-Times…
And after clearing changes to a recreational cannabis legalization measure, the Illinois House must debate it on the floor. Facing opposition, bill sponsors scaled back expungement provisions in the measure and narrowed down home grow for just medical marijuana patients, among other changes.

The Illinois House planned to take up the cannabis measure at a Thursday night committee meeting, to clear it for a vote on Friday. Cook County State's Attorney Kim Foxx, who helped to shape the expungement changes, came to Springfield to testify on the measure.

The original language would have automatically expunged an estimated 800,000 convictions. The revised language means those with convictions for cannabis possession convictions under 30 grams can get pardoned by the governor. States attorneys would then be able to petition the court to expunge the record. A judge would direct law enforcement agencies and county clerks to clear their record.

While the bill sponsor remained optimistic about its passage, House Democrats met during a lengthy caucus about the bill earlier Thursday. It's unclear whether there's enough support, so a close vote is anticipated, sources said. But Illinois House Speaker Mike Madigan will likely play a big role in helping Gov. J.B. Pritzker secure enough votes for passage since it's considered one of the governor's key legislative priorities this session.
Way too many people out there spiked the ball in the endzone after the Senate passed the legalization bill. This ain't over until it's over.
* Tribune…
Among those testifying in support of the bill at Thursday's committee hearing was Cook County State's Attorney Kim Foxx, a proponent of the bill's expungement provisions.

"This is not simply a measure of social justice and equity; it is a public safety issue," Foxx said. Clearing people's records of marijuana convictions would help them gain access to educational and job opportunities and help prevent them from committing future crimes, she said.

Opponents have raised concerns that the bill will increase teen use of marijuana and result in more people driving while high, and have also cited health concerns, among other problems.

Ahead of the committee vote, supporters said privately that they expected a close vote on the House floor due to concerns from African American lawmakers that provisions to provide expungement were more complicated than had originally been envisioned.
* Foxx's testimony was designed to address some of the concerns expressed by African-American House members from the Chicago area…
It's a matter of "going back and writing the wrongs," said Cook County State's Attorney Kim Foxx, who was in Springfield to testify in favor of the measure (House Bill 1438) and had worked to negotiate the revised clemency process.

"Even a misdemeanor conviction has longstanding collateral consequences," Foxx said, like employment and housing obstacles. "We must be responsible about legalization. I believe this bill does that. And I believe that the components related to expungements is the best that we could hope for, for the people of the state of Illinois."
As I tweeted last night, appointed freshman Rep. Kam Buckner (D-Chicago) hinted he may not be a "Yes" when the bill is brought up today.
* Mark Maxwell tweeted during the hearing last night. Here's a couple of them…
GOP Rep. David Welter says "We were respected. We were engaged with." He gives credit to @GovPritzker for including Republicans in a bipartisan process to legalize marijuana.

— Mark Maxwell (@WCIA3Mark) May 31, 2019
On expungements, Sheriff Campbell acknowledges "the language changes were helpful," but he still opposes the plan to legalize cannabis.

"If this bill passes, there will be a Supreme Court challenge for sure" because they can't change the way K9s smell for drugs.

— Mark Maxwell (@WCIA3Mark) May 31, 2019
A Supreme Court case over K9s? Seriously?
* And the News-Gazette seems to bemoan the failure of alcohol prohibition in an editorial today…
People, of course, rightly complain that consuming alcoholic beverages is no better. But alcohol is a reality that this country has tried — and failed — to address. Pritzker now intends to double down on the mortal threat posed by these twin, soon-to-be-legal intoxicants.

How ironic it is that Pritzker, who repeatedly cited the serious difficulties posed by his mother's alcoholism, now celebrates dropping this time bomb into the lives of the people of Illinois.
Yeah, bring his mom into it. Lovely.
* The House brought the bill to the floor this morning and the Republicans requested a one-hour caucus. Watch the live coverage post for instant updates today.
* Mr. Waters said it best…
Well you know there should be no law
on people that want to smoke a little dope
* The legislation now goes back to the Senate for concurrence…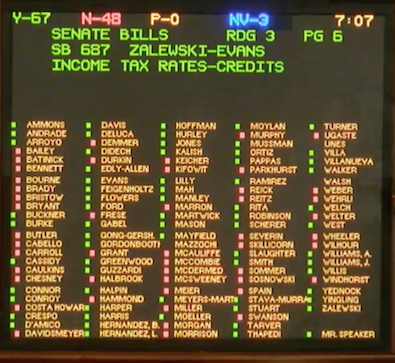 Democrats voting "No" were Reps. Bristow, Carroll, Costa Howard, Kifowit, Morgan and Reitz. Rep. Walsh did not vote.
…Adding… The Senate Revenue Committee will take up the rates change bill tonight.
…Adding… Press release…
Speaker Michael J. Madigan released the following statement Thursday regarding House passage of a Fair Tax rate package that will provide relief for 97% of Illinois taxpayers:

"The completion of the Fair Tax package ensures the people of Illinois can evaluate the proposal on the basis of facts and hard numbers, not half truths and special interest spin. As we have advocated for several years, the rates passed today are a restatement of our commitment to middle-class families that they will receive a tax cut under this proposal. This vote is a critical step toward House Democrats' pledge to balance the state budget while holding the line on middle-class taxes and stopping outrageous cuts to critical services like our schools, lifesaving breast cancer screenings, and Meals on Wheels for seniors. Critically, a Fair Tax allows us to accomplish this while also delivering relief for 97% of taxpayers statewide.

"There is more work to be done. While the Fair Tax takes steps to provide homeowners with property tax credits and expanded tax credits for families, House Democrats are going further by creating a Property Tax Relief Fund, because we recognize there is yet more we must do to ease the burden on middle-class families.

"House Democrats look forward to continuing our effort to build a stronger Illinois by building a stronger middle class. We will keep fighting to make taxes fairer for the middle class, strengthen our economy to make Illinois a center of high-wage job opportunities, and make health care more affordable."
…Adding… Press release…
Governor JB Pritzker released the following statement after the House passed fair tax legislation making the wealthy pay their fair share while 97 percent of taxpayers pay the same or less.

"With tonight's House vote, tax fairness has achieved an extraordinary milestone, and Illinois' middle class and those striving to get there are poised to benefit. I'm especially grateful to Rep. Mike Zalewski for shepherding this measure through the House, as well as all of those who have worked hard for years to deliver on the promise of a fair income tax. A fair tax will bring monumental change to this state by protecting working families. 97 percent of taxpayers will pay the same or less, and we will stabilize Illinois' finances. Opponents should be honest that they offer bad options – either cutting schools and public safety to the bone, or raising taxes on everyone by 20 percent. Instead, I stand firmly on the side of working families and fairness."
* The House is now debating this bill…
Creates the Illinois Property Tax Relief Fund. Provides that moneys in the Illinois Property Tax Relief Fund shall be used to pay rebates to residential property taxpayers in the State. Provides that the Fund may accept moneys from any lawful source. Provides that the State Comptroller shall calculate a property tax rebate amount for the applicable property tax year by dividing the total amount appropriated from the Illinois Property Tax Relief Fund by the total number of homestead exemptions granted for homestead property in the State. Provides that the property tax bills of non-delinquent taxpayers who received a general homestead exemption under the Property Tax Code shall be reduced by the property tax rebate amount.
The bill will take effect immediately, but won't start happening until 2021, presumably after the graduated income tax takes effect (depending on voter approval).
…Adding… The bill passed 96-18-1. The House is now debating this bill…
Creates the Property Tax Relief Task Force. Provides that the Task Force shall identify the causes of increasingly burdensome property taxes across Illinois, review best practices in public policy strategies that create short-term and long-term property tax relief for homeowners, and make recommendations to assist in the development of short-term and long-term administrative, electoral, and legislative changes needed to create short-term and long-term property tax relief for homeowners.
The bill was taken out of the record after Republicans complained that the task force membership had no guarantee of bipartisanship.
* Press release…
The Cook County Assessor's Office was informed by House leadership that SB 1379, the Data Modernization Bill, would not move out of the Rules Committee for a vote during the current legislative session.

In response, Assessor Fritz Kaegi released the following statement:

Days spent crafting a property tax reform bill: 272

"Yes" votes in the Senate: 36

Co-sponsors in the House: 39

Number of Cook County's Southern Suburbs waiting for more accurate assessments: 80+

Number of jurisdictions in the U.S. with a similar method of data collection: 17

Business leaders, school districts, organized labor groups, community organizations and elected officials throughout Cook County and Illinois who publicly support the bill: 73

Hours of meetings with those who oppose the bill: Limitless

Reasons why Illinois and Cook County don't deserve a fair, equitable and transparent assessment system: 0

SB 1379 remains the best first legislative step toward reform of the property tax system. We'll be back next session to get it passed.

Fritz
*** UPDATE *** Press release…
The Chicagoland Chamber of Commerce, Illinois Retail Merchants Association and Illinois Manufacturers' Association have issued this statement in response to the Assessor's statement:

"We are disappointed by the Assessor's statement and the disrespect it shows to the various stakeholders who engaged in meaningful discussion and the legislators who expressed their concerns with the unknown impacts. Approaching such a significant change to a $14.5 billion system should be done with thorough consideration. Haste makes waste and Cook County property owners, residential and commercial alike, have certainly experienced enough waste."
* Sun-Times…
Ald. Edward M. Burke and his top political aide have been named as defendants in a pending federal bribery case involving a Lake Forest developer, court records show.

Burke and his aide, Peter J. Andrews, were named as new defendants in the federal bribery case against developer Charles Cui.

Cui is accused of allegedly using Burke's law firm for property tax appeal work as Cui sought a sign permit that was critical to a redevelopment project on the Northwest Side. Burke was not originally charged in the case, which was brought earlier this year, but was implicated throughout the charges against Cui.

Details of the new charges against Burke and Andrews were not immediately available.
*** UPDATE 1 *** Tribune…
A 14-count indictment accused the alderman with half a century in office of corruption in connection with the redevelopment of the old main post office in downtown Chicago as well as two smaller projects in which prosecutors had previously alleged wrongdoing.

The charges also allege that Burke threatened to oppose an increase in the admission fee for a Chicago museum after the museum failed to respond to the alderman's inquiry about an internship there for a child of a friend.

The indictment charges Burke with one count of racketeering, two counts of federal program bribery, two counts of attempted extortion, one count of conspiracy to commit extortion and eight counts of using interstate commerce to facilitate an unlawful activity.

Also charged for the first time was Peter J. Andrews, an employee in Burke's 14th Ward office who is accused of assisting the alderman in attempting to shake down two businessmen seeking to renovate a Burger King restaurant in the ward.
*** UPDATE 2 *** Read the indictment by clicking here.
[The following is a paid advertisement.]
Credit unions are a small segment of Illinois' financial sector. By mid-year of 2018 credit unions controlled merely 7.6% of deposits. While credit unions are growing, other financial institutions dominate the market. Structure is the key difference between credit unions and our counterparts. Credit unions are member-owned, democratically governed, not-for-profit financial cooperatives. Our structure means there are no stockholders demanding market rate of return on their investments. Our earnings are passed along to member-owners rather than a small, wealthy group of investors. Because credit unions are not focused on making a profit for investors, they are able to provide lower rates on loans, high rates on savings, and community enrichment. Interested in learning more about the unique benefits of credit union membership? Visit YourMoneyFurther.com to learn more.
* Big…
The Illinois House has unanimously passed a bipartisan reform package that aims to improve a number of health care programs in the state, including its often griped about Medicaid managed care program.

Under the program, the state pays private insurers a set amount per member per month rather than paying for each medical service provided. It aims to improve people's health and control costs by ensuring all care is appropriate and high quality. But hospitals say it's costing them money, as medical claims denied for administrative reasons cause significant reimbursement delays.

S.B. 1321 aims to improve aspects of the program that seem to be causing hospitals the most grief, including requiring insurers to pay complete claims within 30 days or face a penalty. The bill now moves to the Senate.

It also requires the Department of Healthcare & Family Services, the agency that oversees Medicaid, to maintain a provider complaint portal, through which doctors can submit unresolved disputes with insurers. Hospitals have long requested more oversight from the agency.
* Press release…
The following can be attributed to Khadine Bennett, Advocacy and Intergovernmental Affairs Director of the American Civil Liberties Union of Illinois:

"The U.S. Supreme Court ruled last year that cell phone users have a reasonable expectation of privacy regarding their historical cell site location data. Thank you to the Illinois Senate for passing House Bill 2134, which reconciles the Illinois Freedom from Location Surveillance Act (FLSA) with this ruling by requiring law enforcement agencies in Illinois to obtain a court order or warrant before obtaining historical location information from a location device.

"We appreciate the leadership of sponsors Representative Ann Williams and Senator Don Harmon and we look forward to its signature into law by Governor Pritzker."
* Bloomberg…
Illinois is poised to update its privacy law to require businesses to swiftly report larger data breaches to the state attorney general.

The [House] voted 79-32 to approve Senate Bill 1624 amending the Personal Information Protection Act. The Senate unanimously approved the bill in April, and Gov. J.B. Pritzker (D) is expected to sign it into law, according to the bill's sponsor, Sen. Suzy Glowiak (D).

PIPA doesn't currently require data collectors to make disclosures to law enforcement,
* Related…
* Tougher regulations on door-to-door energy sales pass Illinois House

* Illinois lawmakers OK bill to remove legal obstacles for those who provide clean needles to heroin users

* Bill headed to Pritzker defines consent for sex ed instruction in Illinois
* Mark Brown…
Voices were raised, tempers flared and accusations traded on the Illinois House floor Wednesday afternoon, nothing out of the ordinary in and of itself for this late stage of a legislative session.

"Welcome to the emotions of the last week in May," said state Rep. Mark Batinick, R-Plainfield, directing his remark to new lawmakers who might be unfamiliar with how testy things can get in the waning days.

The immediate cause of the tensions was an obscure piece of legislation by Chicago standards — a fight over whether Champaign County should split away from five more rural counties with which it shares a judicial district.

But in that debate, fought strictly along partisan lines because the change would give Democrats a better shot at electing local judges, I thought we could see an emerging theme of this year's legislative session.

That is, Democrats are completely back in charge in Springfield, and when push comes to shove, and at some point it always does, they're going to do things their way. […]

One day after slamming through an expansive abortion rights bill over Republican opposition as a way to fight back against southern states moving in the opposite direction, House Democrats pushed another conservative hot button by voting to require fingerprinting of individuals seeking a Firearm Owners Identification Card.

In recent days, both chambers approved a constitutional amendment to switch Illinois to a graduated income tax, moving away from the flat rate tax that has been in effect nearly 50 years. And before that, they approved an increase in the minimum wage to $15 an hour.
* From Hollywood Center Squares, or whatever it's called now…
Gov. J.B. Pritzker's administration has introduced legislation crafted by the State Board of Elections that Republicans say would legitimize a third party to play spoiler to the GOP's chances of regaining seats in the General Assembly.

The bill that passed in a House committee Thursday morning would allow for the Conservative Party to field candidates for state representative or state senator in any district where Sam McCann, the Conservative Party gubernatorial candidate supported by unions to siphon votes from former Gov. Bruce Rauner in 2018, got more than 5 percent of the vote.

State Rep. Tim Butler, R-Springfield, called the legislation a direct shot at the minority party.

"You come down with omnibus elections bills that screw the other party," he told Majority Leader Greg Harris. "That's what you're doing."
…Adding… From Matt Dietrich at the Illinois State Board of Elections…
I wanted to point out that the portion of the omnibus bill referenced in the story is not something we put in. Most of the bill comes from legislative changes we suggested but that part was not among them.
* The Question: Are the Democrats over-reaching this spring? Take the poll and then explain your answer in comments, please.
polls
*** UPDATE *** House Majority Leader Greg Harris has introduced an amendment to the omnibus elections bill to delete the language about establishing third parties. The language had infuriated House Republicans, who threatened to pull votes off all upcoming bipartisan bills unless it was stripped.
* Spot…
* Script…
Do you drive to work in Chicago or anywhere else in Cook County? Do you pay to park your car? Watch out for a nasty surprise.

Do you drive to shop, dine out or see a play? Do you drive to the airport? Watch out for a nasty surprise.

The new administration has proposed the first and only state parking tax in America. If this is voted into law, you will pay up to 40% in taxes just to park in Chicago and suburban Cook County.

Up to 40%!

Chicago parking taxes are already higher than New York, Washington and LA. Three times higher than Dallas or Houston.

Do you want to pay more than ever to work or shop, go out to dinner, see a show or visit a museum?

Every parking lot, garage and even airport parking will cost more!

Business owners? Your employees and your customers will suffer. That means your business will suffer.

Call your state representative and state senator. Tell them to vote no.

They're ready to vote. So call them now. Or visit noparkingtaxhike.com for more information.

That's noparkingtaxhike.com.

Paid for by Teamsters Local 727 and the Parking Industry Labor Management Committee.
The proposed state tax is actually 6 percent for daily and hourly parking and 9 percent for monthly. They're adding in local taxes to the mix. Also notice that they don't mention Pritzker's name. It's just "the new administration."
* From that Center Square thingy…
Gov. J.B. Pritzker threw an early birthday party for Secretary of State Jesse White, but the Chicago billionaire declined to comment about the cost of the celebration.

Amid stormy weather in the Springfield-area, the Wednesday night party took place under a massive tent with a raised platform on the lawn of the Governor's Mansion. The temporary structure took a week to construct.

Asked Thursday how much the party cost, the governor, who has an estimated net worth of more than $3 billion, wouldn't say.

"[First Lady] M.K. [Pritzker] and I were thrilled to have a birthday party for Secretary of State Jesse White," Pritzker said. "He's one of the great public servants in the history of the state of Illinois. He's revered, he's a friend, he somebody I've known for 35 years."

Funk superstar George Clinton performed at the birthday celebration.

"We obviously were interested in making sure we had entertainment that was appropriate to the evening and so we were glad to be able to get George Clinton to perform," Pritzker said.

He noted that a number of Illinois distillers and craft brewers provided drinks for the evening.

"Everybody enjoyed themselves," Pritzker said.
Everybody did, indeed, enjoy themselves. It was quite the bash, and it was privately funded, so I don't really care about the cost. From the Danenberger Family Vineyards Facebook page, here's an early pic of the inside of the tent…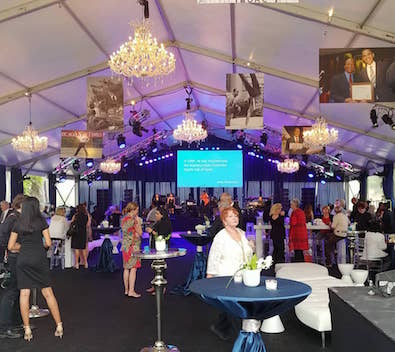 * Sponsors…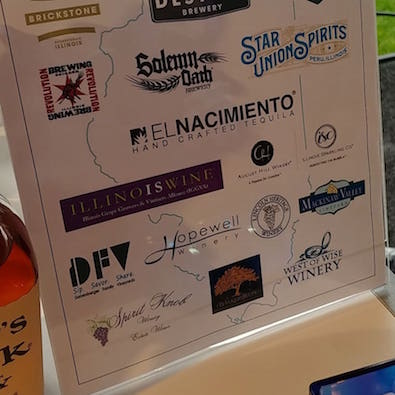 * The band…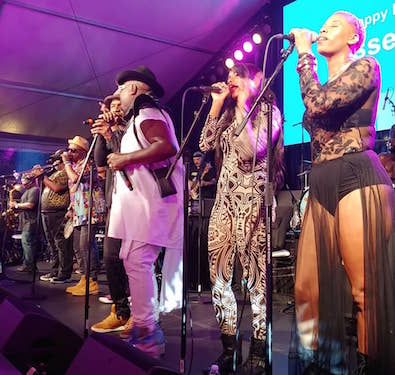 * The man himself…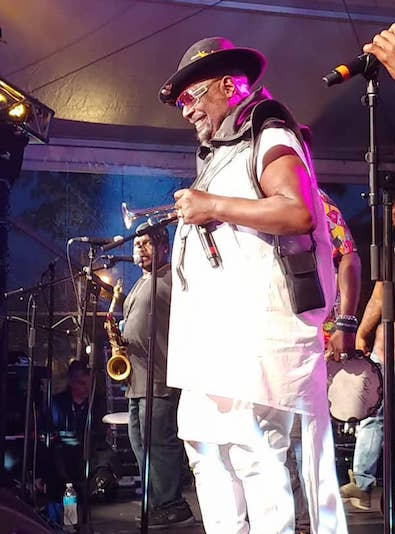 Say whatever you want about the governor, but our state's First Lady knocks it out of the park whenever she throws a party. She may very well be the best ever.
[The following is a paid advertisement.]
More than 800 solar energy projects are on hold because Illinois' renewable energy program isn't adequately funded to meet either current demand or the statutory renewable portfolio standard requirement of 25% by 2025.
The waitlisted, shovel-ready projects could create thousands of jobs, lower consumer electric bills and generate $220 million in property tax revenue for local governments. Funding for new commercial and community solar projects and wind farms will be depleted after 2019.
To see projects on the waitlist in your community – visit www.pathto100.net/waitlist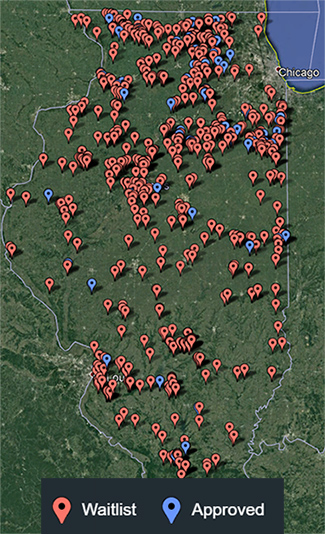 Without a fix to the state's renewable energy program, waitlisted projects may not be built.
Vote YES on HB 2966/SB 1781 to fix Illinois' clean energy cliff and let shovel-ready projects move forward.
For more information, please visit pathto100.net
* Good question, but not quite a complete answer…
Total McCormick Place attendance in 2017 was 2.5 million, compared with over 3 million in 2001. Use of the convention center as measured by square footage dropped by half.

So why does the center keep getting more money, and racking up new debt?

Part of the reason is that it's in a highly competitive industry where other cities are making ill-considered investments in centers of their own. There's a futile arms race at play.

The bigger reasons for expansion are political. Organized labor and private businesses collaborate to push expansion plans year after year. When they succeed, the mayor of Chicago and other officials then get to stand at ribbon-cuttings and take credit for tourism numbers.
Um, name me another place that brings in 2.5 million people mostly from out of state to Illinois every year for extended periods of time. That's why those "private businesses," which are actually hotels, restaurants, etc. aren't totally opposed to new taxation. The restaurant association, I'm told, is so far neutral on this bill…
Dining out in certain parts of Chicago would get a little more costly under a measure approved Wednesday in the Illinois Senate to help pay for a construction project at McCormick Place.

By a 44-6 vote, the Senate passed a bill to expand the boundaries of the area in which the Metropolitan Pier and Exposition Authority, the agency that oversees McCormick Place and Navy Pier, levies a 1% restaurant tax. The measure now moves to the House.

The tax currently is collected downtown, but the expanded area, which would include parts of the North, Northwest and South sides, was designed to bring in more money from trendy restaurants in areas such as Wrigleyville, Logan Square and Hyde Park, McPier CEO Lori Healey said during a committee hearing Wednesday. The agency expects to bring in an additional $10 million in annual revenue from the expanded boundaries, she said. […]

Chicago Mayor Lori Lightfoot said Wednesday that she doesn't know enough about McPier's proposal to have a position.
No group filed a witness slip in opposition yesterday.
* But the proposed boundaries of what would be a much larger taxing district have some locals up in arms…
Ald. Tom Tunney (44th), owner of Ann Sather restaurants, said he adamantly opposes the dramatic expansion of a restaurant tax that was supposed to be temporary.

"This tax was supposed to go away — not expand," said Tunney, the new chairman of the City Council's Zoning Committee.

"I'm not supportive of it. We already have the highest sales tax in the country, and we're expanding it? I just feel that the cost of dining out is very expensive. It's close to 12 percent. Consumers notice. I also think it hurts us on the competitiveness of the convention and tourism business." […]

Ald. Brian Hopkins (2nd) joined Tunney in opposing the expansion.

"The whole purpose of the original tax on restaurants for McCormick Place was to capture tourism dollars. We know they're concentrated in the downtown area," Hopkins said.

"The further you push that away [from downtown], the more you're putting that burden on local residents who are going to their neighborhood restaurant. That's not fair, and I don't support it."
That bill flew out of the Senate before any opposition could coalesce. There may not be enough time to stop it in the House. We'll see. It's been assigned to the House Executive Committee, where it should blow right through to the floor.
*** UPDATE 1 *** Greg Hinz…
Mayor Lori Lightfoot has come out against a legislative plan to expand McCormick Place by hitting areas as much as 10 miles away from the convention center with a 1 percent tax on restaurants, bars, and take-out food items.

The move may well stall action on the proposal, at least for now, as lawmakers in Springfield race toward a scheduled adjournment of their spring session at midnight tomorrow.

In a statement, the mayor, who insisted at a press conference yesterday that she was just learning details of the plan, based her opposition in part on the fact that the proposed bill has a carve-out for sports stadiums with a capacity of at least 20,000 people—including Wrigley Field, Guaranteed Rate Field and the United Center.

"The mayor is committed to ensuring that Chicago's convention industry remains vibrant, and supports making investments that will enhance McCormick Place and drive new economic growth for the city of Chicago," the statement said. "However we are concerned about this proposal in its current form, specifically the exemption favoring large venue owners, whose customer base includes visitors and conventioneers, and the potential unintended consequences for small businesses in Chicago.
*** UPDATE 2 *** A source on the House Executive Committee says the plan is to strip the tax hike from the bill. The General Assembly will punt to the fall veto session.
*** UPDATE 3 *** Same source updates with info that the bill will not be called during tonight's hearing.
* WBEZ…
When he's in Chicago, Michael Zalewski is a lawyer at the downtown offices of Taft Stettinius & Hollister LLP.

At the same time, in Springfield, the Democratic state representative from Chicago's Southwest Side has taken the lead role in the effort to legalize betting on sports in Illinois.

And it's in Springfield where the Taft law firm has dozens of lobbying clients with interests in gambling, including sports betting. […]

"In the last week there's been a concentrated effort by certain stakeholders to accuse me of being the problem when it comes to passing the sports-betting law," Zalewski told WBEZ on Wednesday. […]

Springfield sources say the complaints about Zalewski's side job at Taft came from executives of the company that owns Rivers Casino in Des Plaines. A spokeswoman for Rivers Casino declined to comment. […]

According to his bio on Taft's website, Zalewski also is "of counsel" to the firm. That means he is employed by the firm but is not a partner with an equity stake in the firm. He said he does not work for any of the firm's many clients who have interests in Springfield. […]

After the U.S. Supreme Court cleared the way for sports betting, Zaleswki said he made sure that there were no legal or ethical hurdles to his acting as the chairman at hearings on crafting a sports-gambling law for Illinois.

"I asked and received an ethical opinion from my chief ethics officer," Zalewski said. "I've complied with all ethical and legal guidelines regarding this topic, and I've acted with integrity and honor."
The Rivers people have, indeed, been trying to get Zalewski out of the picture with this story for several days. Rivers has been trying to box out the sports betting companies and temporarily blowing up the process would be a positive for the casino.
Zalewski showed me an opinion from the House Democrats' ethics officer which had no objection to his law firm work, but outlined everything he needed to do to avoid a problem. He is beloved under the dome, but going to that law firm - even as an "of counsel" - was probably not the best decision he's ever made.
* Meanwhile, here's Hannah Meisel…
After weeks of fighting between billionaire Rivers Casino owner Neil Bluhm and the CEOs of the fantasy sports and sports betting tech companies FanDuel and DraftKings that threatened one of Gov. JB Pritzker's top priorities, negotiators say an omnibus gaming bill will be heard in committee Thursday morning — a bill that includes a deal favorable for Bluhm.

State Sen. Terry Link (D-Vernon Hills) told The Daily Line that while the specifics of the brick-and-mortar casino part of the bill have been solid for a week, deals with the video gaming industry and on sports betting were the last pieces of the puzzle. Deals on both on video gaming and sports betting have crystalized in the last few days, and Link said Wednesday that Bluhm will "be on board supporting this bill." […]

State Rep. Mike Zalewski (D-Riverside), who had been helping to lead those negotiations, announced Wednesday that he would no longer participate in the talks amid criticism that his law firm represents clients with a stake in the bill, as first reported by WBEZ Wednesday afternoon.

In a series of tweets after the story published, Zalewski said he had never "worked on an issue as hard as I worked on sports betting."

"In the last week, it became clear some thought I was the problem in the room, so I stepped back and let our gaming negotiator try to land the plane," Zalewski wrote. "At no time did I put my thumb on the scale for anyone. You only have your integrity, the respect of your colleagues, and your word down here to get you by. I hold my head high that on sports betting, and any other issue I work on, I treat everyone with respect. I hope we get sports betting done. And I think we will. And I'll have been a part of it. And that will be a cool thing."
Illinois state Senators approved a proposal on Wednesday to legalize recreational marijuana for adults 21 years and older beginning on January 1, 2020.

With a roll call of 38-17, the measure received support from three of the Republicans in the chamber while two Democrats decided to vote "no."

Rock Island state Sen. Neil Anderson is one of two Republican co-sponsors of the proposal. He said even though he was voting in favor, he personally is still against cannabis use.

"I will continue to tell my kids that they should not smoke tobacco, they should not smoke cannabis and that is my job as a responsible parent," said Anderson. "But to those adults out there that want to use cannabis, as I've said before, freedom is freedom."
* Tina Sfondeles…
During the Senate debate, state Sen. Dale Righter argued legalization will increase use and has led to more organized crime prosecutions in Colorado.

"More people are going to use and this is going to cause more hazards for the public, not less," Righter, R-Mattoon, said. But his Republican colleague, state Sen. Jason Barickman, said he now supports the measure, in part because of additions protecting employers. He said it also gives people "more freedom of their choices."

And bill sponsor state Sen. Heather Steans, D-Chicago, said just one state that has legalized marijuana has seen an increase in teen use.

"It's not something of course that we want teens to do … and the notion that you can prevent teens from doing this by simply ignoring that they currently are is what got us into this place," Steans said. "This is where we are right now."

"We can't pretend that we don't actually have cannabis smoking going on. We know we do. In Illinois, we estimate that about 800,000 people are using. Burying our heads in the sand about that does not improve the situation or the outcomes on this," Steans said. "A different approach is going to have a much better outcome."
The biggest reason arrests have risen in Colorado is the cannabis law gave the police more money than they ever had before to go after the bad guys. Part of the legalization process has to be eventually knocking out the criminal networks. First you weaken them with competition, then you take them out.
* Rick Pearson, Dan Petrella and Jamie Munks…
Steans said legalizing marijuana is expected to generate $57 million in general revenue in the coming budget year and $30 million for a cannabis business development fund. That's far less than the $170 million Pritzker projected in his spending plan, but Steans said budget negotiators aren't counting on any of that revenue.

After paying for regulatory expenses and costs related to the expungement process, marijuana revenue would be divided among a number of areas. The largest share, 35%, would go into the state's general fund; 25% would go to community grants; 20% to mental health and substance abuse programs; 10% to pay down the state's backlog of unpaid bills; 8% to support law enforcement; and 2% for public education.

Opponents to legalization are now gearing up for a fight in the House.

State Rep. Marty Moylan, a Democrat from Des Plaines who sponsored the resolution to slow the legalization process, said it should be delayed until the summer to allow lawmakers time to understand what's in the bill.

"They're trying to ram it down our throats at the last minute," he said. "They're presenting it real late so we have a hard time finding out what's in it."
All the opponents who claimed this was "really" about some desperate need to collect massive state revenues were wrong from the beginning.
And, Marty, people have been working on this bill for two years. The recent changes were in response to some of your own demands.
* And these folks will never be happy…
"The concern there still remains in terms of home grow. We don't have access. We won't be able to tell who's doing what. The penalties associated with home grow, anything less than five plants is a civil citation, from $100 to a max of $200. That is a concern for us. We want to make sure that it is a strong deterrent for home grow," said Jim Kaitschuk on behalf of the Illinois Sheriff's Association.
"We won't be able to tell who's doing what." *Sigh* Kaitschuk, I love you, but try easing up on the Orwell.
* Wut?…
It also gives preference in license applications to people who live in or have connections to neighborhoods characterized by high arrest rates for marijuana and other drug-related offenses.

Some opponents of the measure, however, said that provision was one of the reasons why they voted against the bill.

"There is a limited number of licenses and we're going to give preference to vendors who are going to be in the poorest zip codes in Illinois," said Sen. Chapin Rose, R-Mahomet. "We're going to give preference to keeping poor people stoned."
So, you'd rather grant official state preference to vendors in… wealthy areas?
* Tara Molina…
The bill would allow adults 21 and older to legally buy and possess marijuana — 30 grams of cannabis flower or five grams of cannabis concentrate.

According to the bill, cannabis products may not be transported over state lines, and tax revenue will cover needs and costs related to expungement or the clearing of marijuana related records before it's broken out. Additionally, local towns can decide individually how cannabis-related businesses may fit into their communities and employers may still maintain zero tolerance workplaces. Landlords and business owners can have zero tolerance policies as well.

Even with the changes, some are still against the proposal.

"More people are going to use, and that's going to create more hazards for the public, not less," said Dale Righter (R-Matoon). "Our kids are watching this. Maybe this is OK for us for now, and for a couple years we'll get tax revenue. But its meaning 10 or 15 years down the road? And that's my concern, and that's why I oppose the bill."
I don't even know what to say to that. I kinda doubt he even knows how to translate that word salad.
* This flooding is getting real…
With urgent flooding situations along the Illinois and Mississippi rivers, Governor JB Pritzker has activated approximately 200 Illinois National Guard soldiers for State Active Duty to assist with the state's flood fight operations and urged all residents in affected communities to listen to the directions of first responders.

"As we face historic weather in this state, the safety of our communities will always be my top priority, and every relevant state agency is working in concert to protect communities," said Governor JB Pritzker. "This morning, I activated the two hundred members of the Illinois National Guard to regions along the Illinois and Mississippi Rivers to assist in sandbagging operations and levee monitoring and reinforcement, with another 200 on standby. We have deployed more than two million sandbags, hosted multi-agency resources centers in impacted communities, and I issued a disaster declaration impacting 34 counties. My administration will continue using every tool at our disposal to protect impacted Illinoisans."

Soldiers of 2nd Battalion, 123 Field Artillery Regiment were notified of the activation last night (Wednesday) and began reporting to their units in Milan, Galesburg and Springfield today (Thursday). The soldiers will help strengthen levees and construct protective barriers in flooded areas. The soldiers will be ready to deploy to affected areas by tomorrow (Friday). In addition, Governor Pritzker is activating a small team of Illinois National Guard planners to augment the Illinois Emergency Management Agency staff.

"The Illinois National Guard is a community-based organization, and when our communities need help we answer the call. As they do to answer they do when they deploy to fight their nations wars, they are leaving families and jobs behind to help their fellow citizens," said Brig. Gen. Richard Neely, The Adjutant General of the Illinois National Guard. "These guardsmen will assist the residents of impacted areas and help protect the communities from further damage."

Alicia Tate-Nadeau, acting director of the Illinois Emergency Management Agency, said she has been in contact with National Guard leaders throughout the state's flood response. "The National Guard is an important part of the overall state emergency response team. As a retired National Guard general, I'm well aware of the great capability that the Guard brings to the fight. They are professionals in both their state and federal military missions."

"The Illinois Department of Transportation takes great pride is assisting communities during natural disasters," said Acting Illinois Transportation Secretary Omer Osman. "By mobilizing the National Guard, the governor is helping to ensure residents get the relief they need during this critical time, and IDOT is ready to ensure that critical infrastructure is protected and safe for travel."
* More…
IEMA Acting Dir Alicia Tate-Nadeau says among actions, 2 million sandbags have been distributed pic.twitter.com/KjittCInek

— Bernie Schoenburg (@bschoenburg) May 30, 2019
Gov. Pritzker: "If it's a river in Illinois, it's flooded." https://t.co/PyHOQi8X9R

— BlueRoomStream (@BlueRoomStream) May 30, 2019
Department of Agriculture says this is a weather disaster. Only 35 percent of corn crop has been planted, a historic low.

— Tahman Bradley (@tahmanbradley) May 30, 2019
IEMA has also told residents in several counties to prepare for potential evacuation.
*** UPDATE *** Whoa…
A Chicago alderman is calling on the governor to provide cash to save the city's shoreline as Lake Michigan's water levels rise to record highs.

Ald. Brian Hopkins, 2nd, acknowledged the severity of the problem. He's calling on Gov. JB Pritzker for the money needed to save Chicago's shoreline.

"Right now we are in crisis mode," he said.

Rogers park resident Tom Heineman is watching this shoreline dissolve more every day. The water level this year is the highest he's seen since the 80s.

"There used to be a beach that went out a good 20 yards," Heineman said. "The lake is so high that with the northeasterly storms this is what it did."
* We've already discussed this topic, so I was pleased to see PolitiFact take it on today…
Citing remarks made in February by the governor of New York, [Rep. Mike Murphy, R-Springfield] claimed that when that state "implemented a program" to tax the wealthy at higher rates it saw a revenue shortfall "because of the outward migration of their top earners."

Cuomo did raise the specter of out-migration among the state's better-off taxpayers when personal income tax revenues came in below projections early this year. But he blamed the drop on fallout from the Republican federal tax overhaul of 2017 and other factors, not graduated income tax rates in New York which haven't been raised in a decade.

What's more, IRS data show the number of people filing with income greater than $200,000 in New York has increased every year since 2009 when New York raised rates on top earnings to levels similar to those currently under consideration in Illinois.

We rate Murphy's claim False.
The piece also mentions that New York's April personal income tax collections spiked 57 percent over last year.
* Related…
* Analysis Raises Doubts Higher Income People Will Leave If Illinois Adopts A Graduated Income Tax
* Two days…
And the cruel, cruel mornings
Have turned to days of swim or sink