* You don't see this every day…
Republican State Rep. John Cabello tells 13 WREX he believes Gov. Bruce Rauner should resign during an interview following Wednesday's State of the State address in Springfield.

Cabello points to the governor's credibility as the main reason for his comments, saying the governor has broken his word, specifically on House Bill 40. Cabello says in meetings with the governor, Rauner told lawmakers he would not sign the bill related to abortion funding. House Bill 40 was eventually signed into law in late September.

"When you tell someone you are not going to do something, you should stick to your word," Cabello said. "I can't trust any words that he says from here on out."

When asked about Rauner's State of the State speech Wednesday, Cabello only responded by saying "I was raised that if you have nothing nice to say you shouldn't say it at all."
Cabello is one of a tiny number of legislative Republicans who supported President Trump in the 2016 GOP nomination battle.
- Posted by Rich Miller 24 Comments


* From Eric Zorn's column about Gov. Rauner's 2017 State of the State address…
Of the 136 words Rauner spoke from the podium that ended with the "-ing" syllable, he dropped the final "g" on 76 of those, ("We convened bipartisan workin' groups, doin' our best to find a way forward together," for example) for a 56 percent score on the Folksy-Meter.
* This year's address was very different. The speech seemed written to specifically avoid so many words that end with "-ing." A legislator marked up her copy of the address and we went through it together after the speech. She found just 25 of those "-ing" words written into the speech and Rauner added one more. By her count, he dropped his "g" eight times while pronouncing the hard "g" 17 times.
I found 29 "-ing" words, but whatever. You get the idea. He said those "-ing" words much less often than before (undoubtedly by design), and massively improved his pronunciation rate.
I can't say for sure, but I'm betting we can probably thank Patty Schuh for this small listening favor.
- Posted by Rich Miller 34 Comments


* SJ-R…
Gov. Bruce Rauner Wednesday called for bipartisan cooperation among lawmakers to improve the state's financial standing through economic growth.

In a 30-minute State of the State speech to a joint session of the General Assembly, Rauner said the place to start that effort is by restoring public trust.

"Where once we joined to address our problems, we now divide to conquer the other side, or worse, we legislate for expediency rather than effect," Rauner said.

Rauner did not, however, lay out specific proposals for achieving that economic development.
* AP…
Gov. Bruce Rauner wants to roll back income taxes but did not identify how in his State of the State address.

The Republican has previously said he wants to reverse the income tax increase the Legislature approved last summer. It went from 3.75 percent to 4.95 percent. He said Wednesday that "we cannot tax and borrow our way into prosperity" and urged lawmakers to "curb spending" and boost job growth.

But he gave no specifics.
The budget address is in two weeks. No specifics on that were required today.
* Sun-Times…
With the March primary just six weeks away, Republican Gov. Bruce Rauner on Wednesday spoke calmly and optimistically about some of the state's most dire faults, vowing once again to fight the state's property tax system, while saying he'll fight to make Illinois "the powerhouse job creator it should be." […]

Of his accomplishments, which Democrats are quick to criticize, Rauner spoke of a school funding formula which passed last year: "We achieved historic parity in per-pupil funding for charter schools, and we created Invest in Kids, the state's first-ever tuition tax credit scholarship program." […]

He also spoke of criminal justice reforms, and his goal to reduce the prison population. Rauner, too, said, he's helped to battle the state's opioid epidemic by enacting a 24/7 helpline.

Rauner brought two residents of the Quincy veterans' home, which came under fire after several deadly Legionnaires' outbreaks. That issue had put the governor in the hot seat over how the state handled a 2016 outbreak. Rauner last month spent a week at the home, saying he wanted to get to know the residents and to learn best practices to ensure they were as safe as possible.
Rauner used the word "veterans" seven times today. He didn't mention them in 2015 or 2017, but they did get a shoutout in 2016.
* Tribune…
The speech was designed to set the stage for a re-election battle in which Rauner is defending his first three years in office while he asks voters to give him another four. To that aim, the address attempted to weave an optimistic tone while also speaking to voters' frustrations about the state's economic and political climate. […]

"To that end, I will submit a balanced budget proposal next month. It will offer a path to reduced spending, and it will show the way to surpluses going forward so we can reduce taxes and start to push back against the assault on middle-class bank accounts," the governor said.

Democrats stood and offered mock applause, including one of his biggest critics, Comptroller Susana Mendoza. Democrats and some experts have long said Rauner has yet to submit a balanced budget, although Democrats have repeatedly advanced out-of-balanced budgets themselves.

Replied Rauner: "And I hope this year you guys will pass it instead of ignoring it." He drew jeers from within the chamber.
* Reuters…
Democratic Senate President John Cullerton, who appeared on public television following the speech, said Rauner's promise of a balanced spending plan for the fiscal year that begins July 1 was met with laughter.

"The reason why people couldn't keep a straight face when he said he was going to introduce a balanced budget is because (Rauner) has never been even close to a balanced budget," Cullerton said.

Rauner has said he wants to roll back the $5 billion income tax hike even as the state's payment to its five pension systems is projected to grow to $8.5 billion in fiscal 2019 from $7.94 billion this year. Illinois also has a lingering $8.5 billion unpaid bill backlog that had ballooned to more than $16 billion during the impasse.
* WLS…
Governor Bruce Rauner delivered his annual State of the State Address to a joint session of the General Assembly.

Rauner said the State of the State is one of readiness and he was hoping out loud that the Democrats in control would give him what they have refused to give him before, such as term limits.

"80% of Illinois' voters want term limits. The other 20% it seems are seated in this chamber."​
- Posted by Rich Miller 26 Comments


* From Madigan…
House Speaker Michael J. Madigan issued the following statement Wednesday:

"As he has done throughout his administration, Governor Rauner chooses to blame others for the challenges facing our state on his watch instead of being the leader he was elected to be. If the governor were as serious about addressing property taxes as he is about scoring cheap political points, he would have come to the table and worked with Democrats to support any of the multiple bills we have advanced to provide property tax relief for middle class families.

"For the good of our state, maybe it's better the governor continue sitting on the sidelines and pretend he is 'not in charge.' That way, serious leaders can continue working to move our state forward, while the governor can continue to ignore his utterly dismal record without accomplishments, and avoid the real discussion about the damage he has inflicted on our state. While he remains on the sidelines, those of us in the Legislature will continue working together in a bipartisan way to ensure our state moves forward."
I'll post most other responses on our live coverage post.
*** UPDATE *** Comptroller Mendoza…
We just heard Governor Rauner's re-election speech. Now he has 14 days to deliver a balanced budget that doesn't involve pixie dust and magic beans.

I don't know about 'turning yesterday into tomorrow,' but Governor Rauner turned the $5 billion backlog of bills he inherited into a $16.7 billion backlog. He deficit-spent more than any other governor in the history of Illinois - $5 billion a year.

You heard all the applause for his empty promise to propose a balanced budget. The Governor has had three chances to propose a balanced budget. All the objective fact-checkers, Politifact, the Better Government Association, all agree his budgets have been billions of dollars out of balance and his claims to the contrary flat-out lies.

I welcome his call for bipartisan governing. The good news is we do have bi-partisanship. Republican and Democratic legislators came together last year to override the governor's vetoes on the budget and my Debt Transparency Act. Just before Governor Rauner entered the chamber to deliver his State of the State address, Legislators of both parties came together to override the Governor's veto of education funding.

Our Debt Transparency Report we released last week showed he ran up $1 billion dollars in late payment interest penalties over the last 2 ½ years. That's money that will never be spent on educating our children; rebuilding our state; or fixing the pipes at the Quincy Veterans Home where 13 people have died from Legionnaire's Disease on his watch.
We need to see a balanced budget from him. We need for him to answer these five questions:

1) How are you going to cover the cost of the $1 billion in late interest penalties you racked up by not paying the state's bills on time?
2) What is your plan to pay down the State's $8.37 billion bill backlog?
3) How will you account for the $2.3 billion in unappropriated spending by your agencies last year?
4) How will you account for the $1.7 billion in unrealized revenues and savings from failed initiatives like the sale of the Thompson Center and the Tier III retirement plan?
5) Can you, for the first time, introduce a balanced gimmick-free budget that doesn't call for pixie dust and magic beans?
Mendoza's Republican opponent Darlene Senger…
"I applaud the Governor's call for common-sense, bipartisan solutions that can deliver real property tax relief for Illinois families starting with reforming the broken and corrupt property tax assessment system. For too long, this system has benefited the insiders and connected while punishing hard-working families who only lack clout.

"The time is now for those, like Speaker Madigan and Comptroller Mendoza, who continue to defend and benefit from this broken system to either support reform — or get out of the way."
- Posted by Rich Miller 44 Comments


* I'll be on Public Television and Public Radio before and after today's State of the State. Check your local listings. Use this as an open thread on the address.
- Posted by Rich Miller 48 Comments


* From Politico Magazine…
Nearly 100 years ago now, the legendary gadfly H.L. Mencken, in his capacity as editor of the American Mercury, teamed with co-editor Charles Angoff to produce a wholly unscientific—but anecdotally recognizable—ranking of the 50 states. They used census data, primarily, to produce an index that ordered the states by their achievements (or lack thereof) in wealth, health and public safety. In that spirit, POLITICO Magazine is continuing our tradition of combining 14 metrics, based on data from the Census Bureau, other government agencies and nonprofits, to produce our own power rankings of the 50 states and the District of Columbia.
Illinois ranked 31st, ahead of Indiana, Missouri, Ohio, Michigan and Kentucky. Wisconsin was 10th. Minnesota ranked 2nd.
* Meanwhile, Eric Zorn asked Gov. Rauner a blunt question this week "Are you an even more miserable failure on jobs than Pat Quinn?" Here's his column…
During a televised debate in October 2014, then-candidate Bruce Rauner said that his opponent, incumbent Democratic Gov. Pat Quinn, was "a miserable failure on jobs. Illinois is one of the lowest job-creating states in America. He's a failure, I'll get results."

Ah, but he did not get results. […]

Job growth in Illinois, which in the last three years of the Quinn administration was 3.57 percent — compared with a 5.31 percent national job-growth rate over the same time — has fallen in the first three years of the Rauner administration to 2.29 percent, about half the 4.82 percent national job-growth rate.

U.S. Bureau of Labor Statistics data show job growth in Illinois under Rauner has been lower than job growth in the neighboring states of Indiana, Kentucky, Missouri, Iowa and Wisconsin.

Illinois Working Together, a pro-labor coalition partial to Democrats, points out that if employment growth under Rauner had just continued at Quinn's rate, we'd have 75,000 more jobs now in Illinois. And if we'd simply continued creating jobs at two-thirds the national rate, we'd have nearly 56,000 more jobs than we do now.
* Also…
As a result of under-appropriation of public universities and community colleges, Illinois lost an estimated $948.7 million in generated economic output—$461.7 million of which was felt outside the Chicagoland area. #ILFinancialFacts #StateoftheState pic.twitter.com/46bGEdkjoP

— Illinois Comptroller (@ILComptroller) January 31, 2018
- Posted by Rich Miller 21 Comments


* Asking for some friends…
In another indication that the world's most powerful politician has few qualms about battling local public officials, President Donald Trump again has sued the Palm Beach County Property Appraiser over the valuation of his Trump National Golf Club.

The suit marks the fifth year in a row that Trump has disputed the property tax bill for the 131-acre course along Donald Ross Road. Even as he fights the county's $19.7 million estimate, Trump's financial disclosures in 2016 and 2017 list the value of Trump National Golf Club in Jupiter as "over $50 million."

Based on the property appraiser's valuation, the Palm Beach County Tax Collector sent Trump a bill for $398,315. Trump responded with a lawsuit — and a wire transfer for $296,595.01, which his Tampa-based attorney described as "a good faith estimate" of the sum Trump really owes.

While Trump's three-page suit doesn't say how much he thinks the course should be worth, Jupiter Golf Club pays property taxes at a rate of 2 percent. So by claiming he was overcharged by $101,720, Trump asserts that the property is worth $15 million, and that the appraiser overvalued the course by more than $5 million.
Indignant joint Rauner/Kennedy press release and Tribune editorial in 3… 2… Oh, nevermind.
- Posted by Rich Miller 23 Comments


* WBBM…
From his jail cell in Englewood, Colorado, former Gov. Rod Blagojevich cast a huge shadow over Democratic front-runner J.B. Pritzker in the only primary debate to feature all six of the Democrats running for governor in 2018.

Pritzker says there was nothing sinister or illegal about the wiretapped phone call he made to Blagojevich about a job nine years ago.

The long-forgotten phone call, one of many recorded in late 2008 as federal agents closed in on Blagojevich, resurfaced with a sinister spin earlier this month as an attack ad aired by Republican Gov. Bruce Rauner's campaign.

Pritzker argued, during a debate in Carbondale featuring all six of the Democratic candidates for governor, that he was just offering his financial expertise as a public service. But perennial candidate Robert Marshall argued that it makes Pritzker un-electable. Two other candidates, businessman Christopher Kennedy and State Sen. Daniel Biss (D-Evanston), voiced agreement.

Given the chance to respond, Pritzker said Rauner has done nothing to improve schools or the state's finances, and said if he wins the nomination, he will "take him out."
* Tribune…
Kennedy, an heir to the iconic Massachusetts political family, declared Pritzker "unelectable in the general election."

"The truth is, just because you don't break a law doesn't mean you're innocent, and we need to hold our elected officials to a higher standard," the Kenilworth businessman said. Kennedy contended that Pritzker's actions made him "the poster child, the data point" of a "Republican strategy" of voter suppression to dissuade general election voters from casting a ballot for a Democrat.

Biss, an Evanston state senator, warned that a potential "blue wave building across the country" in October would occur "except in Illinois" because Democrats would have to "play defense about Rod Blagojevich and FBI recordings."

"Bruce Rauner is on the ropes. Bruce Rauner is in trouble. Bruce Rauner is a failure. The only way he can win is if he is able to make that kind of attack, of unpopular politicians like Rod Blagojevich and (House Speaker) Mike Madigan," Biss said. "If J.B. Pritzker didn't exist, Bruce Rauner would have to invent him. It's too dangerous. We can't afford to nominate J.B. Pritzker."
* They did talk about other stuff, including President Trump's supporters…
"If we don't restore the American Dream. If we don't restore upward economic mobility, we'll elect somebody worse than Donald Trump," Kennedy said.

Rival candidate Daniel Biss was quick to defend Trump supporters, while saying there must be an end to the politics of division: "Donald Trump is a racist and a bigot," Biss said. "That doesn't mean that his supporters are." […]

Pritzker didn't back down from his earlier take on the president: "I don't care what part of the state I'm in. Donald Trump is still a racist, and a xenophobe, and a misogynist and a homophobe. And I'm going to call him that. I don't care," he said to applause.

But he also blamed the Democratic Party for not focusing on issues that affect the middle class during the 2016 presidential race — despite being a strong backer of Hillary Clinton.

"They voted for him [Trump] because we Democrats in 2016 didn't demonstrate that we were standing up for the kitchen table issues, the things that really matter to middle class families and those striving to get to the middle class," Pritzker said.
The full debate, shaky camera and all, is here.
- Posted by Rich Miller 13 Comments


* From Colleen Smith yesterday…
Hey Rich

Meant to forward you this when I sent it around to LAs and legislators. It's not really a statement but is our purpose for [Wednesday]. Also if you care to say anything more about it, you can tell your readers that myself, Stephanie Vojas Taylor, and Kim Janas will have black ribbons to distribute throughout the morning that people can pin on if they don't have black.

Thanks!
* The forwarded message…
On Wednesday, January 31st, we ask that you join us in solidarity by wearing black at the Capitol.

The issues of sexism and harassment are rampant across our country, and the statehouse is no stranger to these stories. Women still remain the minority in leadership positions in the General Assembly, across lobbying firms, agencies, and a variety of associations. Times up on working in an environment that fails to provide women with the opportunity to let their voices be heard equally. Times up on harassment, assault, inappropriate behaviors, and being told to work around this.

Certainly, there is more that needs to be done to address systemic challenges to general inequality. Those participating in the taskforces and womens' caucus are among those leading the charge for change. We must continue to work towards greater equality by tearing down barriers and addressing the challenges that women, and especially women of color, face.

I hope that you will join us.

Thank you,
Colleen Smith
Some commenters saw this the other day as some sort of protest against Gov. Rauner or his State of the State. It's nothing of the kind.
* From Rep. Williams…
Why I am wearing black today.#timesup pic.twitter.com/hHC6KCmHDo

— Rep. Ann Williams (@RepAnnWilliams) January 31, 2018
There's no cheering allowed in the press box, so I've been leaning against wearing black today. Your thoughts?
- Posted by Rich Miller 20 Comments


* Bernie and I apparently got the same info from an anonymous source yesterday…
The chairman of the Illinois Lottery Control Board used a disparaging term to describe East St. Louis following the recent controversy over allegations that President Donald Trump used profanity when talking about African nations.

Blair Garber of Evanston, who is also a member of the Republican State Central Committee, tweeted on Jan. 17 about the issue that arose from a White House meeting on Jan. 11. […]

The Lottery Control Board advises the lottery superintendent regarding operations, conducts hearings concerning complaints or violations and establishes advertising policy. Garber was appointed to the board in May 2016 by Gov. Bruce Rauner, and the Senate confirmed the appointment unanimously that month. The appointment letter said the post pays expenses, but comptroller's records don't show any payments to Garber for his service.

Garber represents the 9th Congressional District on the GOP State Central Committee. That district includes Rauner's Winnetka home.
* The tweet in question, edited slightly by me…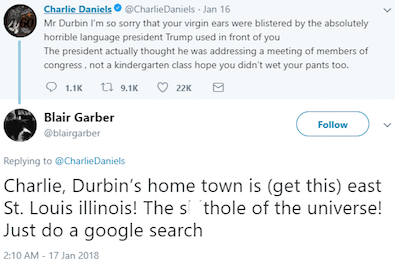 * The governor's office gave Bernie and me the same response…
There is no place for this kind of language in our political discourse.
* Ah, but there's more, and I shared it with the Rauner administration as well. This one has since been deleted…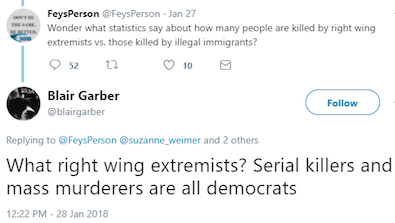 * And from his Facebook page, with a slight edit by me…
* Garber was also bragging about how well he knows the governor on Facebook this week during an online spat…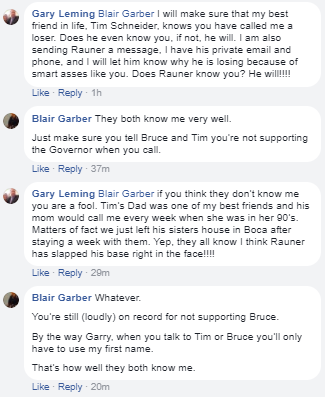 * Indeed, Garber's Evanston Township GOP recently endorsed Rauner in the Republican primary and sent out this press release…
In advance of the March 20th Republican Primary, the Evanston Township Republican Organization announced its endorsements across the ticket. "We're proud to support such an outstanding slate of Republican candidates who will push hard for conservative principles on behalf of Illinoisans," said Evanston Township GOP Committeeman Blair Garber.

Committeeman Garber added, "Illinoisans agree that Mike Madigan's reign of terror must come to an end. We need candidates who will stand up to the Madigan Machine and politics as usual. These men and women will be effective and tough citizen legislators. It's high time we had some leaders with a backbone in Springfield."
* From today's Daily Northwestern…
Rauner passed HB40, which ensured access to legal and safe abortions in Illinois should the U.S. Supreme Court overturn its ruling in Roe v. Wade. It also repealed provisions that limit health care options for women who receive coverage under Medicaid and in-state worker health plans. […]

Garber said he feels the bill created a lot of turmoil because Madigan designed it to do so. He added that Madigan chose to put forth the bill at a time that would "manipulate pro-life voters in Illinois." […]

"If Bruce is not (reelected), then the state will be in complete Democratic control," he said. "We will lose all the donors. We will lose all the financing. … That'll be the end of it. Illinois will be a one-party state run by Democrats."
* From one of Dan Proft's newspapers…
Garber is a staunch ally of Governor Bruce Rauner of Winnetka. He is one of a handful of township committeemen who has endorsed Rauner in the March 20 GOP primary, in which he is squaring off with State Representative Jeanne Ives (R-Wheaton).

Rauner appointed Garber to the Illinois Lottery Control Board in May 2016.

Garber also serves as the representative from the 9th U.S. Congressional District to the Illinois Republican State Central Committee. Rauner lives in the 9th Congressional District.

Durbin graduated from East St. Louis Assumption High School in 1962.

East St. Louis then had more than 80,000 population and was 55 percent white and 45 percent black. In 2016, the U.S. Census reported it had just under 27,000 population, 98 percent black currently.
*** UPDATE 1 *** Rep. Dave McSweeney, who is supporting Rep. Jeanne Ives' candidacy…
Governor Rauner should immediately fire Blair Garber, his handpicked Chairman of the Lottery Control Board. Garber is also a top Rauner political operative. In addition to firing Garber, the Governor should immediately apologize to the citizens of East St. Louis and all Illinois citizens for the disgusting comments made by his political appointee.
*** UPDATE 2 *** Sen. Clayborne…
The Chair of the Illinois Lottery Control Board is under fire for comments he made about East St. Louis earlier this month. Evanston resident Blair Garber used the same disgusting remarks used by President Trump to describe third world countries to describe East St. Louis in a tweet.

Garber was appointed by Governor Bruce Rauner to the board that oversees the state lottery in May of 2016.

State Senator James F. Clayborne, Jr. (D-Belleville) represents East St. Louis in the Illinois Senate and is calling on the governor to ask for Garber's resignation from the board.

"For someone who claims to love the entire state, Governor Rauner seems to surround himself with people who care little for communities besides their own," the Senate's Majority Leader said. "If the governor does not ask for Mr. Garber's resignation then I think it is obvious how the governor feels about places like East St. Louis."

Clayborne says the comments made by Garber are insulting to the many East St. Louisans who have made great contributions to Illinois and the United States.

"When you make comments like that, you disparage the legacies and accomplishments of people like jazz legend Miles Davis, Senator Dick Durbin, Congressman Jerry Costello, Poet Laureate Eugene Redmond, Major General Marcia Anderson, Olympic gold medalists Jackie Joyner-Kersee and Al Joyner, United Nations Ambassador Donald McHenry, United States Ambassador to Morocco Dwight L. Bush and the thousands of unsung heroes who have called East St. Louis home."
*** UPDATE 4 *** Rep. Jeanne Ives…
"It's a disgusting remark. Those kinds of statements from a person in a position of service to the State of Illinois cannot be tolerated. There are a lot of families and a lot of communities struggling in Illinois because of terrible public policy choices made by ruling class politicians in both parties, including Gov. Rauner. The people suffering under the rule of craven, career politicians don't deserve to be ridiculed, the craven, career politicians do.

"Rauner will have to decide if his loyalties lie with people supporting him politically or the people he was elected to serve.

"Rauner should immediately remove Blair Garber from the Lottery Control Board."
*** UPDATE 4 *** Sen. Kwame Raoul's campaign…
Sen. Raoul is calling for the resignation of the chairman of the Illinois Lottery Control Board after he called the city of East St. Louis "the sh*thole of the universe."

"Today, I'm calling on Blair Garber to resign since Gov. Rauner refuses to publicly do so. Whether hateful comments come from President Trump or Gov. Rauner's handpicked lottery chief, Governor Rauner continues to describe the tone of hateful rhetoric instead of declaring that these individuals are unfit to serve.

Last night, I was in Washington D.C. for the State of the Union Address to stand up on behalf of those who often don't have a voice. As Attorney General, I'll be right here in the trenches and will be the voice of the voiceless. To the people of East St. Louis: I've got your back," Raoul said.

Democrats from across the Metro East are formally endorsing State Senator Kwame Raoul's candidacy for Attorney General.

"We're pleased to offer our support for Sen. Kwame Raoul's campaign to be this state's next Attorney General. Kwame has taken the time to listen to voters from across the Metro East and downstate Illinois. He knows we need a fighter and we know we can depend on him," said St. Clair County Democratic Central Committee Chair Bob Sprague.

"I've been in the trenches with Kwame and I can tell you that he's tough and has what it takes to be the people's attorney. He's the only candidate in this race who has stood toe to toe with Bruce Rauner and won. He's been my partner in protecting Illinois workers from Bruce Rauner's Turnaround Agenda and now I want him to be the Metro East's partner in the attorney general's office," Rep. Jay Hoffman added.

Raoul has previously been endorsed by Sen. Bill Haine of Alton and Sen. Andy Manar of Bunker Hill along with the Madison County Democrats.
*** UPDATE 5 *** Comptroller Mendoza…
East St. Louis struggles with many challenges, including neglect from the Governor's office. Governor Rauner should stand up for the people of East St. Louis by immediately rescinding the appointment of his Lottery Control Board Chairman, Republican State Committeeman Blair Garber. Governor Rauner and his hand-picked appointee should both apologize to the people of East St. Louis and the victims of Garber's other racist and bigoted statements. How about a plan from the Governor to jump-start East St. Louis' economy?
*** UPDATE 6 *** From the governor's press office…
Mr. Garber has apologized for his comments and is resigning from the Illinois Lottery Control Board effective immediately.
- Posted by Rich Miller 62 Comments


* Gov. Rauner asked Rep. Ives several times to not interrupt him during the Tribune editorial board forum this week. For instance…
"Please, Representative, you're interrupting. Thank you. I'm respectful of you, I'd appreciate some respect in return."
* But as this fun little video shows, the governor also constantly interrupted Ives…
Heh.
* And speaking of the Tribune forum, Pritzker has a new digital ad…
Today, the JB Pritzker campaign released a new, statewide digital ad slamming Bruce Rauner in the words of his primary opponent, Jeanne Ives.

Ives "crushed" Rauner's failed record at a meeting with the Chicago Tribune editorial board, demonstrating exactly why this failed governor refuses to take responsibility for his mismanagement of the state. The significant digital buy will target voters who need to hear about Rauner's real record and make sure they see a member of Rauner's own party calling out his failures.

"Bruce Rauner's disastrous performance in front of the Chicago Tribune demonstrates exactly why this failed governor is running scared: even by his own metrics he has failed this state," said Pritzker communications director Galia Slayen. "Rauner can't defend his record, can't present any accomplishments, and is getting taken to task by his own party for refusing to take charge as Illinois families pay the price."
* The spot…
…Adding… Oof…
#Illinois Governor #BruceRauner proves once again that he wasn't kidding with his now-famous statement "I'm not in charge" in his debate with challenger #JeanneIves https://t.co/A543lOgDyE pic.twitter.com/ZciGHcvTDP

— Scott Stantis (@sstantis) January 31, 2018
- Posted by Rich Miller 17 Comments


* Press release…
A new We Ask America poll shows Democratic gubernatorial hopeful Daniel Biss climbing into second place past Chris Kennedy in a crowded field of governor hopefuls. At the same time, frontrunner J.B. Pritzker's lead has diminished to a level where this may soon turn into a much more interesting race.

Here are the latest results from our poll conducted Jan. 29-30, 2018 (811 responses; Margin of Error ±3.44%
I've already gone over this poll with subscribers today, so we'll stick mainly to WAA's release…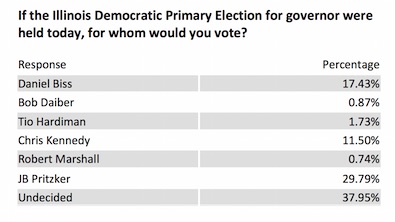 * Back to the pollster…
Biss' improvement puts him within striking distance in the Democrat-rich environments of Chicago and Suburban Cook. He falters elsewhere–especially downstate:
Click the pics for larger images…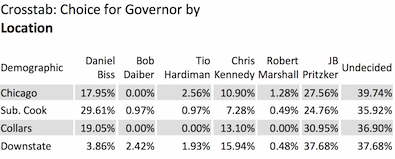 * Pollster…
Kennedy's inherent name recognition is keeping him in the game, but Biss' rise seems to put the State Senator from Evanston into a solid second position. Pritkzer's superior resources still make him the favorite, but the race is tightening up and may prove to ultimately be closer than once believed.

Click HERE to download the poll.
* Some early react…
Fastest response yet in this campaign from @KennedyforIL on New Democrat We Ask America Poll, showing @danielbiss surging: "voters are very much undecided and they're looking for another option besides JB Pritzker." #ILGOV

— Mary Ann Ahern (@MaryAnnAhernNBC) January 31, 2018
I'll post other responses as they come in.
*** UPDATE *** Biss campaign…
"The We Ask America poll confirms what we already knew," said Abby Witt, Campaign Manager, Biss for Illinois. "Voters understand the choice in this primary: a middle-class candidate with a progressive record and bold vision for Illinois' future, or a billionaire businessman who's now promising to fix the same broken systems he's benefited from. We're excited to continue growing Team Biss, and to build a state that works for the rest of us."
- Posted by Rich Miller 89 Comments


* Press release…
Today, Betsy Dirksen Londrigan, Democratic candidate for Illinois' 13th Congressional District released her first television message to voters. Focusing on her family's experience of nearly losing her son to a rare illness, the spot, titled "Jack," highlights the importance of fighting to protect health care from President Trump's and Rep. [Rodney] Davis' misguided plan to repeal the Affordable Care Act.

"The contrast between my priorities and the Trump/Davis agenda could not be more stark. I believe that health care is a right, not a privilege. No family should risk losing a loved one, or everything they've worked towards because of one medical emergency. I know firsthand how critical it is to have access to quality, affordable health care. I look forward to being a representative that stands up to President Trump and for the middle class here in central Illinois," stated Dirksen Londrigan.

Betsy and her family have been a part of the fabric of the community for generations and her candidacy has been endorsed by Sen. Dick Durbin, Rep. Jan Schakowsky, EMILY's List amongst others.
* The ad…
* Transcript…
When our son Jack was 12, a rare infection almost took his life. After intensive care for 21 days and receiving last rites twice, Jack pulled through. Donald Trump's health care plan would've bankrupted us, because it allows insurance companies to cut off families with sick kids. That's not right. Donald Trump is dangerous. And it's time we had a Congress that will stand up to him. I'm Betsy Dirksen Londrigan and I approve this message, because middle class families can't afford Donald Trump.
*** UPDATE *** Small buy…
- Posted by Rich Miller 21 Comments


* Sun-Times: "Rauner to call for end to 'partisan sniping' in State of State speech"…
Gov. Bruce Rauner plans to talk of "bringing Illinois back" by focusing on economic development — while also chiding "partisan sniping" Wednesday in his State of the State address.

The governor's final speech of what he hopes to be a first of two terms will center on reforming the state, which the Republican governor believes can be done with bipartisan effort, according to a source familiar with the speech.

Rauner will ask legislators to "roll up their sleeves" and work together to focus on economic development, while cutting the regulatory red tape and improving the job climate in Illinois. He'll also talk of the need to cut state spending and roll back taxes. With less spending, the state's capital can grow and produce more jobs, he's expected to say.

He'll also likely focus on an issue he's blasted for some time, corruption in the state's property tax assessment system. That issue has come to the forefront of his re-election campaign, as he seeks to target Democratic gubernatorial candidate J.B. Pritzker and continue his efforts against Illinois House Speaker Mike Madigan.
* Tribune: "Rauner to issue bipartisan call in Wednesday speech after ripping Madigan"…
Republican Gov. Bruce Rauner on Wednesday plans to issue a bipartisan call to lawmakers to work together to cut spending, roll back a tax hike and bring in more jobs, two days after calling Democratic House Speaker Michael Madigan "a crook" during a campaign forum.

The theme of the governor's noon State of the State speech is "Bringing Illinois Back," a source familiar with his remarks said. It's a recycled concept he's long championed on the campaign trail and is resurrecting as he asks voters for four more years in office.

Rauner will advocate for "rolling up our sleeves and working together" to spur economic development, the source said. The governor also will argue that cutting regulations, spending and taxes will help businesses grow and lead to an "in-migration of talented people into our economy." […]

While he will call for bipartisanship, Rauner also will take aim at Madigan, his chief nemesis at the Capitol who is chairman of the Democratic Party of Illinois.
* Greg Hinz: "One guess who Rauner is blaming for the state of the state"…
According to a source familiar with the speech, which will be delivered at noon tomorrow in Springfield, the biggest news will be a call to pass legislation to prevent lawmakers from working on the side as property tax appeals lawyers. That's aimed both at Madigan and Senate President John Cullerton, who are principals in law firms that do such work.

Rauner's call will echo that of one of the Democrats running against him, Chris Kennedy. Rauner previously has strongly criticized the side work, saying it leads to a "corrupt" system in which top lawmakers are more interested in taking care of their business than helping the public by reducing property taxes.

The governor also reportedly again will call for legislative term limits, a concept he frequently has pushed over the past four years but one which has made no progress, with Democrats saying Republicans are just trying to win seats they can't capture at the ballot box.
- Posted by Rich Miller 19 Comments


* I'm giving a speech this afternoon, so blogging will be light to non-existent. Keep it Illinois-centric and be nice to each other. Thanks
- Posted by Rich Miller 29 Comments


* Press release…
The Kennedy-Joy campaign will begin airing a new ad tomorrow on broadcast TV in the Chicago market and the ad will be released digitally statewide.

The ad highlights the broken property tax system that our state relies on to fund education. It's consistent with Chris's message about the need for property tax reform and the need to fully and fairly fund education at the state level. Chris was the first candidate to bring voice to this issue and just last week he released a comprehensive statewide property tax reform plan.
No word yet on how much the buy is for, but Kennedy ended December with about $737K in the bank and raised $428K since then ($250K from himself). However, the guy has a horrible burn rate. He spent $1.6 million in three months last quarter - mainly on his own operations - so if that rate continued into January he has about $632K cash on hand.
…Adding... From comments…
wasn't 500k of the 1.6 million to adelstein for an ad buy? and 90k was to P2 which included a lot of quarter 3 backpay. so maybe his burn rate was *only 1 million- he should have 200k more on hand than 632k
OK, so it's $800K. That's a somewhat decent week of Chicago TV. And then he's flat busted.
* Here's the spot…
Rate it.
* Script from the campaign…
Chris Kennedy: We need…change. not incremental change
but radical change…

Chris Kennedy: We must change the way we fund our schools…
and abandon a system that relies predominately on property taxes to do so.

Chris Kennedy: it's crippling our schools, its crippling our economy

The Middle class ends up paying too much in taxes and the wealthiest end up paying way too little.

Springfield will oppose me with everything they've got because they know I'm not afraid to change the system.
- Posted by Rich Miller 43 Comments


* Greg Hinz thinks Gov. Rauner needs to start attacking Rep. Jeanne Ives…
Content in the extent of his wealth and the power of his incumbency, Gov. Bruce Rauner this winter has effectively ignored his primary election foe, conservative state Rep. Jeanne Ives of Wheaton. Instead, he's been acting like Republicans already have re-crowned him as their champion, concentrating all his fire and energy on Democratic frontrunner J.B. Pritzker

The events of the past 24 hours show the limits of that strategy.

First, in the only debate they're likely to have, before the Chicago Tribune editorial board, Ives gobbled him right up, seemingly scoring points at will. The Tribune's coverage echoed that, and its editorial today broadly hinted that an Ives endorsement may well be on the way.

Then, news emerged that Ives finally has found the moneybags she's needed, as ex-Rauner backer Dick Uihlein sent her a check for $500,000 that may be the first of a series.

Those twin developments have changed things. If nothing else, Ives' name recognition probably has doubled. Rauner remains the favorite. But he could well just stagger across the finish line in March. And given the volatility of the electorate in the age of Donald Trump, an Ives win is not out of reach.

You want to avoid that fate, governor? Then quit whining about Mike Madigan and start acting like you would against any Democratic foe: Attack. Engage. Contrast your views and record with hers.
I can definitely see the reasons for firing back.
The other side of this coin is that Rauner has a huge lead; Ives is almost totally unknown and still doesn't have the cash to make this a real race; attacking someone on his right flank could further alienate his party's "base" voters; and she's a woman, which makes things trickier (remember my admonition that just because Donald Trump got away with doing something doesn't mean others can do the same).
* The Question: Should Rauner retaliate against Ives? Take the poll and then explain your answer in comments with your own suggestions, please.
surveys
- Posted by Rich Miller 56 Comments


* I tipped subscribers to this very real possibility earlier today…
Update on @SenSilverstein petition challenge: He's now actually 1 petition short, City Board of Elections hearing officer acknowledges mistake in first reporting Silverstein cleared challenge, now hearing officer has 13 affidavits he must explain #notoveryet #ILMarchPrimary

— Mary Ann Ahern (@MaryAnnAhernNBC) January 30, 2018
The hearing officer approved a signature that was actually a duplicate and approved two more that apparently shouldn't have been.
It looks like Silverstein is off to the courts.
- Posted by Rich Miller 21 Comments


* Former Florida governor and vanquished presidential hopeful Jeb Bush writing in National Review…
Something revolutionary is happening right now in education. Illinois, one of the most union-dominated states in the country, is ushering in a new era of educational freedom. Governor Bruce Rauner has pulled off the seemingly impossible: He led a bipartisan effort to bring educational choice to Illinois, and it begins this week.

Through a historic new program signed into law by Governor Rauner last year, taxpayers can now receive tax credits for helping fund a $100 million scholarship program. In the first year, children from families with incomes less than 300 percent of the federal poverty line will be eligible to receive a scholarship on a first-come, first-served basis.

Beginning this week, students and their families may apply for scholarships through the Invest in Kids Scholarship Tax Program's designated scholarship-granting organizations.

The scholarship program has received influential backing from across the political spectrum, including from religious leaders such as Cardinal Blase Cupich of the Archdiocese of Chicago. Just as encouragingly, the support from individuals and businesses wishing to participate in the tax-credit program has been overwhelming. In just the first 48 hours of opening the window for participation, the Illinois Department of Revenue reported that half of the needed donations for the first year of the program had been pledged.
That's the same publication which claimed Rauner was the worst Republican governor in the country, by the way.
* So, how's the program going? Notice that Gov. Bush only talks about the the first 48 hours of the new program's rollout.
Since then, pledges to Invest in Kids seem to have slowed way down. As of today, they're at $45 million in contributions out of $100 million in available tax credits. And most of that, 36.5 million, is from Cook County (which is still short of that county's $51.2 million contribution limit).
But Cook is closer to its limit than any other region. The southern Illinois region has seen just $983K in contributions even though the region's contribution limit is $8.2 million. You can click here for a pdf file of a search I ran at about 12:30 this afternoon.
…Adding… Pritzker campaign…
Today, failed presidential candidate Jeb Bush endorsed failed governor Bruce Rauner's twice vetoed "accomplishment" on school funding reform.

First, Rauner used his veto to hold school funding hostage to force through a back-door school voucher program. Rauner then issued another amendatory veto of a fix to the new funding formula. After throwing school funding into crisis, Rauner finally struck a deal with his own political appointees to avert the crisis he originally caused, implementing the school funding formula he vetoed.

"Bruce Rauner vetoed school funding reform, touted the reform as an accomplishment, vetoed a fix to that 'accomplishment,' struck a deal with his own appointees, and now wants the General Assembly to re-pass the same fix he vetoed," said Pritzker campaign spokeswoman Jordan Abudayyeh. "Jeb may be asking Illinoisans to 'please clap' for this failed governor, but students and families are tired of being subjected to the whims of Bruce Rauner's incompetence."
- Posted by Rich Miller 24 Comments


* Gallup…
President Donald Trump's job approval rating averaged 38% throughout the U.S. in 2017, but at the state level it ranged from a high of 61% in West Virginia to a low of 26% in Vermont. […]

Trump averaged the lowest first-year approval rating of any president in Gallup history, and lagged Barack Obama's 57% first-year rating by nearly 20 points. Naturally, this is reflected in Trump's state-level ratings, with only 12 states giving him 50% or higher approval, compared with 41 for Obama in 2009.

The 50% mark is an important threshold in presidential election years for presidents seeking a second term, as it correlates strongly with reelection. Popular presidents also tend to weather midterm election years with fewer party losses in Congress.

Trump's latest weekly approval rating is 38%, matching his 2017 average. Not only is the overall number not encouraging for his party heading into the 2018 midterms, but the latest state-level averages suggest Trump will be a liability for Republican candidates in far more states than he will be an asset. […]

These results are based on 171,469 Gallup Daily tracking interviews conducted nationally throughout 2017. Gallup interviewed more than 1,000 respondents in 39 states in 2017, and no fewer than 471 in any other state. Each state's sample is weighted to match U.S. Census Bureau demographic parameters for that state's adult population. The full results by state appear at the end of this article.
Approve: 33
Disapprove: 62
No Opinion: 5
Sample size: 5,452
* Methodology…
Results for this Gallup poll are based on telephone interviews conducted January 20-December 30, 2017, on the Gallup Daily survey, with a random sample of 171,469 adults, aged 18 and older, living in all 50 U.S. states and the District of Columbia. For results based on the total sample of national adults, the margin of sampling error is ±1 percentage points at the 95% confidence level.

Margins of error for individual states are no greater than ±8 percentage points and are ±4 percentage points in most states. All reported margins of sampling error include computed design effects for weighting.

Each sample of national adults includes a minimum quota of 70% cellphone respondents and 30% landline respondents, with additional minimum quotas by time zone within region. Landline and cellular telephone numbers are selected using random-digit-dial methods.
- Posted by Rich Miller 29 Comments


* That's right, narrow the property tax base even further. Great idea…
Democratic state Senator Laura Murphy of Des Plaines said the cost of owning a home in her suburban district is getting too pricey for older people.

"It's a very common concern of seniors anxious about how they're gonna remain in their homes," she said.

She wants more seniors to be able to claim a homestead exemption on their property taxes — raising the maximum annual income from $65,000 to $75,000. Another proposal would allow seniors in downstate communities to cut their tax by $7,000, up from the current $5,000.

But Carol Portman, president of the Taxpayers' Federation of Illinois, calls that problematic.

"By reducing the taxes of those folks a little bit, then you're raising it for the next door neighbors and the people across the street. Where you draw the line of who gets the benefit and who has to pay the taxes for them, it gets really tough to draw."
Portman is right. Let's jack up everyone else's taxes to give one group of people a break.
Stop this.
* Press release…
Parents who choose to send their children to K-12 private or parochial schools in Illinois may soon be able to use their Illinois Bright Start program funds to help offset those costs rather than only using those funds for college, due to a new bill filed today by State Representative Peter Breen (R-Lombard).

The new Republican federal tax law clears the way for states to allow residents to use 529 plan accounts for K-12 education expenses, in addition to their current allowed use for college expenses. In Illinois, the 529 plan (Bright Start) specifically only allows funds to be used for higher education or post-secondary training.

"Today's Bright Start Program does not provide for the recent changes in federal tax law that allow families to use their 529 plan account for K-12 educational expenses," said Breen. "My bill expands the Illinois Bright Start Program's definition of 'qualifying expenses' so that families may enjoy the full tax benefits newly available through the Republican federal tax law. Expanding the use of these tax-free funds will be help hard-working Illinois families save for their kids' education."

Breen's legislation also provides for a rollover of 529 plan funds into an Achieving a Better Life Experience (ABLE) account for an individual living with a significant disability. Whereas 529 plans may only be used for education, ABLE accounts may also be used for housing, transportation, employment training and support, assistive technology, personal support services and health care expenses. "These types of accounts really help folks living with disabilities to maintain their independence and quality of life," Breen said. "Individuals with disabilities and their families often rely on public benefits for income, health care, housing and other assistance, and eligibility is largely based on meeting an income threshold. ABLE accounts allow families to create a long-term plan with defined tax benefits for covering the significant costs associated to living with a disability."

Breen hopes to garner wide bipartisan support for his bill and is pressing for its immediate consideration in the appropriate House committee in the coming weeks.
* I don't think this is even a bill yet…
An effort is underway in Illinois that would let the terminally ill choose to end their life.

Oregon approved the option back in the mid 90's. A few more states and Canada have followed with similar laws. They allow a terminally ill and mentally sound individual to choose to end their life.

"We all die and unfortunately as we approach death, as we get sicker and sicker, often a lot of pain and suffering comes with it. And when death is imminent, when suffering is intolerable, it should be your choice," said Ed Gogol of Final Options Illinois. […]

Gogol wants an Illinois law that would have the patient being prescribed medication they would self-administer. It's not "physician-assisted suicide" or "euthanasia" because the doctor would only make sure the person qualified.

Gogol calls it compassion. "The ability to say, when suffering has truly gotten intolerable, that I don't want to go through these final agonies. I am approaching death anyway. That should be a human right."
- Posted by Rich Miller 12 Comments


* Mark Brown…
Rick Bruno was in another room last fall when his wife Jean shrieked "Oh, my God, no" in a way that led him to think there must have been a death in the family.

Instead, Jean had just opened a letter from Easterseals informing them that the agency would soon be closing the program that for the past decade has been a lifeline for their autistic 32-year-old son Danny.

"It was like getting punched in the gut," said Bruno, 62, a retired Tinley Park police officer who now works stadium security part-time.

The closing becomes final on Wednesday, when Easterseals finishes winding down two adult day programs that previously served 44 individuals with developmental disabilities.

The day programs — one in Chicago and the other in Tinley Park — have provided an intimate, structured environment in a school-like setting for adults 22 and over who face a variety of intellectual challenges.

Easterseals says it could no longer afford to operate the programs because of the low reimbursement rate paid by the state of Illinois, which has resulted in a statewide shortage of frontline caregivers to staff such facilities.

For the Brunos, the closing of the Tinley Park program set off a desperate search for another that can fill the special needs of their son. So far, they haven't found anything.
- Posted by Rich Miller 23 Comments


[The following is a paid advertisement.]
TrackBill CEO, Steven Marciniak, and his team will be in Springfield next week to show off the latest features of their legislative tracking platform.
Together with Rich Miller, we'll be hosting a happy hour reception at the Sangamo Club, 227 E Adams St, on Tuesday, February 13th from 3:30 to 6:30pm. They'll have a computer set up, so you can see first-hand how TrackBill can work for you.
Stop by for cocktails and light appetizers, and feel free to bring a friend!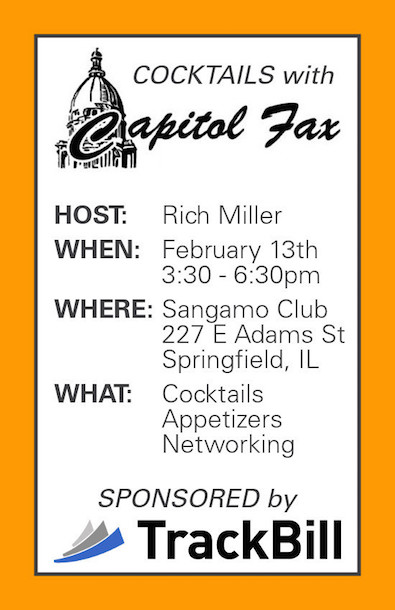 - Posted by Advertising Department Comments Off


* Cook County Record…
A former candidate who is suing Illinois House Speaker Michael J. Madigan and some of his supporters for allegedly using political tricks to sabotage his campaign, is now locked in a fight in Chicago federal court to secure the release of a 2014 inspector general's report his lawyer says is needed to shed light on how the longest serving state house speaker in U.S. history and his political organization work, to help substantiate the candidate's claims.

On Jan. 21, U.S. District Judge Matthew F. Kennelly ordered Julie Porter, who serves as the state's Special Legislative Inspector General, to turn over to him for his review a selection of documents subpoenaed by counsel for Jason Gonzales, a Chicago Democrat who unsuccessfully campaigned against Madigan in the 2016 Democratic Party primary. Among those documents, according to court filings, was a copy of the so-called "Homer Report," a report prepared nearly four years ago by former Legislative Inspector General Thomas Homer, purportedly focusing on Madigan's alleged influence over hiring decisions at the Metra commuter rail agency. […]

Porter responded to the subpoena by asking the judge to allow her to keep the report away from public view. In a motion to quash the subpoena, filed by Assistant Illinois Attorney General Sunil Bhave, who serves under Attorney General Lisa Madigan, the Speaker's daughter, Porter asserts Illinois state law mandates such reports remain confidential, primarily to protect those who may have testified or cooperated with the LIG's office.

Porter's motion also asserts Gonzales wouldn't be able to demonstrate how the Homer Report and his lawsuit are connected. […]

As a compromise, Porter offered to turn over the documents to the judge for his review before he ruled on the subpoena, an offer Kennelly accepted on Jan. 21.

In response to Porter's motion to quash, Peraica and Gonzales argued the subpoenaed documents would allow them to buttress their claims asserting "Madigan's personal actions are inseparable from his political actions" and "Madigan intertwines his political office and campaign."

"Each of these matters is likely addressed in the Homer Report, the investigation led by Homer and in complaints filed against Michael Madigan," Gonzales and Peraica said in their reply, filed Jan. 5.
…Adding… From Rep. Scott Drury…
Patronage is a corrupt practice that puts political self-interest ahead of the public interest. Politicians who benefit from or promote patronage cannot be trusted to change the status quo.

As Attorney General, I will root out corruption - including patronage - wherever it exists. We have to transform Illinois into a State that works for people, not politicians.
* Meanwhile, speaking of IG Porter…
The woman who accused a Senator of sexual harassment is speaking out after the charges were cleared.

Denise Rotheimer accused Sen. Ira Silverstein of sexual harassment in October. Just last week Inspector General Julie Porter ruled that Silverstein didn't harass Rotheimer but said he acted with "conduct unbecoming of a legislator".

Rotheimer said during a press conference on Monday, she believes Porter omitted critical information thus slanting the case for Sen. Silverstein.
* INN…
Rotheimer said earlier during a news conference the LIG report from Julie Porter was incomplete, contradictory and full of errors. She said people should be outraged.

"But if this is how the legislators want to behave at the taxpayer expense while not wanting to provide us representation and incurring higher taxes because of all this misconduct and corruption, then it will be high time for the people to be outraged," Rotheimer said.
* ABC 7…
In a written statement, Porter responded, "I fully considered all of the information Ms. Rotheimer chose to provide to me, as well as extensive additional information supplied by 19 other witnesses. I stand by my report (which is a summary, not intended to convey every detail I examined) and its conclusions."
- Posted by Rich Miller 15 Comments


* Kass on yesterday's Tribune editorial board forum…
Jeanne Ives crushed it so hard, way up into the upper deck, Rauner's re-election dreams bouncing up there all alone, echoing desperately, and all the governor seemed to be able to say was "Mike Madigan" again and again. How many times did he say Mike Madigan? You couldn't keep count.
Just for snicks, I Googled "'John Kass' Madigan" and got 36,800 results.
* The Tribune's editorial…
We said at the top of this editorial that the governor is eager to run against a Democrat, not another Republican. He made clear Monday he thinks his greatest adversary is Madigan, whom the governor attacked for being a property tax attorney in a state where many property owners challenge their assessments. "We need to focus on Speaker Madigan and his corruption," Rauner told us. He then connected dots from Madigan to J.B. Pritzker, one of the Democrats running for governor. "Pritzker is Madigan's handpicked candidate for governor. He's in effect Madigan's bagman for funding that whole corrupt culture."

One comment about such incendiary talk: We don't see how it convinces employers such as Amazon CEO Jeff Bezos, who values a stable culture of governance, to invest money and hire in Illinois.
From a September, 2017 Tribune editorial entitled "How Chicago can win Amazon's 50,000 jobs"…
Can Illinois improve its reputation in time to snag all those jobs? House Speaker Mike Madigan, Senate President John Cullerton, we've suggested that you step down from leadership and, like former Senate Minority Leader Christine Radogno, make way for fresh leadership. Gentlemen, your combined 86 years in the legislature have left Chicago and Illinois weakened for this competition. Show Amazon and others in the most convincing way possible that this state's future holds more promise.
* One of the arguments made by JB Pritzker and his defenders is that Democrats attacking Democrats only helps Bruce Rauner. The governor made the same sort of argument in reverse yesterday…
[Rep. Ives] went on to contend that Rauner broke a "strong tenet" of the GOP after promising during his initial campaign that he had no social agenda.

"He sure did have an agenda, it happened to be his wife's agenda, socially progressive agenda from his wife in a state that is broke," she said, referring to Illinois first lady Diana Rauner.

Rauner replied, "This is more false, vicious attacks."

"It's not false. It's not vicious," Ives said. "I said it nicely. It's the truth."

Rauner responded, "And Madigan loves everything that you're saying, everything that you're doing. Social issues are divisive. We need to be united."
* And from the Sun-Times…
"And the bottom line is Speaker Madigan would like nothing more than Rep. Ives to be the primary victor and to have a run against Pritzker," Rauner said.

"He would love nothing more because I am on the only person at this table that can beat Pritzker in November. And we will beat Pritzker in November because we are fighting for everyone. This is not about Republicans versus Democrats. This is about taking power away from Madigan, giving it back to the people of Illinois, and we will win."
* WGN TV…
Rauner says he's been blocked by Madigan — speaker for more than three decades. […]

Ives says there are ways to work around Madigan to accomplish goals. She says Republicans don't trust Rauner because he signed a law providing for publicly funded abortions and one friendly to immigrants.
* AP…
Rauner called the longest-serving state House speaker in U.S. history a "crook" who has enriched himself through politics. […]

Madigan spokesman Steve Brown said he wouldn't "dignify" Rauner's "crook" remark with a statement and said it appears the governor is running a campaign against Madigan because he has alienated his Republican base.
- Posted by Rich Miller 50 Comments


* From Joel B. Pollak, Senior Editor-at-Large at Breitbart News…
Conservative State Representative Jeanne Ives (R-Wheaton) received a massive donation last week from Lake Forest businessman Richard Uihlein, who formerly backed incumbent Republican Governor Bruce Rauner.

Crain's Chicago Business reports that Uihlein wrote Ives's insurgent campaign a $500,000 check Jan. 24, giving it a boost even as Rauner attempts to look past the March 20 primary and towards likely Democratic nominee J.B. Pritzker.
Massive?
Um, dude. This is 2018 Illinois A Democratic candidate has already put $42.2 million into his own race and the Republican governor has self-funded to the tune of $50 million so far and raised another $23 million.
- Posted by Rich Miller 22 Comments


* From the Rauner campaign…
Hey, Rich- We just spotted this on TV. I don't think the Pritzker campaign has formally "launched" it yet. Pritzker must be nervous if he's spending money to defend his conversations with Blagojevich.
…Adding… Pritzker campaign manager…
Odd strategy from the Rauner camp to be bragging about "finding" a negative ad against their candidate…I mean we're putting it on TV, guys. But hey, it's been a rough few days for the best political team in America. Appreciate you doing the press on the ad for us! https://t.co/Lxf9uWqwJs

— Anne Caprara (@anacaprana) January 30, 2018
* The spot…
* Transcript…
TV News Anchor: A new court filing suggests Bruce Rauner isn't telling the truth about…

Announcer: A new scandal in Springfield. Serious corruption in the governor's office. Not only has Bruce Rauner continued to do private business, he's been doing it at the governor's mansion. So, what does Bruce Rauner do? He tries to distract with attacks in the Democratic primary. But the truth is, JB Pritzker did not say anything improper. And he was accused of no wrongdoing. Bruce Rauner, attacking JB Pritzker because he can't defend his own record.
* Meanwhile, from the BGA and Politifact…
Rauner said, "No private business was conducted on public property. That issue is a contract dispute."

At its core, the question raised by the lawsuit against Rauner is simple to address. He has claimed from his first days as governor that he would have no involvement in managing an investment portfolio worth hundreds of millions of dollars to avoid any appearance of a conflict of interest.

Kirkpatrick's lawsuit contends Rauner violated that pledge. In defending himself, Rauner has appeared evasive and is now attempting to parse the difference between personal involvement with an investment and personal involvement with a contract dispute stemming from an investment.

It is a distinction without a difference. Rauner is being disingenuous and obtuse, and we rate his statement as False.
* Pritzker campaign…
"Despite repeated vows to the contrary, Bruce Rauner was caught conducting business while governor, and he continues to lie to cover it up," said Pritzker campaign spokeswoman Jordan Abudayyeh. "This failed governor broke the trust of the people, exposed himself to conflicts of interest, and refuses to come clean to Illinois families."
- Posted by Rich Miller 53 Comments


* From a self described leader of "The Resistance"…
Congressman Quigley just made it clear that the Russians successfully hacked into different Boards of Elections across America. Then he eluded to the fact that the Russians may have successfully changed the presidential vote tally in multiple states from Hillary to Trump.

— Scott Dworkin (@funder) January 29, 2018
* One of our state's Democratic attorney general candidates quickly chimed in…
Yet insiders scoffed when I pledged to investigate Russian attempts to hack our voting systems in Illinois. https://t.co/HEYCziouQC

— Renato Mariotti (@renato_mariotti) January 30, 2018
Actually, no. They scoffed when Mariotti falsely claimed that "all voting machines have been penetrated by the Russians in Illinois" and then when he compounded his error several days later by falsely claiming "all voting records have been penetrated by the Russians."
* And now Mariotti has jumped on yet another false report. Congressman Quigley countered the Dworkin tweet last night…
Here is exactly what I said about the motivation behind #Russia's election hacking & why it should matter to both Democrats & Republicans alike: pic.twitter.com/6Ks0vl2T8Q

— Mike Quigley (@RepMikeQuigley) January 30, 2018
* Transcript…
I just — we are not talking about the — we are not talking about the investigation; we are talking about the distraction that they have created. And that's sad and unfortunate, because if you're a Democrat or Republican, you should care just as much about this. They attacked the Democratic process. They hacked into boards of elections. And one can imagine a scenario in which they were just as likely to attack a Republican candidate as a Democrat.
- Posted by Rich Miller 18 Comments


* Press release…
Today, the Rauner Campaign launched a new digital ad titled "JB Pritzker, Champion of the Status Quo."

Pritzker has made it clear throughout his campaign that he is unable and unwilling to stand up to Mike Madigan and his cronies like Joe Berrios. This ad highlights how Pritzker tossed aside middle class homeowners by refusing to criticize Madigan and Berrios' property tax racket and how he stated he doesn't support term limits that would have ended Madigan's career years ago. No wonder fellow Democrats laughed at his claim that he's "an independent."

Pritzker is unwilling to stand up to the system, because he is just another cog in the Madigan Machine.
* Video…
- Posted by Rich Miller 15 Comments