Our old buddy Tim Nieukirk was interviewed by CBS2 today. Click the pic for the report.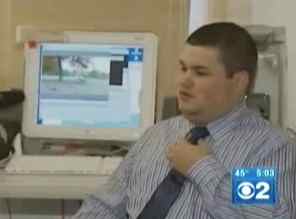 Meanwhile, Nieukirk's recently energized campaign has posted two new videos.
* "Your baby tastes horrible"

* The Man, The Myth, The Legend:

Join hands, y'all, let's all Get Nieuked.
See all of Nieukirk's "campaign ads" here. His MySpace page is here. And you can buy Get Nieuked gear here.
The nets or CNN need to step in and take this thing to the next level.
*** UPDATE *** Well, that was fast. From comments: "Brit Hume just ran the clip 'in bed with yer sister' on FOX news."
The perfect fit here would be The Daily Show.

The Rockford Register-Star endorses Rich Whitney, thereby guaranteeing the Green Party candidate lots of press coverage and hurting Topinka's chances of winning back those voters who may have temporarily parked their support with a protest candidate.
Only in the surreal realm of Illinois politics could red and blue combine to produce green.

The blue party candidate, Democratic Gov. Rod Blagojevich, has danced as fast as he can on the campaign trail in a vain attempt to stay ahead of allegations of personal corruption and fiscal irresponsibility.

The red party's pick, Republican state Treasurer Judy Baar Topinka, has conducted a negative and unfocused campaign that doesn't inspire confidence she could lead the state. Her main qualification is having a lower indictment potential than the incumbent.

There is a choice, and this Editorial Board is making it by endorsing Rich Whitney, the Green Party candidate, for Illinois governor.

We believe Whitney, a 51-year-old attorney from Carbondale, could clean up state government while leading Illinois toward school finance reform, job growth, environmental responsibility and social justice. […]

Some readers will perceive this endorsement as quixotic. We view it as pragmatic rather than foolishly idealistic. This endorsement is our battle cry: Illinois voters deserve better options.

Whitney is a serious candidate who could do the job. He might not win, but we hope he gets enough votes so Illinoisans have more of a choice when they go to the polls in the future.
This attitude that Topinka's "main qualification is having a lower indictment potential than the incumbent" is precisely the sort of thinking that Zorn warned against in this morning's column. The paper has bought into the governor's TV ad blitz, as Zorn did until, he claims, last week, when…
But let me ask you, as I finally stopped to ask myself late last week: What, exactly, is so evil about Judy Baar Topinka? What is so objectionable about the idea of her as governor?

OK, she's got a zany streak and speaks more in quips than in quotes. She's been a little too cozy with the oily bipartisan crowd of insiders who have helped disgrace our state.

But she's refreshingly blunt, socially moderate and honest enough not to pander to voters with promises she can't keep without saddling future generations with staggering debts. […]

She was not "George Ryan's treasurer," as Blagojevich's snide commercials said, any more than she was Jim Edgar's treasurer or Blagojevich's treasurer. She was your treasurer. You voted for her. Because she did a good job and avoided the sort of scandal that's crept awfully close to Blagojevich.

I'm not here to tell you Topinka has had a blameless career, would be a great governor or even that I'm planning to vote for her (full disclosure, I nearly always vote Democratic). I'm here to tell you Judy Baar Topinka is not a phony, a nitwit or a crook.
Do you favor or oppose taxpayer funded political campaigns? Explain.
I posted a bunch of poll stories late yesterday. Here's a list with links.
* Tribune governor's poll (44-29-13)
* Daily Herald governor's poll (48-32-12)
* Tribune & Daily Herald Cook County Board prez race polls (Trib: 48-33 for Stroger; Daily Herald: 51-42 for Peraica)
* New polling in US House 6 & 8
Follow the links to discuss.
I originally had comments off, but this seems a good place to discuss polling in general this year, so they're now open.
Eric Zorn apparently believes that he's bought into an ad campaign, not a reality. The headline is "Don't be duped by Blagojevich's snide TV ads." And here's how it ends:

If you vote for Blagojevich because you admire what he's done in office and believe his promises, fine. But if you vote against Topinka because you now believe that there's no difference in the integrity, sincerity or political courage of these two candidates, then you're just the sucker Blagojevich was hoping you'd be. He started this as Mr. Squandered Opportunity, an earnest twit best known for expensive grandstanding and breaking his promise to reform the system in Illinois.

The millions he spent flinging offal at Topinka and sowing general revulsion has paid off, as it was nearly bound to in a Democratic state. He's still unpopular–just 40 percent of the public views him favorably, according to our recent poll–but he's succeeded in making her even more unpopular and racking up a 15-point lead in our poll.

Barack Obama writes of the audacity of hope. Rod Blagojevich practices the audacity of cynicism. I almost fell for it. Will you?
* Meanwhile, Topinka is finally forced to dump Kj.
Republican Judy Baar Topinka spoke out Monday against a top GOP official linked to a plot to squeeze kickbacks out of companies doing business with the state […]

Topinka stopped short of calling for Bob Kjellander, treasurer of the national Republican Party, to resign. But she said he should step down if he was involved in any misconduct.

"If Bob Kjellander has done … something wrong here, he needs to resign from his party post," Topinka said before kicking off a statewide coffee-shop tour to talk to voters about the state's financial situation.
* Meeks sends kids to 'hell' - Christian fright house depicts abortion, gays
* Amtrak's expanded service begins
* Breast cancer program expands - State closes loophole so more uninsured women can get care
* Executive order requires recycling electronics gear
* Roeper: That's not voter apathy: They just don't like stench of negative ads
* AP: Gov. Rod Blagojevich's troubled fundraiser, Antoin "Tony" Rezko, won't be able to post his luxurious suburban mansion as bond after all as he scrambles to stay out of jail.
* Gov. Rod Blagojevich appeared at the school Monday to confirm that $6.8 million in state funding will be released for the National Great Rivers Research and Education Center, a project that features a partnership among LCCC and other state and federal agencies and educational bodies.
* Topinka touts budget plan at Stockholm Inn
* McCain, Roskam overlook differences
* Ailing John Stroger unable to cast vote - He'll miss first election of his adult life
* Tribune editorial: Democratic officials who endorse Todd Stroger, or who appear at events with him, or who record telephone robo-messages on his behalf, ought to closely examine Stroger's advertising. Because when they vouch for Stroger as a paragon of reform, his credibility rubs off on them.
* High college costs sacrificing students' dreams, study finds
* State grants made here as election nears
* Durbin Hits Campaign Trail
* Many Republicans expect Denny to quit if they lose House — maybe even if they don't.