* Another year has come and gone - and what a year it was. So, before the next crazy year begins, let's all take a well-deserved break. I'll be back Monday, January 5th.
As is our custom, we'll close out the year with Suzy Snowflake…
* Should Illinois hold a special election in 2016 for comptroller, or should the next comptroller serve until January of 2019? Take the poll and then explain your answer in comments, please.
online polls
* From a press release…
The Justice Department today announced the filing of a lawsuit against the Chicago Board of Education, alleging that the board discriminated against pregnant teachers at Scammon Elementary School by subjecting them to adverse personnel actions, including termination in some instances, after they announced their pregnancies. According to the complaint, these adverse personnel actions were in violation of Title VII of the Civil Rights Act of 1964. Title VII is a federal statute that prohibits employment discrimination on the basis of sex, race, color, national origin and religion. The statute explicitly prohibits employers from discriminating against female employees due to pregnancy, childbirth or related medical conditions.

The suit, filed in the United States District Court for the Northern District of Illinois, alleges that, starting in 2009, the principal at Scammon subjected female teachers to lower performance evaluations, discipline, threatened termination and/or termination because of their pregnancies. The complaint further alleges that the board approved the firing of six recently pregnant teachers employed at Scammon and forced two other recently pregnant teachers to leave Scammon. The department's complaint seeks a court order that would require the board to develop and implement policies that would prevent its employees from being subjected to discrimination due to their pregnancies. The relief sought also includes monetary damages as compensation for those teachers who were harmed by the alleged discrimination.

Two teachers who had been pregnant while working at Scammon filed charges of sex discrimination with the Chicago District Office of the Equal Employment Opportunity Commission (EEOC). The EEOC investigated the charges and determined that there was reasonable cause to believe discrimination occurred against the two charging parties as well as against other pregnant teachers. The EEOC was unsuccessful in its attempts to conciliate the matter before referring it to the Department of Justice.
According to the suit (click here), the principal in question targeted eight pregnant teachers, effectively forcing all of them out.
How the heck does this happen? Some of the teachers were tenured, for crying out loud. And why wouldn't the Board work out a deal with the feds?
Insane.
* Meanwhile…
A mayoral contender and the Chicago Teachers Union called Monday for the resignation of Chicago Board of Education member Deborah Quazzo.

They cited a Chicago Sun-Times analysis that showed companies Quazzo has an interest in have seen their business from Chicago Public Schools triple since the venture capitalist was appointed to the board last year by Mayor Rahm Emanuel.

On Monday, the teachers union also renewed its call for an elected school board, but the mayor's office would not say what Emanuel knew of Quazzo's business interests before choosing her in June 2013.

"If she has any integrity, she has to resign," said Ald. Bob Fioretti (2nd), a longtime mayoral critic who's challenging Emanuel in February's election.
The original story is here.
* State Sen. Karen McConnaughay and an Irish Santa…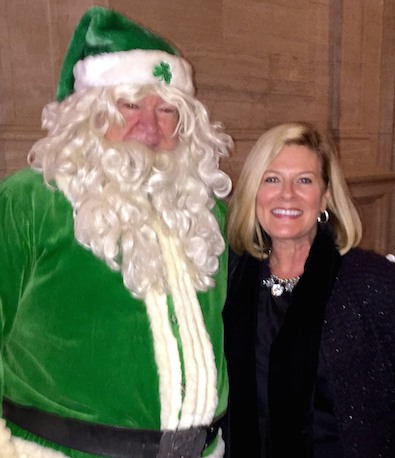 * Rod Blagojevich's brother Rob has a new book coming out…
The publisher gave The Associated Press an advance copy of the book, which is titled "Fundraiser A" and set for an April release. Robert, a Republican, agreed to work as chief fundraiser for his brother, a Democrat, in mid-2008 after accepting Rod's assurances — naively, he writes — that he wasn't under investigation. An initial complaint unsealed after the then-governor's arrest on Dec. 9, 2008, referred to Robert only as "Fundraiser A."

Before the brothers' joint 2010 trial, lead prosecutor Reid Schar proposed that if Robert talked Rod into a guilty plea, charges against the elder brother could be reduced or dismissed, the book says. Regarding the odds of convictions, the book says Schar told Robert's lawyer, "We've got the governor, but your guy can win this."

"Why did they indict me in the first place if they thought I could win?" Robert asked his attorney, Michael Ettinger, in rejecting the proposal. "I was never going to ask Rod to plead guilty to save me from prosecution." […]

Robert paints his sibling as sometimes delusional and persistently unapologetic about entangling his year-older brother in a legal nightmare. The title of one chapter, "La-La Land," is Robert's commentary on the world Rod inhabited.
This may be the first Blagojevich book that I'm looking forward to reading.
* Some excerpts…
— The book blasts then-U.S. Attorney Patrick Fitzgerald for telling reporters on the day of the then-governor's arrest that the feds had stopped a "corruption crime spree" that would "make Lincoln roll over in his grave." Writes Robert Blagojevich, "As far as I was concerned, any idea of the presumption of innocence I should have had was long lost before the trial began — starting with Fitzgerald's comment."

— Robert saw his brother at their 2009 arraignment and became annoyed that he made no effort to express regret about the legal morass his big brother found himself in. Regarding the meeting, Robert writes: "You expect that he'll apologize for dragging you into this mess. … Instead, he leans over the table and says, 'You don't look like a criminal to me.' You don't smile or laugh. This day is not a joke. You look at him without emotion and say, 'You look like you need a haircut.'"

— To illustrate the tension between them, Robert recounts how Rod once walked over during a court recess at their joint 2010 trial to say Robert was "coming off clean so far." Robert snapped back angrily: "Of course I should come off clean. I am clean. … This has nothing to do with me."
* And…
Rod Blagojevich's brother, Robert, says in a new book his relationship with his sibling has been so strained that the ex-governor even refused to see him when he traveled to Colorado to visit him in prison. […]

Robert traveled from Tennessee to the prison where Rod's serving a 14-year sentence in 2012. He writes their relationship remains "completely broken."
Discuss.
* The AP on Mayor Rahm Emanuel…
The former congressman and White House chief of staff works out daily, runs marathons occasionally and is as fit as a 55-year-old can be. But Emanuel was never much of a ballplayer — he wound up ditching soccer for ballet as a teenager — and is only so much of a sports fan today.

"He's really smart, very funny, very competitive and he knows the legislative process inside-out because he used to do the work," said Illinois Senate President John Cullerton, a longtime colleague. "He also doesn't swear nearly as much as his reputation makes it sound.

"But sports? I doubt he gives it a lot of thought," Cullerton added a moment later. "I went to the Cubs opener with him this year and he didn't seem to know much about it."
Heh.