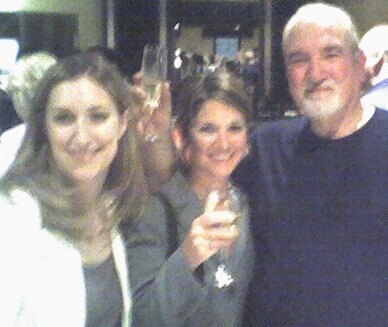 Dick Kay's retirement party at Stefani's last night. (Photo credit: "Anon BlogCam")
I know that we already had a Barack Obama question just last week, but I had a thought last night and wanted to see what you think.
I'm wondering whether the latest hype over a possible Obama run for president is just a ruse to promote his new book. After all, publicly mulling a presidential bid would get him a lot more publicity than just talking about some book that he had written.
Or, is that all backwards? Is the book a jumping off point for a possible presidential run?
Or is it something else?
Why was this Corrections official allowed to lobby for a couple of big Corrections vendors?

Illinois prison officials said Tuesday they are conducting an internal investigation into a Downstate deputy warden whose relationship with New Mexico's prison chief led to his suspension and an investigation in that state.

Illinois prisons spokesman Derek Schnapp said privacy rules prevent him from elaborating on the agency's investigation of Ann E. Casey, assistant warden for programs at the Centralia Correctional Center, who also has registered as a lobbyist in New Mexico for suppliers of prison health care and food services. […]

Records also show that since 2005, Casey has been a registered lobbyist in New Mexico for Wexford Health Sources of Pittsburgh. In 2004, Wexford was awarded a contract worth as much as $100 million for providing health services in New Mexico prisons. In 2005, Casey also registered in New Mexico as a lobbyist for Aramark, a food-service provider.

Wexford also has contracts with the Illinois Department of Corrections for medical services that have paid the firm more than $51 million so far this budget year and $71.7 million for the fiscal year that ended June 30, 2005, records show.
There's more. Read it all.
Have there been any positive editorials or columns about this turkey? From today's Daily Southtown:

While there may be some financial benefit to privatizing some segments of government, the public shouldn't be fooled into thinking this plan offers anything more than temporary cash relief. Blagojevich doesn't have to worry because he probably won't be governor when this lottery plan runs its course. Maybe the pawn shops will still be open.
Meanwhile, the governor won't release details about how he arrived at that $10 billion figure.

The Blagojevich administration said Tuesday it won't release a consultant's work on how much money the state could make by selling or leasing the state lottery. The administration compared such a move to sharing playbooks with rival sports teams.

Republicans have called for public disclosure.

Gov. Rod Blagojevich last week proposed privatizing the lottery to provide a bonanza of cash for education over the next few years. He said New York-based consultant Goldman Sachs estimated the sale would bring in $10 billion.

But the administration has not provided anything to back up that estimate or explain how it was reached. Blagojevich's aides said they are sticking by that policy because companies interested in running the lottery could use such details to craft lower bids.

"Lovie Smith wouldn't give his playbook to the Packers, and Bruce Weber wouldn't give his playbook to Michigan State," Blagojevich budget spokeswoman Becky Carroll said, referring to the coaches of the Chicago Bears and the University of Illinois men's basketball team.
He is not inspiring confidence in his plan.