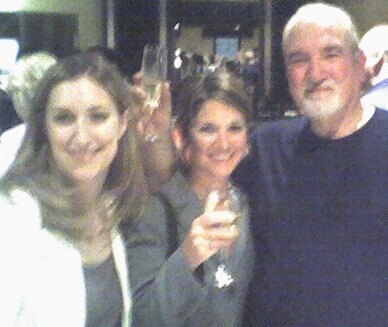 Dick Kay's retirement party at Stefani's last night. (Photo credit: "Anon BlogCam")
- Posted by Rich Miller Comments Off


I know that we already had a Barack Obama question just last week, but I had a thought last night and wanted to see what you think.
I'm wondering whether the latest hype over a possible Obama run for president is just a ruse to promote his new book. After all, publicly mulling a presidential bid would get him a lot more publicity than just talking about some book that he had written.
Or, is that all backwards? Is the book a jumping off point for a possible presidential run?
Or is it something else?
- Posted by Rich Miller 29 Comments


Why was this Corrections official allowed to lobby for a couple of big Corrections vendors?

Illinois prison officials said Tuesday they are conducting an internal investigation into a Downstate deputy warden whose relationship with New Mexico's prison chief led to his suspension and an investigation in that state.

Illinois prisons spokesman Derek Schnapp said privacy rules prevent him from elaborating on the agency's investigation of Ann E. Casey, assistant warden for programs at the Centralia Correctional Center, who also has registered as a lobbyist in New Mexico for suppliers of prison health care and food services. […]

Records also show that since 2005, Casey has been a registered lobbyist in New Mexico for Wexford Health Sources of Pittsburgh. In 2004, Wexford was awarded a contract worth as much as $100 million for providing health services in New Mexico prisons. In 2005, Casey also registered in New Mexico as a lobbyist for Aramark, a food-service provider.

Wexford also has contracts with the Illinois Department of Corrections for medical services that have paid the firm more than $51 million so far this budget year and $71.7 million for the fiscal year that ended June 30, 2005, records show.
There's more. Read it all.
- Posted by Rich Miller 35 Comments


Have there been any positive editorials or columns about this turkey? From today's Daily Southtown:

While there may be some financial benefit to privatizing some segments of government, the public shouldn't be fooled into thinking this plan offers anything more than temporary cash relief. Blagojevich doesn't have to worry because he probably won't be governor when this lottery plan runs its course. Maybe the pawn shops will still be open.
Meanwhile, the governor won't release details about how he arrived at that $10 billion figure.

The Blagojevich administration said Tuesday it won't release a consultant's work on how much money the state could make by selling or leasing the state lottery. The administration compared such a move to sharing playbooks with rival sports teams.

Republicans have called for public disclosure.

Gov. Rod Blagojevich last week proposed privatizing the lottery to provide a bonanza of cash for education over the next few years. He said New York-based consultant Goldman Sachs estimated the sale would bring in $10 billion.

But the administration has not provided anything to back up that estimate or explain how it was reached. Blagojevich's aides said they are sticking by that policy because companies interested in running the lottery could use such details to craft lower bids.

"Lovie Smith wouldn't give his playbook to the Packers, and Bruce Weber wouldn't give his playbook to Michigan State," Blagojevich budget spokeswoman Becky Carroll said, referring to the coaches of the Chicago Bears and the University of Illinois men's basketball team.
He is not inspiring confidence in his plan.
- Posted by Rich Miller 37 Comments


Yeah, it's late, but I've been kinda busy with other stuff.
Did you watch the debate yet? What did you think? Did either candidate win? Should more debates be like this, instead of the glorified press conferences that are currently the norm?
Here it is in case you haven't seen it yet.
- Posted by Rich Miller 56 Comments


· My syndicated column which uses your comments about Obama has finally been posted online.
· UPDATE: Funeral services scheduled for George Dunne
· Guv won't release Goldman Sachs report on lottery sale.
· Durbin says Obama should run for prez
· SJ-R editorial: Billion-dollar lottery question
· Debate tidbits.
· "You can't hide your Ryan ties"
· Governor ran a poll on Meeks, lottery… Survey casts doubt on `no politics' claim
· Erickson/Adrian: "We wondered: Is there more to the plan out there, like a big binder titled 'Details of the governor's school funding plan?' Or, is it just a news release, a one-page financial breakdown and the fancy PowerPoint slideshow? Blagojevich spokeswoman Rebecca Rausch told us there wasn't anything else. 'That's it,' she said."
· Southtown editorial: State Senate takes sneaky route to avoid pay raise issue
· McQueary to guv's people: "If that's your story, at least wear the clown nose while saying it."
- Posted by Rich Miller 10 Comments


This story leads to a little fun with Google.

Six months after buying the largest parcel of vacant land near the Loop, an Iraqi-born billionaire is putting up for sale a key piece of the property, which has defied development despite the torrid downtown residential real estate market. […]

Chicago-based U.S. Equities Realty LLC and Eastdil Secured LLC of New York have been hired to market the 17-acre parcel, says Michael Rumman, CEO of Heritage Development Partners LLC, which manages the project for a London affiliate of General Mediterranean Holding S.A., a conglomerate owned by investor Nadhmi Auchi. The parcel being marketed is slated to have about 670,000 square feet of retail and up to 2,000 residential units.

Iraqi-born billionaire Nadhmi Auchi is selling 17 acres at the north end of the former Rezmar site in the South Loop. […]

It is another setback for the star-crossed proposal, which was announced in early 2001 but has been ensnared by a series of obstacles: the breakdown of a deal with retailer Ikea, financial troubles, and controversy surrounding Democratic fund-raiser Antoin "Tony" Rezko, who retains an interest in the site. […]

Chicago-based Heritage, which is co-owned by Messrs. Rumman and Rezko, took over management after General Mediterranean paid $131 million for the site to a partnership led by developer Daniel Mahru and Mr. Rezko, an entrepreneur with ties to Gov. Rod Blagojevich.
Rumman also worked for Blagojevich as the embattled director of CMS.
Blagojevich knows Auchi as well.

Rod Blagojevich, Illinois' governor, said that his state "welcomes General Mediterranean Holding's (GMH) investments, and is ready to provide the necessary means for them to succeed.

A welcoming reception was held for Mr Nadhmi Auchi Chairman of GMH, who is touring the United States.

"Illinois is an important investment opportunity for big companies," said Blagojevich.

Ministers from State of Illinois, businessmen, and congressmen were also present in the dinner held in his honor.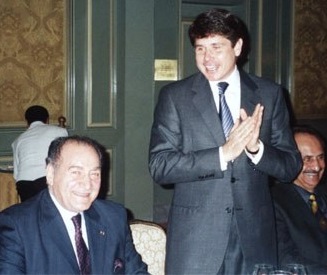 - Posted by Rich Miller 4 Comments


This is probably the most important story written so far about the political impact of the governor's lottery/education plan. After hinting about big problems with downstate Democrats last week, I had hoped to write a story just like this in a day or two, but the Post-Dispatch beat me to it.

Downstate Democrats, fearful that Chicago schools will get most of the jackpot in a proposed $10 billion privatization of the state lottery, are quietly organizing a possible rebellion against their party's own governor over the controversial plan.

"When you're talking about selling the lottery for $10 billion, that can do a lot for a lot of different schools," said state Rep. Brandon Phelps, D-Norris City. "If all the money is going to Chicago, there's no way I'm going to support this."

Phelps and other downstate Democrats said they are concerned that the proposal by Democratic Gov. Rod Blagojevich will end a lottery revenue stream that aids schools statewide, trading it in for a Chicago-centric school revitalization plan.

Details of the plan are still incomplete, and the administration denies it will be geared toward Chicago. But critics point to an appearance that the plan is being created primarily to placate a Chicago-based state senator who been threatening to challenge Blagojevich's re-election bid in November.

"All of our schools in the state should be treated equally," said state Rep. Thomas Holbrook, D-Belleville. "That's what I would not request, but demand of any program that would make such a fundamental change to the lottery system."

One of the downstate legislators, Rep. Kurt Granberg, D-Carlyle, began calling southern Illinois colleagues within the party last week to discuss strategy, and said he intends to follow up with letters to Democratic lawmakers throughout the region this week. Granberg said he hopes downstate Democrats will, as a group, threaten to oppose the measure unless they get assurances that "a substantial portion" of the program benefits downstate schools.
Read the whole thing.
It's amazing to me that the AP hasn't picked up on this piece yet.
- Posted by Rich Miller 30 Comments


Not a good day for the governor's lottery/education plan. First, the Trib slams the funding source:

Don't embrace open-ended obligations. Back in 2003, the Blagojevich administration spoke of selling the state-owned James R. Thompson Center in Chicago's Loop to cover state operating expenses–a bad idea on its face. To make matters worse, the state almost certainly would have wound up renting much of the building indefinitely from a new owner. There's a reason most people would rather own a home than pay rent. At the end of the day, they own the valuable asset. […]

- Never eat your seed corn. Blagojevich's plan is to sell or lease the lottery for $10 billion and give $4 billion of that money to schools over four years. Some of that $4 billion would expand the education infrastructure (such as building new schools), but it wouldn't provide the means to pay for ongoing operations. Worse, the plan would, by 2025, completely eliminate the lottery's revenue stream, which currently gives Illinois schools more than $600 million a year. Cashing out assets is one thing. Creating unfunded obligations for future governors is immeasurably more dangerous–all the more so when you consider the huge state pension obligations we've already kicked down the road.
Etc., etc., etc. The Trib made five distinct and criticial points about the guv's lottery idea, then moved on to the education plan itself in another editorial.

Was Gov. Rod Blagojevich's latest plan to boost education devised on the back of a cocktail napkin? That's what it looks like. […]

(H)is plan to spend an extra $4 billion in four years got concocted over a long weekend as part of a deal to persuade a potential competitor to stay out of the race for governor. It shows.

Blagojevich's detail-light education package raises many questions. Parts of the plan rely on vastly rebuilding the state's education bureaucracy to assess and monitor reforms. Yes, that's the same bureaucracy Blagojevich once demonized as wasteful and inept.

The proposal calls for the state to take over chronically failing schools. The law already grants the state the authority to take over schools. The relevant question: Is the state equipped to run struggling local school districts? The state board has already had trouble keeping an eye on the surging private tutoring industry. Soon it will have to vastly expand to oversee the governor's ambitious statewide expansion of preschool for 3- and 4-year-olds.

Blagojevich's proposal grants too much weight to relatively unimportant school matters, such as mentoring superintendents, and too little detail about significant ones, such as the takeovers of failing schools.
And on and on and on.
- Posted by Rich Miller 3 Comments