* Hyde Park Herald…
"The map that I'm seeing is an absolute non-starter. It's a horrendous map that does not take into consideration cultural affinities," [US Rep. Bobby Rush] said in a statement to the Herald. "It begins at a place called absurd and it ends at a place called ridiculous. The best thing about this map is that my southern boundaries are not in Iowa."

In her own statement, [US Rep. Robin Kelly] was more sanguine about the redistricting.

"Change is always hard, and the map released today is not final. I expect to see more changes in the final version. However, I am pleased to see that the Pullman National Monument, the Museum of Science and Industry, the future Obama Presidential Center and the proposed site of the south suburban airport will remain in my district. I have worked on these projects and with the museum for many years and look forward to continuing my work there," she said.

"I have always felt fortunate to represent Illinois' 2nd congressional district, which is representative of our nation itself, with urban, suburban and rural components. I hope the final map will reflect this."
* Worst remap take so far, and that's really saying something…
Pretty obvious why #IL03 Newman was the only Dem whose district was legit made *worse* in this map: retribution for ousting Lipinski in the 2020 primary. https://t.co/3OqMOBcm9O

— Dave Wasserman (@Redistrict) October 16, 2021
Yeah, because those noted conservadems JB Pritzker, Chris Welch and Don Harmon all banded together to mete out revenge on behalf of the pro-life legacy Lipinski. Right.
* Christie and Pompeo? OK. Also, could somebody tell Wasserman that this map will likely change over the coming two weeks? Thanks…
On Tuesday, the Sun-Times learned, former New Jersey Gov. Chris Christie and former Secretary of State Mike Pompeo, the co-chairs of the National Republican Redistricting Trust, will kick off an attack on the Democratic-drawn Illinois map, with more GOP assaults to come.

Democrats did not use all the available partisan firepower, said David Wasserman, one of the nation's foremost remap experts, who is with "The Cook Political Report with Amy Walter."

The Illinois proposed map is "both uglier and less effective for Democrats than expected," he wrote. With some shifts, Democrats could have added more protection for Rep. Lauren Underwood, who barely won a second term in 2020.

According to Wasserman's analysis Illinois Democrats – who can still revise the map - unwittingly created some potential swing districts rather than safe havens in 2022. "If the political environment goes south for Democrats in 2022, this grotesque gerrymander could turn into a 'dummymander,'" he wrote.
One possibility is that this is also a head fake. Republicans were expecting a lopsided map and this clearly is not. So, their attacks will fall flat… until the actual maps are passed in a couple of weeks.
* Using 2020 presidential numbers to predict 2022 outcomes is not smart, so keep that in mind when looking at these numbers from PlanScore, a project of the Campaign Legal Center…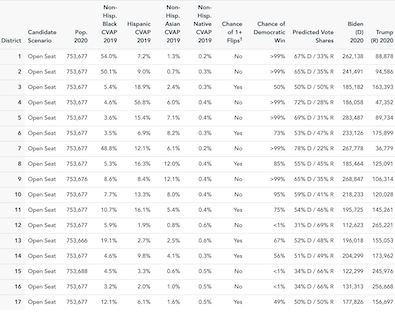 - Posted by Rich Miller Comments Off