* Four-dozen contested primaries, plus session and two very large birthday party charity events means I'm done for a while. Nobody's gonna be around anyway. I'll be back Monday, April 9th.
I don't even usually celebrate my birthday, let alone have parties, so this was a weird week for me. But it was all for charity, so I guess that's OK. A million thanks to everyone who participated, contributed and had fun with me this week. I promise you this, I'll never do it again. It was just too much "me" all the time. Not my thing. But we will raise money for charity again somehow.
* Crank it up…
I tell you, folks
It's harder than it looks
[The following is a paid advertisement.]
As opponents of SB 678 and the Taylorville Energy Center unleash their latest onslaught on the truth, Ronald Reagan's famous line seems particularly apt.
There they go again.
The only thing that's happening faster than the Exelon/ComEd/STOP penchant for saying anything to defeat the bill regardless of accuracy is the rapid-fire closing of coal-fired plants. And their seemingly endless collection of false claims hasn't gone unnoticed by objective observers.
"This episode was a lesson for us. It said ComEd would do anything necessary to protect its bottom line and keep competition away, no matter how much hyperbole and alarmism was necessary."

- Springfield Journal-Register Editorial – September 13, 2011
As the Chicago Tribune recently reported, ComEd parent Exelon spent $40,000 on a lopsided report full of "sky-is-falling" claims. Not only did this Exelon-funded "study" grossly exaggerate the unfavorable effect of natural gas price changes, but it ignored big improvements such as falling interest rates and increasing coal plant retirements that more than offset lower natural gas prices.
Why is Exelon/ComEd/STOP engaged in such a massive misinformation campaign and unleashing thousands of robocalls throughout the state? Here's why:
"If the plant is built, Exelon could lose more than $107 million each year in fees it receives from consumers as part of the auction-based system that reserves power in advance from generators to ensure lights stay on,' according to Mark Pruitt, the immediate past director of the Illinois Power Agency."

- Chicago Tribune, March 16, 2012
So next time Exelon/ComEd/STOP try to scare you about SB 678 and the Taylorville project, remember: there they go again.
[The following is a paid advertisement.]
ComEd is investing $2.6 billion over the next ten years to strengthen and digitize the electric grid. Our work – a direct result of the historic Energy Infrastructure Modernization Act passed last October – is already underway. In the past few months alone, ComEd has:
Replaced more than 22,000 feet of mainline cable. Replaced or injected more than 300,000 feet of underground residential distribution cable (URD). By replacing cable where necessary or injecting cable to fill in voids in insulation, ComEd will reduce the number of service interruptions.
Reinforced and replaced utility poles in over 200 locations: ComEd is inspecting, treating and, where necessary, replacing or reinforcing wood poles. Properly maintaining utility poles will help ComEd keep customers' power on during severe weather.
Installed more than 110 distribution automation devices: These devices will automatically detect problems on the electrical grid and reroute power, making service more dependable.
These and other improvements made in recent months are just the beginning of ComEd's commitment to delivering power you can depend on. We will continue to update you on our progress in the weeks and months ahead.
* I have a bunch of things to do today to get ready for Saturday's big event, so blogging will be light. Sorry about that, but here's a roundup to chew on for a while…
* Tuition break program survives attempt to put limits on it: The Illinois House killed legislation Thursday that would have put limits on a tuition break program for employees of the state's public universities. The proposal mustered just 25 "yes" votes of the 60 needed for passage. It would have limited the current 50 percent tuition cut to families with household incomes of $50,000 or less.

* Juvenile Justice Dept. postponing work on detention center after lawmakers raise concerns: State officials postponed remodeling work on a juvenile detention center in northeast Illinois on Thursday after some lawmakers voiced concerns that the project was violating a law that dictates how state facilities must be closed. The Department of Juvenile Justice believes it wouldn't be illegal to begin the $4 million upgrade of the Illinois Youth Center at St. Charles, even though it includes readying the facility for higher-risk offenders who are scheduled to be transferred from a detention facility in Joliet that's slated to close. The Commission on Government Forecasting and Accountability said the work appears to violate an Illinois statute that bars officials from taking any "action" to close a facility until 50 days after the governor notifies the General Assembly of the plan. That would be May 5 in this case.

* Controversy swirls around St. Charles youth center work

* Senate OKs plan to require more information in state leases: Legislation aimed at disclosing more information about the owners of state-leased buildings and the third-party contractors managing them passed the Illinois Senate unanimously on Thursday. The bill creating the new rules, sponsored by Sen. Susan Garrett, D-Lake Forest, would not apply to existing contracts, which means it would not apply to the management company owned by convicted Springfield businessman William Cellini

* Panel: Cut, don't eliminate, superintendents

* Illinois hits jackpot with online lottery sales

* Will park fees turn off tourists?

* New "Bullying" bill passes Illinois House

* Morrison School Relief Bill Killed in Committee

* Illinois Policy Institute analysis of the House Budget: Still too big
* How about you "help" this Saturday's roasters by suggesting a joke about either myself or one of our panelists? The panelist list is here.
Have at it, but keep it clean and do your best to make sure your comments are funny.
* As always with big events, there are some cancellations. We've had a few for Saturday's roast of yours truly, which has freed up three tickets. There's been a mad scramble for last-minute tix and I've been doing what I can to help people. So, these three tix may take off some of the pressure.
The roast will be held at Maggiano's in Chicago. Senate President John Cullerton is the emcee. House Speaker Michael Madigan, Senate Republican Leader Christine Radogno, Sen. Donne Trotter, Rep. Skip Saviano, Comptroller Judy Baar Topinka, Paul Green, Carol Marin and my brother Doug are all on the program, as is Attorney General Lisa Madigan (even though she won't tell me what she's doing). Live music, cash bar.
Cocktails start at 6 o'clock and dinner will be served at 7 sharp. It's black tie optional, so up your game. Valet parking is available. Tickets are $200 each. Proceeds benefit Lutheran Social Services of Illinois.
* So, starting right now, those three tickets are up for grabs. E-mail Joy Medrano at Joy.Medrano@lssi.org for your chance to attend. These are the hottest tickets in town, so don't delay. First come, first served. You'll probably be required to pay today via PayPal just to make sure you're actually coming, but that's up to LSSI.
* There's no guarantee that if you order more than one ticket you'll be able to sit with the other person on your list, so keep that in mind. And, please, only send an e-mail if you are absolutely, definitely going. This is the first time I've offered tickets to the general public, so don't disappoint me, please. Thanks.
Have at it.
* This bill passed the Senate yesterday 50-1…
The Cancer Treatment Centers of America would be allowed to weigh whether someone is a smoker when they make hiring decisions under legislation approved in the Illinois Senate Wednesday.

The proposal, from state Sen. Dan Duffy, lets for-profit companies that only treat cancer patients not hire someone because they smoke or use other tobacco products.

"That has an impact on people, when they go in (for treatment) and smell that smoke," the Lake Barrington Republican said.

Only Cancer Treatment Centers of America would be affected by the rule. Hospitals and other employers still could not discriminate against smokers when making hiring decisions because their sole business pursuit isn't treating cancer. […]

The only opponent was state Sen. Shane Cultra, a Republican from downstate Onarga, who said discrimination shouldn't be allowed.
* The Question: Should state law be changed to allow Cancer Treatment Centers of America to refuse to hire tobacco users? Take the poll and then explain your answer in comments.
* As I told subscribers earlier today, this proposal also includes another $500 million from federal Medicaid matches, leading to a proposed late overdue state bill reduction of $1.3 billion…
Illinois House members plan to use $800 million of next year's tax receipts to pay down old bills, something that will force even deeper cuts to state programs. The House Revenue Committee approved resolutions dividing up estimated state revenues among various state programs, such as education, human services and public safety. […]

Rep. Frank Mautino, D-Spring Valley, said taking money off the top to pay down bills will result in cuts to state programs that will have to be negotiated by the various House appropriations committees.

He estimated the appropriations committees would have to cut various state budgets by 5.5 percent.
Those reductions are on top of the governor's proposed cuts. Some agencies are already slated for 9 percent cuts. And it does include the governor's proposed $2.7 billion in Medicaid cuts, although it mandates that the budget will have to be cut further if Gov. Pat Quinn's target isn't reached. The resolution is here.
* And while that spending cap will be quite painful, the General Assembly is also looking at some smaller items. Here's a quick roundup…
* Illinois House votes to reduce DNR mandates: The Illinois House signed off Wednesday on a Department of Natural Resource's initiative to shed mandates it cannot or does not fulfill. The chamber voted 114-0 on House Bill 404 in an effort to save millions. For instance, if the department eliminates meeting requirements for the Illinois Geographic Information Council and changes how it reports, Mautino said DNR will save about $200,000 a year.

* Bill would eliminate inactive commissions: State government boards and commissions that no longer meet — or have never met — are a step closer to abolition after an Illinois House vote Wednesday. House Bill 3816, which was sent to the Senate on a 106-8 vote, would dissolve any board or commission if it has not met once in the last two years.

* Urban hospitals propose Illinois Medicaid plan: But the state's top Medicaid official disputed the group's claims. Illinois Department of Healthcare and Family Services Director Julie Hamos said the bulk of unclaimed federal matching money is for a portion of the All Kids health insurance program for children in higher income families. That's a program the legislature may want to target for cuts, she said. "I wish we had found $100 million in new money, but that's not it," Hamos said.

* Proposal requires SURS reimbursement when retirees return to work: Under certain circumstances, House Bill 4996 would require state colleges and universities to pick up the tab for retirees' pension payments if they go back to work. The bill passed the House on a 112-0 vote and now heads to the Illinois Senate.
Discuss.
* Yuck…
The Illinois House voted unanimously Wednesday to criminalize sexual conduct with a corpse.

House Bill 5122 also would make it a felony to move a dead body without authorization.

The bill's chief sponsor, Rep. Daniel Beiser, D-Alton, said he had received complaints from prosecutors and county coroners in Madison County that some people have moved the bodies of people who had overdosed on drugs. That contaminates a crime scene, Beiser said.

Beiser said the section criminalizing sexual conduct with a corpse was added in response to a case in Madison County from the 1990s. Today, such a person can be charged only with criminal damage to property.
* Ugh…
State laws don't address the issue of sex with a corpse, and prosecutors have resorted to charging suspects with criminal damage to property.

"When you think of that, you think of someone going … breaking a mailbox or something similar," Beiser said. "We obviously understand that isn't adequate, that anybody who abuses or mishandles a deceased just demeans the meaning of that person's life."

If the measure becomes law, sex with a corpse would result in a Class 2 felony, with punishments ranging from probation to seven years in prison. Anyone caught moving a corpse would face a Class 4 felony, with penalties ranging from probation to three years in jail.
I just wanna go back to bed.
* Rod Blagojevich's former chief of staff John Harris was sentenced to just ten days in prison yesterday. Judge James Zagel seemed to almost pity him at times…
The federal judge who handed Rod Blagojevich a 14-year prison term cited the corrupt former governor's reputation for erratic behavior Wednesday in sentencing a former top Blagojevich aide to only 10 days behind bars.

Former chief of staff John Harris' role in the bartering over President Obama's old Senate seat was "so serious and so crucial" that it warranted some prison time, said U.S. District Court Judge James Zagel. But Zagel also noted that Harris's boss exhibited "elements on some level of mental instability."

"It was difficult for me to understand, on many occasions, what the governor was doing," Zagel told Harris. […]

Before announcing the sentence, the judge said he could not honestly claim he would have reacted to a superior's directives differently than Harris responded to Blagojevich — with one exception.

"I would have left sooner, much sooner," said Zagel, who was a state official in the 1970s and 1980s and credited Harris with disobeying some of Blagojevich's orders.

The judge also cited what he described as an "unusual set of character reference letters" for Harris, many from prominent figures in city and state political circles. Zagel said he knew at least 10 of the letter writers personally.
* Judge Zagel also praised Harris for his cooperation with prosecutors…
Harris' cooperation included testifying for 10 days at two Blagojevich trials. A subdued, matter-of-fact Harris told jurors he and Blagojevich talked about parlaying the power to name someone to Obama's seat for campaign cash or a lucrative job for Blagojevich.

Much of Harris' testimony involved him interpreting FBI wiretaps played in court, including a Nov. 3, 2008, recording where an almost giddy-sounding Blagojevich talks about the prospect of benefiting by appointing Obama friend Valerie Jarrett to the Senate seat.

"Now, we should get something for that, couldn't I?" Blagojevich asks Harris.

"Yes," responds Harris flatly.
* And the prosecution stepped up for their witness…
During her 15-minute statement at the hearing, prosecutor Carrie Hamilton didn't have a single critical word for Harris.

She told Zagel Harris was "the most important" witness at Blagojevich's corruption trials. And unlike Blagojevich, who fought the more numerous charges against him until he recently reported to prison, Hamilton said Harris had "owned up" to his misdeeds within days of his Dec. 9, 2008, arrest.

She also highlighted what she said was Blagojevich's extreme inconsideration for his staff. She described how on one call captured on FBI wiretaps, Harris tells Blagojevich he was hanging Christmas tree lights with his kids and wanted to get back to it.

"Blagojevich did not care what else was going on" and kept Harris on the phone for more than an hour, Hamilton said.
Discuss.
* Oh, it was a late night at Boones, campers. I'm running real slow and having difficulty finishing the Fax.
Thanks to everyone who came out for my 50th birthday party. We raised a whole lot of money for Lutheran Social Services of Illinois. We also auctioned off five bottles of barbeque sauce, raising an amazing $4,250 for the Harrisburg tornado disaster relief fund.
The 50/50 raffle ticket winning number is 827066. The total amount is over $700, but I'm sure whoever won will donate their half back to LSSI, right?
* AARP IL had a little fun at my expense by presenting me with a huge new membership card. Sorry for the pic quality…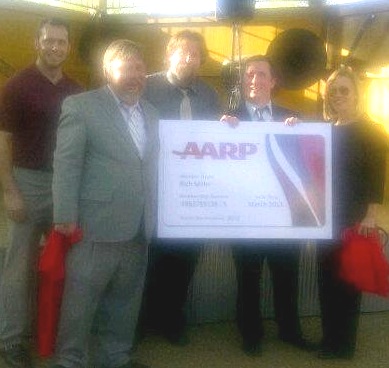 Caption?
*** UPDATE 1 *** You know, if I was more cynical and if it wasn't my party, I might think the 50/50 drawing was rigged. AARP IL has the winning raffle ticket…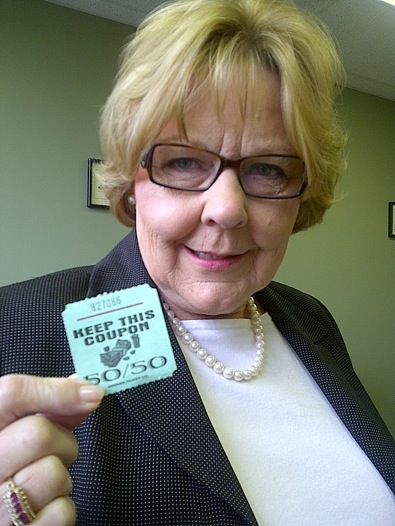 …Adding… And, of course, the other half will be donated back. Thanks!
*** UPDATE 2 *** We raised just shy of $6,000 for LSSI last night and just over $4,000 for the tornado victims. Ten grand for charity ain't a bad night. Saturday will be a whole lot bigger, though.