[The following is a donated advertisement.]
The 5th Annual Backpack Drive to benefit the students of Springfield District #186 is underway at the Abraham Lincoln Presidential Library and Museum until Wednesday, July 31, 2019.
Receive one free admission to the Presidential Museum for each backpack donation and help students start the school year off right. No time to visit the Museum in July? Vouchers are available, valid until December 31, 2019. Plan now for family visits during the upcoming holiday season.
Donating a backpack could not be easier or more convenient.
Simply bring your backpack to the ticket counter inside the Museum for same day admission.
Two convenient drop-off locations are available.
When downtown, utilize the loading zone at Union Station (500 E. Madison St.) and drop off donation just inside the door to receive a voucher.
A convenient West side location is with our partners, The Real Estate Group. Visit their office at 3701 Wabash Ave. and exchange your backpack for a voucher.
Don't have time to shop….we understand! Call 217-558-8893 to arrange a cash donation. Those who already have a membership to the museum can still give. We will donate your museum admission to a local non-profit.
Thank you for supporting us as we give back to the community!
- Posted by Advertising Department Comments Off


[The following is a paid advertisement.]
More than 800 solar energy projects are on hold because Illinois' renewable energy program isn't adequately funded to meet either current demand or the statutory renewable portfolio standard requirement of 25% by 2025.
The waitlisted, shovel-ready projects could create thousands of jobs, lower consumer electric bills and generate $220 million in property tax revenue for local governments. Funding for new commercial and community solar projects and wind farms will be depleted after 2019.
To see projects on the waitlist in your community – visit www.pathto100.net/waitlist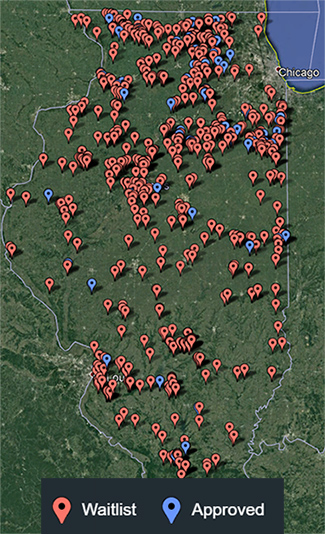 Without a fix to the state's renewable energy program, waitlisted projects may not be built.
Vote YES on HB 2966/SB 1781 to fix Illinois' clean energy cliff and let shovel-ready projects move forward.
For more information, please visit pathto100.net
- Posted by Advertising Department Comments Off