[The following is a paid advertisement.]
The deadline to let voters decide if we should reshape our constitution and redistricting process has passed, but our fight continues. Fixing the foundation of our democracy is too important and we still can move forward toward a better redistricting process.
The Illinois Redistricting Collaborative, a diverse coalition of 34 organizations, is committed to standing with the 75% of Illinois voters who want an independent citizen-led commission.
Lawmakers can stand with Illinois voters and our diverse, statewide coalition by committing to passing meaningful legislative reforms before next year's decennial redistricting.
Gerrymandering is voter suppression and we must end it. We can join the ranks of people in both red and blue states across the country who have made improvements to their redistricting process.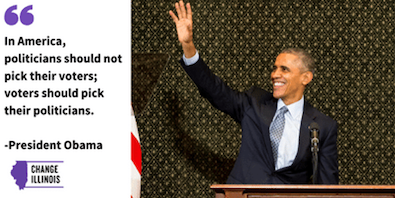 Learn more by visiting changeil.org/get-involved.
- Posted by Advertising Department Comments Off


[The following is a paid advertisement.]
Underscoring the importance of kidney health to communities across Chicagoland and the state of Illinois, the Illinois Kidney Care Alliance (IKCA) announced today that the Illinois Hispanic Chamber of Commerce (IHCC) has joined the coalition.
Currently, more than 30,000 people in Illinois suffer from kidney failure; IKCA's mission is to connect these patients with the resources they need and to fight for them when policy changes are necessary. IKCA's strength comes from its membership, consisting of health advocates and professionals, community groups, providers, and businesses focused on raising awareness about kidney disease. The addition of IHCC brings another strong advocate to the team and will provide additional resources for the group as it continues to expand.
For more information, follow us on Twitter, like us on Facebook, or visit our website.

- Posted by Advertising Department Comments Off