* Whatever else, they're consistent…
Madigan spokesman STEVE BROWN said it's been shown "on numerous times that compromises can be reached on state spending when you don't tangle it up with nonbudget issues," which is what many Democrats call elements of Rauner's business-friendly, union-weakening agenda. […]

Brown also characterized turnaround agenda items as not being reforms.

"All they do is they stuff more money in the pockets of the 1-percenters," he said.

I asked how term limits or a new way to draw legislative districts would make anybody money.

"Because then the 1-percenters prop up more candidates, like we saw in the primary, put millions of dollars in the campaign so they can get their agents," he said.
Except, Brown has also said that Madigan supports Rep. Jack Franks' redistricting reform proposal.
But who knew that MJM would turn out to be such an Occupy Wall Streeter?
* Related…
* Rauner turns to privatization push during second year in office: "He wants these things on the table, to be considered in that sort of grand bargain type of discussion," said Republican Sen. Matt Murphy of Palatine. "Philosophically, the idea is, let's look at ways we can operate government in a way that is more efficient and cost-effective and maybe produces better results." But much like the governor's legislative agenda, Democrats view Rauner's privatization agenda through a different lens: rooted in an effort to reduce costs on taxpayers and businesses by weakening worker rights. "There of course is a concern that this is really a precursor to doing away with the unionized state employees," said Democratic Rep. Lou Lang of Skokie, a top deputy to House Speaker Michael Madigan. "The governor has spent a good deal of time aggressively going after, even attacking, public-sector labor unions."

* Rauner gets behind Illinois redistricting reform push for fall ballot: "What we don't want to do is confuse voters, and it would not be productive to have several constitutional amendments on redistricting on the ballot at the same time," Rauner said… "At a time when our state is seemingly on the edge of God only knows what … 70 percent of the legislature doesn't have a fight in the fall. You don't have a budget. Who cares (among legislators)? That's what this is all about," Daley said.

* The Donald & the Democrat; Burke saved Trump $11.7M
- Posted by Rich Miller 24 Comments


* Exelon's lobbyists have been handing out this flier to legislators…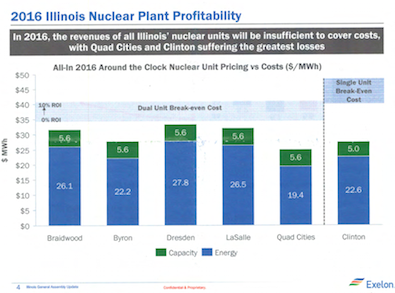 So, according to the flyer, none of Exelon's nuke plants are profitable right now, which would appear to bolster its case that it has to shut down some plants without an intervention by the General Assembly.
* But as Crain's reports, that's not what they're telling Wall Street…
Of course, Exelon's nukes are essentially protected from spot 2016 prices. More than 90 percent of their output was sold well in advance at prices that were considerably higher a few years ago. […]

The charts Exelon distributed show each nuclear plant earning energy revenue from $19.40 per megawatt-hour to $27.80 per megawatt-hour.

In investor presentations, Exelon has shown that about 90 percent of its energy revenue in the Midwest is locked in at more than $34 due to previous hedges. Combine that with $5.60 per megawatt-hour in additional revenue per agreements to deliver during high-demand periods, and Exelon's fleetwide revenue is about $40. Subtract a few dollars to cover the costs of congestion on the power grid, and the fleet (other than the smaller, higher-cost Clinton plant downstate) would seem to exceed the break-even cost of $35 per megawatt-hour Exelon has laid out.

So why didn't Exelon say that to Illinois lawmakers?

"It's not relevant," Dominguez says. "From my perspective and the company's perspective, the hedges aren't repeatable."
Yeah, but we don't even know what their prices will be next year, right?
* Meanwhile, the Illinois Solar Energy Association eviscerates ComEd's "small solar rebate for potential customers"…
ComEd's announcement of the rebate does not distract from the fact that ComEd has spent years blocking reforms that would fix Illinois broken renewable portfolio standard (RPS), that would unshackle the potential of rooftop and community solar, creating thousands of new clean energy jobs.

ComEd's announcement does nothing to change the fact that its bill includes many provisions that will hurt solar customers and workers. ComEd proposes to greatly reduce net metering, the foundational solar policy that is in place in over 40 states. Without net metering, the fledgling solar industry in Illinois would be devastated. But ComEd goes further and proposes a damaging rate change for residential customers that would limit homeowners' ability to control their energy bills. This residential rate design is so extreme, it is not used by any other investor-owned utility in the country.
Ouch…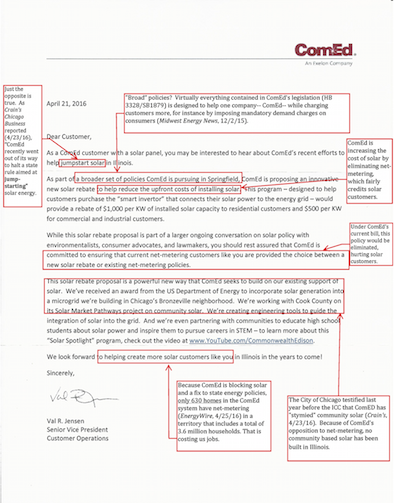 *** UPDATE *** Seems odd to me…
A deal that could have reopened Horseshoe Lake State Park fizzled because the park's electricity provider wants the state to also get caught up on its bills at two other state parks.

Metro East Park and Recreation District, at the urging of local government leaders, has offered to pay the trash and electricity bills at Horseshoe Lake during the state's budget impasse. But the electricity provider won't restore service at Horseshoe Lake unless the state also gets caught up on its delinquent bills at Ramsey Lake State Recreation Area and Carlyle Lake State Fish and Wildlife Area.

The state Department of Natural Resources announced April 20 that it was closing Horseshoe Lake because electricity and trash service were being cut off. The electricity and trash vendors weren't being paid due to the state's budget stalemate. […]

The deal fell through because the electricity provider, Southwestern Electric Cooperative, said it wouldn't restore electricity to Horseshoe Lake unless Southwestern also gets what it's owed at two other state sites: Ramsey Lake and Carlyle Lake.
- Posted by Rich Miller 8 Comments


* Bernie writes about how the Illinois Policy Institute's radio network has picked up Dan Proft's radio show…
In a show days after the March 15 primary, Proft's guest was PAT HUGHES, co-founder of the Opportunity Project, and both agreed that trying to defeat McCann was worthwhile in the long run.

On that show, Proft called McCann "a wholly owned subsidiary" of "public sector union bosses. …"

"If you're going to have Republicans that serve as enemies inside your perimeter voting with Chicago Democrats … voting against Governor (BRUCE) RAUNER's turnaround agenda, then what's the point?" Proft asked. "You destroy the party from within and you make the Republican Party what it's been for so long … sort of indistinguishable from the Democrats."

Rauner backed Benton, and Proft said on the show he didn't think the governor regretted that stand.

"For others who are contemplating becoming a quisling like McCann, just know that you'll have millions of dollars put against you if good other Republican conservative candidates can be found," Proft said. "I bet we'll turn people out more often than we won't."
The big question some Republican legislators had during and immediately after the primary was what happens if they vote for a tax hike as part of a grand bargain and Proft decides that he's against it. While Proft gets a lot of money from Rauner, he also has other supporters who could break from the governor.
- Posted by Rich Miller 16 Comments


* Sun-Times…
Threats of mass layoffs that had hung over the state's only university serving a predominantly minority, low-income student population became reality Friday, as Chicago State let go 300 employees.

The layoffs, effective April 30th, trimmed just over a third — 35 percent — of Chicago State University's administrative and non-faculty staff, sources said.

The move comes a week after CSU, which has been hardest hit by the higher-education crisis triggered by the state's historic budget impasse, received $20.1 million from a long-stalled $600 million emergency funding bill for public universities finally agreed upon by the legislature and governor. […]

"Our monthly payroll is approximately $5 million, and our goal is to get to about half of that," the CSU source said about Friday's layoffs, which will save about $2 million a month. "We're thankful for the money we received but because we don't know when we will get the rest of it, we're going to live with what we have."
* Tribune…
The cuts will save about 40 percent in payroll costs, or about $2 million a month, Calhoun said. They come after Chicago State and other Illinois schools went nearly the entire academic year without state money as lawmakers were unable to agree on a budget. Last week, lawmakers approved $20.1 million in emergency funding for Chicago State, part of a larger funding package for public universities, but it proved to be too little, too late.
State lawmakers approve funding to keep universities afloat through summer. […]

While the cash influx provided some relief, it was not enough to prevent the layoffs. Some of the money needs to go toward outstanding vendor bills. The university also has to prepare for a tenuous future, with uncertainty about student enrollment this fall and continued questions about if and when the state will approve more funding. […]

"I do expect there is a likelihood that not all faculty will be recalled," [Chicago State President Thomas Calhoun Jr.] said. He also said the university will close some buildings this summer to reduce utility and maintenance costs and will evaluate academic programs, a routine process that will involve more scrutiny this year because of the fiscal situation.

"There are those kinds of tough decisions that certainly will be made as we go through this program review process," Calhoun said.
* Meanwhile, the AP has a profile of CSU…
The student body doesn't look like those found at the other state universities. Three-quarters of the students are black and almost three-quarters are women. More than half are 25 or older and many, if not most, have transferred from other schools after struggling elsewhere.

"I've seen lots of them come unprepared for college work," said Robert Bionaz, an associate professor of history. "These are bright people who in many cases have seen life intervene." […]

But the campus tucked into a part of the city with chronically high levels of unemployment and crime represents a chance, sometimes the last chance, for many students.

"Honestly, this is like people's last resort, last choice," said Denzel Tucker, a senior physics major who transferred to Chicago State from the Illinois Institute of Technology, where a year of tuition is more than $40,000. Chicago State charges $6,000 a year.
- Posted by Rich Miller 12 Comments


* Sun-Times…
The Chicago Teachers Union appears to be backing off an end-of-year strike, citing concerns about losing health insurance as well as pay all summer, as the committee tasked with setting a strike date is to meet Wednesday.

The union also is concerned about the difficulty of winning support so close to the end of the year from Chicago Public Schools parents, who've already scrambled to make plans for kids out of class on a district-mandated March furlough day and a one-day teachers strike on April 1. […]

"If CPS provokes us, and unilaterally effects change, all bets are off," [CTU Vice President Jesse Sharkey] said, referring to the district's assertion it could yank a 7 percent pension benefit. "In the absence of that, I get a sense that our members would not be looking at a strike in May."
CPS has announced that a mid-May strike wouldn't prevent kids from graduating or finishing the school year, so a strike at that point wouldn't accomplish much except whacking teacher paychecks and upsetting parents.
* And this is also interesting…
At a regular monthly meeting Wednesday, members of the House of Delegates will consider whether they want to set a strike date. The earliest state law permits a strike is May 16. The union has to give at least 10 days' notice before walking out. The union's executive team also will meet this week and discuss strike possibilities, Sharkey said. But CTU leadership would like to give legislative proposals in Springfield, including a school funding bill proposed by state Sen. Andy Manar, D-Bunker Hill, time to play out.
The CTU has until now been non-committal about joining up with CPS to push Manar's bill.
- Posted by Rich Miller 17 Comments


* I told subscribers last week that the governor's people believed the group of legislators and staff working on crafting a conclusion to the impasse will "reach a turning point" this week.
Natasha heard pretty much the same thing over the weekend…
Sources tell POLITICO that one of those groups, which calls itself the Ad-Hoc budget committee, has a draft proposal on the table that calls for addressing both the 2016 and 2017 budgets. The proposal includes an income tax increase and the creation of a sales tax on services, as well as a version of workers compensation reform, which is something Gov. Bruce Rauner's administration has been calling for.

The Ad-Hoc budget group has met for more than a year, and is steered by rank and file interests rather than directed by leaders. It could present a recommendation this week.

Three committee members told POLITICO over the weekend that a proposal and its timing were still in flux.
Things can always change on a dime around here, so we'll see. But there is reason for some hope.
* More…
Separately, a bipartisan group of rank and file lawmakers who call themselves "the Budgeteers" have met since mid-April with the backing of four legislative leaders and Rauner. In a rare act of compromise in a hyper-acrimonious era that's seen unprecedented spending in primary elections, leaders agreed to quietly launch the group in an attempt at finding some path forward on a budget.

The group's committee has been meeting with Rauner's budget director Tim Nuding and the governor's staff. That group has met every session day and on Monday is expected to meet to discuss funding for the Department of Human Services.
The decision to allow the budgeteers to meet was made at the only leaders' meeting of the year. Subscribers got an update about human services funding today.
Anyway, good stuff by Korecki. Lots of deets. Go check it out.
- Posted by Rich Miller 21 Comments


* From Rebecca Solnit's brilliant piece in the current issue of Harper's…
Cynicism is first of all a style of presenting oneself, and it takes pride more than anything in not being fooled and not being foolish. But in the forms in which I encounter it, cynicism is frequently both these things. That the attitude that prides itself on world-weary experience is often so naïve says much about the triumph of style over substance, attitude over analysis.

Maybe it also says something about the tendency to oversimplify. If simplification means reducing things to their essentials, oversimplification tosses aside the essential as well. It is a relentless pursuit of certainty and clarity in a world that generally offers neither, a desire to shove nuances and complexities into clear-cut binaries. Naïve cynicism concerns me because it flattens out the past and the future, and because it reduces the motivation to participate in public life, public discourse, and even intelligent conversation that distinguishes shades of gray, ambiguities and ambivalences, uncertainties, unknowns, and opportunities. Instead, we conduct our conversations like wars, and the heavy artillery of grim confidence is the weapon many reach for.

Naïve cynics shoot down possibilities, including the possibility of exploring the full complexity of any situation. They take aim at the less cynical, so that cynicism becomes a defensive posture and an avoidance of dissent. They recruit through brutality. If you set purity and perfection as your goals, you have an almost foolproof system according to which everything will necessarily fall short. But expecting perfection is naïve; failing to perceive value by using an impossible standard of measure is even more so. Cynics are often disappointed idealists and upholders of unrealistic standards. They are uncomfortable with victories, because victories are almost always temporary, incomplete, and compromised — but also because the openness of hope is dangerous, and in war, self-defense comes first. Naïve cynicism is absolutist; its practitioners assume that anything you don't deplore you wholeheartedly endorse. But denouncing anything less than perfection as morally compromising means pursuing aggrandizement of the self, not engagement with a place or system or community, as the highest priority.
We are seeing this play out right before our very eyes. Criticize Gov. Rauner and you're Speaker Madigan's toady, and vice versa. Compromise is either "destruction of the middle class" or a refusal to stop Illinois' "status quo death spiral."
* Her conclusion…
What is the alternative to naïve cynicism? An active response to what arises, a recognition that we often don't know what is going to happen ahead of time, and an acceptance that whatever takes place will usually be a mixture of blessings and curses. Such an attitude is bolstered by historical memory, by accounts of indirect consequences, unanticipated cataclysms and victories, cumulative effects, and long timelines. Naïve cynicism loves itself more than the world; it defends itself in lieu of the world. I'm interested in the people who love the world more, and in what they have to tell us, which varies from day to day, subject to subject. Because what we do begins with what we believe we can do. It begins with being open to the possibilities and interested in the complexities.
Agreed.
- Posted by Rich Miller 28 Comments


* My weekly syndicated newspaper column…
Theresa Mah (D-Chicago) was never given much of a chance at winning the 2nd House District Democratic primary race March 15 against a well-known political name who had a huge demographic advantage.

Mah was vying to be the first Asian-American legislator in state history. But the 2nd District was purposely drawn to include Chinatown in order to give Asian-Americans only some "influence" in the district. In previous years, Chinatown and Asian-American neighborhoods were sliced up between several legislative districts, but the Democrats made a conscious decision to avoid a federal lawsuit against their map by creating an "influencer" district.

The census numbers show the 2nd has an Asian-American voting-age population of 23.5 percent, vastly smaller than the 53 percent Latino VAP. And Rep. Eddie Acevedo's (D-Chicago) organization had put another Asian-American on the ballot to further muddy things on behalf of Acevedo's son Alex's candidacy to replace him. But that put-up candidate was kicked off the ballot Feb. 1, and things went rapidly downhill from there.

The younger Acevedo's campaign took its own Latino base for granted and didn't take Mah very seriously. Acevedo only sent two negative mailers against Mah, and they hit the boxes very late and weren't all that effective. On the other hand, Mah, a former Pat Quinn administration official, sent numerous mailers that disastrously defined Acevedo as a Rauner/Emanuel candidate. Acevedo's Facebook page displayed a photo of him and his father with their arms around Rauner along with a post about endorsing Mayor Rahm Emanuel's re-election. Both men are hugely unpopular in Chicago, and they were tied around Acevedo's neck in multiple brutal mailers.

The Acevedo organization reportedly expected Asian-Americans to make up about 18 percent of the district's final turnout. Instead, the final number was closer to 30 percent. Asian-Americans in the city typically turn out in far lower numbers than their population strength would suggest. Not this time.

Why? A big reason was they finally had a legitimate candidate to vote for who spent a lot of time, energy and money on getting them to the polls. One Acevedo operative said he knew they were in big trouble when he saw the first packed bus unload Mah supporters at an early voting location. Same-day registration played a huge role in Mah's win as well, and it really kicked into high gear when Acevedo sent loud, obnoxious thugs to disrupt a Mah campaign event featuring Rep. Luis Gutierrez's endorsement of her. Gutierrez told reporters that he feared for his life during the rowdy event.

Word spread like wildfire (helped along by Mah's campaign) that the demonstrators had used a racial epithet. There isn't any video evidence of that, but the rumor took hold, and Chinatown's elders were furious and demanded that powerful 11th Ward Committeeman John Daley withdraw his endorsement of Acevedo.

Presidential candidate Bernie Sanders' big surge in Chicago also contributed. Sanders won the top three wards in the 2nd District, including Daley's 11th. But that backing was put into focus when Sanders supporter Chuy Garcia, a former mayoral candidate, endorsed Mah's bid. Liberal whites and younger Latinos took strong notice, and their fury at Donald Trump's appearance in Chicago and their fervent support of Sanders were channeled into supporting Mah.

The Acevedo people realized late in the game that the district's "hipsters" were coming out hard and tried to address it by placing "Acevedo/Sanders" signs at polling places. It didn't work.

Mah won Daley's ward. Some say Daley pulled his captains from the precincts the afternoon of election day under pressure from Chinatown. Others say he cleverly diverted some Democratic voters into a contested Republican ward committeeman race, where each candidate received over 700 votes while Mah won the district by a bit over 500. Others point to the fact that Daley refused to appoint the younger Acevedo to the seat if the elder Acevedo retired early as evidence that he was secretly backing Mah.

The Acevedo family also got itself involved in a nasty Democratic ward committeeman race, siding with Sen. Tony Munoz over 12th Ward Ald. George Cardenas. Cardenas lost the committeeman's race, but he ended up backing Mah, and she won the 12th by a couple of hundred votes. There were more contributing factors, but this isn't a book, even though it may feel like it.

Rep. Acevedo vows his son will be back for another try in 2018, so Mah, Illinois' first Asian-American legislator-elect, will have to work hard and not ever let her guard down.
- Posted by Rich Miller 19 Comments


* My Crain's Chicago Business column…
Remember the "Road Runner" cartoons? I loved them when I was a kid in the 1960s, even though the plot never once changed.

There were only two characters: Road Runner and his pursuer, Wile E. Coyote. The hungry coyote would chase the bird and always come up short. The coyote would develop more and more elaborate methods of capturing or killing the bird throughout each episode, often involving bizarre machines manufactured by Acme.

But the traps never worked. Dynamite failed to detonate under the bird, but the plunger would explode in the coyote's paws. A catapult would misfire, crushing the coyote under a boulder. Some crazy Rube Goldberg contraption would fail, dashing the coyote's hopes yet again.

"Meep-meep," the bird would say as he dashed down the road.

Some folks saw the cartoon as a metaphor for our failure in Vietnam. We had ultramodern equipment, but our Third World enemy always evaded defeat. Former political blogger Andrew Sullivan often compared President Barack Obama to the Road Runner and the Republican Congress to the coyote.

I think we now have a more recent, more local metaphor.
Read the rest before commenting, please. Thanks.
- Posted by Rich Miller 44 Comments