* Rep. Joe Sosnowski (R-Rockford) writing in the Kankakee Daily Journal…
As the Illinois Legislature searches for ways to provide taxpayers relief, everything must be on the table.

That is why I have introduced House Bill 261, which will remove the state unfunded mandate requiring local units of government to publish public notices in newspapers. HB 261 will save local units of government and taxpayers' money by allowing public notices to be placed on government websites instead of in newspapers. […]

One quick example that happens all over Illinois: Boone County spent more than $17,000 in 2013 on assessment publications for property taxpayers who had an assessed value change. That's $17,000 to publish assessment information. Currently, a resident receives notification in the mail of changes in assessed value and Boone County has property assessment information on their website every day.

We should not financially punish local governments that are accountable and transparent to their taxpayers; therefore, why do we require local governments to pay more to put this information in the newspaper that will be published and viewable only once?

The answer is the newspapers lobby. Yes they have lobbyists in Springfield looking to get their cut of taxpayer money. The newspaper lobby claims they are increasing accountability and transparency by fighting for these types of notices to be filed in the paper. Articles written by some journalists claim my proposal will decrease government transparency. That is utterly false.

The only thing that will be affected is the profits of newspapers. It's not the taxpayer's responsibility to keep newspapers afloat. If we are being serious, how many of us are avidly searching their local weekly newspaper to find a fire protection district budget, school annual statement of affairs, taxpayer property ID numbers, etc.? If you miss it, it is not printed again, whereas if the notice was posted online it would be available all the time and readily available for public viewing.
Discuss.
- Posted by Rich Miller 61 Comments


[The following is a paid advertisement.]
Credit unions were first exempted from federal income tax in 1917 because of their unique structure as not-for-profit financial cooperatives. Contrary to what some banks may suggest, credit unions pay property, payroll, and sales taxes.
Yet while banks decry the credit union tax exemption, nearly 40 percent of banks in Illinois elect Subchapter S status under the Internal Revenue Code to avoid federal income taxation. That's $59 million in diverted tax dollars. These for-profit Sub-S banks also pay dividends and fees — not to customers, but to directors/investors/stockholders who may or may not be depositors — to the tune of more than $1.3 billion. This is far in excess of the estimated federal income tax credit unions would pay.
In contrast, credit unions return net revenue to their members. The banker argument against the credit union tax exemption is simply disingenuous. If banks really believed that credit unions operate with an unfair competitive advantage, they would restructure their institutions to credit union charters. None would, however, because doing so would expose them to becoming democratically controlled, locally-owned financial cooperatives governed by their very own volunteer members that put people before profits — all the virtues that define the credit union difference.
- Posted by Advertising Department Comments Off


* From a press release…
Randolph County State's Attorney Jeremy R. Walker and Attorney General Lisa Madigan today announced that defendant Drew Peterson waived his right to a preliminary hearing and entered a plea of not guilty in the state's case charging him with one count of solicitation of murder for hire and one count of solicitation of murder.

Peterson, 61, an inmate at the Menard Correctional Center, waived his right to a preliminary hearing and entered the plea before Randolph County Circuit Judge Richard A. Brown.

The charges, both Class X felonies, allege that between September 2013 and December 2014, the defendant solicited an individual to carry out a murder-for-hire plot against Will County State's Attorney James Glasgow. The case is being jointly prosecuted by the Randolph County State's Attorney's Office and the Illinois Attorney General's Office.

Also today, the state filed a required notice disclosing the case involved the use of a court-ordered eavesdropping device on two occasions – from Oct. 24 to Nov. 23, 2014 and from Nov. 23 to Dec. 22, 2014.
- Posted by Rich Miller 11 Comments


* Trenton, New Jersey columnist Jeff Edelstein doesn't much care for Gov. Bruce Rauner's claims about his home state…
When I think of Illinois, I think of women shaped like fire hydrants wearing sausage-stained Chicago Bears sweatshirts. For the men, I just add a mustache.

I just wanted to get that out there.

Why? Because Illinois' newly-elected governor, Bruce Rauner, said the following last week about our fair state: "New Jersey is lost. They're going down the drain and they ain't turning it around." He said this in remarks to the Illinois Farm Bureau, a group with the motto, "Farm. Family. Food," which makes me wonder if full sentences are beyond the grasp of Illinois farmers.

But enough with the cheap insults.

Rauner, who may or may not have once fed his family dog to serial killer and Illinois native John Wayne Gacy, was speaking about the property tax situation in the Prairie State, which he claims is second worst only to the property tax situation here in the Garden State. (Yes, the Prairie State. Prairies are wide open spaces. Like the craniums of most of Illinois residents.) ("Cranium" is another word for "skull," Illinoisans.) (Say, how are those Cubbies looking this year?)

"I don't want to compete with New Jersey on anything, especially that. That's a disaster," Rauner said, according to the State Journal-Register in Springfield, Illinois.

Believe you this, Rauner, we don't want to compete with Illinois on anything either. We prefer stiffer competition. Like from New York, California, Texas. That's the A-league right there. You guys are B-league at best. Go play with Iowa or something.
* The Question: Your response to Mr. Edelstein?
- Posted by Rich Miller 102 Comments


* This was posted yesterday on Facebook…
My sister in law Mika Baugher and father in law Eric got in a car accident today. Eric seems to be doing okay so far, but Mika has 7 broken ribs. This is particularly bad for Mika because she has Cystic Fibrosis, and needs to cough often in order to keep her lungs from getting infected. It's days like this that make me so thankful that Jason Kozemczak and I have such incredible families, and grateful that technology can connect us all in times of need. Warm thoughts and prayers are welcomed/requested for Mika and Eric. Life is precious.
Mika is the front-office receptionist for House Speaker Michael Madigan. She takes a whole lot of grief from the public almost every day, but she always manages to maintain a super-sweet and friendly demeanor. I don't know how she does it.
* Mika posted an update on her condition yesterday…
Hi everyone! I am blessed for all the wonderful friends and family. I am ok. Very sore. Seven broken ribs in the left side and some are broken numerous times. The fear is my lungs will fill with fluid as I lay here. My goal is cough as I can and get up and walk as I can. I'm working on that.

Thank god for my husband. He's been here and is going to be back tomorrow. Waiting on me hand and foot. He's an angel. My Mom she is my rock and such a huge help to us. My in laws thank you for everything! Today was scary and it was a jolt but could have been so much worse! Thank you all again! Love you all.
Please join me in sending best wishes to Mika. Thanks.
- Posted by Rich Miller 27 Comments


Republican Reps. John Anthony of Plainfield and John Cabello of Loves Park and former Rep. Dennis Reboletti joined Assistant House Majority Leader Lou Lang, D-Skokie, at a news conference Monday to announce the introduction of legislation to combat the drug. Lang said he filed House Bill 1 after a 2014 task force found the problem was much worse than he expected.

The bill looks to attack the problem from a variety of different angles instead of just focusing on treatment, Lang said.

It includes provisions for the disposal of certain potentially addictive medications, limits the number of those medications to a 10-day supply, changes Medicaid to cover rehabilitation services and provides at no cost to police departments medicine used to remedy heroin overdoses. Money would also be allocated for education and treatment purposes.

Lang estimates the entire proposal would require about $25 million. He said he thought the program was worth it, but acknowledged the state faces tough fiscal times and may need new revenue streams to fund the initiative.
"Heroin is a huge problem but the budget is very tight this year also," said Rep. Patti Bellock, House Republicans' point person on the Medicaid health program for the poor. "I would try to look at cost effective ways of doing things."
Lang acknowledged that portions of the legislation -including limiting painkiller prescriptions and requiring pharmacies to serve as prescription "take back" sites - could be opposed by the powerful pharmaceutical and hospital lobby in Springfield, because of increased regulation. […]

While Illinois State Medical Society President William McDade said the group was still reviewing the legislation, he pointed to a recent paper released by the group stating support for expanding access to antidotes but urging caution in limiting the number of pills a physician can prescribe.

"In short, there's going to be a lot of pushback," Lang said.
"It's an antidote that works," said Lang. "But it's not an antidote that everybody has."

The bill requires [and pays for] first responders to carry the product. West Frankfort Police Chief Shawn Talluto supports the idea, as long as officers get the proper training. […]

"We've had people who've been overdosed," said Talluto. "Once they bring them into the ambulance and administer that drug, it will bring them back."

However, the EMTs could be farther away in some of the smaller counties. A police officer may be the first on scene.

"They're not for sure if that person is overdosed or not, because they're not a medical person," said Talluto. "They can administer that drug, and there are no ill effects against an individual if they are not an overdose victim."
• An increase in the number of times an individual can be admitted to drug court, providing people with more potential access to rehab instead of a direct path to prison.

• A mandate that requires all coroners to share information involving death due to drug overdose with Illinois' Department of Public Health and requires hospitals to report all controlled substance overdoses to the Department of Public Health within 48 hours.

• A measure to improve the Prescription Monitoring Program, which ensures people aren't "doctor shopping" to receive more opioids than needed, by mandating that pharmacies update dispensing information every day and barring patients from having more than two prescribers in a 30-day period.

• A mandated statewide prescription return program that would allow Illinois residents to return unused medications to any pharmacy for disposal.
- Posted by Rich Miller 11 Comments


* This e-mail was entitled "Chicago Credit Downgrade"…
One step closer to going bankrupt due to the out of line pensions. Are you and Karen Lewis ready to float out to the middle of the lake together in shame when the city goes belly up? Just wait until the whole state goes belly up trying to pay pensions such as our former govenor's pension that is 11, 000 a month. Oh, and what Quinn paid in for his pension will only last 18 months and then the rest of his life will be funded by taxpayers. Read up on it dope, it is all true. The only people that think this is sustainble are either idiots or biased or both. Pension default is headed our way followed by pension reform approved by the US Supreme court, not the crooked pro union courts in Illinois. Reality trumps all, and reality says the pensions are done. Once the state rejects pension reform Chicago's credit rating will go to junk and with already too high of taxes there will be nothing left to do but go belly up as the mayor has hinted at over and over now. Enjoy the collapse!
Thoughts?
- Posted by Rich Miller 81 Comments


* Last Wednesday's gubernatorial speech to the Illinois Farm Bureau is still generating news. AP…
The Republican governor of Illinois has some harsh words for Republican New Jersey Gov. Chris Christie, who campaigned hard for his election last year.

Illinois Gov. Bruce Rauner says New Jersey "is lost." He said during an Illinois Farm Bureau conference last week his state has the highest property taxes in America after New Jersey. He says he doesn't want to compete with New Jersey on anything — especially that.

He says the situation in New Jersey is a disaster. He says: "They're going down the drain, and they ain't turning it around."
* My, how times have changed…
In September, Christie appeared at a campaign event with Rauner, where the GOP challenger praised Christie as "one of the greatest public servants in America today, and one of the greatest governors in the United States" as well as "a role model for me," a "superstar" and "a friend of mine."
- Posted by Rich Miller 51 Comments


* Lynn Sweet…
Less than a day after the Chicago Sun-Times revealed that Rep. Aaron Schock, R-Ill., billed taxpayers for a private plane ride to Chicago for a Bears game, on Monday he repaid the government $1,237 for the trip. […]

With the latest check, Schock in the past weeks has paid $41,237 back to the U.S. Treasury to cover expenses billed to taxpayers. The bulk of the money was to cover costs for the redecoration of his "Downton Abby" House office in Washington.
- Posted by Rich Miller 40 Comments


* There are tons of state business rankings out there, but many are based on perceptions. Site Selection Magazine looks at hard data…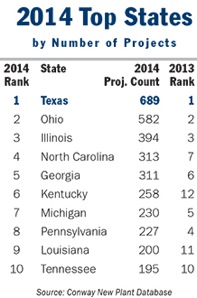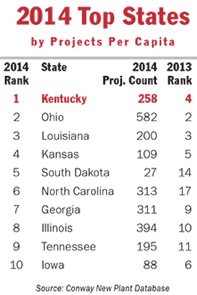 Not too bad for a state which is supposedly in a "death spiral."
* Chicagoland finished in first place…
Frank Sinatra once famously crooned, "My kind of town, Chicago is." These days he would be joined by a chorus of business and industry executives who have chosen to invest in the Windy City. In fact, 385 companies either expanded or located in Chicago in 2014, resulting in the city being named Site Selection's Top Metro in the US for the second straight year. The consecutive wins are a pleasant endorsement, says Jeff Malehorn, president and CEO of World Business Chicago.

"Winning back-to-back speaks to the economic leadership and the work being done here in the city and the region," he says, tipping his cap to Mayor Rahm Emanuel, assorted partner organizations and the business community.

Chicago's appeal is hardly surprising. The city's boasts outstanding transportation and logistical assets, including two international airports, a rail hub and seaport, and stands at the crossroads of major Interstates. Chicago and the region are home to a wealth of talent educated at some of the nation's premier colleges and universities. Foreign companies looking for a US home are drawn to the city's diverse ethnic population. "Any company outside the US can look to Chicago and see a home," says Malehorn.

Project highlights for Chicago in 2014 include:

Valence Health — a health services company based in Chicago adding 500 jobs over the next five years;
Yelp — the online review and advertising site based in San Francisco, Calif., is opening an office in Chicago and plans to hire 300 employees;
Braintree — the global payments platform expanded into a 65,000-sq.-ft. (6,000-sq.-m.) headquarters on the eighth floor of the Merchandise Mart. The company is adding 360 new jobs by 2017.
ADM — the food services company opened its new global headquarters in downtown Chicago in August 2014.
But no other Illinois city cracked the top ten in rankings for smaller towns.
* Meanwhile…
For all of the positive national press Indiana, Kentucky and Ohio seem to receive on a regular basis, a recent breakdown of the Gallup-Healthways 2014 Well-Being Index makes the region look less appealing.

Analyzed by Yahoo's 24/7 Wall St. blog , Indiana, Kentucky and Ohio landed among the nation's 10 most miserable states, according to key measures of the index.

Areas such as poverty, unemployment, obesity, mental health, smoking habits, vaccination and insufficient sleep were highlighted in Yahoo's ranking.

Indiana fared worse than Ohio, ranking number 3 on the list with a 31.8 percent obesity rate, among other measures.
The full rankings are here. Illinois finished 36th, behind New York, New Jersey and Pennsylvania.
Also, this Illinois Policy Institute study purports to show how high our "global" tax rates are in comparison to surrounding states. But four of the bottom five states (Illinois included) are separated by only half a percentage point.
- Posted by Rich Miller 45 Comments


* Gov. Bruce Rauner wants to cut $9.2 million from the Illinois State Police's budget next year, which means no new troopers…
The lack of new hires, combined with a number of troopers heading off to retirement, will mean fewer officers patrolling.

That has budget officials projecting a continuing drop in the number of alcohol-related citations handed out by the state police, from more than 16,800 in the fiscal year ending July 1, 2012, to an estimated 12,224 citations in the year ending July 1, 2016.

Despite that decrease, a state police spokesman said public safety for Illinoisans and others on the roads roadways remains a top priority for the governor.

"Given the inherited budget crisis, Governor Rauner faces some extremely tough budgetary challenges," said Master Sgt. Matthew Boerwinkle.

He added that Rauner's pick to run the state police, former Chicago Police Department administrator Leo Schmitz, "will utilize strategic enforcement strategies and best practices in order to maximize resources" to protect the lives and property of Illinois citizens.
Discuss.
- Posted by Rich Miller 49 Comments


* The governor made two speeches yesterday. One was in Pontiac…
"You choose" was the motto of Gov. Bruce Rauner in an address Monday at the Livingston County Courthouse.

From union rules to public employee pensions to term limits for elected officials, Rauner promoted local control in a 15-minute speech that raced through his post-election agenda.

The Republican governor specifically said he does not support the idea of making Illinois a "right-to-work" state — one where unions can't make employees of a specific business pay union dues — but added certain areas of the state need to function that way for Illinois to attract businesses currently going to neighboring states with "right-to-work" laws.

If the Legislature passes a proposal to allow those areas — which Rauner calls "economic opportunity zones" — he said, "I'm going to Indiana, and I'm getting companies to move to Livingston County." […]

"The state orders you in how to do your teachers' pensions, your police officers', your government workers'," he said. "You should decide that."
More from Pontiac…
"I want you to have the power to control your future. That's the key to turning our state around. If you want your teachers to be in the union and pay dues, terrific, have it, keep it. If you don't, you shouldn't have to force them to join a union. And you should be able to decide what you collectively bargain with your teacher's union. You decide. Springfield doesn't decide. Special interest don't decide. You decide," said Governor Bruce Rauner.
* The other speech was in Mundelein…
Although Rauner didn't explain in much detail, he said he plans to introduce 12 bills over the next year that will change the way government works. […]

"I want local voters to take the power over collective bargaining in your schools, municipalities, county and state," Rauner said. "If you're happy with status quo, then fine. Keep it. I won't stop you. But if you want to even the playing field, I'll stand with you."

School districts typically cannot survive a teachers strike of 10 days or more, Rauner continued, saying the administrators have little leverage to bargain with.

"I'm not anti-teachers; I just don't think they should have unlimited power," Rauner said.
* The governor also refused to take questions from reporters…
Rauner posed for photographs with club members but refused to answer questions from reporters after the speech.

"No gaggling," he told the Daily Herald.

When one reporter asked him about his political agenda while he was buying a Rotary raffle ticket, he asked her if she planned to purchase a ticket and ignored her questions.
- Posted by Rich Miller 53 Comments