* Before we go, a couple of late news stories. From the governor's office…
Name: Jason Barclay
Position: Board Member – Illinois State Board of Education

Governor Bruce Rauner has appointed Jason Barclay to the Illinois State Board of Education. Barclay's experience in state government coupled with his time working with an Indianapolis charter school make him uniquely qualified for the position.

Barclay is currently the General Counsel of Athletico Physical Therapy. Previously, he was General Counsel in the Office of Governor and oversaw the legal departments of Illinois' Executive Branch. He also worked as a partner at Barnes & Thornburg and as an attorney for former Indiana Governor Mitch Daniels.

In addition to his work as an attorney, Barclay helped found a technology-focused charter school in Indianapolis and served on its board. He has also volunteered for DARE.

Barclay earned his bachelor's degree from Duke University and his law degree from the University of Virginia. He lives in Hinsdale.

Name: Jimmy Odom
Position: Assistant Director - Department of Central Management Services

Governor Bruce Rauner has appointed Jimmy Odom the Assistant Director of Central Management Services. Odom's experience in management and minority business development will make him an asset in this role.

Currently, Odom is the Senior Vice President for Innovation and Entrepreneurship at Intersect Illinois, which is the non-profit working with the Department of Commerce and Economic Opportunity (DCEO) to grow the Illinois economy. Previously, he was a Senior Policy Adviser for Minority Business Development at DCEO where he oversaw the creation of ADME, a minority business development program designed to connect entrepreneurs to existing business networks to grow their business.

Odom is an entrepreneur and founded WeDeliver in 2012. The company connects consumers with stores to deliver products on-demand through the web.

Odom earned his degree from Columbia College. He lives in Homewood.

Name: Don Moffitt
Position: Assistant Director - Department of Agriculture

Governor Bruce Rauner has appointed former State Rep. Don Moffitt the Assistant Director of the Department of Agriculture. Moffitt is a lifelong farmer with extensive experience in state and local government, which makes him uniquely qualified for the role.

Moffitt represented the 74th District in the House of Representatives since 1993. He served as the minority spokesperson of the Agriculture & Conservation Committee and the Counties & Townships Committee. In addition, he co-chaired a fire protection task force and a task force for emergency medical services. He also served on a number of other committees ranging from education, public safety and infrastructure. Previously, he served as the Knox County Treasurer, and has held a number of other local government positions including mayor of Oneida. Moffitt also was a high school agriculture teacher.

Moffitt earned his bachelor's degree in agricultural education from the University of Illinois. He lives in Gilson.
* From IBHE executive director James Applegate…
I wanted you to know that next month I will be leaving the IBHE to pursue other opportunities to serve American higher education. I want to offer my thanks to so many good people who have helped make my time here in Illinois rewarding.

My thanks to the talented and dedicated staff at the IBHE for the great work they do and to the Board members who hired and supported me.
* And the governor signed this bill into law today…
Amends the Employee Sick Leave Act. Adds to the definition of "personal sick leave benefits" paid or unpaid time accrued and available to an employee as provided through an employment benefit plan or policy. Provides that an employment benefit plan or paid time off policy does not include long term disability, short term disability, an insurance policy, or other comparable benefit plan or policy. Adds a stepchild and domestic partner to the list of persons for whom an employee may use personal sick leave benefits. Provides that an employer may request written verification of the employee's absence from a health care professional if such verification is required under the employer's employment benefit plan or paid time off policy; and that for employers who base personal sick leave benefits on an employee's years of service instead of annual or monthly accrual, such employer may limit the amount of sick leave to be used under the Act to half of the employee's maximum annual grant. In a provision prohibiting retaliation, provides that nothing prohibits an employer from applying the terms and conditions set forth in the employment benefit plan or paid time off policy applicable to personal sick leave benefits. Provides that the Act does not apply to: (i) an employee of an employer subject to certain provisions of the Railway Labor Act; or (ii) an employer or employee as defined in either the federal Railroad Unemployment Insurance Act or the Federal Employers' Liability Act. Provides that nothing in the Act shall be construed to invalidate, diminish, or otherwise interfere with any collective bargaining agreement nor shall it be construed to invalidate, diminish, or otherwise interfere with any party's power to collectively bargain such an agreement; and that the Act does not apply to any other employment expressly exempted under rules adopted by the Department of Labor as necessary to implement the Act in accordance with applicable State and federal law. Grants the Department rulemaking authority. Effective immediately.
* Talk with you Tuesday…
War is not the answer
- Posted by Rich Miller Comments Off


* John Terranova at CMS' Office of Labor Relations just sent an e-mail to state employees about AFSCME's decision to hold a strike authorization vote later this month. From his e-mail…
Although it is your right to engage in a lawful strike, it is my hope that a strike will be averted. That said, employees should at the very least have the necessary information to make an informed decision about whether to go on strike. We will prepare a more comprehensive document, but in the meantime, please see the information below as you prepare to make this consequential decision.
* From his dot points…
What are the consequences of a strike?

The most obvious and immediate consequence of a strike would be that striking employees' wages would stop and they would be responsible for the full cost of their health insurance - their portion and the State's portion. For the average state employee, the cost of a one-month strike would be over $8,000 in lost wages, pension, and additional health insurance expense. Beyond that immediate effect, there could be many other consequences. If the strike is unlawful, employees can be terminated for striking. The previous tolling agreement between the State and AFSCME had a "no strike, no lockout" clause, making a strike under the tolling agreement illegal unless impasse was reached and AFSCME has denied that the parties are at an impasse but nevertheless now calls for a strike vote. The State will vigorously pursue all lawful means at its disposal for challenging an unlawful strike.

Even if a strike by AFSCME is determined to be legal, employees may be replaced. Unless an unfair labor practice caused the strike, striking employees may not automatically have the right to have their job back at the end of the strike. They would only have the right to vacancies IF they were qualified and IF one exists.

What will the State's response to a strike be?

The State will call on whatever resources it needs, from private vendors, other states, local governments, and other state resources to maintain services. While the State would prefer to continue to utilize its regular workforce, the State's duty to continue to provide services does not stop simply because AFSCME chooses to go on strike. In light of AFSCME's repeated threats to go on strike, the State has had extensive conversations with outside resources who are willing to step up in the event of a strike. Additionally, the State's procurement laws contain an exception that allows the State to immediately engage outside vendors in the event of an emergency such as a strike. ​ In sum, the State is prepared to continue delivering critical services to its citizens with or without employees who choose to go out on the picket line.
- Posted by Rich Miller 37 Comments


* From CPS…
In the wake of Gov. Rauner's broken promise to fairly fund Chicago Public Schools, CEO Forrest Claypool announced today that all District employees will be furloughed on four non-instructional days this school year.

"As we address CPS' financial challenges, we have two goals: minimize classroom disruptions and restore funding that treats Chicago students fairly," said CEO Forrest Claypool. "Since Governor Rauner is denying fair funding to Chicago students, we are forced to make cuts that will create new challenges for schools that are working to build on their academic gains. But make no mistake, any additional cuts we are forced to make would fall squarely at the governor's feet."

Employees will not work on furlough days and will not be paid for the furlough days. The District expects these adjustments to save approximately $35 million to be used to reduce the gap caused by the governor's veto.

In the meantime, CPS will continue to fight for fair funding for Chicago's students. If Gov. Rauner continues to treat Chicago children as political pawns, CPS will be forced to take additional steps to reduce spending, working to minimize disruptions to classroom instruction.

The furlough days are taking place on previously scheduled School Improvement Days for staff, which are used to train teachers on instructional strategies, analyze student academic data and plan or refine curriculum to meet students' needs. The furlough days are:

· Friday, February 3, 2017

· Friday, April 7, 2017

· Wednesday, June 21, 2017

· Thursday, June 22, 2017

In a letter to employees today, Claypool wrote: "For our part, once again we will fight tooth and nail to protect our classrooms, and to ensure that these political games won't roll back the tremendous progress by Chicago students. However, with a hole of this size in our budget, we have no choice but to begin to take immediate action to preserve CPS' solvency. To be clear: Governor Rauner cut funding for CPS pensions by $215 million at the same time that the state is increasing its contributions for other districts' pensions by $300 million, to nearly $4 billion."
*** UPDATE ***  From the governor's office…
Hi, Rich:

"Continuing to blame the Governor, who has been in office two years, for decades of fiscal mismanagement and bad decision-making is getting old. CPS willingly chose to budget for money they had not received and knew was contingent upon real pension reform. The Administration is open to considering this legislation again if the General Assembly passes statewide pension reform."

Best,
ck
- Posted by Rich Miller 16 Comments


* Trib…
Hoping to bring better stewardship to a troubled institution, Gov. Bruce Rauner plans to name Paul Vallas as one of four new trustees to the Chicago State University board, an unexpected arrangement between former political rivals.

The appointment of Vallas, who ran Chicago Public Schools from 1995 to 2001, and the other board members will be effective Monday. The other trustees are Chicago attorneys Tiffany Harper and Nicholas Gowen, and World Sport Chicago executive director Kam Buckner, the Tribune has learned.

"Chicago State is a critical institution for the city of Chicago and Illinois," Rauner said in a statement. "These four transformational leaders bring the experience and expertise that is needed to help ensure the university's long-term success."

The appointments mark a significant shift on the board, which will now be controlled by Rauner appointees, and comes at a time of turmoil for the 150-year-old Far South Side campus.
Rauner and Vallas have talked about various opportunities since the election. Either way, the CTU didn't much care for Vallas back in the day and gave Pat Quinn all kinds of grief when he chose him as a running mate. So while they're not quite on the same page on things, they are closer than it may appear.
- Posted by Rich Miller 15 Comments


* Today…
Before I met with Kool to talk about clean energy, I had to ask him what his favorite @KoolntheGngLIVE song is. #KoolandtheGov pic.twitter.com/74lhdohjO5

— Bruce Rauner (@GovRauner) January 13, 2017
My personal fave is "Jungle Boogie." Man, that song rocked…
Feel the funk y'all
* But what's up with the clean energy stuff? I Googled it and initially came up with a couple of stories from 2008 like this one…
In one TV commercial, Kool and the Gang warble their celebration of good times because coal, yes, coal, makes the party possible in America. In another, white and black, young and old, male and female, and even someone in a doctor's green scrubs, stare into the camera and soulfully declare: "I believe" American know-how will make coal clean and stop it from contributing to climate change. Not sold? Maybe you missed the newspaper ads and billboards warning that turning away from coal could mean blackouts, unemployment and higher electric bills.
* But in an interview last August, Kool said he's now taking a different route…
I am working in solar energy. I'm working with the Chicago Institute of Technology. I'm talking to some people about solar energy. There is sustainable energy in Africa. Look at Africa. There is 80 percent sun all the time. I'm in the process of just bringing people to the table right now. I'm doing the introductions. I'm doing this because solar energy is clean. It's the way of the future. "Klean" energy is Kool.
More here.
Cool… I mean… Kool.
- Posted by Rich Miller 8 Comments


* Background is here. From a press release…
Statement on AFSCME's Decision to Authorize a Strike Vote

CHICAGO – Illinois Governor's Office General Counsel Dennis Murashko issued the following statement Friday on AFSCME's decision to authorize a strike vote:

"Within weeks of our attempt to implement common sense changes like a 40-hour work week and zero tolerance for being intoxicated in the workplace, AFSCME has rushed to authorize a strike, putting Illinois residents at risk. It is disappointing that AFSCME refuses to respect the state labor board's bipartisan ruling and work with us to implement a contract that is fair to taxpayers and state employees alike."

Background

Drug Testing: http://www3.illinois.gov/PressReleases/ShowPressRelease.cfm?SubjectID=3&RecNum=13954

Workplace Safety: http://www3.illinois.gov/PressReleases/ShowPressRelease.cfm?SubjectID=3&RecNum=13902

Volunteers/Day of Service: http://www3.illinois.gov/PressReleases/ShowPressRelease.cfm?SubjectID=3&RecNum=13891
- Posted by Rich Miller 42 Comments


* Lancet…
On Oct 11, World Obesity Day, WHO upped the ante in its fight against sugar. First, it called for governments to introduce subsidies for fruits and vegetables and taxation of unhealthy foods, with a particular target on sugary drinks. The new WHO recommendations are based on global expert opinion and 11 systematic reviews of the effectiveness of fiscal interventions for improving diets and preventing non-communicable diseases (NCDs).
That action helped spark what some are calling a "war on sugar." And it has led to Cook County's penny per ounce sugary beverage tax…
"The amount that we spend in the Cook County Hospital and Health Systems is approximately $200 million to treat heart disease, kidney disease, diabetes and others," said Dr. Javette Orgain, a member of the American Academy of Family Physicians. "From our perspective, it's worth the fight to add a tax to sugary beverages to reduce the consumption."
* The Senate's "grand compromise" also includes a tax on sugary drinks, although Arkansas led the way long ago…
The Southern state has levied taxes since 1983 on soft drinks and syrups and related products ranging from 0.16 to 1.56 cents per ounce.
With the increased momentum from local governments who've lately been passing their own taxes, a new statewide tax in a big state like Illinois could lead to even bigger states like California passing their own.
So, expect a huge pushback on this aspect of the Senate package.
* From Pepsi MidAmerica…
Overnight, the retail price for a two-liter soft drink in Illinois could jump nearly 70 cents, a 12 pack of refreshments could increase $1.44, and a 12 pack of tea would add an additional $2.04 if Illinois lawmakers have their way. Bills are being introduced in the Illinois House and Senate to impose a penny-per-ounce surcharge to consumers on caloric sweetened liquid refreshments. Opposition to the tax comes from every corner of the state and includes consumers, civic organizations, small business owners, and the labor force. Trevor Borowiak, President Borowiak's IGA stated "The burden of this regressive tax on liquid refreshments will affect Illinois families who are already paying too much of their income on taxes. Consumers do not need the government telling them what to put in their shopping cart."

Senate Bill SB0009 imposes a tax on Liquid Refreshments, Teas, and Juices which are already subject to a 6.25 percent tax compared to 'qualifying food and drugs,' which are taxed at one percent. The legislation would raise the cost of soda, juice drinks, sports drinks, teas, and more. "It's a senseless tax since it will drive down the volume upon which it depends to raise revenue," said John Rains, Pepsi MidAmerica Executive VP & General Manager. "Not only will this affect the liquid refreshment companies, but as it depresses sales, it will pose a significant impact on convenience stores, restaurants, grocery, schools; basically anyone serving liquid refreshments."

The Illinois liquid refreshment, tea, and juice industry currently provides 114,124 jobs at 55 bottling and distribution facilities throughout Illinois. Together these companies now pay $6.2 billion in annual wages. They generate a yearly economic impact in Illinois topping $21 billion according to the Illinois Coalition against Beverage Taxes.
* The Illinois Manufacturers Association has voiced its disapproval and so has IRMA…
Also unpopular, at least with the Illinois Retail Merchants Association, is a proposed penny-an-ounce tax on sugary drinks, modeled on a levy recently adopted by Cook County.

The tax is "regressive" and "unreliable" as a source of money, said IRME President and CEO Rob Karr. "It goes in the exact opposite direction of where we should be: a broad-based, low-rate system."
Thoughts?
* Related…
* Big Sugar's Secret Ally? Nutritionists

* How Much Harm Can Sugar Do?

* Coca-Cola Working to Make War on Sugar a Profitable Venture: To respond to consumers' growing aversion to the sweetener, the company is offering smaller bottles and cans — essentially getting customers to pay more for less product. It's also creating new brands and reformulating existing drinks to cut sugar. Coca-Cola says the shift will actually increase sales, and the company's third-quarter results on Wednesday backed up that confidence. Revenue beat analysts' estimates, helped by water and sports drinks as well as the higher-margin small packages.

* 'War on sugar' fosters change for global candy industry: The "war on sugar" has dented demand of sweet snacks as 47% of global consumers look for foods with limited or no added sugar, according to a recent survey by Euromonitor.

* Choosing Sides in War on Sugar: The people at candy-maker Mars Inc. have something to tell you: Stop eating so much sugar! According to the Wall Street Journal, the manufacturer of M&Ms, Snickers and Twix has thrown its weight behind a U.S. Food and Drug Administration push to include measures of added sugar on food labels. Non-candy food manufacturers such as Campbell Soup Co. are opposed to the change, but Mars figures that people already know their candy bars are full of sugar.
- Posted by Rich Miller 41 Comments


* The Illinois Policy Institute takes a closer look at the agenda outlined during Speaker Madigan's inauguration address…
"Making sure all businesses pay something": To start with the only idea that might have a sliver of growth connected to it, Madigan proposes cutting the corporate income tax rate in half. This idea taken alone is a positive start. The corporate income tax brought in $2.4 billion in fiscal year 2016. Cutting this tax in half would presumably reduce taxes by about $1.2 billion per year.

However, Madigan then goes on to say that many corporations do not have an income tax liability because they have no taxable income. This is true. Madigan suggests changing the corporate tax code to make sure "all businesses pay something."

What that means is Madigan is proposing a new tax on corporations. This is a bad idea for a number of reasons. First, there already is a corporate tax all corporations pay – it's the corporate franchise tax. All corporations also must pay the franchise tax, which is completely nonsensical and should be repealed.

A report from Ernst and Young shows that Illinois businesses pay more in sales taxes, property taxes, and unemployment insurance taxes than they do in corporate income taxes. Illinois businesses also pay more in workers' compensation insurance than they do in corporate income taxes. It's unclear how Madigan wants to levy additional taxes on businesses that have no taxable income, yet already pay taxes. This anti-growth idea would likely negate the pro-growth effect of cutting the corporate rate.
* More from Greg Hinz…
The problem with that is, historically, the bigger the business is, the more likely it is to have Illinois corporate income tax liability, the exact opposite of what Madigan suggested, said Carol Portman, president of the Taxpayers' Federation of Illinois, a watchdog group.

While two-thirds of companies in Illinois and nationally don't pay taxes in any given year, it's mostly the smaller ones that don't, Portman said. "It makes sense. Who's not making money? It's (often) the startups, the mom-and-pop companies."
Yep.
Discuss.
- Posted by Rich Miller 19 Comments


* Back to McQueary….
Rep. Scott Drury, a Democrat from Highwood on his third term in the House, was the only member who pushed back against the steamroll of Madigan's nomination for speaker. Surely it was uncomfortable proclaiming a vote of "present" during the roll call. But Drury has shown a willingness to carve his own path in Springfield — and has in turn been ostracized. One blog described him as "obnoxious" and "goofy." He has been mocked for boasting about his background as a federal prosecutor, a qualification that sure beats the somebody-somebody-sent credential that's typical under the dome.

Is Drury well-liked? Who cares? If you're not the occasional outcast in Springfield, then you're not doing your job.
Yeah, OK.
He's not an "occasional" outcast. He's one of those folks who can actually cost you votes on your bill when he rises to speak in support. Anyone who spends any time in the chamber would know this.
* More…
But public service isn't about being submissive. Taxpayers, especially given the direction of this broken state, deserve urgency and boldness. They deserve independent thought.
What they "deserve" right now is the willingness and the ability to forge a reasonable compromise to end this two-year stalemate nightmare. They "deserve" people who can work together and not grandstand. 177 legislators running around boasting about how superior and independent they are ain't gonna get it done.
* Voters "deserve" an attitude like the one expressed by Senate Republican Leader Christine Radogno on Monday. From her inaugural address as prepared for delivery…
The groundwork we laid earlier this week can jumpstart this General Assembly –
• We have a tremendous opportunity to begin moving Illinois past the fiscal impasse that has hovered over this Capitol for far too long.

Collectively – and I do mean collectively – because it will take all of us –
• Senators, our closest advisors, and our staffs – who I can't say enough about.
• Our staffs work tirelessly on our behalf – and I can't tell you how appreciative we are.

So collectively – we have the power of a solution
• We have packaged the state budget with the necessary revenue – and the structural reforms to grow jobs and give taxpayers get a better value by re-balancing government with the needs of those paying the bills.

I hope all of you will support us in getting the job done.
In other words, we need people who can find a way to work together.
* I, for one, strongly believe that Speaker Madigan should join this effort and help heal these gaping wounds, not continue to make them worse. Senate President Cullerton did not negotiate a bad deal with Leader Radogno. So, build on it, don't trash it for the sake of preventing this governor from being reelected.
But Drury's futile gesture on Wednesday didn't move Madigan a millimeter in that direction because the gentleman has no support whatsoever from his fellow rank and file Democrats. Drury is not the sort of person we desperately need to help forge a compromise that legislators can get behind. His vote was just another in a long list of meaningless gestures.
It takes all kinds to make a General Assembly. There's definitely a place for people like Drury. His heart is in the right place. It's his execution that sorely lacks.
- Posted by Rich Miller 34 Comments


* Illinois has a new bicentennial logo…
The logo, which was designed and donated by Ben Olson of the Schaumburg-based public relations firm 3 Monkeys and an Aardvark Studios, reflects those strengths, bicentennial organizers said.

Twenty-one gold stars — marking Illinois' 1818 entry into the union as its 21st state — surround a blue outline of the state. In the middle of the bicentennial logo is a gold-colored "200″ in a white sunburst with rays emanating in all directions.

"The sunburst in the middle of the state outline portrays the impact Illinois has made on the country and the world over the past two centuries and the bright future we aspire to for the next 200 years," said Stuart Layne, the commission's executive director.
* And here it is…
The Illinois Bicentennial Logo: pic.twitter.com/B1IAJR0sWk

— Rick Pearson (@rap30) January 12, 2017
* Everyone's a critic…
Illinois shattered into numerous knives pointed on center of our state. Seems appropriate. #Twill https://t.co/jxe7AQkkDi

— Kyle Hillman (@kylehillman) January 12, 2017
Heh.
* The Question: Your opinion of this donated logo?
- Posted by Rich Miller 60 Comments


* From an e-mail to state union members…
From: "Roberta Lynch, AFSCME Council 31″
Date: January 13, 2017 at 10:28:03 AM CST
To:
Subject: Rauner rejects compromise — Time to vote

AFSCME Council 31

Dear xxxx,

When I wrote to you earlier this week, it was with the slimmest of hopes that Governor Rauner's recent pronouncements about the importance of "compromise" to end the state budget crisis might actually have been made with a modicum of sincerity.

I thought that if he had finally come to see how his stubborn refusal to work toward a solution to the state's fiscal woes was harming citizens all across Illinois, then perhaps he might also finally have realized how counterproductive it has been to take the same 'my way or the highway' approach with his own employees—the thousands of dedicated public servants who protect children from abuse, monitor air and water quality, respond to natural disasters, care for aged veterans, and so much more.

It was based on that hope that your AFSCME Bargaining Committee took the unprecedented step of publicly putting forward a new "Settlement Framework" that significantly modified the union's previous positions on core economic issues. After an entire year in which the governor refused to come to the bargaining table and work to reach a fair contract settlement, the Committee wanted to concretely demonstrate that AFSCME members are prepared to do all we can to avert the disruption that would be caused by a statewide strike.

You can click here to read AFSCME's letter to the governor which outlines the new Settlement Framework.

Unfortunately, we quickly learned just how insincere the governor's professed belief in "compromise" really is. Within hours of receiving the union's letter regarding the new framework, the governor's office put out a press statement completely dismissing the new terms as "superficial" and—as is their usual pattern—wildly exaggerating the potential cost to the state.

This kind of blatant misrepresentation of the facts is a clear indication that the governor has not a rational or ethical leg to stand on in the war he is waging on his own employees.

Anyone with eyes to see can grasp that a settlement framework based on employees getting no base wage increase for four years—and paying more for their health insurance—represents real sacrifice. The decision to put such a framework forward was not one that the Bargaining Committee made lightly because Committee members are keenly aware that it could entail real financial difficulties for some employees—especially those who are lower-paid or more recently hired.

But, rather than recognizing that sacrifice and taking up the opportunity to chart a new course, the governor is refusing to make any compromise whatsoever. He remains determined to eradicate union rights, to make employees pay 100% more for their health insurance, to freeze wage increases and step movement for four years, and to have unrestricted ability to privatize state services.

That's why it is clear that the time has now come to move forward with a Strike Authorization Vote. This vote will let every AFSCME member determine whether or not to resist Rauner's assaults or to allow him to impose his own harsh terms on employees. The voting will take place in each local union on dates set between January 30 – February 19. Specific information regarding voting locations and procedures in your local will be coming soon.

You will be voting on whether to give your AFSCME Bargaining Committee the authority to call a strike. If a majority vote 'yes', that does not necessarily mean there will be a strike—as the Committee will continue to do everything possible to reach a fair settlement. But it does mean that if all such efforts fail, you will be prepared to go out on strike when the Committee issues the call.

This is a choice that no responsible person would seek or savor. Yet we have a governor of our state who has continuously pushed to reach this juncture—to undermine employees' economic security and job rights or to shut down the state and deny citizens the services they need.

Over the coming months, we will be called on to take our commitment to public service ever deeper, to build on the support shown by our communities, and to send a powerful message that no government can truly serve its citizens by trampling on the employees who provide those services.

In Unity,

Roberta Lynch
Executive Director
Emphasis added.
How do you think the vote will go?
- Posted by Rich Miller 128 Comments


* Click here for a larger image…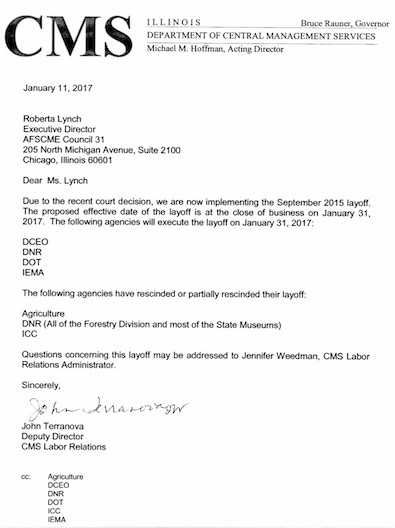 * Some background from a 2015 AFSCME release…
On Aug. 3, AFSCME received notice from the Rauner Administration of 94 layoffs in state government. The threatened job losses are in the Department of Natural Resources (54 layoffs associated with the Governor's plan to close the Illinois State Museum sites and the Sparta World Shooting Complex), the Illinois Commerce Commission (24), the Department of Commerce and Economic Opportunity (9) and the Illinois Emergency Management Agency (7).

The notices all cited a lack of funds as the rationale for the layoffs, which have an effective date of September 30.

"Most of these layoffs stem from Governor Rauner's rush to shutter the Illinois State Museum sites, destroying a vital resource for learning and the preservation of cultural heritage and putting professional museum curators, librarians and support staff in the unemployment lines," AFSCME Council 31 executive director Roberta Lynch said.
The ICC got a bunch of money in the Exelon bill, so that's probably why those layoffs were rescinded. And there was a deal cut on the museum not long ago.
I've asked the governor's office for comment.
* Related…
* Timing of LeChien's TRO for AFSCME questioned by Rauner in brief to appellate court
- Posted by Rich Miller 26 Comments


* From the Justice Department…
The Justice Department announced today that it has found reasonable cause to believe that the Chicago Police Department (CPD) engages in a pattern or practice of using force, including deadly force, in violation of the Fourth Amendment of the Constitution. The department found that CPD officers' practices unnecessarily endanger themselves and result in unnecessary and avoidable uses of force. The pattern or practice results from systemic deficiencies in training and accountability, including the failure to train officers in de-escalation and the failure to conduct meaningful investigations of uses of force.

The city of Chicago and the Justice Department have signed an agreement in principle to work together, with community input, to create a federal court-enforceable consent decree addressing the deficiencies found during the investigation.

"One of my highest priorities as Attorney General has been to ensure that every American enjoys police protection that is lawful, responsive, and transparent," said Attorney General Loretta E. Lynch. "Sadly, our thorough investigation into the Chicago Police Department found that far too many residents of this proud city have not received that kind of policing. The resulting deficit in trust and accountability is not just bad for residents – it's also bad for dedicated police officers trying to do their jobs safely and effectively. With this announcement, we are laying the groundwork for the difficult but necessary work of building a stronger, safer, and more united Chicago for all who call it home."

"The failures we identified in our findings – that we heard about from residents and officers alike — have deeply eroded community trust," said Principal Deputy Assistant Attorney General Vanita Gupta, head of the Civil Rights Division. "But today is a moment of opportunity, where we begin to move from identifying problems to developing solutions. I know our findings can lead to reform and rebuild community-police trust because we've seen it happen in community after community around the country over the past 20 years."

"The findings in our report, coupled with the City of Chicago and Police Department's commitment to work together with us, are an historic turning point and a major step toward sustained change," said U.S. Attorney Zachary T. Fardon of the Northern District of Illinois. "Implementing these findings is a necessary precursor to our long-term success in fighting violent crime in Chicago."

On Dec. 7, 2015, Attorney General Lynch announced the investigation into the CPD and the city's Independent Police Review Authority (IPRA). The investigation focused on CPD's use of force, including racial, ethnic and other disparities in use of force, and its systems of accountability.

In the course of its pattern or practice investigation, the department interviewed and met with city leaders, current and former police officials, and numerous officers throughout all ranks of CPD. The department also accompanied line officers on over 60 ride-alongs in every police district; heard from over 1,000 community members and more than 90 community organizations; reviewed thousands of pages of police documents, including all relevant policies, procedures, training and materials; and analyzed a randomized, representative sample of force reports and the investigative files for incidents that occurred between January 2011 and April 2016, including over 170 officer-involved shooting investigations and documents related to over 400 additional force incidents.

The department found that CPD's pattern or practice of unconstitutional force is largely attributable to deficiencies in its accountability systems and in how it investigates uses of force, responds to allegations of misconduct, trains and supervises officers, and collects and reports data on officer use of force. The department also found that the lack of effective community-oriented policing strategies and insufficient support for officer wellness and safety contributed to the pattern or practice of unconstitutional force.

In addition, the department also identified serious concerns about the prevalence of racially discriminatory conduct by some CPD officers and the degree to which that conduct is tolerated and in some respects caused by deficiencies in CPD's systems of training, supervision and accountability. The department's findings further note that the impact of CPD's pattern or practice of unreasonable force falls heaviest on predominantly black and Latino neighborhoods, such that restoring police-community trust will require remedies addressing both discriminatory conduct and the disproportionality of illegal and unconstitutional patterns of force on minority communities.

In the agreement in principle, the Justice Department and the city of Chicago agreed that compliance with the consent decree will be reviewed by an independent monitor. The agreement in principle provides a general framework for change, but the department will be doing community outreach to solicit input in developing comprehensive reforms. In the days ahead, the department will continue speaking to local authorities, officers and ordinary citizens to gather their perspectives about the challenges facing the city – and the changes needed to address them. Comments from the public may be provided by email to Community.CPD@crt.usdoj.gov.

Throughout the department's investigation, CPD leadership remained receptive to preliminary feedback and technical assistance, and started the process of implementing reforms. Under the leadership of Mayor Rahm Emanuel and Superintendent Eddie Johnson, CPD has taken a number of encouraging steps, including creating the Civilian Office of Police Accountability to replace IPRA; issuing a new transparency policy mandating the release of videos and other materials related to certain officer misconduct investigations; beginning a pilot program for body-worn cameras, to be expanded CPD-wide; and committing to establish an anonymous hotline for employees to report misconduct. While these and other measures are an important start to cooperative reform, a comprehensive, court-enforceable agreement is needed to remedy all of the department's findings and ensure lasting reform.

In addition, the department has been working with the city of Chicago as part of the Violence Reduction Network, a data-driven, evidence-based initiative that delivers strategic, intensive training and technical assistance. This assistance focuses on developing an overall violence reduction strategic framework; providing immediate technical assistance and expertise to CPD; analyzing high-crime neighborhoods for resource, social service and opportunity gaps; and assisting in building capacity in Chicago's public safety offices. And in 2016, the U.S. Attorney's Office for the Northern District of Illinois charged more illegal firearms cases in total, and more as a percentage of its overall cases, than it has in any year since 2004.

This investigation was conducted by the Civil Rights Division's Special Litigation Section and the U.S. Attorney's Office for the Northern District of Illinois with the assistance of law enforcement professionals, pursuant to the pattern-or-practice provision of the Violent Crime Control and Law Enforcement Act of 1994. Since 2009, the Special Litigation Section has opened 25 investigations into law enforcement agencies. The section is enforcing 20 agreements with law enforcement agencies, including 15 consent decrees and one post-judgment order. The division recently released a comprehensive report that provides an overview of the police reform work done pursuant to the Violent Crime Control and Law Enforcement Act of 1994, which can be found at the following link: https://www.justice.gov/crt/file/922421/download.
The full report is here.
…Adding… The city's response is here.
- Posted by Rich Miller 38 Comments


* Brad Edwards at CBS 2…
Thaddeus Jones, a Democratic state lawmaker, Calumet City alderman and a mayor hopeful, is accused of misusing campaign funds in a recently filed complaint with the Illinois State Board of Elections.

The complaint uses words like "highly suspicious" and "truly unbelievable" to describe Jones' use of campaign dollars.

"The spending as reported is severe and outrageous," says Ross Secler, a Chicago attorney who filed the complaint.

The complaint alleges that since Jan. 1, 2014, Jones's campaign committees have paid more than $5,000 to Jones' fiancée and more than $2,000 to his ex-wife for, among other things, "school" and "tuition assistance."

"This isn't just bad reporting or bad bookkeeping," Secler says. "This is a clear violation of the law." […]

Jones later emailed a statement that said in part, "The allegations have nothing to do with my official duties as State Representative or as 3rd Ward Alderman in Calumet City. The allegations they raise are untrue and my campaign team is confident of overcoming these dirty tricks and winning election as Mayor of Calumet City."
Yikes.
Click here to search his legislative campaign account for the word "school."
- Posted by Rich Miller 24 Comments


* McQueary…
Rep. Stephanie Kifowit, a Democrat from Oswego, was brave enough to voice her concerns about the direction of the state during Madigan's nomination. She was swiftly mocked on social media. If you knew her, you would not have been surprised by her remarks. She's a veteran of the U.S. Marine Corps, for crying out loud. She has bucked leadership in the past. She doesn't run with the cool crowd in Springfield. And you won't find her lounging on a bar stool letting lobbyists pick up her drink tab.

But for her outspokenness, you can bet she will pay a lonely price.
OK, first of all, I talked with Rep. Kifowit at a inauguration reception later that night. She wasn't being ostracized by her fellow members. Just the opposite. She's also not one of those legislators who never goes to evening events, although she never allows lobbyists to pick up her tab. She's just a regular person, and is quite well liked for that trait.
* Also, I didn't see the mocking social media references during the festivities Wednesday, except for this…
Rules are made to be broken. Dems can't follow rules even at Inauguration #kifowit outoforder

— Jeanne Ives (@JeanneIves) January 11, 2017
* After a few Twitter searches, I did find this…
@AmandaVinicky @RepKifowit That's cute. Saying something has to change and then voting Madigan to ensure things stay the same.

— SB (@sbpunditry) January 11, 2017
* A similarly lone result popped up on a Facebook search…
Just taking a moment to call out my state representative, Stephanie Kifowit. Although a Marine, my representative lacks the courage and moral turpitude to withhold her support for speaker Michael Madigan. Madigan is clearly an entrenched Union power broker, abuser of power, flagrant crony socialist, mr. Conflict of interest himself and enemy of the taxpaying people of the state of Illinois. Shame!
* So, I did a Google search, and came up with this…
"Are there further nominations?" asked Secretary of State Jesse White, who led the election process. Crickets. "Nominations for speaker are now closed."

With that, Rep. Stephanie Kifowit, an Oswego Democrat and U.S. Marine Corps veteran, stood up and challenged leaders of both parties to end the immature game-playing that hurts the state. She said she felt "compelled" to make a statement that "we have to do better." She said she was disgusted by the lack of state budget and appalled by backroom deals. Again, crickets.

Then she voted for Madigan for speaker.
That's from a Chicago Tribune editorial.
* And just minutes after Rep. Kifowit's speech, this e-mail was blasted out by the Illinois Republican Party…
Stephanie Kifowit Betrays Voters, Backs Madigan for Speaker
House Democrats Re-Elect Boss Madigan

"Stephanie Kifowit today chose to put the political machine ahead of the people. She voted to elect Mike Madigan to a record 17th term as Speaker, extending Madigan's decades of power for another two years. Kifowit's refusal to stand up to Boss Madigan makes clear that the only way to get a new Speaker in Illinois is by getting rid of legislators like Stephanie Kifowit in Springfield." – Illinois Republican Party Spokesman Steven Yaffe

Today, House Democrats ignored the will of the people by re-electing Boss Madigan as Speaker of the House.

The Illinois Republican Party will continue to hold accountable the legislators who protect the status quo and empower the Madigan political machine.
And then the next day, the ILGOP launched robocalls against her.
- Posted by Rich Miller 36 Comments


* Every now and then I realize I've looked so long for something "quick" to post that I've wound up taking as much or even more time than if I'd just posted something long to begin with.
Oops.
Have at it.
- Posted by Rich Miller 40 Comments