* From a Sun-Times editorial today…
The thinking is that House Speaker Mike Madigan is killing time until newly elected state comptroller Susana Mendoza, a fellow Democrat and Madigan team player, comes on board and stops paying state workers, if she can get that by the courts. This would precipitate such a crisis that Rauner would be forced to abandon his last preconditions for a budget deal — a property tax freeze and legislative term limits. A competing theory says Rauner is prepared to ride this impasse straight into the 2018 elections.
* Gov. Rauner didn't respond to that last sentence, but told reporters today that the editorial "troubles" him and "has me concerned"…
"What we don't want is a crisis where the government is shut down. And our state employees are hard working, unlike the legislators… I'd ask Comptroller Mendoza to please stand firm like Comptroller Munger did."
Raw audio…
* So, I reached out to Comptroller-elect Mendoza's transition team. "She hasn't talked to the Speaker about this," I was told by an exasperated staffer, who noted that the CS-T didn't check in first.
"They'll look at every court case and get up to speed," the transition official said. The staff "need some time to understand these things and develop their own legal opinions… You just can't make decisions like this in the dark." Until then, all options need to be on the table, I was told.
With that being said, I'm told this is not an option Mendoza wants to pursue.
- Posted by Rich Miller 13 Comments


* Press release…
House Speaker Michael Madigan on Friday released the following statement regarding meetings with Gov. Bruce Rauner about the state budget and other state issues:

"I am available to meet with Governor Rauner this Saturday and Sunday, and I will work to get a budget completed. Representative Greg Harris, who will continue to join me in these meetings, has worked successfully with other legislators to negotiate the details of budgets we've passed previously. We believe this previously successful framework should be used to work on a budget that will ensure schools open on time, public safety is maintained and services for seniors and the most vulnerable continue.

"I am requesting from the governor's office by Sunday a list of topics, so experts from our caucus can attend to facilitate a real conversation on these issues, unlike the superficial discussions held by the governor this week that did not help us get any closer to a full-year budget. Like I privately requested earlier this week, I request that we get into the details of these issues. I hope the governor and all legislative leaders bring with them any expert they deem necessary to have a real discussion on these topics, rather than a repeat of the same dialogue. I would also like to add for consideration the following topics:

· Memorandums of Understanding for future and past funding agreed to by the governor. House Democrats are concerned about the ability to ensure money appropriated from the Legislature will be spent as intended when an agreement is reached with Governor Rauner. For instance, the governor's Good Friday cuts in April 2015 included severe and draconian cuts to many items previously agreed to by the governor with our caucus. These cuts betrayed the agreement our caucus made with the governor. This behavior has continued with the most recent stopgap budget, in which line items have not been spent per the agreement made by the governor to the leaders. House Democrats want to be assured the governor will spend appropriations based on his agreements when a full budget is passed.

· Governor Rauner's veto of Senate Bill 2822. The governor's veto of this bipartisan legislation will severely harm the education of nearly 400,000 school children in the Chicago Public Schools, all for the purpose of holding more meetings. In light of Senate President Cullerton's presentation just the other day on pension reform, it seems that this was simply a punitive move meant to harm the schoolchildren of CPS.

· A full recounting of all taxpayer-funded corporate giveaways handed out to businesses since Governor Rauner took office, and how many new jobs have been created in Illinois by those corporations since Governor Rauner awarded them taxpayer dollars. Also, a list of all state tax incentives given to corporations in instances when those corporations had any interaction with the Public Private Partnership introduced by Governor Rauner.

· A status of contract negotiations with AFSCME state employees following the governor's declared impasse with workers. As this matter concerns the wages and benefits of employees throughout the state, and the potential shutdown of critical state services, it is therefore a significant budget issue and important we know the facts of the present situation and the governor's plan moving forward."
Longtime readers will recall Madigan demanded multiple memorandums of understanding from Rod Blagojevich after Blagojevich broke his word several times.
In other words, the defcon level has been increased.
*** UPDATE *** House GOP Leader Jim Durkin has a measured response…
"I am pleased to see the Speaker engaged in the process and committed to attending meetings. Traditionally, we have been able to reach agreement on tough issues among the four leaders and the governor. That's why I have asked the governor to limit these meetings to the actual decision makers–the leaders and their key staff."
- Posted by Rich Miller 40 Comments


* Your one word description of this year's veto session? One real word only, please. No hyphenating.
- Posted by Rich Miller 86 Comments


* The Hill…
Republicans have elected Rep. Greg Walden (R-Ore.) the next chairman of the powerful House Energy and Commerce Committee.

Walden defeated Reps. John Shimkus (R-Ill.) and Joe Barton (R-Texas), the former committee chairman, in the race for the gavel. Current chairman Fred Upton (R-Mich.) is stepping down from the position due to term limits. […]

Speaker Paul Ryan (R-Wis.), who aggressively campaigned around the country with Walden this year, spoke in favor of the Oregon lawmaker during Thursday's Steering meeting, according to sources in the closed-door gathering. […]

During his push for the chairmanship, Shimkus emphasized his experience on all six of the committee's subpanels. He outranks Walden on the committee and, in a letter to members last month, noted his work passing a major chemical safety overhaul bill this year. […]

But Republicans watching the contest said Walden's work at the National Republican Congressional Committee — where he helped secure the GOP's largest majority since the Great Depression, raised millions of dollars for candidates and limited Republican losses in last month's elections — helped him nail down the chairmanship.
That's a huge loss for Illinois' congressional influence.
- Posted by Rich Miller 16 Comments


* From Rachel Cortez, Vice President & Senior Credit Officer at Moody's Investors Service…
"Yesterday, the Governor of Illinois vetoed a $215 million payment to help cover the pension costs for Chicago Public Schools (rated B3/negative outlook). If the veto holds, CPS' deficit net cash position could stand at over $1 billion when its fiscal year ends in June 2017. While the funds from a possible veto override would be positive for CPS, there would still be insufficient funding to alleviate the school district's severe liquidity issues.

"CPS remains dependent on cash flow borrowing and state assistance to sustain its operations, and its reserves are nearly depleted. While CPS can still take steps to address its fiscal situation, its financial position remains weak and could further deteriorate."
* Meanwhile…
Rauner, on Rahm's claim that he was "reckless"; "my strong recommendation is to tone down th rhetoric," he says

— Paris Schutz (@paschutz) December 2, 2016
Hilarious. Dude vetoes $215 million over a few words at a press conference without so much as a phone call to verify intent and he asks people to tone down the rhetoric.
*** UPDATE ***  Gov. Rauner's full remarks…
- Posted by Rich Miller 27 Comments


* This has been expected all week…
A group of state representatives filed a lawsuit over legislator pay against Illinois state Comptroller Leslie Munger on Friday — Munger's last day in office.

The suit was filed by Reps. Emmanuel Chris Welch, Kate Cloonen, Mary Flowers, Sonya Harper, Lisa Hernandez and Silvana Tabares.

Legislators haven't been paid since June. Several legislators have been vocal about their disdain over not getting paid amid the state's budget impasse — on the Senate and House floors and in private.
More as it comes in.
* Press release…
State Reps. Emanuel Chris Welch, Kate Cloonen, Mary Flowers, Sonya Harper, Lisa Hernandez and Silvana Tabares released the following statement Friday regarding their lawsuit to restore legislators' pay and end unwarranted political pressure being brought by Gov. Bruce Rauner and Comptroller Leslie Munger:

"The decision by multimillionaire Comptroller Leslie Munger and billionaire Gov. Bruce Rauner was a thinly veiled attempt to force their political opponents into taking positions in support of the governor's positions and against the beliefs of their constituents," Welch said. "Many lawmakers don't have the multimillion dollar side incomes the governor and comptroller enjoy."

"Our lawsuit is a principled stand for an independent Legislature that cannot be bullied by any governor, Republican or Democratic," Cloonen said. "The 177 members of the General Assembly are elected to serve the people of our districts, but the comptroller's and the governor's actions show they believe we are elected to serve them, and that they can use illegal means to force us to bow to their extreme agenda."

"Just like when Pat Quinn tried to eliminate lawmakers' salaries in an attempt to get his way, the governor and comptroller would set a dangerous precedent under which any future governor or comptroller could unilaterally coerce duly elected legislators by tying their salaries to any number of demands that could hurt local residents and their families," Tabares said. "We urge the courts to recognize the Legislature as a co-equal branch of government, not a subsidiary of a billionaire governor."

The lawsuit was filed Friday in Cook County.
*** UPDATE 1 ***  The complaint is here.
From the complaint…
The Illinois Constitution of 1970 provides that each legislator "shall" receive a salary as provided by law. ILL. CONST. 1970, art. IV, § 11. The Constitution further prohibits any "changes" to the salaries of legislators during their terms of office. Id. The General Assembly Compensation Act mandates that legislators' salaries be paid in "12 equally monthly installments." 25 ILCS 115/1. By intentionally withholding salary payments from legislators, the Comptroller has violated both Article IV, Section 11 of the Constitution and Section 115/1 of the General Assembly Compensation Act. The Comptroller's actions are a direct threat to the independence of the General Assembly.

In 2004, the Illinois Supreme Court invalidated Governor Blagojevich's attempt to threaten the independence and integrity of the Judiciary by eliminating judicial salary increases. In doing so, the Court stated as follows: "For checks and balances to work properly in protecting individual liberty, each of the three branches of government must be kept free from the control or coercive influence of the other branches." Jorgensen v. Blagojevich, 211 Ill. 2d 286, 299 (2004). Protecting the Judicial or Legislative Branches of government from unwarranted intrusion by any executive branch officer is vital to preserving the separation of powers. As the Supreme Court stated, "Avoiding the concentration of governmental powers in the same person or political body was seen by the founding fathers as essential to freedom and liberty."

In 2011, the Circuit Court of Cook County, Hon. Judge Neil Cohen presiding, invalidated Governor Quinn's attempt to eliminate legislators' annual salaries through a line item veto. Judge Cohen held that "the Governor's line item veto of SB 214 was constitutionally void and of no effect."

The Comptroller's refusal to make monthly payments to legislators constitutes an unconstitutional change in salary and a violation of the General Assembly Compensation Act. As in Jorgensen, and Cullerton & Madigan, this Court should invalidate the Comptroller's attempts to hold hostage the salaries for members of the General Assembly.

The Comptroller lacks legal authority to deny the members of the General Assembly their salary for a simple reason: the members of the General Assembly are elected by their constituents to represent their interests. By denying the members of the General Assembly their salary, the Comptroller is attempting to force the General Assembly to forgo representing the interests of their constituents and accede to the policy preferences of an executive office that has no formal role in the legislative process.

If the Comptroller is permitted to unilaterally decide when and how often General Assembly members receive their salary, the independence of each member of the General Assembly is threatened. For some legislators their legislative salaries constitute their principal or only source of income. Accordingly, if the Comptroller were permitted to withhold salaries of members of the General Assembly, unless and until they acceded to her legislative preferences, he or she would use that power to unconstitutionally influence the will of the Legislative Branch.

In this particular instance, the Comptroller has stated that her dispute with the General Assembly concerns the appropriation process. If the Comptroller's actions are sustained, there will be no limit to the power the Comptroller could assert over members of the Legislative Branch. Future Comptrollers could refuse payment until any policy demands are met to the Comptroller's satisfaction. Allowing such power to be vested in the Comptroller would irrevocably alter the separation of powers so carefully crafted by the framers of the Illinois Constitution of 1970.

By this action, Plaintiffs, elected members of the Illinois General Assembly, respectfully request this Court declare that the Comptroller is required by the Illinois Constitution and Illinois law to pay their salaries and the salaries of all other members of the General Assembly in the full amounts required by law, and in a timely manner. As the Comptroller lacks discretion to withhold the members' salaries, Plaintiffs further request this Court issue a writ of mandamus ordering the Comptroller to pay legislative salaries forthwith to remedy that constitutional and statutory violation.
*** UPDATE 2 *** Says the guy who made $180 million last year…
Rauner on lawsuit from some state reps over when they're paid: Wow. Good grief.

— Tony Arnold (@tonyjarnold) December 2, 2016
*** UPDATE 3 ***  Munger press conference…
*** UPDATE 4 *** From Comptroller-elect Mendoza…
"I was very clear on the issue of withholding legislators' pay during my campaign: Everyone needs to
share in the sacrifice. My policy will be to prioritize the most vulnerable people in our State and continue the delay in legislators' pay, unless a court instructs me to do otherwise."
Sorry about the original post of that statement. I cut it off accidentally.
- Posted by Rich Miller 82 Comments


State Rep. Robyn Gabel, D-Evanston, called it "the most important green energy bill that has ever come before the General Assembly." […]

And the Environmental Defense Fund has said the bill will bring $12 billion to $15 billion in renewable energy capital investment to the state. […]

The bill is viewed by environmental advocates as being based primarily to fix the state's Renewable Portfolio Standard — or to fix the state's renewable policies by restarting the industry and allowing projects to be built in the state. Those same advocates say just 20 percent of the bill concerns Exelon's bailout, with about 10 percent benefitting ComEd and Ameren by running better energy efficiency programs. […]

Part of the renewable energy efforts in the bill include the development of wind farms, solar on roofs and a new provision called community solar, which allows people who can't put solars on their roofs to subscribe to a project at a local business. Customers would see credits rolled off their electric bill for subscribing to those projects.
The remaining portions of the bill appear to be largely positive for clean energy. Notably, SB 2814 will reform the state's renewable portfolio standard (RPS) policy, including requiring in-state procurement of renewables and increasing the target to 35% renewable energy by 2030, up from 25% by 2025.

This puts Illinois' RPS towards the more ambitious end of the spectrum in the United States, even if it is still below the 50% by 2030 targets set by New York and California, let alone Vermont's 75% by 2032 or Hawaii's 100% by 2045.

Perhaps more significantly, solar advocates say that the previously broken system of renewable energy credits will now be replaced with a declining block grant incentive program. This is the model that has been implemented in New York and California, and Massachusetts' latest draft solar program is also following this model. The exact level of incentives will not be set by SB 2814.
"We are encouraged to see SB 2814 pass without anti-consumer, anti-solar proposals like mandatory demand charges, and ending net metering. Legislators and utilities listened to the public and to consumer advocates–like Illinois Attorney General Lisa Madigan and AARP–and made it clear that job growth, the environment, and energy choice are important," said Amy Heart, Director of Public Policy for Sunrun and spokesperson for The Alliance for Solar Choice. "SB 2814 also contains positive pieces such as a fix to the Renewable Portfolio Standard, which will go a long way to increasing access to solar in Illinois, helping residents and businesses manage and lower energy bills, and expanding job opportunities in the solar industry."
"While this bill contains difficult compromises, this is a tremendous leap forward for clean energy in Illinois. With these policies now in place and strengthened, we will continue the work to reduce dangerous carbon pollution, support opportunities for family-sustaining jobs in Illinois' energy economy, ramp up renewable energy and ensure that clean energy opportunity is prioritized for communities burdened for decades by pollution.

"Clean energy technology is growing every year in Illinois. These policies will nurture that shift away from fossil fuels, bolster our energy economy, and help ensure that every Illinois community can thrive in the clean energy economy. With federal climate action being more uncertain than ever, it is more important than ever that states act decisively on climate change, and Illinois is doing just that."
- Posted by Rich Miller 14 Comments


* From my inbox…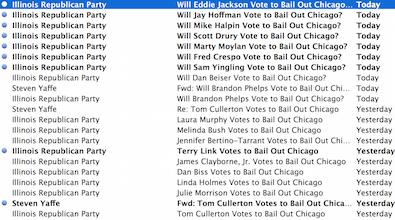 …Adding… Reps. Laura Fine and Jerry Costello were added to the list since I took that screen shot.
…Adding More… Reps. Deb Conroy, Anna Moeller and Michelle Mussman were all just whacked. I'm not sure why it's taking the ILGOP so long to get these out because they are all identical. For instance…
Will Anna Moeller Vote to Bail Out Chicago?
Moeller Should Make Clear Where She Stands

"Within the next two weeks, Anna Moeller must decide whether she will stand with the families in her district, or vote to bail out Chicago Public Schools with $215 million in taxpayer money. Moeller should make clear today where she stands." – Illinois Republican Party Spokesman Steven Yaffe

After Democratic leaders yesterday reneged on their promise to pass pension reform, an agreement that would have freed up resources for Chicago schools, House Democrats will soon face their first big test.

They can either stand for taxpayers who are demanding fiscal sanity from Springfield, or vote to recklessly bail out Chicago Public Schools.
And…
Will Deb Conroy Vote to Bail Out Chicago?
Conroy Should Make Clear Where She Stands

"Within the next two weeks, Deb Conroy must decide whether she will stand with the families in her district, or vote to bail out Chicago Public Schools with $215 million in taxpayer money. Conroy should make clear today where she stands." – Illinois Republican Party Spokesman Steven Yaffe

After Democratic leaders yesterday reneged on their promise to pass pension reform, an agreement that would have freed up resources for Chicago schools, House Democrats will soon face their first big test.

They can either stand for taxpayers who are demanding fiscal sanity from Springfield, or vote to recklessly bail out Chicago Public Schools.
…Adding Still More… They keep coming in: Manley, McCasey, Kifowit, Willis, Sente, Gabel and Nekritz.
- Posted by Rich Miller 49 Comments


* Tribune…
Lawmakers approved the CPS bill at the end of June, but Cullerton did not send the measure to Rauner until last month. The delay was intended to provide time to reach a deal on a larger pension measure, but that was never achieved.

"If he wants to tie it to something else like pension reform, that's something I am supportive of. We haven't talked about putting the two things together at this point in time," Cullerton said.
* Capitol Fax…
Cullerton said the governor told the leaders today that he wasn't going to sign the CPS funding bill.

"The governor indicated that he thought before he would sign that he wanted to have some pension reform," Cullerton said. "That was the governor's insistence. We passed the bill and put it on his desk, so I would urge him to sign it. If he's not going to sign it because he wants something else, he hasn't told us what that is yet."
* Rauner veto message…
Still, President Cullerton withdrew his motion to reconsider the bill, ruled that Leader Radogno's motion was inapplicable, and presented the bill to me for approval or veto – forcing me to take action. Then today, President Cullerton suddenly denied that the leaders had agreed that this bill would depend upon first enacting comprehensive pension reform. Breaking our agreement undermines our effort to end the budget impasse and enact reforms with bipartisan support.
- Posted by Rich Miller 41 Comments


* We covered this issue ad nauseum yesterday, so we're going to focus on just one angle in this post, starting with the AP…
Illinois Democrats failed Thursday to override the Republican governor's veto of $215 million to help the financially struggling Chicago Public Schools with pension payments as negotiations on an overdue state budget broke down again.

Using its Democratic supermajority, the Senate quickly voted to overturn Gov. Bruce Rauner's move, but the House adjourned for the year Thursday evening without bringing the override question for a vote. Although the House has 15 days to try again, it's unclear if there is enough support in the chamber.

Losing the money would be a huge blow to the finances at CPS, which crafted the current year's budget expecting the funds. Without state support, officials at the nation's third-largest school district have warned of budget cuts and in the past they've said that could include layoffs.
* Tribune…
House lawmakers have 15 days to take up the override, but the body is not scheduled to return to Springfield until Jan. 9 — two days before new lawmakers are sworn into office. Lawmakers could return before then, though it's often difficult to round up people during the holiday season. Even then, it likely would take all 71 House Democrats to overturn Rauner unless a few Republicans buck the governor.
* Sun-Times…
The House has 15 days to try to override the veto, and convincing its members to push one through, albeit on a specially called session day, may be the best option for Mayor Rahm Emanuel and the families of 380,000 CPS students.

That favored political script would duplicate what happened last spring with legislation giving Chicago 15 more years to ramp up to a 90 percent funding level for police and fire pensions.

Three Republican crossover votes pushed Emanuel over the finish line, giving him the 71 votes needed to override the governor's veto of the police and fire pension reforms and to dodge another sizable property tax hike.

Emanuel pulled off the surprise victory, only after burning the phone lines. The question is, can he do it again?

"It's not impossible to do, but it's not going to be easy, either. It's a high threshold to reach. Funding for Chicago Public School students is a polarizing issue when it shouldn't be," said a top mayoral aide, who asked to remain anonymous.

"People understand that pensions need to be funded, which is why we were successful on police and fire. With CPS, it's not just teacher pensions, but also the impact on the operating budget, students and teachers. That's a difficult thing to vote against. That's what we have going for us. What we have going against us is a governor who has chosen to play politics and use children as hostages to get the reforms he wants. And he has a lot of influence in this Capitol."
* OK, so one of the three Republicans who voted with the city on that pension override was Rep. Dave McSweeney. But he's standing with Gov. Rauner on this one…
After Cullerton's Senate overrode Rauner, House Democrats face a more difficult task. Republicans like northwest suburban Cary's David McSweeney vowed to support the governor, calling money for CPS without pension reform "a bailout."

"If you just give the city of Chicago, CPS, $215 million, with no pension reform, you don't solve any problems," McSweeney said.
Rep. David Harris (R-Arlington Heights) also voted to override the veto of that city pension bill. He told me this morning that, without pension reform, he'll likely be voting with the governor on the CPS funding override.
Rep. Michael McAuliffe, the only Chicago Republican in the General Assembly, might be counted on to vote with the city, but that means there's maybe only one guy on the other side of the aisle who will stand with CPS.
So, the House Democrats better make sure they have everybody in town if they want to override the bill within the next 15 days. And, as I mentioned yesterday, scheduling a special session that everyone can attend during the holiday season ain't exactly easy.
* Not to mention statements like these from February…
In a response to efforts being made by Chicago politicians to bailout Chicago Public Schools, CPS, State Rep. Brandon Phelps, D-Harrisburg, said Feb. 16 that he was launching a petition drive to garner community support for his efforts to oppose any type of Chicago bailout.

"It is frustrating that as soon as Chicago cries for help because they messed up their own finances that Southern Illinois is expected to pick up the pieces and bailout them out," Phelps said in a news release.

"The money earned by hard-working residents here in Southern Illinois should stay here and not be sent up to Chicago bureaucrats who are just trying to line their pockets." […]

Recently Governor Rauner announced his plan for the state to bailout the failing Chicago Public School (CPS) system, a move being criticized by state Rep. Dan Beiser, D-Alton.

"Bailing out the Chicago Public School system is a terrible idea, especially when we have so many other problems with our state budget and our schools are in need of greater investment," said Beiser. "I have long stood against the idea of Chicago getting an automatic cut of school funding while downstate schools are hurting. I object to the governor's idea to put local taxpayers on the hook for Chicago's fiscal mismanagement."

Beiser voiced his frustration that Governor Rauner is focusing on a CPS bailout, rather than addressing the budget crisis impacting all corners of the state.
Both of those guys are at the top of the ILGOP's 2018 hit list. Everyone else on the list (and more, I'm sure) will have to be extremely careful about taking a vote like this.
In other words, without a deal really soon on pension reform, it's not looking very likely at all.
- Posted by Rich Miller 43 Comments


* Jamey Dunn at Illinois Issues…
New projections show nibbling around the edges of the state's budget problems will get Illinois nowhere.

The state may have gone for nearly a year and a half without a full budget. But there's a surprising level of consensus about what must be done if lawmakers and the Gov. Bruce Rauner can come to a compromise on the governor's policy demands and ultimately get down to trying to close the budget gap.

Political leaders, academics, commentators, Democrats and Republicans — even the rivals at the center of the impasse, Rauner and House Speaker Michael Madigan —all recognize that at least two components are needed: new revenues and cuts. […]

Unfortunately, the dosage isn't nearly high enough. As a new report points out, such a plan wouldn't come close to closing the budget gap. In fact, in 10 years, it could actually leave the state with a deficit similar to the one it's in today.

New projections from the Fiscal Futures Project at the University of Illinois' Institute of Government And Public Affairs (IGPA) make the case that for Illinois to achieve a balanced budget, policymakers would have to agree to increasing the income tax, taxing some retirement income, eliminating tax breaks, applying the sales tax to certain services and making billions in cuts. A little economic growth would also be needed to make this cure viable.

Even under such a politically ambitious plan, it would take a decade for the state to reach solvency.
Go read the whole thing. Lots of important stuff in there.
* From the aforementioned Fiscal Futures Project report…
We combined the most recent data available (as of the end of October 2016) from the Comptroller with our model to calculate the same four measures of Illinois' fiscal condition reported in January 2015. Under current (baseline) policies we find:

1. A deficit of around $13 billion for the current year (FY2017)
2. A projected gap of around $14 billion per year for the next five years
3. "Legacy costs" for unfunded liabilities for retiree pensions and health care of $174
billion
4. Unpaid bills for services already provided to the state of $10 billion

As our analysis will demonstrate, it is almost certainly not feasible to remedy imbalances of this magnitude by policy changes in a single year. Rather, climbing out of the hole that Illinois is in likely will require hard choices, fiscal discipline and sustained attention over a long period of time. Because of this, our analyses put particular emphasis on projecting the implications of sustained multi-year policy changes that move Illinois toward fiscal balance. […]

What are the alternatives to maintaining current revenue and expenditure policies? Alternatives to the baseline scenario come in essentially three flavors: (a) reduce spending, (b) increase tax rates or expand tax bases, or (c) generate more economic growth, which would in turn make it possible to generate more tax revenue at current tax rates while potentially holding or cutting spending. Our simulations examine each of these possibilities and show that none by itself is likely to be sufficient to close the budget gap and that, even if we model all of these potential policies and scenarios together, closing the budget gap is likely to be challenging and to take many years. […]

We see no plausible path to sustained fiscal stability without sacrifice—Illinois will need to simultaneously increase revenue and cut spending. But fiscal austerity alone will not guarantee success. Increasing revenue, especially through taxation, could discourage economic activity and be counter-productive in the long run. Any revenue enhancement policy should be carefully thought through and be consistent with continued vibrant economic activity. Similarly, budget cuts could be counter-productive if they neglect festering social problems that end up costing even more to deal with in the long run. Furthermore, budget cuts that reduce services essential to the smooth operation of the economy could reduce economic activity and ultimately lead to even larger budget gaps.

What is needed is a "grand plan" that includes multiple spending cuts, multiple new sources of revenue, and spreads these adjustments over multiple years in the form of even more borrowing. Finding the right mix of policies—sharing the pain of digging out of the hole that we are in—will require cooperation among a broad spectrum of groups in this policy arena. Groups will not only have to compromise among themselves but will have to engender confidence that they are committed to sustained action to fill in the budget hole. In the absence of a clear signal of a long-term commitment to this goal, neither workers nor business owners can be expected to make the necessary investments to build Illinois' fiscal future.
- Posted by Rich Miller 53 Comments


* Gov. Rauner's statement issued last night after the passage of the Exelon bill…
"For months our administration has been very clear that any energy legislation should follow the guiding principles of protecting jobs, ratepayers and taxpayers. After dozens of hours of good faith negotiations, we have reached an agreement that aligns with those principles. This legislation will save thousands of jobs. It protects ratepayers, through guaranteed caps, from large rate increases in years to come. It also ensures taxpayers are not on the hook to keep the power plants open and online. We thank the rank-and-file legislators and stakeholders for their perseverance and commitment to seeing this through. This process shows that when all parties are willing to negotiate in good faith, we can find agreement and move our state forward."
The Illinois Manufacturers Association has been one of the harshest critics of the Exelon bill, testifying against it this week and taking an official stance in opposition. The IMA's staff has been inundated with calls from members outraged at the prospect of their electric bills increasing, which they say would make the state's business climate even worse.
* So, this ought to be interesting…
Daily Public Schedule: Friday, December 2, 2016

What: Governor Rauner Discusses Reforms to Create Jobs, Lower Property Taxes, Improve Schools and Enact Good Government Initiatives like Term Limits at the Illinois Manufacturers' Association
Where: J.W. Marriott (Grand Ballroom)
151 W. Adams St., Chicago
Date: Friday, December 2, 2016
Time: 11:45 a.m.
*** UPDATE 1 ***  From a pal at the event…
Rauner got a pretty decent round of applause when he was introduced. Greg [Baise] joked about not always agreeing. Gov said he's personally opposed to "special deals" but "we have to play the cards we are dealt". "I've never seen an issue where the experts were more divided" "I'm proud of the outcome, even though I don't love it."
*** UPDATE 2 ***  Raw audio…
- Posted by Rich Miller 84 Comments