* NY Times…
"The feeling we have here — remember it, take it home and do some good with it," Mr. Hart said in closing. "I'll leave you with this: Please, be kind."
* Blogging returns tomorrow…
All these trials
Soon be past
- Posted by Rich Miller Comments Off


* Press release…
Unions representing state employees today took two steps to ensure that public service workers in state government will be paid on time and in full for their work, even in the absence of a state budget for the 2016 fiscal year that started yesterday.

First, 13 unions filed suit in St. Clair County Circuit Court, arguing that the state's failure to pay employees their full wages under their unions' respective collective bargaining agreements would be an impairment of contract.

"State employees are now pawns in the political dispute over the state budget," the unions said in their filing. "They and their families deserve better."

The 13 unions are the:

· American Federation of State, County and Municipal Employees (AFSCME) Council 31;
· Illinois Troopers Lodge No. 41, Fraternal Order of Police;
· Illinois Nurses Association;
· Illinois Federation of Public Employees, Local 4408 IFT-AFT;
· Illinois Federation of Teachers, Local 919;
· International Brotherhood of Electrical Workers;
· Illinois Fraternal Order of Police Labor Council;
· Laborers International Union of North America – ISEA Local 2002;
· Service Employees International Union, Local 73;
· SEIU Health Care Illinois & Indiana;
· SEIU Local 1;
· Teamsters Local Union No. 705, Affiliated with the International Brotherhood of Teamsters; and
· Conservation Police Lodge of the Police Benevolent and Protective Association.

A court date in St. Clair County has not yet been set.

In addition, AFSCME and other unions intervened in Cook County Circuit Court to represent the interests of state employees in a case in which the Attorney General is seeking declaratory judgment that state employees can be paid no more than minimum wage, pursuant to the federal Fair Labor Standards Act. The unions contend that since the state Department of Central Management Services and the Comptroller have indicated that it is not feasible for the state to alter its payroll to conform with the FLSA, then the court should order the state to continue paying employees on time and in full, as it did in a similar circumstance in 2007.

A status hearing in the Cook County case is scheduled for Tuesday, July 7.
- Posted by Rich Miller Comments Off


* This whole shutdown thing has rapidly devolved into campaign-style war room stuff…
Apparently @LisaMadigan not informing press that she is in court right now seeking a temporary restraining order to block state employee pay

— Mike Schrimpf (@mike_schrimpf) July 2, 2015
The Attorney General is in Cook County Court Room 2403 trying to block state employee pay RIGHT NOW. #twill

— Mike Schrimpf (@mike_schrimpf) July 2, 2015
Judge issued no ruling on TRO. Allowed CMS, Comptroller & unions to defend state employee pay. Attorney General on other side.

— Mike Schrimpf (@mike_schrimpf) July 2, 2015
* Actually, that's not quite what the TRO is asking for…
WHEREFORE, Plaintiff People of the State of Illinois respectfully prays that the Court enter a temporary restraining order and preliminary injunction ordering the Comptroller: […]

f. To process payment vouchers for payments pursuant to the federal minimum wage and overtime requirements of the Fair Labor Standards Act, or in the alternative, not to process payment vouchers for state employee payroll in the absence of payroll vouchers that comply only with the minimum requirements of the Fair Labor Standards Act; and

g. Any and all other relief that this Court deems just. [Emphasis in original.]
I checked with the attorney general's office and they fully expect that Comptroller Munger, the governor, CMS and AFSCME will argue that state employees should be paid their full wages. That's the process, I was told, and the judge will decide.
- Posted by Rich Miller 46 Comments


* After Jim Dimas was nominated to head DHS, he provided his resume to the Illinois Senate's Executive Appointments Committee and answered "No" to this question…

* SEIU has been doing research on Rauner administration appointees. They pitched me one story a while ago, but I took a pass. Apparently, they ran Dimas' name through Lexis Nexis and came up with this…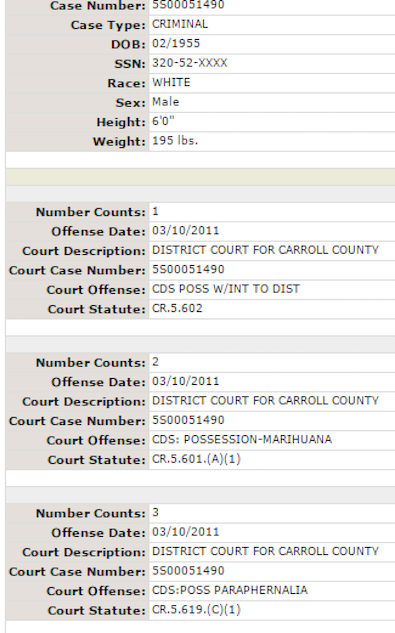 Oops.
* The back story from the governor's office is that Dimas was on medication for severe sciatic nerve problems. But his doctor told him that his pain medicine would seriously damage his kidneys.
A friend told Dimas that marijuana could ease his pain, and he hooked Dimas up with a connect in California, who then sent Dimas some weed.
Problem is, UPS figured out what was going on and Dimas was busted upon delivery.
Stupid mistake for sure. I mean, why go all the way to Cali for marijuana?
* Anyway, Dimas was up front with his judge, and received "probation before judgment," according to the governor's office. His record was eventually wiped clean and he never pled guilty and was never convicted.
Before he filled out that resume, he talked with his attorney and was advised to answer "No."
But he didn't inform the governor about his run-in with the law until SEIU started asking questions.
Another oops.
* Even so, I'm told the governor's chief counsel agrees with Dimas' attorney.
And while Gov. Rauner believes Dimas "made a serious error in judgment," Rauner also "believes in second chances and feels that Mr. Dimas is eminently qualified to lead the Department of Human Services and has chosen to retain him as secretary of the agency," a Rauner official said today.
* Why am I airing Dimas' dirty laundry in public? Well, the governor's people approached me, knowing that I'm also a firm believer in second chances on this sort of thing.
I was also willing to do this because, frankly, I didn't want to see the guy's mug plastered all over the front page by a newspaper looking to score some cheap shots.
He screwed up. Big.
He didn't lie on his app.
The governor is willing to forgive and move forward.
We should, too.
…Adding… SEIU says it dropped the whole thing, too. Same reasons as listed above.
- Posted by Rich Miller 51 Comments


* Sneed…
Ka-ching!

Dem U.S. Senate candidate Andrea "Andy" Zopp, whose resume reads like a corporate bible, is hitting the big money key on the cash register!

Sneed hears Zopp, the former president and CEO of the Chicago Urban League, has raised over $665,000 since she announced in May her candidacy for the seat now held by U.S. Sen. Mark Kirk, R-Ill.

"I think that's enough to show we are credible and that this is a real campaign," said Zopp, who will be running against U.S. Rep. Tammy Duckworth, D-Ill., a wounded Iraq War veteran, in the Dem primary.

"It's a big race and we have to be able to compete and show we are going to be able to raise money in order to be effective in this race," said Zopp, who held 17 fundraisers in the past two weeks.
She's been in this thing for a while, so she undoubtedly got some pledges early on during her exploration. Plus, we don't know yet how much of this is for the primary and for the general. Lots of times, wealthy backers max out for both up front.
Even so, not bad at all.
* Press release…
Raja Krishnamoorthi announced today he has raised more than $600,000 for his campaign for Congress in the 8th Congressional District of Illinois that includes the northwest Chicago suburbs.

Raja has raised the amount in a single fundraising quarter since he formally filed his paperwork with the Federal Elections Commission in April to run to replace Rep. Tammy Duckworth in Congress.

"The outpouring of support will allow our campaign to have the resources to share our message of helping more Americans find good jobs and economic security in a changing world," Krishnamoorthi said.

The eye-popping fundraising amount collected in three months builds on the impressive political support of more than 70 Democratic leaders and activists throughout the Chicago suburbs and Illinois backing Krishnamoorthi for Congress.

Today's fundraising news comes on the heels of Rep. Jan Schakowsky (D-IL 9th District) and Rep. Luis Gutiérrez (D-IL 4th District) endorsing Raja for Congress. In addition to a total of six Members of Congress backing Krishnamoorthi, other key supporters include State Sen. Dan Kotowski (D-28th District) and State Sen. Dave Koehler (D-46th District).
Same caveats as above, but, again, pretty darned good.
* By the way, did any of you catch any of these recent fundraising appeals?
Brad Schneider…
I know that if we don't hit our goal, we'll become the number 1 target for the Republicans.

Just $1,033 to go — Rich, I'm really hoping you can chip in:
Duckworth…
I'm at the office, refreshing our fundraising stats constantly before tonight's big FEC fundraising deadline at midnight, and I'm seeing that we're still $3,567 short of our online goal.

If just 242 of you pitch in during the next few hours, I think we can make it, and show Mark Kirk and his Super PAC allies that we're ready for this race. Can I count on you to contribute now?
Susana Mendoza…
We are now only $2,603 away from our fundraising goal for the quarter, which is incredible!

Can you contribute before midnight tonight to get us over the top?

Only $2,603 to go. Every little bit helps!
Nancy Rotering…
In just a few hours, the second quarter FEC filing deadline will be here. We have seen an incredible response and are rapidly approaching our goals for the quarter.

Right now, we are just $1,718 away from reaching our grassroots goal. Help us prove that our campaign has what it takes to win and put us over the line. >>>CONTRIBUTE TODAY!
Tom Cullerton…
We're getting a tremendous response from our list! We're only $1,315 away from our goal. I know we are sending you a lot of email today, but this deadline is critical.

Can you join me in supporting Tom's campaign with a $10 contribution right now?
This is all based on research that makes those goals look more believable and reachable and, therefore, encourages donors to act.
- Posted by Rich Miller 23 Comments


* From a media alert…
Comptroller Leslie Geissler Munger will hold a Chicago news conference Thursday to discuss her plan for managing state finances as the state enters the new fiscal year July 1 without a budget agreement.

Munger will discuss the budgetary timetable for the weeks ahead and then take questions from the media at the James R. Thompson Center.

SCHEDULE FOR THURSDAY, JULY 2, 2015:

WHO: Illinois State Comptroller Leslie Geissler Munger
WHAT: News Conference on State Budget Impasse
WHEN: 1 p.m. Thursday, July 2
WHERE: Blue Room, 15th Floor
James R. Thompson Center
100 W. Randolph St., Chicago, IL
The live video link via our good pals at BlueRoomStream is here.
This post will be updated.
* Let's do a ScribbleLive thingy…
- Posted by Rich Miller 53 Comments


* 21 years sounds so very far away, until you consider how long it takes to get a permit to build a landfill (not to mention finding a willing area) and how much we love to procrastinate in this state…
State officials say existing Illinois landfills have capacity to take trash for another 21 years.

The Illinois Environmental Protection Agency released its landfill report for 2014 on Wednesday. The report found that the state had 39 active landfills that took in more than 44 million gate cubic yards of waste during 2014. A gate cubic yard is the volume of waste entering the landfill's gate.

The landfills reported that there were 942 million gate cubic yards of combined remaining capacity as of Jan. 1. The state EPA says that means landfill life expectancy in Illinois is 21 years based on 2014 disposal rates.
- Posted by Rich Miller 27 Comments


* Whatever else you think of him, you gotta give the governor credit for chutzpah…
Kids at the Illinois State Museum summer camp last week got a lesson in irony after Gov. Bruce Rauner, who proposes to close the museum, stopped by for a photo op with them.

Next day the children wrote a letter thanking the governor for coming to camp, adding, "We hope to see you next year!"

The Rauner administration has set official wheels in motion to shutter the 138-year-old institution […]

Already there are a hundred pages of letters opposing closure, but none more eloquent than the note from Elsa, a summer camper who wrote on the group letter to Rauner: "Please don't close the museum. Please save my Mom's job."
Sheesh.
* The letter…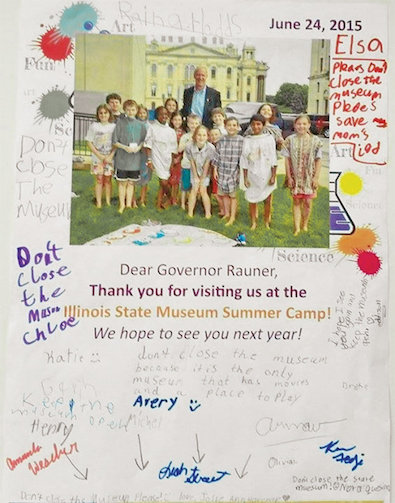 - Posted by Rich Miller 69 Comments


* Illinois Issues takes a look at the difference between Tier One and Tier Two teacher pensions. Keep in mind here that Tier Two kicked in on January 1, 2011…
The National Council on Teacher Quality reviewed the state of teacher pensions across the country in a 2015 report, highlighting Illinois as one of the most egregious examples of states combating a crisis on the backs of new teachers. Starring in the hypothetical scenario are two teachers in the Springfield Public School District — both have similar credentials and start and stop teaching at the same ages, 25 and 55. Amy started in November 2010, Allison just two months later, in January 2011.

Based on the school district's salary schedule and the NCTQ's calculations, Allison will end her 30-year teaching career with barely more than $243,000 in pension wealth. Amy's pension, on the other hand, will be valued at nearly $550,000. Both women contributed the same portion of their pay toward retirement, and they were on identical salary schedules throughout their careers. That means they both had about $200,000 automatically deducted from their paychecks and funneled to the retirement system while they were teachers. But Amy will have a much more comfortable retirement.

Allison, hired in 2011, joined a second tier of public sector employees who are still required to pay the same portion of their salary toward retirement but who get a substantially lesser benefit from the system. In fact, their benefit might be so little as to be illegal under federal law.
* While we're talking about Illinois Issues, I received this e-mail from Executive Editor Jamey Dunn-Thomason today…
We plan to post a new Illinois Issues in-depth piece (with accompanying radio component) every Thursday and send out an email alert in the morning. I don't know if you are on our mailing list. We are still kind of working on compiling/merging that info. Thought you might like to get the alerts. You can subscribe at the bottom.
You really should click here to subscribe. It's free and they do great work over there.
Plus, Jamey's a friend and a big fan of this site. So help them out!
- Posted by Rich Miller 72 Comments


*** UPDATE 3 *** The governor's office points to this paragraph in the AG's legal action…
WHEREFORE, Plaintiff People of the State of Illinois respectfully prays for the following relief: […]

f. A declaration that the Comptroller, in the absence of an annual appropriation, is authorized to process payment vouchers for the payment of the federal minimum wage and overtime requirements of the FLSA, or in the alternative, a declaration that the Comptroller, in the absence of an annual appropriation and payroll vouchers that comply only with the minimum requirements of the FLSA, is not authorized to process payment vouchers for the state employee payroll;
Their response…
FYI, see paragraph 35f, the AG is seeking on two forms of declaration: 1) Comptroller can only pay minimum wage or 2) the Comptroller cannot pay anyone. The Attorney General is trying to block full employee pay.
Emphasis in original.
*** UPDATE 4 *** From Attorney General Lisa Madigan in response to the above claim…
"I have been working with the Comptroller's office to identify what payments can continue without a State budget to ensure that people who rely on critical government services—kids in the foster care system, low-income families who can't afford to pay for groceries, mentally disabled individuals who need residential support—aren't punished by the Governor's and Legislature's inability to finalize a budget. I want State employees to be paid. I also want State service providers to be paid. They all deserve to be paid. But this problem can't be solved through a lawsuit. The only way to ensure State employees and service providers are fully and legally paid is with an enacted budget."
[End of updates.]
* An interesting and politically deft preemptive move. AG Madigan wants judicial clarification about payments that already don't require legislative approval. And she gets ahead of the curve by asking the court to rule on the employee paycheck issue.
Press release with emphasis added…
Attorney General Lisa Madigan announced she has filed an action in Cook County Circuit Court, seeking a court order clarifying that the State can continue to make legally authorized payments to fund critical government services in a timely manner.

Without a State budget in place, the Illinois Constitution and laws significantly limit the payments that the State can make. In preparation for the start of the new fiscal year, the Attorney General has been working with Comptroller Leslie Geissler Munger to determine what payments can continue without a State budget in place. Based on those preparations, this action seeks clear court approval for the Comptroller to make payments that do not legally require an appropriation by the Legislature, including payments authorized by specific state statutes, payments for services required under court consent decrees and payments to continue participating in federal programs. These payments help fund critical government services, such as medical care for children in foster care, residential placements for mentally disabled individuals, food assistance for low-income families, and the operation of the state hotline to report child abuse and neglect.

The action also asks the court to clarify the State's obligation to comply with the federal Fair Labor Standards Act by paying State employees the federal minimum wage until a budget is enacted and they can receive their full paychecks.

Statement from Attorney General Lisa Madigan

"The Illinois Constitution clearly states that without a budget, the State's authority to fund government operations and services is severely limited. I am bringing this action to ensure that legally supported expenditures can continue to be made and to address the question of how the state payroll is legally managed during the budget impasse.

Our state's most vulnerable residents deserve access to the critical services that their lives depend on. Taxpayers deserve to benefit from the government operations they help fund, and state employees deserve to be paid. Unfortunately, without a budget, it is difficult to ensure these payments are made. It is my job as the lawyer for the State to ensure that to the greatest extent possible under the law, we deliver on those promises. This action is the best approach to quickly and efficiently resolve these challenges.

It is my hope that by securing a court order clarifying these expenditures, the Legislature and the Governor can enact a budget to fund State government for the new fiscal year. If not, I fear those who need the State's services the most will suffer the greatest."
Read the entire complaint by clicking here.
*** UPDATE 1 *** This letter was sent by the comptroller yesterday…
Dear Attorney General Madigan:

As you know, today marks the first day of fiscal year 2016. To date, the legislature has failed to adopt a balanced budget for the State, resulting in severe constraints on the Comptroller's Office's ability to fund essential State operations, including State employee payrolls. I note that while the rank and file State employees are at risk of delays in receiving paychecks due to the current budget impasse, the Legislators themselves passed a law last year which will ensure they are paid on time in the new fiscal year (PA 98-682).

My legal counsel has advised me that the inability to process payrolls for State employees due to the lack of an approved budget carries the potential for significant liability for the State under the federal Fair Labor Standards Act ("FLSA"). As we understand it, that Act provides for treble damages calculated from the amount of missed payrolls.

In order to fulfill my constitutional and statutory duty to issue State payments only where such payments are "pursuant to law and authorized," and to protect the state from potential excessive fines, I am formally requesting that your office represent my office in Court to seek an Agreed Order to allow the State to avoid fines and penalties under the federal Fair Labor Standards Act.

I have determined from detailed and extensive conversations with State agencies and my staff that the circumstances today are no different than the State faced in 2007, when your office agreed to entry of an Agreed Order to allow payment to all State employees at their regular rates of pay. Specifically, while the mandate of the FLSA is to pay "covered employees" at a rate at least equal to the federal minimum wage, the State's payroll processing systems in place today are not set up such that the proper amounts could be calculated and paid to "covered employees."

In order to prevent the State from incurring significant fines or penalties under the FLSA, the Agreed Order sought on our behalf should include a sentence, as follows:

To the extent it is not feasible to limit the issuance of warrants or electronic payments only to those State employees and in such amounts necessary to comply with the FLSA, the Comptroller shall issue such other additional payroll warrants or electronic payments to ensure that the requirements of the FLSA have been satisfied, including payroll warrants or electronic payments to State employees that may not be covered by the FLSA.

This sentence is identical to the Agreed Order entered in 2007, copy attached.

The contribution of State employees to maintaining public services and public order is beyond dispute. Allowing these employees to be paid on time and at the correct rate of pay until the budget impasse is resolved will also promote the legitimate goals of government to maintain critical services.

Going forward, I believe it is imperative that the State be better prepared to establish compliance with the FLSA in the event of delays in adopting a budget in future fiscal years. I will initiate an effort to work with your office and the Governor's state agencies to adopt procedures to promptly identify employees covered by the Act in the event of another budget impasse. At the same time, the state is moving toward implementation of a new accounting system that will allow us to better comply with the FLSA in future years.

In conclusion, I will appreciate your confirming at your earliest convenience your willingness to seek the Agreed Order as outlined in this letter. I thank you and your staff for working closely with, and providing information to, the state Constitutional Offices to navigate the challenges caused by this ongoing budget impasse. Please contact me if you have any questions.

Sincerely,

Leslie Geissler Munger
Comptroller
It appears we have the AG's response.
*** UPDATE 2 *** Two 2011 judicial consent decrees were the subject of these recently successful lawsuits…
Yesterday, the ACLU of Illinois, Equip for Equality and the pro bono law firm Dentons filed emergency motions seeking court orders to ensure that services for people with disabilities under the three community integration Consent Decrees continue despite the lack of a new state budget.

Federal judges entered orders requiring the State of Illinois to continue funding in Ligas v. Norwood and Colbert v. Rauner. (Copies of the court orders are attached.) The decree in Ligas covers people with developmental disabilities living in large state-funded facilities seeking to move into the community, as well as people with developmental disabilities living in the family home seeking community services. The decree in Colbert covers people with mental illness and/or physical disabilities living in nursing homes in Cook County who want to move into the community. A federal judge has been asked to enter a similar order in Williams v. Rauner, which covers people with mental illness living in large state-funded facilities who are seeking to move into the community. The motion in Williams will be heard on Thursday, July 2nd.

Click to review copies of the court orders: Compliance with Ligas Consent Decree & Compliance with Colbert Consent Decree
- Posted by Rich Miller 81 Comments


[The following is a paid advertisement.]
As a friend to the consumer and trusted partner in their financial lives, credit unions are always looking out for their members' best interests. When circumstances arise that are beyond the control of their members, credit unions are already there proactively working behind the scenes to provide peace of mind.
Take for instance University of Illinois Employees Credit Union (UIECU). In light of a possible payroll interruption as a result of the current state budget crisis, the credit union has been anticipating their state employee members could need help and has put plans into place to help their members weather the storm. This includes waiving skip payment fees and courtesy pay fees as necessary, as well as waiving early withdrawal penalties of certificate/Christmas club accounts and offering low-interest, short term loans. And UIECU is just one of many credit unions that have stepped up to help their members and consumers during this challenging time.
Credit unions remain true to one principle - people before profits - and represent a highly valued resource by more than 3 million Illinois consumers during times that pose economic and financial challenges.
- Posted by Advertising Department Comments Off


* Press release…
State Representative Mike Unes (R-East Peoria) called on both parties to come to a temporary, balanced budget to avoid major interruptions to state services on Thursday. As the State of Illinois begins its new fiscal year without a balanced budget in place, the Democrat Supermajority attempted a piece-meal approach on Wednesday, in the way of a temporary 30-day state budget funding some state services. However, Rep. Mike Unes (R-East Peoria), criticized the bill as still being, "unbalanced and unconstitutional" and not including funding for programs like The Autism Program (TAP).

The Governor's Office of Management and Budget released a letter on Wednesday explaining that the attempt by the Democrat supermajority to pass their temporary budget would result in ultimately spending much more money than revenue is expected for the fiscal year. The letter describes that the Democrat proposal, "marches the taxpayers of Illinois toward an unbalanced budget one month at a time."

Rep. Unes went on to urge an attainable solution to remedy this situation, "if we simply divide our expected revenues by 12 months and pass an extension of spending levels commensurate with expected revenues, we can keep state government services open, pay our employees, and not have major interruptions in the lives of vulnerable Illinois citizens dependent on the state safety net."

"I'm for a comprehensive approach that gives a voice to the voiceless. It's a cruel game to string along the most vulnerable when you know the money won't be there at the end of the year. Unfortunately, the math simply doesn't add up here on Madigan's budget extension. We are charged by the Illinois Constitution with not spending more money than incoming revenues. Today, I suggest a simple solution to keep the doors open- pass a temporary budget that simply divides expected revenues and fund the programs we can based on priorities established by the legislature. We cannot simply make up our own numbers, though," said Unes, "we have to operate in the real world."
Thoughts?
* Meanwhile…
As anxiety spreads over dangerous cuts to social services demanded by Gov. Bruce Rauner in his ongoing budget crisis, a new TV ad debuted today in markets across Illinois showing the benefit of child care to two working mothers.

In the 30-second ad which targets legislators, the moms explain the ripple effect of removing child care from tens of thousands of working parents, as Rauner proposes.

In the ad, Courtney McLure, a mother from Riverton who works as a teacher's assistant, says, "If I can't take my kids to day care, then I can't work."

Leading Julia Adams, a mother of two from Springfield who works as home aide, to conclude that, "Governor Rauner would not cut child care if he walked a day in my shoes."

The ad joins two others that began airing Monday.
- Posted by Rich Miller 42 Comments


* Ouch…
Rahm: create one pension fund for all teachers in Illinois.

— Mark Brown (@MarkBrownCST) July 1, 2015
Interesting note on combining teacher pension funds: Chicago teachers fund in better shape than state teachers.

— Mark Brown (@MarkBrownCST) July 1, 2015
He's right. The Illinois Teachers Retirement System's unfunded liability ratio is 59.4 percent. That number is 48.5 percent for the CTPF.
- Posted by Rich Miller 31 Comments


* Madeline Doubek wonders who will win and who will lose during the shutdown crisis…
Madigan seems content to continue to paint the governor as extreme and wait for the fallout as agencies and non-profits that help children, the elderly and disabled bear with the brunt of the funding drought like the one they cried about when their funding got cut earlier because of an unbalanced Democratic budget. […]

Rauner and Republicans are betting, in the end, and with the aid of millions of dollars at their disposal and control of the state's purse strings, that they can apply that heat and squeeze the Democrats. They calculate they still can pay state workers, or at least be able to say they tried to pay state workers, and then it's the Democrats who caused those children, elderly and disabled to suffer. […]

Rauner can be right that Democrats made this mess until the end of time and still lose. He could pay the price if this ends with him signing a tax increase that's just big enough to bother those who voted for him but don't especially like him. Or Democrats could go home for the holiday and other summer events and get tagged for driving us down the debt drain and always turning to taxpayers for more.

The biggest risk? The biggest unknown? What happens when the horror stories start?
That last question is the most important. The governor has a big bully pulpit and his signing of the K-12 appropriations bill, his solidarity with state workers over their paychecks, etc. were all quite deft. His TV ads were as much about keeping his own numbers bolstered as they were about whacking MJM.
* And perhaps we'll see more editorials like this one..
State Rep. Frank Mautino, D-Spring Valley, gets points for honesty in openly admitting that he backs powerful House Speaker Michael Madigan, D-Chicago.

Still, we are discouraged that our state representative has tied himself to a state leader who keeps a political stranglehold on Illinois. Madigan has been speaker for all but two years since 1983. In 1998, he became chairman of the state Democratic Party. […]

Certainly, Mautino, who has served since 1991, can point to projects in his district that resulted from his relationship with Madigan, but these benefits do not outweigh the damage that Madigan and his loyalists have done to our state.

In the current state budget showdown, many newspaper editorial boards are blaming Gov. Bruce Rauner and Democratic legislative leaders for the stalemate, yet fail to hold their own lawmakers accountable. It's easier to point the finger at politicians in a distant city, rather than those close to home.

Yet Mautino must take at least some responsibility for the state's budget mess. He has been aiding and abetting Mike Madigan for years.

It's time that Mautino stake his own ground and become part of the solution.
That's gotta sting, and you can bet some of those quotes will be part of next year's GOP mail campaign if Mautino runs again.
Then again, you could write the same sort of thing about Republican lawmakers who have time and time again voted against their own consciences and their own districts this past spring because of pressure from the governor.
Remember all that pressure the governor put on HGOPs to vote "Present" on "right to work"? And then days later, the governor completely abandoned the plank from his Turnaround Agenda platform.
As much as Democrats enable their leaders, Republicans are doing the very same thing.
* Even so, it is always easier to blame the big dog at the top rather than the local legislator you know and like. Governors normally wear the jacket for crises and failure, and that's why Rauner has been so eager to appear "reasonable" on so many things.
Without a compromise on the horizon, we're about to head into some very dangerous territory for everybody.
- Posted by Rich Miller 41 Comments


* It's probably worth noting that the one-month "essentials" budget passed by the Senate yesterday included funding for the Illinois Emergency Management Agency. If the governor and AFSCME fail to convince a judge to order the comptroller to issue state worker paychecks, flood recovery might possibly become part of this shutdown debate…
Rescue crews evacuated about 40 people because of flooding in the southwestern Illinois city of Centreville, paddling them to safety in orange inflatable rafts above streets that had turned to muddy rivers.

Emergency personnel went door to door to more than 100 homes on Friday, but some residents refused to leave despite floodwaters that reached 4 feet in places, KSDK-TV reported. […]

There also was flooding Friday in eastern Illinois, where the state's department of transportation had to close a section of U.S. Highway 45 about three miles north of Mattoon.
* And more in Beardstown…
The Illinois River is breaking more than its 2013 record. It's tearing up roads, too.

Two new sinkholes have opened up along Main Street since the river hit major flooding stages late last month. Underground pressure associated with the rising water has caused cracks and created wide pits along the town's main thoroughfare, public works director Gary Hamilton said. […]

The river hit a record 30 feet Wednesday afternoon. Prevention efforts in the Cass County town of about 6,000 began Monday, nearly a week after most other towns along the river began sandbagging. Beardstown's 35-foot flood wall keeps residents and the city feeling pretty secure, Mayor Steve Patterson said. But as the river levels inched closer to the 29.8-inch crest record from 2013, nerves increased for some residents.
- Posted by Rich Miller 25 Comments


* From "Illinois Copperheads and the American Civil War"…
Circuit Judge Charles H. Constable of Mount Carmel, a Democrat, released four deserters who had been arrested by army sergeants acting on the orders of Colonel Henry H. Carrington, commander of the Indiana Military District.

Constable argued that the army had no authority to arrest deserters from Indiana within the sovereign state of Illinois.

Outraged by the judge's action, Carrington led a detachment of Indiana cavalry into Marshall, Illinois, in March 1863.

There he arrested Judge Constable, who was then trying the two army sergeants on the charge of kidnapping.

A federal judge ordered Constable's release on the.grounds that Carrington's cavalry had no authority to hunt deserters outside of Indiana, thus supporting Constable's earlier opinion.
The Hoosiers were right.
Maybe we should return the historical favor and liberate Indiana trade unionists.
/snark
- Posted by Rich Miller 39 Comments