* I'm extending my weekend by a day. We'll talk again tomorrow.
- Posted by Rich Miller Comments Off


* Inyang Bassey and Binky Griptite will play us out with a powerful cover that strips this Stones song right down to its essence…
Now all my friends are wearing worried smiles
Living out a dream of what they was
Don't you think it's sometimes wise not to grow up?
- Posted by Rich Miller Comments Off


* A new petition on Change.org…

More than a little unclear on the concept, of course. The House impeaches, the Senate removes, and the Senate has no control over who the House elects as its Speaker.
* From the narrative…
The State of Illinois has been without a budget for 60 days. The state museum network goes broke on September 30, 2015. Social service agencies are turning away people in need because they have no funding. Local governments aren't receiving their gas tax revenues, because it's illegal to distribute the funds unless there is a state budget. The root cause of the budget impasse is the lack of communication between Bruce Rauner and Michael Madigan. Their inability to agree on even the most issues has brought Illinois to a complete halt. Removing these two men from office may save Illinois.
* Andrea Durbin, the chief executive officer of Illinois Collaboration on Youth, has a different idea…
In recent weeks, we in Illinois were both entertained and appalled by Kentucky clerk Kim Davis' refusal to do her constitutional duty when she refused to issue marriage licenses to gay couples. The nation raised alarm and expressed astonishment for her blatant disregard of public office, indifference to the rule of law, and willful disobedience.

But here at home, our own elected officials have failed for months to do their constitutional duties, and I cannot understand how this situation is fundamentally different from that of Kim Davis'. […]

How is it possible that our elected leaders have not met in four months? What could be a higher priority than doing their constitutionally defined job? Where are these supposed negotiations taking place if they are not even speaking to each other? Where is the outrage? Where is the public shaming?

Our leaders have harmed far more people by their refusal to do their jobs than Kim Davis ever has, but she's the one who was held in contempt of court. It seems only just that our elected officials — legislative leadership, rank-and-file legislators, and the governor — should face such consequences. Isn't their unwillingness to meet a demonstration of their contempt for us and the Illinois Constitution?
Contempt of court, eh? Hmm. I wonder where I've heard that one before?
Maybe we've got a movement going here.
- Posted by Rich Miller 23 Comments


[The following is a paid advertisement.]
The final results are in and as many analysts have noted, "Exelon was the big winner in this year's [PJM grid capacity} auction." Here are the highlights:
$1.7 BILLION RATE INCREASE FOR EXELON – Exelon engineered the new rules to increase their profits. Their $1.7 BILLION reward will be paid for by struggling Illinois ratepayers.
Byron and Quad Cities Both Cleared the Auction and are Obligated to Run Well into the Future
Exelon's Low Carbon Portfolio Standard would have raised $1.6 billion over 5 ½ years for Exelon. The Capacity markets, under Exelon-pushed rules, earned Exelon $1.7 billion over only three years.
Illinois doesn't have a balanced budget, service providers are being decimated and real people across Illinois are hurting. It's time for Exelon to take their HUGE $1.7 BILLION WINDFALL and stop asking legislators to keep padding their profits.
Enough is enough!
Just Say "NO" to the Exelon Bailout
BEST Coalition is a 501C4 nonprofit group of dozens of business, consumer and government groups, as well as large and small businesses. Visit www.noexelonbailout.com.
- Posted by Advertising Department Comments Off


* From a Sauk Valley Media editorial…
Last fall, 60 percent of [Illinois] state legislators faced no opposition on the ballot.

What kind of democracy is that? A broken one.

You may have heard that the nonpartisan Independent Maps coalition is collecting signatures to place the Independent Map constitutional amendment on the November 2016 ballot.

The amendment, if approved, will create an 11-member commission that will take away the once-a-decade map-drawing power from politicians. New districts will be drawn in an open, transparent manner with no regard to incumbency or partisanship.

The petition drive, which began in May, has collected more than 300,000 signatures toward its goal of 600,000, which is about twice the number necessary.
* That 60 percent figure is true. From Ballotpedia…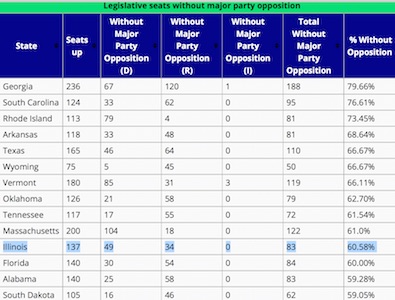 * Now, check this out…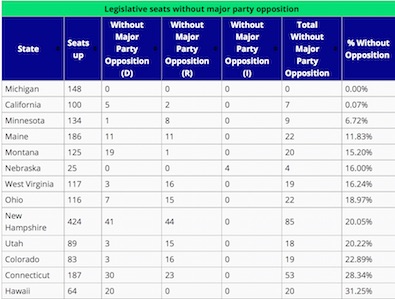 Every seat was contested in Michigan and nearly every seat was contested in California. Wow.
* Also from Ballotpedia…
Independent commissions draw the lines for both state legislative and congressional districts in six states: Alaska, Arizona, California, Idaho, Montana and Washington. Specific membership requirements for these commissions vary from state to state. Generally speaking, however, these commissions do not include legislators or other elected officials
* OK, so let's combine these two sets of data and look at the percentage of uncontested legislative seats in those six states which have independent district commissions…
Alaska 33.33%

Arizona 40.0%

California 0.07%

Montana 15.20%

Washington 33.33%
All of them are much better than Illinois.
I don't particularly care for this particular "fair map" proposal, but we definitely need to try something else.
- Posted by Rich Miller 38 Comments


* Yesterday's story about water service being shut off at an IDOT office led me to call CWLP in Springfield to see if the Statehouse and the area's myriad other state offices were in danger of having their power or water service disconnected by the municipally owned utility.
"We're not at a critical mass," said Amber Sabin at the utility. "We're used to the state paying on a 60-day schedule," she said. The state's Capitol Complex has a bill due later this month for $2.3 million, by the way.
Sabin said the utility would "rather have their revenue," so "Disconnects are going to be a last resort."
She also joked that it's "not like they're leaving the state, they're not fleeing us."
Hey, maybe the governor could move the capitol to Florida and get out from under the electric bill. The winters would be nicer, but I'd have to come back north during the summer.
* And along those lines, here's an October 1 e-mail sent by Donald C. Barnes, who is the Energy Manager for CMS…
Fiscal Emergency Issues

We have communicated the details surrounding the current fiscal state of emergency relative to our lack of disbursement authority to the various utilities throughout the state and requested that they defer any automatic service termination actions which would be triggered by the non-payment of bills within the legally-defined time frames.

To date, most utilities have responded that they will not be terminating services on State of Illinois accounts though some made those pledges more conditionally than others. Specific responses obtained thus far are as follows:

• Ameren – states it will follow applicable tariff and legal requirements; does not specifically guarantee it will not terminate services for non-payment.

• Illinois American Water – states that it will freeze all termination actions through March 2016 and will re-visit the policy then if the crisis continues.

• Nicor – indicates that all accounts coded as governmental service will not face actual termination (see attached).

• Peoples Gas/North Shore Gas – official communication being developed but Account Executive gave unofficial sense that they will work with State through crisis and let us know in advance of any change in position.

• ComEd – no official response yet.

• Mid-American Energy – no official response yet

• City of Chicago (water and sewer services) – no official response yet but has inquired as to whom the central point of contact with the State will be on this issue. Was informed to keep CMS Utility Management in the loop and we will either respond or forward to the accountable agency for response.

• City of Beardstown - States that it will not initiate any shutoff actions.

• City of Springfield - City Water Light and Power reportedly indicated it will not initiate termination actions at this time but made assurance conditional on the duration of the non-payment status.
- Posted by Rich Miller 20 Comments


* Could be a while…
Gov. Bruce Rauner has been a large proponent of businesses in the state, in the chamber's opinion. [Illinois State Chamber of Commerce President Todd Maisch] said state chamber officials have regular talks with legislators, but said the governor's direction is the way he feels the state should go.

Maisch said that he thinks small businesses and those affected by the budget impasse know that without change, growth will continue to stagnate.

"The status quo is completely unacceptable," he said. "The governor has our full support. We talk to our members every day and they're unwavering. They say 'if we don't make real changes now, we may never make them and my business and my children may not be in Illinois to see the aftermath'."
- Posted by Rich Miller 60 Comments


* From the Commission on Government Forecasting and Accountability…
Through the first quarter of the fiscal year, base receipts are down $987 million. The drop reflects comparatively lower income tax rates as well as the one-time nature of some pharmaceutical court settlements recovered by the Attorney General's Office last fiscal year.

Gross personal income taxes are down $699 million, $621 million net of refunds, or $829 million when the diversions to the education and human service funds are included. Gross corporate income taxes are behind last year's receipting by $154 million, or $138 million net of refunds. Other sources are down $117 million, reflecting the aforementioned court settlement proceeds received last fiscal year in a similar amount. Public utility taxes are off $25 million, inheritance corporate franchise taxes $6 million, and vehicle use tax $1 million.

Overall transfers are up by $57 million, and federal sources, despite its weakness, are up $50 million for the quarter.
- Posted by Rich Miller 23 Comments


* I didn't get to this earlier in the week, but let's try now. Amanda Vinicky…
Illinois' racing board is taking a gamble in an attempt to save the beleaguered industry. Two historic Illinois tracks will hold no races next year, a decision that could lead to their permanent closure.

The decision by Illinois' 11-member racing board was unanimous: no horses will run at Balmoral and Maywood parks in 2016.

"We can't sit out a year and survive; we'll have to default on our lease and that'll be the end of it," said Duke Johnston, a partial owner of the tracks. […]

The board has given it and the Hawthorne park all Chicago-area races. The idea is that consolidating races - and therefore expenses and prizes - will make the remaining tracks more competitive.

"It raises purses at both entities, which will attract more horses, which will result in larger field size, which results in more wagering which results in more purses. It's circular," Arlington racecourse General Manager Tony Petrillo said.
* More…
After unsuccessfully fighting to eliminate Hawthorne's spring thoroughbred meeting for the last four years Arlington International Racecourse formed an alliance with its former adversary and the tracks made a joint presentation.

Hawthorne agreed to give Arlington a portion of the host track money it receives from out-of-state simulcasts to use to significantly bolster purses at its summer thoroughbred meeting. In return, Arlington supported Hawthorne's requests for the two harness meetings and its usual spring and fall thoroughbred meetings.

The tracks also have promised to promote one another.
Arlington wins again.
- Posted by Rich Miller 29 Comments


* I think we need more follow-up on this claim, but wow…
Social service groups said the situation is getting dire – and even deadly – as state funding remains stalled due to the budget standoff between Republican Gov. Bruce Rauner and Democratic lawmakers.

Nancy Maruyama, executive director of education and community outreach for SIDS Illinois, had the direst pronouncement, saying some victims of Sudden Infant Death Syndrome might have been saved if her group's program to educate parents about safe ways to put their babies to bed hadn't suffered cuts.

"The majority of the death reports that I receive from the medical examiner's office, those babies are in unsafe sleep situations, and if we had been able to get out there and do this education, it's really possible that these deaths could have been prevented," she said. "How many babies have to die before something is done about this situation?"
…Adding… Click here for an eerie flashback.
- Posted by Rich Miller 41 Comments


* There are some caveats to remember when reading today's Tribune story. First, businesses aren't infallible nor are they necessarily permanent. Stuff happens, stuff changes, companies go out of business. Second, the Great Recession most certainly did require some drastic actions, including giving tax breaks to help Illinois companies survive.
With that in mind, however, you should go read the whole thing…
Illinois' flagship job program has awarded millions of dollars to companies that never hired an additional employee.

It's doled out millions more in tax breaks for corporations that eliminated jobs and became smaller.

And it's allowed companies to reap lucrative rewards and then relocate to other states without penalty or repayment.

Illinois cut these deals through a strategy dubbed EDGE — short for Economic Development for a Growing Economy — that was launched in 1999 by Gov. George Ryan as a way to create jobs and lure businesses from other states.

But what began as a modest number of tax breaks for a handful of companies has mushroomed into a billion-dollar giveaway rife with failure.
- Posted by Rich Miller 24 Comments


* Your thoughts on this?…
September 30, 2015

The Honorable Bruce Rauner
Governor of Illinois
207 State House
Springfield, IL 62706

Dear Governor Rauner,

I am writing to underscore how the current budget stalemate adversely impacts the Illinois State Treasurer's Office. Also, it is my responsibility to stress that if a resolution is not reached soon, there may be significant impacts to the state's ability to pay its bills, run programs, and conduct essential government operations.

As you know, the Illinois Treasurer is the state's Chief Investment and Banking Officer. Currently, my office manages approximately $23 billion, which includes $10.1 billion in state funds, $7.3 billion in college savings plans, and $5.5 billion on behalf of state agencies and municipalities. The Treasurer's Office also oversees the Unclaimed Property program, administers the state's multiple banking functions and financial services, and provides several low-interest loan and financial programs aimed at spurring economic growth, creating jobs, assisting farmers, and enhancing Illinois communities. Our primary focus remains preserving the state's investment portfolio, providing the necessary liquidity to meet daily cash flow demands, and consistently producing investment earnings that enrich the people and communities of Illinois. To that end, the Treasurer's Office returns $28 in revenue to the state for every $1 spent on operations.

While my office is committed to fulfilling its duties, the current budget impasse presents significant concerns and challenges that warrant your attention. As we approach the three month point of this budget stalemate, critically important banking and investment contracts remain unpaid which threaten to disrupt operations. If services from these vendors are suspended, there may be devastating effects on the state's ability to manage its finances, pay its debts, and maximize returns for the people of Illinois.

I want to focus your attention on three specific areas of greatest concern:


1. Disruption of Banking Activities

In order to administer treasury, cash management, and investment operations on behalf of state and local governments, the Treasurer's Office utilizes a wide variety of financial services and products from outside parties, including brokerage firms, securities dealers, investment consultants, banks, credit unions, and other financial institutions. These entities provide a number of critically important banking and investment services to the Treasurer's Office. If funds are not available to pay our vendors, banking and financial services that we provide to state agencies may cease, such as: depository services, electronic payments, and lockbox services. State agencies would then not be able to deposit or accept checks, cash, or electronic funds, including federal funds. Further, our office may not be able to make funds available to the Comptroller which would not allow for vendor payments and payroll deposits.

2. Disruption of Investment Operations

Every day, the Treasurer's Office actively invests and manages monies on behalf of state agencies and local governments. The largest portfolio, the State Portfolio, currently holds assets of approximately $10.1 billion. These monies are managed to provide the necessary liquidity to meet the state's daily obligations. Remaining funds are placed in authorized short- and long-term investment vehicles.

While the majority of investments in the State Portfolio are positioned for quarter end, the Treasurer's Office executes a number of daily and short-term trades to ensure sufficient liquidity. These activities could be severely jeopardized by any contractual disruptions. If the Treasurer's Office is unable to pay contractual fees to banks and they terminate existing contracts and close investment and custodial accounts, our office may be forced to liquidate all investments due to the inability to hold securities with our custodian bank or the Federal Reserve. This may shut down our securities lending program which generates significant incremental income. In addition, security sales may need to be made in order to meet daily liquidity needs, something this office has never been forced to do in its 197-year history.

The Treasurer's Office may have to sell off $10.1 billion in investments before our bank accounts close. As such, the State of Illinois may lose significant investment earnings and the potential loss of principal depending on market volatility. While it is imprudent to submit an exact figure considering the extensive variables in play, to provide some perspective, consider investment earnings under normal operations:

• The State Portfolio typically earns $3.5-$5 million in monthly earnings ($4.2 million in August 2015) or $42-$60 million in annual investment earnings.

• The Treasurer's Office currently earns approximately $33,000 per day ($800,000 to $1.3 million per month) in securities lending income. If the Treasurer's Office cannot replace treasury securities or called securities, securities lending income will be adversely impacted.

3. Risks to Agencies Upgrading to Chip-Card Payment Systems

October 1, 2015, is the deadline for organizations that accept credit card payments to adopt a new microchip processing system. Failure to do so may result in a liability shift that renders them financially responsible for fraudulent charges. This applies to state and local government agencies as well. The liability shift compels businesses and organizations to purchase new terminals and software that read E.M.V. (Europay, MasterCard, and VISA) microchips.

The Treasurer's Office has been working for months with state and local agencies to prepare for this transition to newer technology. However, there may be agencies that are not ready for this transition as they lack the appropriation authority to purchase the required terminals. This is unnecessarily exposing the state to risks and could create a significant liability for already stretched government agencies.

The Treasurer's Office will continue to work to forestall these impacts while considering contingencies if our vendors discontinue services. My office will keep you abreast of any pertinent developments, and should you have any questions, please do not hesitate to contact us.

Thank you for your time and attention to these important matters.

Sincerely,

Michael W. Frerichs
Illinois State Treasurer

Cc: Senate President John Cullerton
House Speaker Michael Madigan
Senate Republican Leader Christine Radogno
House Republican Leader Jim Durkin
Lieutenant Governor Evelyn Sanguinetti
Attorney General Lisa Madigan
Secretary of State Jesse White
Comptroller Leslie Geissler Munger
- Posted by Rich Miller 25 Comments


* I turned on the teevee last night and was stunned when Pat Quinn came on the news. Tom Kacich reports that he is still unapologetic about pushing for a tax hike…
"I think what's important is that when you talk about a budget you have to not only have expenditures .. but you also have to have revenue to pay for those expenditures," Quinn said. "I tried in my six years as governor to always tell the facts to the voters. Sometimes they were difficult. When we say that, 'Well we need more revenue from the income tax in order to properly pay our bills and to have a decent and humane state,' there are those who campaign against you on that. But when they do that the consequences are very dire for the public. That's what we're experiencing now."

He added, "I think it's the job of the governor to realize and tell the truth that Illinois has to use revenue from the income tax in order to properly balance the budget and pay the bills. He didn't do that last year. He did something else and now the chickens are coming home to roost."
Rauner administration response…
"We appreciate the former governor's input, but the people of Illinois have already seen what happens when a governor allows the General Assembly to impose a tax hike on the people of Illinois without any reforms," [Lyndsey Walters] said. "Governor Rauner is committed to reforming the broken status quo in Illinois and will continue fighting for the taxpayers."
* Quinn put the blame for the impasse on Gov. Rauner and said Democrats weren't going to throw unions under the bus…
"It's important for those who were elected to office, after they're elected, to understand that their duty is to the public at large and not to a political party or to a particular ideology. So it's important to talk," said Quinn. "I did that when I was governor. I recommend that to anybody who serves in that office. I know that Governor (James) Thompson, Governor (Jim) Edgar who served before me oftentimes interacted with legislators of different parties and worked hard to get a fair budget." […]

"They're not going to compromise on the right of everyday people to organize and have a union, to have collective bargaining," he said. "And to make sure that we have decent wages. We just had the pope visit our country last week and made it very clear that it's a moral duty to make sure that the people who work hard, work 40 hours a week, get paid a decent wage in decent working conditions and have decent benefits."
The Rauner administration responded that the current AFSCME contract, which Quinn negotiated, requires only a 37.5-hour work week and that Gov. Rauner very much supports a 40-hour work week.
* He was also at West Chicago Community High School…
Governor Pat Quinn stopped by to help us honor @RamblinRay995 tonight at WeGo as our 2015 Distinguished Alum. pic.twitter.com/bFrU4SZ4rs

— West Chicago Comm HS (@WeGoActivities) October 1, 2015
* I missed Sneed's column earlier this week…
Sneed hears former Gov. Pat Quinn, who has been on the road visiting family and friends since he lost his gubernatorial mantle, is gearing up for a new public role.

Sneed is told Quinn, who was one of the founders of the storied Citizens Utility Board, is on tap for a consumer advocacy comeback.

"He is concerned nobody is looking out for the little guy," said a top Quinn source.
Think he'll run for governor again?
- Posted by Rich Miller 101 Comments


* As we've already discussed, legislation was introduced earlier this week to fund this program and several others, but its fate is not quite certain…
The budget fight between Republican Gov. Bruce Rauner and Democrats in the General Assembly could leave Illinoisans stranded in an emergency.

Without a budget in place, emergency 911 telephone systems in every corner of the state are no longer receiving revenue from a tax on cellphone users.

Ken Smith, coordinator for Williamson County's 911 services, said the budget crunch and a consolidation of services in his county have resulted in the layoffs of office staff and the potential for longer wait times for callers reporting an emergency. […]

Under current state law, 911 fees for landline phones are paid to the county-level systems, but fees for cellphones go into a statewide pool.

But, without a budget in place, the Republican governor says the money cannot be distributed.
- Posted by Rich Miller 84 Comments