* Senate President John Cullerton didn't talk to reporters after this morning's leaders meeting, but he has released a statement…
We remain fully committed to the working groups, but the reality is that we need revenue with reforms to have a balanced budget, and it is the end of May.

If we run out of time, we have no backup plan to keep our state operating.

Today, I suggested a short-term compromise to keep the schools open, our universities open and our human service providers open while we continue to negotiate a broader, balanced budget solution.

I think that's a practical way forward given reality.
- Posted by Rich Miller 1 Comment


* Press release…
Late yesterday AFSCME Council 31 executive director Roberta Lynch received a letter also addressed to Governor Bruce Rauner from seven Republican state representatives (Avery Bourne, Adam Brown, Terri Bryant, CD Davidsmeyer, Norine Hammond, Don Moffitt and Sara Wojcicki Jimenez) urging both parties to resume negotiations for a new collective bargaining agreement for state employees.

In a response to the lawmakers sent this morning, AFSCME agrees with the legislators' call for renewed negotiations, reiterating the union's oft-stated willingness to return to the bargaining table ever since the Rauner Administration broke off talks on January 8.

In addition, Lynch points out that HB 580—the fair arbitration bill, which the legislators did not support—could actually serve to foster such a renewed bargaining process. If the governor refuses to heed the lawmakers' call to return to the bargaining table, she calls on the seven legislators to commit to vote for a new motion to override the governor's veto of the fair arbitration bill before the General Assembly's scheduled adjournment on Tuesday.
Interesting retort to those seven by AFSCME.
* The letter sent by the legislators…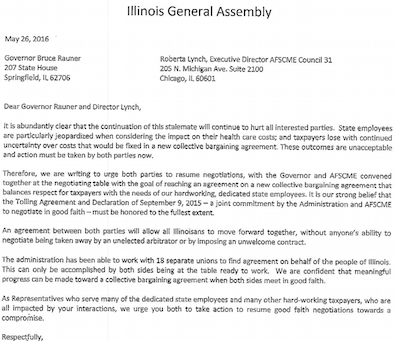 Both letters are here.
- Posted by Rich Miller 27 Comments


* I don't think I've ever seen anybody make a big deal about such a common practice before…
The head of the agency managing state construction solicited help from private builders to lobby for state funding in an email ethics experts say was inappropriate.

The email obtained by The Associated Press was sent Tuesday by Jodi Golden, executive director of Gov. Bruce Rauner's Capital Development Board. Rauner spokeswoman Catherine Kelly said it's "outrageous" to suggest the email created a conflict of interest.

"This is about schools and important construction projects around the state that communities are waiting for," Kelly said in an email. "They are all being held up by the majority party in Springfield. The people of Illinois have a right to know what's going on and why."

Golden's email from a government account was addressed to "Construction Industry Partners," urging them to contact lawmakers in favor of legislation providing $2.1 billion for this year and more for next year. […]

"Is this about good government and trying to get the state to improve the infrastructure?" Redfield asked. "Or are you using leverage - because there's a financial relationship - to get someone to do something they wouldn't otherwise do?"
Um, why wouldn't they want to urge legislators to pass the funding bill?
Seriously. This is supremely goofy. Elected officials ask interested parties to help pass or kill bills all the freaking time. The Democrats have asked human service providers to help pass various bills that directly impact them, so would that be a scandal too? I don't get it.
You can see the "scandalous" e-mail in question by clicking here.
* And the Illinois Policy Institute's radio network apparently couldn't even find a goo-goo to comment on this piece..
A former state Senate staff attorney turned lobbyist is being paid $10,000 a month to work on state pension reform.

Eric Madiar is Illinois Senate President John Cullerton's former chief legal counsel. Madiar is now under contract to deal with pension reform.

Cullerton Spokesman John Patterson said Madiar is "just researching the pension clause and really becoming the state's leading authority on that."

Patterson also said Madiar has been combing over recent rulings from the state Supreme Court and "analyzing those opinions, interpreting what they mean, understanding how we can learn from what the court has ruled and incorporate it into a model that we think is constitutional moving forward."
Oh, no! A lobbyist!!! Horrible.
Wait. Doesn't that network's parent company lobby? And isn't that why the House and Senate refuse to allow the network access to the press boxes?
* Look, Madiar is an acknowledged pension expert. He's perhaps the best pension expert this state has. Eric was right when he predicted the Supreme Court would strike down the last pension reform law. So, I suppose the Senate Dems could just rely on free advice from the Tribune editorial board and Ty Fahner's Civic Committee, but they were dead wrong on that last pension law. And I'm betting their error cost this state a whole lot more in legal bills than Madiar's total take.
Madiar's also a lawyer in private practice now, so those services don't come cheap. Could the amount be debatable? Maybe, but we don't know how many hours he puts in. And if he comes up with a way to save us big bucks, it'll be worth it.
* As we've already discussed, however, this is potentially troubling…
A bill that would legalize and regulate online fantasy sports betting in Illinois has hit a major snag amid an apparent ethics scandal involving a lobbyist.

State Rep. Rita Mayfield, D-Waukegan, said in a House Judiciary-Criminal Committee meeting on Thursday she had become privy to an email from a FanDuel lobbyist to the Black Caucus that offered donations in exchange for a guarantee of votes. […]

"The email basically alleged that in exchange for considerations, donations, that he could guarantee votes. That's illegal. We have a former governor in jail right now for doing that, so it is an issue," Mayfield said, adding she wasn't comfortable voting on the bill.

Mayfield said she learned from the head lobbyist that the lobbyist in question is still employed. […]

"We categorically reject the implication that DraftKings or FanDuel would partake in such behavior," [Jeremy Kudon, the national lobbying point person for DraftKings and FanDuel] said in a statement. "We do not condone this type of activity. It's simply not how we do business, here or anywhere in the country."
There's only one way to clear this up: Release the e-mail exchange. If you're gonna tell us that no wrongs were committed, then release the e-mails and the problem immediately goes away.
The cover-up will get you every time. Come clean.
- Posted by Rich Miller 17 Comments


* I'll post a special ScribbleLive feed just before this starts…
SPRINGFIELD – GOMB Director Tim Nuding will hold a conference call to discuss the consequences of the General Assembly adjourning without passing a balanced budget with reforms.

Time: 12:00 p.m.

Date: Friday, May 27, 2016
…Adding… As promised, here's the new
ScribbleLive feed
- Posted by Rich Miller 37 Comments


* Remember this bill?…
After 10 months of playing cat-and-mouse, Mayor Rahm Emanuel's closest ally in Springfield has sent to Gov. Bruce Rauner legislation giving Chicago 15 more years to ramp up to a 90 percent funding level for police and fire pensions.

Illinois Senate President John Cullerton (D-Chicago) has been holding the bill — approved by the Illinois House and Senate last spring — amid concern that Rauner would veto the legislation to squeeze cash-strapped Chicago and strengthen his own hand in the budget stalemate over the governor's demand for pro-business, anti-union reforms.

The delay has already been costly to Chicago taxpayers.

Two weeks ago, Emanuel used $220 million in "short-term bridge" financing to make a state-mandated payment to police and fire pension funds that's higher than his tax-laden 2016 budget anticipated because the police and fire pension reform bill has not been signed into law.
The deadline for Gov. Rauner to sign that bill is Memorial Day.
* From a reader, with a few typos fixed…
Jason Barclay of Governor Rauner's Office called. The Governor wants someone at the SOS's Index Division to accommodate him in filing a vetoed bill on Monday (a state holiday). Jason said that the SOS has helped him with this before. When asked why he could not file the veto today, the Governor's Office stated that his schedule would not accommodate it today.
The SOS reportedly agreed to accommodate the governor.
- Posted by Rich Miller 26 Comments


* Superintendent Russell said this yesterday, so he was quite prescient…
Illinois lawmakers are still deciding on how to pay for the state's public schools in September.

It's a central part of an overall state budget, and last year, despite never passing a full budget, legislators did manage to release money to schools. It's not clear if the same will happen this year, and that's causing a lot of angst for many school superintendents.

"District improvement doesn't happen overnight. It takes a great deal of planning where you're going to allocate your resources and an investment in staff," said Mary Havis, Superintendent of Berwyn South District 100. […]

"I have zero confidence that Springfield will get its act together," said Kevin Russell, Superintendent of Chicago Ridge District 127.5. "I think the last couple of years have proved that. So we will be budgeting for the worst-case scenario."
- Posted by Rich Miller 7 Comments


* This ought to be interesting…
Gov. Rauner will give statement after his 10 am veterans memorial event. No questions.

— Monique Garcia (@moniquegarcia) May 27, 2016
BlueRoomStream.com will broadcast it live. Click here. And keep an eye on our live coverage post.
*** UPDATE 1 ***  Not surprising…
Rauner: We are never going to give up on my ideas for change, there should be no short term fixes.

— Monique Garcia (@moniquegarcia) May 27, 2016
It appears that we crashed the BlueRoomStream feed. It turns out that the Statehouse lost its Internet service. So, I'm waiting for audio. Hold tight.
*** UPDATE 2 *** Here's the raw audio…
Rauner said working groups met late into the night last night. He asked working group members to stay in town over the weekend.
He also asked that Democratic rank and file stand up to their leaders.
- Posted by Rich Miller 53 Comments


* Tom Corfman…
Who does the Journal think is winning, anyway?

"Gov. Bruce Rauner has the most thankless job in politics: trying to rescue Illinois from its economic and fiscal morass," according to an editorial by the Wall Street Journal, which celebrates his defeat of an override of his veto of a bill mandating arbitration of a long-running union contract dispute.

"Rauner won in 2014 on a reform platform, but the political lifers in Springfield are fighting him like they're defending Stalingrad," the newspaper said.

Wait, didn't the Russians win the Battle of Stalingrad?
The editorial is here.
* Meanwhile, Greg Hinz asks if Speaker Madigan is losing his mojo…
But it appears this time that Madigan's odds of winning are less, maybe substantially less, than they usually have been. The sauce has lost some of its zing. Signs are growing that the era in which the speaker's tail wagged Springfield's dog is seeing its limits.

My specific reference is to the proposed fiscal 2017 budget that the speaker absolutely shoved through his chamber last night, ignoring good rules of comity, proper parliamentary procedure and, perhaps, smart politics. It created such a stink that Madigan today agreed to reconsider and pass the budget again. […]

The bill passed 63 to 53, with seven of Madigan's Democrats either voting no or abstaining. That kind of thing never happens in Springfield. On today's rerun, the margin was even narrower, 61-53—just two votes more than a majority, and 10 short of what would be needed to overturn a gubernatorial veto. […]

Even if Senate Democrats decide to suck it up and pass the budget—and that's likely, not certain—Rauner aides are promising a veto, and I believe them. The rookie governor finally has learned some of the tricks of his new trade, one well-connected lobbyist tells me. "They (now) understand the need for realistic management of the budget, instead of the stopgap" approach the state has been dealing with over the past year, that source says. […]

It's still far too early to say how this all is going to turn out in Springfield. It could be a long, hot summer. But it's fair to say that least a wisp of change is in the air.
I dunno. A half dozen HDems didn't vote for the approp bills last year. And the total went down between Wednesday and Thursday because of absences, not some increasing member revolt.
And I don't know how the administration is gonna manage a budget without a budget.
As far as the Senate goes… well, you'll have to subscribe.
* What I do believe is that Madigan has lost his sense of proportion. As the clock ticks down, he should try to forge a compromise as he's done many, many times in the past (remember how the CTA's unions were whacked hard by Madigan to obtain a $500 million tax hike for the RTA?). The closer it gets to May 31st, the more eager everybody's gonna be for a deal.
What was the saying on that old poster? "War is Not Healthy for Children and Other Living Things."
- Posted by Rich Miller 42 Comments


* For the first time in a while, House Speaker Michael Madigan will likely talk to reporters after today's leaders meeting, which has already begun. Keep an eye on our live coverage post for updates. BlueRoomStream may also have a live video feed, which you will find here if they set it up in time.
*** UPDATE 1 ***  I'm told Senate President John Cullerton said at the meeting today that the two sides were too far apart to produce results by Tuesday and asked for a short-term budget to get the state through the election. Speaker Madigan concurred.
Republicans maintained that they're very close to a bipartisan deal and repeatedly pled with the Democrats to reconsider, but eventually the governor ended the meeting.
Speaker emerged offering no sign of breakthrough in budget talks, faulted gov for injecting new demands, incl action on employee health care

— Dave McKinney (@davemckinney) May 27, 2016
Speaker Madigan after today's budget mtg: The gov fails to persuade… pic.twitter.com/Udc3Kvp7TL

— ILHouseGOP (@ilhousegop) May 27, 2016
Republican leaders say Democrat leaders say they're unwilling to engage in any more negotiations. "They're pulling the plug," Radogno says.

— Tina Sfondeles (@TinaSfon) May 27, 2016
…Adding… SJ-R…
"There was a dramatic change in tone today," said Senate Republican Leader Christine Radogno following a short meeting between Rauner and the four leaders Friday morning. "The Democrat leaders essentially pulled the plug on negotiations. They want to push the balanced budget reforms off until the fall, after the election."
…Adding More… As subscribers know, Democrats on the collective bargaining working group proposed a way to work around the governor's previous demand that health care be taken out of collective bargaining rights. It found favor with the governor. So, I'm not sure what Speaker Madigan is talking about.
*** UPDATE 2 *** The rhetoric is really heating up. Tribune…
Emerging from Friday's private meeting, Senate Republican Leader Christine Radogno said Democratic House Speaker Michael Madigan and Senate President John Cullerton had asked for a "timeout" until after the November election and had walked away from negotiations for a grand compromise that Rauner remains publicly optimistic about despite the odds against it. […]

Madigan, for his part, defended the spending plan that he pushed through his chamber, saying it was "a bill that will provide no hostage-taking."

"We're not going to hold hostage people that need education, like elementary and secondary education, or higher education. We're not going to hold hostage people that need health care. We're not going to hold hostage people that need social services," Madigan said. "There will be a complaint that the state does not have sufficient money to pay for that budget, and I have said for the last year and a half, I'm prepared to negotiate with the governor to find the money to pay for those services. My first choice in finding money would be taxing the wealthy."
- Posted by Rich Miller 39 Comments