* Great entries today on our caption contest. Anon sequitor is fourth runner-up…
Brady and Quinn congratulate each other for saying nothing of substance during campaign nor taking any hard issue stands. Meanwhile an aide demonstrates to the media the preferred campaign stance for straddling the fence.
gadfly's was very funny…
that's it!!! i'm done with eharmony FOREVER. 29 Dimensions® of Compatibility for lasting and fulfilling relationships my foot. and i bet everyone else in this folder is just as bad or worse.
dave's was great…
Pat Quinn: "So that's what Bill Brady looks like. I never looked at the back row of the Senate."

Bill Brady: "Look… a long-time state worker. Lets lay him off. Or pay him minimum wage. Or, at least, pay him minimum wage after we lower it."
Oswego Willy continues his streak of being a bridesmaid but not quite a bride…
Brady, "I was expecting Dan Hynes."

Quinn, "That's funny, I was expecting Kirk Dillard."

Brady, "Funny how things work out, isn't it?"

Quinn, "Yeah … funny…"
But Cuban Pilot wins it with this gem…
BB: "Pat, from the bottom of my heart, I just wanted to come over here and thank you personally for being the worst statewide candidate ever and thus allowing this right-wing, puppy gassing, porsche driving, empty suit the opportunity to be governor."
Congratulations to all. CP should send me an e-mail so we can work out our night of drinking.

* Jim Torricelli died this week. I'd often run into him in a certain Statehouse back office. Always a good guy. His many friends are pretty broken up about it, and my heart goes out to them all. From his obituary…
Jim was well rooted in his Italian heritage and was known as a colorful, unique man who was devoted to his family. His word was his life. He was a member of Cathedral of the Immaculate Conception. He was also very involved in local and state politics and was a member of the Sangamo Club, Past Member of the Roman Cultural Society and founding member of the Bulldog Baseball Dugout Club. He loved to travel, read, fish, hunt, cook Italian food and dance.
* Another noted Italian-American will play us out…
Like painted kites, those days and nights
They went flying by
- Posted by Rich Miller Comments Off


* Democrat Debbie Halvorson's new TV ad has the same tenor and feel as her last ad. But this one is about Social Security. Watch it…
[Oops. Posted the wrong one. Fixed. Sorry. Too many tabs open at once, I guess.]
* From the Halvorson campaign…
FACT: Adam Kinzinger has proposed capping Social Security benefits, raising the retirement age, and ending the cost of living increase for Social Security recipients.

"…Social Security will need to be capped at the rate of inflation. You can't raise the retirement age right now, but at some point, you will have to look at it." -Adam Kinzinger, Kankakee Daily Journal, January 25, 2010

"If we were to cap the growth above inflation for the upper-income households while leaving the households at the bottom under the current system we could fix over half of the current projected shortfall, according to CBO. If we also think about indexing the normal retirement age to take into account increases in longevity every decade we can eliminate most of the rest of the shortfall." -Adam Kinzinger, Chicago Tribune Primary Election Questionnaire, January 2010

"As it currently stands the initial Social Security benefits of new retirees, after adjusting for inflation, increase at about one percent a year. We cannot afford such largesse…"

-Adam Kinzinger, Chicago Tribune Primary Election Questionnaire, January 2010

* From the Kinzinger campaign…
ATTACK: Social Security benefits need to be capped.

FACT: Adam Kinzinger stated capping Social Security benefits is "a recipe for disaster".

"…while tinkering with the Social Security cap max, as the Democrats have pursued, together is a recipe for disaster" (Chicago Tribune Primary Questionnaire).

ATTACK: Adam Kinzinger plans to raise the retirement age.

FACT: Adam Kinzinger has consistently stated that promises made should be promises kept and does not support raising the retirement age.

"We need to ensure that promises made are promises kept to our seniors. I do not support privatizing Social Security. I do not support increasing the payroll tax nor the retirement age. It is absolutely wrong to change the rules on seniors when many are living paycheck to paycheck." (Source: Kinzinger for Congress Website)

"We need to ensure that promises made will be promises kept to our seniors and to those nearing retirement" (Source: Chicago Tribune Primary Questionnaire).

"And I don't support raising the retirement age," Kinzinger said. (Source: Ottawa Delivered, 9/22/10).
* Actually, Kinzinger didn't say that capping benefits was a recipe for disaster. He was talking about the payroll tax. And he did not swear off raising the retirement age. From his Tribune questionnaire…
I'm not sure what the top tax rate ought to be, but I do know that repealing the federal tax cuts of 2001 and 2003, imposing surtaxes on upper-income taxpayers, and boosting the Medicaid tax while tinkering with the Social Security cap max, as the Democrats have pursued, together is a recipe for disaster. […]

If we also think about indexing the normal retirement age to take into account increases in longevity every decade we can eliminate most of the rest of the shortfall.
* Kinzinger also has a new TV ad. Watch it…
* Meanwhile, Republican congressional candidate Randy Hultgren claims that Democratic Congressman Bill Foster lied in his recent TV ad. He has a new YouTube video out explaining his side…
* Other stuff…
* Kirk, Giannoulias differ on 'Daley factor' in November election: "Would you please stop focusing on the mayor's race and focus on the Nov. 2 election, former State Comptroller Dawn Clark Netsch pleaded with reporters at a fund-raiser for Cook County Sheriff Tom Dart Monday. "The future of Chicago may all be decided Nov. 2 — it will determine how much money and resources keep flowing to cities like Chicago."

* 538: The Bias of the Generic Ballot: It's Complicated

* Dold, Seals Talk Taxes, Middle East, Environment
- Posted by Rich Miller 11 Comments


* Want your campaign to get a lot of notice for almost nothing? Post a TV ad to YouTube and don't tell anybody how much you're actually spending…
* Tribune: First TV ad of Chicago mayor's race

* CBS2: Del Valle Unveils TV Ad

* ABC7: First mayoral campaign ads hit TV

* NBC5: Del Valle First to Air Mayoral Campaign Ad
There were other stories, but you get the idea. Here's Miguel del Valle's much-covered ad…
I checked and del Valle is spending just $10,000 to run this ad. The city-wide cable TV buy started yesterday and runs until Tuesday. Only ABC7 [ADDING: and the Sun-Times] noticed this little factoid.
By comparison, the Senate Democrats are spending $36,582 a week, every week, on cable in appointed state Sen. John Mulroe's campaign. And that's just in one Comcast zone out of the company's five zones. The Republicans are spending $8,350 per week in the same zone.
I've been gamed this way myself, but I try to update you when that happens. We'll see if anybody else does that now.
* I haven't spent much time on Daleypalooza the past few days, but I did want to point something out from earlier this week. The Associated Press claimed a major scoop on Wednesday…
Tom Dart, the Cook County sheriff who made national headlines when he sued Craigslist, halted court-ordered evictions and headed a probe into the alleged resale of a historic cemetery's burial plots, will run for mayor of Chicago, two people close to Dart said Wednesday.

"He's all the way in," said one person, who spoke on condition of anonymity because the person was not authorized to talk publicly about Dart's plans. "He's decided to run."
From the Chicago Sun-Times on September 8th…
But now that Daley is out, Dart, an Irish-American son of Beverly, whose father was a confidant of the mayor's father, "is all in" the race, a top source said.
Not much of a scoop. Heck, it was basically the same quote recycled two weeks later.
* Considering that Terry Peterson has been seen as a potential mayoral candidate, this is an interesting little development…
Sneed hears rumbles CTA board Chairman Terry Peterson, who was Mayor Daley's campaign manager four years ago — and was considered a possible mayoral contender — has reportedly signed on to manage Rahm Emanuel's mayoral bid.
Since the rest of her story was about her interview with David Axelrod, we might infer that's where her little nugget came from.
* Out before it begins…
* Assessor Houlihan won't run for Chicago mayor

* Bill Daley Won't Run for Chicago Mayor
* From our friends at WBEZ comes your weekly advance copy of their fine politics show…
Best Game in Town 9/24/10 – Daley, Nixon and the mad dash for cash

As the race for mayor becomes the race to raise dollars, a quirk in the new fundraising law may make holiday parties an expensive proposition.

Also, we talk with an author who is finishing up work on a forthcoming biography of Richard M. Daley.

And Frost/Nixon makes its Chicago debut at the Timeline Theater. We talk with actor Terry Hamilton about what he learned playing President Richard M. Nixon.
* Roundup…
* Daley to put a bandage on 2011 budget - Deeper cuts, pension shortage to fall to his successor, sources say

* Rahm Leaving White House "Very Soon," Says Quigley

* Would-Be Mayors Aren't Waiting for Rahm

* Rahm The TIF Reformer?

* Walter: Money Doesn't Equal Mayoral Leadership

* Time crunch for Emanuel in mayor race

* Hinz: Axelrod speaks: He's coming home – next year

* Michele Smith Running In Chicago's 43rd Ward

* Cook prez opponents gang up on Preckwinkle

* Joe Berrios Vs. the BGA: Class Struggle or Sour Grapes?

* Preckwinkle praises Berrios to Tribune editorial board
- Posted by Rich Miller 26 Comments


* While I completely agree that elected members of Congress ought to hold town hall meetings, I'm not surprised some of them choose not to considering the new breed of angry, opportunistic paparazzi that have sprung up in this country. Everybody wants to get into Breitbart's act, apparently. Consider this, for instance…
The video, which was posted late yesterday and already has almost 6,000 views, is from Tea Party Palatine, which ran the headline: Congresswoman Melissa Bean IL 8 (D) - Rejects US Constitution from constituents. That's pretty ludicrous, but whatever.
I'm of two minds on this. Constituents have an absolute right to be angry with their elected representatives and to voice that anger. And citizen journalism is something I support with all my heart. But essentially heckling somebody while hoping for the best gotcha response so they can get lots of YouTube views is starting to really grate on my nerves. Maybe I was just raised differently than that. I don't know.
I'm quite interested in what you think about this development.
And I'm not trying to pick on the tea party or Republicans, by the way. This video is recent and TPP sent me an e-mail about it yesterday, so I'm using it. I've seen a large number of videos in the last months of protests at offices, and other stuff by Dems and GOPs alike.
…Adding… From comments…
I am just waiting for the candidates to start filming these events themselves so they can post counter videos of the conduct
That's a very good idea. If they're really being that mean, tape 'em yourself.
Thoughts?
…Adding More… Another very good point from comments…
But here's a quick question — why are we talking about these people as if they're just ordinary constituents with a disinterested desire to speak to their representative? Aren't they avowed partisans? Aren't they, as part of a group that has explicitly backed and endorsed this lady's opponent, part of the campaign? Does an elected official have a responsibility to stop and answer all the questions of a rival campaign whenever they show up? I thought that was why terms for debates were negotiated and planned out.
True.
* Congressional roundup…
- Posted by Rich Miller 45 Comments


* CHANGE Illinois has sent out a questionnaire to all statewide and legislative candidates. You can see the answers at their website. To see a list of legislative candidates who have and have not responded, click here. Those highlighted have responded. The SJ-R editorialized on the questionnaire today.
Here's one of the group's questions…
Should there be limitations on the number of terms for anyone elected:
a. To statewide office?
b. To the General Assembly?
c. As Speaker of the House and President of the Senate?
* The Question: How would you answer those questions? Explain if you want.
- Posted by Rich Miller 26 Comments


* Democratic US Senate nominee Alexi Giannoulias is out with a new TV ad. Rate it…
* The ad is being publicized as Giannoulias holds a conference call with reporters to talk about Mark Kirk's vote yesterday in the US House. From a press release…
U.S. Senate nominee Alexi Giannoulias will discuss Congressman Mark Kirk's latest vote against providing much needed tax relief and access to capital for small businesses during a conference call with reporters TODAY, September 24, at 10:15 A.M. CT

Kirk's vote comes after he vowed repeatedly to help Illinois small businesses struggling in these difficult times. The legislation, which is deficit-neutral and won't cost taxpayers a penny, will provide much-needed tax breaks to help hire new employees and gain access to capital through a new loan fund.

Giannoulias will call on Kirk to explain his vote and why he continues to say one thing in Illinois and then vote differently when he's in Washington, D.C.
* But Kirk is also holding a teleconference at 11 o'clock with the NFIB…
The National Federation of Independent Business will host a conference call this morning to highlight why Mark Kirk is the best U.S. Senate Candidate for small business employers in Illinois.

"Mark Kirk is the proven, pro-small business candidate for Senate," NFIB Vice President of Public Policy Brad Close said. "He has been a long time supporter of small business, and is promoting a pro-growth agenda that small business owners need to remove uncertainty and help get our economy working again."
* Being a state government/politics person, I honestly don't know enough about that bill to comment. So here's a news roundup…
* Congress sends small-business bill to Obama: It provides new tax breaks to small businesses, increases Small Business Administration lending limits, waives SBA loans fees and provides banks with $30 billion in new capital to increase lending to small businesses. Republicans criticized that lending fund as "TARP Jr.," a reference to the Troubled Asset Relied Program initiated by the Bush administration in 2008 to help failing financial institutions and keep credit markets from drying up.

* House approves small-business bill: Business organizations that have backed the measure say the loan fund could spur $300 billion in lending.

* Small-business aid package likely to become law: A so-called "carryback" provision, which lets small business owners collect a tax refund if their business suffers a loss, will be extended to five years - so owners can claim a refund on profits that they booked as many as five years ago. Also in the act is an expansion of a part of the tax code called Section 179. The section lets small companies immediately write off capital expenditures of up to half a million dollars.

* House Democrats OK small-business bill: Republicans warned the bill would open the door for banks to use taxpayer-funded bailout money to lend to small businesses, which the GOP feared would give the federal government added influence over those businesses.

* Democrats Slam GOP for "Pledge to America," Small Biz Bill Vote: Speaker Nancy Pelosi's spokesman Brendan Daly put out a memo to reporters today pointing out that Republican leaders claim to be pro-small business, and met with a group of them this morning, but that they almost unanimously voted against the small business lending bill on the House Floor today. "Their hypocrisy is breathtaking," Daly said.

* National Restaurant Association Welcomes Passage of Small Business Jobs Act: "This bill will help restaurants and small businesses with tax relief and assistance in gaining access to capital that is critical to economic and financial recovery," said National Restaurant Association Executive Vice President of Policy and Government Affairs Scott DeFife. "Our industry, employing nearly 13 million Americans at 945,000 restaurants locations nationwide, is comprised mainly of small, independent businesses."

* Congress sends small business bill to Obama: The GOP-tilting National Federation of Independent Business is only tepidly backing the legislation. The group is pushing both a full extension of Bush-era tax cuts and repeal of a requirement in the new health care law that requires that businesses file tax forms called 1099s with the Internal Revenue Service for every vendor that sells them more than $600 in goods. "There's some OK stuff in it, but the impact's going to be minimal," NFIB tax counsel Bill Rys said of the bill.

* Small-Business Bill Advances: Mr. Obama said in a statement that he would sign the small-business bill on Monday, calling it "a common-sense plan to put Americans back to work."
* Meanwhile, Kirk's radio ad…
* Related…
- Posted by Rich Miller 32 Comments


* The House Republicans jumped all over somebody who tried to tell the truth about the budget…
Apparently, according to the House Republicans, the budget can be balanced without any negative impact on people whatsoever. That's a complete, total, irresponsible, idiotic lie. One way or another, somebody is gonna get hit, whether it's tax hikes or budget cuts or both. That's actually what Rep. Lisa Dugan was talking about, if you watch the unedited video. This painless magical fairy dust idea of theirs just turns my stomach.
* Speaking of visits from magical fairies, Gov. Pat Quinn yesterday reiterated his claim that Bill Brady has some secret tax hike planned…
Quinn accused Brady of having a "secret set" of budget proposals that he doesn't want to share with voters until after the November election, something Quinn called "the Republican way" because some GOP governors have worked to raise taxes after getting elected.

"That's what Sen. Brady is all about and we shouldn't let him get away with it, especially after 10 years of problems with governors who weren't straightforward with the people," Quinn said after appearing separately from Brady at a Chicago candidate forum that was closed to the press. "I try to be as honest and direct about everything, including the budget, including revenue."
* But Jim Edgar didn't help matters much when he said yesterday that Brady's cuts aren't enough and tax hikes may be in the cards…
Former Republican Gov. Jim Edgar says a 10 percent spending cut may not solve the state's budget problems and Illinois residents eventually might support higher taxes.

Bill Brady, the Republican candidate for governor, backs a 10 percent cut coupled with tax reductions to balance the Illinois budget. That amounts to less than $2 billion in cuts, compared to a deficit of roughly $13 billion.

Edgar told reporters Thursday there may come a time when Illinoisans oppose more spending cuts and would be ready for a tax increase.

Edgar says he does not think Brady is planning any tax surprises if he wins the November election. But he counsels Brady to be flexible.
Does Bill Brady want to hike taxes? No. Does he have a secret plan to hike taxes? No. Will he wake up to a very stark reality once he puts his budget together? Yes. Does that mean he will hike taxes? I really doubt it, but the problem is so bad that he may do something along those lines.
* And while the candidates and parties "debate" their little fantasies, we got more bad news yesterday…
Moody's Investors Service Inc. on Thursday lowered its rating outlook for Illinois' general obligation debt, citing the state's continuing problems funding is pension program and a fiscal shortfall.

The state's rating now stands at A1 with a negative outlook. It previously stood at A1 with a stable outlook.

The change will affect roughly $25 billion in general obligation bonds. […]

Moody's said that the state does have the ability to raise revenue and reduce spending, both of which could help improve its rating and outlook.
More…
"We see risks that could trigger a downgrade in the next 18 months to two years," Ted Hampton, an analyst with Moody's, said in an interview from New York. "In June these risks were less apparent." […]

The yield of taxable Build America Bonds issued by Illinois in June has risen to almost 2.5 percentage points above benchmark 30-year Treasury bonds from just over 2 percentage points on June 24.
* Related…
* Illinois' K-12 schooling gets 'D' from group

* Illinois kids get better start, but quality fades, education study says

* Candidates for Governor Dispute Budget Plans

* RR Star: Deadbeat state hurts needy college students

* Tribune: Storm warning

* Daily Herald: Quinn should nix this terrible deal

* Rasmussen & Edwards: State needs more flexibility to deal with unions

* News-Sun: Rebate race

* Quinn: Avoid 'civil war' on third airport

* Reilly appears off to good start at McPier

* Lazare: Losing bidders say lottery contract process is unfair

* Losing Lottery Contractor Protests Decision

* Northwest Herald: Probe needed in lottery bid

* New lottery prize: free college tuition

* Lottery contract under more fire

* Bidder: Lottery contract pick violates law

* Governor Honors Hinsdale Firefighter

* Gov. Quinn to visit Freeport

* Gov. Pat Quinn stopping Friday in Galena, Elizabeth
- Posted by Rich Miller 49 Comments


A good friend of mine will soon be unemployed. Grant's factory is moving to Mexico and he'll be out of a job by Election Day. Grant is 50 years old. No college degree.

If misery loves company, then Grant will soon have plenty. Twenty thousand Illinoisans lost their jobs last month.

Those are 20,000 real, live people with rent or mortgage payments, credit card and utility bills, car payments, groceries to buy, kids to educate. Almost all of us know somebody in the same situation. These are our friends and families, neighbors, fellow church members.

Yet, they seem to be invisible. If you read the media's coverage of the unemployment numbers released last week, you probably only saw that Illinois lost a net 4,200 jobs in August. The revised numbers showed that our state's unemployment rate actually dropped below 10 percent for the first time since May of last year.

One reason for the "good" news was state and federal spending on a massive infrastructure program. More than 14,000 new jobs were created last month in construction, and most of those jobs were created by the repairs being done to our roads, bridges and schools.

I'm happy for those people and hesitantly encouraged by the overall trend. But I still fear for those who've suddenly found themselves out of work, and those, like my friend Grant, who are about to be jettisoned into the abyss. He's not a bulldozer driver.

Meanwhile, the only candidate for governor who is showing any concern for the real people who've lost their jobs is Scott Lee Cohen, who is conducting some well-attended employment fairs. But he was once arrested for allegedly holding a knife to his hooker girlfriend's throat. I can't exactly vote for him. Then again, he might be just the sort of vicious character we need to keep the General Assembly's sultans in line. I kid. That's not going to happen. Plus, he hasn't said if he has actually found jobs for those desperate folks he says he's helping.

They look like cynical props to me.

Republican Bill Brady talks a lot about what's wrong, but his solutions are mostly platitudes. Our workers compensation system is too expensive, he rightly notes. But all he says he will do is lower the cost without actually saying how. Most of his proposals involve a two-step process: Create a blue-ribbon commission and then implement its results.

This allows Brady to avoid specifics, and because he's leading Gov. Quinn in all the polls, that's politically smart. Unfortunately, it leaves the rest of us in the dark.

Gov. Quinn talks a lot about what he has already done with the state's huge infrastructure program and his efforts to help big companies such as Ford and Navistar expand here. But his administration has been so preoccupied with crisis management that he really doesn't have any definable vision. It's all too ad hoc. And the infrastructure program was passed with large bipartisan majorities. The only thing stopping it before was the fear by the House speaker that Rod Blagojevich would try to steal all the money.

A governor cannot control a national economic crisis. But there is still plenty of room for improvement here. If anybody running for governor can convince my friend Grant that he has reason for hope, then he will get my vote. I'm not holding my breath.

I will probably end up skipping that office or voting for Green Party nominee Rich Whitney. He's for legalized marijuana. Maybe then everybody will be too stoned to care.
Thoughts?
* Related…
- Posted by Rich Miller 31 Comments


* At least 10 wounded in overnight shootings
* Charges In Woodlawn Shooting That Killed Boy, 14
Cordell Glover, 19, of the 7100 block of South Wood Street, was charged Thursday night with one count of murder and two counts of attempted murder for allegedly shooting Christopher Travis, a 12-year-old boy and a 19-year-old man Sept. 14 at the intersection of 65th Street and Drexel Avenue, according to police.
* Sherrard grad among 9 servicemen killed in helicopter crash in Afghanistan
* Local home sales fall in August for second straight month
In the nine-county Chicago region, sales of single-family homes and condominiums decreased nearly 20% last month, to 5,633, compared to 7,008 sales in August 2009, according to a release Thursday from the Illinois Assn. of Realtors.

Chicago-area sales fell 25.1% in July compared with July 2009, ending a streak of 12 consecutive months of increases.

In the city of Chicago, sales of homes and condos in August dropped roughly 23%, to 1,486, compared with August 2009.
* August Home Sales Increase Over July
That's according to the latest report from the Illinois Association of Realtors.

Realtor Pat Callan says housing follows jobs, and people are still waiting for an economic upswing.
* Home sales behind last year's pace in Champaign County
* 15% rebates today on energy-efficient appliances
* Illinois Shoppers Can Get a Rebate on Appliance Upgrade
* State offers 1 day Energy Star appliance rebate
* 15th city inspector convicted
Jose Hernandez, 47, is the 15th city inspector convicted of pocketing payoffs in the Operation Crooked Code probe of bribery. Four other people in the case have also been found guilty, and eight individuals still face trial, said Jon Davey of the city inspector general's office, which teamed up with federal authorities in the investigation.
* Another City Inspector Convicted for Taking Bribes
* Oak Brook woman is state's 1st West Nile death this year
* How Illinois higher speeding fines compare to our neighbors
* U. of I. denies William Ayers emeritus status
The University of Illinois on Thursday denied 1960s radical William Ayers emeritus faculty status after trustees Chairman Christopher Kennedy noted Ayers dedicated a book to, among others, the man who killed Kennedy's father, Robert F. Kennedy.

All nine voting trustees either opposed granting Ayers, a recently retired University of Illinois-Chicago professor, the largely honorary status or abstained from the vote.
* Controversial UIC professor denied emeritus status
* Emeritus status for Ayers denied
* UI trustees approve new budget
* Buyouts save UI $1.4 million a month; some faculty left for better-paying jobs
* CPS to give performance bonuses to best teachers
The investment will target 25 city schools — and an estimated 1,125 teachers who work in them — where educators who improve student performance would be eligible to receive bonuses. […]

The participating schools have not been selected yet, said district spokeswoman Monique Bond. But sources said they plan to focus on elementary and middle schools where at least half of the students are low-income and where an average of 18 percent of teachers leave at the end of every school year.

To participate, schools likely will need to show the support of their classroom teachers. When Chicago launched its first teacher incentive program in 2006, schools were considered only if three-fourths of their staff endorsed the plan.
* December hearing set on Elk Grove police complaint against mayor
* Kane panel OKs more money for judges, jail
* Kane Co. to hand out budget hikes; jail size discussion coming in 2011
* Quinn announces $4 million to raze 'Blues Brothers' mall in Harvey
* Grant could redevelop suburban Dixie Square Mall
* Carpentersville will license cats
* Sunday pregame beer runs OK in Naperville
* Oswego: Once and future boomtown now in slow lane
"The last couple of years the economy had a big impact on us," said Oswego Village Manager Gary Adams. "We had to cut our budget significantly, we cut staff and cut expenses. We had to deal with it as everybody else had."

But the pain could have been a lot worse. And there now are glimmers of better days ahead.

Through the recent 18-month national economic downturn, Oswego's growth slowed but never stopped. Retail and commercial space that was added during the good times continued to reliably churn out tax revenue.
* Calumet City fire department gets nearly $190,000
* Nearly $1.3M in cuts OK'd by Rockford Housing Authority
* WIU celebrates 108 years, looking forward to new campus
* Winnebago County government may see slight reduction in taxes
* Dowis questions whether politics played role in ouster
* FutureGen Alliance names new CEO
* Woodford might consider tax hike
* Peoria school board may have openings
* Peoria council making cuts
* Mayors, legislators discuss tough times
The panel discussion, hosted by the Southern Illinois Mayors Association, covered topics such as income and gas taxes, the cost for local governments to file or fill Freedom of Information Act requests, revenue from video gaming in fraternal organizations and bars and pension funding for firemen and police.

State Sen. Gary Forby, D-Benton, joined state Sen. John O. Jones, R-Mount Vernon, and Reps. Brandon Phelps, D-Harrisburg and John Cavaletto, R-Salem, on the panel.
* Former ESL councilman found guilty on 8 of 9 charges
Collins, 49, was convicted of income tax evasion for the years 2003, 2004 and 2005.

Collins also was convicted of two counts of election fraud for providing false residency information. Prosecutors said he voted from an address at 22 Loisel Drive in East St. Louis during two federal elections in March 2006 and February 2008, but really resided at a home in Swansea.
* Fritzler officially announces candidacy for Carbondale mayor
- Posted by Barton Lorimor 2 Comments


* Let's start the day off with some fun…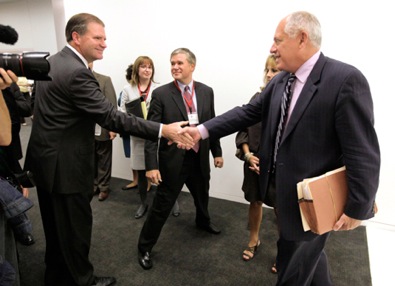 As with a couple of weeks ago, the winner gets one hour of cocktails (or soft drinks) with yours truly. That last night out with the winner went so well and I had so much fun that I figured I'd do it again. Have at it.
- Posted by Rich Miller 125 Comments


* The Hill made the 17th CD its "Race of the Day" today. I agree, but with one caveat…
If there's one race that could tell the true size of the expected Republican wave this fall, it may very well be Rep. Phil Hare's reelection bid in Illinois' 17th Congressional District.

To say that Democrats began the year not worrying about Hare's reelection chances would be an understatement. The two-term congressman ran unopposed in 2008 and until earlier this month, Hare hadn't run a TV ad since 2006.

But Republican Bobby Schilling is making a race of it in the 17th and the contest has quickly moved into tossup territory.
Hare is in the fight of his life, but the GOP hasn't yet dumped any real money into this thing. Still, keep a close eye on this one.
* Democratic Congressman Bill Foster has a new TV ad. Rate it…
Script…
I'm Bill Foster and I approve this message.

Homeowner: My wife and I played by the rules, we paid our mortgage every month, but because of the housing crisis – our house is worth $98,000 less.

Narrator: Randy Hultgren's company made millions selling high-risk mortgage products, fueling the housing crisis, and destroying home values.

Then using taxpayer bailout money, Hultgren's company set up a Cayman Islands hedge fund and turned a fast profit buying back bad mortgages for pennies on the dollar.

Homeowner: Randy Hultgren might have profited, but I sure didn't.
A bit wordy.
* Republican congressional candidate Adam Kinzinger plays the victim card in his new Internet promo video…
The Kinzinger video was posted to YouTube two days ago and it already has more than 13,000 views. It is chock full of distortions. He tries to make the claim that Halvorson's campaign sponsored a rally which was also attended by one guy who brought a sign with a Hitler mustache superimposed on Kinzinger's upper lip. By extension, therefore, Halvorson is responsible for that. Ridiculous.
We've been over this twice before. There's no evidence whatsoever that Halvorson was in any way responsible for that doofus who brought the Hitler signs. To the contrary.
Which leaves us with the question: What's worse, being portrayed as a Nazi by a lone goofball or smearing your opponent by claiming she was responsible for it? I would say it's the latter. I'd also say Kinzinger was desperate, but he's way ahead in the polls. There's no reason to pull this shameful stunt. His campaign is out of control and the local media needs to weigh in on this. Soon.
* I've asked the Bob Dold campaign to explain an odd passage in last month's edition of Conservative Magazine of Illinois, a publication I knew little about until it was publicized by the Dan Seals campaign last night. Check it out…

The mag's highest rating is five stars. Dold gets three. So far, no response on why Dold's campaign allegedly asked that it not be rated highly.
This would be par for the course for Dold, who appears to be running a two track campaign. In public, he's a "moderate." Under the media's radar, he's a social conservative. The local media has mostly played this off as a he said / he said dealio, but it appears to deserve a much closer look.
I'll let you know if the Dold campaign ever answers my question.
…Adding… Here it is…
We told them Bob is a fiscal conservative and a social moderate, and that he is pro-choice.
I'll be talking to the mag people next.
* Down-ballot news…
- Posted by Rich Miller 46 Comments


* Way back in December of last year and then again on Tuesday, we discussed the candidacy of one Patrick John Ryan. He's the alleged Republican who is running against House Speaker Michael Madigan, even though his voting record is solidly Democratic and he works for the city.
Kass tried to talk to the guy earlier this week, but ended up speaking with his parents…
It's a nice house, with lovely flowers in bloom. I knocked at the door at about 7 a.m. His parents were very nice. And, I confess, I liked both of them at once.

His mom, Mary Ann Ryan, a nurse, was already outside, chatting to a neighbor, about the neighbor girl being invited to a homecoming dance.

"P.J.'s not here," said his mom, Mary Ann. "He's at work."
* The Question: What would be an appropriate slogan for "Republican" Patrick John Ryan's "campaign"? Snark heavily encouraged, of course.
- Posted by Rich Miller 72 Comments


* Rich Whitney says we could raise a lot of money by legalizing marijuana…
The Green Party candidate for governor says Illinois should legalize and tax marijuana, but his opponents disagree.

Green candidate Rich Whitney says Illinois could bring in about $300 million a year by taxing marijuana.
I'm not sure how he got to his $300 million figure, but it's probably close enough for government (or campaign) work. Apparently, 5.74 percent of Illinoisans used marijuana in the past month, according to this site. There are about 13 million people in Illinois, so the numbers work out to 746,200 folks. That's a bit more than $30 per month per consumer. Not much at all. Of course, because marijuana is illegal, pot dealers don't check identification. Not all of those users are adults. So the rate per consumer would be a bit higher.
Bruce Bartlett looks at the history…
During the 1890s and the early part of the 20th century, there was a powerful national campaign to abolish smoking that was no less intense than the drive for Prohibition.

A key reason the campaign ultimately fizzled out in the 1920s was the government's need for tobacco tax revenues, especially after alcohol tax revenues dried up. The Republicans' cuts in income taxes in the 1920s also increased the federal government's dependence on tobacco tax revenues, which rose from 4 percent of federal receipts in 1920 to 11.2 percent in 1929. The onset of the Great Depression, the concomitant fall in income tax revenues, and the inelasticity of demand for cigarettes caused tobacco revenues to rise to 20.7 percent of all federal receipts by 1932.

In the end, revenue needs trumped sumptuary considerations in the cases of both alcohol and tobacco. This raises the interesting question of whether revenue considerations will drive reform of the laws against illegal drugs.
It should and it ought to. Adults ought to be able to choose what they put into their own bodies without being threatened with confinement in a steel cage with murderers and other mean, ugly, nasty people.
Either way, we ought to have this debate. It sure beats talking about nonsense like this…
The Democratic Governors Association is dubbing seven GOP gubernatorial nominees "Christine O'Donnell Republicans" in an attempt to portray them as outside the mainstream and unelectable.

In a conference call Wednesday, DGA Executive Director Nathan Daschle tagged Dan Maes in Colorado, Tom Emmer in Minnesota, Bill Brady in Illinois, Carl Paladino in New York, Nathan Deal in Georgia, Rick Scott in Florida and Paul LePage in Maine as the most extreme candidates gracing the top of ballots this fall.
The DGA spent $2 million trying to paint Brady as an extremist over the summer. It failed miserably.
* Back to the Greens and Rich Whitney. He has a new Internet promo video up that will bore you to tears…
Yeah. That'll work.
* Statewide roundup…
* State Waves Add to Democrats' National Woes

* News-Gazette: Public's patience has worn thin

* Candidates use others to boost or deflate image

* Union deal sparks ethics ado in Illinois gov's race

* Quinn ad blasts Brady for not owing income taxes

* PJ Star: Quinn making it easy for his GOP opponent

* Lieutenant governor nominees question whether office should exist

* Sheila Simon talks education

* Election 2010: Robin Kelly vying for state treasurer

* Higher fees bring boost for state

* Quinn: No authority to pick up errant parolee

* Health care in Ill. depends on council, election

* Health adviser says 'law is the law'

* Ill. High Court to Ponder Candidate's Party Selection

* Former DCFS administrator faces federal fraud charges

* Counties face dire straits all over the state

* Appliance retailers offer one-day deal

* Lawmakers split on AFSCME deal impact

* SJ-R: Quinn's deal with AFSCME bad for state

* Spotlight on Governor Quinn's Educational Budget Cuts
- Posted by Rich Miller 58 Comments


* Here's something to ponder: Why is Gloria Steinem all of a sudden making news in Chicago?
She's headlining a fundraiser for US Senate candidate Alexi Giannoulias, and she's backing Carol Moseley Braun for mayor.
And then there's today's Sneed column…
Rahm just got rammed. Legendary feminist Gloria Steinem is not only shocked . . . shocked . . . shocked there aren't more women running for Mayor Daley's job, but she is NO fan of mayoral hopeful Rahm Emanuel.

• Plug 'em: "I campaigned against him [Rahm] for Congress and I'd be happy to campaign against him for mayor," said Steinem, who claims she disagrees with Emanuel on many issues relating to women.

• Press 'em: Steinem, accompanied by actress/buddy Jennifer Beals, who is starring in the upcoming Chicago-based TV series "Ride Along," was in town Wednesday promoting the Women's Media Center, a vehicle to "positively impact the visibility of women in the media."
The founder of Ms. Magazine was born in Toledo, Ohio. She's never lived in Illinois, as far as I can tell. Yet, there she was on Chicago Tonight last night holding forth…
* Even so, Steinem is one of the only people who has publicly questioned why there is a dearth of female candidates for Chicago mayor. Maybe that's why she's getting so much press. She's saying something that almost nobody in the city is saying. News needs to be "new" to be interesting, and whatever you think about her, she's saying something different and, frankly, new.
* Meanwhile, speaking of the mayor's race and women, Lisa Madigan is playing her usual game of Hamlet…
Illinois Attorney General Lisa Madigan on Wednesday refused to say she would complete her third term if she is re-elected in November, leaving the door open for a run for Chicago mayor.

Madigan, a Chicago Democrat, was asked repeatedly in a Tribune interview whether she would pledge to serve out her four-year term if re-elected. She declined to give a yes or no answer, instead talking about how much she enjoyed her current position.

"I want to serve as your attorney general. That is my goal," Madigan said. […]

Told her answers leave open the possibility she could run for mayor, Madigan responded, "You are persistent and so am I."
The only way to get media coverage in Chicago these days is to float your name for mayor. I'm surprised Pat Quinn hasn't done it yet. [Just kidding… Kinda.]
* In other mayoral-related, female-related news, Mark Brown has a funny column today…
[Congressman Jesse Jackson, Jr.] may be the first U.S. politician to use "social acquaintance" as a euphemism for woman-with-whom-I'm-suspected-of-having-an-affair.

I mean it. This is groundbreaking stuff. Think of all the major American politicians that have walked this road before him: Clinton, Edwards, Hart, just to name a few.

I made an electronic database search of all the instances in which the words "social acquaintance" appeared in any context in any English-speaking news organization of note in recent years, and while I couldn't make it through every one, I found no articles involving embarrassed politicians explaining their relationship with a member of the opposite sex.

The closest I came was that "social acquaintance" seems to be the terminology favored by judges who are forced to explain why they've been hanging out with alleged mobsters.
I think Jackson used the word "social" in the same way it's used in the phrase "social disease." By using such an unusal phrase, he has forever associated himself with those two words, a bit like it used to be in the old days when there were no cures for social diseases. Think: "I misremembered it wrong."
* Tribune…
Whatever happened between Jackson and the "social acquaintance," a hostess at Ozio Restaurant & Lounge in Washington, is, indeed, his family's business. Unless he really did have his friend and campaign supporter pay to fly her to Chicago; then it's likely the business of the House ethics committee.
This is the real problem for me. It would've been inexcusable to just publish a story about Jackson having a girlfriend unless there was a reason. Having your fundraiser pal fly her back and forth to Chicago is a big no-no for a congressman, who are ruled by a gift ban.
* And then there's this interesting point from Mary Mitchell…
Nyak told the FBI that he paid for two airline trips for Huidobro, who lived in Washington, D.C., to come to Chicago.

That, of course, raises other questions.

For instance, why would a married man fly his "social acquaintance" to the city where his wife lives?

If the allegations are true, you'd have to wonder if Sandi Jackson actually lives in Washington rather than in the 7th Ward.
Yeah. You'd have to wonder.
* And this is no surprise…
All signs point to White House Chief of Staff Rahm Emanuel running for mayor of Chicago.

Emanuel's decision is all but made — he still has some family matters to consider — but if his trajectory holds, watch for him to step down from his White House perch sometime in October. It will be a quick transition for Emanuel — from dealing with an Afghanistan war to street repairs on Ardmore, Archer and Aberdeen.
It's good to see Emanuel doing this, but I'm not sure he or anyone else can contain it…
With the potential of a mayoral race being divisive — reopening racial fault lines in the city — Davis said they talked about the kind of campaign they each wanted, "not to be designed to fracture the city, not to polarize the city but to have it be as harmonious as it could be."
* Roundup…
* Source: Dart to run for Chicago mayor

* Davis: Jackson Should Not Run for Mayor

* Challengers: Jackson's More Vulnerable After New Allegations

* Ethics panel quiet on Jackson probe

* Kadner: Jackson says he's sorry, But that's not much

* Emanuel chats up potential Chicago mayor foes, drops strong hints he'll run

* Big three still dominate early mayoral race lineup

* Chicago mayor's race begins to take shape
- Posted by Rich Miller 59 Comments


* Initial claims for unemployment aid rise to 465K
The rise suggests that jobs remain scarce and some companies are still cutting workers amid weak economic growth. Initial claims have fallen from a recent spike above a half-million last month. But they have been stuck above 450,000 for most of this year.
* Today last day for Illinoisans to apply for FEMA flood help
* Latest State Education Test Scores So-So
Students who took the ISAT, third graders through eighth graders last year, improved a bit. Overall student performance on the ISAT increased from 79.8 in 2009 to 80.9.
Fergus said that points to a bigger trend.

"We're continuing to see gradual increases in student performance over time – that's what we look for and that's what we're seeing," she said.
* Teachers Union: Chicago Neighborhoods Need a "Marshall Plan"
* CTU survey finds many woes at Chicago Public Schools
Larger class sizes. Inexperienced teachers. Substitute teachers. Trimmed back art, music and after-school programs.

Those are the problems "crippling'' many Chicago Public Schools and "cutting our students off at the knees,'' despite the positive spin school officials have put on a financially challenging school year, Chicago Teachers Union president Karen Lewis told school board members Wednesday.

A new survey of CTU delegates at 146 schools - or 24 percent of the entire system - found that one out of three schools surveyed had substitute or "placeholder'' teachers heading a classroom.
* CTU Survey Says: Chaos
* Sun-Times: A whole lot of room to make improvement
* Duncan on school violence: 'I think it has gotten worse'
* Railing from riders has Metra rethinking UP North schedule
* Board OKs $111 mil. site for new Jones Prep
* Mayor's political workers ponder future
"I was there when Harold Washington came in," she said. "They do tend to get rid of everybody. They want their own people, and they're entitled to them. But I have a lot of young people with children, and they're shell-shocked. They probably should be looking [for jobs], but all they're doing is thinking of looking."
* Alderman Stone declares for re-election
* LeClercq seeks 2nd term as Oswego village president
* Clifton Mayor Frooninckx resigns; cites health reasons
* Loves Park manufacturing firm seeks TIF designation
* Belvidere schools, support staff reach three-year deal
* Crime up lately in R.I. neighborhood
* QC Leader comes clean about service
* Developer proposes life on the river in floating condos
* Quincy School Board approves $78.4 million budget
* McLean County board member Nuckolls arrested in 'domestic incident'
* District 87: $1.3M deficit could vanish through taxes
* Peru explains electric rates and fees, responds to critic
* Bill Black won't run for Danville mayor
* Champaign man considers run for mayor
* More cuts ahead for [Champaign] county government
* State Invests Federal Stimulus Funds to Build Supportive Housing for Charleston Seniors
* Construction begins on $12.5M assisted living facility in Charleston
* Mattoon sees 2.5 pct. rise in sales tax revenue
* Police find 3,650 pounds of marijuana during I-55 traffic stop
* Researcher: Meth decline not linked to campaign
* Decatur Township assessor again denied additional funds
* Madison County will spend $16.6 million to replace two housing projects
* Case of accused pot-dealing So. Ill. sheriff headed to jury
- Posted by Barton Lorimor 13 Comments