* Sen. Matt Murphy sat on the pension reform conference committee. Murphy's seat mate is Sen. Kirk Dillard, who had strongly supported every pension bill that came down the pike except for the union-negotiated proposal. Dillard's campaign posted a video of the candidate explaining his vote on the Senate floor. Reboot Illinois watched the video and wrote this…
Dillard's deskmate, Sen. Matt Murphy (a member of the committee that drafted the bill) is patient with his colleague at first. But his body language is practically screaming as Dillard goes on. And it's not screaming, "You go, Kirk!" Be sure to watch until the very last second, when Murphy appears to either cheer that it's over or let out a long yawn, possibly both. - See more at: http://www.rebootillinois.com/?eopinion=9426&utm_source=email&utm_medium=video-of-the-day-pensions-12/5/2013&utm_campaign=murphy-speaks-body-language-to-dillard:-shut-up-already!-12/5/2013#sthash.np7BYKMU.dpuf
* Murph starts out by deliberately looking away. Then he begins to drum his fingers on the table, twirls around in his chair, rocks way back and forth, fiddles with his tie, makes notes, puffs out his cheeks, shields his eyes from Dillard and, does indeed, yawn at the end. Hilarious…
Maybe he needs a new seat mate.
* Meanwhile, Reboot also produced a handy chart comparing Speaker Madigan's pension bill from May to the bill that finally passed. Click here for a larger version…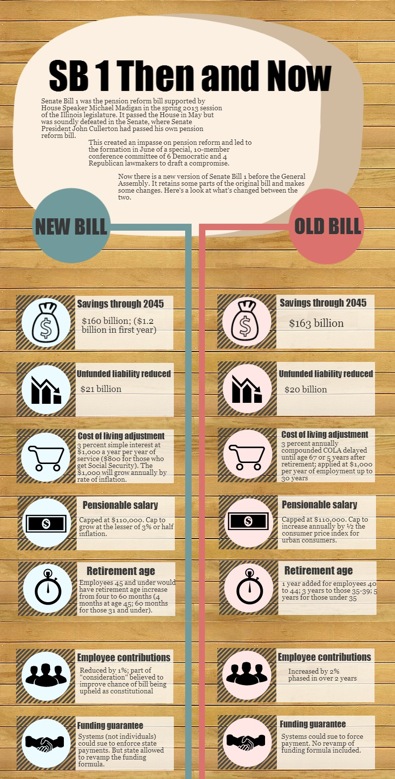 * And Speaker Madigan told reporters late Tuesday how he was able to bridge the gap between Senate Democrats who were concerned about the impact on retirees and House and Senate Republican negotiators who wanted more savings from the legislation…
Madigan: "In the end, just a few days ago, I was the one who made two critical suggestions.

"Number one, I'm the one that said that in terms of the inflation adjuster on the COLA it ought to go to the full consumer price index, which was a significant change because the House bill had provided for flat COLA, no change. The conference committee was talking about one-half of CPI. I'm the one that said, especially to the Senate Democrats, let's use the full CPI which of course would reduce the cost savings.

"But then we would make that up by my second suggestion, which was to take 10 percent of the savings coming out of the bill and dedicate that to the pension system. Put it all together, you're back over $160 billion in total cost savings, which was a strong demand from Republicans."

Q: That 10 percent came in the final days?
Madigan: "Final days. Just before Thanksgiving. And I was the one who fashioned the compromise."

Q: Did you have to make any promises to get those?
Madigan: "Just to be nice to reporters for a change."
58 Comments













































































































































































Sorry, comments for this post are now closed.