* University of Illinois President Robert Easter sent a "Dear colleague" e-mail this week outlining a possible new supplemental retirement program for university employees…
The changes made to reduce the cost of the pension systems to the state and fully fund them within 30 years falls, to a large extent, on employees and retirees, including those of us at the University of Illinois. We are keenly aware of the negative impact of these changes for all of us in the university community and are committed to maintaining a competitive retirement program.

To this end we are exploring potential options including a supplemental retirement plan offered by the University. We expect to be able to provide additional information in time for the Board of Trustees meeting in January.
* Meanwhile, let's take a look at some other pension-related stuff. Bruce Rauner tweeted this after the governor signed the pension bill into law…
Not surprising that a flawed, insider deal crafted behind closed doors is signed behind closed doors too. #twill #BringBackIL

— Bruce Rauner (@BruceRauner) December 5, 2013
Did [Sen. Linda Holmes], a Democrat, believe that politics were at play to give Democrat Quinn a re-election bump?

"On the political end, I think this was done to give the governor a win," she said. "And I don't think that's worth forsaking benefits for anybody."
* Treasurer Dan Rutherford opposed the bill on constitutional grounds. The impact on Rutherford's pocketbook is significant, however…
The Republican from Chenoa said he has not taken the time to calculate the effects of the landmark legislation on his own pocketbook.

"I've been busy looking at the constitutionality of it," Rutherford said.

But, according to a database created by the Center for Tax and Budget Accountability, Rutherford could see a significant loss in buying power if the pension proposal goes into effect next year.

If he were to retire next year, Rutherford would receive a pension worth about $115,000, based on his current $135,600 salary. While that amount will grow on a yearly basis, the database shows the pension changes would decrease the amount of growth by $44,800 in the first five years.

After 15 years, the database shows Rutherford would see $392,000 less than he would under the current pension setup. Two decades from now the projected loss would be $719,000.

The online database — http://www.weareoneillinois.org/documents/COLA-cut-spreadsheet.xlsx — is designed to show current state employees and retirees how a reduction in the state's current 3 percent cost-of-living adjustment would affect worker pensions over a period of years.
* As Eric Zorn points out, Arizona has been waiting a very long time for the courts to rule on a state pension reform law…
In February, 2012, Maricopa County Superior Court Judge Eileen Willett issued a stinging rebuke to the legislature, declaring a key reform element unconstitutional in an action that had been filed by a group of schoolteachers.

"When the plaintiffs were hired as teachers, they entered a contractual relationship with the state regarding the public retirement system of which they became members," said Willett's written opinion. "Their retirement benefits were a valuable part of the consideration offered by their employers upon which the teachers relied when accepting employment." […]

In May 2012, the state lost again in court, this time when Maricopa County Superior Court Judge John Buttrick used a similar constitutional rationale when ruling if favor of judicial retirees who'd challenged changes in the cost-of-living formula that was part of the pension-reform effort.

That case was fast-tracked to the Arizona Supreme Court on appeal, and three other legal challenges to the reforms were put on hold pending the outcome. But despite the attempted hurry-up, the justices didn't hear oral argument in the case until June of this year and have yet to issue their ruling.

More than two and a half years after Arizona took the step that Illinois took this week, the reforms remain in legal limbo.
* Illinois Supreme Court Chief Justice Rita Garman was asked this week about pension reform…
News conferences — let alone a media scrum — are rare for a Supreme Court justice.

Maybe that's due to the tensions between a judge's analytical nature, the fact that they typically don't comment on pending or potential litigation and the answer-me-now inquiries reporters can feel compelled to ask — something that showed up in the third question Garman faced.

"You're coming in at a time when a potential pension case could come up," one of the reporters stated. "How is that going to — what kind of dynamic will that mean?"

Behind Garman, the court's spokesman bristled. The question presumably is about how Illinois' high court would rule on a legislative change to the state's pension laws — should such a bill make its way through the legislature, be signed into law, be challenged with a lawsuit and, finally, make its way to the Supreme Court.

"We deal with all the difficult cases," Garman said, her deep blue eyes remaining fixed on the questioner. "As I tell my law clerks, if the cases weren't tough, they wouldn't need us. So we're used to dealing with very difficult issues and we know that we are the ultimate decision-maker as to the constitutionality of laws that are passed in the state of Illinois."
Despite her willingness to outline the question, it was nearly impossible to answer.
* I've linked a couple of times now to Bruce Rauner's WLS interview this week on pension reform. Here's the candidate struggling to remember the state Constitution's protections of government pensions…
"Reduced or impaired, or something like that."
The actual language…
Membership in any pension or retirement system of the State, any unit of local government or school district, or any agency or instrumentality thereof, shall be an enforceable contractual relationship, the benefits of which shall not be diminished or impaired.
* And the IEA's spokesman was not happy at all with this Tribune editorial cartoon…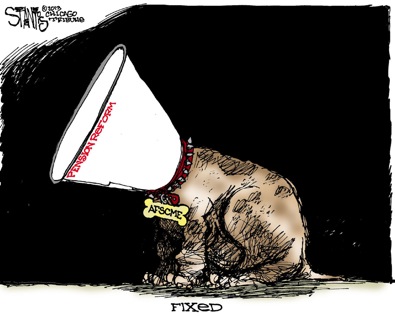 From the teachers' union flak…
Oh, how the patrons of Chicago's exclusive private clubs must have laughed at that cartoon.

I imagine men in very nice suits, surrounded by the aroma of expensive cigars, holding brandy snifters, elbowing each other in the ribs and pointing to the part of the dog that's been "fixed," chortling all the while.

Sickening.

The men and women of AFSCME provide services on which the people of our state rely. They work hard and have negotiated with their employer for compensation that is commensurate with the effort and skill involved in their jobs.

I'll bet the original version of this cartoon had the dog tag reading "Unions," but then someone probably pointed out that that would mean the paper would be taking a repugnant cheap shot at teachers, police officers and firefighters; people the paper would be less comfortable attacking.

As crack journalist Ron Burgundy likes to say, "stay classy."
34 Comments





































































































Sorry, comments for this post are now closed.