* The Kankakee Daily Journal has a bio piece on Steve Kim, who is Treasurer Dan Rutherford's running mate…
Kim is a successful businessman. An attorney, he advises companies on regulation and has offices around the world. He was a special assistant on international trade during the administration of Gov. Jim Edgar and sits on the advisory committee for trade set up by Sen. Mark Kirk.

Kim's father, Kenneth, was a pharmacist in Seoul. He and his wife, Helen, might have settled elsewhere, but they ran out of bus fare in Illinois and remained here. His mother ran a dry cleaners in Skokie.

"Their dream was the American dream," he said. "Work hard. Save. Own your own business. Send your children to college."

Kim is a graduate of Loyola Law School. He and his wife, Misuk, live in Northbrook. They want a good life for their son, Lincoln, 19 months. "For Christmas we got him a stuffed elephant," Kim said.
* A photo from his event…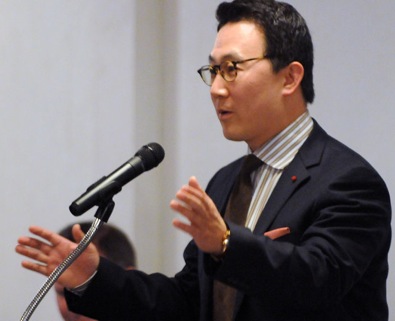 Caption?
And, I know I don't have to say this, but just in case some stupid yahoo stumbles in here, any attempt at racial humor will be met with a highly unpleasant response from me.
Thanks.
31 Comments




























































































Sorry, comments for this post are now closed.