* A new Reboot Illinois/We Ask America poll has Bruce Rauner leading Gov. Pat Quinn by eight and a half points, 45.5-37 with 7 percent going to Libertarian Chad Grimm. That's down from Rauner's 14-point lead in late July's poll. Grimm may be having an impact here.
For the first time in a very long time (if ever) in a We Ask America poll, Quinn is actually leading Rauner in suburban Cook County, albeit by just a half a point, with Grimm taking 5 points. But Quinn is still getting slaughtered among self-identified independents 47-29. Rauner is stomping Quinn 57-32-6 in the collars and 52-24-9 Downstate.
* But the immediate problem for the governor is Democrats…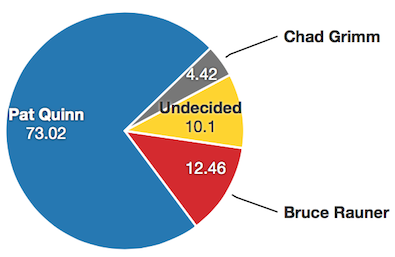 Compare that to Rauner's showing with Republicans…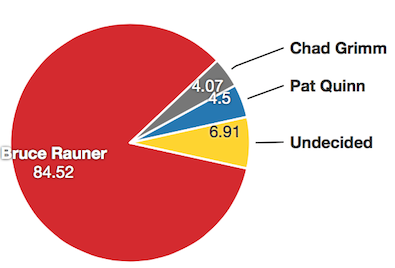 * Another problem he absolutely has to deal with is women…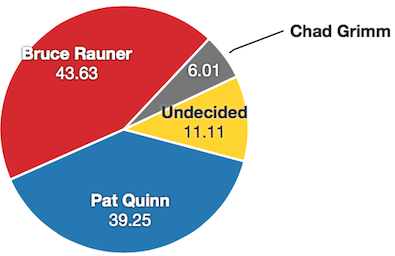 Men tend to vote Republican, even in this state. If you're a Democrat, you have to win the female vote. Period.
* From the pollster…
"As I've seen in other polls recently, the race for governor is tightening up," said We Ask America Chief Operating Officer Gregg Durham. "Undoubtedly, the presence of a Libertarian candidate gives voters who aren't happy with their choices an outlet for their frustration, and it appears to be hurting Rauner more than Quinn. Nearly 12 percent of the self-described independents chose Grimm; a situation that probably won't last…but where will they end up?"
* Methodology…
This Reboot Illinois copyrighted poll asked respondents, "If the election for governor were held today, would you vote for Democrat Pat Quinn, Republican Bruce Rauner, or Libertarian Chad Grimm?" The poll is based on automated phone calls with a random sample of 1,064 likely Illinois voters statewide. The poll, conducted by We Ask America on Sept 2., 2014, has a margin of error of +/-3 percentage points. 29% of responses are from cell phone contacts.Party split of respondents: 35% Democrats, 27% Republicans, 38% Independents
30 Comments »

























































































Post your comment... And please take a half second to come up with a nickname. It makes following the posts easier for everyone... Thanks