* Good news for the city…
Kraft Heinz announced Wednesday that it will move Oscar Mayer and the company's U.S. meats business from Madison, Wis., to Chicago — a move that will add 250 jobs to Chicago's Aon Center.
* Bad news for Downstate manufacturing…
Kraft will eliminate an undisclosed number of jobs at its Champaign plant as it moves its cheese production operation to other facilities.

"We are planning to move cheese production from our Champaign, Illinois, facility to other factories within our network," Michael Mullen, senior vice president of corporate and government affairs for Kraft Heinz, said in a statement. "The move will take approximately 24 months to complete and will make Champaign a center-of-excellence in dry and sauce production. As a result of this decision we do expect there to be job losses in Champaign."
* And then there's this…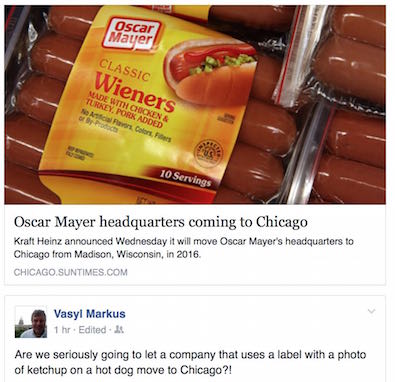 - Posted by Rich Miller 39 Comments


* The FEC can get really cranky about stuff like this…
State Sen. Kyle McCarter spent more than $33,000 on a campaign consultant in the four months before he announced his bid for Congress against Republican U.S. Rep. John Shimkus.

While that kind of spending isn't unusual in the lead-up to a run for political office, the Republican from Lebanon tapped his state campaign account for the consulting work — a move that experts say likely would be prohibited under federal campaign laws if the work went toward his race for Congress. […]

"It's not related to Congress," McCarter said of the spending. […]

A review of records filed with the Illinois State Board of Elections shows that between June 1 and Sept. 29, McCarter wrote three checks worth a total of $33,675 to Downers Grove-based Isaiah Consulting.

By contrast, McCarter previously used Isaiah for three campaign mailing jobs worth a total of $1,232.
It's not a lot of money at all, but, again, the FEC can be evil meanies.
- Posted by Rich Miller 15 Comments


* Natasha…
The Rauner administration is vehemently pushing against SB570, which lawmakers are to take up in overtime session next week. The bill would limit the power administration's have over managing a state program in time of financial crisis. Advocacy groups have blasted Rauner for changing rules to the Child Care Assistance Program (CCAP) leading one group to erect billboards warning of Rauner's "dangerous cuts."

– In a memo obtained by POLITICO Illinois, the administration describes "high costs and unintended consequences" of the bill. "If enacted on January 1, 2016, the bill would add $220 million in program costs for the duration of Fiscal Year 2016 and have an annualized cost in excess of $800 million," the memo says. READ THE MEMO: http://politi.co/1GLp6vr
* From the governor's office…
Hi, Rich –
Hope you're well.

I wanted to pass along the attached memo and the following statement to you. The statement is attributable to me.

"Unfortunately, rather than passing a budget, the Majority wants to politicize this issue. But with a huge price tag for taxpayers and a number of unintended consequences outlined in the memo, the bill presents a real problem for centrist Democrats, especially those who portray themselves as fiscal conservatives. The bill doesn't just roll back a single emergency rule — it mandates nearly a billion dollars of annual spending regardless of available resources and threatens the viability of the program over the long run. Additionally, even if they pass this - there's still no money to pay for CCAP so it won't fix the underlying issue. Bad for taxpayers, bad for child care. It is a plainly political bill that would create as many problems as it pretends to solve."

Thanks,
ck
Again, the DHS memo is here.
* However, back in August, DHS said it couldn't determine the bill's fiscal impact…
Fiscal Note (Dept. of Human Services)

Though the fiscal impact is indeterminable at this time, the amendment would provide the Department with little or no flexibility to manage the Child Care Program and live within established appropriations.
* Groups including Mrs. Rauner's Ounce of Prevention sent their own letter today. The full response letter to legislators is here. Excerpt…
- 80,000 Illinois families are able to enter and remain in the work force

- 69,000 skilled early childhood education workers are employed in early learning facilities

- 46,450 employers in Illinois rely on CCAP to ensure their employees have a safe place to leave their children and are able to come to work every day

- CCAP generated $2.6 billion in revenue in 2014. For every 100 jobs created in child care, 56 are created in other industries. For every $100 spent on child care, $213 is spent in the economy
* However, nowhere in that letter was anything addressing the new DHS cost claims. So, I circled back to our pal Emily Miller at Voices for Illinois Children. Her response…
Hi Rich,

By now you have received a memo from a group of organizations encouraging lawmakers and the governor to support SB570, a bill that reverses dangerous cuts to child care implemented unilaterally by the Rauner Administration on July 1, 2015.

Notably absent from that memo is direct repudiation of numbers the administration put forward in its own memo issued this morning. That was intentional. The administration's memo does not include information regarding how they arrived at their numbers - it simply states numbers as though they are factual.

For example, advocates cannot dissect claims of program costs when we are unsure what baseline is being used—are we comparing program costs from before the Governor's devastating cuts, or after the cuts, when the administration turned away 15,000 children in the first month of the changes?

And what is the baseline for the annualized costs? The pre-cut levels? The post-cut levels? These are questions advocates do not know the answers to, and since we are unwilling to make numbers up, we are unable to refute the Governor's claims as a result.

What we do know is that while the legislation would require restoring funding for the operation of the child care program, the cost of NOT funding the program is far greater than $220 million, or even $800 million (numbers used in the administration's memo) due to the devastating impact that the Rauner Administration's actions are having on working families. That is why advocates have for years called on Illinois lawmakers to identify revenue to sustain the program at the level necessary to meet the identified need.

No serious policymaker can honestly say investing in quality child care for working parents doesn't save the state money in the short-and long-term. That's why the coalition joined together to assess the real value of the CCAP program in Illinois. And that's why we unanimously support the passage of SB570.

Thanks.

Emily Miller

Director, Policy and Advocacy

Voices for Illinois Children
* Related…
* Survey: Rauner's Child Care Cuts Hitting Families, Providers Hard: Nearly 2,500 families from 100 child care centers in Illinois have lost access to state subsidized daycare because of the Rauner administration's cuts to the program, according to a new survey of child care providers in the state.
- Posted by Rich Miller 47 Comments


* The DePaulia…
It wasn't business as usual Monday morning as hundreds showed up to march through Chicago's Financial District for this week's #MoralMonday protest, where demonstrators gathered to fight Gov. Bruce Rauner's proposed budget. […]

"People are taking to the streets and shutting down the Board of Trade today because we can't cut any more services," Buck said. "We are in crisis and that is why we are here today."
Dude, you didn't shut down the Board of Trade. You blocked a doorway for a few minutes.
- Posted by Rich Miller 15 Comments


* From the commenter known as "Rod Sez I'm Pork"…
Hi Rich,

I am no longer a nonprofit executive director and I took a hiatus from Capitol Fax for my own sanity. I started reading it whenever I need an emetic.

I contacted our luminaries on behalf of my daughter who is a CPS sophomore. I politely urged them to put politics aside and provide the needed financial support for CPS. I know it probably isn't going to happen, but I have a kid in AP US History, so I have to feign some sort of belief in our political system. I was amused by Governor Rauner's "reply."

Dear David,

I appreciate you taking the time to reach out to my office about public education funding in Illinois. My staff is reviewing your message. Please know I value your opinion and thank you for sharing it with me. Hearing from people in Illinois gives me a better idea of what is impacting local communities across the state. Knowing those opinions helps me make decisions for you in Springfield.

Please feel free to contact me in the future. My office phone numbers are (217) 782-0244 and (312) 814-2121.

Sincerely,
Governor Bruce Rauner

I truly appreciate the Governor making decisions for me. It allows me more time to perfect my guppy fish at feeding time impression.

Anyhow, I thought you would appreciate the sentiment.

Happy birthday Oscar, whenever it is.
Emphasis added.
- Posted by Rich Miller 17 Comments


* HR 839…
Short Description: DEFEND PORK & BACON

Synopsis As Introduced
Calls upon the leaders of the State of Illinois to recognize and continue to defend the importance of bacon and other pork products, along with the pork producers, to the economy, job growth, and the consumer preference of the people of Illinois.
* Erickson…
Against the backdrop of a recent report linking processed meat to cancer, six Republicans introduced a resolution last week showing their support of bacon and other pork products.

Asked Tuesday if the proposal stems from the World Health Organization report warning about the health effects of eating certain meat products, state Rep. Steve Andersson of Geneva said, "You betcha. It was in direct response to that."

Members of the newly rendered bacon lobby include Andersson, Avery Bourne of Raymond, Grant Wehrli of Naperville, Mark Batinick of Plainfield, Reggie Phillips of Charleston and Keith Wheeler of Oswego.

All are freshmen members of the House.
* My BBQ guru is Craig "Meathead" Goldwyn. Meathead is keenly interested in the science of cooking, so, as I always do with anything meat-related, I checked his site on the topic…
The report is problematic and extensive mainstream and social media coverage has been sensational, unquestioning, and often flat out wrong.

Let's start with the fact that of the 22 scientists from 10 countries on the panel, 15 voted for the conclusions that were published and 7 disagreed or abstained. Usually these panels seek consensus and one prominent food safety scientist I discussed the results with was surprised at how far they were from consensus. Why the significant dissent and why publish such far reaching conclusions designed to change lifestyles and damage livlihoods with a vote of only 68%? And why publish only a summary? Where is the full report? […]

Many media reports equated the meats with cigarettes because they are both Group 1. As an NPR listener and donor I was shocked to read this headline on their website "Bacon, sausage and other processed meats are now ranked alongside cigarettes and asbestos as known carcinogens." After several days they changed it. […]

So why didn't they say so in the document so uneducated reporters would know better than to equate cigarettes with bacon? And why not explain the risk? I want to know what the odds are that I'll get cancer if I eat two slices of bacon with my eggs every morning. The WHO panel says that eating 50 grams of processed meat (less than 2 slices of cooked American style bacon) per day increases your odds of colorectal cancer 18%. And they leave it at that. What the heck does that mean?

The Center For Disease Control (CDC) says that over a lifetime your risk of colorectal cancer, the focus of the WHO research, is under 5%. Two slices of bacon will up the odds to less than 6% not 23% (5% + 18%) as some math challenged reporters have told us.

Heck, according to CDC data, the incidence of colorectal cancer is significantly higher in Pennsylvania than in Maryland. Should we conclude Maryland is bad for your health and evacuate everyone? […]

The panel based its conclusion by studying existing studies, a practice called meta-analysis. Many media reports claimed they looked at 800 studies, but that's not exactly true. They started with 800 and eliminated all but 15 red meat studies and 18 processed meat studies.
Conclusion? Noted legislative bacon fan and liberal Democrat Rep. Greg Harris ought to join the bacon caucus and co-sponsor this resolution.
*** UPDATE *** From Rep. Steve Andersson…
Rich,

After your comments on the blog today about the Bacon caucus, Rep. Greg Harris called me in the spirit of bipartisanship and asked to be added to the Resolution. Done and done!

Steve
Hooray!
- Posted by Rich Miller 35 Comments


* This story in the Sun-Times about how Kim Foxx hasn't yet disclosed an in-kind contribution of a poll done on her behalf by Cook County Board President Toni Preckwinkle months before Foxx opened up a campaign account is a bit on the technical violation side.
But this is most interesting…
Foxx was aware of the January poll when it was conducted but "did not authorize" it, Klonsky said.

Emails obtained by the Sun-Times show Foxx was involved in drafting the poll questions.
Um, wow. Is somebody on the inside leaking campaign e-mails?
This'll get interesting.
- Posted by Rich Miller 13 Comments


* Sun-Times…
The governor has been trying like crazy to drive a wedge between the mayor and Madigan and hopes the CPS crisis will turn up the heat on Emanuel to make the break and side with the governor in favor of his pro-business reforms. In fact, Rauner has predicted that the state budget stalemate will end in January, when a simple majority is needed for passage and Chicago will be desperate for money to avert the need for thousands of teacher layoffs.

But Emanuel's lavish praise for Madigan at Tuesday's groundbreaking underscored the speaker's point: Rauner's divide-and-conquer strategy is a bust.

"He has not and I don't think he will" drive a wedge between himself and Emanuel, Madigan said.

"The mayor and I share too many common interests. We're both Chicagoans. We're both dedicated to the interests of the city of Chicago, to the Chicago school system. And we're very dedicated to the principles of the Democratic Party."
There are those who believe [language at that link, so be advised] that the mayor and the governor are besties who have completely staged their fight.
No doubt there's significant stage-managing here, as subscribers know.
But Rahm's in this precarious position because Madigan ain't making anything up. This fight is all too real to MJM, and he apparently believes that Emanuel is with him.
* Anyway, I just remembered that Oscar's third birthday is November 18th, the same day that the leaders are meeting together for the first time since late May. If they won't fix things for Illinois' sake, or Chicago's sake or their own sake, maybe they could do it for the puppy?…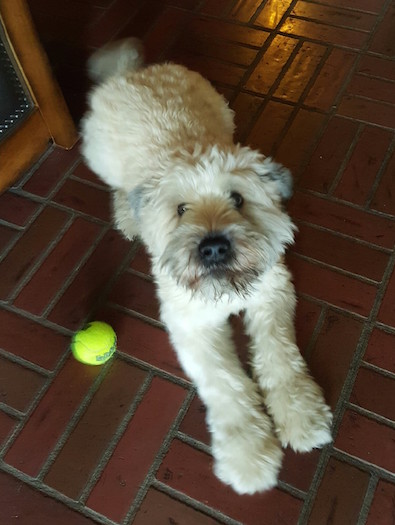 …Adding… I misremembered. Oscar's birthday is the 22nd, not the 18th. I'm a bad dad. And this impasse ain't never gonna end.
- Posted by Rich Miller 33 Comments


* Ugh…
Lake County officials who eulogized Fox Lake Police Lt. Charles Joseph Gliniewicz as a hero in the days after he died from a fatal gunshot wound, said Wednesday evidence now shows he staged his death as an apparent homicide to cover years of financial exploitation of the police Explorers post he oversaw.

George Filenko, commander of the Lake County Major Crimes Task Force, called Gliniewicz's actions the "ultimate betrayal" that included intentionally leaving a staged trail of police equipment at the crime scene in an attempt to mislead police to believe his death was a homicide.

Filenko made the comments during an exclusive Daily Herald interview before a news conference to announce the investigation's findings that Gliniewicz took a large sum of money from Fox Lake Explorer Post 300. Thousands of dollars was used by Gliniewicz for personal purchases, including travel expenses, mortgage payments, gym memberships, adult websites, facilitating personal loans and unaccounted cash withdrawals, Filenko said.

"There are no winners here," Filenko said. "Gliniewicz committed the ultimate betrayal to the citizens he served and the entire law enforcement community. The facts of his actions prove he behaved for years in a manner completely contrary to the image he portrayed.

Filenko said Gliniewicz was using the Explorer fund "as his personal bank account." He added that $250,000 flowed through the account over seven years, and investigators estimated Gliniewicz took about "five figures."
* More…
Police also say that the investigation into what happened was not over. The investigation "strongly indicates criminal activity on the part of at least two other individuals," Filenko said, but he added that officials would not comment further on that.
The only hero of this story might be the county coroner, who tried to do his job while the police screamed about how he was hurting their investigation by releasing information.
This case just smelled funny from the beginning.
- Posted by Rich Miller 48 Comments


* Natasha…
[House Speaker Michael Madigan's press secretary Steve Brown] was asked about former Hawaii Gov. Linda Lingle, who now serves in the governor's administration as chief operating officer. Rauner has named Lingle among his "superstars" who would help fix the state's financial mess. Lingle's hire caught headlines both because of the high-profile nature of having a former governor on board — and her salary. At some $200,000 a year, Lingle is earning more as a Rauner aide than she was as governor of Hawaii.

– Brown suggested — and we've heard whispers of this in the past — that Lingle's hiring had something to do with ties to a close Rauner adviser and strategist Nick Ayers and "dark money" that flowed from groups tied to him and attacked Lingle opponents. Background on that here: http://bit.ly/1RSlisr. Ayers is a Georgia-based political operative and past head of the Republican Governors Association.

– Ayers' Target Enterprises, which handles campaign ads, was one of the biggest payees during Rauner's record-breaking, $65 million campaign for governor.

– An audience member asked Brown what evidence he's seen of her work in the Legislature: Brown said so far she organized a parade for the state fair.

– The Governor's office slices into "pitiful" Brown: "It's perplexing why high ranking House Democrats continue to unjustifiably attack top females in the Rauner administration," spokesman Lance Trover said in a statement to POLITICO Illinois. "It is especially pitiful coming from someone who doubles as a lobbyist while serving as the Speaker's spokesman. No wonder he's pathetically protecting the old boys club."
Brown was out of line. She doesn't do legislative work, so he wouldn't really know what her duties are.
Even so, this administration's staff has singled out several Democrats for attack many times in the past. Just because Lingle is a woman doesn't make her exempt. This is 2015, not 1955.
Then again, the Democrats have complained about those administration attacks on them, so turnabout should be avoided.
What I'm trying to say here is that everybody ought to just take a chill pill or something and try to show at least a modicum of respect for the other side.
…Adding… Text from a friend…
I was there. Brown made it very clear that she doesn't work in the legislature, "So I wouldn't be in the same meetings she is in and know what she does." That part of the quote didn't make it.
- Posted by Rich Miller 50 Comments


* Back in January, the AP asked the state's business leaders what they'd like to see out of the incoming Rauner administration…
Company leaders are typically among the fiercest proponents of tax cuts. But while many say they'd like to see changes such as the elimination of the state's franchise tax, they also say the state has few options to generate much-needed money. "You can't continually cut state government," [Dennis Larson, executive vice president of the Central Illinois Builders] said. […]

But whatever happens, it needs to happen soon, Illinois Manufacturers' Association President Gregory Baise said.

"Manufacturers want certainty. They want a tax structure that they know is going to be in place and they can plan," Baise said. "We may not like the answers the governor is going to come up with. We understand that." […]

First, "bring our revenues in line with expenditures," Illinois Chamber of Commerce President Todd Maisch said. "But No. 2, show really every citizen of Illinois that the political process can work."
Credit to Baise for staying on message since then. Maisch has since dropped his demand that the governor fix the budget first and show us how to make the process work and has instead gone all-in on the impasse.
But by these standards, Illinois is not #winning.
- Posted by Rich Miller 19 Comments


* State construction money isn't being distributed and there's still lots of untapped bonding authority out there…
Illinois, once a top issuer of municipal bonds, has been absent from the debt market for a year and a half despite having more than $4.8 billion of untapped bond authorization left from a $31 billion, partially bond-funded "Illinois Jobs Now!" program the state enacted in 2009.

Money on hand from state bond sales shrank to $552 million at the end of fiscal 2015 from $2.68 billion at the end of fiscal 2014, according to Moody's. […]

Metra, the Chicago area's commuter train operator, said about $400 million of projects, including improvements to 16 stations, two rail yards and a major bridge replacement program, are on hold due to the lack of state bond money.
Our state could use those jobs. And those are easily measurable jobs, not some ideological pie in the sky hoped-for return on anti-union "reforms."
* Also, this…
A package of fees and taxes meant to pay off the "Jobs Now" bonds has fallen short of its revenue target. This is largely due to underperformance of a video gambling tax as some communities, most notably Chicago, blocked the gaming machines.

The package is expected to generate $830 million this fiscal year, short of legislative projections from 2009 that it would raise $943 million to nearly $1.2 billion annually, according to the Chicago-based Civic Federation.
Chicago wants a casino, so it hasn't approved video gaming. In the process, it has passed up millions of dollars in revenue, which it can't afford to leave on the table.
Man, this state is messed up.
- Posted by Rich Miller 33 Comments


* Monique…
The dome of the Illinois State Capitol won't be adorned with the usual festive string lights this holiday season, a victim not of the Grinch but the ongoing budget impasse between Republican Gov. Bruce Rauner and Democratic legislative leaders.

Secretary of State Jesse White, whose office maintains the historic building, announced Tuesday that the dome will go dark this year because while a "nice tradition" the Christmas lights are "nonessential" as he tries to save money as the state enters its fifth month without a full budget.

The office has yet to make a decision about decorations inside the Capitol, where a giant Christmas tree and menorah are usually displayed in the rotunda.

White spokesman Dave Druker estimated the lights cost roughly $7,300 to put up each year — a pittance relative to the nearly $3 million the office says it owes Springfield's municipal utility company.
* Finke…
Each year since the 1960s, workers from the secretary of state's office have hung 260-foot strands of lights from the Capitol dome to the building's roof. It normally takes a crew of 12 from 2 1/2 to three hours to install the lights. The strands use 25-watt bulbs that were commonly used for Christmas lights in the 1950s and '60s. Two years ago, White's office said more modern, LED bulbs might be used at some point, but there was no timetable for it.

White's office has said it is an ongoing battle to deal with the effects of the state not having a budget in place. The office already announced it would not mail notices to people when it's time to renew their license plate stickers, a move that will save $450,000 a month in postage costs. The savings will allow the office to stretch out money remaining in its postage account "for a few months longer" and enable the office to continue mailing the renewal stickers themselves along with titles and license plates.

The office also has been dealing with vendors who no longer want to do business with the state because they are not being paid for the work they do. The office even warned that power could be turned off at the Capitol because the state cannot pay its utility bills. However, Springfield's City Water, Light and Power said a power shut-off is not imminent.
Thoughts?
- Posted by Rich Miller 67 Comments