[UPDATED: Comments are now open on this post.]
* Juliana Stratton's campaign just sent this one out. As you'll see, it uses the allegations made in the second Ken Dunkin restraining order, which has not been recanted…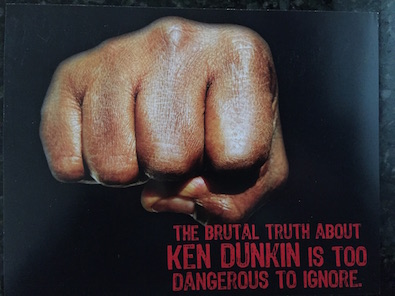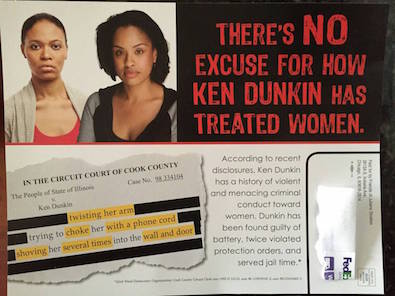 * Maze Jackson has responded on Facebook, by the way…
I have remained pretty quiet on the Ken Dunkin material that was mailed by Alderman Brendan Reilly to get points with the boss Speaker Madigan. But I must say that as a Black man, I am HIGHLY offended at what was depicted in the mailer/flier that Reilly distributed.

To tell you the truth, I got into some trouble as a young man and if your dig really deep I am sure you can find a mugshot and charges, but that does not define who I am today. I know many Black men and women who faced some relationship challenges early on and have learned from those mistakes and gone on to be productive members of our community, but if someone took a look into their past, they could probably find something. An argument that got loud with an ex, a DUI, or a marijuana charge. Could you imagine if someone decided to dig it up from 20 years ago and try to define you as that TODAY? Do you know how many people, particularly Black people would be screwed.

Alderman Reilly spliced together a police report (if you want to discuss police reports ask LaQuan McDonald or David Koschman how those work out) and a mugshot (we know how they use Black people mugshots) to paint Dunkin as an abuser, although in the report the alleged victim categorically denies Reilly's portrayal.

So we are clear…Black people will accept a White North Side Alderman criminalizing Dunkin in that manner? Are we that gullible? Are we that stupid? Clearly Reilly thinks so. Look, you can disagree with Dunkin's politics all day long, but the man has a family and kids. To have that that crap mailed to their house and for them to see it at school is unconscionable. And for Dunkin's opponent to suggest that she did not authorize the mailer, but she heard whispers, and that it should be looked into while claiming to be an advocate for criminal justice reform should be an offense to our community. Political lynching in full effect…
He does make a very good point that people can be a whole lot different now than they were 20 years ago.
But there were three alleged Dunkin victims. Only one is saying something different now.
- Posted by Rich Miller 29 Comments


[UPDATED: Comments are now open on this post.]
* Myself and several others tried to reach out to Rep. Ken Dunkin yesterday about the mug-shot attack mailer launched by the 42nd Ward, but he wouldn't talk to anyone else except ABC 7's Charles Thomas…
The return address on the cards is the Northside's 42nd Ward Democratic Organization. It is headed by Chicago Alderman Brendan Reilly. Reilly is a former aide and most-of-the-time loyalist of Illinois House Speaker Michael Madigan.

"If the speaker's successful with me, he'll have every member intimidated for the next 10 years," Dunkin says. […]

According to documents provided by Alderman Reilly, Dunkin was convicted of violating orders of protection battery and sentenced to probation. But the victim in the 1996 case, who wished to remain anonymous, said the charges were exaggerated.

"He is not violent. He is not an abuser," she said. "He has done an amazing job in the community. It's unfortunate that something that happened 20 years ago would service to tarnish his character and who he is today."
* But not mentioned in the story is that in April of 1998 another woman named Anita Harris alleged this, according to the 42nd Ward's oppo file and accompanying documentation…
Yikes.
Keep in mind that Dunkin was never actually convicted of those allegations. The orders of protection were based on the words of two people on two occasions - although judges apparently found those words credible enough to issue the orders.
* And the man whom Dunkin was convicted of punching isn't in a forgiving mood…
The April 1996 incident began when Dunkin approached a woman — the mother of his child — and the two began arguing. A man tried to intervene and was punched, the records show. […]

Some 20 years later, victim Matt Hawkins, now a 48-year-old community activist in East St. Louis, said he vividly remembers the altercation, which left him with a scar, a broken nose and dental plate. He also recalls that Dunkin bragged that he had political connections.
* Even so, the lawyer who represented the child's mother says all's well that ends well…
The Sun-Times was unable to reach the complainant, but her lawyer, Lester Barclay, said that the case was amicably resolved and that Dunkin remained a "stand-up guy."

"All I know is he met his obligations, and he has been a standup guy and a great father," Barclay said. "Once we worked everything out, it was fine … he provided for his child.
That's very good to know.
* However, keep in mind that the cold political reality here is these news stories are one-offs and were aired/published on a Friday night/Saturday morning, when most people aren't paying attention. But that negative direct mail is gonna keep pounding Rep. Dunkin through March 15th.
On the other hand, if you actually watch Charles Thomas' report, he's got plenty of stuff that Dunkin can use in a response TV ad with Dan Proft's $500K, especially the mother's voice. She sounds extremely sincere. That'd be a killer response piece if they decide to address the issue.
Although, as subscribers know, Dunkin's Rauner connection polls very badly.
* By the way, Rep. Dunkin's 50th birthday party looked well-attended last night, although his friends and supporters woke up to this today…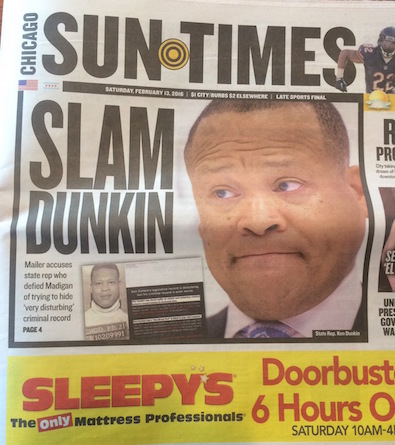 Oof.
- Posted by Rich Miller 11 Comments