* Monique…
While Democrats reported they had 71 members here for labor bill override, Rep. Ken Dunkin is absent and says he won't be coming this week.

— Monique Garcia (@moniquegarcia) September 2, 2015
Without GOP votes, the Democrats can't move the bill forward. And the 15-day clock expires this week.
That's a Rauner win, in case you're keeping score.
- Posted by Rich Miller 601 Comments


[The following is a paid advertisement.]
The following is excerpted from a Daily Herald op-ed by Exelon Corporation President and CEO Chris Crane:
"Keeping the lights on, safely and reliably, is Exelon's primary responsibility to customers. Part of that is planning ahead to make sure we have enough power to meet our region's needs for years to come.

Over the past decade, the power generation system has dramatically changed. The grid was once powered almost entirely by highly reliable power plants like nuclear and coal, which have fuel on site and can run 24/7 in all weather conditions. Today it has moved toward natural gas, which is subject to supply disruption if home heating becomes critical or the gas delivery system freezes, and renewables, which only run when the sun shines or when the wind blows. …

While this shift has helped provide cleaner power, it has led to a major unintended consequence — the system is no longer sufficiently reliable, especially during extreme weather.

The challenges became clear during the 2014 polar vortex, when PJM, which operates an electric grid from northern Illinois to the mid-Atlantic, lost 22 percent of its power generation and came dangerously close to a large-scale blackout. A recent decision by the Federal Energy Regulatory Commission (FERC), the agency charged with ensuring the reliability of the grid, will help avoid such a crisis. …

The plan, known as capacity performance, only pays power plants that deliver power when promised — especially in the hottest or coldest weather — and imposes financial penalties on those that don't. …

[A]uctions under the new plan [will] ensure enough supply for customers' needs in years to come. …

Importantly, any auction proceeds will be reinvested in improving the reliability of our power plants…

Exelon is constantly investing in its nuclear power plants, spending nearly $1 billion annually to add the latest technologies and keep them operating safely and reliably. …

Now is an opportune time to implement these reforms for a more reliable grid that will keep homes lit and warm, businesses running, and our economy growing."
Learn more about reliable nuclear energy at www.NuclearPowersIllinois.com
- Posted by Advertising Department Comments Off


* As I write this at 1:20, the House has voted on two vetoes of bills that passed overwhelmingly during the spring session. Both override attempts failed mainly because Republicans stuck with their governor on general principles, some Dems didn't support the bills to begin with and because one Democrat is still not accounted for despite clocking in as "Present" on the roll call for attendance. I discussed this with subscribers earlier today. We'll just have to wait and see if and when Rep. Ken Dunkin shows up, either today or tomorrow. Keep an eye on our live session coverage post for constant updates.
Mary Ann Ahern has a bit more on Rep. Dunkin…
While Madigan has said he has the votes necessary, one key Democrat, Rep. Ken Dunkin, is "unavailable," according to his office. Dunkin "has been spotted in more places than Elvis," one source in Springfield told NBC Chicago, but the representative's staff say they "are not at liberty to discuss" where he is. They did confirm that he is not in Springfield, however.
Subscribers know where he says he is.
* But, as I told subscribers last Friday, there will be Republican votes to override the governor's veto of Medicaid funding from the heroin treatment bill. Leader Durkin confirmed it today…
Durkin said Republicans will likely stand with House Democrats in an attempt to override a different bill the governor altered using an amendatory veto.

Both Republicans and Democrats are expected to vote to extend Medicaid coverage to pay for federally-approved medications and therapy to treat heroin addiction.
The governor took the brick off after heavy prodding by House and Senate Republicans. That's very good news.
*** UPDATE *** As expected, the veto was overridden.
- Posted by Rich Miller 8 Comments


* I told subscribers about this earlier today…
House Republicans have received a very clear message from their leader over whether to support the override [of the AFSCME "no strike" bill]: "Vote against the governor and there will be consequences," House minority Republican leader Jim Durkin, R-Western Springs, told the Chicago Sun-Times.

Today's showdown in Springfield pits Rauner against Madigan like no other battle this year.

"There will be consequences for any of our members who vote against our caucus today," Durkin said Wednesday. He said "consequences" does not automatically mean expulsion, but they will be discussed among Republican leadership.

"This is my decision. And my decision only," he said. "I believe this will be cataclysmic if passed."
Wow.
I've never seen anything quite like that before.
The House Republicans have taken caucus positions in the past, but they don't usually talk about it with the mainstream media, and never this brazenly.
…Adding… As always, keep completely up to date by monitoring our live session coverage post.
- Posted by Rich Miller 119 Comments


[IDVA e-mailed this afternoon to say that 45 people have been diagnosed with the disease, not 46 as reported elsewhere. I changed the headline to reflect the agency's statement.]
* From a Tuesday press release…
The Illinois Department of Veterans' Affairs (IDVA) and the Illinois Department of Public Health (IDPH) today announced the deaths of a total of seven residents at the Illinois Veterans' Home-Quincy. The seven residents, all of whom had underlying medical conditions, were among the 39 individuals who had been diagnosed with Legionnaires' disease to date. Test results are currently pending for other residents.

"While saddened by the loss of our residents, having been at the Home and talking with the staff and our residents, I am impressed with their resilience and spirit," said IDVA Director Erica Jeffries. "We remain vigilant in monitoring our residents and we continue to follow the guidance of our interagency partners to implement remediation efforts across our Home. The safety and quality of care for our residents and staff are our primary concerns."

"We continue to work diligently with our public health and Veterans' Affairs partners to get immediate medical care to residents or staff at the Home who are experiencing respiratory illness," said IDPH Director Nirav D. Shah, M.D., J.D. "Unfortunately, we expect to see additional cases and possibly additional deaths because the incubation period for Legionnaires' disease can be up to two weeks, and because patients with underlying medical conditions are at increased risk of more severe illness."

On August 30, 2015, IDPH requested aid from the U.S. Centers for Disease Control and Prevention (CDC) for epidemiology and environmental health assistance. Yesterday, three CDC Epidemic Intelligence Service Officers and one environmental health specialist arrived at the Illinois Veterans' Home – Quincy to work with IDVA and IDPH in investigating the Legionnaires' disease outbreak. CDC will also provide laboratory support from its headquarters in Atlanta, GA.

IDVA and IDPH continue to work closely with the Adams County Health Department to identify and mitigate possible sources of the Legionella bacteria. Due to the nature of the bacteria, test results can take up to two weeks. Public and environmental health officials are working closely with home staff to implement control measures at the home in order to prevent additional individuals from being infected.

Most cases of Legionnaires' disease can be traced to plumbing systems where conditions are favorable for Legionella growth, such as hot water tanks, cooling towers, and evaporative condensers of large air-conditioning systems. In order to be infected with the bacteria, a person must inhale contaminated water vapor. Legionnaires' disease cannot be transmitted person-to-person.
* The diagnosed number rose this morning…
The number of lab-confirmed deaths at the home because of Legionnaires' disease rose to seven on Tuesday, and the number of confirmed cases of people diagnosed with the disease rose to 39. The number of confirmed cases climbed to 46 on Wednesday morning, according to the Adams County Health Department.

However, for the first time since the outbreak was detected at the home late last week, there was a 24-hour period where no residents were admitted to Blessing Hospital. Some test results for residents are pending. […]

As of Monday, the Illinois Veterans Home had 401 residents spread out over seven residential buildings on Quincy's northwest side. [Erica Jeffries, director of the Illinois Department of Veterans' Affairs] said those with the disease lived in different buildings. Another hurdle to identifying the source of the bacteria, Jeffries said, is the old plumbing system in the home, which was built in 1886.

Jeffries says the plumbing system at the facility is unique, creating a "unique set of solutions as well."
- Posted by Rich Miller 12 Comments


* CBS 2…
Mayor Emanuel says the city will provide about $9 million to make sure thousands of children from working families aren't cut off from the state's Child Care Assistance Program. The mayor says the Bruce Rauner Administration has tightened the requirements for families that qualify for the help.

"I think the policies by the state, when you look through, you find 90 percent of the children you're going to kick off… that's not tightening the standards, that's basically walking away from the children of the city of Chicago and the state of Illinois," Emanuel said.

The mayor says the added funding will protect about 5,000 of the 9,000 pre-kindergarten seats affected by the state cuts.
* Tribune…
Mayor Rahm Emanuel on Tuesday accused Gov. Bruce Rauner's administration of "walking away from the children of the city of Chicago" by making it harder for low-income families to qualify for inexpensive child care, while announcing he had set aside $9 million to keep the service in place for some of the kids. […]

Emanuel estimated the change affects about 9,000 children in Chicago, roughly 90 percent of those who used to qualify. The mayor said his administration had "scraped together" $9 million to keep child care programs running for 5,000 kids who lost their eligibility, but called on Rauner to reconsider the new standards. […]

"If you're going to tighten the standard, it should be about tightening the standard because you thought maybe it went over slightly," Emanuel said. "Ninety percent means you don't believe in day care, you don't believe in early childhood. And I don't believe that's (Rauner's) policy. I believe somebody in the system has this upside down, and they need to be straightened out." […]

The mayor noted the city's intervention isn't a permanent solution. "We can step in to a point. We can't make up for the failures of the state," he said. "It is time for the governor to re-evaluate."
- Posted by Rich Miller 31 Comments


* Crain's…
Exelon will collect more than $270 million in additional revenue at its Illinois nuclear plants for the year beginning in June 2016, thanks to the results of a special auction just conducted by the grid manager for the 13-state region including Northern Illinois.

The Chicago-based power giant, which is asking lawmakers to hike electric bills throughout the state to keep the company from closing two of its six Illinois nukes, is benefiting from grid operator PJM Interconnection's new rules for setting the prices consumers pay generators to be available when electricity demand spikes due to extreme heat or cold. […]

PJM's changing bidding rules are funneling hundreds of millions in additional revenue annually to Exelon's Illinois fleet, which has been pressured financially by low wholesale power prices. The boon to Exelon may complicate the company's continuing efforts to lobby the state for even more financial help, courtesy of ratepayers who already will be paying higher prices thanks to PJM. […]

Meanwhile, Exelon's Illinois fleet will collect an estimated $495 million in capacity revenues in the year beginning in June, rather than the $219 million it would have taken in under the previous auction results.

A recent PJM auction to set the capacity price for the year beginning June 1, 2018, resulted in even higher prices. Exelon's Illinois nukes will collect an estimated $688 million in capacity revenue then, even though the Quad Cities plant didn't qualify because it had bid too high. (Quad Cities did qualify for 2016-17 capacity revenue.)
So, they're up to $1.18 billion with one more auction to go.
And yet they still want the General Assembly to approve another $300 million in additional customer charges to subsidize their nuke plants.
- Posted by Rich Miller 37 Comments


* Dave Bakke…
Remember the old joke about going to a boxing match and having a hockey game break out? Well, something like that happened last weekend in Springfield.

Marcus Lucas invited people to his house for a cookout. I know, stop the presses, right? But …

A couple of hours into the party, Marcus disappeared. He came back wearing a white suit. His girlfriend, Jackie Price, had changed from her Dallas Cowboy jersey into a white dress.

Oh, yeah, something was up. People went to a barbecue and a wedding broke out.

"It was the first 'pop-up wedding' I've ever seen," Rich Miller, the Capitol Fax guru who was there, wrote via e-mail, "and so incredibly romantic. People have been wondering for years when the two would get married. But instead of eloping to Vegas or having an elaborate ceremony, they kept it low-key and so very personal by just throwing a little party and treating everyone to an incredibly happy surprise. Unlike a lot of weddings I've attended, I'll never forget this one."
I haven't had the greatest summer, with the long and grinding overtime session and then my little health scare. But I tried my best to have a "normal" weekend starting Friday. I went to see Tom Irwin play a gig after work, then had a nice dinner at the lake. On Saturday, we went to Clayville for a folk festival and car show. I ran into my doctor near the beer stand and felt like I was being busted by my parents. Thankfully, I had a bottle of water in my hand and I proudly displayed it to my doc, who smiled and advised me to stick to red wine.
I went back home and rested for a while then remembered I'd been invited to Marcus' party. I was hungry and wanted a glass of red wine (thanks, doc!) so we drove out there.
Marcus sprang the surprise shortly after we finished eating. I haven't smiled that much since my surgery. The bummer summer dissolved completely away when it became clear that Marcus and Jackie were going to marry each other before our very eyes. It filled everyone's heart with joy. How could it not?
I'm not sure if they realize it, but those two did their friends a wonderful favor by sharing their life reaffirming moment with us.
I'm actually still smiling about Saturday and I'll never forget it.
- Posted by Rich Miller 25 Comments


* The Bond Buyer has a long article about a recent House hearing on legislation pushed by the governor to allow local governments to declare bankruptcy…
In what is viewed as a favorable provision for bondholders, the Local Government Bankruptcy Neutral Evaluation Act would offer them a statutory lien for general obligation and revenue bonds on property taxes collected, or the debt's pledged revenues. The lien would automatically attach from the time of the pledge with no further action needed and is "valid and binding" from the time of issuance, the proposed legislation says.

With such a statutory lien provision in place "you are making the purpose of the Chapter 9 for one singular purpose…to visit it upon labor," said William Brandt, the former board chairman of the Illinois Finance Authority and the longtime owner of corporate and municipal restructuring advisory businesses. The sole purpose is the "rejection of labor contracts," he said.
Gee, what a surprise. The big New York City firms which bought bonds and should've known better are protected, while local workers get the shaft.
* Proponents say the statutory lien language would bring down borrowing costs…
"We're paying a penalty for the public crisis that we have in finances" at the state level, said State Rep. Jeanne Ives, R-Wheaton, adding she's been advised that the addition of a statutory lien to state books could cut local government borrowing penalties in half.
* But…
The debate adds to the attention statutory liens have received across the country following Chapter 9 bankruptcies in California and Detroit and legislative efforts to protect bondholders. Fitch Ratings recently warned that despite its growing use in U.S. municipal debt, the presence of a statutory lien will not enhance a municipality's debt rating.

"While the presence of the statutory lien will enhance a creditor's post-default recovery prospects, it doesn't avoid the interruption of payment upon a bankruptcy filing by a municipality," said analyst Thomas McCormick. "The simple reason is that in a bankruptcy scenario, the pledged tax revenue could be subject to interruption and default would be likely."
- Posted by Rich Miller 35 Comments


[The following is a paid advertisement.]
Credit unions have a well-recognized reputation for providing exemplary service in meeting their members' daily financial needs. A "People Helping People" philosophy also motivates credit unions to support countless community charitable activities and worthwhile causes on a continual basis.
As a prime example, Consumers Credit Union (CCU) in Waukegan is wrapping up another summer filled with community outreach. This not-for-profit financial cooperative participated in an array of community events, including festivals, parades and community celebrations. As part of their involvement in several neighborhood events, the credit union also promoted the importance of saving for children.
"Team CCU" is active in fundraising, too. The credit union's walking team raised nearly $3,000 for the American Cancer Society's Relay for Life event held in Waukegan. CCU also made a donation of more than $2,000 to the March of Dimes.
Credit unions are able to better serve their communities because of their not-for-profit cooperative structure and leadership of a volunteer board elected by and from the local membership. Illinois credit unions: locally owned, voluntarily led, and actively supporting your community.
- Posted by Advertising Department Comments Off


The House convenes Wednesday to consider overriding Republican Gov. Bruce Rauner's veto of a proposal that would put a potential labor-contract impasse in the hands of an outside arbitrator, rather than risk a strike or a lockout. […]

Rauner talked with bravado during his 2014 campaign of shutting down the government to save runaway taxpayer costs, but now he promises he will not lock out workers. However, he vetoed the initiative in July, and the Senate overrode the veto in August.

"He believes that the taxpayers should have a seat at the table when bargaining, and this eliminates that seat and turns it over to an unelected arbitrator," Rauner's general counsel, Jason Barclay, said Tuesday. "In our view, this bill strips taxpayers of their right to control costs in government." […]

"We would prefer to reach a settlement at the bargaining table," [Roberta Lynch, AFSCME Council 31's executive director] said. "That's been our goal all along. The purpose of this bill is to make sure that there is an alternative procedure to a strike or a lockout. It is not an alternative to collective bargaining."
The campaign-style effort on both sides has featured attack ads, automated phone calls and closed-door lobbying. The fight involving power, loyalty and campaign cash is both the latest example of the ongoing political intransigence in Springfield and a foreshadowing of how next year's state House and Senate elections may play out. […]

The legislation also goes to a central theme of his new administration in seeking to use the budget impasse to leverage a weakening of collective bargaining rights for public employees at the state and local levels and eliminate prevailing union wage rates on public construction contracts. […]

The measure originally passed the House with 67 votes — four shy of the 71 required to overturn Rauner's veto. Two Democrats were absent in May. As of Tuesday, at least two other Democrats say they are still on the fence: Rep. Jack Franks of Marengo and Rep. Andre Thapedi of Chicago, neither of whom cast a vote on the bill last time around.

Thapedi said he declined to weigh in because he had unanswered questions and could not understand why AFSCME would be willing to give up its ability to strike. Thapedi said while he has met with union officials about the bill, he has yet to hear from Rauner's office. […]

Republicans insist their allegiances lie with their new GOP governor. Rauner has made no secret that he is willing to use his personal wealth and that of his allies to enforce discipline and put up primary challengers to those not willing to follow him.
"Both sides have elevated this to an issue where it's really about ultimate power within the conflict," said Kent Redfield, professor emeritus of political science at the University of Illinois Springfield. "It's going to set the tone for better or worse of how things are going to go not only in terms of the budget, but also for the next three and a half years." […]

"It really has been a full-court press on the governor's part," Redfield said. "He's made this a signature issue about his authority and role as governor." […]

Redfield said the stakes are high for both sides. If the override is approved, he said, "it will be a hit to (Rauner's) prestige and credibility." If the governor's veto is sustained, "it puts (the unions) in a much, much worse negotiating position," he said.
In a conference call Tuesday, Keith Kelleher, president of Service Employees International Union, said the union originally had no position on the legislation, but has since come out in support of it because of Rauner's strong anti-union positions and the administration's push to boost health insurance costs for state employees.

"This bill will shut down the shut down threat," Kelleher told reporters.

Pat Devaney, president of Associated Firefighters of Illinois, said the kind of binding arbitration called for in the proposal has been rarely used by the 15,000 firefighters he represents across the state. […]

"It will allow state employees to continue to provide critical state services," added Chris Southwood, president of the Illinois Fraternal Order of Police.
- Posted by Rich Miller 167 Comments


* From left, Sen. Karen McConnaughay (R-St. Charles) and Sen. Matt Murphy (R-No Socks)…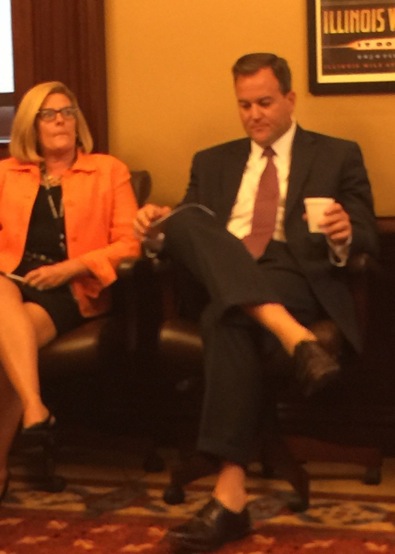 - Posted by Rich Miller 107 Comments


* Good news…
Ten months ago, I left full-time reporting.

The respite after 19 years covering Springfield made clear to me that my true professional passion remains with the Fourth Estate, which makes me proud to say today that I'm returning to full-time journalism with a job at Thomson Reuters.

I couldn't be happier.

The newly created position in Chicago is a big reporting job that will focus on breaking news and analysis on Illinois and Chicago finance, government and politics.

Conditions are tough in Illinois newsrooms. There was no guarantee a terrific opportunity like this would arise, particularly at such a respected media organization with worldwide reach. But it did, and I'm thrilled.
- Posted by Rich Miller 22 Comments


* You spent a fortune to win the big chair. And now it's time to make a freaking decision already…
Some who suffer from illnesses such as post-traumatic stress disorder, migraines and irritable bowel syndrome have been eagerly waiting to find out if they'll be able to use medical marijuana.

But the Rauner administration hasn't yet announced its decision on recommendations by a state panel to add 11 conditions to the medical marijuana program.

The decision was supposed to be made in August after a board recommended in May to allow the conditions to be added to the limited list.

"The recommendations by the state's Medical Cannabis Board remain under review," a spokeswoman for Gov. Bruce Rauner said.

She declined to comment on when the administration will announce its decision.
State law gave the governor until the end of August to decide. It's time to govern.
- Posted by Rich Miller 40 Comments