* So I thought about zipping over to the State Fair this afternoon to get my media credentials and maybe have a lemon shakeup, but then I saw this…
NO PETS ALLOWED

Pets are not allowed in public areas of the fairgrounds during the State Fair. Animals used for assistance to disabled persons, authorized competitive exhibits, shows or demonstrations at the State Fair or other approved purposes will be allowed.
Oscar the Puppy was in a kennel for a couple days this week so I just can't stand to leave him behind today.
I was thinking maybe I should "hire" him as a special State Fair Capitol Fax intern or something. Any ideas for his official title?
* I haven't posted a picture of Oscar in a while. He was so tuckered out after his stay at the kennel that he slept most of yesterday. Here he is in his favorite outdoor spot, under a chair at the table where I do laptop blogging.,..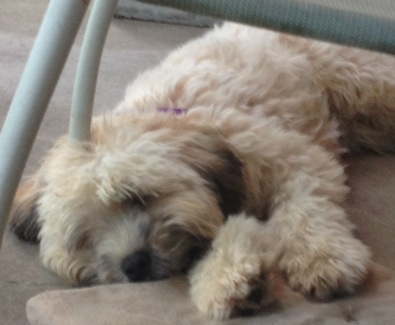 * His friend Katie came over last night with her daddy Grant. Here are Oscar and Katie taking a break from running around…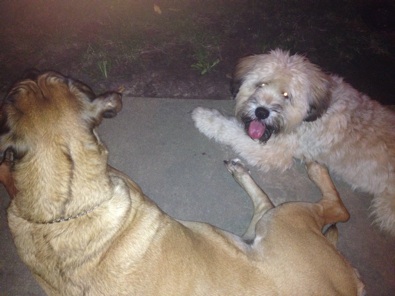 * And here he is this afternoon. The little guy really needs a haircut…
- Posted by Rich Miller 50 Comments


Sneed hears Mayor Rahm Emanuel is in a twist over who he wants to be the next governor of Illinois.

Sneed is told:

◆ Rahm is indebted to Dem gubernatorial hopeful Bill Daley, who helped convince his brother, Mayor Richie Daley, to retire, and helped engineer Rahm's transition into the office.

◆ Rahm is not a big booster of Gov. Pat Quinn winning re-election.

◆ Rahm is this/close to GOP gubernatorial hopeful Bruce Rauner, and their families have been known to spend holiday time together.

◆ Translation: A top source inside the Dem party tells Sneed: "Rahm's candidate is really Rauner. He'll never publicly back him. . . he's a party guy. But, in his heart. . ."
I believe she's probably right.
* The Question: Do you think Mayor Emanuel will ever endorse either one of those two? Take the poll and then explain your answer in comments, please.
survey tool
- Posted by Rich Miller 39 Comments


* I've never met Treasurer Dan Rutherford's press aide, but this is definitely a case study in how not to handle the Statehouse press corps…
Don't do that again. Seriously. Maybe you can get away with that when you're dealing with local yokels, but not here. Deal with it.
Luckily for him, Rutherford decided to ignore his aide and agreed to answer the question, basically repeating what he recently told the Windy City Times.
* Meanwhile, Comptroller Judy Baar Topinka was her usually colorful self yesterday, gleefully blasting away at her Democratic opponent Sheila Simon and, um, over-answering some questions. Make sure to watch…
Heh.
Both videos courtesy of our good friends at BlueRoomStream.com.
- Posted by Rich Miller 38 Comments


* Watchdog.org is run by the Franklin Center for Government and Public Integrity. The Franklin Center is not happy these days with Sen. Durbin…
U.S. Sen. Richard "Dick" Durbin has some questions for Watchdog's parent organization, asking who we know, what we know, and when we knew it.

In a letter to the Franklin Center for Government and Public Integrity, Durbin asks the nonprofit news organization whether it has given money to or ever been affiliated with the American Legislative Exchange Council, the model legislation think tank that liberals — and journalism experts like Durbin — love to hate.

"What is it he thinks he's doing here?" asks Jason Stverak, president of the Franklin Center. "Does he think he has the authority to oversee state legislatures? Is it his job to tell citizens and groups what sort of policies they may advocate? What about tracking down all the members of that group?

"Why not just ask it: are we now or have we ever been members of the American Legislative Exchange Council?" […]

Watchdog intends to ask some questions of its own – specifically whether his letter was inspired by anti-ALEC activists meeting with the senator or his staff, and whether his staff coordinated the release of the letter with ALEC opponents.
* In a somewhat "straight" news story, the same Watchdog.org reporter actually asked about financial ties…
A Franklin Center board member does sit on ALEC's board of directors, a fact noted on Franklin's website. But to Durbin's inquiries, Stverak otherwise responds: "It's none of his business."
* And then Illinois Watchdog.org ran a story about a big Chicago protest at yesterday's ALEC opener…
The same old protestors showed up, but this time they were protesting a new boogeyman. And many among the Illinois demonstrators weren't sure what it was.

A large crowd of union members and the professionally outraged (kids and older people bussed to the rally) marched to oppose The American Legislative Exchange Council, a group meeting this week at the Hilton Palmer House hotel.

ALEC brings local officials and business leaders together to discuss smaller government and freer markets. But to hear protestors on the street tell it, ALEC is responsible for not only conservative legislation, but all manner of evils.
It's a free country, they can say what they want and payback can be brutal. Also, I agree with the Tribune that Durbin has crossed a line here. But, wow, that stuff sure is blatant for a supposedly "independent" news outlet. From Watchdog.org's "About" page…
Our established investigative journalists and capitol news reporters across the country are doing what legacy journalism outlets prove unable to do: share information, dive deep into investigations, and provide the fourth estate that has begun to fade in recent decades. By enhancing communication between reporters and providing a forum for published journalism, Watchdog.org promotes a vibrant, well-informed electorate and a more transparent government. […]

Franklin Center is not responsible for the information that appears on the Watchdog.org sites.
* Anyway, from the AP coverage…
As meeting participants handed out awards and dined at a meal sponsored by the Texas Oil and Gas Association, picketers denouncing "corporate greed" paced the sidewalks and

The conservative organization's 40th annual meeting comes as it is experiencing increased influence due to a growth in Republican-led legislatures and enhanced opposition from liberal-leaning groups that have successfully persuaded some corporations to drop their support of the council. Businesses provide the bulk of the financing for the association, and industry officials serve with lawmakers on closed-door, issue-oriented task forces that develop model legislation for states.

The organization has more than 600 current model bills spanning a full range of issues, from accountability in government to zoning regulations.

"ALEC is about helping public policymakers look at issues from all different sides — to gather information, to gather research," said Republican Oklahoma Gov. Mary Fallin, a former lawmaker who delivered the group's keynote address Thursday after being honored with its Thomas Jefferson Freedom Award.
* Common Cause Illinois executive director Rey López-Calderón talked about ALEC in Illinois…
ALEC doesn't publicly disclose its members, but López-Calderón named two Illinois legislators as key members of ALEC. One of them is Republican Sen. Kirk Dillard, who López-Calderón called one of the most active legislators in ALEC in the state. Another is Republican Rep. Renee Kosel, said López-Calderón.
- Posted by Rich Miller 25 Comments


* Dave Dahl with the Illinois Radio Network is by far one of my favorite Statehouse characters. I love his pithy questions, which often make politicians uncomfortable in a very funny way. And check out Dave's State Fair style, displayed yesterday during the parade as reporters questioned Treasurer Dan Rutherford…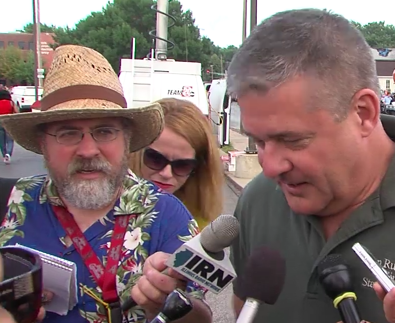 Gotta love the beard.
Try to be gentle on my buddy, but the funniest commenter wins a free State Fair beverage with yours truly.
* Yesterday's winner was 47th Ward…
Governor Quinn shares a moment with White Sox great Carlton Fisk shortly before naming the Hall of Fame catcher to the CTA board.

Aides were too frightened to explain the mistaken identity to the Governor. "Carlton is one of the Governor's heros," said a Quinn aide who asked to remain anonymous. "We didn't have the heart to break it to him, so we all kind of went with it. None of us saw the Metra mess coming."
- Posted by Rich Miller 58 Comments


* The "American Thinker" ran a piece this week entitled "Destroying Football: The Left's Endgame"…
It is in this current climate of pacifism (and that is the purpose of the campaign: to turn football into a more pacific game, thus removing another layer of America's masculinity) that Illinois Governor Pat Quinn has signed a law mandating insurance for student-athletes. […]

Even more distressing to the left is that sports started as a means of training for soldiers. That is why football is so appealing to America; it is a he-man sport, a vestige of the old America, where an association of free men stand together in battle. Yes, team effort is required, but there is also plenty of room for heroics, and the individual may make a huge difference.

But at football's core is a physicality bordering on violence, and to the left, that is anathema — an atavistic impulse that must be squeezed out of our children.

So instead of a healthy game of tackle football at recess, liberals substitute Ritalin and maybe a good heated game of tag. […]

In the end, liberals want a world under their control — one where impulses are channeled in the direction they choose, not where nature or free will directs. Sports are an expression of values, and those values must comport with the utopian vision of the left. There can be nothing outside the collective.
This piece is an object lesson in never, ever letting ideology get in the way of the facts.
* The legislation in question was sponsored by state Sen. Napoleon Harris, a former National Football League star. Harris is a moderate to conservative Democrat on social issues and was able to get other NFL players involved in passing the bill…
Harris, a former Thornton Township High School football player who went on to play in the National Football League, recalled his own playing days.

"Rocky Clark's story could have been me," Harris said. "I waked down this trail. I played on this field. I know what it's like to sacrifice yourself on a Friday night or a Saturday morning."

Also praising the law were former Chicago Bears tight end Emery Moorehead and offensive lineman Dan Jiggetts.

"This situation should not exist where you send your child out to participate and he gets tragically injured and you've got to fight the battle all by yourself," Jiggetts said. "This certainly helps a great deal to … make this right within this state."
Why did Sen. Harris sponsor the bill? This is why…
The law was inspired by the late Rasul "Rocky" Clark, who played football for Eisenhower High School in the Chicago suburb Blue Island until he was paralyzed from the neck down when he was tackled in 2000 during a game. His care was provided through a $5 million insurance policy held by the school district. When that policy hit its limit, he relied on Medicaid, his mother and donations.
And then he died.
More…
In a September 2000 game against Oak Forest High School, the junior was grabbed by the shoulders and tackled, and his head hit the ground. Doctors said his neck was broken in two places. Clark was hospitalized for several months and the injuries left him a quadriplegic. Despite his injuries, he later graduated from Eisenhower.
Those last two excerpts were in a story that the "American Thinker" writer actually linked to in his post, but the facts were never cited.
* A summary of the new law…
Known as "Rocky's Law," it requires all high school districts in Illinois to purchase catastrophic injury insurance up to $3 million for each of its student-athletes by Jan. 1, 2014. Families are eligible for the money up to five years after paying the first $50,000 in medical expenses. According to the law, insurance cannot cost more than $5 per student and it is up to the school districts to pay for the insurance.
*** UPDATE *** A commenter below is absolutely right that I should've also pointed out the bipartisan support for Sen. Harris' bill. Republican gubernatorial candidate Bill Brady - who is hardly involved in an international liberal conspiracy - was a co-sponsor, as was GOP state Rep. David Harris.
The bill received a strongly bipartisan 47 votes in the Senate and 71 in the House.
- Posted by Rich Miller 46 Comments


* I told subscribers about this several days ago…
The state fair got its start Thursday night with the Twilight parade through the north end of the capital city. It's an annual tradition. But indications are that another tradition, a Democratic party rally, will not continue this year. […]

[Gov. Pat Quinn's] big day at the ten-day state fair is Wednesday - Governor's Day.

Traditionally, it's a time for lawmakers and candidates from the Governor's party to rally - so in this case, the Democrats.

But not this year.

"Going to the fair in the afternoon should be about kids and family and fun." [Quinn told reporters.]

Quinn denies that the change is because Illinois Democrats are so fractured.
"Fractured" is definitely a word for it. Quinn has a serious primary challenger in Bill Daley, who obviously can't be allowed on stage. Quinn's own lt. governor won't endorse his reelection bid. US Sen. Dick Durbin, who is up for reelection next year and would usually be expected to speak at the annual rally, says he's not endorsing anyone in the governor's race, either.
Then there's the lawsuit filed against Quinn by the state's two Democratic legislative leaders.
Fractured, indeed.
* I never hide the fact that I love the State Fair. Back when I was a 4-H kid in Iroquois County's Milks Grove Township, we looked at the State Fair as the "big show." You do well in your county competition then move up. I made it to the big show once, as an emcee for the "Share the Fun" contest, which was basically skits, often musical, performed by local clubs. I missed out on a ticket to the State Fair another time when - my granddad was convinced - somebody cheated by entering an ineligible steer. It might sound funny now, but, trust me, it wasn't so funny back then.
* The governor loves the State Fair as well…
Quinn: I look forward to eating my way across the State Fair

— Bernie Schoenburg (@bschoenburg) August 9, 2013
* From a Quinn press release…
New features at this year's fair include the Budweiser Clydesdales, who will parade through the fairgrounds every day at 4 p.m. and stay in the Gate 2 area the rest of the day; the Happy Hollow "Concert on the Hill" series, live at 5:30 p.m. daily; the Conservation World "Puddle Duck" races August 17 that challenge kids to make and race their own toy boats; a CrossFit team competition August 10; and the return of the popular Cheer Classic cheerleading competition August 17.

This year's Grandstand concert lineup includes Billy Currington, REO Speedwagon, Styx, John Mayer, The Band Perry, Toby Keith, Ke$ha, and Journey. The Grandstand will feature two free concerts as well, one by New Odyssey and the Illinois Army National Guard 144th Army Band August 12 and another by local high school show choirs August 15. The fair also offers a wide variety of free entertainment – from magic shows to musical acts – on 14 stages throughout the fairgrounds.
I'm hoping to see The Band Perry, Toby Keith, Billy Currington and John Mayer. All good.
You?
* I'll also be checking this out…
For the third year in a row the [Rolling Meadows Brewery], based on a family farm just outside of Springfield, will have their flagship beers available including: Springfield Wheat, Lincoln's Lager and their award-winning Abe's Ale.

You can buy 22 oz bombers of each, to-go, for $8 apiece, get a full pour on tap for $4 or get a sample of one — or all three — for $1 each.

Rolling Meadows is on Central Avenue, across from the Miller Tent and Food-A-Rama, at the Illinois Wine Experience tent.
Lincoln's Lager is excellent stuff.
* Of course, no State Fair visit would be complete without the butter cow, which is still under construction and will be finished during the fair…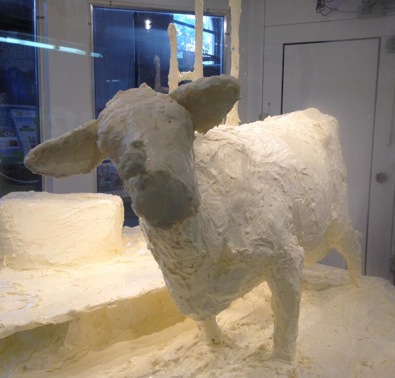 * Last night was the Twilight Parade, the annual event which opens the Fair. Treasurer Dan Rutherford was there…

* As always, state Sen. Andy Manar had a big crew…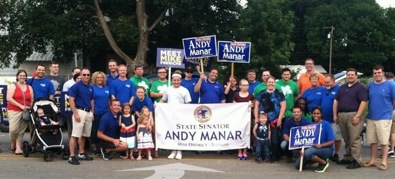 * From a photo posted by Sen. Kirk Dillard…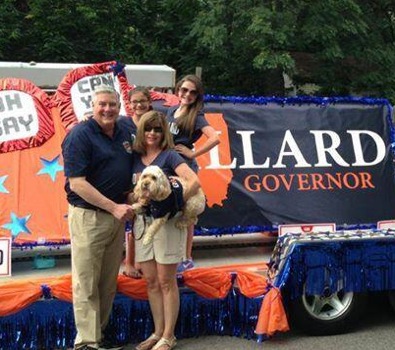 Dude, please do something about that sign. "Lard" may not be the message you intend to send, but it's becoming the received message.
- Posted by Rich Miller 46 Comments


* Kate Grossman is a member of the Sun-Times editorial board. Her blog post about Ty Fahner is spot on and looks like it was written as an actual editorial. Obviously, I wish it had made it into the paper…
"Regarding my comments at the Union League Club in March, I misspoke," Fahner wrote to Miller. "First, while I may have said so, I didn't call the ratings agencies, nor did any of our Civic Committee staff. My response to the questions was very confusing and inarticulate."

I reached out to Fahner on Thursday but didn't hear back.

Perhaps Fahner was exaggerating before the Union League Club. Perhaps he did make the calls and now he realizes how that looks in the light of day.

Here's what really matters: Fahner clearly thought this was a good idea — and on that we strongly disagree.

We get the impulse. We're as frustrated as anyone with state lawmaker's inaction on pension reform and are always looking for a way to light a spark.

But deliberately putting your own state at risk — even if it's a means to a more positive end — borders on traitorous.

If the Civic Committee did reach out to credit agencies, it was behind closed doors, with no public say or input. Even more importantly, the public pays for those downgrades with its tax dollars.

In his Union League comments, Fahner made clear he was trying to be responsible. Fahner said he and his colleagues backed off their push with the rating agencies because they didn't want "to be the straw that breaks the back….We'd done all we could on that that is responsible…it would be irresponsible for the biggest employers in the state – which is who the civic committee is … - to go and basically inflict that on the people that work for them. So we're trying to work the political process."

We're glad to hear they struggled with this — whatever it is they did or didn't do.

But the bottom line remains the same: these means do not justify the ends.
Exactly right.
- Posted by Rich Miller 44 Comments


* Buried deep in Rick Pearson's must-read story about Bill Daley attacking Gov. Pat Quinn over, of all things, political patronage, is this nugget…
…the first Mayor Daley hired a firm to inspect parking meters for the city, which quickly decided to buy its insurance from a brokerage newly formed by Bill and John Daley.
* Dan Mihalopoulos has more…
Court testimony in one of the federal corruption cases that effectively dismantled Richard M. Daley's political machine indicated that Bill Daley did not merely know what was being done for his brother's sake. In the 2009 trial of the top Streets and San man Al Sanchez, the feds put a witness on the stand who said he saw Bill Daley take a hands-on role in helping his brother rebuild their father's machine.

Under a grant of immunity, former city employee Roberto Medina told jurors he was at a meeting in the early 1990s in which Bill Daley and others directed him to form the North Side branch of the Hispanic Democratic Organization, whose best campaign workers got a leg up in the City Hall hiring process.

At the time, Bill Daley told me he had "no memory" of the witness, but added, "I'm not saying I didn't meet him. Everybody meets a lot of people in politics."

He also denied knowing how clout influenced hiring before throwing out another little caveat: "Times were different. You're talking about 20 years ago. Even if it happened — and I'm not saying it did — things were different. There was nothing illegal about that stuff."
* Daley, though, insists he's a changed man. Back to Pearson's piece…
"I'm standing here as my own person. You can make judgments about past administrations or relatives or whatever you want, but I'm telling you what I believe and how I'll be as a leader," said Daley, who called on the Illinois Senate to vote down the appointment if Quinn refuses to pull Zuccarelli's name from consideration.

"This is the 21st century. This is not the 1950s. This is not 50, 40 years ago. This is the time when leaders have to step forward and do things differently," he added. […]

"Some people may say, 'Well, this is different for a Daley to do.' But maybe people learn that I'm not what they think I am or what they think I would be," Daley said. In another twist, Daley indicated that he might not seek the endorsement of Democratic county slate-makers, a ritual that his father once controlled with an iron fist.
He "might not seek" the county party's endorsement probably because he's either trying to convince the party to not slate or to delay a slating vote or because he figures Quinn will win it anyway.
* This is not the first time the tables have been turned on Pat Quinn the outsider reformer. Here's a March, 1996 Tom Hardy piece from that year's US Senate Democratic primary race which pitted Quinn against Dick Durbin…
During Democrat Pat Quinn's 20 years in politics and throughout his numerous campaigns for public office, his calling card has been that of an outsider, a populist who speaks for the average citizen and doesn't kowtow to special interests.

Pat Quinn puts the pop back into populism, he often says of himself.

Yet the sound we've heard from Pat the Populist this year is more of a fizzle.

To gauge just how far this unconventional, once-promising politician has fallen, look beyond the startling poll data that shows Quinn trailing U.S. Rep. Richard Durbin by a virtually insurmountable 22 percentage points in their U.S. Senate primary race.

You find that not only has Durbin's heavy TV advertising erased the enormous advantage that Quinn, a former state treasurer, enjoyed in name recognition, but that it also usurped Quinn's greatest political asset.

It is Durbin, not Quinn, who is considered to be more of a political outsider and more in touch with average people, according to the results of a new Tribune poll. This must have Durbin's image mavens and the Democratic regulars who despise Quinn for his sanctimony doubled over with laughter.
* Meanwhile, Mark Brown talked to Frank Zuccarelli yesterday…
Zuccarelli said the CTA appointment grew out of him telling Quinn "I was looking for another position because I was leaving the [Cook County] Employee Appeals Board."

Asked why he wanted a second government job, Zuccarelli said: "Because I've always been interested in working simultaneously. Since I was fifteen years old, I've had more than one position."

"And I think my position at the township adds some, not only credibility, but my ability to understand the needs of the transportation requirements of the people who live out here in the south suburbs," he added.

Zucccarelli said he was unaware of the law prohibiting most state and local elected officials and employees from serving on the transit board when he sought a position through the governor's office. That law does not specifically address township officials.

He said he had mentioned his interest in transportation to the governor's office, but it was the governor's staff that suggested the spot on the CTA Board. The part-time position pays $25,000 annually. The Thornton Township website reports Zuccarelli's total compensation as supervisor at $186,418. He also is the unpaid chairman of South Suburban College.

Asked if he would consider foregoing the CTA salary, Zuccarelli said: "At this point, I'm taking the money. I've been in public service for 35 years, and I've got about four or five more years left and I'm looking to retire. And I don't have anything in savings. So at this point I'm not interested in really thinking about giving back the salary."
Discuss.
- Posted by Rich Miller 29 Comments