* Sun-Times…
On Tuesday, lawmakers who make up the obscure but powerful Joint Committee on Administrative Rules had no objections to the rules that will be used to implement the Illinois Medical Cannabis Pilot Program.

That means the medical marijuana program in Illinois can officially be put to use, and the process to begin registering patients, dispensers and growers can begin.
* But there's a catch. More than one, actually. Oh, well There's always a catch in Illinois…
State regulators must choose which businesses will get licenses to grow and sell pot, and must set up a laboratory and procedures to test the drug for safety. And then there's the matter of figuring out how to start growing a crop that has been illegal for decades.

Bryan Willmer, an owner of Grand Prairie Farms in Frankfort who hopes to open a dispensary and cultivation centers in Will, Kankakee and Champaign counties, said entrepreneurs are hoping state officials will specify how to get seeds.

"I guess they should fall from the sky," he joked.

State officials said Tuesday they will try to clarify that issue. In addition, the Illinois Department of Agriculture is converting one of its labs into a testing center, where pot can be checked for potency, mold and pesticides so consumers know what they are getting, said Bob Morgan, coordinator of the state program.

But first — hopefully within 30 days, he said — regulators will draw up criteria that will be used to score business applications to decide who will be awarded licenses to grow and sell medical marijuana. The state intends to approve up to 21 cultivation centers and 60 retail stores spread around Illinois, based on issues like security, patient education and expertise in growing crops, Morgan said.
- Posted by Rich Miller 11 Comments


* Rep. Ron Sandack physically illustrates a story to Rep. Fred Crespo during a recess at today's Legislative Audit Commission hearing…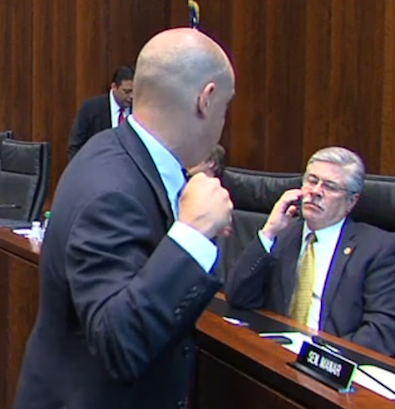 It was all in fun, of course. But the gloves did figuratively come off this morning.
- Posted by Rich Miller 37 Comments


* AP…
Jurors convicted the Democrat on multiple corruption counts, including that he tried to swap an appointment to President Barack Obama's old Senate seat for campaign money or a job.

Wednesday's two-page filing with the 7th U.S. Circuit Court of Appeals refers to an April Supreme Court decision striking down laws that restrict aggregate limits on campaign contributions.

Defense lawyers say that ruling also indicated the solicitation of contributions was corruption only when a politician gave a clear promise to take some official action in exchange for the donation. They say Blagojevich never made such promises.
- Posted by Rich Miller 14 Comments


* The Sun-Times noticed that when Republican Comptroller Judy Baar Topinka appeared with Gov. Pat Quinn at a bill signing ceremony, she whispered something about her son to the governor. Her mic was hot, though, and it picked up part of their conversation…
Topinka: "…get my son to SIU? He loves to teach."

Quinn: "Oh really?"

Topinka: "Yeah. He's got the qualifications too."

Quinn: "I know him, too."

Topinka: "SIU. SIU. SIU."

Topinka then slaps Quinn on the shoulder with a broad smile.
* The video…
The governor's spokesperson said Quinn "couldn't make out what she was talking about." It was "loud" the spokesperson said. Um, no, it wasn't loud. Listen to the video.
* JBT's spokesperson…
Topinka's office said the comptroller is looking to have her son "closer to home."

"The comptroller recalls mentioning that her son just completed 20 years of service in the military, that he has multiple degrees, including his J.D., and is interested in returning to Illinois, preferably Southern Illinois," said spokesman Brad Hahn. "It was no different than a million other conversations she's had about her son in the last few months. Like any mom and grandma, she would like to have her family closer to home."
I called Hahn myself. I asked him over and over whether Topinka had asked the governor to help her son get a job at SIU. He gave the same response about how Topinka "recalls mentioning" blah, bah, blah.
Finally, I asked him if Topinka also recalled asking the governor about helping her son get a job. "Not specifically," I was told.
Yeah. OK.
* Look, I've known JBT for decades. She loves her son. She's incredibly proud of him. She talks about him all the time. And she'd do just about anything to have him closer to her.
*** UPDATE *** Topinka's Brad Hahn just called back. Here are three direct quotes…
She talked about wanting to get her son back to Illinois.

She was not asking for a job.

She did not ask him for a job.
I've known Brad forever. He's always been straight with me, so it's weird that he was so evasive before. All he had to do was tell the Sun-Times and myself what he said in our second conversation and it's end of story.
- Posted by Rich Miller 53 Comments


* Reboot took a look at the top ten contributors to Bruce Rauner and Gov. Pat Quinn…
While most of Rauner's biggest contributions come from individuals, nine of Quinn's 10 biggest donations come from organizations such as unions and political action committees.

According to the Chicago Sun-Times, Rauner raised more money during the second quarter period, but Quinn did spend as much, and so had more money available as of June 30.

To create an apples-to-apples comparison, these rankings are for donations made to both candidates after March 5, 2013, when Rauner first began collecting donations for his Republican primary race. Quinn has campaign donations on record dating back more than 20 years, but those are from earlier races.

The state's campaign donation limits don't apply in the governor's race because Rauner in November crossed the $250,000 mark for self-funding. State law limits campaign donations to $5,300 from individuals; $10,500 from corporations, unions or associations, and $52,600 from a candidate political committee or political action committee. But those limits don't apply if one of the candidates in a race provides $250,000 of his or her own money.
* The lists…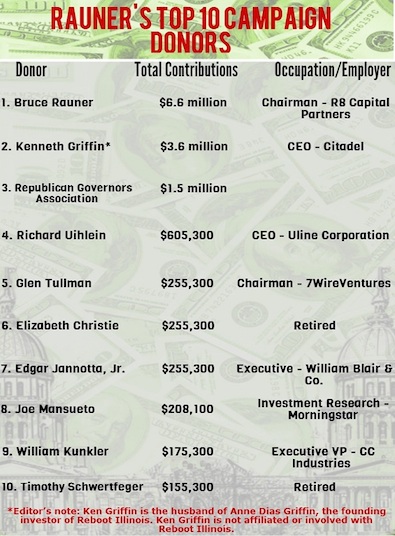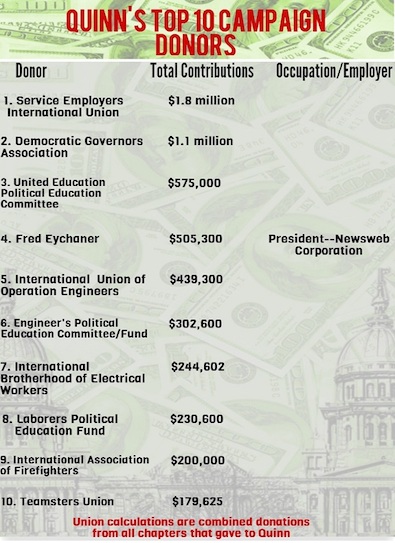 - Posted by Rich Miller 45 Comments


* From NBC Chicago…
There's a reason why your primetime "Law & Order: SVU" binges are being interrupted with an increasing number of negative political commercials.

As it happens, politicians' campaigns and the special interests that back them are intentionally programming their gloomiest, most attack-y ads during gritty procedural crime dramas that air in primetime, according to new research from The Cook Political Report's Elizabeth Wilner.

Almost 77 percent of political spots that aired during police, mystery and suspense series were negative in tone, followed by 71 percent of entertainment magazine programs.

Political media buyers know that "if you are watching between the hours of 7 and 11, you already are tuning in for some sort of violence or character assassination," Wilner told USA Today in an interview, adding: "You are primed … for drama anyway."
* From the Cook Political Report story…
- Early morning (5am-8:59am) is by far the most popular "daypart"—i.e., time of day—for airing political ads overall, accounting for 24% of all spot occurrences covered in the study. A gap of 8,000 spots separates early morning (34,576) from the next most preferred daypart, daytime (9am-3:59pm; 26,608).

- Local news remains by far the preferred programming genre for airing political ads overall, claiming 43% of all spots included in the study and seeing nearly three times as many spots as the next most preferred genre, talk shows (61,039 to 21,054).

- Crime shows, followed by entertainment magazine shows, see the highest shares of negative ads out of all spots aired within those genres (76.5% and 70.7%, respectively).

The study was conducted of general election advertising in key Senate, House and governor races rated as "toss-up" by the Cook Political Report as of July 14.

Per Harley's dataviz, 70.5% of all spot occurrences—or individual airings of TV ads—during primetime programming (8pm-10:59pm) were either totally negative or contrast, followed by prime access (7-7:59pm) at 68.1%. By comparison, 65.1% of all spot occurrences during early morning programming and 63.4% of spots airing during late fringe (11:30pm-4:59am) were negative or contrast.
* Local news shows have always been a desired political advertising vehicle and some DC TV outlets accommodated campaigns in 2012. From the Washington Post…
Faced with an unprecedented flood of commercials for candidates and causes, Washington's TV stations have had to get creative to fit them all in. Some are trimming their regular programming to squeeze in a few more ads, and some are adding more news at other hours.

WTTG (Channel 5), the District's Fox affiliate, for example, began bumping daily reruns of "The Simpsons" on Monday to add an extra half-hour to its 6 p.m. newscast. The expanded "News Edge" program will focus on political news — the kind of programming political advertisers demand most.

WJLA (Channel 7), the area's ABC affiliate, has temporarily added two weekend newscasts to its schedule for the same reason. On Saturday, the station preempted network programming and aired a two-hour movie in prime time in order to create more local ad slots. The station has occasionally shaved time from some of its weekday programming to accommodate an extra political ad or two, said Bill Lord, WJLA's general manager.
- Posted by Rich Miller 10 Comments


* From the union-backed Illinois Freedom PAC…
*** UPDATE *** I'm told that the buy is about a million dollars over three weeks. It's tough to get a handle on the number of ratings points though since an independent expenditure like this doesn't get a candidate discount. Either way, it's a fairly strong buy, so it's on.
* Script…
Should billionaires like Bruce Rauner get to play by a different set of rules?

In 2012, Rauner made 53 million dollars, but paid a lower tax rate than many of us.

And Rauner used a loophole to pay zero, nothing into Social Security and Medicare for two straight years.

Now Rauner says he's open to taxing our Social Security and retirement income…making it harder for Illinois families to get by.

Bruce Rauner pays less but wants us to pay more?
[ *** End Of Update *** ]
* Rauner has already responded via a fundraising e-mail…
Today Pat Quinn and Mike Madigan's special interest allies launched a new round of negative ads against us.

I'm not surprised the machine is fighting back. Are you?

These folks will say anything to protect Pat Quinn and his broken promises. They want you to forget Quinn's promises to create jobs (we lead the Midwest in job losses), avoid raising taxes on the middle class (Quinn now supports a permanent 67% tax hike on all Illinoisans), invest in our schools (Quinn cut education spending $500 million), pass term limits (opposes our term limits proposal), and clean up state government after Blago (Quinn's administration is now under federal investigation).

Will you help me fight back TODAY with an urgent contribution of $1,000, $500, $250, $100, $50, or $25?

Pat Quinn announced yesterday he has $12 million sitting in his campaign account - fueled by the Democrat Governors Association and his special interest allies.

Now today, the same group that spent millions unsuccessfully trying to defeat us in the primary is up with a new attack ad.

Make no mistake: Quinn-Madigan are playing for keeps. They will pull out all the stops because they know we will end the machine that has run Illinois into the ground.

Can you contribute now? Any amount helps, $100, $50, $25, $10, even $5. Every penny will be used to counterattack this latest offensive.

Illinois is run by lobbyists, for special interests, and the career politicians in charge let it happen. We can end all that – can you help take on the machine today with a contribution?

Thank you for all you're doing. I'll keep fighting to shake up the system – please fight with me.

Bruce Rauner
- Posted by Rich Miller 51 Comments


* From Sunday's Tribune story "Clout for Teachers"…
Michael Jacoby, executive director of the Illinois Association of School Business Officials, is critical of narrowly drawn bills. "I don't think it's good public policy to run bills to support one person's issue," he said.
* As I told you Monday, there are serious questions about pretty much all of that Tribune story. Jacoby was the only Illinois "critic" quoted in the story, and I'd heard through the grapevine that he may have been quoted out of context, so I reached out to him.
The above line in the Tribune story referenced a bill pushed by Rep. Tom Cross…
Cross earlier pushed legislation to help a donor, Karl Karantonis, of Naperville, who wanted a license to be a chief school business official. ISBE said Karantonis didn't qualify because he had a master's of public administration rather than the required master's in business administration, finance or accounting.

But a bill filed in February 2011 inserted language so that someone with a master's degree in public administration could qualify. Former state Rep. Ron Stephens, a lawmaker on Cross' leadership team, said he filed the measure after Cross talked to him about Karantonis.
As we've already discussed, Karantonis was hardly a major donor. And the bill was actually a darned good idea.
* It turns out that IASBO's Jacoby agrees with me, and he says he told that to the Tribune. Here's what he texted me yesterday…
After the quote I also said, but if the issue has legitimate impact on a larger group of people, then it is justified.

In fact, we supported the addition of an MPA degree to the CSBO endorsement because it would open the door to other highly qualified candidates.
Oy.
Look, I've made more than my share of mistakes. But in all my years, I have never once hacked somebody's quote like that to make it fit into my own personal perspective. I wouldn't be in business very long if word got around that I couldn't be trusted. Campaigns, on the other hand, do that all the time. But reporters are supposed to call out people who pull this sort of crud, not engage in it themselves.
There were so many easily documented problems with Sunday's story to begin with. But now, we have a quoted source claiming that evidence was essentially fabricated.
"Civilians" were dragged through the mud by the largest newspaper in the state for simply pointing out some very real problems with current state laws. And now it turns out that the only quoted "critic" says he isn't actually a critic.
Something needs to be done about this.
- Posted by Rich Miller 45 Comments


Gov. Pat Quinn's administration has released thousands of emails to a panel of lawmakers investigating his troubled anti-violence program.

Senate Republican spokeswoman Patty Schuh says members of the Legislative Audit Commission received an estimated 2,000 emails linked to the Neighborhood Recovery Initiative on Friday and are currently reviewing their contents.

Schuh says the emails came at the request of the bipartisan commission. They're expected to be discussed during hearings about the $54.5 million program scheduled Wednesday and Thursday in Chicago.

The commission is also expected to discuss a federal request to suspend interviews of those connected to the program for 90 days.
* Tribune…
It's unclear if any of the seven aides who have been subpoenaed will actually testify today, or if they do, whether they will take the fifth. They include Barbara Shaw, former head of the anti-violence program; Jack Lavin, Quinn's former chief of staff; Toni Irving, former deputy chief of staff; Malcom Weems, former head of the Department of Central Management Services; Billy Ocasio, a former senior advisor; Warren Ribley, former head of the Department of Commerce and Economic Opportunity; and Andrew Ross, Quinn's former chief operating officer.
* Our good friends at BlueRoomStream.com will be broadcasting the hearing live. Click here to watch. I'll also put together a ScribbleLive feed around the 10 o'clock start time.
*** UPDATE *** As promised…
- Posted by Rich Miller 120 Comments