* AFSCME Council 31 Executive Director Henry Bayer has been reelected…
Delegate Lori Laidlaw of Dixon nominates Henry Bayer for the office of Executive Director. Bayer is unanimously re-elected. #AFSCMEstand

— AFSCME Council 31 (@afscme31) October 18, 2013
Henry is often ascerbic, but he's unapologetically and unabashedly pro-union and has built one of the most impressive public employee organizations in the country.
* Let's congratulate Henry on his reelection with a little caption contest, shall we?…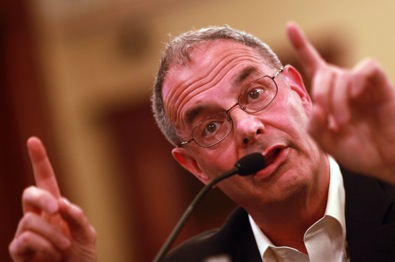 - Posted by Rich Miller 35 Comments


* This would be very troubling if true…
State Sen. Dave Luechtefeld (R-Okawville), is voicing concern over increasing violence in the state's Department of Corrections, noting the number of inmate-on-staff assaults are up more than 20 percent in the most recent fiscal year that ended June 30.

"530 officers and other frontline staff were assaulted during Fiscal Year 2013, that number is a sharp increase from the previous 428. By looking at the Department's figures we also see that this is the highest number of hits since FY 2004," Luechtefeld said. "Our primary concern is for the staff at these institutions and we will remain steadfast in our support of their safety and ensuring that our correctional centers do not revert back to a more turbulent and violent time."

Using the Illinois Department of Correction's (IDOC) own numbers, Luechtefeld found the number of inmate-on-staff assaults at the state's correctional centers is at the highest rate of assaults in 10 years.
* There are big problems with this analysis, however. According to Corrections, they count assaults differently today than they did in FY2004. Back then, minor things like spitting on a guard were not listed as assaults. Now they are. IDOC also has two classifications of assaults, regular and "serious." The "serious" assaults are similar to what they counted as assaults ten years ago. Also, there are more inmates now than back then.
* IDOC's full response…
Serious assaults on staff in Illinois prisons were down in FY13 and serious assaults of all types were down 35 percent in the same period. As for the FY13 overall assault total being "…highest since FY04," please keep in mind we now have 10.5 percent more inmates than 10 years ago.

Most important, unlike FY04, IDOC now chooses to classify even very minor physical occurrences such as spitting, throwing food or an I.D. as an assault if they so much as touch a guard's shoe. Also, when guards break up inmate fights, that could be an assault on staff. All of this inflates assault numbers.

Why do we practice these classifications? Because it increases safety and security by creating an atmosphere of zero tolerance. Inmates know that even the slightest behavior issue will hurt their earned time. Calling them out on small matters keeps them in line, which is why overall serious assaults are down 35 percent. By the way, inmate-on-inmate serious assaults were down 51 percent from FY12 to FY13.

Regarding Pontiac Correctional Center, only 21 percent of assaults there (75 of 345) over the past three calendar years were serious. As for former Tamms inmates, it will take some time to individually check each of those 345 mostly minor incidents, but according to the Warden, an Assistant Warden and numerous staff at Pontiac, former Tamms inmates are no more involved in assaults than are other inmates. In fact, early indications show they are less involved.
- Posted by Rich Miller 4 Comments


* I'm not the only one with site problems today. Steve Rhodes…
The Sun-Times website has been driving me crazy for weeks now, as it frequently does, by freezing my browser as it loads . . . and loads . . . and loads. I don't know if they're running some hellacious script over there, but I'm not going back for awhile.
The Tribune and the Sun-Times websites were both crashing my browsers today. Insane.
* Also, Gatehouse's awful pop-under which displays their "Up to the Minute" page has got to be revamped. It causes a huge memory leak that inevitably crashes my browser if I don't close it right away. I cannot tell you how many incomplete blog posts I've lost because of that stupid page.
A week or two ago, I woke up in the morning to find that everything on my computer was unbelievably slow. I finally realized that one of those moronic "Up to the Minute" pages had been left open all night. I have a Mac. It takes a lot to stop a Mac. But Gatehouse (SJ-R, PJStar, RRStar, etc.) routinely does so. Enough, already.
Hey, if I want to see a site's latest posts, I'll just refresh my browser, OK? Stop causing harm.
* And while I'm at it, my paid Crain's subscription works fine on my home computer, but their site won't let me access their subscriber content on my laptop. Ugh!
* Are there any particularly nasty website problems out there that you'd like to talk about?
- Posted by Rich Miller 25 Comments


* Back in 2011, the governor and all four legislative leaders signed on to a bill pushed by the Illinois Retail Merchants Association. The idea was to protect physical retailers from being undercut by online retailers who don't charge sales taxes. It flew out of both chambers and was quickly signed into law.
Here's a basic summary of the law from an Illinois Supreme Court ruling today which struck the statute down…
(O)ut-of-state internet retailers and servicemen are required to collect state use tax if they have a contract with a person in Illinois who displays a link on his or her website that connects an Internet user to that remote retailer or serviceman's website. There is no requirement under the Act that sales be made to Illinois residents to subject the out-of-state retailer or serviceman to Illinois use tax obligations, and there is no requirement that the computer server hosting the Illinois affiliate's website be located in Illinois. Both new definitions are limited, however, to referral contracts that generate over $10,000 per year.
As a result, Amazon immediately announced that it was ending its Illinois affiliate program and many of those larger affiliates fled to other states.
* All for naught, however. The Court's conclusion…
The parties' joint stipulation of facts states that an Internet affiliate does not receive or transmit customer orders, process customer payments, deliver purchased products, or provide presale or postsale customer services. Further, an Internet affiliate displaying a link on its website does not know the identity of Internet users who click on the link, and after a user connects to the retailer's website, the affiliate has no further involvement with the user.

It is clear, therefore, that there is no interaction between an affiliate and a customer, and no "active" solicitation occurs on the part of the Internet affiliate. The click-through link makes it easier for the customer to reach the out-of-state retailer, but the link is not different in kind from advertising using promotional codes that appear, for example, in Illinois newspapers or Illinois radio broadcasts.

In short, under the Act, performance marketing over the Internet provides the basis for imposing a use tax collection obligation on an out-of-state retailer when a threshold of $10,000 in sales through the clickable link is reached.

However, national, or international, performance marketing by an out-of-state retailer which appears in print or on over-the-air broadcasting in Illinois, and which reach same dollar threshold, will not trigger an Illinois use tax collection obligation. The relevant provisions of the Act therefore impose a discriminatory tax on electronic commerce within the meaning of the [federal Internet Tax Freedom Act].
The federal law referenced in the opinion expressly prohibits "discriminatory taxes on electronic commerce."
*** UPDATE *** From IRMA…
"It's disappointing that the Illinois Supreme Court did not address the constitutionality of the issue, but rather erred in its conclusion that the act violated the Internet Tax Freedom act.

"We haven't given up. There are other avenues for appeal we hope the state will take.

"This underscores the need for action in Washington to quickly pass the Marketplace Fairness Act.

"Working with a hodgepodge of laws around the country is intolerable, and brick and mortar retailers continue to be at a substantial disadvantage to their online competitors."
- Posted by Rich Miller 13 Comments


* Daily Herald…
A new conservative group will meet Saturday in Lake County to talk to potential primary challengers to Republican state Rep. Ed Sullivan of Mundelein, one of three Illinois Republicans who have pledged to vote for same-sex marriage.

The meeting is being arranged by Illinois Families First, a Chicago-based political action committee led by conservative Paul Caprio, who on Wednesday called Sullivan a "Cadillac representative of everything that is wrong with this state."

Caprio said the group will be prepared to spend a lot of money to defeat Sullivan in a Republican primary but won't coordinate with the potential candidate, possibly setting up a high-profile battle over same-sex marriage in the suburbs. […]

"I'm willing to lose my job over this issue," Sullivan said Wednesday. "But it won't be without a fight."
Rep. Sullivan says on his Facebook page that the candidate will likely be Bob Bednar of Mundelein. Bednar won a primary last year for Lake County Recorder of Deeds, but got stomped 59-41 in the general.
If you have some time, go to Sullivan's FB page and check out the flame war in his comments. Wow.
* In other Sullivan-related news, Caprio's Illinois Families First has been spending cash against Rep. Sullivan. From the Twitters…
Got a robo-call from @SandyRiosTweet & IL Families 1st to defeat @EdSullivanforIL for supporting #marriagequality. I pushed 1 to help. #not

— Ed Sullivan (@EdSullivanforIL) October 14, 2013
* I told subscribers about this earlier in the week…
State Sen. Kirk Dillard of Hinsdale says there's no relation between a $12,300 donation his campaign for governor made to the conservative Family PAC and an effort by the group's director, Paul Caprio, to find a primary election opponent for Republican state Rep. Ed Sullivan of Mundelein.

Caprio has vowed to work against Sullivan, who supports same-sex marriage.

The late-September donation from Dillard is labeled as "marriage telemarketing/grassroots" in campaign records. Dillard spokesman Wes Bleed says the money was to be used to help the campaign network with Family PAC supporters and not to work against Republican candidates.
That's not the explanation that Caprio gave me, but whatever.
Dillard raises almost no money, yet he still finds a way to give $12,300 to Caprio's group. Priorities, priorities.
- Posted by Rich Miller 25 Comments


* Sun-Times…
For the second time this year, Gov. Pat Quinn has suspended state funding to the scandal-scarred United Neighborhood Organization, the biggest charter-school operator in Illinois.

A Quinn spokeswoman said Thursday the state has frozen the final $15 million of a $98 million state school-construction grant that the Illinois Legislature promised UNO in 2009 to help build a network of charter schools.

"As a result of our own internal review conducted earlier this year, we have not approved any new projects, and we have suspended future capital projects," spokeswoman Sandra M. Jones said. […]

Quinn restored the state funding in early June, saying he was confident UNO had implemented reforms, including the appointment of a new board chairman. Longtime UNO boss Juan Rangel stepped down as board chairman but has remained as the charter operator's $250,000-a-year chief executive. Rangel served as Mayor Rahm Emanuel's 2011 campaign co-chairman.

Less than three weeks after the state restored funding, Quinn's Department of Commerce and Economic Opportunity — which oversees the grant — got a letter from the SEC requesting documents about UNO.
* Quinn had cited the appointment of Martin Cabrera Jr. as the reason why he restored funding. Cabrera is a close ally and business partner of powerful Chicago Ald. Ed Burke, who personally asked Quinn to restore UNO's funding. Burke was a major contributor to Quinn's 2010 campaign.
But Cabrera Capital Markets, which Martin Cabrera founded and runs, was one of two underwriters for a $37.5 million 2011 UNO bond issue. And when the SEC came calling, Cabrera beat a retreat and abruptly resigned as UNO's chairman.
Cabrera Capital Markets has become a major national player. The company has nine office locations, including NYC and LA, and it was one of Facebook's underwriters for the social network's 2012 IPO.
* Needless to say, an SEC investigation into a bond deal for a charter school outfit which has gazillions of political ties to every major Democratic political player in this state could turn out to be very enlightening indeed.
However, allow me once again to complain about the federal government's priorities here. We get an SEC investigation into a relatively minor bond deal, while the banksters who shoved the world's economy off a cliff are still walking free. And while the US Attorney for southern Illinois uses the Sherman Antitrust Act to shut down and prosecute a Metro East tax sales ring, the Justice Department refuses to even consider the possibility of prison for the eager, knowing and willing participants in the greatest financial scam the planet has ever seen.
I'm not complaining about the local investigations one bit. I just wonder why it's always the little fish who are targeted, while the monster fish swim away.
- Posted by Rich Miller 19 Comments


* Harold could destroy her political future if she winds up getting thumped this badly next March…
A recent poll of Republican voters in the 13th Congressional District gives incumbent Rep. Rodney Davis a 4-to-1 lead over his Republican challenger, Urbana attorney Erika Harold.

The poll of 859 Republicans, taken Oct. 10, showed that Davis was the choice of 63.15 percent of the likely Republican voters, to 15.95 percent for Harold. About 21 percent of those polled were undecided. The poll had a margin of error of plus or minus 3.34 percent.

A poll taken exactly four months earlier, on June 10, by the same Springfield polling firm, We Ask America, found that Republicans favored Davis, 53.55 percent to 16.38 percent.

"This is going to be a very tough road for a challenger in a Republican primary," said Gregg Durham, the CEO of We Ask America. "Republicans seem to be favoring the incumbent, and for a challenger with limited means who is not willing to throw bombs — I think she's more or less said she's going to run a positive campaign — absent a major scandal, it's hard to find a path to success for her." […]

"I wouldn't suggest right now that these will be the final numbers," he said of the poll, "but I would suggest that I've never seen someone with these type of numbers win, absent a major scandal."
Durham is spot on.
- Posted by Rich Miller 28 Comments


* Daily Herald…
Amid a split among suburban leaders, the controversial Illiana Expressway received a shot in the arm Thursday when a planning board endorsed the road, marking a significant political victory for Gov. Pat Quinn.

The Illiana is a proposed tollway linking I-55 in the south suburbs with I-65 in Indiana that would be built as a public-private partnership. While Quinn and the Illinois Department of Transportation are backing it as a vital piece of infrastructure, the Chicago Metropolitan Agency for Planning warns it will cost taxpayers up to $1.1 billion.

CMAP's powerful Metropolitan Planning Organization policy committee voted 11 to 8 in favor of putting the roadway on the GO TO 2040 plan, which now makes it eligible for federal funding. The MPO includes county board chairman, transit agencies and transportation industry representatives.
* Tribune…
The toll road through Will County would connect Interstate 55 at Wilmington, I-57 near Peotone and I-65 near Lowell, Ind. Supporters said it would create 9,000 short-term jobs and generate thousands more over the next three decades.

In a separate vote, the Policy Committee also gave IDOT the authority to spend more than $80 million for more engineering and land acquisition. IDOT has already spent about $40 million in planning work on the project. […]

Voting in favor of the Illiana were the county chairmen or their representatives from Will, DuPage, Kane, Kendall and Lake counties, along with officials from the Illinois Tollway, Metra and Pace.

Opponents included representatives from Cook and McHenry counties, the city of Chicago and the CTA and the Regional Transportation Authority.
The RTA has, as a matter of routine, dissed the south suburbs for years on transit projects. Now its hostility has extended to privately backed toll roads. Sheesh.
* What's next…
Now, the project is set to go out to bid in early November, according to Illinois Transportation Secretary Anne Schneider, who chairs the policy committee. The state is looking for proposals from investment firms that are partnered with engineering and contracting companies.

Schneider said the Federal Highway Administration also needs to approve environmental studies before construction begins on the highway, which she hopes will happen by the end of 2014 or early in 2015.
* However, litigation is almost guaranteed…
Chicago's Environmental Law and Policy Center, an Illiana foe, is "reviewing all of our legal options," according to deputy executive director Kevin Brubaker.
- Posted by Rich Miller 20 Comments


* SJ-R…
Proponents of a gay marriage bill said Wednesday they want to see the legislation addressed during the General Assembly's veto session that begins next week.

However, they would not discuss specifics of how many votes they believe there are for the bill in the Illinois House after a summer-long effort to build support.

"We don't comment publicly on roll call," John Kohlhelpp, campaign manager for Illinois Unites for Marriage, told The State Journal-Register editorial board. "We take that from our sponsor (Rep. Greg Harris, D-Chicago). He says we are within striking distance." […]

[Rep. Kelly Cassidy, D-Chicago] said it is imperative that Illinois legalize gay marriage "to address the harm that's been done since we failed to pass in the spring and the world changed when the (federal) defense of marriage act was struck down."
* The Question: Should the sponsors bring the gay marriage bill to the House floor for a 3rd Reading vote even if they're not sure if they have enough votes to pass it? Take the poll and then explain your answer in comments, please.
survey hosting
And if the poll gets freeped like the last one on this topic, I'll just shut it down and we'll rely solely on commenters.
- Posted by Rich Miller 54 Comments


* According to my web hosting guys, my server became corrupted last night. They're not sure how yet, but this being Illinois I'm guessing corruption is everywhere and the possibilities are almost infinite.
Anyway, here's an #OscarThePuppy video to tide you over while I get a post together. Oscar isn't supposed to play with newspapers because he shreds them, but they're one of his favorite things. He usually does really well with the "Drop it" command when it comes to his toys, but not so much with newspapers, as you'll see…
…Adding… A recent aftermath of Oscar's love for newspapers and magazines…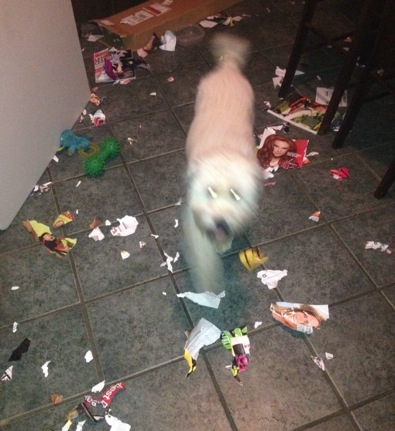 Heh.
- Posted by Rich Miller 39 Comments