* Jim Reed of the Illinois Education Association sitting next to Kristina Rasmussen of the Illinois Policy Institute at today's State of the State Address…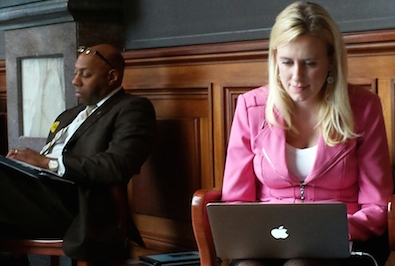 - Posted by Rich Miller 58 Comments


* Your thoughts on the SOTS?
And, yes, I know the governor has an annoying affectation of dropping some of his g's (not all, just some, which is why it's annoying), but let's please stick to substance. Thanks.
- Posted by Rich Miller 155 Comments


* The only way to make Sen. Andy Manar's school funding reform plan at all viable is to hold wealthier districts harmless. Manar has a rough projection of what that would cost…
State Sen. Andy Manar on Tuesday called for a $500 million increase in education funding as part of his plan to revamp Illinois' school funding formula.

The Bunker Hill Democrat filed Senate Bill 1 in mid-January, which he plans to use to overhaul how the state funds its schools. He said at a Statehouse news conference he was echoing the State Board of Education's recent request for $729 million more than in the current budget. […]

"I don't think there's too many people in the building – Democrat or Republican – that think the way we do things today is worth preserving," he said. "So that brings about the question of how we're going to change it and how we're going to get there." […]

Gov. Bruce Rauner is expected to propose massive cuts during his Feb. 18 budget address to battle a potential $9 billion deficit. Manar said he wouldn't take any options off of the table on how to find the money – including cuts to other programs such as Medicaid – but where the money comes from would ultimately be part of the budget discussions.
Discuss.
- Posted by Rich Miller 27 Comments


* Tribune…
A measles outbreak spreading across the country is fueling the debate over vaccinations and causing alarm among parents, pediatricians and public health officials in the Chicago area. Doctors are fielding calls from anxious parents — some who are wondering if their vaccinated children are safe, others who are re-examining their decision not to immunize.

"We've been getting phone call after phone call," said Dr. Anita Chandra-Puri, a pediatrician, who estimates that inquiries into her Lincoln Park office regarding vaccines have gone from zero a month ago to about 10 per day. "Parents are asking everything — from whether or not their kids have been immunized to questioning whether it's safe for them to travel."

Dr. Robert Minkus has seen a spike too. The Skokie pediatrician said he has received "dozens and dozens" of calls during the last two weeks from parents who had declined or deferred immunizations and have now had a change of heart. "It was different when measles was something abstract," he said. "But they're saying, 'I want it now.'"

Last week, the Illinois Department of Public Health reported that a suburban Cook County resident had a confirmed case of measles — the first this year. Before that, the state recorded only a handful of cases over the years, with no cases at all in some years over the past two decades. There were 32 cases reported statewide in 2008; 59 in 1994; and 1,356 in 1990 — when there was a surge nationwide.
* State statute regarding exemptions from immunization…
a) The provisions of this Part shall not apply if:

1) The parent or legal guardian of the child objects to the requirements of this Part on the grounds that the administration of immunizing agents conflicts with his or her religious tenets or practices, or

2) A physician licensed to practice medicine in all its branches, an advanced practice nurse or a physician assistant states in writing that the physical condition of the child is such that the administration of one or more of the required immunizing agents is medically contraindicated.

b) If a religious objection is made, a written and signed statement from the parent or legal guardian detailing the objection shall be presented to the child care facility or local school authority. The religious objection statement shall be considered valid if:

1) The parent or legal guardian of a child entering a child care facility objects to the immunization or immunizations on the grounds that they conflict with the tenets and practices of a recognized church or religious organization of which the parent is an adherent or member; or

2) The objection by the parent or legal guardian of a child entering school (including programs below the kindergarten level) sets forth the specific religious belief that conflicts with the immunizations. The religious objection may be personal and need not be directed by the tenets of an established religious organization.

c) It is not the intent of this Part that any child whose parents comply with the intent of the Act should be excluded from a child care facility or school. A child or student shall be considered to be in compliance with the law if there is evidence of the intent to comply. Evidence may be a signed statement from a health care provider that he or she has begun, or will begin, the necessary immunization procedures, or the parent's or legal guardian's written consent for the child's participation in a school or other community immunization program.
* As the Daily Herald reported in 2013, that religious exemption is pretty darned broad…
Illinois has two types of exemptions allowing unvaccinated kids to stay in school: One calls for a doctor's note if, for example, a child is allergic to a certain vaccine. Or, a parent can file a religious objection to the immunizations.

That second method has opened a gateway to forego the shots that more and more parents, such as Elgin's Ashley Focht, are choosing to walk through. She has skipped immunizing her son Gavin, despite not having any actual religious beliefs against vaccines. […]

Juanita Gryfinski is one of the many school nurses who can provide a link to that help. She was recently a nominee for the Illinois Association of School Nurses Nurse Administrator of the Year Award for her work in St. Charles Unit District 303 schools. She reads every religious exemption letter in her district.

"The letter just has to state a religious belief that conflicts with our immunization policy," Gryfinski said. "But they don't have to attach it with a specific religious tenet or church. Some people are very specific and talk about fetal material used in a vaccine. Some just briefly mention 'a creator.' But as soon as it says religious belief it gets very unlikely that I would reject a request because I can't read somebody's heart. What I'm looking for is any indication that they are trying to avoid something else."
* The All Natural Mom blog had a post about Illinois' exemptions a couple of years ago…
In Illinois, you have to use the word "spiritual" or "personal religious beliefs" at least three times in your letter. […]

When submitting your religious exemption letter, here are a few tips. Get the school physical form that the school gives you (if they need a physical that year). Have the doctor fill out everything else. If you refuse vaccines, they just write over the vaccine section "Refused." Don't be scared by the nurses in your doctor's office either. They are usually totally unaware of the laws because I can't tell you how many times I've been asked by the nurses, "How will your kids go to school?" I was told my kids would not be allowed to attend school without their vaccines. Wrong. That's what the pharmaceutical companies want you to think. […]

In the last 10 years, I've never once been asked to keep my kids at home. Why? Because there has never been an outbreak of one of these diseases. If there were, I'm sure we would have gotten a letter home to the class about it. We get letters every time someone has strep. I also believe if there were an outbreak, some nurses may not remember which kids were the ones who were not vaccinated. I'm thinking they are just required to tell us that.

If questioned by a school administrator who does not know the law, they may question your religious belief. This is illegal and tell them so. They cannot question your personal religious belief.
* The blog also published a sample letter…
To Whom It May Concern:

As parents, based on our personal religious beliefs, we object to the following vaccinations, including but not limited to, Dtap/DPT, HepB, Hib, Tetanus (TB), MMR, Polio, and Varicella (Chicken Pox), for our child, ___________.

Our child's body is the temple of God. Our family's personal religious beliefs prohibit the injection of foreign substances into our bodies. To inject into our child any substance which would alter the state into which he was born would be to criticize our Lord and question His divine omnipotence. Our faith will not allow us to question our Lord and God, nor to challenge His divine power.

I Corithians 6: 19-20, "Do you not know that your body is a temple of the Holy Spirit who is in you, whom you have received from God? …Therefore honor God with your body."

II Corinthians 7:1, "…let us purify ourselves from everything that contaminates body and spirit, perfecting holiness out of reverence for God.

Our objection is based on our lifelong, deeply-held spiritual beliefs based on scripture.

The vaccination of our child violates laws put forth within us by a higher force at the time of conception.

Our personal religious beliefs include our obedience to God's law, the Holy Bible, and we believe that we are responsible before God for the life and safety of our child, created by God.

Respectfully,

Your name
Discuss.
- Posted by Rich Miller 152 Comments


* Speaker Madigan has announced that he'll appear on Public Television's Illinois Lawmakers program after today's State of the State address. He's also planning a 1:30 press conference to react to the governor's address. You can watch the address and the interview on BlueRoomStream.com's live feed here and here. Democratic legislative react will be here. GOP react will be here. I'll be on Illinois Lawmakers' pre-game and post-game shows.
Follow along with ScribbleLive…
- Posted by Rich Miller 118 Comments


More than 30 Chicago area social service agencies discovered an unwelcome surprise in their email inboxes late last Thursday afternoon.

A letter from the Illinois Department of Human Services tersely informed them to "cease any and all operations" funded by state grants they were awarded in the closing weeks of Gov. Pat Quinn's administration.

The contract awards, which were announced Dec. 17 and took effect Jan. 1, were intended to provide job training, after school and other "youth development" programs.

Some $8 million total was involved, a drop in the bucket compared with the $1.5 billion budget deficit that Gov. Bruce Rauner says he inherited from Quinn upon his Jan. 12 inauguration.
"He has cut $4.5 million in youth employment," said Father Michael Pfleger of the St. Sabina Parish. "He has cut $3.5 million in after school care. Make it clear, this money he can say the state didn't have, this money was allocated. Jobs began, contracts were signed as of January 1."

One of those contracts was with the Humboldt Park-based Youth Connections, which was expecting $900,000 to fund 250 jobs.

"I was sad. I was crushed," said Founder of Fellowship Connections Lynette Santiago. "In this economy and in this community we serve, to have to tell people that they are no longer employed… I don't know."

Pfleger said the cuts are "inappropriate" at the time and come at a time when the governor is raising the salaries of his own staff.
"In order to keep the income tax low, he's going to have to make spending cuts in the state budget," said Diana Rickert of the Illinois Policy Institute, a free market think thank that is a Rauner beneficiary.

Rickert expects the governor to cut selected social programs as well as state worker jobs and salaries.

"Everything is fair game for cuts this year," Rickert says. "The reason why is government has been over spending for many, many years."
Communities United, formerly known as the Albany Park Neighborhood Council, had planned to use its $276,000 grant mainly to operate its popular Bikes N' Roses program, which I have written about previously.

The group employs neighborhood youth after school and during the summer to work in its bike repair shop, where they are trained not only to completely overhaul a bicycle but also to work with the public, to come to work on time and to meet deadlines.

Oscar Rivera Jr., the program director, had already hired 50 kids and was planning to open a second shop in the Belmont Cragin neighborhood. Some had quit other jobs to take this one, he said.
- Posted by Rich Miller 51 Comments


* Tribune…
A watchdog group Tuesday asked the Office of Congressional Ethics to examine whether Rep. Aaron Schock of Illinois acted improperly by accepting free services from an interior designer who redid his offices with a "Downton Abbey" motif.

The Citizens for Responsibility and Ethics in Washington asked for the probe in a letter from Anne Weismann, its interim executive director and chief counsel.

The request was prompted by a story in Tuesday's Washington Post about the fresh decor in the Republican lawmaker's Rayburn Building office. […]

The paper quoted Schock's office as saying Brahler offered her services for free, His congressional district includes Jacksonville, Ill., where Euro Trash is located.
The complaint is here.
* Meanwhile, USA Today looks at past spending by Schock…
In December 2009 he paid $7,400 to an Illinois design/build firm called KBL Design Center, and then another $21,000 to a hardwood floor company, a building contractor and company called Old World Granite and Marble that apparently makes high-end countertops. He then spent $6,600 on an Illinois painting contractor.

Two months later, Schock spent $79,061 on furniture purchases, including $5,123 from a company called Mulnix Industries that specializes in hardwood podiums.

Around the same time, Schock spent more than $4,000 with a fine-leather furniture company called Garrett Leather.

All of the expenditures came out of Schock's taxpayer-funded office account, which lawmakers can use to buy office furniture and pay for renovations.
Oof.
- Posted by Rich Miller 57 Comments


* Gov. Rauner's team leaked some State of the State stuff to the Tribune…
The rookie Republican chief executive will suggest to lawmakers an overhaul of the parole system and higher spending on programs that help inmates find jobs and readjust to the community after they've served their time, according to an aide for Rauner with knowledge of the speech. Specifically, Rauner will talk about a program known as Adult Redeploy, which provides grants to counties to develop ways to keep nonviolent offenders out of state prisons.

Those efforts, coupled with the hiring of an unspecified number of correctional officers, are aimed at addressing what Rauner will call the "unsafe environment" for prisoners and guards alike because of the state's high prison population. […]

The governor's offensive on organized labor is likely to continue in Wednesday's speech. He is expected to call on unions with state contracts to include more minorities in their apprenticeship programs, and require work crews on taxpayer-funded construction projects to "reflect the diversity in the surrounding area," according to a Rauner aide. The move has the political benefit of tweaking unions while also appealing to minority voters.

Rauner also is expected to propose creating a program that would help minority-owned businesses get off the ground.
* The AP didn't get a heads up, so it speculated about what could be in today's address…
Watch for signs of influence from first lady Diana Rauner, who leads the Ounce of Prevention Fund, an early childhood education not-for-profit group.

She told The Associated Press last month that one of her primary roles as first lady will be to advocate for vulnerable children and families, and to help her husband understand the struggles social service agencies and families are facing.

Will the governor, who's pledged to make Illinois both "competitive and compassionate," touch on any of those topics?
…Adding…. Oops. They did give the AP one nugget that I somehow missed…
A Rauner administration official said Tuesday that the governor will reiterate his call to increase early childhood and K-12 education funding, despite Rauner's warning for weeks that painful budget cuts may be coming in other areas.
Subscribers have known about that for at least a week.
- Posted by Rich Miller 41 Comments