* I suppose this happens when the President travels, but, man, the lack of any information about his speech this week has been frustrating…
Five days ahead of President Barack Obama's visit to Springfield, residents were awaiting to hear details of when exactly he'll address the Illinois General Assembly and what else he might do during his stop in the capital city. […]

The only activity [White House Press Secretary Josh Earnest] listed for Wednesday is the appearance before the legislature in Springfield.

"Now in the final year of his second term, the president looks forward to addressing the Illinois General Assembly about what we can do together to build a better politics, one that reflects our better selves," Earnest said.

On Wednesday evening, Obama is scheduled to fly to the San Jose, California, area, where he'll spend the night.
* I was able to get some information this afternoon, however.
The Capitol Building will be closed from 7:30 am until 10 am. But don't even think about trying to get in early. They want an empty building.
The tunnels in the Capitol Complex will be closed from 7:30 until President Obama leaves.
The President will speak in the House chambers. There's word that Obama might - might - do some sort of thing in the Senate afterward.
*** UPDATE *** The House Speaker's office just sent out some more information…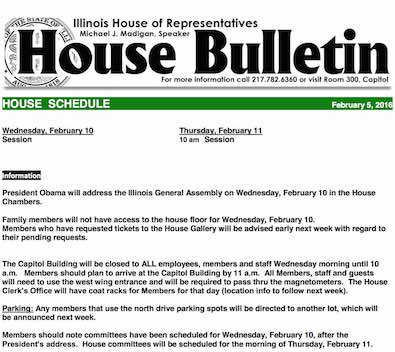 - Posted by Rich Miller Comments Off