* We're going to try something new this holiday season. Rather than post them in comments, our ever-valuable commenter VanillaMan will be sending me Christmas songs to post on the front page. If you're unfamiliar with the tune this is built on ("We Need a Little Christmas"), click here…
Haul out those wish lists
Count up taxes before my spirit falls again
Fill up the pensions
I may be rushing things, but make requests again now
For we need a little budget
Right this very minute
Compromise among parties
Something for everyone in it!
Yes, we need a little budget
Right this very minute
The Speaker may be in a fury
But Governor, constitutionally, it's your DUTY!

So climb down from ideology
Put on the brightest smiles that citizens have ever seen
Slice up appropriations
It's time we stopped with - vetoing everything down!
For we've grown a little leaner
Grown a little colder
Grown a little sadder
Grown a little older
And we need a little budget
Sitting on our printers
We need a little budget now

Haul out that backlog!
Tell Mendoza we're gonna live each living day
Fill up all the funds
Especially the one you from which you expect to get pay
But we need a little budget
Right this very minute
We know you can do it
Just hold your breath – get to it!
And we need a little budget
Right this very minute
It's been two years, for crying-out-loud
Time to step up and be proud!

So climb down from deadlock
Stop listening to all those hacks on talk radio
Slice up the differences
It's time you did the job you were sent to do now!
For we need a little budget
Right this very minute
If the Cubs can do it
You're out of excuses – screw it!
And we need a little budget
Right this very minute
We need a little budget now
We need a little budget now
We need a little budget now!
- Posted by Rich Miller 21 Comments


* The governor tweeted out a message to legislative Democrats today…
Democratic legislators should put taxpayers & critical human services ahead of personal gain & drop the lawsuit prioritizing their paychecks pic.twitter.com/Lfugp8smTj

— Bruce Rauner (@GovRauner) December 8, 2016
* Transcript…
I'm calling on Democratic legislators to put taxpayers and critical human services ahead of their own personal gain by dropping the lawsuit to prioritize their paychecks. Paying politicians shouldn't be put ahead of human services or school funding. It's simply insulting to demand otherwise. This lawsuit is a stunning reminder of why we need term limits and real change in Springfield.

I've also called on Comptroller Mendoza to fight this in court. Hire an outside attorney and work every day against this lawsuit just like Comptroller Munger did.

Democrats should do the right thing and end this frivolous lawsuit. Democrats need to put human services and taxpayers ahead of themselves. They should be putting pressure on their leadership to work with Republicans on passing a balanced budget with reforms that create jobs, lower property taxes and improve our schools. If they won't do a balanced budget, they shouldn't be paid first. No budget, no pay.
A guy who makes $185 million a year probably wouldn't miss six months' pay. Just sayin…
- Posted by Rich Miller 88 Comments


* Two Illinois-centric takes: 1) Cook County has remained one of the nation's most robust economic engines for decades; and 2) Illinois used to be the home to lots more engines than just Cook, but we're definitely not alone as new business startups are increasingly confined to fewer high-density counties while far fewer new businesses are being established…
This graphic is kind of blowing my mind today. It's amazing, troubling, and I don't quite know what to do with this information. pic.twitter.com/JxaRsWvJTa

— Karin Robinson (@karinjr) December 8, 2016
More info and data can be found here.
- Posted by Rich Miller 11 Comments


* Sun-Times…
The Chicago Board of Education approved an amended $5.5 billion operating budget for Chicago Public Schools on Wednesday but acknowledged more drastic changes could come next month after the governor blasted a $215 million hole in its budget. […]

School board president Frank Clark said he remained "optimistic" but acknowledged for the first time that the cash-strapped CPS may have to make other plans.

"There's approximately another month in the 99th General Assembly, and until that ends, I expect the state will fulfill its promise and keep its word, and provide the necessary funding for Chicago children," Clark said. "If for whatever reason the unthinkable occurs, we are prepared to deal with another amended budget at our next regular board meeting in late January."

The district wouldn't discuss any possible cuts, saying they expect legislators to come through. CEO Forrest Claypool also renewed the possibility of filing a lawsuit he had prepared in June while waiting to see if legislators would approve hundreds of millions in state aid, including the pension money. The district isn't in any kind of financial shape to be able to borrow the money.
* The Republican Party of Illinois is still trying to shake loose some answers from House Democrats. My in-box today…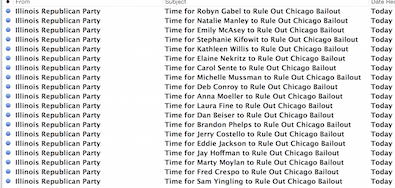 * Sample e-mail…
"Yesterday, Chicago Public Schools passed a budget with a $215 million hole, signaling that they are still counting on the House to override Governor Rauner's veto of the Chicago bailout. Robyn Gabel has refused to rule out voting for the bailout. Gabel owes it to the families in her district to guarantee that if an override is called, she will stand with them and vote no." – Illinois Republican Party Spokesman Steven Yaffe

Yesterday, the Chicago Public Schools board passed a budget with a $215 million hole.

After Democratic leaders reneged on their promise to pass pension reform, an agreement that would have freed up resources for Chicago schools, House Democrats will soon face their first big test.

They can either stand for taxpayers who are demanding fiscal sanity from Springfield, or vote to recklessly bail out Chicago Public Schools.
I don't think it's unreasonable to ask the question, whether or not you agree with the way it's being asked.
- Posted by Rich Miller 34 Comments


* The 2016 Golden Horseshoe Award for Best State House Staffer - Non Political, Democrat goes to Justin Cox…
Hands down Justin Cox is deserving of this award. He is one of the hardest working staffers under the dome, and one of the go-to staffers for huge projects as evidenced by his tremendous work on the recent Exelon legislation. He is a top notch performer, a definitive leader, and a great person on top of it all. I don't think you could find anyone who would say a bad word about Justin and his work.
Yep. Keep an eye on that guy.
* The 2016 Golden Horseshoe Award for Best State Senate Staffer - Non Political, Democrat goes to Mike Hoffman…
Mike has put in hundreds of hours on school funding reform, staffing several statewide commissions on the matter and both drafting and analyzing giant bills changing how the state spends a big chunk of money. He's a solid, hard-working guy.
I couldn't agree more.
* On to today's categories…
* Best State House Staffer - Non Political, Republican

* Best State Senate Staffer - Non Political, Republican
Remember, if you don't explain your vote, it won't count. So give us your best pitches in both categories, please. Thanks!
- Posted by Rich Miller 19 Comments


* From the liberal Economic Policy Institute…
During the third quarter of 2016, the African American unemployment rate was lowest in Vermont (6.2 percent) and highest in Illinois (14.2 percent). Illinois has had the highest unemployment rate for four consecutive quarters. Since the fourth quarter of 2015, the black unemployment rate in Illinois has risen 1.1 percentage points as unemployment has increased 0.7 percentage points statewide. Consistent with last quarter, seventeen states had African American unemployment rates below 10 percent in the third quarter of 2016—in 12 of these states, the rate was lower than the third quarter national average for African Americans (8.4 percent). […]

New York's black-white unemployment rate gap was the smallest in the country. In that state, the black unemployment rate was 1.5 times the white rate during the previous quarter. This change was due to a decrease in the state's black unemployment rate at the same time that whites increased their likelihood of unemployment. The largest gaps were in the District of Columbia, where the black unemployment rate was 8.0 times the white rate, and Illinois, where the black unemployment rate was 2.9 times the white rate.
Ugh.
- Posted by Rich Miller 36 Comments


* Kerry Lester…
Democrats dismayed by Donald Trump's presidential victory are focusing their energy on unseating longtime Bolingbrook Mayor Roger Claar, an ardent Trump backer who hosted a fundraiser for him in September.

Three-term Will County board member Jackie Traynere was part of a group protesting at the fundraiser at the Bolingbrook Golf Club and said that got the ball rolling for her to file nominating petitions to run in the April 4 election. […]

Claar, who's making plans to attend Trump's inauguration Jan. 20, says his 30 years as mayor show he has the backing of the local electorate. He also points out that municipal elections are nonpartisan.

"There's no such thing as a Republican pothole or Democratic pothole," he says. "These are local issues, not national or international or even state (issues)."
Kerry reports that US Sen. Dick Durbin's people along with Congresscritter Bill Foster's office are involved in this. Durbin pushed hard years ago for a "red to blue" campaign in Will County and it worked.
Hillary Clinton scored just shy of 67 percent in Bolingbrook this year. Pat Quinn also won it both times, the second time by a healthy 53-44 margin.
And while Claar has been a successful mayor and Bolingbrook is a pretty darned nice town, he's never really been so forceful and out front about a presidential candidate as he was this year. Roger is a guy who prides himself on getting along with everyone, but he went out of his way to back Trump, who is most definitely not a popular man in that town - pulling just 27 percent of the vote. That can leave Claar open to lots of criticism, particularly since his oppo file is on the thickish side. Also, he hasn't had a real opponent in years, so he may be a bit rusty. But he does have a ton of cash in his campaign account. Turnout is usually very low in local Bolingbrook races, so we'll see.
- Posted by Rich Miller 28 Comments


* Phil Kadner's latest column ends thusly…
But Democrats, rather than criticizing [Gov. Bruce Rauner], ought to be putting together their own initiatives to spur job growth. Somehow, they still don't get it.
Actually, Kadner's column was about Donald Trump. I substituted the governor's name on my own because, well, it's even more true here. Criticism is important, of course, but the Democrats in this state have yet to pass any sort of economic development plan in the past two years - unless bailing out Exelon's two nuclear plants qualifies.
- Posted by Rich Miller 35 Comments


* You gotta watch closely for the potential bait and switch in this story…
It's been threatened to shut down and has laid off hundreds of workers.

So why is publicly-funded Chicago State University paying hundreds of thousands of dollars to well connected lobbyists?

That's just one of several questions CBS 2 investigator Brad Edwards had for Chicago State University leaders. […]

CBS 2's Brad Edwards showed him a list of expenditures. CBS 2 investigators found the school spent $1.9 million in less than three years on lawyers, lobbyists and PR pros.
But then the story only details about $250K over three years (for an average of about $84K per year) for lobbying and public relations work. They undoubtedly had other similar costs (I know of at least one), but is this mostly for legal work? From the way the story was presented, it kinda looks to me like the numbers could've been padded to make a point.
People don't like to hear this, but a corporation or entity that's in trouble needs lobbyists and/or PR help the most. And CSU has most definitely been in trouble. The school is literally fighting for its very life, so I can't blame them for hiring some top lobsters and public relations types. My only suggestion would be to hire a connected Republican or two, considering that their main political problem right now is the governor's obvious wrath. But that's just me.
- Posted by Rich Miller 25 Comments


* From an SJ-R editorial…
The six Democratic state lawmakers who filed a lawsuit last week demanding they be paid on time have a point: They are owed about six months' worth of pay, and the Illinois constitution appears to be on their side in this matter.

It may be legally correct, but it's still frustrating for taxpayers to see that legislators may get their checks in a more timely manner. […]

A judge will most likely agree with them - but the lawsuit is a tone-deaf move that implies no one in the Democratic Party thought about the optics such an action would create. It made them look selfish and callous about the suffering happening throughout Illinois.
Look, when the SJ-R, or the News-Gazette or some other entity can devise a plan that puts pressure on Democratic legislators and the wealthy governor equally to come to an agreement, then maybe I could go along with it. But this ain't it.
- Posted by Rich Miller 52 Comments


* AP…
A federal judge in Illinois has refused to move Aaron Schock's corruption case from Springfield to Peoria at the former congressman's request.

The 35-year-old Schock is accused of using government and campaign money to subsidize a lavish lifestyle, as well as pocketing thousands of constituents' dollars. The (Peoria) Journal Star reported Wednesday that U.S. District Judge Sue Myerscough said in her opinion that keeping the case in Springfield doesn't hurt Schock, but that it could delay other cases she is hearing.

Schock requested the move last month, arguing that the Peoria court was more convenient and appropriate. Prosecutors didn't want the case moved.
- Posted by Rich Miller 17 Comments


* Press release…
Illinois' approval of zero emission standards (ZES) is credit positive for Exelon Generation Company, LLC (ExGen, Baa2 stable), as the subsidies are critical for the survival of two of its nuclear facilities, Quad City and Clinton, according to Moody's. ZES is a 10-year subsidy to be paid by utility customers in their monthly bills, and Moody's expects that relative to shutting down its plants, ExGen's pre-tax cash flow will improve by about $160 million per year.

Many nuclear plants operating in deregulated power markets generate minimal or negative cash flow, and many are located in rural areas and serve as primary sources of employment and tax base. Closing these plants risk harm to local economies as well as states' desire to reduce greenhouse gas emissions.

At the same time, Illinois' ZES program is credit negative for Dynegy Inc (B2 stable) and NRG Energy, Inc. (Ba3 stable) because they own plants that burn coal or natural gas in the same market but are now at a competitive disadvantage without the subsidy.

Moody's declaration of "credit positive" or "credit negative" does not connote a rating or outlook change. It is indicative of the impact of a distinct event or development as one of many credit factors affecting the issuer.
* Meanwhile…
The Illinois Commerce Commission has approved a 5 percent increase in the annual delivery rate for ComEd, expected to generate $127.5 million in additional revenue for the utility in 2017.

Most ComEd residential customers will see their bills go up by about $2 per month beginning in January, the company said Wednesday.
So, two bucks a month equals $127.5 million. The Exelon bill is supposed to raise twice that, but rate hikes for residential users are supposedly capped at 25 cents per month.
* The Sun-Times explanation…
In 2017, customers will see dips in their bills based on savings from the change in energy efficiency program spending, according to an analysis conducted by the Illinois Commerce Commission. After five years, the analysis shows, rates would go up by 8 cents per customer per month, based on that reduced spending level.

But a separate analysis by the Citizens Utility Board factors in the impact of energy efficiency. By 2022, when the commission's report shows a small bump, customers will already see bill savings due to energy efficiency efforts, which should equate to a savings of about $2 per customer a month, according to CUB.

The Illinois Commerce Commission study was used in negotiations with Rauner's administration. And the governor and his staff helped ensure a rate cap increase of 25 cents a month for residential customers of ComEd and Ameren for 13 years. It also limits increases on commercial customers to a 1.3 percent increase over last year's rates.

ComEd will present annual numbers each year to the Illinois Commerce Commission, which may cause the costs to fluctuate, but the rate impact will be capped at 25 cents, per the agreement.
- Posted by Rich Miller 23 Comments


* The inimitable Michael Sneed…
Businessman Chris Kennedy, Chicago's link to the JFK dynasty who is eyeing a bid for governor, telling folks "I'm in" at the Irish Fellowship Club of Chicago Christmas Luncheon on Friday.

How does Sneed know?

I was there.
* Meanwhile, Bernie talked to Cheri Bustos about her recent DC promotion and Gov. Rauner…
"I have seen four (Illinois) governors go to prison in my lifetime, and yet, I have never seen a governor worse legislatively than Governor Rauner," Bustos told me in a telephone interview. "He has been hurtful to so many people. And the fact that he cannot put his ego aside long enough to be able to sit down and be willing to compromise for the good of our state is very troubling. […]

Rauner has sparred with majority Democrats in the state legislature since he took office in 2015, and the state continues to operate without a full budget. Rauner has blamed House Speaker MICHAEL MADIGAN, D-Chicago, who also chairs the Democratic Party of Illinois, for blocking a deal as Rauner has insisted on what he calls reforms that Madigan has called non-budget issues that should be dealt with separately.

Is Madigan at fault?

"We've always had a budget up until Governor Rauner was in office," Bustos said.
- Posted by Rich Miller 79 Comments


* Bernie writes about the Illinois Republican Party's Statehouse video tracker…
The GOP put out a video on Nov. 30 showing state Rep. SAM YINGLING, D-Grayslake, as he walked near the Statehouse. The tracker following Yingling asked if he would vote for Madigan for another term as speaker. The GOP obviously delighted in the response of Yingling, who didn't stop or turn around, and said, "I don't know. You should talk to him." They put it on YouTube and issued a news release.

I'm not positive who the tracker was, but I do know that a Republican staffer, AARON DeGROOT, was at the Capitol that day, as he had a camera pointed at Madigan when the speaker addressed reporters following a meeting in Rauner's office. I asked DeGroot if he was the tracker.

His response: "Rank-and-file Democrats have allowed boss Madigan to rule Illinois with an iron fist for decades, and I'm part of a team dedicated to holding those who refuse to stand up to Mike Madigan accountable." […]

"Bruce Rauner has created such a toxic environment in Springfield that I question his ability to get anything done," Yingling told me Wednesday. "He is spending all of his time continuing to campaign as opposed to governing." […]

"You do not invest tens of millions of dollars into an otherwise-defunct organization and then take a hands-off approach," Yingling said [of Gov. Rauner's flat denial that he's involved with the ILGOP actions].
Yingling badly muffed his tracker encounter, but he isn't wrong here. It's highly difficult to believe Rauner would turn over tens of millions of dollars and not be involved with any operations whatsoever. And if Rauner is somehow telling the truth, he needs to get up to speed with what's being done with his money and in his name. Pronto.
- Posted by Rich Miller 63 Comments