* 4:46 pm - The State Universities Annuitants Association has filed its lawsuit against the pension reform law. Click here to read it.
RNUG's evening plans will probably have to be changed. But help him out in comments with your own take.
The lawsuit was filed in Champaign County, by the way. The other pension lawsuits have been consolidated in Sangamon County.
- Posted by Rich Miller 51 Comments


* The House Republicans just sent out a press release documenting Keith Matune's arrest record. As you know, Matune is challenging Rep. Ron Sandack in the GOP primary.
The HGOP release talked about Matune's public indecency/resisting arrest charges and the DuPage County bust for allegedly bouncing a check in Virginia, but this other arrest was news to me…
Arrest 3: Charged with criminal trespass: gaining entry to a woman's dormitory through a window a year after leaving college

Direct from court documents:

On January 17, 1994, Keith Matune knowingly and intentionally entered the Shoemaker Cooperative after having been denied entry as evidenced by his having to enter through a window.

On January 26, 1994, the Court is advised that Matune has been arrested on warrant and posted bond. The Court orders Matune to appear in court in person on February 14, 1994. The Court advises that if Matune fails to appear a re-arrest warrant will be issued.

On February 14, 1994, Matune enters a plea of not guilty and requests trial by jury. The court sets a trial date for June 21, 1994.

On April 18, 1994, Matune signs a plea agreement and the court withholds prosecution, but orders Matune to show written proof of completion of all conditions of probation (2 payments of $50, good and lawful behavior, and not to enter the premises again).
* Kinda creepy. And check this out…
Arrest 2/conviction: Convicted of Public Indecency/Charged with Resisting Arrest – Matune does not disclose conviction on his teaching application in May, 2013 (Which is a crime in itself)

Direct from certified court documents:

On December, 18, 1992, in Tippecanoe County, Indiana, Keith Matune did knowingly or intentionally, in a public place, appear in a state of nudity. Matune also did knowingly or intentionally: forcibly resist, obstruct or interfere with a law enforcement officer. The prosecuting attorney for the State of Indiana filed both charges with affidavit supporting probable cause. Matune appears before the court in Sheriff's custody.

On April 7, 1993, Matune withdraws his plea of Not Guilty and enters a plea of Guilty to the charge of public indecency. Matune is sentenced to 1 year in jail, the sentence was suspended and Matune was placed on probation for 1 year having to meet the following conditions: pay court costs, maintain good and lawful behavior, and complete any program of counseling recommended for him by his counselors in the State of Virginia. (Matune gave law enforcement and the courts a Virginia address.)
Emphasis was added to point out that less than a year after Matune was put on one-year probation, he was busted again for breaking into that women's dormitory.
* Now, about that "first" arrest…
Arrest 1: Felony warrant of arrest issued in Montgomery Co., Virginia
On February 3, 1991, Matune wrote a bad check for $500. On March 26, 1991 a felony warrant was issued for the arrest of Keith Matune, a hearing date was set for April 24, 1991 and Matune failed to appear. The warrant was for a felony charge of larceny by check in the amount $500 (not $150 as Matune claims).

Fugitive from justice: felony charge in Illinois

On May 3, 1991, Keith Matune was pulled over in Downers Grove for driving with bright headlights. During this stop, a routine check on the offender revealed an N.C.I.C. warrant for Matune's arrest out of Montgomery Co., Virginia. Matune was then taken into custody. The Montgomery County Sheriff then notified the Downers Grove police that they "will immediately initiate the extradition process to return him to Montgomery County." The DuPage County state's attorney then authorized an additional felony charge of "fugitive from justice." Matune was booked and taken to DuPage County jail. Court records show bail was set at $20,000.

On May 23, 1991, Matune appeared in DuPage County to face the felony charge of "fugitive from justice." Court records state that Matune "fled the Commonwealth of Virginia with the intent to avoid prosecution for that [larceny] offense."

The extradition was only cancelled after Matune was forced to pay restitution.
* OK, so if you look at the original Virginia arrest warrant, you'll see that the man who swore that Matune wrote a check "with the intent to defraud, knowing that there were insufficient funds in the account to pay said check," was a guy named Edward Jasie.
Ed Jasie is now deceased, but he was a criminal defense attorney.
So, Matune bounces a check to a noted criminal defense attorney (and a former commonwealth attorney) then heads to Illinois.
Which begs the question, might there be more to the curious case of Keith Matune?
Full document dump is here.
*** UPDATE *** Dan Proft's new TV ad blasting Sandack and supporting Matune…
- Posted by Rich Miller 73 Comments


* From a Daily Herald story originally entitled "Suburbs would pay more under graduated income tax"…
A growing campaign for a graduated income tax in Illinois could push more of the total tax burden onto some areas of the suburbs, where median incomes far outpace state averages, critics say. […]

The suburbs' higher incomes suggest a graduated tax, whatever it eventually looked like, could be a battleground issue locally. […]

The median annual household income in most suburban counties is higher than the Illinois average of $56,853, census data from 2008 to 2012 shows.

The median household income is $78,538 in DuPage County, $68,674 in Kane County, $83,835 in Kendall County, $79,085 in Lake County, $77,325 in McHenry County and $76,352 in Will County.

In Cook County including Chicago, the median household income is $54,648. However, it's higher in most suburban Cook County towns, like a median of $71,306 in Streamwood and $81,105 in Hoffman Estates, for example.
* OK, the first thing you really need to understand about a graduated tax is that once you reach a higher tax threshold your increased tax rate does not apply to your full income. It applies only to the income above your new rate level. So, for instance, here are rates that Rep. Naomi Jakobsson has suggested, via the Illinois Policy Institute…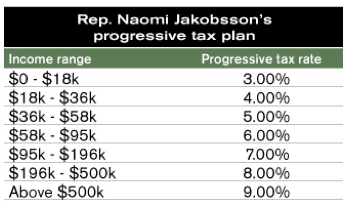 A person making $60K under Jakobsson's plan would not be paying 6 percent on that entire 60 grand. That person would be paying six percent only on $2,000, and etc. down the line.
* The folks at A Better Illinois, which is advocating for a graduated Illinois tax and is backed by organized labor, among others, put together actual tax rates for all those suburban counties in the Daily Herald article and compared them to today's current income tax rate. I've adjusted the headings a bit to make it more clear that these are Jakobsson's proposed rates.
Again, this chart compares the current income tax rate of 5 percent to what the actual rate would be for median income in the suburbs if Rep. Jakobsson's rates were enacted…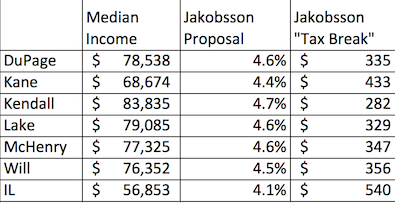 You can check their math by clicking here.
* So, under this particular proposal, people earning around the median income would be paying less than they are now, not more.
Then again, if the income tax is allowed to expire on schedule and the graduated tax was implemented down the road, there would most definitely be a tax hike for median earners, but not as high as they're paying today.
* It should also be noted that the group doesn't actually support Rep. Jakobsson's tax rate plan, calling it "less progressive than what's most likely to be attached to a Fair Tax."
- Posted by Rich Miller 47 Comments


[The following is a paid advertisement.]
In any discussion about treatment of mental illness, the interests of the patients and their families must come first. In considering Senate Bill 2187 – sometimes called "RxP" – members of the General Assembly should keep that in mind.
SB 2187 would allow psychologists who have no medical training to prescribe powerful medications to patients. Current Illinois law allows only people who have medical training – doctors, nurse practitioners and physician assistants – to prescribe drugs.
Why does medical training matter? Physical illnesses and mental disorders are often intertwined. Additionally, psychiatric medication, such as drugs for schizophrenia and bipolar disorder, can interact negatively with medication for chronic illnesses like diabetes and high blood pressure. Finally, psychiatric drugs are powerful and can create risky side effects. To understand these intricacies, psychiatrists go through four years of medical school and four additional years of residency. They learn to treat the whole patient – not just the brain.
The most recent version of the "RxP" bill would require about 30 semester hours, or 10 college courses, plus 10 weeks of supervision by a psychologist to prescribe medication. The course work could be completed online. Would you allow someone trained online to repair your brakes? Fly a plane? Work as a lifeguard? Treat the family dog?
Psychologists who want to prescribe can follow the route taken by Illinois nurse practitioners, physician assistants and doctors. They can obtain medical training – instead of insisting on a law that would put patients at risk. To become involved, join the Coalition for Patient Safety, http://coalitionforpatientsafety.com.
- Posted by Advertising Department Comments Off


* Sen. Bill Brady's lack of campaign cash has meant he's mainly advertising on the Internet. Here's a recent Facebook ad…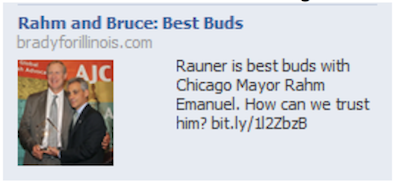 * And here's one a buddy of mine saw while listening to Billy Idol…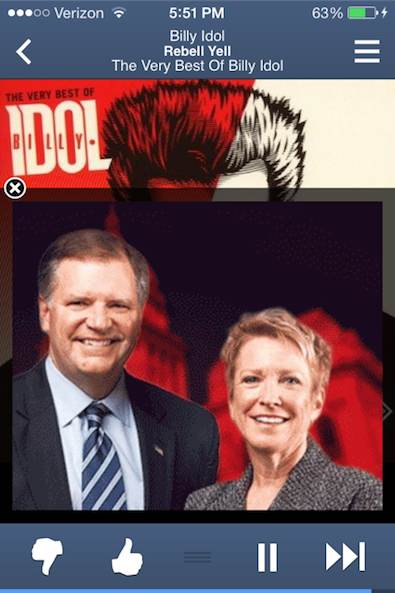 * The Question: Where else could Bill Brady place ads? And what should they say?
- Posted by Rich Miller 59 Comments


* Sen. Bill Cunningham's choice for yesterday's caption contest winner was this one by Jeff Trigg…
Does freezing Lake Michigan water stimulate the growth of hair? Ask Sen. Cunningham.
* My personal favorite was posted by Sangamon GOP…
As the rest of the Illinois GOP primary moved on, Dan Rutherford was left in an awkward position.
Sen. Cunningham has graciously donated $200 to our Special Olympics Chicago fundraising page, which put us over $5,000. I'll be making my own contribution a bit later today.
* Meanwhile, from a press release…
State Senator Daniel Biss (D-Evanston) has introduced legislation expanding restrictions enacted last year to prevent police from using aerial drones to infringe on individuals' privacy rights. His new proposal prohibits law enforcement from requiring private individuals or companies, except in certain emergencies, to hand over information gathered by drones they own. The Senate Criminal Law Committee approved the plan [yesterday], clearing the way for a vote of the full Senate.

"The need to impose restrictions on drone usage is important so that our legal protections keep pace with advances in technology," said Biss, who also sponsored last year's Freedom from Drone Surveillance Act. "As it became clear that individuals and corporations would also be using drones, we needed to put in place measures ensuring law enforcement could not bypass the warrant process by simply requisitioning footage collected by other people's drones."
* The photo included with the release…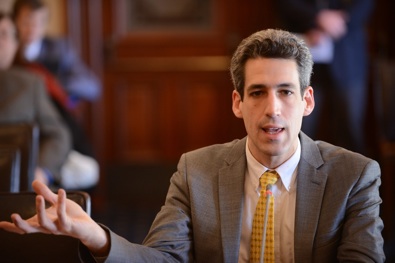 Caption?
- Posted by Rich Miller 47 Comments


* The Illinois Kids Count 2014 report: "Child Health Matters," was released today. Key findings…
Health Care Coverage: Illinois has made significant progress reducing disparities in children's health insurance coverage through Medicaid, the Children's Health Insurance Program (CHIP), and All Kids. The proportion of Illinois children without health insurance declined from 6 percent in 2008 to 3 percent in 2012. The state has also significantly narrowed racial-ethnic disparities in children's health insurance coverage.

Family Income: There are wide health-related disparities between children in low-income families and those in families with higher incomes. Children in low-income families are less likely to receive comprehensive, coordinated care within a medical home. Low-income children are more likely to be overweight or obese and less likely to engage in vigorous physical activity. They are more likely to have oral health problems and less likely to receive preventive dental care.

Race-ethnicity: Racial-ethnic minority children in Illinois experience multiple disparities in health status, access to care, and environmental supports. Certain disparities are more pronounced among specific groups. The data show that African-American children are most likely to have poor birth outcomes such as low birthweight and most likely to be affected by asthma. Latino children are least likely to have access to continuous and coordinated care through a medical home. Latino parents are least likely to report excellent or good health for their children and other family members.

Special Health Care Needs: More than 450,000 Illinois children have special health care needs. About 40 percent of these children do not have adequate health insurance. Children with special health care needs are much more likely than other children to have frequent school absences. Less than half of youth with special health care needs receive services necessary to make appropriate transitions to adult health care, work, and independence.

Child Abuse and Neglect: Children who have experienced abuse or neglect have significant and complex health care needs. Medical, dental, and behavioral health conditions are very prevalent among children entering foster care. Since FY 2006, substantiated cases of child abuse and neglect in Illinois have increased by 13 percent. Counties with substantially larger increases include DuPage, Kane, Macon, Vermilion, and Will.
Read the full report by clicking here.
- Posted by Rich Miller 5 Comments


Former Chicago Bears coach Mike Ditka is cheering for Erika Harold in the 13th CD GOP primary. He's recorded a radio ad supporting Harold that will start playing on radio stations in the district, saying the former Miss America is a natural leader, a conservative and "tough."
* Rate it…
Sounds like he literally phoned that one in. They couldn't get him to a studio or at least have him use a landline?
* Meanwhile…
Erika Harold of Urbana, one of three Republican candidates in the 13th District, will speak Saturday at CPAC 2014, the Conservative Political Action Conference in Washington, D.C., as one of the top 10 conservatives under 40.

"We are pleased to announce that Erika Harold has been selected as one of our top 10 conservatives under 40," said American Conservative Union Chairman Al Cardenas. "Our focus at CPAC has always been to showcase rising stars in the conservative movement. The depth and diversity of young leaders like Erika provides hope for America's future as we face tough challenges ahead."
Considering how badly she's polling and how little money she's raised, she's probably on the list because she's become a national media darling.
* But she did provide a thoughtful, if needlessly wordy, answer to a question about campaign finance reform…
The current framework of federal campaign finance laws favors special interest political action committees and political parties at the expense of citizens, as the amount of money citizens can contribute to their preferred candidates is capped at a lower level than the amount of money political action committees and political parties are permitted to contribute.

Moreover, this disparity in contribution limits serves to protect incumbents and disadvantage challengers, as political action committees simply are far more likely to contribute to incumbents in order to gain an audience with these individuals.

Accordingly, I would support legislation that eliminates these contribution limit differentials.
- Posted by Rich Miller 24 Comments


* Give Bruce Rauner chutzpah points for this comment in last night's debate…
"Why are you running in the Republican primary? I think you should be running in the Democratic primary," Rauner needled [Dillard], noting that Dillard has taken hundreds of thousands of dollars in public-sector union money. Rauner has long maintained that if a governor takes public union money it is not only a conflict of interest but amounts to a "bribe."
* Dillard's response…
"Mr. Rauner doesn't quite get it and this is one of many things that make him unelectable, that a third of these people that he likes to demonize are Republican Primary voters,"
* More from Dillard's response…
"Well first of all I'm a lifelong Republican," Dillard said. He also mentioned that he was the former chairman of the DuPage County Republican Party. He said he's not going to agree with all policies but did defend his vote for school reform.
Bruce Rauner, the man who's given hundreds of thousands of dollars to Democrats, called somebody else a RINO?
Sheesh.
* And here's a bit more from that exchange…
Rauner attacked Dillard's links to the public employee unions.

"Those are the exact same groups that have supported Pat Quinn, supported the Democratic Governors Association. and helped get us into the financial mess we're in. Yet, you're with them aligned. The teachers union has said you're aligned with them on the policies. They are in favor of a tax hike," said Rauner.

"I'm not gonna' agree with the teachers on everything. I'm not for a progressive income tax. I didn't vote for the 67% income tax," responded Dillard.
* A little background…
"The union interest here is to continue the gravy train of high taxpayer burdens to fund public employee compensations," [John Tillman, CEO of the Illinois Policy Institute] said.

"This is all part-and-parcel of the public sector unions' strategy," Tillman said. "They want to have tremendous influence over whoever wins the governor's race in the fall."

David Yepsen, a long time journalist who is now director of the Paul Simon Public Policy Institute at Southern Illinois University, said what the unions really want is to not be Wisconsin.

"I think the labor movement in Illinois is genuinely afraid Bruce Rauner will try to do what Scott Walker tried in Wisconsin and they are worried," Yepsen told Illinois Watchdog.
* More on the Scott Walker fears…
Despite the concerns espoused in the unions' anti-Rauner literature, though, one point has also become clear: Despite his lavish personal finances and vitriolic anti-organizing rhetoric, Rauner has not outlined any specific plan to hurt organized labor on his campaign website, in his limited press interviews or during debates.

Rauner has not, for example, proposed curbing collective bargaining rights like Walker did, or initiating a right-to-work law, like Daniels and Snyder. Though he has backed creation of "right-to-work" zones, where local governments could opt to adopt right-to-work laws, the candidate has stopped short of endorsing a statewide law outright. (Messages left with Rauner's campaign for this story were not returned.)

And when it comes to pension cuts, the number one issue facing Illinois public employees of late, Rauner's opinion likely won't determine the outcome either way. Many of the same public employee unions financing Illinois Freedom PAC sued Quinn for signing into law last December a landmark bill that cuts Illinois' public worker pensions. For his part, Rauner has said that law does not go far enough in cutting pensions and shoring up the state's finances. It's unclear, however, what he could do on pensions now that the Illinois Supreme Court will likely decide the matter.

Nonetheless, Bowen of IFT argues Rauner has staked out a clear "anti-middle class and anti-union position." That will translate into anti-union policy, she says, no matter that Rauner currently seems to lack a cohesive strategy for doing so.

And statehouse observers feel that while Rauner may not have the impact of, for example, Scott Walker, who enjoys a Republican-majority legislature, he can still hurt unions.

"At first he can stop things from happening that public employee unions want to see happen," says Kent Redfield, a professor emeritus of political science at the University of Illinois-Springfield. "And then he can get involved in legislative races and work with the state legislature." In future elections, Redfield explains, Rauner could create political momentum and raise finances to elect anti-union legislators—who would, in turn, introduce bills that would be harmful to the labor movement.
…Adding… The IFT has a clever little gif page over on Buzzfeed about Rauner.
* Meanwhile, Dillard also got in some punches last night, too…
"If Mr. Rauner is our nominee . . . we are nominating someone who buys influence in all parts of his life. Putting Bruce in charge of Springfield is sort of like putting a rat in charge of the cheese," Dillard said.
* But Bill Brady piled on Dillard…
"To walk away from $175 to $180 billion [in potential savings], I frankly would say for your own political interest, Kirk Dillard. Last night I said Bruce Rauner was starting to act like Rod Blagojevich; Kirk Dillard is starting to act like Pat Quinn," Brady said. "Pat Quinn sold out to the unions in the last election. We need a governor who's willing to stand up for what's right and not use votes like that or issues like that for political gain."
* Both of these guys are still vying for second place…
Brady and Dillard got into a dust up when Brady questioned Dillard's math over savings Dillard said occurred by voting for a Blagojevich-backed bill to refinance the state's pension obligations.

"Bill, that's why your business is bankrupt," Dillard said.

"Wait a second, you want to get into a lawsuit?" Brady shot back. "My business isn't bankrupt. It's been through some tough times but it's not in bankruptcy."
* Brady did, however, get in some digs at Rauner along the way…
Brady also insisted that he was the only "reliable Republican" in the race, and criticized Rauner — who has spent millions on television ads in his first bid for public office — of trying to buy the race.

"The real question here is: Why should the voters of Illinois trust their vote with Bruce Rauner? Someone that they didn't even know four months ago," Brady said. "The three of us have a pretty open book. We've got a track record."
- Posted by Rich Miller 29 Comments


* We Ask America tested Gov. Pat Quinn's job approval rating among likely Democratic primary voters…
Approve 57%
Disapprove 31%
Neutral 12%
* But then they asked this: "I will probably vote to re-elect Pat Quinn as governor no matter who is running against him in the fall." The response…
Agree 50%
Disagree 34%
Undecided 16%
* From the pollster…
Whoa…a third of likely Democratic voters disagreed with a fairly mildly written re-elect question, and another 16% aren't so sure.
* Look at the Downstate results for the reason why…
Agree 38%
Disagree 48%
Undecided 15%
* Back to the pollster…
Now, political families fight, but when push comes to shove they tend to stick together. Still, having a third of likely Democratic voters say they're not sure they'll vote for an incumbent governor is a swift kick in the patootie.

Will those miffed voters come back home in the fall? Probably. But depending on how deep voters' walking dread goes, some may not vote at all and a handful may vote against Gov. Quinn because they've had it with his schtick. Still, it's likely Quinn will face Bruce Rauner whose attacks on union bosses will make Quinn the lesser of two evils for some.

But Mr. Quinn may want to tend to a bit of family housekeeping sooner than later.
* Methodology…
Date: 3/4-5/2014 - Participants: 1,262 Likely Dem. Voters - Margin of Error: ± 2.90%
- Posted by Rich Miller 74 Comments


* After claiming weeks ago that gay marriage had faded as an issue, the AP now has a story about how the issue is impacting some legislative races…
But on the GOP side, two of the toughest primary challenges involve state Reps. Ron Sandack of Downers Grove and Ed Sullivan of Mundelein, two of three House Republicans who broke ranks to vote in favor. The third, former House Republican leader Tom Cross, gave up his seat to run for treasurer.

Sandack is being challenged by Downers Grove High School teacher Keith Mathune and Sullivan by Mundelein bus driver Bob Bednar. Both are being helped by conservative family groups hoping the four-way GOP governor primary lures social conservatives to the polls.

Illinois Families First, a political action committee started by conservative activist Paul Caprio, is working with local religious groups to campaign against Sandack and Sullivan — including raising money and organizing robo-calls.

Another conservative activist, Dan Proft, has directed $13,500 from his political action committee, Liberty Principles, to pay for direct mailk criticizing Sandack's gay marriage vote.

Matune has criticized Sandack for his vote and for accepting campaign contributions of both opponents and proponents of same-sex marriage.

"I am a pro-traditional marriage person," Matune said. "I … believe that the residents of our district would not vote (as Sandack has)."
* The Daily Herald looked a bit closer at the Sandack-Matune race…
Campaign advertisements in the 81st state House race continue to question the honesty of candidate Keith Matune, who is challenging incumbent state Rep. Ron Sandack in a bitter race for the Republican party's nomination in the March 18 primary.

The campaign has been contentious from the start as Sandack and Matune, both of Downers Grove, compete for votes from residents of the 81st District, which includes parts of Downers Grove, Naperville, Lisle, Darien, Westmont and Woodridge.

The race has turned into one of the top handful of GOP primaries in the state. And with incumbent state representatives Jeanne Ives of Wheaton and Sandra Pihos of Glen Ellyn facing tough primaries, too, DuPage County has become a Republican battleground in Illinois.

One recent campaign mailer sent in the 81st District questions Matune's honesty concerning his reply to a Daily Herald questionnaire that asks all candidates if they have ever "been arrested for or convicted of a crime."

Matune said he has never been arrested. But the mailer cites documents showing he was arrested in 1992 in Indiana and charged with public indecency, to which he pleaded guilty in 1993.
* And the Tribune focused on social media…
In one recent exchange, Matune tweeted his contention that Sandack is more sympathetic to the Democratic party than to Republicans.

"Sandack is against term limits for (House Speaker Michael) Madigan," the tweet reads. "The contradiction suggests that he seeks higher office and doesn't want to be limited by term limits!"

After a local attorney tweeted his support for Matune's position, Sandack fired back the next day.

"You're wrong," the tweet reads. "I want term limits 4 all legislators. I've had a TL bill for 2 years now. Look it up. #factsmatter."
* But that's not even the half of it. I told subscribers about this mailer earlier today. It's just too wild not to share with everybody. The mailer, sent by Dan Proft's Liberty Principles PAC, attacks Rep. Ron Sandack. It includes one of the most over the top images I've ever seen. Click for a larger pic…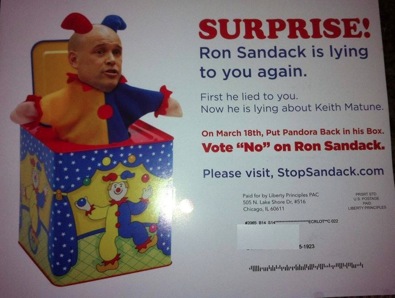 * Let's zoom in…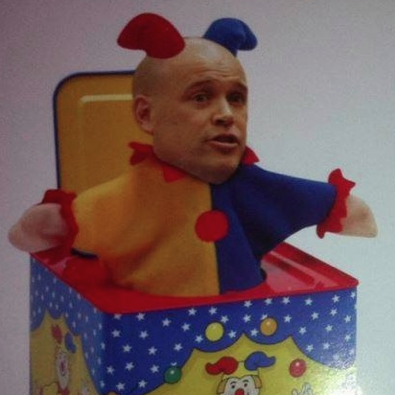 Oy.
- Posted by Rich Miller 74 Comments


* Steve Shearer's union-backed Fund for Progress and Jobs (he filed a D-! to drop the word "Republican" from the name this week) is running a new TV ad on behalf of Kirk Dillard. The 100 percent positive spot is airing in Chicago…
- Posted by Rich Miller 58 Comments