* So after an exhausting bout with an ear and throat infection, I woke up early yesterday morning with a stye in my left eye. I put some medicine into it and went back to bed, then noticed that Oscar the Puppy had gotten sick in the bed and then on the floor.
The poor little guy looked so pathetic I almost cried. I took him outside (with one eye closed), then cleaned up the bedroom. I carried Oscar to the tub and gave him a bath and took him to his room and then I started to get sick. I wrote yesterday's Capitol Fax with one eye closed in between sprints to the bathroom. I was exhausted all day, and went to bed right after work.
I woke up this morning and the stye had moved to my right eye.
"No way am I doing this again," I said as I medicated my eye and crawled back into bed with Oscar. We both slept until nine.
* My brain is mostly OK, but my body feels completely spent. The combination of a long weekend at the Phases of the Moon Festival, the ear/throat infection, yesterday's illness and yet another stye has me feeling like I've been beaten up.
If it wasn't for the kindness of two friends who brought me soup (chicken on Tuesday, beef on Wednesday), I'm not sure I woulda made it. Also, I have a new intern and he drove me to the doctor's office on Monday and has run some other much-needed errands this week. He's been invaluable. Good kid. You'll meet him soon.
And thanks to everyone I deal with every day for trying not to be overly harsh to me during this amazingly screwed-up week.
* With the TMI stuff out of the way, let's move on to the Phases of the Moon festival. I wanted to write about it all week, but I was too tired, too busy and too ill to get into it.
I posted some videos on my Facebook page (I've switched pages, so click here to "like" and follow).
You can't control the weather, and there will be hiccups with the first anything. It was cold. It rained. It was a bit muddy. I didn't really care. Everybody was sweet and nice and chill. I loved every moment of it.
* As I told you last week, I missed Thursday because I was working. I arrived Friday evening in time for most of the Grace Potter and The Nocturnals show. Wow, that woman has some pipes…
Grace was followed by The String Cheese Incident, who put on a solid show. After their first set, I went back to the camp site to set up my camper and chat with my neighbors, including Rep. Chad Hays and Rep. Mike Tryon. I'd missed their performance on Thursday and they filled me in on what was going on, how best to get around, etc. Around midnight, some of us ventured forth to see the Monophonics, but I was just too tired by then and wandered back home through what sure seemed to me like freezing rain or even snow. Man, it was cold.
* We started Saturday with an 11:30 am set by Nicki Bluhm & The Gramblers. She called it the "hangover show." The sun came out and she was eventually joined on stage by members of Leftover Salmon…
What a great way to start your day.
We went back to the camping area for a fabulous breakfast, then on to Leftover Salmon, followed by, for my money, the biggest breakout act of the weekend, Jackie Green. Here he is doing "New Speedway Boogie"…
* Tedeschi Trucks Band was the next set I saw, and it was the best show I've seen all year…
We ended the night with Widespread Panic. Actually, that's not true. We had several musicians back at camp (Sen. Don Harmon had left, but then returned Saturday) and they entertained us until the wee smalls. It was freezing cold, but they never stopped playing. We're going to need a fire pit next year for sure.
* Sunday morning started with a rockin' set by Leon Russell, then Vintage Trouble, then Robert Randolph…
And then Gov't. Mule…
Man, I surely didn't expect to hear "No Quarter" Sunday night.
By then, I had to go home. I missed Railroad Earth (which I really wanted to see) and Widespread Panic's second set. Not to mention all the side stage acts throughout the weekend that I didn't make it to.
* Phases was one of the best festivals I've ever attended and I will definitely be back next year, but with warmer clothes and boots!
…Adding… Many thanks to the festival organizers, particularly Jeanie Cooke. You're the best. Thanks to Chad Hays for scouting out a perfect camping spot in advance and for keeping things moving smoothly all weekend - and to Mrs. Hays for being the best "camp mom" ever. Thanks to the local county sheriff and his deputies for being so laid back and so understanding of a somewhat "foreign" culture. The workers and volunteers did the best job humanly possible of cleaning up after Wednesday's storm, so thanks to them, too. Literally everybody I came into contact with - from the tschotske vendors, to the golf cart taxi drivers, to the security folks, to the artists, to everyone in the crowd - were warm and inviting and friendly. I just couldn't have asked for a better experience.
Have a great weekend!
- Posted by Rich Miller Comments Off


*** UPDATE *** I thought he'd lay low. Apparently not…
All in!! $1,000,000.00 from Griffin, Kenneth to Citizens for Rauner, Inc. http://t.co/PLRJNS9LoW

— Trib IL CampaignCash (@ILCampaignCash) September 19, 2014
[ *** End Of Update *** ]
* Greg Hinz…
The Illinois Republican Party has just received another big bag of sweet stuff from its favorite sugar daddy.

That would be GOP gubernatorial nominee Bruce Rauner, whose campaign committee, according to a disclosure filed today, donated another $750,000 to the suddenly flush state party yesterday. By my count, that makes at least $2.75 million this summer alone, with most of that cash originally coming from Mr. Rauner himself.

Neither Team Rauner nor the party's spokesman is commenting on how the money will be spent. It appears to be a combination of Mr. Rauner running expenditures for mailers through the state party so it can get a better rate on postage than the Rauner campaign can on its own. More significantly, donations will be used to help candidates for the Illinois Senate and, particularly, the House.
By far, the largest expenditures the state GOP has made since Rauner opened up his campaign committee's fundraising spigot have gone to the House Republican Organization, which is focused on ending House Speaker Michael Madigan's 71-vote supermajority.

State campaign records show that the House Republican Organization has collected more than $577,000 from the state GOP since June.

If Madigan were to lose just one seat, House Republicans then would have the power under the next governor to block veto override attempts and borrowing proposals.
* Meanwhile, on a somewhat related front, a buddy sent met this stuff the other day…
In June Bruce & Diana Rauner donated the max $10,500 each to the Illinois Republican Party.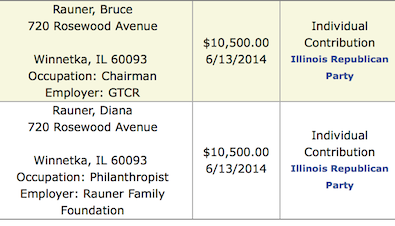 On 9/12 one of them donates $10k to Henry County Repubs

On 9/17 Henry County Repubs donate $7k to Illinois Republican Party.

On 8/14 Rauner donates $7k to Hanover Elects Responsible Officials (HERO

On 9/17 HERO donates $7k to Illinois Republican Party. HERO had $1,399 in the bank on 6/30.

I asked the state party what was going on and they didn't have an explanation. You'll recall a similar thing happened a few years back with a couple of other wealthy Republican donors, the Griffin's.
- Posted by Rich Miller 11 Comments


* We're coming to this a bit late, but the governor is hosting a live Q&A on Twitter. Some of the questions are good, some are funny, some are goofy trolls and the Rauner campaign has jumped in as well (Rich Goldberg's tweets). Follow along with ScribbleLive…
- Posted by Rich Miller 15 Comments


* Keep in mind that this is only a Web ad…
Rauner Web Ad: "Cut from the Same Cloth"

Over the past week Pat Quinn has admitted to protecting 103 illegal patronage hires – including 20 that could be fired immediately – and found himself at the center of a second criminal investigation by a U.S. Attorney.

In other words, it's become clear that Pat Quinn and Rod Blagojevich are cut from the same cloth.
* The video…
* The script…
Today's finding was conclusive, guilty on 17 of 20 corruption counts.

Rod Blagojevich is just the tip of the iceberg here, the weight is on Pat Quinn.

Gov. Pat Quinn and impeached ex. Gov. Rod Blagojevich filled hundreds of positions at IDOT.

Culture of patronage when it comes to hiring.

It seems politicians have gotten better at covering their tracks.

Another day, another political scandal for IL Gov. Pat Quinn.

It feels like deja vu…
* There's a reason why this isn't on TV. The message probably won't work on a mass scale. People don't like patronage, they don't like using government money to benefit a political campaign, but they generally don't think the other party would be any different.
And since Rauner didn't use the spring and summer to pound a "Quinn is corrupt" message home with millions of TV dollars, it may be too late to effectively start that track now. So, throw it up on the Web and get some media coverage.
* Plus, there's a key difference here between what RRB did and what Quinn's IDOT and Quinn's top staff (and, maybe Quinn himself, we don't know yet) did or are accused of doing.
Patronage is a civil issue. It became a criminal offense in Chicago because the patronage operation there did clearly illegal things, like claim a job applicant was interviewed on the same date the guy was actually out of the country.
The Illinois Attorney General conducted a massive investigation of Blagojevich's hiring practices, but the US Attorney asked her to shut down her probe and forward him the results. He never used the info.
* From Steve Schnorf in comments last night…
How do you know the clouting was political, not personal, in each case? How do you know that none of the people were qualified for the positions they were hired in to? How do you know all the staff assistant titles were misused and that none of the people hired into them performed the work called for in the job description? How do you know the promotions or transfers in each case happened as soon as possible? How do you know the promotions or transfers were each improper or unfair? How do you know each benefited "knowingly"? I missed answers to those question in the IG's report. Do you have information that most of us don't have, or are you inferring the answers?

Were there Rutan violation? My guess is there were a bunch. Were each of these the same, like a cookie cutter? Based on experience, I'll bet there are a whole bunch of different scenarios that occurred here. Is patronage illegal per se? I don't know how. Should those hirings be done in violation of Rutan? Surely not. What happened at DOT was clearly a significant problem, no doubt about it. On the other hand if things haven't changed too much, the State probably hired in 20-25,000 people over the past twelve years, and promoted that many more, so 245 isn't a huge number. If you see this as institutionalizing corruption, so be it. But I don't…
* And as far as NRI goes, from what we know so far the corruption was mostly at the bottom of the rung. Now, the Quinn administration could very well be hiding something. Right now, though, there's nothing in the documents released that connect any illegal dots directly to him.
Was the anti-violence program designed to help Quinn get reelected? Sure. But politicians do this sort of thing all the time. Bridges, roads, new facilities, new programs, new grants, whatever. And most people get that.
* This isn't meant to be a defense of Quinn. It's just a look at the realities of Illinois. If you want people to believe that Quinn the "reformer" is actually corrupt, you'd better spend a ton of money to do it. And spend it early. So far, neither has been done.
We'll just have to see what happens. If that video goes viral, then maybe Rauner is on to something and it'll wind up on TV.
…Adding… The Quinn campaign passed along this link to a 2007 interview with Rod Blagojevich where he claims that Lt. Gov. Quinn wasn't part of his administration.
- Posted by Rich Miller 68 Comments


* From a press release…
Today, the Bost for Congress campaign announced a recent poll that shows Illinois 12th Congressional District candidate Mike Bost continues to maintain his lead over incumbent Beltway Bill Enyart.

Key Findings from Polling:

Mike Bost has a +4 point lead over Democratic incumbent Congressman Bill Enyart.

43 percent of district voters indicate that they would vote for Bost, 39 percent would vote for Enyart, 7 percent are voting for Green Party candidate Paula Bradshaw, and 11 percent are undecided.

Bost continues his months-long polling lead. Throughout the race, Enyart has never lead in polling.

"Nancy Pelosi and Barack Obama have spent millions trying to gloss over Bill Enyart's disastrous record and it's not working," said Bost Campaign spokesman Jim Forbes. "This poll is just more proof that Beltway Bill Enyart and his Washington, D.C. cronies don't understand what's important in Southern Illinois. Voters would rather have Illinois authenticity than beltway talking points."

The poll was conducted by the Tarrance Group, a nationally-recognized and widely-respected polling organization.
That Greenie may be hurting Enyart as much as Pat Quinn.
But notice no date is given for when the poll was taken. This release may be due to some nervousness about the new Enyart/DCCC "rant" ads.
…Adding… The Bost campaign says the poll was conducted Sept. 16-18.
* Meanwhile, the NRCC has a new TV ad in the district…
"Congressman Bill Enyart went to Washington and let Southern Illinois families down. Instead of fighting for them, he has sided with Nancy Pelosi to support Obamacare while voting to give himself taxpayer-funded perks. It's time for new leadership in Washington and Mike Bost is just that. Bost has fought for this community for years and will continue that fight in Congress." – Katie Prill, NRCC Spokeswoman
* The ad…
* Script…
ANNCR: Bill Enyart claims he's for us, but his votes tell a different story.

Enyart backed a plan that gives Congressmen taxpayer funded perks and special benefits.

Bill Illinois families got higher premiums and layoffs.

Bill Enyart let us down.

Mike Bost is different. He runs a small business, opposes Obamacare because we need lower premiums and more jobs.

Change Washington with Mike Bost.

The National Republican Congressional Committee is responsible of the content of this advertising.
- Posted by Rich Miller 31 Comments


* From an Equality Illinois fundraising e-mail…
You may think it unimaginable that in 2014 in Illinois we are still sounding alarm about the risks to LGBT equality. However, it is expected that the midterm elections this November will have the lowest turnout ever and nearly every political analyst predicts that if we do nothing to change this we will lose this election, placing all our hard-won victories at risk. That's not acceptable.

But there are concrete things to can do to prevent that from happening, such as supporting Equality Illinois voter education and engagement efforts that will make the 2014 election a success for our community and the equality agenda. Please make your donation now of $35, $50, or $100, so that we can leave no stone unturned in the next six weeks leading up to the election. When you give today, MillerCoors will MATCH YOUR DONATION dollar for dollar and you will be entered in a drawing to win a pair of tickets to an upcoming Broadway in Chicago performance.

In order to win this November, Equality Illinois, in partnership with our progressive allies, is:

• Registering and turning out new voters
• Turning out core voters and educating the undecided
• Activating and getting out voters who don't traditionally vote in the midterm elections

Equality Illinois is leading this groundbreaking effort to engage prospective voters who care about equal rights and treatment for LGBT individuals. In order to activate them to vote, we are relentlessly exposing the conservative social agenda of viable candidates, including explicit threats to marriage equality and equal treatment for LGBT individuals.
Remember the days when Coors was deemed a right-wing corporation? Those days are obviously gone. Now, they're helping pay for EI's anti-Rauner campaign. We live in fascinating times.
…Adding… From Equality Illinois…
Our operations are supported by dozens of corporate partners who believe in LGBT equality, including MillerCoors. MillerCoors' partnership grants exclusively support our educational and other charitable activities. This year, with the company's support, we've been able to reach Illinoisans and educate them on the new changes in the anti-bullying law, on their equal marriage rights, grow programs on financial literacy,and help businesses develop LGBT-inclusive practices.

In your online blog, you say that MillerCoors is paying for our anti-Rauner campaign, which is not the case. Your readers should know that we do not use any of MillerCoors' grants to fund any of our political or candidate work. That work is done exclusively by our walled-off PAC which uses specially-raised private contributions.
- Posted by Rich Miller 22 Comments


* Tribune…
Despite a close proximity and upgrades, Kane County will lose its affiliation with the Chicago Cubs to South Bend [Indiana].

The Cubs will announce Thursday their new agreement with South Bend after two successful seasons with Kane County, which promised upgrades to its facility that included a climate-controlled batting cage, an expanded weight room and a video room for players and coaches for evaluation purposes at Fifth Third Bank in Geneva.
* Meanwhile, from Indiana's Economic Development Corporation…
Chicago Craft Bottling, LLC announced plans today to locate its first Indiana bottling facility here, creating up to 35 new jobs by 2017.

"Companies like Chicago Craft Bottling save money in Indiana, from our lower tax burdens to our more affordable cost of doing business," said Eric Doden, president of the Indiana Economic Development Corporation. "Those savings earn companies a competitive advantage, allowing them to reinvest in their operations. That keeps Indiana businesses growing, expanding our economy and creating more jobs for Hoosiers."

The Chicago, Illinois-based company will invest $910,000 to construct and equip a new 10,000 square-foot bottling and packaging plant. The new facility, which is expected to be operational by the end of the year, will allow the company to provide bottling and co-packing services to craft and innovative beverages, including its anchor client, Crafthouse Cocktails. Chicago Craft Bottling plans to hire for approximately 10 new positions in Indiana by early November. […]

The Indiana Economic Development Corporation offered Chicago Craft Bottling, LLC up to $295,000 in conditional tax credits based on the company's job creation plans. These tax credits are performance-based, meaning until Hoosiers are hired, the company is not eligible to claim incentives. Michigan City approved additional tax abatement at the request of the Economic Development Corporation Michigan City.
So, they want the obvious cachet of our largest city's name, but they don't want to make it here. The mayor ought to do something about that one.
* Now, on to some good news…
The Illinois unemployment rate fell in August for the sixth consecutive month to reach 6.7 percent while employers created +13,800 jobs, according to preliminary data released today by the Bureau of Labor Statistics and the Illinois Department of Employment Security. The data is seasonally adjusted.

The drop from 9.2 percent one year ago marks the largest year-over-year decline since 1984. The last time the rate was lower than 6.7 was in July 2008 when it was 6.6. Also, there are +40,600 more jobs than one year ago.

"Five months of job creation coupled with increased help-wanted advertising indicate a bit of momentum as we head into the Fall," IDES Director Jay Rowell said. "It is not surprising that fewer people are looking for work given retirement trends, although it does underscore that more needs to be done to give the long-term unemployed the skills necessary to secure meaningful employment."

Since 1976, the monthly Illinois rate has averaged 0.6 points higher than the national rate. August marks the second consecutive month that the state rate has hit that benchmark. Illinois last did so in Spring, 2012. […]

August job growth was led by Leisure and Hospitality (+5,000), Trade, Transportation and Utilities (+4,300), and Professional and Business Services (+3,300). Other Services (-1,800), Education and Health Services ( 1,700) and Financial Activities (-300) declined.
*** UPDATE *** Bruce Rauner…
"It's always good news when more Illinoisans are working. Unfortunately, we still have a huge ways to go to get out of the massive hole that's been dug in our state by the Quinn-Madigan-Blagojevich machine. We need to put our economy on jet fuel, and under Pat Quinn it's struggling along on leaded gas. It took eight months to add a single job this year."
- Posted by Rich Miller 38 Comments


* 11:00 am - Sangamon County Circuit Judge has ruled against an attempt by Illinois Republican Party attorneys to knock the Libertarian Party's statewide slate off the November ballot. The full ruling is here.
*** UPDATE *** AP…
Kelley found that the evidence supported the board's decision, noting that the court could overturn it "only if it finds the rulings are clearly erroneous."

Illinois GOP attorney John Fogarty had argued that thousands of signatures were invalid because they were illegible, not genuine and because petition circulators didn't reside at their stated addresses.

While approving the Libertarian's candidacy, the board ruled that Green, Constitution and Independent party candidates should not be on the ballot because the parties gathered too few valid signatures. Democratic Party attorneys had challenged the validity of the signatures for the Green candidate, who could have taken votes away from Quinn.

Fogarty declined comment Thursday on whether attorneys would appeal. Illinois GOP spokesman Andrew Welhouse said the party would "continue to work in every part of Illinois to elect Bruce Rauner and Republicans up and down the ticket."
- Posted by Rich Miller 36 Comments


* NBC 5's Mary Ann Ahern asked Bruce Rauner today about the Ray Rice punchout video and the child abuse charges against Adrian Peterson…
Ahern: You are part owner, a minority owner with the Pittsburgh Steelers. Have you spoken to your group about how the NFL has handled Ray Rice and Adrian Peterson? Are you onboard with what's going on?

Rauner: "I have not spoken with the Steelers organization at all. Not in many months.

Ahern: Why would you not want to reach out and find out what…?

Rauner: "I am working here in Illinois to win an election and transform our government so it's working for the people again. That's 100 percent my focus."

Reporter: So, would you also comment, though, could you comment on the situation?
The candidate moved on to another reporter instead of answering that last quesiton.
* The Question: Fair questions or not? Take the poll and then explain your answer in comments, please.
polls
*** UPDATE 1 *** The Quinnsters were apparently ready for this one. From a press release…
Amidst the NFL controversy sweeping the nation about standing up against abuse of women and children, Lt. Governor Sheila Simon and State Senator Toi Hutchinson (D-Chicago Heights) today criticized Republican billionaire Bruce Rauner's Tax Plan for the devastating impact the budget would have on at-risk families in Illinois, particularly those struggling with abuse and violence. While Rauner's Tax Plan puts $1 million into his own pocket, it leaves an $8 billion hole in the state budget. Most of the burden of this massive funding deficit will fall on education - which would suffer an unprecedented cut of $4 billion - but crucial programs helping women, children and other victims of domestic abuse would also be significantly slashed by Rauner's proposal.

Today Rauner, a part owner of Pittsburg Steelers, refused to stand up for battered women and children when asked directly about the NFL controversy sweeping the nation. Rauner become an owner of the team in 2009, shortly after an abuse scandal was brushed off by the team.

"Bruce Rauner needs to answer specifically for the radical reductions he proposes, which will harm some of the most vulnerable individuals in Illinois: the children and spouses who are victims of abuse," Lt. Governor Simon said. "Time and again Rauner has failed to explain how exactly he would preserve critical programming with such unrealistic economic projections. Few specifics have been provided by his campaign at any rate."

"A billionaire and self-proclaimed member of the .01 percent, Bruce Rauner has made much of his ability to invest and make money," Senator Hutchinson said. "Investing in abuse prevention and intervention has been proven to provide long-term returns to the state of Illinois, but when it comes to domestic abuse and its victims, Rauner always seems willing to put politics ahead of people."

Once implemented, Rauner's Tax Plan would have a devastating impact on critical programs funded by the state.
And then it goes on and on like their usual press releases.
* But a Republican, on background, wants you to know this…
State Funding For Domestic Violence Shelters Has Been Cut 13.7% From FY2009 To FY2015 - Nearly $3 Million. (Appropriations Report - FY2009, Illinois Comptroller, p. 204; Enacted FY2015 Budget By Line Item, Governor's Office of Management and Budget)
*** UPDATE 2 *** He shoulda just answered this one to begin with and scored some points…
Rauner new statement: "NFL has badly mishandled the situation" he "stands for women's health and safety" #ilgov14

— Mary Ann Ahern (@MaryAnnAhernNBC) September 17, 2014
*** UPDATE 2 *** The full response from the Rauner campaign did not come from Rauner himself…
"Bruce thinks what Ray Rice did is deplorable and the NFL has badly mishandled the situation. As a husband and father of four daughters, Bruce stands for women's health and safety everyday. Sadly, Pat Quinn has done just the opposite and cut funding for domestic violence shelters by nearly 15 percent. That never should have happened, but Pat Quinn was too busy funneling millions into his own political slush fund that is now the subject of two federal grand jury investigations." - Rauner spokesperson Lyndsey Walters
- Posted by Rich Miller 122 Comments


* Click here to read Bruce Rauner's new ethics plan. Some of it is much-needed, some of it is obvious overkill or rehash.
* Hiring…
* Fire all IDOT employs who got an "illegal" job

* Launch an online portal that includes info on all non-civil service workers

* Request a federal hiring monitor to oversee IDOT
* Revolving door…
* A firm, one-year lobbying ban for all senior executive officials and legislators
I'd go even further and bar any of those folks from negotiating private sector jobs while in office.
…Adding… Gov. Quinn has a bill in the hopper to address part of this. From the LRB synopsis…
Provides that (in addition to current restrictions on chiefs of staff, deputy chiefs of staff, and deputy governors) a chief of staff, deputy chief of staff, or deputy governor serving in the Office of the Governor is prohibited from lobbying or consulting in any fashion before or with the executive or legislative branch of State government for a period of one year immediately after termination of State employment.
* Ban government contract lobsters…
* Any government entity receiving state funds would be barred from hiring an outside lobbyist
* No outside income for legislative leaders (he's already proposed that one)
* Conflicts of interest…
* Expand powers of Legislative Ethics Commission powers to include fines and censure. Legislators whould be prohibited from voting on matters where there are conflicts of interest
It's not clear if that means farmers couldn't vote on a generic farm bill, or whether it would mean farmers couldn't vote on a farm bill that mainly impacted them. Devils are always in the details.
* Recall…
* Recall expanded beyond governor to all constitutional officers and legislators
* No pensions for felons
* Multiple expulsions…
* Amend Constitution to allow for multiple expulsions for the same offense (addresses Rep. Derrick Smith case, when he was expelled and then re-elected and couldn't be expelled again)
That is definitely needed.
* Term limits
* Slush funds…
* More transparency and accountability for state grants
Much of that was already addressed this spring.
*** UPDATE *** From the Quinn campaign…
Quinn for Illinois Communications Director Brooke Anderson issued the below statement regarding Bruce Rauner's desperate attempt to hide his own proven record of profiting from pay-to-play, fraud and corruption:

"Bruce Rauner has zero credibility when it comes to ethics - he has profited from fraud, abuse and mismanagement of his own businesses and taxpayer dollars throughout his career.

"For example, the U.S. Attorney had this to say about one of Mr. Rauner's companies: 'APS Healthcare took Medicaid's money for itself and left some of our most vulnerable citizens without the aid they deserved.'

"Unlike Governor Quinn who takes responsibility and fixes problems whenever they arise, Bruce Rauner takes no responsibility but always takes the profits.

"Mr. Rauner may have been able to take the money and run in the private sector but he can't hide from his own business record of pay-to-play, corruption, fraud and hiring swindlers.

"Bruce Rauner can't be trusted."

Below is a recap of the Governor's record of reform.

Governor Quinn's Record of Reform

Enacted a strong new ethics code that forbids the promise of state jobs and contracts or political favors in exchange for campaign contributions and increases scrutiny of officials, state workers and lobbyists.
Signed legislation that imposes a first-ever contribution limits on candidates, political parties and political action committees and created a Campaign Finance Reform Task Force, which will study the impact of contribution limits and make recommendations following the 2012 & 2014 elections. Mr. Rauner promptly took advantage of a loophole to smash the limits and benefit himself, so he and his fellow billionaires could try and take over Illinois.
Fought for an enacted a law that allows the power to recall a Governor who is not working in the public's interest.
Established he Illinois Reform Commission to examine and present solutions against corruption and taxpayer abuse, including in state hiring.
Issued Administrative Order to strengthen hiring controls and ensure compliance with all Rutan rules.
Fought for and signed law to strengthen the OEIG authority as a hiring watchdog by allowing the OEIG to self-initiate investigations, requiring publication of state employee wrongdoing including wrongdoing related to hiring, and empowering the Inspector General with new authority to review hiring of all agencies to ensure compliance with Rutan and all applicable employment law.
Fought for a signed Grant Accountability and Transparency Act, which is landmark legislation that overhauls the state's grant oversight and accountability process, while providing the strongest grant oversight in the nation.
Vetoed legislation that would have reduced government transparency by limiting the ability of citizens to seek public records under the Freedom of Information Act (FOIA).
Signed legislation creating a permanent public access counselor within the Attorney General's Office to oversee enforcement of the FOIA and strengthening fines for noncompliance.
Launched the Illinois Transparency and Accountability Portal to provide Illinoisans with access to state government spending information.
Launched the Illinois Sunshine Portal Sunshine.Illinois.gov, a new one-stop shop where the public can view many public records and documents online.
Launched data.illinois.gov, a searchable clearinghouse of information from state agencies that will help inform residents about the operation of state government and encourage the creative use of state information, including the development of applications for mobile devices that can be built around the data.
Signed legislation that creates a position of a state actuary to oversee the five state-funded pension systems to help increase transparency of the systems.
Issued an executive order that encourages state agencies and local governments across Illinois to increase the amount of raw data they share with each other, businesses, academic institutions and the general public.
Signed legislation to strengthen the Illinois Open Meetings Act by ensuring that a copy of the meeting notice and agenda is available to the public for the entire 48 hours preceding the meeting.
Signed legislation that strengthens ethics provisions in certain Illinois county governments to help establish ethical guidelines and simplifies the removal process for individuals who violate those guidelines.
It would've been nice if the Quinn campaign found one or two good ideas to praise, but this being the nastiest campaign in modern state history, I suppose that's too much to ask.
- Posted by Rich Miller 66 Comments


* Congresswoman Cheri Bustos voted for the Paul Ryan, Patty Murray budget plan last year and is now under fire from her GOP opponent for voting to cut spending. From a press release…
The Bobby Schilling for Congress campaign has released their second commercial of the 2014 campaign cycle. The commercial features veterans who are disappointed with Congresswoman Cheri Bustos (D-East Moline) for her heartless vote to cut veterans benefits by $6 billion last year.

In December of 2013, Cheri Bustos voted to cut veterans benefits by $6 billion by voting for the Ryan-Murray budget. Shortly afterwards, Cheri Bustos said that her vote to cut veterans benefits was "right for America." Veterans across the Illinois 17th District were outraged by this heartless vote.

In addition to voting to cut benefits to veterans and their families in her own district, Congresswoman Bustos failed to lead when veterans needed her most during the VA crisis. While veterans were dying on wait-lists at VA hospitals, Cheri Bustos said and did nothing until Bobby Schilling stepped up.

Bobby Schilling opposed the Ryan-Murray budget. In an op-ed he wrote in January, Schilling said "we should be cutting our debts, not our vets."

Schilling also led first to solve the VA crisis. Schilling introduced the Enhanced Veterans Health Care Experience Act back in 2011, a bill that would fix the VA wait-listing issue by allowing veterans to use their own doctors in their own hometowns. Schilling's bill was included as a provision in this summer's VA reform legislation that passed the House unanimously 426-0 and has now been signed into law.

There is a clear contrast between Cheri Bustos' disappointing record on veterans issues and Bobby Schilling's aggressive advocacy for veterans in his district.

It is very hypocritical for Cheri Bustos to run a TV commercial about what her staff did for one veteran while she voted to hurt tens of thousands of veterans. This new ad shines light on Cheri Bustos' failure to stand up for veterans.

Jon Schweppe, communications director at Bobby Schilling for Congress, released the following statement:

"Cheri Bustos spent more than a year voting against veterans and ignoring their concerns, and now she's trying to flip the script in an election year. If Cheri Bustos wants to work on her image with veterans—which she clearly does, judging by her first two commercials—maybe she should just follow through on her promise to give up 10 percent of her pay and donate the $34,800 to a veterans charity. That would be the right thing to do."
* Schilling's new ad…
* Script…
Bobby Schilling (Colona): I'm Bobby Schilling, and I approve this message.

Councilman Eric Turner (Peoria): We've risked our lives.

Brian Munos (Silvis): We've put it all on the line.

Ken Moffett (Moline): And how did Congresswoman Cheri Bustos repay us?

Munos: Bustos voted to cut veteran benefits by six billion dollars.

Ron Tady (East Moline): Six billion dollars!

Moffett: That's billion with a B.

Munos: After promising she never would.

Moffett: How could you cut our benefits, Cheri?

Turner: How could you?

Munos: How could you?

Tady: How could you? Shame on you.

Moffett: Shame on you.

Turner: Shame on you, Congresswoman Bustos.
* The bipartisan lesson here is that budget cuts never play well in general election campaigns. That's why Bruce Rauner vows to increase state spending on education, infrastructure and IDNR even though he also pledges to cut taxes. Bustos tried to position herself in Congress as a fiscally conservative Democrat. So, she gets this hit.
However, the hard reality of governing is that when you demand cuts (as Schilling has and does), then stuff like this happens.
*** UPDATE *** From the Bustos campaign…
Today, Colin Milligan, the Communications Director for Cheri Bustos for Congress, released the following statement on ex-Congressman Bobby Schilling's new desperate and dishonest negative ad:

"Ex-Congressman Schilling wasted little time going negative. In an apparent act of desperation, Schilling has responded to Cheri Bustos' strong support from Illinois veterans by airing a dishonest attack ad in the hopes of confusing voters about her record. Veterans are such a priority to Cheri that she not only led an effort to protect military retiree benefits, but has combat veterans on her staff. And voters have already seen first-hand that when veterans speak up, Cheri Bustos listens.

"Once again, ex-Congressman Schilling is trying to distract voters from his anti-middle class record by pointing to cuts that never happened, but voters know the truth."
- Posted by Rich Miller 24 Comments


- Posted by Rich Miller Comments Off


* This ad was recorded by a friend off his TV at my request this morning because the Rauner campaign has yet to release its own version.
It's pretty hard-hitting, but one of the first times I've seen the lesser-known Senate President John Cullerton used in a negative hit. They probably needed his 25 years in office to push the total to an even 100…
…Adding… The Rauner campaign has a press conference scheduled for 10 o'clock this morning to "make a major policy announcement." The ad will likely be released after that. The campaign has set up the ad with a press release, however…
Across Illinois, They're Talking About Pat Quinn's Corruption

Grand jury subpoenas. Illegal patronage hiring schemes. Secret insider deals. We've seen this move before; we know how it ends.

Federal grand jury subpoenas…

A new subpoena seeking records about Gov. Pat Quinn's botched 2010 anti-violence program has been issued, this time from a federal grand jury based in Chicago.

The request marks the first subpoena issued by Chicago-based federal authorities in the probe into Quinn's $54.5 million Neighborhood Recovery Initiative. Numerous prior subpoenas had come from federal authorities in Springfield.

The federal grand jury in Springfield has subpoenaed emails from the governor's former chief of staff, Jack Lavin, and several others heavily involved in implementing the program.

Illegal patronage hiring schemes…

Sanguinetti says it's wrong that the governor's administration is allowing a little more than 100 of those people to keep their jobs at IDOT. The Rauner campaign says the hirings are wrong considering Quinn says he's working to clean up state government.

"We should get rid of all these illegal hires and going forward, we should do the right thing, the fair thing, which is hiring people based upon merit," Sanguinetti said.

Sanguinetti says one of those keeping their job is a woman married to a Peoria labor official who has contributed to the Democratic Party.

Secret insider deals…

Republican governor candidate Bruce Rauner said Tuesday he wouldn't have signed legislation creating Illinois' medical marijuana pilot program because it includes a secret process for deciding who may grow and sell the drug.

Rauner said it's "another hallmark" of a culture of corruption under Democratic Gov. Pat Quinn. He said the public should know who's applying for a limited number of state permits, and whether the permits are given to "insiders" with political clout.
"Millions of dollars in business licenses are up for grabs, and Pat Quinn wants to keep taxpayers in the dark," Rauner said.
- Posted by Rich Miller 90 Comments