* From a press release…
Today, the Illinois Tobacco Quitline ended its operations following Gov. Bruce Rauner's executive order that suspended $26 million in social services and public health grants, including the $3.1 million allocated to the Quitline. In response, Heather Eagleton, Illinois government relations director for the American Cancer Society Cancer Action Network, released the following statement:

"Today, Illinois became the only state in the country without a tobacco quitline. As an organization dedicated to tobacco prevention and cessation, the American Cancer Society Cancer Action Network is alarmed and deeply concerned about Governor Rauner's decision to eliminate all funding for this life-saving resource. We believe this decision is short-sighted and will ultimately cost, rather than save the state money.

"The Illinois Tobacco Quitline answered more than 90,000 calls in just the last year, leading 43 percent of its callers to successfully stop smoking. Most cessation tools have around a 20 percent success rate.

"What's more, the Quitline is funded not through taxpayer dollars, but rather through money from the Tobacco Master Settlement, which gave Illinois $265 million this fiscal year to support programs like the Quitline. Taxpayers do, however, pay nearly $1 billion a year in tobacco-related Medicaid costs – costs that could dramatically increase with the elimination of the Quitline's free and valuable cessation service.

"Ending Quitline operations means cutting a valuable lifeline that smokers have to a healthier future. It means eliminating a tool hospitals and physicians use every day to get their patients on the right track, and it means putting at risk thousands of lives that could otherwise be spared the health effects of smoking.

"ACS CAN strongly urges Governor Rauner to reconsider his decision and commit to restoring the Quitline and helping tobacco users and kick their addiction."
What's also weird about this cut is that the governor has proposed funding the Quitline next fiscal year. So, either they'll just kill it off altogether, or they'll have to rehire all those state employees who lost their jobs today.
*** UPDATE *** Governor's office response…
Smoking is a serious health issue facing Illinoisans, but the fact remains that Pat Quinn enacted a phony budget with a $1.6 billion hole. The bipartisan legislation passed by the General Assembly was not a complete solution, and reviewing grants and agency spending is part of a comprehensive approach to close the deficit without raising taxes and without borrowing.
- Posted by Rich Miller 83 Comments


* The AP reports that we have some new special election dates to replace Aaron Schock…
A federal judge in Chicago signed a consent decree Tuesday scheduling a July 7 primary and a Sept. 10 general election. […]

Candidates may begin filing nominating papers for the office Wednesday.

GOP state Sen. Darin LaHood, the son of former Congressman and Transportation Secretary Ray LaHood, is considered the front-runner in the heavily Republican district.
* Meanwhile, innocent people often receive subpoenas to talk about what they know about not so innocent people. So, let's hope this is the case here. AP…
Congress said Tuesday it has been told at least four staffers who worked for former Illinois Rep. Aaron Schock have been subpoenaed to testify before a federal grand jury as part of an ongoing probe into the congressman's expenses.

The Justice Department issued its subpoenas in recent weeks to current and former Schock staffers as it examines expense accounts, his re-election campaign spending and his relationships with political donors. A Springfield, Illinois, grand jury began hearing testimony about the matter earlier this month.

The House clerk reported Tuesday the subpoenas were issued to Schock chief of staff Mark Roman, Peoria district office manager Bryan Rudolph, district chief of staff Dayne LaHood and executive assistant Sarah Rogers.
Dayne LaHood is Ray LaHood's cousin.
* And…
A former donor to disgraced ex-Representative Aaron Schock will file a class action lawsuit against him Wednesday morning, in hopes of preventing the Illinois Republican from using campaign funds for his legal defense.

Howard Foster, a Chicago lawyer and former donor to the congressman, will be the lead—and so far, only—plaintiff in the case against Schock, two sources familiar with the matter tell The Daily Beast. He has retained Steve Berman, a Seattle lawyer famous for launching high-profile class action lawsuits against the likes of Exxon Mobil and Enron, to file the case Wednesday in Chicago Federal Court. […]

"We thought he was honest and had a bright future. We would not have supported him had we known he regularly violated House rules," Foster wrote in a blog post last month. (Neither Foster nor Berman would speak on the record about the pending case.) Previewing the argument he will likely be making in the legal brief, Foster then wrote, "In light of the situation, he should not convert his campaign funds to any other purpose, such as his legal defense. For that he should have to pay out of his own pocket. Donors should get their money back on some sort of percentage basis, such as in a bankruptcy proceeding." […]

According to Federal Election Commission records, Foster only made a single $500 donation to Schock's congressional campaign fund. He and Berman hope to convince a federal judge to certify the case as a class action suit, which would then result in a letter being sent to every single one of Schock's many donors across the country, informing them that they have the opportunity to become parties to the lawsuit.

Such a legal campaign—typically used against companies that make defective products—is unprecedented in the annals of American politics. As such, the plaintiffs will have to overcome a high legal burden and need to prove that Schock deliberately made false assertions to donors and raised their money for purposes other than the furtherance of his political career.

A source familiar with Schock's operation told The Daily Beast that as to "the substantive claim that he defrauded donors for the purpose of living high, nobody can be able to prove that." Calling the case "frivolous," the source explained that Schock resigned over his misuse of public money, not campaign funds, the latter of which candidates have wide legal latitude in spending. "It's classic trial lawyer bullshit and it'll go nowhere."
…Adding… The complaint is here.
- Posted by Rich Miller 13 Comments


* Phil Kadner…
Gov. Bruce Rauner's turnaround agenda suffered a setback Monday night when Crete Mayor Michael Einhorn decided not to call for a vote supporting the governor's effort after an outpouring of union opposition at a village board meeting.

"I didn't call for a vote because it would have failed," Einhorn told me. "I'm not ruling out another vote in the future, but it's unlikely. I agreed to sit down with the union people and talk about our problems and see if there's some way we can agree on a way to solve them."

Einhorn is the only Southland mayor I'm aware of who responded so far to the governor's plea to mayors throughout the state to endorse his turnaround agenda for Illinois by having their town's aldermen or trustees pass local resolutions endorsing his plan. Among its components are right-to-work zones, lower wages for government workers and contractors, workers' compensation reform and tort reform. […]

Only a few municipalities throughout Illinois have passed Rauner's turnaround resolution, despite what several mayors told me was unprecedented lobbying by the governor and his staff.
* The Illinois Federation of Teachers is attempting to track the municipal votes on its website…
The following municipalities/counties will consider the Rauner "right-to-work" (RTW) resolution this week, April 13-17.

Adams County
Wednesday, April 15, 7 p.m.
Council Chambers, Quincy

Livingston County Board (Pontiac)
Thursday, April 16 at 6 p.m.
112 W. Madison St., Pontiac […]

These areas have already considered the Rauner proposal, with the following outcomes (2013 population figure listed in parentheses):

East Dundee (Kane) - (3,198) - passed
Oswego (Kendall) - (32,174) - tabled
Iroquois County (29,982) - held in committee
Pingree Grove (Kane) - (4,532) - unanimously defeated
Mount Zion (Macon) - (5,914) - tabled
Woodstock (McHenry) - (25,146) - defeated 4-3, tabled
Litchfield (Montgomery) - (6,816) - passed 5-3
Shelby County (22,119) - not called
Moultrie County (14,876) - on hold until May
Clinton (De Witt) - (7,150) - passed
Cambridge (Henry) - (2,131) - passed
Makanda (Jackson) - (552) - passed
Charleston (Coles) - (21,961) - passed
Milledgeville (Carroll) - (997) - passed
Shannon (Carroll) - (731) - passed
Heyworth (McLean) - (2,915) - passed
Martinsville (Clark) - (1,155) - passed
Mundelein (Lake)- (31,395) - tabled
Crete (Will) - (8,230) - tabled
Winnebago County (290,666) - defeated [resolution actually passed, but without labor items]
Lexington (McLean) - (2,080) - tabled
McHenry County - (307,409) - passed
Libertyville (Lake) - (20,431) - defeated
Aurora Township (Kane) - (199,962) - defeated
The Libertyville and Aurora Township votes were reportedly held last night. I couldn't find any news coverage online, but that's big news if it went down in Libertyville. [UPDATE: The governor's office claims there was no vote in Libertyville. See below.]
* The Mundelein debate didn't go too well for the governor, either…
Gov. Bruce Rauner's controversial plan to improve Illinois' poor financial outlook by attacking labor unions has failed to gain initial support in Mundelein.

Rather than voting to support what the new Republican governor has dubbed his turnaround agenda, trustees on Monday opted to delay a decision for at least two weeks. Additionally, officials said they may rework the resolution that was presented Monday. […]

Eventually, the board voted 4-1 to remove the resolution from the agenda. Trustee Holly Kim cast the lone "no" vote, while Trustee Ray Semple was absent.

In an interview Tuesday, Mayor Steve Lentz sounded uneasy with Rauner's plan.

"I agree with the bottom line resolution to support reforms that give us more local control and reduce the costs to local government," Lentz said. "Some of the clauses, however, are very polarizing."
* Meanwhile, from an EIU newspaper editorial entitled "City Council miscommunicates union proposal"…
The Charleston City Council passed a resolution April 7 that incorporated some proposals by Gov. Bruce Rauner regarding the creation of "empowerment zones." […]

The Journal Gazette & Times-Courier reported that the language of the resolution was discussed via email among Mayor Larry Rennels and the other council members.

The resolution was part of the consent agenda, with members of the public not being able to voice their opinion. The resolution was also not placed on file for public inspection.

The language of the resolution also does not spell out why exactly the city needs this to be enacted. What are written are words from the governor's office.
* Back to Kadner…
In order to accomplish any of his agenda, Rauner is going to have to go beyond his Republican base for support, and so far he's failing in dramatic fashion.

On the other hand, in addition to uniting unions in opposition to his agenda, his proposed budget cuts have brought almost every social service agency into the debate — all arguing for funds to help the mentally ill, developmentally disabled, elderly and single parents. […]

I believe the governor remains popular with the people of this state who generally want to see taxes cut, state spending reduced and political reforms to restore integrity in Springfield.

But his ability to lead toward a solution seems lacking. Maybe the problems are just too big. Maybe he hasn't had enough time. Maybe he's still learning. I hope that's the case.

Because this state and many of its municipalities need a leader who can unite opposing forces, not drive a wedge between them that widens the gulf.
*** UPDATE 1 *** From the governor's office…
Hi, Rich –
Add Fairfield to the list that have passed the resolution. I'll send you the pdf when I have it.

ck
Population 5,421 .
*** UPDATE 2 *** From the governor's office…
FYI, Libertyville did NOT defeat the resolution last night, it was discussed and never came to a vote.
- Posted by Rich Miller 63 Comments


* From the Illinois AFL-CIO's Facebook page since yesterday…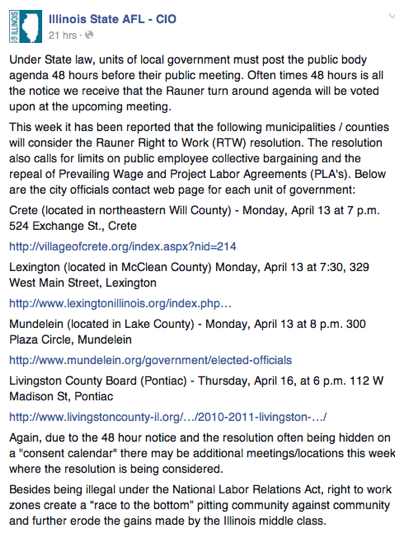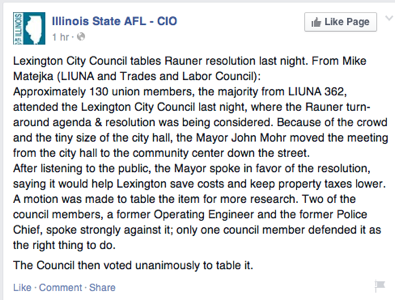 Discuss.
*** UPDATE *** From the governor's office…
Hi, Rich –

Round Lake Beach and the Village of Winnebago also passed the resolution.

Attached is Round Lake Beach. I'll send you Winnebago when it comes through.

Thanks,
ck
Round Lake Beach: Pop. 28,175
Village of Winnebago: Pop. 3,101
- Posted by Rich Miller 35 Comments