* Illinois Republican Party press release…
Lawyers for John Bradley and Mike Madigan are attempting to pull down an ad featuring Bradley endorsing Madigan in his own words.

Bradley is scared because the video, which shows him nominate and praise Mike Madigan for Speaker, is proof that Bradley is a typical Springfield insider.

Watch Bradley swoon and compare Mike Madigan to Abraham Lincoln here.

John Bradley in his own words:

"I rise to second the nomination of Michael J. Madigan for Speaker of the House of Representatives of the 97th General Assembly of this great state of Illinois. Perhaps our greatest Illinoisan, Abraham Lincoln, said nearly all men can stand adversity, but if you want to test a man's character, give him power. For his many years as speaker, Mike Madigan has been tested time and time again. And his character has always prevailed. I don't think any of us can appreciate the pressures, the challenges, the amount of work our speaker faces on a daily basis. The difficult decisions, the heart wrenching choices. But I believe that it is his love of this state, his respect for this institution, and his devotion to principle that keeps him going. As he once again is nominated to assume this great responsibility, he becomes one of the longest serving public figures in the history of this state and the history of this great country. Lincoln also said; whatever you are, be a good one. Speaker Madigan has done just that. He has given his all to this job, and he has given his all to this state, and the mark that he has left and hopes to continue to make is immeasurable. Thank you."
Ouch.
* Watch…
Background is here.
- Posted by Rich Miller 19 Comments


* Man, that's a good ad…
* As I've already told subscribers, Susana Mendoza tries to tie Munger to Rauner and Trump and actually uses the topic of legislator paychecks against Munger in her first negative TV spot…
* But Munger's first negative ad is also pretty good…
Your thoughts?
…Adding… From Munger's campaign…
Rich,

Just wanted to add two things.

1) For whats it's worth, saw Wordslinger's comments about hired actors but those are all [Munger] volunteers

2) Susana really went out of her way to cut up and isolate that audio for her commercial. Here is the interview with Tom Miller where he is acknowledging Leslie's actions in delaying the payments to politicians before the statement.
- Posted by Rich Miller 33 Comments


* You may have noticed that the online version of a Republican TV ad has been taken down by YouTube. The video uses footage of Rep. John Bradley (D-Marion) seconding the nomination of Michael Madigan for another term as House Speaker. If you saw it yesterday, you know it's brutal.
YouTube explains that it removed the video "due to a copyright claim by Advanced Digital Media, Inc.," the company which owns BlueRoomStream.com. The company sells its video to TV stations, etc., but it also has some other strict rules…
Programming produced on www.blueroomstream.com cannot be used for political, campaign or commercial purposes without permission. Any re-editing, re-broadcast, or re-use without permission is strictly prohibited.
Tony Yuscius at BlueRoomStream.com told me yesterday that a video snippet of Rep. Bradley testifying in a committee hearing is actually theirs.
* After YouTube removed the video, Yuscius received this e-mail yesterday from the Illinois Rebuild Project, which is sort of the social media arm of the GOP's paid media this cycle…
Today you submitted a youtube takedown request for our campaign video, hosted on youtube - https://www.youtube.com/watch?v=CwuSyDLnp-g.

The video in question contains no video footage sourced from Advanced Digital Media. All video content contained was sourced from either the Office of the Clerk of the Illinois House of Representatives or the following Youtube video - https://www.youtube.com/watch?v=bq52iD96Vos - which was not posted by Advanced Digital Media and contains no notifications that it is your copyrighted work. In addition, the roughly four seconds of silent video footage would be allowable under the doctrine of fair use even if it were your copyrighted work.

We request that you retract your takedown request with all haste.
That claimed source video has now also been taken down by YouTube after a copyright claim was filed by Advanced Digital Media.
Oops.
* Tony's e-mailed response to me…
At this point the illegally obtained video has been removed from YouTube. I intend to pursue legal options and strongly protect our copyrighted content. The e-mail received states the video with Rep. Bradley's audio came from the House Clerk's office. Perhaps Mr. Brown may want to comment on that?
* Madigan spokesman Steve Brown's response…
Our lawyers are pursuing the use of the material
* From the General Assembly's website…
This live session video/audio broadcast is the property of the Illinois General Assembly. Any use of this broadcast without the prior written consent of the Illinois General Assembly is prohibited.
- Posted by Rich Miller 25 Comments


* Todd Wessell…
A desk drawer full of campaign flyers and brochures charging local candidates with everything from being a hypocrite to endangering the well-being of senior citizens and children are being circulated to voters throughout the Northwest suburban area.

The four-color, double-sided pieces, all printed on heavy coated paper stock, focus on the negatives of candidates. The materials are funded by the political committees of some of the candidates and well-financed political action committees.

This suburban area is home to three high-profile election contests that state party leaders desperately want to capture in order to gain or maintain control or leverage of the Illinois General Assembly. Parties and PACs are literally spending millions of dollars collectively in these races.

Here's a sample of some of the campaign pieces:

• "Blank Check Murphy created this monster", a reference to State Senator Laura Murphy in the 28th Senate District that includes parts of Des Plaines, Park Ridge, Elk Grove Village and communities to the west. The flyer's main focal point is a photo of House Speaker Mike Madigan wearing a Donald Trump wig. "Chicago Democrat boss House Speaker Mike Madigan combines the worst qualities of Hillary Clinton and Donald Trump." This was paid for by conservative PAC Liberty Principles.
* That same Dan Proft mailer was mentioned often in yesterday's Question of the Day because the Madigan/Trump/Clinton (notice the earrings and jacket) photo was used in several districts. So here it is in case you didn't get one of your own…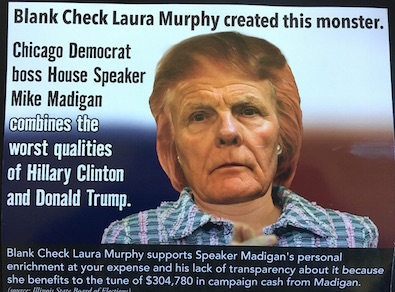 * Now, watch him morph in real time during the Proft TV ad…
Thoughts?
- Posted by Rich Miller 46 Comments