Our pal Glenn Hodas has generated some new maps for us. You can also see larger versions on his website. Click for the big pics.
The first has results from the governor's race in Chicago. Seriously blue, but with some Green influence…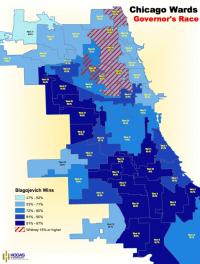 Here's the guv's race in suburban Cook County…

The Cook County Board President's race in Chicago…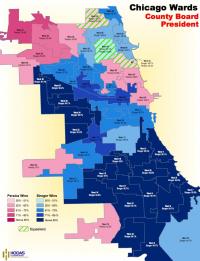 And, finally, the Cook County Board President's race in suburban Cook…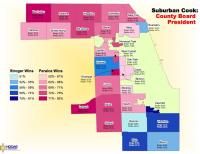 *** UPDATE *** SurveyUSA has a chart on its website comparing poll results for all recent polls to actual vote totals. Here are the Illinois results. If it's too wide for your screen, just head to the above link and scroll down.


And the Wall Street Journal had an analysis today.
I looked at five pollsters that were among the most prolific: Rasmussen, SurveyUSA, Zogby (which releases separate telephone and online polls) and Washington, D.C.-based Mason-Dixon. For all but the latter, I used the numbers posted on the organizations' own Web sites. For Mason-Dixon, which keeps some of its poll data behind a subscriber wall, I used Pollster.com to find polls from the two weeks before the election. I checked the results against vote counts as of this Tuesday […]

There were some interesting trends: Phone polls tended to be better than online surveys, and companies that used recorded voices rather than live humans in their surveys were standouts. Nearly everyone had some big misses, though, such as predicting that races would be too close to call when in fact they were won by healthy margins. Also, I found that being loyal to a particular polling outfit may not be wise. Taking an average of the five most recent polls for a given state, regardless of the author — a measure compiled by Pollster.com — yielded a higher accuracy rate than most individual pollsters.

On to the results: In the Senate races, the average error on the margin of victory was tightly bunched for all the phone polls. Rasmussen (25 races) and Mason-Dixon (15) each were off by an average of fewer than four points on the margin. Zogby's phone polls (10) and SurveyUSA (18) each missed by slightly more than four points. Just four of the 68 phone polls missed by 10 points or more, with the widest miss at 18 points.

But the performance of Zogby Interactive, the unit that conducts surveys online, demonstrates the dubious value of judging polls only by whether they pick winners correctly. As Zogby noted in a press release, its online polls identified 18 of 19 Senate winners correctly. But its predictions missed by an average of 8.6 percentage points in those polls — at least twice the average miss of four other polling operations I examined. Zogby predicted a nine-point win for Democrat Herb Kohl in Wisconsin; he won by 37 points. Democrat Maria Cantwell was expected to win by four points in Washington; she won by 17. (Zogby cooperated with WSJ.com on an online polling project that tracked some Senate and gubernatorial races.)

The picture was similar in the gubernatorial races (where Zogby polled only online, not by phone). Mason-Dixon's average error was under 3.4 points in 14 races. Rasmussen missed by an average of 3.8 points in 30 races; SurveyUSA was off by 4.4 points, on average, in 18 races. But Zogby's online poll missed by an average of 8.3 points, erring on six races by more than 15 points.
I never posted about any of Zogby Interactive's results, and now you see why.
The point about taking the average of the five most recent polls is a good one and shows why some blogs can have much better analysis than traditional news outlets, which tend to be completely and exclusively wedded to their own company's polling results.
[Emphasis added. Hat tip: Kos]
17 Comments


















































Sorry, comments for this post are now closed.