I think my father may have finally popped his cork.
My dad's most prized possession is his 1963 Cadillac convertible. It's a beautiful car. Totally sweet.
He's had the Caddy for over 30 years. It was my date car when I was a teenager, but I was always afraid to drive it because I feared somebody would crash into me or scratch it or whatever and then I'd be in HUGE, GIGANTIC, DANGEROUS trouble.
When my parents moved back to Europe, they stored the Caddy for a time in my garage, but all those bad memories came back from my youth and I barely drove the thing, afraid I'd hit a deer or something.
Anyway, as I think I've told you before, my father is a big Barack Obama fan. One of the biggest. The two of them have become close over the years (don't ask, long story), and Obama refers to Dad as "Brother Miller" whenever they greet. It's quite amusing.
Here's a photo of the two of them together…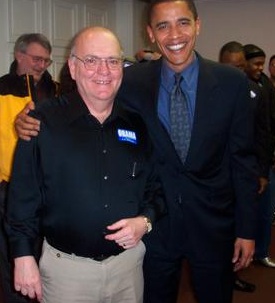 My dad has wanted Obama to run for president since before Obama was elected to the US Senate. Dad had buttons made up for a Washington, DC reception after Obama was sworn in to his Senate seat. Everybody out there wanted one, and I believe he had to have more made to accomodate the demand…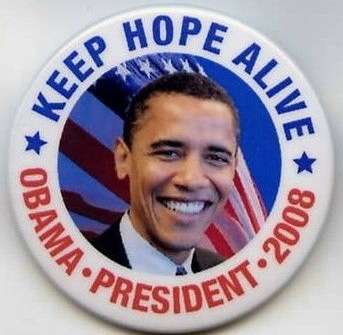 The first campaign my dad ever worked on was Barry Goldwater's doomed 1964 presidential bid. A few years ago, Dad actually put a Goldwater sticker on the Caddy's bumper, which shocked me. He had violated the Caddy with a bumper sticker, of all things. But Dad dearly loved AuH20, and he thought it was cool to have that sticker on his car, and who am I to judge?
So, I guess I shouldn't have been too surprised when my father had some new and absolutely ginormous stickers specially made for his Cadillac, which he intends to drive to Springfield for Obama's announcement and, I would bet, throughout Iowa during the upcoming campaign.
Dad has never been one for half-measures, but for crying out loud, just look at this photo, and click on it for a frighteningly large version…

Here are some more. Click on each for larger, scarier images.



At first, I thought he had just photoshopped the stickers onto his car, but Mom assures me they are real.
You can't see it in the pics, but there's another sticker across the trunk which reads "The Time Is Now."
By the way, the Goldwater sticker is gone.
No Comments
Be the first to comment.
Sorry, comments for this post are now closed.