[Bumped up to Monday's posts from Saturday's and edited to add more content]
* Once again, another big Senate vote, which the Senate President and governor were so very sure would succeed, has failed to come to pass. Monday's session has been canceled…
A state Senate bill that could have been a last-minute lifeline to CTA riders faced with drastic service cuts and fare hikes won't be up for a vote until after the agency's Sept. 16 "doomsday" deadline. That makes the prospect of the CTA following through on its threats even more likely, since a similar funding proposal has already failed in the Illinois House.

Earlier this week, Senate President Emil Jones called a special session for Monday to discuss and possibly vote on a bill to provide millions for the cash-strapped CTA, RTA, Metra and Pace. Senators were also expected to mull over a capital funding plan that hinged on revenue from three new casinos, including one in Chicago.

But late Friday, a spokeswoman for Jones said the session had been canceled and would likely not be rescheduled until Sept. 17, the day after the service cuts and fare hikes would take effect.

"President Jones and House Minority Leader [Frank] Watson determined that there were still some things they needed to work on," Jones spokeswoman Cindy Davidsmeyer said, declining to elaborate.
Perhaps Sen. Jones and Gov. Blagojevich should have talked with Watson before they decided to go ahead with a vote on Monday and Tuesday. But, as usual, Jones and Blagojevich simply expected Watson to go along, even though absolutely nothing in the past would buttress that notion.
Every time these two guys try to one-up House Speaker Michael Madigan they make themselves look ineffective and weak. It's always "Fire, aim, ready… oops!" with these two and it's getting old.
* Meanwhile…
Patty Schuh, spokeswoman for Watson, said the Republican leader has made it clear all year that there must be a thoughtful discussion on any legislation. Democrats cannot expect GOP support if a bill is unveiled at a moment's notice without a chance for careful review, Schuh said.

"We understand there are deadlines looming here, but the Democrat majorities have spent all of these months in failure, and we cannot rush the process so that there is no time for the public and legislators to be informed about the potential solution," Schuh said. […]

"Low-income people will be paying more for transit starting [Monday]. Are we going to build a casino by [Monday]?" asked Jacquelyne Grimshaw, vice president for policy, transportation and community development at the Center for Neighborhood Technology.

Grimshaw, a former schoolteacher, said of the governor and the legislative leadership: "This is worse than my worst day teaching with kids being totally unreasonable."
* And some suburban Republican legislators may get an earful from some of their Metra-riding constituents next week…
Metra riders commuting to downtown Chicago will also lose their speedy CTA express bus service during the morning and evening rush periods if the proposed cuts go through. But alternative service will still be available: from the Ogilvie Transportation Center on a combination of four CTA bus routes and from Chicago Union Station on five CTA bus routes.
* And all this confusion will cost millions…
Raising fares costs money, $2 million to reprogram fare boxes and rail system machines.

If lawmakers come up with funding, CTA officials could rescind the doomsday plan, reverse the fares, restore service and call back laid off employees. And they predict that process could cost an additional $2-$3 million.
* From a letter sent out by CTA President Ron Huberman…
CTA has taken many steps to close this funding gap, including making $38 million in administrative cuts and working closely with our labor unions to secure unprecedented agreements on pension and healthcare reforms.

However, the size of the budget deficit makes it impossible to solve this problem through management reforms alone. We need the General Assembly to act.

CTA Chairman Carole Brown and I have met many times with the legislative leadership to develop a legislative proposal that would end this cycle of "Doomsday" scenarios and ensure the fiscal health of CTA for years to come.

However, the General Assembly has not acted on this legislation and the CTA cannot afford to continue to provide our current level of service.

Therefore, starting the morning of September 16th, fares will increase anywhere from $.50 to $1.00 on both bus and rail lines and bus service will be reduced by 8%. This means the suspension of 39 bus routes and the removal of 314 buses from our daily service.
*** UPDATE *** NBC5 had this shot of a new sign going up all over Chicago next to CTA bus stops…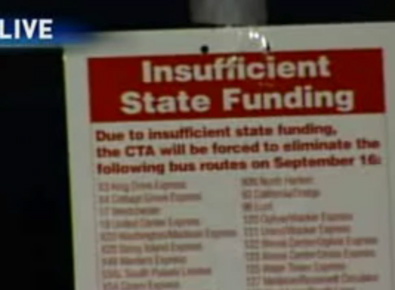 Click here to help buy presents for LSSI foster kids!
36 Comments











































































































Sorry, comments for this post are now closed.