* I posted this photo earlier this morning for a reason…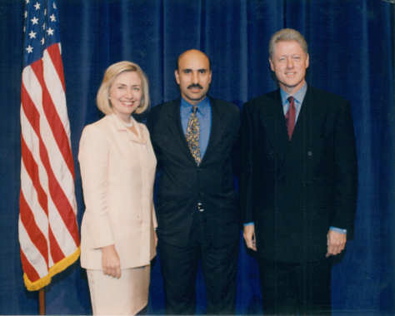 * In reality, this photo means nothing. Hillary Clinton is absolutely right that she's taken thousands of photos with people over the decades. She's also right to point out that, unlike Obama, she never had a longterm relationship with Tony Rezko.
* That being said, however, the leak of this pic is precisely the same thing that Hillary and Bill Clinton have been doing to Obama for weeks.
For instance, here's a story from the AP…
Asked to name a weakness, Obama mentioned his messy desk and reliance on staff. Clinton faulted him for it, saying she was better prepared to oversee the government bureaucracy.
What a crock.
* The Clintons have flat-out lied about Obama's "Present" votes on abortion bills to make him somehow look anti-choice. They have twisted his comments on Republicans and Ronald Reagan beyond recognition to make him look like a traitor to his party. They even leaked opposition research to a gullible LA Times reporter about how Obama had changed his vote on a few bills.
* So, I got a big chuckle when I received this e-mail from the Clinton campaign this morning…
Clinton Campaign Holds Conference Call TODAY on Obama Campaign Attacks

WHAT: Conference call TODAY to discuss Obama Campaign attacks
WHEN: TODAY, Friday, January 25, 12:00 p.m. EST
TO PARTICIPATE IN THE CONFERENCE CALL,
PLEASE DIAL: 800-434-1335, CODE: 281-378
* None of those Clinton attacks really mean anything in the grand scheme of things. And neither does the above photo. The only thing it proves is that Rezko was everywhere. He's like a toxic political Zelig.
* All that being said, I totally agree with Mark Brown that it's past time for Obama to come completely clean about the one Rezko issue that truly does matter, at least as far as I'm concerned.
Who set up the deal with Rezko on the house and land purchase? Obama and Rezko were both the top bidders on those properties, but that, to me is not the issue. What I want to know is how - exactly - did this thing come about? Did Obama call Rezko and ask for help? We know that the property owner wanted to sell both pieces at the same time. Obama didn't have the money to buy both. What was the deal?
And, frankly, what was he thinking?
* I was looking for a new place to live about the same time Obama was. I remember seeing an ad for Rezmar townhomes on the Chicago River. I checked the website and thought, "Wow, these are perfect."
Then, a little voice inside my head said, "Miller, you're gonna wind up on the front page of a newspaper if you buy one of those, no matter how much you pay. Don't be an idiot."
So, the idea was immediately flushed from my brain.
I knew better than to do any kind of deal, no matter how above-board it might be, with Tony Rezko.. Obama didn't. I can't get past that problem, and no pimpy little photo of Rezko with Hillary and Bill are gonna make up for that.
Come clean, Barack.
52 Comments



























































































































































Sorry, comments for this post are now closed.